Planning a trip to Oahu and want to explore the North Shore town of Haleiwa? Scroll to find the best things to do in Haleiwa Oahu including where to eat, awesome Haleiwa shopping, top beaches and more!
This things to do in Haleiwa Hawaii post was originally published on January 20, 2020 and was updated January 13, 2022 and contains affiliate links which means if you purchase something from one of my affiliate links, I may earn a small commission that goes back into maintaining this blog.
Are you wondering what is there to do in Haleiwa Hawaii? The truth is, there is a TON of fun things here!
One of the most picturesque North Shore Oahu towns is Haleiwa.
Haleiwa town started as a sugar plantation in the early 1900s. By the 1920s, it grew to include the Haleiwa Airfield, which was used for flight training, emergency landing, battle simulations, and even a relief base for pilots throughout World War II.
Today, Haleiwa is well-known as the surfing capital of the world and is part of Hawaii's Seven-Mile Miracle. It offers some of the best surfing in Hawaii and people travel from all over the globe to participate in surfing competitions here.
Even if you aren't a surfer, you'll want to head to Haleiwa North Shore to soak up the chill surf town vibe.
From boutique shopping and incredible food trucks to stunning beaches and waterfalls, the North Shore attracts families, adventurers, hipsters, and more.
If you are visiting Haleiwa from Waikiki, drive up as early as possible. Traffic builds throughout the day. You'll also want to spend a full day there (including eating dinner) to allow traffic to die down a bit before heading back to town.
And it's easy to spend a full day in Haleiwa HI! Check out some of these amazing Haleiwa things to do and find out why you need to visit Haleiwa on your next Oahu vacation.
And be sure to check out the top 101 things to do on Oahu with kids!
Don't have time to read a bunch of Hawaii blog posts and reviews? Here are some of our top picks for visiting Oahu.
Popular Oahu Tours/Activities
Favorite Oahu Resorts/Hotels
Want to Rent a Car in Hawaii?
One of the best places to rent a car in Hawaii is Discount Hawaii Car Rental because they get the best rates from top national companies like Alamo, Dollar, Thrifty, Avis, Enterprise, Budget, and Payless.
Want to skip all the planning and just access my detailed Oahu Itinerary complete with daily schedules, kid-friendly activities, and travel hacks? Click the button below.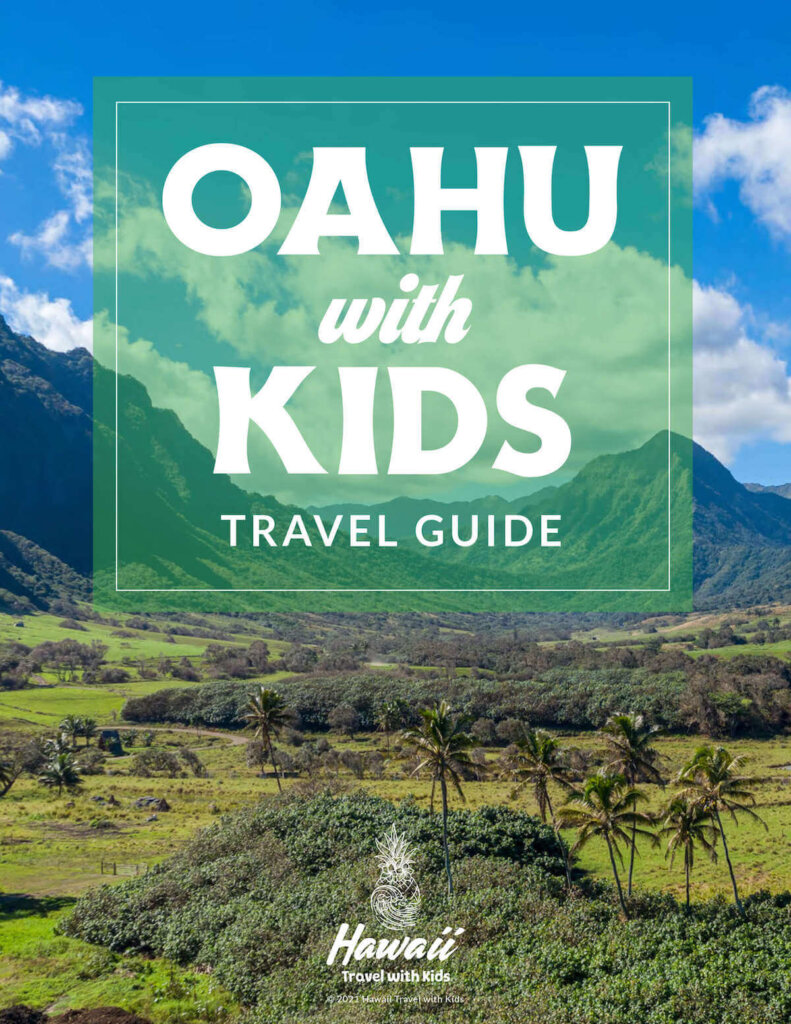 Haleiwa Oahu FAQs
What is Haleiwa known for?
Haleiwa, HI is most famous as being the surf capital of the world. Located on Oahu's North Shore, there are tons of incredible surfing beaches that have launched the careers of many professional surfers.
How do you pronounce Haleiwa?
In order to not stand out as a tourist, it's important to know that Haleiwa is pronounced ha-lay-ee-vah. The Hawaiian word "hale" means house and "iwa" is a type of bird in Hawaii.
Where is Haleiwa Hawaii?
Haleiwa is a small town in North Shore Oahu.
How far is Haleiwa from Honolulu?
It's about 25 miles away, which can take anywhere from 45 minutes to 2 hours to drive, depending on traffic.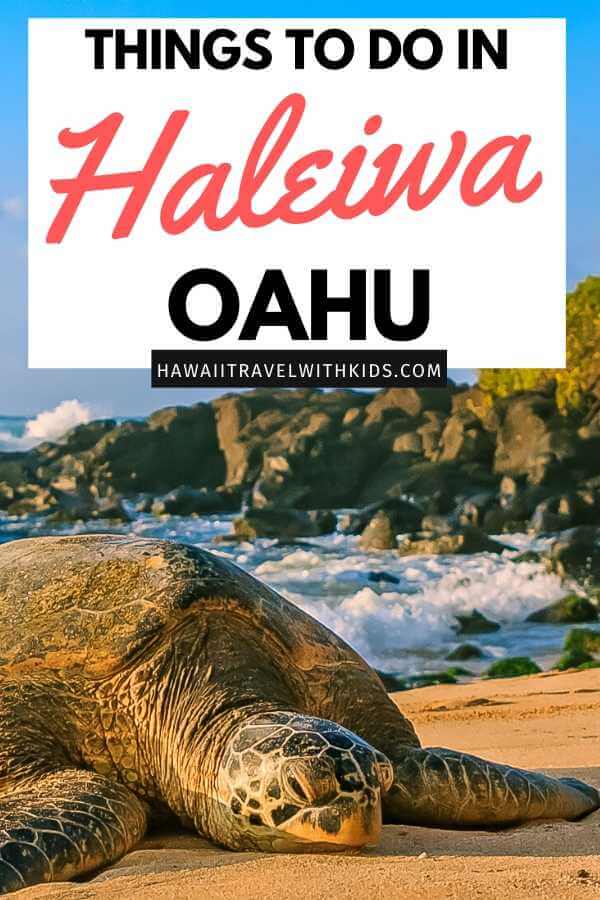 33 Things to do in Haleiwa
1. Swim in a Waterfall
Something high on most people's Hawaii bucket list is to swim in the base of a Hawaiian waterfall. Doesn't that sound incredible?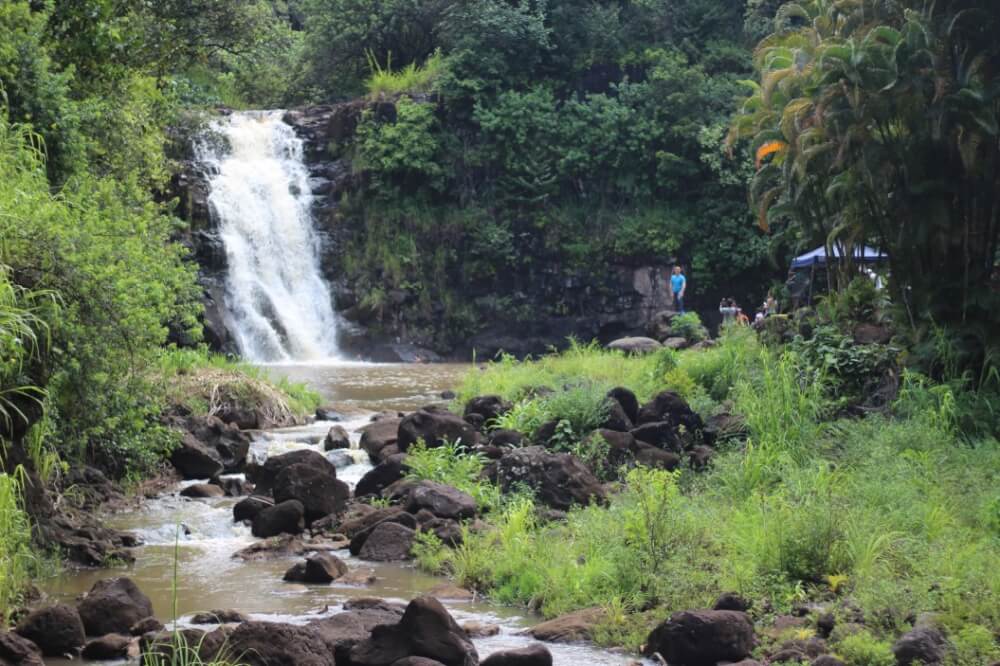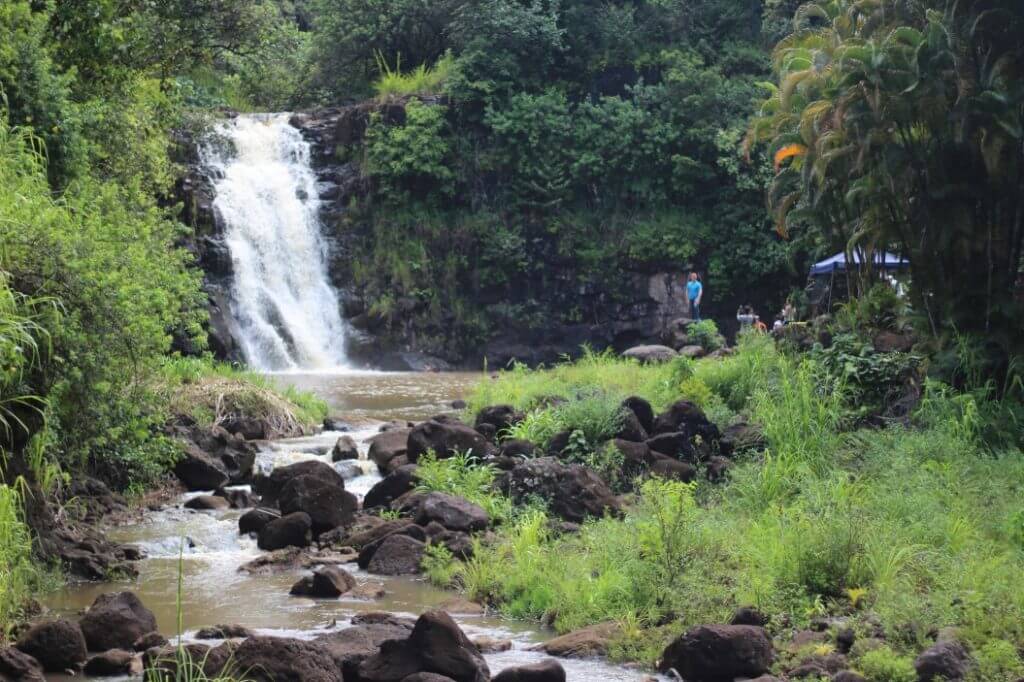 Well, if you don't want to do extensive hiking through the jungle, head straight to Waimea Valley. They have a lovely waterfall area and plenty of room for visitors to swim. Check out this full guide to visiting Waimea Valley on Oahu.
Guests take a paved path to get to the waterfall area. It's .75 miles long and is fairly stroller/wheelchair friendly (except for a few areas with stairs and steeper hills.) If you don't want to walk, there are shuttle rides available.
They also offer a world-class botanical garden, cultural programs (including lei making and hula lessons), walking tours, and even one of the best luaus on the North Shore.
Waimea Valley is just 10 minutes away from Haleiwa, but it's just too cool to not include it on this list!
2. Go Snorkeling at Sharks Cove
Oahu has some fabulous snorkeling spots, but Sharks Cove is a popular spot for families and intermediate swimmers.
There isn't a lifeguard on duty, but it's typically safer than other North Shore beaches (especially during the summer months.)
It's located about halfway between Waimea Bay and Banzai Pipeline at Pupukea Beach Park. The bay is about 8ft-15ft deep and it's full of coral and incredible sea life. Plus, you can explore lots of caves and lava tubes.
The name "Sharks Cove" is a bit misleading, as you're more likely to see Hawaiian green sea turtles than reef sharks!
You can rent gear in Haleiwa, or you can bring your own snorkeling sets. Foodland is right across the street and you can pick up snorkel gear there along with snacks and lunch items.
Sharks Cove Grill is another option to grab lunch or a smoothie after a morning of snorkeling on the North Shore.
Tip: Get to Sharks Cove early to beat the crowds!
3. Get an Acai Bowl
One of the trendiest breakfast items in Hawaii is an Acai Bowl. And the best (and prettiest) place to get one on the North Shore is Haleiwa Bowls.
They have 5 different kinds of Acai Bowls, all of which feature fresh tropical fruits and local Hawaiian honey. Plus, you can choose additional toppings and botanical supplements.
Each bowl comes in a compostable container and you can either eat there or take them with you to the beach.
You can also grab a fresh fruit smoothie, cold brew coffee, or homemade kombucha.
Not only that, but you can also get a trendy Haleiwa Bowls shirt to bring back home.
4. Visit a Macadamia Nut Farm
The most popular nut in Hawaii is the Macadamia Nut. But, there's only one working macadamia nut farm on Oahu and it's on the North Shore.
North Shore Macadamia Nut Farm is situated right across the street from Haleiwa Beach Park and they have some delicious macadamia nut flavors like Caramel Roasted Macadamia Nuts, Cinnamon Macadamia Nuts, and Coconut Roasted Macadamia Nuts in additional to the traditional, unflavored version.
These are great snacks to take to the beach or bring home as a souvenir.
5. Snap a Photo at Rainbow Bridge
One of the most recognized symbols of Haleiwa is the Anahulu Stream Bridge (commonly called Rainbow Bridge,) which was built in 1921 (replacing the old wooden bridge.)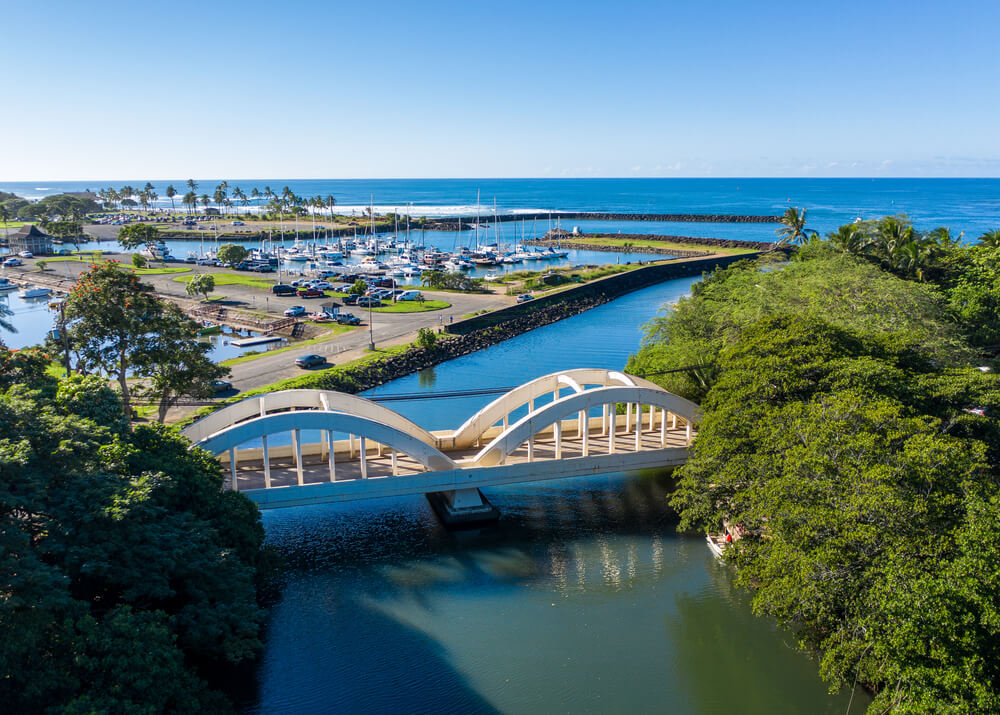 This iconic bridge connects Haleiwa town and it's a fun place to take photos both of the bridge and the view from it.
After you take your photos of the bridge, head over to the rainbow angel wings mural next to Anahulu's Shave Ice shop. And take a few moments to grab some souvenirs at the Rainbow Bridge Gift Shop.
6. Get Shave Ice
Speaking of shave ice, Haleiwa is one of the cutest towns to enjoy this tasty treat!
Hands down, the most famous shave ice in Haleiwa is Matsumoto's Shave Ice. It started out as a grocery store in 1951 and once they started making shave ice with homemade syrup, they become legendary.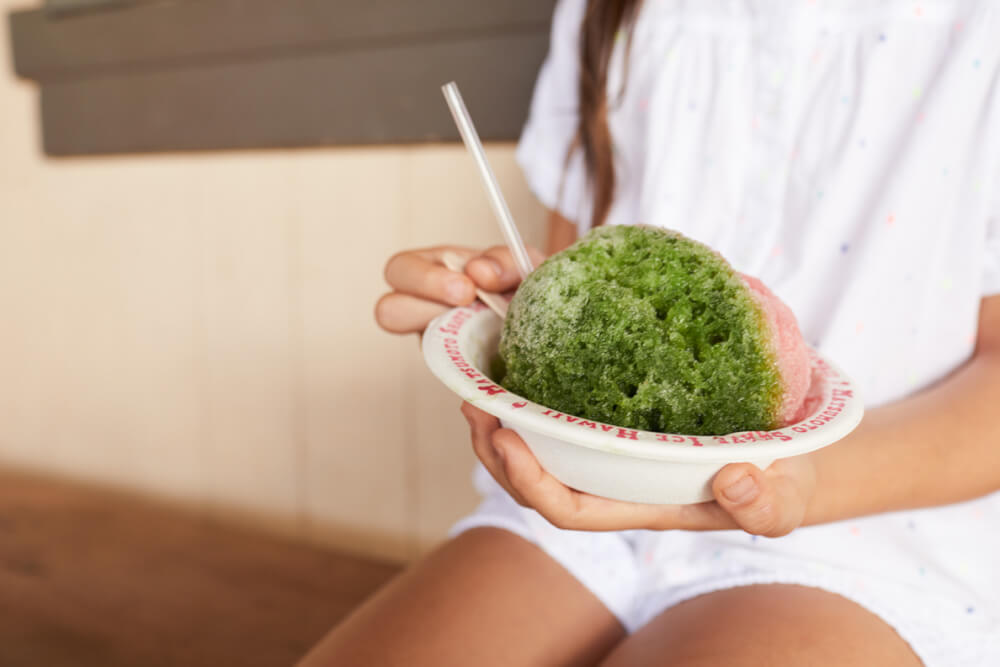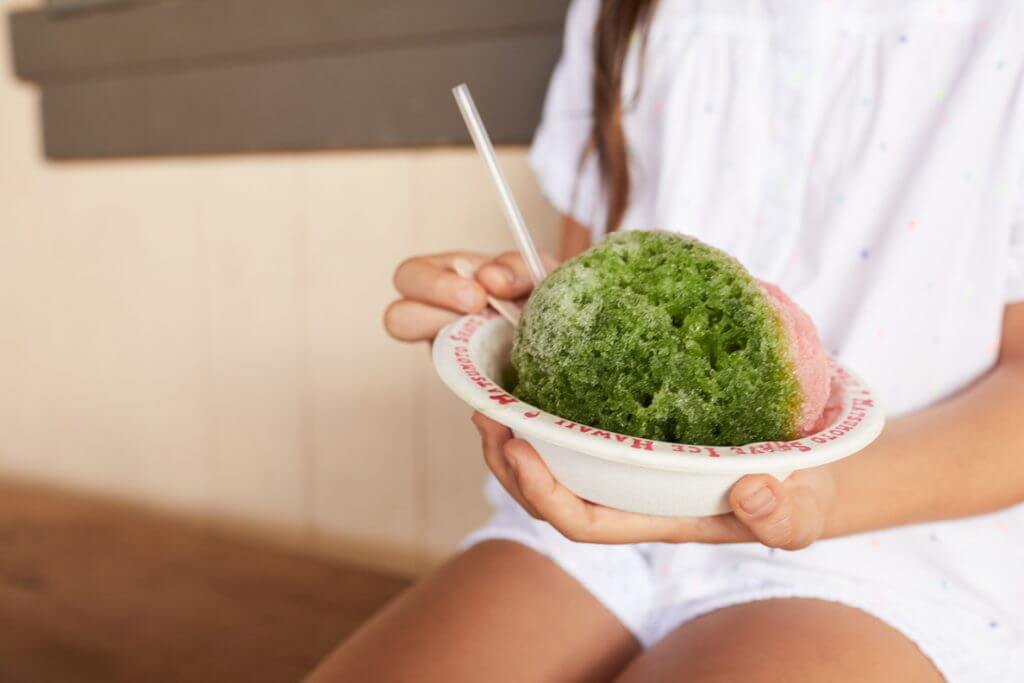 While it's no longer in the cute little building where it originated, the shave ice is still pretty awesome. They have lots of flavor options and you can order it with ice cream at the bottom or snowcapped (with condensed milk on top.)
Because it's so popular, there's usually a line out the door. If you don't want to wait, you can head across the street to Aoki's Shave Ice or head to Anahulu's Shave Ice by Rainbow Bridge.
Read more on where to find the best shave ice on Oahu
7. Haleiwa Beach Park
Another popular North Shore beach is Haleiwa Beach Park, which is just a 2 minute drive from town (or you can enjoy a 10 minute stroll.)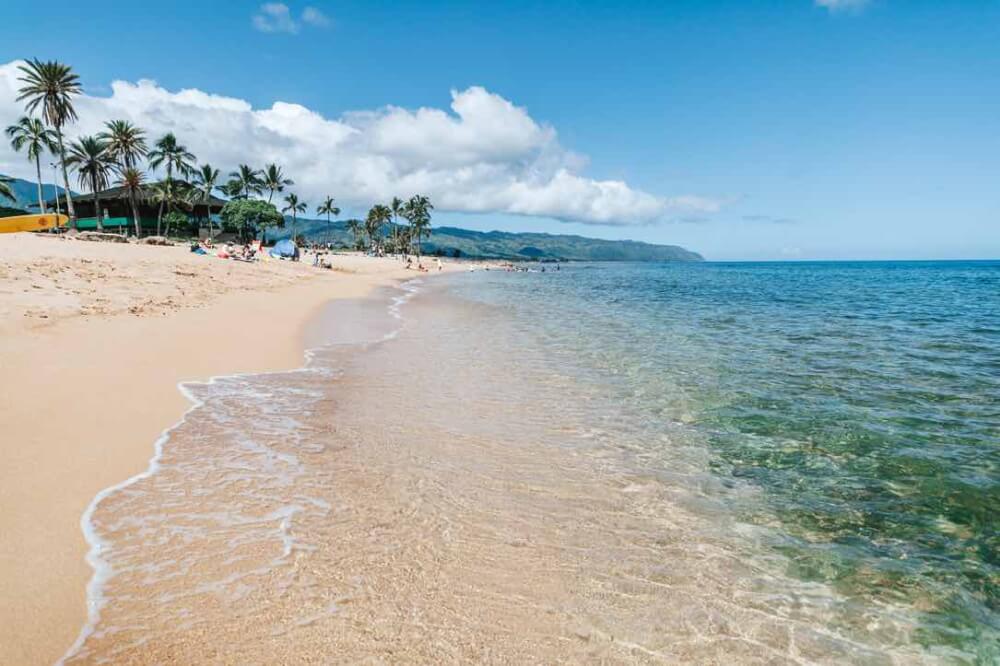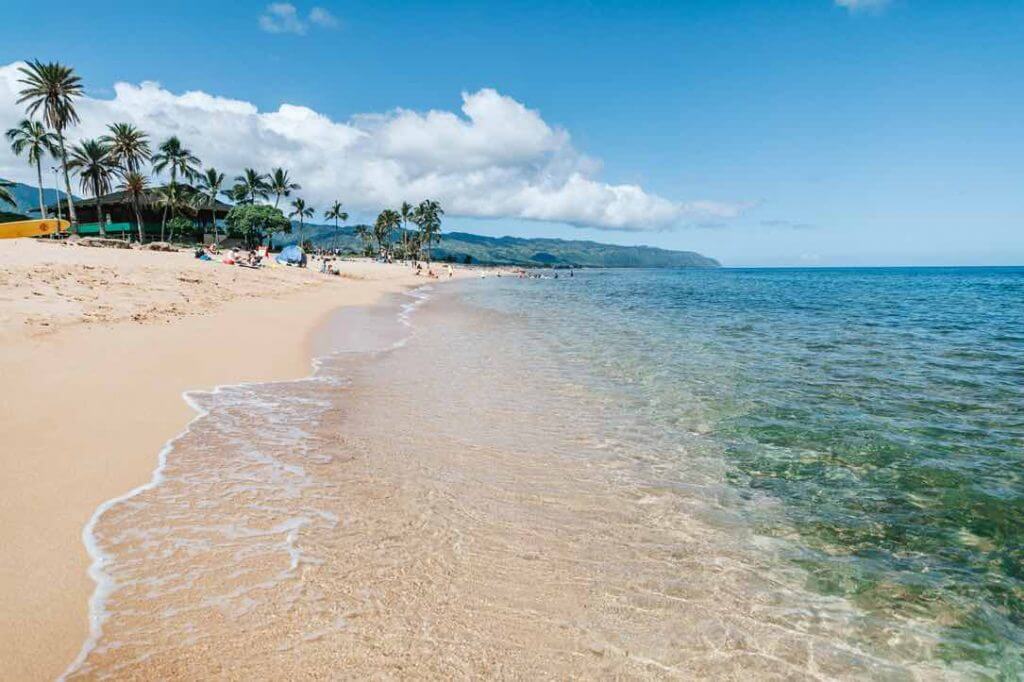 This beach has fairly calm waters (at least compared to other North Shore beaches.) So, it's a great beach for families or people learning how to surf.
If you're hoping to see Hawaiian sea turtles, this is a great beach to do that. It's easier to get to than Lanikea Beach (aka Turtle Beach). Just remember that it's a federal offense to disturb the turtles, so be respectful.
If you are traveling with little ones, Haleiwa Alii Beach Park is another option. It's easily accessible and has lots of parking. It's great for families with little kids because it's a short walk from the parking lot to the beach.
8. Go Shopping
One of the best things to do in Haleiwa, Hawaii is go shopping! This little beach town has a lot of little boutiques offering locally made/designed products. It's great for picking up gifts, shopping for yourself, or just perusing.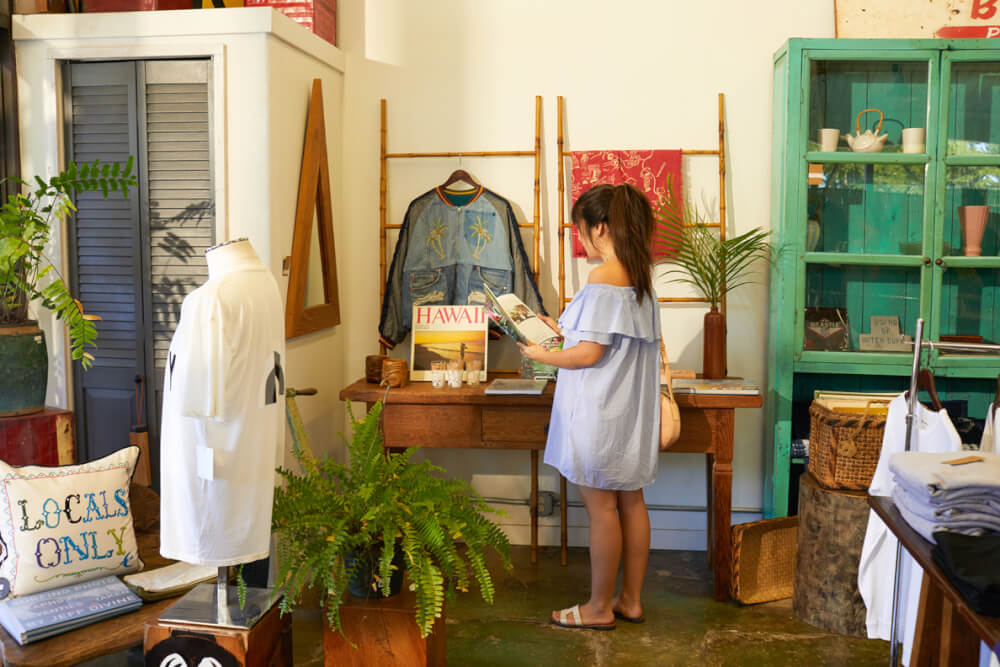 You'll see surf shops, art galleries, high end specialty shops, places with home decor, trendy clothing stores, souvenirs, and so much more.
If you are planning on surfing (or just want to pick up some cute surf clothing), the prices in Haleiwa tend to be cheaper than shops in Waikiki.
Some popular places to shop in Haleiwa include: North Shore Surf Shop, Hawaiian Island Creations, Growing Keiki, Pakaloha Bikinis, Surf N Sea, Bubble Shack Hawaii, and Happy Haleiwa.
9. Stop By a Shrimp Truck
Over the past few years, the North Shore has been THE place for shrimp trucks! For some people, it's their only stop on the North Shore.
While there are a ton of North Shore food trucks, the shrimp trucks really stand out.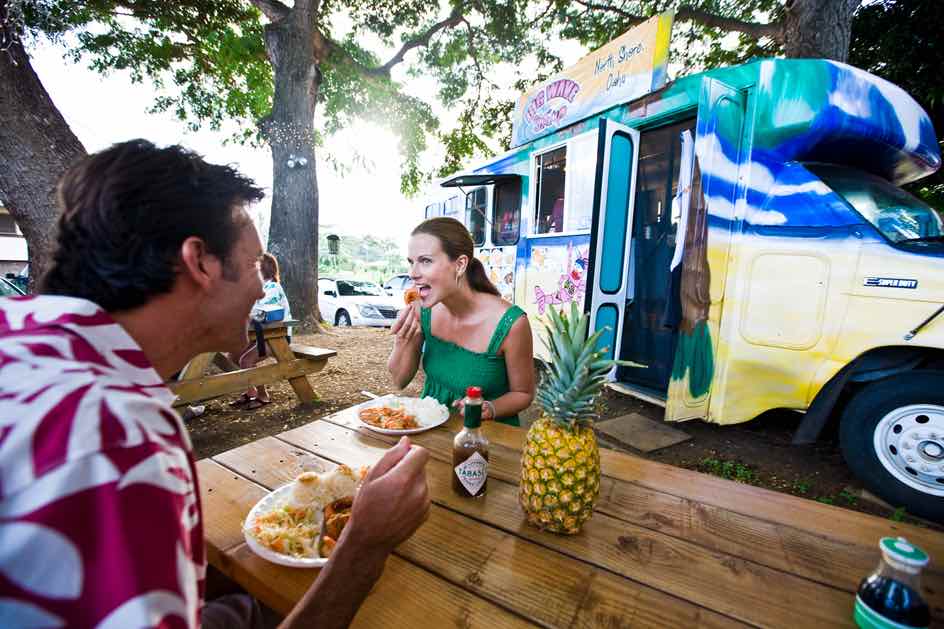 The most famous one is Giovanni's. They offer four options: Shrimp Scampi, the "No Refunds" Hot & Spicy Shrimp, Lemon Butter Shrimp, and Jumbo Garlic Hot Dog (for those who don't like shrimp.)
We usually do one Shrimp Scampi and one Lemon Butter Shrimp and share. And we get a side of their homemade mac salad. Yum!
There's also Romy's Kahuku Prawns & Shrimp Truck, Honos Shrimp Truck, Fumi's Shrimp Truck, and Big Wave Shrimp.
Exploring the food truck scene is one of the top North Shore things to do.
Tip: Try to head here earlier than lunch time. It takes awhile for them to cook your shrimp and when the lunch line gets long, it can take close to an hour. Don't come here starving (or at least bring a snack to eat while you wait.)
10. Go Diving
Scuba diving is another popular Oahu activity and Haleiwa is a great place to do it.
There are several places to rent diving equipment. Hawaii Eco Divers is a great option. Not only do they offer dive training (perfect for newbies), but they have guided Haleiwa tours where you can explore lava tubes, caves, caverns, and tons of sea life.
They also offer night dives featuring nocturnal creatures you'd never see during a day dive.
Read my full guide to diving in Hawaii!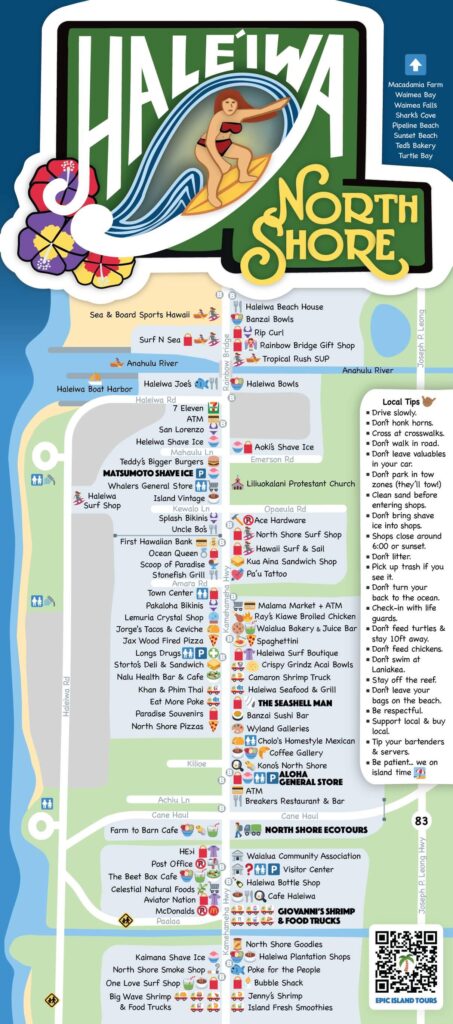 11. Ride a Horse
One unique North Shore experience is to take a horseback ride near Haleiwa. Hawaiian cowboys are called "paniolos" and there's a rich history of paniolos in Hawaii.
Happy Trails Hawaii is a horse ranch that overlooks gorgeous Waimea Valley.
From their trails, you'll get panoramic views of the Waianae mountain range, Kaena Point, and North Shore beaches. Plus, you'll get to taste local fruit, like strawberry guava, lilikoi, banana, star fruit, mangoes, and mountain apples during your horseback ride.
They offer 90 minute rides and 2 hour rides through the forests of the North Shore.
12. Take a Photo with Angel Wings
If you're looking to snap some pics for Instagram, you'll definitely want to stop at Colette Miller's Global Angel Wings.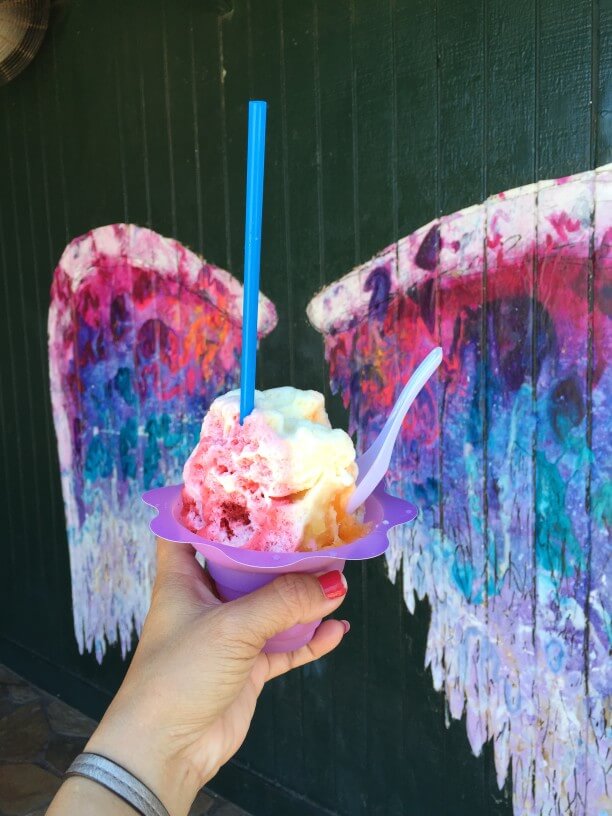 This is a project that was designed to remind people that we are all angels of the Earth.
The project started in Los Angeles and now there are wings in Africa, Australia, Europe, Asia, the Middle East, and North America. You can actually watch a TedX talk about it.
Hawaii has one location and it's located directly in front of Anahulu's Shave Ice. This is a popular photo spot on the North Shore and a must-see Haleiwa sightseeing spot.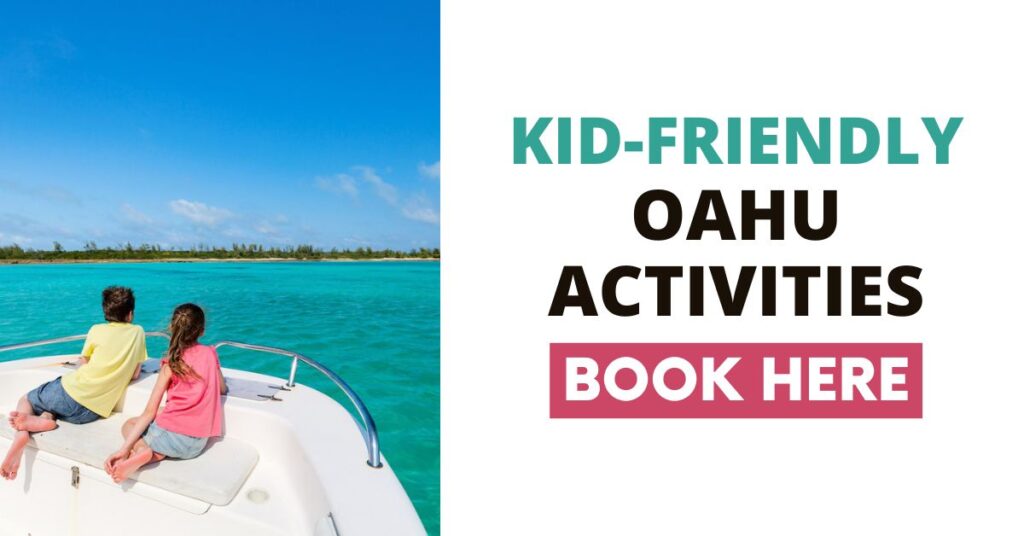 13. Try Stand Up Paddle Boarding
If you think you want to try out Stand Up Paddling, Haleiwa has a protected cove and river that offer calm waters for beginner and intermediate paddlers.
It's a great work out plus sometimes you can see sea turtles and other wildlife in the river as you paddle.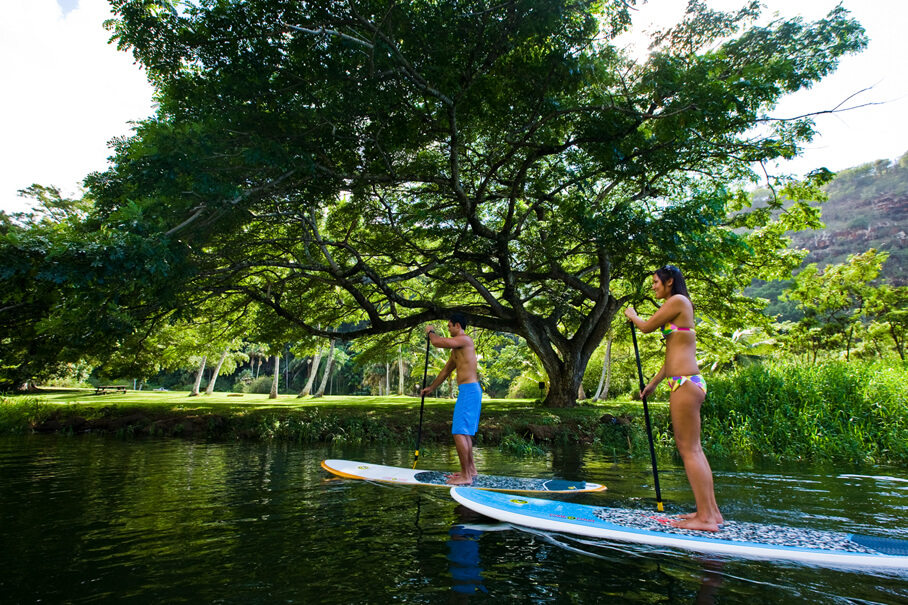 You can rent your own paddle board or join a guided Stand Up Paddle Boarding lesson and tour. Check out the latest prices and more details.
Not only can you do regular stand up paddle boarding, but there are a couple of options with a twist. You can try twilight paddle boarding.
It's just one of the many fun things to do in Haleiwa.
14. Go Ziplining
Just outside of Haleiwa, you can hop on Oahu's longest zipline for a 3 hour guided tour.
You'll start off with a 2 mile ATV ride to the top of a mountain. From there, you get panoramic ocean and mountain views of the North Shore as you race across ziplines ranging from 500 to 2,400 feet long. Check out the latest prices and more details.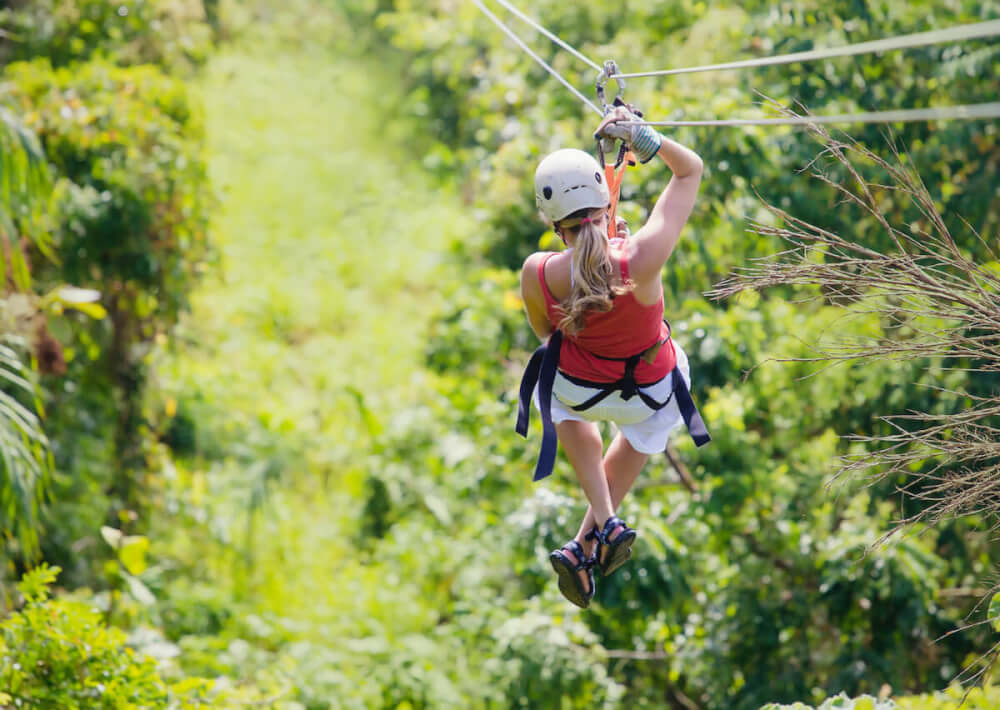 Throughout the experience, you'll come across sky bridges, scenic boardwalks, rappels, and more. And you'll learn about local produce grown at Keana Farms as you soar over it.
Kids have to be at least 7 years old to participate and kids under 80 pounds will ride tandem with a guide.
Get your discounted Zipline tickets
15. Watch Surfers at Banzai Pipeline
Because the North Shore is world-famous for its surfing, another fun thing to do in Haleiwa is watch surfers at Banzai Pipeline.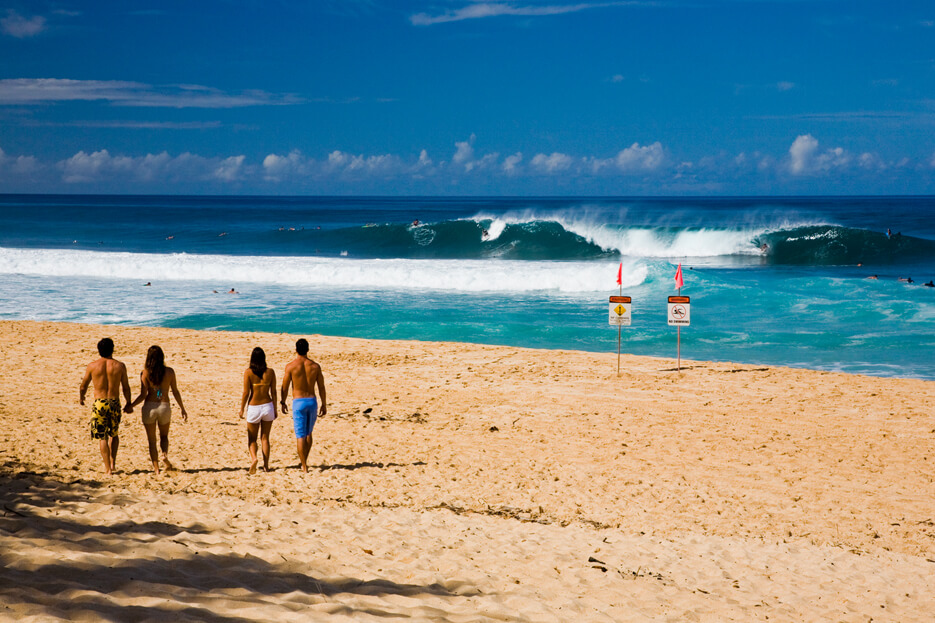 With such an iconic shape and proximity to the shore, it's not wonder why Banzai Pipeline has one of the most photographed waves in the world. When you see surfing photography artwork, chances are it was taking at Pipeline.
Notice I say watch surfing. The waves are massivie and they go over a razor-sharp reef, so it's best to leave the surfing at Banzai Pipeline to the professional.
Watching surfing is one of the most popular activities in Haleiwa for locals and tourists.
Read my full guide to North Shore surfing!
16. Learn to Surf
But, you can still learn to surf in Haleiwa!
There's a really awesome North Shore surfing company that specializes in helping beginners learn to surf for the first time. Each lesson is either private or just with one other person.
You'll get personalized instruction in one of the most famous surfing locations in the world. Check out the latest prices and more details.
Kids as young as 5 years old can take a surf lesson and many participants are able to catch their own waves by the end of the first lesson. But, if you really want to be a solid surfer, you'll need about 3 lessons.
Get your discounted surf lessons
17. Visit Dole Plantation
If you're going sightseeing in Haleiwa, one of the biggest tourist attractions on the North Shore is Dole Plantation.
Kids will love hopping aboard the Pineapple Express, a 20 minute ride around the plantation where families learn about the process of growing Hawaiian pineapple.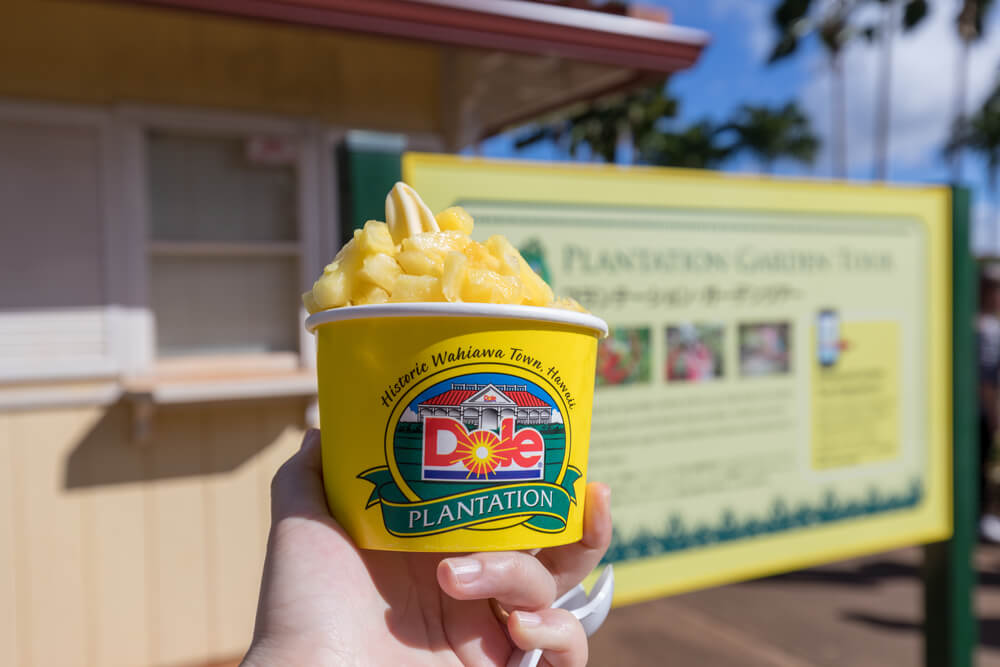 Another activity is exploring the world's largest maze, which covers more than 2 acres and has twisting paths with activity stations along the way.
But, the real draw is tasting the pineapple! They have lots of pineapple products to sample, but the most popular is their Dole Whip.
Yes, this is the same dairy-free, frozen treat you'll find at Disney Parks. You can get it in a cone or cup and they even have fun topping.
Dole Plantation is about 12 minutes from Haleiwa, so it's a great activity to do as you are entering or leaving town.
In fact, it's one of the top fun things to do in North Shore Oahu with kids!
Sign up for a North Shore Tour that includes Dole Plantation
18. Go Hiking
Another fun North Shore activity is to go hiking on some of the trails.
Ehukai Pillbox is one of the most popular North Shore hikes for people looking for a bit of adventure. Families with elementary age kids (around 8 years and older) should have no problems navigating this hike with kids.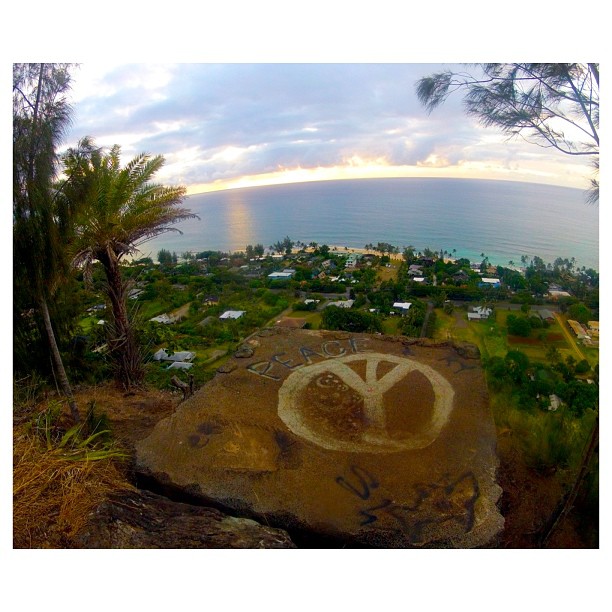 There are actually 2 World War II pillboxes on this hike, but a lot of people stop at the first one. The pillbox itself is covered in graffiti and makes a cool photo spot.
There's also hiking adventures near Keaena Point and Pupukea.
Read more about North Shore hikes
19. Grab Plate Lunch at Ted's Bakery
Hands down, one of the best places to eat in Haleiwa is Ted's Bakery. This is where you can get delicious full breakfasts and authentic Hawaiian-style Plate Lunch, perfect for taking to the beach.
They also have lots of pastries including donuts, croissants, cinnamon rolls, bread pudding, and so much more.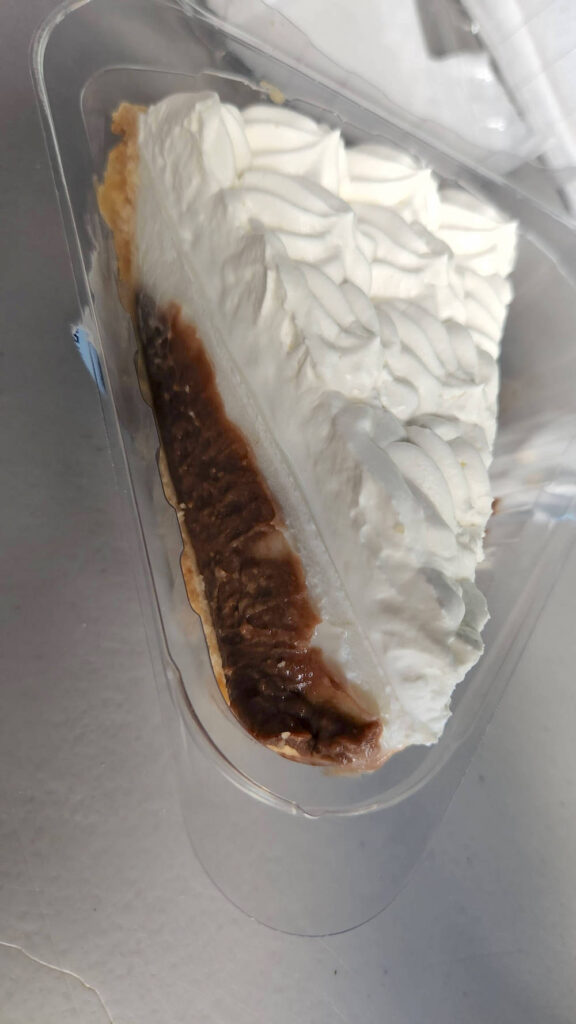 But, they are most famous for their pies. The most popular flavors include Haupia (coconut cream), Chocolate Haupia, Macadamia Nut, and Pineapple Cheese. These are all Hawaiian-style cream pies.
You can grab a slice to eat there, but most people buy an entire pie to go.
20. Watch a Motocross Race
While you might not expect it, there's a famous motocross track between Sunset Beach and Turtle Bay. It's called Kahuku Motocross Track and for just a few dollars, you can watch local races on the weekends.
There are both man-made tracks and natural trails and riders at all skill levels come here to race. You can even bring your own bike and have some fun.
21. Go Kayaking
If you're heading to the North Shore in the summer, this is the best time of year to go kayaking. The waves are calmer and you'll be able to kayak in the ocean.
You can rent kayaks for a half day or full day from Haleiwa shops like Surf N Sea. Families with kids might be interested in renting a tandem kayak. Check out the latest prices and more details.
Or you can join a kayaking tour.
Find out more places to Kayak on Oahu
22. Try Hang Gliding
Thrill-seekers might want to get a bird's eye view of the North Shore from a powered hang glider. You'll learn the basics of ultra light flying and then take off on an early morning flight to watch the sunrise over the Ko'olau Mountains.
Hang Gliding Hawaii offers 30 minute flights, 45 minute flights, or 60 minute flights. You don't need any experience, as you will be trained by an FAA-certified instructor.
You'll get the same hang gliding experience, but with the safety and comfort of an engine. It's the most state-of-the-art flying motorcycle and it can go up to 100 miles per hour!
23. Go Rock Climbing
If you like rock climbing, you are in luck! The North Shore has 2 of the best climbing spots in Hawaii. The gorgeous volcanic rock cliffs and boulders along the North Shore makes it the ultimate spot for bouldering in Hawaii.
There's a smaller climb at Waimea Bay on the beach, near the restrooms. It's a 30ft-35ft climb and can be a great workout.
The larger climbing wall is near Mokule'ia Beach and is almost 90ft tall. It has several bolted routes.
For either wall, climb at your own risk and be sure to wear rock climbing shoes and any gear you normally use.
24. Go Skydiving
Skydiving is yet again another North Shore activity for adreneline junkies. There are three places to do skydiving at Dillingham Airfield in Waialua on the North Shore: Skydive Hawaii, Pacific Skydiving, and Oahu Parachute Center.
You can do a tandem skydive, free fall, or even skydive from a helicopter. Plus, they will take photos and video of your skydive so you can show all your friends back home.
Skydiving is weather-dependent and your flight might get canceled if it's too windy or cloudy, so aim to book early in the morning for the best chance of decent weather.
25. See Art
One of the things that makes Haleiwa special is that it's an artsy town with several galleries.
The Haleiwa Art Gallery is a great place to check out local Hawaii artists. They hold the largest collection of works by the late Al Furtado, and represent other fine artists including Ed Furuike, Lance Fairly, Mark Howard, and XQ Silk Art. It's located just a couple minutes outside the cetner of town.
There's also Tabora Gallery, Polu Gallery, Wy's Gallery, Rocky Point Collective, Welzie Art Studio, Clark Little Gallery, Artopia Hawaii, and the famous Kim Taylor Reece Gallery.
The art here in Haleiwa tends to be cheaper than purchasing in Waikiki (up to 50% less expensive) so if you are on the fence, just buy it.
26. Try Body Surfing
Body surfing is basically surfing without a surfboard or body board. Sometimes bodysurfers wear fins to help them catch the wave, but mostly, it doesn't require any gear.
A popular North Shore bodysurfing beach is Waimea Bay. It's known internationally as the home of the Eddie Aikau Big Wave Surf Competition. The competition happpens when the waves reach 30ft-40ft tall.
But, the waves at Waimea Bay can also be really calm and the beach break is idea for bodysurfing, for those who are strong swimmers and have a big of experience.
There's a lifeguard at Waimea Bay, but you'll still want to be careful and keep a watchful eye on kids.
27. Dive with Sharks
For a once-in-a-lifetime adventure, go cage diving with sharks!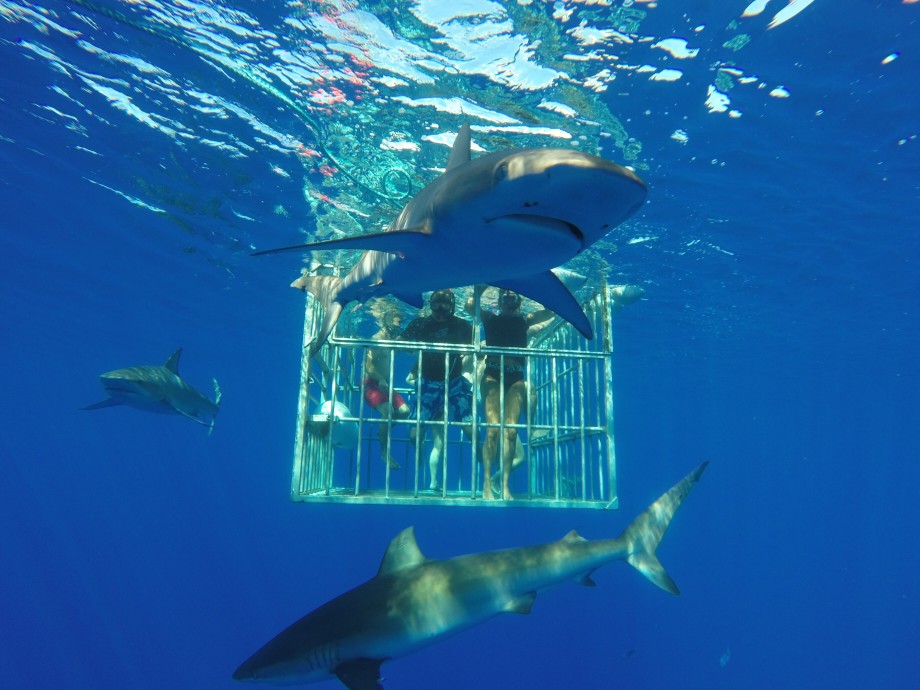 You'll take a North Shore boat ride into the depths of the Pacific Ocean, keeping an eye out for Hawaiian sea turtles, dolphins, and humpback whales along the way. Check out the latest prices and more details.
And once you get to your shark viewing spot, you can watch from the boat or get inside a secure underwater shark cage. From there, you'll spot Galapagos sharks and sandbar sharks (and possibly other types of sharks and sea life.)
It's completely safe. You'll be in an underwater cage that provides proven safety against all different species of sharks.
But, it's definitely one of the craziest Haleiwa activities!
Book your Oahu Shark Diving adventure
28. See Sea Turtles at Turtle Beach
Laniakea Beach is located on the North Shore and it's commonly known as Turtle Beach because it's one of the best places to see turtles on Oahu.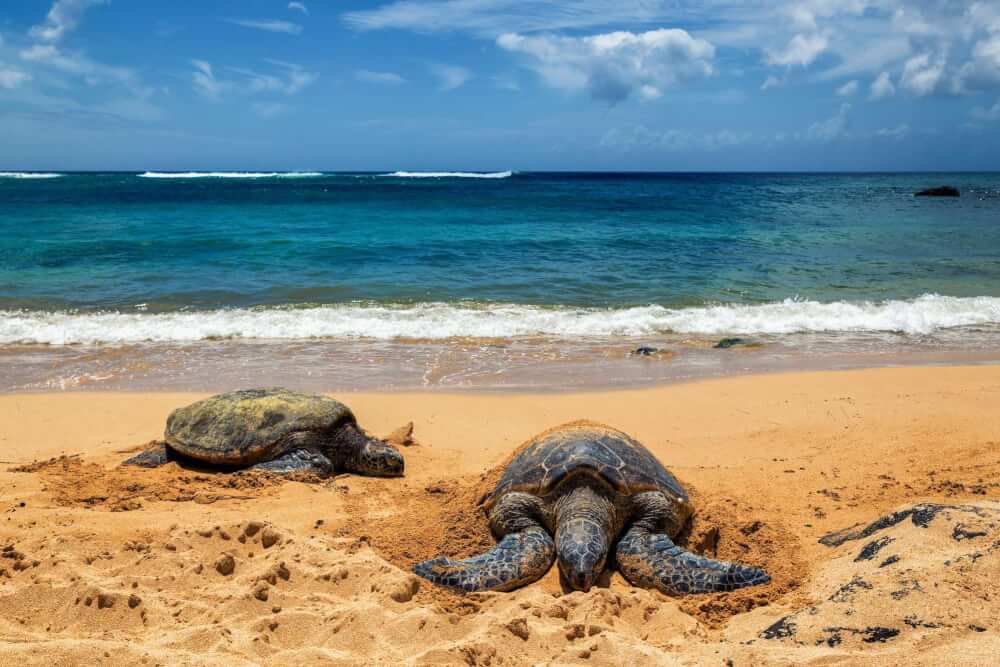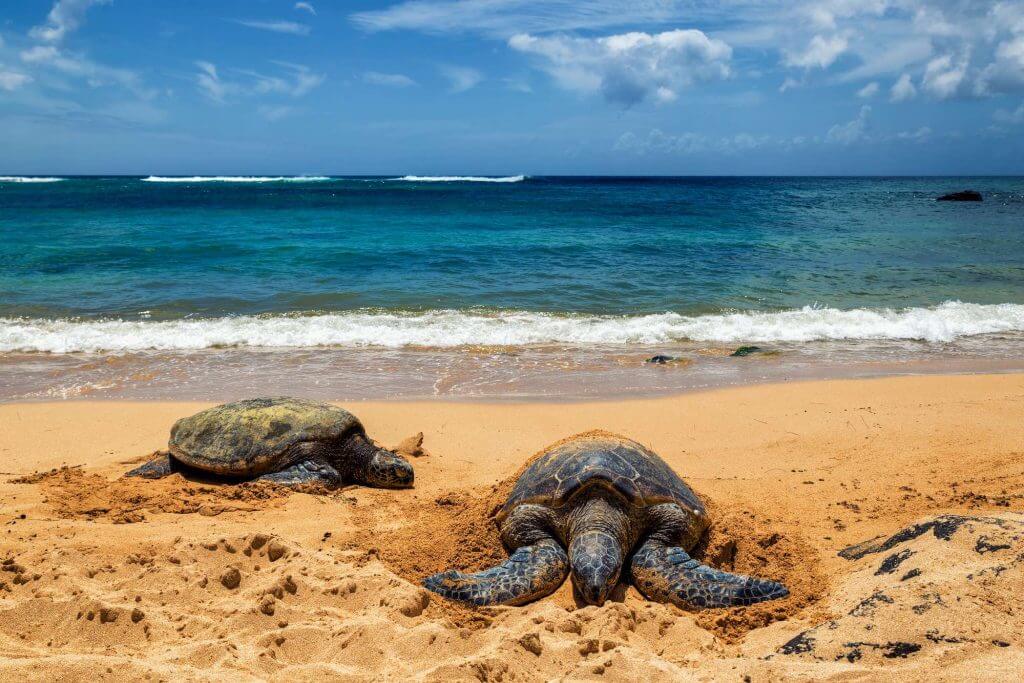 It's a popular spot for turtles and you'll usually see at least one huge Hawaiian sea turtle relaxing on the beach. It's a federal crime to touch, chase, or harass the sea turtles, but you can take photos from a respectable distance.
Parking can be really tricky (it's no longer allowed at the beach itself), so you might need to park far away and walk.
But if you love watching wild animals, this is one of the best things to do in North Shore.
Read my full post on Turtle Beach
29. Watch the Sunset
It's really hard to beat a Hawaiian sunset. And North Shore sunsets are truly magical. That's because the North Shore technically faces west, due to the shape and orientation of the island of Oahu.
A popular spot is Sunset Beach. It got its name because of the awesome sunset views here, especially during the summer.
Most tourists will head back to Waikiki for dinner, but that's a mistake. Traffic can be brutal and there's no reason to hurry to sit in traffic.
Instead, enjoy dinner in Haleiwa and grab some shave ice to enjoy at Sunset Beach (or any North Shore beach) and gaze at the beautiful coastline. It's the ultimate way to end a day in Haleiwa.
30. Check out a Surfing Museum
Since Haleiwa is the surfing capital of the world, it makes sense the North Shore Surfing Museum would be located here.
It's a great place to learn about the history of surfing on Oahu's North Shore, check out antique surfboards, see how they make surfboards, and more.
Plus, they host organized surfing tours.
31. Get Some Broiled Chicken
If you're heading to Haleiwa on a weekend, save time to stop at Ray's Kiawe Broiled Chicken in Old Town Haleiwa. It's the best place on Oahu to find Hawaiian-style huli huli chicken.
They take whole chickens and put them on long skewers and continually turn them as they roast them. The chicken is smoked with Hawaiian kiawe wood, which gives it an intense, smoky, barbecue flavor.
The whole thing takes place under a tent outside and it might be some of the juiciest chicken you've ever tasted.
32. Rent a Jet Ski
Another fun thing to do in Haleiwa is rent a jet ski. Watercraft Connection is the only North Shore jet ski rental shop and they offer rentals for the whole family.
They have one or two-seat models that you can take into the Pacific Ocean. These are available on a first-come-first-served basis and depend on weather conditions.
33. Enjoy a North Shore Luau
If you are looking for an awesome North Shore luau, you won't want to miss Toa Luau. It's one of the newest luaus on Oahu and it's unlike any other luau.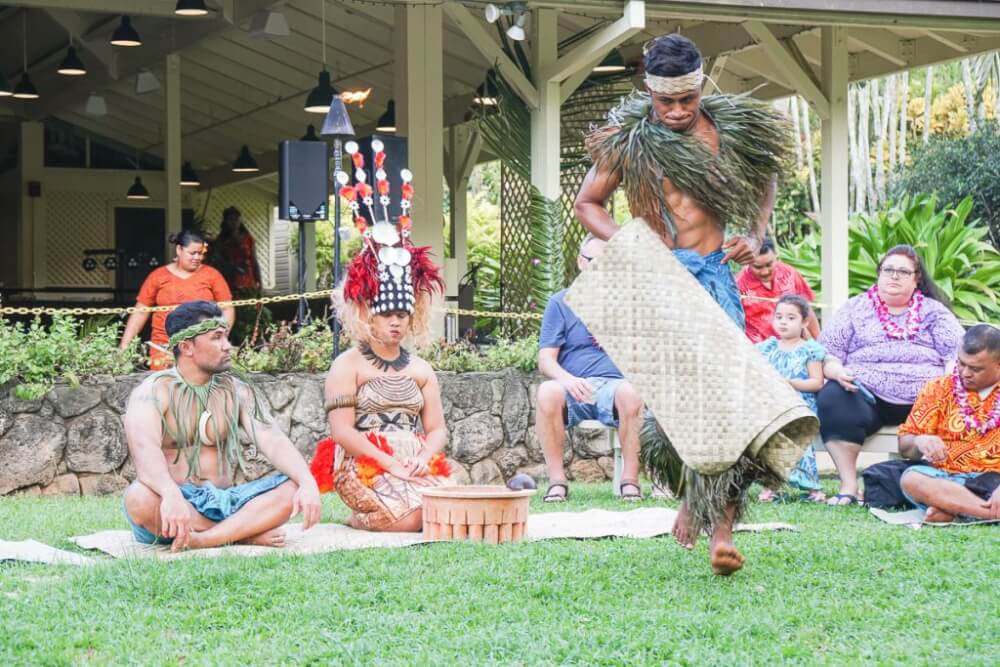 They offer extensive hands-on activities for kids and adults, a traditional Samoan kava ceremony, demonstrations, and more. This is the most intimate luau, as they keep attendance small. Check out the latest prices and more details.
What's extra cool is that your luau ticket also includes admission to Waimea Valley (at the same site).
There are so many cool things to do in Waimea Valley like spending the day swimming in a waterfall and exploring the botanical garden before walking to Toa Luau. You can read my full Toa Luau review here.
How to Get to Haleiwa
The best way to get to Haleiwa is by renting a car and driving. That way, you can see everything on your own time and see as much (or as little) as you like.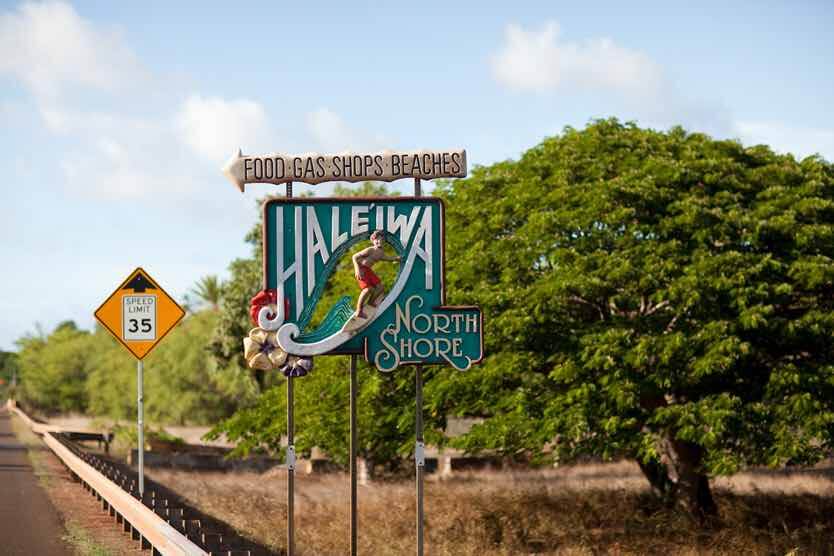 But, if you are staying in Waikiki, there are lots of North Shore tours available that will take you to many top Haleiwa attractions and restaurants. This is an easy way to see Haleiwa without worrying about driving or parking.
You can also take the bus, which stops in Old Haleiwa Town and several North Shore beaches.
By Car:
Directions from Waikiki
Take the H-1 Hwy West to the H-2 Hwy North
Follow the H-2 Hwy to the Kamehameha Hwy (hwy 99)
Take Hwy 99 and continue into Haleiwa Town.
By Bus:
Directions from Waikiki
Take the number 98A bus from Waikiki to the Wahiawa Armory
Transfer to Oahu Bus 88A
This bus will take you to Haleiwa Town and to the North Shore beaches
Best Places to Stay in Haleiwa
There are no hotels in Haleiwa, but there are several fun VRBO options. We love staying in VRBOs to get more of a "local" experience.
This is an awesome 2 bedroom 1 bathroom spot at Rocky Point, super close to the beach.
It's the whole downstairs of an adorable plantation-style house and you'll have your own entrance, parking, and even a shaded lanai to enjoy dinner (or drinks) outside. Check out the latest prices and more details.
This 2 bedroom 2.5 bathroom house can sleep up to 6 people and has an awesome wrap-around deck. It's perfect for cooking and eating meals.
Plus, it's super close to Shark's Cove, one of the best kid-friendly beaches on Oahu! Check out the latest prices and more details.
This 1300 square foot home can sleep up to 6 people and it's right between Sunset Beach and Turtle Bay.
It's right next to the North Shore walking path, making it easy to stroll to the beach or to go eat somewhere. Check out the latest prices and more details.
Other Fun Things to do on Oahu
Hike Diamond Head
If you're like to get an epic view of Waikiki, start your morning off with a hike at Diamond Head. Referred to as Lēʻahi by locals, the Diamond Head Hike is Hawaii's most popular hike route.
This is because the route provides one of the most awe-inspiring, panoramic views of Oahu.
From the top of the route, the giant 300,000-year-old crater created from a volcanic eruption can be seen.
Just be sure to get there early before it gets too hot.
Kualoa Ranch
Adventure seekers and movie lovers will want to set aside time to explore Kualoa Ranch.
This is where they filmed box office hits like Jurassic Park and Pearl Harbor. And it's the location of famous TV shows like Lost and Hawaii Five-O. You can see filming locations on their movie tour.
They offer incredible tours through their jungle oasis via ATVs, horseback rides, ziplines, and more.
Book your discounted Kualoa Ranch experiences
One of the most popular Oahu attractions is the Polynesian Cultural Center. It's been around since the 1960s and has expanded to more than 42 acres featuring Polynesian demonstrations, shows, and hands-on activities.
They also have a traditional luau and an incredible night show called Ha: Breath of Life. The show is stunning and is a theatrical presentation about how Polynesians arrived in Hawaii.
It's definitely one of the top things to do North Shore Oahu.
Book your discounted Polynesian Cultural Center tickets