Wondering what to do in Kauai with kids? Let me show you how to find the best kid-friendly attractions, activities, restaurants, and more? Scroll to check out this mega list of the best things to do on Kauai with kids!
This guide on the best things to do on Kauai with kids contains affiliate links which means if you purchase something from one of my affiliate links, I may earn a small commission that goes back into maintaining this blog.
Kauai is one of the most beautiful Hawaiian islands and it's a popular honeymoon and babymoon destination. However, it's a lot more kid-friendly than people assume.
I've visited Kauai more than 30 times. I started visiting with my family when I was a kid and now I go back with my own kids.
Because I have so much experience on Kauai, I thought I'd create a huge list of our favorite kid-friendly things to do on Kauai.
Some are favorites from when I was growing up and others are new favorites we've discovered.
Kauai is one of my favorite kid-friendly travel destinations. Keep scrolling to find out what to do on Kauai with kids for any Hawaii vacation budget!
And order a Hawaii Kids' Adventure Journal so they can keep track of these epic experiences!
Are you island hopping? Check out 101 things to do on Oahu with kids!
Don't have time to read a bunch of Hawaii blog posts and reviews? Here are some of our top picks for visiting Kauai with kids.
Best Kid-Friendly Kauai Tours/Activities
Best Kid-Friendly Kauai Resorts
Grand Hyatt Kauai (this is a personal favorite for my kids because of the water slide and saltwater lagoon)
Royal Sonesta Kauai (my kids LOVE the pool here because it's the largest one in Hawaii)
Hilton Garden Inn (we like renting the cottages here because you can walk to a massive playground)
Want to skip all the planning and just access my detailed Kauai Itinerary complete with daily schedules, kid-friendly activities, and travel hacks? Click the button below.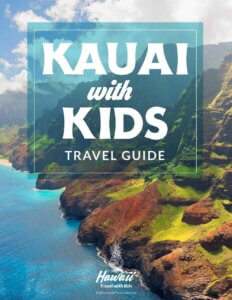 Kauai with Kids FAQs
Is Kauai or Maui better for families?
Both are pretty awesome Hawaiian vacation destinations for families. Maui has more kid-friendly resorts, but Kauai has a more laid back vibe for families who want to have some outdoor adventures, eat incredible food, relax at the beach, and go exploring.
Where should I stay in Kauai for the first time?
When visiting Kauai with kids, your best bet is to stay on the East Shore if you want a condo or on the South Shore if you want a resort. Both those locations are great hubs for day trips and both have access to kid-friendly beaches, restaurants, and activities.
Do I need a car on Kauai?
Definitely. Unless you truly aren't planning on leaving your resort, you will need to rent a car to get around the island. Kauai doesn't have great public transportation and many places aren't on the bus route.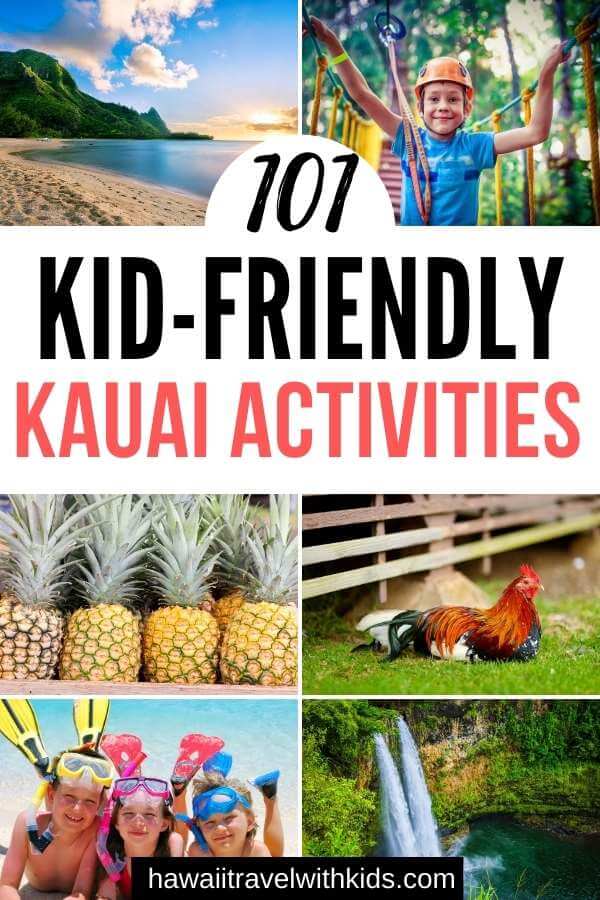 101 Best Things to Do in Kauai with Kids
Best Kauai Beaches to Visit with Kids
Kauai is home to some of the best beaches in Hawaii! These are usually less crowded than Oahu beaches, which is great for a family trip to Kauai!
1. POIPU BEACH PARK
Poipu is such a great place to stay in Kauai for families because the weather is usually consistently sunny.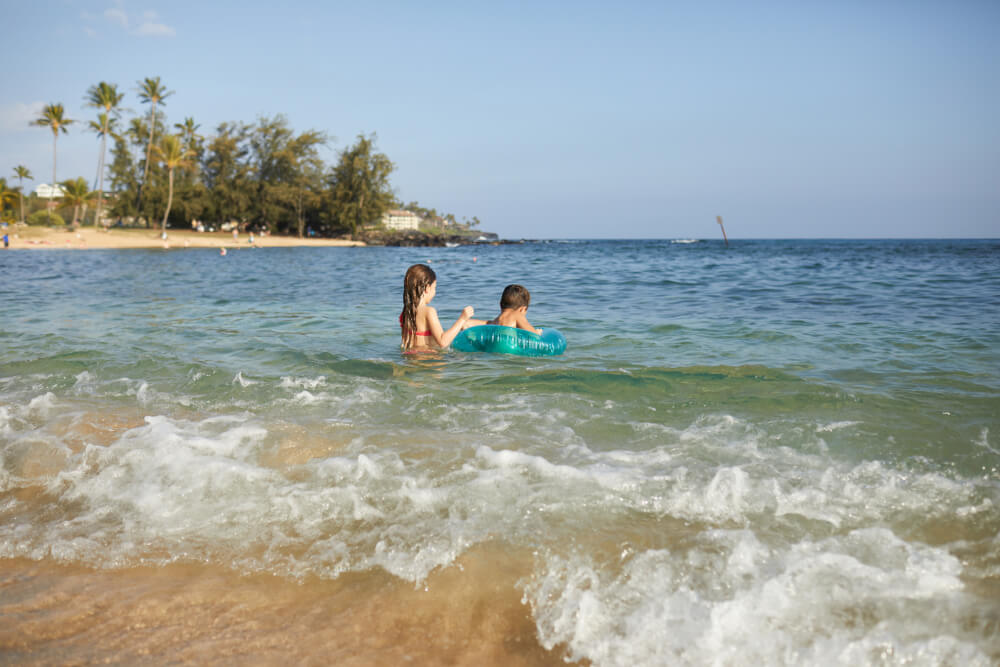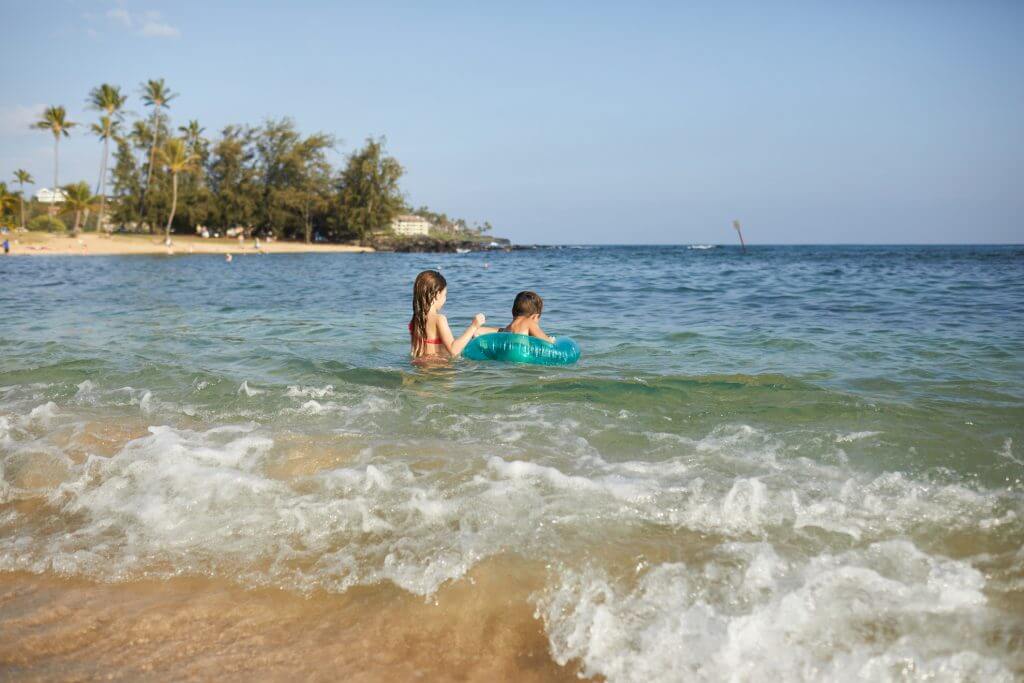 We love Poipu Beach Park! They just installed a new playground structure and renovated their restrooms. Plus, the water is really shallow and calm, which is great for babies, toddlers, and younger kiddos.
Read my top 25 things to do in Poipu!
2. LYDGATE BEACH PARK
I grew up playing a lot at Lydgate Beach Park in Wailua because it has two lagoons with protected waters, which makes it great for younger kids or those who aren't strong swimmers.
There's a nice walking path and Kamalani Playground. This wooden play structure has given my boys many hours of fun!
Plus, it's not too far from the airport, so it's a great place to get those last wiggles out before heading home.
3. SALT POND BEACH PARK
This is probably my favorite kid-friendly beach on Kauai. Salt Pond Beach Park is located in Hanapepe on Kauai's South Shore.
There's an underwater reef, so the water is really calm for little ones to play in.
And they have a tidepool where kids can see colorful reef fish, moray eels, starfish, sea cucumbers and more.
But what makes this Kauai beach unique is that families can see workers make traditional Hawaiian salt. Just be sure to watch from a distance, out of respect.
4. HANALEI BEACH
If you are staying up on the North Shore of Kauai, you'll probably spend a lot of time at Hanalei Beach. This is where you'll find the iconic Hanalei Pier.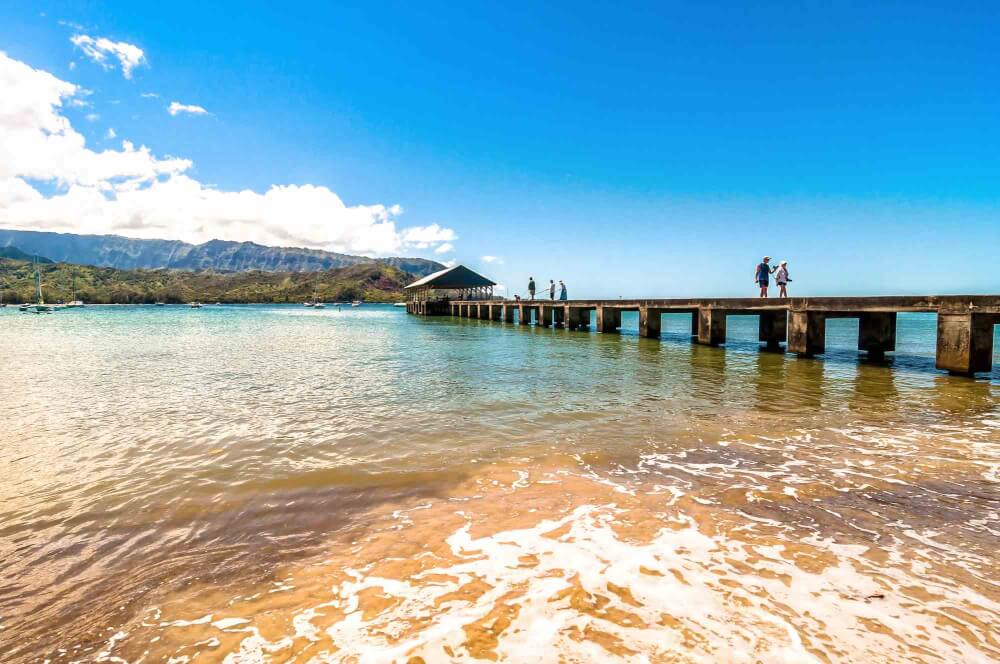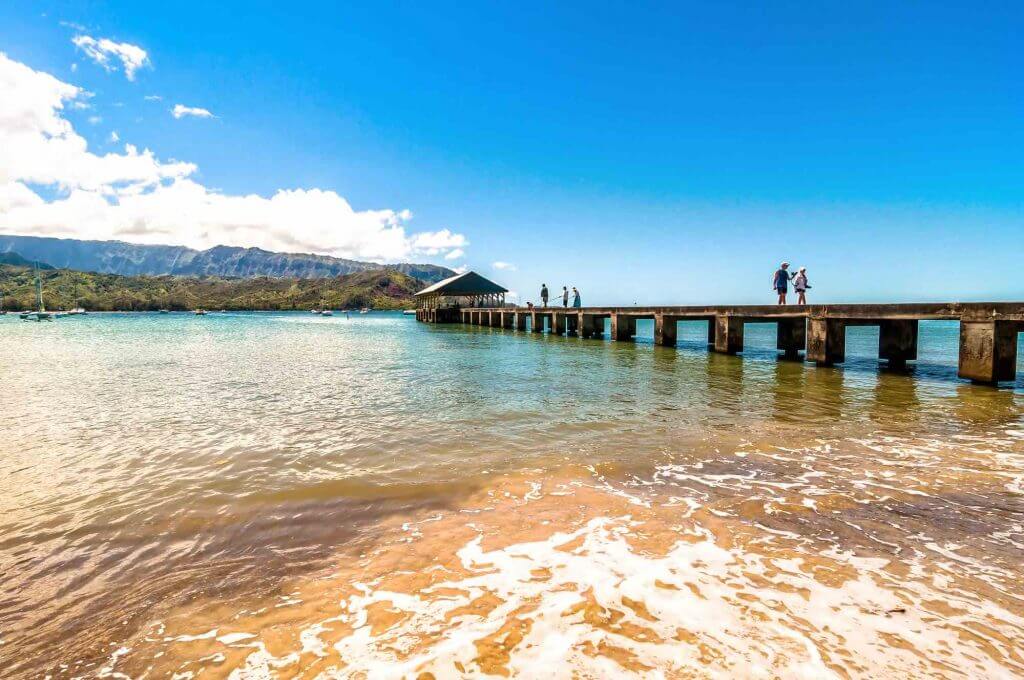 But the beach itself is pretty fabulous. The sand is super soft and perfect for kids who want to dig or build sandcastles.
Because it's located on Hanalei Bay, the water is very calm and there's plenty of beach for families to stay and play all day.
I recommend grabbing lunch from one of the Hanalei food trucks and eating at the beach! There are tons of fun things to do in Hanalei for all types of travelers.
5. BABY BEACH
Down in Poipu, there's a little spot called Baby Beach that is perfect for families with babies and toddlers. It has protected waters that make it ideal for little ones to play in the sand or sit in the water.
It's usually a lot less crowded than Poipu Beach Park, but it can be a little tricky to find. Just look for the yellow pipe on Ho'ona Road in Poipu.
Find out the best beach essentials for babies!
6. ANINI BEACH
Another awesome kid-friendly beach is Anini Beach up in Princeville. It has a super long fringing reef and the water is quite shallow.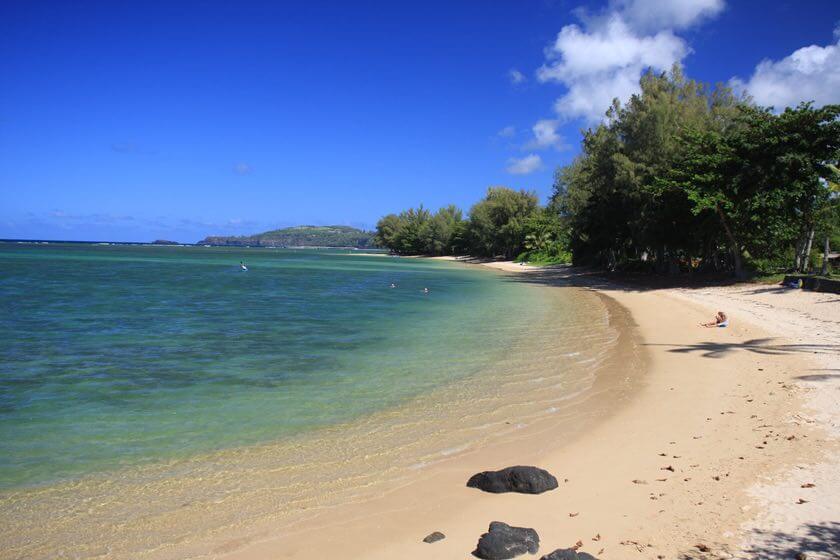 You'll see a lot of families with young kids, wind surfers, snorkelers and more.
It's also one of the few places you can camp on Kauai.
We almost always see tons of chickens and roosters here, which can delight (or terrify) small kids.
Best Places to Eat on Kauai with Kids
7. SHRIMP STATION
If your family likes Hawaiian style shrimp, Shrimp Station is THE place to go. They have two locations: Waimea and Kapaa.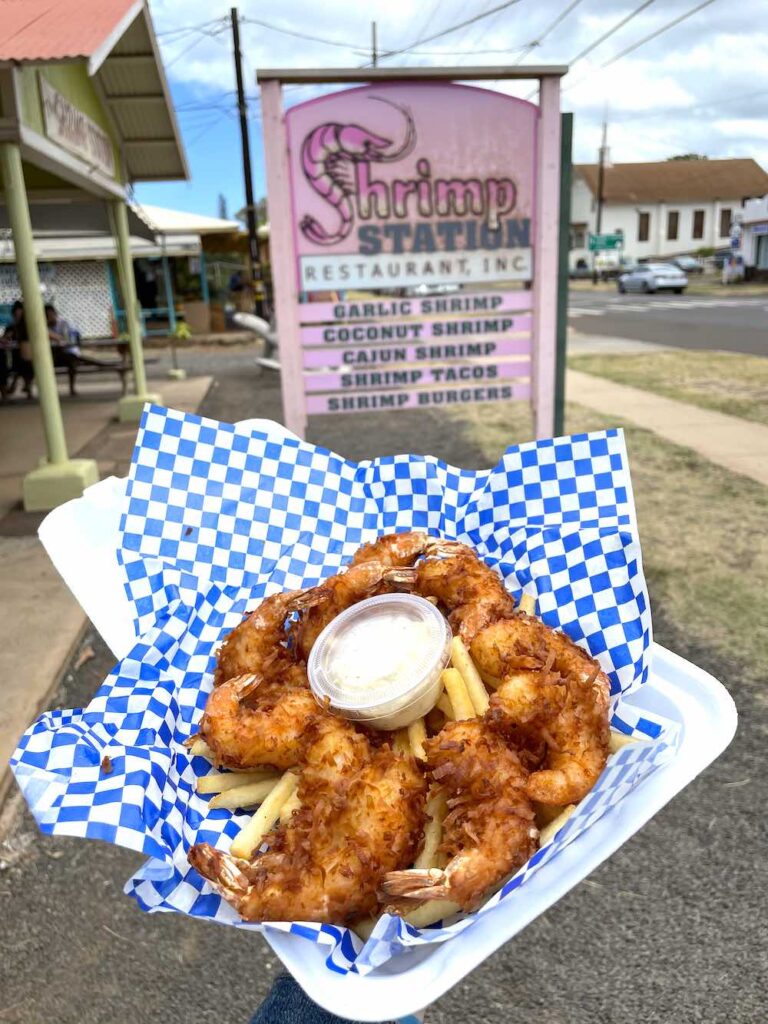 They have a lot of shrimp options on their menu, but the best thing to order is their coconut shrimp. It's the best I've ever had and it so easy to share. You'll want to eat your shrimp there for best taste.
My favorite is their Waimea location and we usually stop after coming back from Waimea Canyon.
8. PUKA DOG
Down in Poipu, you'll find the tastiest hot dogs in Hawaii. In fact, it was featured by the Travel Channel as one of the Top Ten Hot Dog Stands in America and leads off Anthony Bourdain's TV show "No Reservations Hawaii."
Puka Dog is famous for their island-style mustard and relish featuring local fruit. Aunty Lilikoi's Hawaiian mustard is their most popular option and it's so yummy!
You can eat your hot dogs there or take them to the beach.
9. MARK'S PLACE
If you are wanting to try an authentic Hawaiian plate lunch or bento box, there's no better place than Mark's Place. It's located in the industrial section of Puhi and you wouldn't find it without trying.
They have a rotating menu and we've never had a disappointing meal. Favorites include their beef stew and loco moco.
Kids will love it because they also have a large selection of treats like butter mochi, cookies, and locally made Ono Pops.
10. KAUAI FOOD TRUCKS
Kauai has been doing food trucks long before they were trendy. They were called lunch wagons and were primarily for workers.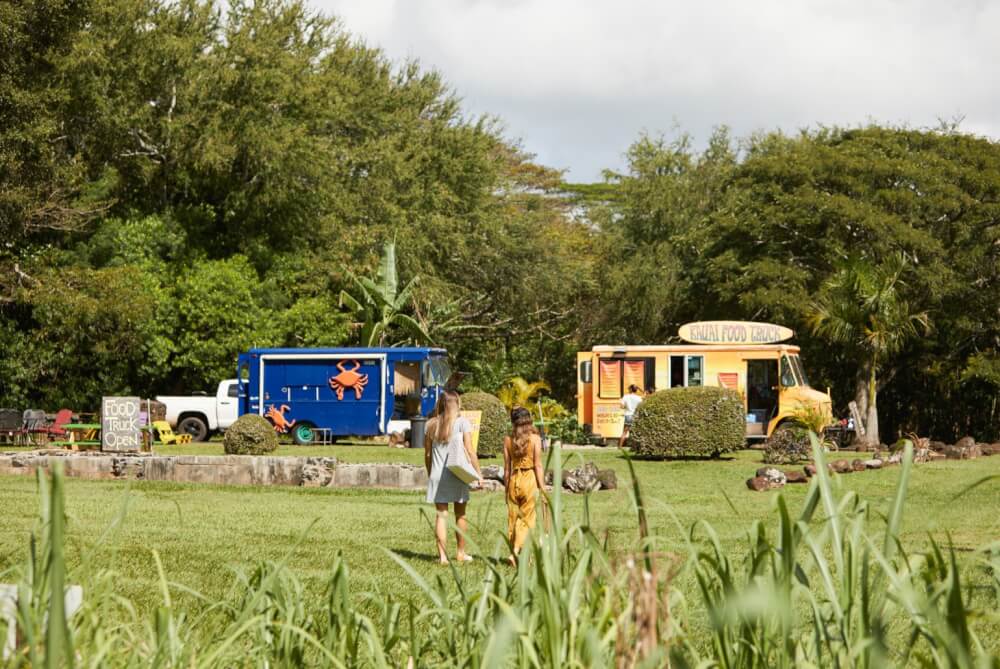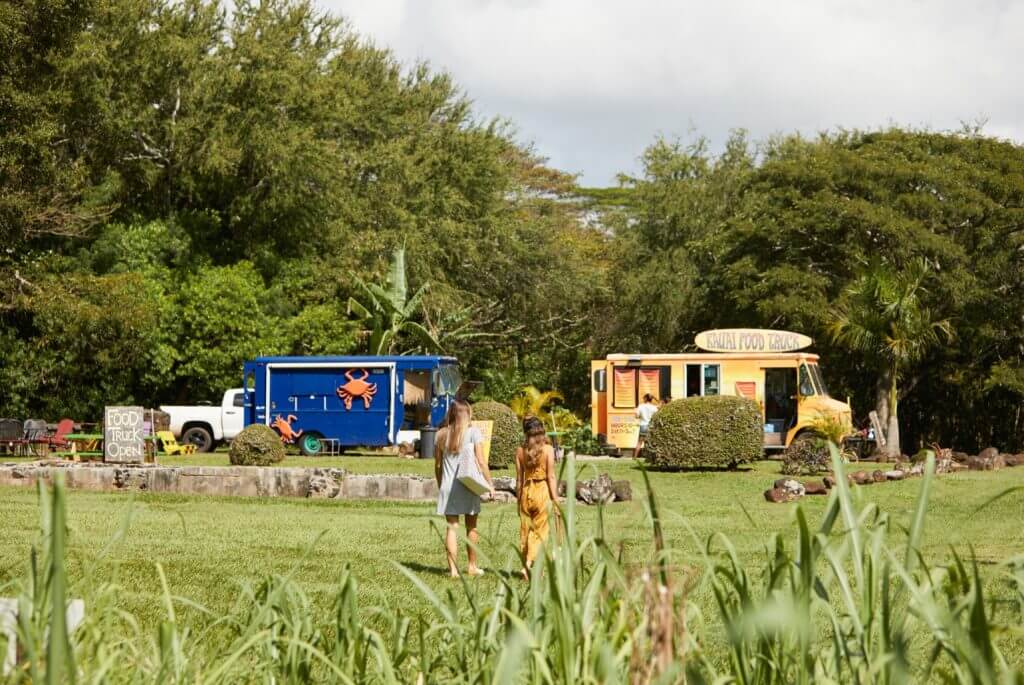 But in the past few years, the food truck scene has exploded and the quality of food is incredible.
Up in Hanalei, there's a whole area dedicated with food trucks (Hanalei Taro & Juice Company and Holey Grail Donuts are top picks!)
In Kapaa, there's a couple of food truck spots (definitely stop at Wailua Shave Ice and Al Pastor Tacos.)
And in down in Lawai, don't miss Kickshaw's and The Fresh Shave.
11. KIAWE ROOTS
Speaking of food trucks, Kiawe Roots started as a food truck and is now a brick and mortar restaurant in Poipu.
The food is absolutely incredible! It's a fusion of Hawaiian and Texas barbecue and the flavors work so well.
I recommend ordering the loco moco for kids to share. It's rice, hamburger patty, and fried eggs and it's easy to split between multiple kids.
12. DUKE'S KAUAI
There are Duke's locations all over Hawaii, but I really like Duke's Kauai. It's located at the Royal Sonesta Kaua'i Resort on Kalapaki Beach and they have Duke's Barefoot Bar (perfect for a quick lunch) or their full restaurant.
They have a kids menu that includes a bunch of fun drinks, like their Sunrise Lemonade Mocktail!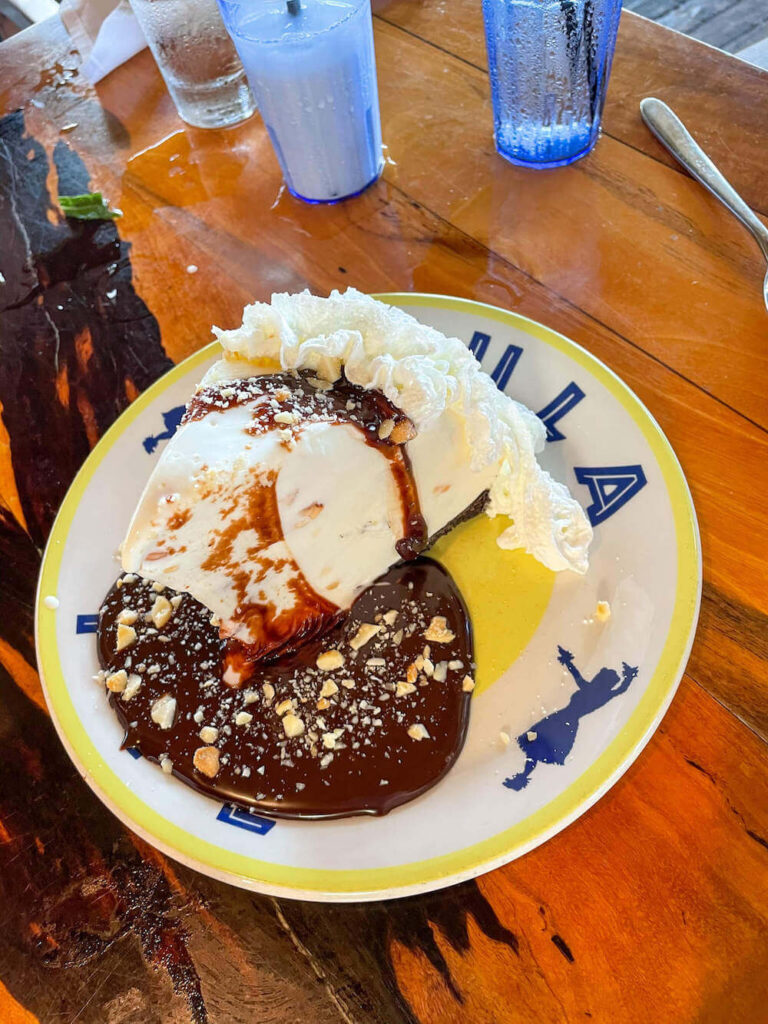 They are also famous for their Hula Pie which can easily be shared with your entire family! It's an ice cream cake that is as massive as it is delicious!
13. CHICKEN IN A BARREL
Chicken in a Barrel has several locations in Hawaii and on the Mainland.
It's a great barbecue place that serves chicken, ribs, pork, Mexican food, salads and more. You can order individual plates or family style. They also have a kids menu.
14. COCONUT'S FISH CAFE
This might be my favorite place to get fish tacos anywhere in the world. Their original location is in Maui, but they recently expanded to Kapaa on Kauai and I'm so glad they did!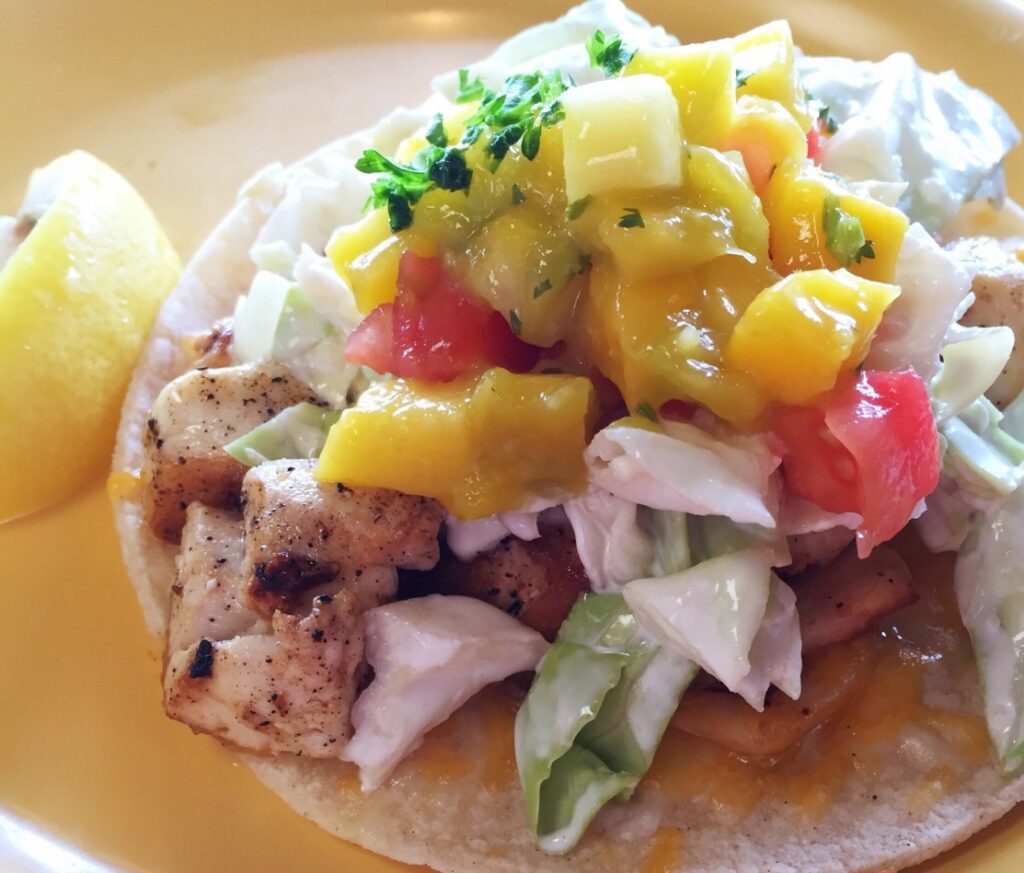 Coconut's Fish Cafe has a big kids menu, but I recommend sharing one of their famous fish tacos with kids. They are huge and can be eaten with a fork, but it's more fun with your hands!
Kauai with Kids: Best Shave Ice
15. THE WISHING WELL
My absolute favorite shave ice on Kauai is The Wishing Well up in Hanalei.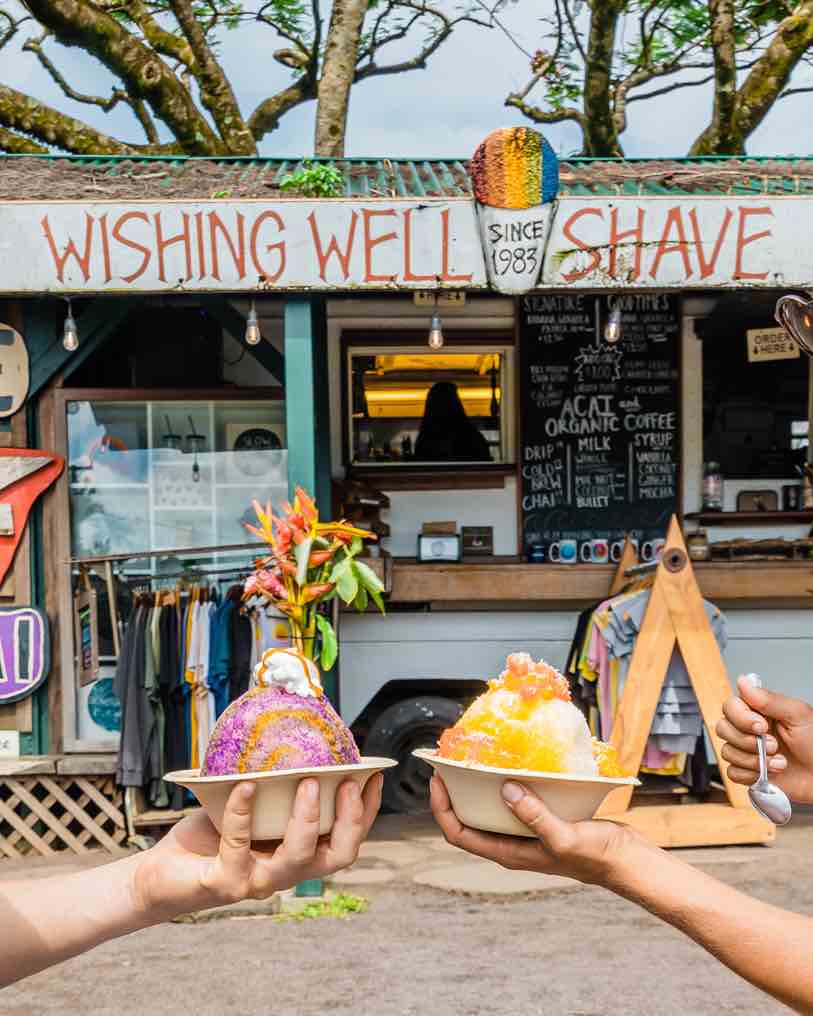 Wishing Well Shave Ice has both organic and traditional options. You can order one of their recommended combos, or create your own! Plus, they offer fresh fruit!
Families with younger kids will appreciate their kid size options for a cheaper price.
They also sell a bunch of trendy clothing, stickers, and swag which makes it an awesome shave ice stop for families with teens and tweens.
16. WAILUA SHAVE ICE
Another awesome place for shave ice on Kauai is Wailua Shave Ice in Kapaa.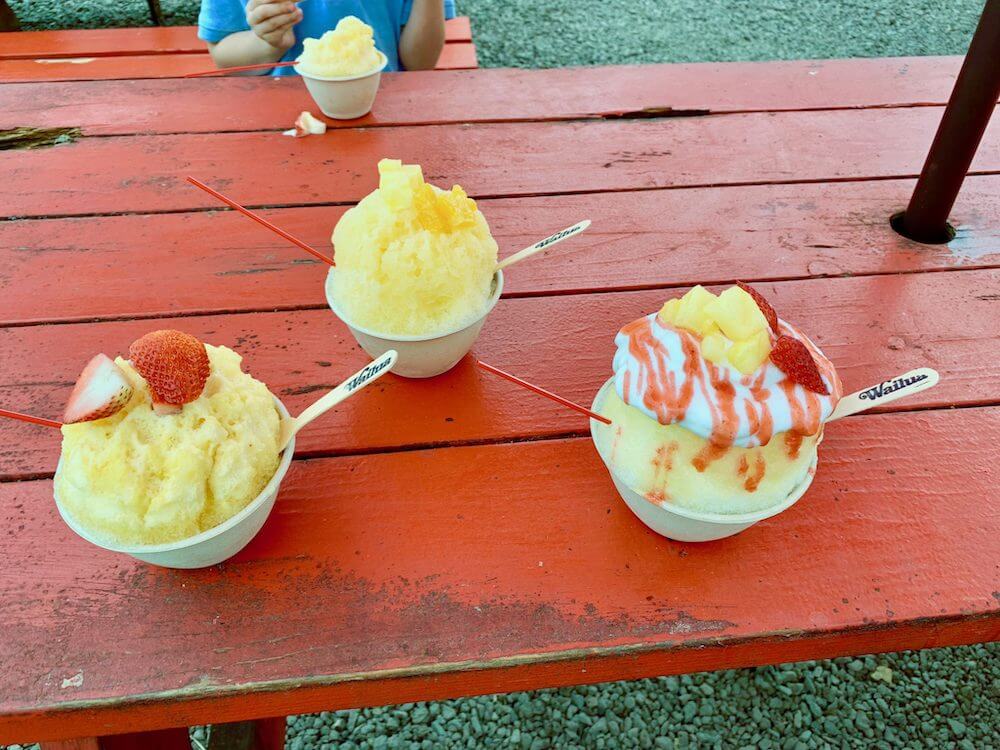 They also offer kids sizes, which is perfect for families who don't want to share a large one. They offer fresh fruit and haupia (coconut) foam, which is fantastic!
It's located next to other food trucks and restaurants so it's an easy dessert option!
They also have locations in San Diego, California and Portland, Oregon!
17. WAIKOMO SHAVE ICE
One of the most unassuming shave ice spots on Kauai is Waikomo Shave Ice in Poipu. They offer all-natural shave ice and it's incredible!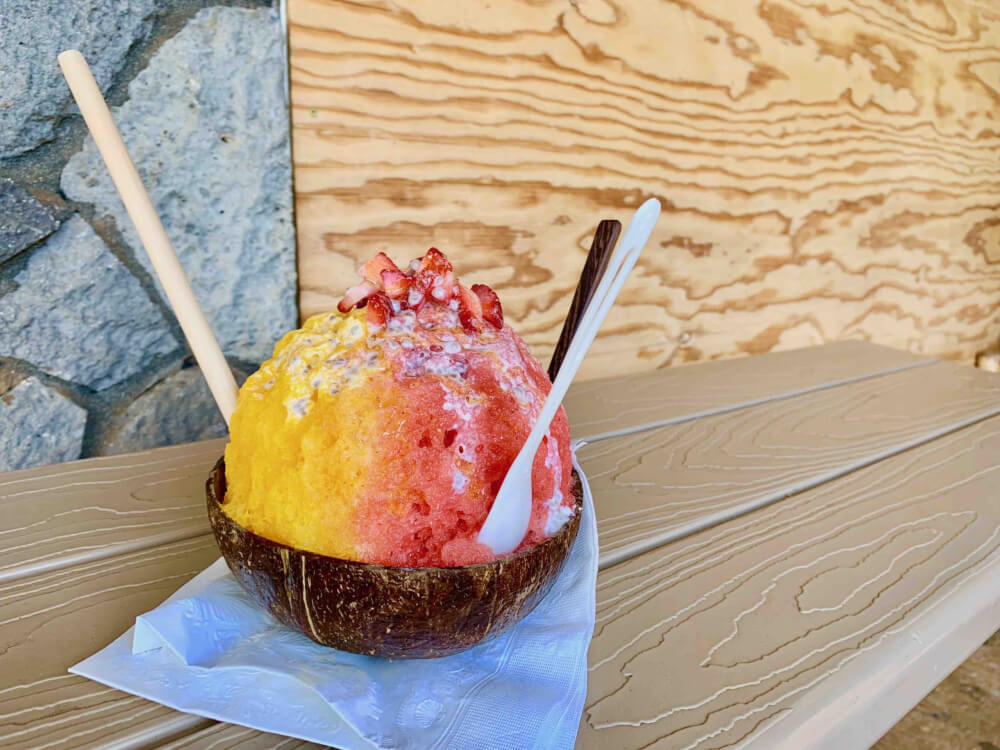 Something fun is that you can get a souvenir coconut bowl and wooden spoon and straw for your shave ice!
It's located in a strip mall with limited seating, but it's totally worth it!
18. THE FRESH SHAVE
If you're heading to Warehouse 3540 on Kauai, you'll definitely want to hit up The Fresh Shave in Lawai. It's one of the trendiest food trucks on Kauai.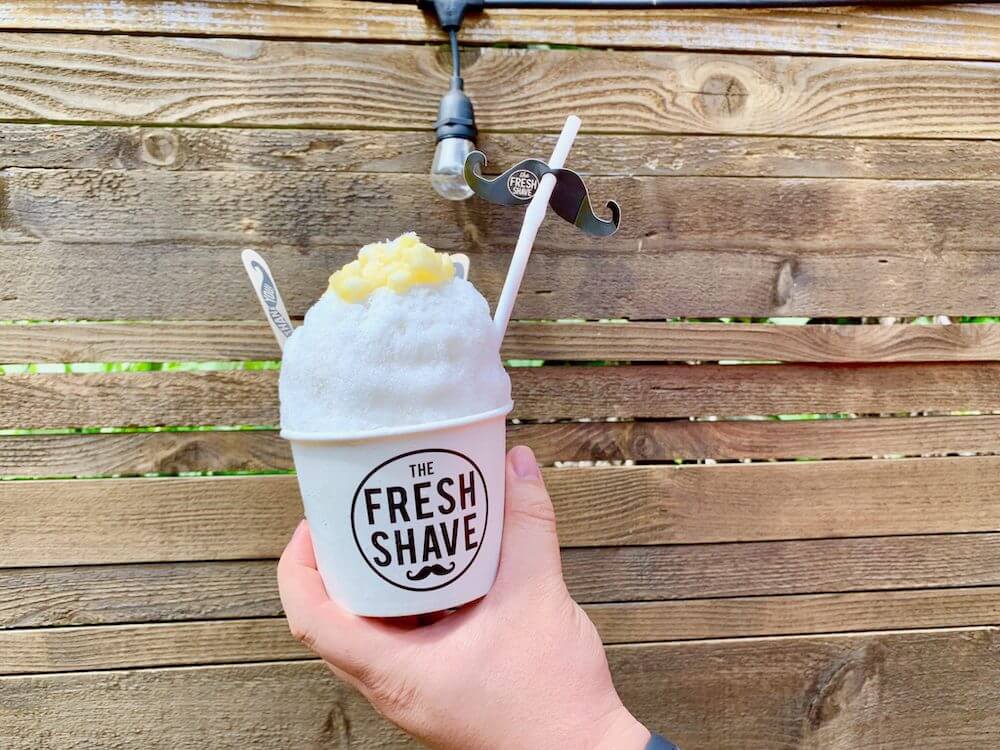 They have the coolest straws with mustaches on them that make for adorable photos!
But, the real reason to go is for the shave ice! Lots of gourmet combinations and tons of shaded seating.
19. TEGE TEGE SHAVE ICE
If you are looking for Japanese style shave ice, you'll want to hit up Tege Tege Shave Ice in Kapaa.
Tege Tege offers some of the most beautiful shave ice creations I've ever seen! They add freshly cut fruit in artistic patterns.
And the shave ice itself tastes great and they are HUGE!
They are only open seasonally and are in the process of setting up a brick and mortar, so check their Instagram to see if they are open.
20. RIPTIDES SHAVE ICE & SNACKS
This little snack shop stand in Lawai is a total hidden gem. RipTides Shave Ice & Snacks sells lots of snack items like chips and Cup Noodles, but they also make a killer shave ice!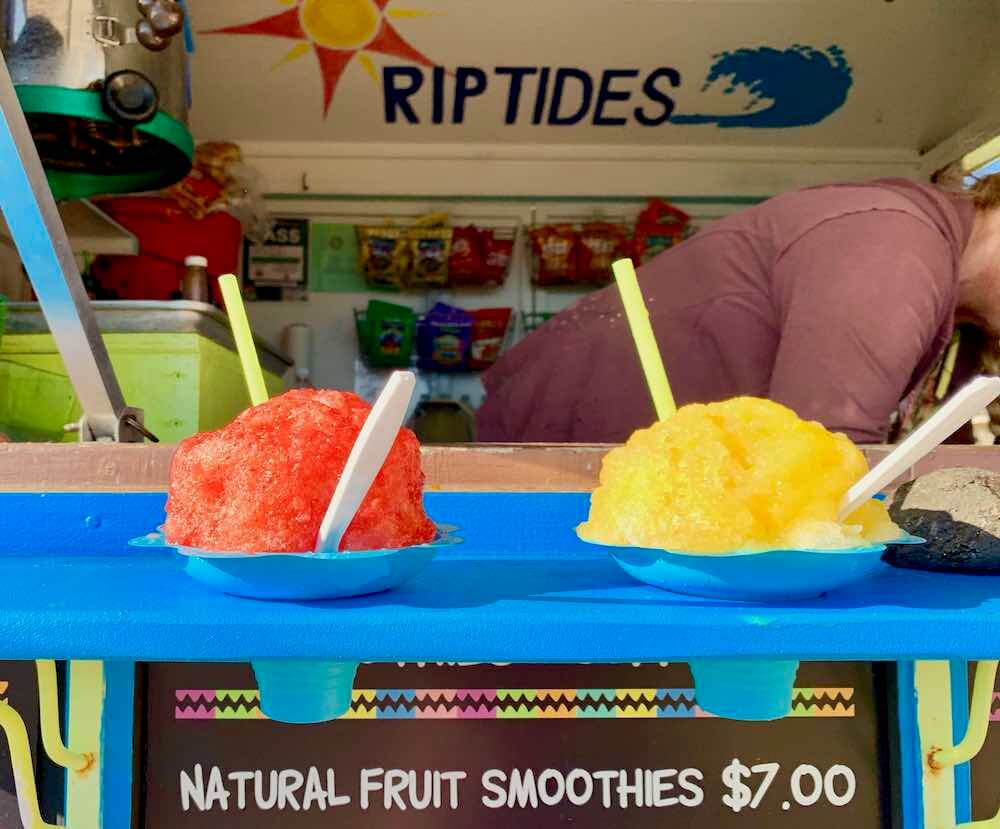 You can choose between their organic syrups or their snow cone syrups. It's located right across from the beach, so this makes it an easy stop!
Find out more about the best shave ice on Kauai
Best Kauai Attractions to Do with Kids
21. WAIMEA CANYON
Known as the "Grand Canyon of the Pacific," the Waimea Canyon is one of the top attractions on Kauai. You'll drive up a windy road in Waimea where you'll see tons of bright red dirt and lovely views of the ocean and Niihau.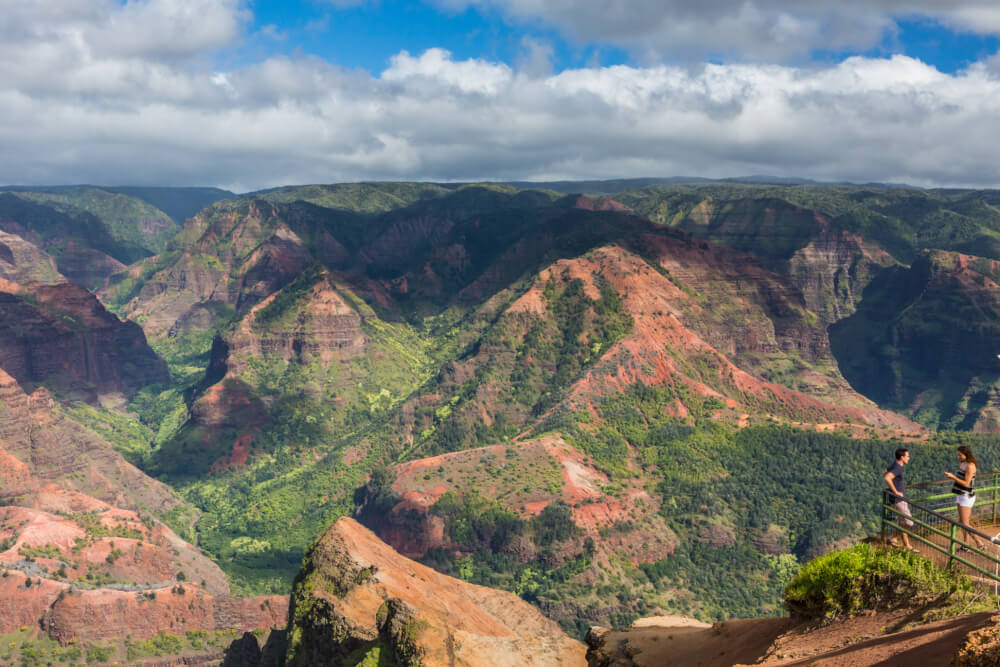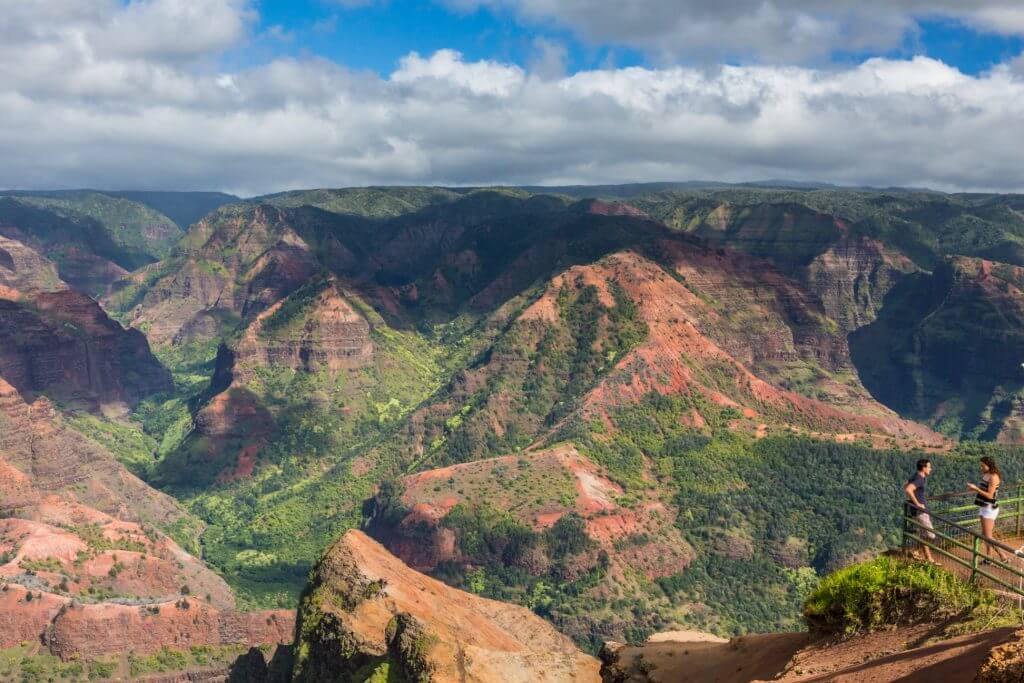 Once you arrive in the parking lot, it's just a short walk to the viewing platforms where you'll get an amazing view of the canyon.
For adventurous families, you might want to dedicate some time for hiking.
22. SPOUTING HORN
Spouting Horn in Poipu is always a hit with kids!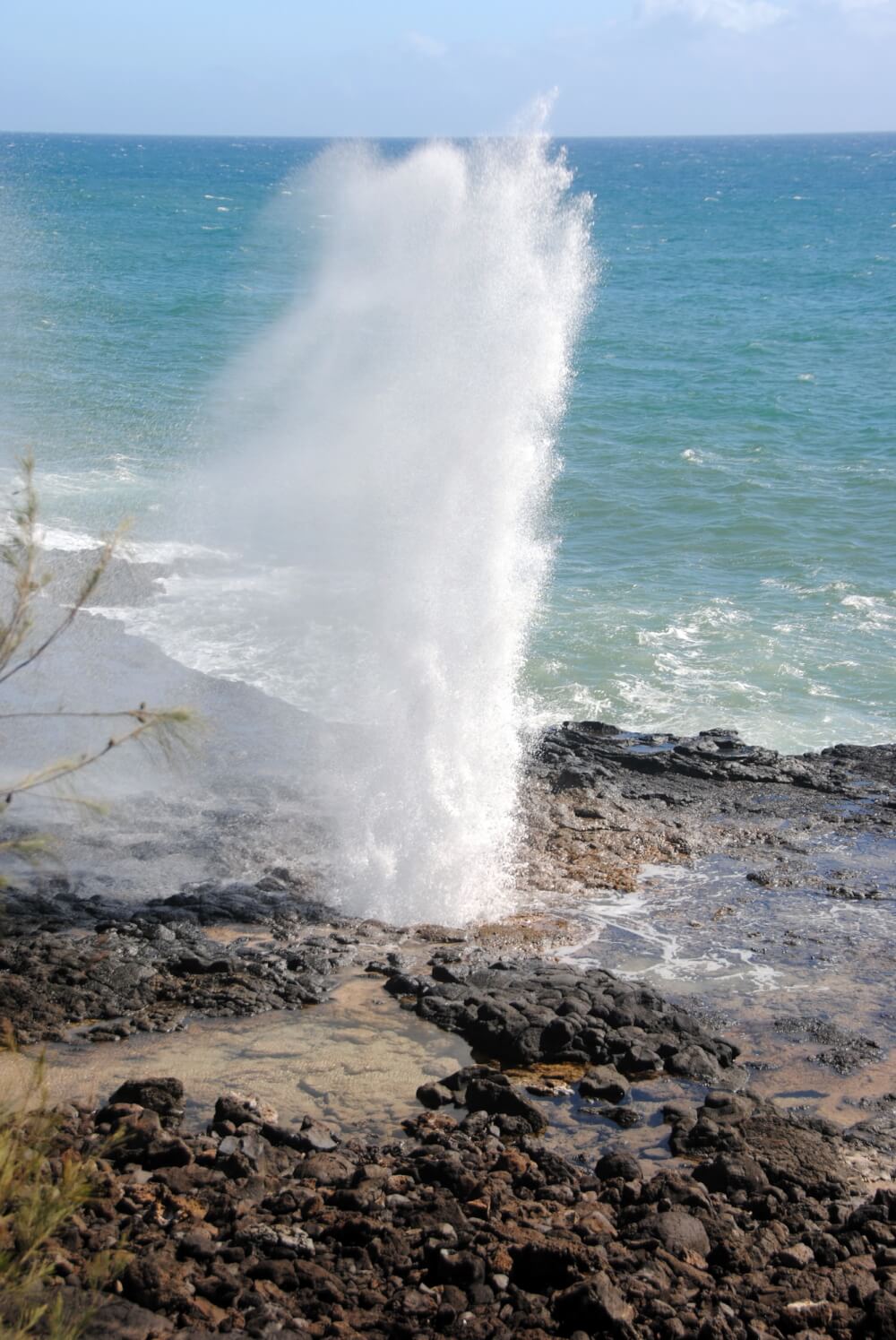 It's a place where you can watch water shoot up a natural blowhole. It's best when the tide is in because the water is truly spectacular!
There's also a bunch of souvenir stands set up, which kids love looking at. It's a great place for them to pick out souvenirs at the end of your trip.
23. KOKEE STATE PARK
One of the "coolest" places on Kauai is Kokee State Park. And by cool, I mean sometimes it's downright COLD.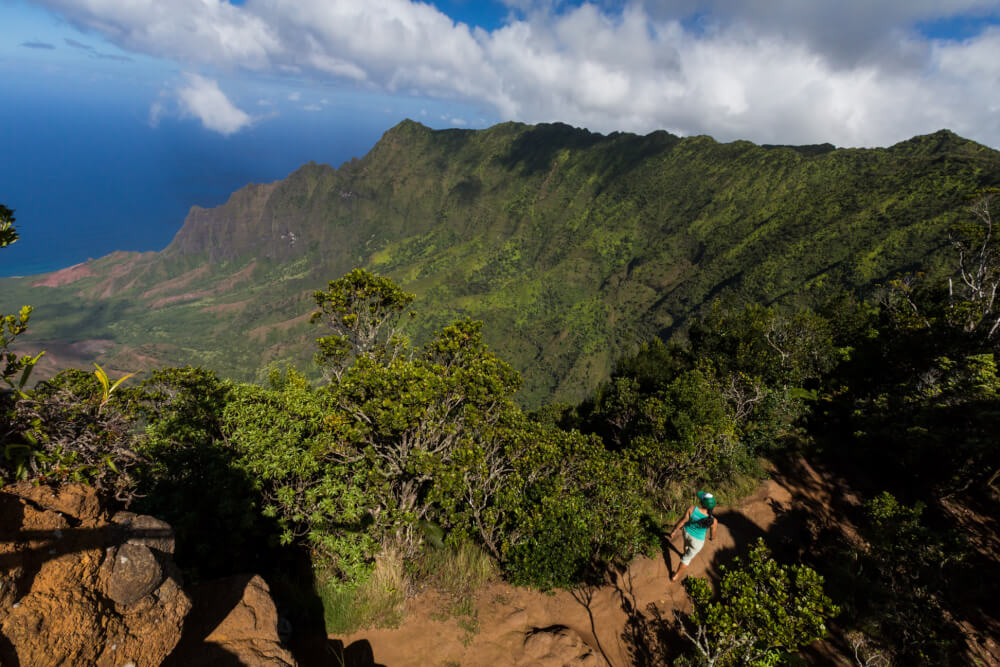 It's located past the Waimea Canyon and it offers a natural history museum, great views of the Kalalau Valley, and tons of hiking trails. It's also a great place for bird watching.
There's tons of forest areas filled with native Hawaiian plants and they even hold an amazing hula festival up there each year.
It's another great camping spot, too!
24. FERN GROTTO
Fern Grotto is on my list because it's a unique thing to see on Kauai. Years ago, we used to be able to go inside the grotto.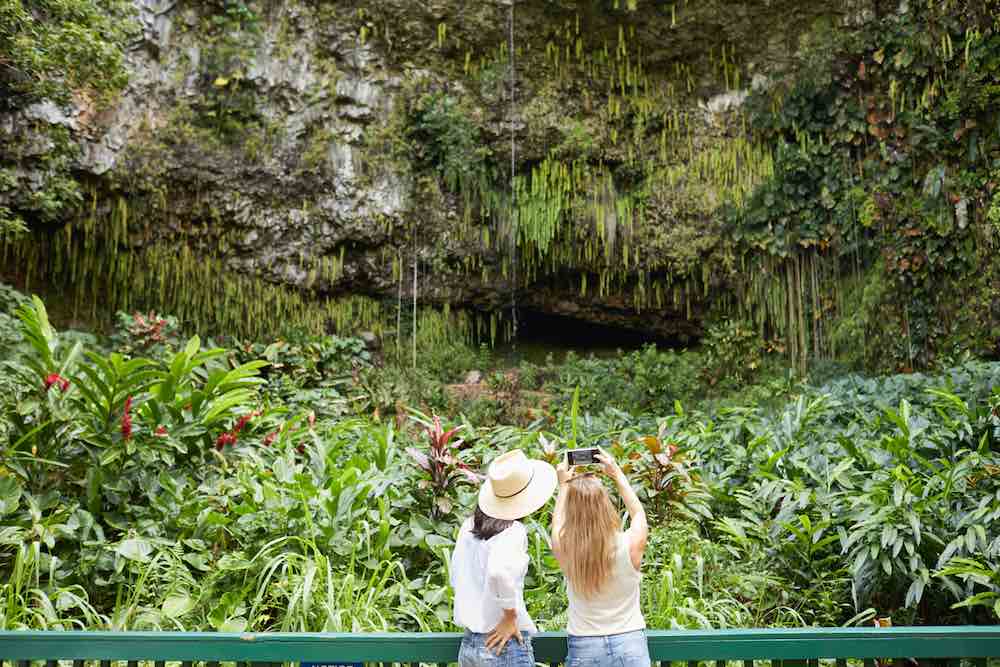 Now, they have a platform set up where you can see Fern Grotto from a distance.
But, the cool thing about Fern Grotto is that you get to take a boat ride to get there! They have live music and hula dancing on board and at Fern Grotto. It's a hit with kids! Find the best rates here.
Book a Kauai tour of the Waimea Canyon and Fern Grotto
25. SEE A WATERFALL
There are so many waterfalls on Kauai! Part of the reason is because Kauai is home to Mt. Waialeale, the wettest spot on Earth. You can see them on a helicopter tour, while kayaking, on a hike, or simply drive up and park.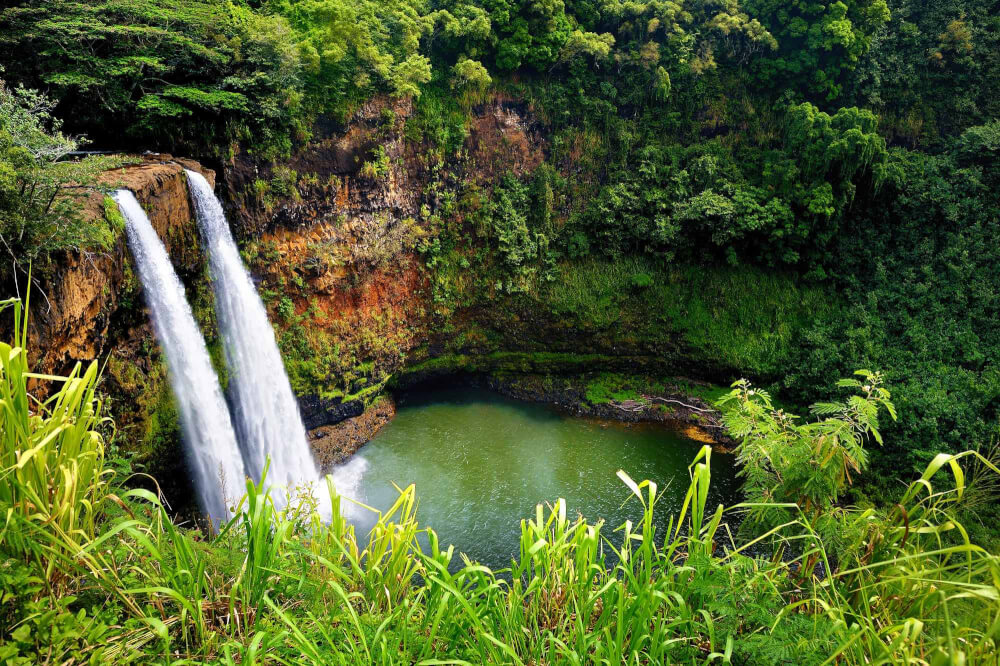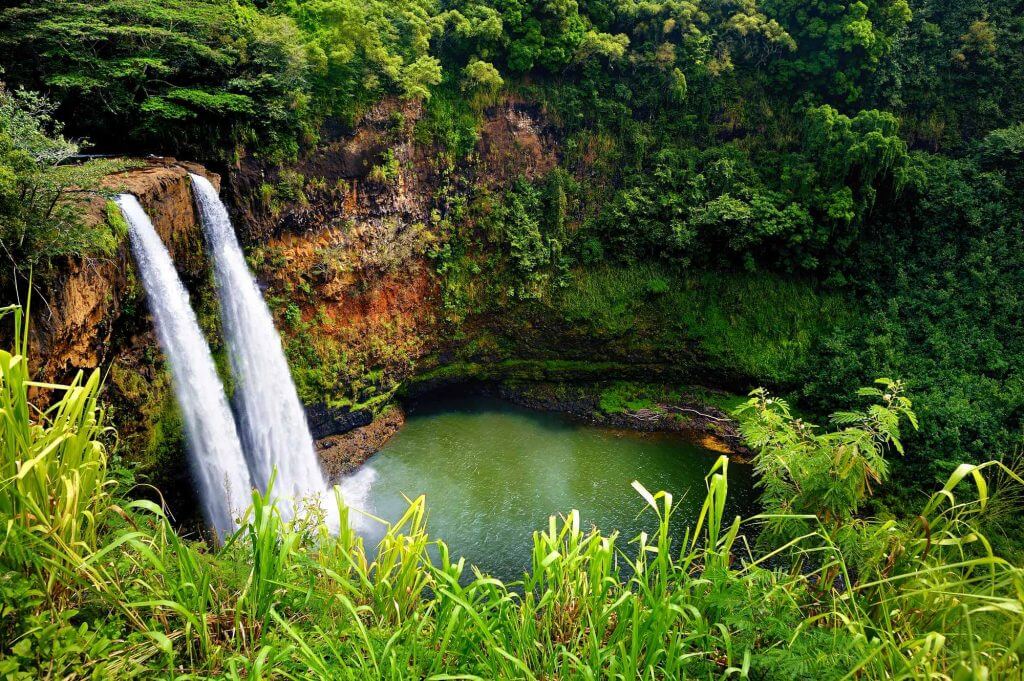 Some of the most popular Kauai waterfalls are Wailua Falls, Opaekaa Falls, and Kipu Falls.
Find out more about the best Kauai waterfalls
26. HISTORIC MENEHUNE DITCH
Head to Waimea Valley to check out the historic Menehune Ditch and the Waimea Swinging Bridge.
The Menehune Ditch has been on the list of the National Register of Historic Places since 1984.
Legend has it that the Menehune (ancient Polynesians) gathered stones from miles away to construct this irrigation ditch AND it only took them one night to build.
Right across from the Menehune Ditch is the Waimea Swinging Bridge that crosses over the Waimea River. It's a lot of fun, especially with kids!
27. KAUAI'S HINDU MONASTERY
If you'd like an up close and personal look at Hinduism, head to Kauai's Hindu Monastery in Kapaa.
They offer public, guided tours that are great for families looking to learn more about Hinduism, speak with monks, and explore their beautiful gardens, ponds, and waterways.
To participate, you'll need to make an advanced reservation.
28. EXPLORE CAVES ON KAUAI
If you are heading up to Ha'ena State Park or Ke'e Beach all the way up North, you might as well stop off at these caves.
The Maniniholo Dry Cave is across from Ha'ena State Park. Kids love using flashlights to explore the inside of the cave!
Then, there are the Ha'ena Caves, which are wet caves with deep, cold water. It's not super easy to explore these caves, but they are still cool to look at.
29. KILAUEA LIGHTHOUSE
Another fun place to stop on Kauai with kids is the Kilauea Lighthouse. It's easy to spot from the coast and it's a nice place to get out of the car and let kids run around a bit.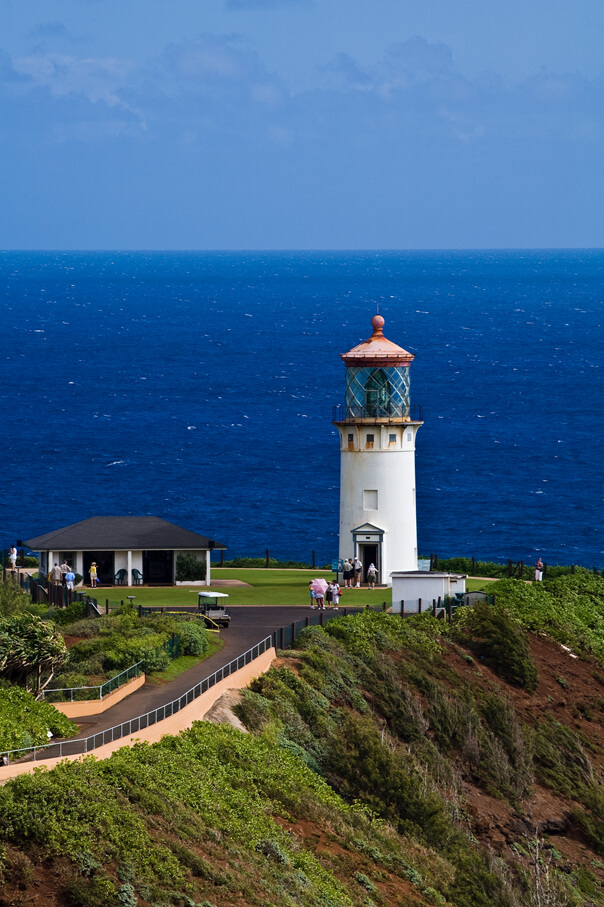 This historic Kauai lighthouse is more than 100 years old. Plus, it's also a wildlife refuge and it's one of the best places to go birdwatching.
Read more about birdwatching on Kauai
30. HANAPEPE SWINGING BRIDGE
This is a super easy attraction to do on the South Shore of Kauai. This little pedestrian bridge is tucked away near the Banana Patch Studio in Hanapepe.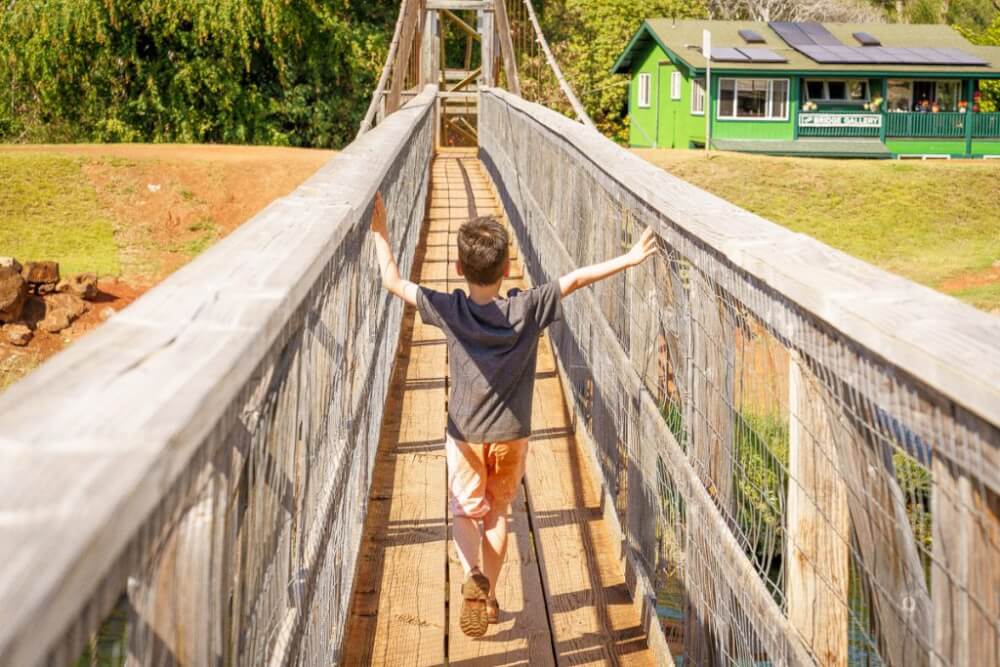 While the bridge doesn't swing as much as it did when I was a kid, your kids will definitely want to run across it a few times!
The bridge connects local residents to Hanapepe town, so please be respectful when you cross over to the resident side.
31. WAIOLI MISSION CHURCH
When you drive up through Hanalei on the North Shore of Kauai, you'll see a gorgeous green church with stained glass windows. This is the Waioli Mission Church and it's absolutely stunning.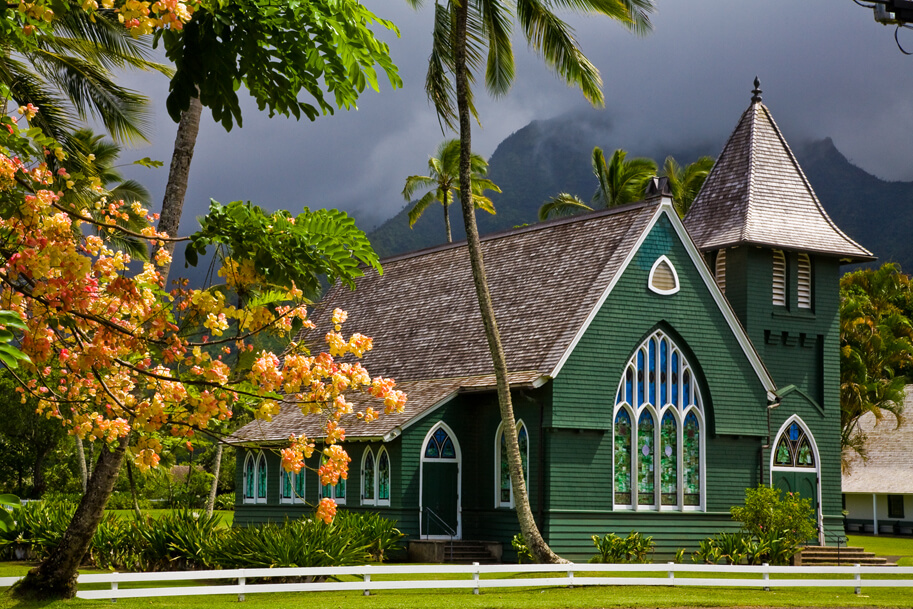 This iconic Hawaiian church has been featured in tons of artwork and it's a popular Kauai photography spot. There's plenty of parking nearby and it's right off the side of the highway, so you can't miss it!
It's also still an active church, so you can join service, if you like.
Kauai with Kids: Best Kauai Shopping
32. WAREHOUSE 3540
One of my absolute favorite places to shop on Kauai is Warehouse 3540 on the South Shore of Kauai in the town of Lawai.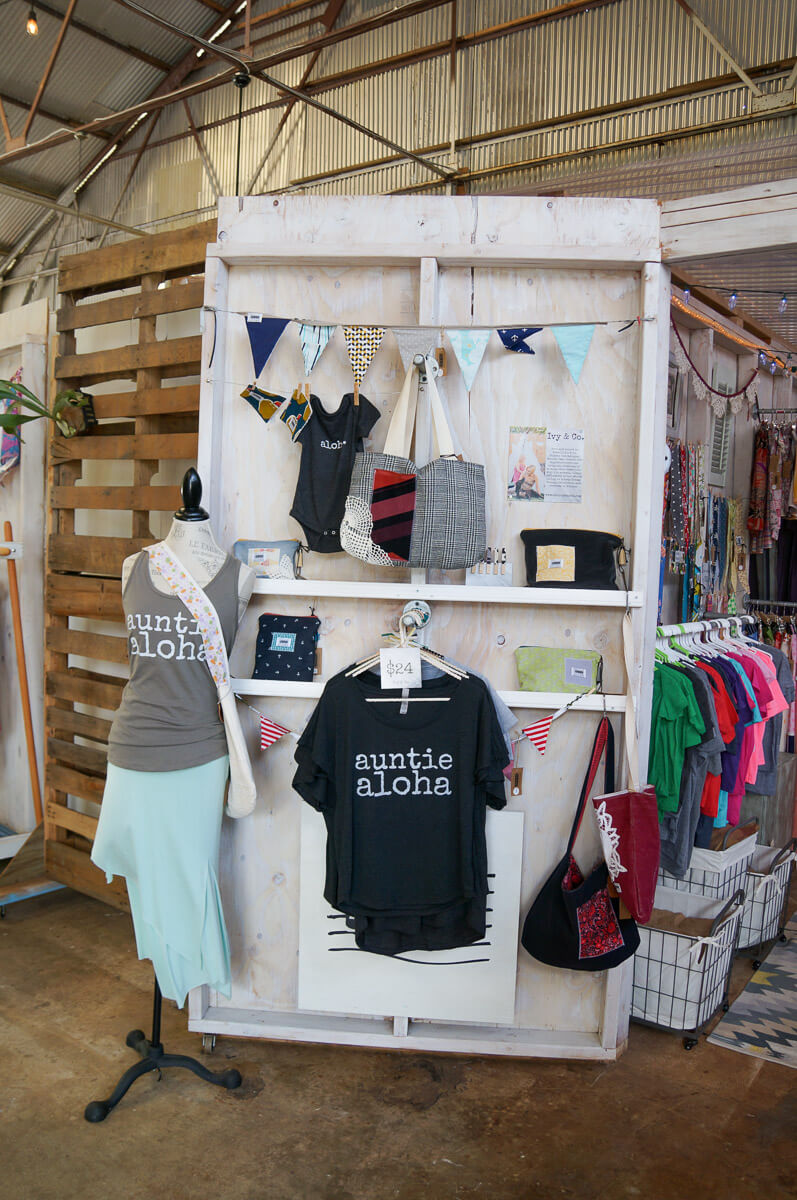 There are tons of small boutiques that have set up shop here in the warehouse. It's a great place to go if you are looking for upcycled clothing, handmade soaps, artwork, and Kauai souvenirs you can't find anywhere else.
Plus, they offer storytime and other kid-friendly activities each week and they have lots of adorable kids/baby clothing and handcrafted toys.
Read my full post about Warehouse 3540 on Kauai
33. CHING YOUNG VILLAGE
This adorable outdoor shopping center is located in Hanalei, on the North Shore of Kauai and features about 40 shops and restaurants.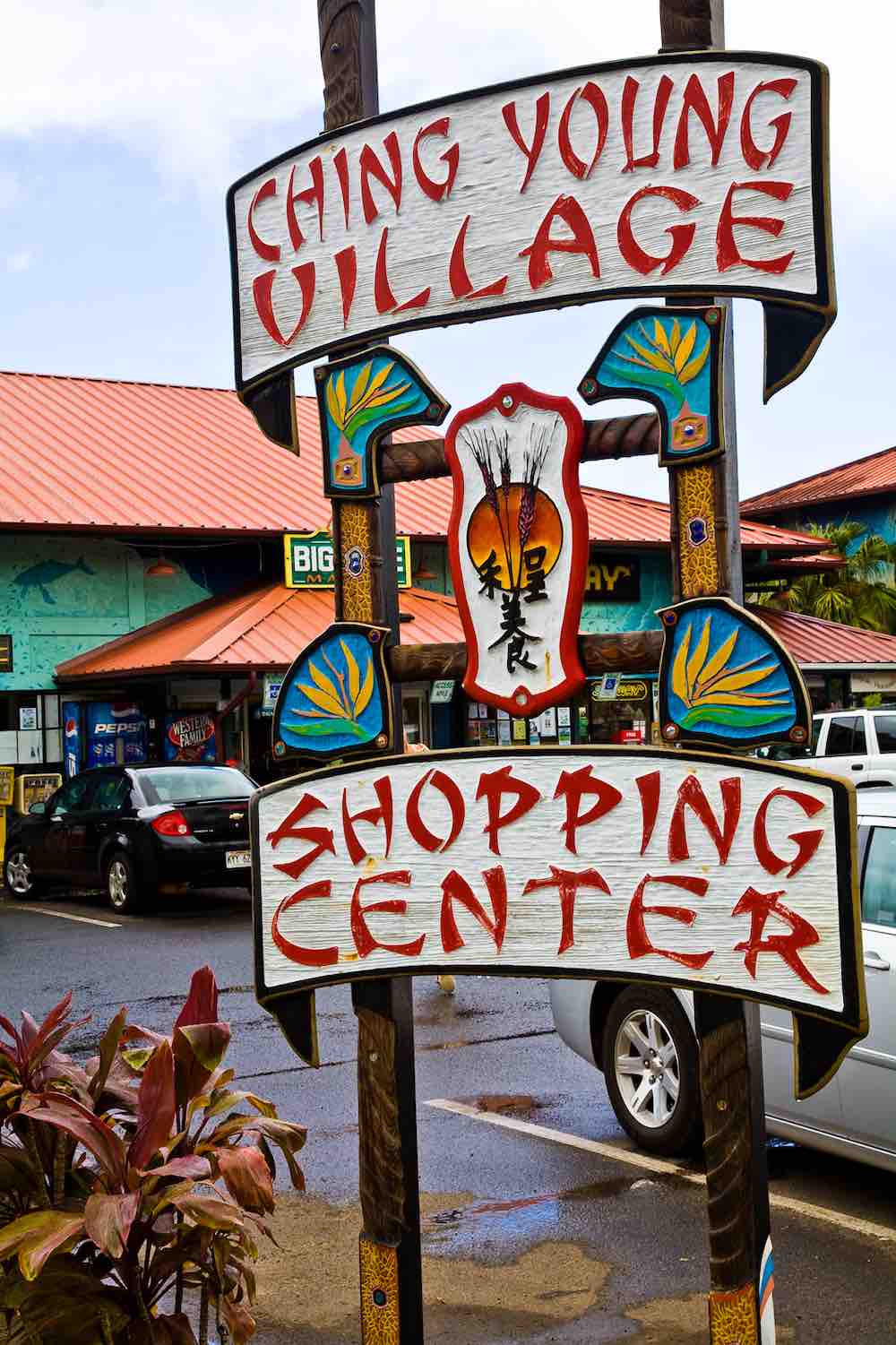 Kokonut Kids is a super cute kids clothing and toy shop where you can find unique items made on Kauai.
Teens will love checking out Billabong Hanalei, grabbing a fresh fruit juice at Aloha Juice Bar, or buying an authentic ukulele at Hanalei Strings.
34. ABC STORES
One of the best places to shop on Kauai with kids is the ABC Store. It's basically a big gift shop full of Hawaiian souvenirs, t-shirts, pareos, and snack items.
It's always fun to stop and check out the merchandise, especially their toy area with adorable Hawaiian stuffed animals and dolls.
While you can find ABC stores all over Hawaii (they are on practically every corner in Waikiki), Kauai just has a couple.
35. KUKUI GROVE SHOPPING CENTER
If you are looking for more of a "mall" experience, your best bet is Kukui Grove Shopping Center.
Macy's is the anchor store here, but it's a small version of the store. They have a nice clothing section for men, women, and children and you'll find tons of Hawaiian t-shirts, Aloha shirts, and Hawaiian dresses.
There's also a Ross, which is great for finding inexpensive beach toys and cheap kids clothing.
Small Fry Kauai is one of the cutest Kauai boutiques that specializes in children's clothing, toys, games, and accessories. It's the perfect place to find a baby shower or birthday present.
They also usually have Toddler Tuesdays, where they have kids activities in their play area at the mall.
36. HANAPEPE TOWN
If you are looking for a quaint town to do some window shopping or find something unique, you'll want to spend an hour checking out Hanapepe Town.
Banana Patch Studio is a great place to shop on Kauai with kids. They have their own line of Hawaiian children's books that make a great souvenir or bedtime reading.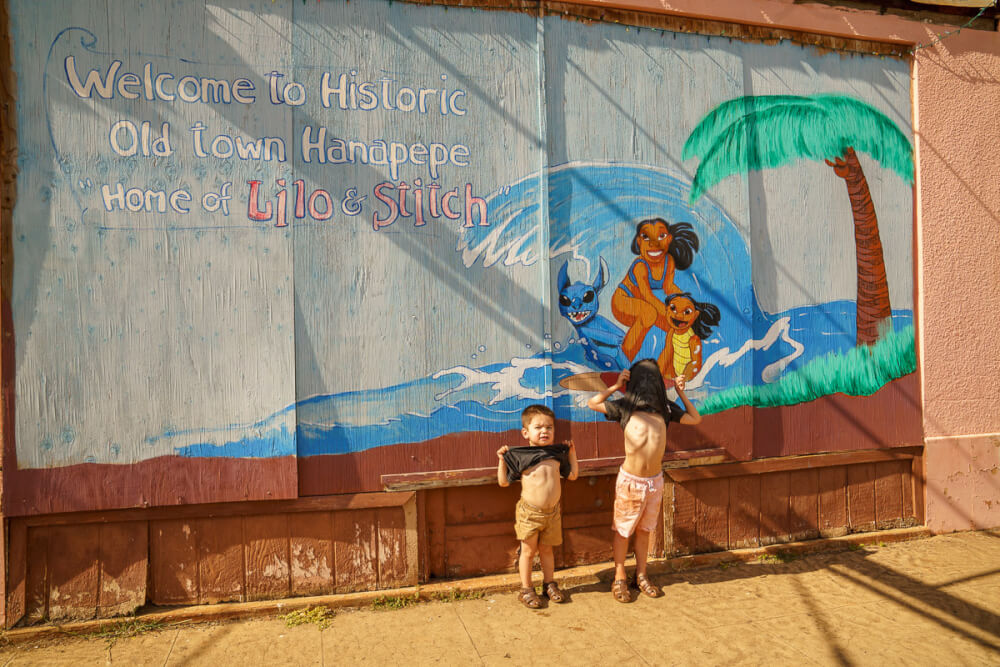 That main draw of Hanapepe is all their art galleries, which can be fun to check out with kids. They even do an Art Night where there's live music.
What I love about Hanapepe Town is that it's super quiet and you won't find any chain stores here. Everything has an artsy feel and you'll even spot Disney's Lilo & Stitch on the wall!
37. LONG'S DRUG
I know it might sound weird to list a drug store, but this is one of my favorite stores on Kauai.
They have a fairly large Hawaii souvenir section that usually includes items that you can't easily find at other stores. My favorite thing to get there is netting to make Hawaiian candy leis with my kids!
They also have an amazing Hawaiian snack section. Let your kids pick out a few locally-made Hawaiian chips, cookies, or candy that they've never tried.
It's also a great spot to get reef-safe sunscreen and after-sun lotion as well as cheap flip flops.
38. ACE HARDWARE & CRAFTS
The Ace Hardware on Kauai used to have a Ben Franklin Crafts connected. It's the same parent company and now it's all included at Ace Hardware.
Not only can you get an assortment of kid crafts (like beads, painting supplies, and kits), but they also have a bunch of Hawaiian crafts (like ribbon lei kits.)
These are great crafts to do during downtime in your hotel room or buy a few to take home.
39. FREE SAMPLES AT KAUAI KOOKIE
One of my favorite Hawaiian cookie brands is Kauai Kookie. They have their factory in Hanapepe/Eleele and they offer free samples of their cookies.
The best part is that they often have samples of new flavors they don't sell outside of their factory store!
But, they also have lots of yummy cookies and other fun treats (like amazing cinnamon toast) and other locally made food items.
40. WALMART
I always tell friends that Walmart on Hawaii is different than Walmart on the Mainland. See, Kauai only has a handful of big box stores and Walmart is the place where you'll find locals (even the mayor!) as well as tourists.
You'll find cheap beach toys, Hawaiian books, Hawaiian home decor, and Hawaiian clothing for the whole family.
What we like to do is give the kids some cash and send them to the huge souvenir section here. Then, they are able to pick out a few items they are excited about.
41. COSTCO
Costco is the other major big box store on Kauai and it's really close to Walmart.
They have a great selection of Hawaiian items (like clothing) and the best price on Hawaiian books for kids. They also usually have pool toys, beach chairs, beach towels, and other items for outdoor fun.
Plus, it's a great place to load up on drinks, Hawaiian snacks, deli items, and Hawaiian baked goods to keep your family fed and happy at a good price.
Foods to Try on Kauai with Kids
42. GRAB SPAM MUSUBI
One of the best kid-friendly Hawaiian snacks is Spam Musubi. It's Hawaiian style sushi that is made with Spam that has been marinated and grilled.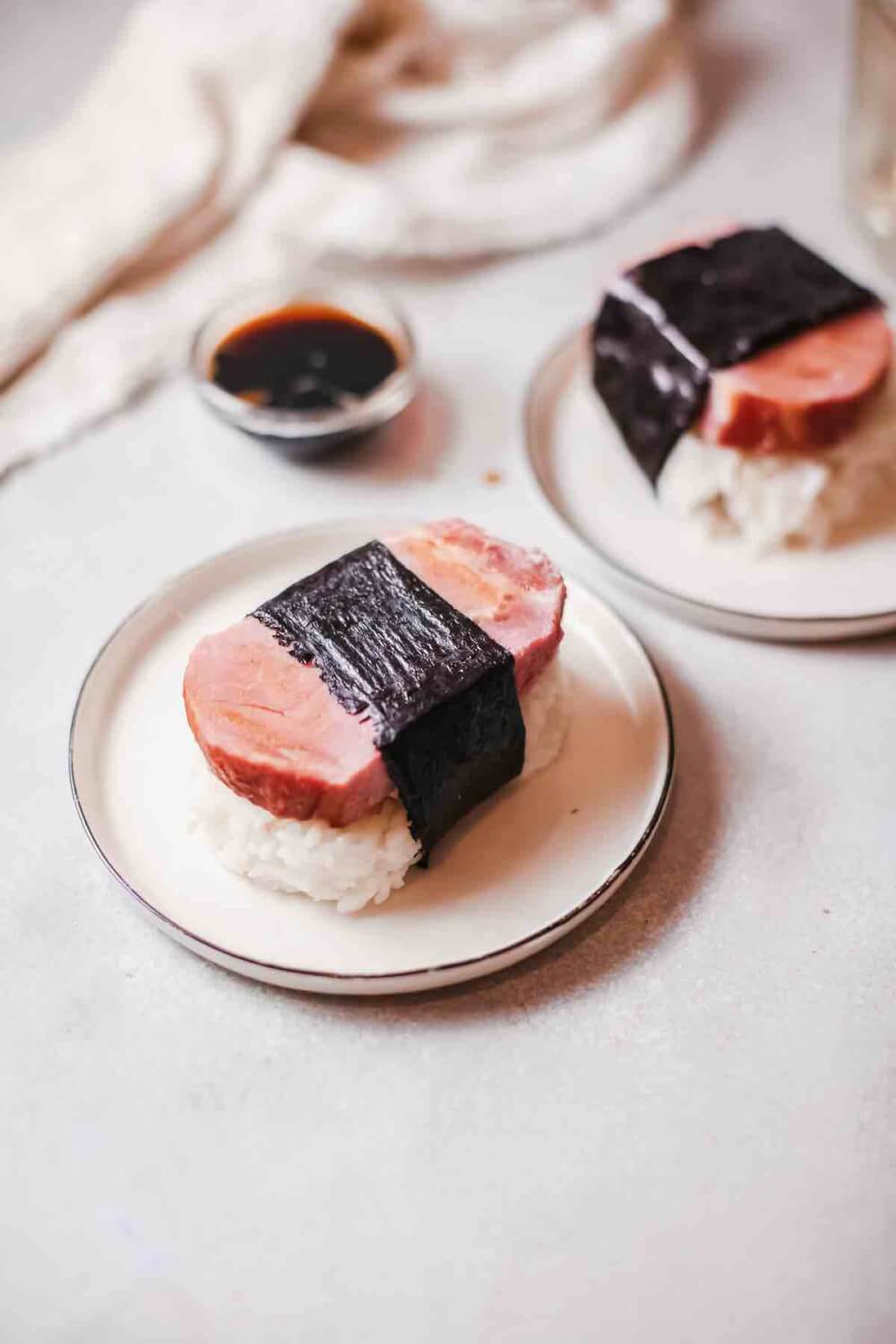 You can find them at lots of restaurants, grocery stores, and even some gas stations. They are individually wrapped, which makes them easy to take to the beach.
We eat them for breakfast, lunch, or afternoon snack. It's salty and slightly sweet and the kids gobble them up!
Learn how to make Spam Musubi at home
43. GET A HAWAIIAN PLATE LUNCH
If there's one thing I've learned about kids is that they can be picky eaters. Some days they love one food item only to despise it the next.
Hawaiian plate lunches are a great way to try several new foods without committing to an entire order.
There's usually 2 scoops of white rice, 1 scoop of macaroni salad, and then some sort of protein like mochiko chicken, teriyaki beef, or kalua pork. Sometimes you can upgrade to a combo with a few proteins.
Chances are, if your kids won't eat the protein, they can at least fill up on rice and macaroni salad.
44. TASTE FRESH POKE
Hawaiian poke is raw fish that has been marinated and mixed up with other garnishes. It can be served on top of rice for a Poke Bowl, eaten with chips, or straight out of the container.
It's the new "it" food on the Mainland so you'll want to taste the real deal in Hawaii to see how it compares to your local poke shop.
The fish is raw and it's not ceviche. Use your judgement if you think your kids are old enough to try.
45. TRY MALASADAS
Malasadas are Portuguese doughnuts that have been a breakfast staple in Hawaii for decades. They are kind of like oversized doughnut holes that are rolled in sugar.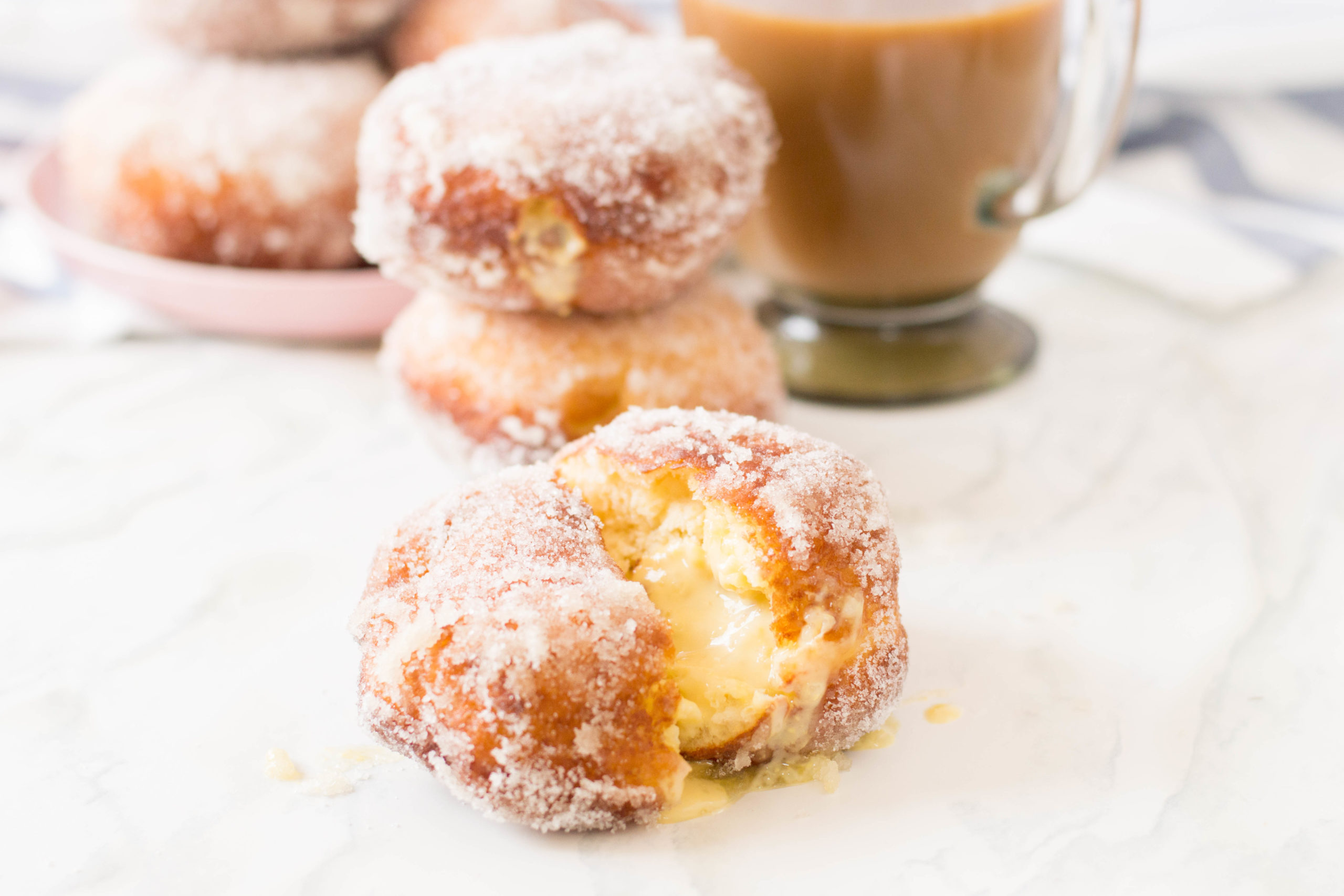 You can find them at local Kauai bakeries and even some stands outside of shops. Sometimes they are even filled with tropical flavors like coconut, mango, and guava.
They are best eaten warm (or at least the same day), but you can also reheat a bit in the microwave if you have leftovers.
Learn how to make Coconut Filled Malasadas
46. TASTE POI
If you go to a Hawaiian luau, you'll definitely have an opportunity to try poi. It's a fermented paste made from taro root and it's one of the most traditional Hawaiian foods.
If you eat it on it's own, it can taste sour and slimy. Instead, try using it like a condiment and let your kids dip their meat in it.
Or, you can mix in sugar and milk for a sweet Hawaiian dessert!
47. DRINK FRESH COCONUT WATER
Kids love drinking out of carved out fruit, especially coconuts!
If you're heading to a Kauai Farmers Market, be sure to pick up coconut water that is still in the coconut. You'll see other people walking around with straws coming out of the coconut.
After you drink the water, you can scrape out the coconut meat. Usually, one coconut is good for a family if they just want to try it.
48. TRY BUTTER MOCHI
A popular bakery item in Hawaii is butter mochi. It's usually cut into large squares and it has a buttery, slightly coconut-y taste. Sometimes it's even topped with shredded coconut.
You can find individually wrapped butter mochi at local bakeries and some grocery stores across Hawaii.
Find out all the Hawaiian foods you need to try!
Best Kauai Activities to Do with Kids
If you're looking for an easy, kid-friendly Kauai activity, Kauai mountain tubing is calling your name! This half-day Kauai excursion takes you up in the mountains and launches you on a lovely float down old sugar cane canals.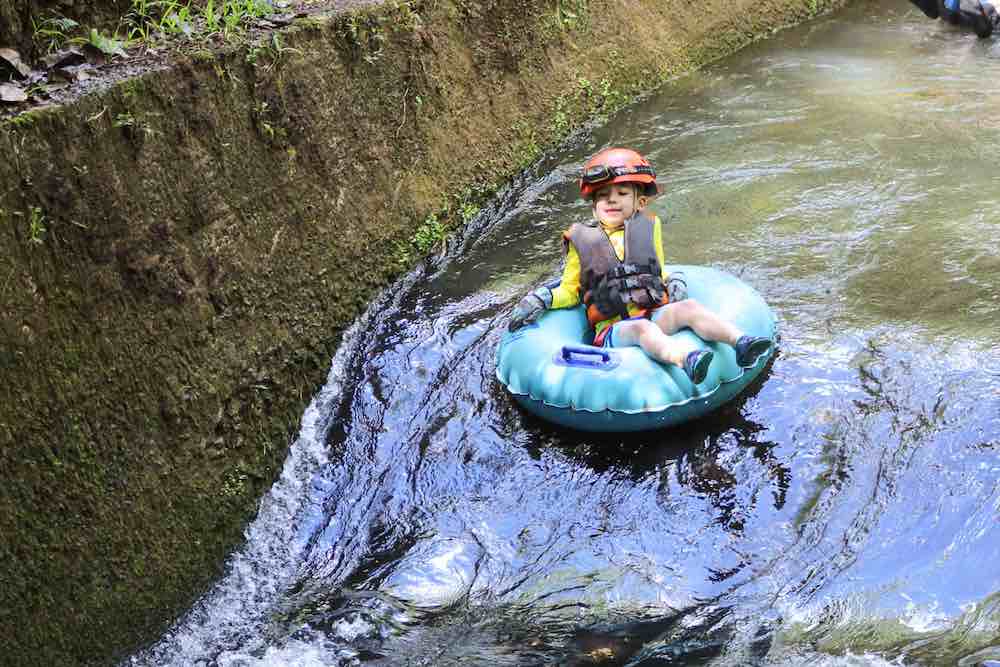 You'll wear a lamp on your head so you can see where you're going as you float through tunnels. The photo above is from the only "exhilarating" part of the adventure.
Most of the time, you'll be leisurely floating and taking in the beautiful sites of Mount Waialeale (one of the wettest spots on Earth.) It's definitely one of the most fun things to do in Lihue Hawaii!
Read all about our Kauai Mountain Tubing experience
50. GO TO A LUAU
I always recommend that families go to an authentic Hawaiian luau no matter which island they visit.
Each luau has their own special touch and it's a great opportunity to expose your kids to other cultures. On Kauai, my favorite luaus are Smith Family Luau and Luau Kalamaku.
At Smith Family Luau, you'll have the option of doing a boat ride on the Wailua River to see the popular Fern Grotto. And the luau grounds are gorgeous and you can take a little tram or just walk around before the festivities begin.
This Kauai luau highlights Polynesian and Asian cultures and it's been our family favorite for 25 years. Check latest rates and availability.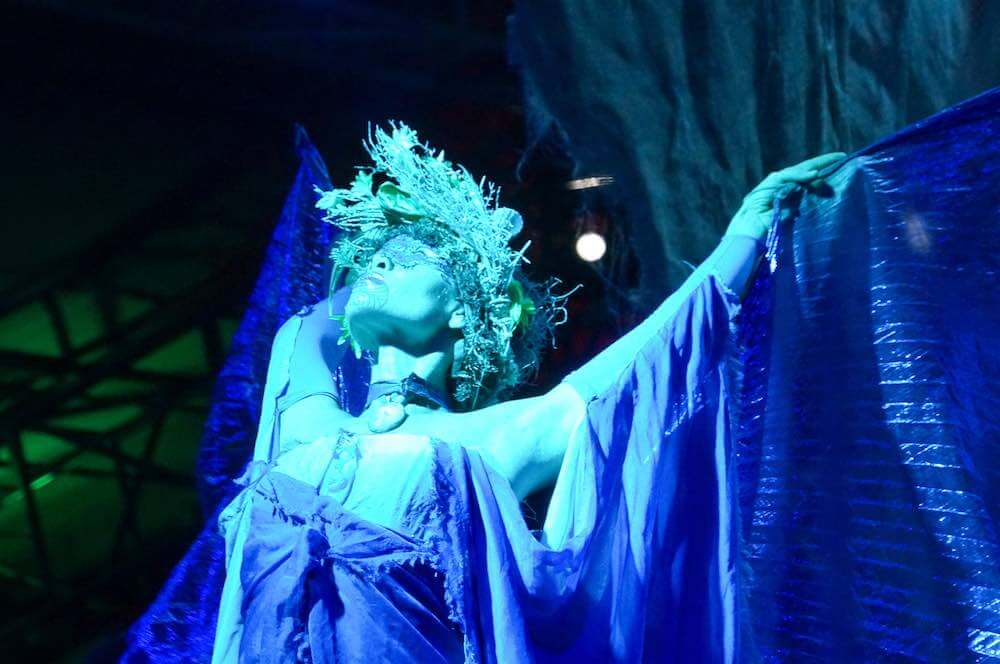 At Luau Kalamaku, you can take a train ride around the plantation and feed the pigs before the luau begins. They offer more of a theatrical experience than a traditional luau.
If your kids love Disney's Moana, they might appreciate this story of a voyager looking for a new land. The costumes are impressive and they do it in the middle of the room so there's not a bad seat. Buy discounted tickets for Luau Kalamaku.
Read my full posts about Smith Family Luau and Luau Kalamaku
Our family loves to eat when we travel. Even though I've visited Kauai more than 25 times, I can't always keep up with the trendiest food spots.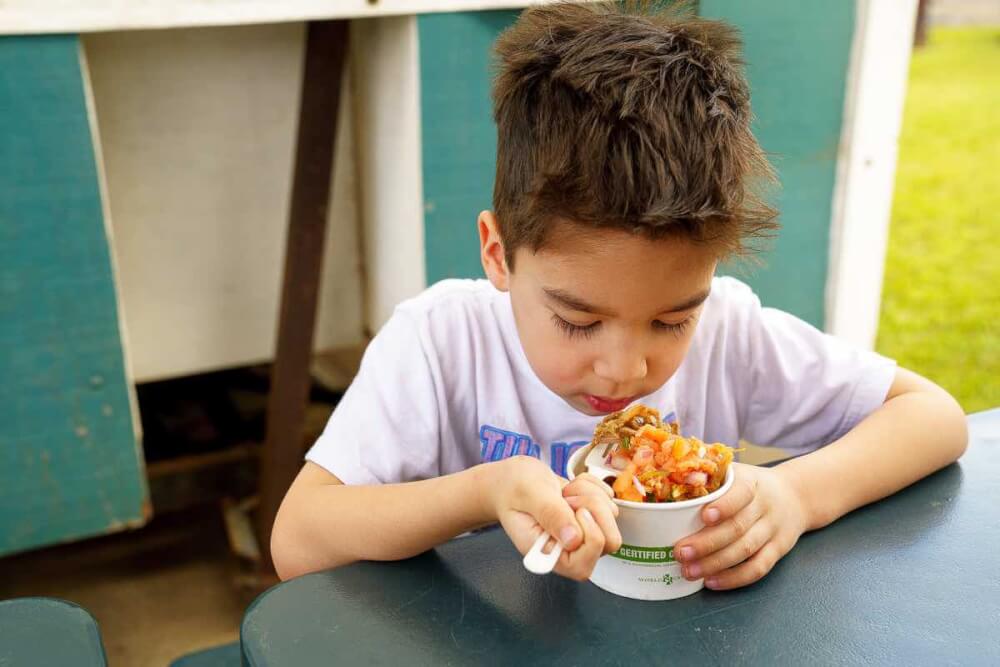 We did a Tasting Kauai food tour up on the North Shore and we can't wait to do their other tours soon! Check latest rates and availability.
The sample portions are large enough to share with kids and there was plenty of space for our kids to run around at each stop.
We were so impressed that we actually went back to about half of the stops to eat later in our trip. I'm still dreaming about the pizza from a gas station!
Read all about the Tasting Kauai Food Tour
Kauai is a great place to go kayaking. There are several great rivers all over Kauai (the Wailua River is the most popular for kayaking) as well as the ocean.
There are kayaks that can fit an adult and a child or you can let older kids paddle their own kayaks. Just be sure everyone wears a life vest, just to be safe.
You can rent your own kayak and gear or book a guided Kauai kayaking tour. Check out the latest prices and more details.
Kayaking isn't the only way to hit the water. There are plenty of snorkeling tours and sunset boat rides on Kauai.
It's always nice to see Hawaii from the water to get a different perspective. Plus, it gives kids a chance at seeing some cool sea life. Check out the latest prices and more details.
A lot of them come with snacks or a meal, so it's a great way to get an epic view while you eat.
It's also one of the best ways to take in a Kauai sunset!
If you love coffee as much as I do, you'll definitely want to check out the Kauai Coffee plantation. They have free walking tours and they also have a cool Kauai coffee farm tour for kids ages 8 and older.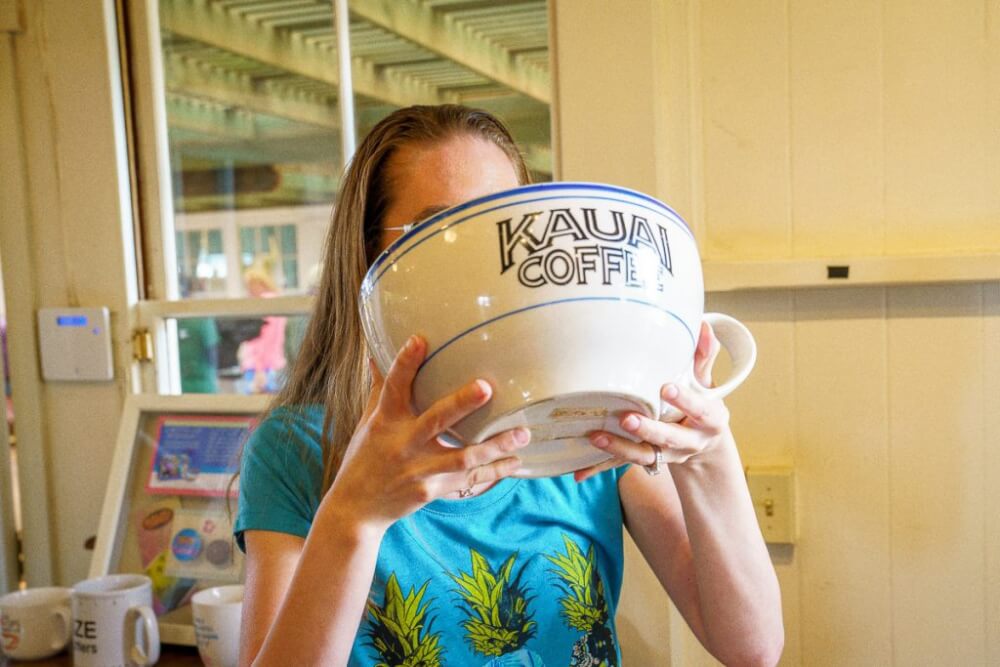 Kids will love all the fun photo ops as wells as exploring the grounds.
They have a little coffee museum set up in the back and they have an amazing gift shop filled with made on Kauai products.
Plus, they offer lots of free samples of Kauai coffee! It's definitely one of the best things to do on Kauai under $10!
55. LYDGATE FARMS CHOCOLATE AND ISLAND FRUIT TOUR
If your kids like chocolate as much as mine do, you'll want to book this Kauai chocolate and fruit tour at Lydgate Farms.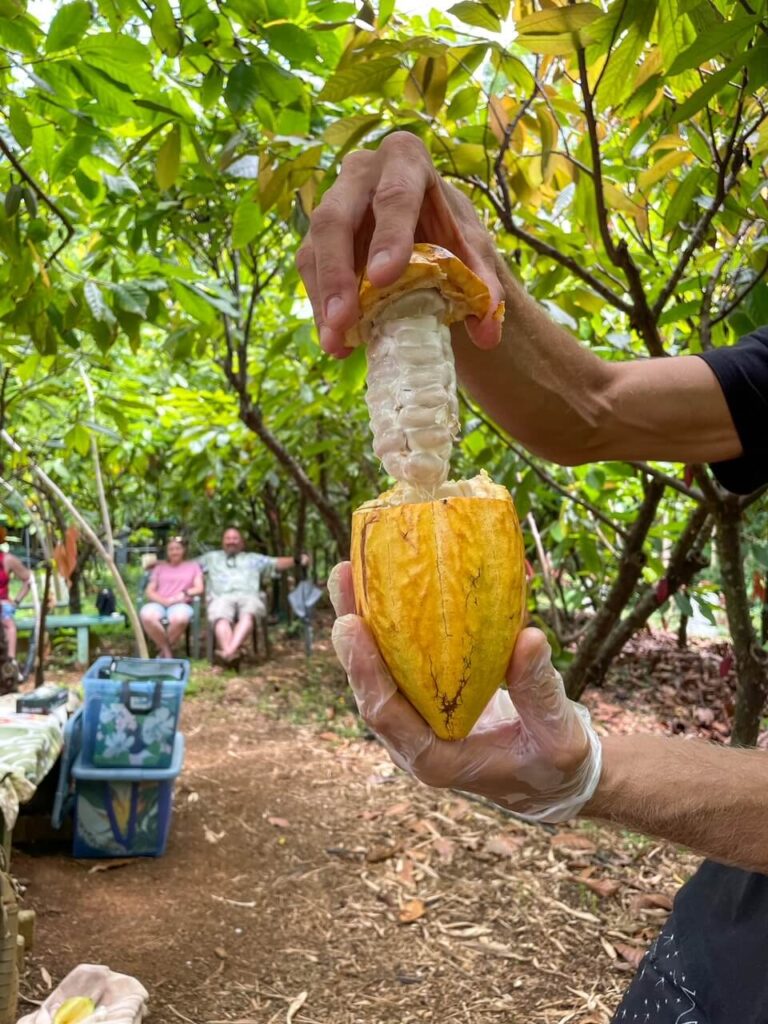 It's a 3 hour tour through their pretty botanical gardens. You'll get to taste Kauai honey, local vanilla beans, and try all kinds of Hawaiian fruit.
But the big draw is tasting locally made Kauai chocolate. You'll learn all about the plant, taste the fruit, and find out exactly how they turn the raw fruit into finished chocolate. Read my full Kauai chocolate farm tour review.
It's one of the best chocolate tours in Hawaii.
56. GO HORSEBACK RIDING
Did you know Hawaii has a long cowboy history? Hawaiian cowboys are called paniolos and they are on all the Hawaiian islands.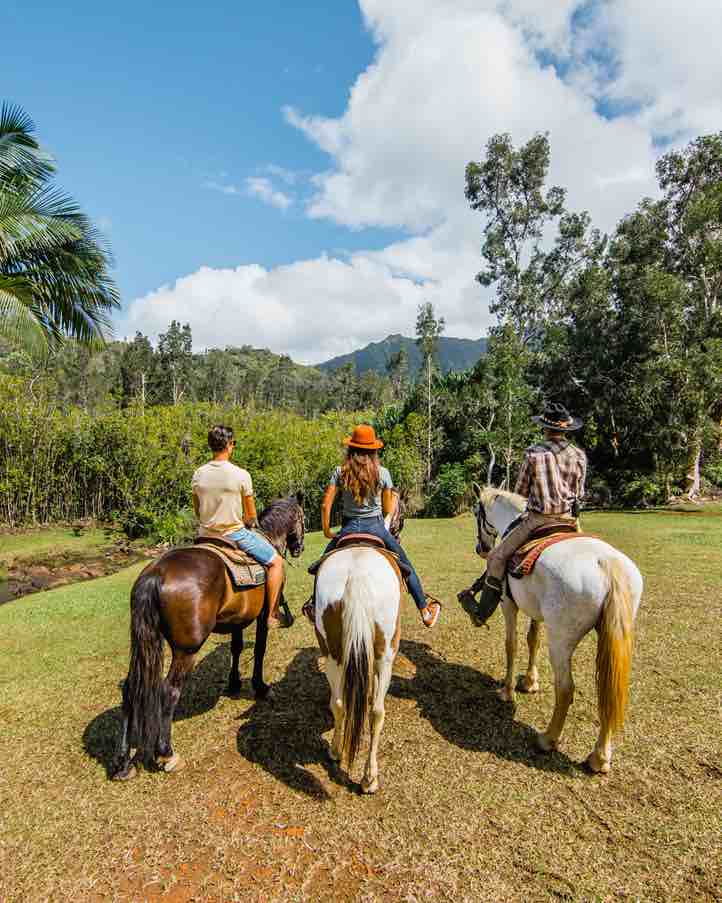 Book a Kauai horseback riding tour to learn more about the paniolos and see some epic Hawaiian landscapes.
Older kids can do an array of tours around Kauai. And there are even pony rides for younger kids not quite old enough to do an extensive tour.
57. RIDE A TRAIN
Younger kids will LOVE doing a train ride on Kauai. The easiest one to do is at Kilohana Plantation. It's always a hit with my boys.
You'll hop in the train and take a leisurely ride around the plantation where you'll learn about the different Hawaiian fruits and crops. And, you'll get to hop off and feed animals mid-way through.
Another option is the Sugar Cane train. You'll have to check to see if it's operating during your trip.
58. VISIT LIMAHULI GARDEN
There's a reason Kauai is called the "Garden Island." It's because it rains frequently which results in breathtaking, lush beauty everywhere you turn.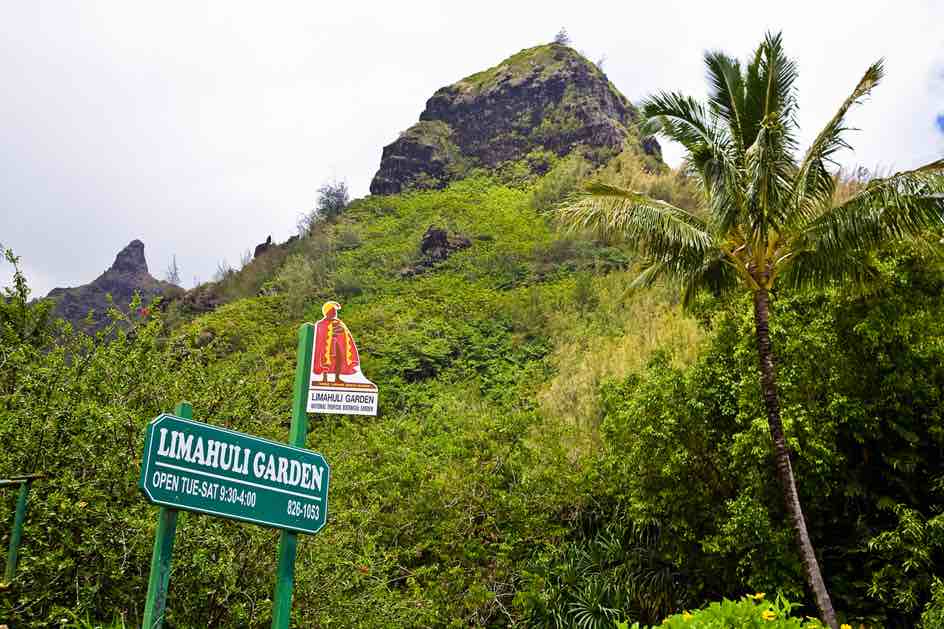 Limahuli Garden is part of the National Tropical Botanical Gardens in Hawaii and it's located in one of the most bio-diverse valleys in Hawaii.
They offer self-guided tours where you can go on forest walks, hike to see a stunning ocean view, and learn what is being done to protect the beautiful plants and wildlife in this garden. Read our full Limahuli Garden review HERE.
59. GO SNORKELING
There are plenty of awesome places to snorkel on Kauai for all ages and abilities.
For younger kids and first-time snorkelers, I suggest practicing at Poipu Beach. The water is calm and clear enough to see all kinds of fish. Plus, you might even see Monk Seals or Hawaiian Green Sea Turtles!
Teens will love heading to Tunnels Beach, which is a top Kauai beach for snorkeling.
You can join a kid-friendly Kauai snorkeling tour or rent/buy snorkeling gear and go on your own. Check out the latest prices and more details.
Read my full Kauai snorkeling guide
60. PLAY MINI GOLF IN KILAUEA
One of the newer Kauai attractions for kids is the mini golf course at Anaina Hou Community Park up on the North Shore of Kauai.
It's a full 18 hole with water hazards and other obstacles to keep the whole family on their toes! Plus, it's surrounded by a beautiful botanical garden.
And, kids ages 3 years old and younger are free!
61. VISIT NA AINA KAI BOTANICAL GARDEN
Out of all the Kauai gardens, this one is probably the most fun for kids. That's because they have an official Children's Garden with bridges, tunnels, slides, a train, log cabins, a covered wagon, a maze and more.
And they have Keiki Day once a month that is basically a huge outdoor playdate. Kids can play in the fountain, explore a tree house, and run around the Children's Garden.
62. KAUAI MOVIE TOURS
If you watch a lot of movies, chances are you've seen one filmed on Kauai. And if you love Jurassic Park, you've definitely seen one!
You can book a Kauai movie tour to see where some of the most famous scenes in movies were filmed on Kauai. Check out the latest prices and more details.
This is especially fun to do if you've done a Kauai movie marathon before your trip. That way, the scenes are fresh in your minds before you visit the spots. They usually show you a clip at each location, but it's more fun if you've seen the whole movie.
Book your discounted Kauai movie tour
63. ATV ADVENTURES
Older kids and teens will go nuts for this Kauai activity. Kauai is famous for its red dirt, so throw on some old clothes and shoes and then go for an epic Kauai adventure.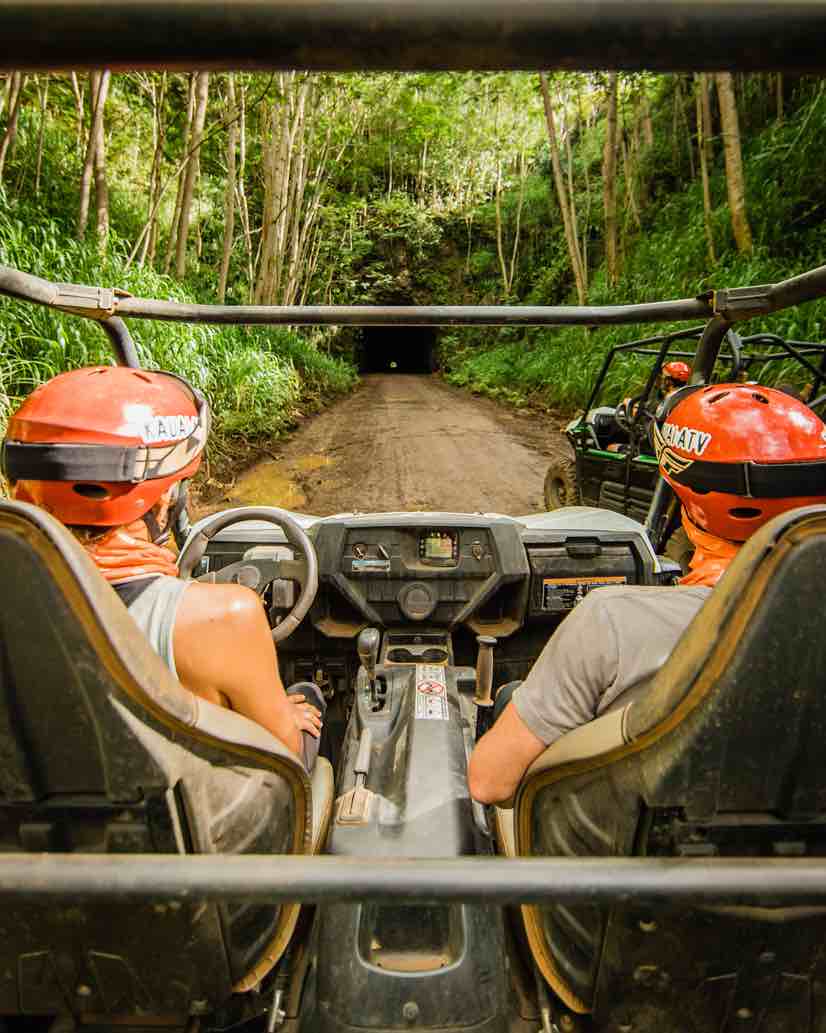 Hop in a 4×4 and explore the mountains of Kauai while seeing some amazing views of the island and the water. It's great for families who want to drive fast and get muddy!
Check out my full Kauai ATV tour review for families!
64. SURFING LESSONS FOR KIDS
Did you know surfing was born in Hawaii? It's now a worldwide sport! Learn how to surf from locals who have been surfing on Kauai for generations. Check out the latest prices and more details.
Kids will love learning how to balance on their board and catch some easy waves. Plus, then they can brag to all their friends back home that they learned to surf in Hawaii!
Book your Kauai surfing lessons
65. RIDE BIKES ON KAUAI COASTAL PATH
If you visit the East Shore of Kauai, you'll want to take advantage of their coastal bike path. It's a great spot for a morning sunrise walk or extensive bike ride with kids.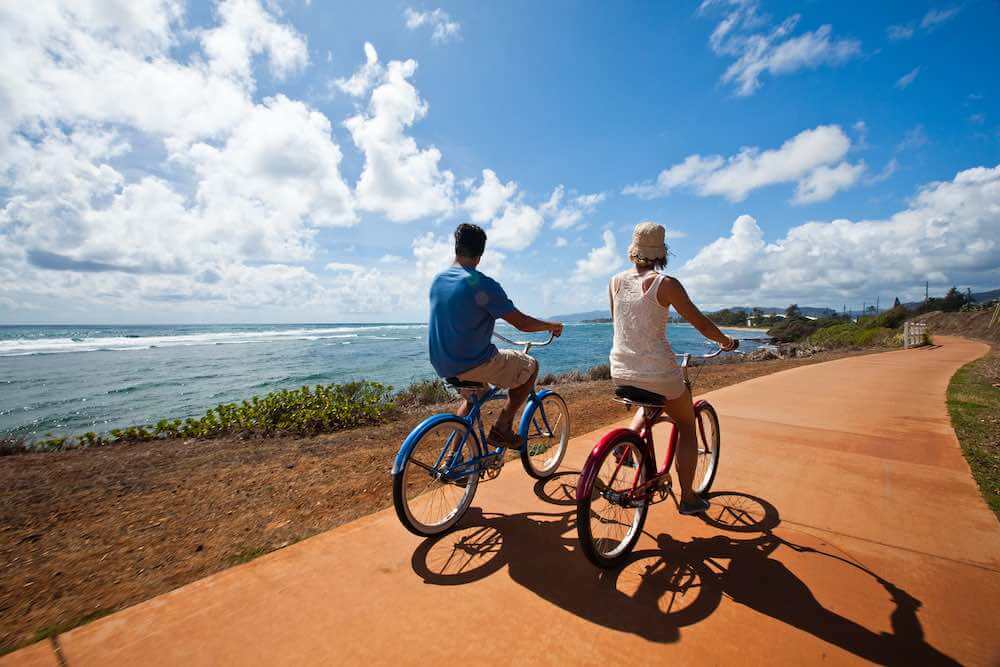 The path goes up and down Kauai's famous Coconut Coast. The path is fairly new, but it's already stained by the red dirt.
There are several bike rental places on Kauai and some of them even have trailers for babies/toddlers. It's also a great place to push a stroller if you are going to Kauai with a baby.
66. TAKE A HIKE
Kauai is any hiker's ultimate dream. There are so many amazing places to hike on Kauai, from short strolls to treacherous adventures.
One of the most famous hikes is along the Na Pali Coast. This section of Kauai isn't accessible by car, so the only way to see it is on foot or by boat.
There's a trail to Hanakapiai Beach and waterfall that makes a fantastic half day trip. Or, you can commit to the full hike to Kalalau Valley, which requires an overnight stay.
67. HELICOPTER RIDE
Kauai has some of the best scenery in Hawaii and some of it can only be seen by helicopter. You can take a helicopter ride over many areas of Kauai but the most popular are the Waimea Valley and the Na Pali Coast.
Hop in a helicopter to explore Kauai's jungles and see secret waterfalls and lush greenery like you've never seen before. And you'll have plenty of opportunities to take amazing video and photos along the way. Check out the latest prices and more details
Book your Kauai helicopter flight
68. SIGHTSEEING FLIGHT
If you are worried about getting air sick in a helicopter, another option is to take a scenic flight in an airplane. This is a smoother ride, but you won't be able to get as close to some of the waterfalls. Check out the latest prices and more details.
But, it's still a great option if you want to see a bit more than you can from just driving around the island.
Book your Kauai scenic flight
69. TRY STAND UP PADDLING
Stand Up Paddling (also called SUP) is a sport where you stand on a board and use an oar to paddle yourself around on calm water.
It's fun for younger kids because they have nice balance and find it easy. It can be a bit more challenging for adults (and definitely a work out!)
Hanalei Bay is a popular SUP spot on Kauai. You can rent equipment or join a tour.
70. GO WHALE WATCHING
If you are heading to Kauai during the winter months, you have a great chance of seeing humpback whales. There are a few places to see whales from the land, but if it's a priority for your family, you'll want to book a boat tour.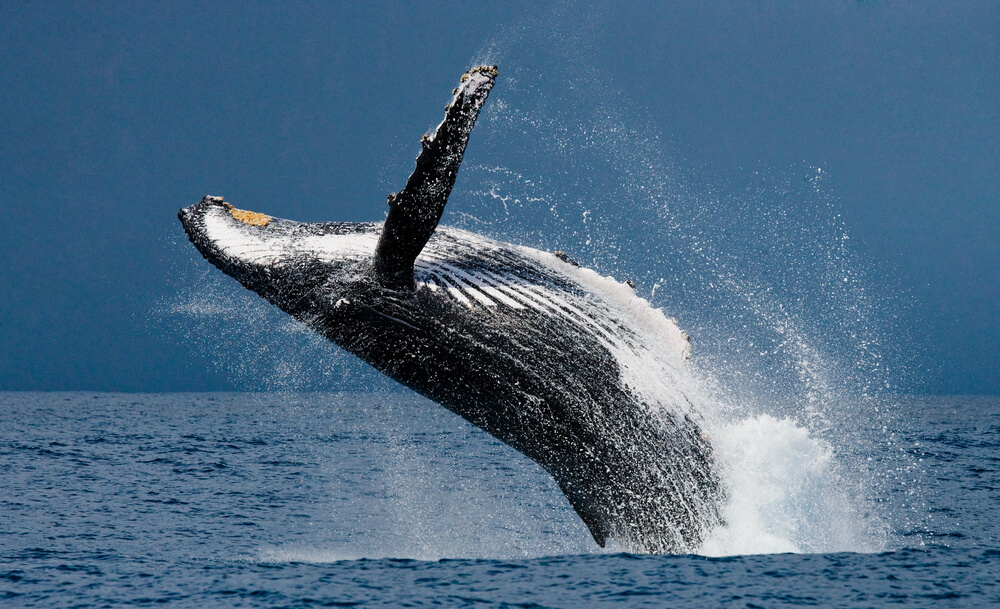 By booking a Kauai whale watching tour, you have the best chance of seeing whales frolicking in Hawaii. Your crew will know the best places to look and will point out the pods when you get near.
Read all about Whale Watching on Kauai
71. DO A KAUAI FAMILY PHOTO SHOOT
One of my favorite travel souvenirs is booking a professional photo shoot with my family. It takes the pressure off for getting cute family photos during the rest of our vacation.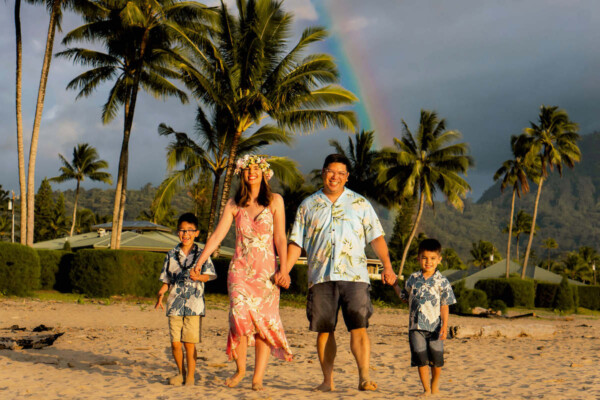 A fun way to get the kids extra excited is to end your shoot by giving them a treat like an ice cream cone or Hawaiian shave ice! Those usually make for some of our best photos! Check out the latest prices and more details.
72. SEE A HAWAIIAN VILLAGE
If your family is interested in learning more about Hawaiian culture, you'll want to stop at the Kamokila Hawaiian Village.
They have everything set up so you can see how ancient Hawaiians lived. And, they offer outrigger canoe tours, Fern Grotto tours, and even access to a private swimming hole.
So, you can walk around the grounds and then go swimming or paddling to finish your Hawaiian adventure.
73. CHECK OUT THE KAUAI MUSEUM
When it comes to visiting museums on vacation, it can be hit/miss depending on your family. The Kauai Museum is pretty cool because they have a lot of things on display that highlight Kauai's sugar cane plantation history.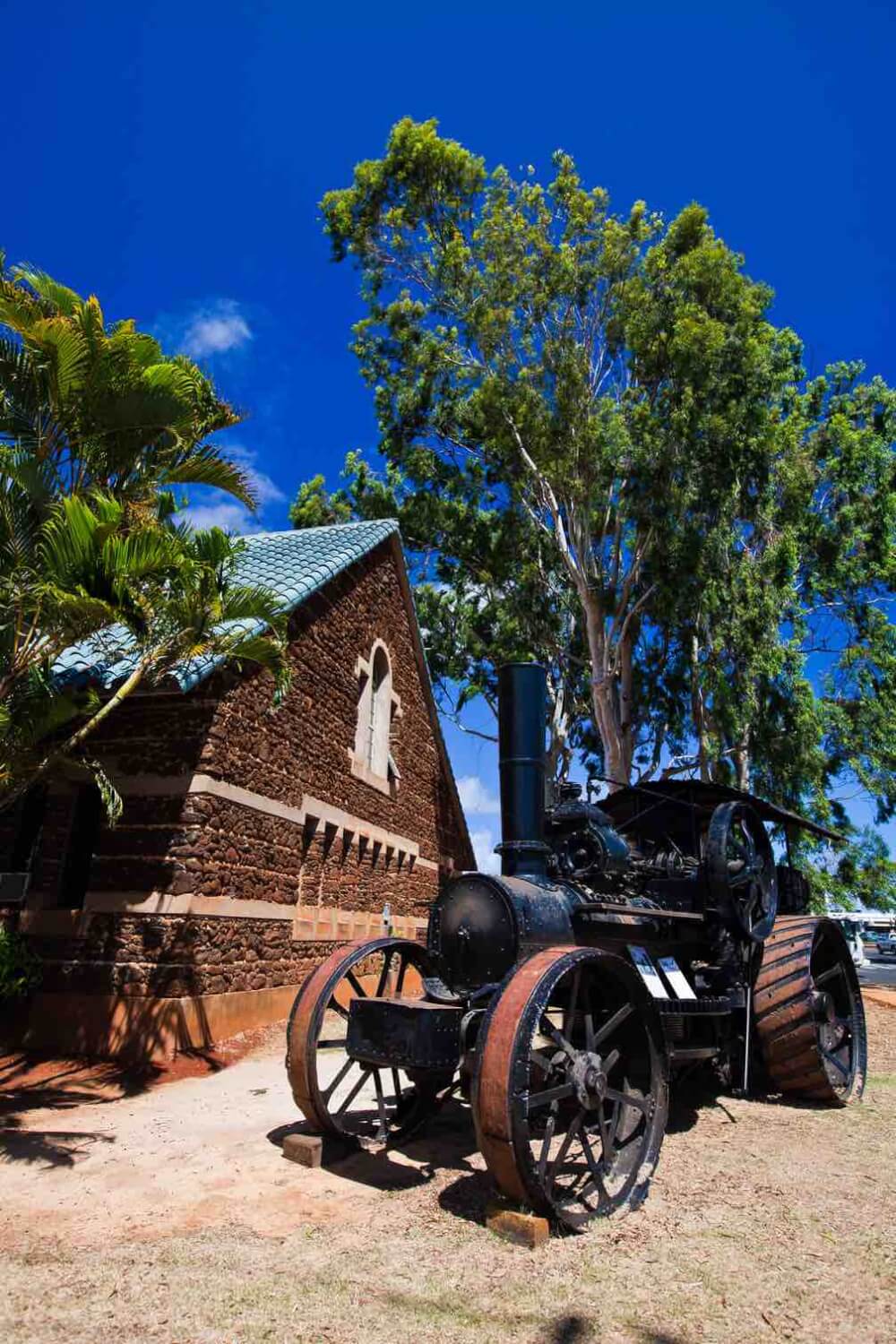 Plus, they have a really cool gift shop filled with locally made Hawaiian products. And they host a lot of cool, cultural events throughout the year.
74. LEARN TO PLAY THE UKULELE
The quintessential Hawaiian musical instrument is the ukulele. It's now become one of the trendiest instruments to learn to play for both kids and adults.
Why not spend a few hours of your vacation learning how to play?
Airbnb Experiences has some great options, like this group ukulele class.
75. MAKE A FLOWER LEI CROWN
If you scroll Instagram looking at cute Hawaii pictures (I know I'm not the only one), I'm sure you've seen people wearing Hawaiian flower lei crowns in their Insta-worthy photos.
Believe it or not, these flower crowns have been around for quite a long time. They are called haku leis (or sometimes le po'o) and you'll frequently see them on hula dancers and musicians.
There are a few places on Kauai where you can learn how to make your own. Do it early in your trip and then you can wear it out to dinner, to a luau, and even do a cute photoshoot wearing it!
Book your haku lei making class on Kauai
76. GO FISHING
Kauai is a great island to go fishing. Meet up with a local guide who can take you to a favorite fishing spot. You won't need to bring any gear, as everything will be provided.
You'll get an authentic Kauai fishing experience rain or shine.
Book your Kauai fishing excursion
77. NATIONAL TROPICAL BOTANICAL GARDEN
There are several beautiful botanical gardens on Kauai. Two of the most popular are the Allerton and McBryde gardens down in Poipu. And they are located right next to each other.
The Allerton Garden is cool for kids because you can see Morton Bay fig trees that were featured in Jurassic Park.
The McBryde Garden is especially good for families because there's a tram ride, living laboratory, and a Hawaiian Life Canoe Plant Garden.
Ziplining has become the quintessential Hawaiian activity. And one of the best places to zipline in Hawaii is the island of Kauai. That's because it's full of gorgeous jungles!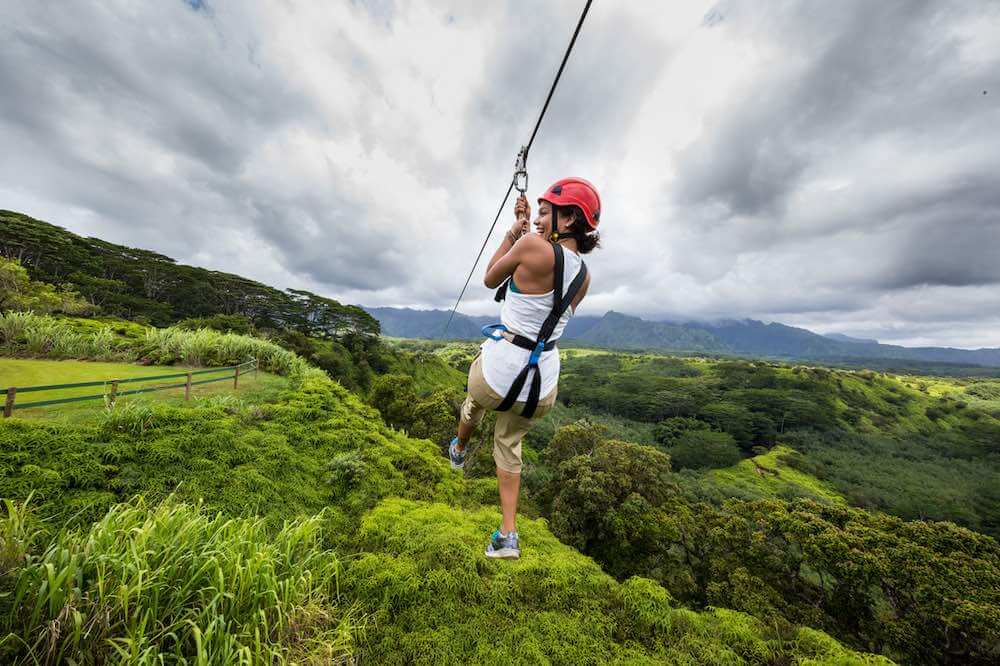 There's something about feeling like you are flying that appeals to to kids, teens, and adults! Strap in for the ride of your life!
There are plenty of Kauai ziplining excursions available, depending on what you are looking for. Check out the latest prices and more details.
Book this discounted Kauai ziplining tour
79. GO HIKING WITH A RESCUE DOG
One of the coolest programs on Kauai is through the Kauai Humane Society. They will let you take one of their rescue dogs out for a day of adventure.
The most popular thing to do with the rescue dog is go hiking. There are tons of dog-friendly hiking trails on Kauai.
And, if it's love at first sight, you can request to adopt your dog. I mean, that's a pretty awesome Kauai souvenir, right?
Learn more about the Kauai Humane Society Field Trip Program
80. TAKE A KAUAI PHOTOGRAPHY TOUR
If you are interested in learning more about photography, Kauai makes a stunning backdrop. There are several different Kauai photo tours you can choose from.
What's cool about them is that a local guide will take you to places you may or may not visit on your own. And, they will also show you where to stand and how to frame awesome photos.
This is a great activity to do with your kids because younger kids can pose and older kids can learn right alongside you. Check out the latest prices and more details.
Book your private Kauai Photography Tour
81. DO A PRIVATE FAMILY YOGA CLASS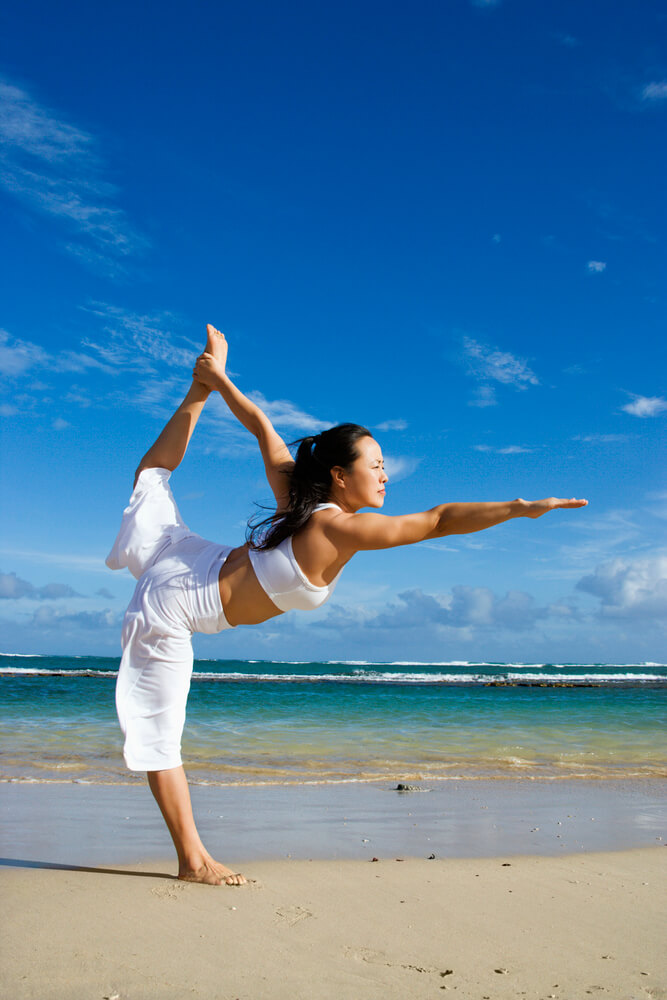 Have you ever wanted to learn yoga? Or maybe you are a total yogi who is looking to learn a few new techniques?
You'll want to book a private yoga class on the beach for your family. What a great way to get in touch with your body and the spirit of the Hawaiian islands. Check out the latest prices and more details.
Plus, you might pick up on a few new ways to relax your mind, body, and soul.
Book your private Kauai yoga class
82. LEARN POLYNESIAN DRUMMING AND FIRE DANCING
If you've been to a luau, chances are you and your family have been wowed by the Samoan fire knife dance. It's thrilling and has become a popular way to end shows.
And the best luaus light the Maori poi balls on fire for a spectacular dance.
You can learn to do both (first without fire) and then opt to light them on fire for a once-in-a-lifetime experience you'll be talking about for years!
Book your Polynesian drumming and fire dancing lesson
83. MAKE A HAWAIIAN NOSEFLUTE
The ancient Hawaiians made noseflutes out of bamboo and now you can learn how to make one yourself. You'll get to trek into the jungle to harvest bamboo and then drill holes and burn them to create a one-of-a-kind Hawaiian musical instrument.
Along the way, you'll get to learn more about Hawaiian culture and history.
Book your Hawaiian noseflute class
84. GO ON A KAUAI SCAVENGER HUNT
Whether this is your first trip to Kauai or your 20th, you'll definitely discover new things about Kauai on this magical Kauai Scavenger Hunt up in Hanalei.
You'll learn about Hawaiian culture and history as you check out unique things in Hanalei. You'll feel like the ultimate sleuth as you crack the clues.
It's the ultimate way to make memories on Kauai with your family!
Book your Kauai Scavenger Hunt
The Best Free Things to Do on Kauai with Kids
85. GREET THE SLEEPING GIANT
One of the best Kauai legends for kids is about the Sleeping Giant. It's a really interesting story, but basically he ate a bunch of food, got tired one day and laid down. That's what formed the Sleeping Giant mountain.
I recommend reading this Sleeping Giant children's book first and then do the hike with your kids to make it a richer experience.
You can also splurge for a private Sleeping Giant hiking tour.
86. PLAY AT ANAINA HOU COMMUNITY PARK
One of the best playgrounds on Kauai is at Anaina Hou Community Park up in Kilauea on the North Shore of Kauai.
It's super new and they are still adding playground equipment. They do an awesome job of incorporating Hawaiian culture and promoting the concept of reduce, re-use, recycle.
Plus, it's very "Kauai" and include a play volcano, sugar cane train, canoe, Hawaiian houses, and more. And there's plenty of seating for adults to hang out while the kids play.
My kids played for hours and we had to drag them away!
87. SEE A KAUAI SUNRISE
There really is something so peaceful and magical about experiencing a stunning sunrise in Hawaii. With the warm air and the quiet beach, it's a great way to kick off your day.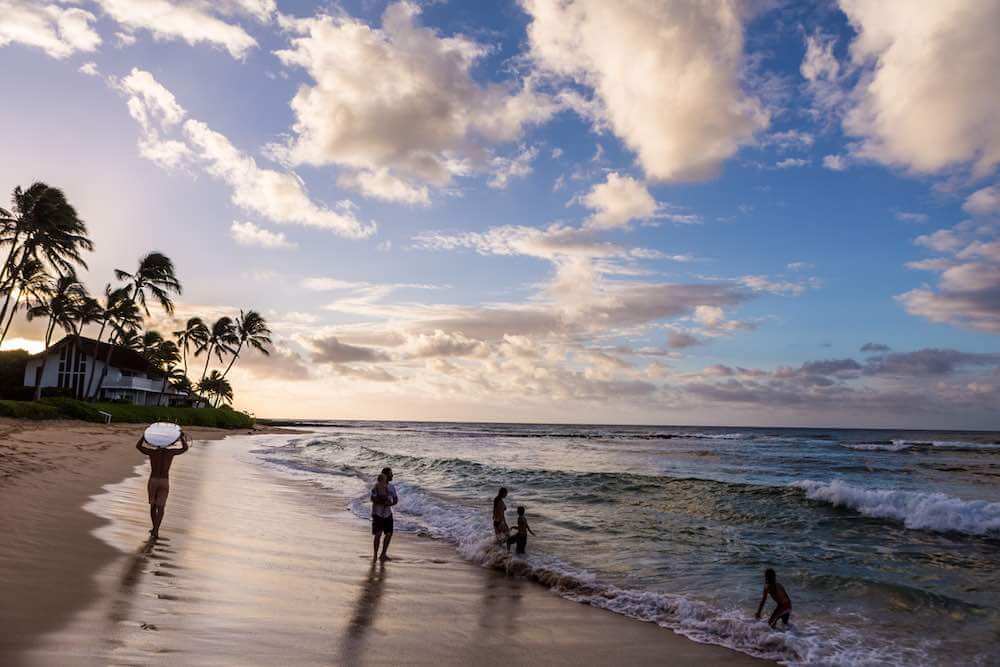 With the time difference from the Mainland, it's especially easy to catch a sunrise on your first morning on Kauai.
While the East Shore is the best side to see a Kauai sunrise (I mean that's where the sun rises), you can actually see a spectacular sunrise from the South Shore, too.
88. LOOK FOR RAINBOWS
While Kauai has a reputation for being the rainy island, it's actually a blessing in disguise. That means, you'll have the opportunity to see rainbows multiple times during your trip!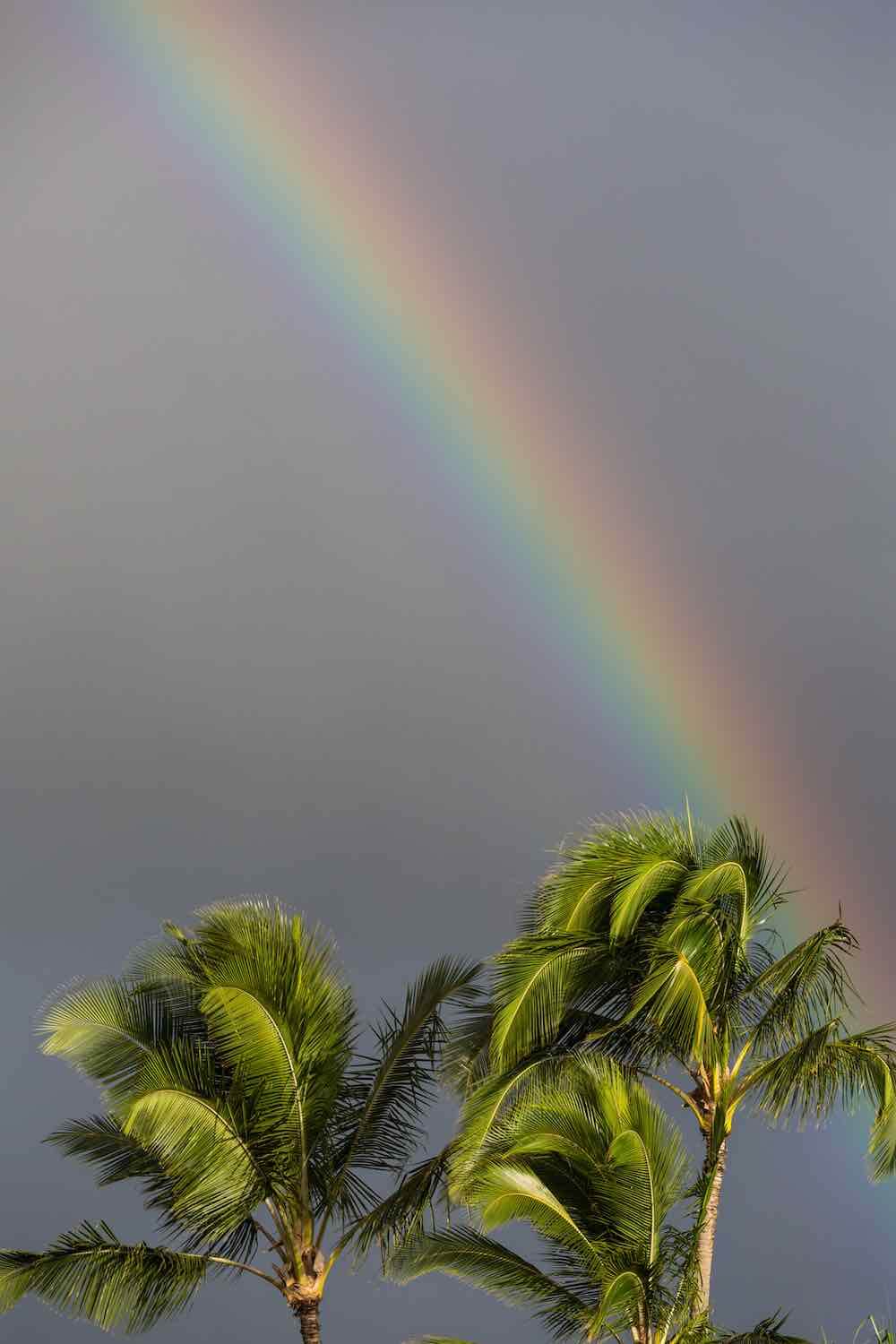 In fact, you might even get to see a double rainbow or the rare triple rainbow!
We like to make it a car game and see who can spot a rainbow for the first time. They are such a treat to see, especially if you don't usually see a lot of rainbows at home.
89. VISIT A STATE PARK
Kauai has 5 state parks: Wailua River State Park, Waimea Canyon State Park, Kokee State Park, Polihale State Park, and the Ahukini State Recreational Pier.
Some of these are great places to go hiking or do outdoor adventures like kayaking.
90. FREE HULA SHOWS
If you don't want to splurge on a Kauai luau or you want to see as much hula as possible, you are in luck! There are several places to enjoy free hula shows on Kauai.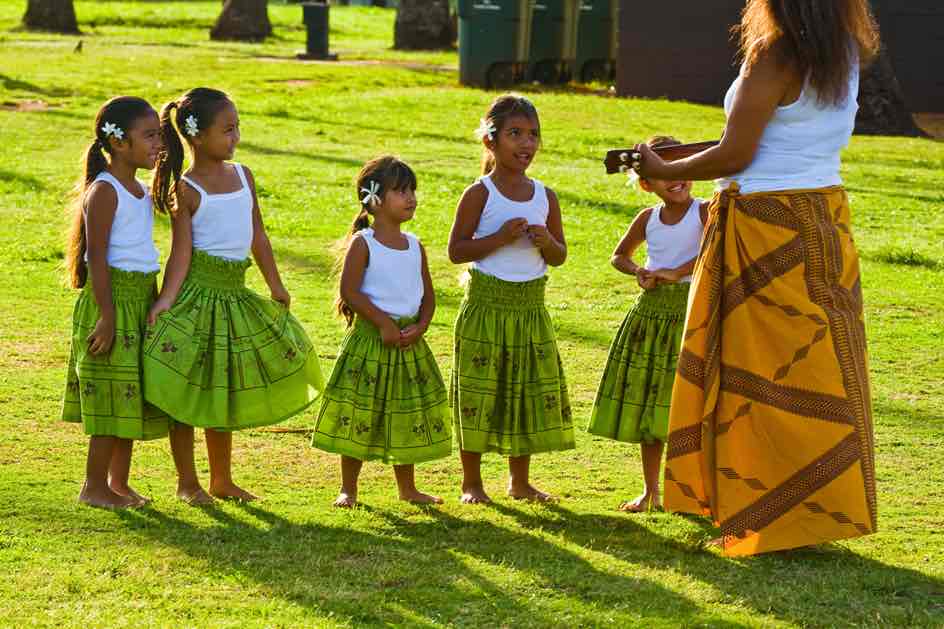 Coconut Marketplace
In Kapaa, you can enjoy free hula shows by the students of Halau Hula O Leilani every Wednesday at 5pm and Saturday at 1pm at the Coconut Marketplace.
National Tropical Botanical Garden
In Poipu, you can partake in the free hula show by Halau Ka Le Mokihana O Leina'ala every Thursday at 2pm at the National Tropical Botanical Gardens.
Poipu Shopping Village
Again at Poipu, you can see hula dancing, Tahitian dancing and fire knife dancers every Monday and Thursday at 5pm at the Poipu Shopping Village.
91. SEARCH FOR TREASURE AT GLASS BEACH
Kauai has a really cool beach called Glass Beach where you can find all kinds of colorful beach glass. We used to go as kids and it was like a real life treasure hunt!
See who can collect the most glass of a certain color in a set time!
Please be respectful and leave the glass there or just take a few pieces.
92. GO TO A PLAYGROUND
Out of all the playgrounds on Kauai, Anaina Hou Community Park is one of my favorites.
It's located on the North Shore in Kilauea and features play structures, a skateboard ramp, miniature golf and a hiking trail.
The new playground structure is partly built with reused milk jugs. How cool is that?
There are also restrooms, picnic tables, food options and a gift shop. It makes a nice stop when paired with a trip to Kilauea Lighthouse, too!
93. LOOK AT ART GALLERIES
While looking at art galleries might not seem like a kid-friendly Kauai activity, it definitely can be a lot of fun! Take a look around and ask your kids what there favorite pieces are and why.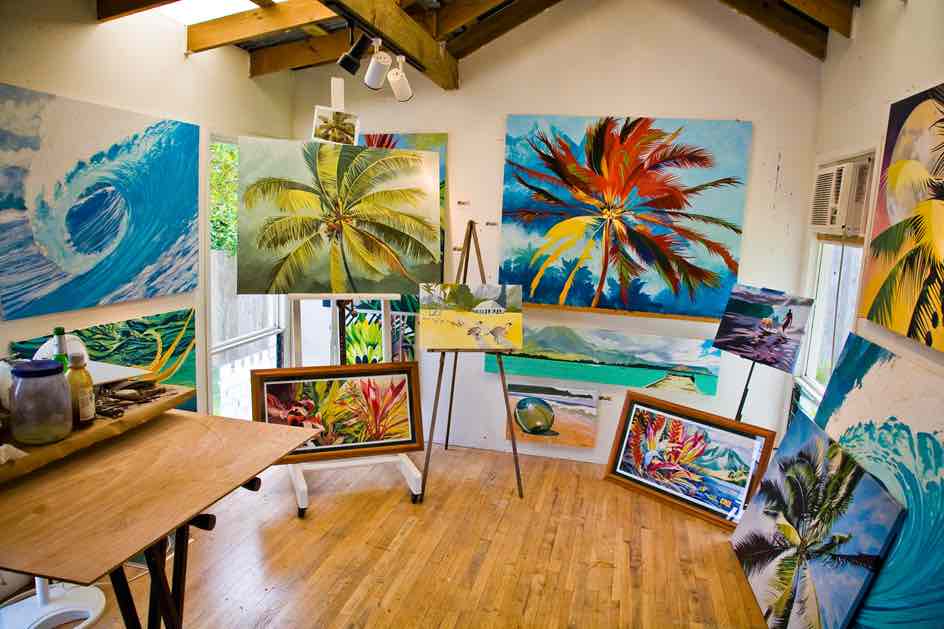 You can even make it into a scavenger hunt to see who can find a painting featuring a plumeria flower or surfer. It's a great way to get kids interested in art!
94. KAUAI FARMERS MARKET
Kauai has some amazing locally grown produce and baked goods. There are farmers markets all across Kauai and it can be a fun experience to taste the difference between organic produce in Hawaii versus what you get at your grocery store back home.
Give your kids some cash and let them choose their own Hawaiian fruit or treats to taste.
95. KAUAI CULINARY MARKET
This is not your typical farmers market, which is why it gets a separate entry. Plan on spending some time at The Shops at Kukuiula to explore their Kauai Culinary Market.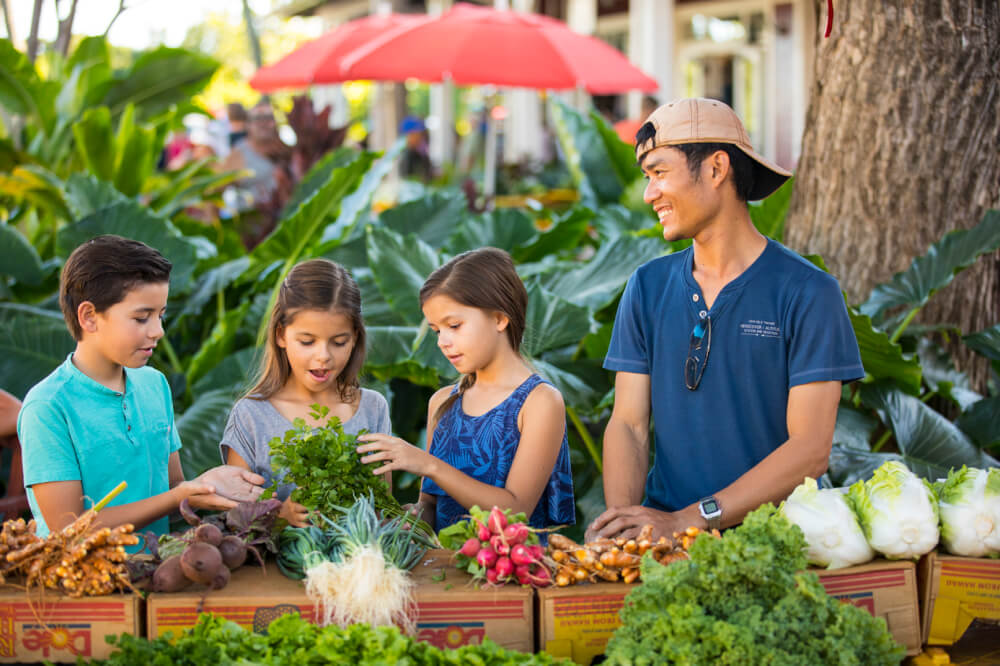 Every Wednesday from 3:30pm – 6pm, guests can see live cooking demonstrations and take a look at locally grown food and treats.
And afterward, you can browse the adorable Hawaiian boutiques and enjoy Happy Hour or dinner at one of the many restaurants.
96. SEE FARM ANIMALS
Believe it or not, Kauai actually has a lot of farms. They grow a ton of organic produce and raise lots of animals.
While you can see roosters everywhere on the island (I'm serious) you can also see traditional farm animals at specific farms.
One of the easiest is off the side of the road in Kilauea. You can park on the Mauka Side (mountain side) of the highway to see pigs, shetland ponies, and other 4 legged animals near Kilauea Farms between the 20-21 mile marker.
97. GO BIRDING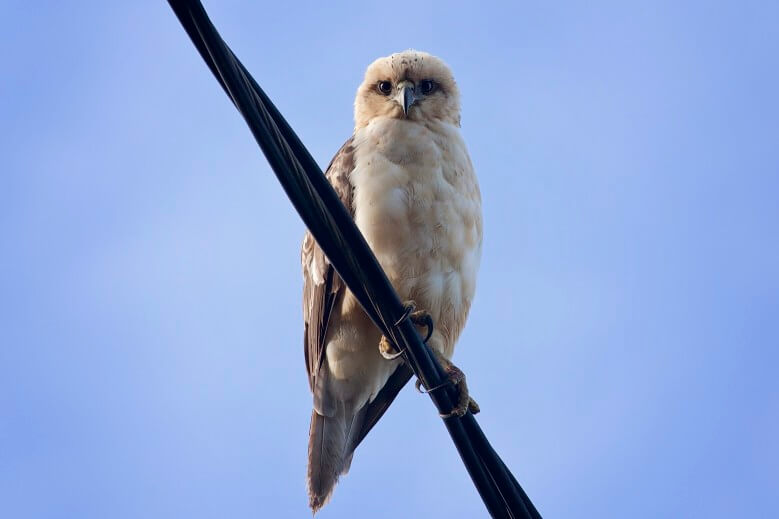 Kauai is an awesome Hawaiian island to look for rare and tropical birds. There are several solid spots to birdwatch on Kauai and you really just need a pair of binoculars and some patience.
Whether it's an activity you already enjoy at home or you are looking to try something new in Hawaii, it can be a fun, kid-friendly thing to do in Kauai.
Read my ultimate guide to Kauai birdwatching
98. VISIT AN ANCIENT HAWAIIAN HEIAU
The ancient Hawaiians created lots of temples and sacred places to honor their gods and goddesses. You can still find the ruins and it can be an interesting thing for kids who are curious about Hawaiian culture or history.
Up in Haena, you can see the place where hula is said to have first started. And in Kapaa, you can see the place where Kauai royalty gave birth.
99. SEE A MONK SEAL
If your family likes seeing animals in their natural habitat, you might get a kick out of seeing a real Hawaiian Monk Seal.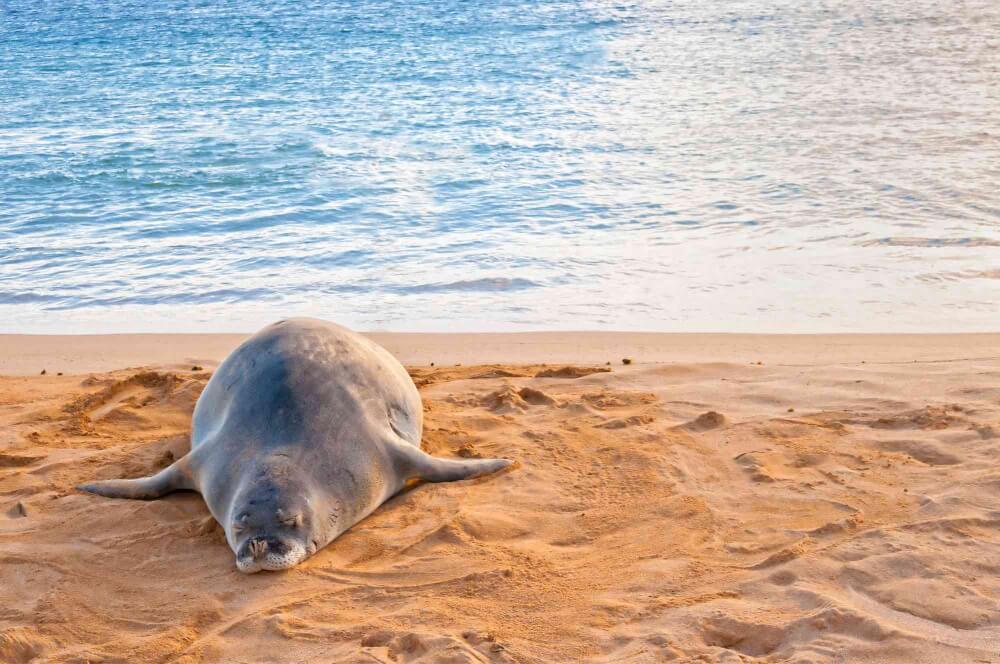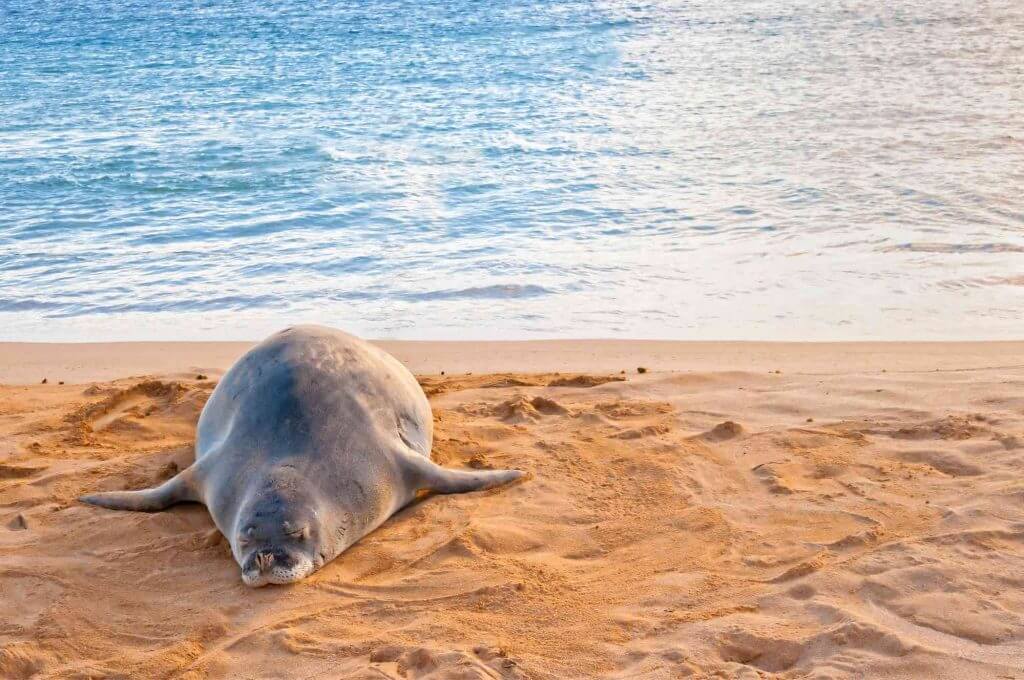 They are often hanging out at Poipu Beach working on their suntan. Just be sure to give lots of space and definitely don't try to touch them.
100. FREE MOVIE SCREENINGS
On the last Saturday of every month (weather permitting) there's a free outdoor movie at the Coconut Marketplace.
Every few months, the National Tropical Botanical Garden has a free outdoor movie night with food trucks.
They also offer them throughout the year at Poipu Beach Park and the All Saints Episcopal Church. Most of these places sell food and drink or you can bring your own picnic dinner or movie treats.
101. E KANIKAPILA KAKOU
Each year, the Garden Island Arts Council presents 10 weeks of amazing Hawaiian musicians, artists, storytellers, and hula dancers who share Hawaiian culture.
There are even free ukulele and hula dance lessons.
Check the events calendar to see if E Kanikapila Kakou is happening during your trip to Kauai.
The Best Places to Stay on Kauai with Kids
While there are tons of kid-friendly Kauai hotels and resorts, here are a few that I always recommend to friends about where to stay in Kauai with family.
This Poipu resort is awesome for families. The pool area is fabulous (and it includes a saltwater lagoon), plus there are restaurants and even an on-site luau.
On the East Shore, the Royal Sonesta Kauai Resort is another great Kauai resort for families. It's located on Kalapaki Beach, which is super kid-friendly. Plus, there are kid-friendly restaurants and activities.
On the North Shore, The Cliffs at Princeville offers one bedroom suites and two bedroom/loft floor plans, which is awesome when traveling with kids. And they have kitchens, so you can cook in your unit.
Loving these kid-friendly Kauai activities and adventures? Click here now for more Kauai features to help plan your next vacation to the Garden Island!! And check out my Kauai Packing List!
P.S. Join our Hawaii Travel with Kids Facebook group to get connected with other families planning a trip to Hawaii!