Want to know how to make the ultimate Hawaii snack mix? Keep scrolling for my Hawaiian Furikake Chex Mix recipe that is always a hit!
This Hawaiian Furikake Chex Mix Recipe contains affiliate links which means if you purchase something from one of my affiliate links, I may earn a small commission that goes back into maintaining this blog.
I can't remember when I bought my first container of Island Princess Furikake Chex Mix from Costco. They used to sell it right at Christmas alongside tons of other Hawaiian snacks and treats.
But, I do remember devouring almost the entire (HUGE) container in the first day. And then I bought another container to bring home from Hawaii!
It's probably the most addictive Hawaiian snack I've ever tasted. That's because it's the perfect blend of sweet and salty.
My mom has been nice enough to ship us up furikake Chex Mix from Kauai during the holidays, but it usually only lasts 2 days. I'm serious. My kids go nuts for it!
So, I've had to learn how to make furikake Chex Mix at home. It saves us money from ordering it and we can adjust it so there aren't so many pretzels in it (my kids never eat them.)
For the past couple of weeks, my kids have been begging me to make this Hawaiian Chex Mix recipe and I finally got around to it this weekend.
We made a double batch of these sweet Chex Mix recipe so we could share some with my Mother-in-Law, who accidentally got hooked on it while babysitting my kids in Maui several years ago.
My kids were worried we were going to give it ALL to her, so they insisted on making a batch just for us!
What's cool about my furikake party mix is that you can swap any of the components depending on your taste buds.
Some people like to add peanuts, Fritos, potato chips, or Goldfish crackers to get the salty taste.
Personally, I prefer my furikake Chex mix with Bugles and mini pretzels. That's what's in the Cookies in Paradise furikake party mix recipe and that's my new gold standard.
This recipe makes (5) 9×13 pans worth and I bake them in 2 cycles because I can't fit them all in my oven at the same time.
This is the best furikake Chex Mix recipe available and you'll want to pin this for easy access!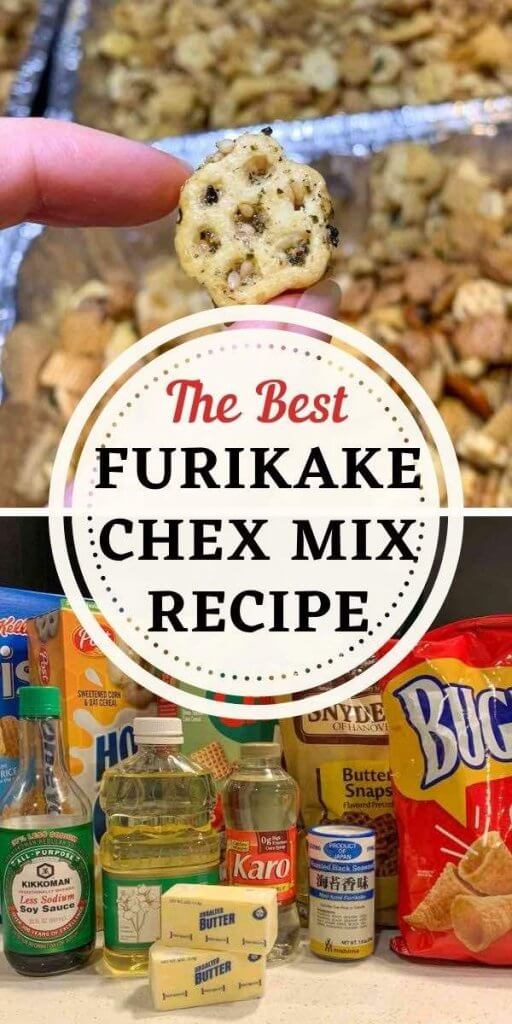 Hawaiian Furikake Chex Mix Tips
Read the furikake label before you start!
There are a bunch of different types of furikake and each one has a different flavor.
I sent my husband to our Asian grocery store a few years ago and he brought back one mixed with bonito flakes (aka dried fish) and it did NOT taste good with this Asian Chex Mix!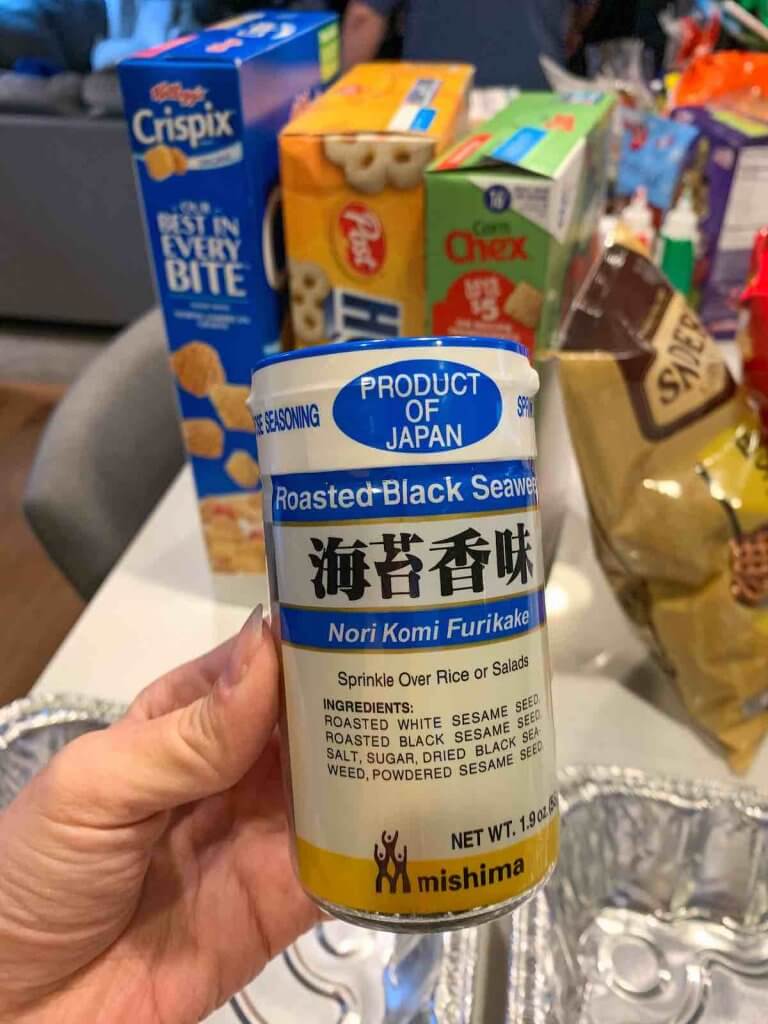 There are also some that have wasabi (which is pretty spicy) and salmon (a very distinct flavor.) These go great over hot rice, but not this furikake party mix recipe.
Make sure to get regular furikake seasoning. When in doubt, look it up on your phone.
A lot of furikake Chex Mix recipes say to use a cookie sheet.
I've tried that in the past and it's been a big mess. But most importantly, I lost a lot of precious Hawaiian furikake Chex Mix to the bottom of my oven!
That's why I recommend using pans that have taller sides. You'll be stirring the furikake snack mix many times as you bake it and this will keep the mix inside the pan.
I use (5) 9×13 aluminum roasting pans.
Consider adjusting the sugar or adding spice
We prefer our Hawaiian Chex Mix to be on the sweeter side. But, you can always reduce the amount of sugar, add some Worcester sauce, or sprinkle in some cayenne pepper for a more savory version.
We also just tried a version of furikake mix that used Gardetto's with Chex cereal with a less sweet coating that tasted pretty good.
However, as stated above, we like sweet Chex mix, so that's what this recipe reflects.
Adjust cooking and cooling time
I always seem to have one tray of Chex Mix that gets extra coating (I hate to waste.)
So, I usually cook that one for an extra 30 minutes. And then I have it cool on my counter overnight to fully dry. That's only an option because I live in a dry climate.
Make sure you have enough containers
As soon as you're done making this furikake Chex Mix recipes, you'll want to seal it up to preserve freshness.
We usually use the Ziploc gallon freezer bags if we're just eating this Hawaii Chex Mix recipe at home.
If you're going to give it as a holiday gift, you can fill cute cellophane treat bags with the mix, tie a ribbon around it, and you're all set!
If you're bringing it to a party, I suggest transporting them in one of these Ziploc containers to protect your Chex Mix from getting crushed.
Hawaiian Furikake Chex Mix Recipe
Makes 5 pans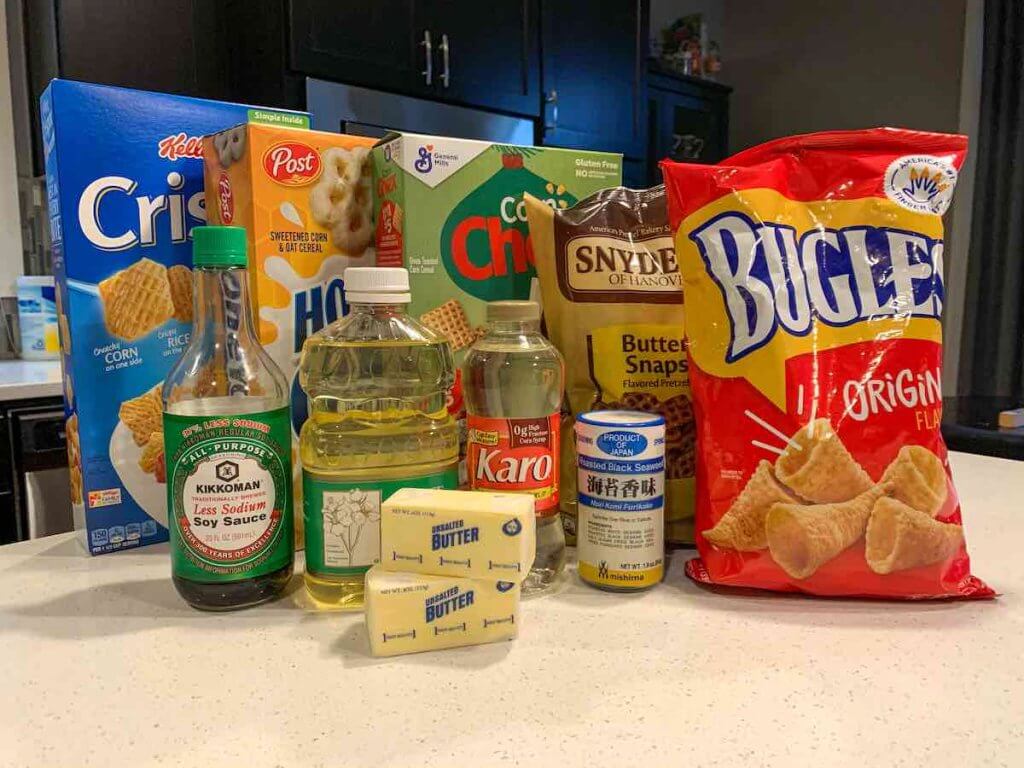 Hawaiian Chex Mix Ingredients
For the Hawaii Furikake Chex Mix coating
1 cup Karo syrup (you can substitute honey, but it changes the flavor)
4 sticks of butter (we prefer unsalted)
1 1/3 cup sugar (you can reduce to 1 cup)
1 1/3 cup oil (vegetable or canola)
4 tablespoons soy sauce
How to Make Hawaiian Furikake Party Mix
Preheat your oven to 250 degrees.
Open up all the packages of cereal and snacks and carefully use your hands to intermix them into your roasting pans.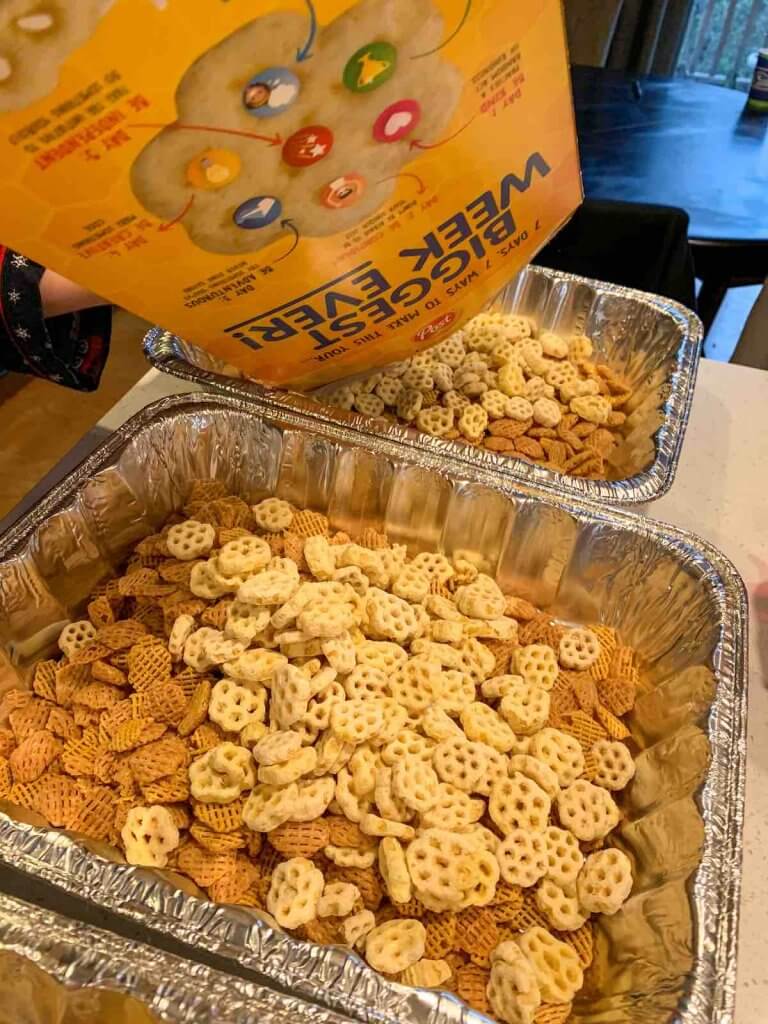 This is a great job for kids who want to "help" but are too young to make the coating or stir in the oven.
You'll want an even amount of everything in all the pans, but you can just eyeball it.
It's really important that you don't stir too much with a spoon or spatula or it will crush up the cereal.
Once you have your dry snack mix ready in the pans, it's time to make the sweet and salty syrup coating.
Only make enough coating for the pans that fit in the oven for the first batch.
First, you'll want to melt the butter in a sauce pan. Then, combine the soy sauce, sugar, Karo syrup, and oil. Make sure to constantly stir it so it doesn't burn.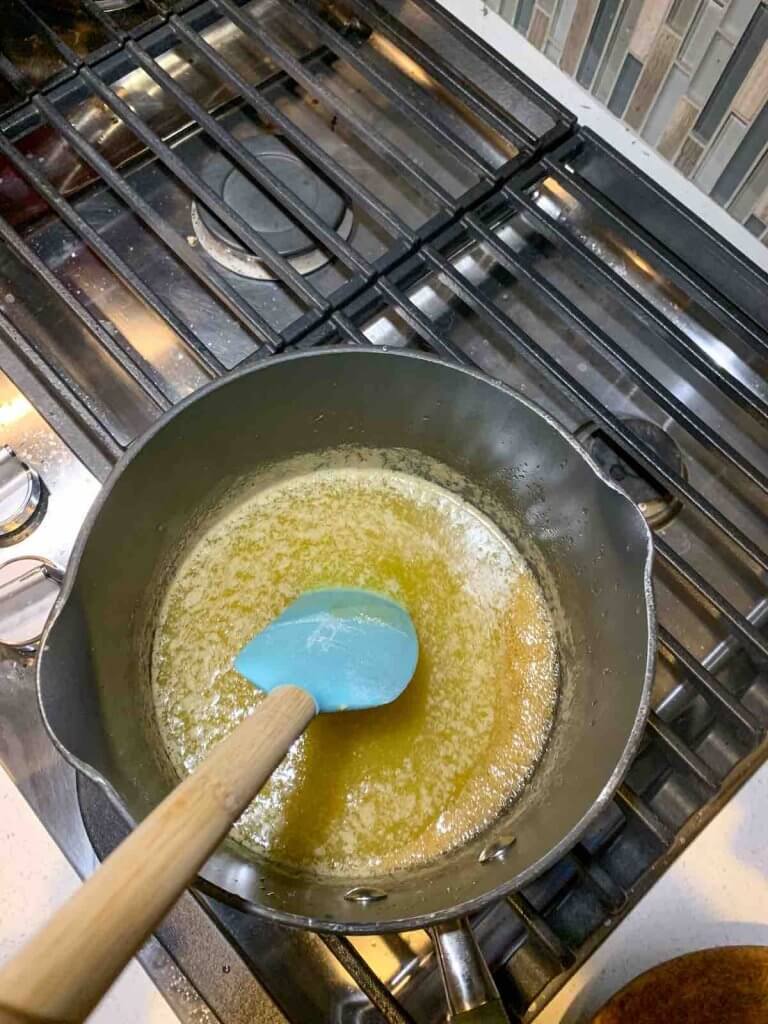 Once it thickens up a little, remove it from the stove and drizzle it over your Hawaiian Chex Mix. Make sure that each pan has an even amount of syrup.
Immediately, grab a wooden spoon or spatula and gently stir until each piece has a bit of the coating on it. You'll need to hurry so the coating doesn't cool down and start to harden.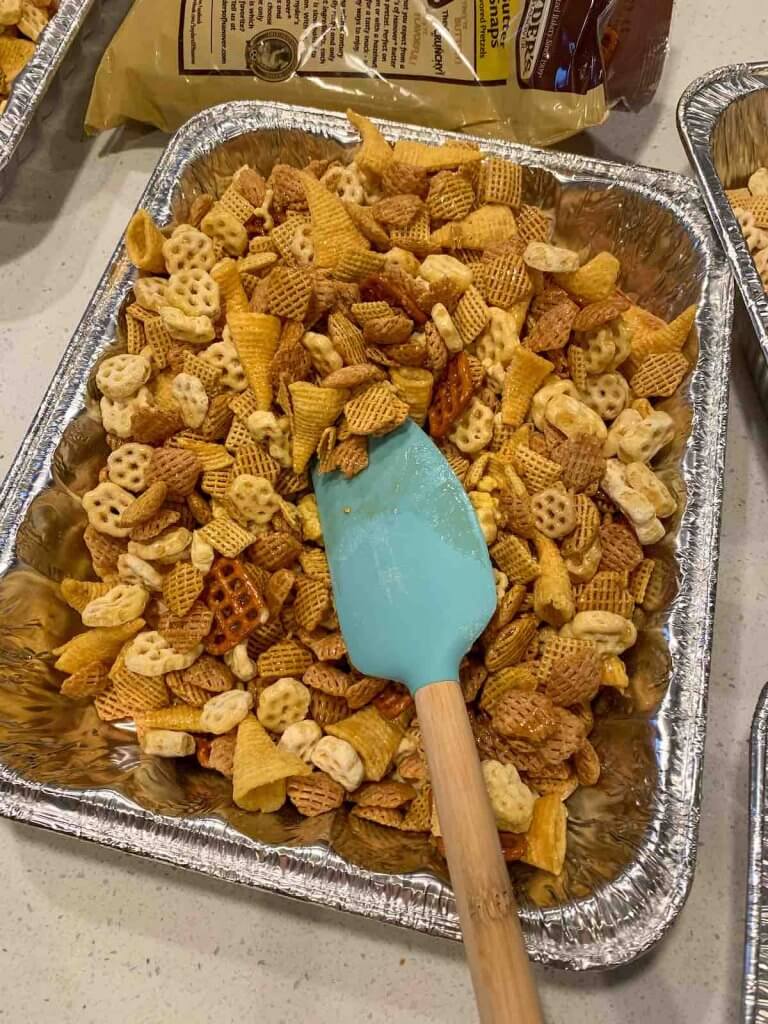 I also tend to gently shake the roasting pans after I finish stirring, just to make sure any excess syrup makes it down to the other cereal.
Now it's time to shake the furikake seasoning on the sticky Chex Mix. I usually let my kids sprinkle the seasoning while I stir to ensure each piece gets a bit of seasoning on it.
Otherwise, you'll want to do these simultaneously if you're making it on your own.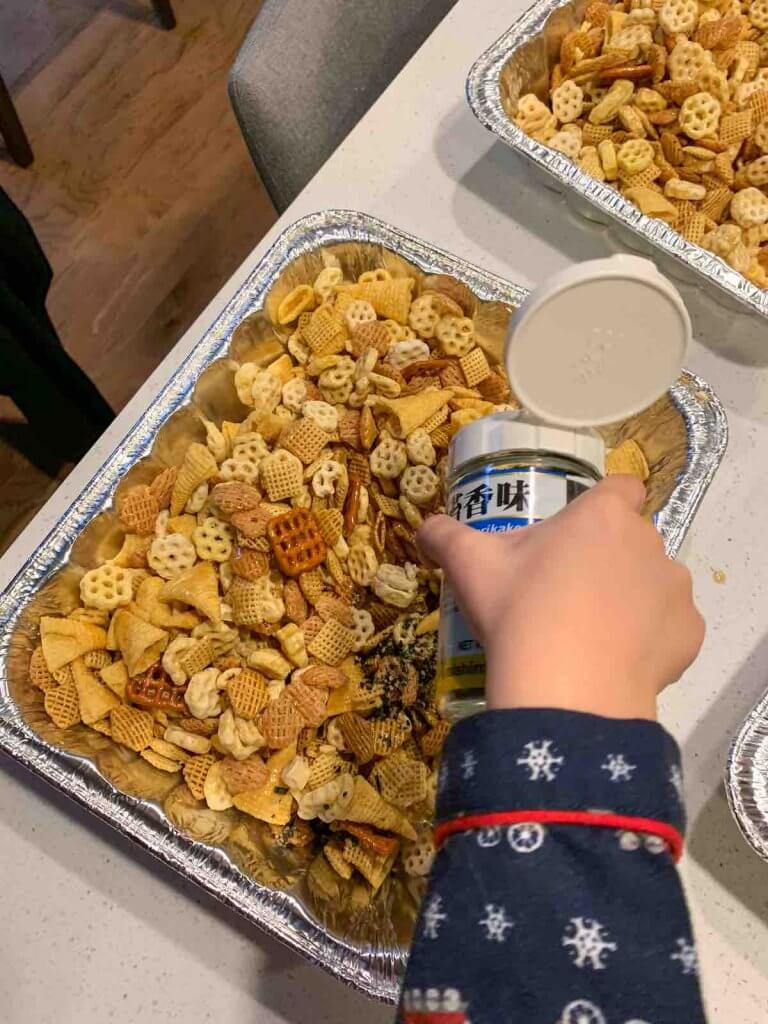 We really like the furikake seasoning, so sometimes I will sprinkle on extra if we happen to already have an open bottle.
Once everything is coated and seasoned, it's time to put it in the oven to set.
Set a timer and be sure to carefully stir this furikake party mix every 15-20 minutes for the next hour so that each piece is separate, dry, and crunchy.
Although it's kind of fun to leave a few chunks together for a decadent furikake Chex Mix brittle as a chef treat!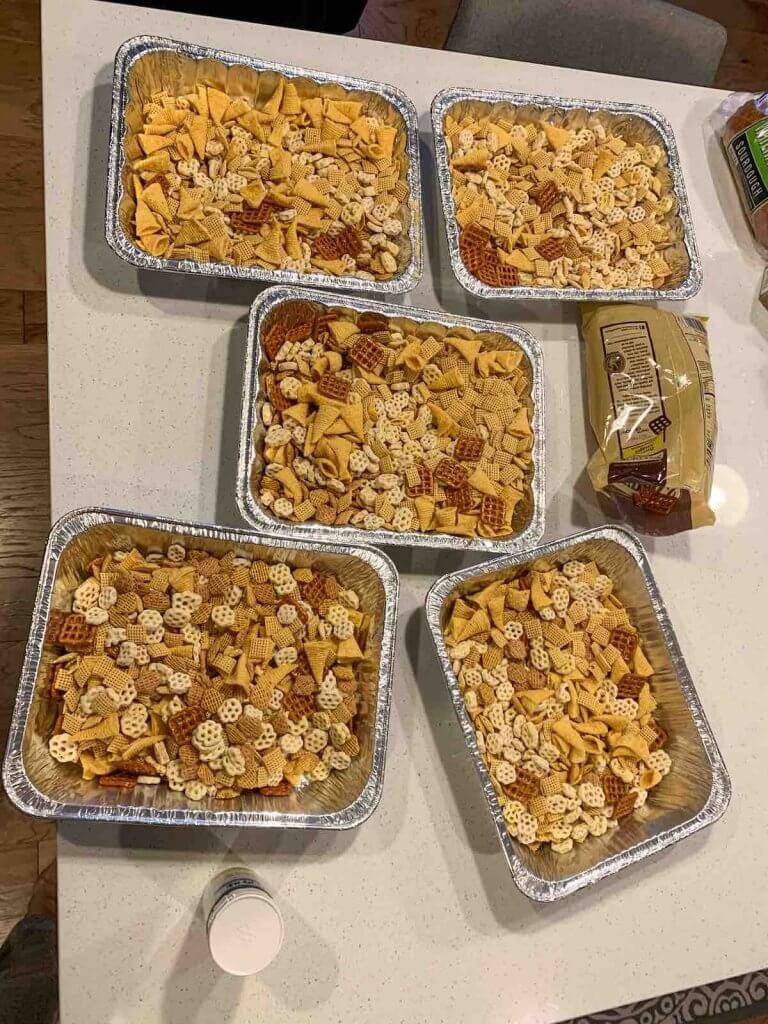 After it's done baking, remove it from the oven and let it cool on the counter. You can gently break up any clusters of cereal while it's still warm.
This is the time to make the rest of the coating and put any remaining trays into the oven.
When it's completely cool, divide it up and put in air tight containers or Ziploc bags.
That's it! Now you know how to make the best Hawaiian Furikake Chex Mix! So easy to make and it's always a crowd pleaser!
Furikake Chex Mix FAQs
What makes this furikake Chex Mix Hawaiian?
Hawaii is truly a melting pot and that's how tasty snacks emerge. This furikake snack mix contains furikake seasoning, soy sauce, and karo syrup for the sweet and salty flavors.
Can I make Chex Mix in a Crock Pot?
Yes you can, but you can only do a small batch at a time and you'll need to stir it a bit more, which may result in crushed cereal.
How long does Chex Mix last?
Honestly, we eat it up in a few days so I have no idea first-hand. My MIL says it lasts about 2 weeks. You'll want to store it in an airtight container or Ziploc freezer bag in order to preserve freshness.
Where can I buy furikake party mix in Hawaii?
You can usually find it at Costco during the holidays, Long's Drug, or at grocery stores (like Foodland.) You can also buy it online at Amazon.