Are you planning a honeymoon in Hawaii? Find out all the best Hawaii honeymoon bucket list items you won't want to miss. Scroll for all the best romantic Hawaii activities!
This Hawaii honeymoon post was written by Hawaii travel expert Marcie Cheung and contains affiliate links which means if you purchase something from one of my affiliate links, I may earn a small commission that goes back into maintaining this blog.
Have you been dreaming about your Hawaii honeymoon and want to start planning some romantic activities to do with your special someone?
Hawaii is one of those places that just oozes romance almost everywhere you look!
From the Insta-worthy scenic viewpoints and epic adventures, to world-class dining and spa treatments, we've got tons of Hawaii honeymoon ideas for your romantic Hawaii vacation.
We've come up with our top 15 romantic things to do in Hawaii that will take your Hawaii honeymoon to the next level.
If you haven't booked your resort yet, you'll want to check out our detailed guides to Hawaii honeymoon resorts on Oahu and Kauai!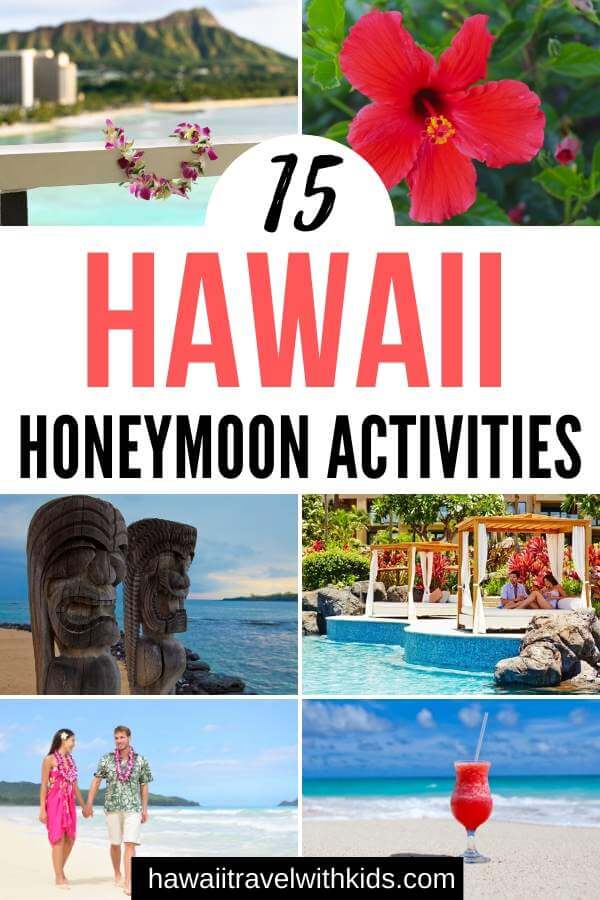 Romantic Things to do in Hawaii FAQs
What to do in Hawaii for couples?
There's a reason that Hawaii is a top honeymoon destination. From the stunning sunrises and sunsets to incredible outdoor adventures and activities, Hawaii really has something for everyone. Plus, there are tons of romantic places in Hawaii to make your own memories.
Which Hawaiian island is the most romantic?
Honestly, you can find romance on any of the Hawaiian islands. However, most people would say Maui is the most romantic Hawaiian island simply because of the amazing resorts, array of activities, and longtime reputation as being a top honeymoon spot.
What is the prettiest Hawaiian island?
Kauai is known as being the most gorgeous Hawaiian island. That's because the island is covered with lush greenery, tropical flowers, and stunning waterfalls. Plus, it's got the iconic Na Pali Coast and Waimea Canyon.
What's the best place to honeymoon in Hawaii?
It really varies from person to person. If you like to do a lot of sightseeing, there are tons of things to do in Oahu for couples. If you want to get off the grid a bit, Molokai or Lanai are some peaceful options.
15 Romantic Things to do on Your Hawaii Honeymoon
1. Check Out a Hawaiian Sunrise
Hawaii is known for having some pretty epic sunrises. Because of the time difference from the Mainland, chances are you'll be up pretty early on your first couple of nights in Hawaii. Might as well take advantage!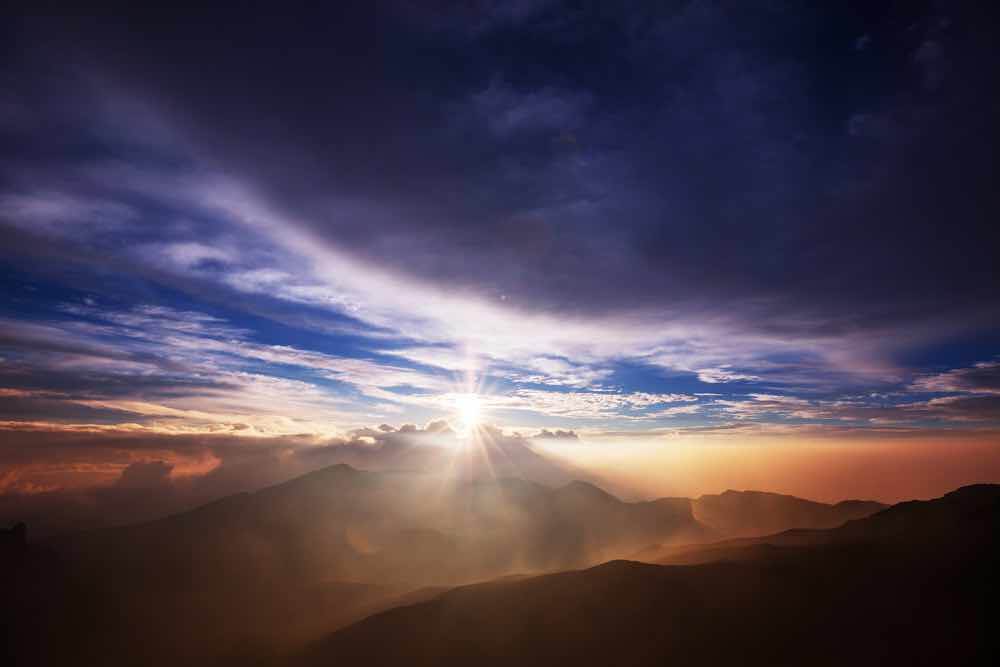 One of the most popular places to see the sunrise on Maui is Haleakala. The name Haleakala translates to "House of the Sun" and this is one of the best sunrise views in the world. Drive up on your own or do this epic Haleakala sunrise tour. Check out the latest prices and more details.
Otherwise, head to the East side of any of the Hawaiian islands and score a front row seat to one of the most romantic sunrises. This is one of the most affordable Hawaii honeymoon ideas!
If you're doing a honeymoon on Oahu, take a Circle Island Tour or drive it on your own. Hit up top Oahu attractions like the famous North Shore, Lanikai Beach, Kualoa Ranch, and Waikiki.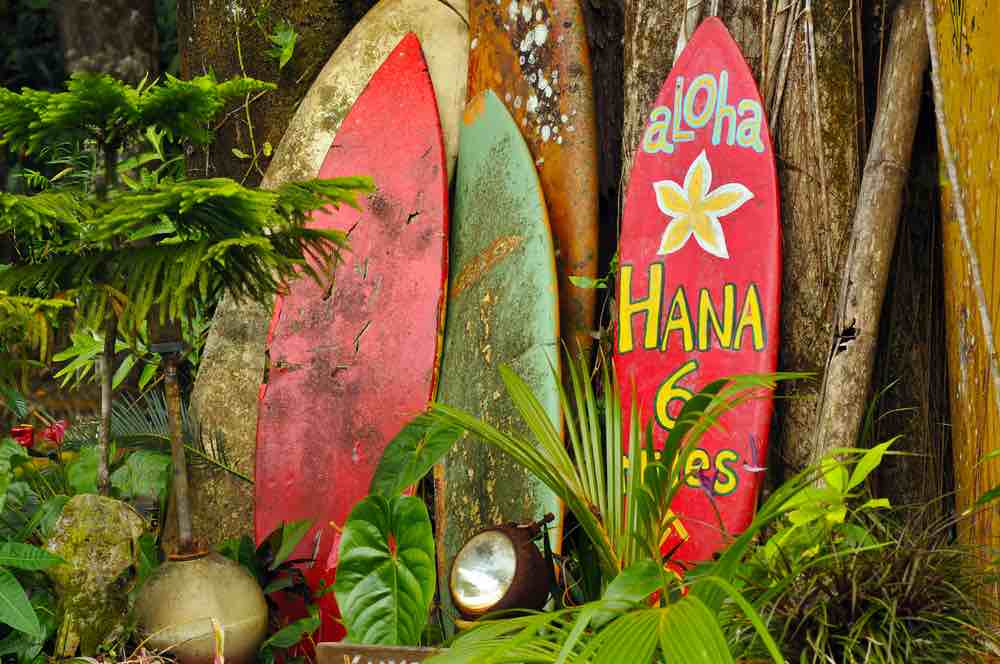 The most popular Maui road trip is the Road to Hana. Here, it's all about the journey rather than the destination. Plan to stop at some gorgeous Maui waterfalls, grab some banana bread from a roadside stand, and swim at Seven Sacred Pools.
On Kauai, drive up to the North Shore and check out the surf town of Hanalei. Or drive to the West Shore to see Waimea Canyon, the "Grand Canyon of the Pacific."
And on the Big Island, plan a whole day to drive to Hawaii Volcanoes National Park where you can see lava pouring into the ocean.
3. Couples Massage Near the Ocean
One of the most romantic things to do in Hawaii is to indulge in an oceanfront couples massage. Listen to the soothing rhythmic sounds of the ocean while the Hawaiian trade winds gently blow.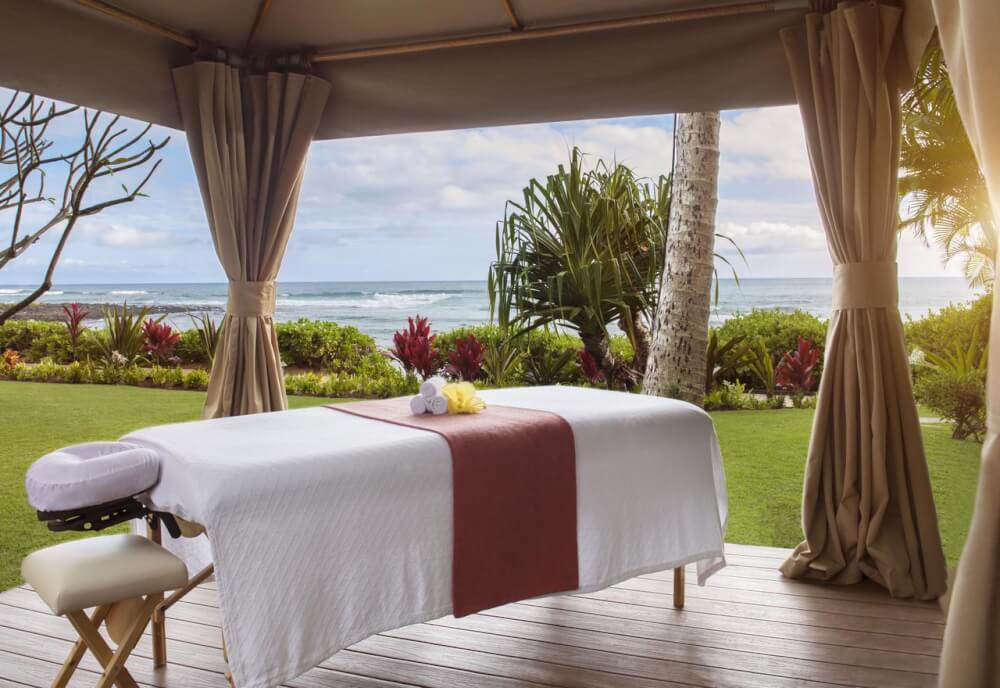 Plan this after a day of hiking or exploring to soothe your tired muscles. Or schedule this for your arrival day as the perfect way to get into vacation mode!
You can find them at many resorts, such as the Kauai Beach Resort and Ko'a Kea Resort on Kauai or the Four Seasons on Oahu.
4. Visit a Hawaii Winery
Did you know Hawaii has several wineries that produce tropical Hawaiian wines?
Go for a tasting at MauiWine, Oneo Winery on Oahu or Volcano Winery on the Big Island. Then, bring back a bottle to remind yourself of your Hawaii honeymoon!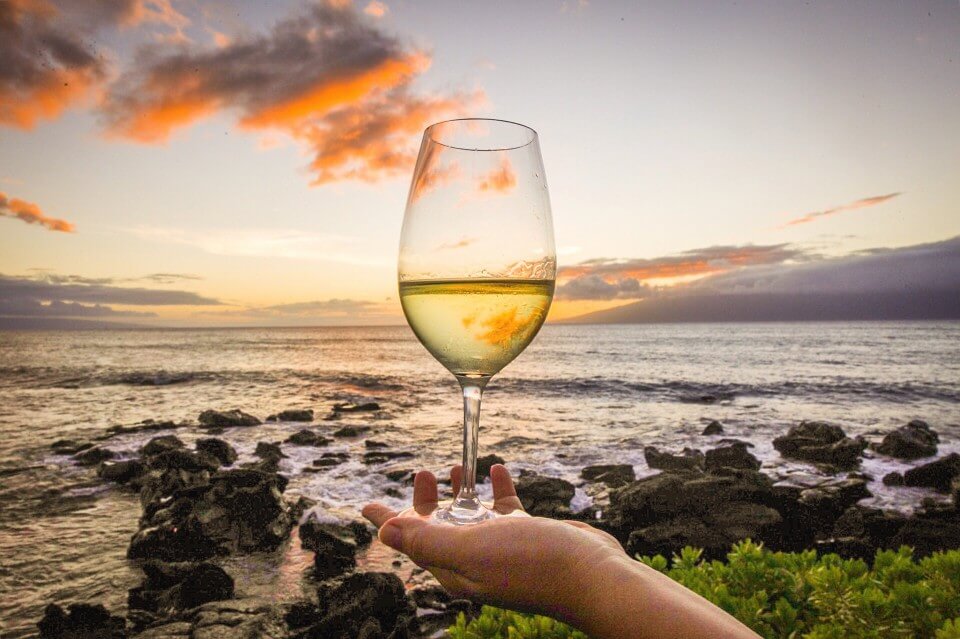 There are also some cool distilleries like Koloa Rum on Kauai and Hali'imaile Distilling Company on Maui that offer tastings. Grab your favorite bottle and make your own tropical cocktails!
Or, if you're more of a beer person, check out some awesome Maui beer that you can find in restaurants and stores throughout the islands.
Find out more about the best Hawaii wineries and distilleries.
Hawaii has some of the most stunning views in the world. I'm talking about epic waterfalls, cascading mountains, and pristine spots not accessible by car.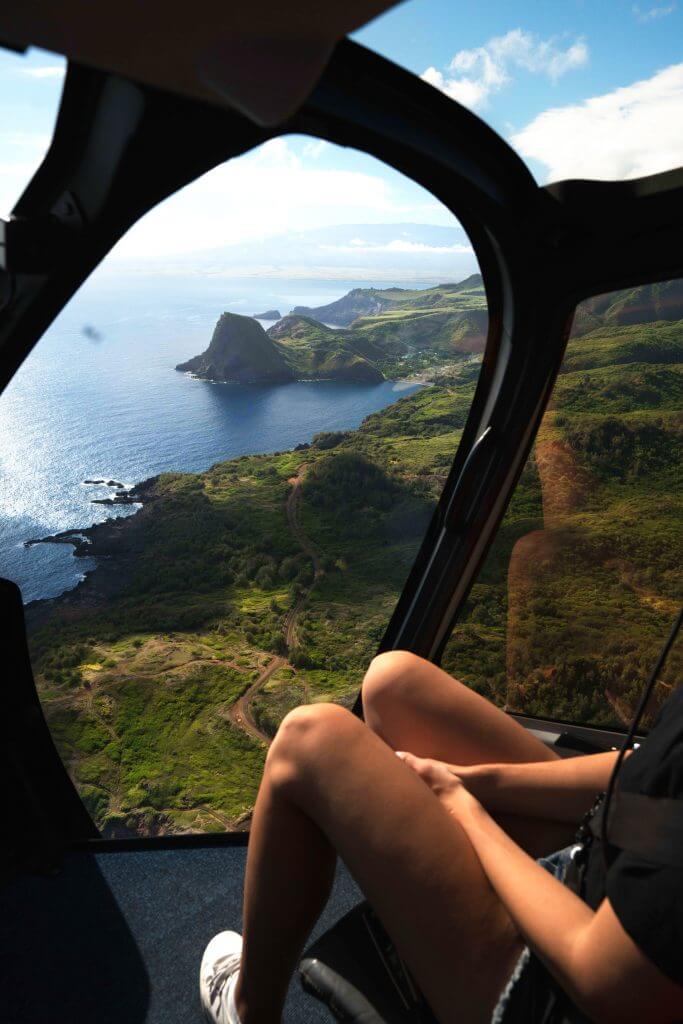 Book a private helicopter tour for a special Hawaii honeymoon excursion you'll remember for years to come!
If you are heading to Kauai, the best way to see the famous Na Pali Coast is with a private helicopter ride. You'll get to see spots most people never get to experience. Check out the latest prices and more details.
Don't want to commit to the full Road to Hana? Take a 75-minute scenic helicopter flight instead! Check out the latest prices and more details.
Get all your Kauai helicopter tour questions answered
6. Listen to Live Hawaiian Music
Another romantic thing to do in Hawaii is to sit back and listen to live Hawaiian music. You can do this at many tiki bars and restaurants all across Hawaii.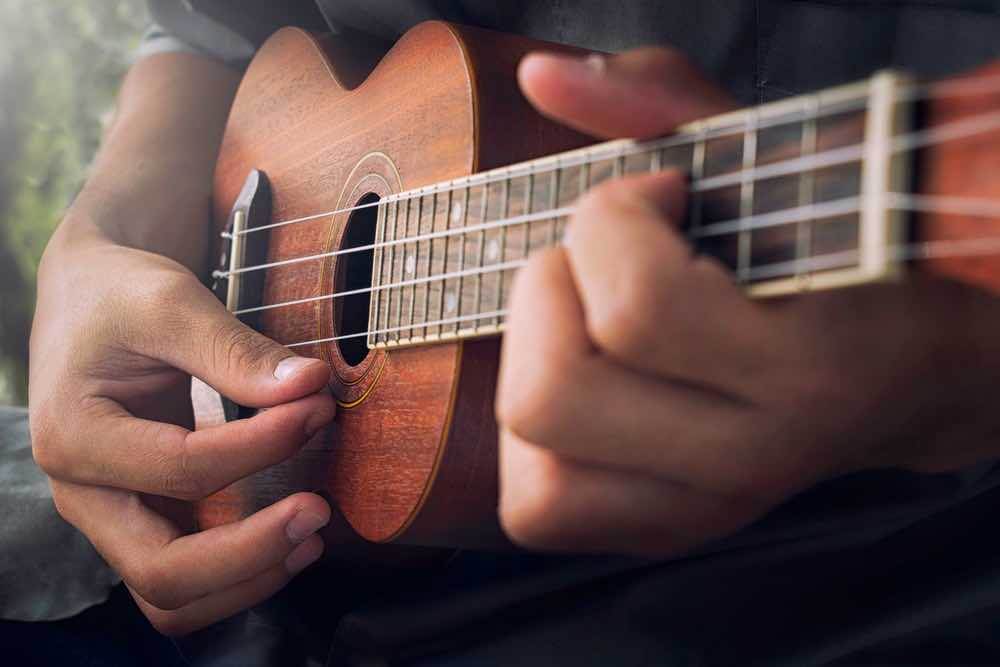 Duke's Canoe Club is a great place to hear live Hawaiian music on Oahu. They feature well-known Hawaiian artists every night.
Nalu's in Kihei is one of the best places on Maui for live Hawaiian music. They feature a mix of amateurs and famous recording artists.
And on Kauai, check out Tahiti Nui up in Hanalei. Not only do they have fantastic music and hula dancing, but their food is outstanding!
Get a head start by adding these Hawaiian musical artists to your Spotify playlist!
You probably booked a professional photographer to do your engagement and wedding photos, right?
Don't settle for iPhone selfies for your honeymoon. Book a Hawaii vacation photographer to capture some romantic moments on a Hawaii beach or other gorgeous destination. Check out the latest prices and more details.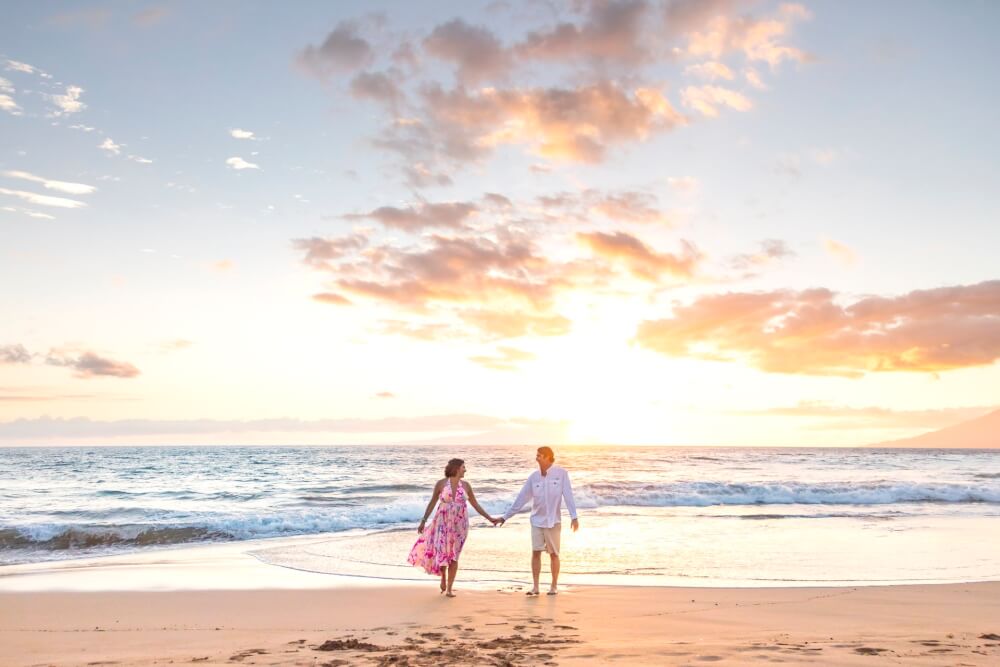 Hawaii honeymoon photography is super trendy right now and the photos are nice enough to put on display in your home or for making a honeymoon photobook. I've even got some great Hawaii honeymoon captions you can use!
We love working with Flytographer. They have affordable photographers throughout the islands.
It's super simple to request and book Hawaii honeymoon photographers and you might even get the photos back before the end of your honeymoon!
Save $25 on your Flytographer photo shoot
8. Rent a Private Pool Cabana
If you're staying at a honeymoon resort in Hawaii, you'll definitely want to block off some days to just relax at the pool.
And there's nothing more romantic for Hawaii honeymoons than cozying up to your special someone in a private cabana.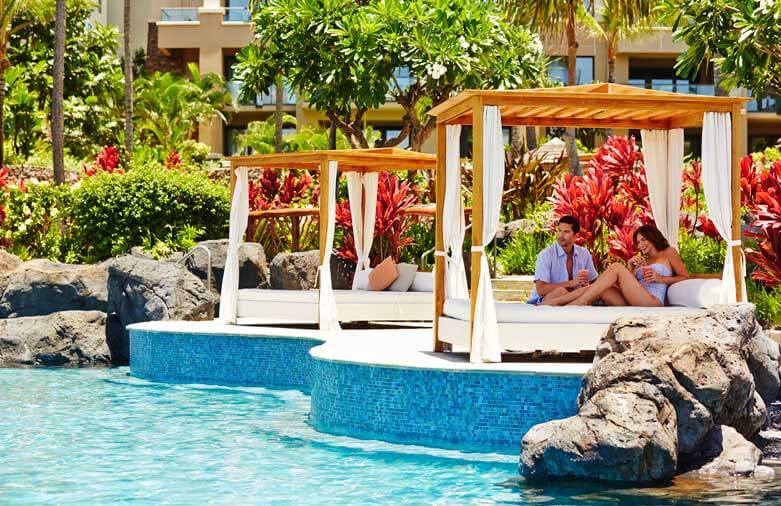 Spend the day sipping tropical drinks and snacking on Hawaiian pupus while living the life of luxury. Many of these cabanas come with private butler service.
You can find private poolside cabanas at many Hawaii resorts including the Montage Kapalua Bay on Maui, Turtle Bay Resort on Oahu, and the Grand Hyatt Kauai.
Find out the best honeymoon resorts on Kauai and Oahu!
If you're looking for an epic Hawaii honeymoon experience, try swimming with dolphins! There are several options varying from playing with them to fully getting in the water and going for a memorable swim!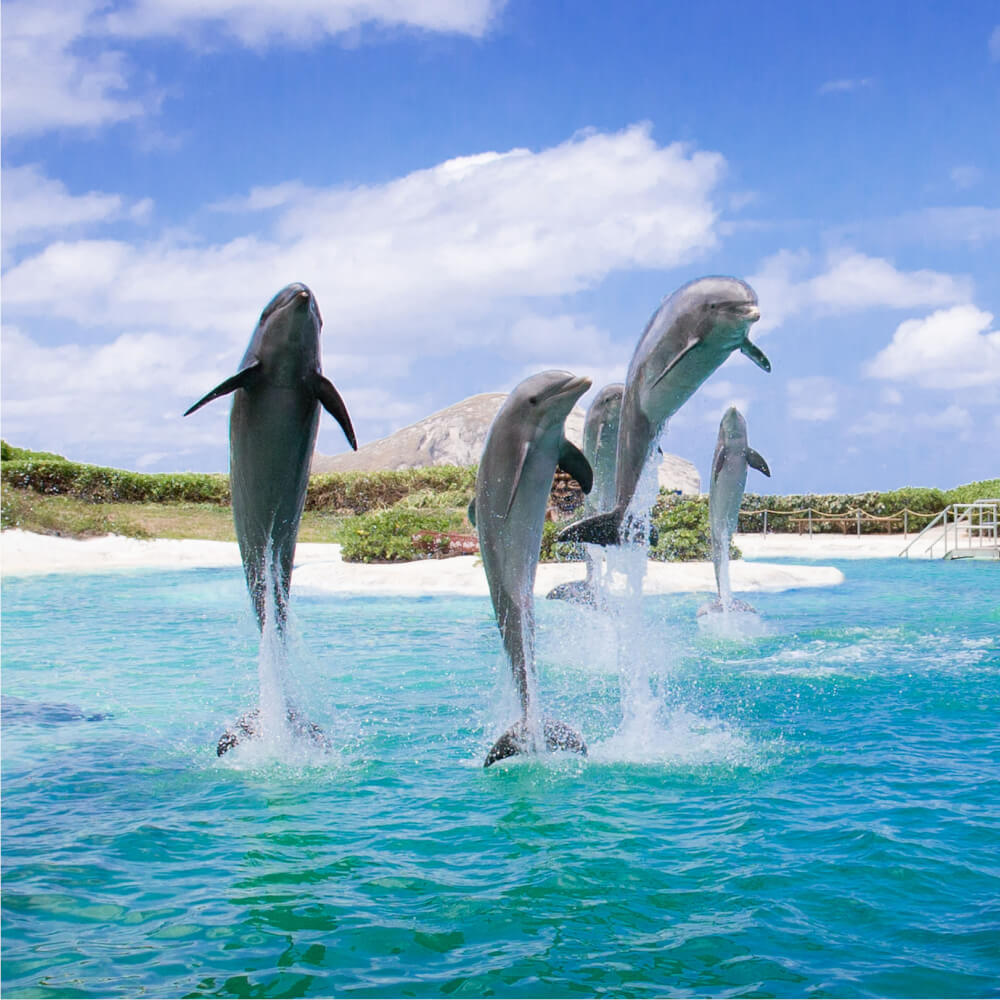 There are just a few spots to swim with dolphins in Hawaii. Sea Life Park offers cool dolphin experiences where you can stand waist-high in the water and "hula dance" with dolphins. Or, you can go for a dorsal fin ride! Check out the latest prices and more details.
And at Dolphin Quest at the Kahala Hotel on Oahu, you can do a quick dolphin encounter or spend up to an hour with these beautiful animals. You can even reserve a week-long experience where you help train mammals! Check out latest rates and information.
Read more about Sea Life Park on Oahu and our Dolphin Quest review.
10. Go Snorkeling on your Hawaii Honeymoon
Hawaii has some of the best snorkeling in the United States. Take advantage of that and head to some of Hawaii's top snorkeling beaches like Tunnels Beach on Kauai or Turtle Town on Maui.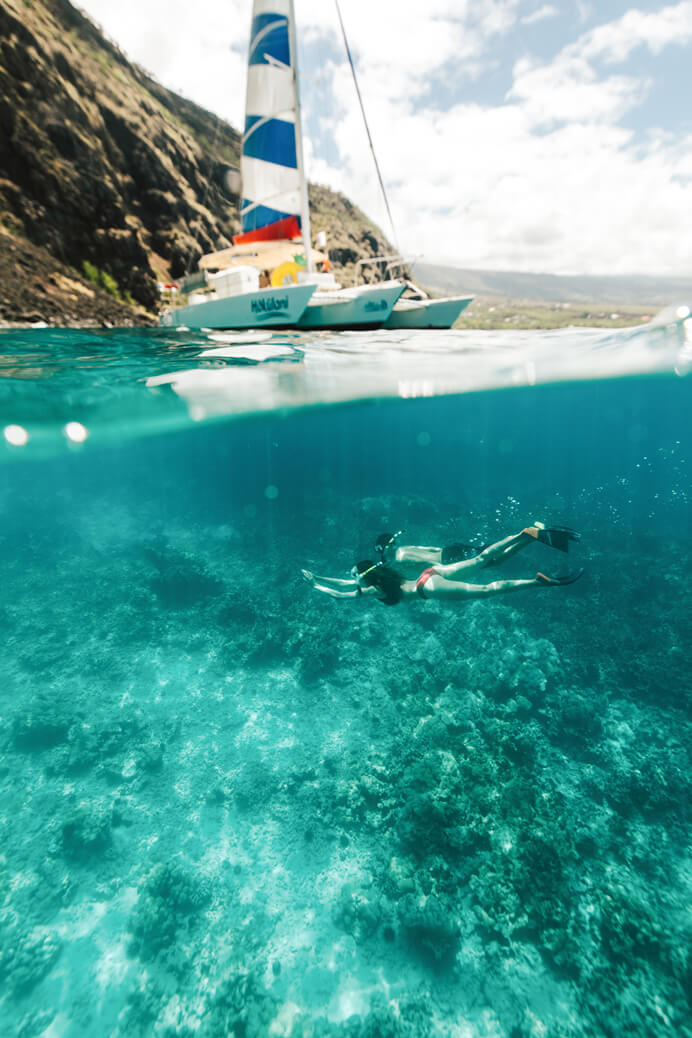 If you don't want to go on your own, book a snorkeling tour. There are tons of awesome Hawaii snorkeling tours including one that takes you to Molokini Crater near Maui.
And make it a bit more special by bringing along an underwater camera so you can snap a few romantic photos during your experience!
Find out the best snorkeling spots on Oahu, Kauai, and Maui.
Who doesn't want to go for a romantic horseback ride on a gorgeous Hawaiian beach? Or go on a trail ride overlooking the ocean?
Take this Maui horseback riding tour to see waterfalls and epic ocean views in West Maui. Or head up to the North Shore of Oahu and go for a gentle horseback ride on the beach. Check out the latest prices and more details.
Not only will you get the thrilling experience of adventure, but you'll also be able to chat with your local guide and get tips for romantic places to go in Hawaii.
12. Attend a Hawaiian Luau
If you're looking for some fun Hawaiian nightlife, book tickets to a luau! Here, you'll get drinks, dinner, and an entertaining show. Plus, they usually ask honeymooners to come up on stage!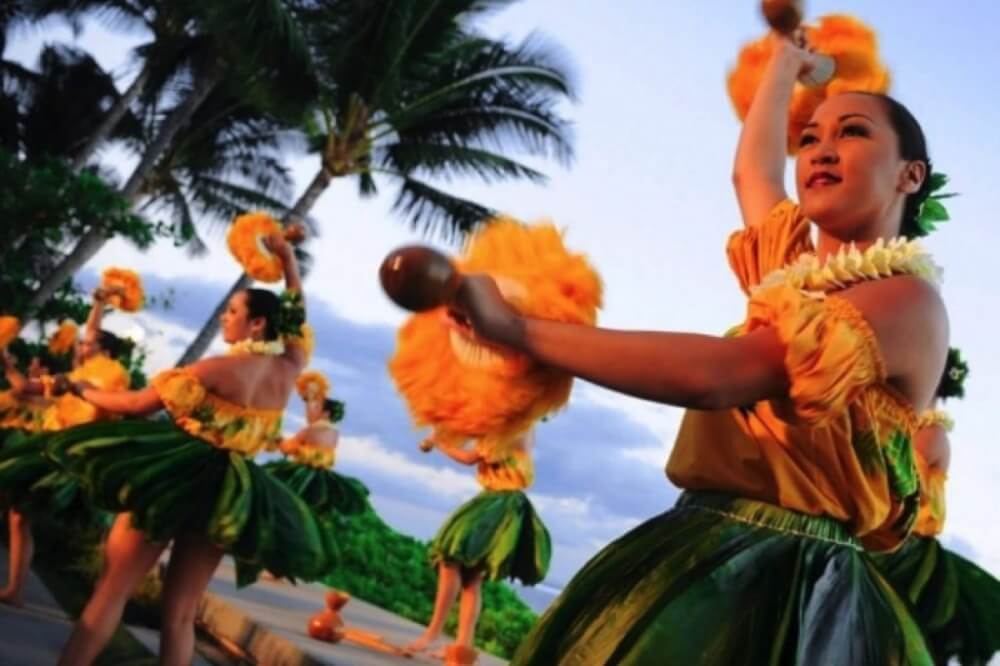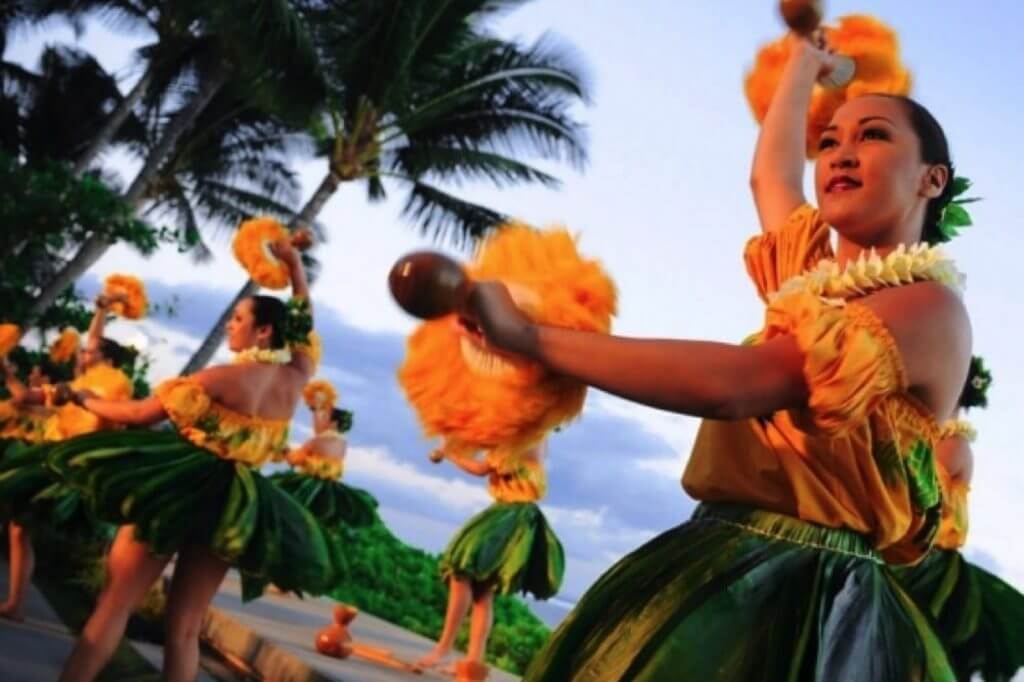 One of the most romantic luaus is the Feast at Lele on Maui. Here, you'll enjoy a plated, 5-course meal while watching an amazing Polynesian show. And they have one of the best selection of Hawaiian cocktails I've ever seen! Check latest prices and more details.
The Polynesian Cultural Center has a show called Ha–Breath of Life that is phenomenal. It's after their smaller luau performance and you can spend a full day exploring the park before then. Check out the latest prices and more details.
There's also the brand new luau experience at the Royal Hawaiian Hotel in Waikiki that is sure to be a highlight of your Oahu honeymoon!
Find out more about the best luaus in Maui and Oahu.
13. Relax at a Beach
One of the biggest draws of doing a honeymoon trip to Hawaii is enjoying the beautiful beaches.
There are tons on each island and you can easily spend an entire day of your honeymoon to Hawaii just soaking in the sunshine and listening to the waves crash.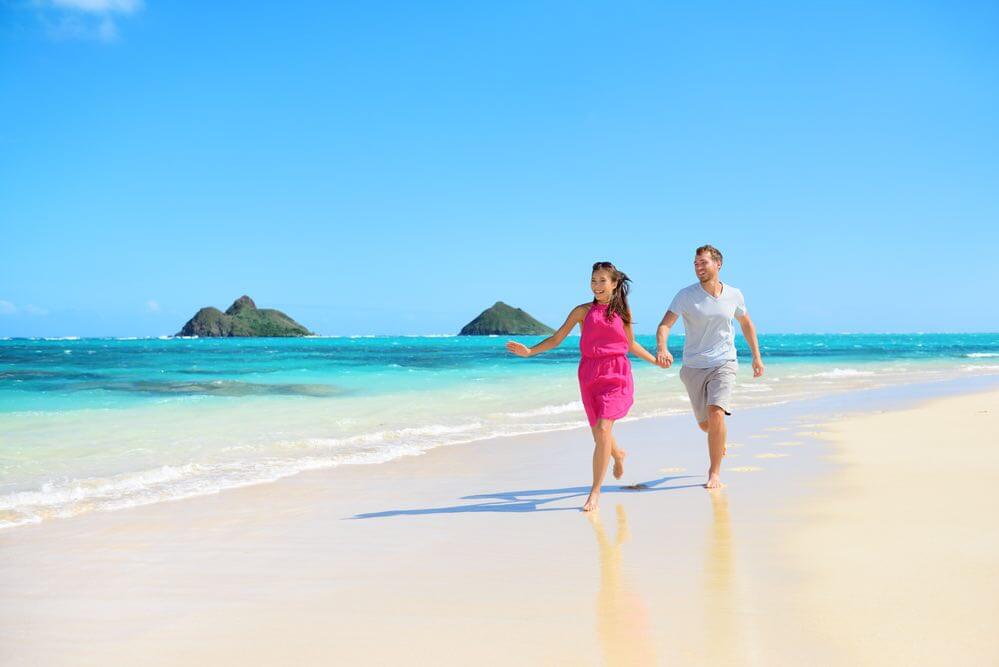 To make it extra romantic, bring a large beach towel for two, a beach umbrella, and enjoy a picnic with food from your favorite local restaurant.
Some of the prettiest beaches in Hawaii include Lanikai Beach on Oahu, Kauna'oa Beach on the Big Island, Hanalei Beach on Kauai, Kapalua Bay on Maui, and Papohaku Beach on Molokai.
Pro tip: Get up early to enjoy the beach all to yourself before the crowds come!
Hawaii has some of the best food in the world. And what better way to experience it on your Hawaiian honeymoon than by partaking in a private chef dinner.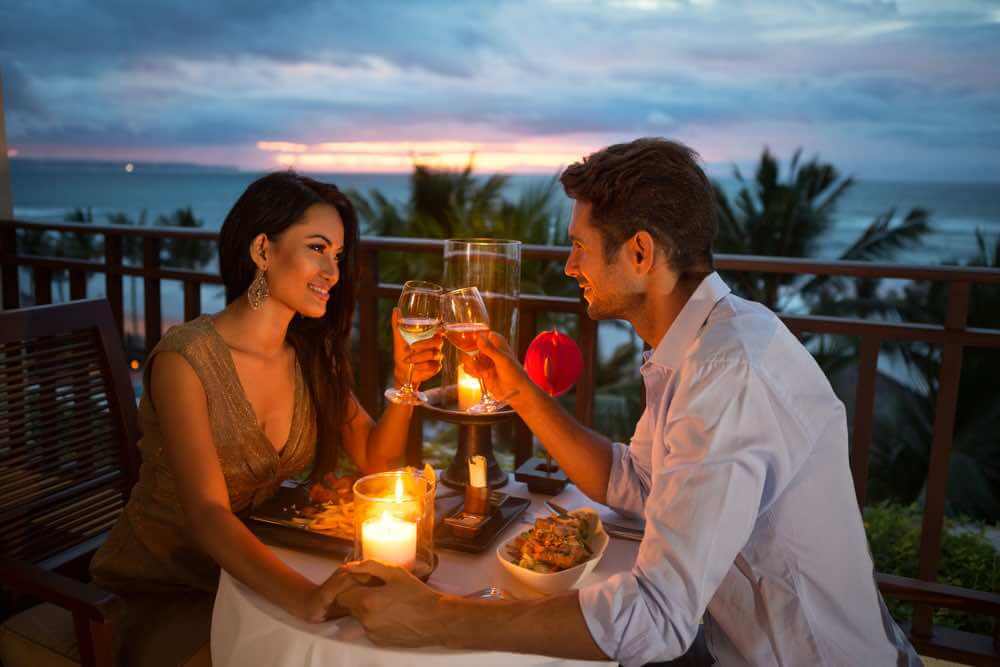 Hire a chef to come to your vacation rental and create an insanely romantic dinner that you'll remember forever. You'll feel like a true VIP!
Or join in on the fun and take a private cooking class. Then, you'll be able to recreate this special meal on your anniversary!
Take a look at some private dining options from chefs on Maui, Oahu, Kauai, and the Big Island.
Just like their amazing sunrises, Hawaii also features some of the most romantic sunsets in the world.
And there's no better way to enjoy honeymoons in Hawaii than by taking a sunset cruise.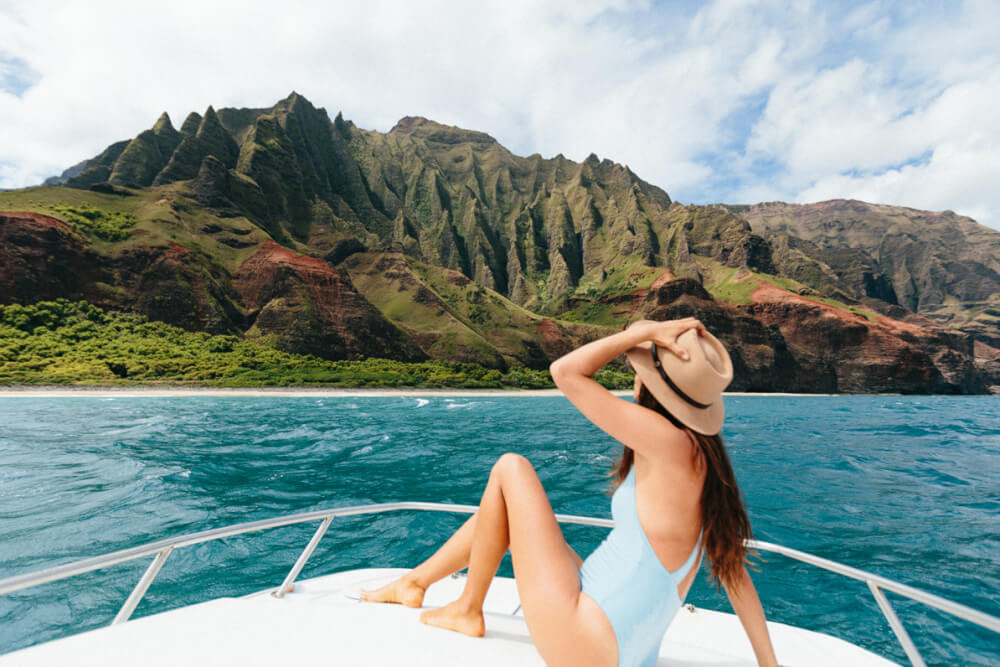 Enjoy cocktails while gazing at Diamond Head on this romantic Waikiki Sunset Boat Ride. And it doesn't get more romantic than seeing secluded beaches and waterfalls as you take a Kauai Sunset Cruise along the Na Pali Coast. Check out the latest prices and more details.
Wrap Up
Out of all the places to do a honeymoon, Hawaii is pretty amazing.
These are just a few of the best Hawaii honeymoon activities. The trick is to not do too much because once you experience a honeymoon in Hawaii, you'll want to go back every year for your anniversary!
I hope you have the best honeymoon in Hawaii!
Loving this post about the best honeymoon spots in Hawaii and wondering what to pack for your Hawaii honeymoon? Check out my Hawaii honeymoon packing list for all my top picks!