They say the most important meal of the day is breakfast, and in Hawaii, it's also one of the most delicious! Scroll to find some of the best breakfasts in Kauai!
This best breakfasts in Kauai post was written by Hawaii travel expert Marcie Cheung and contains affiliate links which means if you purchase something from one of my affiliate links, I may earn a small commission that goes back into maintaining this blog.
Food in Hawaii can be expensive, but going out for breakfast on Kauai is cheaper than lunch or dinner. Most of the time, the portions are large enough to share, too!
Kauai has a great mix of local Hawaiian breakfast spots as well as places to get standard American fare or even Asian-style items.
From simple to extravagant, Kauai has some of the best breakfast restaurants in Hawaii.
Don't have time to read a bunch of Hawaii blog posts and reviews? Here are some of our top picks for visiting Kauai.
Popular Kauai Tours/Activities
Favorite Kauai Resorts/Hotels
Grand Hyatt Kauai (this Poipu resort has a luxurious pool area, romantic restaurants, and a stunning ocean view)
Koloa Landing Resort (this is a luxury resort with an amazing pool area and truly spacious rooms)
Royal Sonesta Kauai (we LOVE the pool here because it's the largest one in Hawaii)
Want to Rent a Car in Hawaii?
One of the best places to rent a car in Hawaii is Discount Hawaii Car Rental because they get the best rates from top national companies like Alamo, Dollar, Thrifty, Avis, Enterprise, Budget, and Payless.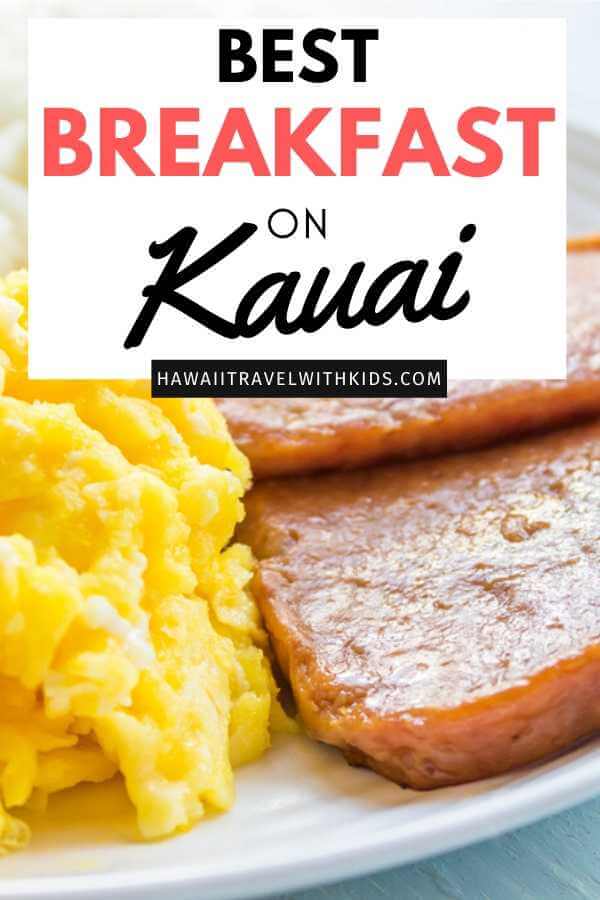 Kauai Breakfast Items
Wondering what a Hawaiian-style breakfast looks like? Here are some of the most popular things to order for breakfast in Hawaii:
This is my husband's favorite Hawaiian breakfast food. It's two scoops of rice topped with hamburger patties, a fried egg, and gravy.
The fancier places will also add in pickled ginger.
Some restaurants will offer loco moco with fried rice or kim chee fried rice.
Malasadas are Portuguese donuts, and they kind of look like oversized donut holes. Typically, they are rolled in sugar and cinnamon. They are one of the tastiest breakfast treats on the island!
However, bakeries are getting fancier, and now you can find them with guava, haupia (coconut), chocolate, or almost any kind of filling.
These go great with a cup of delicious coffee! I think it makes for the best Kauai breakfast, especially when you need to grab breakfast really fast.
Spam and Eggs
It doesn't get more Hawaiian than a breakfast of fried Spam and eggs. Usually, the eggs are scrambled, and sometimes the whole thing is served over rice.
Spam and eggs are a super filling breakfast, so you will find it at most Kauai breakfast restaurants.
Spam Musubi
For breakfast on the go, one of the most popular things to eat is Spam musubi. It's Hawaiian-style sushi.
The Spam is either marinated in a mixture of sugar and soy sauce and then fried, or the fried Spam is topped with a special sauce. The Spam is placed on a bed of hot rice and wrapped in seaweed.
It is one of the local's breakfast favorites that you will love too!
Portuguese Sausage
The most popular sausage in Hawaii is definitely Portuguese sausage. They are sausage links that are served whole, sliced up, or mixed in with scrambled eggs.
They also have Portuguese sausage musubi, which is just like Spam musubi, only with Portuguese sausage.
Banana Macadamia Nut Pancakes
Hands down, this is my favorite Hawaiian breakfast food. Sometimes the pancakes are topped with macadamia nuts, and other times it's cooked inside the batter. Same with the bananas.
The bananas in Hawaii are so much sweeter and more flavorful than your everyday banana. Look for the apple banana. Sometimes the bananas are even caramelized.
These are definitely the best pancakes in Kauai, so be sure to try them once!
Hawaiian Sweet Bread French Toast
If you like French toast, you'll love Hawaiian sweetbread French toast. It's made with thick bread and often comes with scrambled eggs and bacon (or Portuguese sausage.)
POG Juice
This stands for Passion, Orange, and Guava juice, and it's delicious! If you fly Hawaiian Airlines, you'll get a cup of it on your inter-island flight. But we often order it at restaurants.
You can also buy cartons of POG at local Hawaii grocery stores and even on the Mainland!
Fresh Fruit
You cannot go wrong with all the fresh fruit in Kauai. From bananas to papayas, mangoes, and more, you will find tons of fresh fruit on the island. You can make smoothies or just eat them up for healthy breakfast options.
7 Best Breakfasts in Kauai
Here are some of the best breakfast places in Kauai! From banana pancakes to churro french toast, kalua pork fried rice, acai bowls, and more, you will love these items, and they will truly be the best breakfast Kauai has to offer you.
Kalaheo Café & Coffee Company is located in the verdant hills of Kalaheo, where thousands of acres of rich coffee are ground under the beautiful Hawaiian sun.
View this post on Instagram
It was opened in 1994 and has grown to be a favorite eating spot among locals of Kalaheo as well as international visitors. And it's one of the best Kauai coffee shops.
They serve the best coffee to start the day, but they are most widely known for their scrumptious breakfast menus, which contain famous choices such as the "Bagel Benny" and the "Upcountry Breakfast."
All of Kalaheo Cafe Coffee Company breakfast options are sure to bring you back in time for lunch, and they also have those covered.
This place is perfect for coffee lovers and their families! You will truly love the Kalaheo Cafe Coffee Company during your stay.
Anuenue Cafe is a little breakfast restaurant located in the center of Poipu. They offer the best coffee and breakfast using the freshest and fresh ingredients like grass-fed beef and produce grown locally.
View this post on Instagram
Open almost every day between 7 AM to 1 PM, hungry guests can come on in and order some of their signature breakfast dishes like the "Hitting Reef Omelet," made with salsa, avocado, and queso fresco or the "Loco Moco," a burger made with beef/steak/Kalua pork served with rice, eggs, and gravy.
Also available for order at Anuenue Cafe are various flavors of tea, seasonal fruits, and the most delicious locally roasted coffee.
Anuenue Cafe is a wonderful small-town coffee shop that will satisfy all your taste buds!
Passion Bakery Café is located on the eastern side of Kauai in the Kinipopo Shopping Village. A wholesale and retail bakery, they offer freshly baked homemade cookies and various innovative pastries like the "Croiscone," a hybrid between a croissant and a scone, or delicious blueberry, passion fruit, or mango muffins.
View this post on Instagram
Most importantly, Passion Bakery Cafe offers a delicious breakfast menu, serving the most amazing wraps, sandwiches, and burgers. They have gluten free bread options and veggie sandwiches too!
The coffee and tea bar at Passion Bakery Cafe serve the finest Italian coffee, and pizza lovers can order perfectly made sheet pan gourmet pizza by the slice.
This is truly one of the best bakery in Kauai!
Ono Family Restaurant has been serving local-style breakfasts to its patrons in the Kauai community for more than three decades. They offer delicious breakfast options prepared using ingredients that are sourced from local fishermen, ranchers, and farmers, as well as from distributors.
Step right in and try their Tropical Pancakes, made with shredded coconuts, macadamia nuts, and bananas, followed by a topping of whipped cream.
Also, try the Strawberry Sweet Bread French Toast, made with Portuguese sweet bread and then topped with strawberries, whipped cream, and powdered sugar.
Their restaurant preaches aloha to all that walk through their doors and eats their food. They start serving at 7 AM every day and close by 2 PM. With these times, you can have the best brunch in Kauai at this place!
Java Kai is a top-notch cafe that sources all its ingredients from local farms in Maui, Molokai, and Kauai. They take their coffee seriously and serve seriously delicious breakfasts and lunches as well.
View this post on Instagram
Visitors to this wonderful little world of coffee and chops are always faced with a conflict of choice; to buy a Feta Mo Beta, an egg sandwich prepped with sprouts, feta cheese, and pesto, or go for a scrumptious acai bowl that has bananas, home-made granola, pineapples and more on top?
Regardless of their choices, nobody leaves this beautiful little cafe without testifying to the deliciousness of its coffee and meals.
At this charming cafe, you will have a variety of coffee options to choose from, some of which come from Hawaii's rich beans!
Java Kai truly provides you with the best breakfast Kapaa has to offer.
Located in Waipouli Town Center, Waipouli Deli & Restaurant is a popular breakfast spot among locals and tourists alike.
View this post on Instagram
They serve delicious covers of classic English breakfasts like bacon and eggs served with pancakes or hamburger steaks with mushrooms and onions.
They also serve a number of Japanese and Hawaiian dishes like chicken cutlets with fried noodles, loco moco, and beef sukiyaki.
From fresh seafood to its extensive menu, you will love the Waipouli Restaurant!
At Olympic Cafe, you will find large portions and delicious food. Choose from a kalua pig burrito to banana pancakes with macadamia nuts, a fresh fruit plate, or veggie omelets.
It is open daily from 6:00 AM to 3:00 PM except for Mondays. Olympic Cafe is located in Kapaa.
Enjoy dining in and enjoying the fresh air while getting your caffeine fix and eating the most important meal of the day!
For some of the best malasadas in Kauai, head to Kauai Bakery and Coffee. Located at the Kukui Shopping Grove Center, you can enjoy premium coffee and cinnamon rolls, and the best malasadas in all of Hawaii.
Malasadas are breakfast favorites and this locally owned bakery has made them the best! You will find a huge selection to choose from, including strawberry, chocolate, guava, lilikoi, ube, and a few other special favorites.
This truly is the best breakfast Lihue has to offer if you love sweet treats.
For another one of the best breakfast on Kauai, check out Kountry Kitchen. It is another one located in Kapaa that uses fresh ingredients and local items when possible.
You will find just about everything here, from homemade corned beef hash to strawberry french toast, loco moco, avocado toast, and so much more.
You can enjoy this cozy atmosphere for some breakfast in Kauai from 7:00 AM to 1:00 PM every day except Tuesday.
Midnight Bear Breads is located in Hanapepe and offers some delicious breakfast foods to enjoy. Here you will find panini sandwiches, tartines, pizza, and deli sandwiches to enjoy along with fresh crossiants and bread.
At Midnight Bear Breads, you will find the delicious almond croissant, along with other organic pastries. Every item uses fresh ingredients and 100% European style butter.
For some of the best breakfast Poipu offers, head to the South Shore and find Little Fish Coffee. Here you will find fair trade coffee that is absolutely delicious!
Try some acai bowls, a veggie bagel, smoothies, or sandwiches here. Along side the delicious coffee, you can also enjoy some fresh squeezed ginger lemonade too!
The Little Fish Coffee is open daily from 7:00 AM to 1:00 PM and would make for the perfect place to stop during your visit.
At Hanalei Bread Co. you will find a small town coffee shop filled with delicious breakfast items. It is located along the North Shore and is open daily from 7:00 AM to 12:30 PM.
Have the best breakfast in Hanalei, and try a brekkie sandwich, waffles and strawberries, avocado toast, and so much more.
Hanalei Bread Co. also has tons of fresh bread and pastries daily available, including gluten free bread options too!
If you want to try a coffee bar in Kauai, Wake Up Coffee Bar is the best one and is located in Hanalei, also on the North Shore.
It is open daily from 7: 00 AM to 12:00 PM for you to enjoy. At this place, you will mainly find items to quickly grab breakfast and then head out, including breakfast bagels.
While it may not have an extensive menu of breakfast items, it does offer coffee that you will love!
Located in Lihue, Daddy O's Restaurant also makes the list for the best breakfast in Kauai. You will find choices from shrimp benedict, breakfast burger, banana pancakes, chicken and waffles, and more.
If you like a subtle coconut flavor, try the coconut macadamia pancakes, they are incredible!
Daddy O's Restaurant is open every day except Monday from 7:00 AM to 1:00 PM.
For some of the best eats in Kauai, head to Saenz Ohana Breakfast. It is located in Princeville along the North Shore of Kauai.
Made from fresh and local ingredients, you can try the pancake sticks, eggs benedict, veggie sandwiches, or a fried spam sandwich.
From 8:30 AM to 12:00 PM Monday through Friday, you can enjoy all the delicious breakfast menu items from Saenz Ohana Breakfast!
At Papaya's Natural Foods, you can find healthy breakfast options that you can cook yourself. If you want to save money and have a full kitchen where you are staying, you will love visiting Papaya's Natural Foods.
From fresh fruit to read to go meals, you will find it all here. There is a breakfast buffet perfect when you need a quick meal before heading out to all your adventures.
The Ilima Terrace Restaurant is one of the best restaurant in Kauai and offers delicious meals for breakfast and lunch. It is open from 6:00 AM to 2:00 Pm daily and is located at the Grand Hyatt Kauai Resort & Spa.
It is a breakfast buffet option filled with breakfast treats the entire family will love. The Ilima Terrace Restaurant even has a Keiki Menu too!
From a tropical fruit plate to loco moco, seared ahi benedict, smoked salmon bagels, or buttermilk pancakes, there are tons of things to enjoy here!
It has indoor and outdoor seating options with fresh air while you eat.
If you are staying at the Grand Hyatt Kauai Resort & Spa, this is the best breakfast in Kauai for you!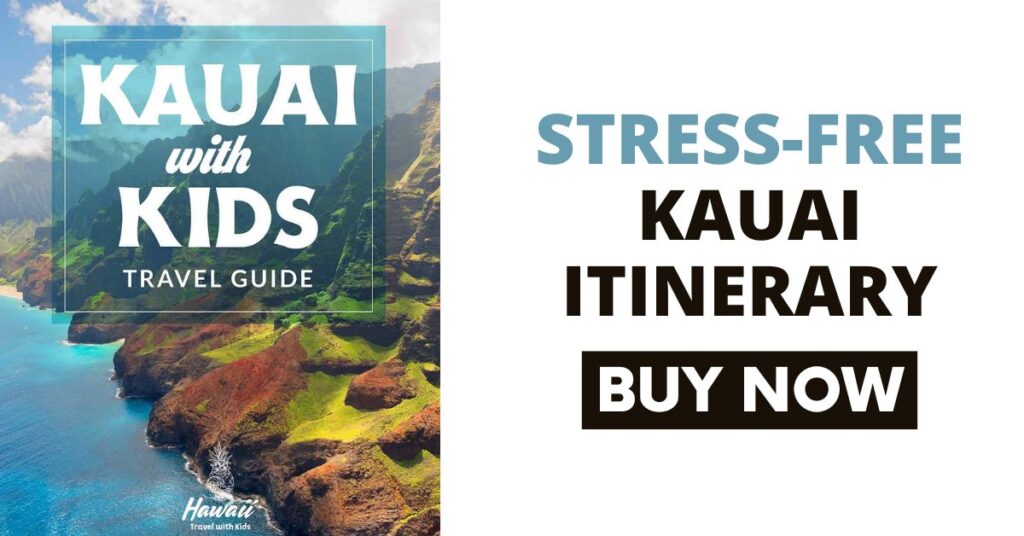 Kauai Breakfast FAQs
What food is Kauai known for?
Kauai is known for having some of the sweetest shrimp in Hawaii. They are also known for traditional Hawaiian dishes like poke, Loco Moco, Kalua Pork, and Huli Huli chicken.
Where do the locals eat on Kauai?
Some longtime favorite local Kauai restaurants include Tip Top Cafe, Mark's Place, and Hamura's Saimin.
How can I eat cheap on Kauai?
To save money on food, hit up local grocery stores and Kauai farmer's markets for fresh produce and baked goods. You can also take advantage of Happy Hour deals as well as Kauai's vibrant food truck scene.
Best Breakfast in Kauai Wrap-Up
From acai bowls to fluffy pancakes, these are some of the best delicious meals for breakfast foods in Kauai!
Whether you are staying on the South Shore or North Shore, you will find the best breakfast in Kauai at any of these locations!
The food on Kauai is outstanding, and these best breakfasts in Kauai are just a few of the best places to eat on the island.