Are you looking for the best ziplines in Maui for kids and teens? Keep scrolling for my top Maui zipline tours and adventures perfect for your trip to Maui.
This list of the best ziplines in Maui for kids contains affiliate links which means if you purchase something from one of my affiliate links, I may earn a small commission that goes back into maintaining this blog.
Are you feeling more adventurous than ever before? If you'd like to participate in an extreme activity while in Maui, check out some of the best zipline adventures available.
Whether you're scared of heights or not, this is the perfect adventure to go on when you want to enjoy a thrill.
Sure, you'll likely have butterflies in your stomach from the minute you put on that gear and hold on before heading off on the zipline, but that's what makes this moment so unique.
It's the perfect time to let loose, try something new, and see some of the most stunning spots in Maui from an incredibly unique angle. And there are tons of options for the best ziplining in Maui.
See the top rated Maui zipline tour HERE.
Don't have time to read a bunch of Hawaii blog posts and reviews? Here are some of our top picks for visiting Maui with kids.
Best Kid-Friendly Maui Tours/Activities
Best Kid-Friendly Maui Resorts
Hyatt Regency Maui (this has the BEST pool area and on-site shave ice stand)
Honua Kai Resort & Spa (this is one of our personal favorites because there are tons of pools and there are condo options)
Fairmont Kea Lani (this is a swanky resort with incredible kids' programming and an awesome pool area)
Want to Rent a Car in Hawaii?
One of the best places to rent a car in Hawaii is Discount Hawaii Car Rental because they get the best rates from top national companies like Alamo, Dollar, Thrifty, Avis, Enterprise, Budget, and Payless.
Want to skip all the planning and just access my detailed Maui Itinerary complete with daily schedules, kid-friendly activities, and travel hacks? Click the button below.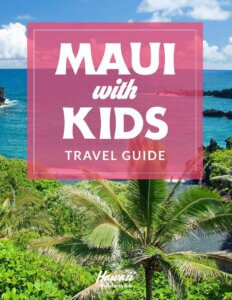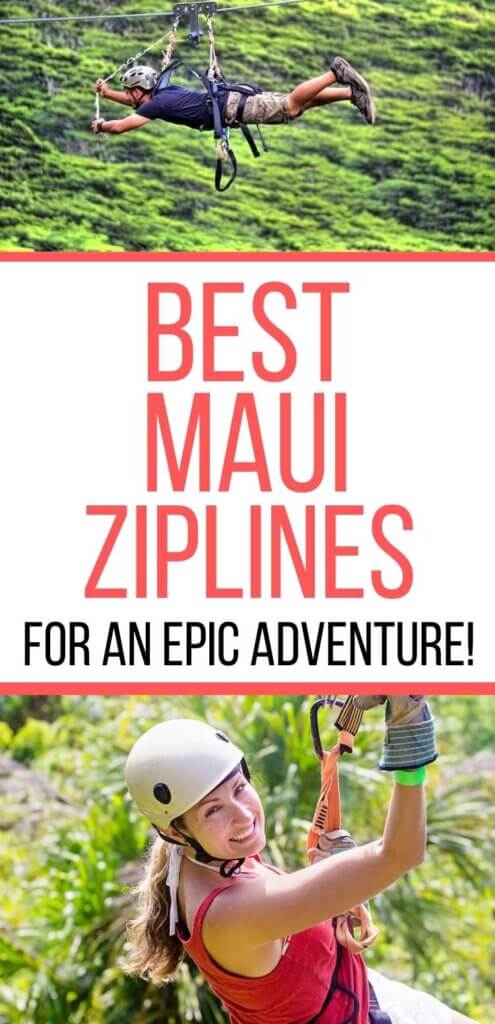 The Benefits of Ziplining in Maui
As you work on setting up your itinerary consisting of all the things you plan to do while you're in Maui, ziplining is one of those activities that you might feel uncertain about doing.
You like the idea of seeing the island from a neat perspective, but you may feel nervous about the heights. However, don't let a fear of heights keep you from seeing nature's beauty firsthand.
These are some of the primary benefits that come with going on a zipline Maui Hawaii adventure:
It will give you a major adrenaline rush
While you might feel scared at first, once you start ziplining through these beautiful areas, you'll experience an incredible adrenaline rush that leaves you feeling excited instead of nervous.
It's the kind of rush people look forward to when jumping out of airplanes or doing other crazy stunts. You can enjoy that rush while doing something incredibly safe in Maui.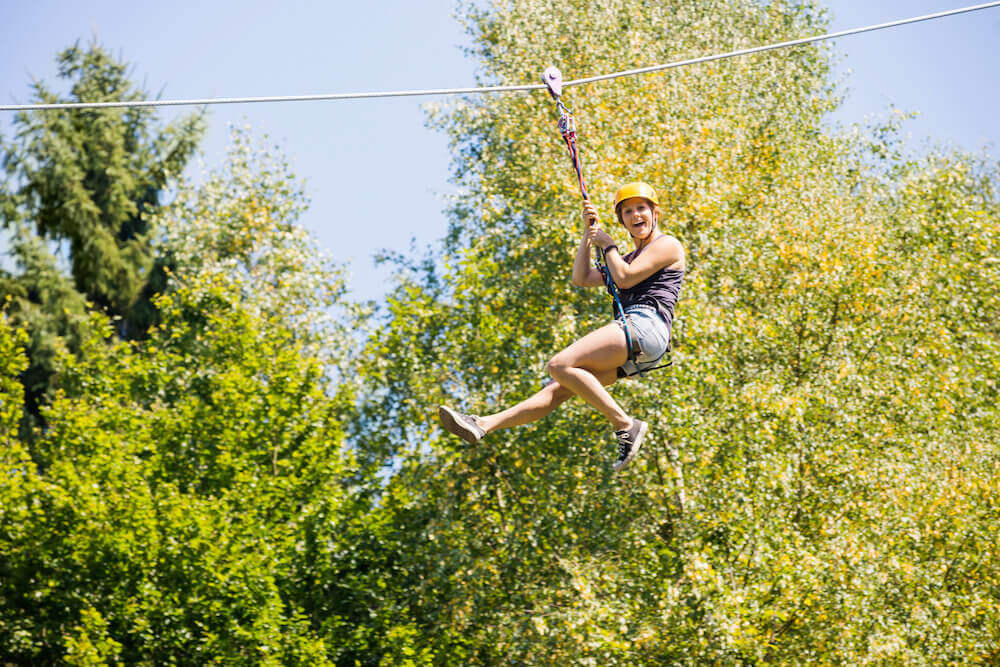 It's the best way to see specific spots in Maui
You can take a lot of tours in Maui, but there's nothing quite like the views that you'll get to see from the position you're in while ziplining on Maui.
If you want to see Maui like never before, try a zipline adventure because it'll leave you in awe.
Make some of the best memories possible
You want to remember your trip to Maui for the rest of your life. Make sure you're making some of the best memories possible by trying new things and stepping outside the box.
Along with doing some basic things, such as visiting landmarks and heading off to the beach, go on the adventure of a lifetime because you won't regret it.
When you want to experience the kind of adrenaline rush that you get from riding a roller-coaster while spotting stunning views and making memories, going on a zipline adventure is perfect for you and such a great experience for your family.
One thing you may notice during your stay in Maui is that there are several guided zipline adventures available for those interested in giving it a try. You can choose the experience that is best for you based on what's available to guests.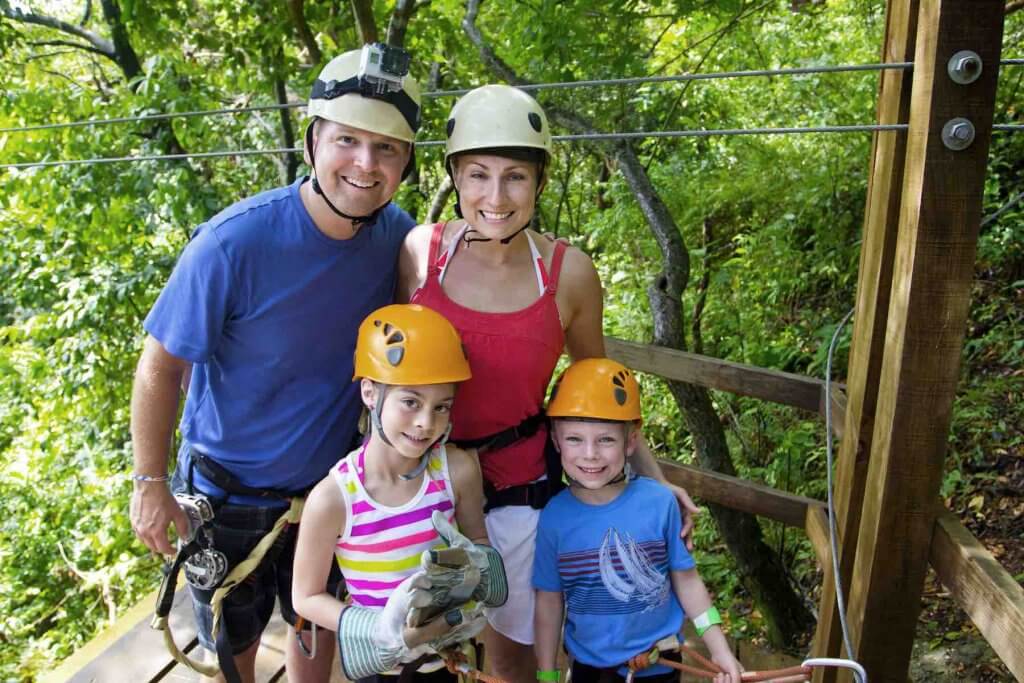 The Best Zipline on Maui
Now that you're thinking about going on a zipline adventure in Maui, it's essential to know some of the companies offering these exciting and unique tours.
You can browse through the options and then choose the one that meets your needs.
It's important to book your zipline tour in advance. Tourists love these adventures so much that it's common for them to get booked at such a fast pace.
Top Rated Ziplines on Maui Worth Booking
Would you like the opportunity to fly around over Maui's North Shore? If so, you need to check out this 7-Line North Shore Zipline Maui.
The length of the tour is approximately two hours long, providing you with plenty of time to explore these stunning sights on the island. You'll pass through grass-covered hills, large trees, and the beautiful ocean while on these lines. Read our full Camp Maui zipline tour review.
It's the perfect time to see so much of Maui's beauty in one shot. This is one of the best Maui zipline company as they make sure you feel safe and have a great time. Check latest rates and more information.
A Safe and Enjoyable Experience
Besides riding the zipline, you'll get a chance to cross the suspension bridge and take on other activities, obstacles and challenges along the way.
It's a fantastic opportunity to spend a few hours outdoors while experiencing nature in Maui firsthand.
During your adventure, your guide will also provide you with valuable information on the area and Hawaiian culture to give you insight into what life is like for residents past and present.
The experience might seem frightening to some, but it's safe and enjoyable. You'll wear a protective harness while gliding across the many lines that lead you through different parts of Maui. So you can feel comfortable and safe throughout your time in the area.
Enjoy the Adventure in Rain or Shine
Not only are harnesses provided, but all guests will have helmets to wear on their heads for additional safety measures.
If it's raining when you're going on the zipline adventure, don't worry about dealing with cancellations. Instead of rescheduling, you can still head out on the zipline adventure because rain gear is available for all guests. Click here to see more reviews.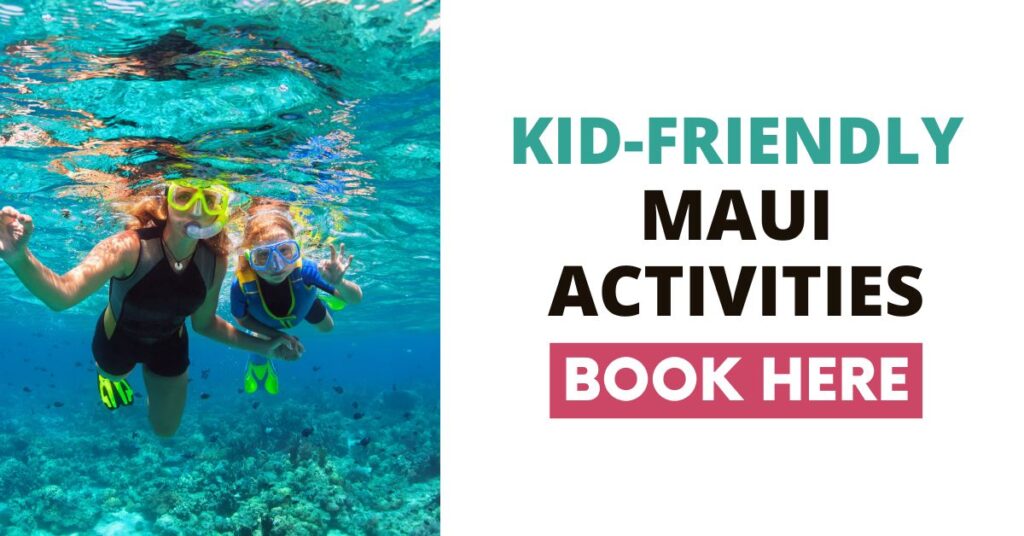 Fly around some of the giant trees in the area while on the 8 Lines Jungle Zipline Tour. The adventure course is available in Haiku, a place found on the North Shore of Maui.
It's an excellent spot for ziplining because of its natural beauty. You can spot grass-covered mountains, lush trees, and waterfalls while you ride along the lines.
Besides riding and gliding through the different parts of Maui, you'll also get to walk on a rope bridge while wearing your protective harness and safety gear. It is one of the Maui ropes course tours to enjoy as well. Check latest rates and more information.
Beautiful Scenery
While on this jungle zipline Maui tour, you'll get to spend two hours exploring with patient and helpful guides there to make sure your experience is a great one.
You can expect to come across stunning flowers, beautiful palm trees, and dozens of other unique and attractive tropical plants that can easily capture your attention.
If you're near the waterfalls and want to go on an adventure that will get your adrenaline pumping, this is the perfect tour for you.
Snacks and Water Provided
The professional guide will offer both snacks and bottled water for guests to enjoy throughout the journey. You won't have to worry about bringing anything with you on this trip.
You can also take photos when stopping at different destinations throughout the zipline experience. It's a fantastic way to capture these incredible moments, so you'll always remember.
Can you imagine showing some of your loved ones the stunning views that you'll get to see from high above the sky while on such a fantastic jungle zipline adventure? Click here to see more reviews.
Book a Family Photo Shoot
Whenever we travel to Hawaii, we almost always book a family photo shoot with Flytographer. They are super easy, affordable, AND it guarantees that I'll be in some photos. You can get $25 off if you book through this link or use the code HAWAIITRAVEL.
If you'd like to go on a shorter adventure that is still as fun as the others, check out the 5 Line Jungle Zipline Eco Adventure. The tour lasts for 90 minutes and is a top-rated zipline tour in Maui. It's open for kids as young as 6 years old.
People love this tour because it provides guests with the chance to zipline through the rainforest. If you'd love to see tropical trees and plants, along with wild animals that live in the forest, this adventure is one you don't want to miss. Check latest rates and more information.
Enjoy the Tropical Flowers and Fresh Produce
While you're ziplining, you'll get to stop and check out a local farm that grows gorgeous tropical flowers and lots of produce, including the freshest mangoes and bananas that you've ever tasted.
You might even get the chance to try some of the produce while you're there. It is such a fun eco zipline Maui offers!
The adventure starts in a convenient spot not far from Hana Highway, making it an excellent tour to choose from if you're already in the area and are looking for something fun to do.
Fun, Safe and Secure Experience
As a tourist, you'll get a helmet and harness to wear while gliding around on the lines. You'll have a professional guide going along throughout the area to make sure you're having fun and feeling safe along the way.
You can expect to have fun, explore, and learn many new things about the area while on this eco-adventure. Your knowledgeable guide will readily answer any questions you have while on the tour! Click here to see more reviews.
Maui's 1st Commercial Dragonfruit Farm offers a once-in-a-lifetime experience for visitors to come and enjoy a Lahaina zipline tour with their family, friends, or coworkers! It provides complimentary farm tours which teach you about dragon fruit, "The King of Fruits."
You'll hear the story behind this amazing plantation as well as information regarding sustainable farming practices. If you want to go ziplining in Maui near Lahaina, this is the place for you.
The dragon fruit farm tours provide you with an insight into the characteristics and properties of this interesting, exotic plant. Plus, you'll learn about sugar cane, pineapple, and other tropical crops.
You are allowed to stroll around the property during your tour while admiring breathtaking 180-degree views from both sides of Maui-the ocean view in front and majestic West Maui mountains behind! Check latest rates and more information.
Tropical Fruit Tasting Walking Tour
You'll have a chance to sample some of the most popular tropical fruits grown in Hawaii. You will not only enjoy tasting these exotic flavors but also learn about how they grow and what makes them so unique!
Sample drinks made from dragon fruit and other locally crafted beverages like Kombucha for an authentic taste of Maui's fresh produce.
The types of fruit you experience on your tour depend on which is freshest at that time, as well as available throughout the year due to the climate being different than mainland farms.
Aquaball Tour
Get ready to get wet! Slap on a life jacket and hop in the inflatable hamster ball.
You'll bounce down 450 feet of fun twists, turns, hills, and curves while splashing through the water at every turn for some exhilarating thrills that are perfect for kids or adults alike!
Dragon Zipline
Zipping across 450 feet of Dragon Zipline is an exhilarating experience. You will do up to four zips on this fast-paced line, and your non-zipliner friends can watch from the ground for some great pictures!
If you want a West Maui zipline, this is the one for you. It is definitely one of the topMaui zipline Lahaina offers. Click to see more reviews.
You won't want to miss this Haleakala Skyline Eco Adventures Maui Tour that includes a half-mile hike through the woods and a dramatic "swinging bridge" crossing with five spectacular ziplines across an amazing valley on Haleakala Ranch. Check latest rates and more information.
And each line in this Haleakala Skyline Maui zipline gets longer than the last! There are five zip lines in total, and some will have you reach speeds up to 45 MPH! The Skyline Zipline Maui Tour is located in Upcountry Maui.
Specialized guides outfit you in customized seat harnesses before leading you into Maui's upcountry region, where other area attractions like hiking at Haleakala Crater/Summit or visiting Tedeschi Vineyards are just waiting for exploration.
This Maui Hawaii zipline tour is open to kids as young as 8 years old, and it's a super fun thing to do in Maui for families. The weight limit is between 60 to 260 pounds. Click to see more reviews.
This Maui Tropical Plantation zipline tour is a blast. You will take a short ATV ride through the Waikapu Valley. As you go on each of the ziplines, you will cross through 9 different valleys and 11 different ridges for an unforgettable experience the entire family will love. Check latest rates and more information.
During the Maui plantation zipline tours, you will go on 8 different zip lines. The weight restrictions are 45 to 230 pounds, and the age limit is 10 years and up.
This jungle zipline is quite incredible and offers stunning views you won't find anywhere else. It is located in West Maui, with plenty of other activities close by to enjoy as well. Click to see more reviews.
You will love zip lining on this Kaanapali zipline tour! You will soar through the sky as you go on 8 different ziplines. The tour guides are very knowledgeable and will teach you about the history of Maui and the Hawaiian plants you will see.
Ziplining in Maui near Kaanapali offers you incredible views of the Pacific Ocean, Maui, Molokini, and Lanai. Check latest rates and more information.
You will hike and enjoy the beauty surrounding you. With this zipline course, the group size is pretty decent, so you can enjoy the course and soar through the ziplines as you please. Click to see more reviews.
With these Maui ATV and zipline tours, you get stunning views of the rainforests on this Hawaiian island and enjoy a thrilling adventure. You will head up the mountain with an ATV ride, followed by your choice of a 4 or 6 zipline experience. Check latest rates and more information.
Kapalua Ziplines tour offers a dual zipline experience if you want to ride by your kids or significant other. There are also some swinging bridges to discover with the Kapalua ziplines.
Kids ages 10 and up are welcome with Kapalua Ziplines Tour. The weight restrictions are between 60 and 250 pounds. Click to see more reviews.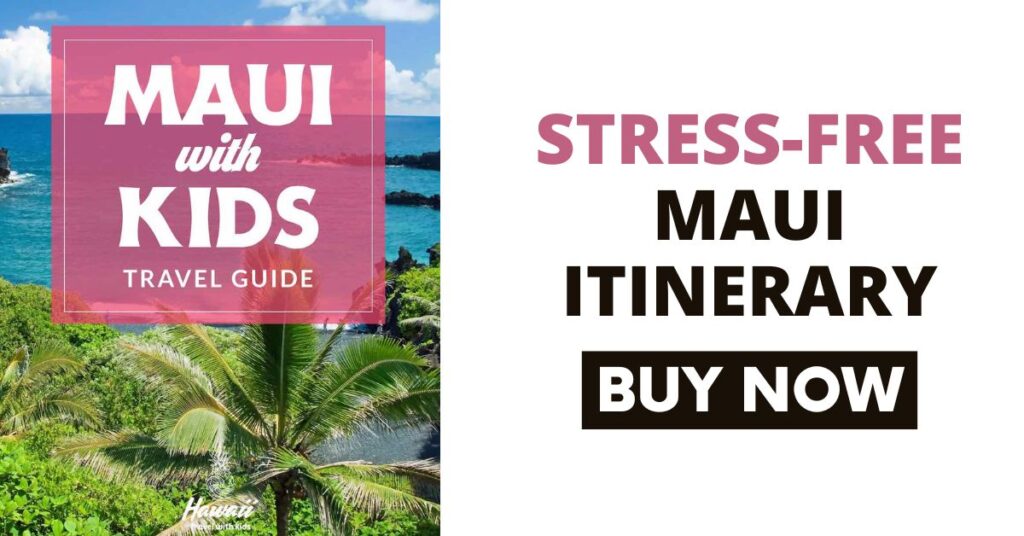 Maui Zipline FAQs
What's the best Maui zipline for kids?
Paradise Eco-Adventures is one of the best ziplines on Maui for kids. Kids as young as 5 years old can zip across a 450-ft line. Plus you can also do a cute farm tour and ride in an aqua ball. There's also the North Shore Zipline, where kids as young as 5 years old can zip over the lush tropical jungle. This is another best zipline in Maui, Hawaii, for families.
Which zipline in Maui HI is best for beginners?
You actually don't need any prior experience or skill to participate in a zipline tour on Maui. For some people, longer lines and higher heights might feel intimidating. I'd suggest this 5 line jungle zipline because it's just a 90-minute tour, making it one of the shortest Maui zipline adventures.
How many ziplines are there in Maui?
There are around 5 or so zipline courses that offer an unforgettable experience for your entire family.
What is the longest zipline in Maui?
The Flyin Hawaiian Zipline Tours have the longest zipline on the island. One is around 2800 feet long and is so much fun!
How much is ziplining in Maui, Hawaii?
A Maui zipline tour all depends on how many zip lines are included and other activities are offered. A typical zipline course can cost anywhere between $150 and $250.
Which Hawaiian island has the best ziplines?
Either Kauai or Maui are the two best Hawaiian islands that offer a lush landscape perfect for zip line tours in Hawaii.
Head Out on an Unforgettable Zipline Adventure in Maui
Some people have a fear of heights, while others don't. Whether it's an issue for you or not, let those fears go and enjoy the opportunity to see Maui like no other.
You can head out on one of these convenient and enjoyable zipline adventures offered by professionals who care about the tourists who come to visit.
The guides of each of these zipline adventures want to make the experience as enjoyable as possible. They provide the gear and the knowledge about Maui to make sure you're learning while traveling through parts of the forest and past the ocean.
The incredible Maui zipline adventures are entirely safe. Thousands of people visiting the area choose to participate in these adventures year after year, exploring new spots and capturing beautiful photos along the way.
So, if you're looking for something adventurous and thrilling to do in Maui, this is one fantastic option. Whether you'd like to spend two hours or 90 minutes outside, you have three top-rated zipline tours to choose from in Maui.
Be sure to book these tours in advance when planning to do them because they tend to sell out due to their popularity! And read my full guide to ziplining in Hawaii.