Are you planning a trip to Kauai and want to do some epic Kauai adventures? Keep scrolling to find out the best Kauai zipline tours worth checking out.
This list of the best Kauai zipline tours for your Kauai vacation contains affiliate links which means if you purchase something from one of my affiliate links, I may earn a small commission that goes back into maintaining this blog.
Kauai, known as Garden Island, is one of several large islands in Hawaii. It's known for its beautiful beaches and its incredible tropical rainforest that people look forward to visiting while in the area.
Because it's home to a large and beautiful rainforest full of trees, plants, flowers, and wild animals that are worth seeing in person, there are many Kauai Hawaii zipline tours available.
These tours offer an exhilarating experience to those willing to travel from tall heights throughout the island for impeccable views.
If you want to experience the island of Kauai like no other, try one of these fantastic zipline tours.
You can ride safely with a considerate guide who will offer support and assistance when it's needed. Make some wonderful memories on this thrilling adventure of a lifetime.
Keep scrolling to find out the coolest Kauai ziplines to add to your Kauai itinerary!
See the top-rated zipline in Kauai HERE!
Don't have time to read a bunch of Hawaii blog posts and reviews? Here are some of our top picks for visiting Kauai.
Popular Kauai Tours/Activities
Favorite Kauai Resorts/Hotels
Grand Hyatt Kauai (this Poipu resort has a luxurious pool area, romantic restaurants, and a stunning ocean view)
Koloa Landing Resort (this is a luxury resort with an amazing pool area and truly spacious rooms)
Royal Sonesta Kauai (we LOVE the pool here because it's the largest one in Hawaii)
Want to skip all the planning and just access my detailed Kauai Itinerary complete with daily schedules, kid-friendly activities, and travel hacks? Click the button below.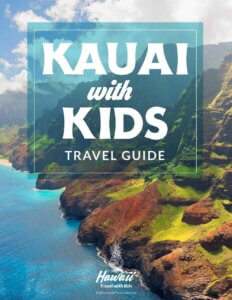 Kauai Zipline FAQs
Which Hawaiian island has the best ziplining?
You can now enjoy ziplines on Maui, Kauai, Oahu and the Big Island of Hawaii! Out of these islands, the ziplines on Kauai are the most impressive with the prettiest views. And they have many different tours for an array of ages and abilities. If you are interested in trying out this thrilling experience then I recommend booking your tickets to one of these islands as soon as possible before they get booked up with tourists looking to try something new during their Hawaiian trip.
Is ziplining in Hawaii safe?
Ziplining is a fairly safe outdoor adventure in Hawaii. These commercial ziplines are safer than a lot of other outdoor activities and a little less "scary" than parasailing, sky diving, or hang gliding. Just be sure to follow all the height, weight, and age requirements.
How much does it cost to go ziplining on Kauai?
The Kauai zipline tour prices vary depending on length of zipline and tour length. Expect to pay between $50 and $200 for ziplining in Kauai.
Is there still a Princeville Ranch zipline?
Unfortunately, Princeville Ranch discontinued their ziplining tours in 2021. They currently only offer horseback riding. Right now, there are no Princeville zipline tours on Kauai.
I'm wondering what to wear ziplining in Hawaii?
Most Hawaii zipline tours require closed toe shoes, like hiking or running shoes. For clothing, athletic wear (or whatever you'd wear hiking in Hawaii) is a great option. Try to avoid baggy or loose clothing that might get caught on something. And be sure to wear sunscreen!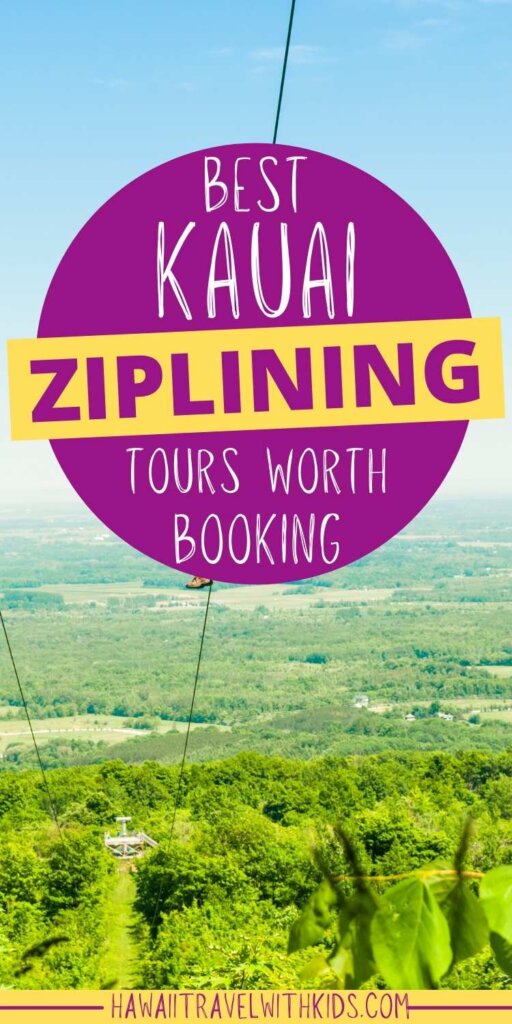 The Best Ziplines on Kauai
Looking for a Kauai adventure? You're in luck! These are some of the best Kauai zipline tours worth booking!
When you'd like to go on a family-friendly exploration, the Kipu Safari Adventure is a great choice. During the tour, you'll get to spend seven hours exploring the beautiful island while on an unforgettable adventure worth telling everyone about when you get back home.
This experience is ideal for children who are at least seven years old. In addition, tickets for children between the ages of 7 and 14 are available at a reduced price, making the trip more affordable for families traveling together. Check latest rates and more information.
While on the adventure, you'll get to do different things, including hiking and swimming. You can ride on a kayak for two miles, hang on a wagon throughout Kipu Ranch, enjoy lunch with the family, and then head out on the 3-line zipline adventure.
All guests will have protective helmets and safety gear on while ziplining. Guests can also decide if they'd like to ride on a line that takes them directly to an amazing mountain-stream pool that is perfect for cooling down on a hot and humid day.
If you want to feel like you're flying in the air while taking in the scenery before you, the Koloa Zipline Flyin' Kauaian Adventure is a tour worth booking. It's a four-hour trip throughout the beautiful island of Kauai.
This Kauai excursion is best for children who are at least seven years old or older. It's not suitable for infants, toddlers, and children under the age of seven. The reason for this is that the excursion is more on the adventurous and thrilling side. Check latest rates and more information.
The zipline is long, leaving you feeling like superman as you glide across and enjoy the views.
Your guide will talk to you about the area before preparing you for the excursion. You'll have a helmet and get suited up in a protective harness with a chest piece to keep you safe and comfortable along the journey.
When you're not soaring through the sky on this Kauai zipline adventure, you can enjoy snacks and bottled beverages with your loved ones.
Before going on this adventure, make sure you're prepared by wearing the proper clothes and garments. It's essential to wear long pants and sneakers or hiking shoes. Guests can't wear sandals or flip-flops while out on the zipline. If you don't mind the rules, you can have an incredible experience.
We think this is the best zipline in Kauai for families!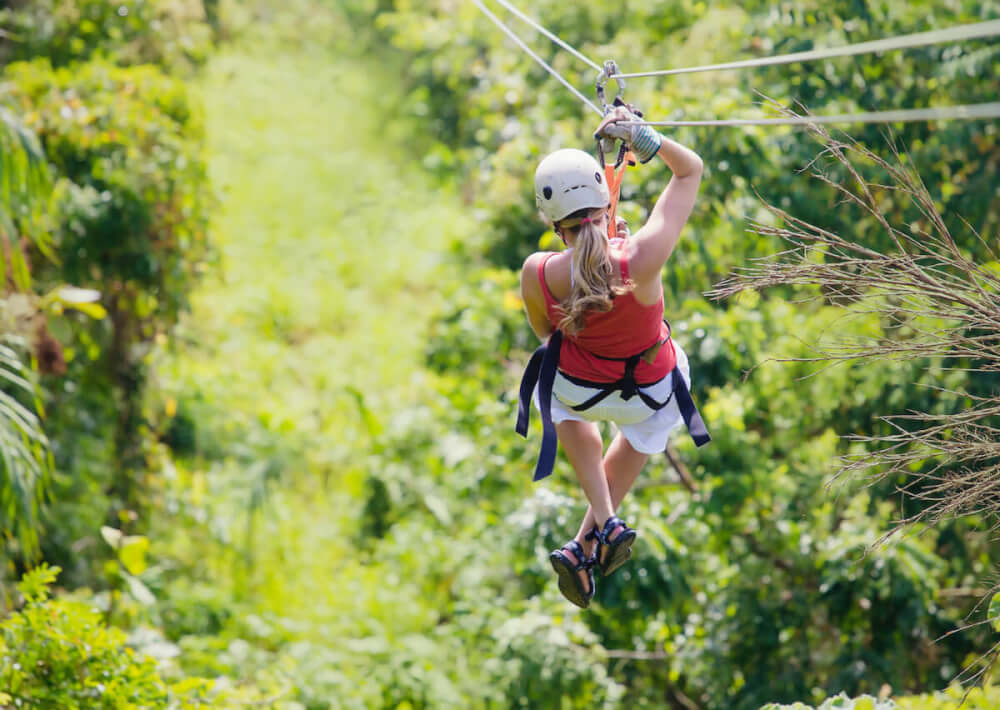 If you're traveling with children at least seven years old, you can enjoy this Outfitters Kauai Kipu Ranch Zipline tour. The single line takes you through the longest zipline in Hawaii. You're going to see the island from a new perspective as you glide on the zipline that is 4000 feet above ground level.
So, if you're not afraid of heights and would love to feel butterflies in your stomach as you explore, this tour is one you don't want to miss out on. It's perfect for kids who are at least 7 years old. Check latest rates and more information.
These Kauai ziplining tours are available for the morning and afternoon. You can get out early or head out after enjoying breakfast and relaxing for a bit.
The average tour lasts for a minimum of 90 minutes and a maximum of three hours, depending on your preference.
Your guide will help you along the way while making sure you've got your protective gear on correctly before you head off on the zipline.
Bottled beverages and Hawaiian cookies are also available to all guests! The affordable Kauai tour is perfect when you're looking for a short and straightforward yet thrilling adventure to go on with family or friends.
Enjoy the exploration and a swim with the Kauai Backcountry Treetop Canopy Zipline and Swim Adventure. The tour lasts for approximately 3.5 hours and is perfect for 12 years of age or older. It's not a good tour for young children, but it's great for pre-teens, teenagers, and adults who'd like to head off on an unforgettable adventure.
Head out early in the morning or the afternoon to drive to the zipline base. Upon arrival, you'll go over safety tips and instructions that will help you make the most of the experience while staying safe. Check latest rates and more information.
Once you know the safety rules and tips, you can get your helmet and safety gear on and then head out on the lines, gliding through different parts of Kauai to see amazing sights.
The countryside on the island is breathtakingly beautiful and will leave you in awe.
After spending a bit of time gliding, you can take a break, grab a delicious snack, and then go for a swim at the mountain stream.
It's the easiest and most efficient way to cool down after spending hours gliding on ziplines in the hot weather! You'll love the way the cold water feels.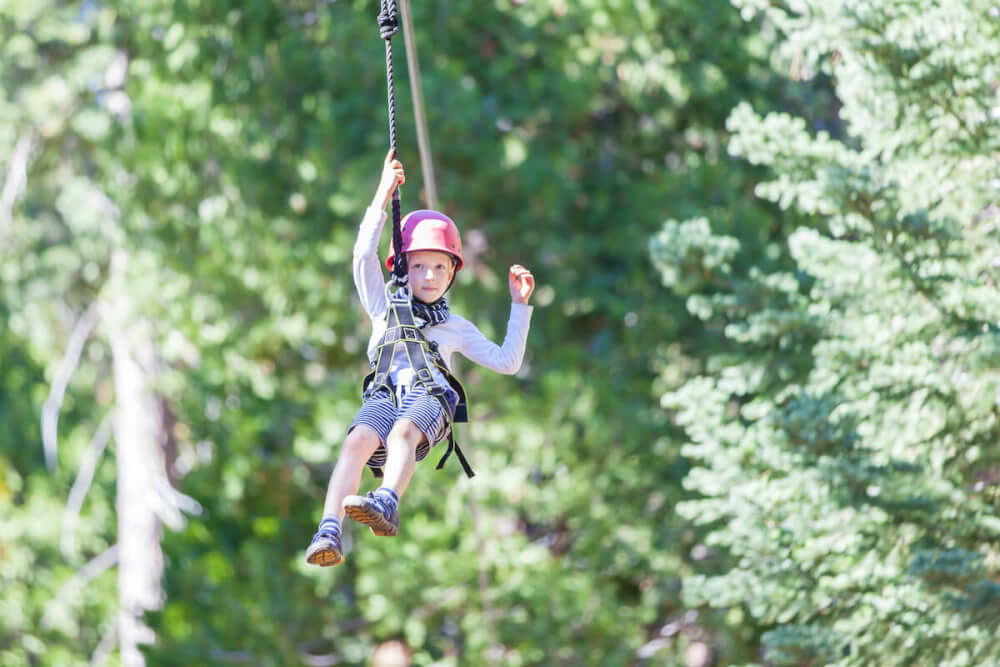 Ride several of the fun and exciting lines while on the Poipu Valley Skyline Zipline Eco-Adventure. It's a family-friendly tour with options available for children as young as ten years old. The tour lasts for a minimum of two hours and a maximum of three and a half hours to give guests time to ride the lines and explore the area even further.
The location isn't far from South Shore hotels, so if you're staying at one of them, it won't take you long to get here and get ready for a thrilling adventure with loved ones. Check latest rates and more information.
While you're on this Poipu zipline tour, you get to glide along zip lines that will allow you to get the best views of Kauai's landscape.
You can see beautiful trees, flowers, and grass-covered mountains while you ride along the line at greater heights.
Besides the incredible views that you'll see from lines that are at least 200-feet above ground level, you can learn new things about the area and history of ziplining from your experienced guide.
The guide is there to help you put on your safety gear, get you on that line, and provide you with plenty of information on Hawaiian culture.
Bring the family with you for three hours of fun on the Koloa Zipline. You can glide through the beautiful, lush tropical forest, head over to the Waita Reservoir, and enjoy the freedom to move around in different positions while ziplining.
You will have a protective hands-free safety harness that allows you to get into the perfect comfortable position before heading out on the line. If you want to feel like superman, you can glide forward with your arms spread out like a bird! It all depends on what you want to do. Check latest rates and more information.
During the tour, you'll get to take a break where you can sit and relax by beautiful, calming eucalyptus trees. It's available for kids as young as 7 years old.
Besides taking in all of nature's beauty that surrounds you, your guide will provide you with snacks and beverages to keep you hydrated and feeling full until the end of the trip.
If you don't want to spend too much time ziplining, but you'd like to experience it for a few hours, this tour is an excellent choice. It's a family-friendly option worth selecting when you're looking for a fun thrill while on the island.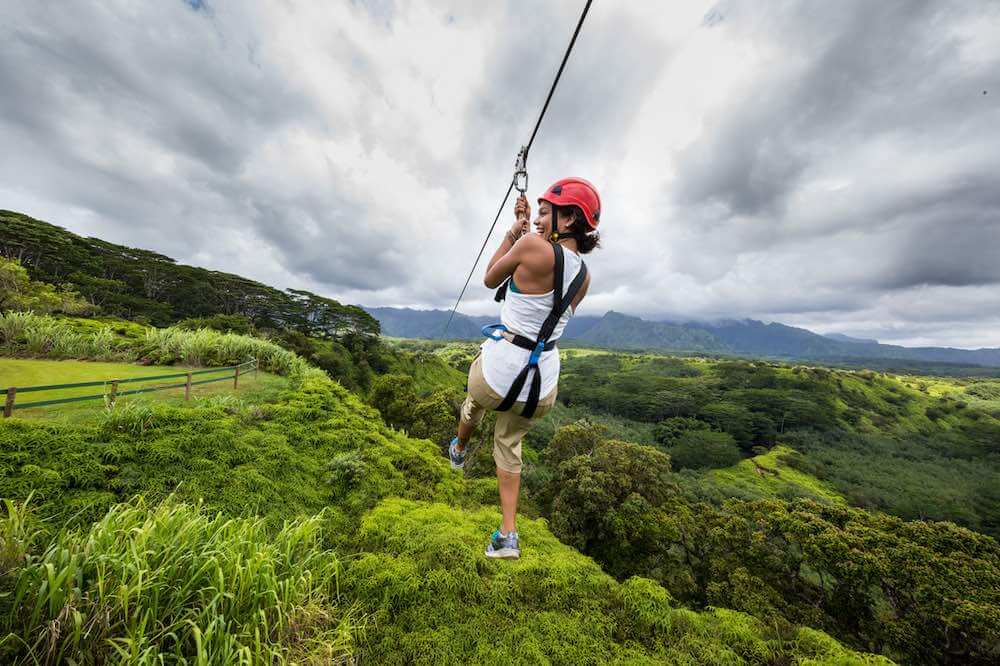 Explore Kauai Like Never Before on an Incredible Kauai Zipline Tour
Kauai is one of the largest islands in Hawaii. It's known for its beauty because of its amazing tropical rainforest. The rainforest is so beautiful that it's often used as backdrops for movies, music videos, and more. If you'd like to experience that beauty for yourself firsthand, one of the best things to do is go on a Hawaii zipline tour.
When you're riding the lines, you're hanging from great heights that can give you some of the most amazing views. You'll spot large, beautiful trees, colorful flowers, and other plants that look amazing. You may even come across some wild animals living in the forest while you're riding through it.
Whether you have a fear of heights or not, you can feel safe and comfortable while on one of these zipline tours throughout Kauai. The companies provide safety helmets and protective gear to keep guests comfortable and protected throughout the journey. Your guide will make sure you feel at ease before you begin the journey.
With all the options available, which zipline tour do you think you'd like to go on with your loved ones? And be sure to check out our full guide to ziplining in Hawaii.