Are you planning a trip to Kauai with kids and working on your itinerary? Keep scrolling to find out whether or not Limahuli Garden is worth visiting with kids.
This post about Limahuli Garden on Kauai was written by Hawaii travel expert Marcie Cheung and contains affiliate links which means if you purchase something from one of my affiliate links, I may earn a small commission that goes back into maintaining this blog.
Are you looking for a family-friendly activity on Kauai's North Shore?
The Limahuli Garden and Preserve is one of the most beautiful places to visit in all of Hawaii. It's located at the end of an incredible road that winds through dense jungle, past waterfalls, and along cliffs overlooking the ocean.
The garden itself is filled with plants from around the world that are native to Hawaii. There are also several trails where you can explore this beautiful place even more deeply.
But there's just one problem… it might not be right for your family!
Keep reading to find out if visiting Limahuli Garden with kids will work for your family or not.
If you want to see some truly amazing views while exploring a unique garden, then I definitely recommend bringing kids along on your trip here!
However, if you want something more interactive than what I describe below (or if you have younger children), then maybe skip this stop on your tour of Kauai's North Shore and check out the Na Aina Kai Botanical Garden in Kilauea instead. That way, everyone will be happy!
Keep scrolling to read my blog post about visiting Limahuli Garden and Preserve with kids!
Don't have time to read a bunch of Hawaii blog posts and reviews? Here are some of our top picks for visiting Kauai with kids.
Best Kid-Friendly Kauai Tours/Activities
Best Kid-Friendly Kauai Resorts
Grand Hyatt Kauai (this is a personal favorite for my kids because of the water slide and saltwater lagoon)
Royal Sonesta Kauai (my kids LOVE the pool here because it's the largest one in Hawaii)
Hilton Garden Inn (we like renting the cottages here because you can walk to a massive playground)
Want to Rent a Car in Hawaii?
One of the best places to rent a car in Hawaii is Discount Hawaii Car Rental because they get the best rates from top national companies like Alamo, Dollar, Thrifty, Avis, Enterprise, Budget, and Payless.
Want to skip all the planning and just access my detailed Kauai Itinerary complete with daily schedules, kid-friendly activities, and travel hacks? Click the button below.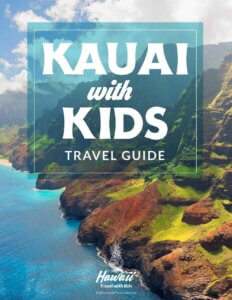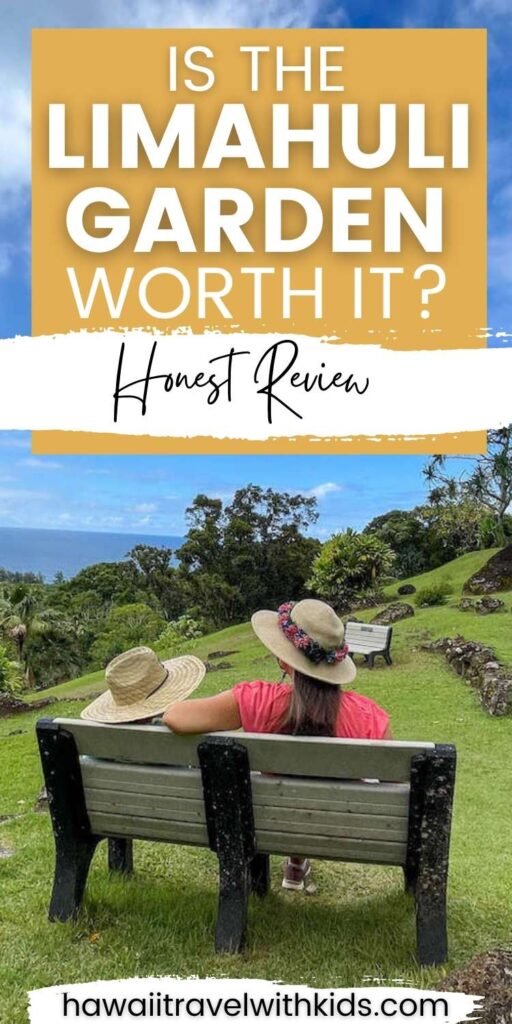 Where is Limahuli Garden & Preserve?
The Limahuli Garden and Preserve is located just steps away from the entrance to Ha'ena State Park at the end of the road on the North Shore of Kauai. The address is 5-8291 Kuhio Hwy, Hanalei, HI 96714.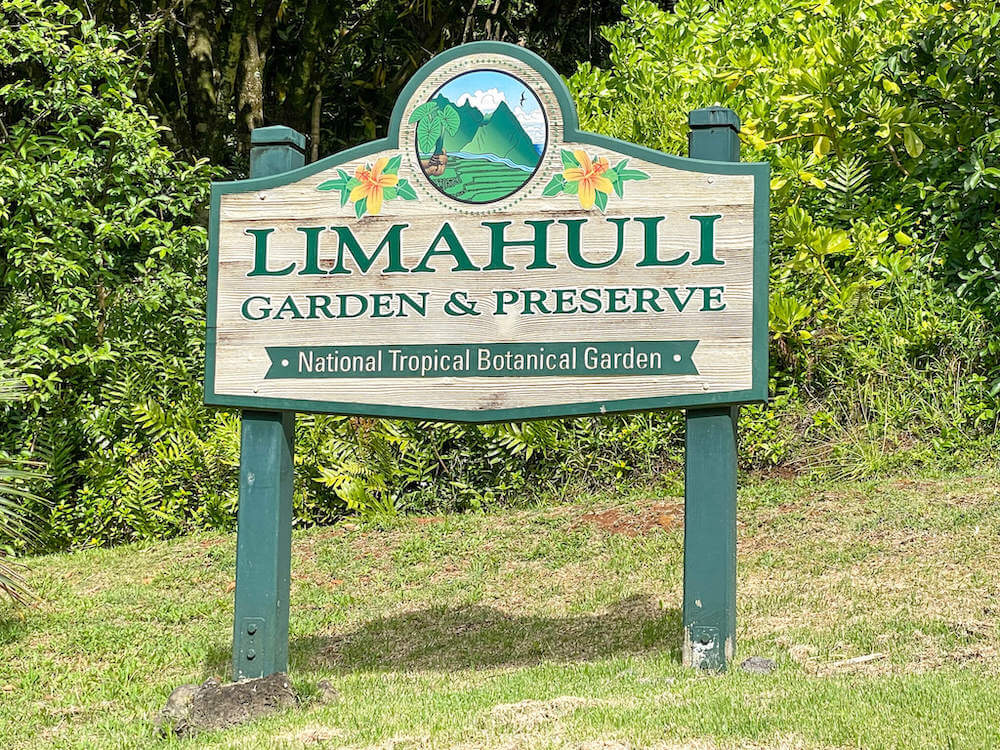 You can drive yourself and park in their lot. You don't need to worry about taking the Ha'ena shuttle or making reservations for Ha'ena State Park unless you plan on going there too.
What Can You See at the Limahuli Garden?
Limahuli Garden and Preserve is located on the north shore of Kauai. It is home to many endangered plants and birds that cannot be found anywhere else in the world. They use native Hawaiian plants and show people what life was like in Hawaii before it changed too much.
The Limahuli Valley has had people living there for more than 1,500 years. The valley is still intact, with a cool archaeological complex, native forest, and a beautiful stream. They also have people living there who are descendants of the original people of the Limahuli Valley.
Honest Limahuli Garden Review
We booked a self-guided tour of Limahuli Garden during the summer of 2021 when the road through Hanalei was only open during specific hours due to a mudslide. That really threw off our schedule because we had to cross through Princeville earlier than we originally thought.
That meant we had time to kill before our tour. So, we ended up doing lunch at Tahiti Nui, but it was super crowded with everyone else who had just crossed through Princeville. So, everything took longer, and we ended up being 10 minutes late to the garden.
By the time we got there, my 4yo had fallen asleep in the car, so we ended up having my husband stay in the car with him so he could keep sleeping. So, I explored the garden with my mom and my 7yo son.
Check-In
The first thing you'll need to do is head to the visitors center to check in for your tour. They usually offer both self-guided and guided tours.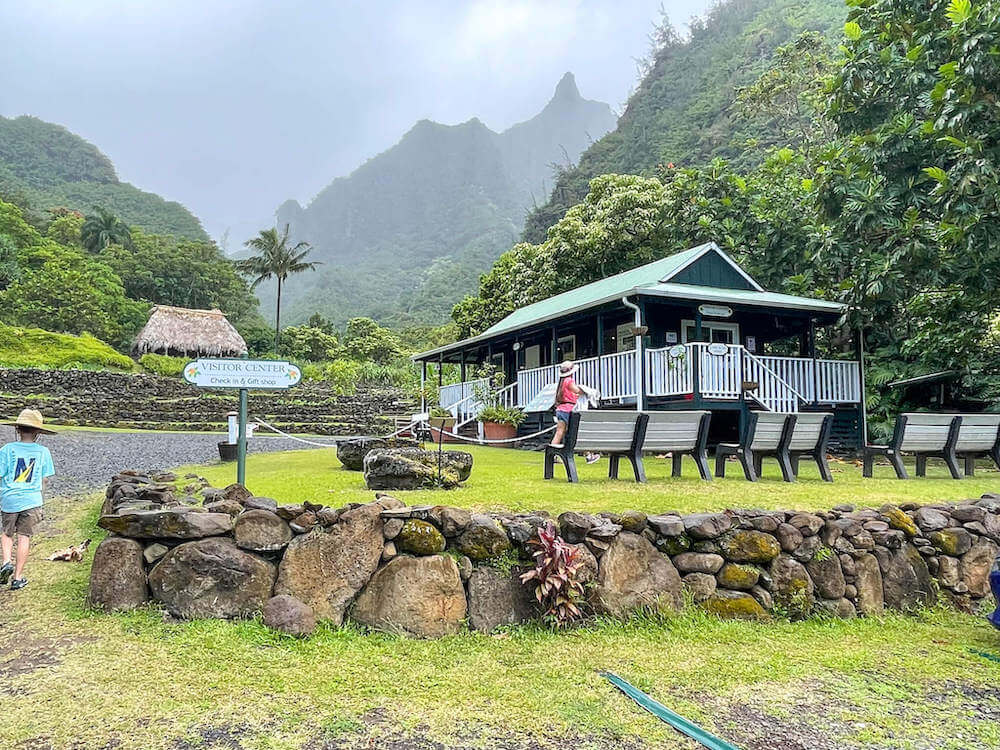 Because we were late for our reservation, the staff members made us feel really bad, and it was pretty uncomfortable. We also had one of the last reservations of the day, so that might have had something to do with it. I think we (hopefully) had an unusual experience.
We were told to spray and wash off our shoes before heading into the garden. That's because they don't want us bringing in anything that might disrupt the garden and Hawaiian plants.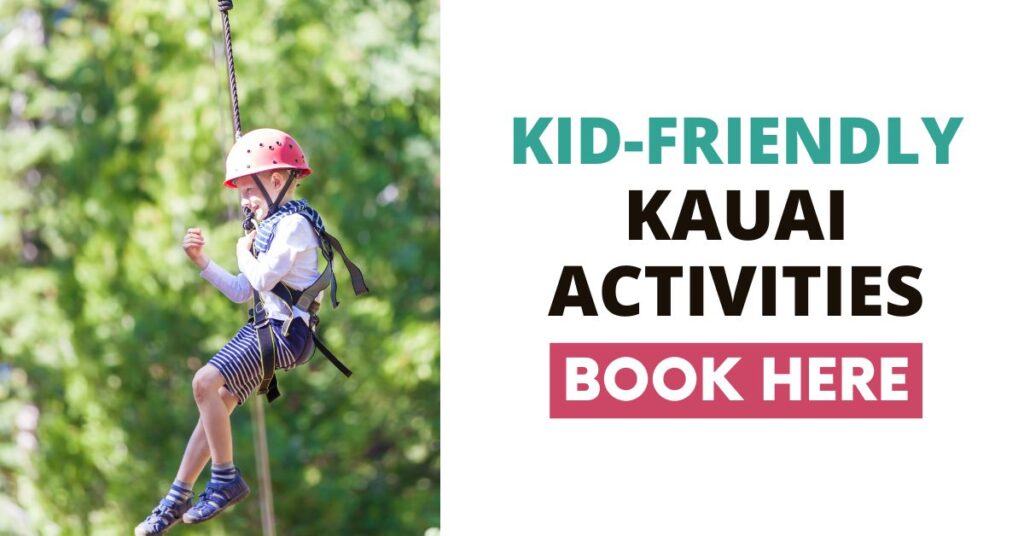 Highlights
Once we had cleaned our shoes, it was time to go explore. And WOW, was there a lot to explore!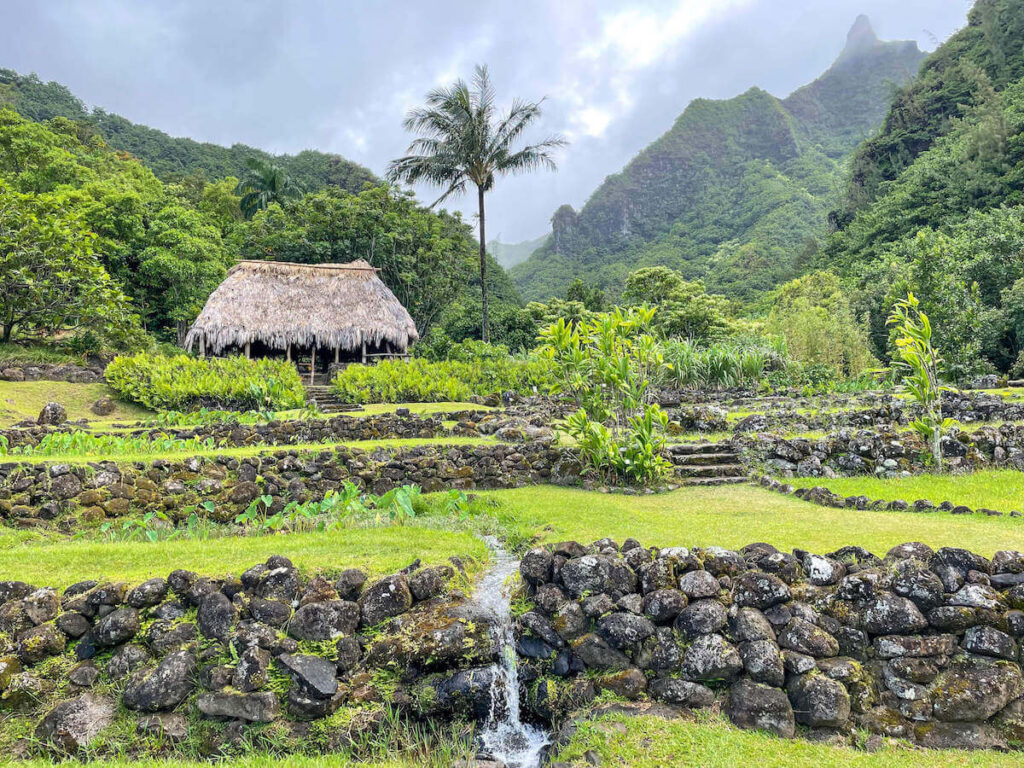 The picture above shows the view from the visitor center, looking up toward the mountains. It's simply breathtaking.
There's a clear path to meander around the garden. The path will take you across little bridges, near waterfalls, designated sitting areas, and even a historic Hawaiian house.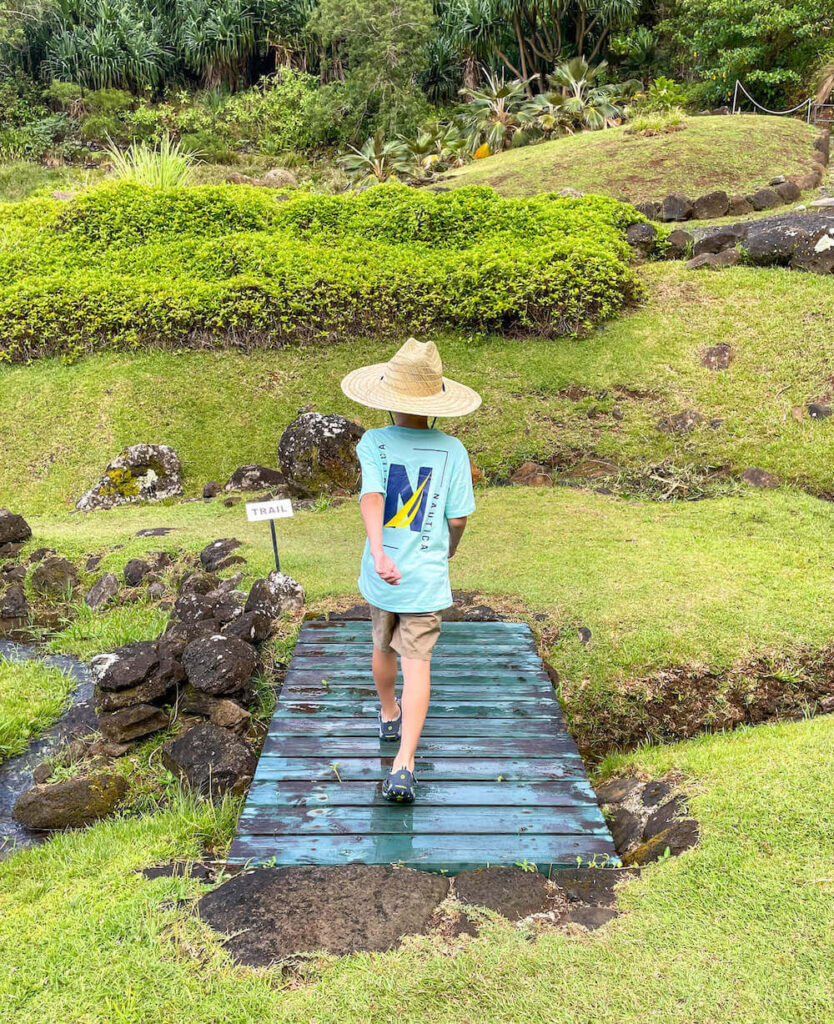 The trail itself goes up the hillside, but it never feels too steep. There are some stone stairs, too. And you can even stop to read signs about the different plants.
Once you get near the top of the hill, there are tons of benches available, so you can rest and just marvel at the beauty of this Kauai botanical garden.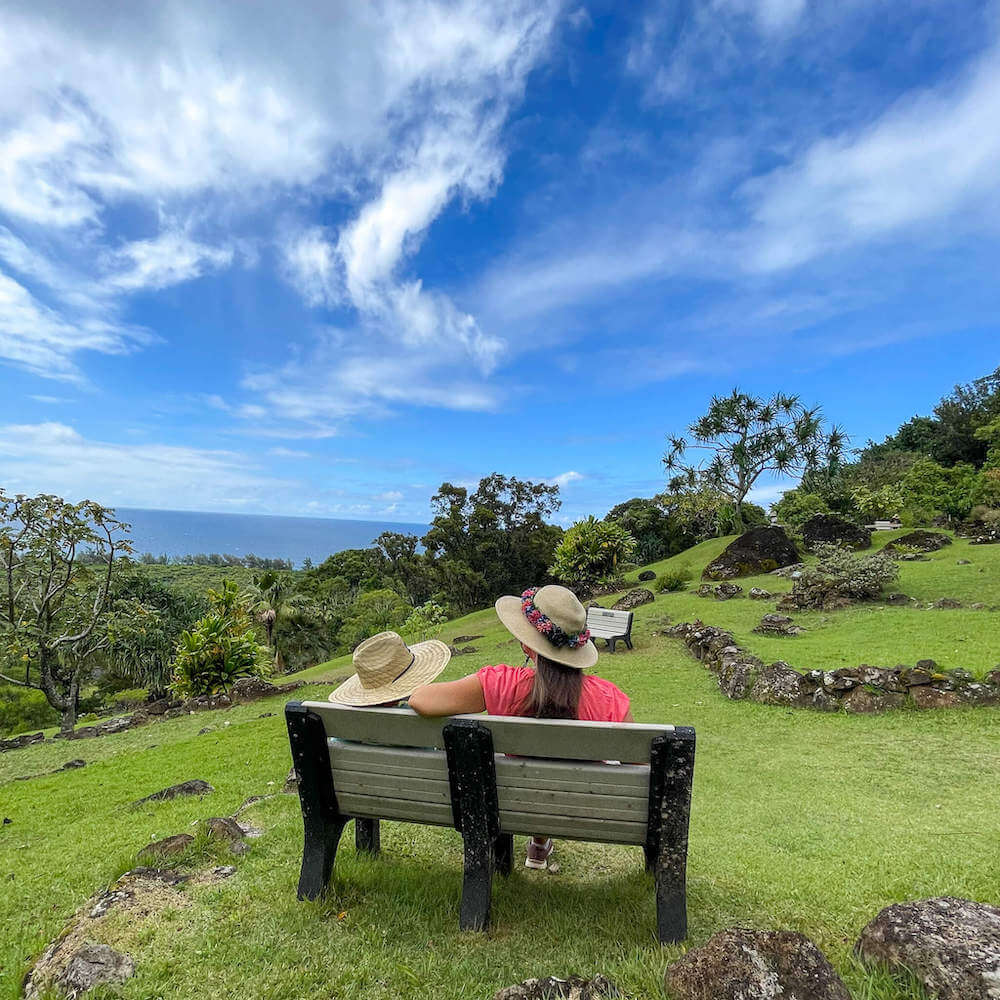 After the sitting area, the trail makes its way back down to the Hawaiian hut and then down to the visitor center.
So, Is It Worth Visiting?
Absolutely! This is definitely one of the prettiest places on Kauai that's easy to explore. I'd even say it's a kid-friendly Kauai hike for families.
We were there for one hour and didn't even stop to read the signage or sit and enjoy the views for too long (because my husband and son were waiting in the car).
I admit, my family isn't "outdoorsy," so this was the perfect easy hike for us. I also couldn't stop taking photos the entire time because it was just so pretty!
Since my husband and youngest son weren't able to join us, this is definitely on the list for our next trip to Kauai.
Tips for Visiting Limahuli Garden with Kids
Here are a few tips for visiting this National Tropical Botanical Gardens with your family.
Find the right tour for your family
When we visited in June 2021, the only tours available were self-guided ones. We still had to make a reservation for our time slot, though.
Now you can go on both the self-guided tour and a guided tour too! We will have to try the guided tour next time to see what it is like.
Visiting with babies and toddlers
If you're heading to Kauai with a baby, the Limahuli Garden would be a great place to put your child in a baby carrier while you walk around. It's definitely not stroller-friendly.
I'd also think twice about visiting with toddlers. If your toddler tends to run off, I'd save this for another trip. There are lots of places for little ones to trip or step on native plants. However, it would be an awesome place to bring a toddler who would hold your hand or stay close.
Restrooms
There are restrooms in a separate building near the visitor center. Our whole family made a stop here, and they have the best-smelling soap ever!
What to wear
You'll definitely want to wear sturdy shoes to explore Limahuli Garden. I wore athletic shoes, and my son wore closed-toe hiking sandals.
We all also wore big straw sun hats because the sun was super strong when we went. Bug spray and sunscreen would also be helpful.
Kauai Botanical Gardens FAQs
How many botanical gardens on Kauai are there?
There are 5 beautiful Kauai botanical gardens. These include the Allerton Garden, Limahuli Garden and Preserve, Na Aina Kai Botanical Gardens, McBryde Garden, and the Princeville Botanical Gardens.
How long does it take to get to Limahuli Garden from Poipu?
If you are driving up to Limahuli Garden from Poipu, it will take you about 1 hour and 45 minutes with no traffic or road closures. It's best to pair this with a stop in Hanalei town and Hanalei Bay to maximize the drive to North Shore Kauai.
What's the best Kauai botanical garden worth visiting?
That's a tough call because they are all so pretty! We've been to most of them, and I have to say the Limahuli Garden and Preserve is a great stop because you can explore the entire garden in 1-2 hours and see sweeping views of mountains, oceans, and tropical plants. I find the Limahuli Valley to be the best natural botanical garden!
How long to spend at Limahuli?
You can enjoy this amazing place for a few hours! Take a look around at the native Hawaiian plants and authentic Hawaiian landscape with a self-guided tour. You can also go on a guided tour to enjoy the Limahula Garden Preserve.
Can you drive to Limahuli Garden?
Yes you can drive to the Limahuli Valley to enjoy this garden. They do have limited parking space, so it is best for guests to make reservations online. There is also a shuttle that visitors can take to get a discounted ticket to the garden!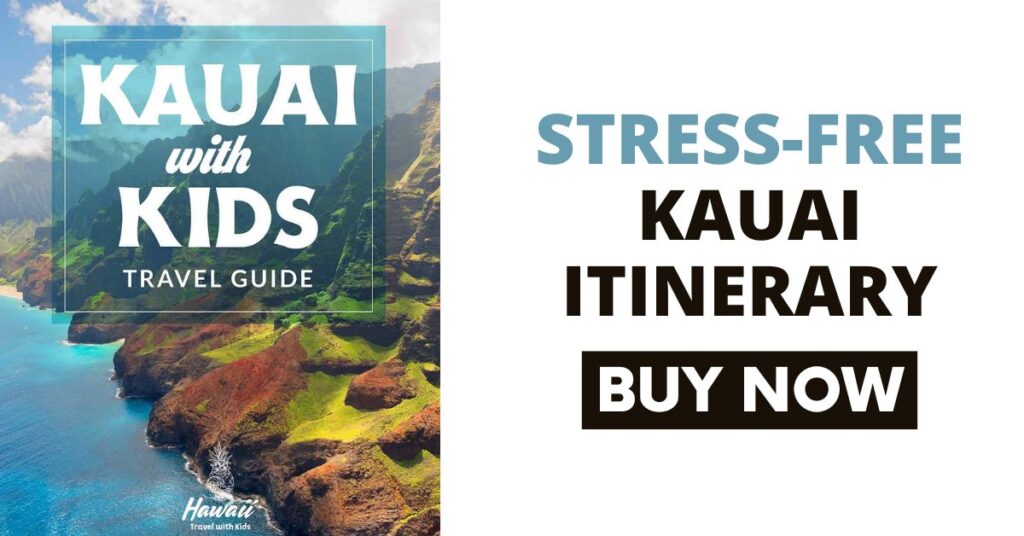 Kauai Botanical Gardens Wrap-Up
If you want to explore the beauty of Kauai without too much effort, Limahuli Garden is a must-see. It's perfect for kids who are looking for an easy hike with some amazing views, and it's also a great place to learn about Hawaiian culture and history on Kauai.
P.S. Join our Hawaii Travel with Kids Facebook group to get connected with other families planning a trip to Hawaii!