Heading to Maui and want to know the best Hawaiian beer to try? We've come up with the 10 best Hawaiian beer you should order on your next Hawaiian vacation. Scroll to see them all!
This best Hawaiian beer post was written by Hawaii travel expert Marcie Cheung and contains affiliate links which means if you purchase something from one of my affiliate links, I may earn a small commission that goes back into maintaining this blog.
Can you think of anything better than the ocean breeze, a sandy beach, and a glass of beer? Except for the local cuisine of Hawaii, there is nothing that feels more divine than a chilled glass of delectable Hawaiian beer.
If you find yourself visiting the tropical paradise with the most beautiful sunsets, you have to make sure you taste every one of the following delicious beers produced by the breweries in Maui.
Follow it up with some great surf sessions, and you will feel like you have achieved nirvana.
The most favorite beers of the masses range in intensity and flavor. Those include some of the widely preferred ones from Maui Brewing Company but the one constant in all is the divine taste.
Here are some of the best beer in Maui!
Don't have time to read a bunch of Hawaii blog posts and reviews? Here are some of our top picks for visiting Maui.
Popular Maui Tours/Activities
Favorite Maui Resorts/Hotels
Andaz Maui (this is a luxury resort with the best luau on Maui)
Honua Kai Resort & Spa (this is one of our personal favorites because there are tons of pools and there are condo options)
Want to Rent a Car in Hawaii?
One of the best places to rent a car in Hawaii is Discount Hawaii Car Rental because they get the best rates from top national companies like Alamo, Dollar, Thrifty, Avis, Enterprise, Budget, and Payless.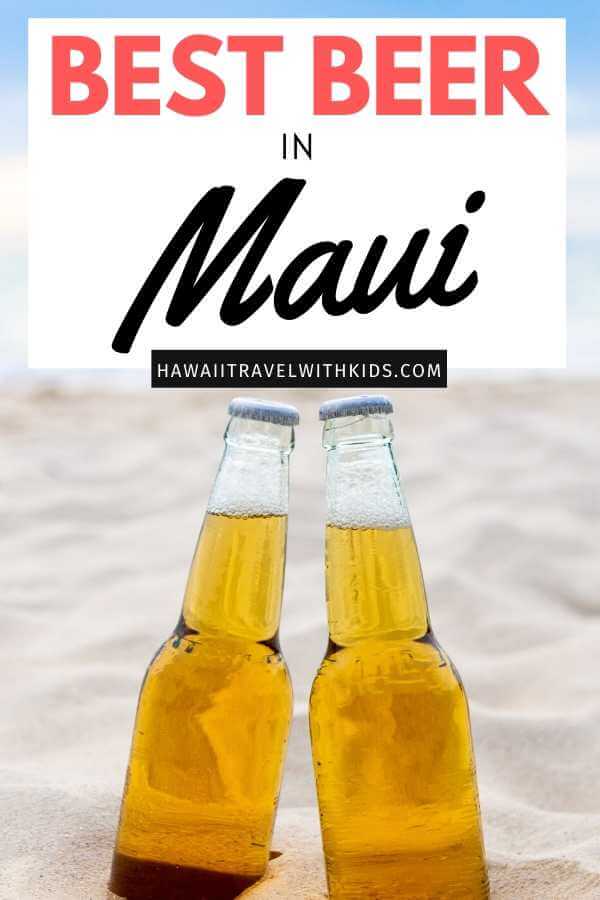 Here are 10 Best Hawaiian Beers to Enjoy on Maui
These are some of the best Hawaii beer to try during your trip to Maui.
1. Bikini Blonde Lager
This beer is a production of Maui Brewing Co. There is no better definition of summertime than the Bikini Blonde Lager in Hawaii. It has a smooth, refreshing, and light texture and flavor, which closely resembles an American Lager.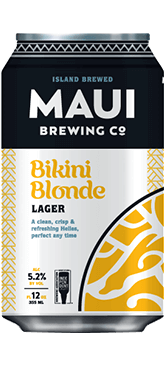 This beer is a filtered version of Munich Helles Lager. The fermentation incorporates Munich malts, Pilsner, and Floral hops. The Bikini Blonde Lager is your perfect accompaniment to the tropical summer sunshine.
This Maui-made beer comes in a pack of six eco-friendly cans. All you have to do is grab a pack and savor the fresh and light flavor of this fine brew.
To add to the appeal, this Maui beer is all the more famous for winning a medal at a beer competition held by LA Internationals.
As a visitor, you can also avail of the tours offered by the company, visit their tasting room, try out the tastings, and also get yourself a beer token from the brewpub.
Stop by a brewery on Maui and try this out.
2. Hula Hefeweisen
Daytime is so much fun with Hula Hefeweisen by Kona Brewing Company. This company serves handcrafted Hawaiian lagers and ales. They have a Brewpub called Kailua-Kona situated on the Big Island of Hawaii.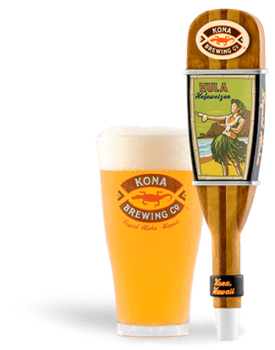 Hula Hefeweisen is one of the most ordered beers of the Brewpub because it is a traditional weissbier, a Bavarian-style of brewing beer. It has a distinct herbal or banana flavor and aroma.
This particular feature of the Kona beer is attributable to a yeast strain added specifically to create the banana essence during the brewing process.
3. Big Swell IPA
Ever since the Indian Pale Ales came around in 1800, beer breweries all around the world have supplied them in huge quantities. However, it is rare when you can find qualitative ales anywhere, despite the huge number of availability.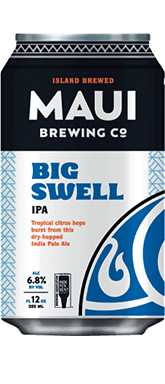 The Big Swell IPA is one of the finest from the Maui Brewing Company. It is the best selling beer in Hawaii, and for good reason.
This cold Hawaii beer is rich in flavors and contains four different kinds of malted barley and Northwestern hops. Hoppy beers are popular and if you enjoy a glass of hoppy, the Big Swell IPA is a great choice.
The eco-friendly cans contain a malty, smooth flavor and deliver a punch of hoppy flavors. With a draft or a can, you are bound to get many bold, hoppy, big, smooth flavors. That is a lot of hoppy to last you.
4. White Mountain Porter
The Big Island Brewhaus is the highest brewery of Hawaii, at 2,764 feet above sea level. This brewhouse offers its visitors delectable handcrafted beer, paired with a stunning view of the Bamboo Beer Garden.
Thomas Kern, the former brewmaster and owner of the brewery, crafts the seasonal specialties and year-round favorites of the people. His motto has been 'brewing out of the box,' which is much evident in the taste of his production.
5. Coconut Hiwa Porter
Maui Brewing Company is one of the first to use coconut in brewing its beers. They use coconut instead of the typical extracts in the fermentation process.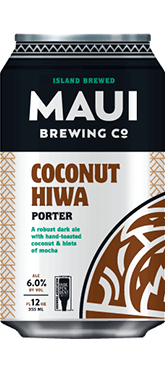 Additionally, the fermentation of the beer with six toasted coconut variants and hopes with malted barley.
As a result, what you get is a divine combination of chocolate, coconut, and coffee smelling beers. This is the setting, not too sweet but packed with massive flavors for your day on the beach.
This beer made in Hawaii is quite delicious!
6. Cocoweizen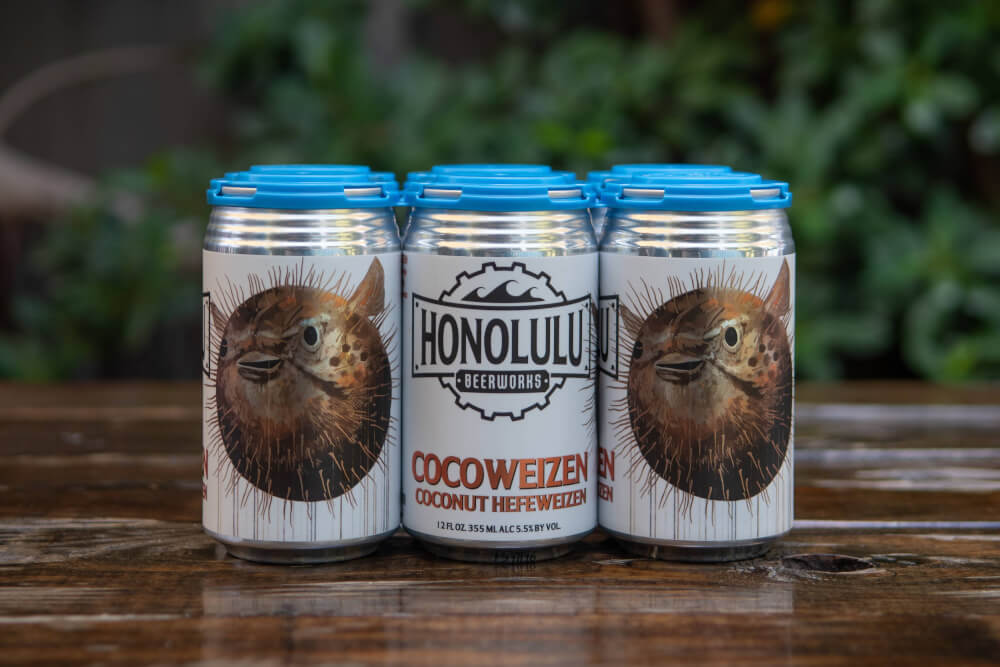 Cocoweizen is a specialty of Honolulu Beerworks. You can find the company on the island of Oahu but can order the beer in Maui. Charmayne Seidman and Geoff founded this brewhouse in 2014.
Beer lover communities and brew master's of Hawaii are totally enthralled with this brewery in the neighborhood, located right in the trendy area of Kaka'ako.
Ccocweizen by Honolulu Beerworks is available all through the year. This beer is German-styled and tastes of coconut toasted manually. The beer delivers a refreshing and light taste with just a hint of tropical aroma accompanying it. The beer note is refined all the more with the extremely delicate flavor of coconut.
7. Paniolo Pale Ale
Big Island Brewhaus is the highest brewery of Hawaii, as mentioned earlier. Paniolo Pale Ale is their strongest American Pale Ale offering. The name translates to "the Hawaiian Cowboy."
Visitors who enjoy hoppy, smooth flavor must try this brew, which consists of American hop blend and Maris Otter malt, a British ingredient. The flavor of this beer is not too overpowering nor too underwhelming for the taste buds.
Paniolo Pale Ale is comparable to Anchor Steam, Sierra Nevada Pale Ale, and Bass Pale Ale, so if you find yourself in the tropical paradise of Hawaii, make sure you pay homage to this warm and inviting local brewery during your stay.
It's another one of the best beers in Hawaii.
8. Kiawe Honey Porter
Kiawe Honey Porter is a product of Aloha Beer Company. This company is a pioneer of 'Craft Beer' in the beer community of Hawaii.
The brewmaster of Aloha Beer Community, Dave Campbell put together a unique assembly of beers, which are the embodiment of the classic lifestyle of Hawaii.
This company possesses its own Beer Hall, situated in Oahu. Freshly made favorites, including the Kiawe Honey Porter, are available at the Beer Hall.
This beer delivers a well-balanced combination of roasted chocolate and light honey flavors.
If you think you have slaved away enough to give yourself a grand treat, stop by the Hall and order a scoop of vanilla ice cream with your glass of Kiawe Honey Porter.
9. Pineapple Mana Wheat
We are all well familiar with the pineapple brand of Maui, the Maui Gold Pineapple. The fruit is a treasure of vitamins, containing thrice the amount of Vitamin C as compared to other pineapples.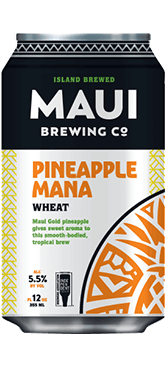 Maui Brewing Company produces a handcrafted beer, unfiltered ale in American style. The Pineapple Mana Wheat incorporates Gold Pineapples of Maui, which creates a refreshing and crisp flavor.
If your next beer shopping is for a relaxing, happy hour at the beach or your Sunday brunch gathering, make sure you load your cart with plenty of Pineapple Mana Wheat.
Locals and visitors alike vastly prefer this wheat ale on Maui, primarily because of its finishing with a slightly spicy flavor that goes along well with the hint of pineapple.
Stop by any of the breweries in Maui Hawaii and get one of these!
10. Aloha Spirit Blonde Ale
Waikiki Brewing Company produces Aloha Spirit Blonde Ale. This Hawaiian beer consists of two-row malt, which is slightly bitter but fresh in taste, handcrafted on Oahu Island.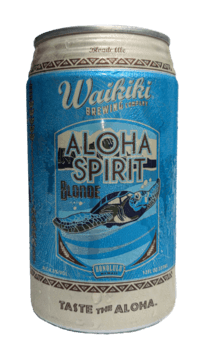 The fermentation of the ale involves Tettnang, Perle, and Cascade hop. The combination of these three flavors adds a slight hint of bitterness yet the malt tastes of a perfect balance of flavors when put together.
The enthusiasts of Hawaii beer can find the Aloha Spirit Blonde everywhere in the islands of Hawaii in addition to either of the brewpubs at Oahu: Kaka'ako and Waikiki.
The company brews the beers on-site and although you are not able to tour the brewery, you can, however, avail the beer tastings, which the brewmasters here offer.
The brewmasters not only give you beer tastings but also are more than happy to share details of the brewing process with the visitors and answer any questions they might have.
Best Maui Hawaiian Beer Tours
If you want to try some of the beers from Hawaii, why not check out any of the following beer tours:
Pineapple Tasting Tour: Farm, Winery, Distillery, Brewery Tours & Gourmet Lunch
Maui is known for its amazing pineapple and this tour takes you to see a real pineapple farm, the MauiWine winery to try pineapple wine, the Maui Brewing Co to taste locally crafted beer, and you'll get to try spirits at Hali'imaile Distilling.
Book your discounted Pineapple Tasting Tour
The Best Authentic Taste of Maui: Food Tour
While this is technically a food tour, they also provide locally brewed beers for guests to try alongside 17 other dishes. The food in Maui is amazing and I'm sure it pairs perfectly with the beer.
Book your discounted Taste of Maui tour
Hawaiian Beer FAQs
What beer do they drink on Hawaii Five-O?
They drink Kona Brewing Co. beer, which is one of the most popular beer in Hawaii. You can even buy cases of it at Costco in Hawaii and on the Mainland.
How much does a beer cost in Hawaii?
If you are going to a restaurant or bar in Hawaii, expect to pay anywhere from $4-7 for a beer. It's much cheaper to buy it at a grocery store in Hawaii.
Can you walk around with alcohol in Hawaii?
No, it's actually illegal to have open alcohol in your car, on the beach, or any other public area. That's not to say people don't do it, but please be aware that there may be consequences.
Is Kona Brewing really Hawaiian?
The beers on tap are brewed in Hawaii and all the others are made in other states.
Best Beer in Hawaii Wrap-Up
If you want to try beer from Hawaii, you cannot go wrong with any of these Maui beers.
Head to any of the best breweries in Maui, a grocery store, or a restaurant, try any of the Hawaiian beer brands, you won't regret that you did!
Local Hawaiian beer is quite amazing, so be sure to try as many Hawaii beer brands as possible during your trip.