Thinking about visiting Pearl Harbor with kids? Find out why you should definitely add the Pearl Harbor Aviation Museum to your Oahu itinerary!
This Pearl Harbor Aviation Museum post was written by Hawaii travel expert Marcie Cheung and contains affiliate links which means if you purchase something from one of my affiliate links, I may earn a small commission that goes back into maintaining this blog.
I have to start off this post by stating that my husband and I are huge airplane geeks. We always hit up airplane museums when we travel. In fact, we love them so much that we got married at the Museum of Flight in Seattle.
I only mention this because I want to make sure you understand just how impressed we are with the Pearl Harbor Aviation Museum.
We first visited about 11 years ago (when it was still called the Pacific Aviation Museum) and it left such an impression on us that we made it a point to go with our 4 year old and 7 year old on our most recent trip to Pearl Harbor.
In this post, I'm sharing my personal tips and tricks for exploring this Hawaii aviation museum with kids. I think it's one of the coolest kid friendly Oahu museums totally worth checking out.
I also chatted with Kalli Abernathy, who is the Director of Marketing at the Pearl Harbor Aviation Museum. She works alongside a dedicated team – including colleagues, donors, members, and community partners – to steward the only World War II battlefield on American soil.
She provided some of the extra "insider" information that will help you plan your Pearl Harbor trip.
Keep scrolling to find out why you need to add the Pearl Harbor Aviation Museum to your Oahu itinerary!
This is my Pearl Harbor Aviation Museum review.
Get your Pearl Harbor Aviation Museum tickets HERE!
Don't have time to read a bunch of Hawaii blog posts and reviews? Here are some of our top picks for visiting Oahu with kids.
Best Kid-Friendly Oahu Tours/Activities
Best Kid-Friendly Oahu Resorts
Want to Rent a Car in Hawaii?
One of the best places to rent a car in Hawaii is Discount Hawaii Car Rental because they get the best rates from top national companies like Alamo, Dollar, Thrifty, Avis, Enterprise, Budget, and Payless.
Want to skip all the planning and just access my detailed Oahu Itinerary complete with daily schedules, kid-friendly activities, and travel hacks? Click the button below.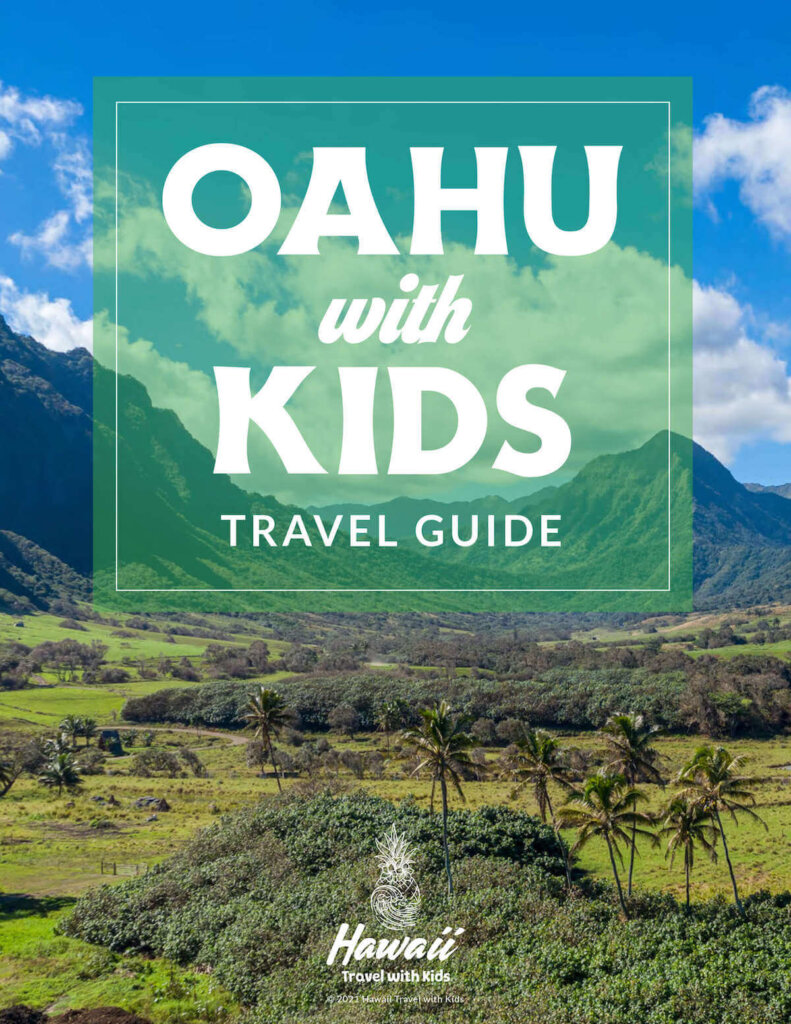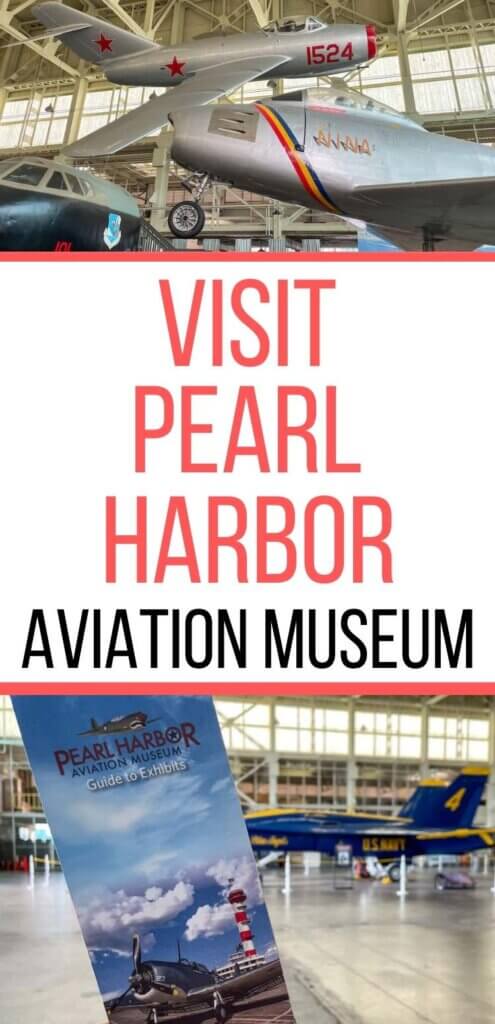 What to Expect When You Arrive at the Ford Island Aviation Museum
Here is how to get to Pearl Harbor Aviation Museum and what to expect when you arrive:
Pearl Harbor Shuttle
When you arrive at Pearl Harbor, you'll need to leave your bags at their baggage lockers and then go through security. The locker fee is $6.00 per bag or $7.50 per large bag and/or luggage. Clear bags (like for sporting events) are okay to bring into Pearl Harbor.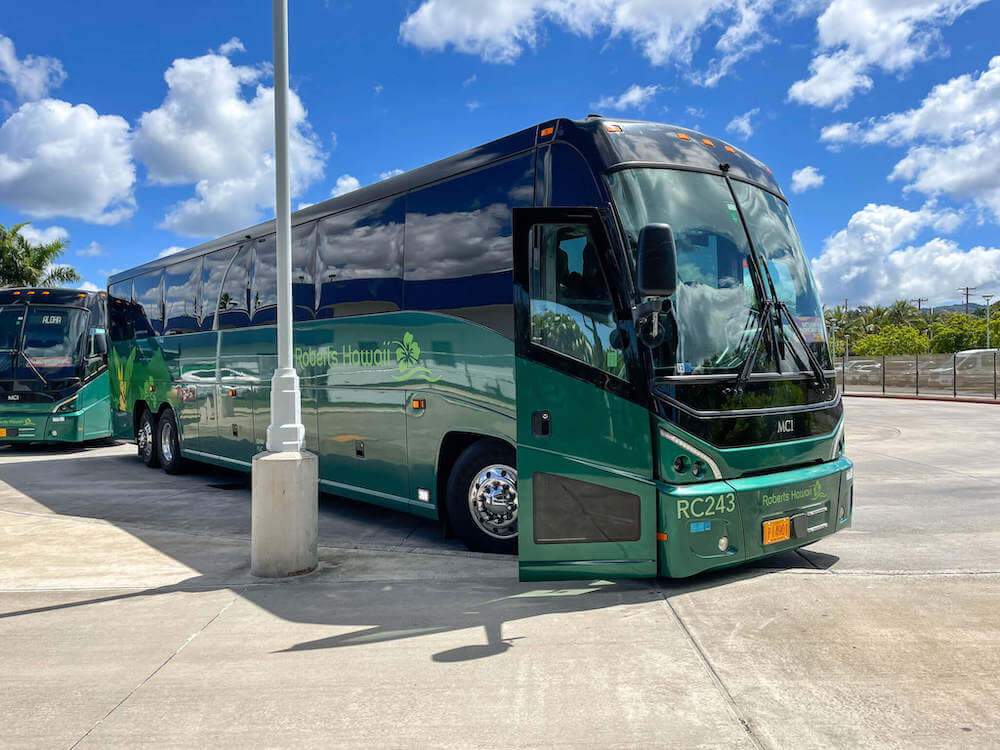 Once you've made it through security, turn right and wait for the Pearl Harbor Shuttle to pick you up.
It's a fairly short shuttle ride. The first stop will be the USS Battleship Missouri. You can either do this first (if you have tickets) or stay on the shuttle for the next stop (the Pearl Harbor Aviation Museum).
The shuttle will drop you off right in front of the museum entrance.
Hangar 37
This is the main exhibit area of this Pearl Harbor museum. Once you go past the ticket booth, there's a really cool vintage postcard mural that sort of sets the tone of the Hawaii Air Museum. You'll feel a bit like you are in 1940s Honolulu.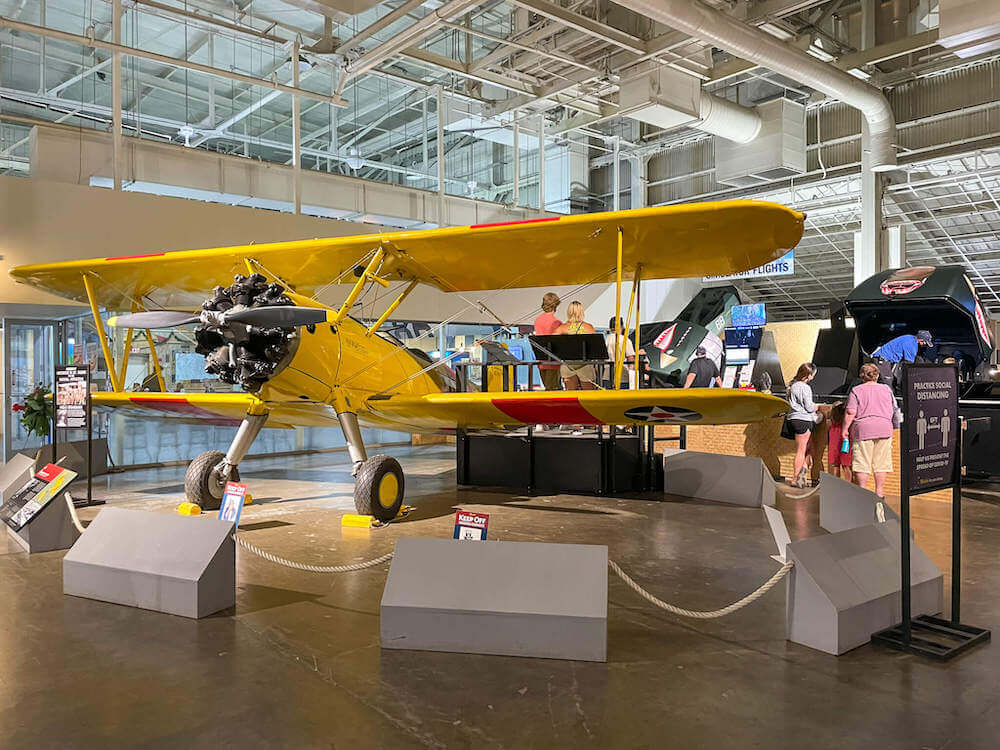 There are a bunch of WWII-era planes on display with information about how they were used. These include both American and Japanese aircraft.
One of the coolest exhibits features the story of a Japanese aircraft that crashed into Ni'ihau (the forbidden island).
Hangar 37 is also where you can normally catch their award-winning documentary "East Wind Rain" in the museum theatre.
Fighter Ace 360 Flight Simulators
If your family likes hands-on experiences when touring museums, you'll definitely want to get tickets for the Pearl Harbor Aviation Museum flight simulator.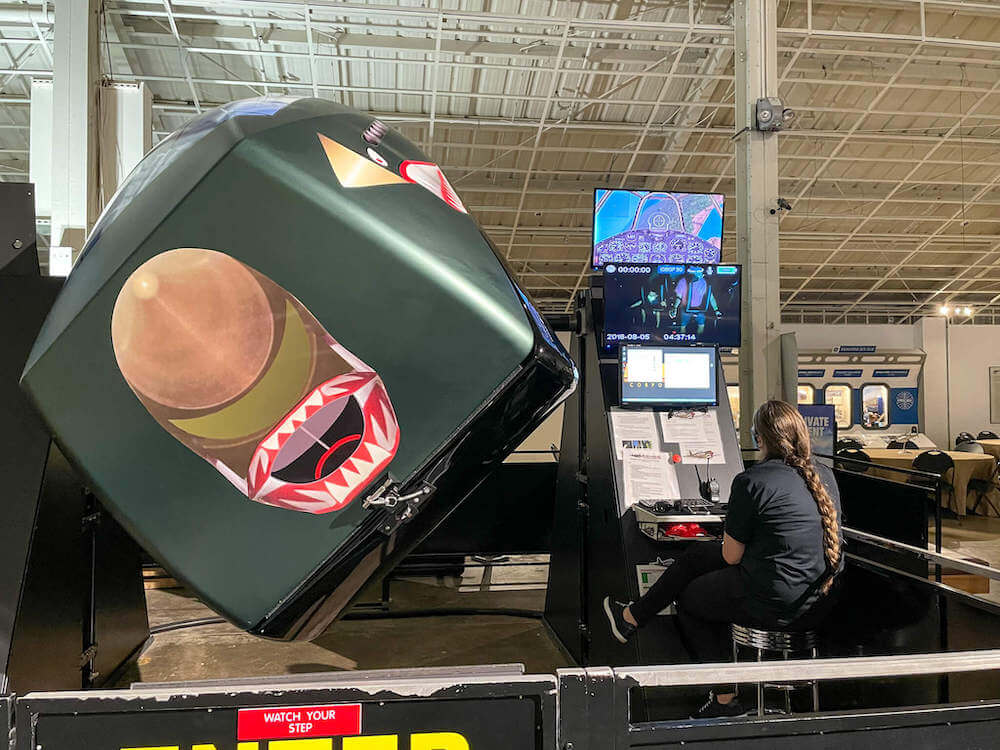 These are brand-new, state-of-the-art simulators that move 360 degrees over two axes for complete immersion in what flying really feels like!
My husband did it with our 4 year old and they both had a total blast! However, my 7 year old tried it on his own and exited out of the Pearl Harbor flight simulator after maybe a minute. You'll want to use your judgment if it's a good fit for your family.
Top of the Tour Tour
In May 2022, the museum opened the Top of the Tour Tour for visitors to check out the Ford Island Control Tower.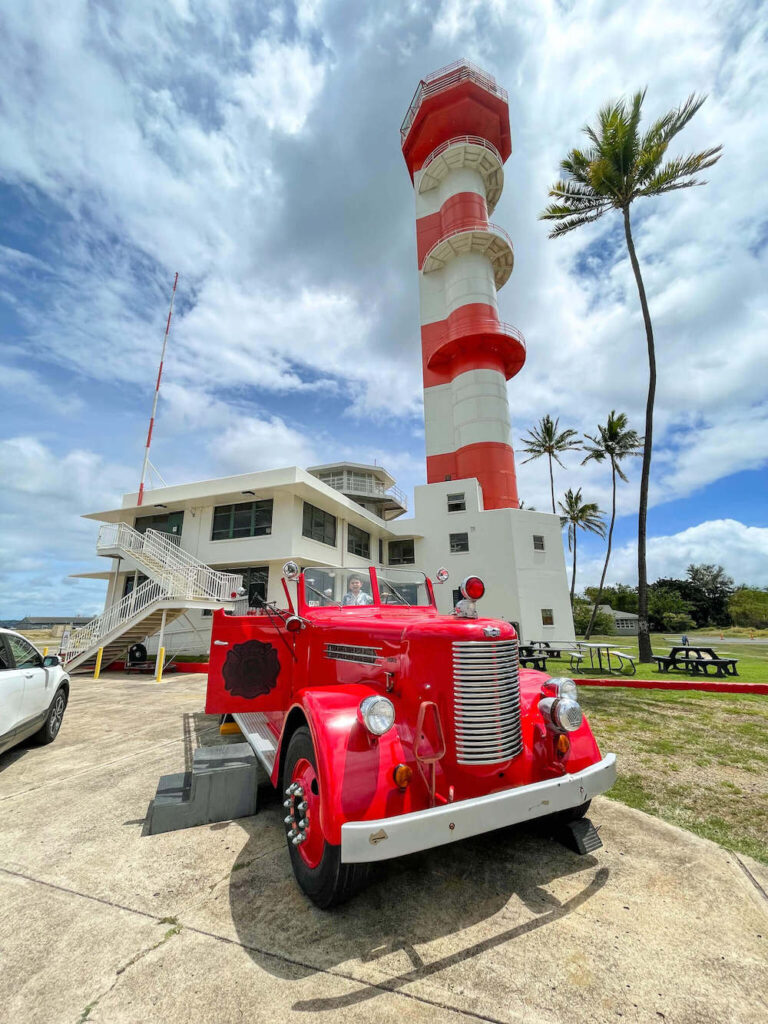 They only offer 120 tickets each day, so you'll definitely want to secure them ahead of time if you want to check it out. It's not included in your Pearl Harbor Aviation Museum ticket. You can add it on or do it separately.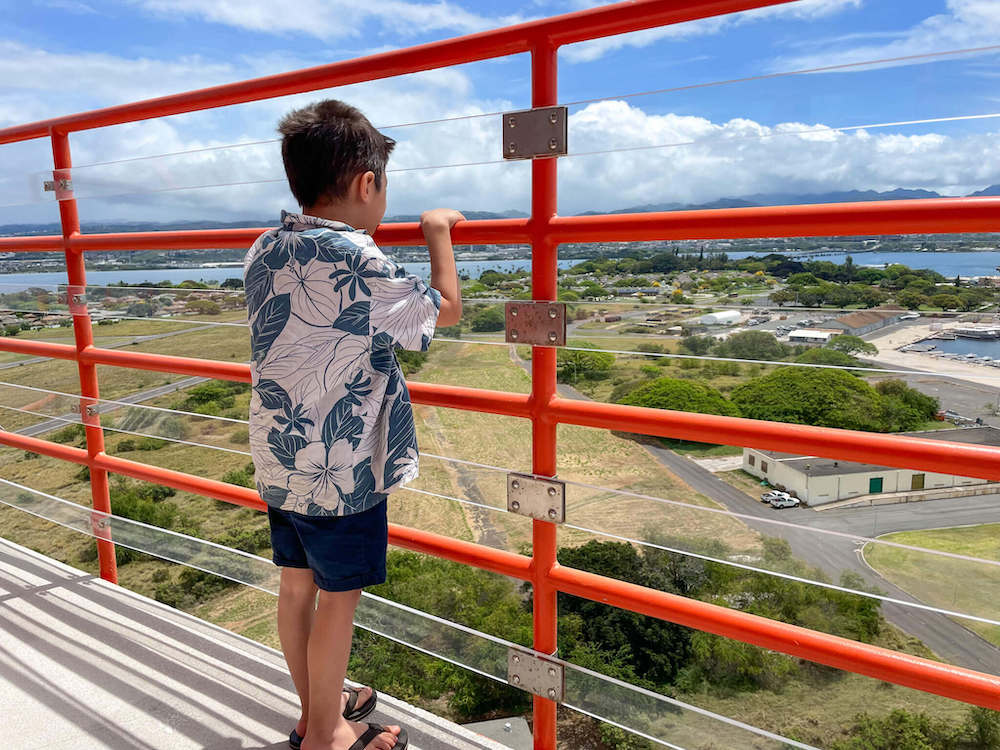 You'll enter a tiny 3-person elevator that will take you most of the way up. Then, you'll get out and climb up some fairly steep stairs. I believe kids must be at least 42 inches for safety reasons.
Once you get to the top, there's an awesome 360-degree view of Pearl Harbor and Honolulu.
And on the ground level, there's a neat museum dedicated to when the tower was a fire station.
Laniakea Cafe
If your family needs to re-fuel, the Laniakea Cafe is a pretty safe bet. They have classic American food like burgers, hot dogs, and french fries.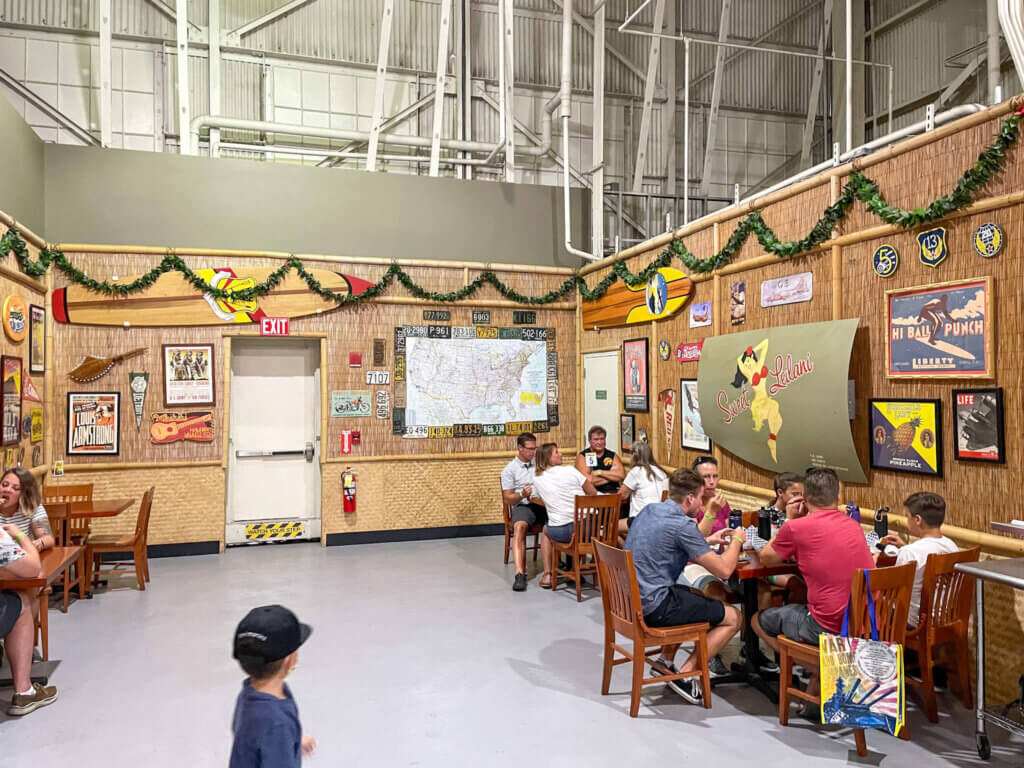 It's also the only air-conditioned dining option at Pearl Harbor, so it's really nice for a sit-down meal where everyone can rest and re-energize.
I think it's one of the cutest cafes because there is a lot of WWII-era artwork and decorations that are really cool to look at.
Gift Shop
Our family LOVES museum gift shops and this Pearl Harbor Museum gift shop is really cool. They have a ton of airplane-themed items and a decent kids section. And they have a bunch of Top Gun merchandise.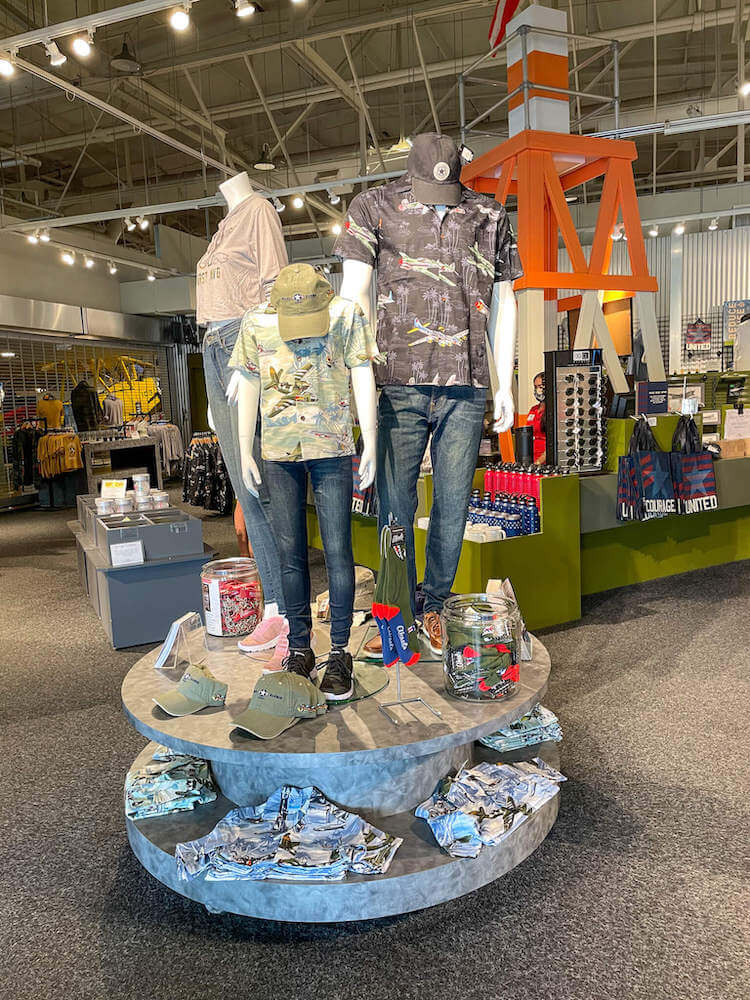 While this gift shop is similar to other airplane museum gift shops, there are tons of Pearl Harbor souvenirs you'll want to grab. The Aloha shirts shown above are perfect for airplane enthusiasts or history buffs!
Bob Hope: An American Treasure Exhibit
Once you exit Hanger 37, you'll see an Army truck in front of a little building. This is the Bob Hope: An American Treasure exhibit.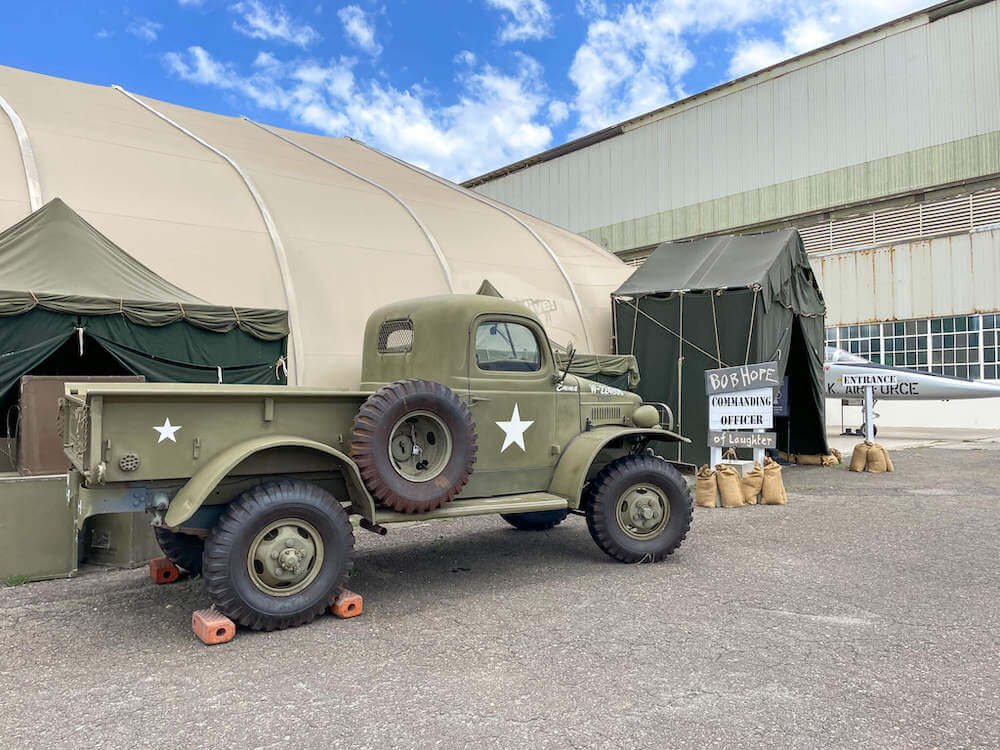 Opened in March 2020, this is an extensive exhibit covering the life and career of famed entertainer, Bob Hope, who made an extraordinary impact on the morale of military members in WWII.
Adults will probably find this a bit more interesting than younger kids, but it's a great opportunity to talk about the U.S.O. and entertain the troops during WWII and beyond.
This is a traveling exhibit, so I'm not sure when it will move to another location.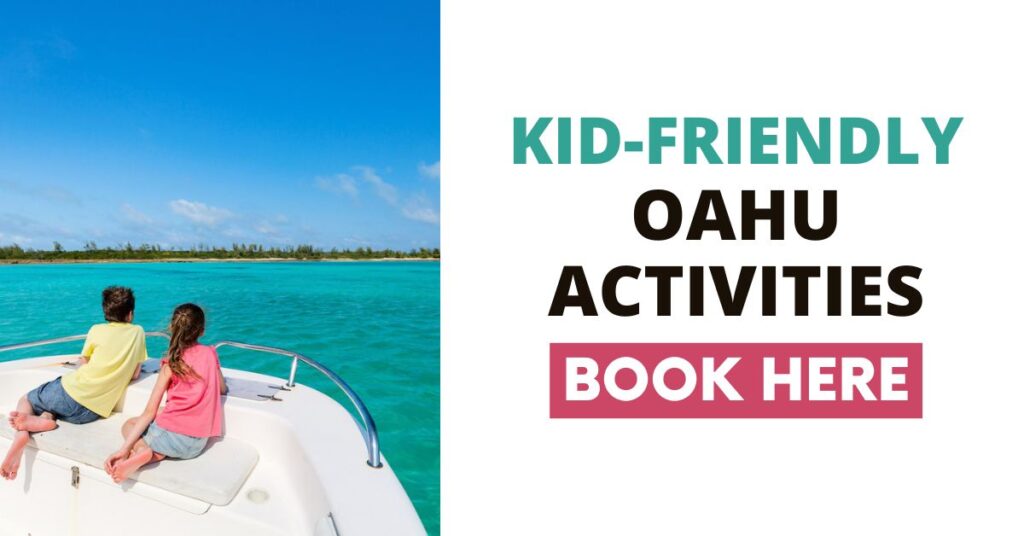 Hangar 79
This is the exhibit area furthest from the museum entrance, and while you might be tempted to skip it, DON'T!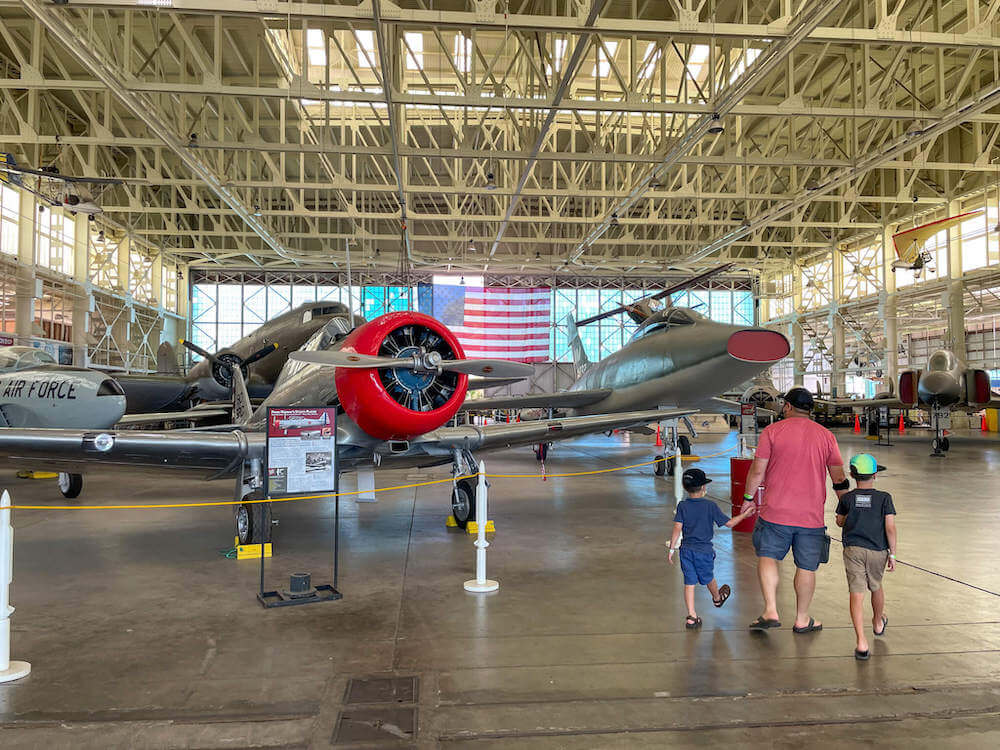 Here, you can see the actual bullet holes that pierced the windows of the hangar during the attack at Pearl Harbor. It's pretty crazy to see.
The aircraft here include planes from the Korean War, Vietnam War, and the Gulf Wars. Plus, you can see a Blue Angel (which my kids LOVED)! We loved looking at all the Pearl Harbor airplanes.
Swamp Ghost
If your family loves Disney as much as our family, you'll definitely want to be on the lookout for the Boeing B-17E Flying Fortress Swamp Ghost.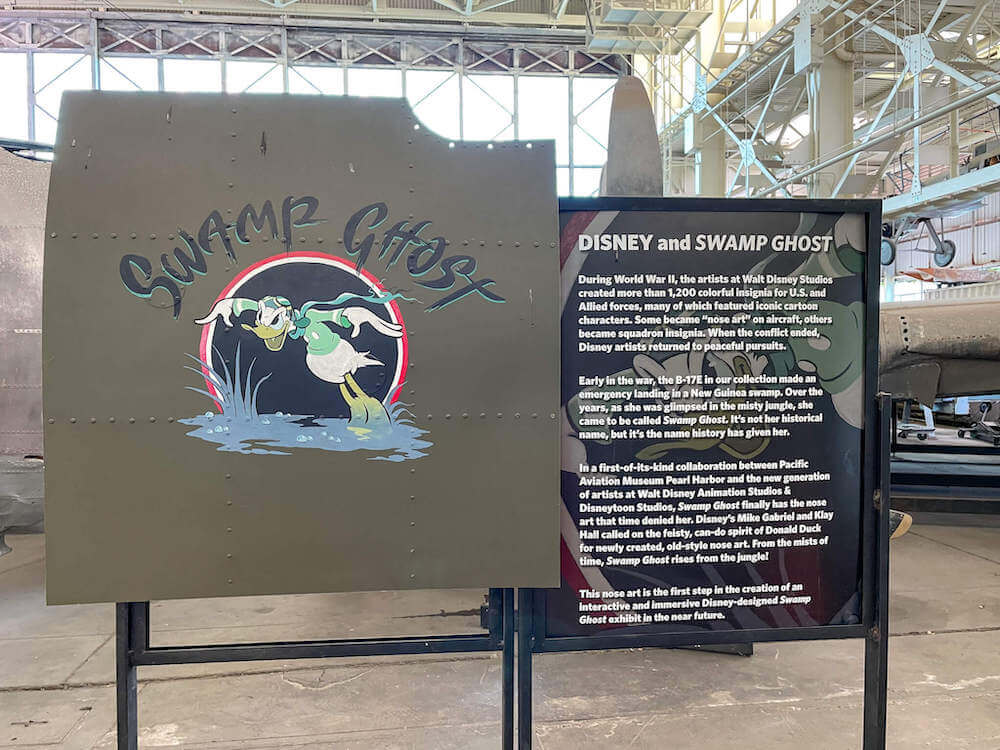 It features an image of Donald Duck in green aviation gear that was painted on the plane in 2015 in collaboration with artists from Walt Disney Animation Studios & Disneytoon Studios. You'll also be able to find Swamp Ghost merchandise in the gift shop.
Shealy Restoration Shop
As the name suggests, this is an actual airplane restoration shop where you can see real-time restoration of WWII airplanes. If you take a Ford Island Air Museum tour, you'll be able to get a much closer look.
The History of Pearl Harbor and How it Relates to Aviation
Here are some interesting facts on the Pacific Aviation Museum Pearl Harbor has to offer:
Why is the Pearl Harbor Aviation Museum Important?
The Pearl Harbor Aviation Museum Hawaii is important because it is the place where bombs first fell in the December 7, 1941 attack on Pearl Harbor that launched America into World War II.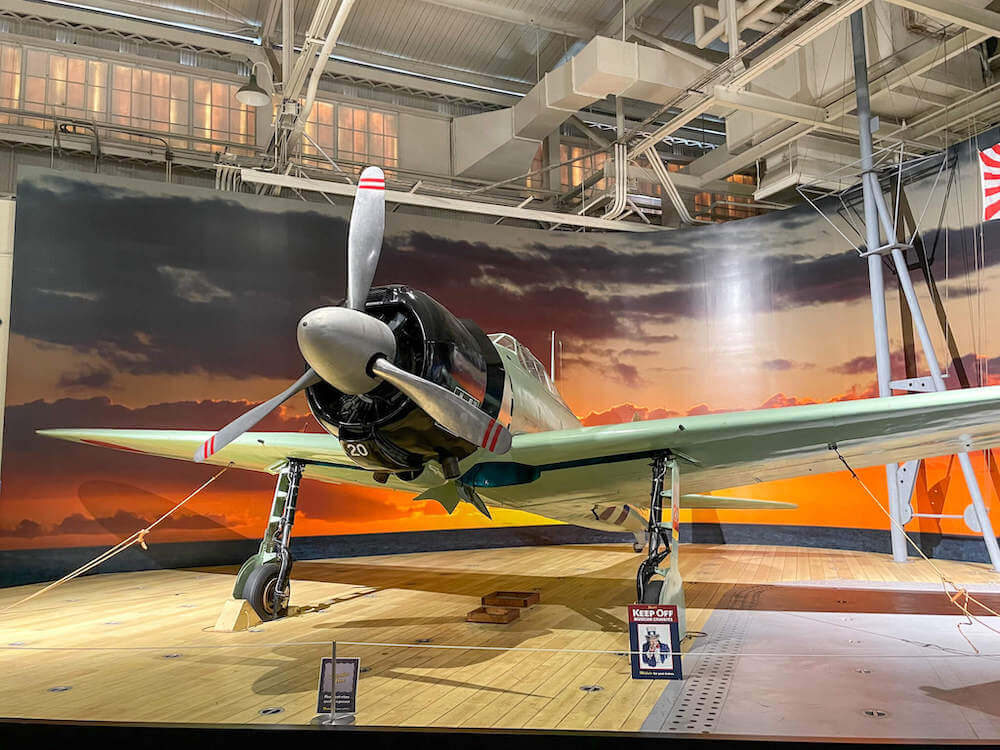 Among all the historically significant museums and monuments at Pearl Harbor, this Museum is the only one that was the site of an active battlefield – only here did an outnumbered force rise up in defense of Pearl Harbor.
And this site bears these scars to this day. Strafing marks on the tarmac and bullet holes in their hangar windows speak to the horror of the day. It's offset only by the incredible displays and exhibits that showcase the innovation, hope, and resiliency of the American people and their allies in the war years.
Why You Should Visit the Pearl Harbor Aviation Museum with Kids
You haven't really visited Pearl Harbor until you've visited this museum. Each of the four Pearl Harbor Historic Sites – the USS Arizona, the Battleship Missouri, the USS Bowfin Submarine and Park, and the Pearl Harbor Aviation Museum – share a different and unique aspect of the Dec. 7, 1941 attack.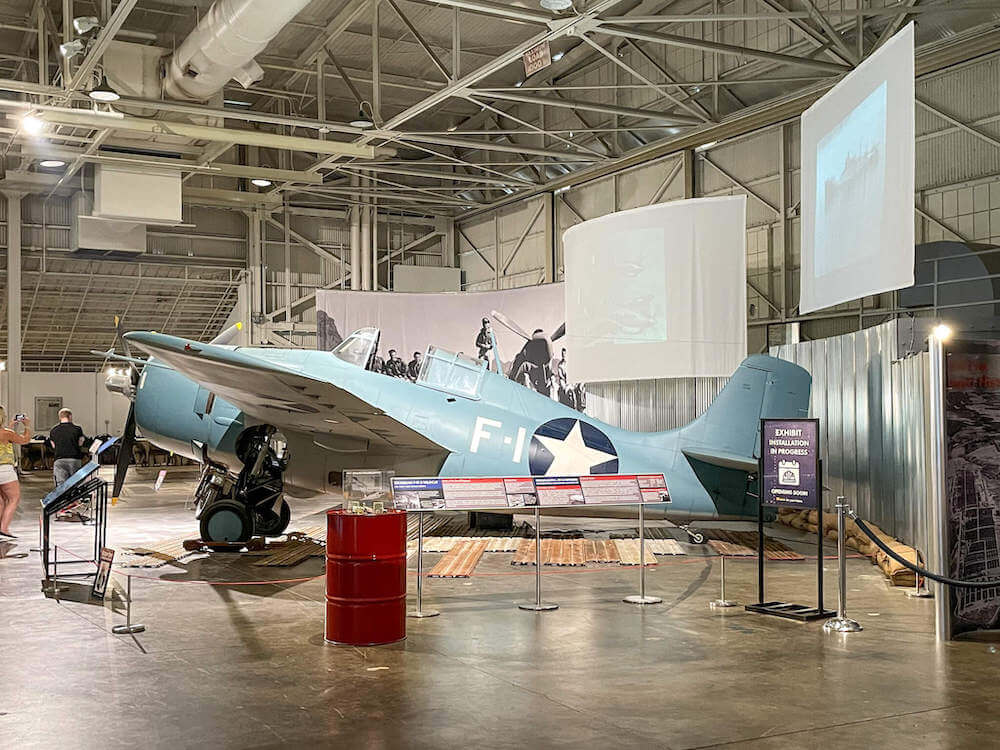 The Pearl Harbor Aviation Museum Oahu is home to more than 50 aircraft and exhibits. Plus, you'll be able to see windows that were pierced by bullets during the attack on Pearl Harbor. It's an easy way for kids to really understand that they are stepping into a piece of history.
I really do think this is one of the best museums in Honolulu for families. Check the latest rates and more information.
Tips for Visiting this Honolulu Museum as a Family
Pearl Harbor can be an exhausting day for families trying to explore all the historic sites with kids. So, I thought I'd jot down a few tips to help others realistically plan their Aviation Museum Honolulu adventure.
Plan 1-2 Hours
Depending on how much your family is interested in airplanes, you can easily see the entire Pacific Air Museum in 1 or 2 hours. But, you'll want to add in extra time if you plan on doing the flight simulator (in case there is a line) or if you want to eat.
Enjoy a Sit Down Lunch
The Pearl Harbor Aviation Museum is home to Laniakea Café, the only air-conditioned, sit-down restaurant at Pearl Harbor. It's also the only place at Pearl Harbor to enjoy beer and wine, as well as tasty sandwiches, salads, burgers, and lunch plates.
Read a Kids Book About Pearl Harbor
Sometimes it helps kids stay engaged at a museum if they already have some background information. So, you might consider getting an age-appropriate Pearl Harbor book for kids so they understand the Dec. 7, 1941 attack and why the U.S. entered WWII.
A few book suggestions include:
You can buy these books at the Pearl Harbor Aviation Museum gift shop, grab them on Amazon, or check them out from your local library.
Why Should Tourists Visit the Pearl Harbor Aviation Museum on their Oahu Vacation?
Pearl Harbor is a place that matters. As time marches on it is easy to relegate the horrors of World War II to the pages of history. What visitors need to understand about Pearl Harbor is that the story continues…with you.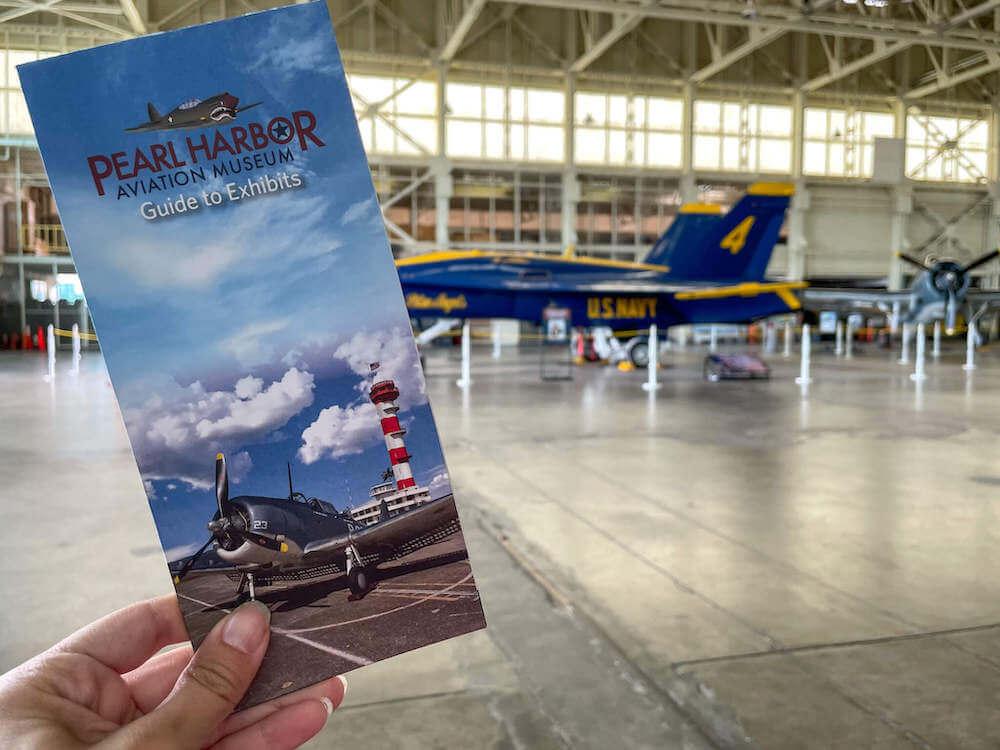 The Pearl Harbor Aviation Museum hopes their guests are inspired by the heroes, the sacrifices, the innovations, and the spirit of our Greatest Generation, and apply those same characteristics to the issues we face today.
Want to Combine with Other Pearl Harbor Historic Sites?
Most people choose to explore several Pearl Harbor attractions in one day. The easiest one to pair with the Pearl Harbor Aviation Museum is the USS Battleship Missouri. That's because it's also located on Ford Island and you'll take the same shuttle.
However, you can also book a package that includes all 4 Pearl Harbor Historic Sites (USS Bowfin Submarine, USS Arizona Memorial, USS Battleship Missouri, and the Pearl Harbor Aviation Museum). Check latest rates and more information.
And if you think that your family would prefer to do a guided Pearl Harbor tour, this one is the top-rated tour to take. It also includes transportation from Waikiki so it's perfect for people who aren't renting a car or don't want to deal with driving to Pearl Harbor. Check latest rates and more information.
Are you staying in Waikiki but don't have a rental car? There are lots of ways to get from Waikiki to Pearl Harbor that are easy and stress-free.
Aviation Museum Pearl Harbor FAQs
Where is the Pearl Harbor Aviation Museum located?
It's located on Historic Ford Island, 319 Lexington Boulevard, Honolulu, Hawaii 96818. It's part of the Pearl Harbor Historic Sites.
Where is the best parking for the Pearl Harbor Aviation Museum?
Self-parking is available at the Pearl Harbor Aviation Museum for visitors who have base access. For visitors without base access, a free shuttle runs every 15 minutes between the Pearl Harbor Historic Sites, including the Pearl Harbor Air Museum.
What are the best museums in Oahu for families?
Besides the Pearl Harbor Aviation Museum, I'd recommend Bishop Museum. They have some amazing hands-on exhibits, a really cool planetarium, and lots of special events and exhibits. The Polynesian Cultural Center is also a great option. It's basically a living history museum with tons of kid friendly activities and attractions.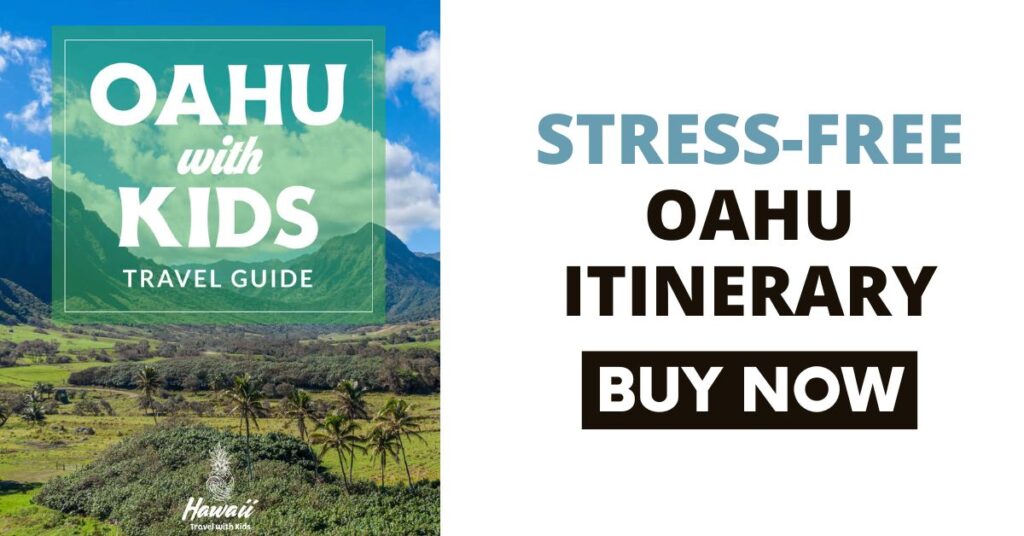 Oahu Aviation Museum Wrap-Up
Now you know all about this awesome Honolulu Aviation Museum, hopefully, you will book some tickets to enjoy it for yourself during your trip to Oahu.
It is one of the many kid-friendly things to do in Hawaii, so make it a family activity to explore the planes in Pearl Harbor. It is the best airplane museum Oahu has to offer!
P.S. Join our Hawaii Travel with Kids Facebook group to get connected with other families planning a trip to Hawaii!