Are you looking for the best things to do in Oahu with kids? Keep scrolling to read my honest review of the Waikiki Atlantis Submarine tour near the Hilton Hawaiian Village.
This Waikiki Atlantis Submarine Tour Review contains affiliate links which means if you purchase something from one of my affiliate links, I may earn a small commission that goes back into maintaining this blog.
When my oldest was a toddler, we did the Atlantis Submarine ride on Maui. It was a cool way to explore under the sea without going snorkeling.
So, when I started planning our Oahu itinerary, I was excited to see that there was a Waikiki Atlantis Submarine tour.
It's definitely different than the one we did on Maui, even though it was the same company. That's cool because it was a new experience and one of the most popular Hawaii activities for kids.
I ended up booking this Oahu activity first thing on a Saturday morning so we'd have the rest of the day to do whatever we wanted. Plus, my kids are usually in better moods in the morning vs afternoon.
Keep scrolling to find out what to expect on this Oahu submarine tour and whether or not I think it's worth it for your next trip to Hawaii with kids.
Ready to book? Get discounted tickets HERE!
Don't have time to read a bunch of Hawaii blog posts and reviews? Here are some of our top picks for visiting Oahu.
Popular Oahu Tours/Activities
Favorite Oahu Resorts/Hotels
Want to Rent a Car in Hawaii?
One of the best places to rent a car in Hawaii is Discount Hawaii Car Rental because they get the best rates from top national companies like Alamo, Dollar, Thrifty, Avis, Enterprise, Budget, and Payless.
Want to skip all the planning and just access my detailed Oahu Itinerary complete with daily schedules, kid-friendly activities, and travel hacks? Click the button below.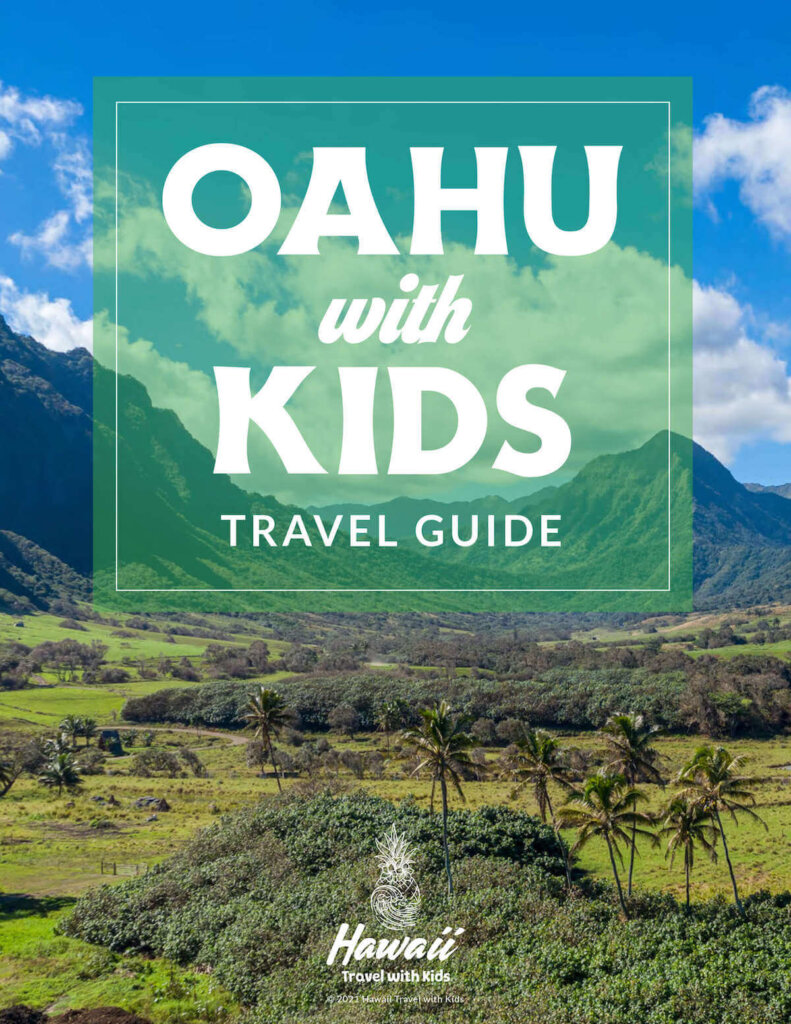 Oahu Submarine Tour FAQs
Is the Waikiki submarine one of the top things to do in Hawaii with kids?
If you are looking for a kid friendly Oahu boat ride that doesn't involve snorkeling, this Waikiki submarine ride is a great option. It's a unique opportunity to go on an underwater adventure for one of the coolest tours on Oahu. Plus it's one of the easiest things to do in Waikiki beach with younger kids.
What are some other activities in Waikiki for kids?
While a lot of people think of Waikiki as a place with tons of restaurants, nightlife, and entertainment, there's actually a lot of Waikiki activities for families. A few ideas of what to do in Waikiki with kids include watching the free hula shows at the Royal Hawaiian Center, riding the Waikiki Trolley, and exploring the Honolulu Zoo.
What are the age restrictions for the Waikiki submarine?
Children must be a minimum of 36 inches in height to ride the Oahu submarine. Typically kids who are 3-4 years old are that height.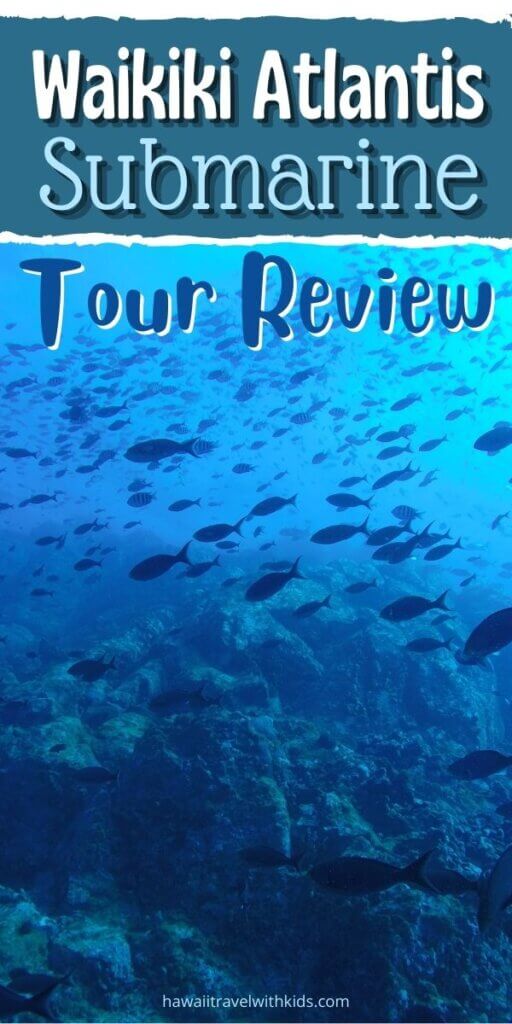 History of the Atlantis Submarine
Atlantis Submarine Adventures has been operating in Hawaii since 1988. They have some of the largest and most technically advanced passenger submarines in the world.
They are pretty passionate about sustainable tourism and their Hawaii submarines are battery powered and don't pollute the water. And in an effort to not disturb the sea life, they are also really quiet.
Atlantis Submarines currently have dive sites in Waikiki, Oahu; Lahaina, Maui; and Kona, Big Island. These are popular activities for a Hawaii vacation with kids.
What to Know about the Waikiki Atlantis Submarine Before You Go:
Arrival
The Oahu Atlantis Submarine tour is located at the Hilton Hawaiian Village at the edge of Waikiki.
You'll either need to park at the hotel or get dropped off there. Your parking will be validated if you purchase the $4 discount card. They will not validate valet parking.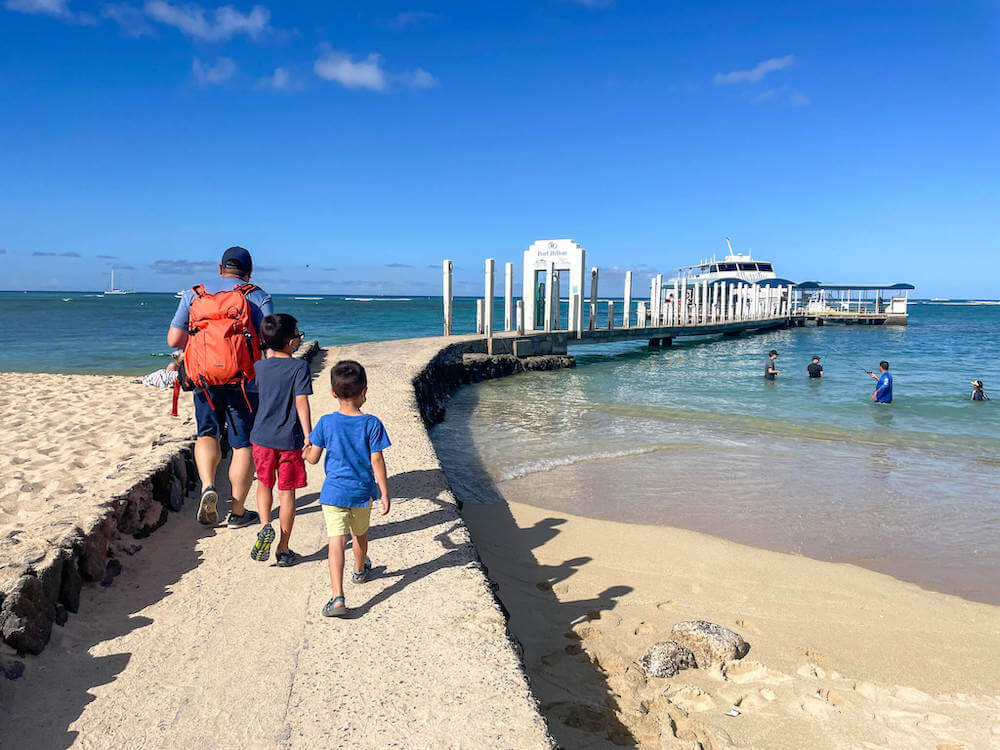 When you enter the resort, you'll head straight back to the beach area. You'll either see the Atlantis boat bobbing in the water or you'll see the check in station.
After you're checked in, you'll have the option of taking a photo with their photographer (that they will sell to you later) or you can snap some selfies.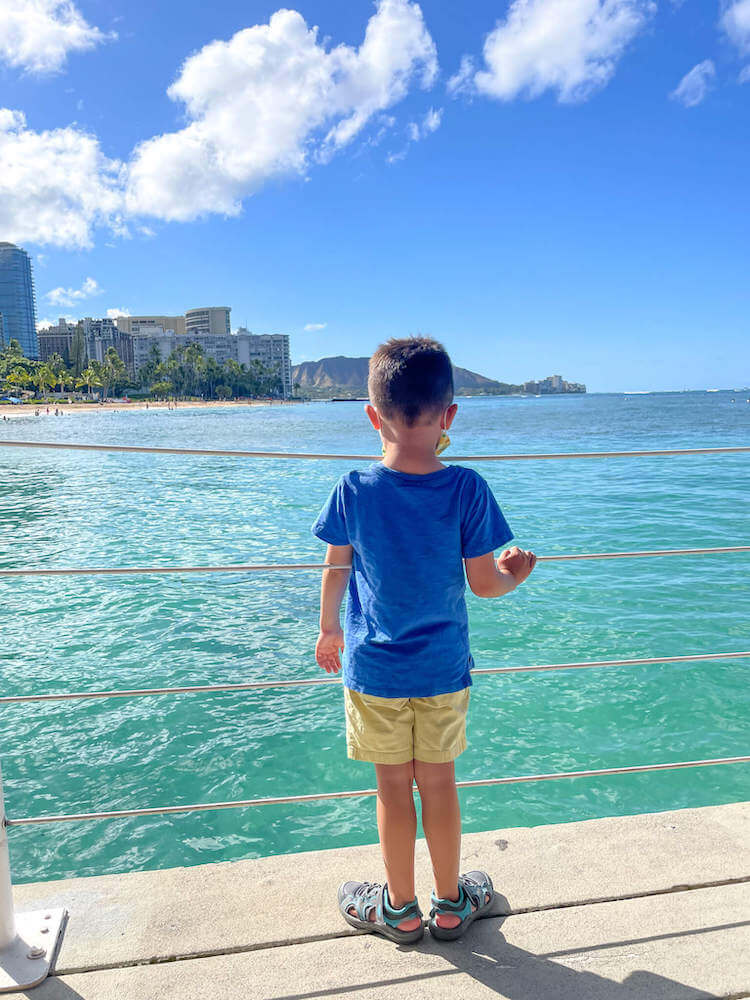 Then, you'll hang out on the dock until it's time to leave. There are lots of seats and it's all under cover. Plus, you can see all sorts of Waikiki beach activities.
There's also a trash can, in case you need to throw out any food/beverage before your Waikiki Atlantis Submarine ride.
Short Boat Ride to Submarine
Since Waikiki Beach is pretty shallow, the only way to enter the submarine is to take a boat about a mile away from shore.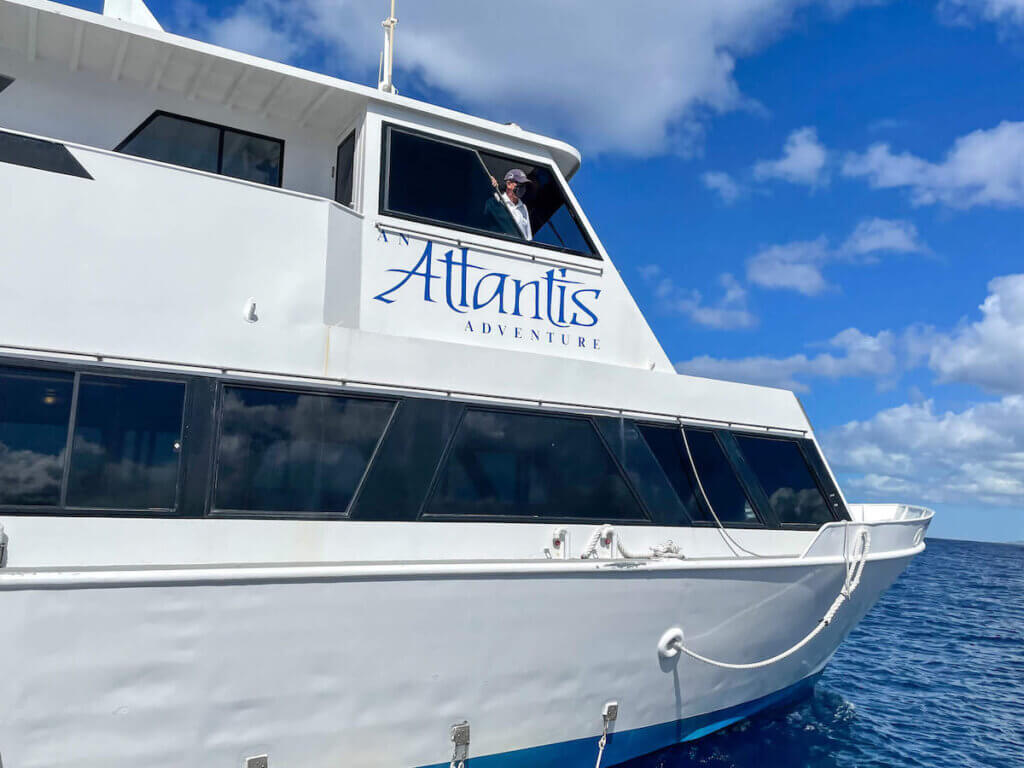 Think of it as a short Oahu boat tour. It takes about 10-15 minutes and you'll get some incredible views of Waikiki and Diamond Head.
There's an upstairs open-air section or you can stay downstairs. There are plenty of seats in both areas.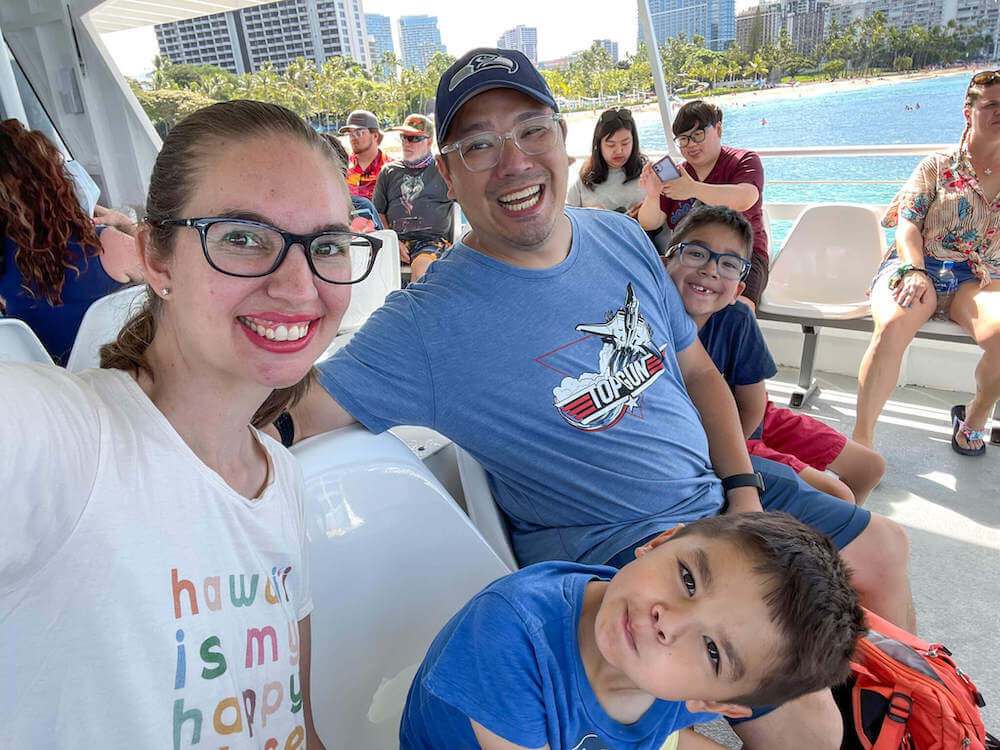 During this boat ride, you will watch a brief safety video, have the option to use the restroom (there are NO restrooms on the sub), and grab a cup of water to stay hydrated.
Once you reach the submarine, they will direct you to a line so you can climb down into the submarine with the rest of your group.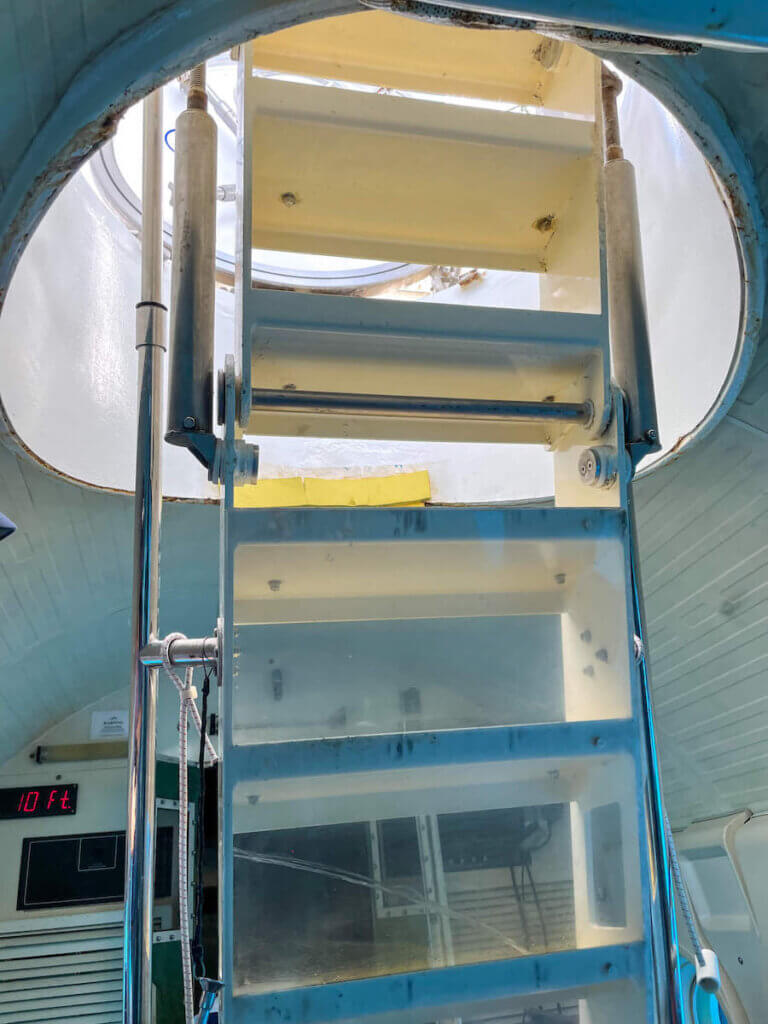 You will need to turn around and climb down a steep 11-step ladder. My 4-year-old was scared and my husband ended up holding him as they climbed down together.
Submarine Tour in Waikiki
Once you enter the submarine, you'll see there are giant circular windows right in front of you. Two people share one large window.
You'll start off going 60 feet under water and then you'll gradually get to about 100 feet under the sea.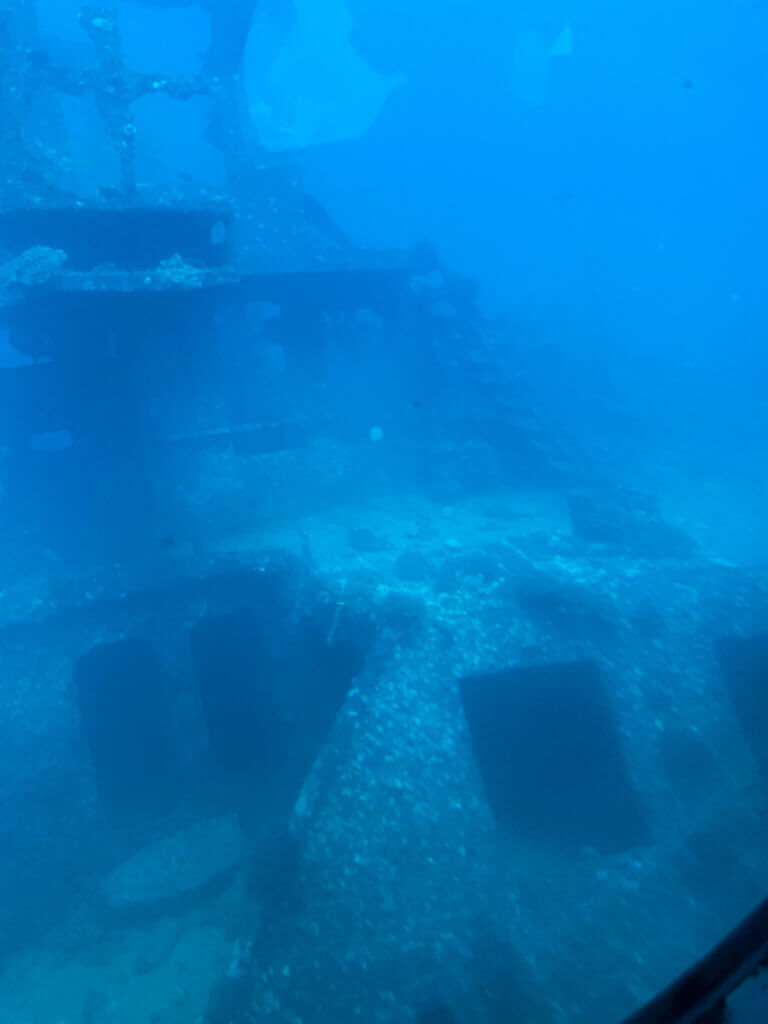 The major Waikiki attractions are the under water Japanese seaweed farms, a WWII plane wreckage, and a sunken ship.
The captain is really good about turning around so that the other side of the submarine can also get views of the items under water.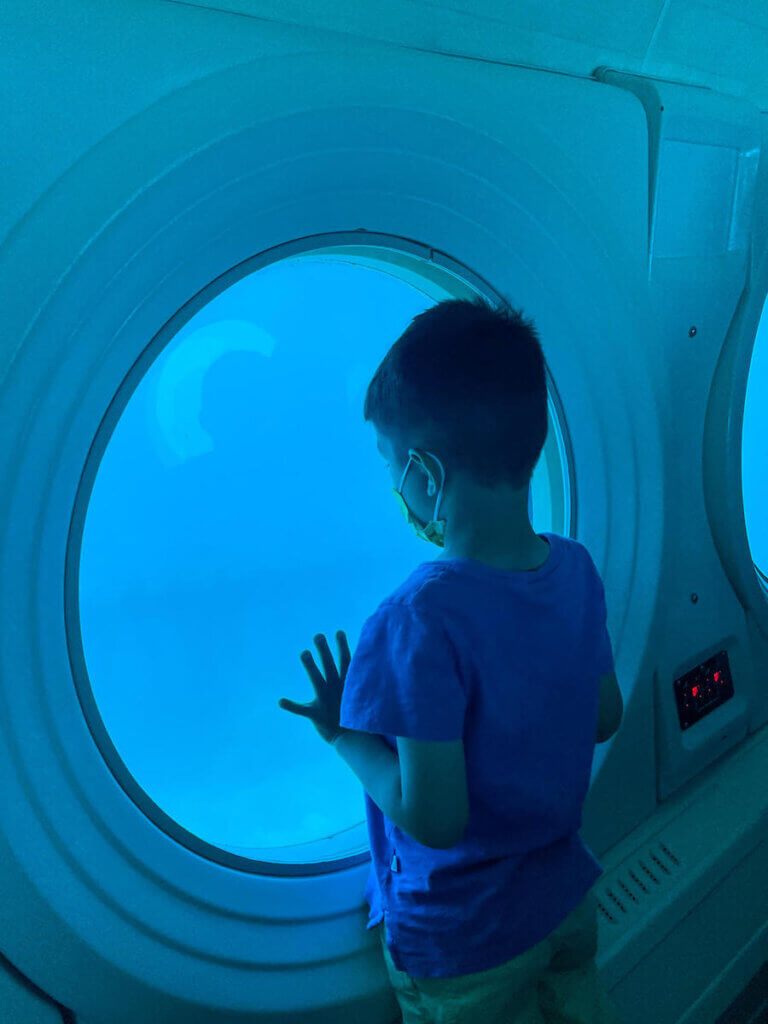 Along the way, you'll see fish and other sea creatures pop up sporadically. Because this is an ocean, they cannot guarantee you'll see any fish, sea turtles, or whales. It varies so much from tour to tour.
We ended up seeing a few schools of fish, a sea turtle, and a couple of random fish that went in front of our window.
Waikiki Boat Ride to Shore
After the submarine ride, we climbed back out and onto the boat. They had us wait on the lower deck because they already had the next group loaded on the upper deck.
After wiping down all the windows, they got the next group on board and we were able to move up to the upper deck.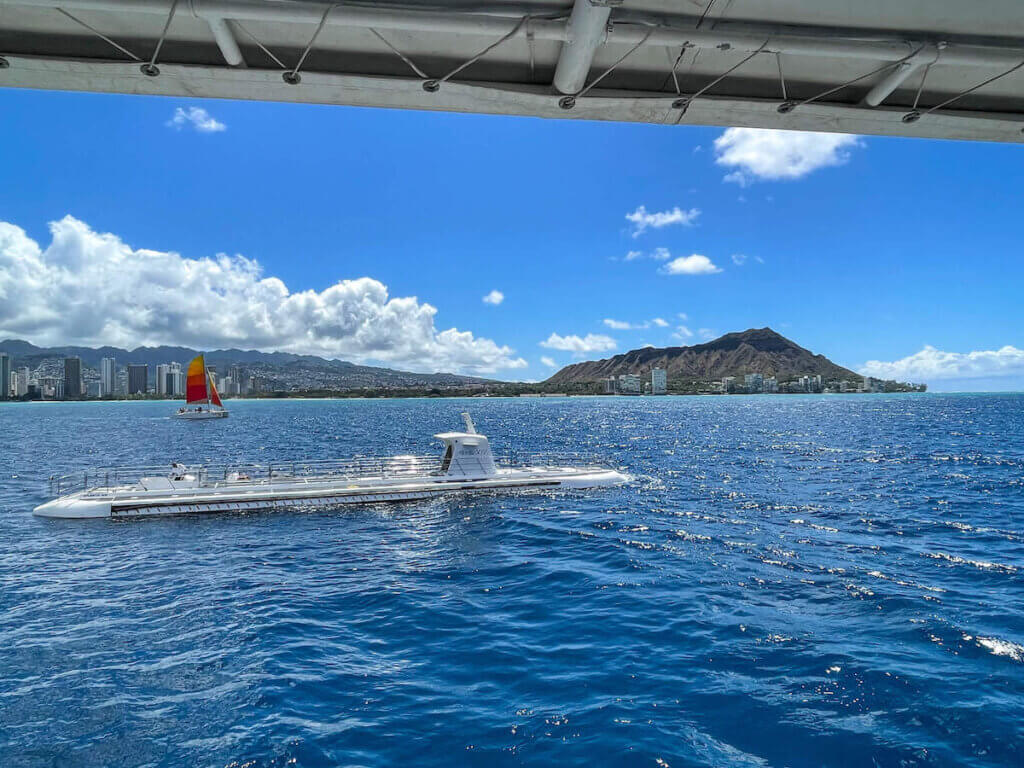 I highly recommend going upstairs because you'll have an up close view of the submarine going under water. It's really cool!
And the rest of the Waikiki boat ride is nice and relaxing.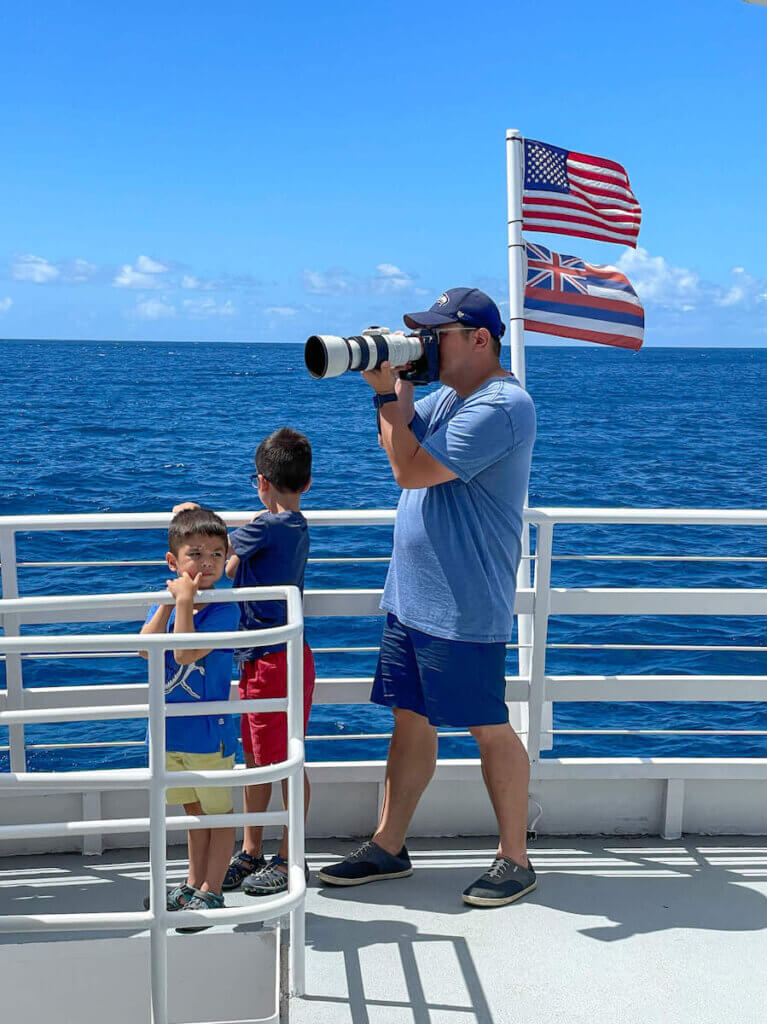 How does the Oahu Submarine Tour Compare with the Maui Submarine Tour?
When we were on Maui a few years ago, the submarine left directly from the harbor in Lahaina instead of taking a boat to get there.
While underwater in Maui, they had divers who would come up to the windows and show passengers different sea life so everyone got an up-close view.
But, the Maui one doesn't show any wreckage and the submarine isn't as big or as new.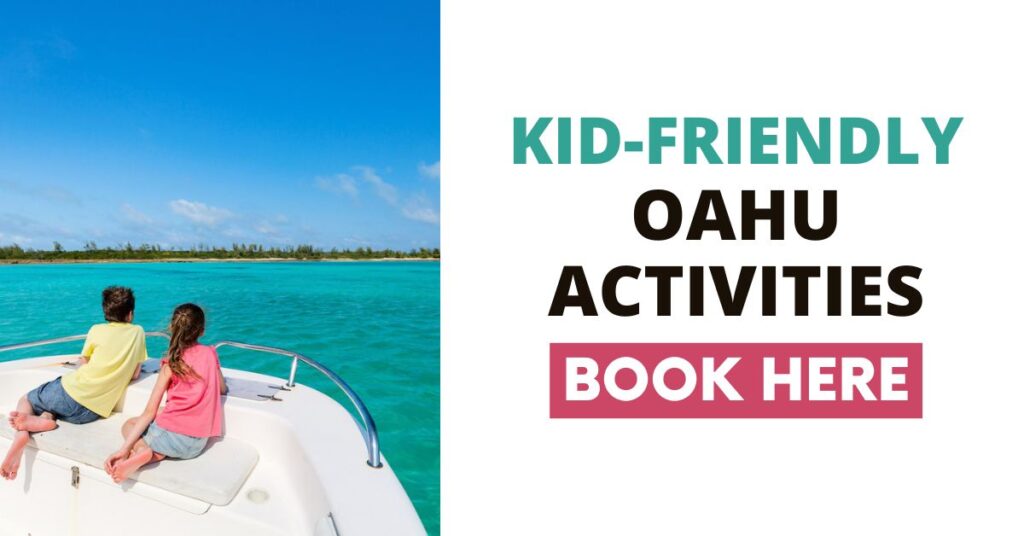 The Highlight of this Waikiki Tour and What You Should Look Out For
For our family, the highlight was simply going on a submarine ride. It's something unique that many people never have the opportunity to do. And my kids LOVED bragging to everyone they met that they had ridden in a real submarine.
There are a couple of things families should know:
There are NO restrooms on the submarine. So, I encourage you to have your family use the facilities on the boat instead.
If anyone in your family gets motion sickness, they do have sick bags that are easily accessible.
The ladder to get in/out of the submarine is super steep and they want kids to do it on their own instead of being carried.
How Much Does it Cost and Where is it Located?
You'll find the Oahu Atlantis Submarine tour at the Hilton Hawaiian Village in Waikiki. You can get discounted parking ($4) for 4 hours of parking in the self-parking garage.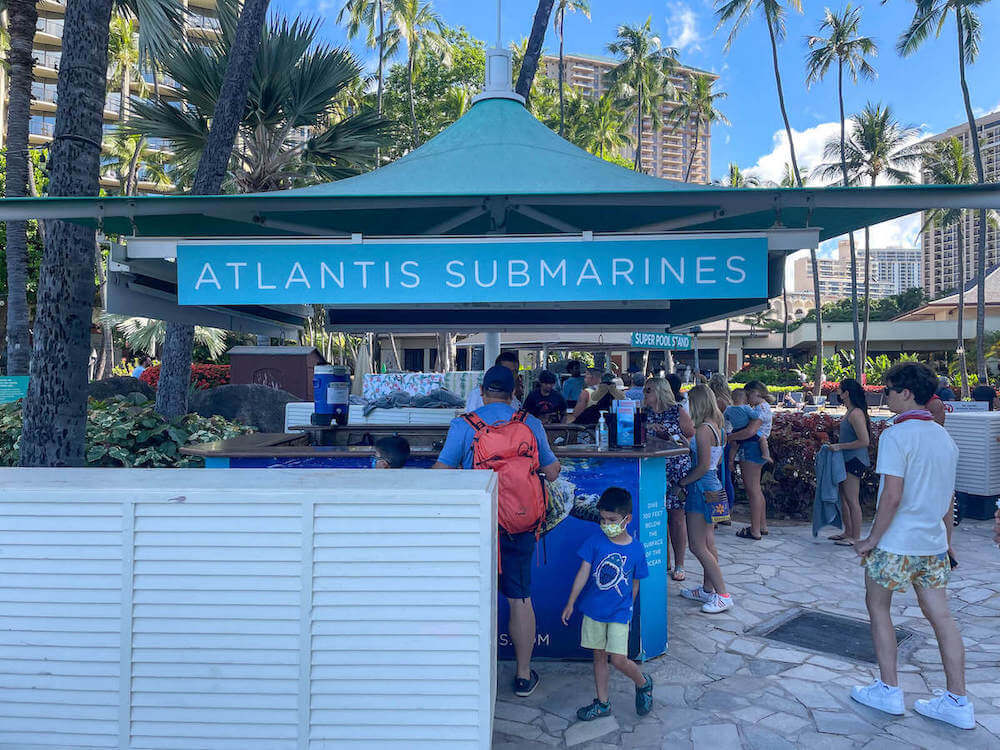 There's a ticket kiosk near the swimming pool area at the resort if you want to get same day tickets. From there, you'll walk along the beach and onto the dock for the formal check in.
If you are sure you want to do this Oahu activity, you'll definitely want to reserve tickets before you arrive. Adult tickets start at $133 and children start at $66.50. Prices vary depending on restrictions/availability.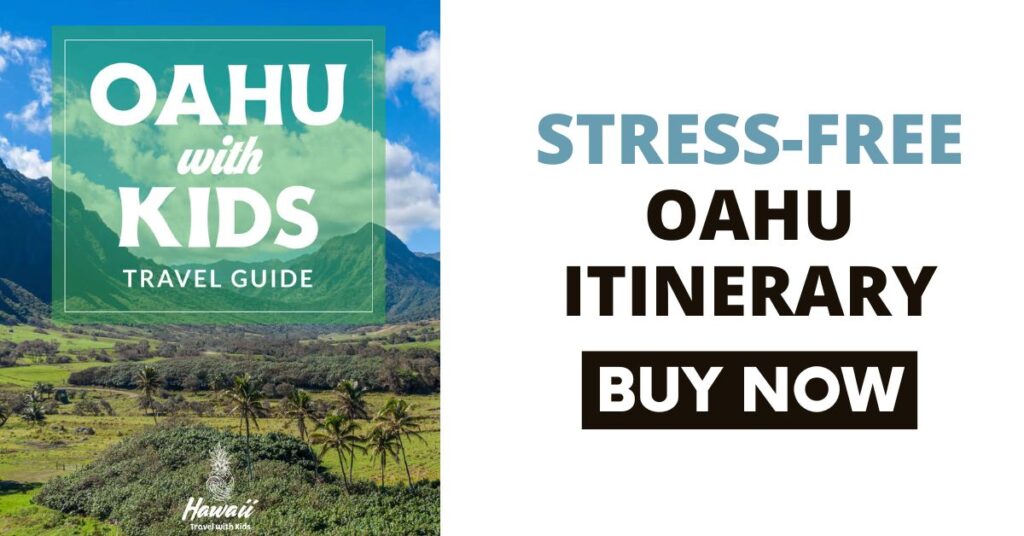 So, is the Waikiki Atlantis Submarine Worth It?
If you'd like a kid friendly boat ride in Waikiki where you can see gorgeous views of Diamond Head and ride in the biggest submarine in the world to see wreckage at the bottom of the ocean, then TOTALLY.
My kids really enjoyed the experience of the little boat ride and getting to ride in an authentic submarine in Hawaii. In fact, they said it was one of the best Hawaii kids activities we did on our most recent trip.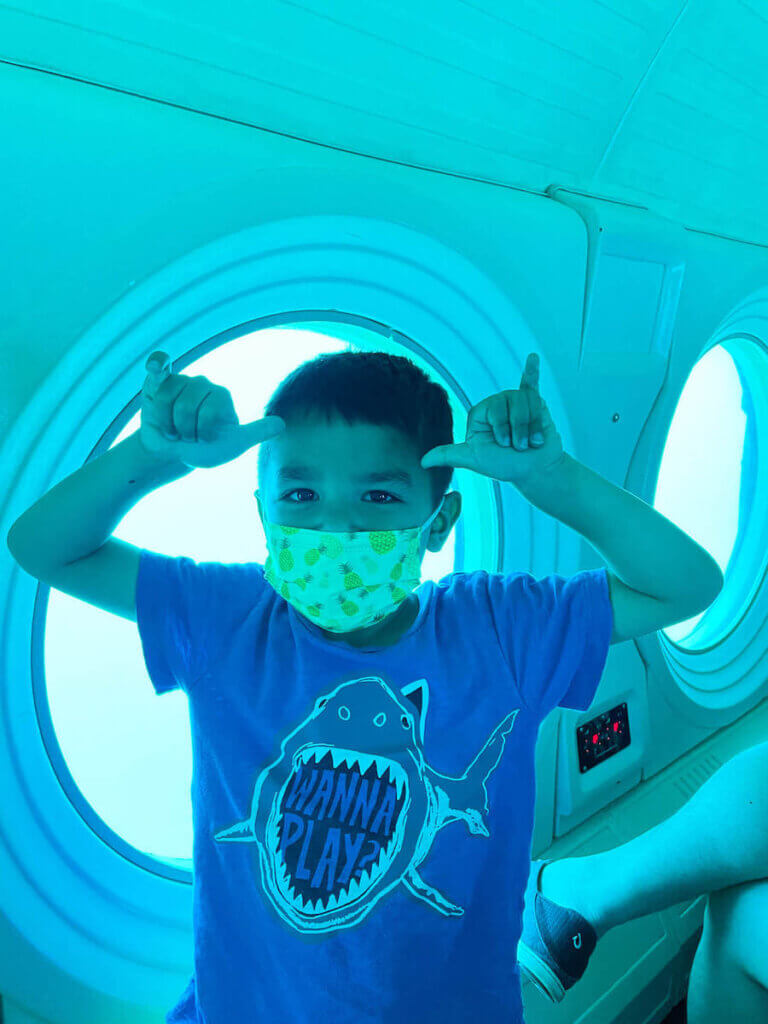 But, if you're going mainly to see tropical fish, sea turtles, and other sea creatures, you might have better luck at the Waikiki Aquarium or Sea Life Park. These are some easy things to do in Honolulu with kids.
My husband and boys were pretty stoked just with the boat ride and submarine experience, so they were happy campers. I had hoped to see more fish, so I was a little disappointed.
But, all in all, I'd say we had a really fun morning doing something the whole family could participate in. And it was definitely one of the easiest Oahu adventures and most fun fun things to do in Waikiki.
I hope this Waikiki submarine tour review helped you figure out whether or not to add this to your list of family things to do in Oahu.
Find out the latest deals and more information about the Waikiki submarine adventure.