Are you planning a trip to Oahu and want to know all the best places to stay in Oahu? Keep scrolling to find out how to choose the best Oahu hotels for any budget.
This post about how to find the best places to stay in Oahu Hawaii contains affiliate links which means if you purchase something from one of my affiliate links, I may earn a small commission that goes back into maintaining this blog.
Are you looking for the perfect Oahu hotel?
Choosing the best Oahu hotel for your budget can be a daunting task. There are so many gorgeous hotels to choose from, but how do you know which one is right for you?
You're in luck! I'm going to help you find the perfect resort based on your budget. Whether you want luxury resorts, mid-range hotels, or something more budget-friendly, there are plenty of options to choose from on Oahu.
In this blog post, I'll break down each category and give my recommendations so that by the end of it all, you can be confident that you found the best fit for your Oahu vacation!
You can use my guide below as a starting point and then dig deeper into each resort's website if it sounds like something that would interest you. If not – no worries! Just keep reading until we get through them all! Ready? Let's go!
Don't have time to read a bunch of Hawaii blog posts and reviews? Here are some of our top picks for visiting Oahu.
Popular Oahu Tours/Activities
Favorite Oahu Resorts/Hotels
Want to Rent a Car in Hawaii?
One of the best places to rent a car in Hawaii is Discount Hawaii Car Rental because they get the best rates from top national companies like Alamo, Dollar, Thrifty, Avis, Enterprise, Budget, and Payless.
Want to skip all the planning and just access my detailed Oahu Itinerary complete with daily schedules, kid-friendly activities, and travel hacks? Click the button below.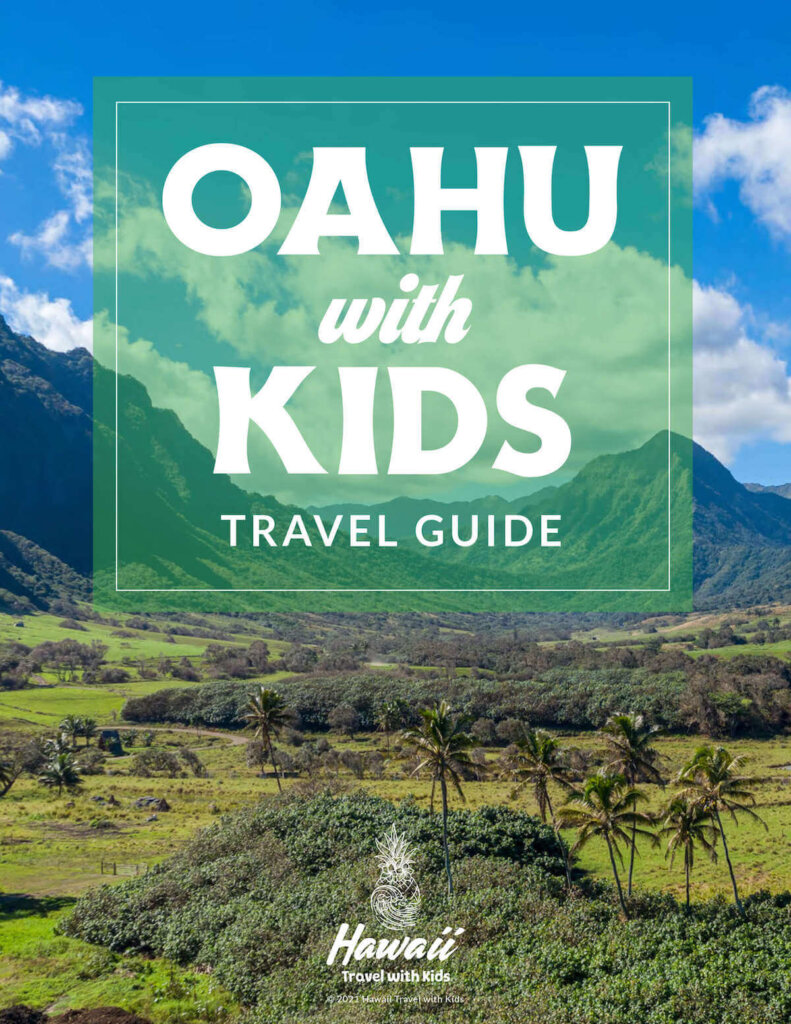 Oahu Hotel FAQs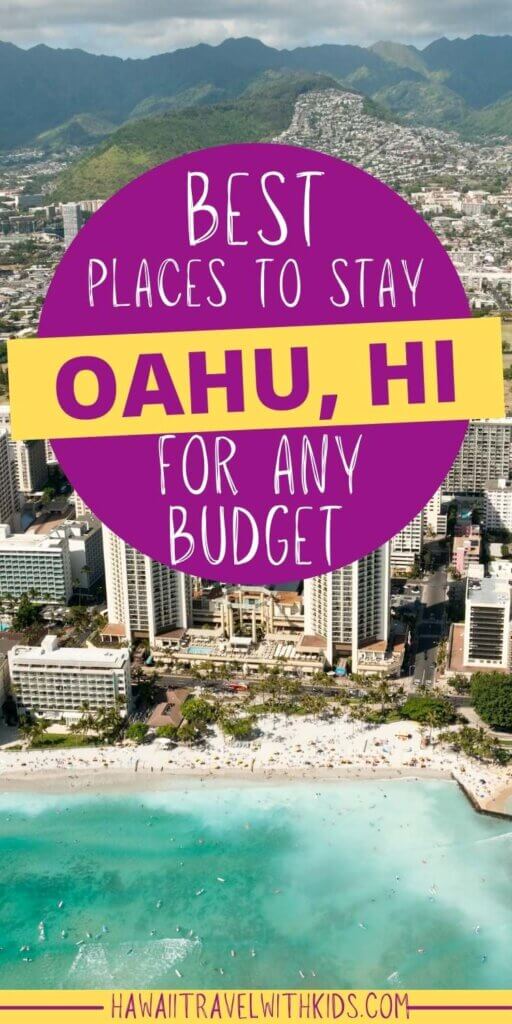 What to Consider When Looking for a Hotel for Your Oahu Vacation
If you're planning to travel to Oahu on vacation, the first things you will likely look for are hotel prices.
Hawaii itself is such a popular destination that hotels and vacation homes are everywhere. This means you will have to figure out what you want in a hotel before you book.
You may want to consider the size of the room itself and features such as kitchens or refrigerators. And you will absolutely want to consider the location and convenience of the sights you wish to see.
But, above all, you will want to focus on the price of these accommodations, especially if you are traveling on a fixed budget.
In this article, we will discuss several hotel options for every price range so you can plan the Hawaii vacation of your dreams, without breaking your budget.
Average Nightly Price in Oahu
The average nightly price of hotels in Oahu will vary by your choice of stay, which could be between under 150 dollars a night to well over 300 dollars a night. It just depends on your personal budget.
Among these costs are also costs of activities and food on the island which are another big factor in the cost of a vacation. So your trips' nightly price will vary by your choice of stay, and your choice of activities.
There are many options, such as the beach and parks, which may not charge for anything except parking.
However, there are luxurious spas, scuba options, and other outdoor activity rentals that will cost more.
Be sure to check out this guide on 105 tips for Hawaii on a budget, to help you plan a trip that is full of fun, sun, and leftover cash.
Which Side of Oahu has the Best Beaches?
The North Shore and the South Shore contain the most popular beaches in Oahu for tourist locations, surfing, and city life.
The West and East shore beaches are also beautiful but may not have as many swells for surfing and reefs for sightseeing.
Amenities You Can't Live Without
When planning on booking your hotel, it is up to you to make a list of amenities you know you will need.
For example, if you don't want to order takeout every night you may want a space to grill. Or you might want to have a microwave to cook a quick meal.
If you go in the heat of summer, you may find that air conditioning is an essential amenity for you. And you may want to have access to a concierge, taxi service, or shuttle.
Where to Stay on Oahu on a Budget ($150 or Less a Night)
Luana Waikiki Hotel & Suites
This hotel is a wonderful budget option for those traveling to Oahu, as it offers close proximity to Waikiki Beach, a nearby park, heated swimming pools, sun decks, outdoor grills, and a gym!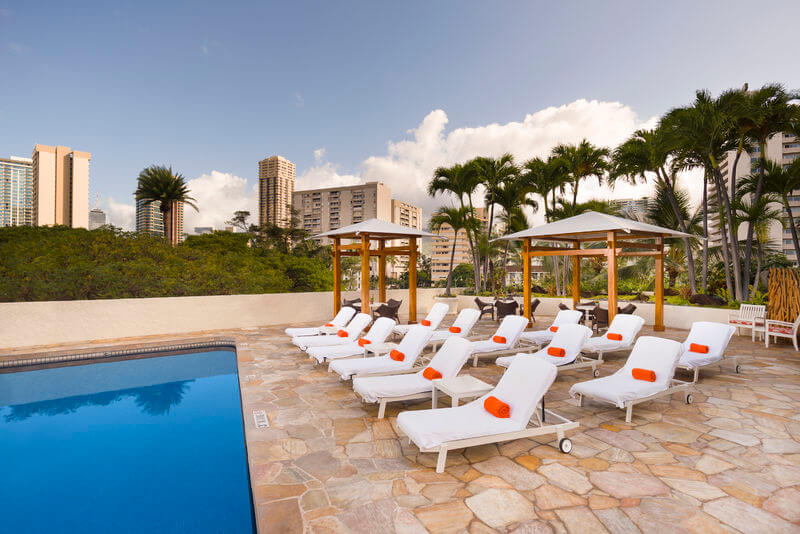 Among these amenities, it also includes air conditioning, ocean views, babysitting on-site, balconies, and a kitchenette in the room.
It's also one of the cheapest hotels in Honolulu that you'd actually want to stay at. Check latest prices and more information.
Coconut Waikiki Hotel
The Coconut Waikiki Hotel places you right in the city, with beautiful city views, convenient distances from shopping centers, and the beach, and 24-hour coffee services in the hotel.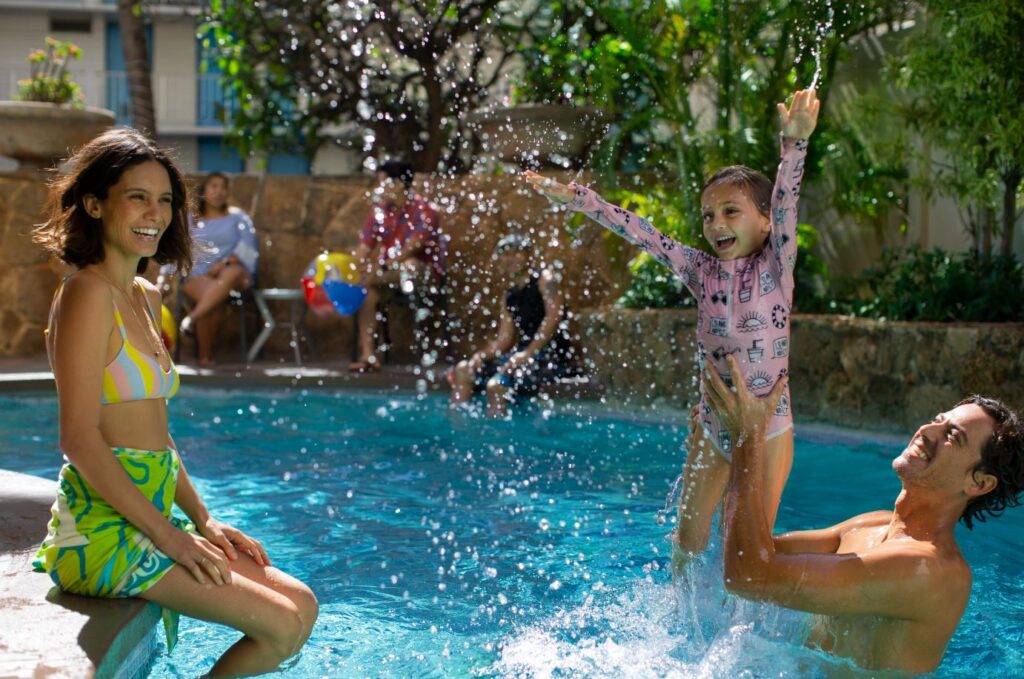 The hotel offers guests a pool, board games, air conditioning, and free breakfast! This budget deal has everything you could need for your stay in Oahu. Check latest prices and more information.
Shoreline Hotel Waikiki
A hotel that has tropical flair, the Shoreline is a popular budget traveler's destination. Located close to Waikiki beach, it has its own valet and taxi service to get you where you'd like to go in no time.
The rooms are bright and welcoming, to give a nice tropical atmosphere while you relax. The hotel has a local organic café available to hotel guests, a pool, and has hiking trails.
The rooms themselves have air conditioning, refrigerators, and a private balcony. Check latest prices and more information.
Pagoda Hotel
Boasting gorgeous Japanese architecture mixed with modern stylings, the Pagoda hotel is one of the most interesting budget options for travelers. This hotel offers a swimming pool, salon, and floating restaurant!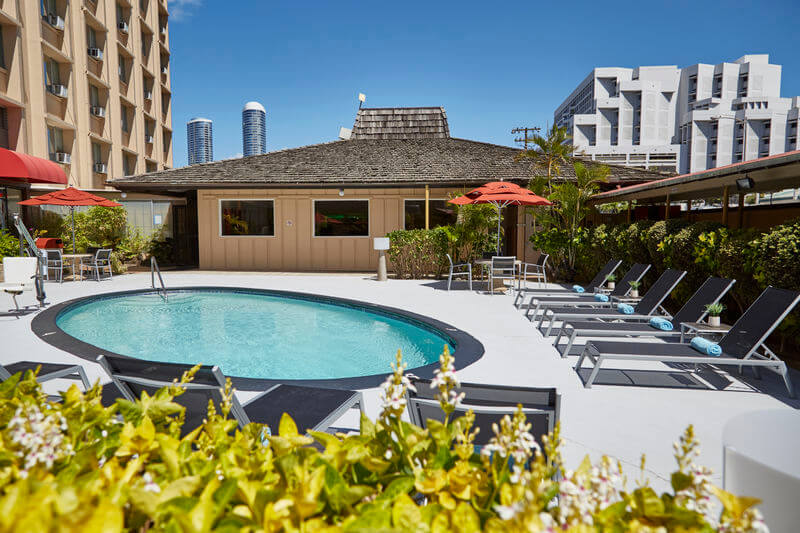 The rooms include TV, refrigerator, microwave, and air conditioning. The floating restaurant allows you to take in the scenery of the hotel including a koi pond, waterfalls, and a Japanese garden.
It's one of the best hotels in Honolulu Hawaii that is close to the city's attractions and nearby beaches. Check latest prices and more information.
Aston at the Waikiki Banyan
This hotel may surprise travelers as a budget option because it contains all suites, which are styled as condominiums. It's the cheapest hotel in Waikiki that is perfect for families.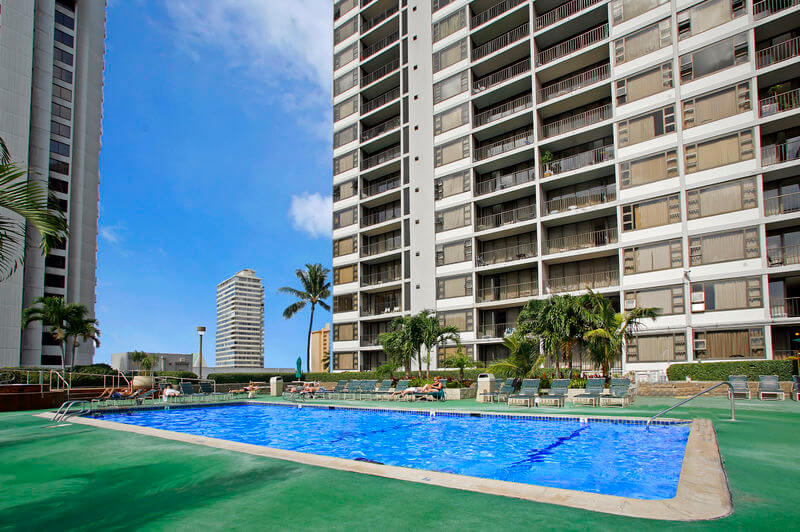 This is a piece of luxury without breaking the bank, as the hotel includes a coffee shop, sauna, spa, and pool.
Plus, they have a specified children's play area. You can also utilize the expansive outdoor hotel areas to grill with your family.
The suites can accommodate 5 additional guests at no additional cost, so you can bring the whole family!
The rooms have all standard amenities, plus views of the ocean or the mountainside. Check latest prices and more information.
Mid-Range Places to Stay on Oahu ($150-$300 a Night)
Queen Kapiolani Hotel
This hotel is located near all of the popular attractions in downtown Honolulu, such as Waikiki Beach, the Honolulu Zoo, Kapiolani Park, and Waikiki Aquarium.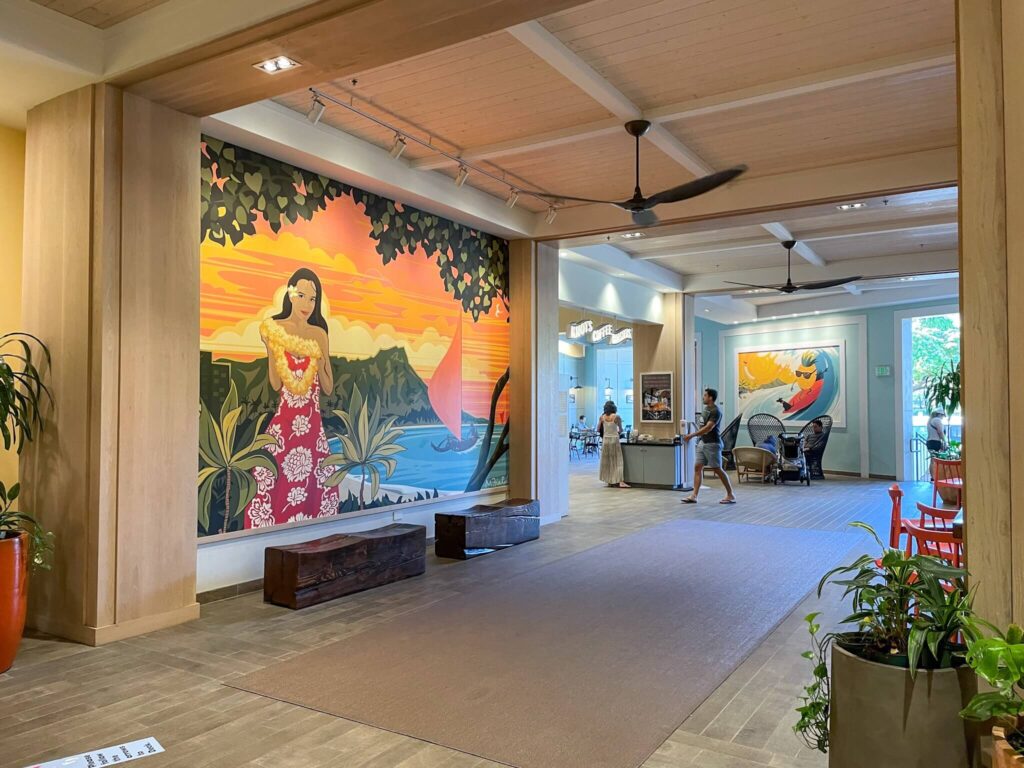 The hotel offers restaurants that can make special meals for your dietary restrictions, a pool, evening entertainment, and yoga classes. Read my full Queen Kapiolani hotel review.
The rooms offer a dining area, private bathrooms, a private balcony, and soundproof rooms. It's a great way to be secluded from other guests.
This hotel gives guests the convenience of being near everything fun in the city and the peace of mind that their sleep at night won't be interrupted. Check latest prices and more information.
Outrigger Reef Waikiki Beach Resort
This amazing hotel stay is located on Waikiki beach, so you won't have to travel far at all to experience this popular Hawaiian destination.
This location prides itself on hospitality and great service. So you should be all set with any questions you may have.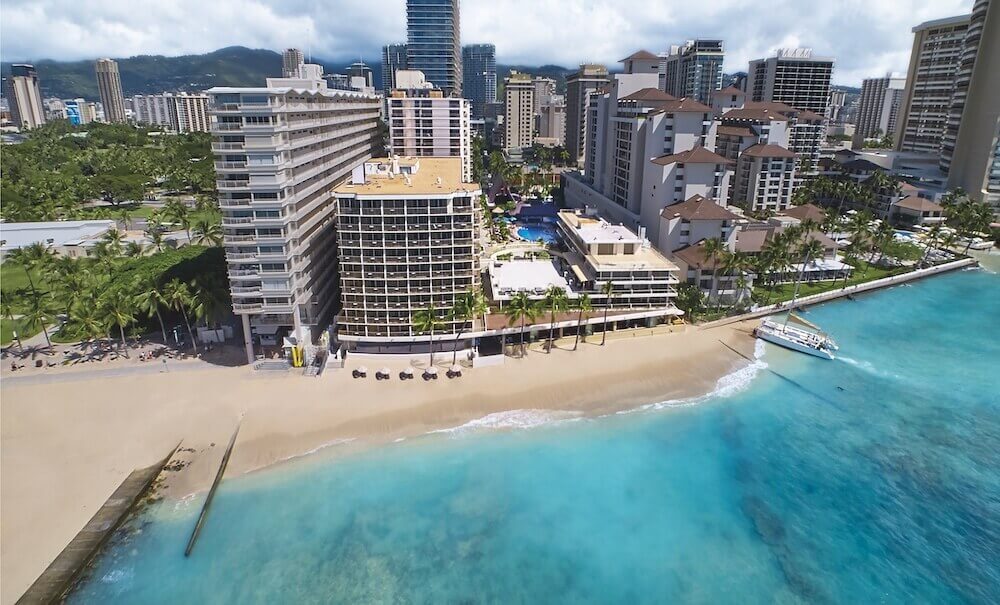 Outrigger Reef also gives guests access to local activities, DIY crafts, live music at their grill, and much more! It is definitely a great choice for those who still want something to do once they return to their hotel for the night.
It's also one of the best resorts in Waikiki for listening to live Hawaiian music. And it was completely renovated in May 2022. Check latest prices and more information.
Hilton Hawaiian Village Waikiki Beach Resort
Located a short walk from Kahanamoku Beach, you can just step outside of the hotel and have a beach adventure. This is one of the best hotels in Waikiki for families and multi-generational travel.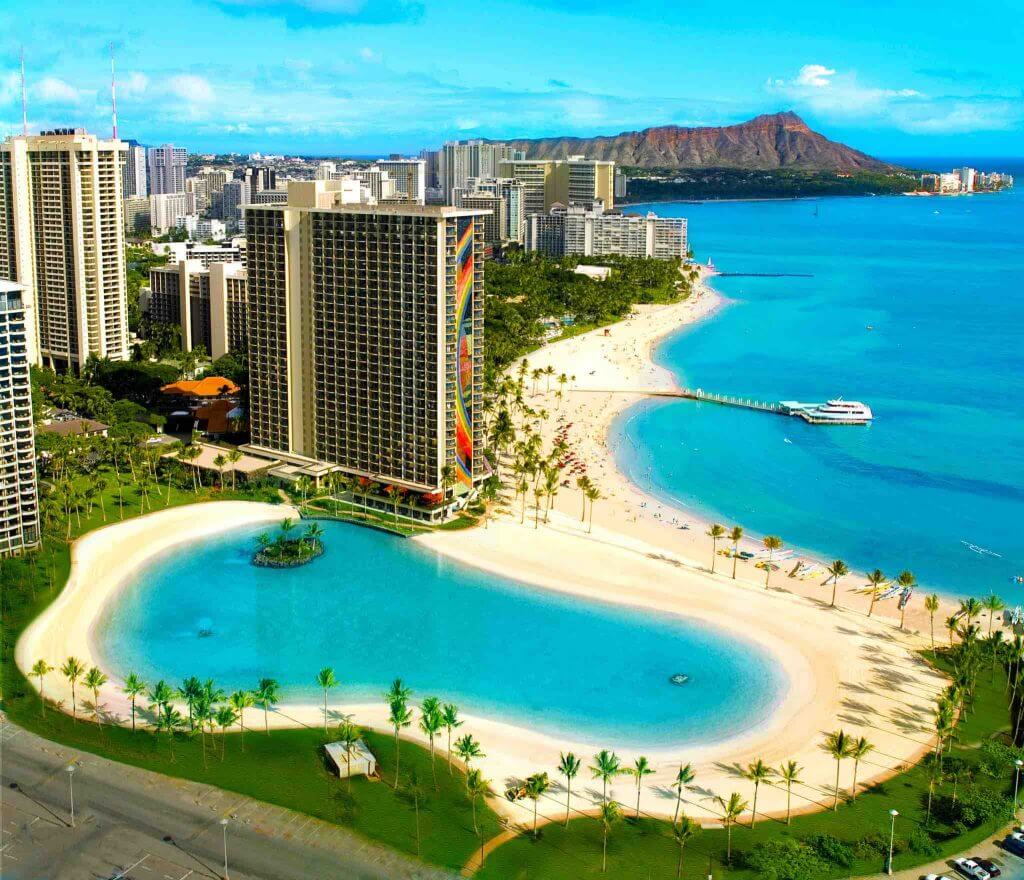 If you'd rather enjoy the amenities of the hotel then you can use the water slide in one of their five swimming pools. Or you can even swim under the waterfalls. Read my full Hilton Hawaiian Village review.
There is also a bar you can indulge in and a play area specifically for children so they can enjoy the outdoors while you relax.
They offer suites and family rooms, so no matter who you bring along, they will be comfortable. It's definitely one of the best resorts in Honolulu for people who want a no-stress vacation. Check latest prices and more information.
Ilikai Hotel & Luxury Suites
Located on the Ala Wai Yacht Marina, this beachfront hotel offers views and a walk to the beach that you and your family can make without having to get a taxi or rental car.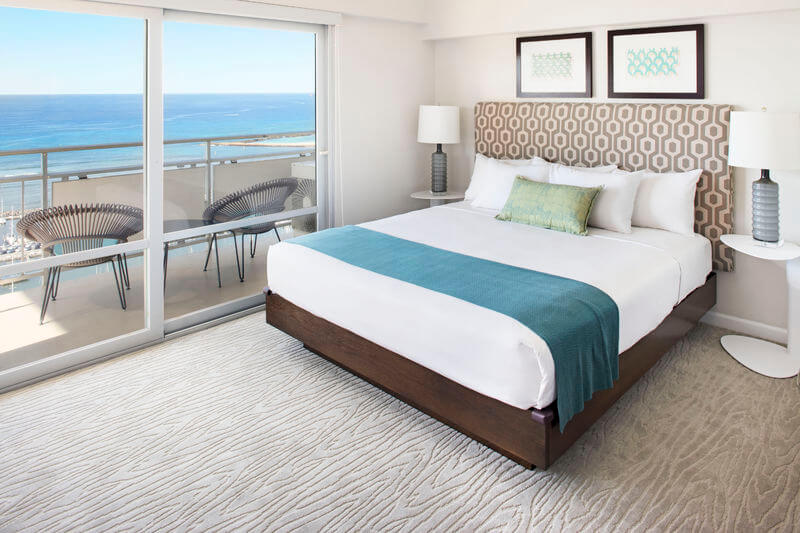 It's one of the best places to stay in Honolulu if you want easy access to Ala Moana Center as well as Waikiki attractions.
If you enjoy Hawaii Five-O you may recognize this hotel from the show. It appears in the opening sequence, another fun tidbit about this stay.
The Ilikai also offers extra spacious rooms with expansive outdoor porches. Check latest prices and more information.
The Surfjack Hotel & Swim Club
This stay doubles as a cultural hub of the popular destinations in Oahu such as Chinatown, Kaka'ako, and Downtown Honolulu. This stay is in close proximity to these unique and exciting slices of the island's culture.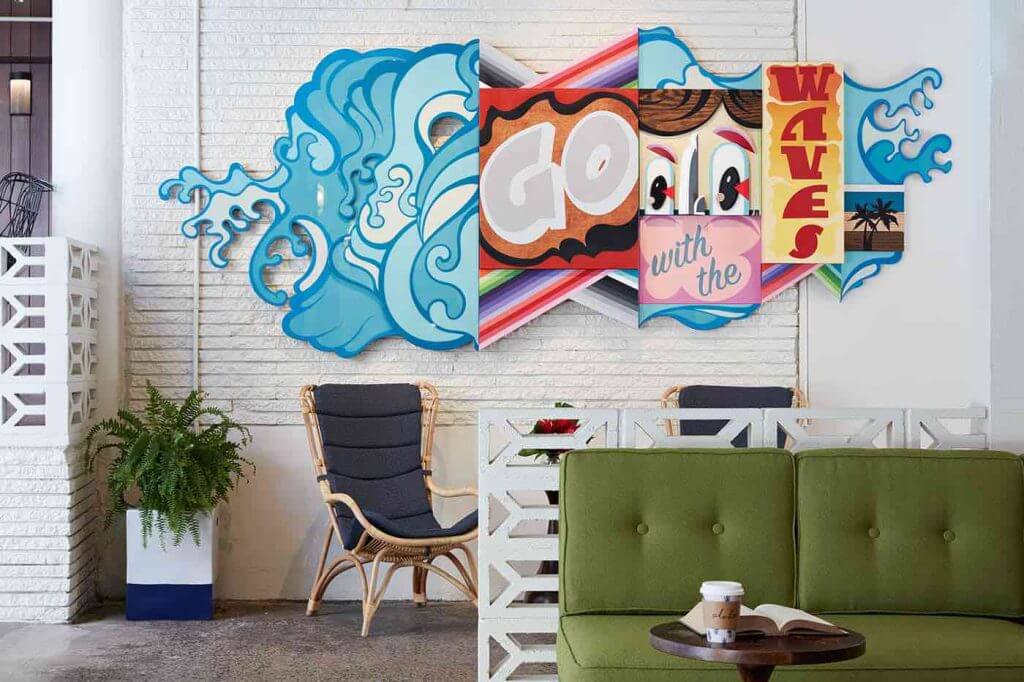 The hotel itself even has a swim club that shares cultural programs and events. There's also a trendy bar attached. That's part of why it's one of the best hotels in Oahu for couples.
If you want accommodations that connect you to the heart of Oahu's most interesting and diverse cultures then this is the perfect choice for you. Check latest prices and more information.
Best Luxury Hotels on Oahu ($300+ a Night)
Turtle Bay Resort
Turtle Bay Resort is the crown jewel of Kahuku, Oahu and it offers many activities and sights to see on the North Shore of the island. It's also one of the top Oahu luxury hotels.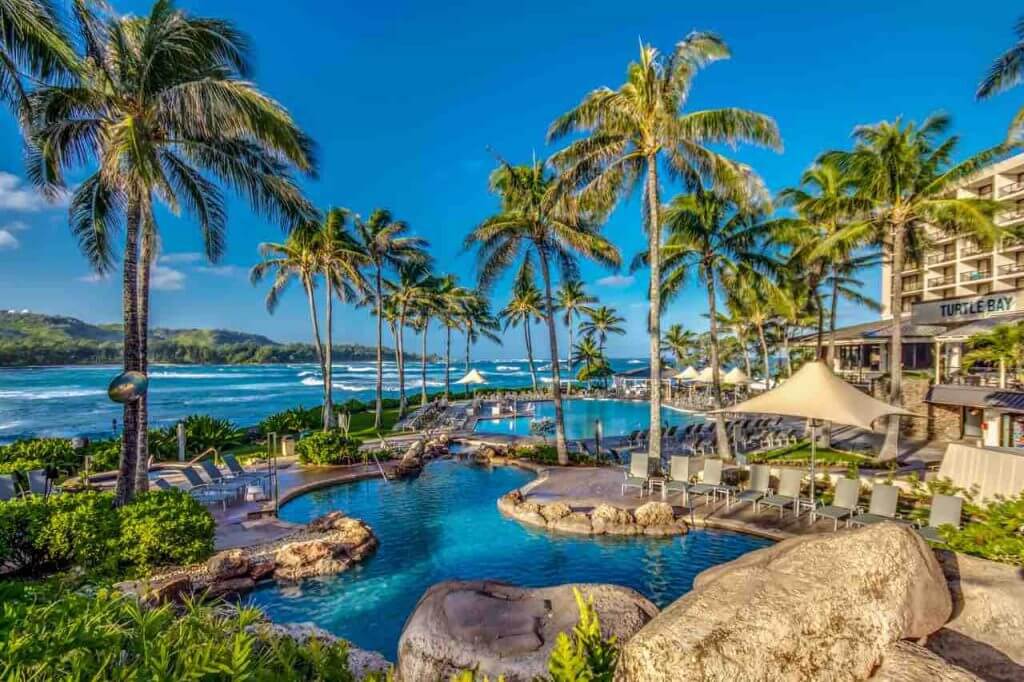 This is the location of many famous surfing tournaments and is a great choice for those who wish to rent kayaks, scuba gear, or try their hand at any other beach activities.
It's also one of the best resorts in Oahu for families because of all the activities.
The resort itself gives guests plenty of accommodations to make sure their days are filled with variety and adventure.
They offer a golf course, horseback riding, spas, surfing equipment, and even helicopter tours! Check latest prices and more information.
Aulani, a Disney Resort and Spa
Disney's Aulani Resort is one of the best hotels in Oahu for families looking for a full resort vacation. They offer character meet and greets, a fabulous Laniwai Spa, Disney pool parties, an on-site luau, and a complimentary kids club.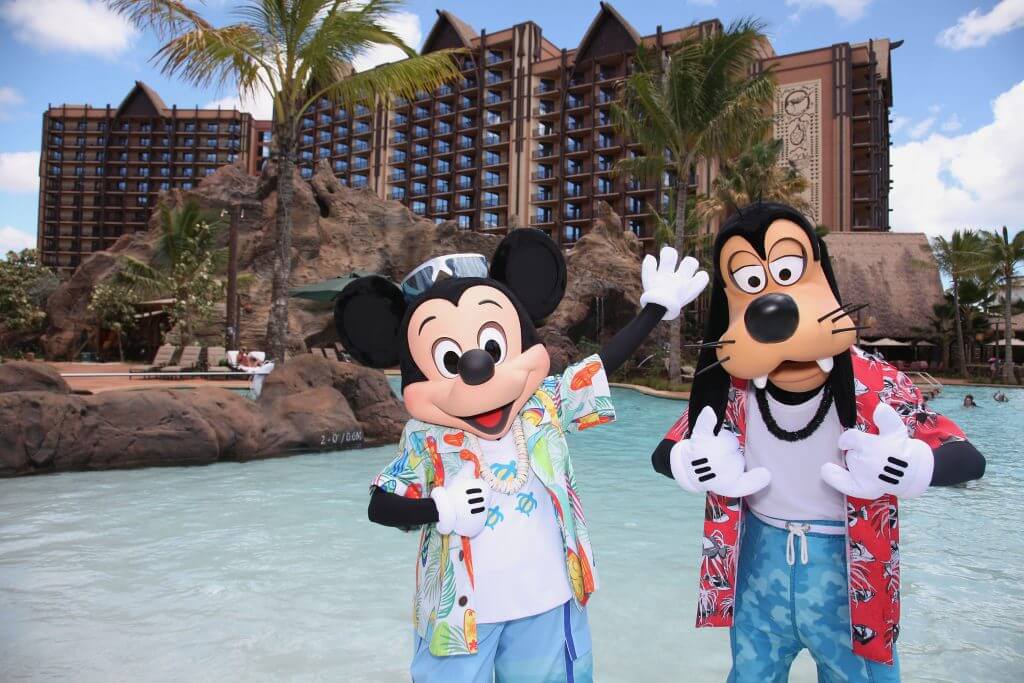 This is also one of the most unique places to stay in Oahu. I mean, you can't have breakfast with Mickey anywhere else in Hawaii! Check latest prices and more information.
Aston Waikiki Beach Tower
This condominium option offers its guests many features such as barbeque stations outside, fitness centers, swimming pools, and cabanas. This beachfront stay gives beautiful ocean views and city views.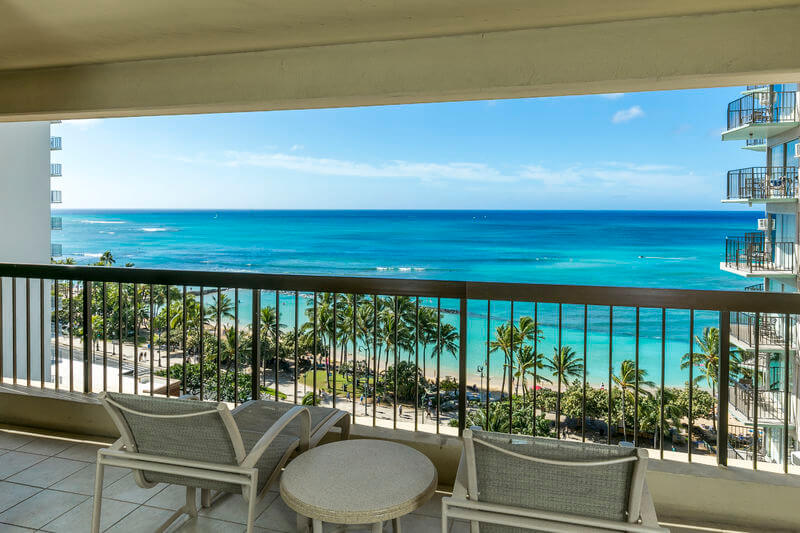 Aston Waikiki is close to all of your shopping, dining, and popular city attractions. It's one of the top hotels in Honolulu for families looking for a great condo option. Check latest prices and more information.
The Royal Hawaiian
The Royal Hawaiian boutique hotel is a very interesting choice for travelers as it offers multilingual staff, a Japanese concierge, and many cultural activities.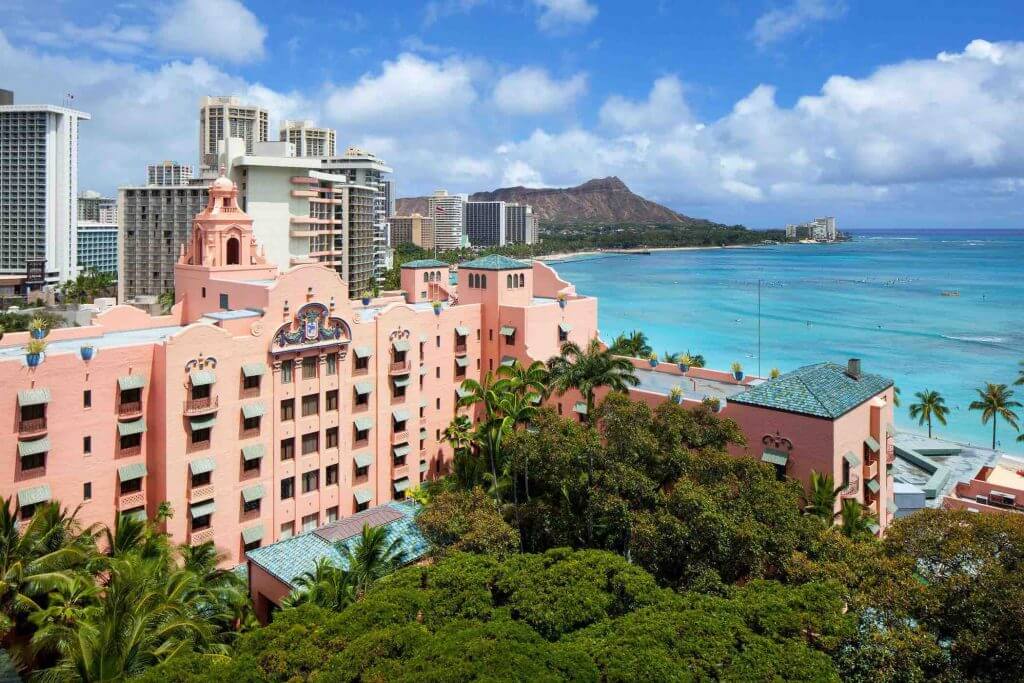 This is a wonderful accommodation for those who may be traveling from other countries or who do not speak English as their first language, because they have many helpful services for multilingual guests.
Also called the "pink palace," this is hands-down one of the best hotels on Waikiki Beach. It's super Instagrammable and it's gorgeous. It's also one of the top Honolulu luxury hotels.
They also have a doctor who is on call, a currency exchange service, a florist, and 24-hour room service. This is a very inclusive option and it covers any need that could arise on your travels. Check latest prices and more information.
Marriott's Ko Olina Beach Club
Located about 30 minutes away from Honolulu, in Kapolei, the Ko Olina Beach Club is a gated community resort that offers picturesque views of the ocean just steps from the door and is located within walking distance of a lagoon, you will have no shortage of beach time from this stay.
These villas also offer a full kitchen so you don't have to eat out every night, however, they also have a state-of-the-art restaurant for when you do want a night out.
The villas also include washers and dryers so you don't have to worry about soggy and sandy clothes getting packed up in your suitcase. Check latest prices and more information.
Alohilani Resort
This unique stay contains a 280,000-gallon oceanarium full of tropical Hawaiian sea life that you can see in the resort lobby.
If that isn't enough for you, they also host famous Iron Chef Morimoto to serve their guests, so the food and experience will be one to look out for. Read my full Alohilani Resort review HERE.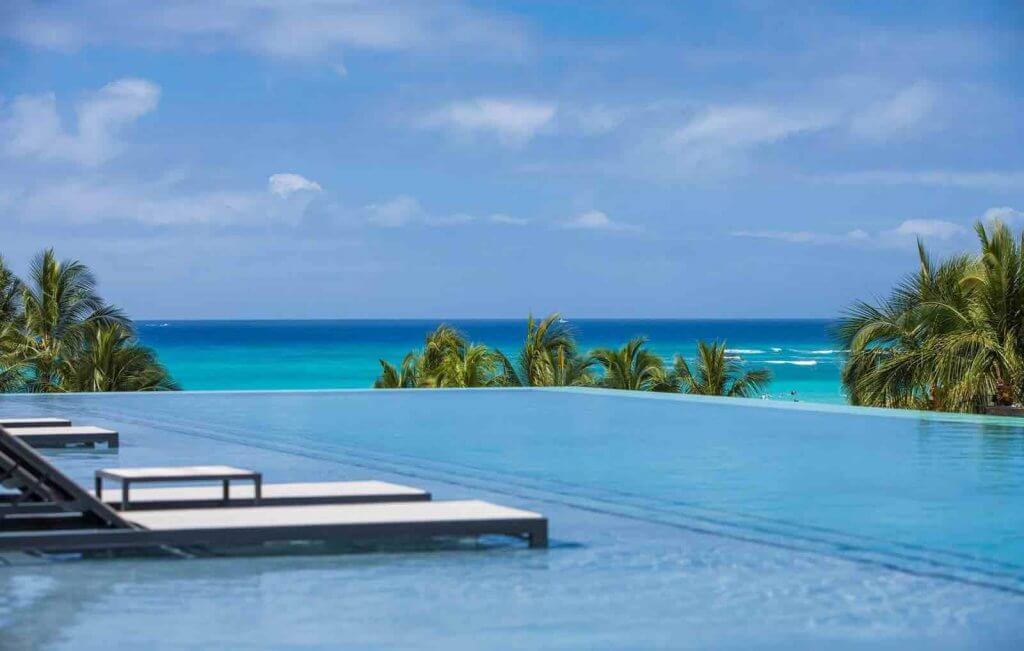 The resort has a saltwater infinity pool for those who may not want to visit the beach at night, and there is a spa, salon, and taxi service so you can get wherever you would like to go from the resort.
The beautiful modern cabana-style of the outdoor areas will have you lounging in the sun or drinking poolside well into the night. This is one of the top hotels in Oahu for honeymoons and graduation trips. Check latest prices and more information.
No Matter Your Budget There is a Hotel Resort Perfect For You in Oahu
So, now that you have all the options for every price point, you are sure to be able to plan the Oahu vacation you've been patiently waiting for!
From Honolulu family hotels to the best hotels in Waikiki for couples, we've got you covered.
Whether you are on a strict budget or are looking to splurge a little, there is enough variety here to make sure your stay has everything you want and more.