Planning a trip to Molokai? Hotels can be super expensive on this island, so I've rounded up budget-friendly places to stay on Molokai; keep scrolling down for all the info!
This budget-friendly places to stay on Molokai post contains affiliate links which means if you purchase something from one of my affiliate links, I may earn a small commission that goes back into maintaining this blog.
If you are someone who loves tropical surroundings but hates crowds and tourist traps, the island of Molokai might be the perfect place for you!
A BIG bonus is that you can definitely find cheap places to stay!
If you didn't know, Molokai is the 5th largest Hawaiian Island and is only about 380 sq miles.
To learn more about the people, activities, and attractions on Molokai, check out THIS LINK!
Just to bring you up to speed, there are sea cliffs (the tallest in the world, actually!), beaches, a national park, and coral reefs; you really can't go wrong!
The only thing you really can't find on this island is a chain hotel!
Either because of its size or the fact that there are already plenty of places to stay, there are no Marriotts, Double Trees, or even Holiday Inn.
Not to worry, though!
I have been looking at Molokai as a possible destination for hubby and me (no boys!) to have a nice, relaxing vacation next summer.
So, you all know that means I have been doing my homework!
Check out my list of the best places to stay in Molokai that are budget-friendly!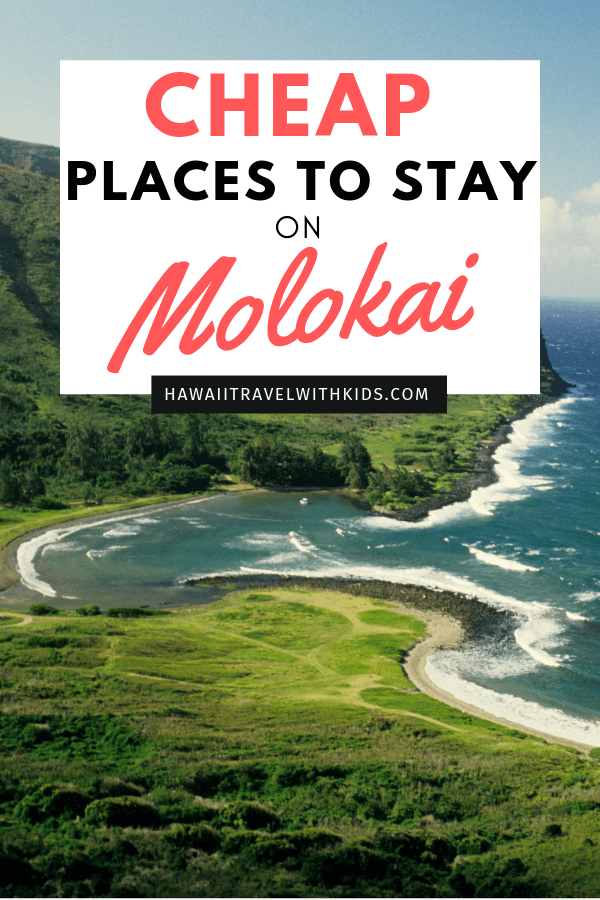 Budget-Friendly Places to Stay on Molokai
If you are wondering where to stay, Molokai has a bunch of options, from Molokai hotels and condos to vacation rentals.
Here are some of the best places to stay on Molokai that are perfect for a budget-friendly vacation.
MOLOKAI HOTELS
These are the best hotels on Molokai you will love.
Hotel Molokai
1300 Kamehameha V Hwy, Kaunakakai, HI 96748
(877) 553-5347
If you are looking for a home base, a quiet place of relaxation, and activities to take advantage of on Hawaii's "The Friendly Isle," look no further than Hotel Molokai!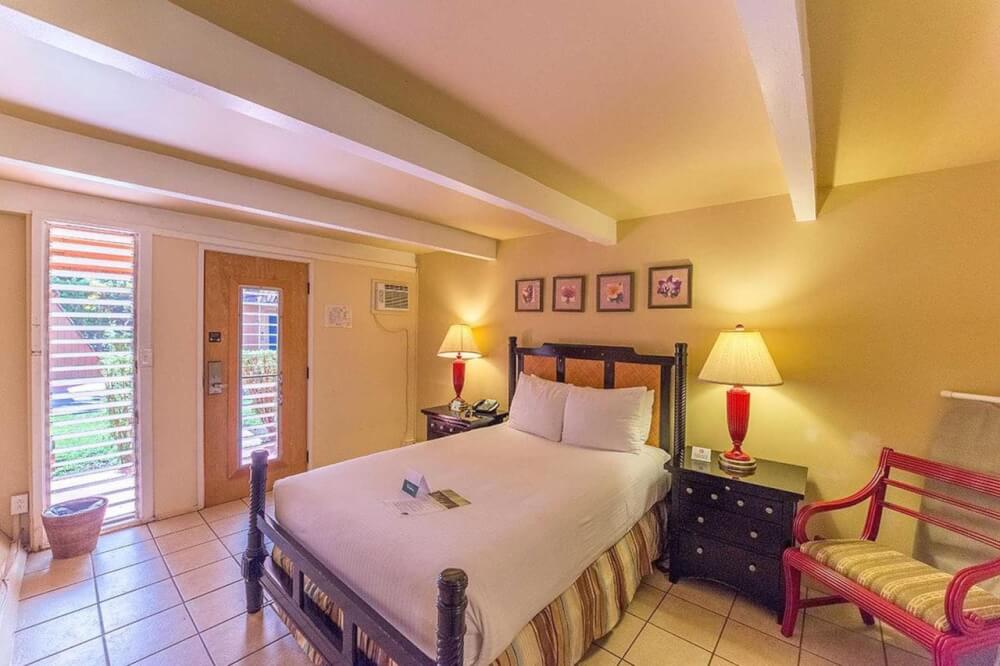 You can go whale watching, snorkeling, scuba diving, or just sit on your private lanai and enjoy the view.
The deluxe rooms at Hotel Molokai (big enough for a family of four) come with kitchenettes, which really helps to save money on going out to eat. Check out the latest prices and more details.
With general stores and drug stores on the island, you can find just what you need to make most meals.
You can also ask the friendliest staff ever – at the front desk!
There is an oceanfront restaurant called Hiro's Ohana Grill at Hotel Molokai to enjoy if you are looking for some fine dining.
Book three or more days at a time, and get a 33% discount!
This puts the room fit for a family of four at $187 per night.
For free wifi, hammocks, an outdoor swimming pool, and so much more, that is a STEAL!
Book quick; the months of December to March go fast due to Whale Migration moving through the area.
Hotel Moloka'i is by far my favorite of the hotels in Molokai, Hawaii!
Read my full Hotel Molokai review.
Save Money with Points
Here are the best credit card offers for families who travel and want to use points to pay for airfare and hotels in Hawaii.
Molokai Shores
Kamehameha Highway, Star Route, Kaunakakai, HI 96748
(808) 553-5954
Sometimes a hotel is nice, but a condo is better. The nice thing about Molokai Shores is that it's both!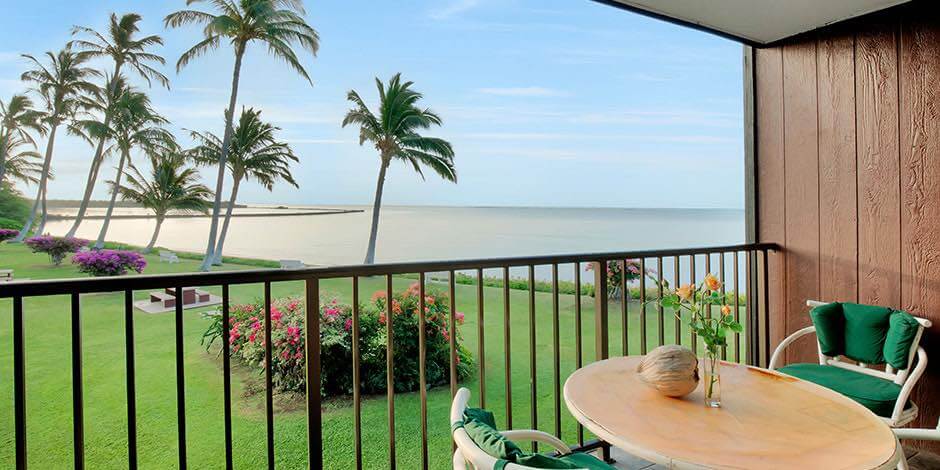 Full kitchens, private bedrooms, lanais, lofts, and OCEANFRONT to boot!
If you are looking for a family vacation that provides all the comforts of home, Molokai Shores is where you want to be! All dishes, utensils, and amenities are included, and parking is free!
Suites start at $125 per night, and One-bedroom condos start at $131. Check out the latest prices and more details.
There is a cleaning fee for your stay, as well as the expected reservation fees.
There is also an optional damage insurance fee for the guest rooms – but if your kiddos are anything like my boys, maybe you want to spring for the $40 – just in case!
Plan on enjoying your fully furnished condo for as long as you would like, knowing that you got a wonderful deal!
Guests can enjoy a large swimming pool with an ocean view too. Doesn't get much better than that! You'll definitely want to stay here when you visit Molokai.
It is the best place to stay on Molokai if you want to enjoy both a condo and a hotel feel.
Kepuhi Beach Resort
Maunaloa, 96770
The Kepuhi Beach Resort is one of the few Molokai Hawaii resorts you can enjoy. From an outdoor swimming pool to a beautiful garden, you can enjoy real Hawaii at this resort.
On the west end of the island, the Kepuhi Beach Resort is within walking distance of Kepuhi Beach and Papohaku Beach. Check out the latest prices and more information.
It is usually around $112 per night for a studio with a king bed at the Kepuhi Beach Resort. While they don't have any two-bedroom units, it is a great place to enjoy a romantic getaway with your significant other.
With the stunning ocean views, guests will love spending a night or two on this property. Kepuhi Beach Resort is another one of the best accommodations on Molokai!
CHEAP PLACES TO STAY ON MOLOKAI: VACATION RENTALS BY OWNER (VRBO or AIRBNB MOLOKAI)
There are plenty of other accommodations on Molokai, not just Molokai hotels and condos. Here are some of the best vacation rentals on Molokai!
Dunbar Beachfront Cottages
9962 Kamehameha V Hwy, Kaunakakai, HI 96748
(808) 558-8153
Are you looking for traditional Hawaiian culture on a beach you can wade into the water and swim from? Are you looking for relaxation and maybe some shelling?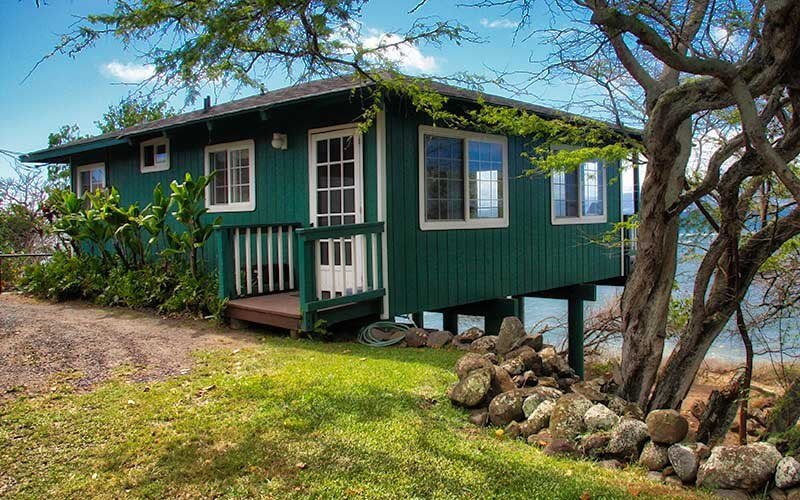 Then you MUST check out Dunbar Beachfront Cottages on Molokai!
With two cottages located right on the beach, you will find everything you need for your relaxing Molokai vacations.
Both the Pauwalu and Pu'unana Cottages can sleep four, with one queen bed and two twin beds.
These cottages truly feel like a home away from home, all the way up to the full-sized washer and dryer.
What else could a mom want on vacation? (Maybe a laundry fairy, but that's beside the point!)
At only $210 per night, Check out Dunbar Beachfront Cottages for a beautiful vacation on Molokai's eastside!
Each cottage has a full kitchen and covered lanai. Located on Molokai's east end, you will love these Molokai beach houses with oceanfront rooms!
Beautiful One Bedroom Ocean View Condo
Maunaloa, Hawaii
Any place where you can sleep only 500 steps from a beach has got to be great, right?
At this Beautiful One Bedroom Ocean View Condo, that is exactly the case!
Located on the beautiful western side of Molokai, you will be able to see the sunset over Oahu and the ocean. It is a 7-minute walk to Kepuhi Beach.
You will have a nice kitchen, hot tub, free wifi, swimming pool, and more at this condo.
At $70 to $100 a night, a family of four will find this one-bedroom condo is another one of the Molokai vacation rentals perfect for their island getaway!
Wavecrest 1 Bedroom Condo with Sea Views
Kaunakakai, 96748
On the opposite end of Molokai, you have the Wavecrest resort, where you can find a one-bedroom condo just steps from the beach!
This 1 Bedroom Condo offers free wi-fi, tv, and a private bathroom.
The resort includes an oceanfront pool for those who want to get in a good, wave-free swim, and the tennis courts are available to work up a sweat beforehand.
Throw in the view of the pacific ocean from your lanai, and $89 per night seems like a steal! Lodging on Molokai can't get much better than this.
Paniolo Hale Studio
Maunaloa, HI
For more Molokai lodging, try out the Paniolo Hale Studio. It is close to Kepuhi Beach, too, and on the west end of the island. You will love the Paniolo Hale!
It is fully remodeled and offers a quiet property for guests to enjoy. There is a washer and dryer in the unit and a new king bed.
On the property, you can enjoy a swimming pool and BBQs as well. In the rooms, you will have a full kitchen to cook your breakfast and meals.
Prices for the studio are around $155 per night, and with all the amenities included, it is a great choice.
Paniolo Hale is amazing and another one of the rentals on Molokai you will love!
Ke Nani Kai 132 – Spacious 2 BR/2 BA Relaxing Hawaiian Retreat
If you are visiting with your family and need one of the Molokai house rentals, don't worry, Ke Nani Kai has a cheap option for you too!
Guests will love this 2 Bedroom Retreat, with two bedrooms and 2 bathrooms; your family will have nice, large rooms.
The kitchen is fully stocked with everything you'll need to cook. Here you will also find a pool and tennis court to enjoy as well.
At about $123 per night, this is one of the cheapest Molokai rentals that offer a two-bedroom unit!
Kaluako'i Resort Beachfront Rental
Maunaloa, HI
This Beachfront Rental is located in Maunaloa, on the west end of the island. It offers one room with amazing ocean views.
There is a community outdoor pool guests will love to enjoy on the property, along with a kitchen, living room, and patio in your condo.
Plumeria Breeze at Kepuhi Beach
Located on Kepuhi Beach, this 2 Bedroom Condo is one of the great accommodations for larger families.
Also included with this two-bedroom, you will have a wrap-around lanai, hot tub, tennis court, BBQ, and so much more.
Guests can enjoy this quiet property on the west end of the island. You will find a full kitchen equipped with everything you need to cook and a lanai full of items perfect for a beach day.
At only $126 per night, that is a STEAL!
Cheap Places to Stay on Molokai FAQs
Are tourists allowed on Molokai?
Yes. While it's not the most visited Hawaiian island, Molokai does invite tourists to stay at their hotels and vacation rentals to explore this little slice of paradise.
Which is better, Molokai or Lanai?
Molokai is about twice as big as Lanai, but both are pretty low-key Hawaiian islands.
How long does it take to drive around Molokai?
You can drive from one side of Molokai to the other in about 60-90 minutes, depending on traffic.
Is Molokai safe for tourists?
Generally, Molokai is safe for tourists. The main town is friendly, and other places all over the island are fun to visit. There are not many tourist attractions, though. It is a great choice for seeing natural Hawaii. Be sure to be safe, lock up your car, and you should be fine.
What to do on Molokai?
There are plenty of fun things to do when staying on Molokai, from hiking Halawa Valley to visiting the Moloka'i Plumeria Farm, snorkeling, and so much more. You will want to visit some of the best beaches, too, including Papohaku Beach, Kamiloloa Beach, and Kepuhi Beach.
How to get to Molokai?
You can take a flight from any of the Hawaiian islands, or you can take the ferry from Maui to Molokai. The ferry takes about 1 hour or so.
Are there any resorts on Molokai?
There are not many Molokai resorts since it is a small, laid-back island. Kepuhi Beach Resort and the Wavecrest Resort are two smaller resort options that offer Molokai condos to rent.
Where to Stay in Molokai Hawaii Wrap-Up
Hopefully, now you don't have to worry about Molokai where to stay; there are plenty of cheap Molokai accommodations all over the island!
From vacation rentals on Molokai to condos and even a few Molokai Hawaii hotels and resorts, you won't have to worry about a place to stay. Enjoy the traditional Polynesian village, snorkel at the barrier reef, hike and see stunning mountain views, and so much more on Molokai.
I hope you saw something on my list of Budget-Friendly Places to Stay on Molokai that interested you and that you might be joining me on the "Friendliest Island" very soon!