Are you looking for fun things to do on Moloka'i with your family? Keep scrolling to find out whether or not the Moloka'i Plumeria Farm is worth visiting.
This review of the Moloka'i Plumeria Farm was written by Hawaii travel expert Marcie Cheung and contains affiliate links which means if you purchase something from one of my affiliate links, I may earn a small commission that goes back into maintaining this blog.
Looking for something fun to do on Moloka'i with the kids?
Moloka'i is one of the most beautiful and unspoiled islands in the Hawaiian chain, and it's perfect for families looking for a low-key vacation. There are plenty of fun things to do on Moloka'i – including a visit to the Moloka'i Plumeria Farm!
You can pick your own plumeria flowers at this cute little farm off the side of the road, and learn how to string an authentic Hawaiian lei. It's a unique experience that you and your family will never forget.
The best part is that it's just a few minutes from the main town of Kaunakakai, so you can easily visit without having to go out of your way.
Scroll down for more information on this unique experience.
Plumeria in Hawaii FAQs
Are plumerias from Hawaii?
No. Even though most people think of Hawaii when they smell a plumeria flower, they are actually not native to Hawaii. They were brought to Hawaii from Mexico, Central America, and the Caribbean.
Do plumerias bloom year-round in Hawaii?
Not usually. While some plumeria trees bloom throughout the year, most are actually dormant in the winter. In early spring, you'll notice the trees filling up with white, pink, and orange blossoms.
What does the plumeria symbolize in Hawaii?
It's a really happy flower that represents spring, birth, love, and new beginnings. It's full of hope and positivity (and the smell is amazing)! Many women put plumeria flowers behind their ears to show their romantic status or in their hair.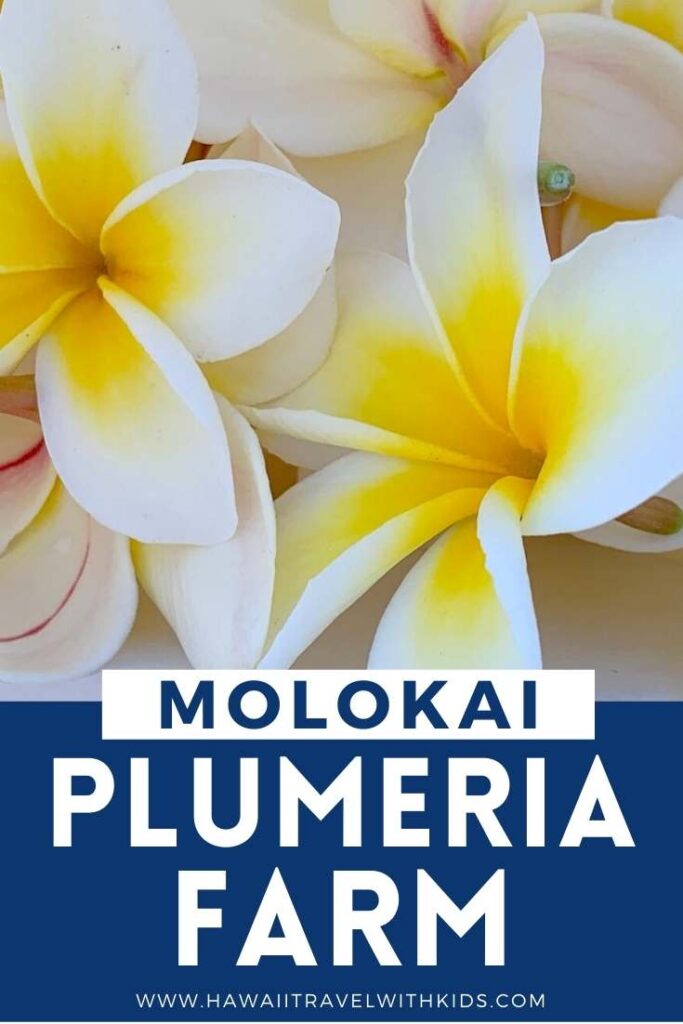 Where is the Moloka'i Plumeria Farm?
Moloka'i Plumerias is located at 1342 MAUNALOA HWY on the island of Moloka'i. This is the main highway. It's just a few minutes from downtown Kaunakakai.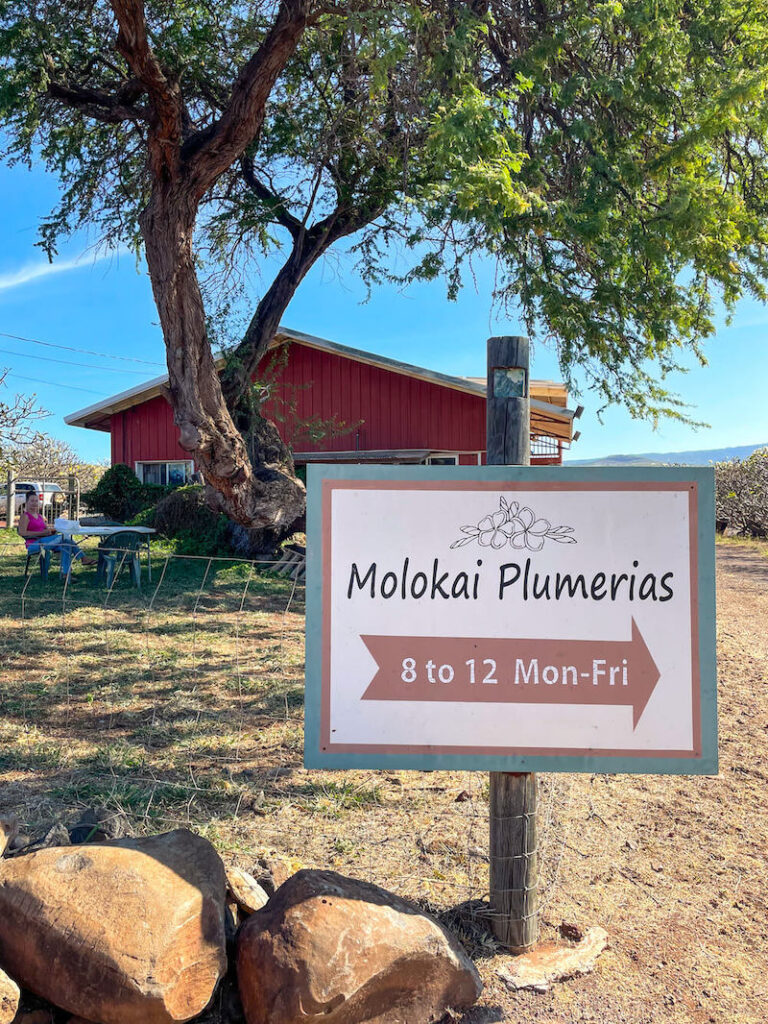 I found it to be a little tricky to find. It's on a little driveway in between two roads. The Molokai Plumerias sign is close to the building, so you'll just need to drive slow and keep your eyes out.
Honest Moloka'i Plumeria Farm Review
Parking
It's really easy to park at Moloka'i Plumerias. There are plenty of spots and it's obvious where to park.
Check In
We emailed about 6 weeks before our trip to reserve our Moloka'i plumeria tour time. It's $25/person and you can pay ahead of time.
Since they knew we were coming, our guide Dick came out as soon as we parked to greet us.
Plumeria Picking
The first thing we did was head out into the plumeria farm. Dick showed us how to lower the branches to pick plumeria flowers. The branches are really flexible.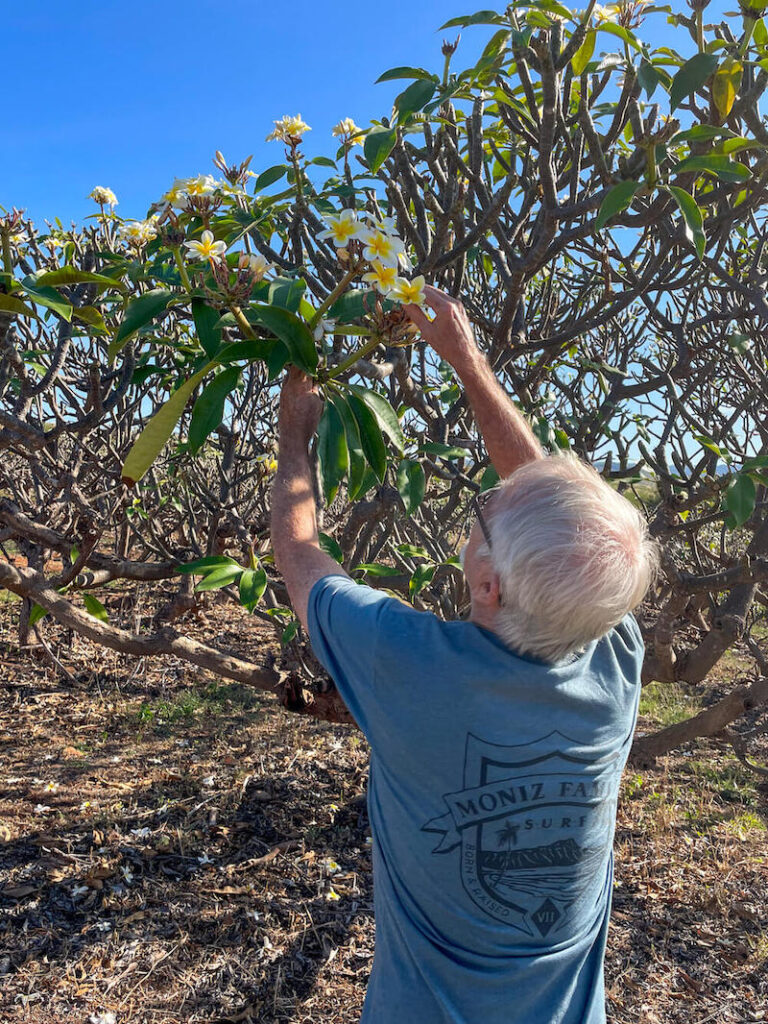 We did the tour at 9 a.m. but he said they normally pick the flowers in the late afternoon to get them when they are freshly bloomed.
Then, he showed us the difference between two plumeria flowers.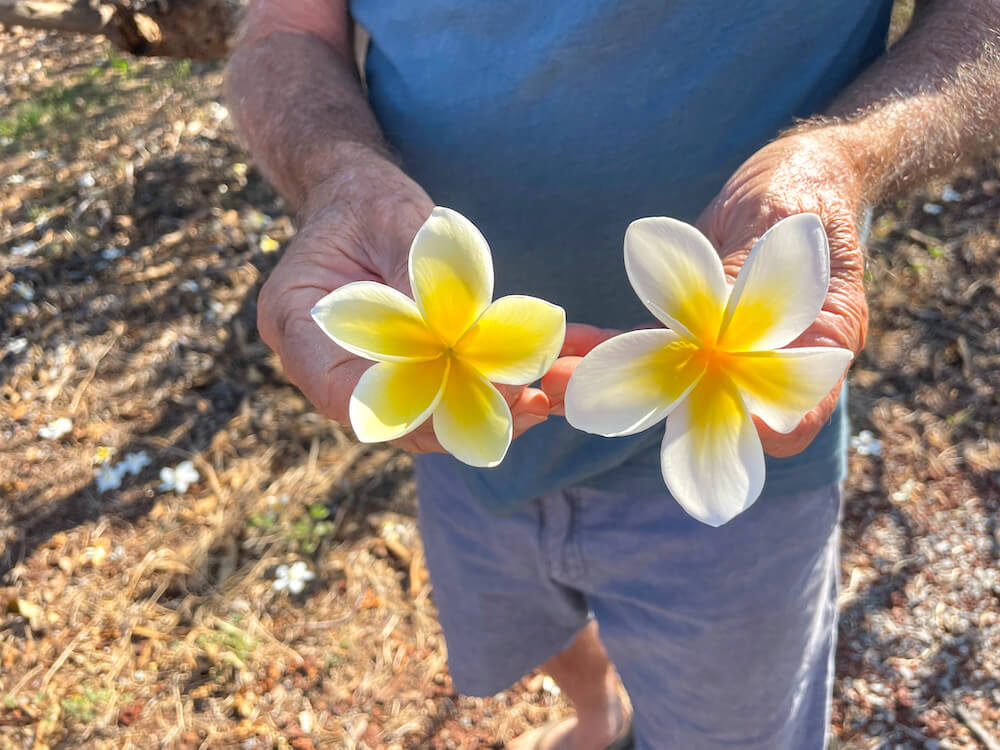 The flower on the left is at the beginning of the bloom and the one on the right has more white on it because the yellow fades later in the blooming cycle.
Either one works for making a lei. The ones you DON'T want to use are the ones that have brown around the edges. He joked that we'd "lose points" if he saw any of those in our bags.
Then, Dick handed us two white paper bags and told us to fill it about 1/3 with flowers. And then he let us loose in the fields.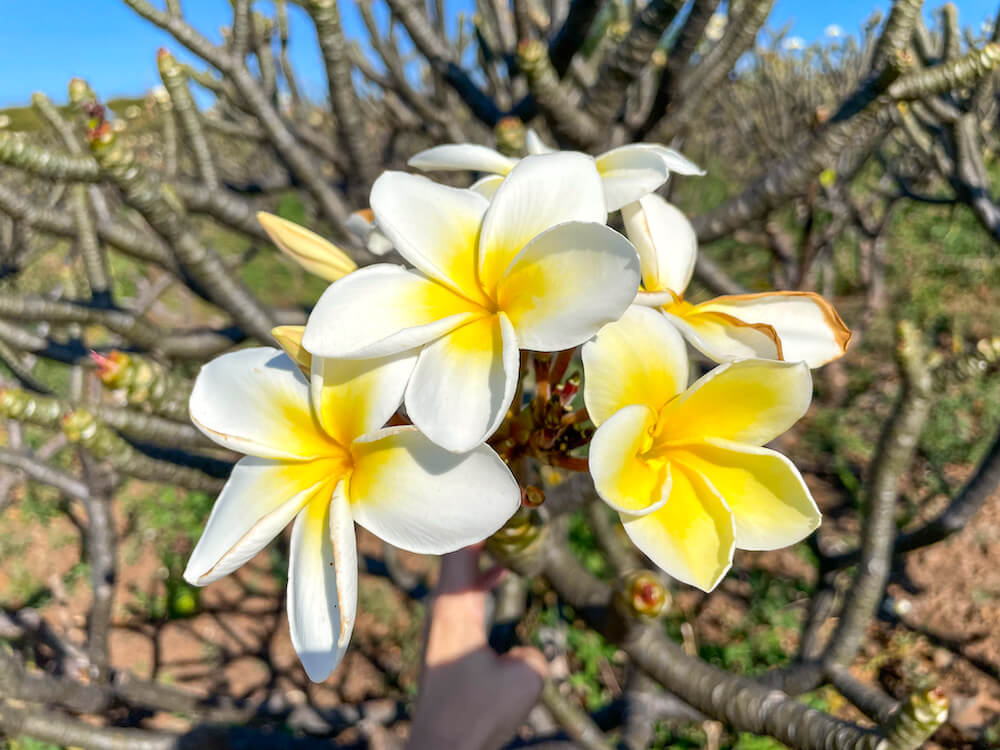 We did the tour in March, which is the start of plumeria season. However, Moloka'i (and most of Hawaii) had a really dry winter so the trees were a bit more bare than usual.
But, we had no problem filling our bags with lovely plumeria blossoms. I did the tour with my mom and we split up to find our flowers and it was so relaxing to wander through the trees.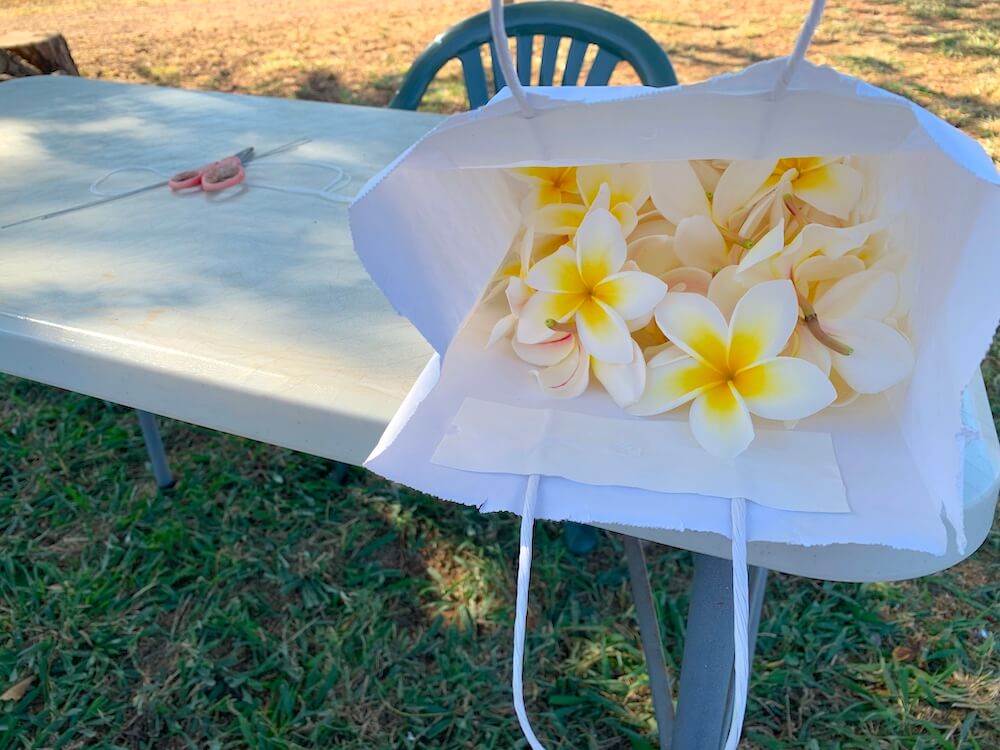 Once we had enough flowers, we headed over to the lei making table and awaited instruction.
Stringing a Lei
The first thing we did was get our needle and thread ready. At Moloka'i Plumerias, they use a hook needle to string their leis. Other lei makers use a closed eye lei needle (which are extra long) or even a regular sewing needle.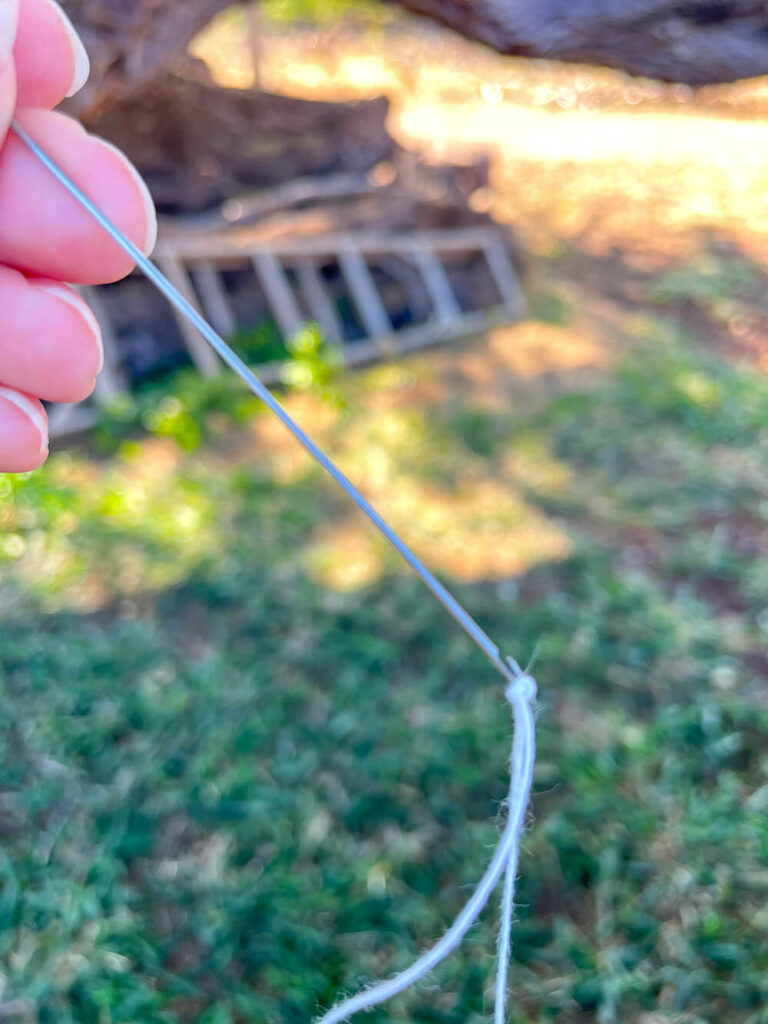 We tied a knot about one inch from the end of the string and then looped it through the hook. That's the end of the lei.
Next, we grabbed our flowers and we were ready to begin.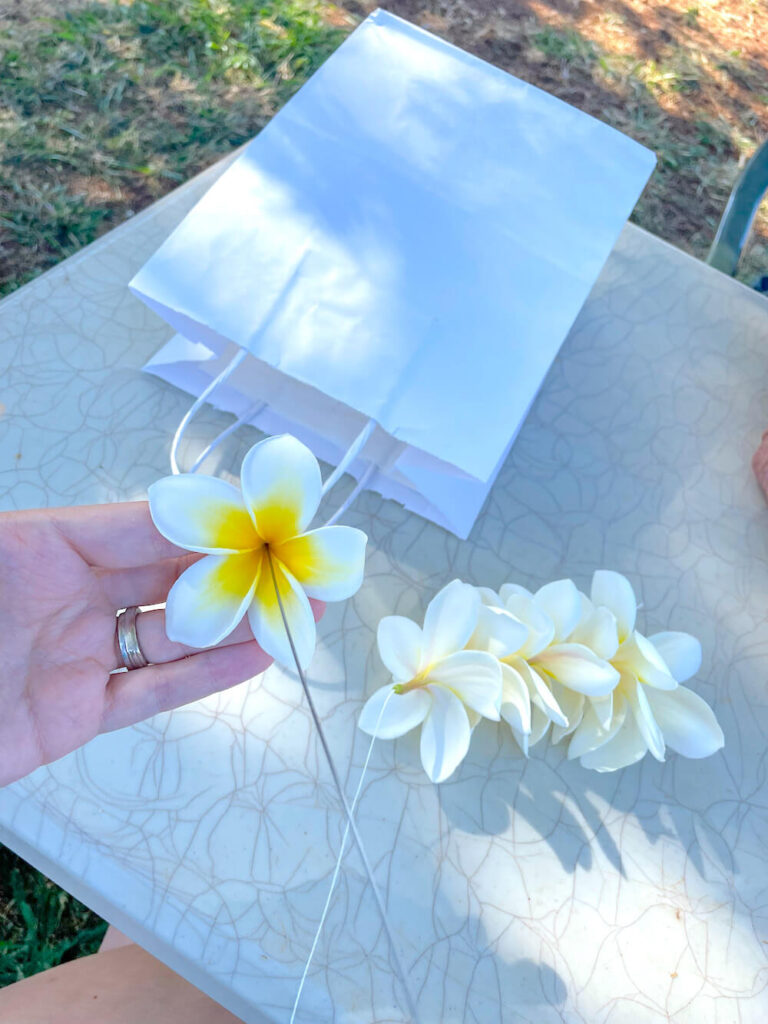 It's really simple to make a plumeria lei. You just poke the needle through the center of the plumeria blossom and it will automatically go through the stem.
The important thing is to get the flowers as close together as you can. Some people string one flower at a time. Others will do 4-5 flowers on the needle and then push the whole group to the end of the lei.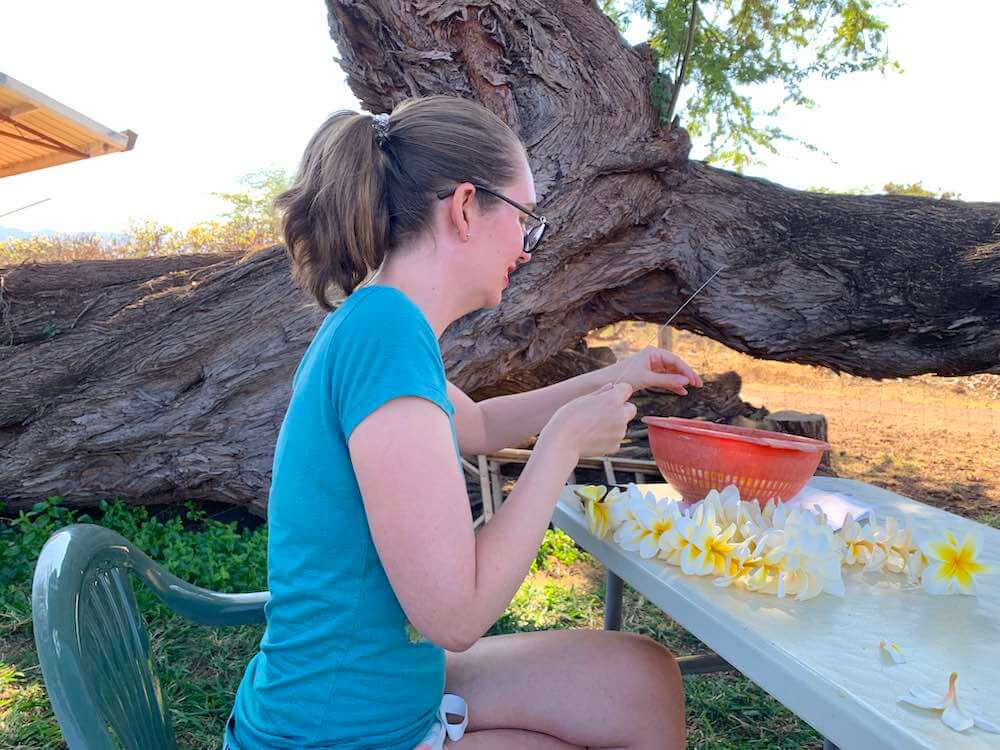 I thought I had picked plenty of flowers, but I realized I was about 7-8 flowers short. Luckily, Dick had some flowers he had picked earlier that were sitting in cold water and ready to be used as lei fillers.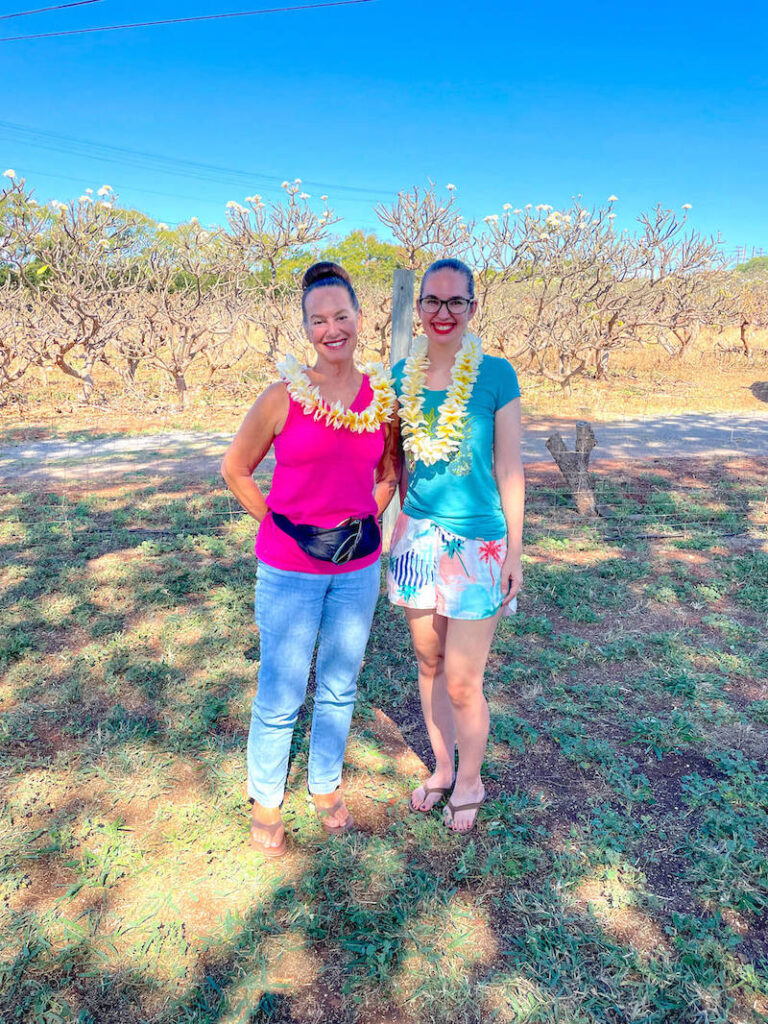 The finished leis looked exactly like something you'd buy at a lei stand. I still can't believe how easy it was to make!
Tips for Visiting the Moloka'i Plumeria Farm with Kids
While I didn't visit this Hawaii plumeria farm with my kids, I did think about what families might want to know. Plus, I do plan on bringing my kids here on our next trip to Moloka'i.
What to Wear
I was really comfortable wearing my t-shirt and shorts. I chose not to wear sunglasses because I wanted to see the colors of the flowers, but some people might prefer to wear sunglasses. A sun hat would also be a good idea.
Wearing sunscreen is also really important. You'll be walking in direct sunlight and it's always a smart idea to wear sunscreen in Hawaii.
What to Bring
If you are going to be driving around a bit after your visit to this Hawaiian plumeria farm, you'll want to keep your leis fresh. I suggest bringing along a cooler bag with ice (or cold drinks) as well as some plastic bags for your leis.
You might also want to bring along some wet wipes if you have allergies. I'm allergic to pollen (but I love flowers) and I noticed some hives on my arm later in the day. A quick rinse off cleared it right up, so that's why I think wipes might be a good idea.
How to Care for Your Plumeria Lei
Plumeria leis are a bit more fragile than the purple orchid leis you can get at luaus. But, plumerias are more special because they actually are grown in Hawaii!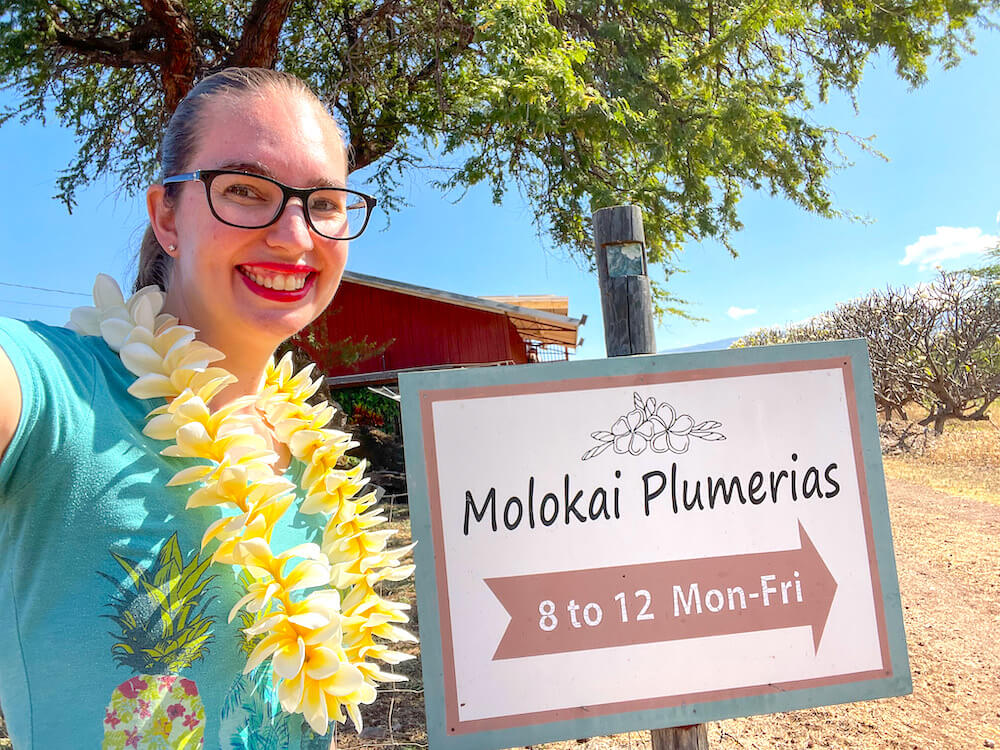 If you want to prolong their life (before they get brown and wilted) there are a few things you can do.
You'll want to keep your leis in a cool place. It's best if you can keep them in a cooler bag with ice. But, you can put them in a fridge (or hotel mini-fridge) in a pinch. The ideal temperature is 50-60 degrees, so just try your best.
Another option is to fill up your sink with cold water and float your leis in there until you'd like to wear them.
So, Is It Worth Visiting this Plumeria Farm on Moloka'i?
Absolutely! If you're someone who likes to "do" things on your trips, it's definitely worth booking a tour at Moloka'i Plumerias. It was such a fun, laid-back experience and we learned a lot about plumeria flowers and the island of Moloka'i.
We love doing cultural experiences and learning how to make a lei was perfect! It's definitely one of the best kid-friendly things to do on Molokai Hawaii.