Are you looking for where to stay on Moloka'i? Keep scrolling for my honest Hotel Moloka'i review so you can decide if it's one of the best hotels in Moloka'i for your upcoming Moloka'i vacation.
This honest Hotel Molokai review contains affiliate links which means if you purchase something from one of my affiliate links, I may earn a small commission that goes back into maintaining this blog.
Are you looking for a hotel to stay at during your trip to Moloka'i?
We recently stayed at Hotel Moloka'i, the only hotel on the island. Keep scrolling for our honest Hotel Moloka'i review so you can decide if it's right for your vacation.
You'll be able to find out everything from what we liked and didn't like about this hotel, how much it costs per night, and whether or not they have an airport shuttle service that will pick you up from Moloka'i Airport (MKK).
Keep scrolling to read our full review of Hotel Moloka'i!
Best Places to Stay on Moloka'i FAQs
Can you stay on Moloka'i?
Absolutely! Most of the places to stay on Moloka'i consists of vacation rental homes, condos, cottages, or bed and breakfasts. There are no resorts like you'll find on the other islands. But no matter where you stay on Moloka'i, you'll be delighted by gorgeous views and stunning beaches. There are several wonderful Moloka'i accommodations.
How many days do you need in Moloka'i?
If you are island hopping from another island in Hawaii (like Maui or Oahu), plan on spending 2-3 days on Moloka'i. However, if Moloka'i is your only destination, you'll want 5-7 days.
Is Hotel Moloka'i on the beach?
Yes! It's located on Kamiloloa beach which is next to the only barrier reef in Hawaii. It's one of the only Moloka'i Hawaii resorts.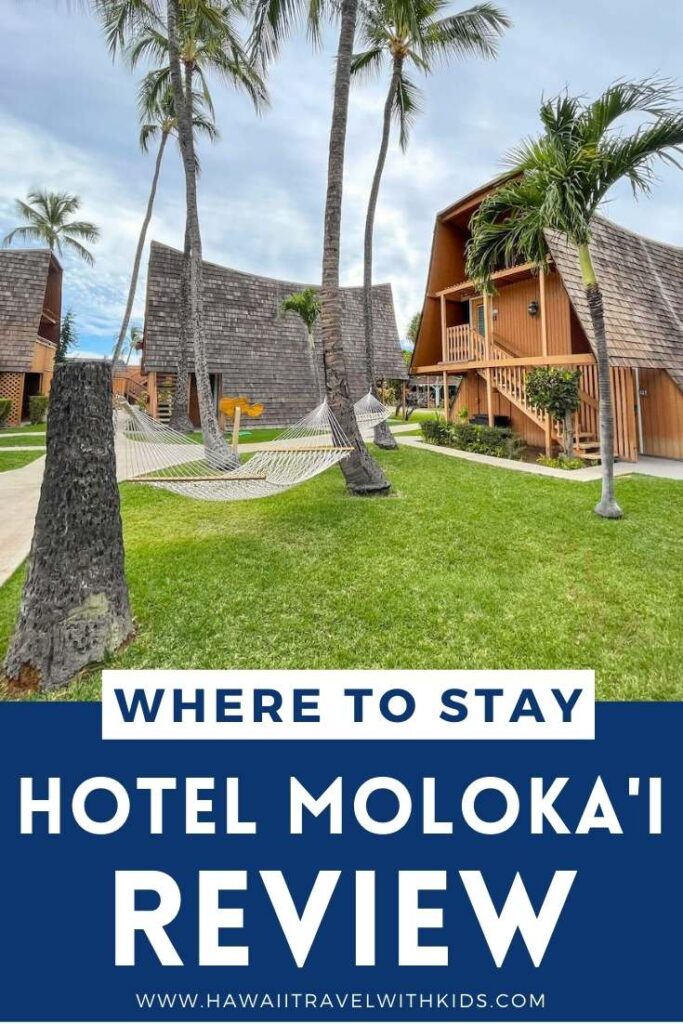 Where is Hotel Moloka'i?
Hotel Moloka'i is located in Kaunakakai in Central Moloka'i, just 15 minutes from the airport. The address is 1300 Kamehameha V Highway Kaunakakai HI 96748.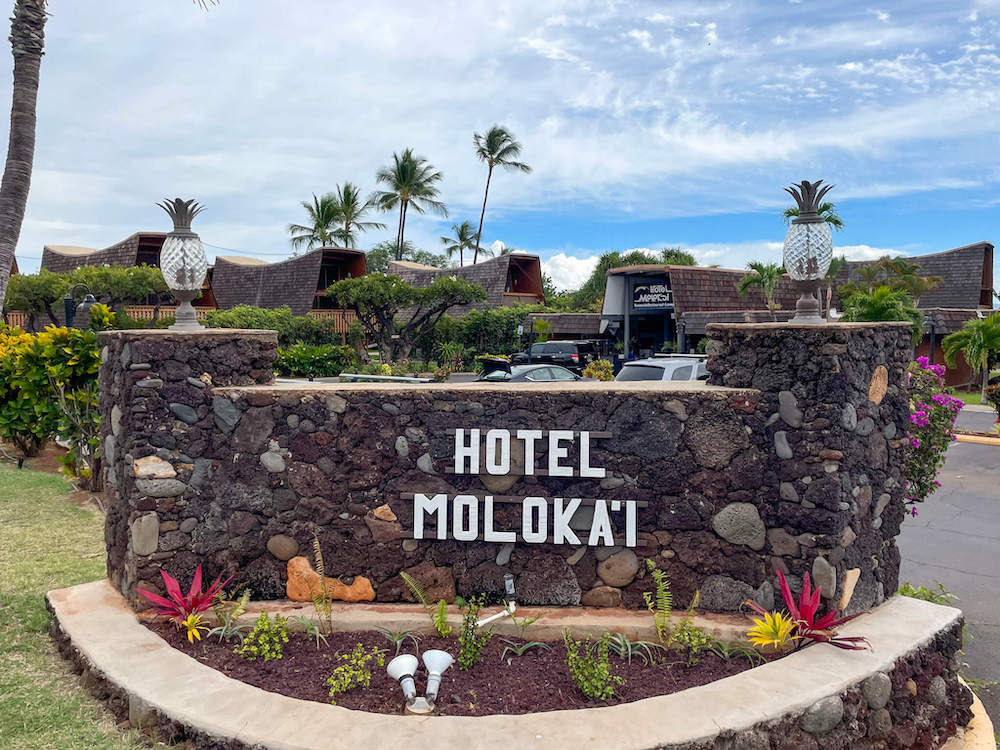 Does Hotel Moloka'i have an airport shuttle?
No. You'll definitely need to rent a car to get to Hotel Moloka'i or book the Moloka'i Taxi.
Honest Hotel Moloka'i Review
What was our room like?
Our room was fairly small but the space was used efficiently. We got a room with two double beds and a small flat-screen TV with DVD player. There was also an open closet in the corner with an iron and ironing board.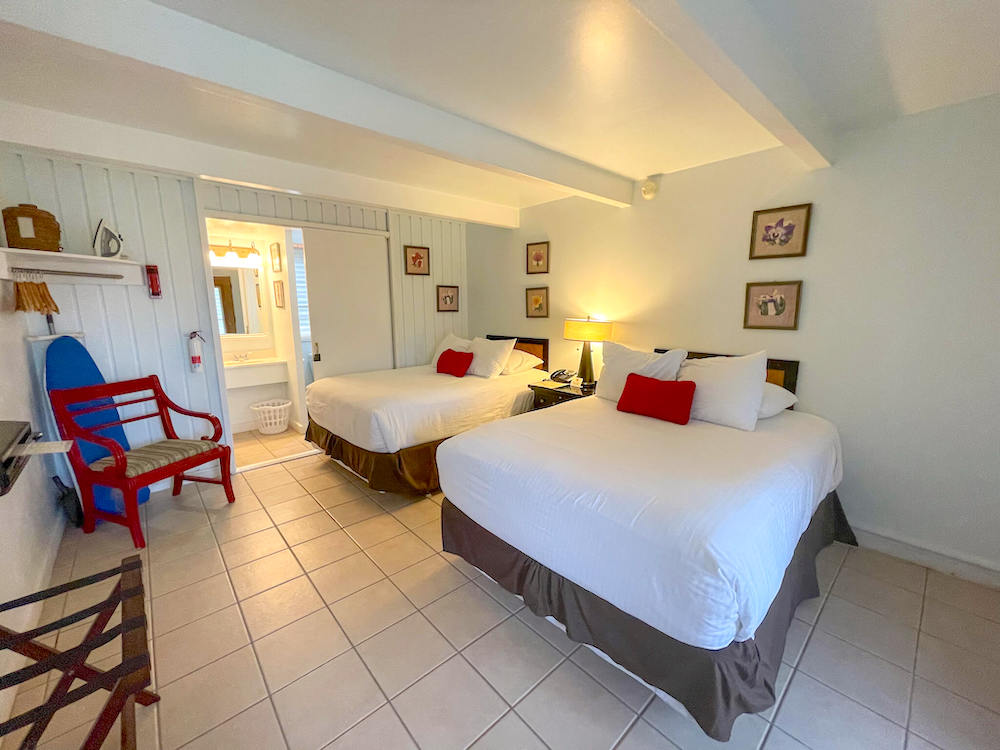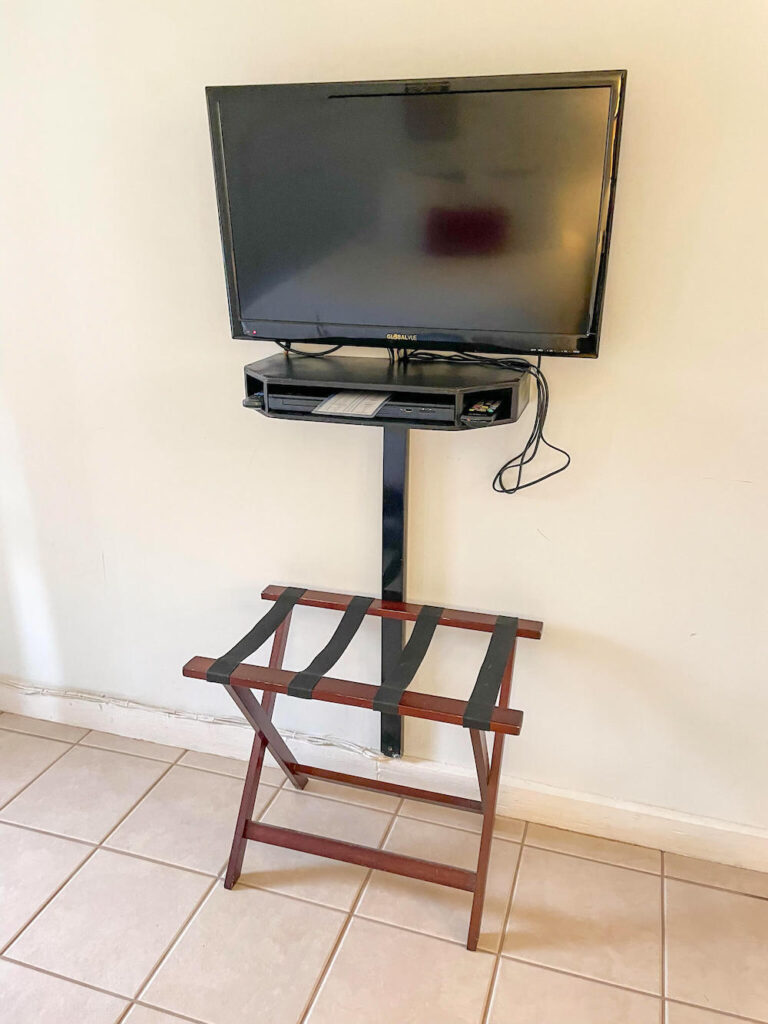 Then, there was a sliding wooden door that opens up to the bathroom and kitchenette. The kitchenette takes up a little corner and it has a couple of burners, a microwave, and a mini-fridge. Plus there's a little kitchen sink.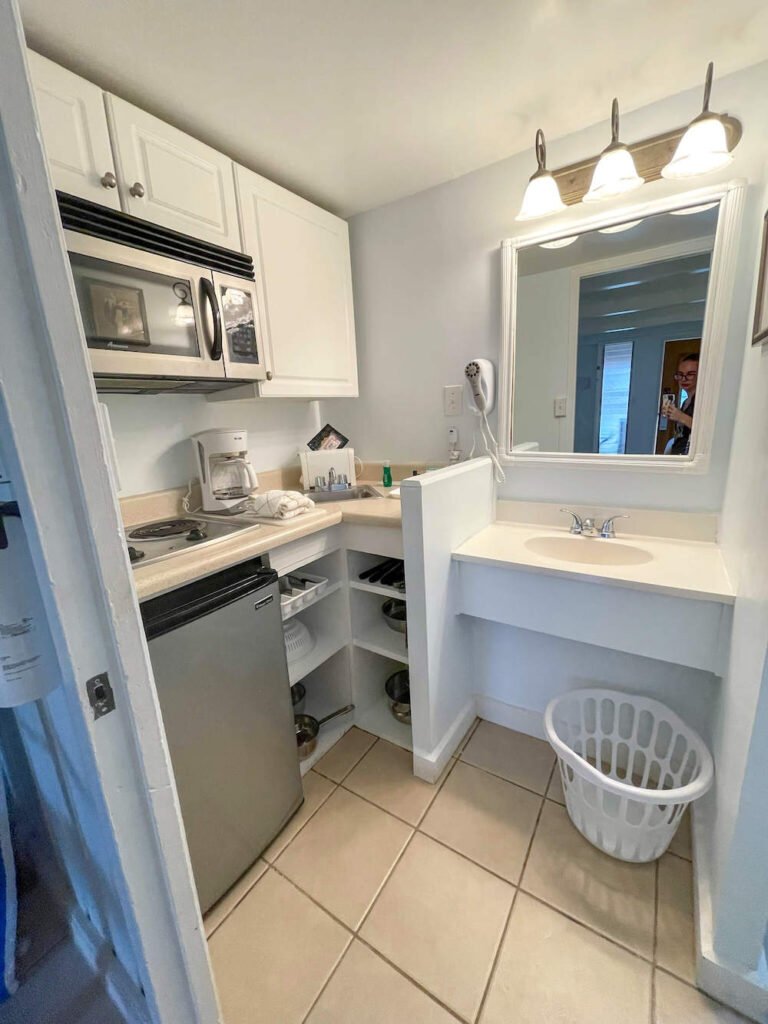 Right next to that is the bathroom sink and then the toilet and shower with tub. It sounds packed, but it actually works really well.
This is just one of many floor plans they have at Hotel Moloka'i. You'll definitely find a room that works best for your family. But, you'll want to reserve it early to snag it before someone else!
What did we think of the dining options?
There is an on-site restaurant/bar called Hiro's Ohana Grill. When I say that it's oceanfront dining, I mean you could easily throw your fork directly into the ocean. It's incredible how close it is!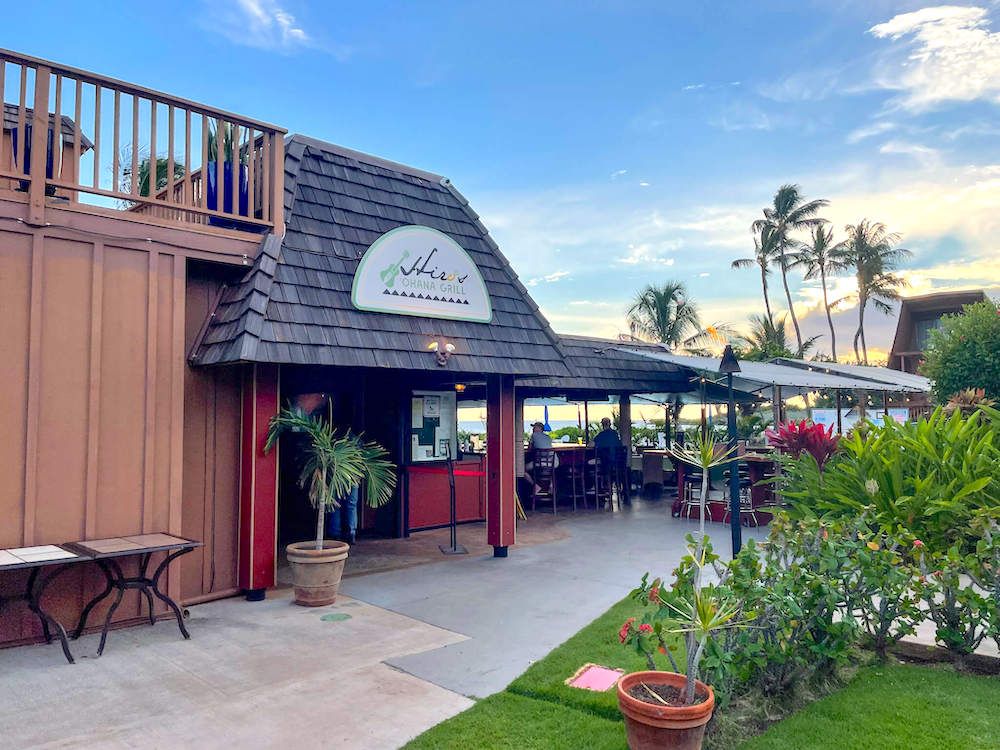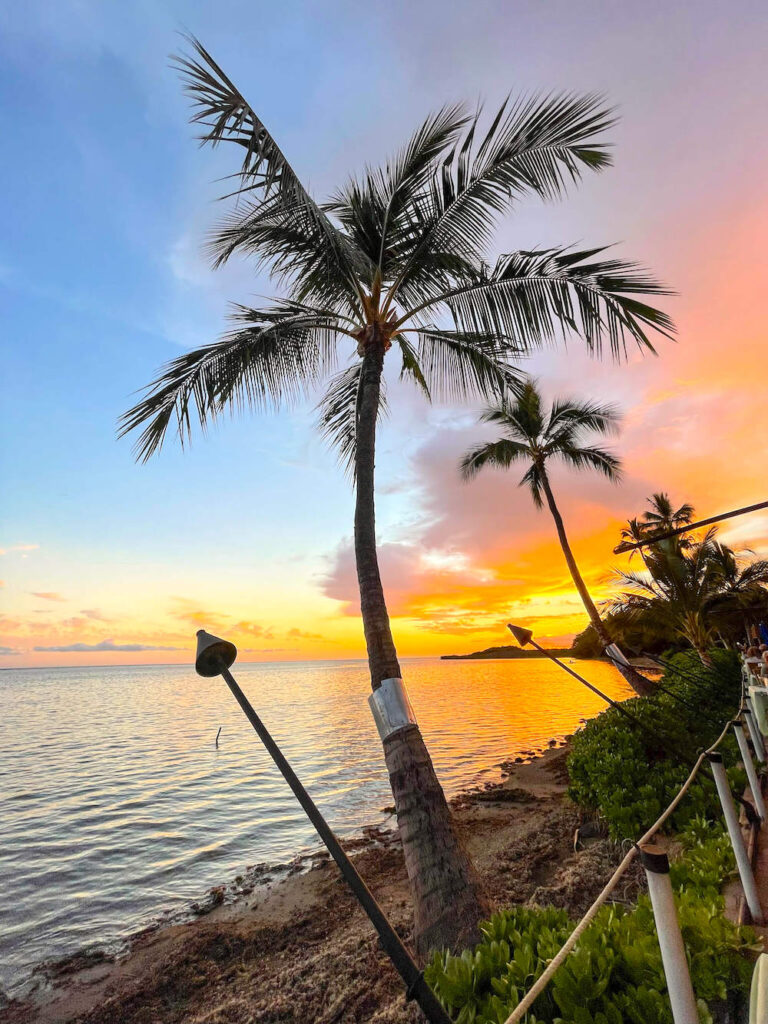 The food is pretty good. I ordered the seafood pasta special of the day and it was packed with shrimp, scallops, and lobster. The sauce was super good and the noodles were cooked perfectly. And it came with the tastiest garlic toast.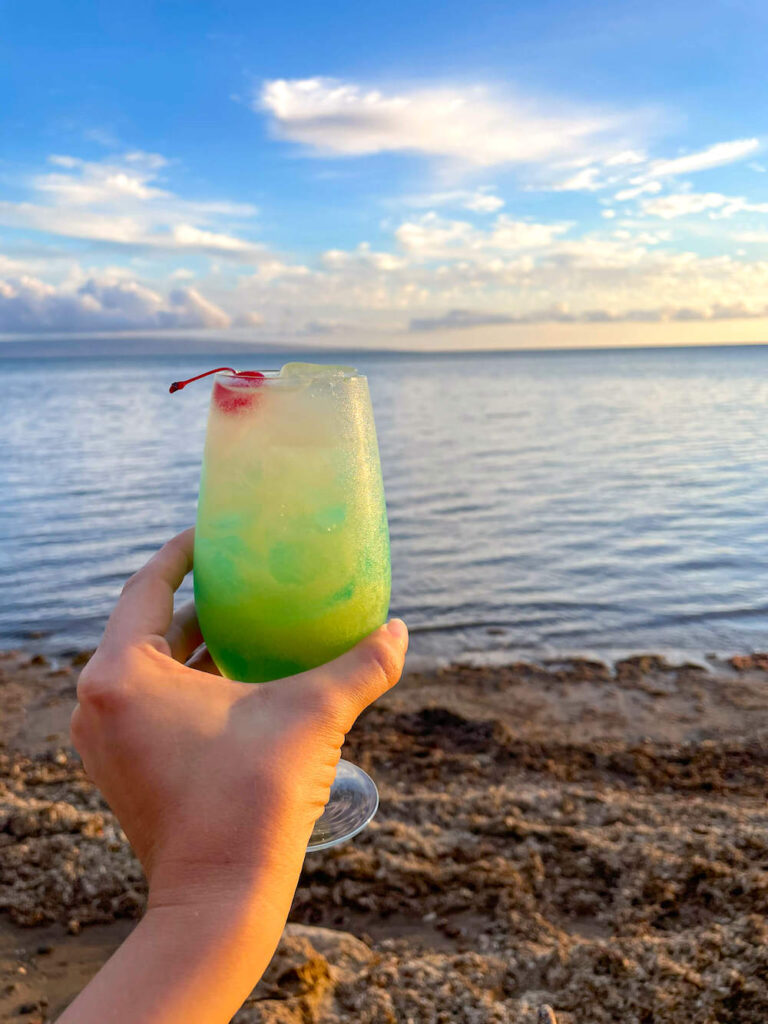 I also have to mention the drinks. They make some fantastic tropical cocktails that taste as good as they look!
You'll definitely want to reserve dinner here at least one night. That way, you'll get to enjoy an incredible Moloka'i sunset while eating dinner. The view is just breathtaking.
Hotel Moloka'i Pool Area
There's also a small pool area at Hotel Moloka'i. The water was pretty cold in March, but it was perfect for dipping toes in the water.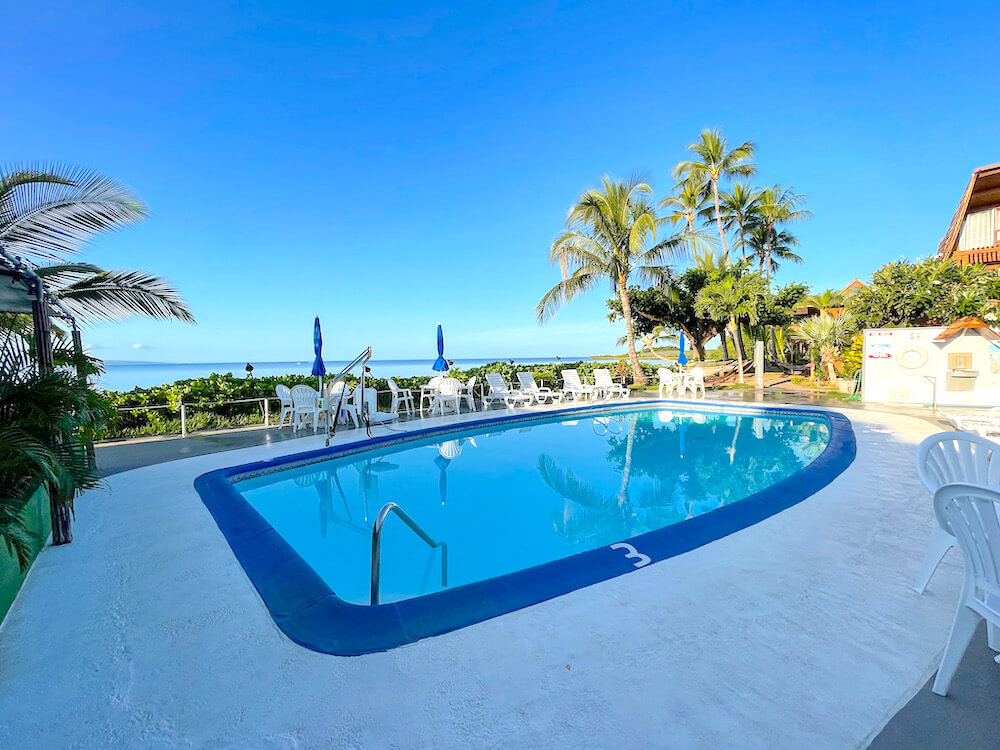 There are a bunch of lounge chairs around the pool. My mom sat on one and said it was uncomfortable. I didn't try it myself.
Other features/amenities
Beach
Hotel Moloka'i is located right next to the beach. There's a little path you can take down to the beach if you want to check it out. It's not the cleanest sand, but it's definitely worth a peek.
Tour Desk
If you're looking to do some activities on Moloka'i, you'll appreciate having an on-site tour desk. There's someone there who can help you set up tours or help you figure out your daily plan.
Hammocks
Something I feel compelled to mention is that there are TONS of hammocks around the Hotel Moloka'i. We had one right outside our room and I saw them sprinkled around the hotel as well as right next to the beach.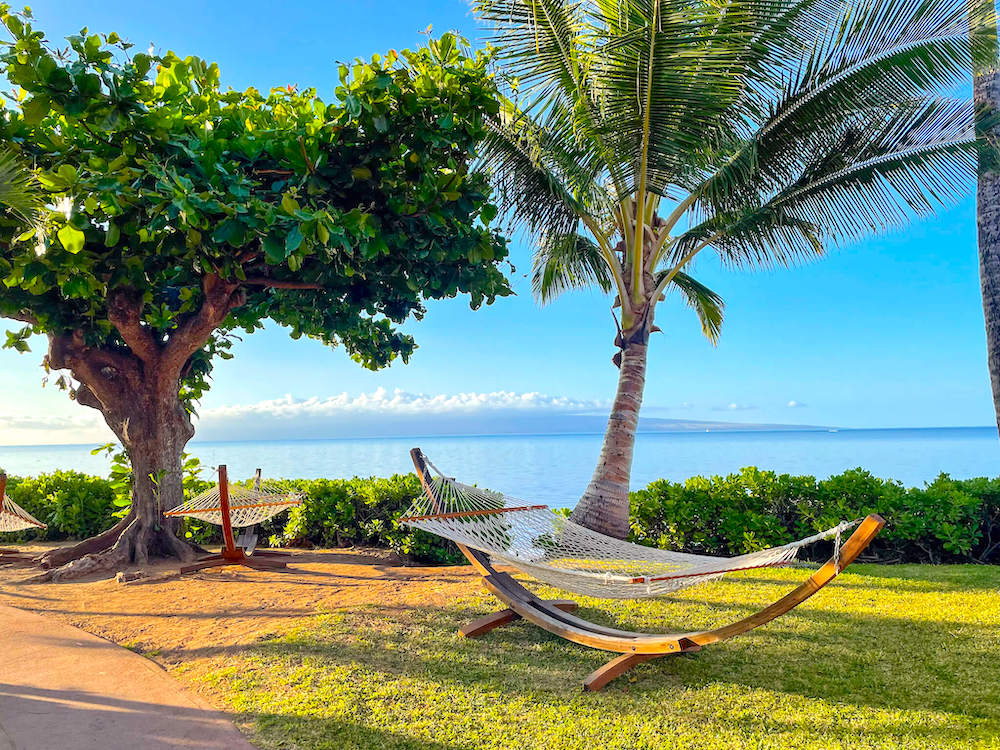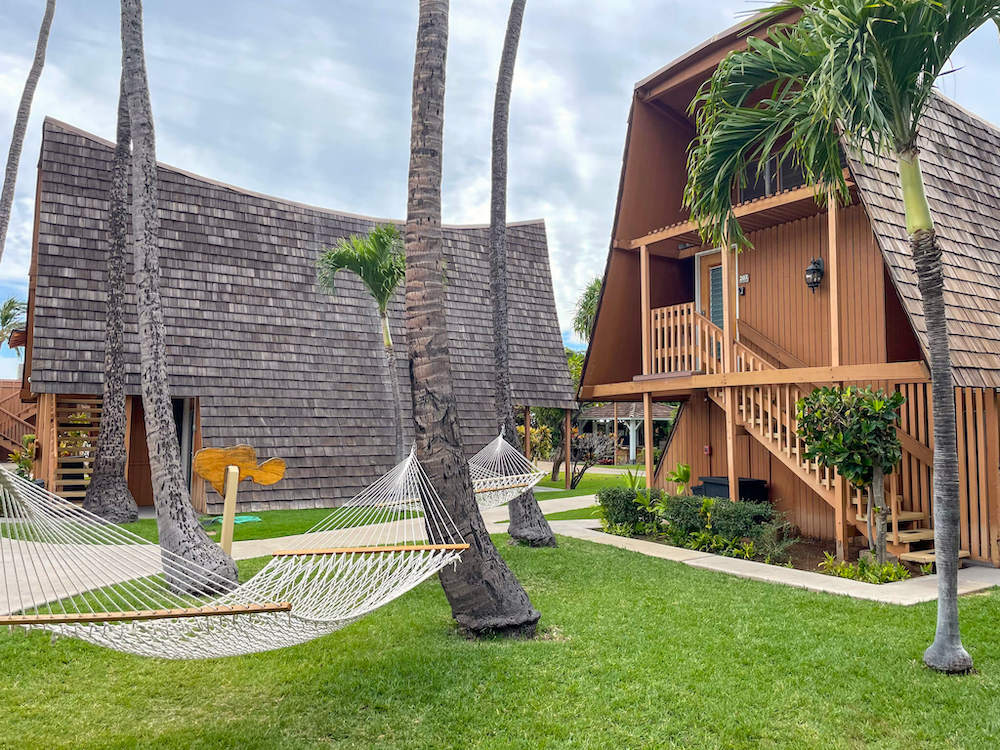 Laundry
There's also a neat outdoor laundry area. It's really small, but you can easily put in a load of laundry and then go to dinner or hang out at the pool.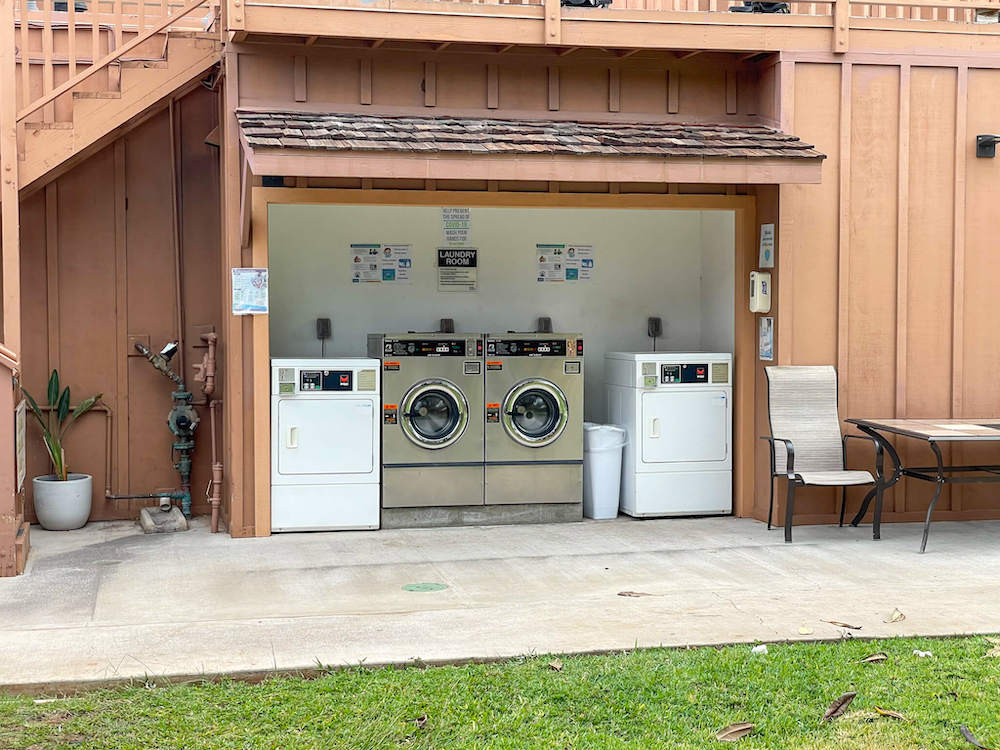 Shop
You'll also find an on-site store that sells snacks, drinks, and gifts from around Moloka'i. We saw island-made dried apple bananas and other yummy treats!
Business Center
So, they do have a place where you could use a computer if you didn't bring one. It's the cutest little outdoor business center and I had to snap a photo of it!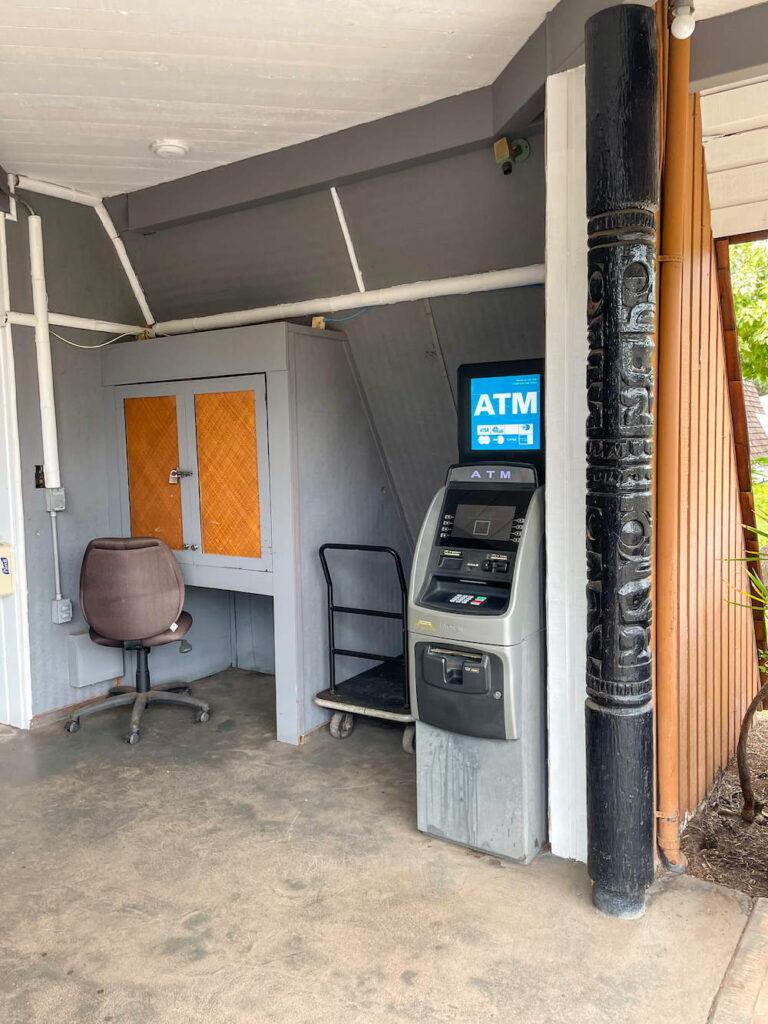 Parking
There is free parking at Hotel Moloka'i. It's pretty easy to find a spot. We even left to go get Moloka'i Hot Bread and came back around 9 p.m. and had no problem finding a parking spot.
Are there any things we didn't like?
You'll definitely want to have realistic expectations when you come to Hotel Moloka'i. It's not a fancy hotel or a resort. We definitely had some mosquitos and ants in our room throughout our stay.
And everything in our room felt like it had been on a tropical island for awhile. Things in a hot, humid, tropical climate tend to age a certain way.
None of that really bothered me, but I think it's worth mentioning.
Would we recommend Hotel Moloka'i?
Yep! I'm already dreaming about when I can come back and bring the rest of my family. I really like the set up of Hotel Moloka'i and it would be awesome for families traveling together who want their own space but places to hang out together.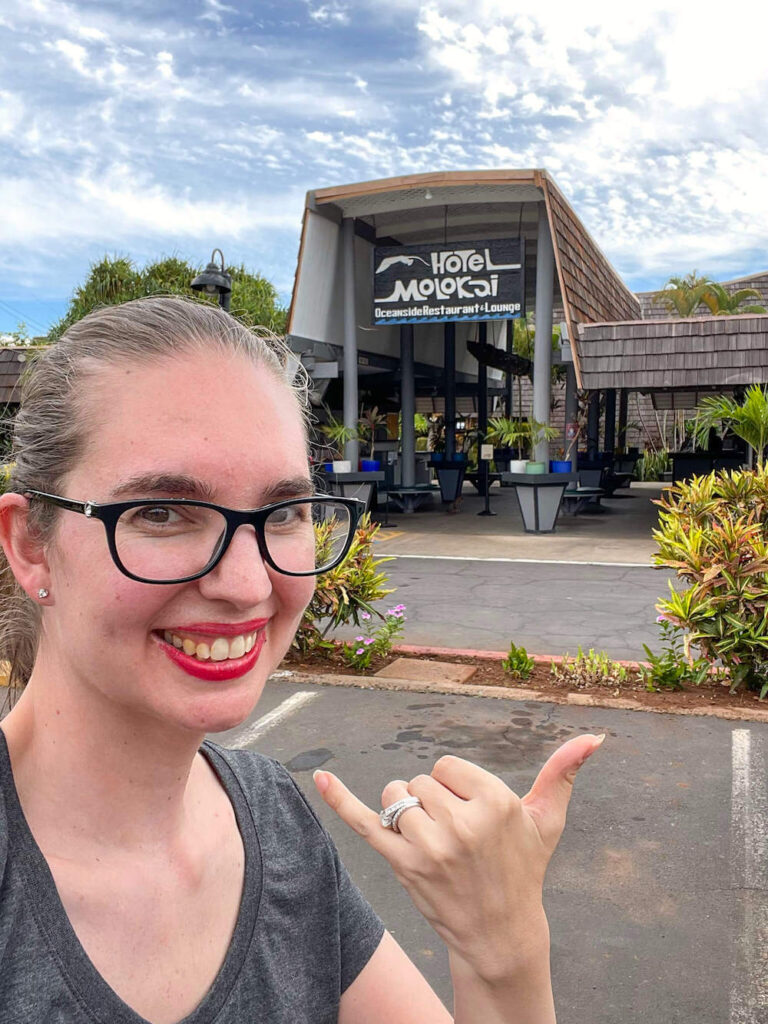 It's also just a few minutes from town in a nice, central location. It was really easy to do little trips to Maunaloa, the Moloka'i Plumeria Farm, and drive to Halawa Valley.
We will definitely be staying here again.