Are you looking for the best Road to Hana stops for kids that are worth it? Keep scrolling for an honest review of Pua'a Ka'a Falls and tips for hiking with kids.
This review of Pua'a Ka'a Falls as a top Road to Hana stop for families was written by Hawaii travel expert Marcie Cheung and contains affiliate links which means if you purchase something from one of my affiliate links, I may earn a small commission that goes back into maintaining this blog.
Are you planning to drive the Road to Hana on Maui with kids?
There are tons of kid-friendly Road to Hana stops worth checking out. One of our favorite things to do on the Road to Hana with kids is hike Pua'a Ka'a Falls.
It's one of the easiest waterfall hikes on Maui for kids. The hike takes about 5 minutes round trip and it's not too strenuous. It's also located right off the road, so if your kids get tired or want to grab something from your car, it won't be a big deal.
Keep scrolling to read my full guide on how to visit Pua'a Ka'a Falls on Maui with your family.
You'll be able to find all kinds of tips and tricks for visiting this beautiful spot, including what time we recommend going, where you can park, and more!
Scroll down to read my complete guide about hiking Pua'a Ka'a Falls in Hawaii with Kids!
Don't have time to read a bunch of Hawaii blog posts and reviews? Here are some of our top picks for visiting Maui.
Popular Maui Tours/Activities
Favorite Maui Resorts/Hotels
Andaz Maui (this is a luxury resort with the best luau on Maui)
Honua Kai Resort & Spa (this is one of our personal favorites because there are tons of pools and there are condo options)
Want to Rent a Car in Hawaii?
One of the best places to rent a car in Hawaii is Discount Hawaii Car Rental because they get the best rates from top national companies like Alamo, Dollar, Thrifty, Avis, Enterprise, Budget, and Payless.
Want to skip all the planning and just access my detailed Maui Itinerary complete with daily schedules, kid-friendly activities, and travel hacks? Click the button below.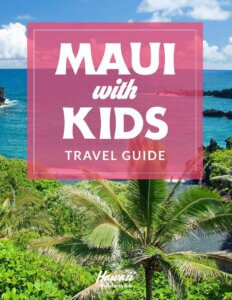 Road to Hana Waterfalls FAQs
What waterfalls can you swim in on the Road to Hana?
There are actually only a few Road to Hana waterfalls that are safe for swimming. The most popular is Seven Sacred Pools (also called 'Ohe'o Gulch) but you'll want to check conditions first to see if it's even open. There's also the Upper Puohokamoa Falls near mile marker 12. Twin Falls is another easy waterfall hike that leads to a swimming hole. And there's the Waikamoi stream and waterfalls that are definitely worth checking out.
How many waterfalls are on the Road to Hana on Maui?
Surprisingly, there are more than 15 gorgeous waterfalls located on the Road to Hana in Maui. While you can see several of them from the road, you'll need to hike to see the rest. But, it's totally worth it!
Where can you cliff jump on the Road to Hana?
If you'd like to go cliff jumping on Maui, head to Twin Falls on the Road to Hana. It's an easy 1-mile hike that's kid-friendly and perfect for the whole family. Once there, you can swim in the waterfall or brave people can jump off the cliff.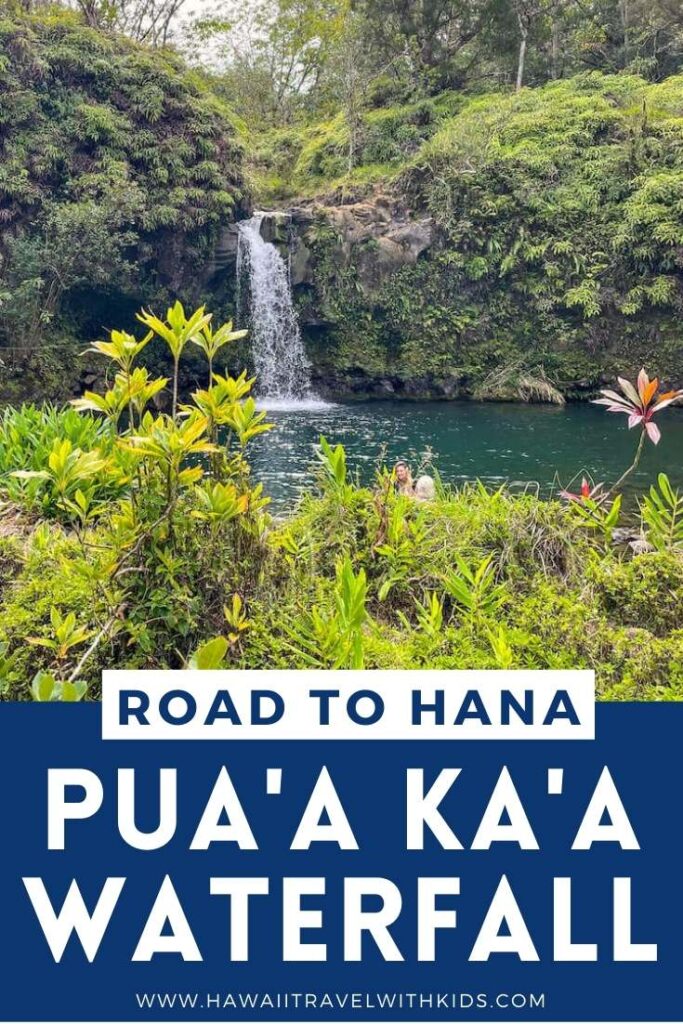 Where is the Road to Hana on Maui?
Pua'a Ka'a Falls is located on the Road to Hana at mile marker 22.5.
Most visitors take a day trip to visit the sights along the road on their way to Hana and then turn around once they reach the town of Hana to head back to their resort.
If you are staying in Lahaina, Pua'a Ka'a Falls would be a little more than 2 hours from your hotel. That seems like a really far drive, but if you get up early, you can drive it pretty smoothly.
If you are staying on the southern side of Maui near Kihei, it would be around 1 hour and 40 minutes from your hotel.
Road to Hana Stops: Pua'a Ka'a Falls on Maui
Most people are excited to discover waterfalls in Maui. One of the best places to see Maui waterfalls is along the Road to Hana. It's super lush and beautiful and there are tons of Maui waterfall hikes there.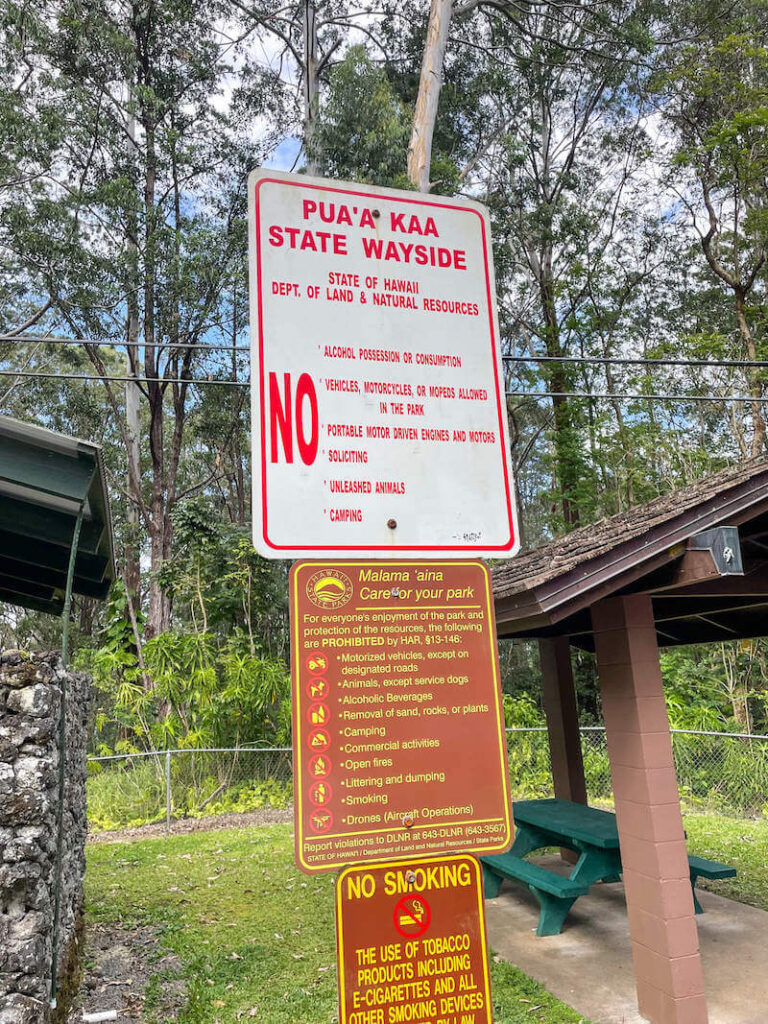 You can easily see Pua'a Ka'a Falls as you drive the Road to Hana. It's on the "mauka" side (mountain side) and it's really adorable.
They actually have lots of parking available (which isn't always the case for Road to Hana stops). That's my main reason for recommending that families stop here. It's one of the best waterfalls in Maui that doesn't require much walking.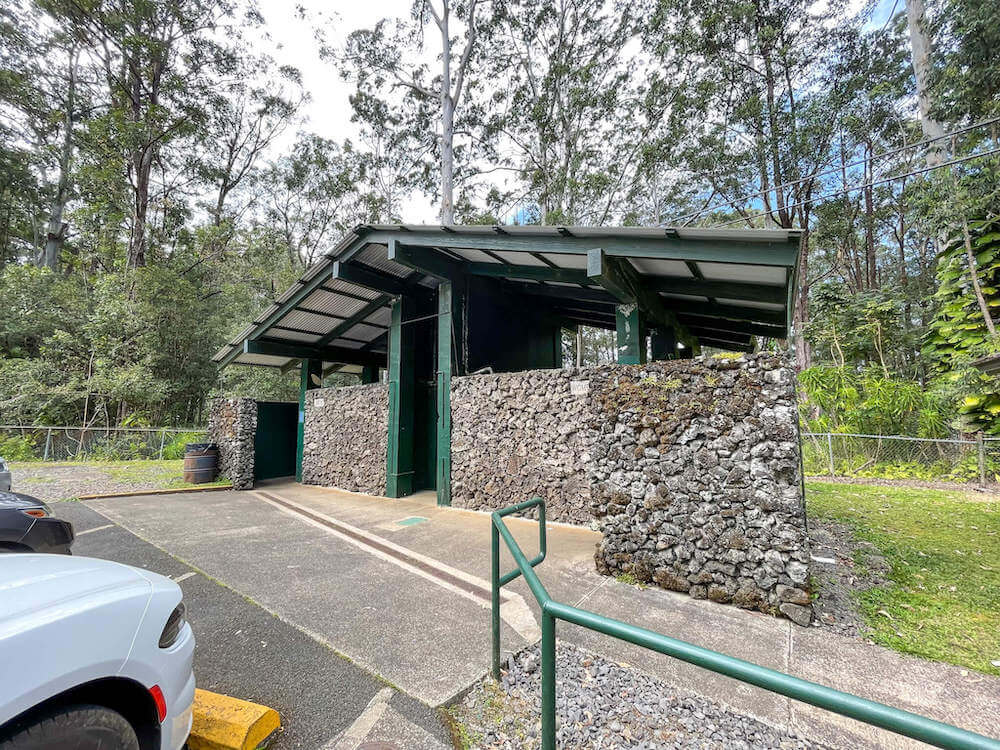 Another great thing about Pua'a Ka'a Falls is that they have a large public restroom. That's always helpful when doing road trips with kids!
What Can I do at Pua'a Ka'a Falls?
Swim at a Maui Waterfall
If swimming in a waterfall on Maui is on your bucket list, this is one of the BEST places to do it. I mean, the waterfall is literally along the side of the road with no hiking required. But, you'll need to walk up a paved path.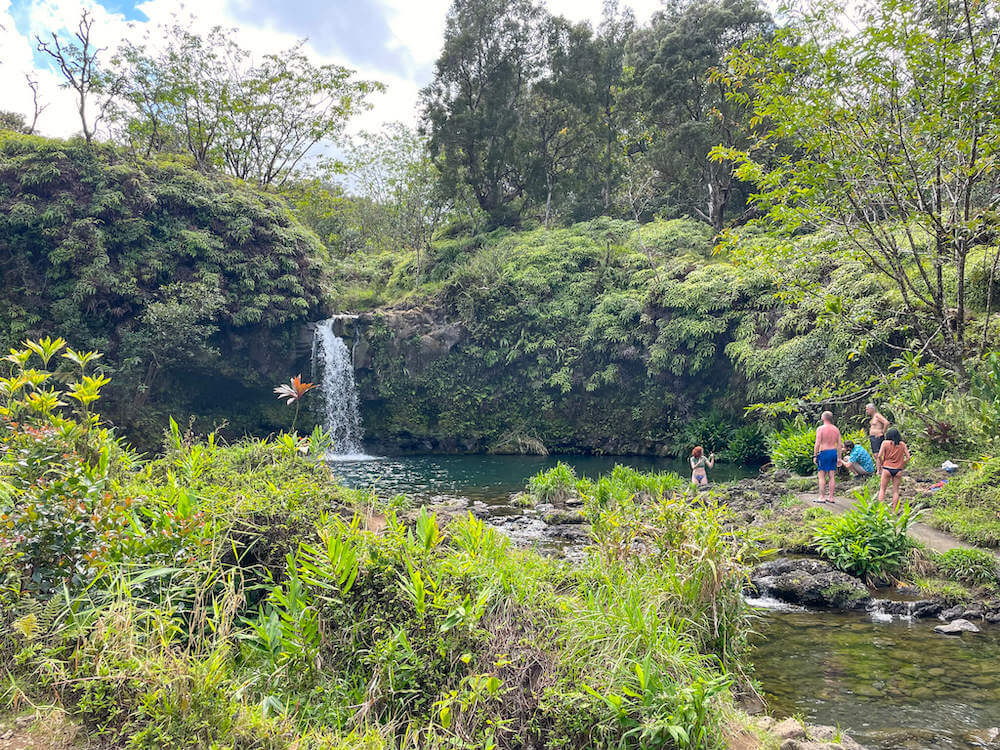 When we were there, it wasn't very crowded. There were 2 or 3 people actually in the waterfall pool (either swimming or taking selfies) and then a handful of people on the path sort of waiting for their turn.
Have a Picnic
There's also some shady areas to sit and enjoy a picnic. I saw several covered picnic shelters at the waterfall as well as next to the parking lot and restrooms.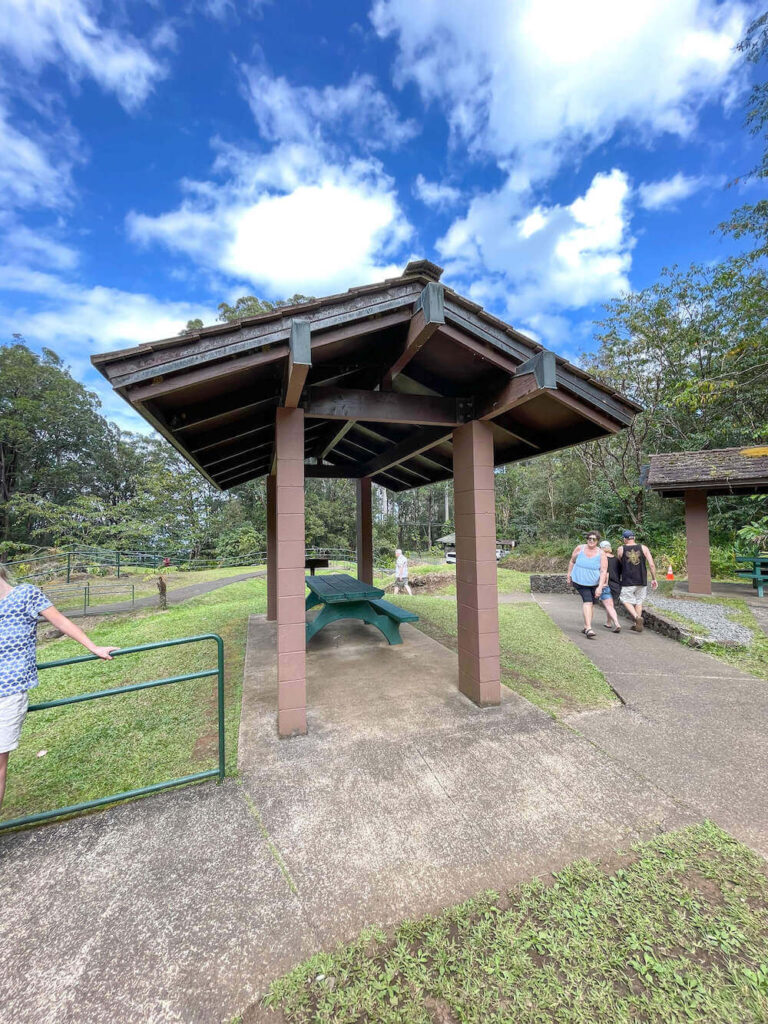 It would be easy to pick up food/drinks from one of the roadside stands along the Road to Hana and enjoy them at Pua'a Ka'a Falls.
Important Information About Visiting
There are two ways to get to Pua'a Ka'a Falls. You can either climb up the concrete stairs or take the paved path.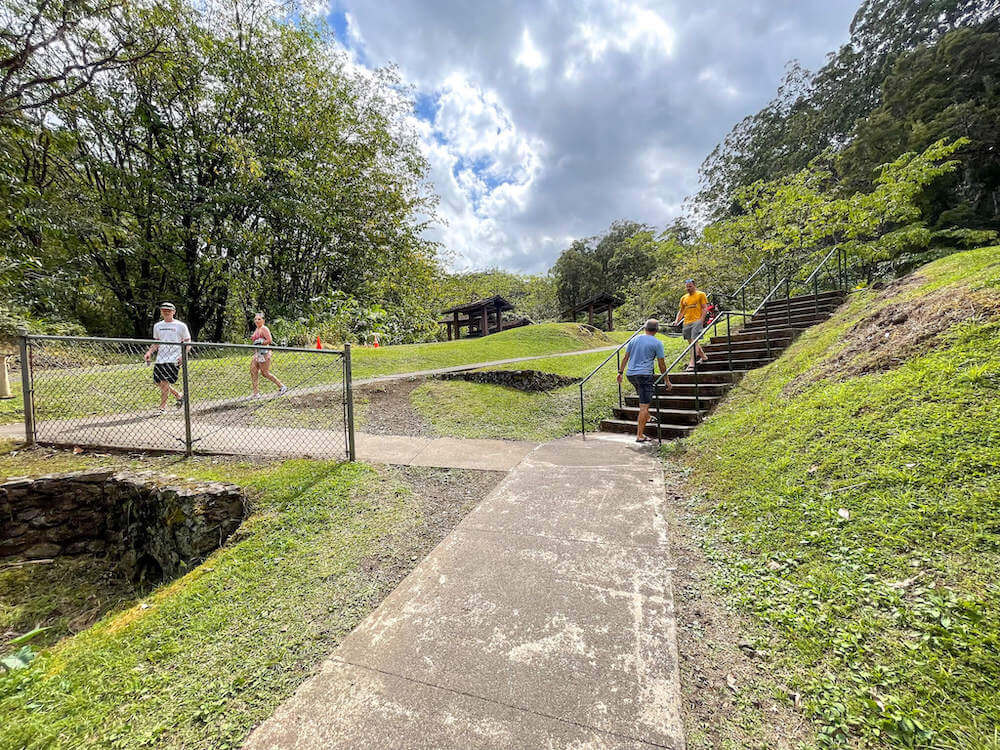 That means you could bring a stroller if you like. The only time the path changes is if you go through the railing in order to hike down to the waterfall pool. That's just on dirt/rocks and you'll climb over some rocks in the water.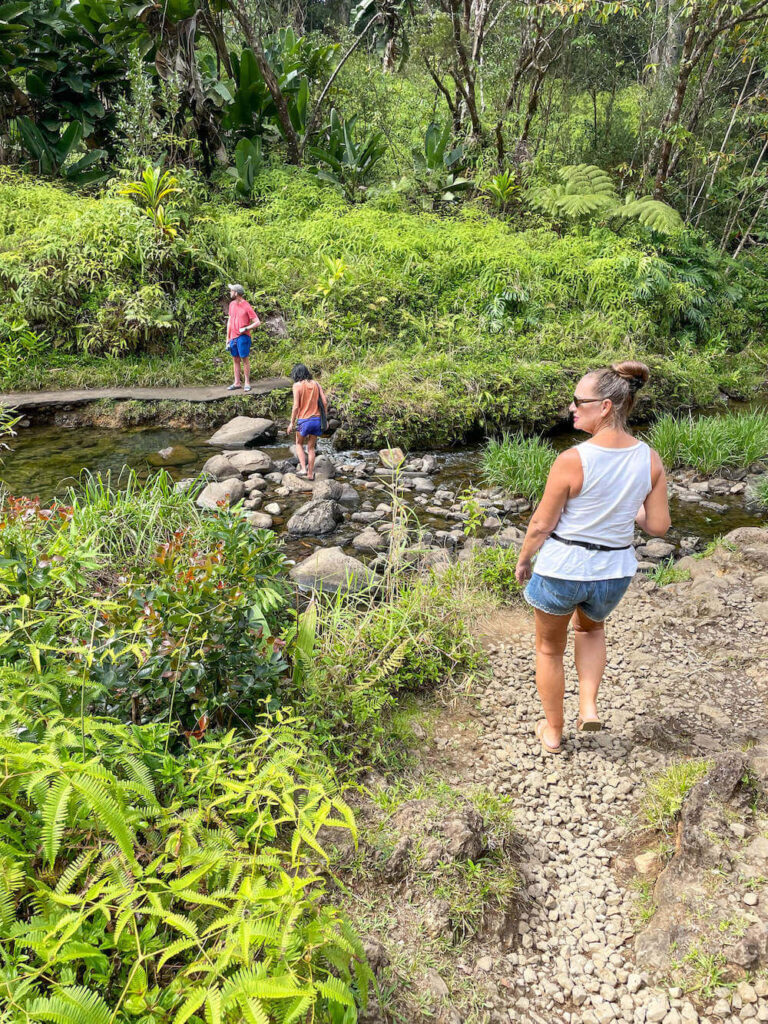 I do want to mention that we visited Maui during a drought, which is why the stream is so low. Usually, there is more water and it might be trickier to cross over the stream.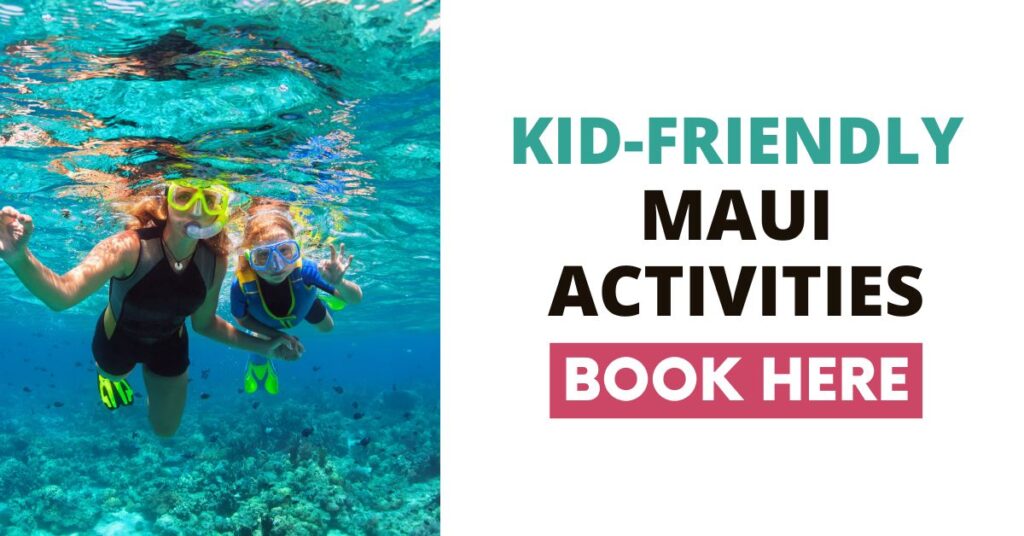 5 Tips for Visiting Pua'a Ka'a Falls with Kids
What to Pack
If you're getting into the water, you'll want an extra change of dry clothes as well as a towel. You'll probably also want to have some snacks and water.
What to Wear
If you want to get into the water and swim at the base of the waterfall, you'll need a swimsuit. It also helps to wear sunscreen and/or a sun hat.
How Long to Stay
It's really a personal preference on how long you'll want to stay. If you're just getting out to look at the waterfalls and take some photos, you'll just need about 10 minutes or so.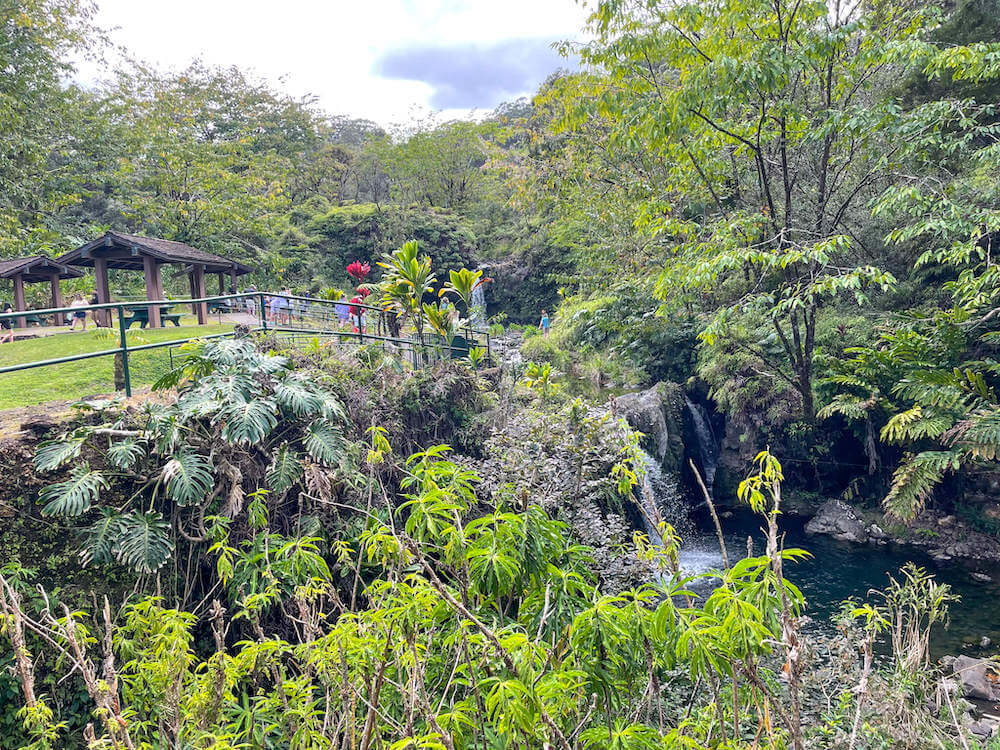 If you're planning on swimming, you'll probably want 30-60 minutes. That will give you time to get into the water, play around, and then dry off before hopping back in the car.
What Not to Miss
To the right of the big waterfall pool area is a smaller waterfall with a small pool. Most people go straight for the main one. It's totally worth walking along the road for a few feet to get to the smaller one.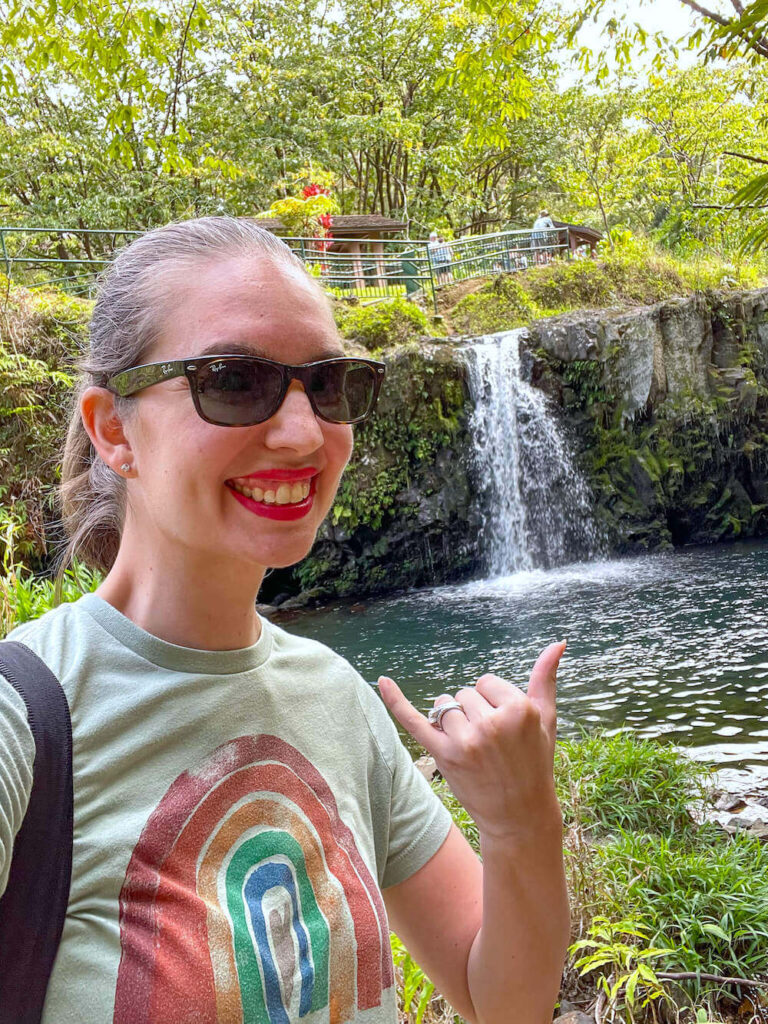 I was the only person at the lower falls when there were probably 20 people up at the main waterfall viewing area. It's literally steps from the road though, so I'm guessing that's why people weren't swimming there. But, it's perfect for photos!
Apparently, there's also a 3rd waterfall if you hike up a bit past the 2nd waterfall. I didn't see a trail, but there's an article about it on All Trails.
Considerations with Kids
It can be a bit tricky to get down to the base of the waterfall with kids, especially if there is a lot of water. Be sure to hold your child's hand when crossing over the rocks.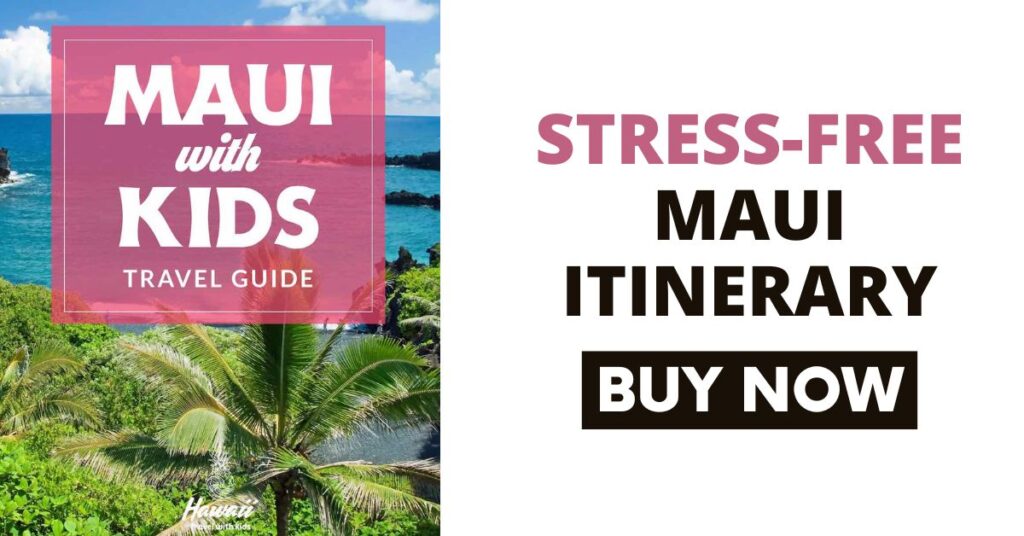 So, is it worth stopping at Pua'a Ka'a Falls on the Road to Hana?
Absolutely! I love that there is a lot of parking available, so it's one of the easiest Road to Hana stops. Plus, it makes a great photo spot!
It's hands-down one of the best hikes in Maui with waterfalls for families with kids of all ages. Plus, it's perfect for grandparents!
It's no wonder why Pua'a Ka'a Falls is one of the top Road to Hana highlights for many travelers.