Are you thinking about spending the night on the Road to Hana? Keep scrolling to find out the best places to stay in Hana Maui so you can do more Road to Hana stops.
This list of the best places to stay in Hana Maui contains affiliate links which means if you purchase something from one of my affiliate links, I may earn a small commission that goes back into maintaining this blog.
Are you looking for a place to stay in Hana Maui?
You'll find a variety of hotels and resorts to choose from, but not all of these places are created equal.
In this article, we'll take a look at the best places to stay in Hana Maui so that you can make the most out of your trip. Whether you're looking for a hotel, vacation rental, cabin, or camping spot, we've got you covered.
We know how hard it is to plan an entire trip around finding accommodations that meet your needs and budget. That's why we've done the research for you!
From luxury suites with ocean views to cozy cabins tucked away in the woods – there's something here for everyone!
Keep scrolling for our top Road to Hana hotels and accommodations.
Don't have time to read a bunch of Hawaii blog posts and reviews? Here are some of our top picks for visiting Maui.
Popular Maui Tours/Activities
Favorite Maui Resorts/Hotels
Andaz Maui (this is a luxury resort with the best luau on Maui)
Honua Kai Resort & Spa (this is one of our personal favorites because there are tons of pools and there are condo options)
Want to Rent a Car in Hawaii?
One of the best places to rent a car in Hawaii is Discount Hawaii Car Rental because they get the best rates from top national companies like Alamo, Dollar, Thrifty, Avis, Enterprise, Budget, and Payless.
Want to skip all the planning and just access my detailed Maui Itinerary complete with daily schedules, kid-friendly activities, and travel hacks? Click the button below.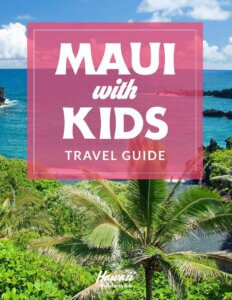 Lodging in Hana Maui FAQs
Are there a lot of Hana Maui hotels?
Not really. It's definitely not as popular as Wailea, Ka'anapali, Lahaina, or Kapalua. Many people usually only spend 1-2 nights in Hana as part of their Maui vacation. The main hotel is the Hana-Maui Resort which is a Hyatt property.
Is driving to Hana at night difficult?
Absolutely. It's actually unsafe for visitors to drive the Road to Hana at night because of the limited streetlights. That's why it's a smart idea to spend the night in Hana if you think you'll need more time.
What are the top things to do in Hana Maui?
There are actually a surprising number of things to do in Hana and nearby. A few top picks include hiking the Pipiwai Trail, visiting a black sand beach, checking out the food trucks, visiting the Hana farmers market, exploring a Maui cave, and exploring Kahanu Garden.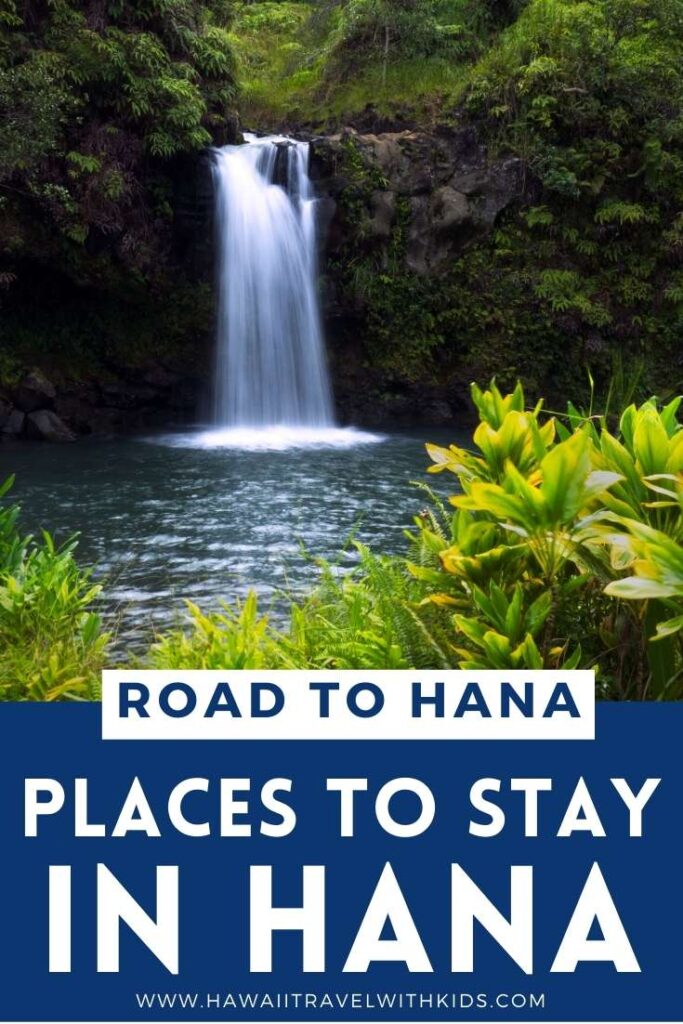 Directions to Hana
The most popular way to get to Hana is by driving the Hana Highway from Paia. Usually, driving the Road to Hana is a full-day experience. There are tons of amazing Road to Hana stops that are worthwhile.
There's also a back way to get to Hana. You'll go through Upcountry Maui and around Haleakala to get to Hana. Many rental car companies don't cover accidents on this road, so use your judgement.
Is it Worth Staying in Hana Maui?
If you have a long trip to Maui, it's definitely worth finding Hana Maui lodging for a night or two. That way, you have plenty of time to stop along the Road to Hana without feeling rushed. And you'll get to hit more stops on the way back (and avoid the crowds!)
Where to Stay in Hana Maui
The hotels in Hana may not be as cheap compared to hotels in Oahu or other places in Hawaii, but the hotels in Hana are very nice.
With that said, there are definitely budget-friendly hotels to stay at in Hana. It's just up to you whether you want to spend a bit more money for comfort and convenient amenities or not.
Hana hotels in Maui range from the cheapest hotels that cost around a few hundred per night to hotels that cost around thousands per night. When choosing where you want to stay in Hana Maui, consider how much money you're willing to spend and what kind of hotel amenities will be available for your choice.
Camping is another option for people who want to save money on hotels in Hana Maui. In fact, a lot of people who are experiencing the Road to Hana love to camp at the campgrounds along the Hana Highway. Read my full guide to camping on Maui.
If you're looking for a vacation rental or cabin, Airbnb has some amazing places to stay in Hana. But be prepared that you will have to pay a bit more for a private residence.
If you want to split that cost between your friends or family, then definitely consider staying at an Airbnb place in Hana. Although hotels may be cheaper than vacation rentals and cabins, hotels don't provide nearly as nice of an experience as sleeping in a real house or apartment does.
There is also the option of renting condos and houses in Hana through VRBO or HomeAway. If you've got a big group of people who want to stay together, this may be the best choice for you – especially considering that hotels charge per room, not per person.
The best hotels in Hana Maui are ones that offer a nice visit to this rural, natural setting. The hotels and resorts range from luxurious hotels like the Hana-Maui Resort to affordable hotels such as the Bamboo Inn on Hana Bay. Visitors can also choose from a variety of vacation rentals, cabins, and camping sites.
The luxury hotels have plenty of amenities for guests with high expectations, while budget-minded travelers will enjoy staying in one of the more economical options.
Of course, there are hotels in Hana Maui that provide great amenities and customer service that might make them better than the hotels listed here. But these are just some recommendations for you to try. You can check out the hotels below to figure out where you'd like to stay when visiting Hana Maui!
Best Hotels in Hana
This hotel (formerly the Travaasa Hana) is considered to be upscale and is a beautifully remote oceanfront property that offers all-inclusive packages and picturesque grounds.
The Hana-Maui Resort sits on Maui's wild east coast and is easily reachable by the beautiful drive on Hana Highway or an easy 20-minute plane ride from Kahului Airport to Hana.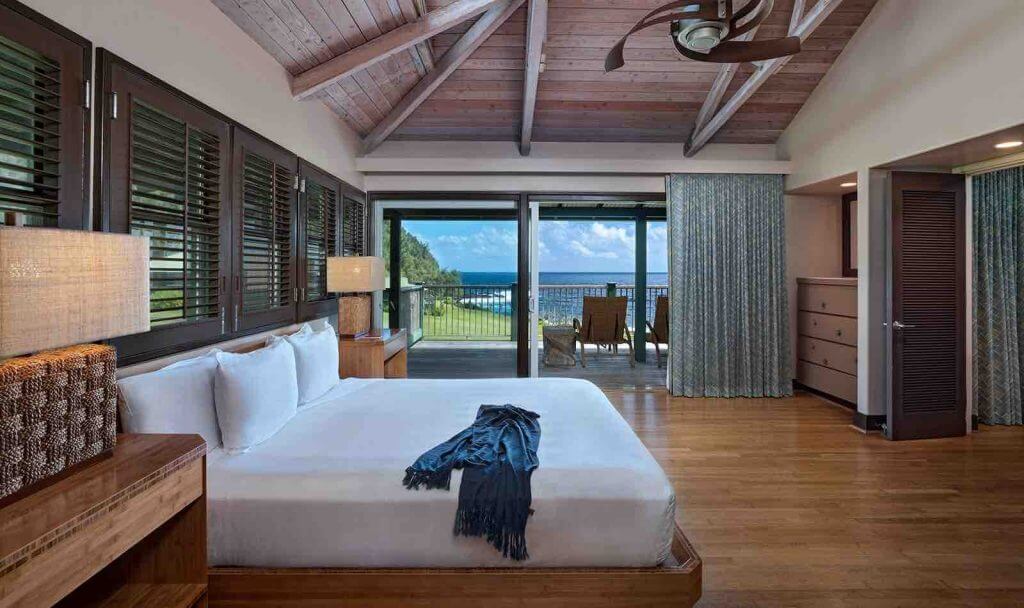 Prices per night at the Hana-Maui Resort range from $669 to $1349. Check the latest rates and more information.
Room amenities at the Hana-Maui Resort include full or partial ocean views and a private lanai. Some rooms also include a gourmet kitchen as well as a separate living area and dining table.
Hotel amenities include a restaurant overlooking Hana Bay and Kauiki Hill. This restaurant serves the freshest Hana products available and uses locally grown fruit, fresh fish, and freshly grown vegetables.
The Hana-Maui Resort also has a sparkling infinity pool with a pool bar that serves local cheese and fruit plates, island-caught ahi poke bowls, sandwiches, tropical Mai Tais, and more.
If you're looking for an awesome couples-only getaway, the Heavenly Hana Paradise guest house is a great option.
It's just 10 minutes from Hamoa Beach and Hana town center. And it's within a 20-minute drive from Seven Sacred Pools and Charles Lindbergh's grave.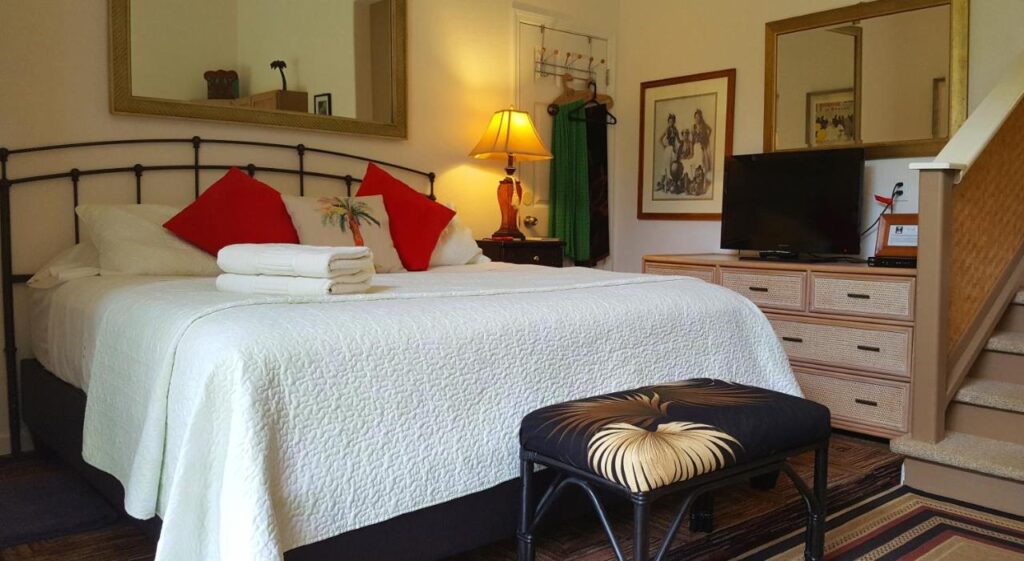 Prices per night at the Heavenly Hana Paradise range from $279-$404. This is one of the best places to stay in Hana for one night. Check the latest rates and more information.
Room amenities include free WiFi, a covered terrace, a blender, fresh towels and linens, beach towels, toiletries, and more.
Plus, you'll be surrounded by a lush garden full of fresh ginger, gardenia, and other tropical greenery. And there are also fruit trees, like mango, papaya, and banana trees surrounding the property.
Hana Kai Maui offers gorgeous oceanfront rentals right on Hana Bay at Waikaloa Beach.
They offer first-class studio, one, and two-bedroom rentals that feature beautiful grounds, beachside barbeque, fully equipped kitchens, private lanais, and free wireless internet.
Many of their condos offer panoramic oceanfront views where you can witness exquisite sunrises and sunsets while you watch dolphins and turtles swim in the waters nearby.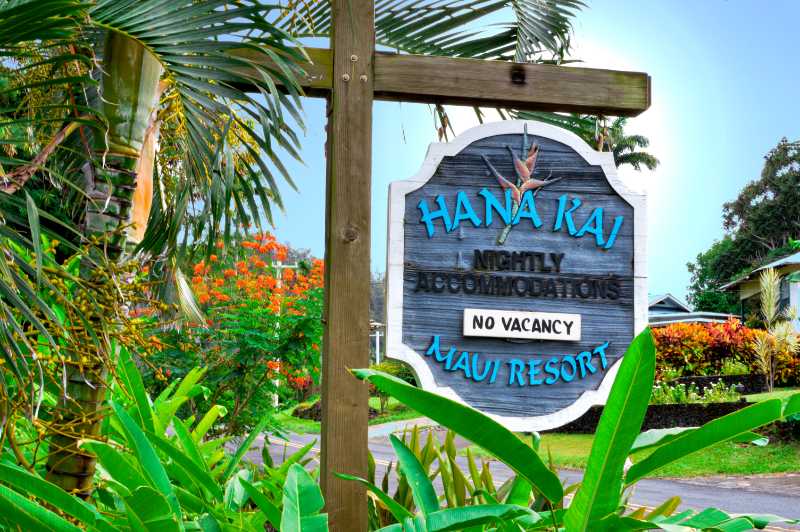 Prices per night at the Hana Kai Maui range from $365 to $685. Check the latest rates and more information.
Each unit at Hana Kai Maui has a full kitchen, including a 4-burner stove with an oven, microwave, toaster, refrigerator, a Brita filtered-water pitcher, and a coffee maker.
They also equip each room with non-dairy creamer, sugar, salt and pepper, and non-stick cooking spray. There's also a deluxe gas grill located on the Ocean Lanai and a second outdoor grill in the parking area for their guests to use.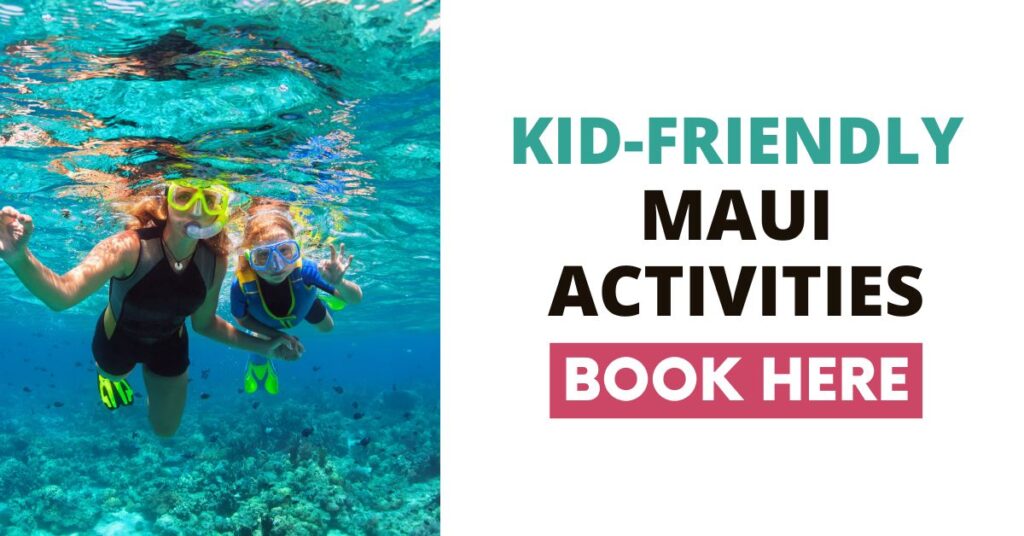 If you're doing the Road to Hana with a large group, consider splurging to stay at the Hana Estate Home. It has 5 bedrooms, a full kitchen and a dining area. This is my top pick for a multi-generational trip.
There's also a private swimming pool and free WiFi.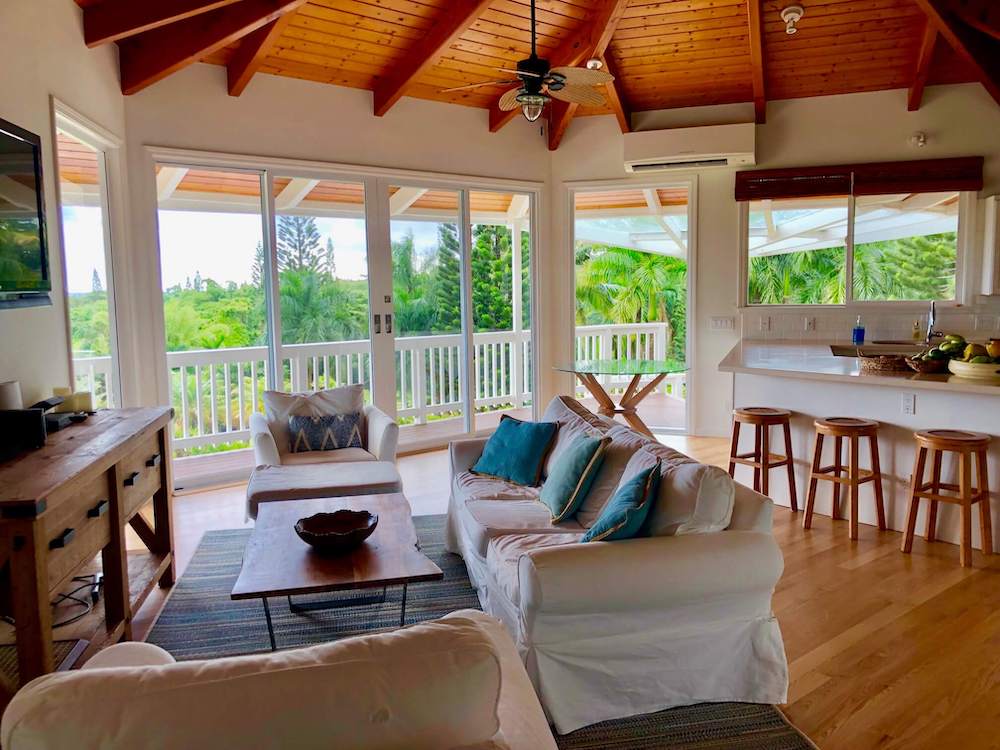 There is a 3-night minimum stay. Prices per night are about $1,700. Check the latest rates and more information.
The location is pretty nice. It's less than 4 miles from Hana town center and about 2 miles from Waianapanapa State Park (the black sand beach).
The Bamboo Inn On Hana Bay is located at the end of the Road to Hana. Each room in this inn boasts a gorgeous view overlooking Hāna Bay toward the Waikoloa peninsula.
This inn offers three suite options, the Nai'a Suite, the Honu Suite, and the 'Iwa Suite.
Prices per night at the Bamboo Inn On Hana Bay range from $245 to $335. Check the latest rates and read reviews.
All Suites at Bamboo Inn On Hana Bay include coffee makers with complimentary coffee. Guests will also receive free wireless internet access in their suite as well as the bamboo walled courtyard.
This beautiful inn also offers a built-in stone barbecue that is available to all guests for outdoor cooking.
The Hana Inn Maui is just a stone's throw away from Hana Bay and some of the best swimming beaches in Hana. It is also near the Hana Cultural Center and Museum as well as Hana Park.
Some other nearby attractions include Black Pebble Beach, Hamoa Beach, and Koki Beach. For food accommodations, this inn is nearby some delicious food truck restaurants with cuisines like Thai, Ethiopian, BBQ Chicken, Fresh local fish, Tacos, and much more.
The available rooms at Hana Inn Maui have been newly remodeled and are very clean, comfortable, and affordable.
Prices per night at the Hana Inn Maui range from $109 to $196. Check the latest rates and read reviews.
Hana Inn Maui offers family rates and high-speed wireless internet to their guests. They also have free parking and a barbecue for guests to use.
Staying in Hana on Budget
If you are sticking to a tight budget while staying in Hana to enjoy the Road to Hana, there are a few great economical options when looking for a place to stay.
Vacation Rental Homes
One way to keep your budget slim is to share lodging with family and friends who are traveling with you through companies such as Airbnb, VRBO, or HomeAway.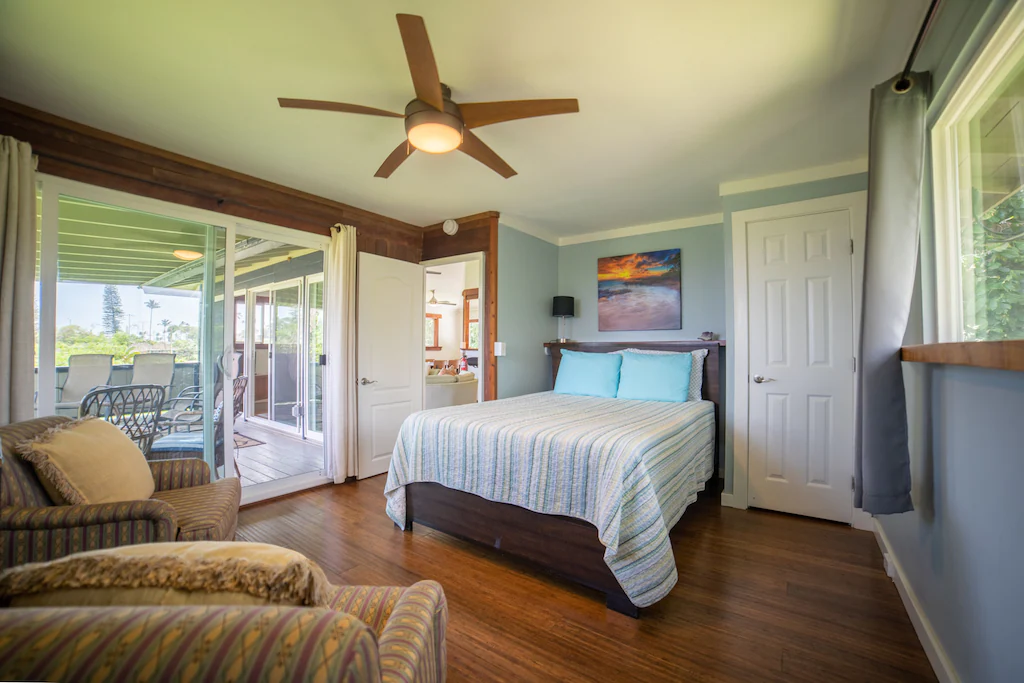 This Hana Homestead sleeps up to 8 people and it's an eco-friendly home right in Hana town. Check the latest rates and more information.
There's also a secluded Cottage on a Flower Farm that sleeps up to 4 people and was recently remodeled. Check the latest rates and more information.
This Hana Bay cottage is a highly rated and cozy one-bedroom house that's perfect for a couple. Check the latest rates and more information.
Camping in Hana
If you are looking for a more rustic or rural experience during your stay in Hana, you might want to give camping a try! Some of the best campgrounds in Hana include Camp Keanae (temporarily closed as of January 2022), Waianapanapa, and Kipahulu.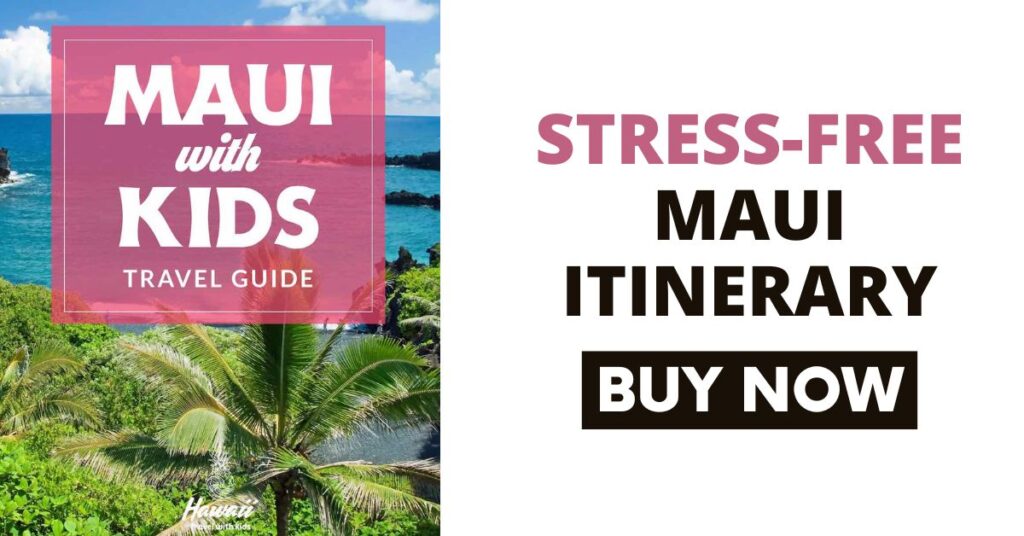 How to Choose The Best Place to Stay in Hana
When experiencing the Road to Hana, you may just need a night or two to find a place to stay. But even though it's not a long stay, you will still want to make sure to find the right place that meets your needs.
When looking into hotels in Hana, you will want to consider the available amenities and facilities offered. These may include things like free WiFi, fitness center access, spa services, pool access, hot tubs, pet-friendly accommodations, on-site dining options, business centers, or meeting facilities for small groups or events.
You'll also want to consider the types of rooms that are available when choosing where to stay in Hana HI. Do they offer a single or queen bed? King size beds? Multiple double beds? What about kitchens or full kitchenettes with utensils for guests to use?
You will find many hotels in Hana that might specialize in catering to large groups traveling together.
Choosing your lodging can be fun and exciting. But remember that you will also want to find a place that is close to everything that Hana has to offer. You may be able to find hotels in Hana off the main highway or closer to the coast for an even better view of the water.
However, if you are looking for hotels near hiking trails or historical sites, you'll want to make sure they are within walking distance or at least minutes away.
The reviews on hotels websites in Hana may help you choose which one is right for you. Since there are hotels along both sides of the Road to Hana, it might be necessary to do some research before choosing where exactly you'd like your lodging located.
The best places to stay in Hana Maui are definitely the hotels and resorts. However, if you are an outdoorsy person, you may find camping a better fit.
You'll find a variety of hotels and resorts in this rural town, but some are definitely better than others. People often just stay there for one night as part of the Road to Hana trip.
Luckily, there are many great hotels, vacation rentals, cabins, and camping options available to you in Hana!