Planning your first trip to Maui and wondering where to find the best places to stay on Maui with kids? Check out these 10 best Maui resorts for families that will keep your whole family entertained and happy, keep scrolling down for all the info!
This best Maui resorts for families post was originally published December 23, 2019 and updated January 13, 2022 and contains affiliate links which means if you purchase something from one of my affiliate links, I may earn a small commission that goes back into maintaining this blog.
Don't Want to Scroll? Here Are My Top Maui Resorts for Families
hide
We all know Maui as one of the topmost wedding and honeymoon destinations in the world.
However, the beautiful second largest island of Hawaii, Maui is also a tremendously family-friendly place to vacation in.
The plethora of water sports, the gorgeous sandy beaches, and big beautiful pools make it just the perfect entertainment spot for not just the adults but also kids on vacations.
But it can be hard to figure out where to stay in Maui with kids, especially if it's your first trip.
To help you pick the best place to stay in Maui with kids during your vacation on the island, we have put together a list of some of the best Maui resorts for families.
Hopefully, you'll find the right resorts in Maui that fit your Hawaii vacation budget!
Keep scrolling to see my list of the best Maui family resorts!
Check out my top 101 Things to do in Maui with Kids!
Want to skip all the planning and just access my detailed Maui Itinerary complete with daily schedules, kid-friendly activities, and travel hacks? Click the button below.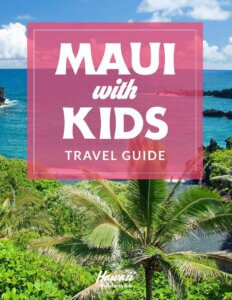 Maui Resorts for Families FAQ
Is Maui good for families?
Absolutely! While it's had a reputation as being just for honeymooners, it's now full of kid-friendly activities and attractions. You'll find some of the best family hotels in Hawaii right here in Maui.
Are there any all-inclusive resorts on Maui?
Yes, but just one. It's the Hana-Maui Resort (formerly Travaasa Hana) and you'll need to drive the famous Road to Hana to reach it.
Is Maui or Oahu better for families?
Honestly, I think they are both great options. Oahu has a lot more attractions and shopping options, but Maui has a ton of activities and relaxing family resorts. Both have some of the best family friendly hotels in Hawaii.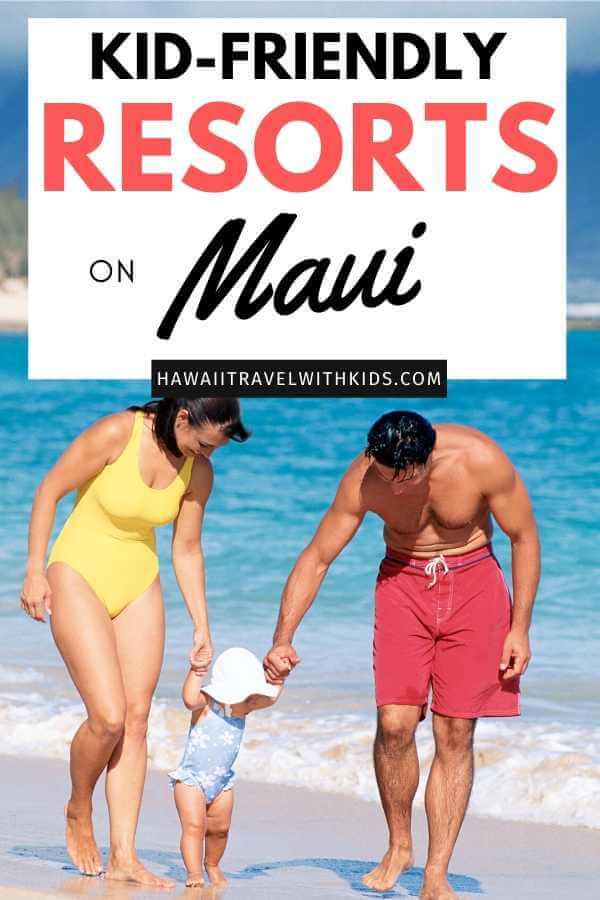 10 Incredible Maui Resorts for Families
There are tons of great places to stay on Maui for families. Here are some of our favorite picks!
1. Grand Wailea Resort, Maui
The Grand Wailea Resort in Maui boasts of a larger than your imagination pool complex in addition to a veritable water park.
Among the best Maui resorts for kids, this is the best choice as it has four waterslides, a river pool just made for you to laze away, whitewater rapids, rope swings, and a kids pool with a man-made volcano with a water elevator.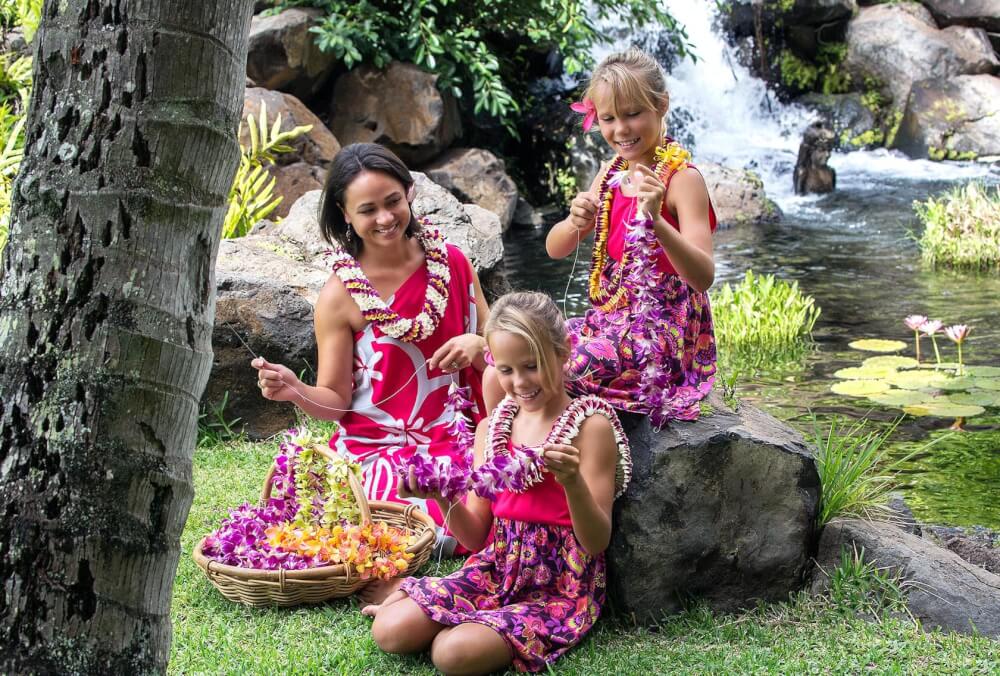 This feature of this family resort makes a unique class singularly for the Grand Wailea, especially where entertainment for the kids is concerned.
The attraction does not end here; there is a twenty thousand square foot big kids' camp, all complete with a play station room, a video arcade, and a movie theater as well. Plus, it's just steps away from Wailea Beach.
Once you stay here, we cannot guarantee you will ever be able to get back to normal life. It's seriously one of the best Hawaii resorts for kids.
Plus, this is where celebrities stay in Hawaii!
Check out the latest prices and more details.
2. Hyatt Regency Maui Resort and Spa
The Hyatt Regency is again among the best Maui hotels for families and is also very kid-friendly.
It comes complete with waterfalls, a rope bridge, a massive pool complex, a separate children's area, and waterslides that are nothing less than 150 feet tall.
There is no arguing the water park here can easily rival the one at Grand Wailea's Resort.
The rooms here are the standard size that can comfortably accommodate your family of four. And the oceanfront rooms are incredible.
Although there is no such kid's club in this resort, there are, however, a number of kids' activities that run throughout the day.
However, make sure you have a comfortably full wallet to sponsor the slightly pricey fun activities for your kids.
Plus, we can assure you that your kids will absolutely adore the parrots, penguins, and flamingos you can find on the ground here. And this is the best family resort in Maui for people who love shave ice, as the famous Ululani's Shave Ice has a location here.
This is an absolute kid-friendly paradise and also cheaper than the Grand Wailea. It's one of the best hotels in Maui for families. Check out the latest prices and more details.
3. Montage Kapalua Bay
This is a luxury property that covers a lush 24-acres space. The Montage Kapalua Bay possesses a world-class spa with one to four-bedroom villas. Plus it's a great way to experience Hawaiian culture and traditions.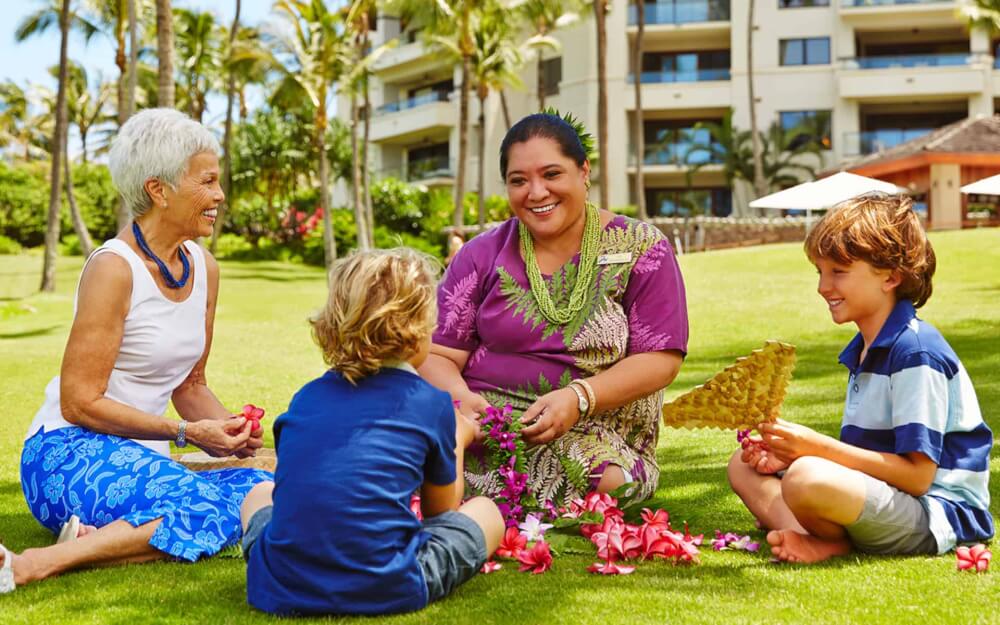 For added attractions, the spa itself is spread across five acres. You get to avail of the hydrotherapy treatment in their rooms here with an infinity pool.
You can find the gorgeous location in Kapalua near the oceanfront.
There couldn't be a more dramatic setting than this with a beautiful beach in a crescent shape on one side and picturesque ocean cliffs on the other side of the Montage Kapalua Bay.
There are two bars, three restaurants, and a terrific pool complex with multi-levels here that appeal to all your senses.
Although there is a lot of walking to do here, the gourmet kitchens and the breathtaking ocean views are an impossible miss when in Maui.
It's one of the best family resorts in Maui for people looking to get away from crowds. Check out the latest prices and more details.
4. Four Seasons Resort, Maui
If you are on the search for the most luxurious properties in Maui, especially one in which to vacation, the Four Seasons in Wailea is definitely at the top of the list and also among the priciest ones.
It is undoubtedly among the best Maui hotels for families and not surprisingly so. It's also where they filmed the HBO Max mini-series White Lotus.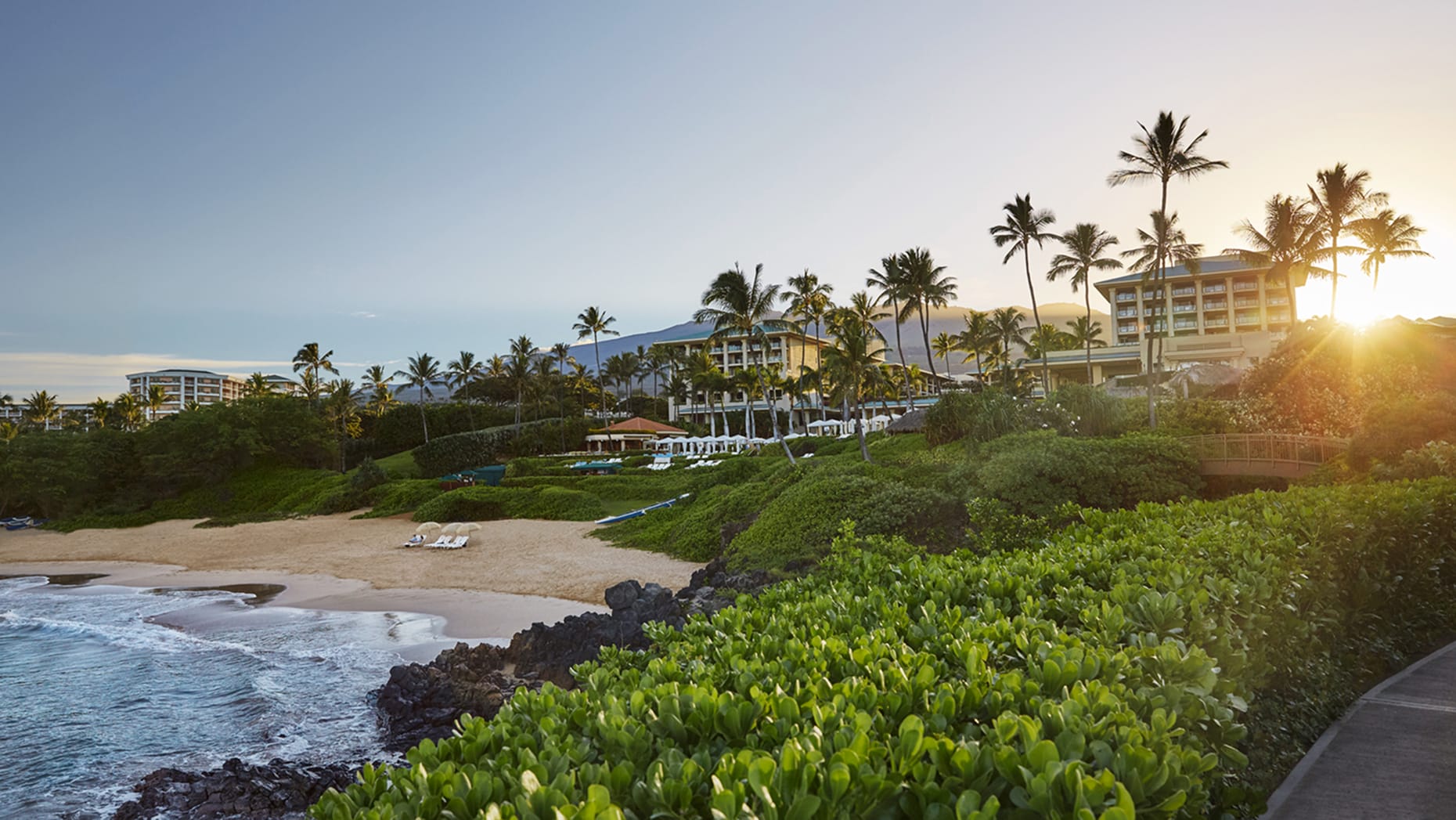 There is a free kids' club to sweeten the deal, which is a pleasant surprise.
The reason is that most costly resorts charge an expensive fee in exchange for keeping your kids entertained while you adults can go out and have your share of fun. The free childcare makes this one of the best family resorts Maui has to offer.
There is also a fancy family pool here with a small waterslide, a shallow area for a safe swimming area for your kids, and a waterfall for you to splash in as well. It's also just steps away from Wailea Beach.
Another noteworthy feature of this resort is that its standard rooms can easily accommodate your family of four.
Even better is the opportunity for all kids under six to dine free at two of the restaurants housed by the resort. Check out the latest prices and more details.
5. Honua Kai Resort and Spa, Maui
Hotel amenities couldn't get any better with Honua Kai Resort's premium condominium complex.
This resort houses not only spa rooms but also individually owned units that are vacation rental homes. This is where we usually stay on Maui with kids and you can read my Honua Kai Resort review HERE.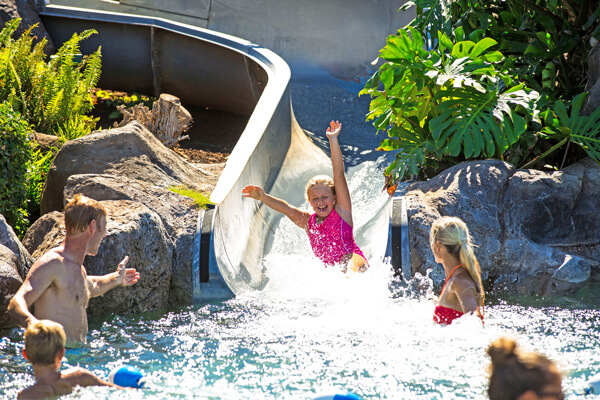 Your vacation is bound to get more exciting with the huge guest rooms, private lanais, modern kitchen, and all the other amenities and features.
The owners of the individual units provide their own set of amenities and decor, so you get the best of everything here.
The resort is blessed with endless beachfront grounds. Your kids can have a ball of a time in the hot tubs and multiple connecting pools here, the best way for kids to make the most of the fun water here.
For couples, there is the option of the adults' only pool, but that is about the only availability for solace.
If you are particularly an Eco-conscious vacationer, then Honua Kai Resort is an ideal option for you.
Their cafes and the main restaurant only source local produce. Even the spas here particularly focus on a product line that is purely Hawaiian organic in nature and sourced purely from the islands.
The daily resort charges and the steep prices may tend to fluctuate, but this is among the highly recommended Maui family resorts and one of the best places to stay in Maui for families.
Check out the latest prices and more details.
6. Ka'anapali Beach Hotel
Located on the Ka'anapali, a three-mile beach, the Ka'anapali Beach Hotel is the most typically Hawaiian hotel that exists.
It is made up of 432 guest rooms and offers fantastic snorkeling opportunities at Black Rock. The rooms here are spacious and luxurious, among which come rooms have covered lanais.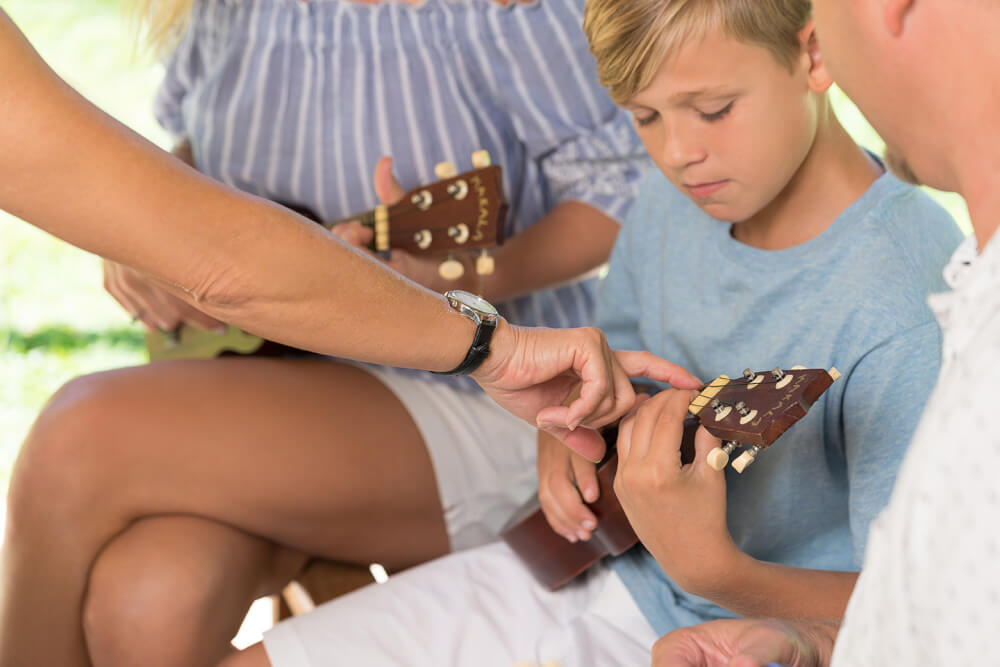 As a family on vacation, you can get to see the best of the Hawaiian culture here, including ukulele, hula, and lei-making classes too.
In addition to all this, you also get to enjoy the best of Hawaiian nightly entertainment at this hotel. The hotel houses two restaurants and a whale-like pool, which can be crowded if you visit during peak hours.
The best feature of this hotel is that it is especially kid-friendly. If you visit here, your kids will receive a free Aloha passport.
Furthermore, all children under the age of getting to dine free here.
Before you book yourself into this hotel, make sure you find out the Aloha value rates. Check out the latest prices and more details.
7. Napili Kai Beach Resort
The Napili Kai Beach Resort is located on Napili Bay, which is ten acres of beachfront ground. You are offered a package from the 11 buildings featuring plantation-style here.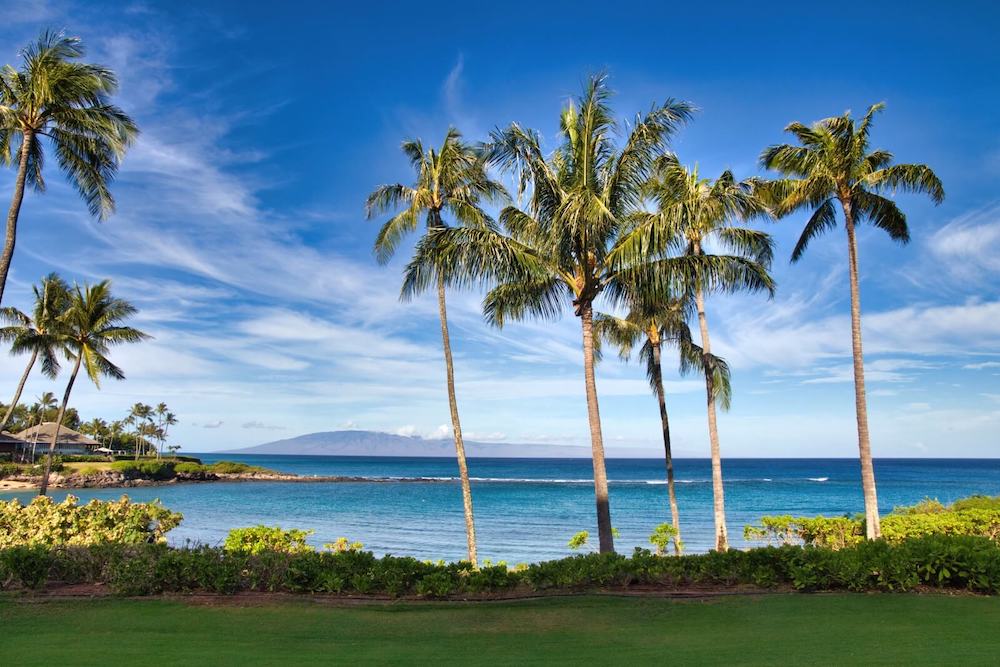 There are a total of 163 suites and guestrooms here with full kitchens in some of the rooms. The atmosphere is not as luxurious as the other upscale resorts here, but it is low-key and relaxing.
If you are a snorkeling lover, then you will love staying at this resort with its large expanse of beaches and four big pools.
While your kids may not get any kids activities in particular here, there are, however, plentiful old-fashioned activities for some family fun.
You must, however, take special note of the fact that this is generally a quieter resort and more suited to families with older kids and planning a lazy, restful holiday.
Check out the latest prices and more details.
8. Fairmont Kea Lani
Fairmont Kea Lani is an all-suite resort that is established on the stunning Wailea beach, made up of 22 acres of lushness. Plus it's one of the most Instagrammable hotels in Maui.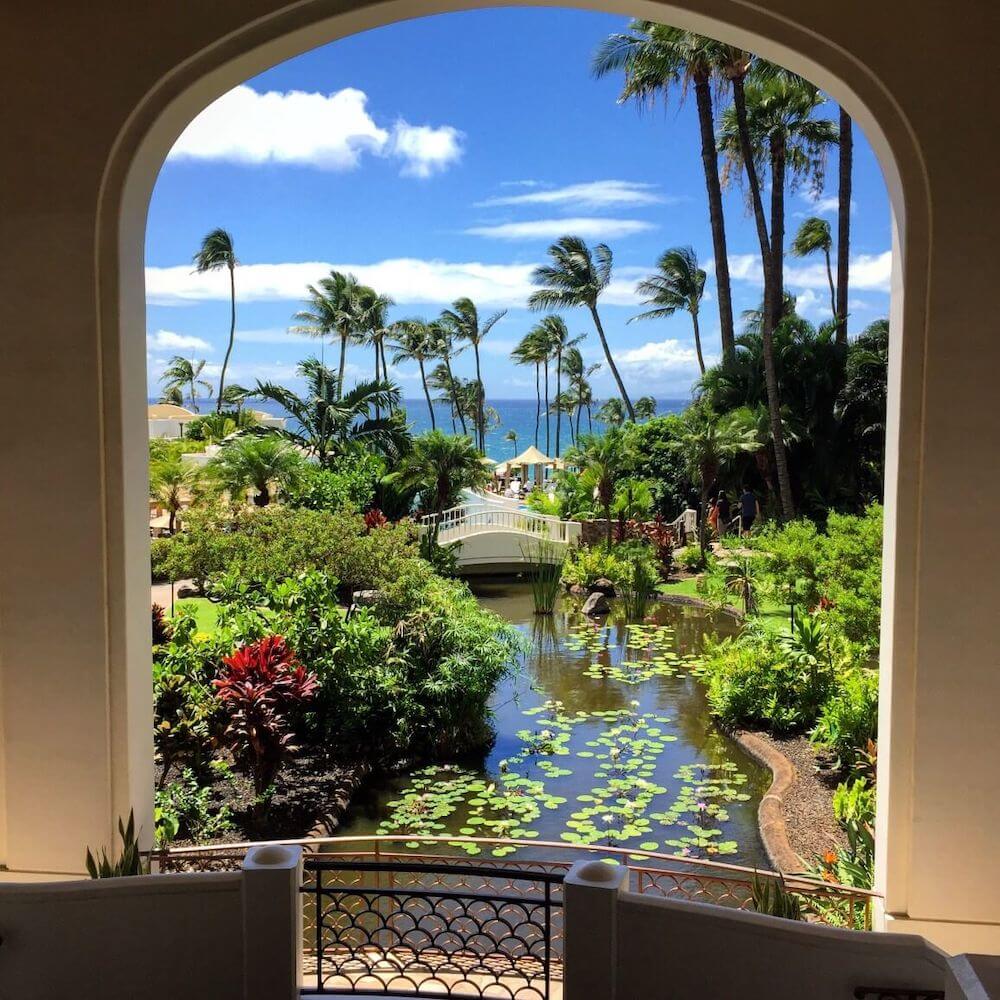 Fairmont offers you two and three-bedroom villa options as well as one-bedroom suites. As a family, you get plenty of space to spread out, relax, and explore spaces across 840 to 1000 square feet.
There are a number of water slides, pools, and a separate kids' friendly pool for your little ones. Your family can get to explore the best of Hawaiian cuisine owing to the variety of dining options here.
This resort is completely kids friendly and a fine option with the availability of a lovely kids' club and a long roster of kid-friendly activities.
It's one of the best family hotels in Maui and one of the top Maui luxury resorts. Check out the latest prices and more details.
9. Sheraton Maui Resort and Spa
There is nothing that can beat the prime location of Sheraton Maui Resort, placed on the Ka'anapali Beach with the stunning Black Rock landmark views.
This resort takes complete advantage of its prime location and is nothing short of mega and upscale in its establishment.
You get to avail the best of the ocean views in front of most of the 508 guest rooms present here. The rooms, too, are contemporary and sleek, making them a comfortable and luxurious space for your stay.
The expansive Sheraton Maui Resort is spread across 23 acres, and features the most modern fitness room, a wonderful spa, a stunning river, and a huge lagoon pool as well as five restaurants to cater to all taste buds.
This is definitely one of the best resorts in Maui for families.
If you want to experience the best snorkeling in Maui, you can do that right here from the beach end.
This is most especially crowded during the peak seasons, so you may want to plan your trip accordingly. Check out the latest prices and more details.
10. Marriott Maui Ocean Club
If you are looking for one of the best places to stay in Maui Hawaii, add the Marriott Maui Ocean Club to your list. This family-friendly resort is located right on Kaanapali Beach and offers amazing ocean views. Check out our full Marriott Maui Ocean Club Review.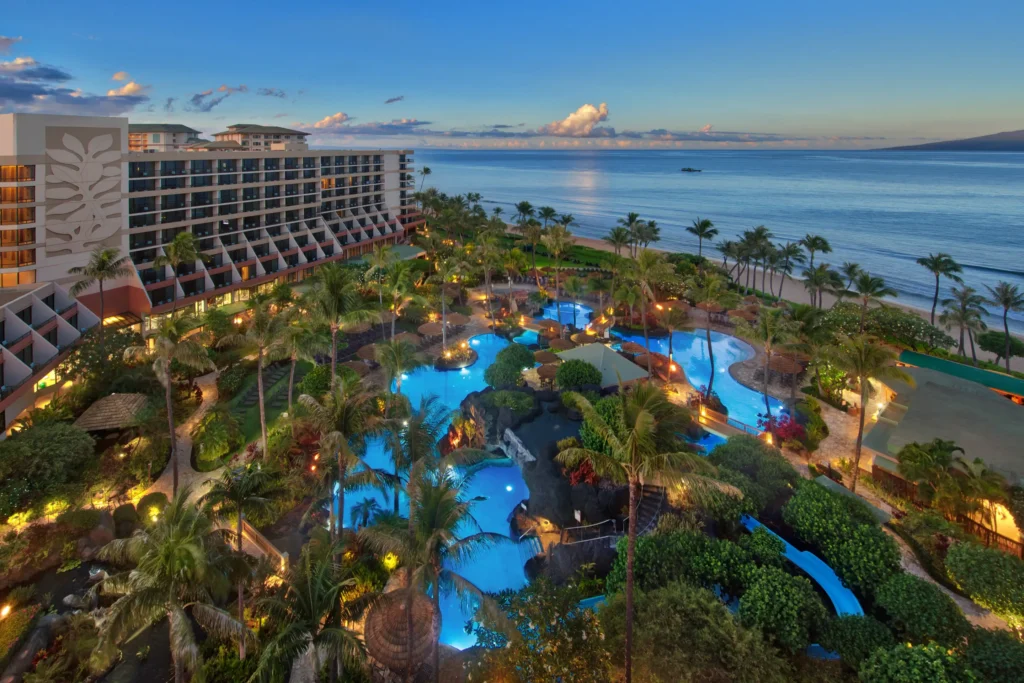 The rooms at this Ka'anapali Beach hotel come with kitchenettes or full-sized kitchens, free on-site laundry (sometimes even in your room) and on-site grills for guests to use. Plus they have family-friendly activities to keep the little ones busy.
There's also an awesome "super pool" complex. This is where you'll find two swimming pools, a whirlpool spa, and the kid-friendly Discovery Cove. Plus, there are two pool bars in the area.
You don't have to be a Marriott Vacation Club member to enjoy, either. Check the latest rates and more information.
Maui Kid Friendly Resorts Wrap Up
Hopefully, by now you know the best resorts in Maui for your next trip. Make sure to do your research to find the best Maui family vacation packages.
Maui is huge and provides you with many opportunities to have the best time of your life.
You should plan well ahead of time and check out these Maui resorts for families if you want to make the best of this trip.