Heading to Maui with kids? One of the top things to do in Maui is experience a traditional Hawaiian luau. Find out the best kid-friendly luau in Maui.
This best Maui luau post was written by Hawaii travel expert Marcie Cheung and contains affiliate links which means if you purchase something from one of my affiliate links, I may earn a small commission that goes back into maintaining this blog.
How to Choose the Best Luau in Maui
Maui is a top Hawaiian vacation destination for couples and families because of all the activities and relaxing island vibe. You can read why my family loves Maui in my Maui Travel Guide for Families.
One of the top things to do in Maui is attend a traditional Hawaiian luau.
But, choosing the best luau in Maui for your family can be tough.
Get all your Hawaii luau questions answered HERE
Don't have time to read a bunch of Hawaii blog posts and reviews? Here are some of our top picks for visiting Maui.
Popular Maui Tours/Activities
Favorite Maui Resorts/Hotels
Andaz Maui (this is a luxury resort with the best luau on Maui)
Honua Kai Resort & Spa (this is one of our personal favorites because there are tons of pools and there are condo options)
Want to Rent a Car in Hawaii?
One of the best places to rent a car in Hawaii is Discount Hawaii Car Rental because they get the best rates from top national companies like Alamo, Dollar, Thrifty, Avis, Enterprise, Budget, and Payless.
Want to skip all the planning and just access my detailed Maui Itinerary complete with daily schedules, kid-friendly activities, and travel hacks? Click the button below.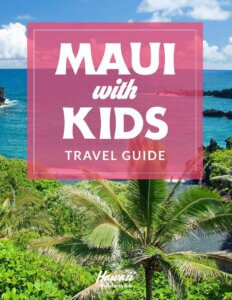 Maui Luau FAQs
Is a luau in Maui worth it?
It really depends on your family and whether or not you enjoy cultural experiences. Maui offers different luaus that are kid-friendly, good for couples, farm-to-table, and traditional.
Which hotels in Maui have luaus on-site?
If you don't want to leave your Maui resort to attend a luau, you're in luck! The following Maui hotels offer their own luaus: Grand Wailea, Royal Lahaina Resort, Hyatt Regency Maui, Kaanapali Beach Club, Kaanapali Beach Hotel, Sheraton Maui, and Andaz Maui.
Do you tip at a luau?
That's a personal choice. If you are attending a luau where you have wait staff, it's customary to tip. Same for the bartenders. But, if you buy a pre-paid ticket and it's a buffet without much service, you aren't obligated to tip.
Finding The Best Luau on Maui
If you're looking for a luau on Maui, you've come to the right place! There are TONS of luaus in Lahaina, Kapalua, Ka'anapali, and Wailea.
If you are looking for an upscale Hawaiian luau in Lahaina, the Feast at Lele is the perfect fit! It's run by the people who created the long-running Old Lahaina Luau, but it's totally different.
Instead of going through a buffet line, eating dinner at a long table, and then watching a show, it's more like a fine dining experience. Check out the latest prices and more details.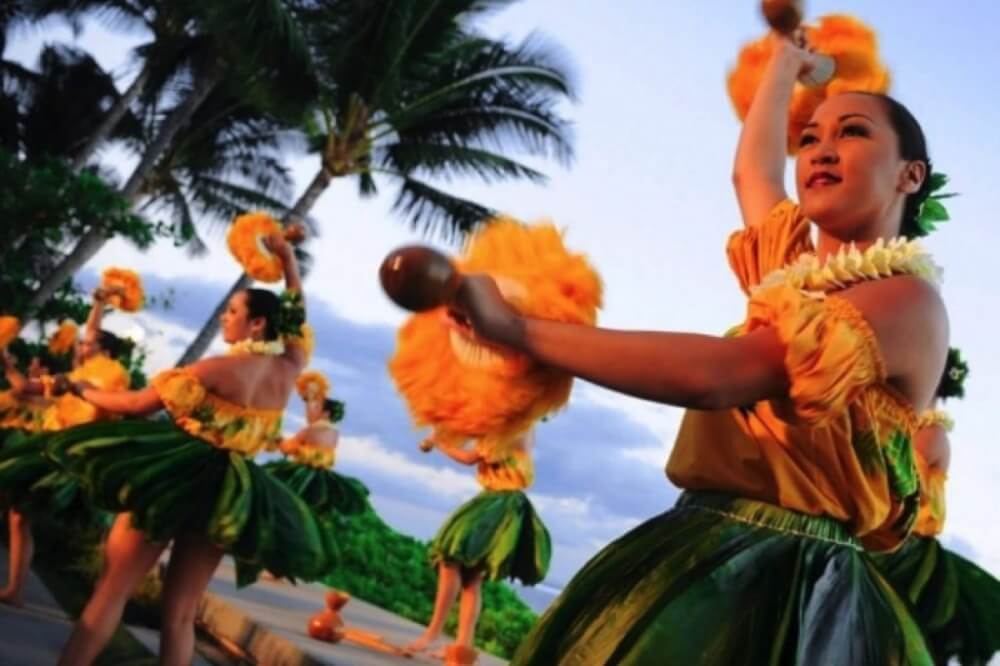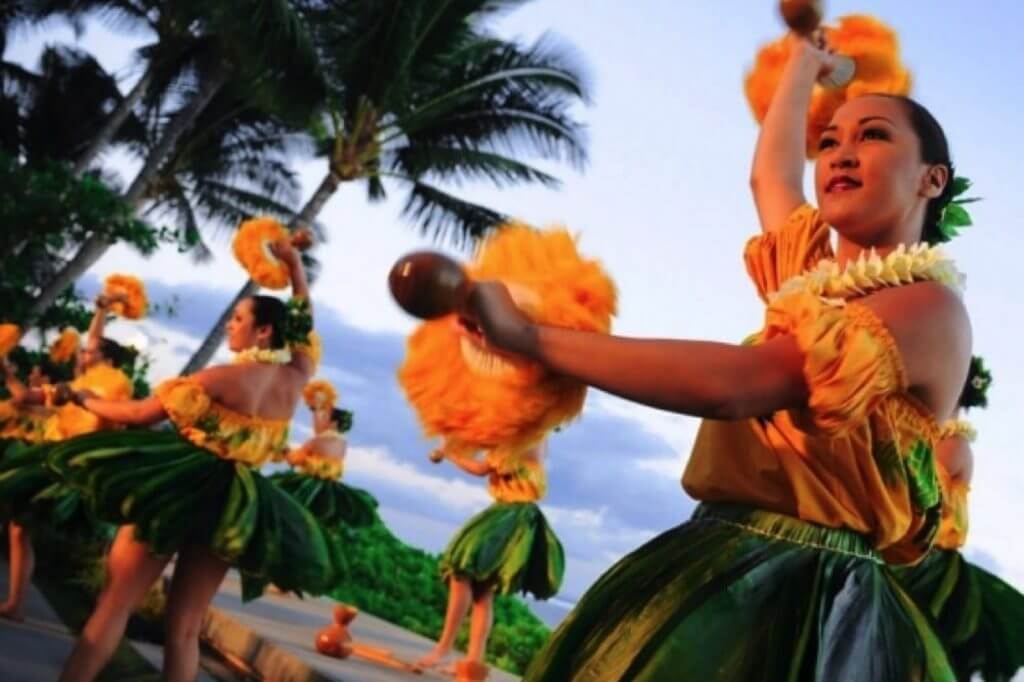 After grabbing a cocktail, you'll be seated at a private table just large enough for your party. My husband and I sat at a little table for 2 and it was so nice!
Your server will bring you an appetizer and several courses of delicious food from all over Polynesia.
As each course comes out, performers take the stage to highlight a few dances from that Polynesian island. It's great because you can chat in between performances.
Oh and this Maui luau is right on the beach! Perfect for sunset photos (yes, they have a photographer) and taking a romantic walk on the beach before dinner starts.
This is definitely my pick for the best luau in Maui.
Finding a Luau in Lahaina, Maui
Most of the luaus in Maui are located in Lahaina. So if you are staying in Lahaina, you can easily walk to several of these Lahaina luau options.
And if you'd like to make a whole day of cultural experiences, sign up for a Segway Tour of Maui before your luau! Find the best prices here.
When you look through any tourist magazine for Maui, you'll see ads for Old Lahaina Luau. It's definitely the most popular luau in Maui and is sold out most nights, so I suggest booking before your trip.
The Old Lahaina Luau has won countless awards like "best luau in Maui" and "favorite luau on Maui" from multiple publications. Check latest rates and availability.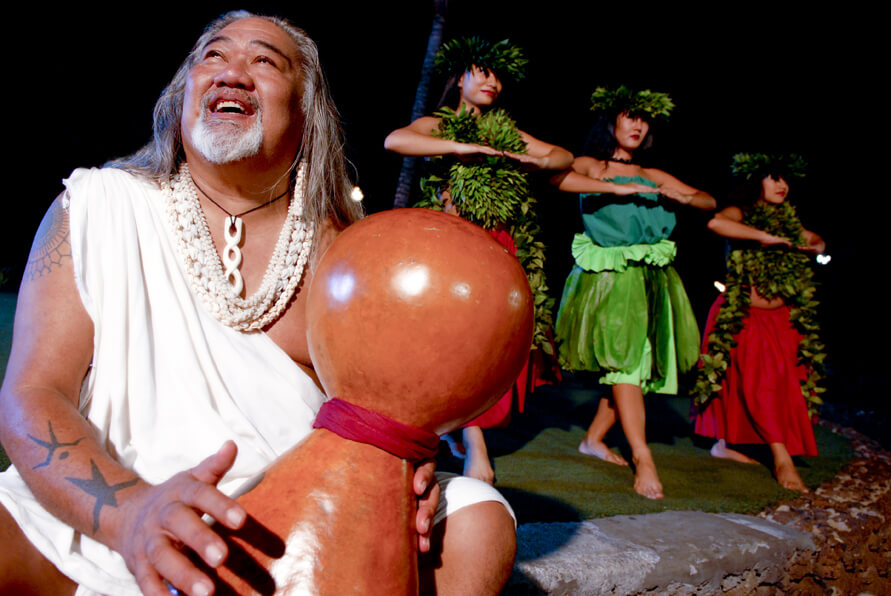 I have to take a moment to talk about the food. Old Lahaina Luau offers some incredible food choices including crab salad, grilled beef, fried rice, two kinds of poke and tons more food.
Plus, you can get traditional luau fare like kalua pig, poi, chicken long rice, laulau, etc.
What's cool about Old Lahaina Luau is that guests can choose to sit on traditional Hawaiian mats for the full luau experience. The entertainment starts right at sunset starting with Tahitian dancing.
As the evening continues, the dancers switch to both ancient and modern styles of hula.
The Myths of Maui Luau is located at the Royal Lahaina Resort and is the longest running oceanfront luau on Maui.
Since this Lahaina luau is offered nightly, there's a good chance you can get tickets during your vacation. Read my full Myths of Maui luau review.
If you really want to get good seats, try booking for Monday or Saturday evenings, as these tend to be the least crowded. Check out the latest prices and more details.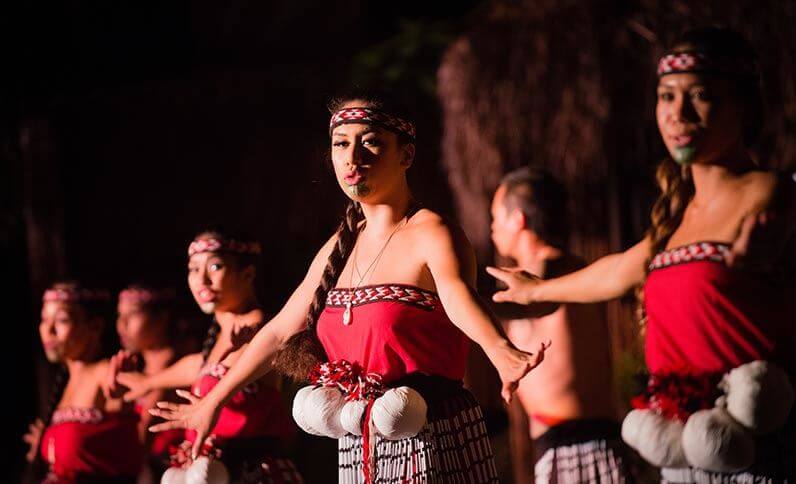 This is a good luau in Lahaina to book if you have dietary restrictions. The Myths of Maui features vegetarian and vegan choices and can accommodate guests with food allergies or intolerances (especially if you call ahead.)
There's even a kids buffet with child-friendly menu items like chicken nuggets, mac and cheese, hot dogs and chips.
For families with young kids, you can bring your stroller and they even have designated areas to park your stroller. Children under 5 years old are free.
Book a Family Photo Shoot
Whenever we travel to Hawaii, we almost always book a family photo shoot with Flytographer. They are super easy, affordable, AND it guarantees that I'll be in some photos. You can get $25 off if you book through this link or use the code HAWAIITRAVEL.
This Hyatt Regency Maui Luau is also in Lahaina, Maui. Drums of the Pacific Luau is another one you'll see advertised in Maui tourism brochures.
It's the only luau I know of that features dances from the Tuamotus, a French Polynesian chain of islands.
That's in addition to dances from Hawaii, Tahiti, Samoa, Cook Islands, New Zealand, and Tonga. Drums of the Pacific definitely focuses more on the thrilling/exciting Polynesian dances. Check out the latest prices and more details.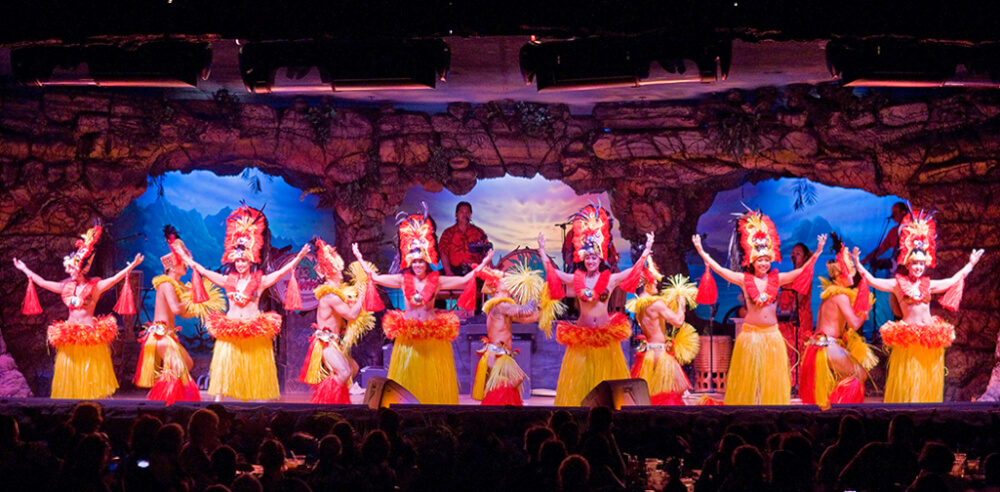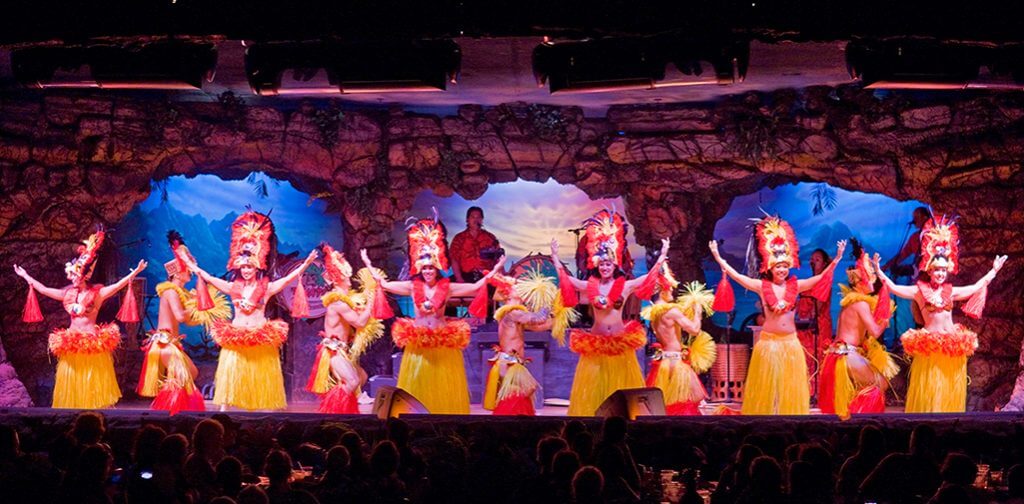 They also have a Polynesian fashion show where guests can see the many creative ways to wear a sarong.
They sell sarongs (also called pareo) all over Hawaii, so this is an inexpensive souvenir to bring home and it doesn't take up much space in your suitcase!
Maui Kaanapali Luau
If you are staying up in Kaanapali, you don't need to drive far to find a luau. In fact, you can even just take an Uber from your hotel/resort if you aren't renting a car.
Located at the Kaanapali Beach Club, Huaka`i: Journey Through Polynesia is offered every Wednesday evening. It's Maui's newest luau. The whole experience is 3 hours long (the show itself is 2 hours long.) Check out the latest prices and more details.
If you have a stroller or wheelchair, this luau takes place on grass and is handicapped-accessible. If there's rain, the show may move indoors to their ballroom.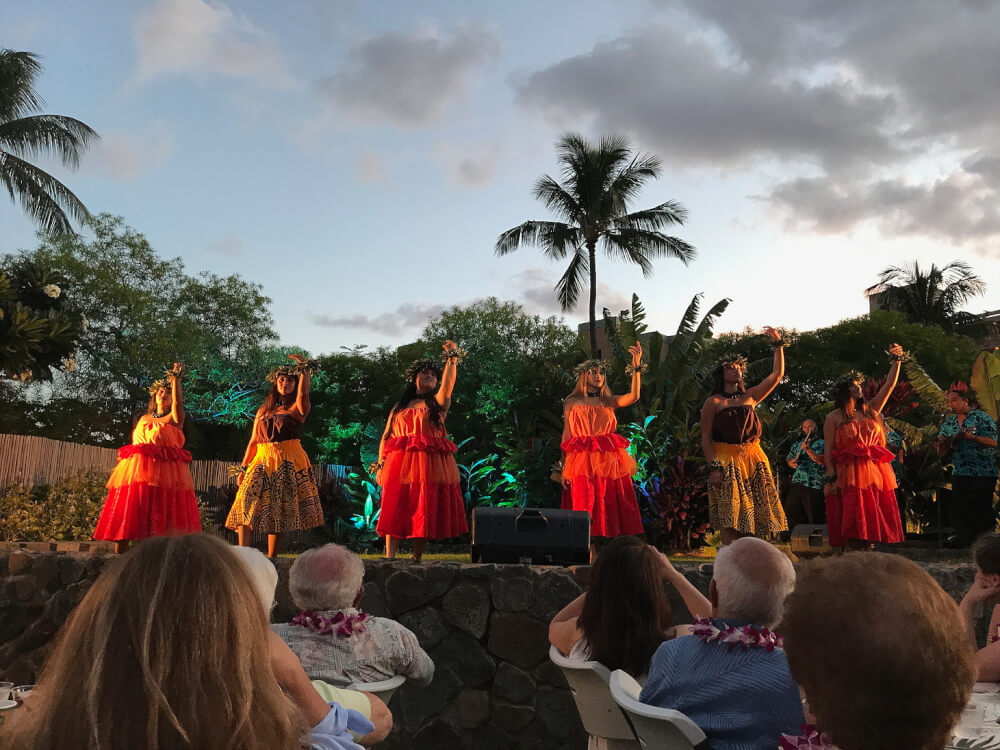 This is the best Kaanapali luau for people who have gluten sensitivity, as most of their menu items are gluten-free. They even have a kids buffet with kalua pork sliders, mac and cheese, and chicken strips.
Another beachfront luau in Kaanapali is the recently renamed Maui Nui Luau. This Sheraton Maui luau is run by the world-renowned Polynesian entertainment group Tihati, who run several luaus throughout Hawaii.
Maui Nui Luau is located at Black Rock, the infamous cliff diving spot on Maui.
What makes this Maui luau unique is the option to skip dinner and save a lot of money. If you don't want the full luau experience, opt for cocktail seating ($39 for adults, $22 for kids 13-20, and $17 for kids 12 and younger.)
This makes it the cheapest luau in Maui and perfect for picky eaters. Check out the latest prices and more details.
7. LEGENDS OF KAANAPALI LUAU
The Legends of Kaanapali luau is located at the Kaanapali Beach Hotel. Guests of the hotel get a special discounted rate. The luau takes place in their hotel courtyard that features the largest tiki in Hawaii!
Otherwise, there isn't much that sets this luau apart from others. The Legends of Kaanapali luau is only available on Mondays.
8. WAILELE POLYNESIAN LUAU (WESTIN MAUI LUAU)
Guests of the Westin Maui Resort & Spa will appreciate this on-site Wailele Polynesian Luau. While it's not a beachfront luau, it's very close to Kaanapali Beach.
The stage was recently redesigned, as was the Aloha Pavilion. This Westin Maui luau features dances from Hawaii, Fiji, Tahiti, New Zealand and Samoa.
For kids, they have a kids buffet that features children's favorites like pizza, spaghetti, hot dogs, chocolate chip cookies, and more. It's also ADA accessible, so perfect for strollers.
And if you go to their website, they do a great job of highlighting all the dietary restrictions.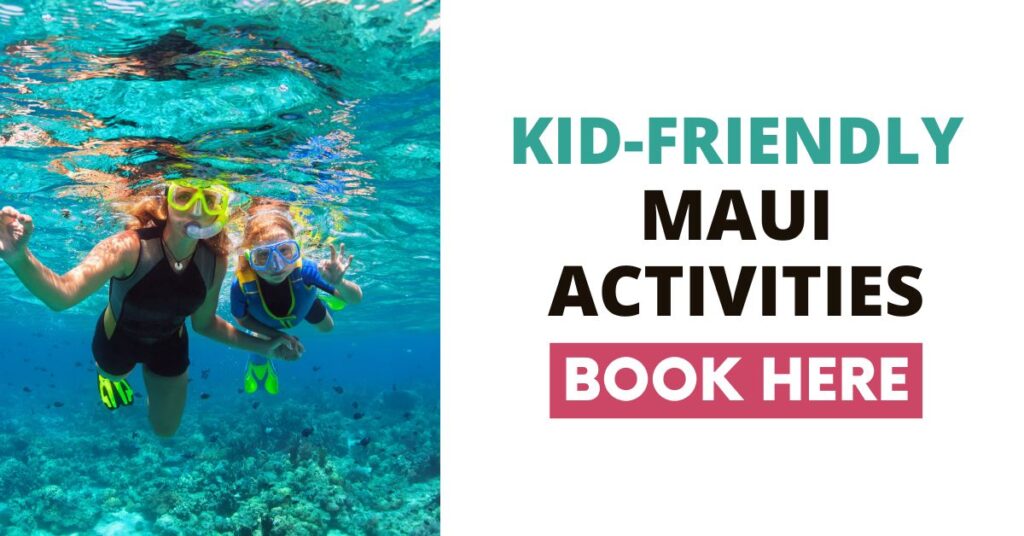 Wailea Luau in Maui
If you are staying on the South Shore of Maui, there are a few luaus in Wailea.
If you are lucky enough to stay at the gorgeous Grand Wailea Hotel, you have an easy walk to the Grand Luau at Honua`ula. Check out the latest prices and more details.
What I like about the Grand Wailea luau is that you can check in early to get your wristbands and then can hang out at the pool bar or the beach until doors actually open.
This saves you precious time waiting in line so you can soak up more of your Hawaiian vacation.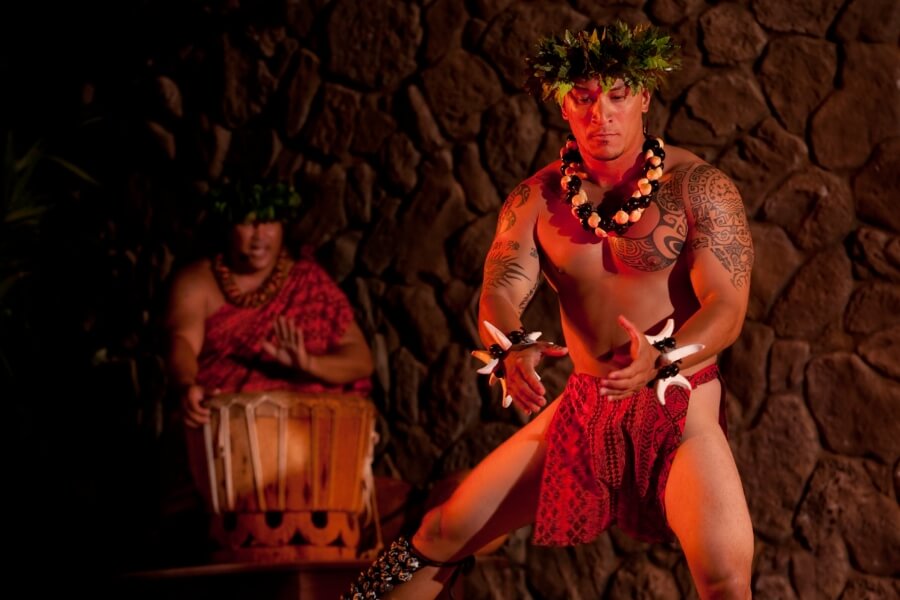 What really sets this luau apart from the rest is that it focuses on Hawaiian stories and incorporates those stories into the performance. These stories involve mermaids, ancient gods/goddesses, voyagers, and more.
Because of that, the show features a mix of traditional dancing as well as unusual and impressive feats!
They also have an extensive menu including allergy-friendly dishes and vegetarian/vegan options. Read our full review of the Grand Wailea Luau HERE.
If you want a luxury luau experience (read PRICEY) then the Feast at Mokapu at Andaz Maui at Wailea Resort is worth looking into.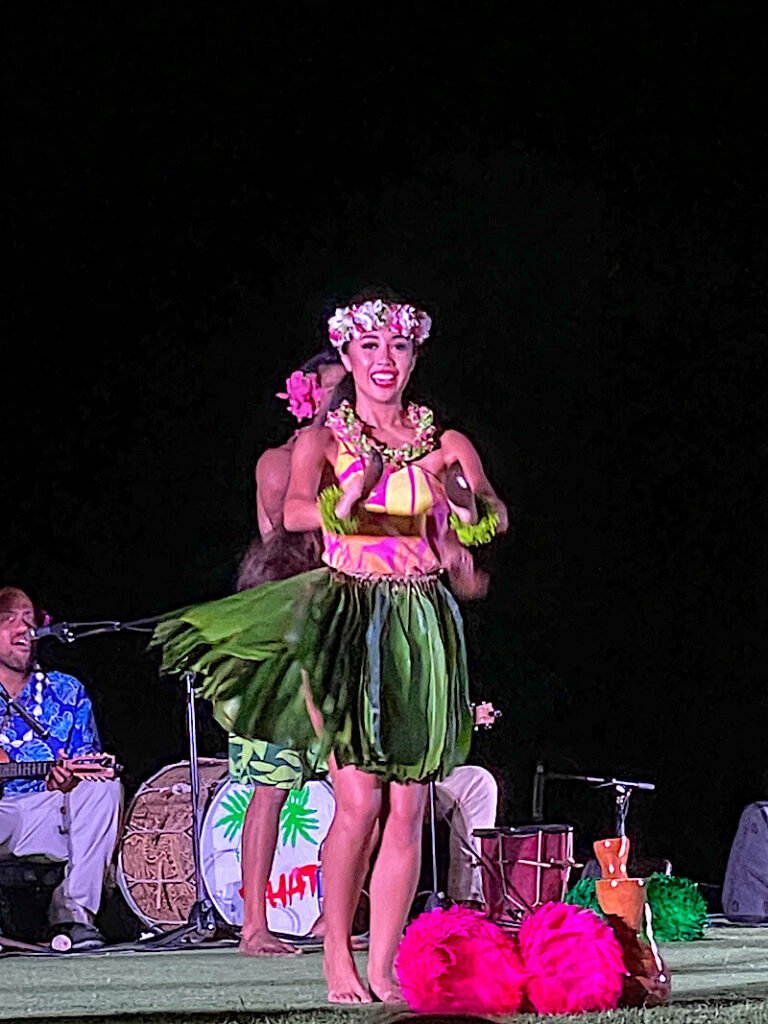 Adult tickets start at $200 and children's tickets start at $100. The focus of this luau is on the menu created by Executive Chef, Isaac Bancaco. Check out the latest prices and more details.
If you haven't heard of this luau before, that's probably because it's fairly new. I think it launched in April 2018. But it's my favorite Maui luau! Read my full Feast at Mokapu luau review.
If you are staying at the Marriott Wailea Beach Resort in Wailea, Maui, you have an amazing on-site luau run by the Polynesian entertainment group Tihati.
It's located on a grassy area outside with an incredible ocean view. Check out the latest prices and more details.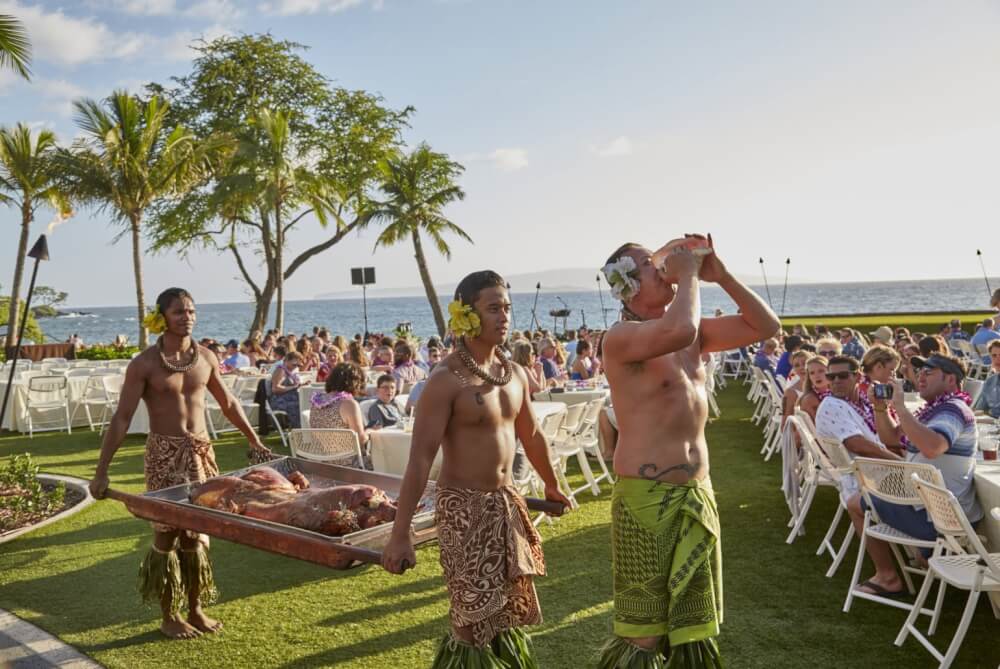 Kids will get a kick out of receiving a fresh flower lei or wooden fish hook necklace as they arrive.
It's very similar to the rest of the luaus in Maui, so I'd recommend it primarily to people staying in the Wailea area who don't want to drive up to Lahaina.
Is There a Kihei Luau in Maui?
If you are staying in Kihei, you'll most likely need to head South to Wailea or North to Lahaina to see a luau. However, there is one Kihei luau in Maui that takes place on the last Wednesday of the month.
If you happen to be on Maui on the last week of the month, you can try to get tickets to the exclusive Migrations experience through Sugar Beach Events.
They bill themselves as "Maui's most intimate interactive luau experience."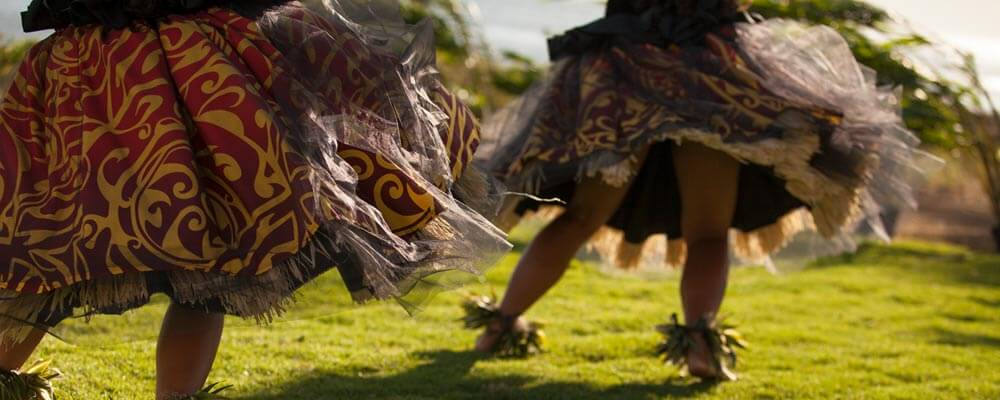 What really sets Migrations apart from other luau options is that they only sell 50 tickets. So, that makes it one of the must intimate luau experiences in Hawaii. And instead of waiting in a buffet line, you'll enjoy a plated dinner featuring Pacific Rim cuisine.
They do an 'Awa Ceremony, which I've only ever seen at Toa Luau on Oahu. This is an ancient Hawaiian tradition where guests share a special drink as they welcome each other.
But, something I've never seen before is that they end their luau with a "talk story" moment around a fire pit. Dancers and guests sit side by side and share thoughts and stories.
What an incredible way to end a memorable event.
Kapalua Maui Luau
If you are staying up in Kapalua, you don't have to drive far to do a Maui luau. In fact, there's one at the Montage Kapalua Bay!
The newest luau in Maui is the Beach Club Luau at Kapalua Bay. This is a really intimate luau on Maui that tops out at 40 guests.
This is a luau that features a plated meal by an award-winning chef, as opposed to the buffet meals you usually see at luaus. However, it also has one of the highest price points ($225 for everyone ages 3 and older).
But, if you are looking for an incredible luau in Kapalua, this is the one to do!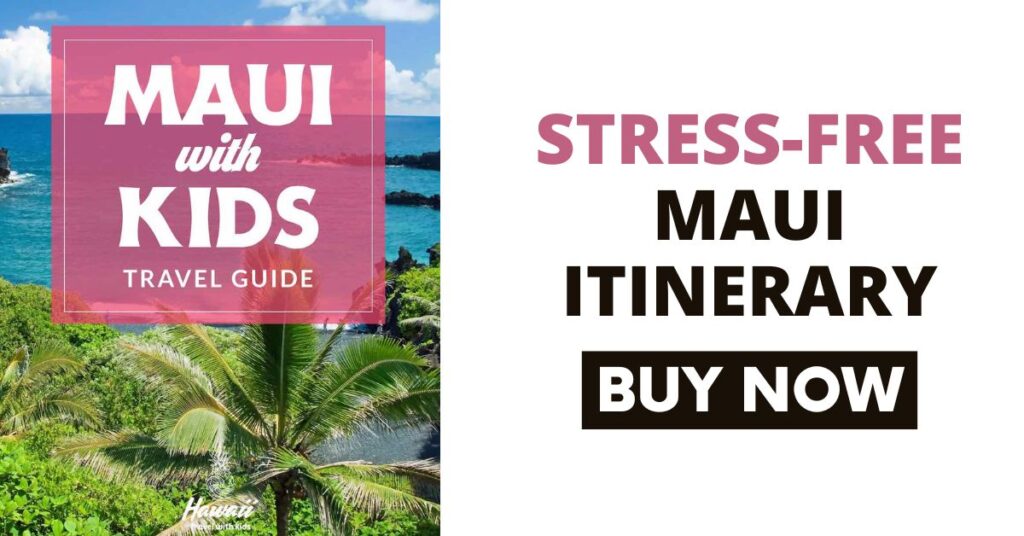 Best Luaus on Maui Wrap Up
When it comes to luaus in Hawaii, Maui has some of the best luaus to choose from! From kid-friendly buffets to high-class plated meals with a view, you'll definitely find the best Maui luau for your family.
P.S. Join our Hawaii Travel with Kids Facebook group to get connected with other families planning a trip to Hawaii!