Are you planning a trip to Maui and want to know the top food spots? Find out where to eat on Maui with kids for families who love tasty food!
This post about where to eat on Maui with kids was written by Hawaii travel expert Marcie Cheung and may contain affiliate links, which means if you click on the link and purchase the item, I will receive an affiliate commission at no extra cost to you. All opinions remain my own.
Looking for the best restaurants in Maui for families?
Maui is a popular Hawaiian destination with plenty of family-friendly attractions to keep you busy for days.
Whether you prefer to relax on one of its warm beaches, go hiking amid the lush greenery, or participate in paddle sports, you will find that Mauii has everything you need for a vacation.
And, of course, that includes a variety of drool-worthy culinary delights as well!
Maui prides itself on its farm-to-table cuisine that features exotic blends and delicious Hawaiian flavors. Fresh fish from the sea and produce from the farms of Kula are staples that you simply can't miss.
Experimenting with the local cuisine is one of the best ways to create those precious moments with family.
And with this diverse list of options handy, deciding on where to eat on Maui with kids becomes a piece of cake, so let's go!
Don't have time to read a bunch of Hawaii blog posts and reviews? Here are some of our top picks for visiting Maui with kids.
Best Kid-Friendly Maui Tours/Activities
Best Kid-Friendly Maui Resorts
Hyatt Regency Maui (this has the BEST pool area and on-site shave ice stand)
Honua Kai Resort & Spa (this is one of our personal favorites because there are tons of pools and there are condo options)
Fairmont Kea Lani (this is a swanky resort with incredible kids' programming and an awesome pool area)
Want to Rent a Car in Hawaii?
One of the best places to rent a car in Hawaii is Discount Hawaii Car Rental because they get the best rates from top national companies like Alamo, Dollar, Thrifty, Avis, Enterprise, Budget, and Payless.
Want to skip all the planning and just access my detailed Maui Itinerary complete with daily schedules, kid-friendly activities, and travel hacks? Click the button below.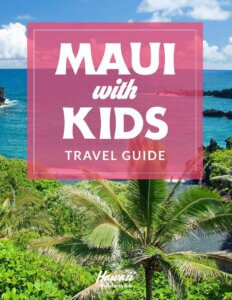 Best Restaurants in Maui FAQs
What is the most popular food in Maui?
There are several popular foods in Maui such as fresh fish and poke bowls. It's also a great place for Hawaiian food like loco moco, kalbi ribs, and huli huli chicken.
What type of food is Maui known for?
Maui is home to the super sweet Maui Gold pineapple, which can be eaten fresh or mixed into tropical drinks or cooked dishes. They also have ranches so you can get tasty steak or hamburgers. And of course, so many types of fresh fish!
What is the best thing to eat in Maui?
Maui has SO many incredible dishes that it's hard to choose which one is the best. We love anything from Ululani's Shave Ice, the ribs at Braddah Hutts, any fish item from Cafe O'Lei, fish tacos from Coconut's Fish Cafe, and the hamburgers at Ulupalekua Ranch.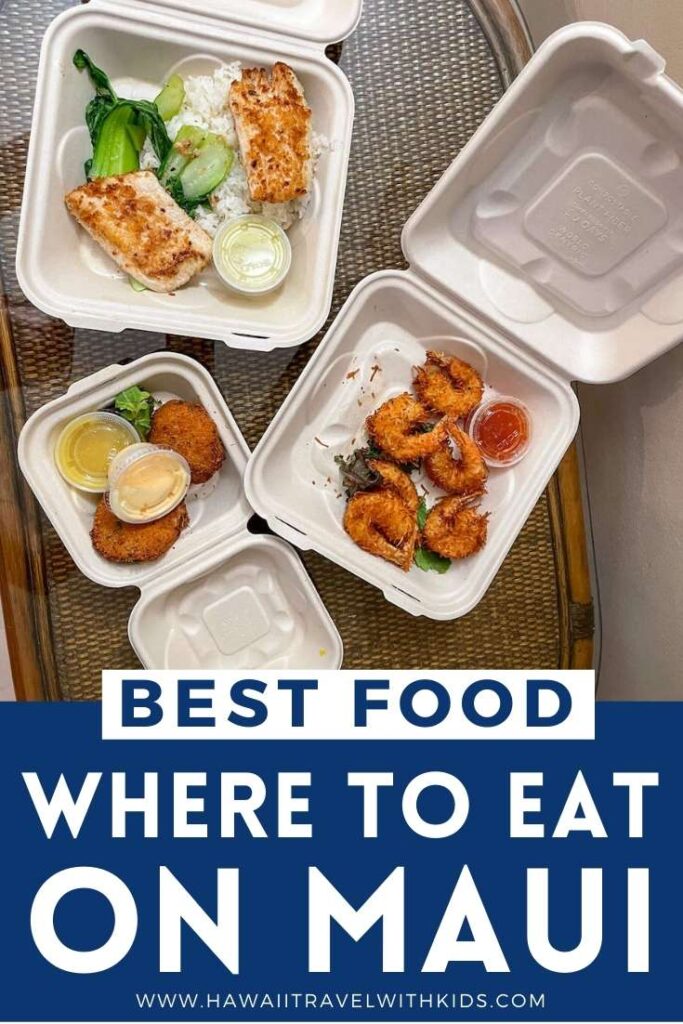 Dining in Maui: a Guide for Families
While Maui's location and serene atmosphere certainly do a great job at capturing people's attention, it's the island's food that really sets it apart.
Hawaii is a combination of several cultures and flavors that has mostly remained unexplored by the world. Influenced by the many cultures and traditions that have passed through the land, it includes everything from Polynesian delicacies to dishes from Japan, France, Italy, and the USA.
Maui provides visitors and residents alike with tons of traditional options and modern reinterpretations to choose from, from casual bites to some pretty high-end meals. There's no end to the options available for dining in Maui.
This list will show you that the best dining in Maui isn't limited to one experience. Between the food trucks that dot the island, upscale cafés near the beach and waterfalls, and thrifty restaurants for the best cheap eats in Maui, there's a lot to explore!
Best Restaurants in Maui for Kids
Best Maui Bakeries
Leoda's Kitchen and Pie Shop
Located in Olowalu, Leoda's Kitchen and Pie Shop has a quiet, plantation-era atmosphere, and its chalkboard menu and wooden tables set the tone for the meal ahead.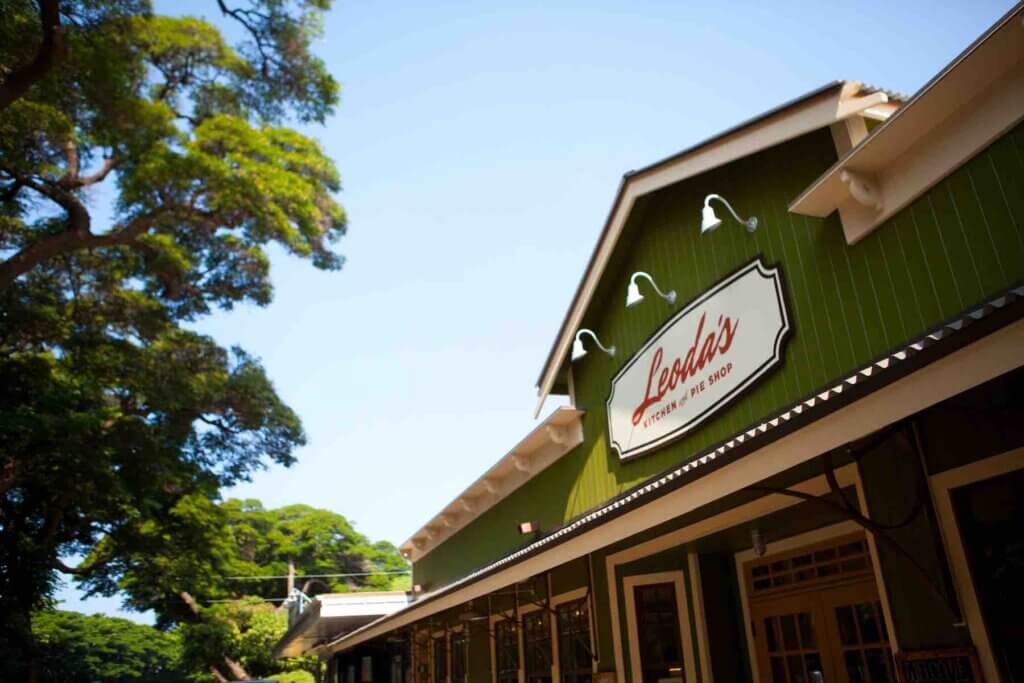 Because it's usually filled with locals and the occasional tourist, it's the best place to interact with people and get to know the place as well.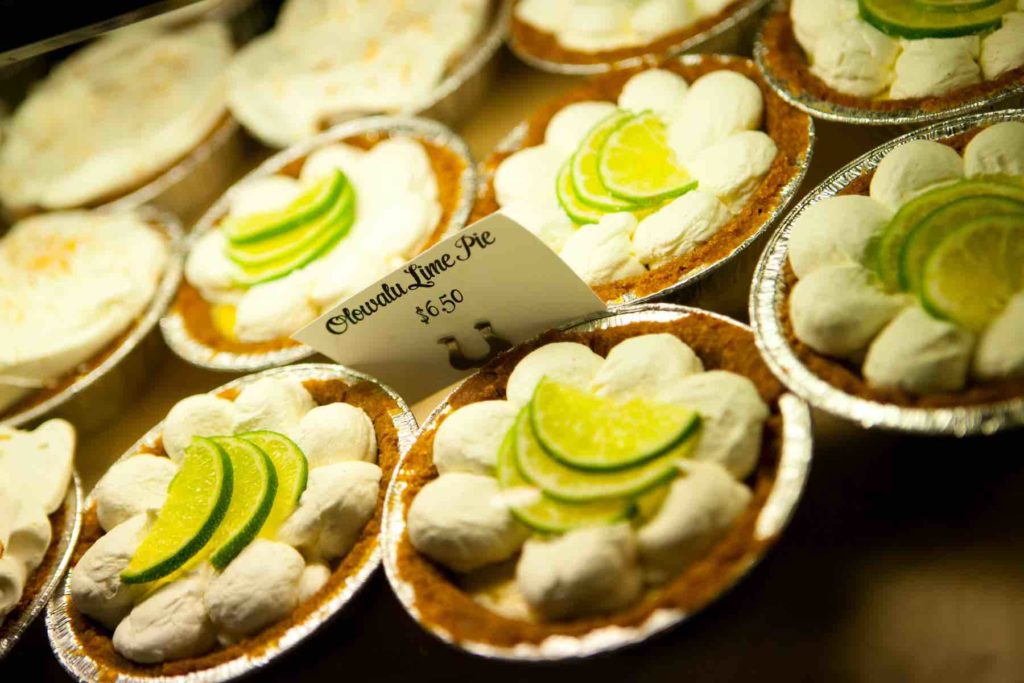 Featuring a variety of breakfast items, sandwiches, and freshly baked goods, Leoda's is open for breakfast, lunch, and dinner. Their Olowalu Lime Pie, Coconut Cream Pie, and Kiawe Bean Tart are standouts that you have to try!
Maui Bread Company
The Maui Bread Company brings together some of the best Hawaiian, Asian, and German flavors!
Your kids will not want to skip breakfast with their range of sweet and savory breakfast items like the Pina Colada sweet bun or the Bacon Cheese Twist. Vegan and gluten-free options are also available.
Don't forget to pack some of their delicious cookies and treats for the road!
Best Maui Breakfast Spots
Kihei Caffe
Kihei Caffe is rustic, homely, and a much-loved tourist spot. Make sure to carry cash (no cards accepted) and be prepared to wait in line because of the counter-serve style.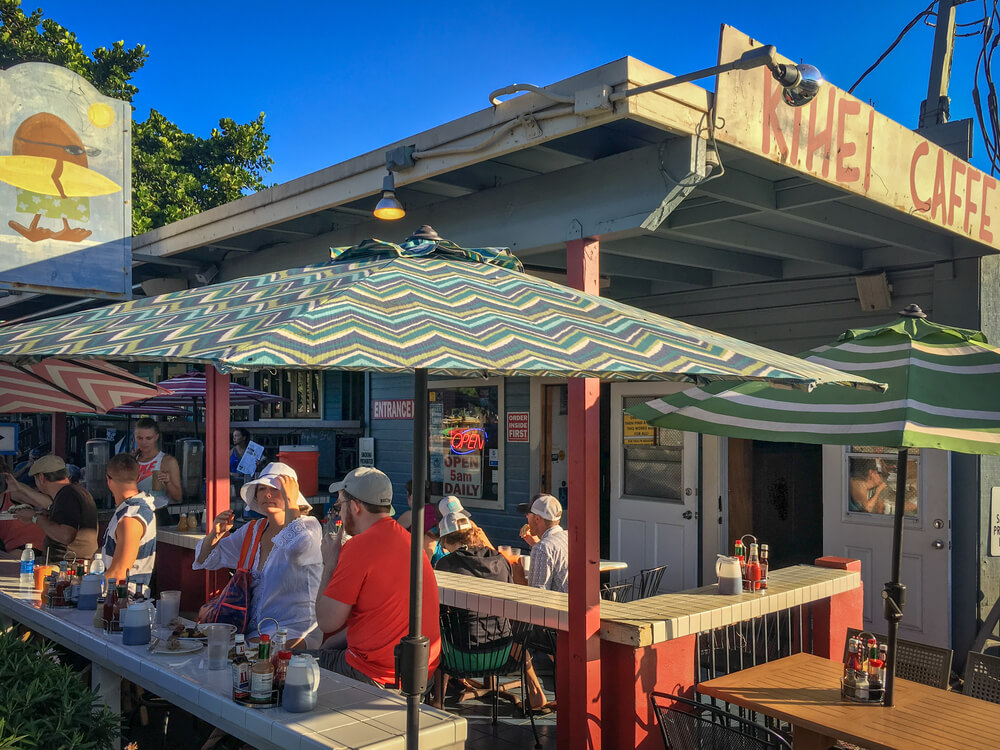 Some top picks to try are the biscuits and gravy, loco moco, and chicken-fried steak. Your kids will absolutely love the whale or honu pancakes that come in cute shapes and are worth the wait.
As for the adults, sample their range of pancakes like chocolate chip, coconut, and the beloved banana macadamia nut. It's a plate full of pillowy goodness!
With indoor and outdoor seating available and the beach located right across, there are plenty of ways to relax and enjoy your food at this joint.
Grandma's Coffee House
Chic and vintage, Grandma's Coffee House is a family-owned coffee shop, now turned into a restaurant. Popularly regarded as one of the top restaurants in Maui, it's a great place to take your kids to show them some plantation-era memorabilia and savor some yummy food while at it.
You'll find many locals walking in for their daily dose of quality caffeine and tourists on the cute lanai at the back.
The menu changes daily, but you can expect a range of warm pasta, cheesy omelets, amazing french toast, and just-baked cinnamon bread. Parents will enjoy sipping on Grandma's best-tasting coffee; you won't find it anywhere else on the island!
Best Maui Food Trucks
Thai Mee Up
When looking for the best cheap eats in Maui, Thai Mee Up should be at the top of your list!
This rustic-chic food truck offers delicious Thai food within the price range of $9-$15. Their salmon with jasmine rice and vegetables, as well as their special New York steak and lobster are both bestsellers.
You can choose to either buy yourself some takeout or settle down at a cute picnic table to "dine-in" with your family. A complete treat, sit back and let yourself be blown away by the plethora of flavors on your tongue!
Braddah Hutts
If you're looking for places to eat along the Road to Hana, Braddah Hutts is definitely worth the drive!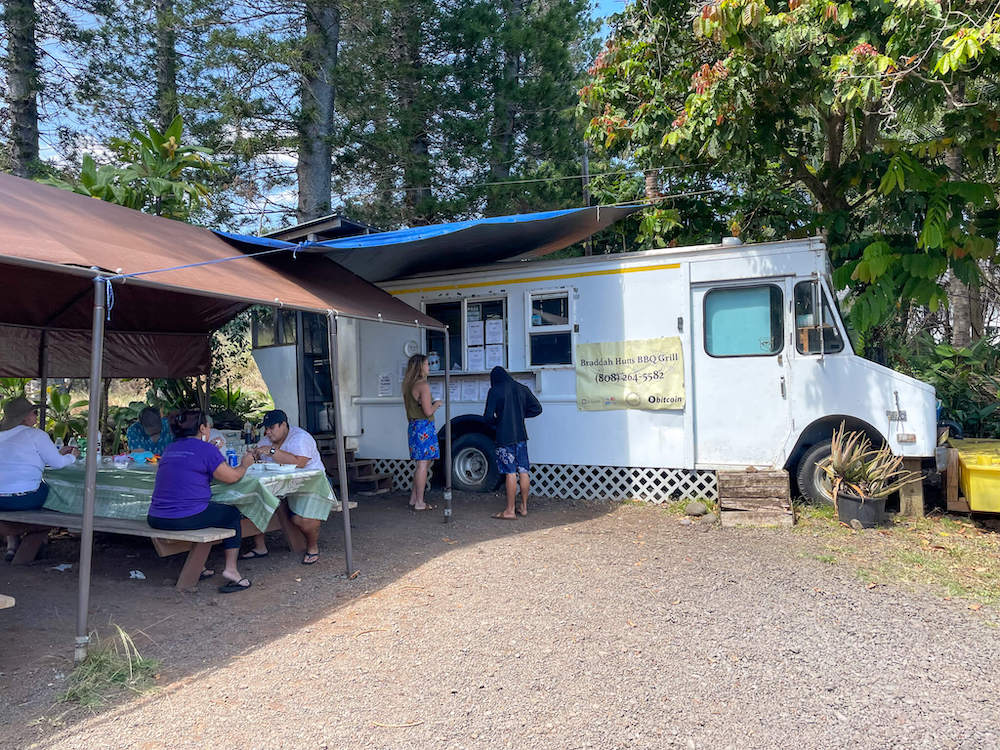 It's located past Hana town on the side of the road (you'll see plenty of signs along the way). It's a food truck that stays in the same spot and they have tons of covered seating available.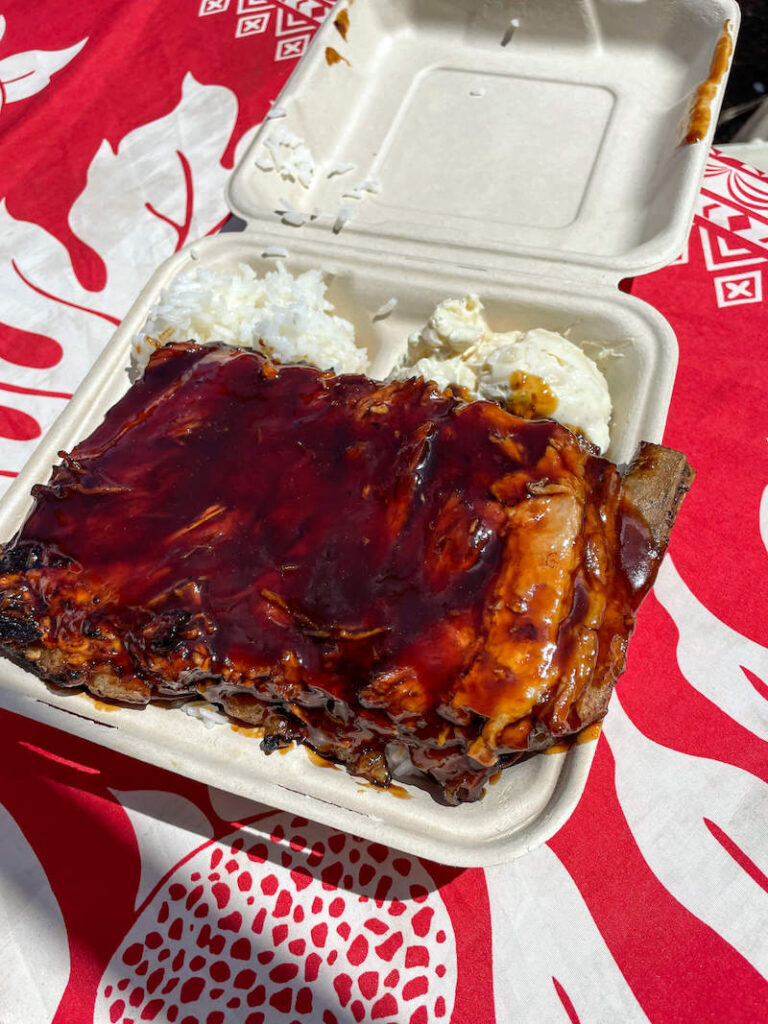 The food is totally drool-worthy. I definitely recommend ordering the ribs (these are the best ribs I've ever had) and I've heard the chicken is equally amazing.
Da Fish Shack
Towards Hana, food trucks are increasingly becoming a regular sight for locals, serving as spots to pick up lunch and dinner.
Da Fish Shack, a brainchild of chef Brian Maser, is famous for its fish tacos. Their shave ice and rice and meat plates are also local favorites, while their poke bowls are a must-try.
With a new menu every day, you'll find yourself automatically loving the vibe and enjoying the open air and sunshine at this food truck.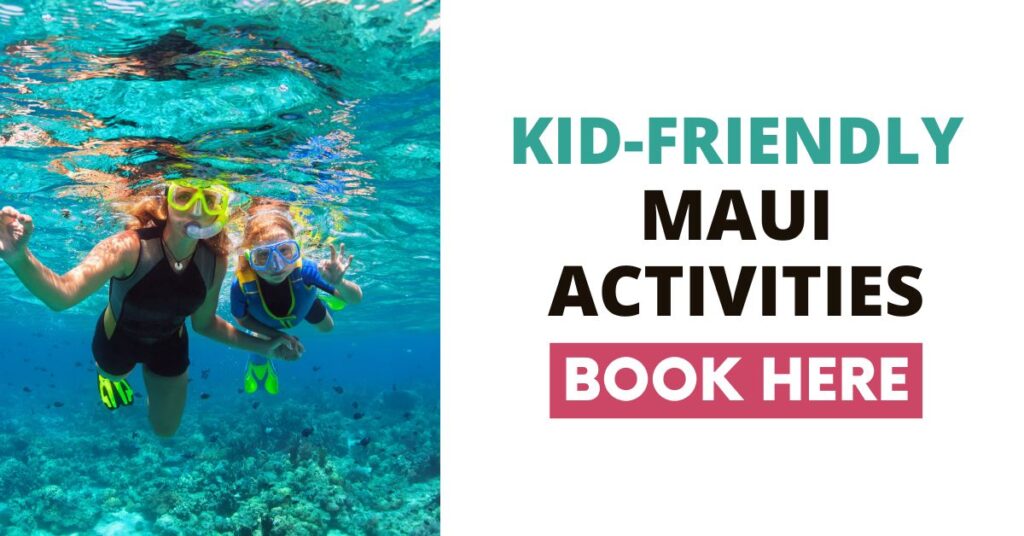 Best Local Food in Maui
Da Kitchen (Piko Cafe)
Located in the Kihei Shopping Center, Piko Cafe is a comeback of the 1998 established Da Kitchen. Their creative menu is funky, hip, and local, bringing to life traditional Hawaiian cuisine with a twist.
Guests can sample their pupus (appetizers) and also try their salads, burgers, and noodle dishes. Among regional specialties, their spam musubi and chicken katsu sandwiches stand out. The Hawaiian Plate is also a dish that we highly recommend.
With several accolades to their name, Da Kitchen has been featured in several T.V. shows and is one of the best places to eat in Maui.
Paia Fish Market
Another tasty Maui restaurant is the Paia Fish Market. They have locations across Maui and it's some of the best seafood on the island.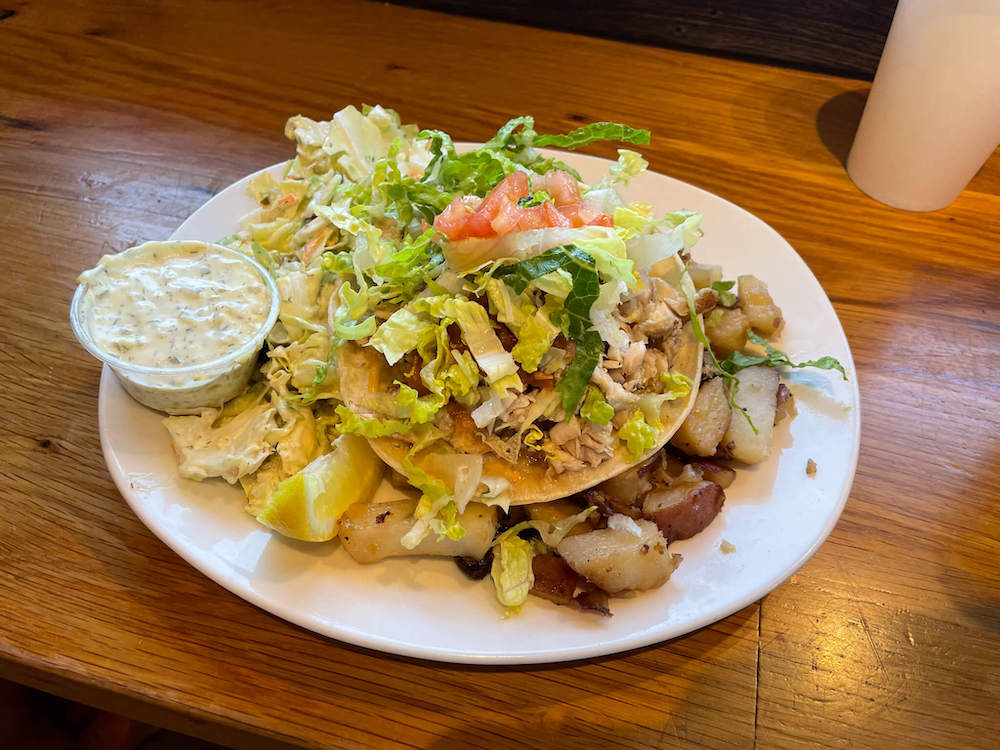 Their fish entrees are fabulous and their homemade tartar sauce is out-of-this-world. You can eat it at one of their restaurants or take it to the beach.
We loved the food so much we ate it two days in a row!
Tin Roof
Tin Roof is an ode to all things Hawaii. The food is made with locally-sourced ingredients and aloha (love and fellowship), making it the ultimate food for the soul.
It's run by two-time Top Chef finalist Sheldon Simeon. His vision is to make quality home food accessible to all.
It's an affordable option and features some of Hawaii's best poke bowls and a range of seafood-inspired dishes. Do arrive early because the Tin Roof gets completely packed around lunchtime, so the wait can get long.
Try their Mochiko Chicken Bowl made with chicken marinated overnight, and exotic ginger sake shoyu breaded and fried with sweet mochiko batter, a mouth-watering crunchy treat.
Their poke bowls vary daily and come in under $10!
Kid-Friendly Maui Restaurants
Duke's Beach House
A tribute to legendary waterman Duke Kahanamoku, an Olympic swimmer and the father of surfing, Duke's Beach House features live music, delicious food, and a grand view of the Pacific.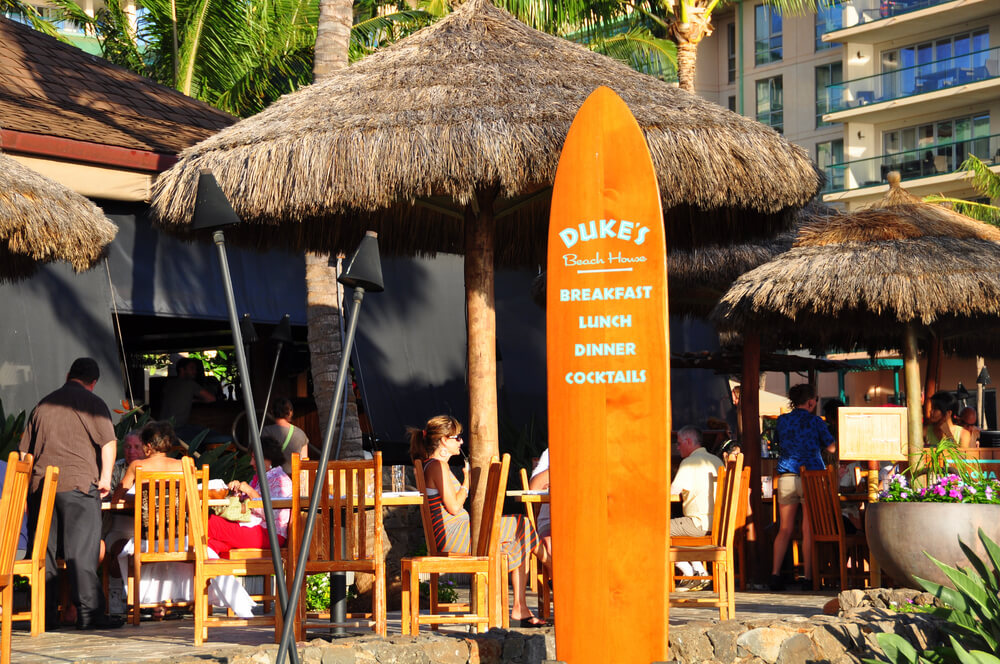 Its menu showcases freshly sourced ingredients, sustainable seafood, and even a Keiki menu for kids. The kids' breakfast includes fluffy pancakes, thick Hawaiian sweetbread french toast, and smoked ham omelets.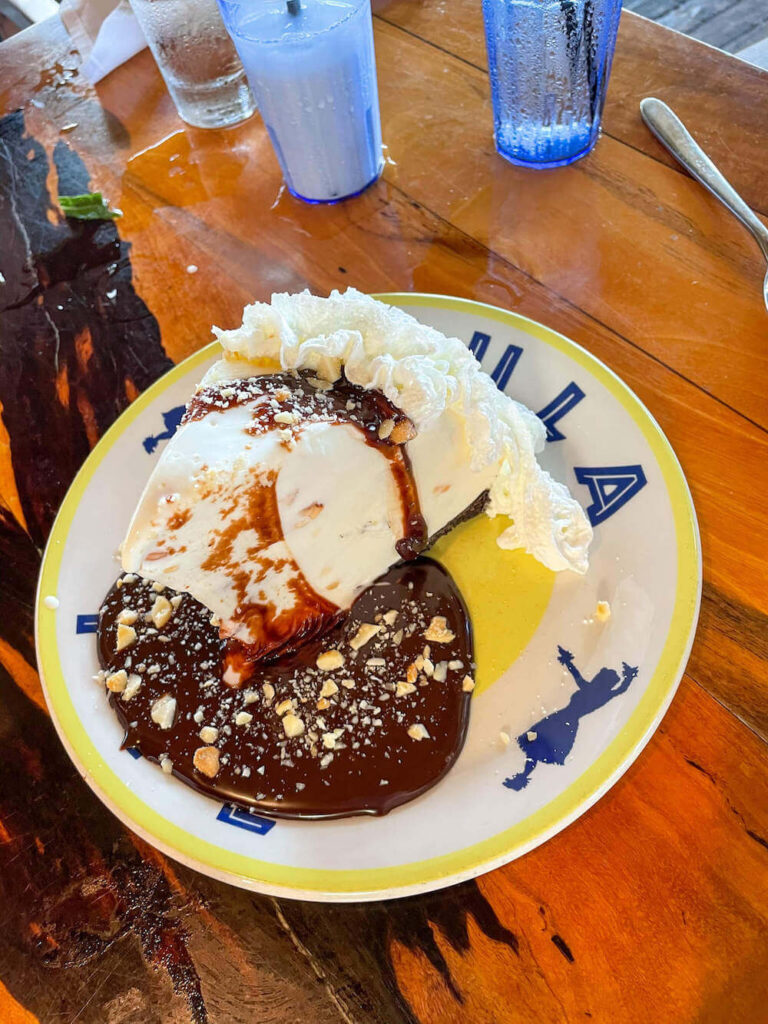 Your kids will adore the Hula Pie, a specialty at Duke's. Made with macadamia nut ice cream and a scrumptious cookie crust, it's a decadent dessert.
It's a visual treat for the adults and a treat for the tummy for the little ones. If you're looking for where to eat on Maui with kids, then Duke's is a go-to!
Hula Grill
The Hula Grill Ka'anapali in Maui celebrates local flavors and specializes in delivering quality produce by fishermen and farmers.
While the grown-ups experiment with exotic flavors, your kids can choose from fresh fish and chips, amazing mac and cheese, or a grilled chicken dish from the Keiki menu. For dessert, don't miss out on their original hula pie and pineapple upside-down cake. Gluten-free options are available too.
Their open kitchen is a treat for visitors and creates a welcoming atmosphere. Sink your feet in the sand, relax, and let Hawaiian culture take over you.
Famous Restaurants in Maui
Mama's Fish House
Mama's Fish House transports its visitors into a Polynesian culinary adventure! One of the top places to eat in Maui, it began as a humble neighborhood restaurant famous for its fresh fish. The fish was brought to Mama's, fileted, and served, all within 24 hours of a fresh catch.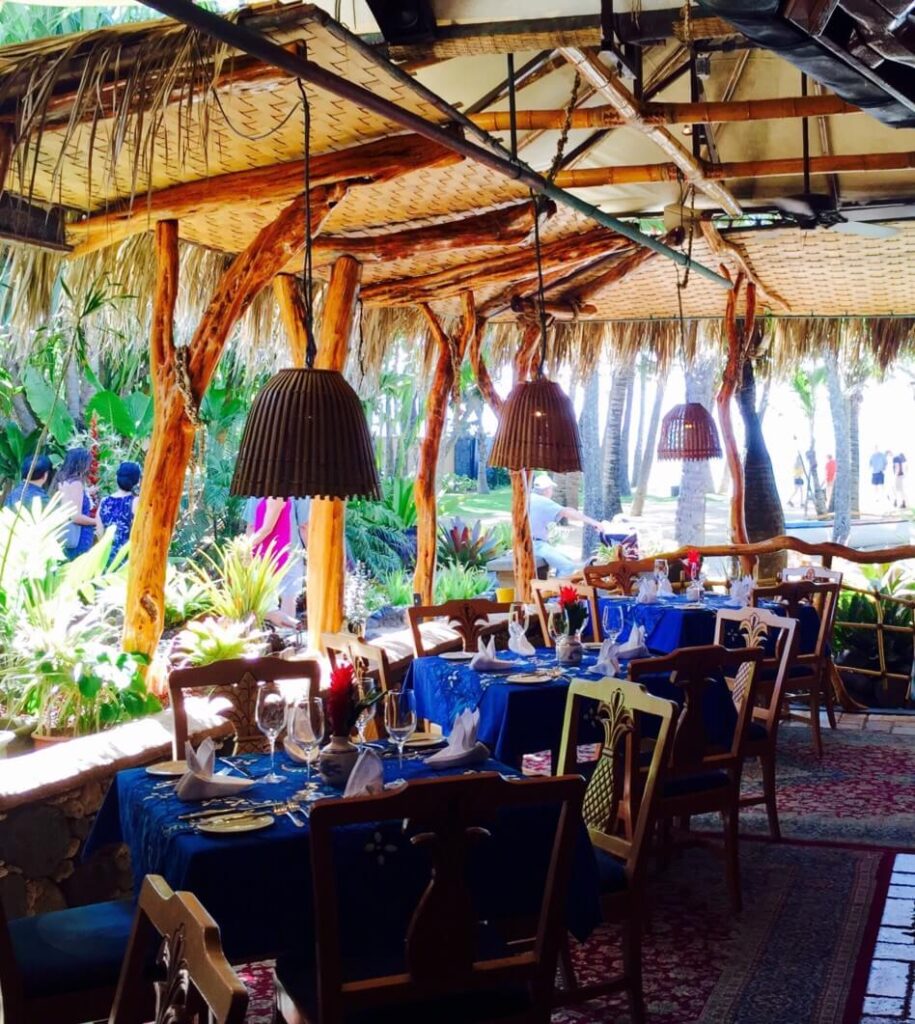 Soon the restaurant became popular with locals and tourists alike. Even to this day, it remains one of the best Maui restaurants and is often booked 3-6 months in advance.
The chefs are skilled at making the best out of locally sourced fish. Their Lau Lau made with fish, chicken, or pork is a must-try.
It's perhaps one of the most authentic Hawaiian dine-in experiences that you will come across, and we highly encourage giving it a shot.
Best Maui Dessert Spots
Ululani's Shave Ice
Ululani's Shave Ice is one of Maui's finest shave ice spots, with flavors including strawberry, banana, and rainbow (vanilla).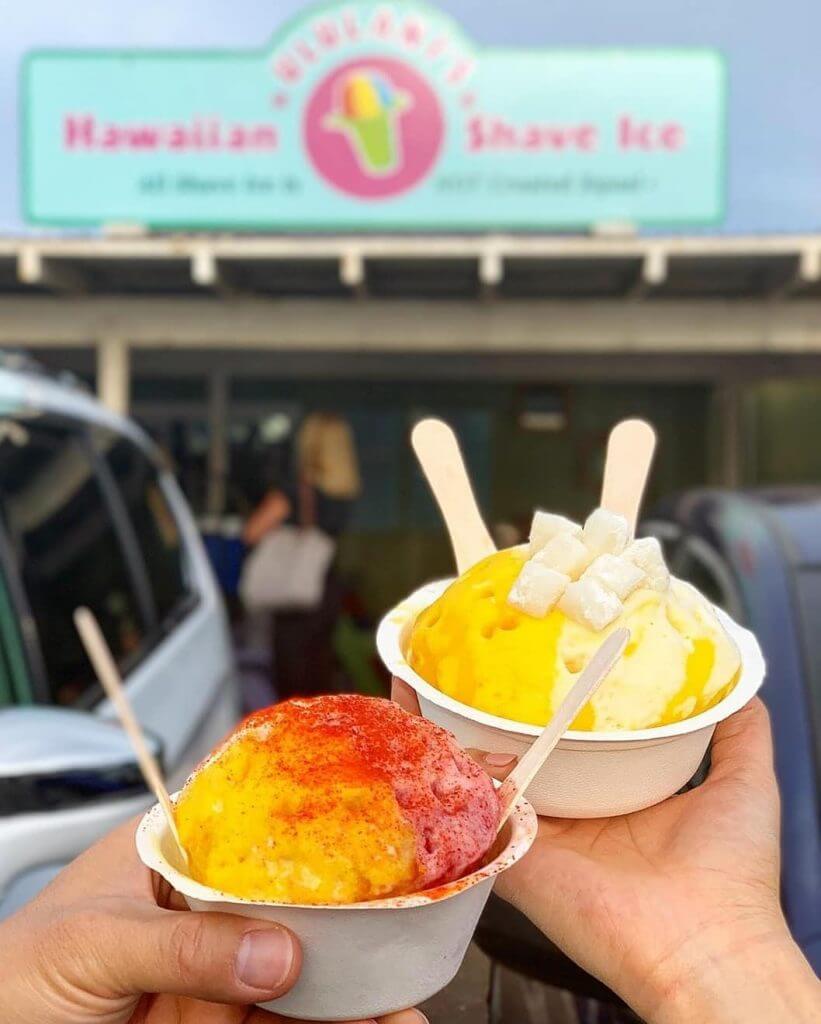 Shave ice is central to Hawaiian families as an after-school treat for their kids, making this an authentic local experience to be enjoyed with loved ones.
Ululani's uses 100% cane sugar with natural concentrates for some of the best shave ice you will ever try. Do give their sunset beach combinations a try for a refreshing end to your meal.
Lappert's Hawaii
Tropical beaches and ice cream go hand in hand, and Lappert's Hawaii knows it! With delicious handmade ice creams and freshly baked goodies, this is one of the best eats in Maui, especially when you're with kids.
Their signature caramel coconut and macadamia nut ice cream is number one on our list, and you must try the Kauai pie ice cream as well.
For a citrusy Hawaiian dessert experience, ask for their special Dole Whip, a dairy-free soft serve that is available in custom flavors.
And while the kids enjoy their ice cream, you can savor their signature espressos.
Where to Eat in Lahaina
Gazebo Restaurant at Napili Shores
Gazebo is an incredibly loved open-air diner on the way to Napili Shores Resort. A casual setting, beautiful beach views, and a relaxed vibe for you and your family make this restaurant a must-visit.
We highly recommend trying their macadamia nut pancakes or even stopping over for a delicious breakfast against the spectacular Napili Bay. Your kids will absolutely enjoy it!
Lahaina Grill
An elegant bistro with specialties from across the world, Lahaina Grill is a quiet retreat for your family.
If you are looking for decadent delights that are certain to impress, do try their Hawaiian Wagyu beef ravioli and triple berry pie.
Cheeseburger in Paradise
Live music, a stunning backdrop of the ocean, and gooey delicious cheeseburgers are what make this place a paradise!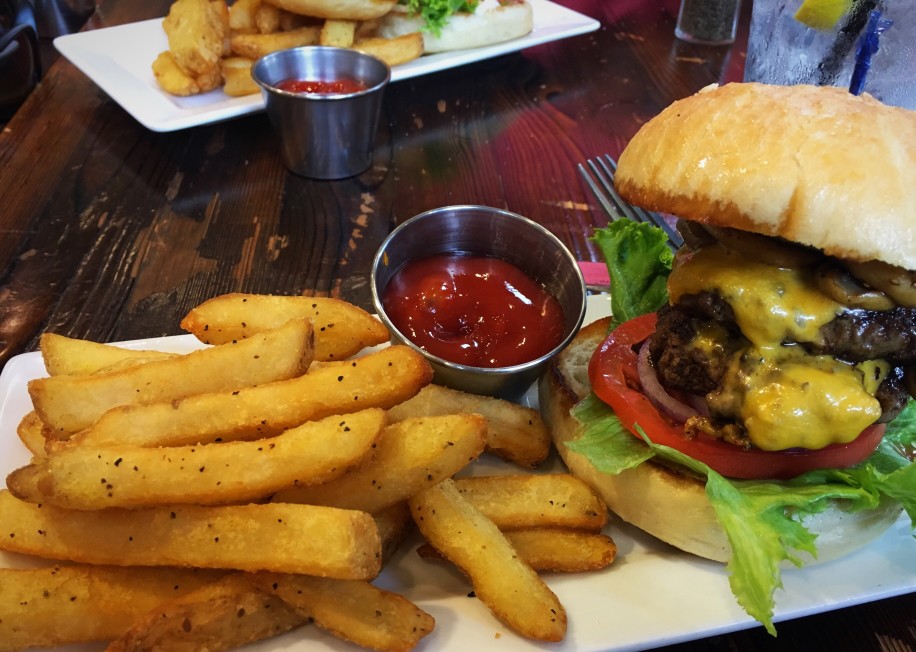 Cheeseburger in Paradise is always a hit for families since they have a great kids' menu.
Try their traditional Breakfast Cheeseburger and classic Steakhouse Cheeseburger. For under $20, you can have amazing burgers as well as cool tropical drinks to wash them down!
Where to Eat in Kihei
Eskimo Candy
Located in a quiet neighborhood in Kihei Town, Eskimo Candy has some of the best seafood lunches in Maui.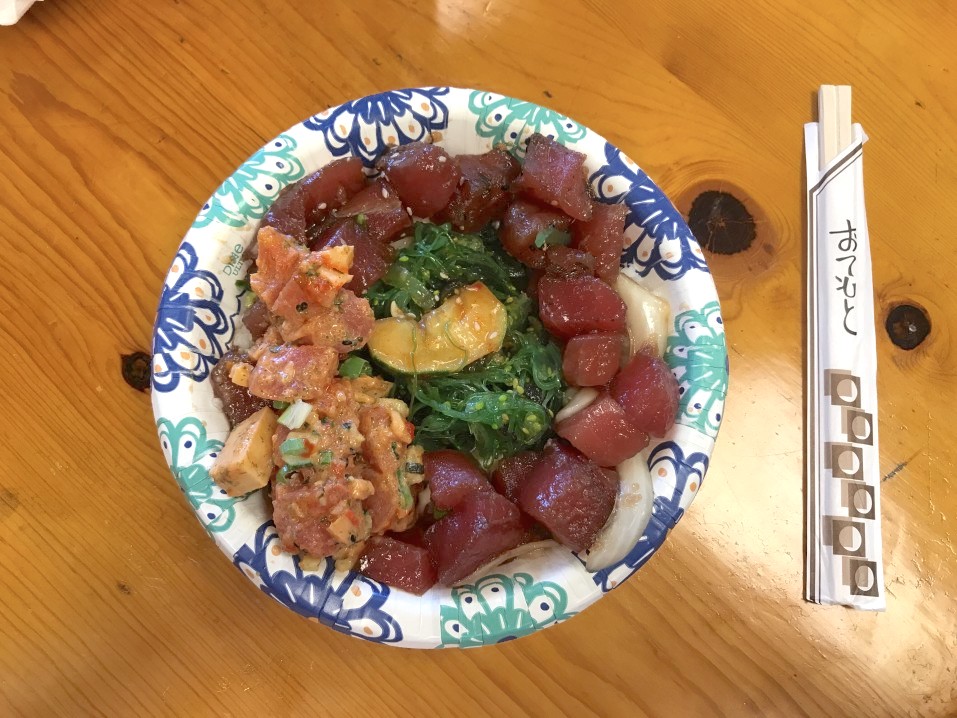 The tempura and coconut shrimp and the poke bowl with ahi poke shoyu are just some of the dishes on the menu that you have to try! Don't miss paying this place a visit. It's the best local seafood you'll find in the area!
Café O'Lei
Don't be fooled by the sophisticated atmosphere in Café O'Lei, because its innovative menu will win you over.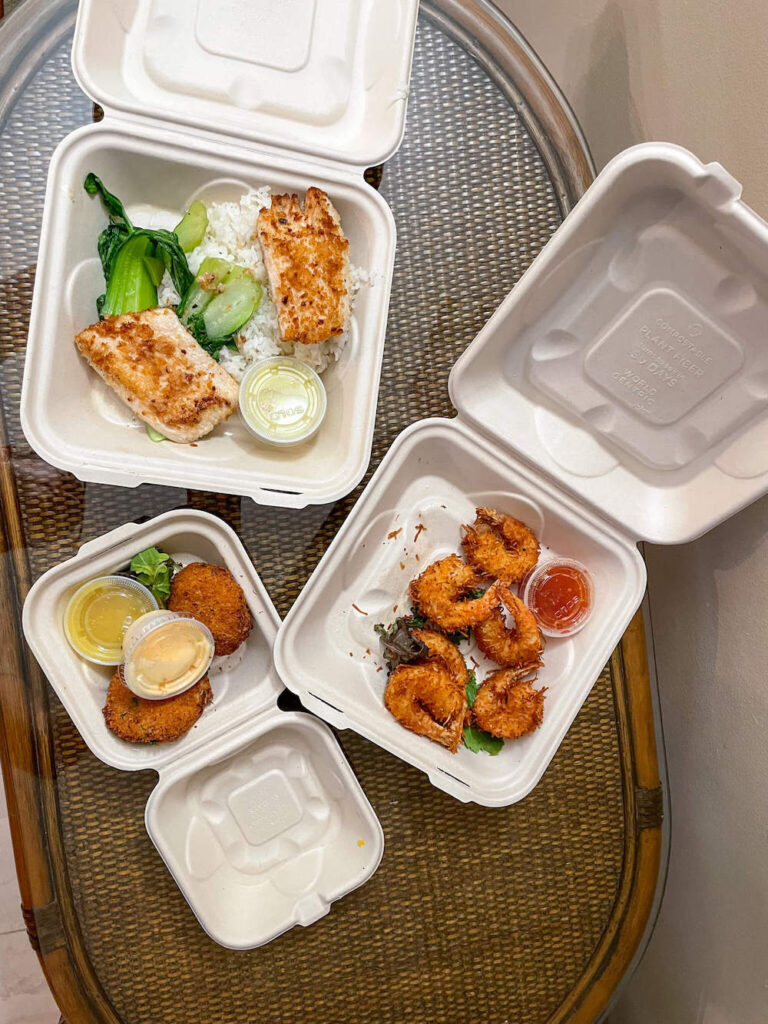 Local dishes, steak, and seafood with some of their signature drinks make this a fine dining experience unlike any other. Be sure to check it out for some delicious mahi mahi, shellfish & sushi dishes!
They actually have locations all over Maui. We loved it so much that we ate here 3 times on our last trip.
Coconut's Fish Cafe
Excellent food and aloha are the trademark of this family-friendly restaurant, Coconut's Fish Cafe.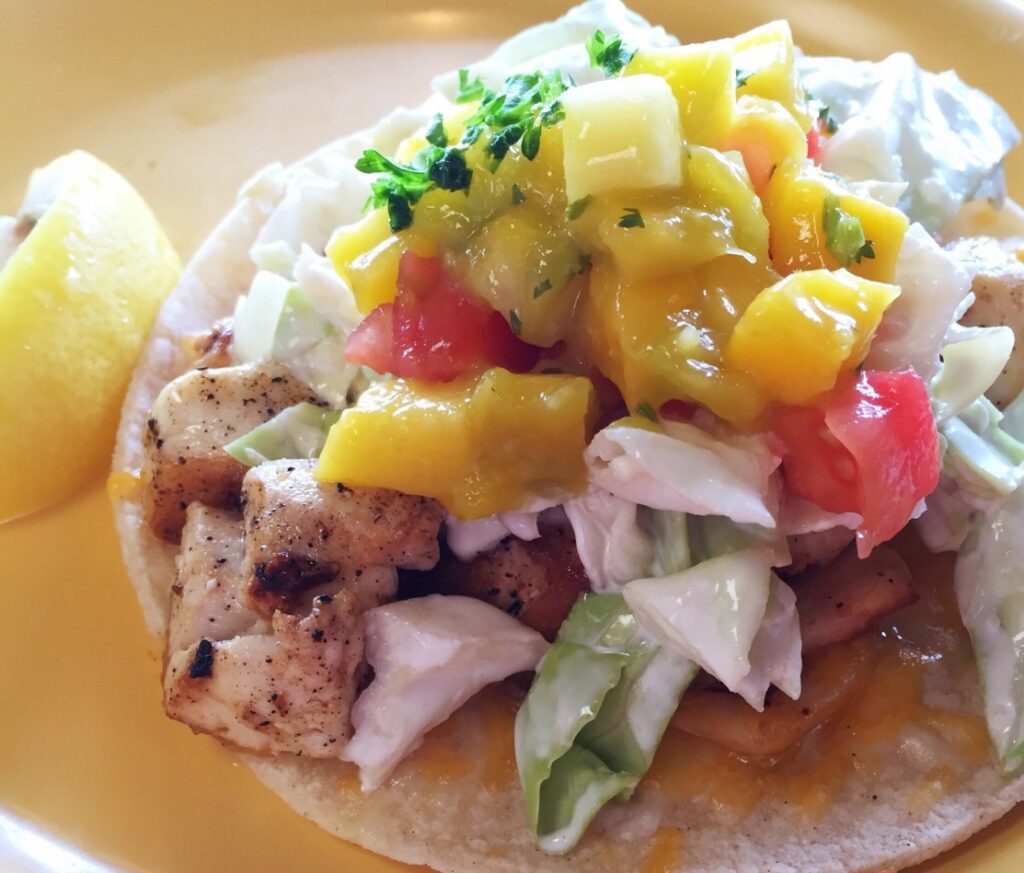 Try their famous fish tacos, mahi-mahi, and founder's favorite Ono on a Bun. Completely health-conscious and made from premium ingredients, this is a place you cannot skip!
Where to Eat in Wailea
Monkeypod Kitchen
This is one of the first restaurants that you will encounter on your way to Wailea. Freshly sourced ingredients, sustainable farming, and healthy meals are a trademark of Hawaii, and the Monkeypod Kitchen is no exception.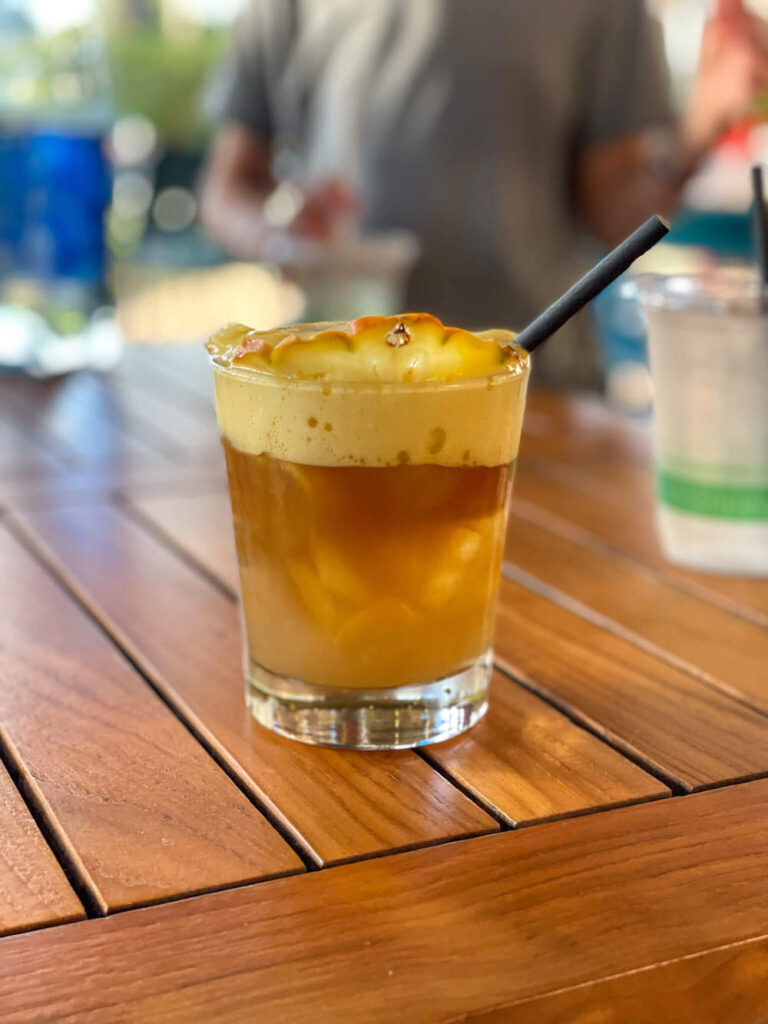 Relish a delicious dinner of bulgogi pork tacos and organic spinach and quinoa salad. Explore their range of options that are big enough to share with the entire family.
Gannon's
Chic and contemporary, Gannon's is a semi-fine dining experience that little ones will enjoy just as much as the grown-ups.
The extensive bistro menu boasts authentic flavors derived from fresh, locally-sourced ingredients. Sip on specialty cocktails like Cucumber Kula and Wailoma, while gazing out of large windows that overlook the ocean.
Their Keiki menu too has some amazing options for kids complete with kids' cocktails (don't worry, they're just mocktails)!
Honolulu Coffee
Honolulu Coffee is a Hawaiian chain known for its exceptional Kona coffee.
A great breakfast place for you and yours, try their sandwiches and acai bowls for a rejuvenating start to your morning of exploration.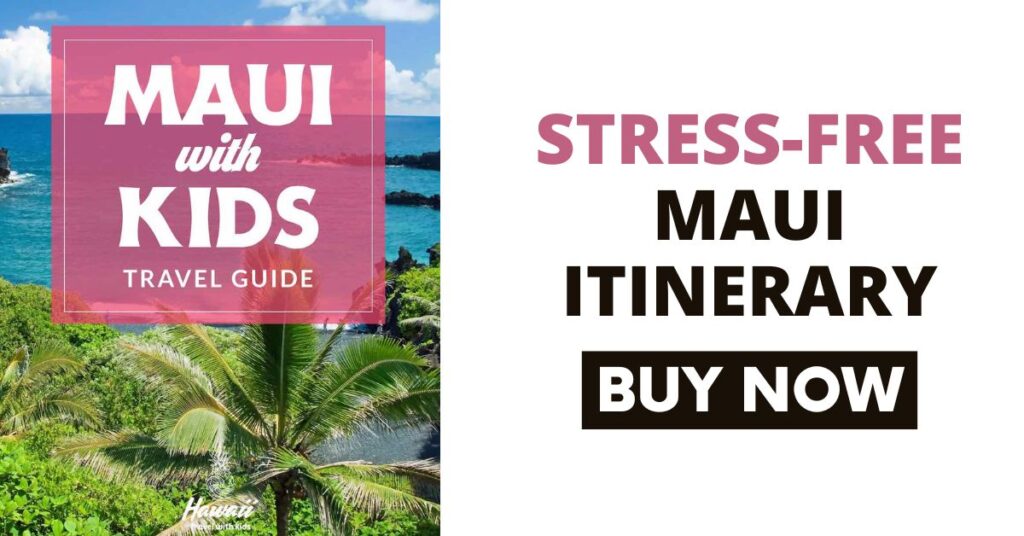 Best Places to Eat in Maui Wrap Up
When traveling with the family, finding the right places to dine can be a hassle. But now that you know just where to eat on Maui with kids, the culinary experience of your trip is going to be a cakewalk, and undoubtedly memorable!
To make things easier, make the most of the specially-curated Keiki menus in restaurants and let your kids explore their taste buds.
Don't forget to sit back and take in Hawaii in all of its rich, cultural flavors on your next family getaway!
P.S. Join our Hawaii Travel with Kids Facebook group to get connected with other families planning a trip to Hawaii!