Are you planning a trip to Kauai and wondering if it's worth staying in North Shore Kauai? Keep scrolling to check out this easy guide to Hanalei, Princeville, and Kilauea.
This guide to North Shore Kauai contains affiliate links which means if you purchase something from one of my affiliate links, I may earn a small commission that goes back into maintaining this blog.
Planning a trip to Kauai with the family?
North Shore Kauai is an amazing place to visit with your family. There's so much to see and do, you won't know where to start!
You'll find everything, from classic tourist experiences to some of the greatest wonders of nature to be found on the planet!
I've put together this guide to help make your decision easier. You can find all the information you need right here, from where to stay, what to eat, and what activities are available.
Keep scrolling to find out why you should add North Shore Kauai to your itinerary!
Don't have time to read a bunch of Hawaii blog posts and reviews? Here are some of our top picks for visiting Kauai.
Popular Kauai Tours/Activities
Favorite Kauai Resorts/Hotels
Grand Hyatt Kauai (this Poipu resort has a luxurious pool area, romantic restaurants, and a stunning ocean view)
Koloa Landing Resort (this is a luxury resort with an amazing pool area and truly spacious rooms)
Royal Sonesta Kauai (we LOVE the pool here because it's the largest one in Hawaii)
Want to Rent a Car in Hawaii?
One of the best places to rent a car in Hawaii is Discount Hawaii Car Rental because they get the best rates from top national companies like Alamo, Dollar, Thrifty, Avis, Enterprise, Budget, and Payless.
Want to skip all the planning and just access my detailed Kauai Itinerary complete with daily schedules, kid-friendly activities, and travel hacks? Click the button below.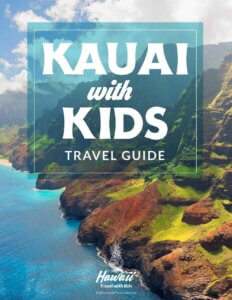 Kauai North Shore FAQs
Where are the best beaches in Kauai?
Definitely check out North Shore for the best beaches in Kauai. You'll find all kinds that are perfect for activities like snorkeling, surfing, and sunbathing. Hike along rocky beaches or explore Kauai North Shore's caves beaches at low tide!
Which side of Kauai has the longest dry season?
South Shore is much drier and sunnier. North Shore has double the rainfall each year! A lot of things factor in here. While rainstorms can be sudden and heavy on any tropical island, South Shore has more sandy beaches and lower elevations. North Shore Kauai's mountainous terrain means a longer rainy season.
Is it safe to swim at Kauapea (Secret) Beach?
You can't beat North Shore Kauai's stunning not-so-secret Secret Beach! The safest time to swim there is during the calmer summer months. No matter the time of year always take care. The appeal of this beach is that it's isolated, but there's no lifeguard. Keep a lookout for choppy weather and never swim when there are rip currents.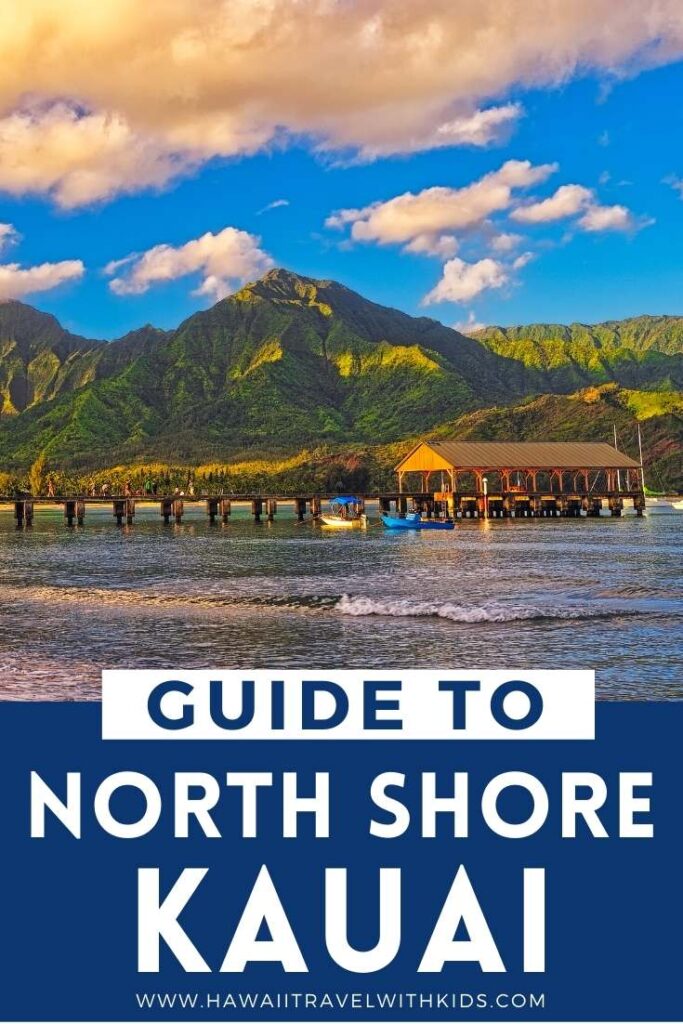 All About the North Side of Kauai
Kauai is smaller than Hawaii Island, Maui, and Oahu. Nicknamed the Garden Isle, you'll come to understand why! Estimated to be over 5-million years old, it's one of the oldest of the main islands and features fascinating geographic features.
It's also been a location for many films over the years, like South Pacific and Jurassic Park.
North Shore Kauai beaches range from snorkeling beaches to kid-friendly lagoons, and rocky cave beaches that are perfect for exploring.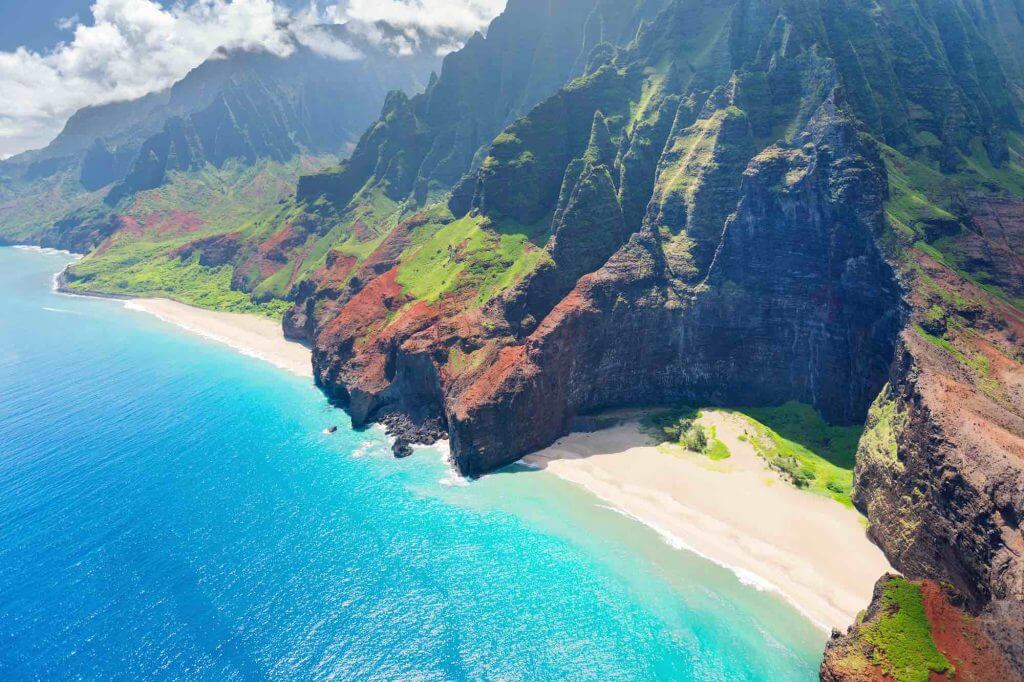 The Na Pali Coast is the place to be if you're looking for outdoor excursions. Challenge yourself with a difficult hike to view a cascading waterfall. Or you can stroll along a sandy beach with views of the iconic verdant Makana mountain peak.
Enjoy the culture of the more rural North Shore by visiting the many food truck vendors or touring a local taro farm. Kauai has fun, unique features, like a feral chicken population! The moa are so numerous that they've become the unofficial "state bird" of Kauai!
North Shore Kauai Weather
The weather may be an important factor when you're looking for things to do in Northern Kauai or even when to visit. On a tropical island, you can expect rainfall every day at some point on the island, but it's easy to work around if you're prepared!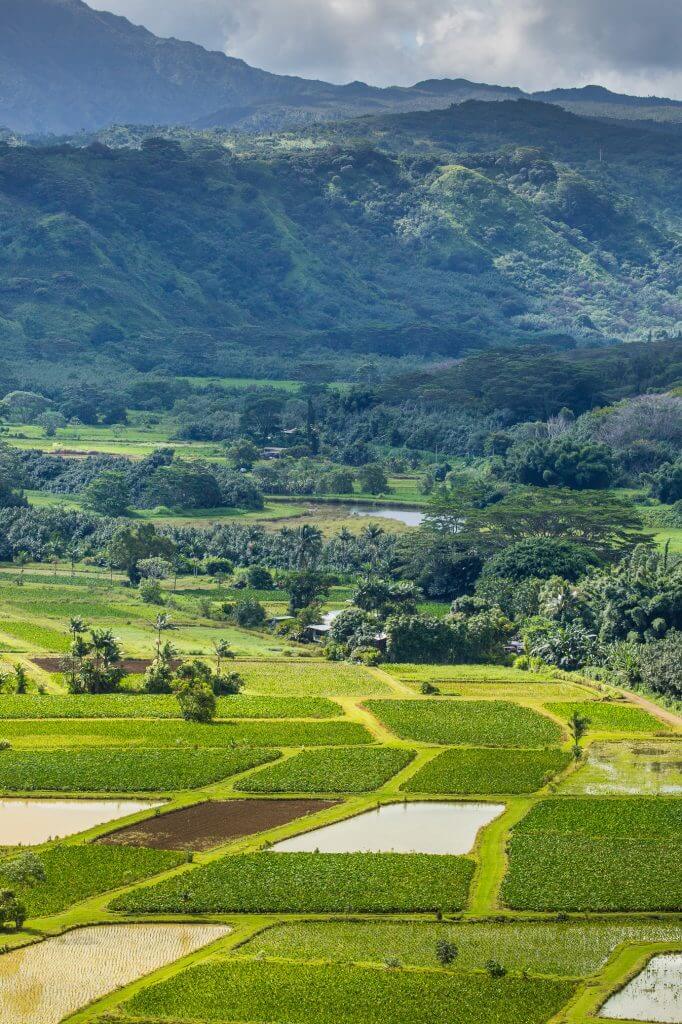 Kauai averages mild temperatures between 65-85-degrees all year-'round. The wet season is from about October to March when it's cooler. The dry season from April to September is warmer. Like all the Hawaiian Islands, the north coast is cooler and wetter than the dry, sunny southern coast.
Especially in the mountainous regions, rainstorms can come on suddenly, and be fierce. Always check weather forecasts before starting a hike and bring proper gear. Don't let a moody North Coast keep you from enjoying the wonders of Kauai. Just maybe save the sunbathing days for the dry season!
Traveling to North Shore
You'll fly into the Lihue Airport on the southeast side of Kauai. It's a fairly small airport and it's really easy to navigate.
Kauai Car Rental
If you want to travel around the entire island, consider renting a car during your stay. I HIGHLY recommend doing this.
We've found that we can usually save a lot of money by booking through Discount Hawaii Car Rentals.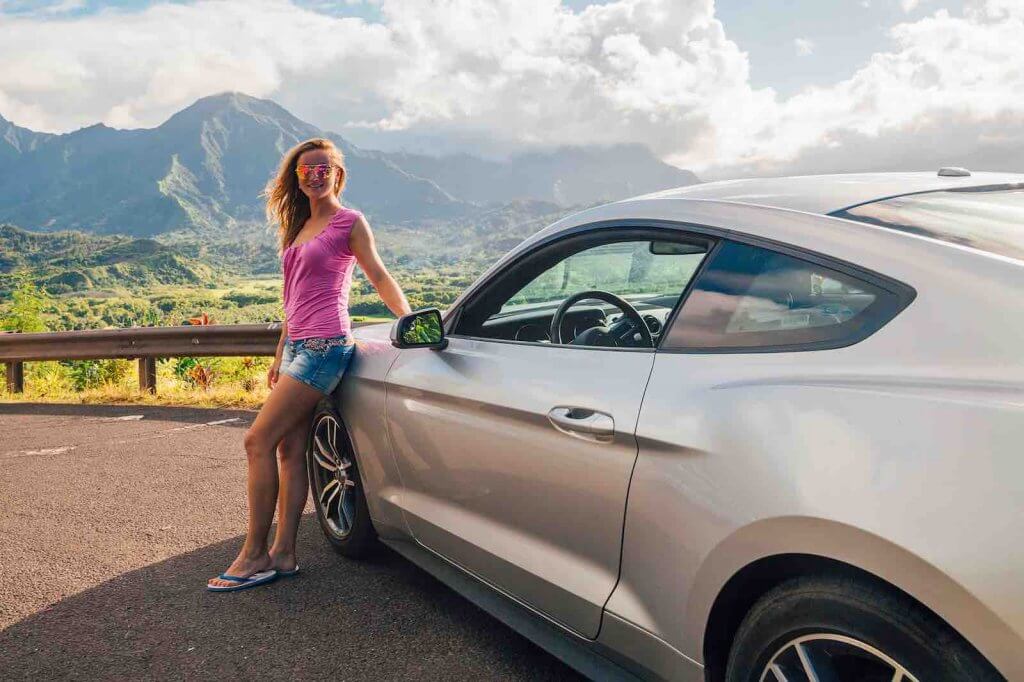 Basically, they get screaming deals on rental cars from top companies like Alamo, Dollar Car Rental, Avis, Thrifty, Enterprise, Budget, and Payless. And then they pass the savings onto you.
Plus, they can often get free extra drivers or reduce the young driver rate. It's definitely the way to go. Check out the latest prices and more details.
Kauai Bus
If you plan on only checking out Kauai North Shore attractions or staying at your resort, you can get around without a car. You'll find that public transportation is pretty easy to use. When you leave baggage claim, there's a bus stop right outside.
Both the 400 and 500 bus routes run from the airport to Hanalei and back all day. Uber and Lyft are on the island. Besides that, there are shuttles and tour buses.
Getting Around Kauai
If you decide to drive in North Shore Kaui, you should know that you can't drive all the way around the island. Kauai Belt Road-North Shore section, Kuhio Highway, and Kaumualii Highway, among other state highways, run 3-quarters of the way around.
There are no roads on the northwest coast of the island. That's where the Na Pali Coast is.
From Hanalei, you have to drive clockwise around the island to get to the west coast. You can only really see the interior by helicopter. Also, there are some great beaches on the northwest coast, but you can only get to them by kayak or a difficult hike.
Places to Stay on Kauai North Shore
Kauai towns are a great way to see North Shore. You'll get a Hawaiian experience by staying in towns like Hanalei, Princeville, and Kilauea.
When deciding between North Shore or South Shore Kauai, keep in mind that North Shore is more isolated than the south or east.
Accommodations on North Shore tend to be more luxurious resorts and hotels that come with a larger price tag. However there are also lots of North Shore Kauai vacation rentals worth checking out.
Hanalei
North Shore Kauai's surfer town is Hanalei! When it comes to things to do in Hanalei, this is the place to lay back on the sands around Hanalei Bay. The town of Hanalei is slow going, so don't expect to rush. This is home to North Shore Kauai surfing, so head to the beach and enjoy the waves.

Come here to lounge near swimming beaches, explore tidepools, and walk along the 300-foot-long pier at Black Pot Beach. For the foodie looking for what to do in Hanalei, you'll find a wonderful local food scene around restaurants and food trucks.
Hanalei Bay Resort is a great place to stay in this town that truly represents the Hawaiian spirit! Stay in a selection of digs from studios all the way to full condo rentals.
Enjoy luxury accommodations like a fully-equipped tennis facility, a spa, and a bar and restaurant. It's all steps away from the beaches of Hanalei Bay. Check the latest rates and availability.
Princeville
If you're looking for a Kauai North Shore resort, head to Princeville. The luxury resort area of Princeville is home to dozens of high-end resorts and hotels. This is the place to come for scenic views of Kauai combined with an elevated stay.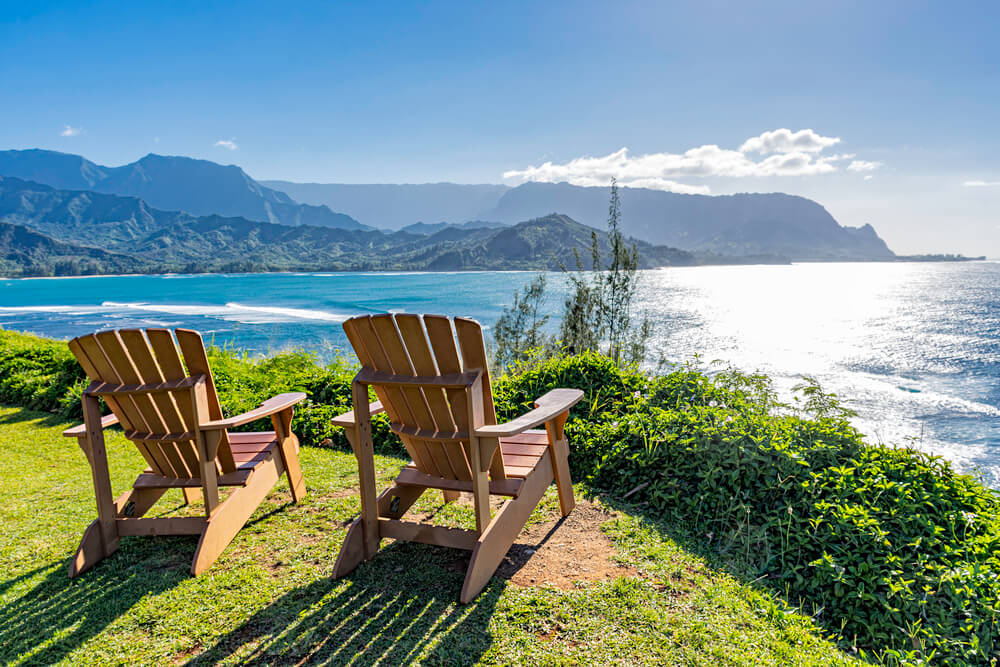 Princeville Kauai activities include moderate hikes to stunning rocky beaches like Queen's Bath or high-end shopping at the Princeville Shopping Center!
If you like to get on the green, Princeville is also home to a few premier golf courses. Plus, it's not far from the Hanalei National Wildlife Refuge and the Princeville Botanical Gardens.
Stay at the Westin Princeville Ocean Resort Villas. Enjoy the freedom of a luxe rental with plenty of room for your family while also taking advantage of resort amenities!
Check out the farm-to-table restaurant and bar or head to the spa. You'll love family- and kid-focused activities, experiences, and even children's pools. Check out the latest rates and availability.
Kilauea
One of the best towns in Kauai is Kilauea. While it's more of a residential area with no hotels or resorts, you'll find some great things to do on North Shore Kauai. The town grew out of the Kilauea Sugar Plantation. Go shopping at the Kong Lung Historic Market Center to shop, eat, and learn about local history.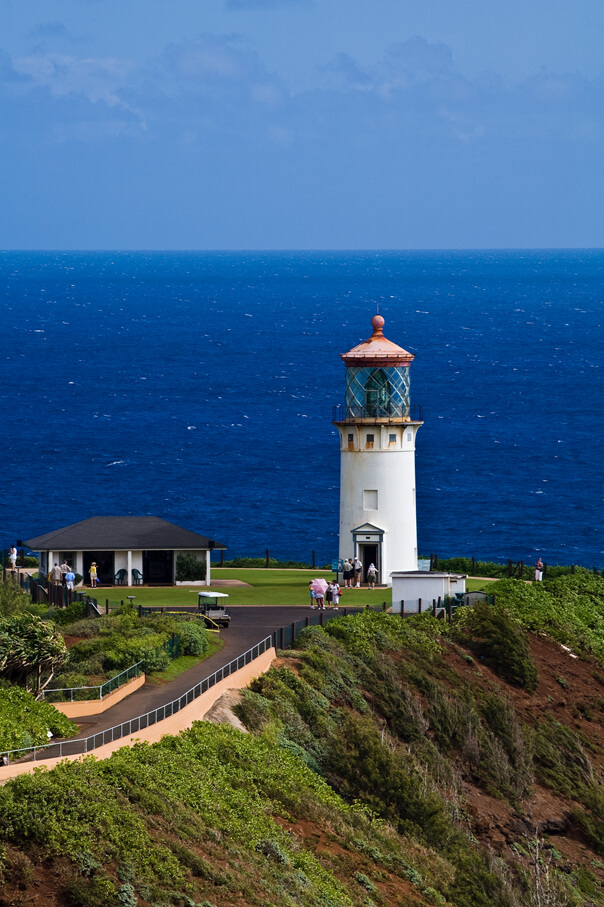 Head to the Kilauea Point National Wildlife Refuge and take pictures at the Kilauea Lighthouse. This town is also home to the famous Kauapea Beach, an isolated sandy beach with stunning turquoise waters all backed by rocky black cliffs. Anini Beach has the perfect conditions for snorkeling.
Things to Do on the North Shore of Kauai
When it comes to things to do in North Shore Kauai, you can pick from several outdoor experiences. Outside of resort activities, North Shore is also a great place to connect with the local culture.
Outdoor Kauai North Shore Activities
You'll find that Kauai North Shore beaches have personalities! Kee Beach is the perfect spot to take the family for the day with calm waters and walking trails. Look for turtles at Tunnels Beach or watch surfers in the winter.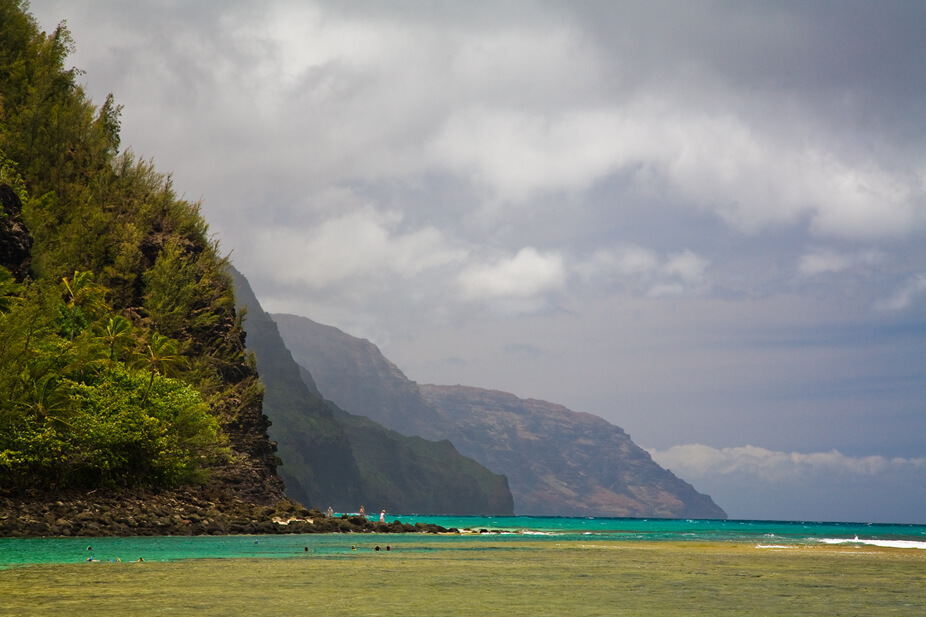 For snorkeling on North Shore Kauai, head to Haena Beach Park. This state park also has great easy hiking trails and wet caves that you can explore during low tide.
If you'd like to check out a Kauai botanical garden, one of the prettiest ones is Limahuli Garden. It's right by Haena State Park and there's a lovely path you can walk for amazing views.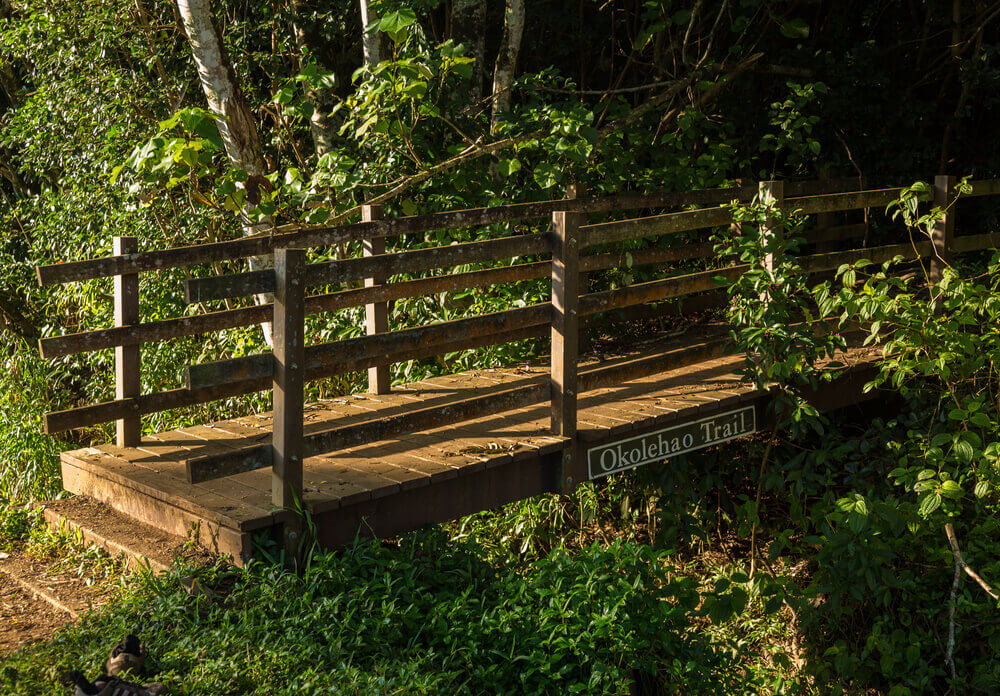 You'll find great North Shore Kauai hikes for the whole family. An easy one is the Okolehao Trail. It only takes about 2-hours, and you get a great view overlooking Hanalei. Most hiking North Shore Kauai is not easy, but it's rewarding.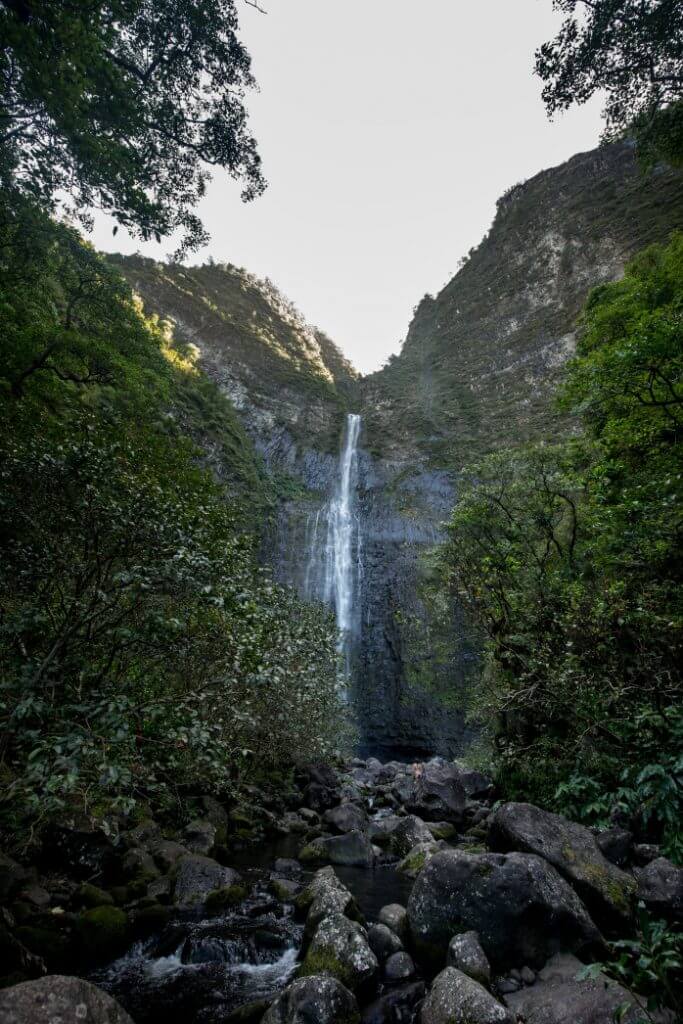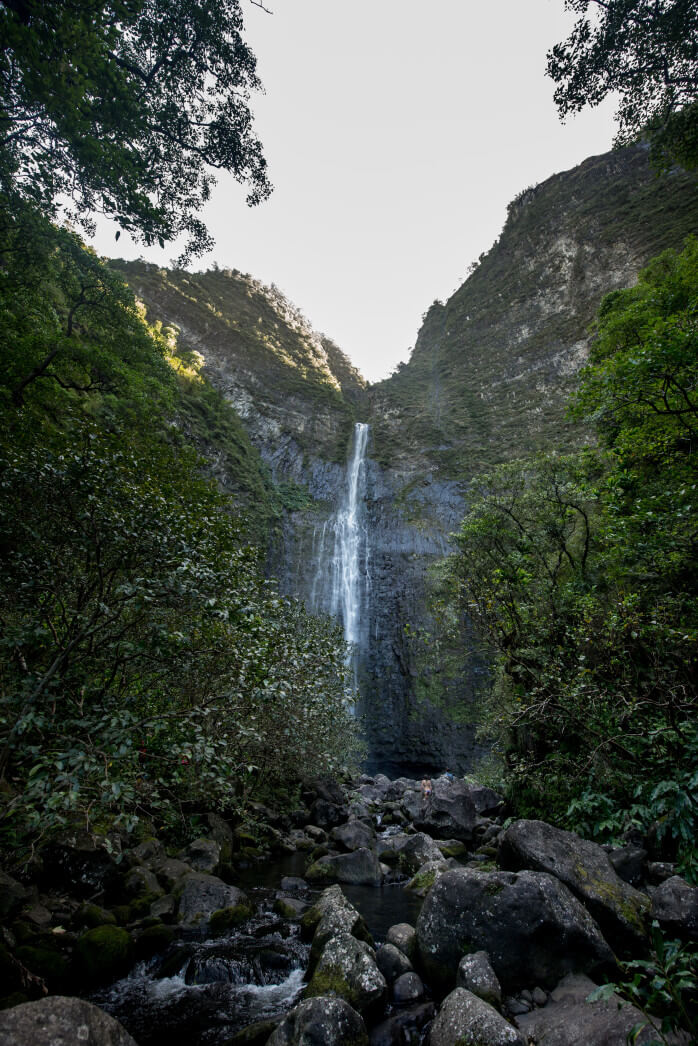 For the more experienced hikers, I recommend the Hanakapiai Falls Trail. The trailhead is at the very end of Kuhio Highway in Haena State Park. Depending on how you go, it can be 2- or 4-hours long.
If you aren't up for a hike, there are other ways to explore the northern coast. To see the Na Pali Coast in all its glory, look into Kauai North Shore boat tours.
Also, you can get to the popular Haena State Park by booking with North Shore Shuttles. Self-parking is very limited (and reservation-based) and the shuttle solves that. Plus, they go to a variety of hop-on-hop-off stops so you can see several local attractions.
Book a Family Photo Shoot
Whenever we travel to Hawaii, we almost always book a family photo shoot with Flytographer. They are super easy, affordable, AND it guarantees that I'll be in some photos. You can get $25 off if you book through this link or use the code HAWAIITRAVEL.
North Shore Kauai Tours
In addition to some of the top Kauai attractions, there are also some cool Kauai tours that take place on the North Shore. This is super convenient for people staying in North Shore Kauai.
Na Pali Boat Trip
If you're visiting Kauai from May-October, check out this Na Pali Coast Snorkel Cruise. It leaves from Hanalei and you'll get to see the breathtaking Na Pali Coast from the water. Check the latest rates and availability.
Hanalei Kayak Adventure
If you're like to do some kayaking on Kauai, there's an awesome tour called Kayak Kauai Hanalei River & Blue Lagoon Kayak & Snorkel Adventure. You'll kayak down the beautiful Hanalei River and hear stories about Hawaiian culture. Check the latest rates and more information.
Surfing Lessons in Hanalei
If you've ever wanted to learn to surf, Hanalei Bay is a great place to start. Join this Private Hanalei Surf Class to try it for yourself! Check the latest rates and availability.
Scavenger Hunt
One of the most unique things to do in Hanalei is the Aloha Hanalei Adventurer Scavenger Hunt. It's an interactive experience that will have you roaming all over town searching for clues and learning about the area. Check the latest rates and more information.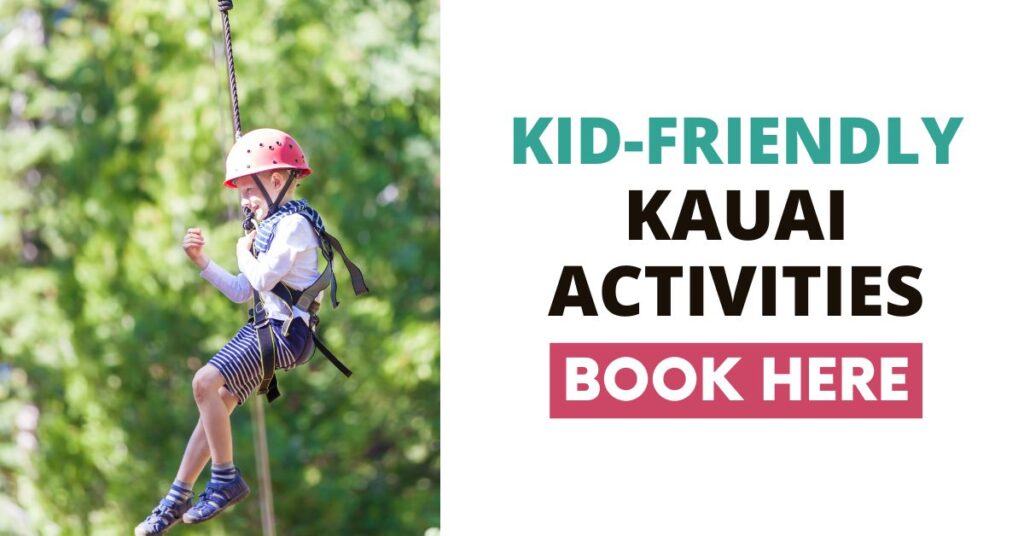 North Shore Kauai Food Scene
If you want to get to know island culture, Kauai North Shore restaurants and food trucks are the way to do it. Some of the best restaurants in Kauai North Shore can be found in Hanalei.
Food trucks are a big deal here! I suggest starting your day early at the Saenz Ohana Breakfast Truck. The family-owned truck is out on Kuhio Highway in the heart of Hanalei town at 7:30 AM every day but Wednesday. They serve up nutritious breakfast classics with a Hawaiian twist, using local ingredients.
Spend the day exploring Hanalei Bay before heading back to the Food Truck for some lunch. The Hanalei Taro & Juice Co. uses taro from their farm to create taro-based dishes, sweets, and beverages. Check them out every day from 11 AM to 3 PM.
When it comes to North Shore Kauai restaurants, it's hard to pick which one to enjoy! For excellent Hawaiian food, I suggest The Hanalei Dolphin, a seafood restaurant and fish market. You can get everything from sushi and nigiri to fried or grilled fish. The favorite for locals at this laid-back dive is the fresh poke!
North Shore Kauai luaus can mostly be found on the resorts, but for a great casual experience, head to Tahiti Nui. They have regular luau nights, which you can enjoy over Hawaiian takes on cocktails, pizza, and more!
Tips for Planning a Trip to Kauai's North Shore
Planning things to do in North Kauai can be a lot of fun, but it's important to be upfront about safety. With so much of the island being rural, only visit remote locations if you're very sure of your ability to protect yourself. Volcanic rock can make hikes slippery, so stick to clear hiking paths. Also, rip currents off secluded beaches have been an issue in recent years. Try to only visit beaches with lifeguards if you're not sure what to look out for.
Keep in mind that you can enjoy the entire island even if you're staying on North Shore Kauai! It takes about 90 minutes to around the island. So, if you wanted to see the enchanting Fern Grotto, you could take a day trip to the east coast and take a Wailua River Cruise!
If you're trying to decide how long to visit the island, I suggest between 5-7 days. You can plan plenty of North Shore Kauai activities in a shorter trip because everything is relatively close by. A week is certainly enough time to explore the whole of Kauai.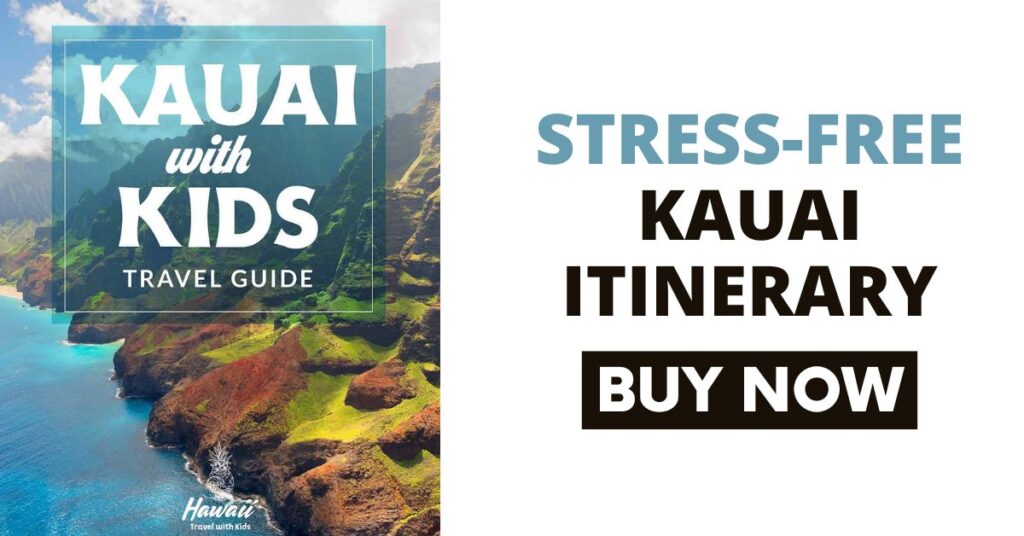 Visit North Shore Kauai
North Shore Kauai can feel rural, but that's the draw. Some of the most majestic scenery and the richest culture can be found on the northern coast of this small island. Kauai is a hiker's paradise, but that's just the beginning.
With family-friendly beaches, luxury resorts, and casual eateries, there's surely something to fit your family's taste. Did you get inspired by my guide to Kauai's North Shore?