Are you planning a Kauai vacation? Keep scrolling for my quick guide to Lihue Airport on Kauai so you'll know what to expect.
This guide to Lihue Airport on Kauai contains affiliate links which means if you purchase something from one of my affiliate links, I may earn a small commission that goes back into maintaining this blog.
Are you planning your first trip to Kauai?
The Lihue Airport is much smaller than the Honolulu International Airport on Oahu. In this post, I'll highlight a few helpful things for travelers to know like what food/drinks are available, what baggage claim is like, and how to get to the rental car counters.
You won't find another airport quite like it!
The best part of flying into Lihue is that you can rent a car right from the airport, so there is no need to take an expensive shuttle. This makes it easy for families with small children who might not be able to handle a long bus ride to the car rental counter.
Keep scrolling now and read my blog post about the Lihue Airport in Kauai!
Don't have time to read a bunch of Hawaii blog posts and reviews? Here are some of our top picks for visiting Kauai.
Popular Kauai Tours/Activities
Favorite Kauai Resorts/Hotels
Grand Hyatt Kauai (this Poipu resort has a luxurious pool area, romantic restaurants, and a stunning ocean view)
Koloa Landing Resort (this is a luxury resort with an amazing pool area and truly spacious rooms)
Royal Sonesta Kauai (we LOVE the pool here because it's the largest one in Hawaii)
Want to Rent a Car in Hawaii?
One of the best places to rent a car in Hawaii is Discount Hawaii Car Rental because they get the best rates from top national companies like Alamo, Dollar, Thrifty, Avis, Enterprise, Budget, and Payless.
Want to skip all the planning and just access my detailed Kauai Itinerary complete with daily schedules, kid-friendly activities, and travel hacks? Click the button below.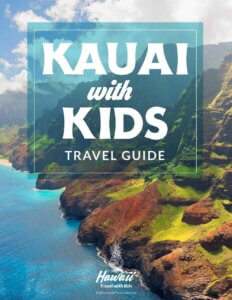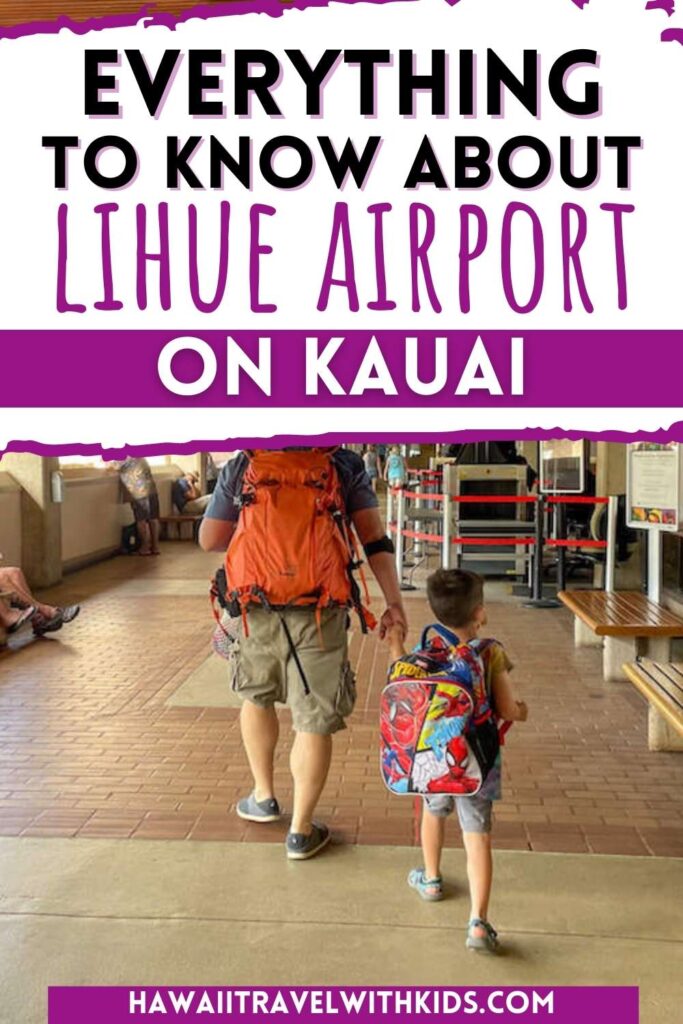 Where is the Lihue Airport?
The Lihue Airport is located on the East Shore of Kauai at 3901 Mokulele Loop, Lihue, HI 96766. Since the highway doesn't go all around the island, the airport is centrally located, and it's easy to go North, South, or West.
The Lihue Airport is also just a few minutes away from Costco, Target, and Walmart, so it's easy to stock up on supplies before heading to your resort/hotel.
What to Expect at this Kauai Airport
I'd like to start off by reiterating that LIH Airport is a very small airport. It's practically impossible to get lost. Not only is it small, but there is clear signage everywhere.
When You Land on Kauai
If you haven't picked your airplane seats yet, I recommend getting seats on the left side of the plane. That gives you the best view of Kauai as you land.
Also, near the end of your flight, you'll be asked to fill out a Hawaii declaration form. They will pass it out, and just one member of your party needs to fill it out. However, you'll need to use your own pen as they usually don't have any to borrow.
Baggage Claim
As soon as you land, you'll make your way to baggage claim. You will literally just follow everyone off your plane because the airport exit is through baggage claim.
There are two baggage carousels, and they are located in the same place. It's open-air but covered. There are stands with tourist magazines and maps, plus a few places to sit.
Usually, the bags come out pretty quickly.
Lihue Airport Car Rental
Most people traveling to Kauai will rent a car. That's because there are SO many fun things to see and do on this island.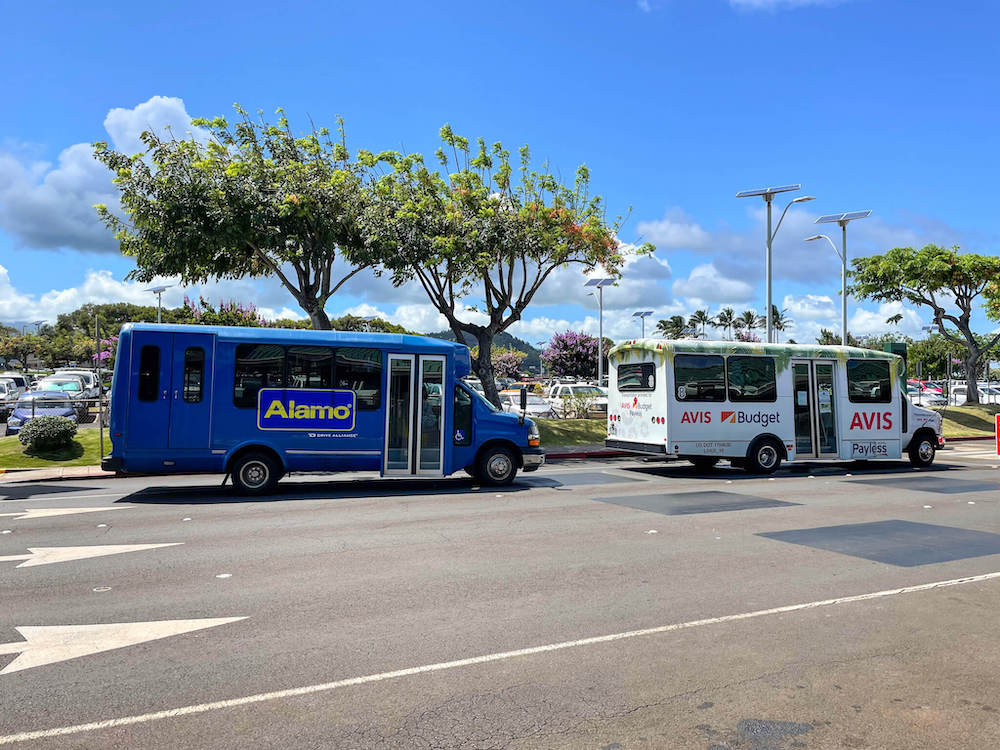 The car rental counter is just across the street from the baggage claim. That's where you'll get onto the little shuttle bus that will take you to the car rental lot. The car rental lot is super close, so it's an extremely short ride.
Tip for parents: Just send one grown-up to pick up the rental car while the other stays at baggage claim with the kids and luggage. That way, you won't have to lug everyone. Then, simply pick up the rest of the family and luggage.
The cheapest place I've found is Discount Hawaii Car Rental. They get the best rates from top national companies like Alamo, Dollar, Thrifty, Avis, Enterprise, Budget, and Payless. Check out the latest prices and more details.
Lihue Airport Taxi or Ride Share
If you aren't renting a car on Kauai, or you are meeting the rest of your party, and they are unable to pick you up, there are a couple of options.
There is a taxi service on Kauai that can take you to/from the airport. My mom has used this a few times, and she hasn't had any issues.
The newest rideshare program on Kauai is called Holoholo. They have a fare calculator on their site, so you can price it out.
When You Depart Kauai
This section is a bit longer simply because you'll be spending more time at the airport when you depart than when you arrive.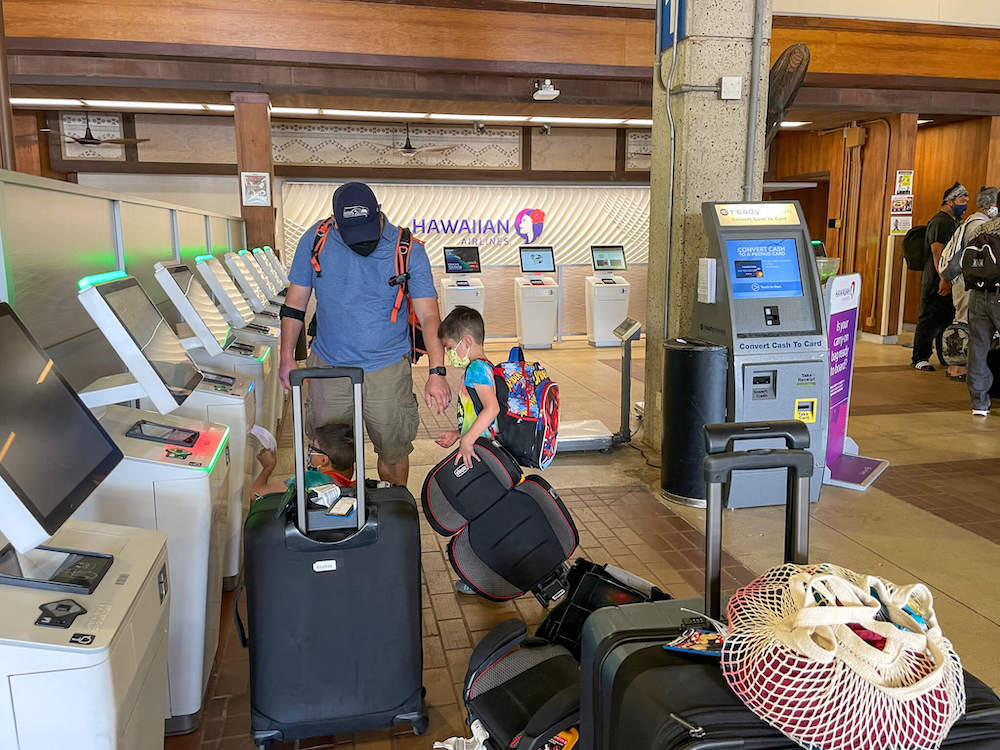 Because this is a small airport, our family usually arrives about an hour before our flight. However, follow the latest health/safety news to know if you should aim for 90 minutes or even 2 hours.
Lihue Airport Parking
If you are dropping someone off at the airport for an earlier flight, there is plenty of parking at the airport. And it's really affordable. It's just $1 for the first 30 minutes and $3 for the first hour.
Hawaii Agricultural Inspection
Something that a lot of people don't realize on their first trip to Hawaii is that everyone traveling to the Mainland must go through the Hawaii agricultural inspection. You do not need to go through this if you are island hopping.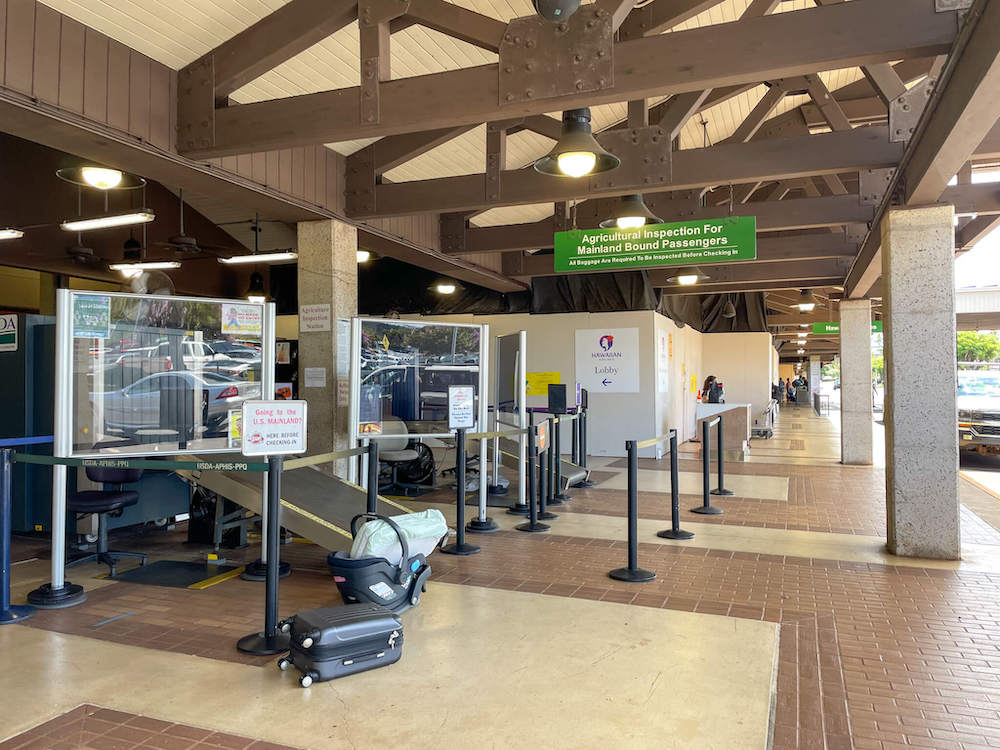 Basically, they just want to make sure you aren't trying to bring home fresh fruit or live animals.
All you need to do is put your bags through their agricultural scanner, and then they will put stickers on everything saying it's been inspected.
If you're wondering if you can bring pineapple home from Hawaii, it needs to be in an airport box. You can buy airplane-ready pineapples at places on Kauai, and it's really obvious that it's packaged to carry home to the Mainland.
Nursing Area for Moms
Something fairly new at the Lihue Airport is their nursing pod. I've seen these pop up at airports over the past few years, and it always makes me smile.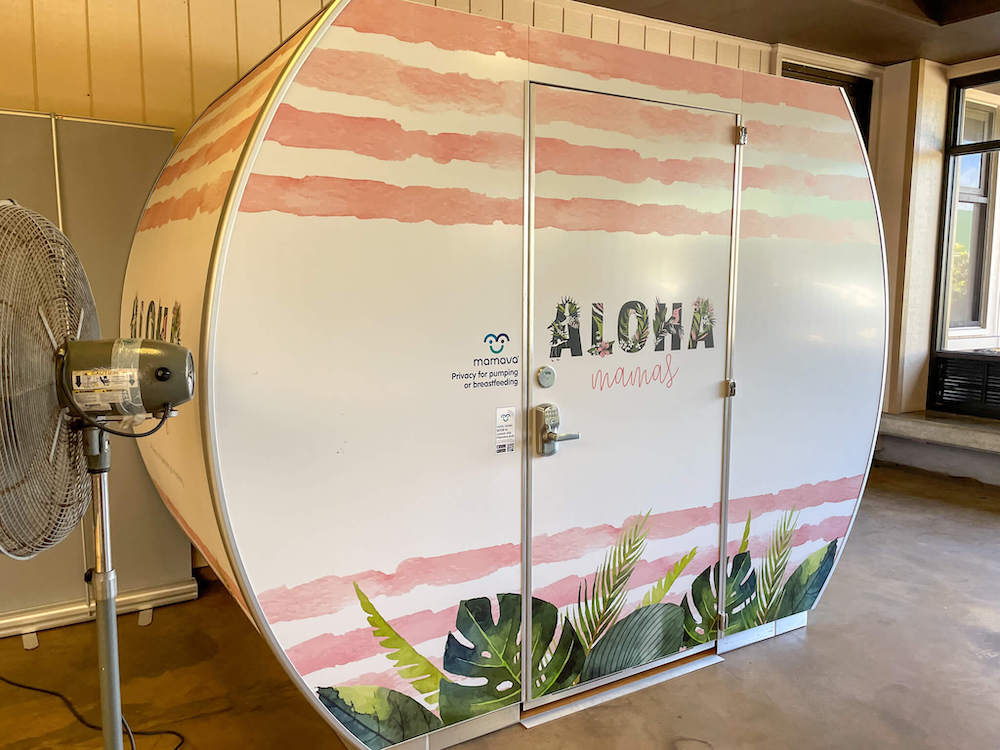 In fact, an airport employee saw me taking photos of it, and we chatted awhile about how it's so important for airports to offer services like this for families.
Plus, isn't it adorable?
Lihue Airport Food and Drink Options
Ok, so you'll probably end up spending a LOT of time waiting for your flight. It's usually pretty quick to get through the agricultural inspection and security.
So, you'll probably want to get something to eat or drink while you wait for your flight.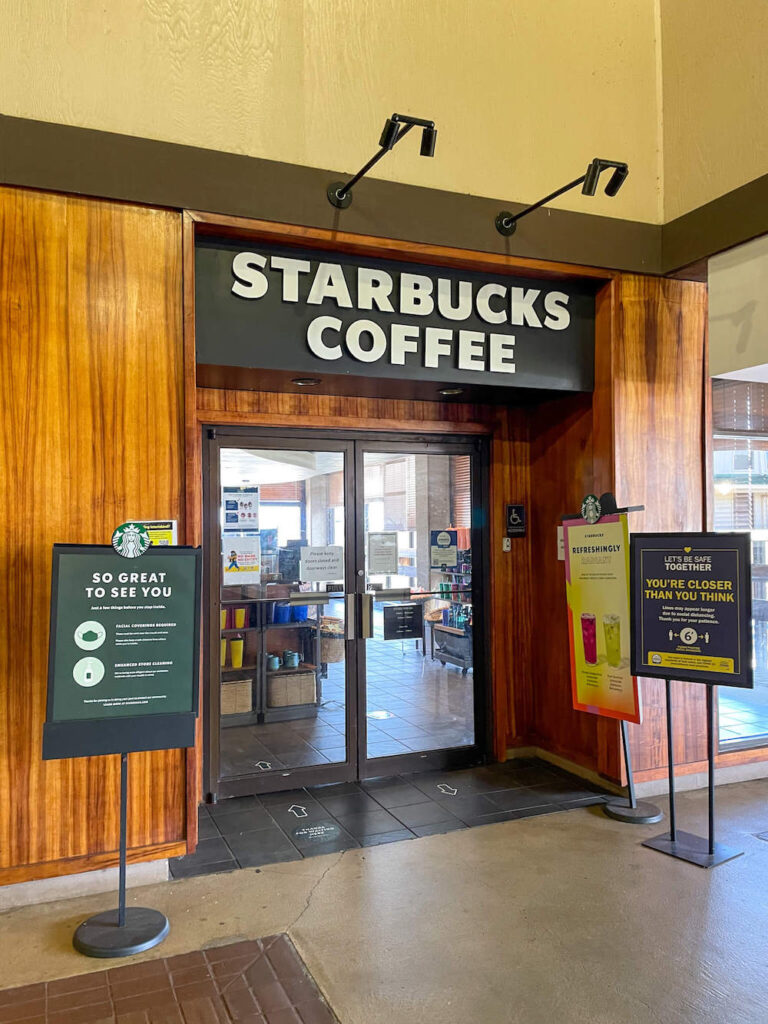 A few years ago, the Lihue Airport got a Starbucks, and that was a pretty big deal! This is where I always stop to get a drink and sometimes a treat for my kids. This Starbucks is air-conditioned.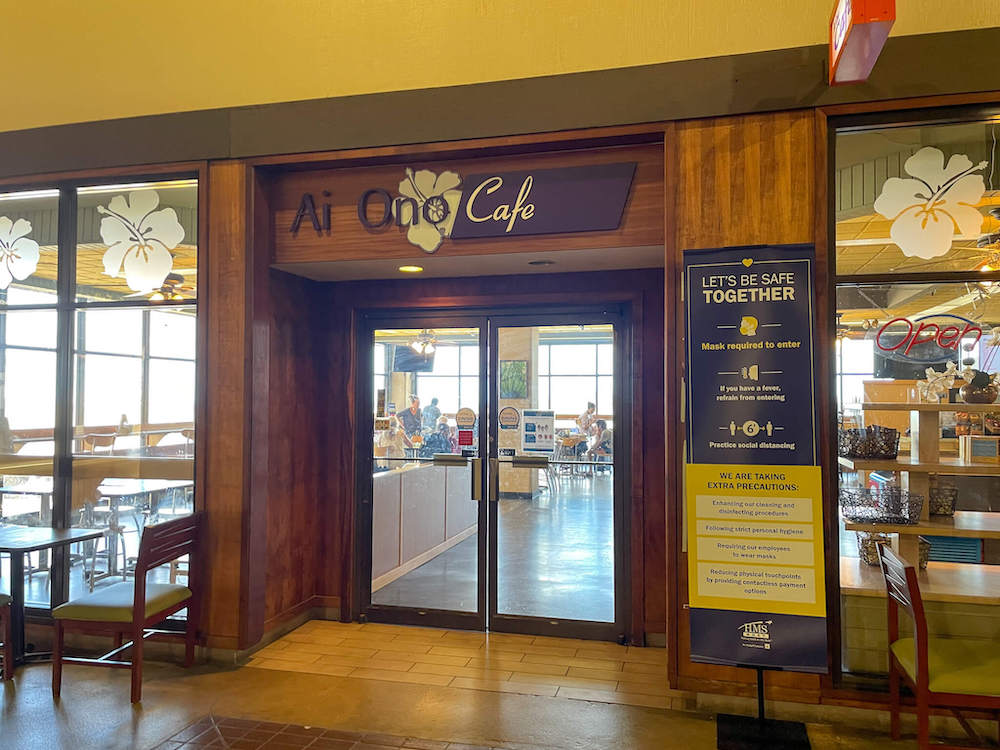 There's also the Ai Ono Cafe which is a great option for grab-and-go meals that you can either eat at the gate or on the airplane. We've done this a few times, and the food is pretty good.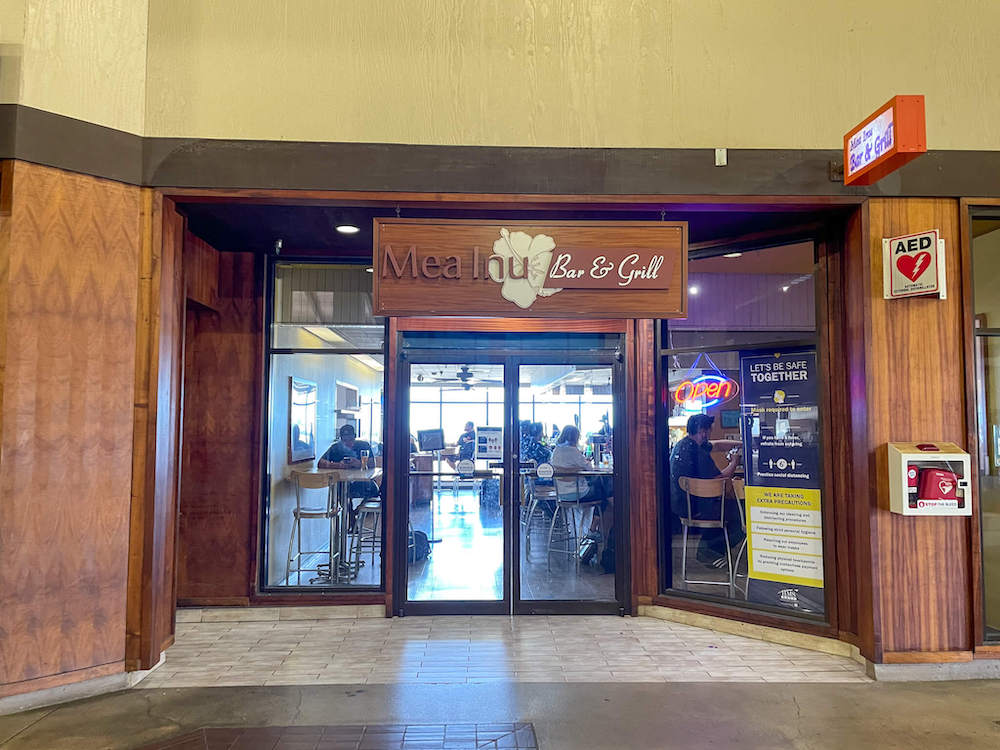 Finally, there's the Mea Inu Bar & Grill for people looking for a sit-down meal. We've never eaten here.
Gift Shops
If you think you'll buy your Kauai souvenirs at the airport, I'd think twice. There is one main gift shop called Island Marketplace and a small newsstand you see at most airports.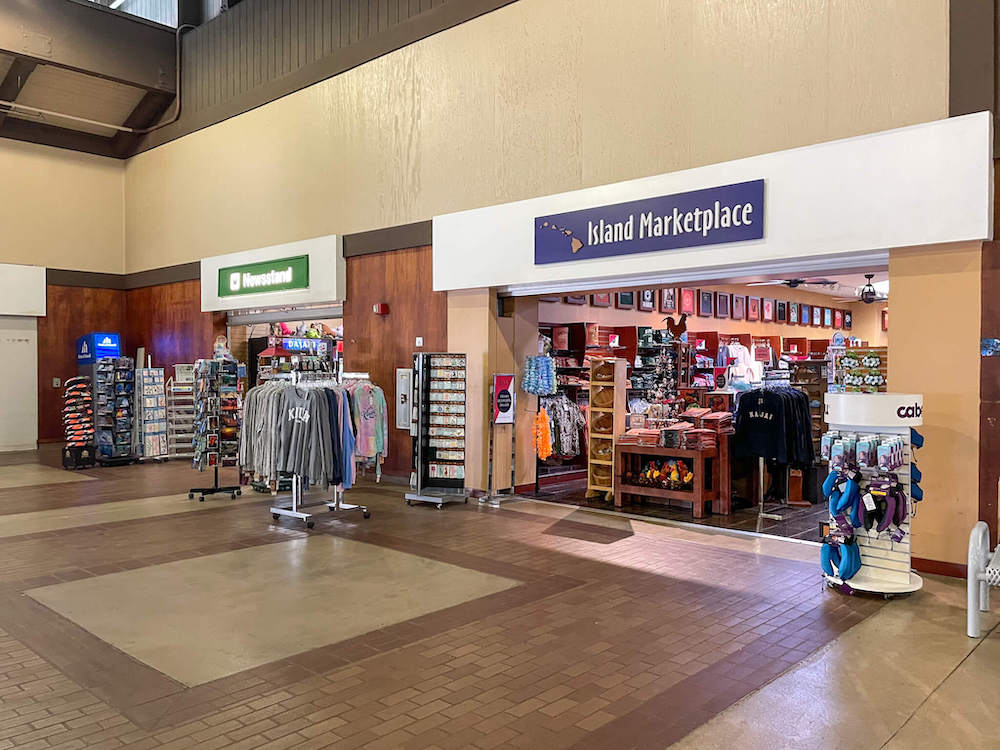 As you can see in my photo above, these are medium size gift shops. At least they are smaller than what you'll see at the Honolulu Airport or the Kahului Airport on Maui.
Gates at Lihue Airport
There aren't too many gates at the Lihue Airport, so it's really easy to know where you're going. They group two gates into one indoor room. But there isn't always a ton of seating.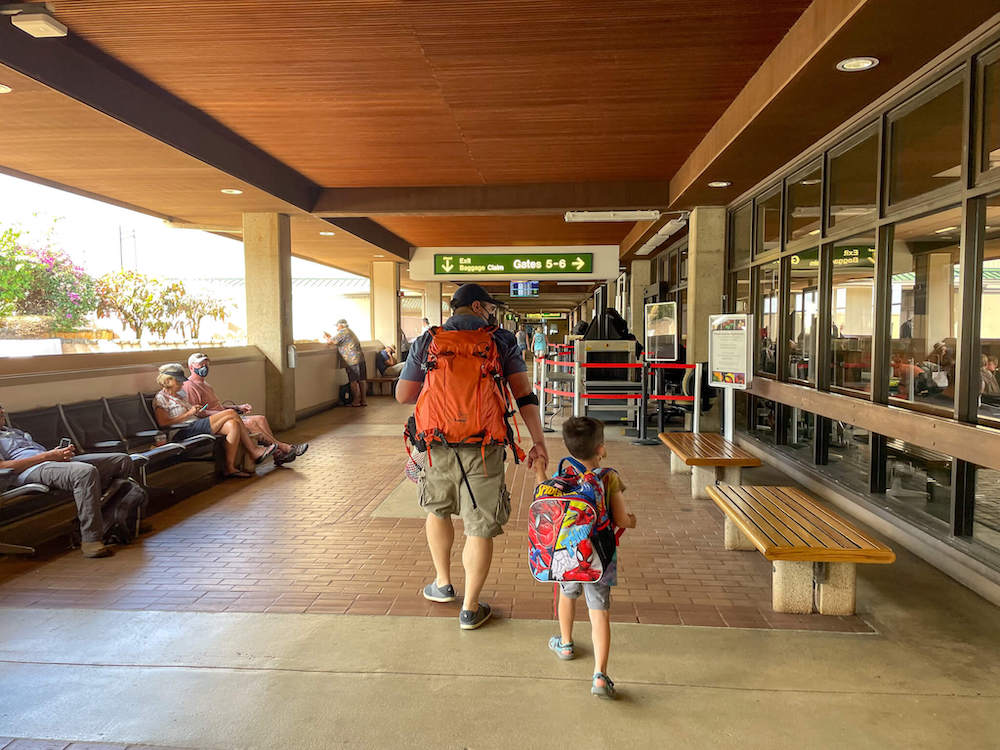 So, it's really nice that there are also outdoor benches available. This is usually where we hang out if the kids are eating a snack or want to move around a bit before our flight.
Traveling to Kauai FAQs
What airport do I fly into for Kauai, Hawaii?
For your Kauai Hawaiian vacation, you will fly into the Lihue Airport (LIH). This is the only airport on the island.
What is the Lihue Airport code?
The airport code for Kauai, Hawaii, is LIH. You'll want to double-check that this airport code is written on your checked luggage tags to ensure that your bags will be heading to Lihue Kauai.
What airlines fly out of Lihue Kauai?
Many airlines, including Alaska Airlines, United Airlines, Delta Airlines, American Airlines, Hawaiian Airlines, Southwest Airlines, and WestJet, all fly to and from the Kauai Lihue Airport.
Is Lihue Airport air-conditioned?
The gates do have AC and are indoors for tourists to enjoy at this airport.
How long does it take to get from Lihue Airport to Princeville?
It will probably take you about 45 minutes to drive North from the Lihue Airport to Princeville. That's if there are no traffic or natural disasters, like a mudslide. If you arrive during rush hour, you can take the bypass road to avoid traffic through Kapaa.
How long does it take to get from Lihue Airport to Poipu?
It will probably take you about 25 minutes to drive South from the Lihue Airport to Poipu/Koloa. There usually isn't too much traffic.
Lihue Kauai Airport Wrap-Up
When you fly into Kauai, the Lihue Airport (LIH) is your first and last stop. This small airport has a few restaurants and places to shop before boarding your flight. There is also a nursing pod if needed.
The Lihue Airport staff are always really friendly and helpful, in case you have any questions.
We hope this post was helpful as an introduction to what to expect when visiting Garden Island for the first time.
Fun Things to Do in Lihue Hawaii
If you're looking for easy things to do as soon as you land or before you catch your flight home, there are tons of things to do in Lihue.
Our family really enjoys riding the Kilohana Plantation Railroad. It's a little train ride where you can see tropical plants and get out to feed animals along the way.
There's also Lydgate Beach Park. They have a large playground that's great for getting some wiggles out before the flight home.
And there's the Fern Grotto Boat ride that takes you down the Wailua River. You can even walk around Smith's Tropical Plantation garden.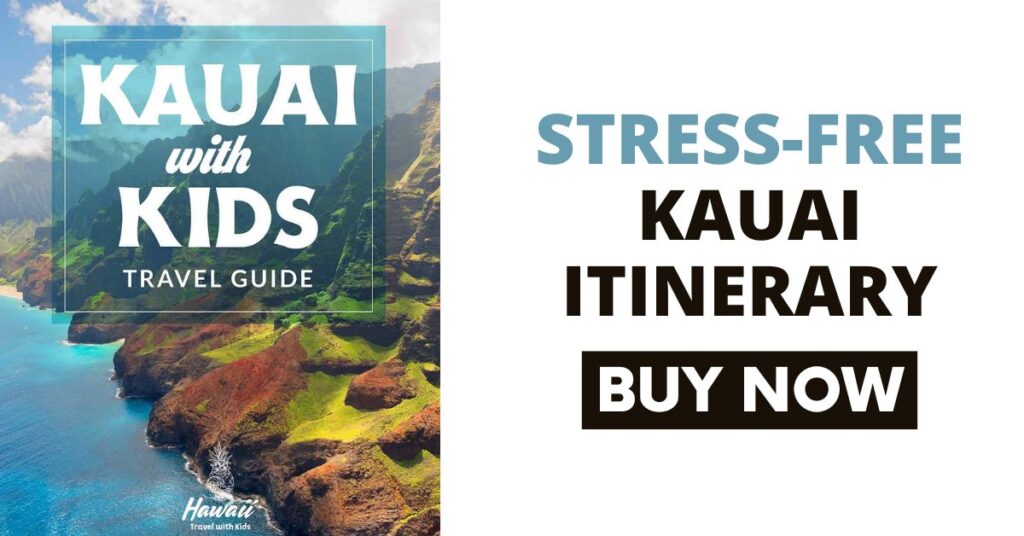 Hotels Near Lihue Airport
If you're looking for hotels near the Lihue Airport, my top pick is the Royal Sonesta Kauai in Downtown Lihue. It's just one mile away, but you'll feel like you're in a private resort community. Their pool area is incredible!
There's also the Kauai Beach Resort & Spa and Timbers Kauai Ocean Club, which are great options nearby.