Planning a trip to Oahu on a budget and want to know some cheap things to do on Oahu, HI? Keep scrolling to find out how to have a cheap vacation on Oahu that will blow your mind!
This post about how to visit Oahu on a budget contains affiliate links which means if you purchase something from one of my affiliate links, I may earn a small commission that goes back into maintaining this blog.
Are you looking for a way to visit Hawaii on a budget?
You're in luck! We have some great tips and tricks that will help you save money while still having an amazing time. If your dream is to visit Oahu, but it seems too expensive, we can help!
Here is a guide that will teach you how to visit Oahu on a budget. It includes tips and tricks for free things to do in Hawaii, along with ways to save money while still having a memorable time!
It doesn't matter if this is your first trip or tenth trip – there are always new things to see and do here. And don't forget about all of the delicious food options available at every price point!
When you follow this guide, you won't need to worry about breaking the bank or feeling like your trip was too expensive. You will be able to enjoy yourself without worrying about spending all of your hard-earned cash.
Traveling to Hawaii on a budget is very doable and will save you a lot of money. Here is your guide on how to do a Hawaii vacation on a budget!
Keep scrolling to learn all the best things to do on Oahu for free, along with tips to visit Oahu on a budget.
Don't have time to read a bunch of Hawaii blog posts and reviews? Here are some of our top picks for visiting Oahu on a budget.
Best Budget-Friendly Oahu Tours/Activities
Best Budget-Friendly Oahu Hotels
Want to Rent a Car in Hawaii?
One of the best places to rent a car in Hawaii is Discount Hawaii Car Rental because they get the best rates from top national companies like Alamo, Dollar, Thrifty, Avis, Enterprise, Budget, and Payless.
Want to skip all the planning and just access my detailed Oahu Itinerary complete with daily schedules, kid-friendly activities, and travel hacks? Click the button below.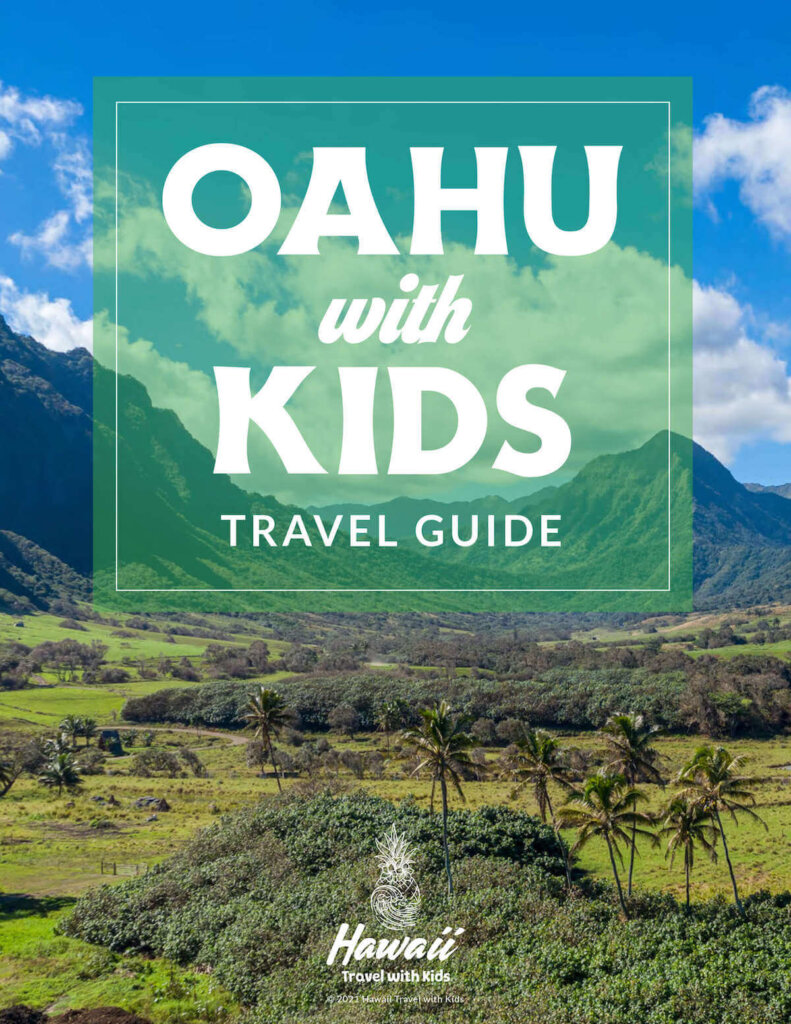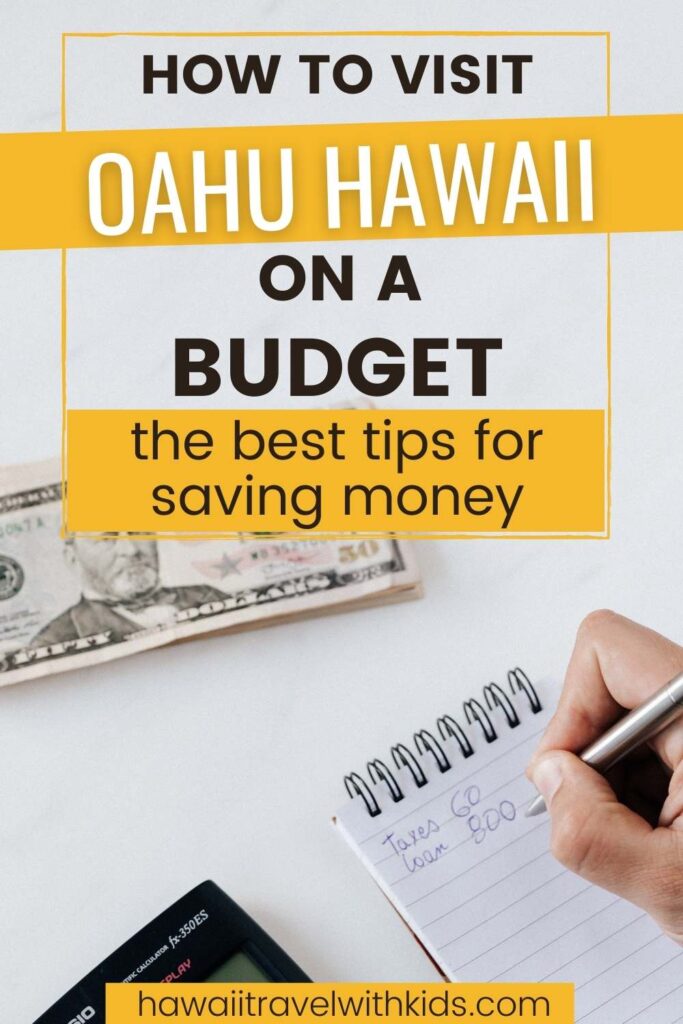 Tips to Visit Oahu on a Budget
Besides just doing the free Oahu activities, here are some other tips to help you budget for your Hawaii vacation. Read on to learn all the free and cheap things to do in Oahu down below!
1. Don't Buy Anything
Obviously, you will need to buy food during your trip but try to limit yourself to just that. You don't have to buy souvenirs, beach essentials, or anything else you think you might need. Souvenirs can be replaced with tons of pictures.
Be sure to grab a Hawaii packing checklist so you know exactly what to bring. Plan on not buying anything during your vacation, and you'll be amazed at how much you save!
2. Go to the Farmers Markets
Instead of eating out, cook your own food! Cooking your own food during your vacation is a great way to save money.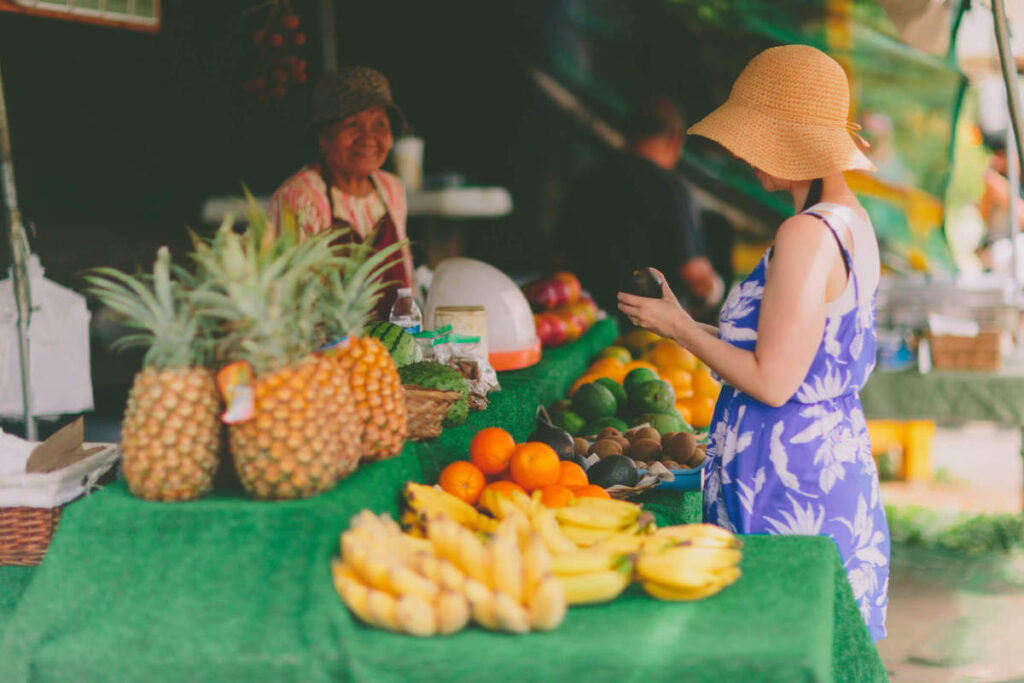 But, don't go to the grocery store; check out the local farmer's markets all over the island. These are a lot cheaper, and all the produce is grown on Hawaiian farms, so they will be super fresh and delicious!
If you do eat out, try eating at the food trucks. They are generally more affordable options and will give you very generous portions, so you can share them with your family or eat leftovers the next day!
3. Travel Light
Try to only bring a carry-on with you during your vacation for each family member. This might not be possible if you are staying for a month or longer, but a week or two is doable. Because you won't be wearing any heavy clothes, a carry-on should fit everything!
Be sure to check where you are staying to see all the amenities there, so you don't have to bring them.
4. Airbnb Vs. Hotel
Staying in an Airbnb is another way to stay on a strict budget. Hotels are more expensive and can have fewer amenities too. Airbnbs often have all the beach equipment you need and want completely free for you to use!
You will also find that Airbnbs will also offer a discount if you stay a certain amount of days.
Save Money with Points
Here are the best credit card offers for families who travel and want to use points to pay for airfare and hotels in Hawaii.
5. Off-Seasons Vacations
Try not to go to Hawaii during the summer or around any holiday. When you visit during the off-season, everything will be cheaper! October or May are generally good months to visit.
Do your research and watch for price trends for airplane tickets and places to stay. You can save hundreds and find cheap flights by doing this!
Free Things To Do on Oahu
One of the best ways to go to Oahu for cheap is to explore all the free things! There are so many free things to do in Oahu; you can easily fill up your vacation with only free activities. These free activities are also some of the coolest things to do in Oahu anyway.
1. Hikes
There are so many amazing hiking trails in Hawaii that will show you stunning views of the ocean and mountains. Hikes range in difficulty, and there are many kid-friendly hikes to explore.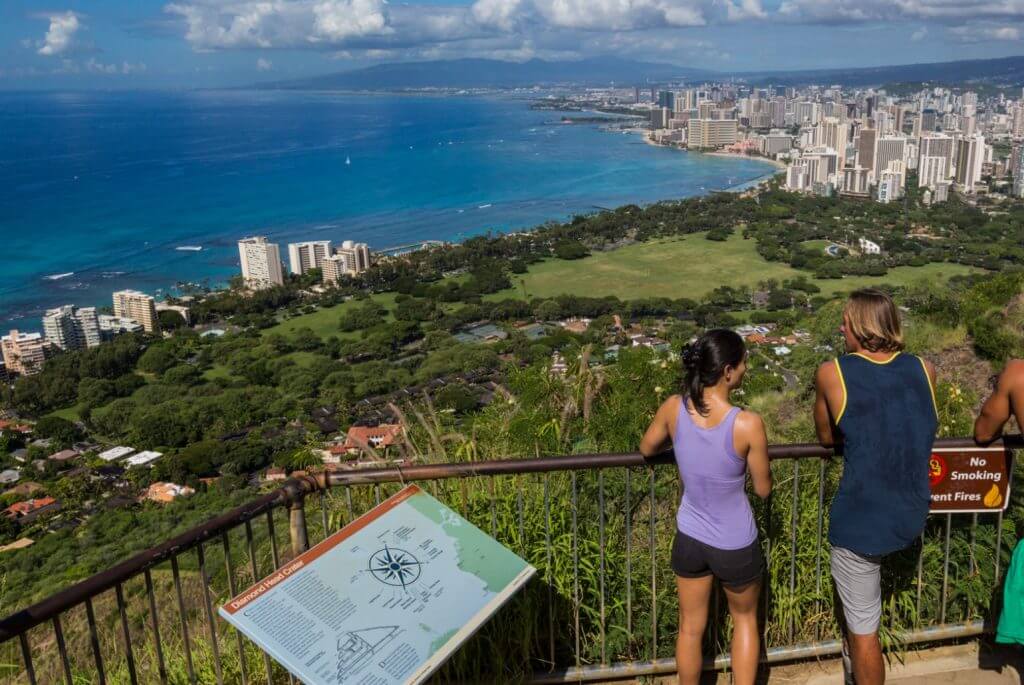 There are even a few waterfalls that kids will love to go to as well! Some favorite hikes include Diamond Head, Koko Head, and Lanikai Pillbox.
2. Valley of Temples
The Valley of Temples is a beautiful place to visit as well. Here you find a Byodo-In temple, a replica of the one in Japan.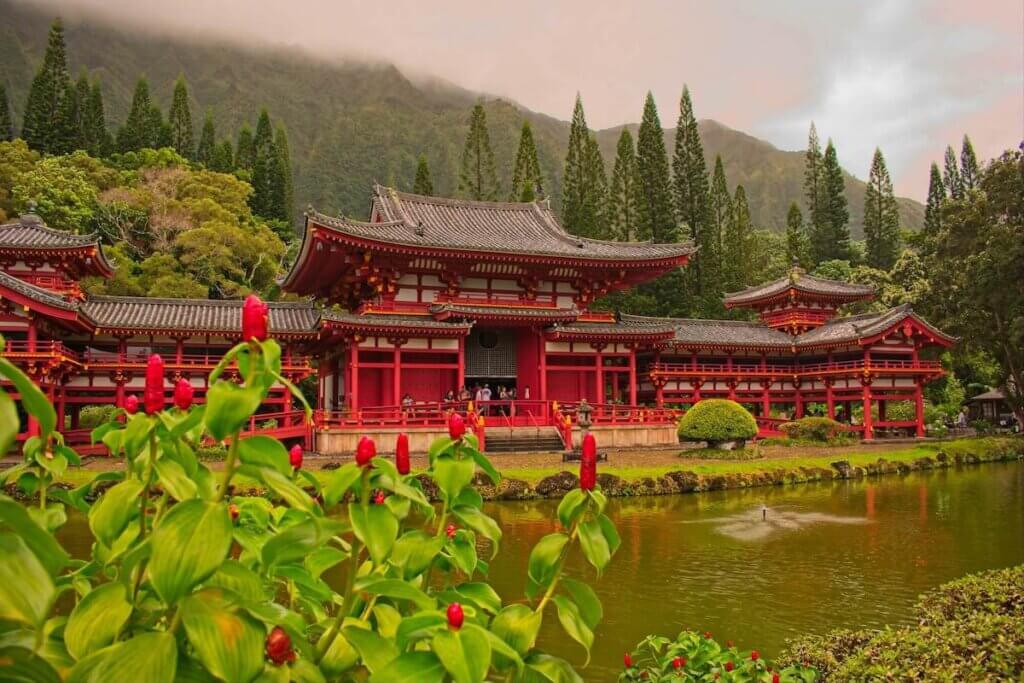 This is a great place to enjoy nature and take some awesome photos. Most people love to get pictures at the temple; it is one of the best Instagrammable spots on the island!
3. Pearl Harbor
Pearl Harbor is a free tourist attraction. While there are paid events, most of the stuff is free. Enjoy walking around and seeing this wonderful memorial place. This is one of the historic sites that should be on your itinerary for sure!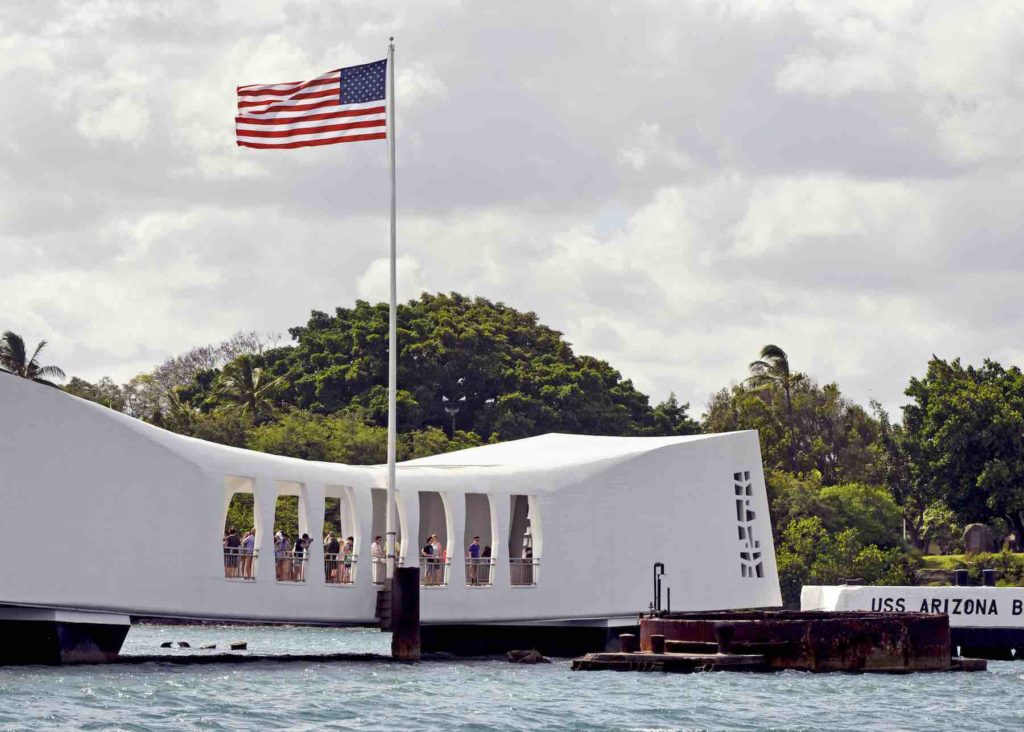 Visit Pearl Harbor; it is by far one of the top things to do in Oahu. Check out our guide to Pearl Harbor with kids HERE.
4. Beach
Of course, you can visit all the beaches you want without paying anything. This is one of the biggest reasons people visit Hawaii, so you'll want to spend most of your time enjoying the peace of these beautiful beaches!
Relaxing on the beach and swimming in the ocean is already on your bucket list, but there are so many more cool things to do in Oahu at the beach too. You can even try beach hopping too!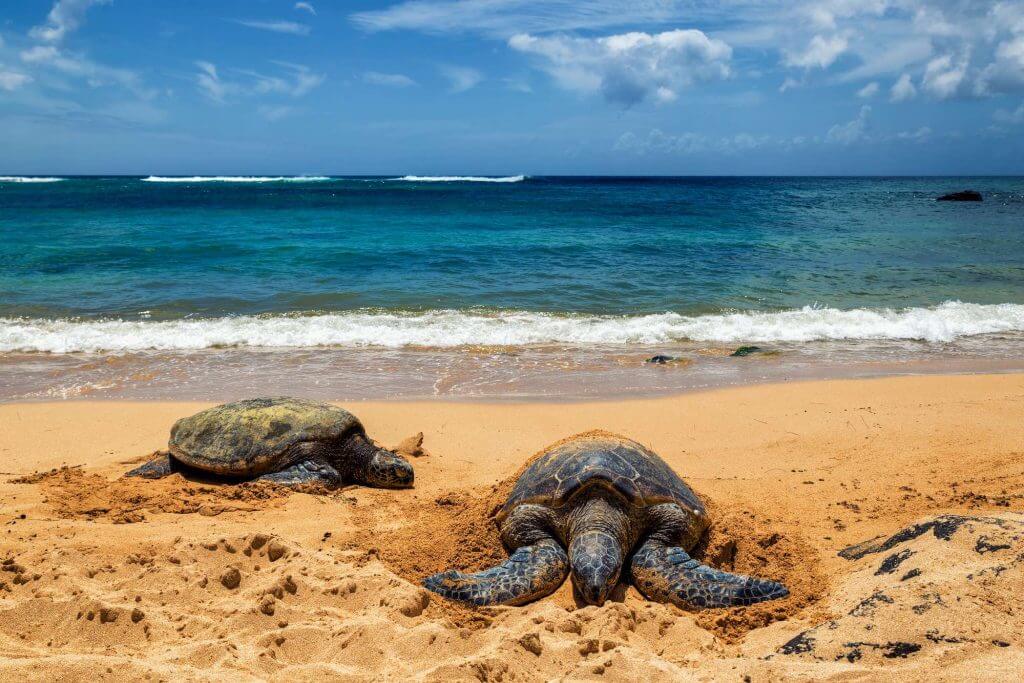 Visit the sea turtles at Laniakea Beach! Don't touch them, but you can get pictures of them and see them up close if they are out.
You can also have fun surfing on the North Shore. Many places offer surfing lessons, or you can just watch and learn independently.
If surfing is not for you, but you want to watch, another great free thing to do along the North Shore, Oahu, is watch surfing competitions! Depending on when you visit, you might see some at the Banzai Pipeline.
Snorkeling at Shark's Cove is also another one of the top things to do! You don't have to go to a fancy place and pay a lot of money to see marine life and go snorkeling. You can easily snorkel at many beaches all over the island. If you are staying in an Airbnb, they might even have snorkeling gear for you to use!
5. Botanical Gardens
One of the free things to do in Honolulu is to visit the Botanical Gardens! A few of them are all over the island, including Haleiwa, Kaneohe, Honolulu, and a few more locations. Enjoy the beautiful green trees in Hawaii during your visit!
6. Fireworks at Waikiki Beach
If you are looking for some free things to do in Waikiki, stop by at night and watch the fireworks shows!
Every Friday, on Aloha Day, the Hilton Hawaiian Village puts on a fireworks show around 8:00 pm.
You don't have to wait until the Fourth of July for fireworks; watch them every week in Waikiki Beach!
It is such a fun way to visit Oahu on a budget.
7. Art Museums
There are plenty of art shops where you can see all the amazing local artists and their artwork. You will feel like you are in an actual art museum!
But if you want to see a real art museum, check out the Hawaii State Art Museum. Admission is always free here!
8. Royal Hawaiian Center
At the Royal Hawaiian Center, you can enjoy many free live events and get some lessons as well.
From free hula shows and lessons to lei-making, these are unique things to do in Oahu that are absolutely free! Check out their events to see what is happening during your vacation.
Save Money with Points
Here are the best credit card offers for families who travel and want to use points to pay for airfare and hotels in Hawaii.
Cheap Places to Eat and Visit on Oahu
After going through the free things to do, here are other inexpensive things to do in Oahu that will help you visit Hawaii on a budget. There are also cheap places to eat all around the island too!
1. Chinatown
Chinatown is one of the cheap places to eat in Honolulu. You can find all types of food at very affordable prices. Even if you want to cook your own food, you will find cheap grocery stores in Chinatown.
2. Foodland
Foodland has some of the best poke on the island, and it is inexpensive. You can grab poke bowls with rice or salad and can enjoy a variety of other delicious seafood and cooked products! This is a great way to stay in Oahu on a budget.
3. Shave Ice or Acai Bowls
Hawaii is famous for shaved ice, so be sure to get some while there. Shave ice or acai bowls are delicious local food that doesn't cost that much.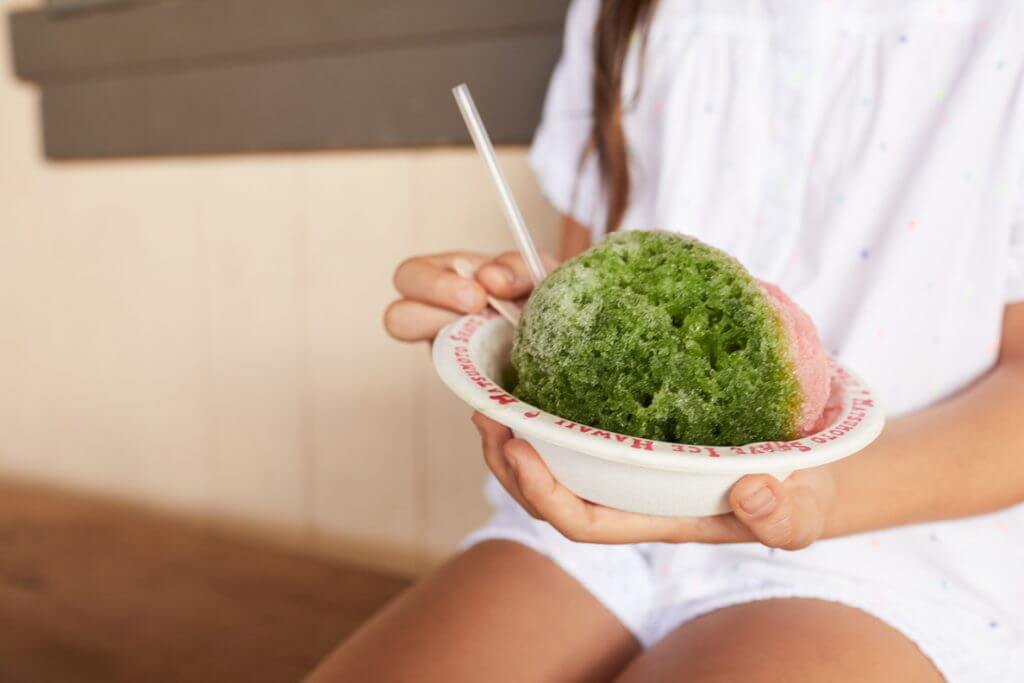 You can find plenty of shave ice shops all over the island.
4. Dole Plantation
One of the top things to do on Oahu is visit Dole Plantation. You can go to the Dole Plantation for free. But if you want to do some activities, like the maze or train ride, you'll have to pay.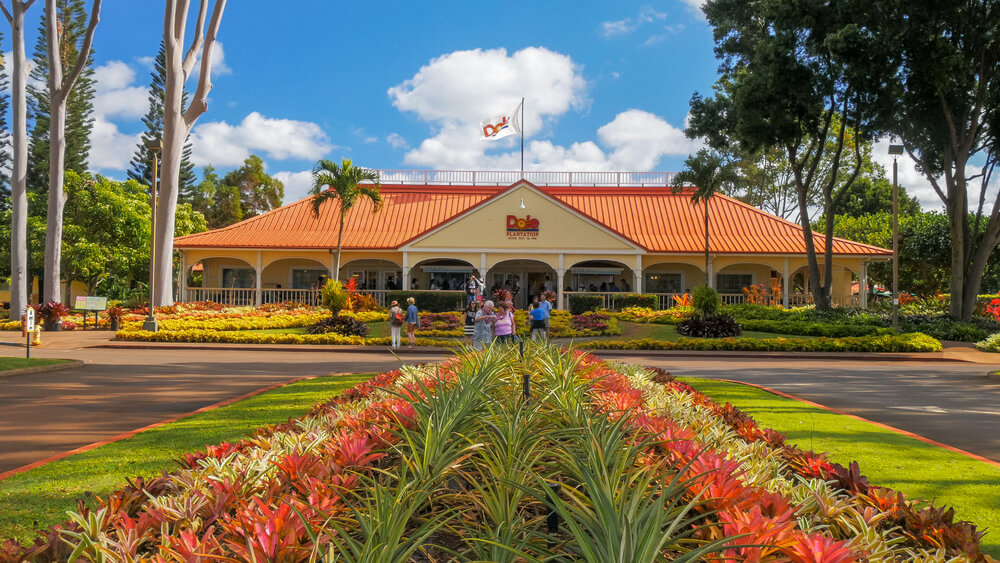 However, nothing is over $20, which is very affordable compared to other tourist attractions! This is one of the cheap things to do in Hawaii that is so much fun! They even have a free parking lot which is hard to find in Hawaii.
5. Honolulu Zoo
Visiting the Honolulu Zoo costs less than $20 per person. This is another fun and cheap thing to do in Honolulu that will save your budget. Your kids will enjoy looking at all the animals and enjoying what this zoo has to offer. It is definitely a unique experience for sure!
Things to do on Oahu on a Budget FAQs
What is the cheapest month to go to Oahu? 
Usually, September is one of the cheapest months to visit Oahu or the early winter months. The island will be less crowded, and fares are generally cheaper too, making it the perfect time for your Hawaiian vacation.
Is Hawaii expensive to visit? 
Oahu is usually the cheapest island to visit. Because it is a tourist place, you will find many places to stay, eat, and visit, so prices are lower than on other islands. There are also plenty of cheap and free things to do in Oahu as well to help you save money.
Is it better to stay in a hotel or condo in Hawaii?
If you're planning on cooking your own food in Hawaii, you can save a lot of money by staying at a condo or vacation rental home with a full kitchen while visiting Hawaii. However, some affordable condos have a kitchenette or grill by the pool where you can cook some items.
Is it cheaper to stay in Maui or Oahu?
It is generally cheaper to stay on Oahu rather than Maui. Maui has more luxury resorts out of all the Hawaiian islands, whereas Oahu is a tourist place and a cheap destination to enjoy.
What is the most affordable place on Oahu?
Downtown Honolulu or Waikiki is usually where you will find cheaper places to stay. Oahu's North Shore has a pretty hefty price tag, as does Ko Olina places.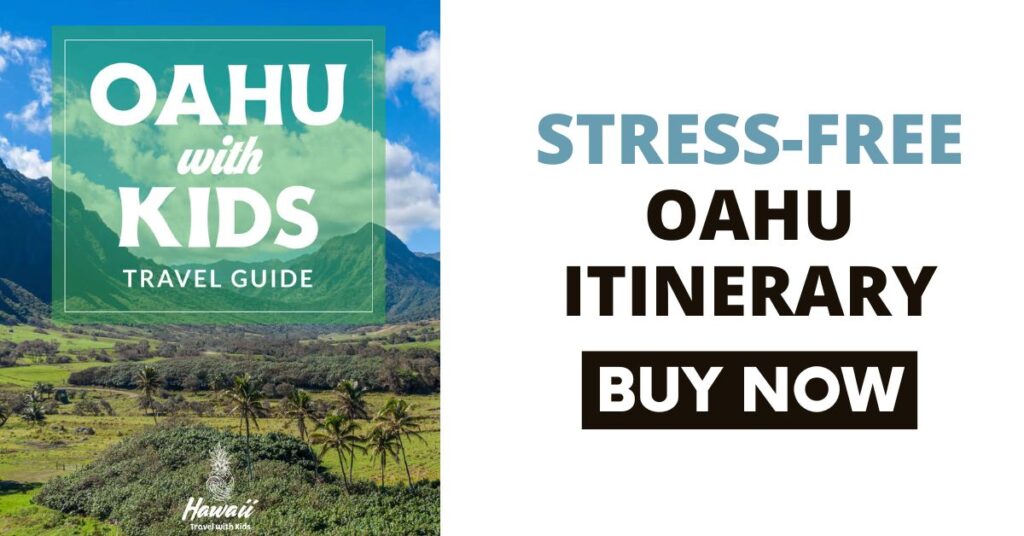 Best Things to do in Oahu for Cheap Wrap Up
So many cheap Oahu activities will make visiting Oahu on a budget a breeze! Hawaii doesn't have to be out of your reach. You can enjoy visiting Oahu on a budget.
Use these tips for traveling to Hawaii on a budget, and be sure to visit all the free places to get the most out of your Hawaiian vacation and save everything you can.