Are you planning a trip to Oahu and want to know some easy Oahu hikes for the whole family? Find out whether or not it's worth hiking Diamond Head with kids!
This post about where to eat on Maui with kids may contain affiliate links, which means if you click on the link and purchase the item, I will receive an affiliate commission at no extra cost to you. All opinions remain my own.
Guest post by Sharlene Earnshaw
Looking for a fun hike to do with the family while in Hawaii? Look no further than Diamond Head!
One of the most widely recognizable landmarks in all of Oahu is Diamond Head, a 300,000-year-old remnant of an ancient volcano. If you are looking for a good workout, the moderate hike to the top of Diamond Head shouldn't be missed.
This kid-friendly hike on Oahu is also one of the most popular hikes in Honolulu, thanks in part to its proximity to Waikiki and wonderful views of the ocean, Waikiki, and the surrounding area.
Keep scrolling to find out all the details about hiking Diamond Head.
Don't have time to read a bunch of Hawaii blog posts and reviews? Here are some of our top picks for visiting Oahu with kids.
Best Kid-Friendly Oahu Tours/Activities
Best Kid-Friendly Oahu Resorts
Want to Rent a Car in Hawaii?
One of the best places to rent a car in Hawaii is Discount Hawaii Car Rental because they get the best rates from top national companies like Alamo, Dollar, Thrifty, Avis, Enterprise, Budget, and Payless.
Want to skip all the planning and just access my detailed Oahu Itinerary complete with daily schedules, kid-friendly activities, and travel hacks? Click the button below.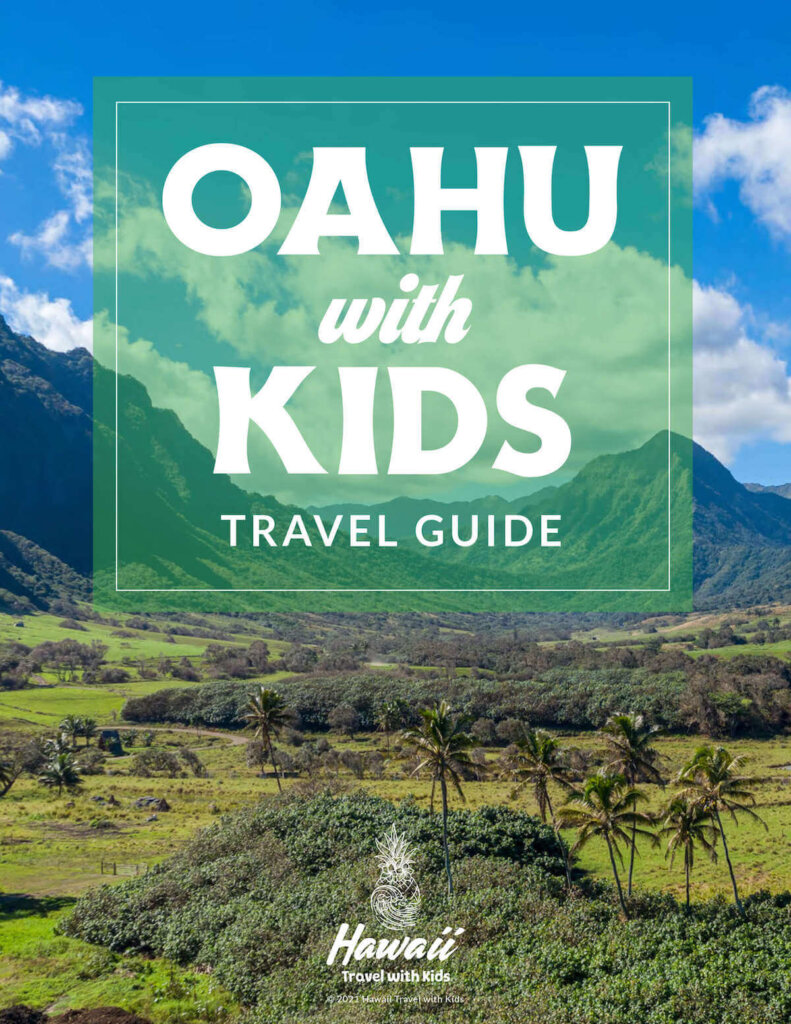 Hikes in Honolulu FAQs
What are the best hikes in Honolulu?
If you want to go hiking in Honolulu, you have lots of great options! A few favorites include the Manoa Falls Trail, Wiliwilinui Hiking Trail, Ka'au Crater Trail, and Diamond Head Crater.
What are some easy hiking trails on Oahu?
A few of the easiest hikes on Oahu include the Waimea Valley hike to Waimea Falls, Manoa Falls, Ka'ena Point, Makapu'u Lighthouse Trail, and Diamond Head.
Are there any Oahu easy hikes that lead to waterfalls?
Yes! One of the best easy hikes on Oahu is Manoa Falls, which is just a few minutes outside Honolulu. This is a kid-friendly trail that leads through the rainforest to a beautiful waterfall. It's a great hike for beginners, too!
How much does the Diamond Head trail cost?
It's $10 to park your vehicle and then $5 for everyone ages 4 and older. You'll also need to make advanced reservations.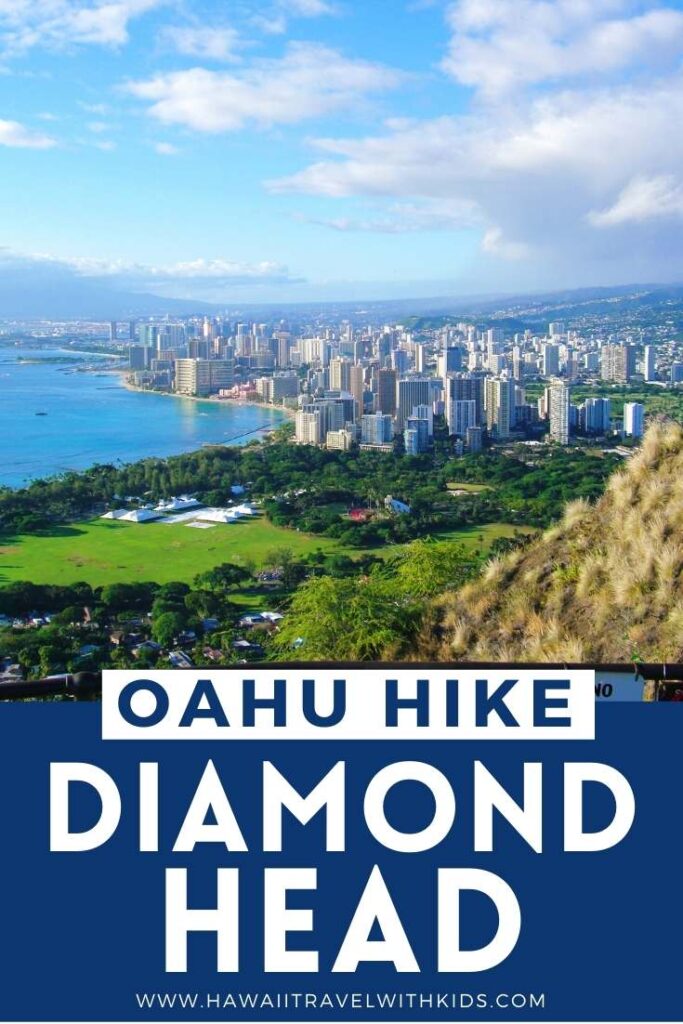 Where is Diamond Head on Oahu?
Diamond Head is located on the Southeastern coast of Oahu, about a seven-minute drive from Waikiki. Use your GPS to get directions to Diamond Head from your hotel.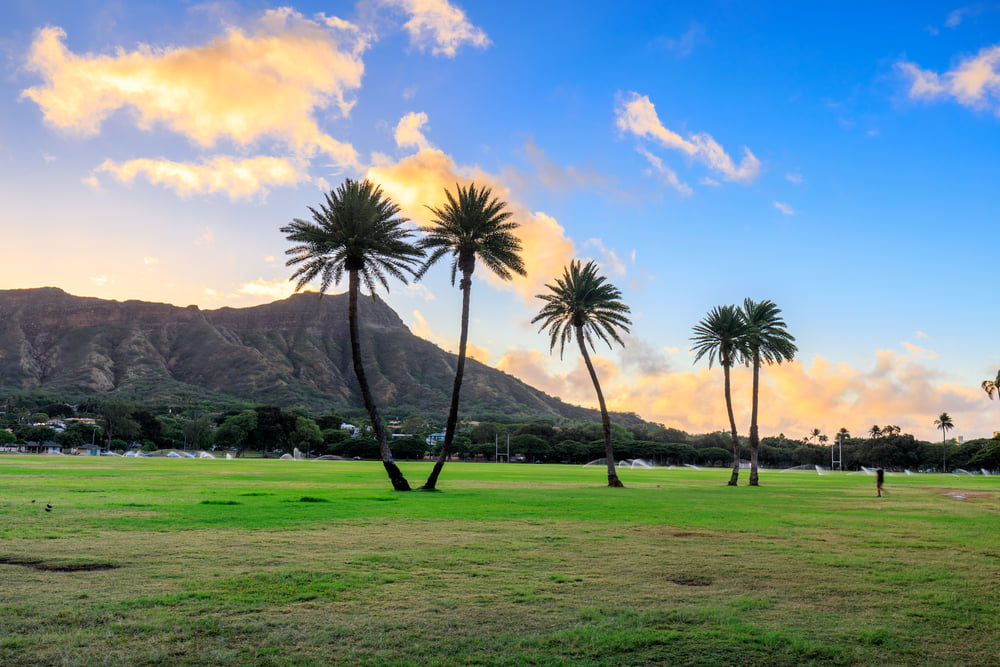 You can drive your rental car, take the Waikiki Trolley, or take public bus transportation to the entrance to Diamond Head State Monument.
You can also walk to the entrance to Diamond Head from Waikiki. It will take about an hour from the famous Duke Kahanamoku statue.
Why We Chose This Hike on Oahu
We chose to take our kids on the hike to the top of Diamond Head on our most recent trip to Oahu because it was their first trip to Oahu and we felt like the Diamond Head trail is one of the most iconic on the island.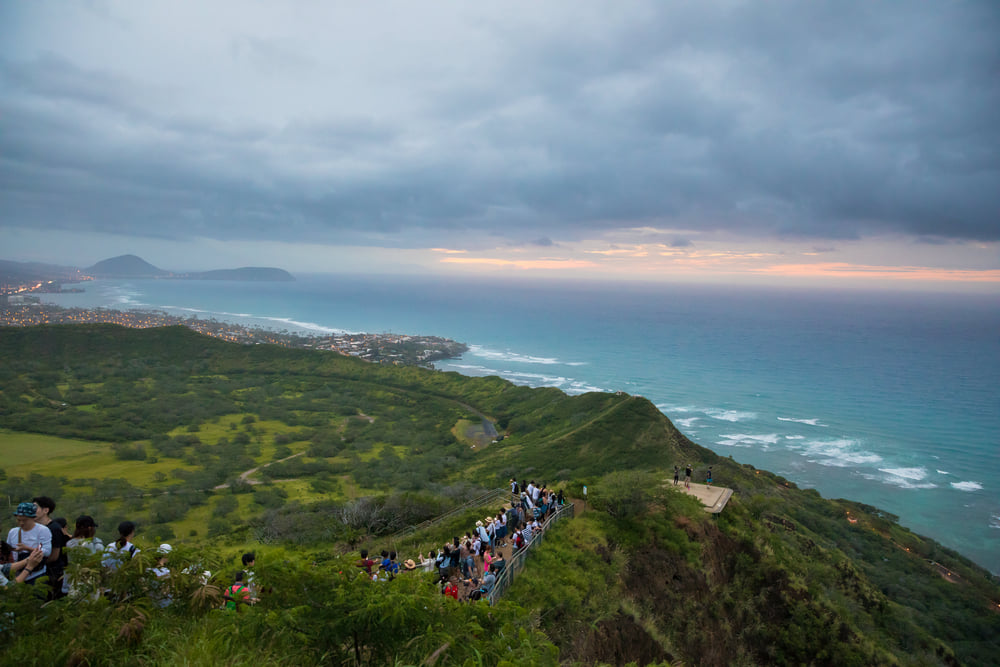 It is also an easy trail to do in the morning before spending the day hanging out on the beach.
What to Know About the Diamond Head Hike Before You Go:
Advanced Reservations Needed
As of May 12th, 2022 all out-of-state visitors must have an advanced reservation to enter Diamond Head State Monument. Make your reservations HERE.
Parking
The parking lot for Diamond Head State Monument opens at 6 am daily. The last entry is at 4 pm. The gate for the parking lot closes at 6 pm, so be sure to be out of there before then or you could get locked in! Parking is $10 per vehicle for non-residents.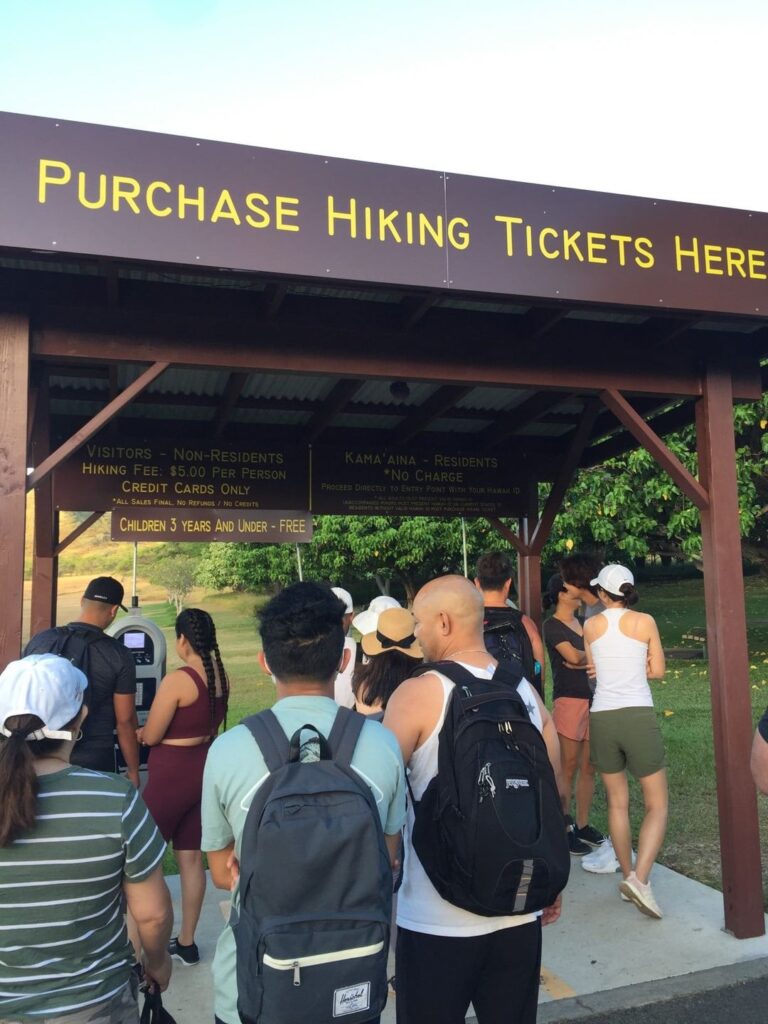 There is also a $5 per person fee to use the trail for folks ages 4 and up.
The parking lot does fill up regularly, especially on weekends, and parking attendants won't usually let you wait for a spot to open up.
When this happens, I suggest parking in the Kapiolani Community College parking lot which is across the street from the monument entrance, and walking from there.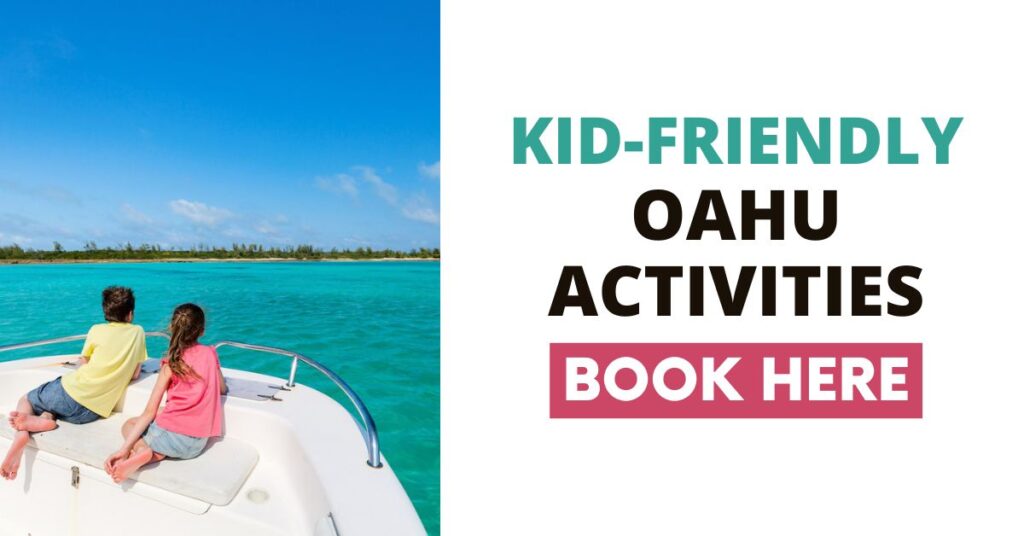 Diamond Head Hike Time
I would expect to give yourself a good two hours to hike the 0.8 miles up to the viewpoint, spend time enjoying the views, and then make your way back down.
What to Wear
Hiking Diamond Head is almost always a warm endeavor. For this reason, I suggest wearing shorts and a t-shirt or tank top, along with tennis shoes and a hat.
What to Bring/What to Pack
When hiking Diamond Head, it is always important to bring plenty of water. The hike doesn't have very much shade and the route uphill can certainly get you huffing and puffing.
You also want to be sure to apply sunscreen since most of this hike is in the direct sun.
Are There Nearby Food/Drink Options?
There is a popular Honolulu Pineapple Co stand that sells shave ice, cold drinks, ice cream, and smoothies inside of the Diamond Head crater near the parking lot.
They even sell drinks inside of pineapples which seem to be very popular with tourists. If you do choose to get a fruity drink, save it for after the hike.
5 Tips for Hiking Diamond Head on Oahu with Kids
Go Early in the Day
As I stated before, the hike up to the top of Diamond Head can get hot, so the earlier in the day that you hike, the better. That's also when there are fewer crowds.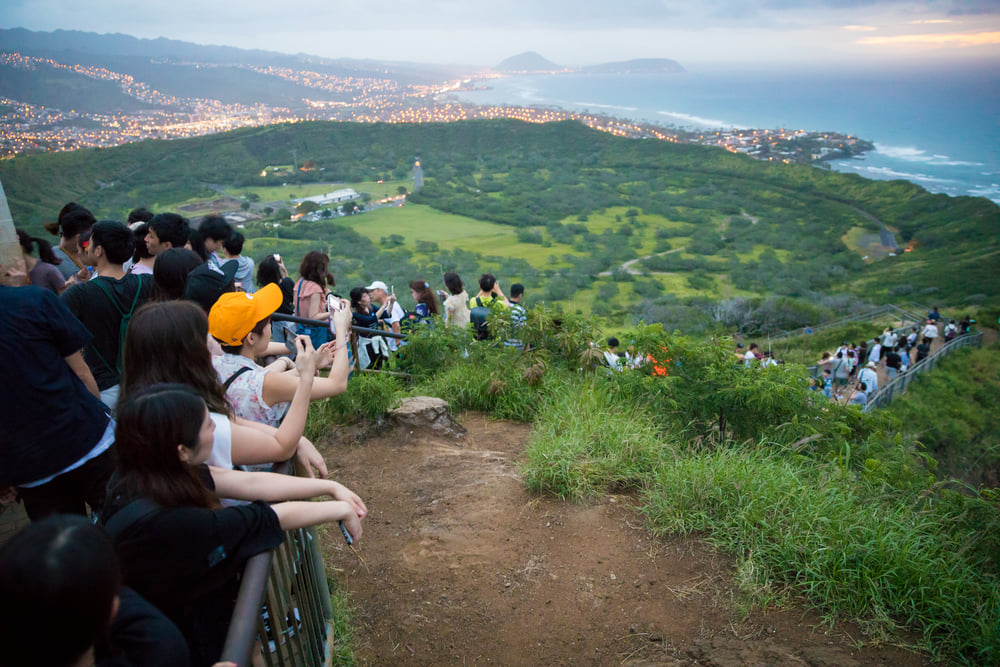 While it is possible to hike Diamond Head closer to sunset, you do need to be out of the park by 6 pm at the absolute latest.
Ditch the Slippers
While flip flops (or slippers as locals call them) are often the preferred footwear on the Hawaiian Islands, this hike is really best suited for tennis shoes or hiking boots because most of the trail is unpaved and there are sections with loose gravel.
You'll want to have sturdy shoes for climbing Diamond Head.
Get Ready to Climb
In order to reach the lookout at the top (an old military bunker), you will need to climb up 170 stairs. These stairs will definitely get the heart pumping, so take a break in between the long flights if you need to.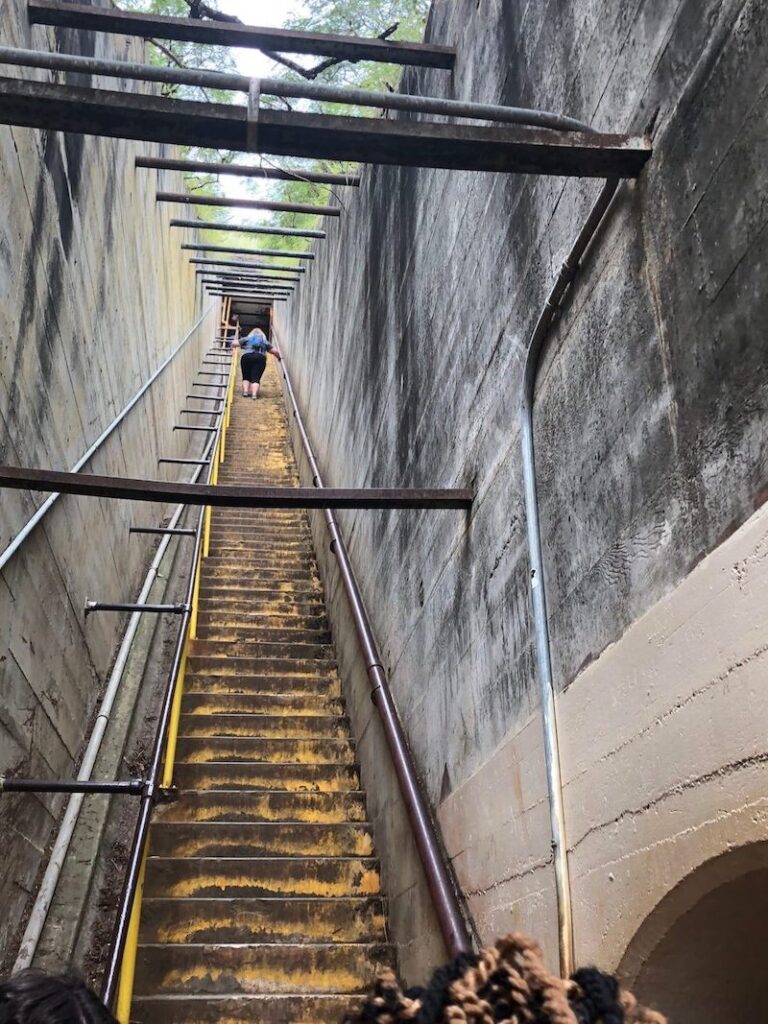 You will also go through a dark tunnel but it isn't so dark that you can't see.
Reward Them with Dole Whip
Every kid has a better attitude on a hike if they know they will be rewarded with ice cream at the end. The Honolulu Pineapple Co. stand has all sorts of ice cream, shave ice, and smoothie treats to enjoy.
Visit on a Saturday Morning
Visit on a Saturday morning to combine your hike with a stroll through the Kapiolani Community College Farmer's Market. This popular Oahu farmer's market is open 7:30-11 am every Saturday, and sells local produce, flowers, homemade treats, as well as food and drinks.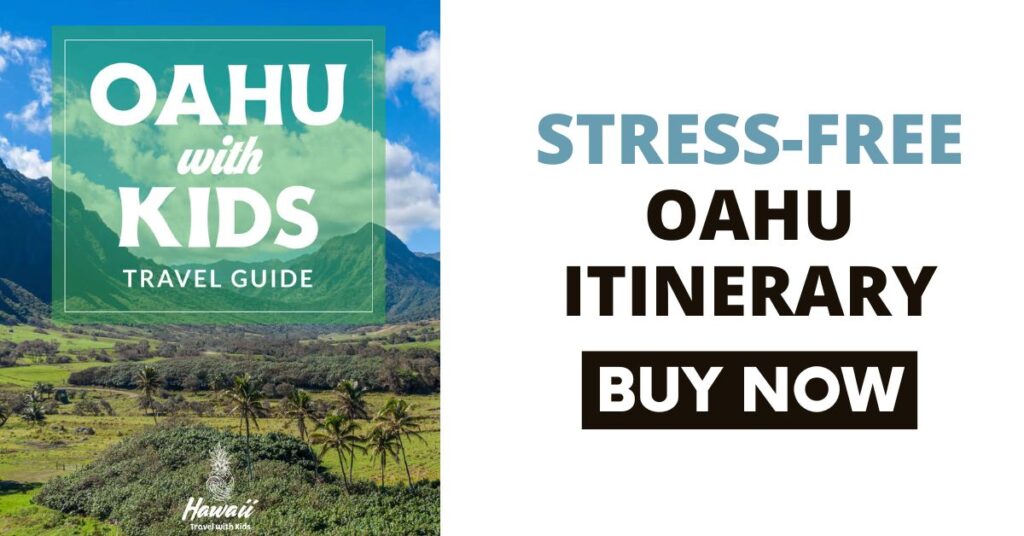 Would We Recommend This Oahu Hike to Families?
The Diamond Head Crater hike is essential to any active family's first visit to Oahu. And it's one of our favorite kid friendly hikes on Oahu.
It is not the easiest hike on the island but is easy to reach from Waikiki and doable for most people who are reasonably fit. I have seen children as young as five complete this hike without assistance.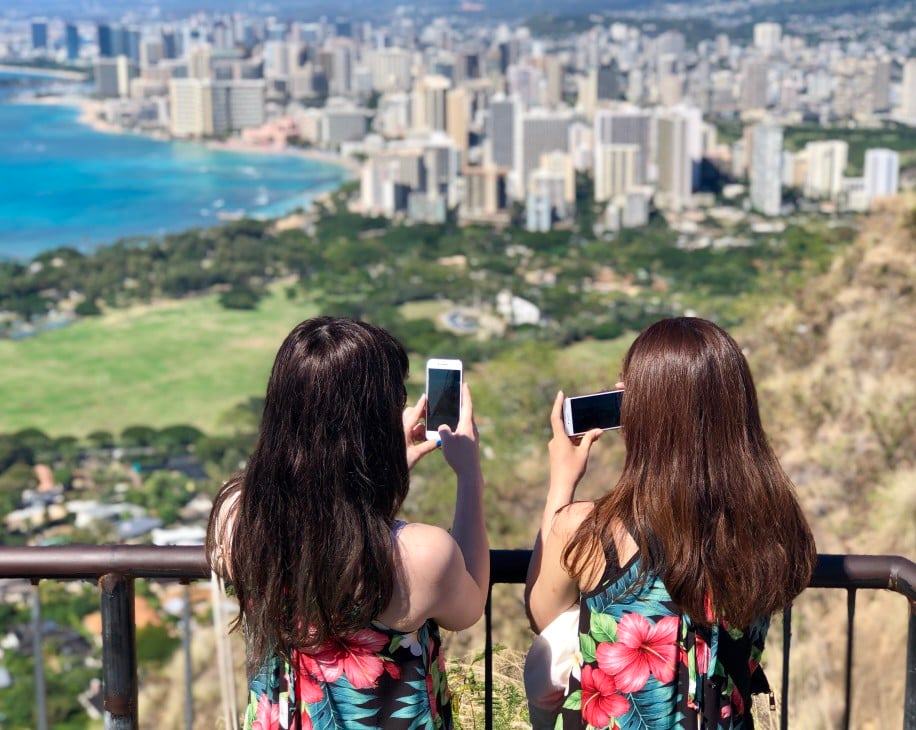 Older relatives with mobility issues may have issues with this hike, but given its proximity to Waikiki, it is easy to leave them on the beach or at the hotel pool while you hike, since you will only be gone a couple of hours.
About Sharlene
Sharlene Earnshaw is the Managing Editor of Trekaroo.com and has worked in the family travel field for over 15 years. She was born in Hawaii and the islands are still her favorite place on Earth, so she visits them as much as possible. She currently lives in Orange County with her husband and 15-year-old son and daughter (twins!).
P.S. Join our Hawaii Travel with Kids Facebook group to get connected with other families planning a trip to Hawaii!