Are you looking for some awesome kid friendly hikes on Oahu? Try hiking Kaena Point Trail for incredible views and wildlife!
This post about the Kaena Point Hike with kids was co-written by Hawaii travel expert Marcie Cheung and contains affiliate links which means if you purchase something from one of my affiliate links, I may earn a small commission that goes back into maintaining this blog.
Guest post by Agnes Groonwald of Travel on the Reg
When considering a visit to Hawaii, Oahu is a popular option for families thanks to loads of attractions for those traveling with kids.
There are so many awesome things to do in Oahu with kids.
You can pay a visit to the island's spectacular beaches, indulge in all of the delicious eats available on the island, or take advantage of any number of luau opportunities on the island, including at the family-friendly Polynesian Cultural Center.
But the island is also home to some of the best hiking on the Hawaiian islands, with opportunities to get out and enjoy the outdoors at all skill levels to suit you and your family's needs.
If you and your kids are the more adventurous sort, don't miss out on one of the most scenic hikes in Oahu through Kaena Point State Park, a special place where you'll likely see more wildlife than people and amazing views.
In fact, it's one of the best hikes on Oahu for families!
Check out my full guide to Oahu with kids!
Want to skip all the planning and just access my detailed Oahu Itinerary complete with daily schedules, kid-friendly activities, and travel hacks? Click the button below.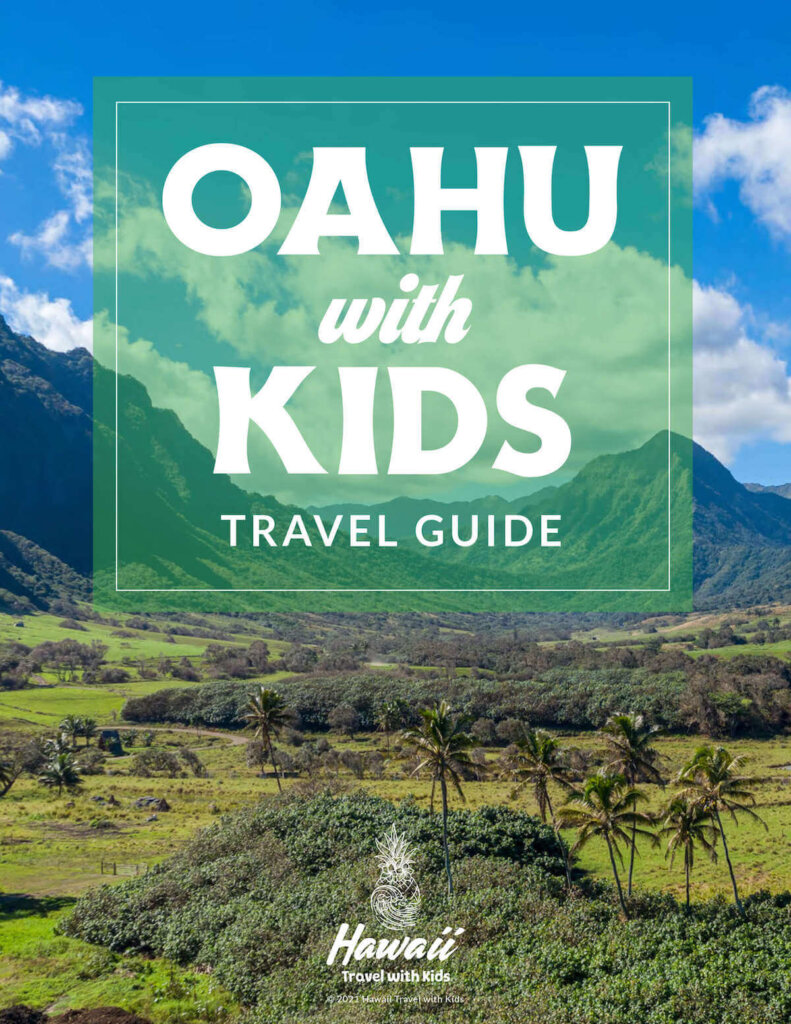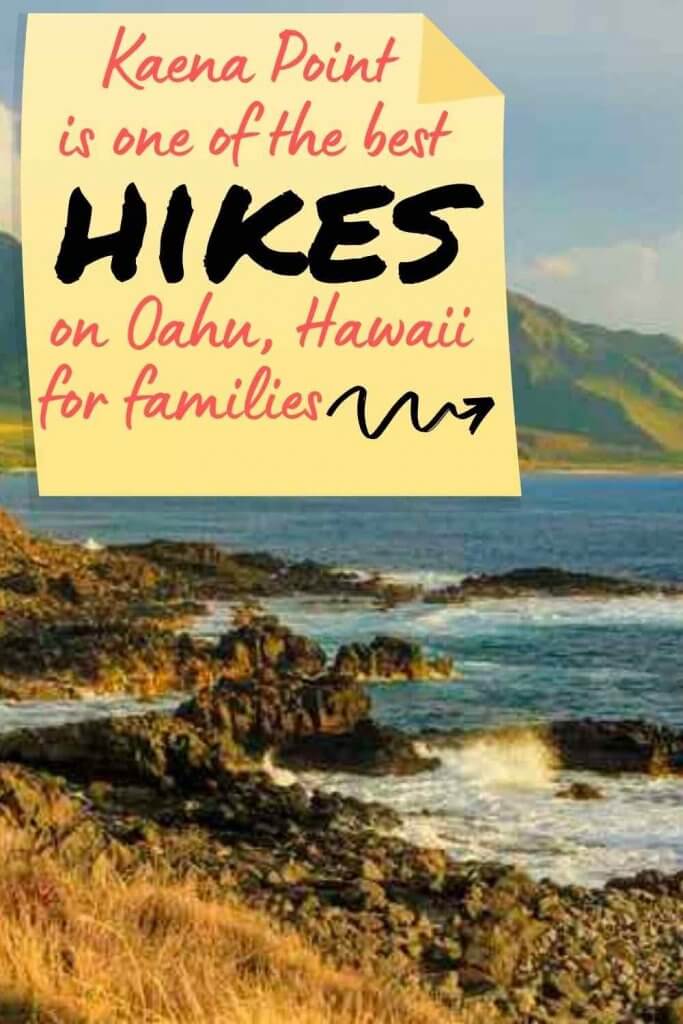 How to Get to Kaena Point State Park
This guide to hiking Kaena Point with kids assumes you have a rental car to make the drive up to the state park.
If your accommodations are anywhere near Waikiki, factor about an hour for the drive up to the island's most northwestern point, depending on the traffic you encounter.
For comparison's sake, you'll be almost to the North Shore up here.
There are two options for you once you approach Kaena Point State Park, the Wai'anae side or the Mokule'ia side. The approach from the Wai'anae side is preferable and more scenic, and what will be described here.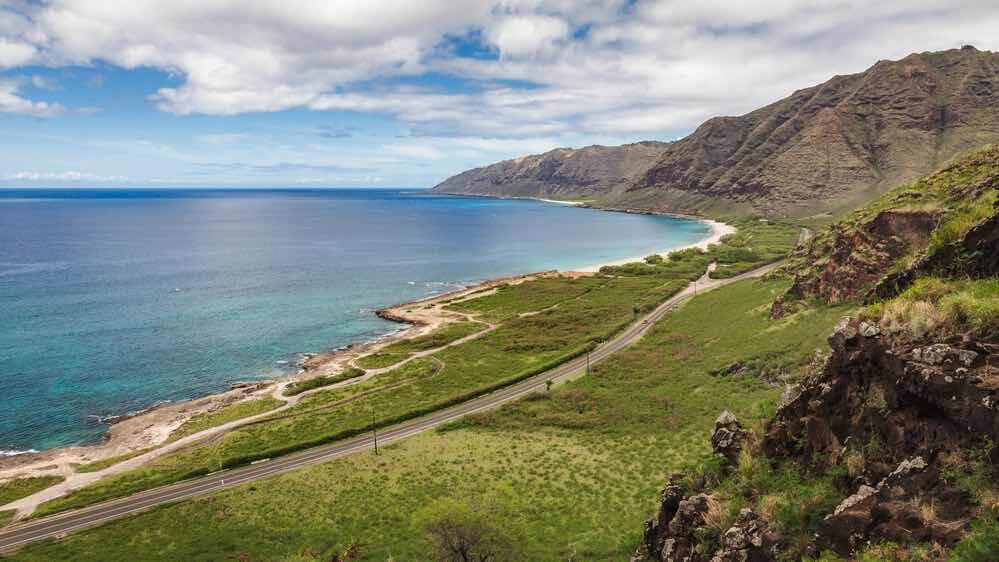 To get there, you'll take Farrington Highway until it dead-ends at Ka'ena Point State Park.
You'll find a parking lot once you're there. Don't be alarmed if you don't see other cars in the dirt lot.
This hike is a bit more off-the-beaten-path than the popular Diamond Head or Manoa Falls hikes.
Tips for Hiking Kaena Point
Assume about three hours for this activity from start to finish to give you time for wildlife spotting along the way, rest stops, and photo opportunities.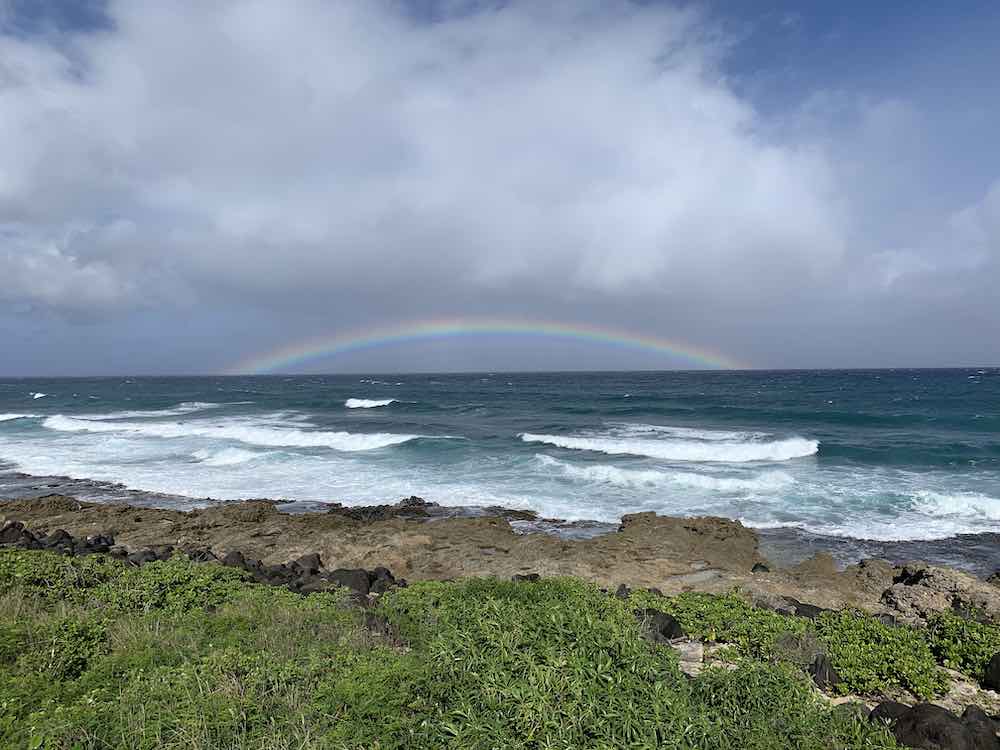 You won't be encountering much elevation, but the hike is long. It's nearly 5 miles out and back to Kaena Point across uneven surfaces like dirt, sand, and rocky outcroppings once you get to the end.
Assuming you're on the Wai'anae side, you'll have two options for your hike to Kaena Point.
You can choose to either walk along the coast or walk along a dirt road that's just inland from the water. That dirt road follows an old railroad, which you can even see evidence of on your way to Kaena Point.
If you don't mind walking along the sand, it's possible to do both Oahu hiking trails for a different experience there and back. The dirt road makes for an easier return if you want to save that for the long walk back to the car.
And here's one last quick tip. As you'll be entering wildlife protection areas, leave the pets at home. Pets are not allowed on the Kaena Point Trail and have actually been quite damaging to these delicate habitats thanks to visitors who disregard posted rules.
What to Wear for Your Hike to Kaena Point
While it is a flat trail, the hike to Kaena Point is a long one. That means you need to be hiking prepared to keep everyone not only safe but happy.
Bring plenty of snacks for the kids and bring water.
As far as what to wear, sun protection is important. If it's a warm day, you won't find much shade on this one. Bring hats or visors to protect those faces.
You may be tempted to break out the flip-flops for this one, especially if you're hearing you'll be trekking along the sand. But hiking shoes or a good pair of broken-in walking shoes will get you from start to finish in a more comfortable way.
Don't forget that the hike is nearly 5 miles long! Nobody should be doing that in flip-flops.
Depending on the temperature, you'll want to dress comfortably. With little shade, shorts, and tees will likely be fine for this one.
If you're worried about the breezes coming off the ocean on the way there and back, layers on top will keep everyone comfortable.
Just don't forget sunscreen no matter what you decide to wear.
Hiking Kaena Point Hike with Kids: Getting Started
If you're starting your hike along the coast, you'll be treated to the rugged waters of this side of the island. This isn't swimming territory, but you may come across some tide pools with marine life and activity to observe.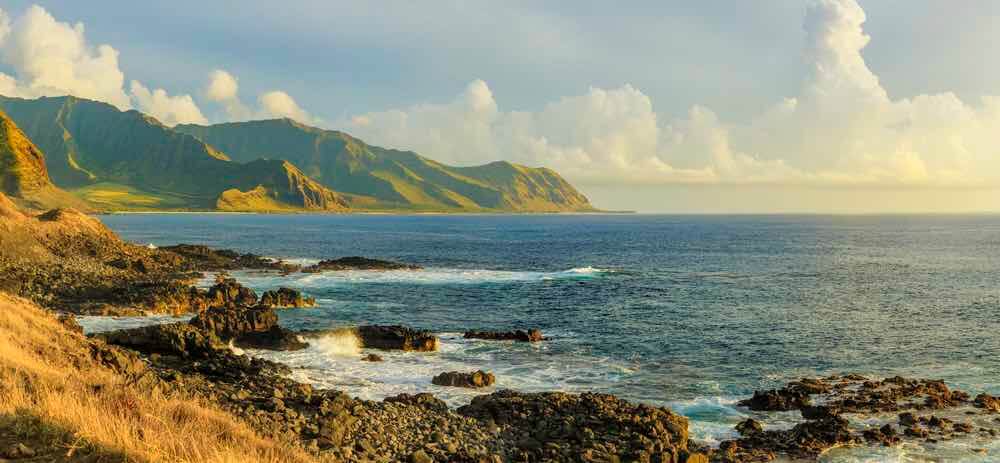 Don't get too close to the water, though. There are no lifeguards on duty on these boulder beaches.
Take your time hiking this portion of the trek. It isn't a challenging stretch of path, even if you're making your way through the sand, but it will take about an hour to get to the next section.
You'll want to conserve your energy and keep the kids' spirits up for the exciting parts to come.
If you need a break or a snack, you'll find many spots to rest along the rocks and watch the crashing waves. You might even see a Hawaiian monk seal!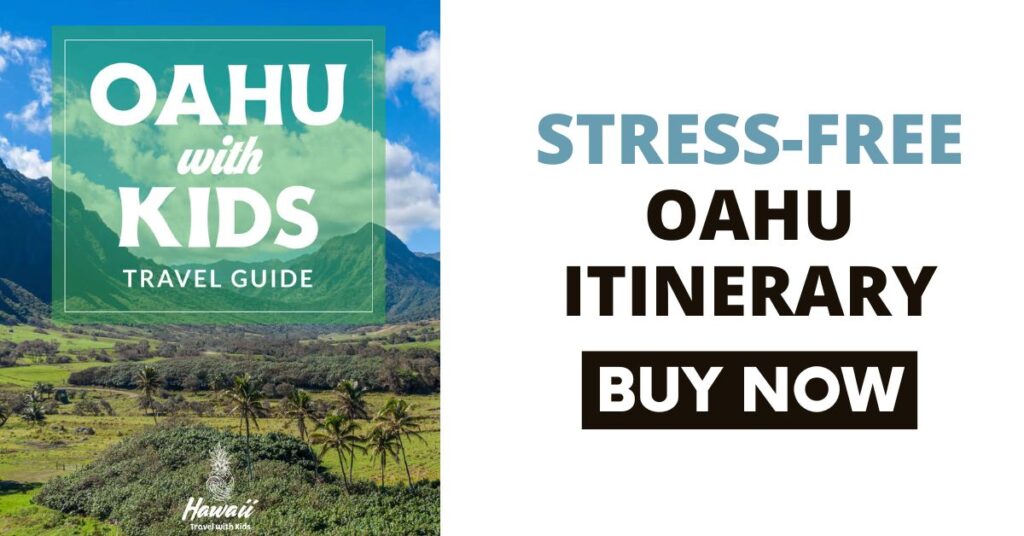 Kaena Point Bird Sanctuary
Continuing along the path to the point, you'll hit the Kaena Point Bird Sanctuary first.
You'll know you're there once you see a gate with instructions posted to make sure you close that gate behind you.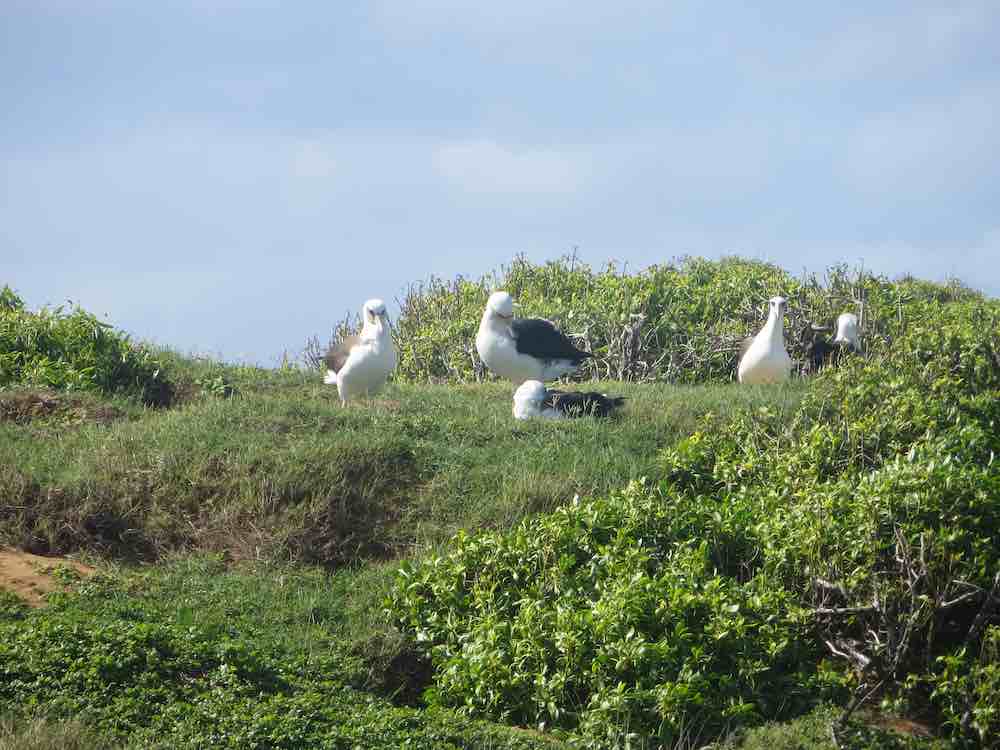 Depending on when you're visiting Oahu, you'll find albatross in various stages of breeding, nesting, or hatching.
The summer months of July and August are ideal for spotting albatross chicks, with breeding and nesting starting in the fall and winter months.
No matter when you're visiting, though, keep your eyes peeled here for nesting seabirds, often found just off the narrow trail that winds its way through the sanctuary.
Look above you, too, as the birds also tend to show off their impressive wingspans by soaring above visiting hikers.
Stay on the trail throughout the sanctuary, and be respectful of the work done here by volunteers looking to keep the local albatross population healthy.
Kaena Point: You've Made It!
Passing through the sanctuary, you'll see a ridge up ahead, signaling that you're getting close to Kaena Point. You're nearly there!
Past the ridge, you'll see a tower – unfortunately, it's suffered from some graffiti over the years – and a beach just beyond.
Don't stop now!
Keep a close eye on the kids here. The rocky outcroppings may look as inviting as a jungle gym right now, but you've entered more wildlife territory.
Kaena Point is home to a steady population of Hawaiian monk seals.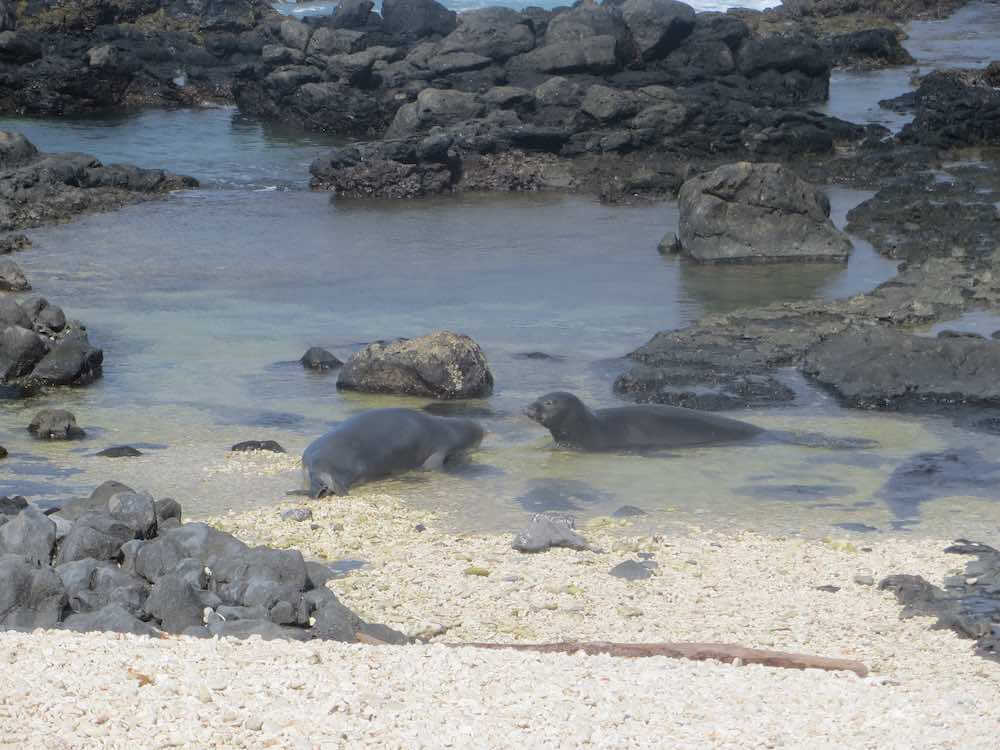 If you're lucky, you'll be met with state guides here who will help you find them in the surf. If you're very lucky, you'll catch the Hawaiian monk seals sunbathing on the sandy beach below.
Either way, the beach isn't there for you. It's there for the seals. Keep a distance to keep both you, your kids, and the wildlife safe.
Monk seal pupping season is typically in the spring and summer months, but spotting the animals is possible throughout the year.
If you're visiting in the winter months, you may also want to bring along binoculars, as you'll be well within whale season in Oahu, as well.
Keep in mind that these are endangered animals, with less than 100 total individuals regularly observed on the island each year.
State officials monitor the local population closely and ask visitors to report any abnormalities they may see with monk seals they encounter at Kaena Point Trail and elsewhere on the island.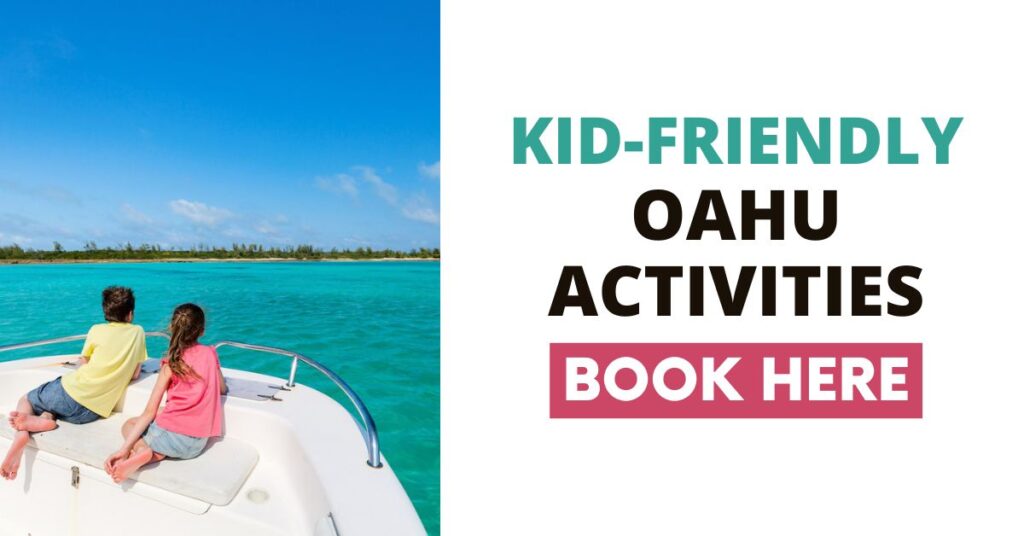 Where to Next?
Unfortunately, you'll need to head back the way you came once you've had your fill of monk seals and photo opportunities of the stunning views at the very end.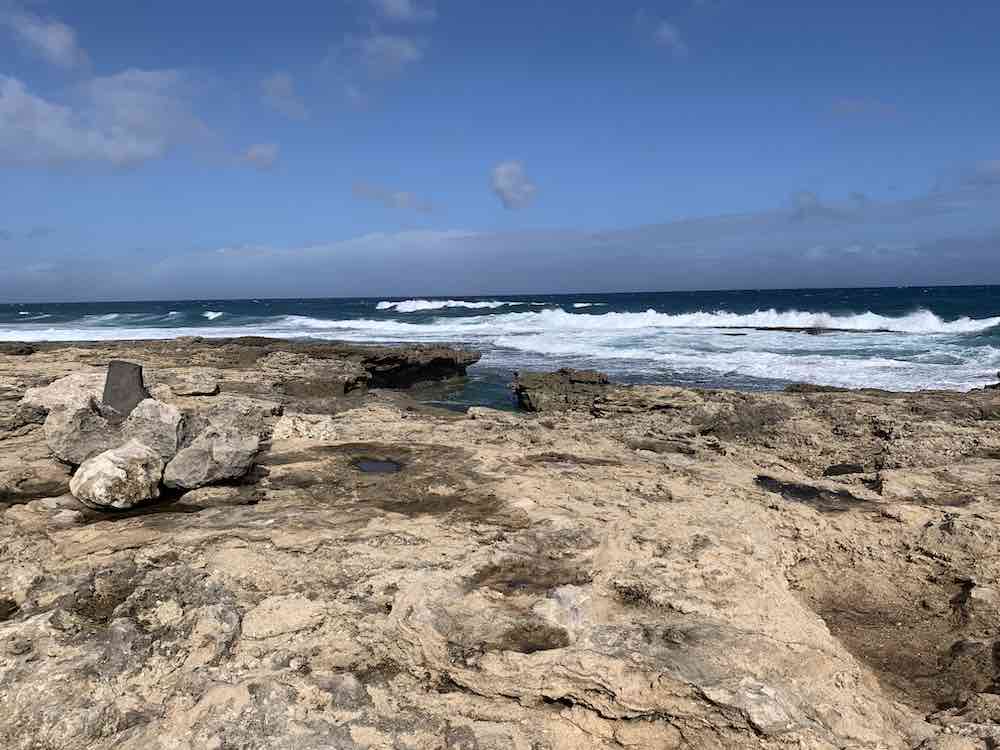 If you walked along the coast on the way here, you might want to take the dirt established paths back. It'll be an easier effort and take a bit less time as you're not trudging through the sand.
No matter the snack situation you brought along with you, you and the kids will likely be hungry by the time you get back to the car.
Luckily, you're within a short drive of all of the delicious food options on the North Shore.
If you haven't sampled from the island's famous shrimp trucks, there's no time like the present!
Giovanni's Shrimp Truck is an old standby and worth the wait you'll likely be met with once you arrive there. It's also budget-friendly, a welcome note for anyone traveling with families.
If you need a meal faster, don't fret.
You'll find a few more trucks in the same lot as Giovanni's, including one selling shave ice, which might certainly be welcome at this moment.
You'll also pass by a number of Oahu shrimp trucks and more on your way there, so you can pull over when you come across something that looks good for you and your family if you don't want or have the time to wait.
Are you not ready to head back yet?
Once you've had your fill of shrimp, keep the theme of wildlife spotting alive with a visit to Laniakea Beach, home to a local population of some very sleepy sea turtles.
The kids will love the informational posters along the beach that let them know what the turtles are named.
As always, keep a safe distance from the wildlife, and pay attention to any ropes signaling where you should observe the sea turtles.
You're likely all tired from a very active day of beach hiking, wildlife spotting, and all that shrimp, but you've made some memories not every family does while in Oahu.
Kaena Point Hike FAQs
How long does it take to hike Kaena Point trail?
Depending on your pace, it can take anywhere from 1-3 hours round trip.
Can you drive to Kaena Point?
No, you'll need to park by the highway and hike into Kaena Point Trail.
How do I get a permit for Kaena Point Trail?
You'll want to go to the Division of State Parks office to get a 24-hour Kaena Point Trail permit.
Is Kaena Point Trail a hard hike?
No not really. You can easily bring along your kids on this hiking trail, making it one of the Oahu hikes for kids on the North Shore!
Is Kaena Point worth it?
I think Kaena Point Trail is absolutely worth it! The Waianae mountain range along this coastal trail is so beautiful on the North Shore side of the island.
How do you get to Ka'ena Point?
You will want to drive as far as you can on Farrington Highway until you reach the parking lot. Then you can start on your hiking trail. This is the way to get to it from the North Shore. The West Side of Ka'ena Point Trail is much more challenging and probably is not the best with kids.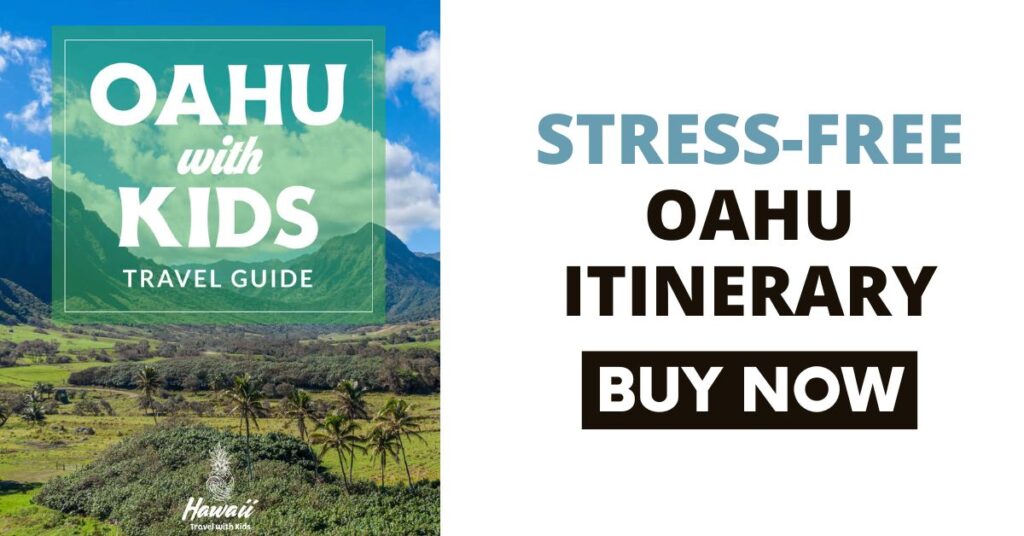 Ka'ena Point Trail Wrap-Up
Ka'ena Point State Park is an awesome place to explore tide pools, sand dunes, a rocky coastline, native plants, and incredible views of the Pacific Ocean.
The ocean views with whales breaching during the winter time and seeing a Hawaiian monk seal or two along with other animals, it offers an easy hike for families to enjoy on Oahu.
So make sure to add the Ka'ena Point Trail to your itinerary today!