Are you looking for things to do in Honolulu with kids? Keep scrolling to learn how to do the Oahu Manoa Falls hike with kids.
This post about whether or not it's worth hiking Manoa Falls with kids contains affiliate links which means if you purchase something from one of my affiliate links, I may earn a small commission that goes back into maintaining this blog.
Guest post by Becca Robins
Are you looking for a waterfall hike on Oahu that is perfect for kids?
If you are visiting Oahu with your family, there are many great things to do. One of the best hikes on Oahu is Manoa Falls. It's an easy hike, and it has beautiful scenery along the way.
I'll share exactly what it was like to hike to Manoa Falls with 3 kids.
Plus, I'll tell you what to wear, what to pack, and how to make the most memorable time exploring this Oahu waterfall with your family.
Keep scrolling to find out what you need to know before taking your kids to hike Hawaii Manoa Falls on Oahu.
Don't have time to read a bunch of Hawaii blog posts and reviews? Here are some of our top picks for visiting Oahu with kids.
Best Kid-Friendly Oahu Tours/Activities
Best Kid-Friendly Oahu Resorts
Want to Rent a Car in Hawaii?
One of the best places to rent a car in Hawaii is Discount Hawaii Car Rental because they get the best rates from top national companies like Alamo, Dollar, Thrifty, Avis, Enterprise, Budget, and Payless.
Want to skip all the planning and just access my detailed Oahu Itinerary complete with daily schedules, kid-friendly activities, and travel hacks? Click the button below.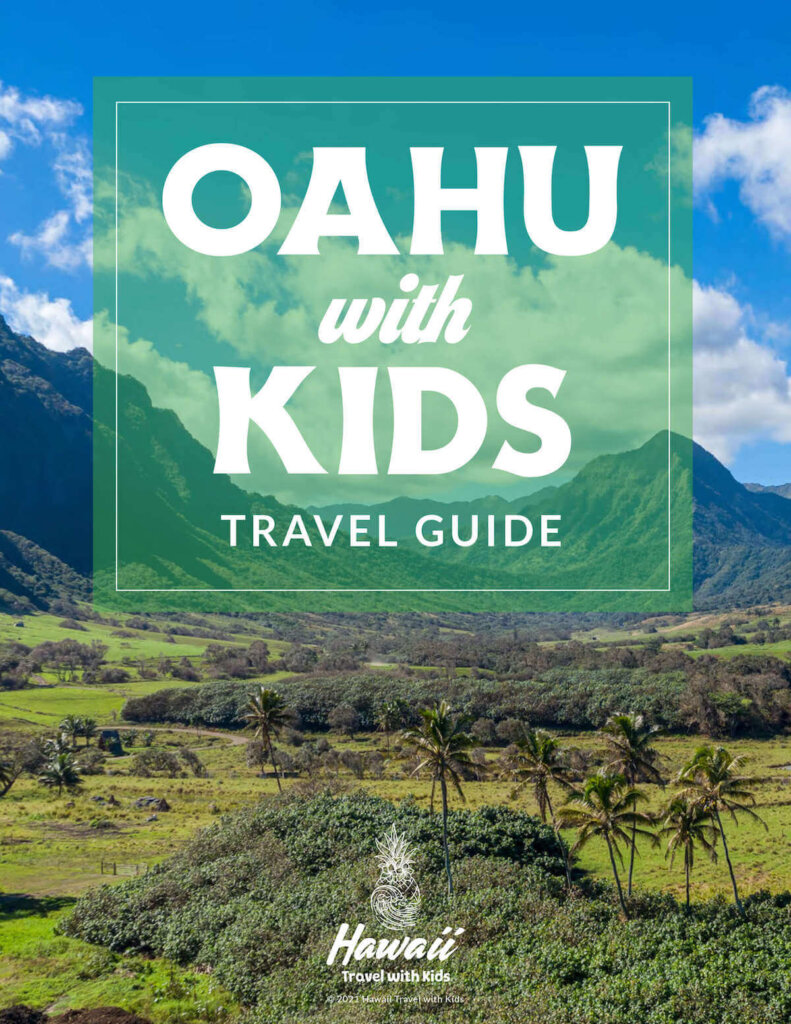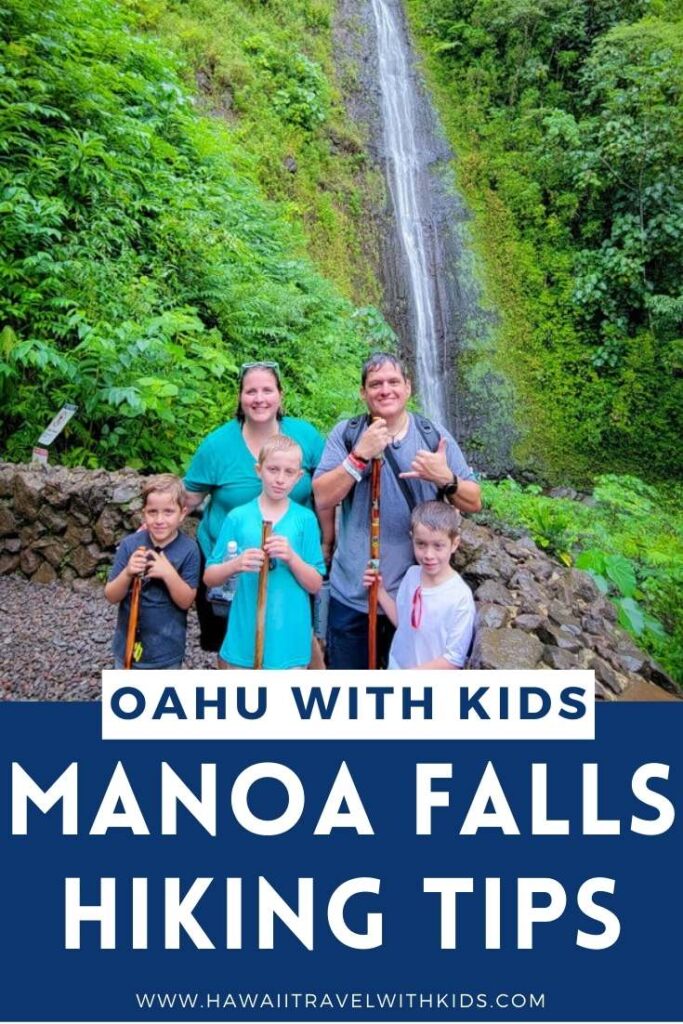 Where is Manoa Falls on Oahu?
Manoa Falls, Hawaii, is located near Honolulu, about 30 minutes north of Waikiki, in the Honolulu Watershed Forest Reserve.
The Manoa Falls Trail Head is next to the Lyon Arboretum, which is worth a visit after your hike.
The trail will take you into the Oahu rainforest, giving you a completely different experience than the miles of beach.
Why We Chose This Waterfall Hike on Oahu
When choosing a hike to do with our kids on Oahu, we went back and forth between Diamond Head and Manoa Falls Oahu.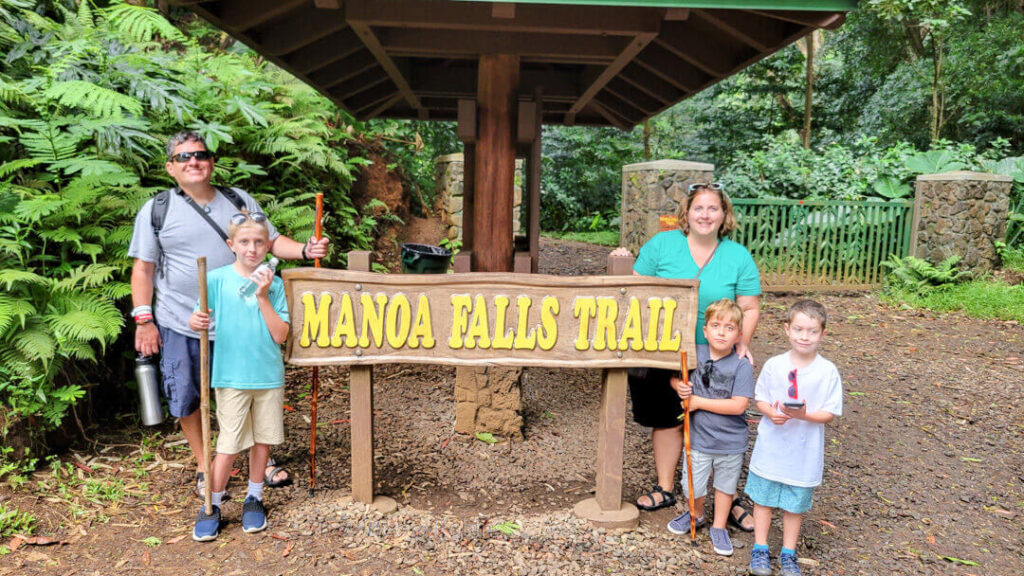 We chose the Manoa Falls Waterfall hike with our kids for several reasons. First, we wanted our kids to experience the dense rainforest. The greenery and beauty of this area is breathtaking.
Second, in debating between hiking Manoa Falls and Diamond Head with kids, we took into account the trail length. While Manoa Falls is a 1.7-mile round-trip hike, it is mostly a slow incline. Diamond Head boasted nearly 100 stairs to climb. I knew even if the hike was easy, the stairs would come with a lot of whining.
The proximity to our lodging on Waikiki was also a plus, meaning we would not have to take a long car ride.
What to Know about the Manoa Falls Hike Before You Go:
Before you hike Manoa Falls with kids, there are a few things you will want to be aware of to make the most of your visit. Here are some of the top things to be aware of.
Manoa Falls Parking
Parking at Manoa Falls is a fairly small parking lot located down a paved incline from the Manoa Falls trailhead. The parking fee was minimal, at $7 per car.
Be sure to lock your car while you are gone, and do not leave anything of value. The lot is not monitored.
Manoa Falls Trail Hours
The Manoa Falls hours are fairly simple: Mānoa Falls Trail is open from 6:00 AM to 6:00 PM every day. No Manoa Falls reservations are required.
Manoa Falls Hike Time
When hiking Manoa Falls with kids, your hiking time will vary based on your pace, experience, and if you end up extending your hike on the Aihualama Trail (which takes you to the Nu'uanu lookout) on to your hike.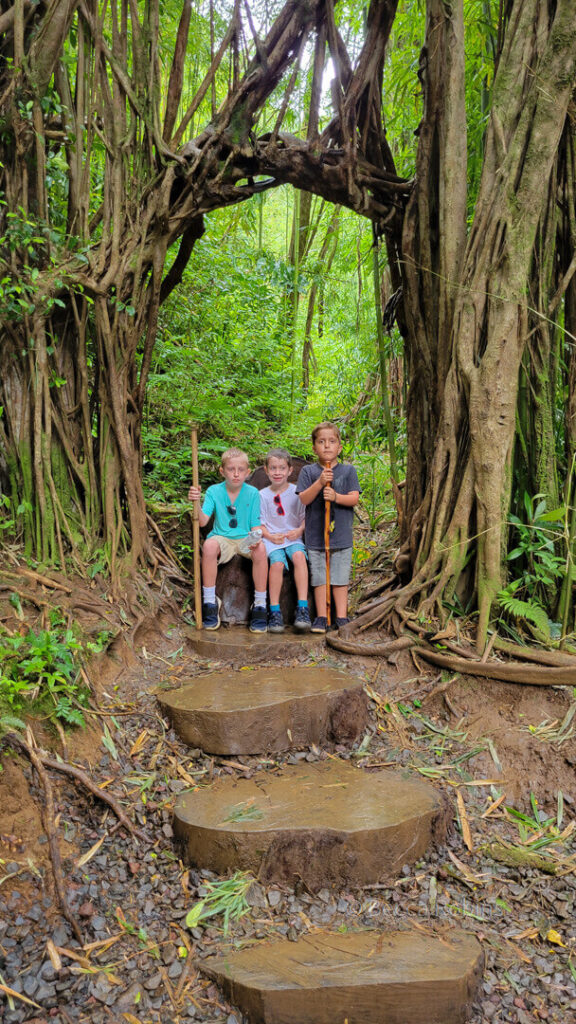 The hike to the base of Manoa Falls is 1.75 miles round trip, and with our young children took us approximately 90 minutes total. That is also with several downpours of rain that we waited out.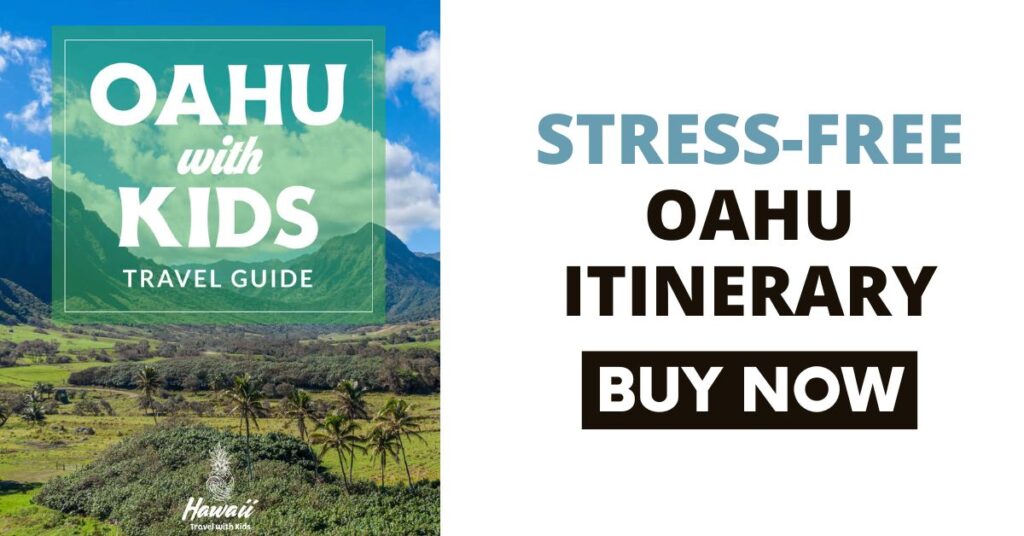 What to Wear
When hiking Manoa Falls, be sure to wear quality shoes. For kids, this can mean Keens, hiking boots, or even tennis shoes. One of our children wore slip-on, casual shoes, even though we had specifically stated to wear his keens. They were covered in mud, and he ended up slipping during the hike. Good walking shoes are a must! Don't wear your flip-flops, or you can slip.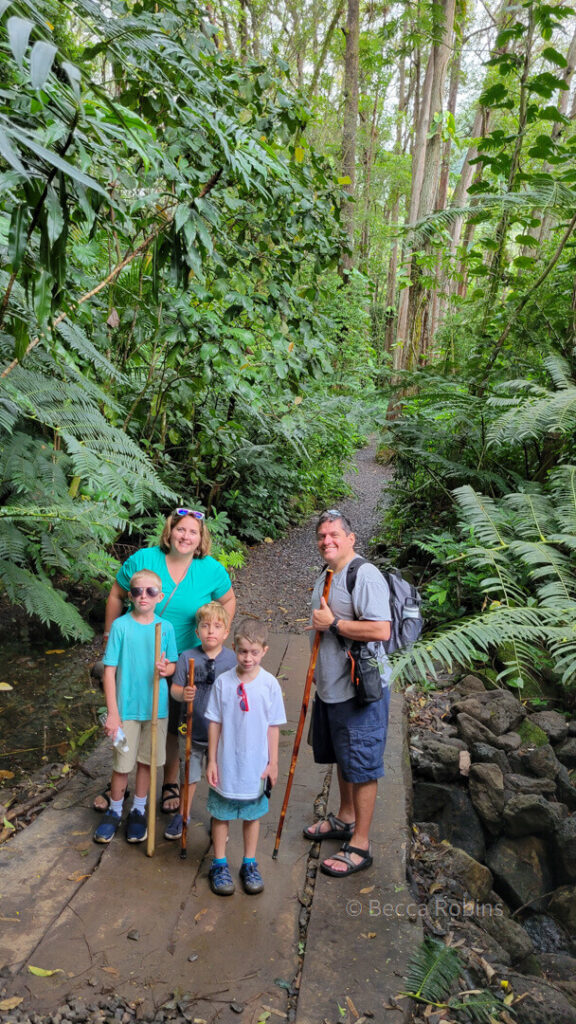 The trail is covered with a lot of rocks in places, and the frequent rain can make it quite slippery, so be sure to have appropriate shoes. It can also get very muddy, so do not wear clothes that you would be upset about if they were stained.
Our family wore shorts and tee shirts, but if you are used to the weather, pants, and a long sleeve shirt would be even better as there are lots of mosquitos.
One big miss our family made when hiking Manoa Falls with our kids… we did not bring our rain jackets or ponchos. We had them at the hotel but did not bring them. Before this, all the rain we had experienced had been more of a light misting.
Once we were in the rainforest, however, my kids learned why they call it a rainforest.
Good shoes and comfortable clothes will definitely make this easy trail worth it.
What to Bring/What to Pack
While Manoa Falls in Oahu is a pretty easy hike to do with kids, you will want to be sure to pack a small bag with some essentials.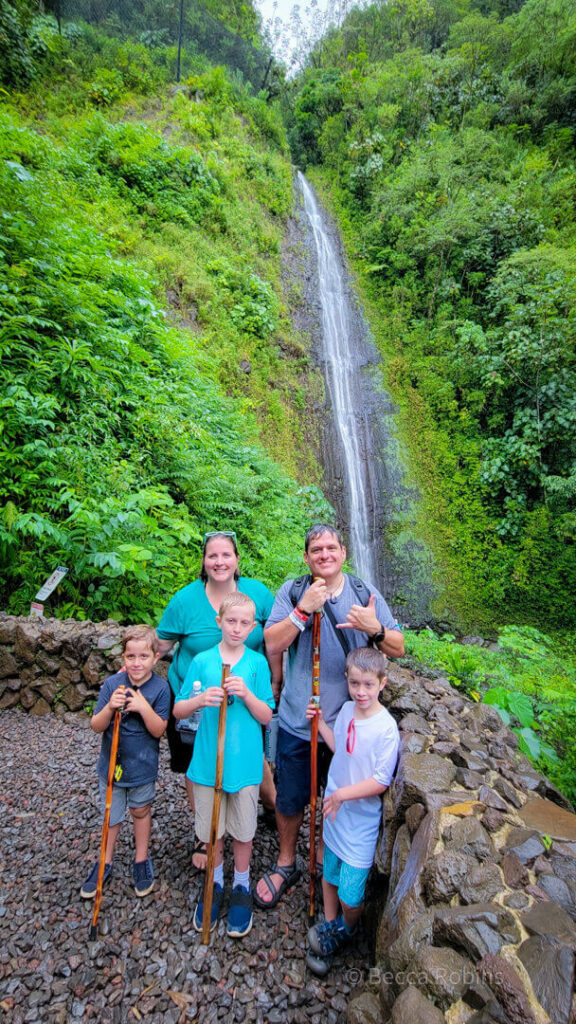 Be sure to bring bug repellent as you will be in the thick of the rainforest. This was the only place we ended up with mosquito bites during our trip, even with using mosquito repellent. Bug spray is one of the top hiking essentials you will want when hiking on Oahu.
You will also want to bring, as I mentioned above, ponchos or a rain jacket. It rains almost daily on this part of the island, so don't let the weather forecast for your beach location fool you.
Finally, bring water and some snacks so that you can refuel once you reach the falls.
Our kids were definitely ready for a snack when we got there.
While not necessary, a walking/hiking stick might be nice as well.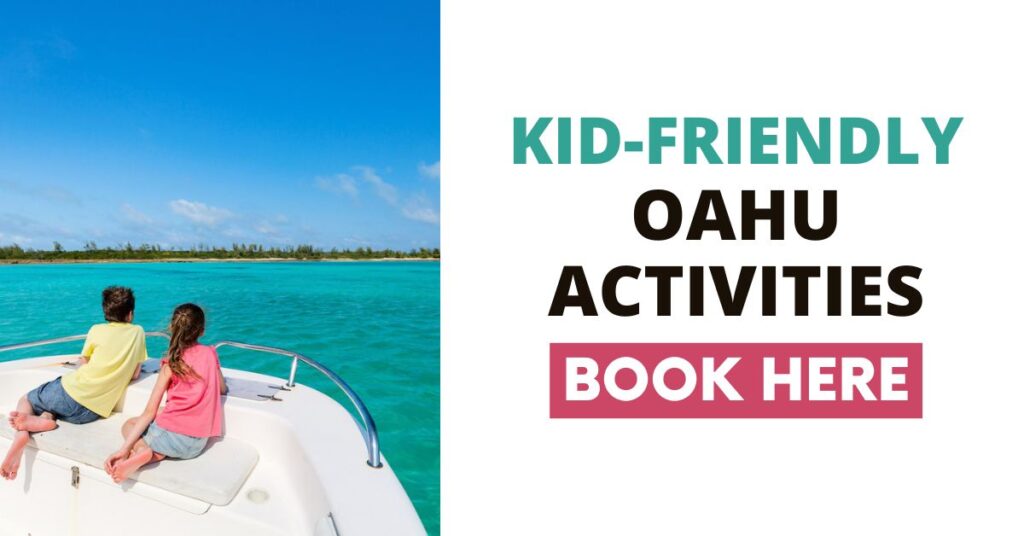 Are There Nearby Food/Drink Options?
While Manoa Falls is a hike, you can reward yourself with a Dole Whip, Hawaiian Shave Ice, or a delicious Acai Bowl after your hike.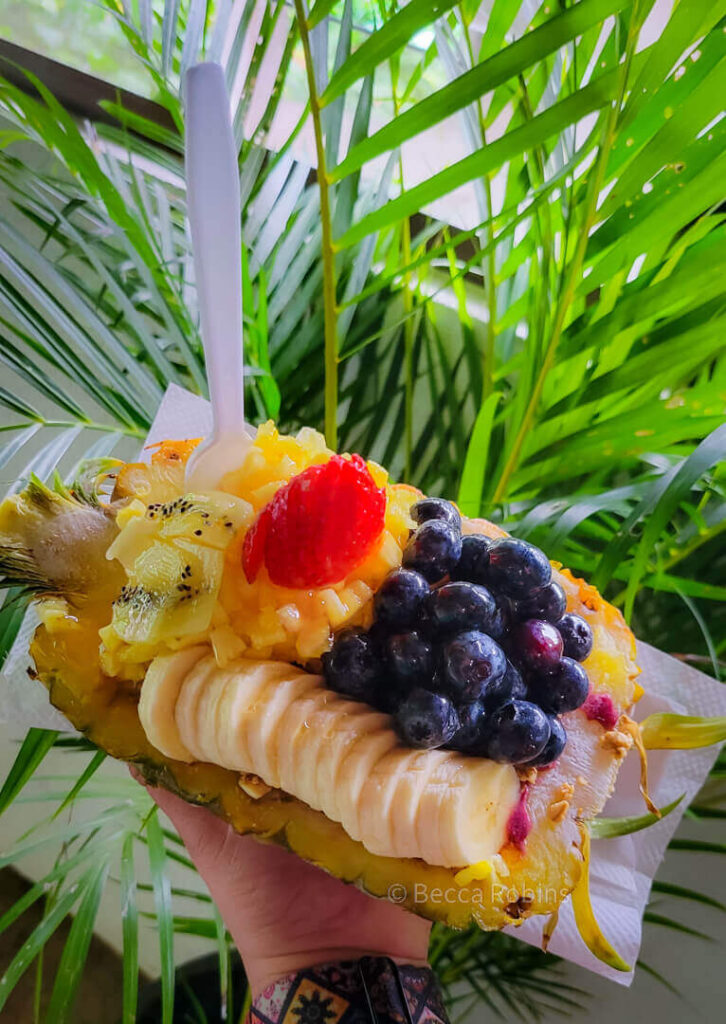 Right by the pay station is a small restaurant that offers treats at this time. (Hopefully, it will fully open again soon.)
5 Tips for Hiking Manoa Falls on Oahu with Kids
Here are a few tips to help you make the most out of the Manoa trail.
1. Plan to visit Manoa Falls early in the morning to avoid crowds.
We didn't see many people as we were heading to the falls, but as we went back, there were a TON of people. We arrived at the falls at 8 am and enjoyed fewer crowds.
2. Do not plan on swimming in the pool at the bottom of the falls.
There were a LOT of signs saying that you should not swim. This is due to the threat of Leptospirosis. The Manoa Falls Trail winds by a small stream that you shouldn't play in either.
3. Plan on taking an hour or two for the hike, more with young kids.
Our kids took about 50 minutes to hike to the falls and about 30 minutes to get back. The extra time on the way there was due to the uphill climb and stopping to seek cover from the rain from the eucalyptus trees and banyan trees.
This is a pretty tall waterfall, so even though it is a short distance, you will want to stop and take pictures along the way, which adds to your time. The bamboo grove is quite beautiful in Manoa Valley, and of course, you'll want plenty of pictures of Mānoa Falls in general.
4. You can rinse off your shoes
If your shoes get all muddy on the hike, head to that little restaurant I mentioned, and instead of going in, cross the pedestrian bridge. They have a hose where you can spray off your shoes.
5. Plan a stop at Lyon Arboretum
If you want to make a full day of it, I suggest visiting the Lyon Arboretum (a botanical garden). Reservations open a week in advance, and you will utilize the same parking lot on Manoa road.
Waterfalls in Oahu FAQs
What are the most popular waterfall hikes on Oahu?
Oahu is full of gorgeous waterfalls that are best seen by hiking. A few of the best hiking trails with waterfalls include Manoa Falls, Waimea Falls, and Hamama Falls.
What are the best hikes in Oahu for kids?
There are several kid-friendly hikes on Oahu worth adding to your Oahu itinerary. Manoa Falls in Honolulu is a great hike for families who don't want to venture too far from Waikiki. There's also the Waimea Falls hike in North Shore Oahu.
Are there any waterfalls in Honolulu?
Yes! Manoa Falls is the closest waterfall to Waikiki. It's located about 20 minutes away, and you can take a short hike to see it. The Manoa waterfall is one of the best Waikiki waterfalls to enjoy.
How long is Manoa Falls hike?
Honolulu Manoa Falls Trail is about an hour or two round trip, but that also depends on how long you plan to stay in Manoa Valley and how long your kids take to hike.
How to get to Manoa Falls by bus?
Getting to Manoa Falls from Waikiki is possible by bus! From Waikiki or Honolulu, if you take Bus #5, you should be able to get to Manoa Road by bus to Manoa Falls Trail. There is also a stop at the Ala Moana Shopping Center with this bus.
How hard is Manoa Falls Trail?
The Manoa Falls trail difficulty is not bad at all. Since the Manoa waterfall hike is a kid-friendly hike, it shouldn't be a challenging hike for most. Upper Manoa Falls is more challenging, which might be too difficult for small children.
Is there an entry fee for Manoa Falls?
The Manoa Falls trail price is free to hike! However, if you park close to the Manoa Falls hiking trail at the Paradise Park parking lot, the Manoa Falls cost will be $7. There are some residential streets with Manoa Falls trail parking, but the parking lot is the best bet since you don't want to upset the residential neighborhood, and the parking costs are not bad at all for this beautiful trail.
What time is best for Manoa Falls Trail?
The morning is usually the best time to do the Manoa hike. It won't be too hot, and there won't be too many people either, so you have the beautiful waterfall all to yourself!
Was Jurassic Park filmed at Manoa Falls?
Yes! Manoa Falls is in Jurassic Park, as well as Catching Fire and other Hawaii movies and tv shows.
Is Manoa Falls hike worth it?
Manoa waterfall hiking is so much fun, especially with your little ones! While sometimes it can be a bit muddy, with good hiking shoes, you will love the Mānoa Falls Trail!
Can you swim at Mānoa Falls?
Manoa Falls swimming is not allowed. It is dangerous to go down to the waterfall since there are falling rocks, and the water is not safe for swimming.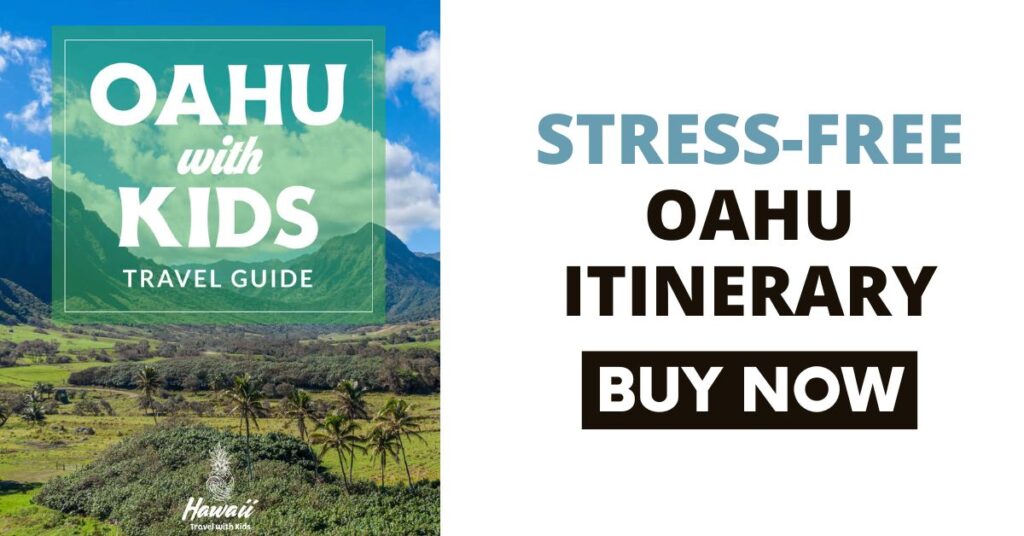 Would We Recommend This Oahu Waterfall Hike to Families?
In the end, I would definitely recommend Manoa Falls Honolulu as a family hike with kids. It was a great adventure and let us see a different part of Oahu.
While Oahu is not known for its waterfalls, the beauty of Manoa Falls and the surrounding area is worth a visit.
Mānoa Falls is a good hike for kids, and we enjoyed it together as a family!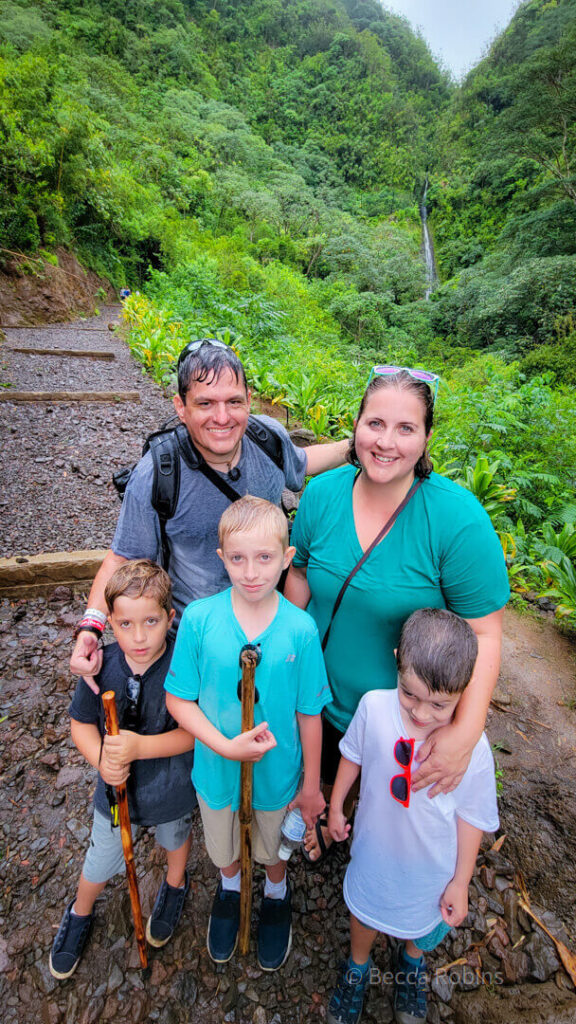 BIO
Becca Robins is a travel writer, and owner of This Crazy Adventure Called Life, where she helps families plan memorable vacations. She specializes in travel to Disneyland and the West Coast. She lives with her husband and three sons in Idaho, where they enjoy hiking, swimming, and playing board games.
Find her @thebeccarobins on Instagram and Twitter
P.S. Join our Hawaii Travel with Kids Facebook group to get connected with other families planning a trip to Hawaii!