Are you looking for a kid friendly luau on Kauai? Keep scrolling for my full Luau Kalamaku Kauai luau review and whether or not it's a top thing to do on Kauai with kids.
This Kauai luau review of Luau Kalamaku contains affiliate links which means if you purchase something from one of my affiliate links, I may earn a small commission that goes back into maintaining this blog.
"Are we going to ride the Kilohana Plantation Railway train today?" This is a question my 3.5-year-old had asked me nearly every day during the prior year. That's when his grandmother took him on it during her trip to Kauai, Hawaii, last summer.
He loved riding in that open-air car. When he heard I was taking our family back there this July, he wanted another adventure!
So I did a little research, and I saw they offer tours with a great luau right after you get off from your round-trip train tour of their property. I figured this would be perfect because now my youngest kid is old enough for an experience like that too!
I have been a professional hula dancer for the past 20 years. I've recently taken time off to focus on my family.
But because of this background in performing arts, it's hard not to get excited about experiencing something new and out-of-the-typical at events like Kilohana Plantation's Luau Kalamaku show.
First, you get to enjoy an authentic train ride that takes you through Kauai's sugar cane fields. Then, you experience dinner theater with theatrical storytelling performed by experienced actors and expert musicians.
Plus, guests are also treated to sumptuous Hawaiian cuisine. All this while watching talented dancers perform live hula dances set against stunning backdrops as they tell stories from Hawaiian mythology.
So, what did we think of the experience? Keep scrolling for our Kauai luau review of Luau Kalamaku and find out what to expect.
Want a Kauai luau discount? Book Luau Kalamaku HERE!
Don't have time to read a bunch of Hawaii blog posts?
Don't have time to read a bunch of Hawaii blog posts and reviews? Here are some of our top picks for visiting Kauai.
Popular Kauai Tours/Activities
Favorite Kauai Resorts/Hotels
Grand Hyatt Kauai (this Poipu resort has a luxurious pool area, romantic restaurants, and a stunning ocean view)
Koloa Landing Resort (this is a luxury resort with an amazing pool area and truly spacious rooms)
Royal Sonesta Kauai (we LOVE the pool here because it's the largest one in Hawaii)
Want to Rent a Car in Hawaii?
One of the best places to rent a car in Hawaii is Discount Hawaii Car Rental because they get the best rates from top national companies like Alamo, Dollar, Thrifty, Avis, Enterprise, Budget, and Payless.
Want to skip all the planning and just access my detailed Kauai Itinerary complete with daily schedules, kid-friendly activities, and travel hacks? Click the button below.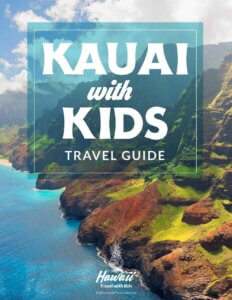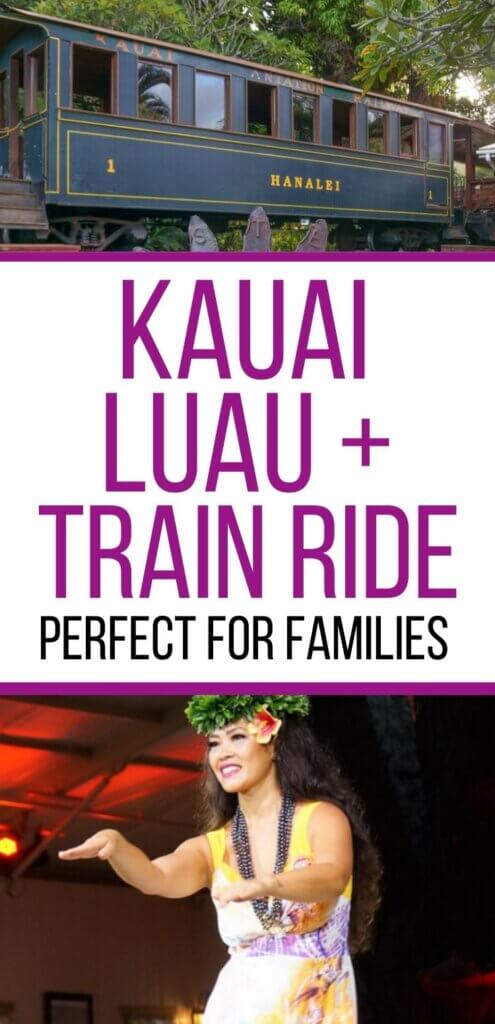 Kilohana Plantation Railway Tour
Wouldn't you like to spend 40 minutes on the Kauai train ride, going back in time?
This narrated tour takes your imagination away from modern-day reality and immerses it in the plantation era.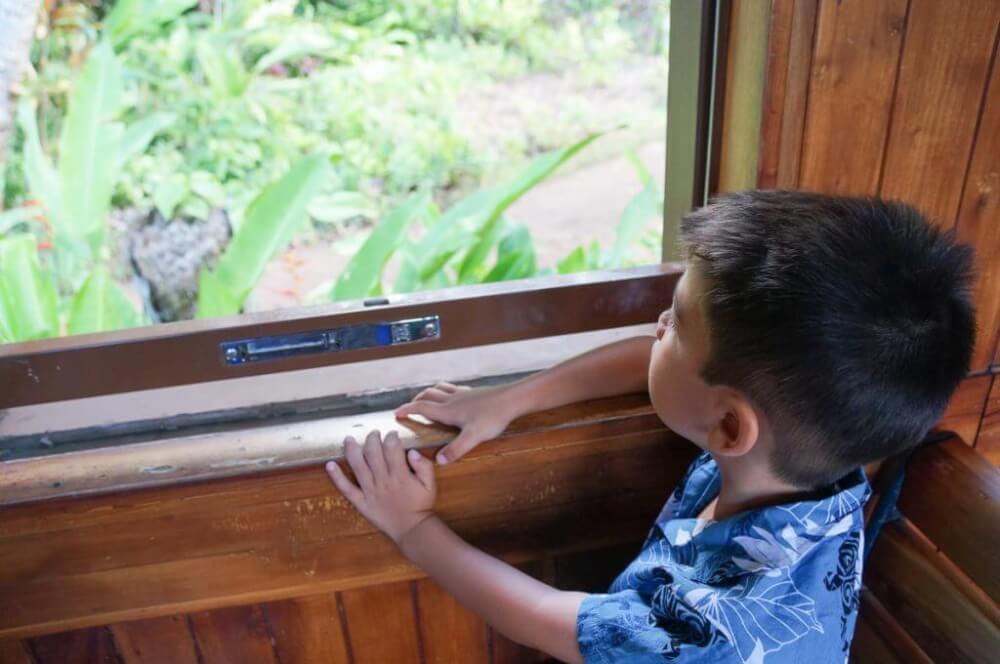 You'll go around the beautiful Kilohana Plantation, where you'll see lots of produce and animals. Plus, you'll learn more about Kauai's plantation days.
Fun fact: this was also a filming location for the 2021 Disney film Jungle Cruise!
KILOHANA PLANTATION HISTORY
Kilohana Plantation is a 105-acre estate that was built by the Wilcox family in 1935.
When Kilohana was completed, it became one of the most expensive homes on Kauai at its time. And it remained so for many years to come! There were parties and celebrations happening all over this place during its heyday; you'll be surprised how extravagant they can get here.
This plantation has since become a Historic Landmark with architecture reminiscent of those found in Hawaii's past plantation period.
As we boarded our vintage train car, we opened up windows, letting us take in some fresh air as we rode through tropical forests. It was really cool to see historic buildings and gardens from different angles along the way!
The train ride was everything I had hoped for and more.
We got to see working orchards with bountiful varieties of fruit trees, vegetable gardens, and lots of rare exotic flowers. Plus, there were hardwood trees that had various shapes and colors growing on them as we rode by.
My preschooler loved seeing animals such as donkeys, goats, sheep, horses, cattle, geese–even a herd of wild pigs!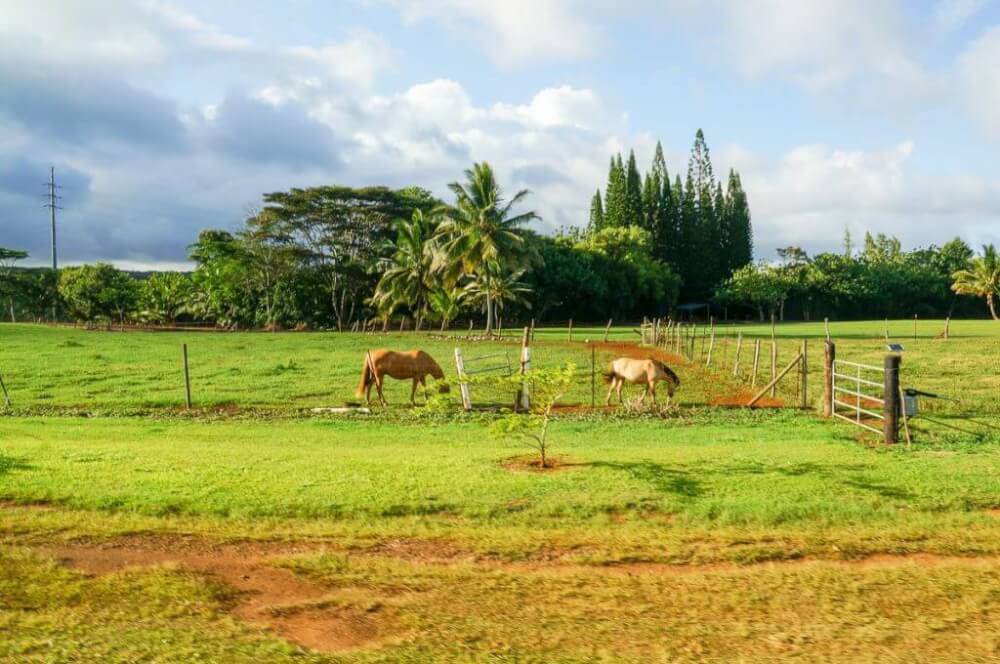 It made it even better because my oldest son, who usually isn't interested in these things, seemed really into the whole experience too, which is so cute considering he's not typically an animal lover.
Insider tip: Sit on the right side of the train if you want the best view of the animals.
FEEDING ANIMALS AT KILOHANA PLANTATION
Partway through the Kauai train ride, we stopped so people could get off to feed goats and pigs.
I was a bit overwhelmed at first as families rushed toward these animals with bread and hot dog buns in hand (provided by Kilohana Plantation Railway).
However, reality sunk in when my preschooler couldn't see anything because he wasn't tall enough for a good vantage point! Luckily, I was able to pick him up so he could get a better look at the pigs.
It's the first time I've seen him really engage with animals too!
However, these animals don't just survive on bread. The Hawaiian cultural tradition of Kauai Luau Kalamaku means there is a lot left over! And the animals at Kilohana Plantation get to enjoy it too.
The leftover food gets given as an extra treat for our happy guests and fellow native wildlife. This helps us keep up with sustainability goals of reducing and reusing what we have on hand. Isn't that cool?
BACK AT THE STATION
We arrived back at the station, but this time we just had to take a few photos in front of our awesome train. I knew my train-obsessed preschooler would be asking to see the photos during the rest of our trip.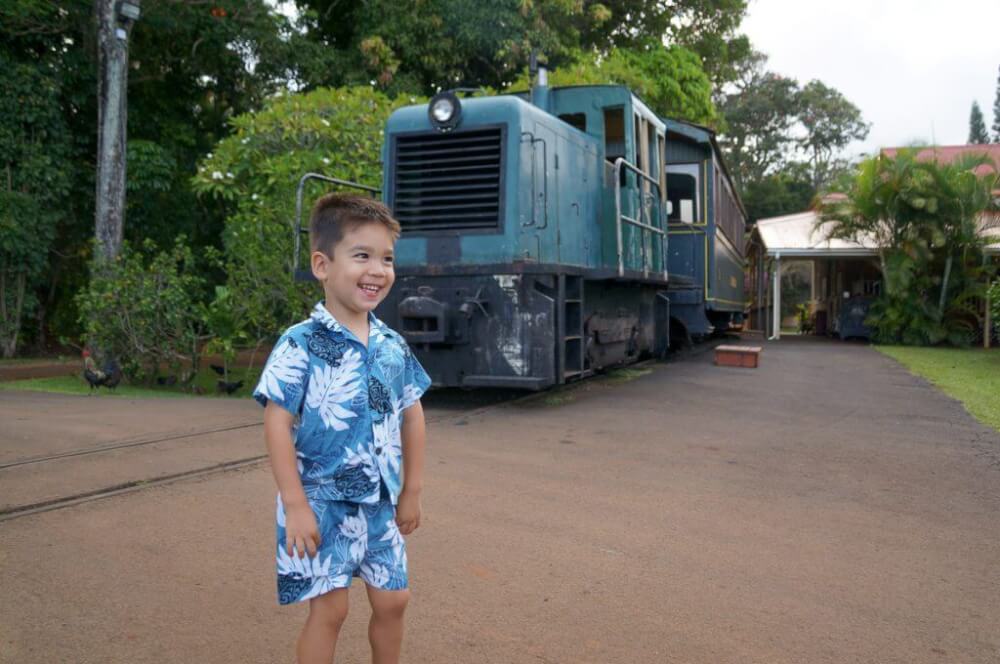 After a few quick shots, it was time to head into the Luau Kalamaku dining area. It's a good thing we did because people at our table were already starting their meals.
The train ride before this Kauai plantation luau is a really unique thing to do on Kauai with kids. And it was a total blast!
If you are looking for a luau with a boat ride, check out Smith's Tropical Paradise.
Luau Kalamaku: One of the Best Luaus on Kauai
The cast of Luau Kalamaku is made up of characters who perform traditional music to tell the story of how Hawaiians originally came from Tahiti.
And if that's not enough, the musicians even make their own drums by hand!
It's such an authentic experience for guests, and it's pretty incredible to hear such amazing sounds coming from every direction.
Here is everything we loved at the Kalamaku Luau Kauai!
PRE-LUAU ACTIVITIES
When you arrive, the cast will greet you with a fresh flower lei and offer an opportunity to take photos.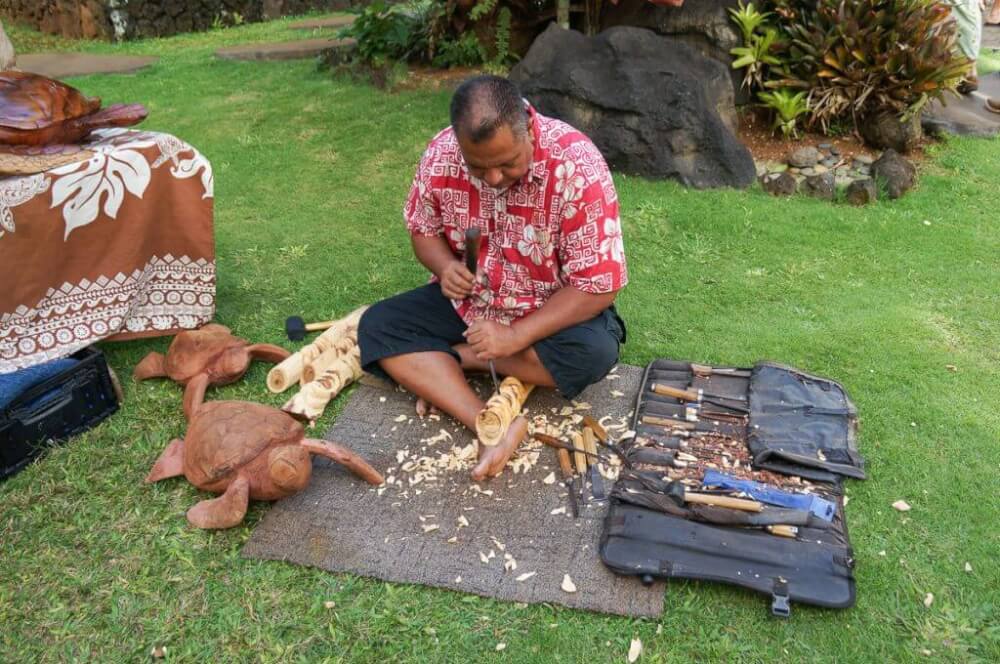 You'll also be able to wander around Kilohana Plantation, where there are artisans working on cool projects and boutique shops for some shopping fun. Or you can even experience traditional Hawaiian culture by attending a traditional imu ceremony!
That's right; they pull out that pig who has been roasting in the oven all day long. And it smells amazing! Is it even an authentic Hawaiian luau without this imu ceremony?
KAUAI LUAU DRINK OPTIONS
I loved the drinks that Luau Kalamaku offered as part of their complimentary unlimited beverage bar. They had a variety of tropical juices and cocktails available, which were all really delicious!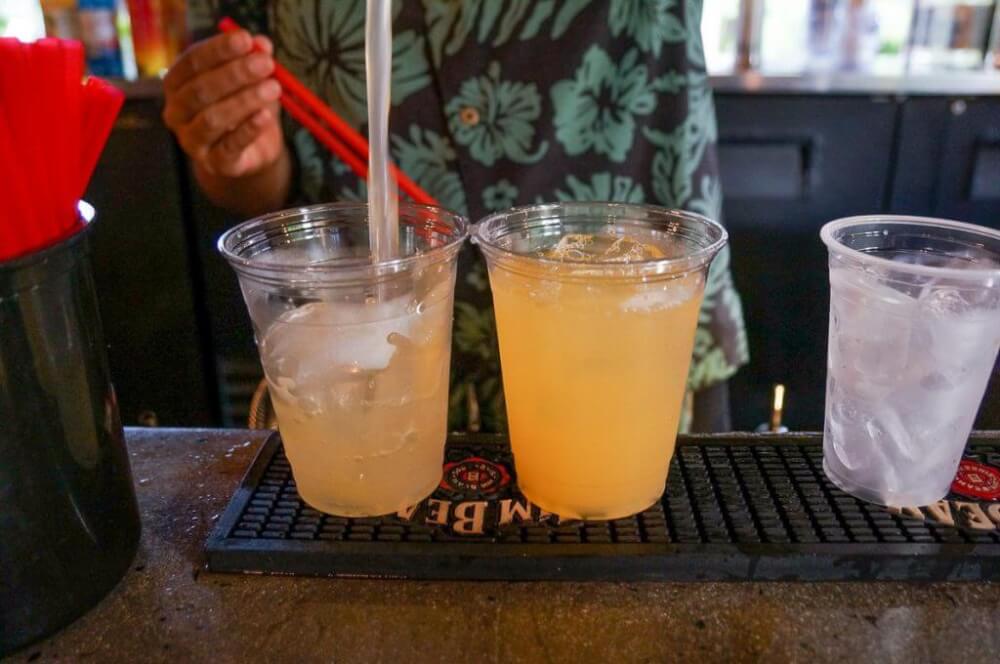 One thing to note is that guests can only get one alcoholic drink at a time. So keep that in mind if you send someone else to pick up some drinks.
FOOD AT LUAU KALAMAKU
As a self-proclaimed foodie, I am constantly disappointed when the fare at Luaus does not meet my expectations.
However, this Kauai Hawaii luau is worthy of mention because it was excellent in all aspects!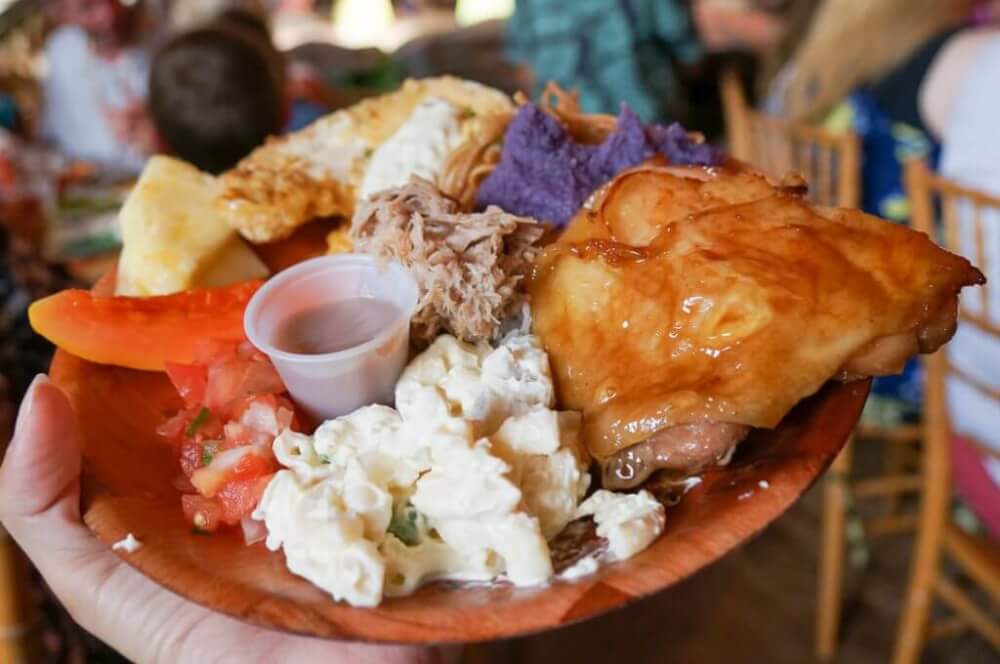 The mashed purple potatoes with coconut milk were an especially nice touch that made me want to go back for more.
There are also many vegetarian options, including macaroni salad, green salad, and fresh fruit, which rounds out their menu nicely. I love that they accommodate guests with dietary restrictions or preferences – how thoughtful!
My personal favorite dish on the menu was the kalua pig and poi. Yummy! But there's something about Hawaiian cuisine that speaks to every single one of your senses, so you find yourself wanting just another bite no matter what else they offer.
And guests are encouraged to go back for seconds with this buffet dinner.
Out of all the Hawaiian islands luaus I've been to, this food was top-notch!
KAUAI LUAU DINNER ENTERTAINMENT
I loved how they did modern Hawaiian hula during dinner and then took an intermission before the theatrical show. I enjoyed watching them dance to familiar Hawaiian music!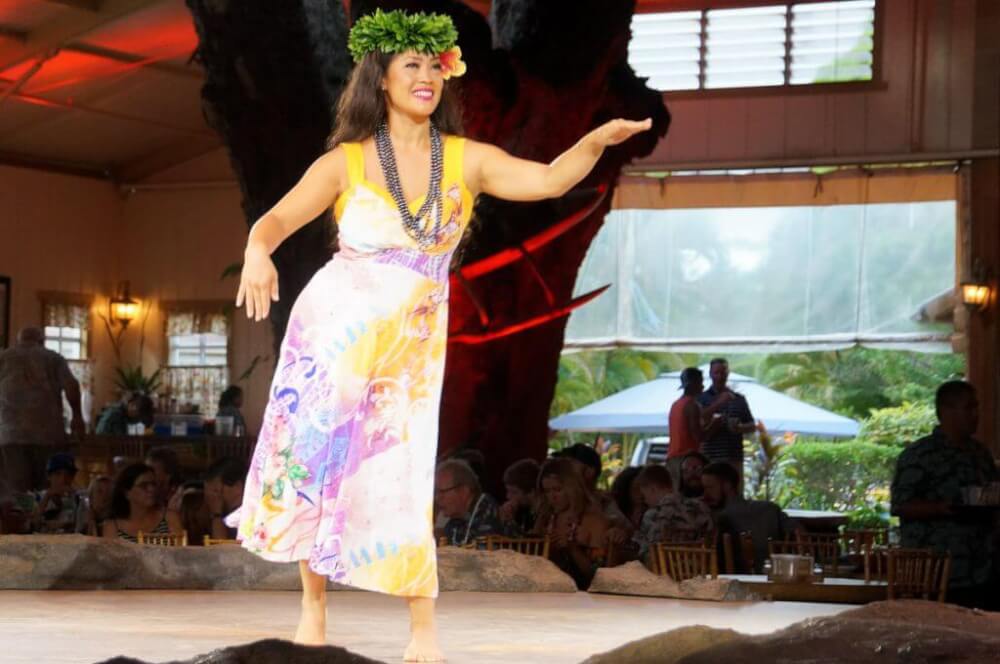 It's like what you would see at any traditional Hawaiian hula show- only this one featured songs about Kauai that were both new and old favorites for anyone who has been there once or twice in their life.
The stage is also round and in the middle of the room, so it brought everything a little bit closer to us. We had these awesome seats off on the side of the room. This gave us such clear views with just some minor chair shifting around our table.
The seating was what helped make this one of the best Kauai luaus!
THEATRICAL SHOW
My kids were mesmerized by the theatrical story. It's no wonder why Lonely Planet named it the Best Luau on Kauai.
My 3.5-year-old sat on my lap after dinner while my 9-month-old watched in amazement with his mouth open wide!
After the first number, my son asked if that was all of them – worried he was getting tired I told him not to worry because there would be many more numbers coming up next. His response? "Good!" He liked this show as much as we did!
I was actually pretty surprised that my 9-month-old and 3.5-year-old stayed engaged for the majority of the show. There was just so much to see, and the music was fantastic.
If it keeps two young toddlers entertained, then you know it is the top luau in Kauai, in my opinion.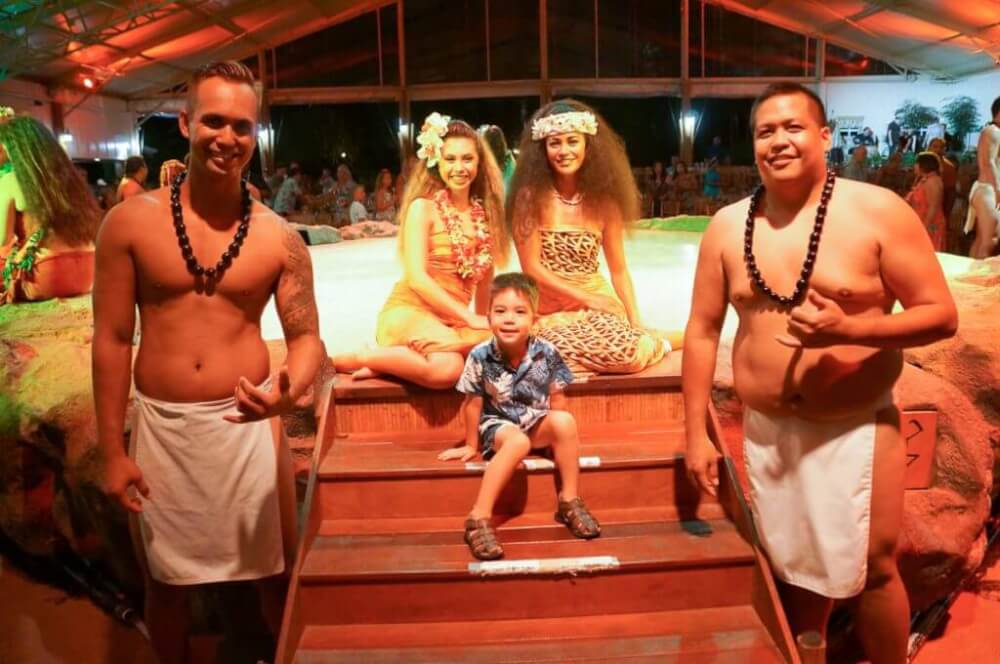 My oldest was so appreciative of the show that he asked to take photos with the dancers afterward. That's high praise coming from him!
6 Reasons Why Luau Kalamaku is a Kid Friendly Kauai Luau
If you are looking for a luau to take your family that is both fun and unique, look no further than the Kilohana Plantation luau in Kauai.
This Kauai luau offers the perfect mix of a mini adventure (a.k.a. the train ride) while also showcasing their signature Hawaiian culture with hula performances.
The best part about this particular Kilohana luau? For those who have children in tow will be glad to know it's been designated "family friendly." You can relax knowing they'll never get bored or restless during the show!
1. THEY GET TO RIDE A TRAIN
If your kids love trains as much as my boys do, then they will be thrilled when you decide to head out on a train adventure.
Train rides are just long enough that it feels like an adventurous journey but not too long, where parents get bored and tired of sitting down for such a long time.
It's also budget-friendly because this is something fun that can happen in addition to the luau or even separately if preferred.
ADULTS: $19.50
KIDS 3-12: $14.00
KIDS UNDER 3: FREE
The Plantation Railway is open 7 days a week and departs at 10 am, 11 am, 12 pm, 1 pm, and 2 pm, with additional tours on Tuesdays and Fridays at 4:30 pm, right before the Luau Kalamaku.
Insider tip: Grab a free mai tai and enjoy it on the train!
2. IT'S KIND OF LIKE MOANA
Luau Kalamaku's theatrical show is about a voyager who sets out on an adventure to Hawaii.
It has all the elements of Disney's Moana with drama, Polynesian drumming, and singing!
There are even real canoes used as decoration that my son thought was actually from Moana's story, which made him very happy.
It's the perfect luau in Kauai for kids who love stories with lots of adventure and excitement.
3. TONS OF HAWAIIAN FOOD
I was confident that my kids would be able to find something they liked at Luau Kalamaku. They tried a little of everything but mostly ate macaroni salad (which is always a safe bet), potatoes, and bread with butter or honey for most of their dinner.
The buffet dessert bar had many different flavors, from chocolate mousse cake pops to coconut cream pie bites, which were all really tasty!
We left feeling full and happy about this Kauai luau experience! The buffet dinner was divine, one of the best luau dinner Kauai offers and on all the Hawaiian islands!
Insider tip: Put a little bit of everything on a plate so your kids can see what they like, and then go back for more of what they'll eat!
4. CHILDREN'S ACTIVITIES
This Kauai Luau is unlike any other luau in the state of Hawaii. Kids get to feed pigs, goats, and sheep on a train ride during their time at Kilohana Plantation. You won't find this at any other luau!
They can also watch an imu ceremony where they see a pig lifted out of the oven underground and partake in Hawaiian games, music, and dancing throughout beautiful tropical gardens.
The cultural activities, hula dancing, and Polynesian entertainment were definitely what made this traditional luau in Kauai amazing.
5. INTERMISSION DURING THE LUAU
When you are potty training or have recently completed the process, intermission offers a great opportunity to take care of your child's needs.
If they need to use the restroom, it is nice knowing that there will be one available for them during the show without causing too much attention.
Parents can also make judgment calls as necessary and decide whether or not their children are able to make it through the full show without feeling guilty about leaving early if needed.
6. IT'S A KID FRIENDLY KAUAI LUAU
Even though it's a theatrical show, families will still see graceful hula dancers, traditional Samoan fire knife dancing, fire poi ball twirlers, and dramatic torch lighting. It shows you all about the Polynesian islands in a fun and interactive way.
Your kids will be awed at this luau in Kauai.
Plus, as a mom of two little kids who are adjusting to the time zone here on Kauai, I appreciated that Luau Kalamaku was finished at 8:30 pm instead of other Kauai luaus, which end later than this one does!
This is also centrally located in Lihue. So parents with babies or toddlers get an easier drive no matter where they want to go: North, South, East, or West.
How to Book this Kauai Luau:
If you are looking for a Hawaiian luau, make sure to reserve your spot in advance! This is one of the best things to do in Lihue!
You can sign up online and get the best deal. Just be aware that if you only want to take the train ride on Kauai, it's easiest just to purchase them when you arrive or book directly through Kilohana Plantation.
Get your Kauai luau tickets down below!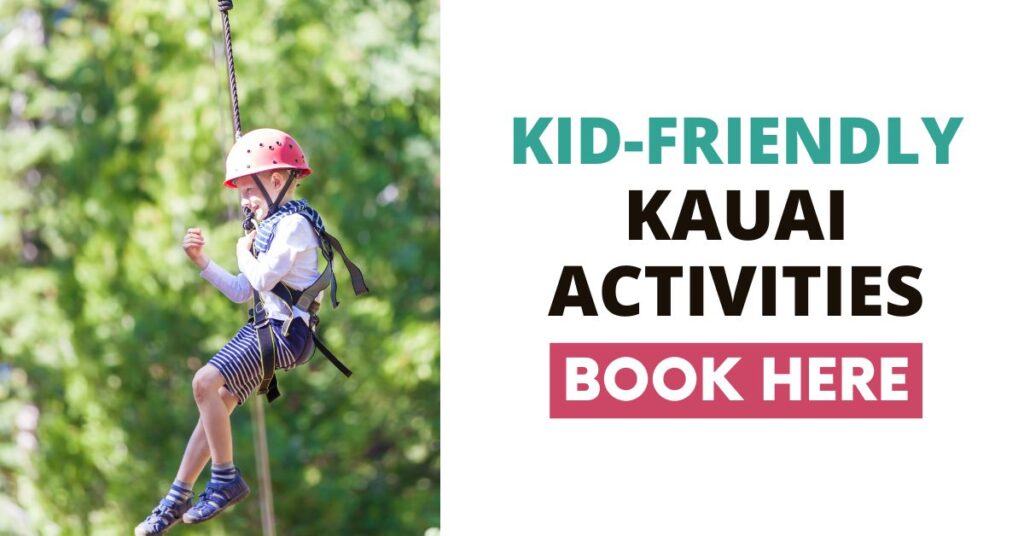 Kauai Luaus FAQs
What should I expect at a Hawaii luau?
A typical Hawaiian luau might include local food such as poi, chicken with teriyaki sauce, haupia (coconut pudding), and kalua pig. You will typically see a traditional imu ceremony as well. There's also drumming, chanting, and singing that goes along with traditional and modern styles of hula. Often times there are hula lessons available for those interested in trying out this beautiful dance form. And some Kauai luaus also offer pre-show entertainment and activities.
What's the best Kauai luau?
There are lots of luaus on Kauai, Hawaii, and they all offer something unique. Luau Kalamaku is the best luau Kauai has for families with little kids who might not be able to stay up very late. Plus, there's a cool train ride that is always a hit with families.
Is it worth going to a luau on Kauai?
I think attending a luau is a great way for families to learn a bit about Hawaiian culture. Kauai has some great luau options that don't feel tacky or too "touristy." If you're looking for fun things to do on Kauai with kids, I highly recommend a luau.
How much does a luau cost in Kauai, Hawaii?
The cost of visiting a luau in Kauai will all depend on what is involved. A cheap luau Kauai might be around $100, while the most authentic luau in Kauai will be more expensive, at around $200.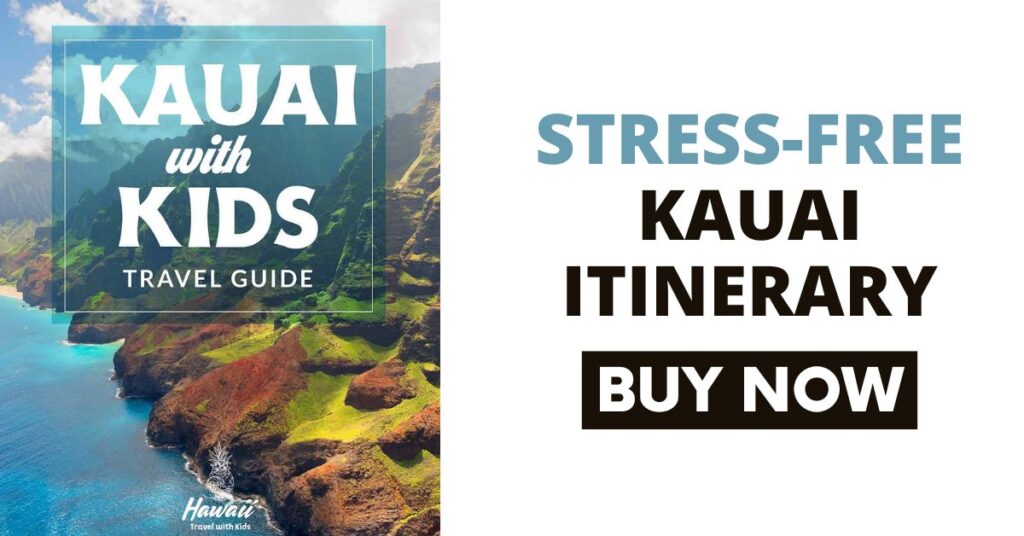 Kauai Best Luau: Luau Kalamaku Wrap-Up
Our family has attended a lot of luaus in Kauai throughout the years, but this Lihue luau always remains a favorite.
Kauai is a beautiful place, and there are lots of options for luaus. You might think that all the luaus on Kauai look alike, but they don't!
Luau Kalamaku has a unique train ride with a theatrical show which makes it one of the best kid-friendly, family-oriented luau on Kauai.
If you want to have an experience like no other, then book this incredible event today before your date sells out!
It truly is one of the best luaus Kauai offers!
Most luaus in Kauai do not offer round-trip transportation, but this one does!
Get your aloha shirts, and head to one of the best Kauai luaus to enjoy Polynesian dances, a delicious dinner buffet, a traditional Hawaiian imu ceremony, hula dance shows, Tahitian drumming, and so much more. Arrive early and explore the plantation grounds.
Your kids will have a blast and so will you!
Kilohana Plantation offered us complimentary train tickets, and Luau Kalamaku offered us discounted luau tickets. All opinions are my own.