Are you curious about renting a timeshare on Kauai? You'll be happy to know there are plenty of Kauai timeshares in gorgeous locations all over the island. Scroll down to learn more!
This Kauai timeshares post contains affiliate links which means if you purchase something from one of my affiliate links, I may earn a small commission that goes back into maintaining this blog.
When you have a popular area like Kauai, there are bound to be people who would like to visit.
Timeshares are one of the best ways to stay in Kauai without owning a piece of actual real estate.
One of the reasons I think Kauai is so popular is that there are endless opportunities to explore.
If you want to buy a timeshare, that is cool, but you don't have to. There are timeshares in Kauai that you can check out.
If you do stay in a Kauai timeshare, you will most likely need to sit through a presentation, but you can always go from there and decide what you want to do.
Don't have time to read a bunch of Hawaii blog posts and reviews? Here are some of our top picks for visiting Kauai.
Popular Kauai Tours/Activities
Favorite Kauai Resorts/Hotels
Grand Hyatt Kauai (this Poipu resort has a luxurious pool area, romantic restaurants, and a stunning ocean view)
Koloa Landing Resort (this is a luxury resort with an amazing pool area and truly spacious rooms)
Royal Sonesta Kauai (we LOVE the pool here because it's the largest one in Hawaii)
Want to Rent a Car in Hawaii?
One of the best places to rent a car in Hawaii is Discount Hawaii Car Rental because they get the best rates from top national companies like Alamo, Dollar, Thrifty, Avis, Enterprise, Budget, and Payless.
Want to skip all the planning and just access my detailed Kauai Itinerary complete with daily schedules, kid-friendly activities, and travel hacks? Click the button below.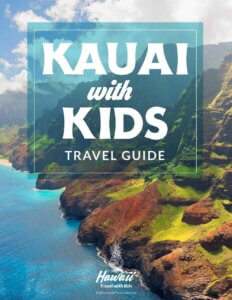 Kauai Timeshare FAQs
Are there any benefits to owning a timeshare in Hawaii?
Yes, if you don't like spending time searching for the right place to stay in Hawaii (or anywhere else), it's helpful to own a timeshare with sister properties you can book. And you have a guaranteed vacation every year.
Is it worth owning a timeshare in Hawaii?
The upfront costs of owning a timeshare are pretty steep and they tend to depreciate. It will save you money to book your own vacations each year vs. owning a timeshare.
What side of Kauai is better to stay?
The North Shore is really beautiful, but it's also the rainier side of Kauai. The South Shore is usually the best bet for sunshine and dry skies.

Find Companies that Rent Kauai Timeshares
The first step to staying in a Kauai timeshare is finding a company that rents these out.
You simply need to get with the companies that rent out the timeshares and from there, you can book your stay.
I'm going to list a few ways in which you can rent a timeshare in Kauai.
Sell My Timeshare Now
While some people are trying to sell their timeshare, there are people who are renting out their timeshare.
Sell My Timeshare Now is a place in which you can book timeshares to stay at. You can look and see what's available.
Airbnb
Did you know you can even rent a timeshare through Arbnb? It's true!
If you are looking to stay at a timeshare in Kauai, then you can book through Airbnb.
Timeshare owners rent out their space through here. It's nice because you have a third party helping you with booking or renting.
Airbnb has a pretty amazing customer service team as well.
The Cliffs at Princeville Resort
One of the best Kauai timeshares on the North Shore is The Cliffs at Princeville Resort. It's part of the larger Princeville Resort and it has amazing ocean views, several golf courses, and lots of nearby adventures.
This timeshare on Kauai is set up with condo that are either a one-bedroom suite or a two-bedroom loft suite. This makes it perfect for families traveling to Kauai with kids. Check out the latest prices and more information.
Kauai Beach Villas
Are you looking to stay at a timeshare in Kauai? Kauai Beach Villas may be the perfect option for you.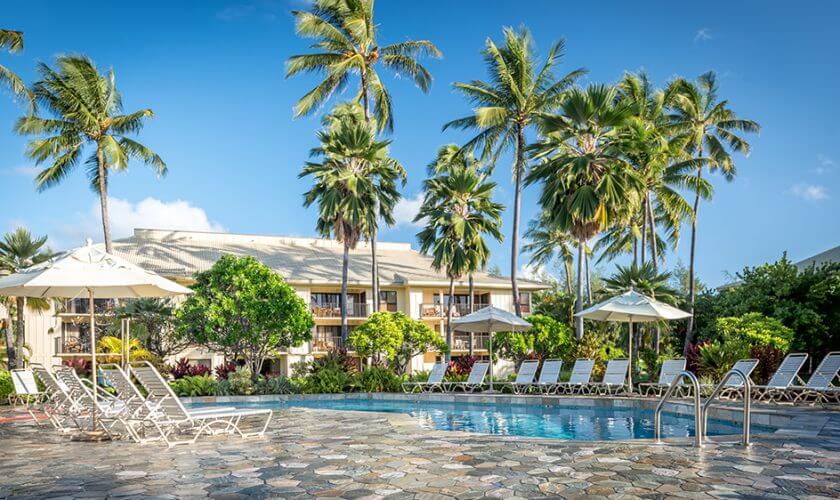 If you want to stay at a timeshare that is close to a beach, pool, and tennis courts, then this is your place to stay.
What I like about this villa is that it's considered to be one of the actual timeshare locations. Check out the latest prices and more details.
Timeshares Resales Hawaii
Let's talk about another place in which you can stay at a timeshare.
This is another one of the legit timeshare options in Kauai. You can find actual timeshares through this company. You can also find a buyer and seller for timeshares.
This unique thing about this platform is that pride themselves on being very informative.
If you are just beginning your timeshare journey, you may find this website very helpful. Timeshares Resales Hawaii could be a great resource for you.
The Point at Poipu
If you're looking to book a Kauai timeshare, then perhaps The Point at Poipu is where you need to stay.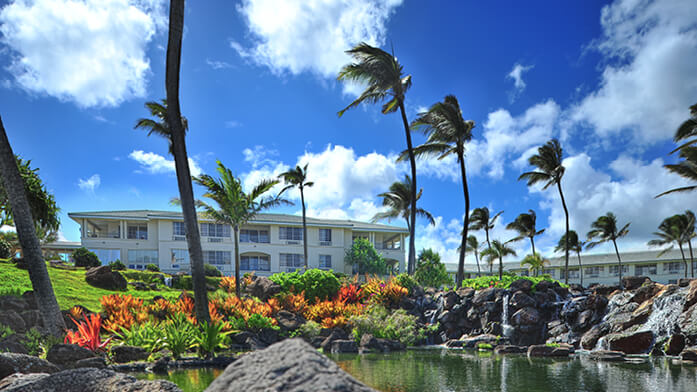 At this location, you get to explore Kauai's South Shore.
This is a resort surrounded by a mountain range and amazing views. There are also tons of options for which room you can stay in. Check out the latest prices and more details.
How to Book a Kauai Timeshare
Are you curious about how you book a timeshare in Kauai?
It's actually very simple to book a timeshare on this beautiful Island. If you desire to book one of the timeshares, you'll need to know how to do it.
Let's get started!
Know Where You Want to Stay on Kauai
I think if you are going to stay at a timeshare in Kauai, then you need to know where to stay.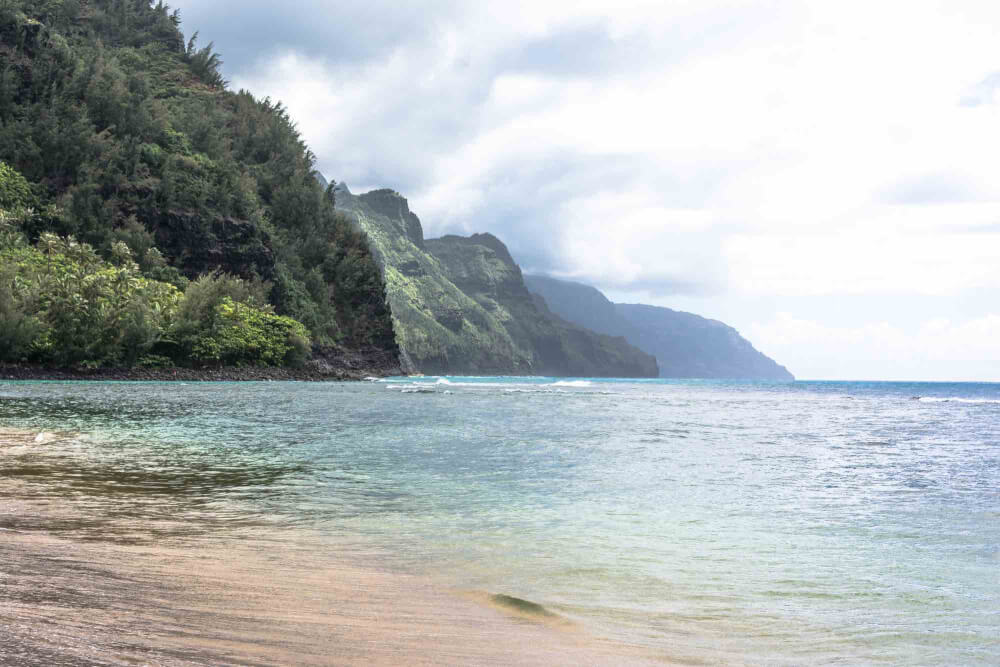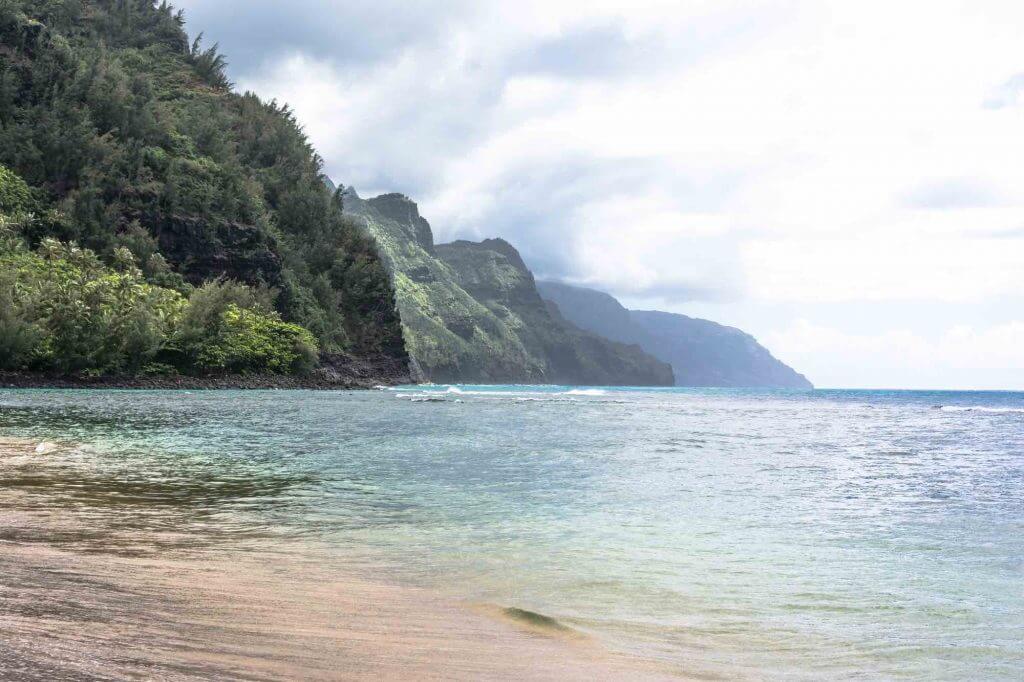 Kauai is a big Island.
In Kauai alone, there are over 75,000 people that live in the county.
While the growth rate of those who live here has gone down, the amount of people who come here to visit has not.
Pick a place on the Island that you want to stay and then base your timeshare booking off of that.
You don't want to spend extra time in the car traveling if you don't have to.
So, my first advice to you is to know where you want to stay.
Talk to Someone You Can Trust
When it comes to booking a timeshare, you really want to talk to someone you can trust.
I always go off of a timeshare that I know my friends or family have stayed at before.
I go with my gut and book something I think my family will love.
There is no shortage in the number of timeshares you can book in Kauai.
Allow Plenty of Time
I think that a lot of times, people wait too long to book something like a timeshare.
If it comes down to it, you need to allow plenty of time for the booking. If you think there is a chance you will need to rebook or cancel your trip, always buy travel insurance.
Why Do People Stay at Kauai Timeshares?
You have to remember that Kauai is a very touristy area. There are always people coming and going. It can be hard to find a place that you enjoy staying at.
Timeshares offer a new sort of area to stay in.
It's not a hotel and it doesn't have to be a timeshare that you own. Timeshares are a great way to experience resorts and amenities that you can't get elsewhere.
How Do I Buy a Kauai Timeshare?
If you are interested in buying a timeshare in Kauai, there are several options.
You will want to go to the presentation offered by one of these lovely resorts. They have all the information that you will need to know in order to buy a timeshare.
Sometimes they offer incentives for buying a timeshare too!
Conclusion on Kauai Timeshares:
If you are looking for a timeshare in Kauai, my advice would be to follow along with these times.
If you are wanting to rent a timeshare, there are plenty to go around.
There are private owners that rent out their timeshare and there are companies that rent, buy, and sell timeshares.
You really just want to do your research and figure out what path works best for you and your family.