Are you planning a trip to Kauai and want to know some fun Kauai activities to add to your itinerary? Find out the best things to do in Lihue, the capital of Kauai.
This list of the best fun things to do in Lihue Hawaii contains affiliate links which means if you purchase something from one of my affiliate links, I may earn a small commission that goes back into maintaining this blog.
Are you visiting Kauai, Hawaii and looking for the best things to do in Lihue? The Kauai airport is located in Lihue, so most people start out here.
And while the entire island has some of the most beautiful landscapes in the world, don't underestimate the city of Lihue! Because it's the first stop for tourists, there are many top-notch activities for every interest.
In fact, there are so many things to do in Lihue that it can be hard to know where to start! That's why I'm going to share 27 of my favorite places in Lihue.
Think of this as your ultimate guidebook before you go travel to Lihue, Kauai. Whether you spend your entire time in Lihue or are just passing through on your way to/from the airport, you'll find some fun things to add to your Kauai itinerary.
Don't have time to read a bunch of Hawaii blog posts and reviews? Here are some of our top picks for visiting Kauai.
Popular Kauai Tours/Activities
Favorite Kauai Resorts/Hotels
Grand Hyatt Kauai (this Poipu resort has a luxurious pool area, romantic restaurants, and a stunning ocean view)
Koloa Landing Resort (this is a luxury resort with an amazing pool area and truly spacious rooms)
Royal Sonesta Kauai (we LOVE the pool here because it's the largest one in Hawaii)
Want to Rent a Car in Hawaii?
One of the best places to rent a car in Hawaii is Discount Hawaii Car Rental because they get the best rates from top national companies like Alamo, Dollar, Thrifty, Avis, Enterprise, Budget, and Payless.
Want to skip all the planning and just access my detailed Kauai Itinerary complete with daily schedules, kid-friendly activities, and travel hacks? Click the button below.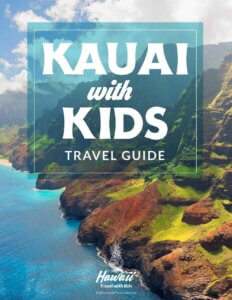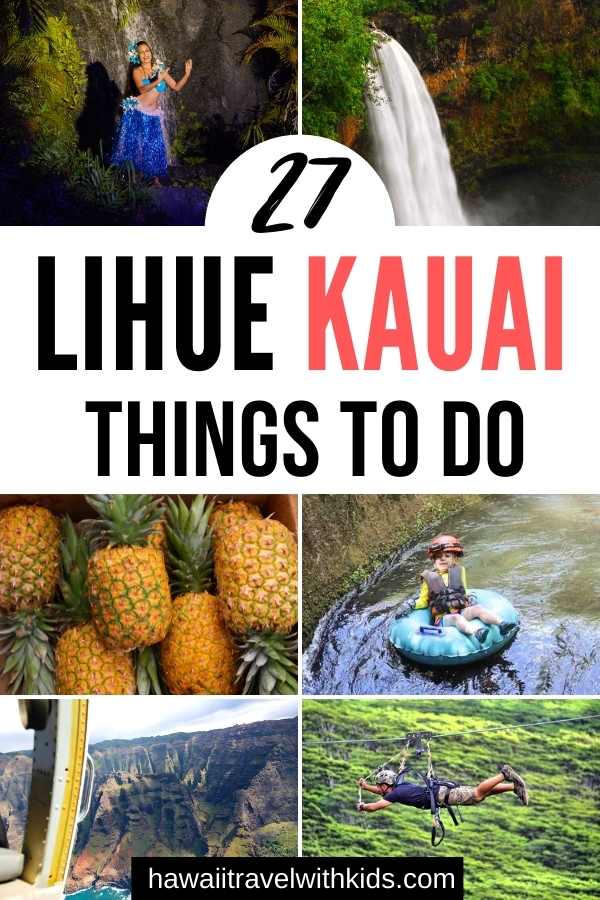 Best Things to do in Lihue
Planning a trip to Kauai and want to check out Lihue activities? You're in luck! Here are some of my favorite things to do in Lihue, Kauai!
1. Relax at Kalapaki Beach
Out of all the beaches in Lihue, Kalapaki is by far my favorite. This beach is a popular spot for sports like swimming, body surfing, and surfing. And the waves are usually gentle enough to enjoy with your kids.
The clear water will rejuvenate you, so I highly recommend that you visit at least once during your stay at Lihue! Plus, you can grab food at Duke's Barefoot Bar, which is just steps from the beach.
Tired of your view from the ground? Look down at Kauai's diverse terrain on a new Eurocopter Eco-Star helicopter and see for yourself. It will be the best Lihue sightseeing you'll do.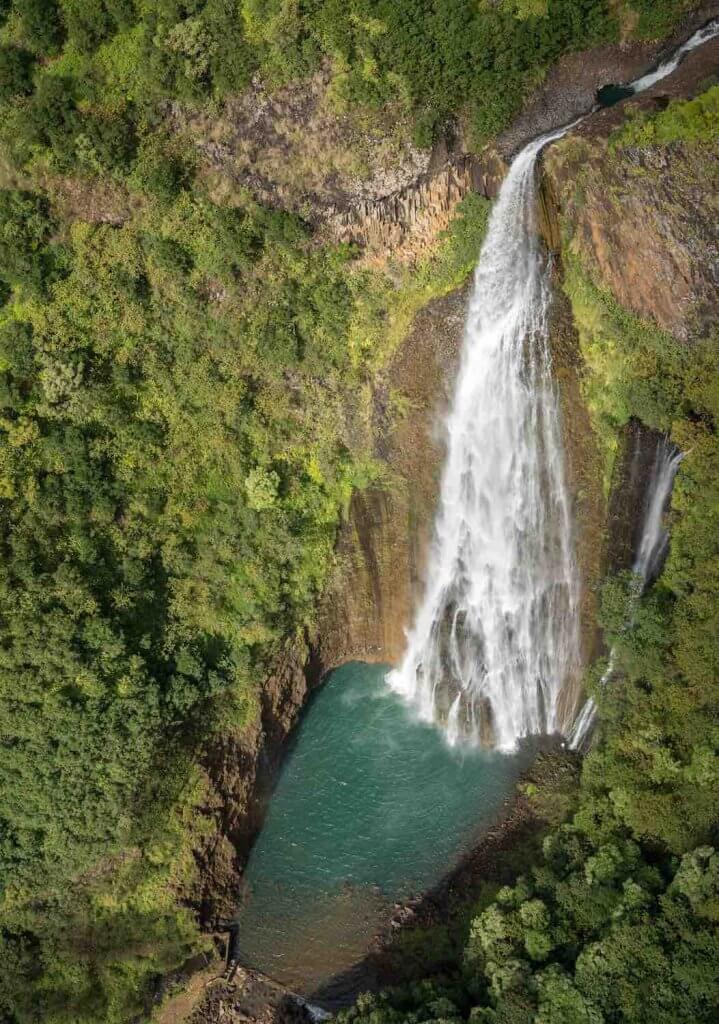 Soar over Mt. Waialeale, Waiapuna Waterfalls, Waimea Canyon, and Jurassic Falls. You'll be in awe of the emerald spires of Na Pali Coast from an unforgettable perspective that few people get to experience!
This 50-minute flight with two-way radio communication and viewing glass is perfect for those who want more than just a look around. It also makes a great gift with memories that will last forever. Check latest rates and more information.
3. Check Out an Independent Toy Shop
If you're heading to Kauai with kids, it can be helpful to know where the toy stores are.
My family likes to shop locally, so we geeked out when we found Beachrail. They have a huge selection of model trains (new and vintage), airplane kits, animal figurines, and so much more.
For families with younger kids, definitely head to Small Fry Kauai. They have the cutest locally made wooden toys and adorable kids' books.
Shopping here is definitely one of the best Lihue Kauai things to do when you have little kids with you.
One of the top things to do around Lihue is explore the natural beauty of Kauai's Wailua River.
You can take an adventure tour for a day full of hiking, kayaking, and swimming under waterfalls. And the Wailua River was actually a filming location for the new Disney movie Jungle Cruise!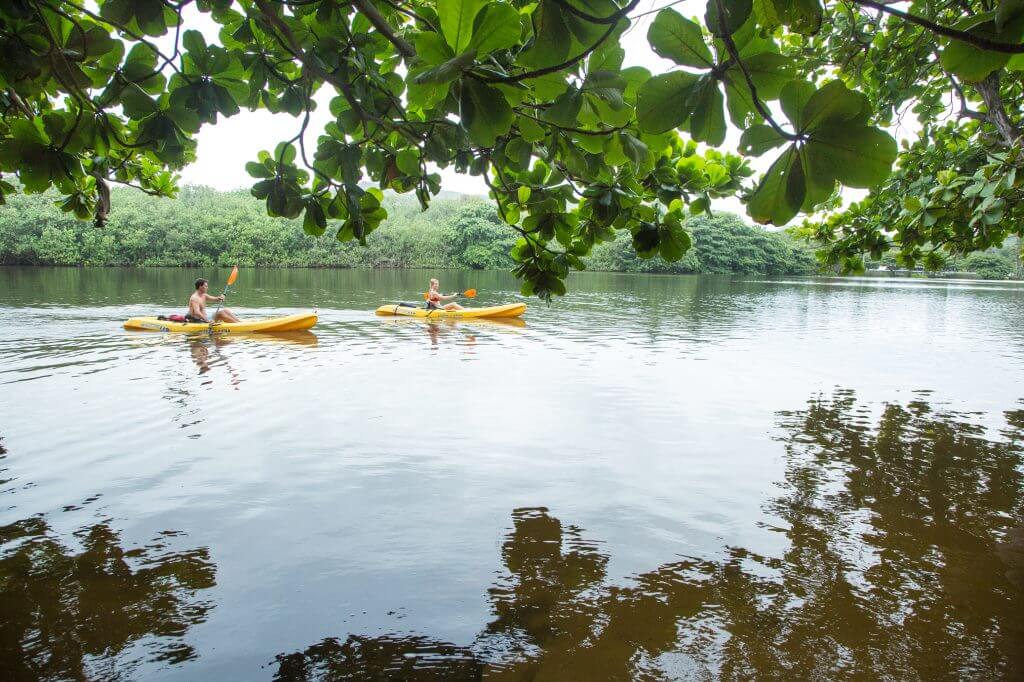 Enjoy a leisurely paddle down this sacred river surrounded by lush tropical scenery. Then you'll disembark for an easy nature hike to enjoy refreshment at one of the many wondrous waterfalls in Hawaii's Garden Isle.
Refuel during your day-long journey through paradise before taking time out from adventuring to dip into refreshing pools below cascading falls. Soak up some relaxation amidst serene surroundings! Check latest rates and more information.
5. Taste a Plate Lunch at Mark's Place
If you're looking for some of the best food in Lihue, definitely make a stop at Mark's Place. They serve up authentic Hawaiian plate lunches and their food is incredible!
Mark's Place is located in the industrial district of Puhi. It's tucked away from the main road, but it's totally worth it. This is by far one of the best places to eat in Lihue.
We like their loco moco and beef stew, and you can get Spam musubi there. They also have a nice assortment of baked goods. You can eat your food at one of their picnic tables, take it to a local beach, or bring it back to your hotel.
Kauai's mountain tubing adventure is one of the most popular things to do in Kauai. My family loved it and it's definitely one of the best Hawaii hidden gems.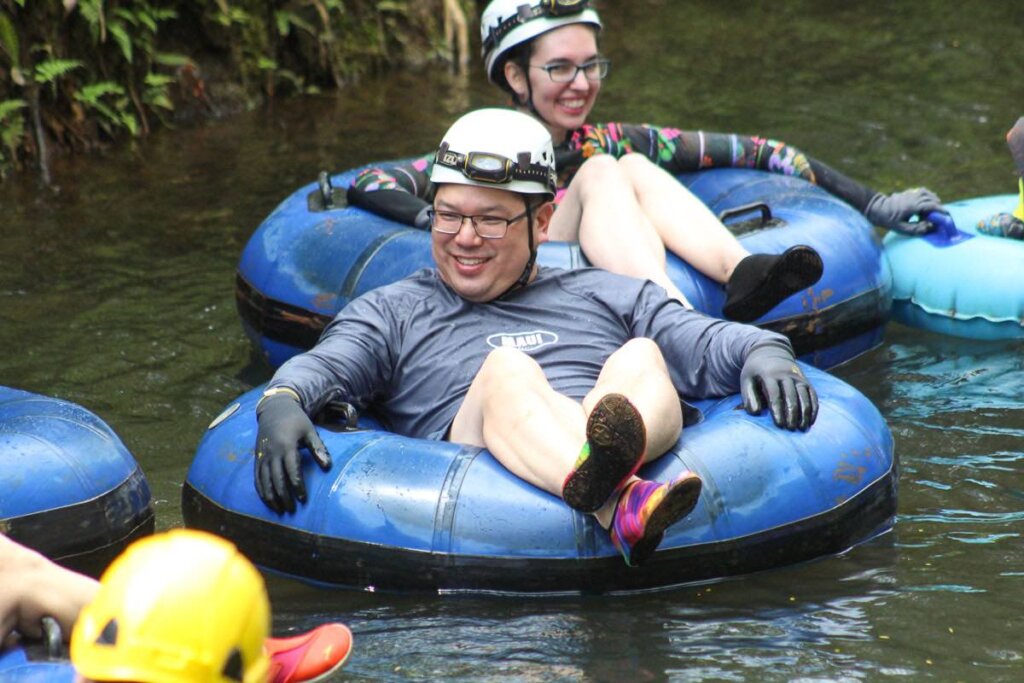 It's exciting to zoom down miles of irrigation canals on your inner tube float trip through Old Lihue Sugar Plantation ditches! Mountain tubing lets you see a different side of Lihue and there are pretty waterfalls along the way.
Kids as young as 5 years old can participate, which makes this an awesome thing to do on Kauai with kids. Just keep in mind that this family-friendly activity is frequently sold-out weeks in advance! Check latest rates and more information.
Click to see our full Kauai Mountain Tubing review.
Kauai Museum is a place of history, discovery, and experience. The museum reflects the heritage and artistic achievements of indigenous people from the Kauai & Ni'ihau Islands. It's one of the best things to do on Kauai when it's raining.
Walk through time in paradise as you explore the early days of life on the islands. And you'll learn about when Captain Cook first landed in Waimea in 1778!
Don't forget to check out the Kauai Museum gift shop, and find out about cultural events they host throughout the year. I think this is one of the most underrated Lihue attractions. Check latest rates and more information.
8. Take a Train Ride
Families of younger kids will definitely want to set aside time to ride the Kilohana Plantation Train. It's one of our favorite Lihue tourist attractions, and we do it almost every trip.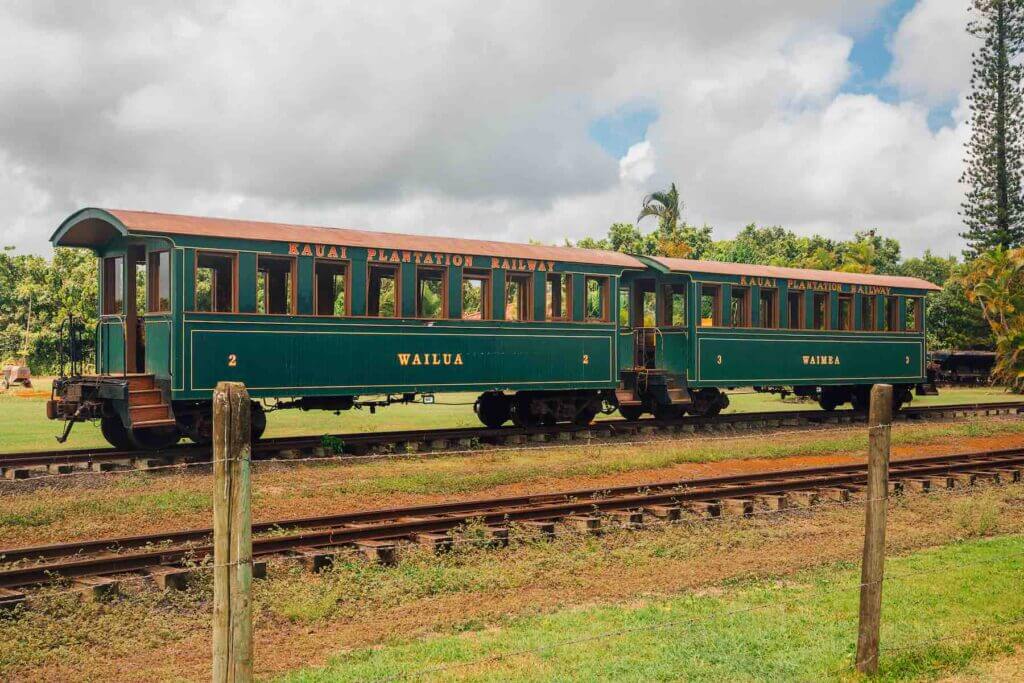 It does a little loop around this historic plantation, and you'll get to see all kinds of tropical fruit along the way. The really cool part is that you'll even have the opportunity to get off the train and feed animals during this Lihue tour!
What's extra cool is that Kilohana Plantation was featured in the 2021 Disney movie Jungle Cruise!
Pro tip: If you time it right, you can combine this train ride with Luau Kalamaku.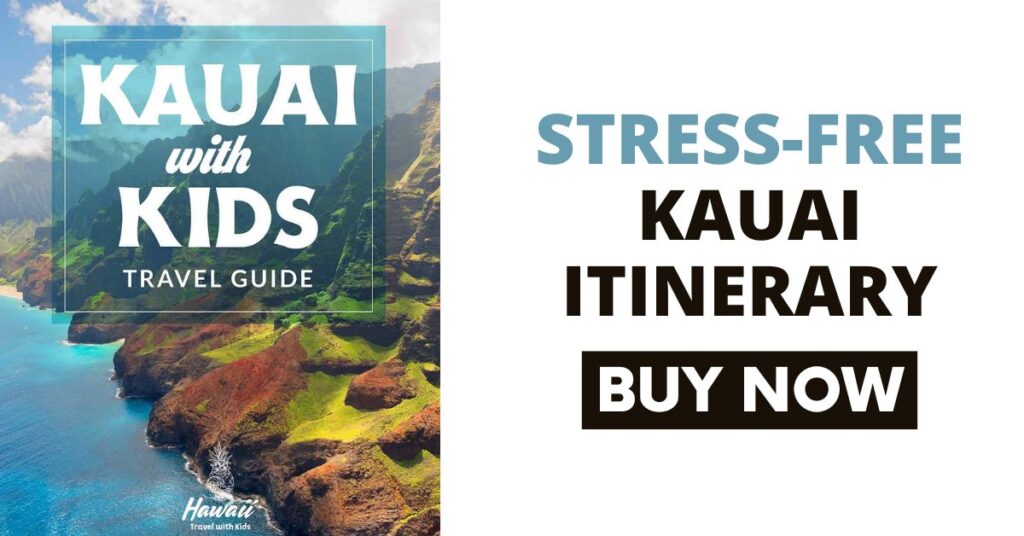 9. Taste the Best Malasadas in Hawaii
The Kauai Bakery was recently awarded the title of "Best Malasadas in Hawaii."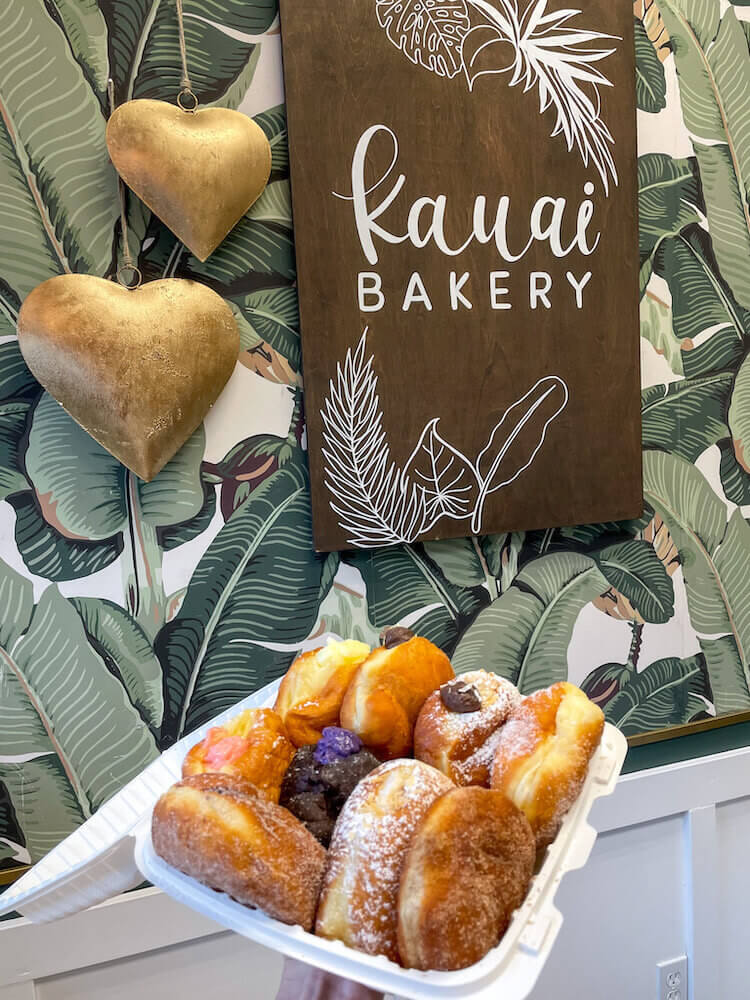 Malasadas are Portuguese donuts that have been a staple in Hawaii for decades. They look like giant donut holes, and you can even order them filled with all kinds of tropical fruit and cream fillings. Although it's hard to beat the classic ones with just sugar and cinnamon.
Not only are the malasadas super tasty, but the bakery itself is pretty Instagrammable. You'll definitely want to add this stop to the list of Lihue things to do during your trip.
Another one of the top things to do in Lihue is fly with one of the safest air tours in Hawaii. Expert plane pilots take you over stunning scenery, flying low and slow for the best viewing!
Their most popular Kauai tour encompasses the entire Garden Island. You'll board a 6-passenger GA-8 Airvan with an air-conditioned cabin and wear noise reduction headsets.
The aircraft is very spacious (there are no "middle" seats). And every seat has a large bubble window specifically designed for sightseeing and photography. That means everyone can enjoy the view!
Some of the sights you'll see on your flight include the majestic Waimea Canyon and the Na Pali Coast. They also include views of the Wailua River, Kapaa, Mt. Waialeale, Hanalei Valley, and Poipu. Check latest rates and more information.
11. Go Shopping
Kauai offers an array of shopping opportunities for tourists, from small shops and country stores to larger retail malls. And there are lots of great places for shopping in Lihue, Hawaii.
Make sure you take some time out of your vacation (or even do a day trip) to pick up Kauai's many local products. You'll find Aloha wear, jewelry made by Hawaiian artisans, and much more!
The largest mall on Kauai is the Kukui Grove Center. There's also a Hilo Hattie store where you can find matching Hawaiian outfits for your family.
Book a Family Photo Shoot
Whenever we travel to Hawaii, we almost always book a family photo shoot with Flytographer. They are super easy, affordable, AND it guarantees that I'll be in some photos. You can get $25 off if you book through this link or use the code HAWAIITRAVEL.
12. See Wailua Falls
One of the most popular Kauai waterfalls is Wailua Falls. That's because it's easily accessible and often featured in magazines. It's one of the top spots for sightseeing in Lihue.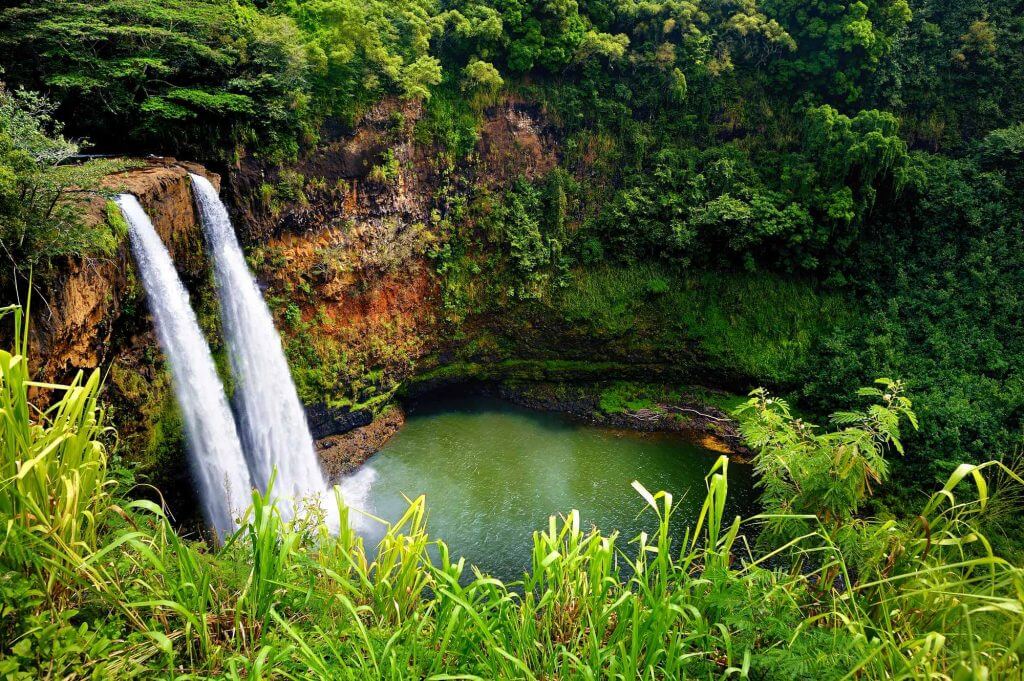 The falls are also famous for being a symbol of Kauai's beautiful landscape, having been featured in the opening credits of the classic TV show Fantasy Island!
Right by a large parking lot, this is a quick stop to snap a selfie in front of a beautiful Kauai waterfall. Or, if you're feeling adventurous, you can also a hike down to the bottom of the falls.
Since it is easy to get to this waterfall, it is one of the best Lihue Hawaii things to do, even if you planned a shorter trip!
Enjoy a Hawaiian tradition with Smith's Tropical Paradise Luau. They're located at their family garden in Wailua and feature a delicious luau buffet feast!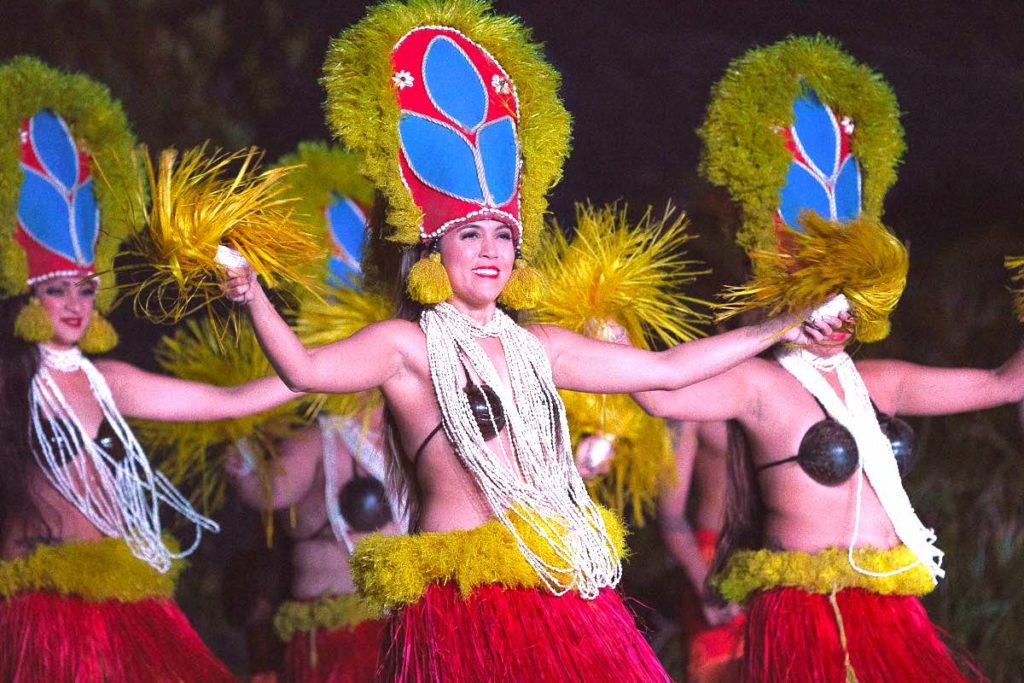 This Smith Family Garden Luau includes authentic performances from Hawaii, Tahiti, Samoa (exciting Fire knife dance), the Philippines, and Japan.
Already have dinner plans? You can still book the luau "Show Only," skip the buffet, and only attend the inspiring performance about Aloha. Check latest rates and more information.
Click to see my full Smith Family Luau review.
14. Have Breakfast at the Tip Top Café
For the best breakfast in Lihue that will take you back in time, head to the Tip Top Café. This is a great place to get homemade pancakes topped with fresh pineapple or bananas, macadamia nuts, and even guava jam.
This is everything you need from an old-school Kauai diner. I mean, they've been in business for more than 100 years for a reason!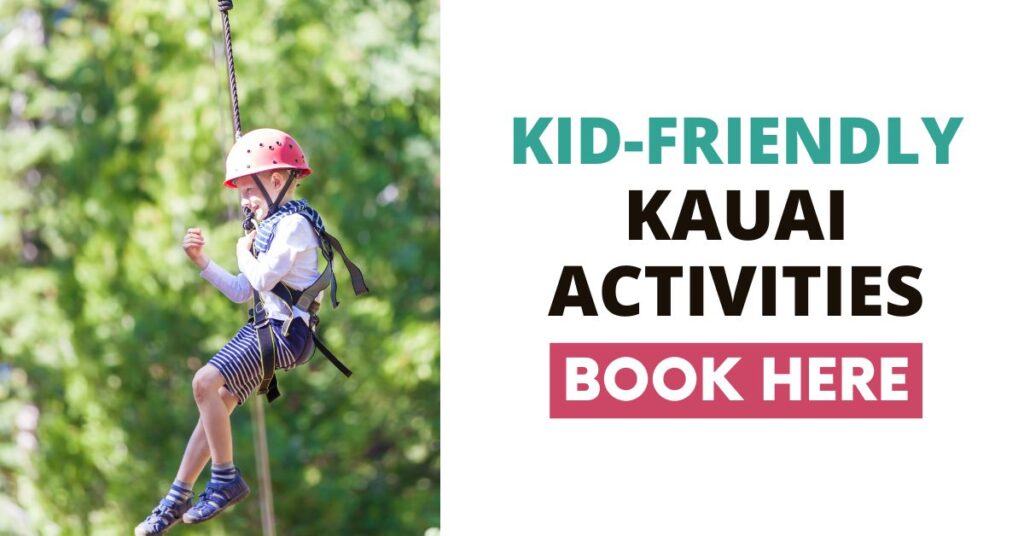 Take a surf lesson in Kauai with the help of an expert guide. The small group lessons will have you surfing waves like a pro in no time!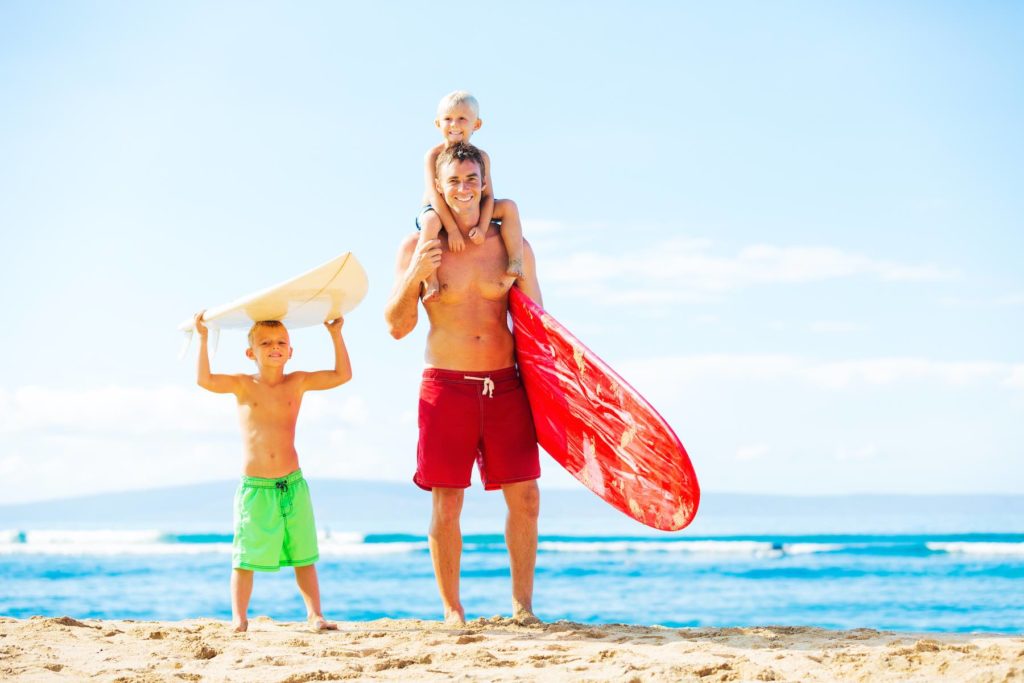 Whether visiting Kauai by plane or cruise ship, Kalapaki Bay is conveniently located close to both locations.
Children 10 years old and above can participate, and all guests must know how to swim for safety reasons. Swimsuits, towels, and sunscreen are required items needed to bring. And don't forget your camera as this experience may be one worth sharing on social media! Check latest rates and more information.
16. Go Golfing
If you like to golf, Kauai is the perfect place to visit. The island has some of the world's best courses. You can play at beautiful resorts or affordable independent courses surrounded by lava rocks while mountain ranges frame their view.
There are 9 courses at 7 locations on this tropical gem, so you don't have to worry about getting bored with your game! In Lihue, try the Puakea Public Golf Course, Wailua Municipal Golf Course, or Ocean Course at Hokuala.
17. Try Hamura Saimin
Hamura Saimin is Kauai's most famous noodle restaurant. They are best known for their saimin and lilikoi chiffon pies. And it's a total mix of tourists mixed with locals here!
Hamura makes their own noodles nearby at the family factory, where they also make broth from shrimp, chicken, pork, and scallops. It's conveniently located near Lihue Airport, so be sure to stop by before or after your trip to Kauai.
18. Check Out The Grove Farm Homestead Museum
The Grove Farm Homestead and Sugar Plantation in Lihue is a 100-acre historic site and a fascinating example of Hawaii's past. You'll experience what life was like during Hawaii's plantation era over a century ago when Kauai was booming.
Visitors can visit the gorgeous old Wilcox home or wander through lush tropical gardens and rolling green lawns. It's fun to enjoy what it may have been like for those living during this period.
I think this is one of the coolest tourist attractions in Lihue for history buffs.
19. Visit a Farmer's Market
One of the best ways to shop local is to support Kauai's farmers. There are three farmers markets in Lihue, Kauai:
Kukui Grove's small market is open every Monday at 3 p PM. The County sponsored larger one at Kukui Grove is on Fridays starting at 3 PM. And there's also the farmers market at Vidinha Stadium that opens at 9:30 AM every Sunday.
Many of these Kauai farmers markets offer free samples of fruit, plus there are usually yummy baked goods! It is one of the Lihue Hawaii activities you definitely don't want to miss out on.
Embark on a 2-mile round-trip riverboat cruise along the Wailua River and enjoy breathtaking views of Kauai!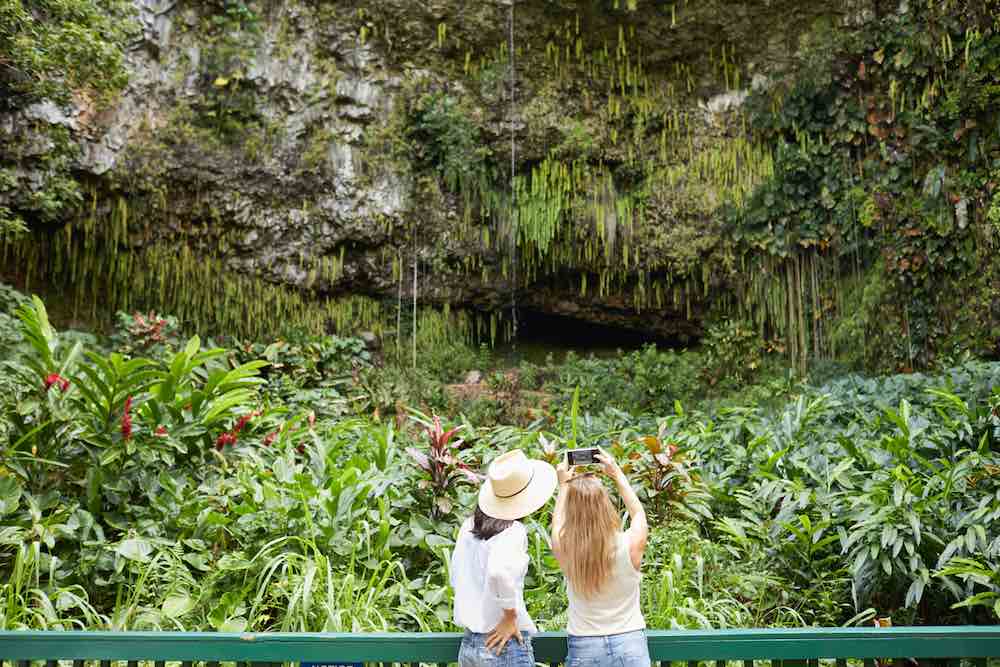 The Wailua River is known as "the only navigable river" in all of Hawaii, and its freshwater comes from Mount Waialeale.
This part of Kauai gets some of the most rainfall anywhere on earth land. And the fertile soil all around the Wailua River was considered sacred to ancient Hawaiians.
Climb aboard Smith's Fern Grotto Cruise for an experience you won't soon forget. You'll explore beautiful, lush landscapes while listening to Hawaiian songs and stories told by your tour guide.
It is one of the more unusual things to do in Kauai, but so much fun! Check latest rates and more information.
See what we thought of our Fern Grotto boat tour.
This Downtown Lihue Tour showcases the agricultural connection to the food on the island. It includes local tastings from restaurants that source their produce and meats locally. You'll try fresh fish, burgers, fruits, and vegetables.
Start off with some Hawaiian-infused Mexican food. Then continue your culinary romp through the town of Lihue. You'll taste farm-to-table restaurant cuisine, meet local chefs, and visit Kauai's best brewery.
This is a unique opportunity for visitors to understand the local saying, "Kauai eats!" This is one of the top tours in Lihue worth checking out. Check latest rates and more information.
Canoe surfing is a sport that's been practiced in Hawaii for centuries! It combines the fun and thrill of canoeing with catching waves on boards.
Best suited for kids at least 6 years sold, this activity can be found at Kalapaki Beach. This is also where you'll find skilled watermen who are happy to guide beginners through their first time out! Check latest rates and more information.
23. Visit Opaekaa Falls
On the way to Opaekaa Falls, a scenic lookout awaits visitors with an excellent view of this cascading waterfall. The convenient stop offers access to picnic tables and restrooms. It's the perfect spot to relax and take in the beauty of nature.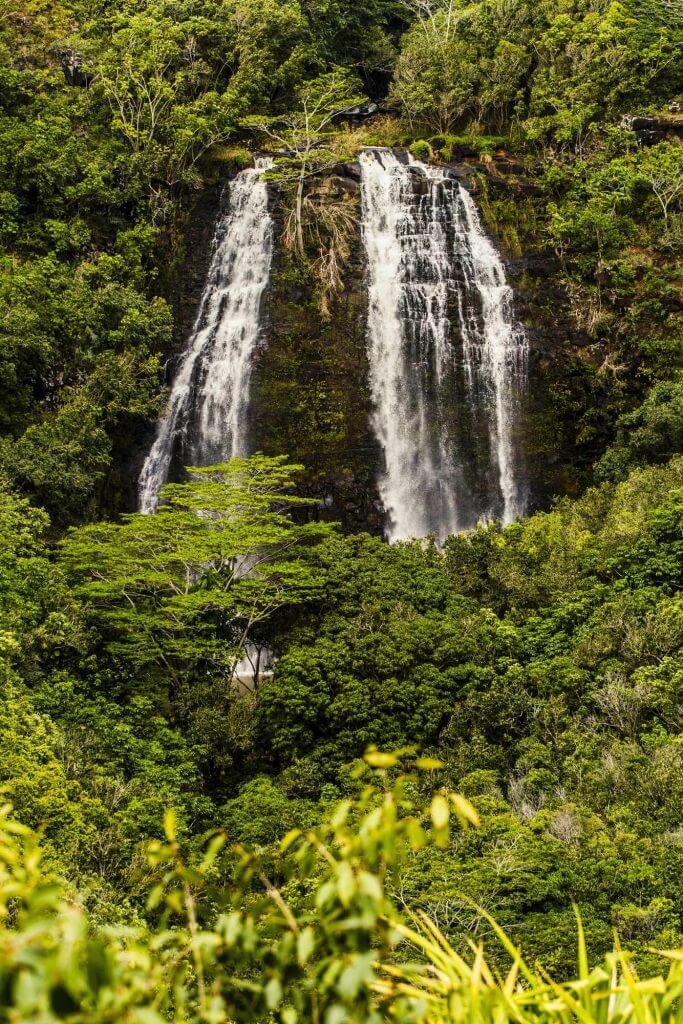 This 151-foot tall 40-foot wide cascade is easily one of Kauai's most accessible major waterfalls and has some incredible views. The waterfall's name, "Opaekaa" was named after the rolling shrimp that were abundant, here once upon a time!
While you're here, walk across the street for another great vantage point with more great scenery. You can see the Wailua River valley below and interior plains beyond – both equally stunning! This is one of the top things to see in Lihue!
24. Try Hula Pie at Duke's
One of the most famous desserts in Hawaii is Hula Pie, and it can only be found at a few restaurants on the islands. My favorite place to get it is at Duke's at Kalapaki Beach.
Hula Pie is made with a chocolate cookie crust and rich macadamia nut ice cream, all topped off by hot fudge! The dessert comes complete with whipped cream to give it that extra soft texture. The portions are massive, and (unfortunately) it's meant for sharing.
Soar over lush valleys and pristine rainforests in the heart of the Garden Isle on this Kauai Backcountry zipline! This is one of the top things to do near Lihue!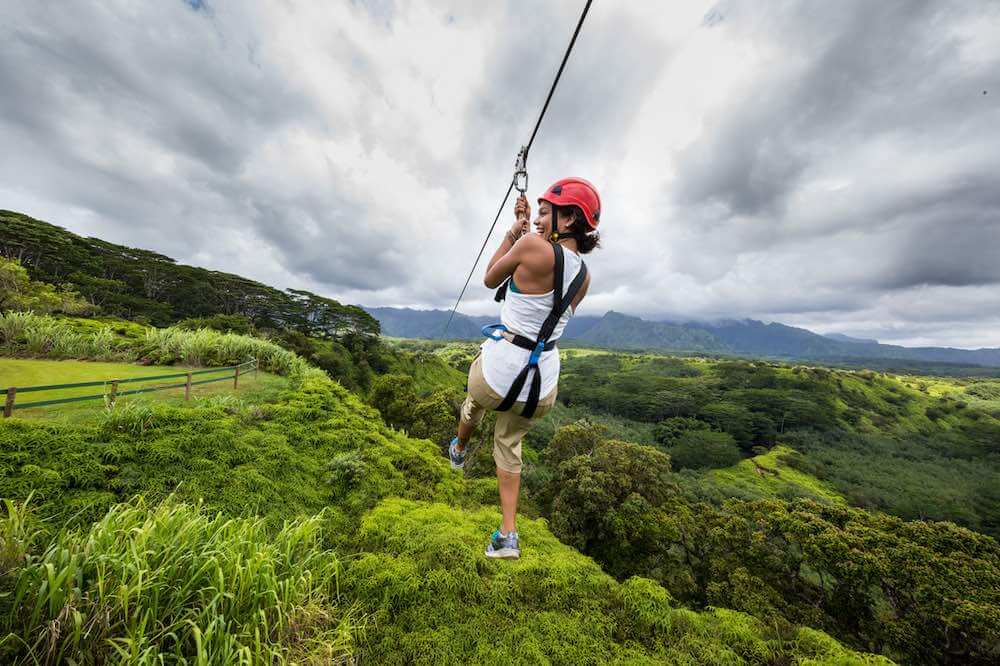 Take a 4-wheel drive through a private sugar cane plantation, zip 7 lines descending a mountainside, and swim in an invigorating stream. Your zipline adventure begins with a fun excursion into nature's most magnificent sites by way of your trusted 4-wheeler.
Along the tour, you'll be given some interesting information about Kauai: its history, culture, and natural beauties. Then jump into one of many refreshing swimming holes to cool off from that hot Kauai sun! Check latest rates and more information.
26. Taste Koloa Rum at Kilohana Plantation
The Koloa Rum Company Tasting Room, which is right next to their store, offers daily scheduled tastings of its award-winning rum every half-hour so that you can taste history come alive with a smooth Hawaiian flavor.
Spirits from this company are made from only one thing: Hawaii's sugarcane. It's distilled twice in copper pot stills for an unmatched softness on your tongue. And it'll make any traveler want to take home some memories we all know as "The Spirit of Aloha."
Samoan fire knife dancing is a centuries-old cultural tradition. It involves the wielding of flaming torches and whirling with them in complex, creative movements for long periods.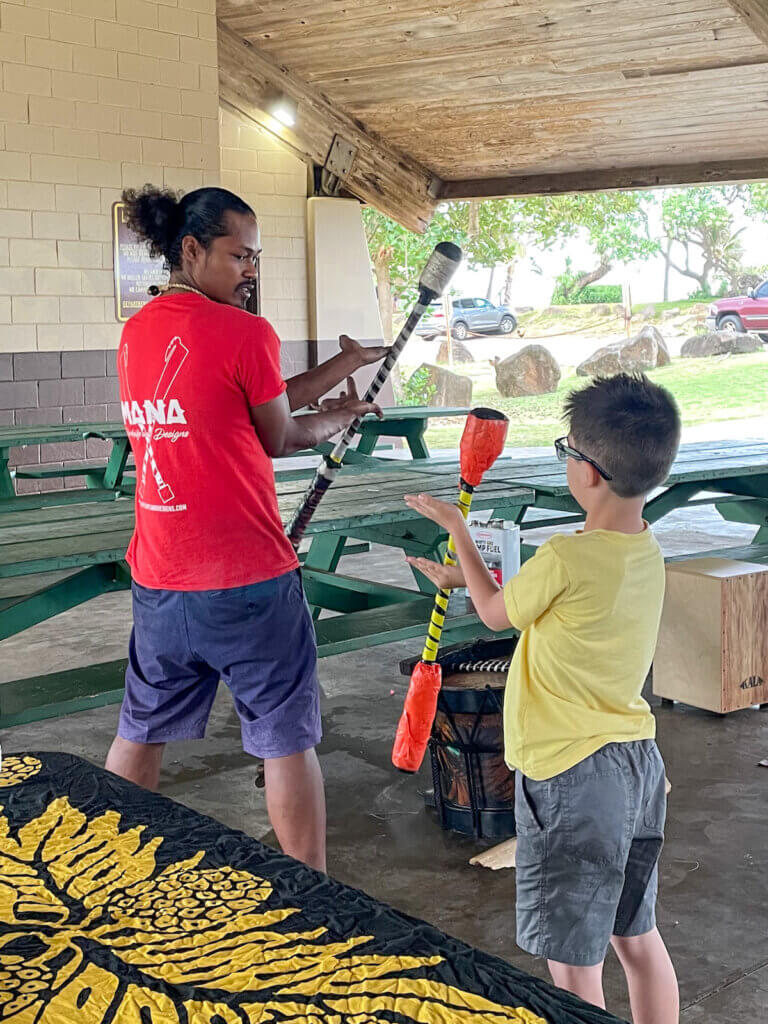 For participants to master this ancient art form on their own takes years of rigorous training. But lucky for you, they've condensed it into one day!
In this interactive lesson, professional instructors lead dancers through basic techniques. Then you'll watch live demonstrations by trained, skilled professionals.
You'll also have plenty of opportunities during breaks in the lesson to explore your newfound skills with an authentic Samoan fire blade. You won't get this chance again! Check latest rates and more information.
Click to see our full review of this awesome Kauai experience!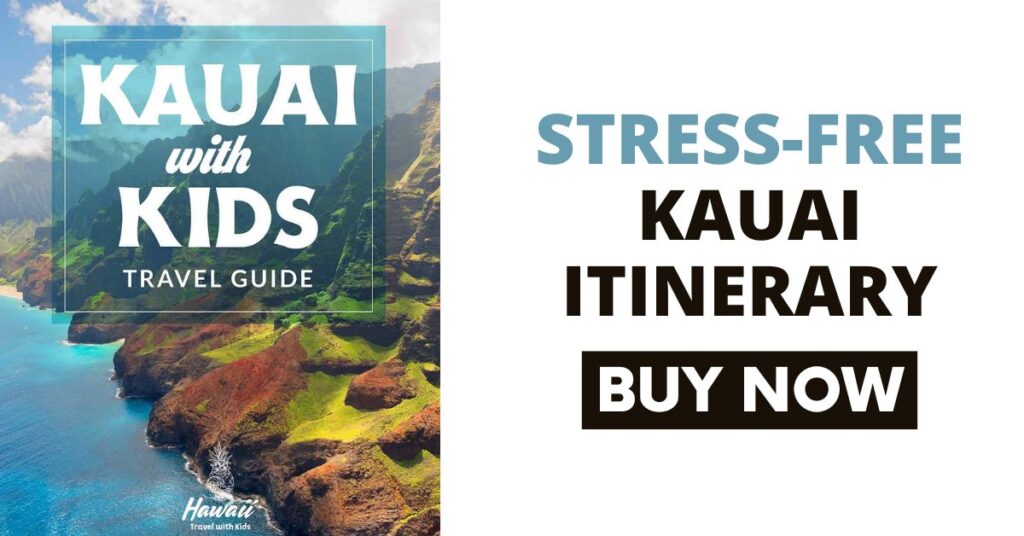 Lihue Kauai FAQs
What side of the island is Lihue on?
Lihue is on the East Shore of Kauai and is right next to the towns of Hanamaulu and Puhi. Because there's only one highway on Kauai, and it doesn't go through the Na Pali Coast, Lihue is the most centrally located town on Kauai.
Is Lihue safe?
I've always felt safe in Lihue. It feels very small town, and a lot of places close down early, so there aren't usually a lot of people roaming the streets at night. When it comes to safety in Hawaii, I always suggest travelers use common sense. Don't leave valuables in your car, and trust your gut.
What is there to do in Lihue at night?
There are plenty of things to do in Lihue at night. The most popular is attending a luau, like the Smith Family Luau or Luau Kalamaku. You can also listen to live music at many Lihue restaurants. And watching the sunset from a beach is one of the best things to do in Lihue for free.
What is Lihue known for?
Lihue is best known mainly because Kauai's main airport is here. And because the city gets so many visitors, you can find plenty to do! There are great outdoor places in Lihue, as well as shopping centers and restaurants.
How many days do you need for Kauai?
Kauai is a smaller island, but there are plenty of things to do to keep you very busy. To get the most out of your trip, it is best if you have a least a week on the island. Check out my full guide on How Many Days in Kauai Do You Need?
Where to Stay in Lihue
Now that you have ideas for what to do in Lihue, let's talk about accommodations. There are tons of options for places to stay in Lihue.
My top pick is the Royal Sonesta Kauai (formerly the Kauai Marriott). Here, you'll find a massive swimming pool and aon-site restaurants. Plus, it's right on Kalapaki Beach. Read my hotel review HERE.
There's also the Timbers Kauai Ocean Club, which offers 5-star accommodations for families looking for multi-bedroom suites.
And the Kauai Beach Resort & Spa has 4 swimming pools. And when you want to explore a bit, it's located near Lydgate State Beach Park, which is an awesome beach for families.
Try These Unforgettable Things to Do in Lihue
I hope you enjoyed my list of the best things to do in Lihue, Hawaii. Whether you're staying just a few days or a full week, I'm sure you'll find something memorable to do!