If you love wine and are heading to Hawaii, you'll want to head to these amazing Hawaii wineries that feature pineapple wine, grape wines, and wine with a tropical twist. Scroll to find out more!
This Hawaii Wineries post contains affiliate links which means if you purchase something from one of my affiliate links, I may earn a small commission that goes back into maintaining this blog.
Hawaii may not be the first state that comes to mind when you mention wine. However, the 50th state is home to a few vineyards and wineries, as well as a distillery or two.
Wine enthusiasts may not find a better-tasting wine than pineapple wine. The islands are known for producing outstanding pineapple wine, as well as some excellent grape wines.
Hawaiian grapes have raised as high as 2,000 feet, producing a nice-tasting product.
As a wine lover, visiting these Hawaii wineries and distilleries should be on your Hawaii bucket list. Scroll down for all the info!!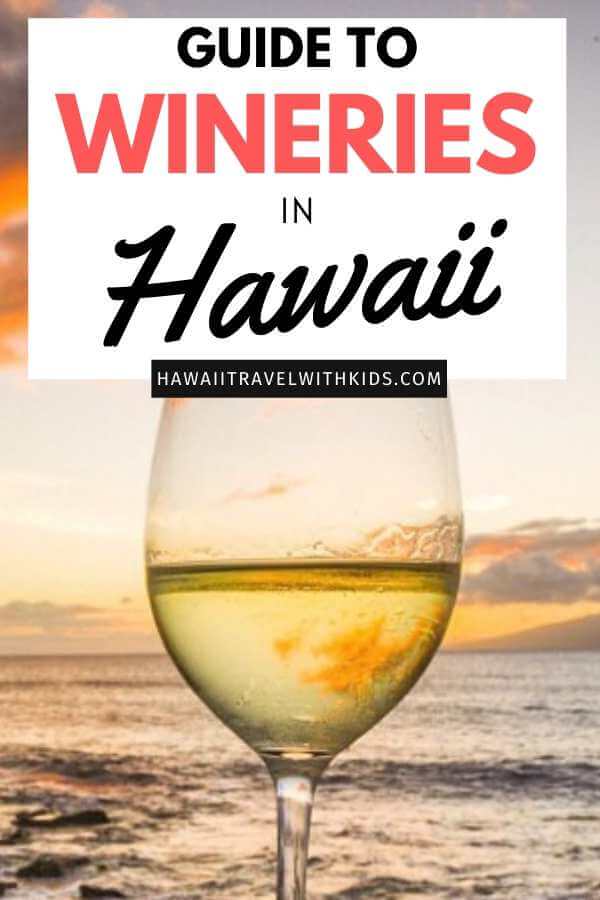 Where Can You Find Hawaii Wineries?
MauiWine – Maui
Hugging the southern slopes of Haleakala volcano, MauiWine's, one of the vineyards on Maui,story dates back to 1974, when the first grapes were planted.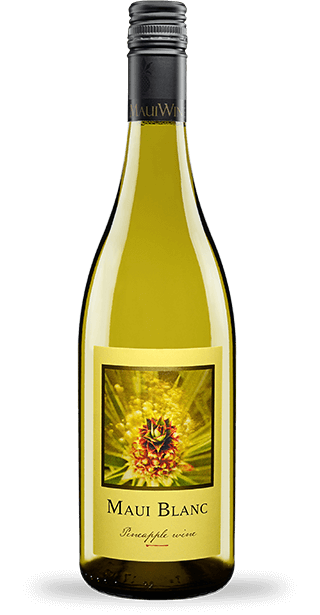 Today, the vineyard takes up 23 acres of Ulupalakua Ranch. As you visit the winery in Maui, HI, enjoy a tour of the historic estate. Then, sample some of the finest pineapple wine Hawaii has to offer.
With a California winemaking influence in the early days, MauiWine has created 15 varieties of wine, with whites and reds, as well as the popular Hula O Maui pineapple wine. The tasting room itself is a look into Hawaiian history.
Located inside the King's Cottage, the building was constructed for King Kalakaua, who would visit Ulupalakua during his reign.
Enjoy a flight of four wines during your visit. For an intimate tour and wine tasting, reserve a spot in the Old Jail. Once used as the office for Captain James Makee, learn about growing grapes and winemaking, followed by a special wine tasting.
At this pineapple winery in Maui, Hawaii, you can enjoy a Maui Splash pineapple wine, as well as others from their Maui wine shops. Wine in Maui doesn't get better than here at this Maui vineyard.
(Tedeschi Winery Maui or Tedeschi vineyards Maui is now called MauiWine, the only winery in Maui, Hawaii).
Sign up for a Pineapple Tasting Tour, which includes seeing the farm, MauiWine, a distillery, and a brewery, plus a gourmet lunch.
Volcano Winery – Big Island (Hawaii)
Located on the Big Island, Volcano Winery grew from a hobby and is the only winery Big Island has to offer.
Lynn "Doc" McKinney long practiced making wine and beer while living in Oahu. But, when he decided to leave the island and move to the Big Island of Hawaii, he decided to open a Hawaii winery.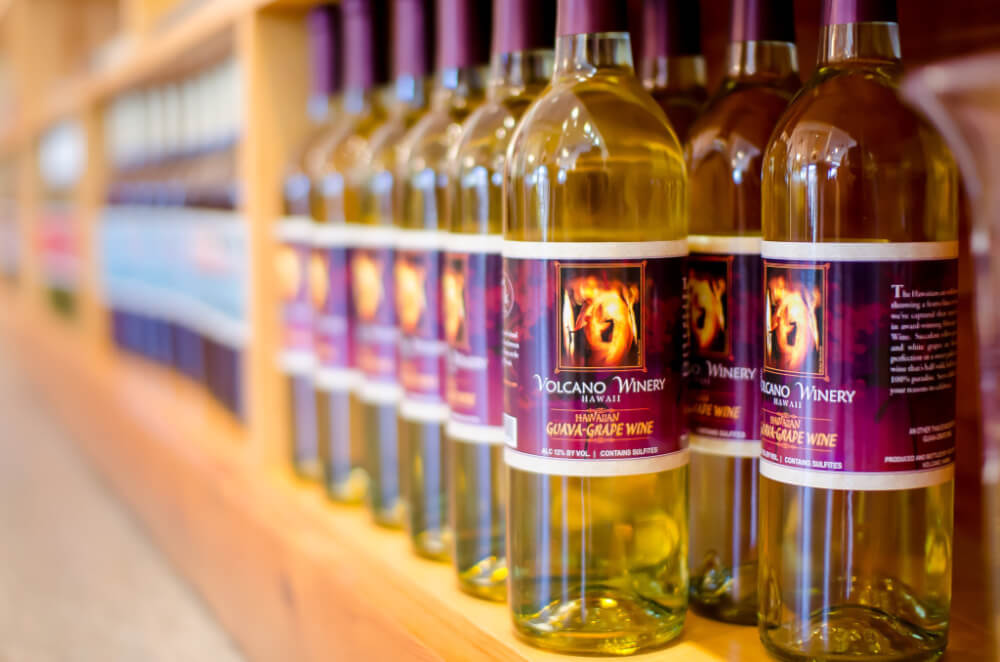 Since 1986, Volcano Winery has produced outstanding wine. McKinney settled on Volcano because of its location at about 4,000 feet. Planting his set of grapes, McKinney opened the winery to the public in 1993. Later that decade, he sold the Volcano Winery Hawaii and vineyard to Del Bothoff, whose family still runs the operation.
During your visit to the winery, enjoy a flight, which consists of samples of eight wines. A Vintage Tasting gets you samples of two estate wines. You can also try a flight of Volcano Winery's teas.
Located next to Hawaii Volcanoes National Park, it is a winery in Hawaii for the wine enthusiast to visit during their next trip and the only winery Hawaii's Big Island has to offer.
Oeno Winemaking – Oahu
Based in Kailua, Oeno Winemaking is a different type of winery.
While not growing its own grapes, this Oahu winery buys pressed grapes from distributors to create its own wine. However, the truly neat part of Oeno Winemaking is creating your own label.
Open since 2008; they host winemaking parties, where people can choose the grapes to be used to create their wine. Once selected, the wine process includes fermentation for 4-6 weeks. Then, stop in to bottle your wine. You have your very own label.
However, if that's too much work (or fun), you may want to consider having a flight of wine to sample, including the best pineapple wine Oahu offers. With eight wines to choose from, if two people order the flight, then all eight can be sampled. Otherwise, you're looking at four wines per flight at this winery near Honolulu.
As one of the only wineries Oahu offers, be sure to check it out!
Get your discounted Oeno Winemaking tour tickets
Where Can You Find Mead or Beer in Hawaii?
Beer Lover's Tour – Oahu
Kaka'ako is a really cool arts and warehouse district on Oahu. Visitors can take a 2.5-hour bike tour to some of the hippest spots to sip craft brews from local pubs and tasting rooms.
You'll hear all about Honolulu's brewery scene as wells as Hawaiian street artists as you pedal your shared bike (with up to 15 other people!) Check out the latest prices and more details.
Nani Moon Meadery – Kauai
Hawaii's only meadery, Nani Moon Meadery, technically isn't a winery or a brewery.
Mead is considered its own drink as it is produced differently than wine and beer. A honey wine, mead is one of the oldest beverages in history.
Stephanie Krieger made mead in her garage for about eight years before opening Nani Moon in 2008. With six hand-crafted varieties of mead, each label is specially designed. Each mead has a unique flavor and taste, including pineapple, ginger, and macadamia. The meadery also creates outstanding cocktails.
Nani Moon offers tours of its facilities, as well as tastings.
The Best Hawaiian Distilleries to Check Out
Hali'imaile Distilling Company – Maui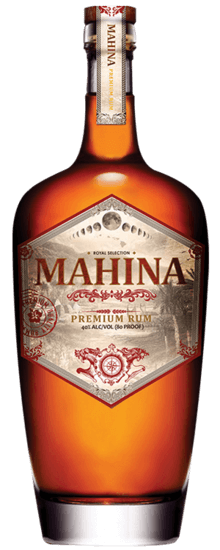 Nestled in Maui's Upcountry, surrounded by pineapple fields, Hali'imaile Distilling Company is proud of its Hawaiian heritage.
Producing outstanding spirits, such as vodka, whiskey, rum, and gin, the distillery uses oak barrels to age its spirits. Offering daily tours that end with a stop at the testing room, a visit to the distillery makes for a memorable experience.
Known for its PAU Maui Vodka, which uses pineapple as an ingredient, Hail'imaile Distilling Company creates interesting flavors.
Hawaii Sea Spirits – Maui
Believing in connection with the land, the owners of Hawaii Sea Spirits utilize organic farming on their 80-acre farm to use the crops, such as sugar cane, that are used to create their vodka line.
The company named its original vodka named Ocean Organic because it felt it connected with its beliefs.
As you visit Hawaii Sea Spirits, make sure to take a tour of the farm, where you can learn more about the organic farming methods, as well as about the organic sugar cane varieties they raise.
Maui Winery FAQs
Do they make wine in Hawaii?
Absolutely! Several Hawaiian islands have their own wineries. You will find wine made in Hawaii from Maui wineries, wineries in Oahu, Hawaii, and from the Big Island. There is not a Kauai winery as of right now; however, if you want to enjoy a winery in Kauai, there are plenty of wine bars in Kauai that you will love to visit!
Where can I buy wine in Hawaii?
Aside from buying them at the Hawaii wineries, you can also purchase wine at grocery stores and wine shops in Hawaii.
How much is a bottle of wine in Hawaii?
The price varies depending on the wine, but you can find a decent bottle of wine for around $10 in Hawaii.
Do they have vineyards in Hawaii?
Yes! You will find a few Hawaiian wineries that offer wine tastings, a wine club, wine bars, and other fun things for the wine enthusiast to enjoy. It is one of the Hawaiian islands hidden gems!
How many wineries are in Hawaii?
Currently, there are 3 wineries in the Hawaiian islands: The Volcano Winery, MauiWine, and Oeno Winemaking.
Is there a Kona winery I can visit?
The only Big Island winery is located on Mauna Loa. Although you might enjoy some wine from Kona Wine Market!
Wineries in Hawaii Wrap Up
With pineapple playing a role, Hawaii vineyards and wineries have earned a reputation for producing excellent wines.
As you visit these Hawaii wineries and distilleries, enjoy sampling different wines that can be found on the mainland. Tour the vineyards and learn what goes into making a great bottle of wine.