Looking for an adventurous thing to do on Maui? Find out some of the best Maui ATV tours that will take you beyond the tourist spots. Scroll to see them all!
This Maui ATV tours post contains affiliate links which means if you purchase something from one of my affiliate links, I may earn a small commission that goes back into maintaining this blog.
Maui is the second largest island in Hawaii, and it's home to popular destinations like Kihei, Lahaina, and Wailuku.
Like any of the Hawaiian Islands, you can expect beautiful beaches and unique landscapes on Maui, including craters and volcanoes. Each island is known for different attractions, even though you can find many of them all over Hawaii.
Since there's plenty of mountainous terrain on Maui, off-roading and ATVs are a popular activity among both locals and tourists.
When riding an ATV on terrain you're unfamiliar with, it's best to do so with an experienced tour guide. You'll learn more about the vehicle, safety precautions, and what to expect as you ride.
These ATV tours are highly rated for being fun, informative, and safe. Don't go out alone when you don't have to!
Don't have time to read a bunch of Hawaii blog posts and reviews? Here are some of our top picks for visiting Maui.
Popular Maui Tours/Activities
Favorite Maui Resorts/Hotels
Andaz Maui (this is a luxury resort with the best luau on Maui)
Honua Kai Resort & Spa (this is one of our personal favorites because there are tons of pools and there are condo options)
Want to Rent a Car in Hawaii?
One of the best places to rent a car in Hawaii is Discount Hawaii Car Rental because they get the best rates from top national companies like Alamo, Dollar, Thrifty, Avis, Enterprise, Budget, and Payless.
Want to skip all the planning and just access my detailed Maui Itinerary complete with daily schedules, kid-friendly activities, and travel hacks? Click the button below.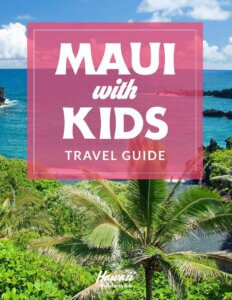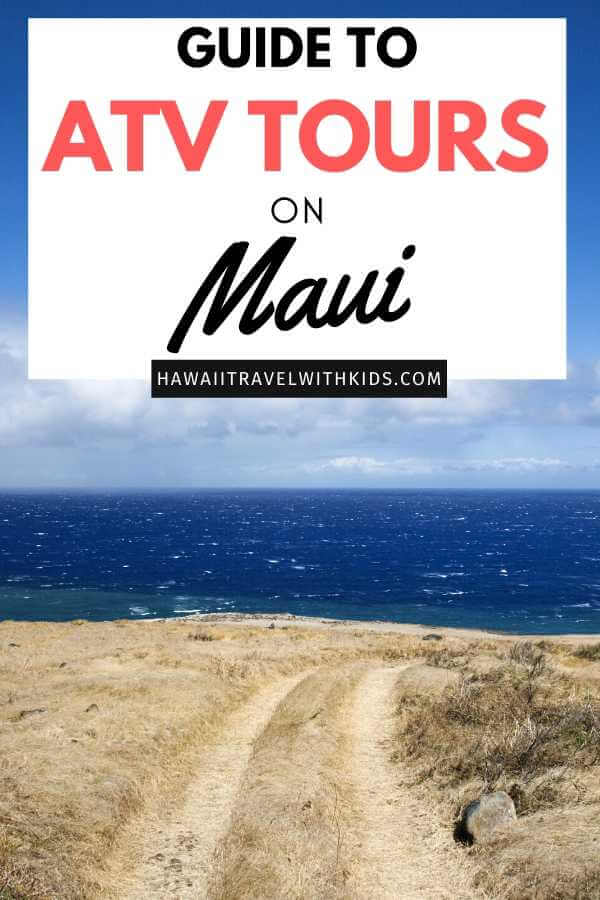 What's an ATV?
ATV stands for "all-terrain vehicle." You may hear it referred to as a "quad" or a "4-wheeler," too.
ATVs are motorized vehicles with low-pressure tires that are meant to be driven off of a highway. Some ATVs are only designed for one person, while others can accommodate a passenger.
Some of the ATV tours on this list only use single-person vehicles. If you're taking a tour with someone who doesn't want to drive, be sure to read the activity details carefully!
Who Can Ride an ATV?
Most ATV tours require that riders meet an age minimum and have a valid driver's license. Some tours let kids ride as a passenger, so you'll be limited to those excursions if you want to bring children along with you.
This list doesn't include UTV, Jeep, or dune buggy tours. However, the tour companies on this list also offer other kinds of excursions. These options may be better suited for those who aren't comfortable with ATVs.
ATV terrain is often rocky and unpaved, especially in Hawaii where they're trying to preserve the land. The terrain gets slippery after rainfall, and you may have dust flung at you. This may make riding an ATV difficult for some people. However, some tour companies can accommodate people with walkers and canes.
What Should I Bring on a Maui ATV Tour?
Make sure you're prepared for your ATV adventure!
No matter who you ride with, you'll need to wear closed-toe shoes. Typically, that means sneakers or boots. Wear clothes that you don't mind getting dirty – think mud, dirt, and dust.
Since there's no guarantee that all of the debris will come off of your clothes, your best bet is to bring old clothes (or buy an outfit at Walmart) for the trip. Your pants will have to be long, but a T-shirt is fine. A fresh change of clothes is helpful for afterwards.
Many ATV tour guides can take photos of you riding the vehicles. For this, you'll want to bring your own phone or camera. Place them in a Ziploc bag to keep your devices from getting covered in mud and dirt.
Ask if your tour guide can hold onto your phone while you ride – if they can't, ask if you can wear a phone protecting necklace.
Best Maui ATV Tours
MAUI OFF ROAD ADVENTURES
This ATV tour begins right by Kanapali Beach. You'll have 1,400 acres of terrain to explore as you take in the gorgeous ocean views.
View this post on Instagram
With Maui Off Road Adventures, you'll learn about the indigenous land that the tours take place on. Each rider on a tour plants Koa trees to develop a better appreciation for this land.
Your 2-hour tour won't just be filled with adventure – it'll be moving, too! Check out the latest prices and more details.
To ride an ATV with Maui Off Road Adventures, you must be at least 7 years old. Only drivers over 18 with a license can drive the vehicle. Each driver will complete a proficiency course before going out on the natural, unpaved terrain. You'll get to take 2 or 3 stops to rest, switch drivers, and take photos.
Since ATV tours will leave you dirty, you can rent long pants and shirts from Maui Off Road Adventures for a $5 wash fee.
Get your discounted Maui Off Road Adventures tickets
MAUI MOUNTAIN ADVENTURES
This ATV tour starts at 8:15am and 12:15pm daily. Upon arrival you'll be transported to a 500-acre ranch before riding on the West Maui Mountains.
View this post on Instagram
Take in the waterfalls in the distance and ride along the oceanfront on this 1.5-hour-long trip. Have your guide take photos of you so you can post them to Facebook! Check out the latest prices and more details.
You'll be given a helmet and goggles for your ATV tour, but you'll need to wear your own long pants and closed-toed shoes. You'll also be offered complimentary refreshments – after all, riding an ATV is a physical activity.
The minimum age to ride is 16 with a driver's license. If you're under 18, you'll need to have an adult with you, even if you have a license.
Get your discounted Maui Mountain Adventures tickets
STARDUST HAWAII
Stardust Hawaii's ATV tour starts with a driver orientation that you'll need to pass before you can ride. Once you've passed, you'll get to ride on 1,400 acres of terrain on Mauna Kahalawai.
This off-road adventure is bound to include mud, dirt, and water. Come prepared with long pants and a towel!
This tour is all about safety, so they've taken some extra precautions to make this excursion safe for kids. Each rider gets a dust mask, helmet, and goggles.
While minors with a driver's license can drive the ATVs, they can only do so with an adult as a passenger. Children ages 7 and older can ride as a passenger with you or a tour guide. You won't have to worry about your child riding with a stranger – Stardust Hawaii will never pair riders with people who aren't in their party.
Find out more about Stardust Hawaii ATV tours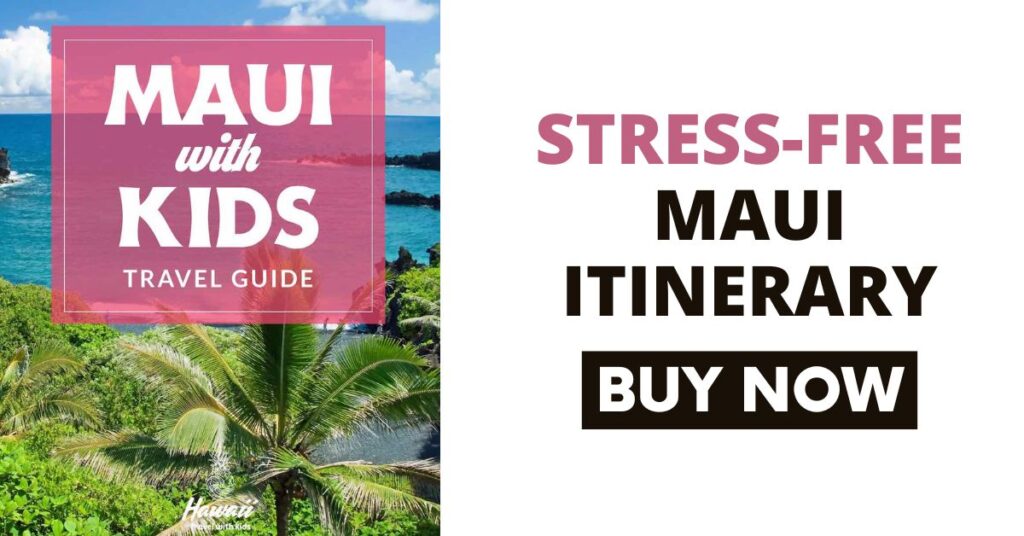 Wrap Up
When you visit Hawaii, you'll likely want to do more activities than what will fit in your trip schedule.
While most people know to check out the beaches or go for a hike, they might not consider the more action-packed activities that Maui has to offer.
If you're looking for a thrill on your trip to the Aloha State, taking a Maui ATV tour is the way to go!