Are you looking for kid-friendly things to do on Oahu? Keep scrolling to find out how to visit the Dole Pineapple Plantation in Hawaii.
This review of the Dole Pineapple Plantation in Hawaii contains affiliate links which means if you purchase something from one of my affiliate links, I may earn a small commission that goes back into maintaining this blog.
Guest post by local Oahu mom Kate Tekurio
Are you looking for fun tourist attractions on Oahu? Below you'll get the run down on how to visit the Dole Pineapple Plantation in Hawaii!
The Dole Plantation is one stop on Oahu you must make with your family for maximum fun and educational entertainment. You must see it at least once!
From the delicious Dole Whip ice cream to the intricate pineapple garden maze and train tour, there is something for everyone to enjoy! The Dole pineapple farm is great for families and those who will love to learn more about Hawaii.
Keep scrolling to find out how to visit the Dole Pineapple Plantation in Hawaii and my top tips for maximizing your trip.
If you're looking for a new adventure or want some fresh ideas of things that are worth seeing while visiting Oahu, then keep reading. I have all kinds of suggestions just waiting here in this article!
And if you're like me, then I know you'll be excited about learning more about what makes the Dole Pineapple Plantation in Hawaii so special too
Ok, let's get started!
Don't have time to read a bunch of Hawaii blog posts and reviews? Here are some of our top picks for visiting Oahu.
Popular Oahu Tours/Activities
Favorite Oahu Resorts/Hotels
Want to Rent a Car in Hawaii?
One of the best places to rent a car in Hawaii is Discount Hawaii Car Rental because they get the best rates from top national companies like Alamo, Dollar, Thrifty, Avis, Enterprise, Budget, and Payless.
Want to skip all the planning and just access my detailed Oahu Itinerary complete with daily schedules, kid-friendly activities, and travel hacks? Click the button below.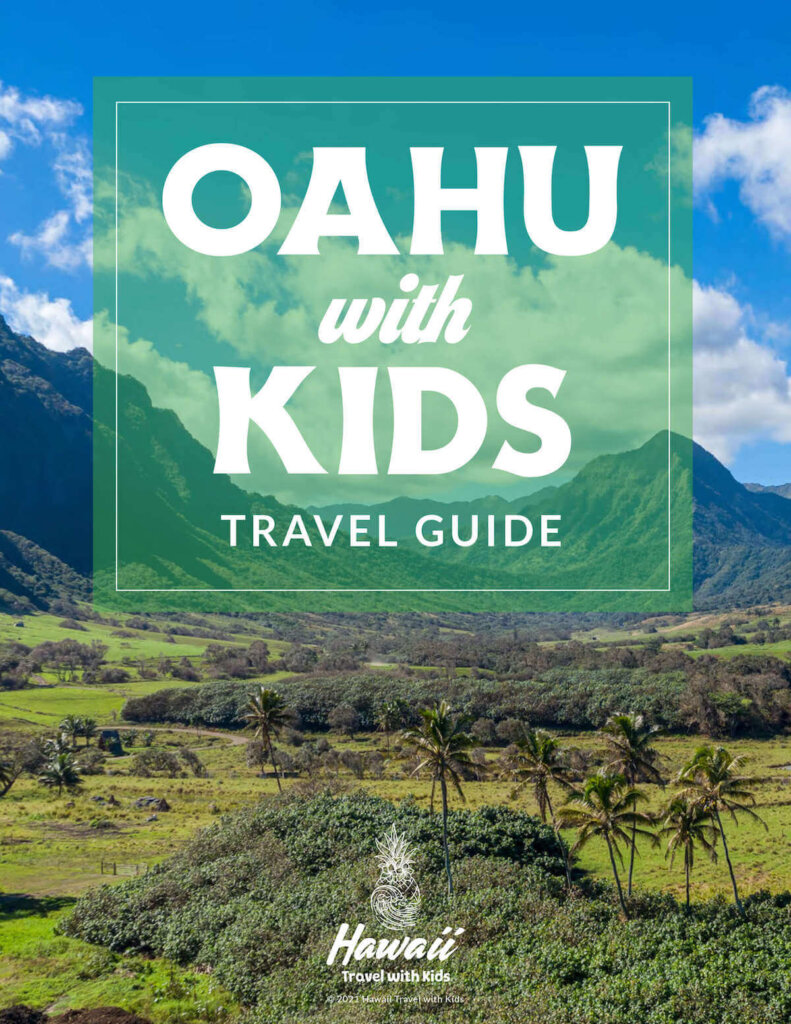 FAQs about How to Visit the Dole Pineapple Farm in Hawaii
How long does it take to get from Pearl Harbor to Dole Plantation?
A lot of people do Pearl Harbor and the Dole Plantation on the same day. They are about 25 minutes away from each other by car.
Are these the only pineapple fields in Hawaii?
No, there's the Maui Gold plantation on Maui. There you can take a tour and explore the groves. There are also smaller pineapple farmers that grow fruit and sell them at local Hawaii farmers markets and roadside fruit stands!
Can I take a Dole Plantation tour?
Yes! They have the Pineapple Express train tour, as well as a garden tour available. You can also book an Oahu circle island tour that includes a stop at the Dole Plantation.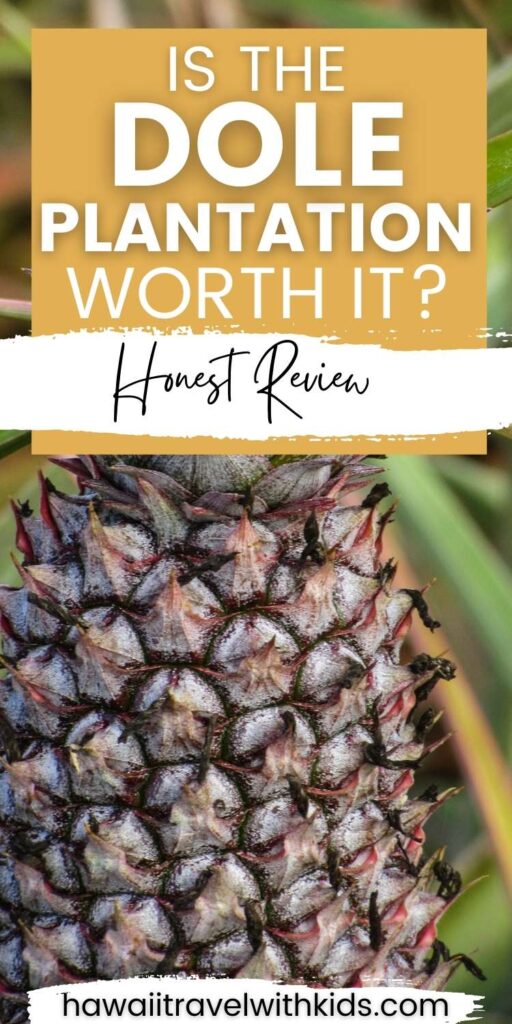 Where to Visit the Dole Pineapple Plantation
You'll find the Dole Plantation in the central region of Oahu. It's near the town of Wahiawa, right off the Kamehameha Highway. There are lots of other fruit orchards and coffee and cacao farms in this area.
Most guests to Oahu stay on the Leeward Coast or in the Honolulu/Waikiki areas. Whether you take a shuttle tour or drive a rental car from these areas, you'll probably take H-1 and H-2 all the way there. If you need a visual, check out the map below.
Dole Plantation Hours
The Dole Pineapple Plantation is open from 9:30 AM to 5:30 PM every single day except Christmas. With these hours, you have the flexibility to go when your family is ready!
If you prefer exploring in the morning, this is a fun tourist attraction open earlier than most on the island. It is also great for those who prefer to visit in the afternoon! Enjoy a leisurely morning on the beach first and then take your time getting to the farm.
How Much Does It Cost to Go to the Dole Plantation?
You can't order Dole Plantation tickets in advance, and it is on a first-come, first-serve basis. This is a recent change due to the COVID-19 virus.
This pineapple plantation in Hawaii has many free features you can explore. You can go for a walk around the farm take a peek inside the gift shop without necessarily spending any money.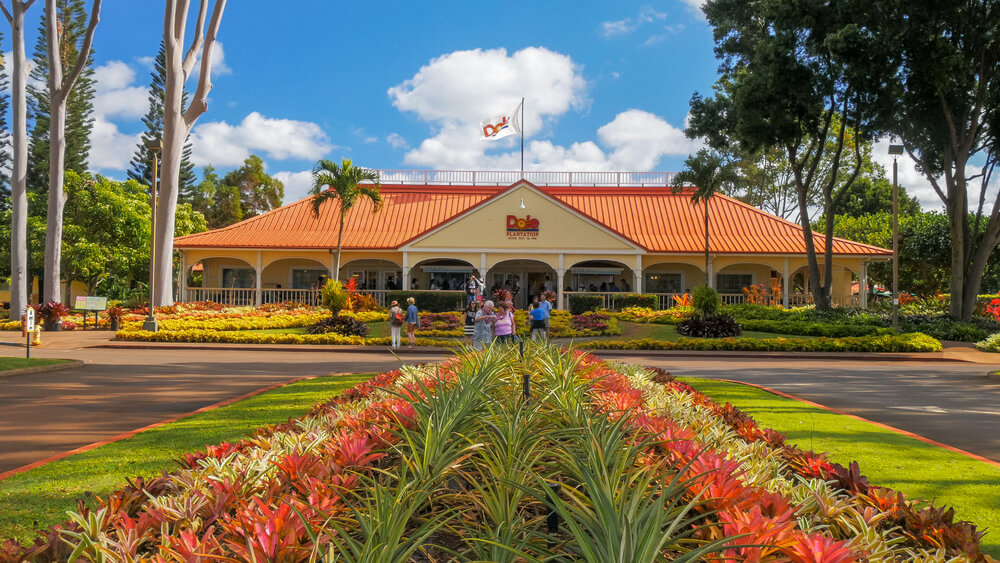 There are only 3 main attractions that you are required to pay for:
The Pineapple Express Train
The Plantation Garden Tour
The Garden Maze
Each of these attractions cost a decent fee for adults and kids ages 4-12 years. But kids under 4 are free!
The Dole Plantation is a very cost-effective place for those vacationing in Hawaii on a budget. You can enjoy one activity on this farm and call it good! Even if you explore everything the Dole pineapple plantation offers, you are still only around $30 per adult, which is a lot cheaper than most tourist attractions on Oahu.
How Long Does It Take to Go Through the Dole Plantation?
If you want to explore every part of the Dole Plantation, you will want a few hours to visit it all. The garden tour takes about an hour and the train ride is about 20 minutes. The maze will depend on how fast you can solve it, but you can usually finish it in around 40 minutes.
Ultimately, 2- to 3-hours is plenty of time to have fun and get some delicious Dole Whip too!
Fun Things to Do at the Dole Plantation
Here are some of the fun things to do while visiting the Dole Pineapple Plantation in Hawaii!
Dole Plantation Maze
The pineapple maze is actually the world's largest maze! There are around 14,000 Hawaiian plants throughout the maze to enjoy. The Dole Pineapple Maze is 3 acres or 2.5 miles and will definitely take you and your family some time to complete.
There is a free Dole Plantation app that will make your experience even more fun! It will time you to see how fast you take to finish the maze and record all the stations you've found. Try to find all the maze stations for an extra bonus!
Younger children may not have as much fun during this maze as it can take a long time. Toddlers will enjoy the train tour more than the maze. If you are visiting with teenagers, have a race to see who finishes it first!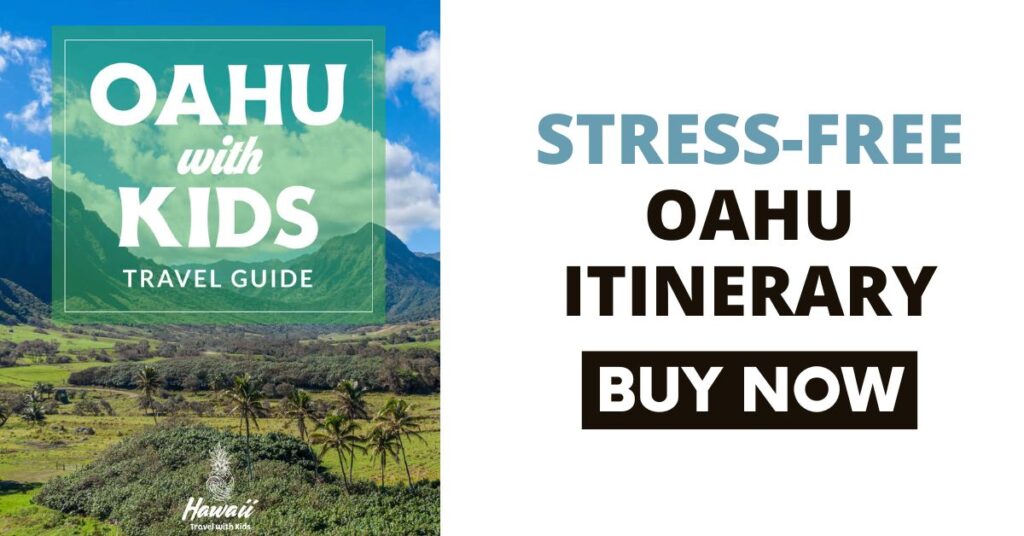 Train Tour
This is a super fun activity for toddlers and kids! You can hop on a train ride to explore the pineapple fields in Hawaii and see the amazement in their eyes! A narrator will guide you through a tour of the farm and teach you its history and lots of fun facts.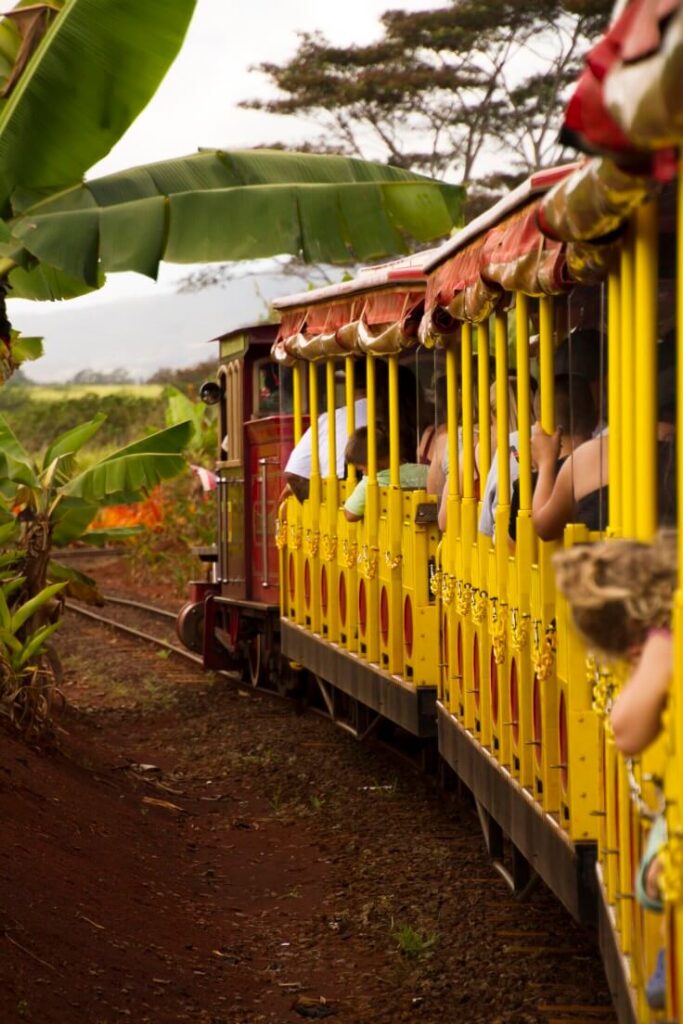 This Dole pineapple plantation tour is 20 minutes long and will show 2 miles of the farm. Kids love riding on the train, especially as they get to see all the pineapple plants and hear the whistle!
There are 4different trains you can ride on, each with its own fun history.
The Aloha Express Train is very similar to the full-size trains you see in the United States. It was built in China and has 3 passenger cars.
The newest train at the Dole Plantation is the Ohana Express Train. This train is very similar to the Aloha Express Train except for its colors.
The Pineapple Express was built in England and has four passenger cars it hauls. This one is all yellow, of course! Finally, Lady Liberty came to the Dole Plantation in 2003. This one is a beautiful red and our favorite!
Each train is an adventure on its own! No matter what train you get, you are in for a fun ride through the pineapple farm! Children will love to ride on a miniature train built just for them!
Dole Plantation Garden Tour
The Dole Plantation has 8 different gardens in total, and during the garden tour, you will be able to see them all! While they are most famous for their pineapples, the Dole Plantation has a lot more than just that!
The 8 gardens you will see during your tour include:
North Shore
Hibiscus
Native Species
Lei
Irrigation
Bromeliads
Ti Leaf
Life on the Plantation
With the Garden Tour, you will see all the wonderful plants that make Hawaii unique and beautiful. You'll see the cacao pods, plumeria flowers, pikake, pineapples, and so much more!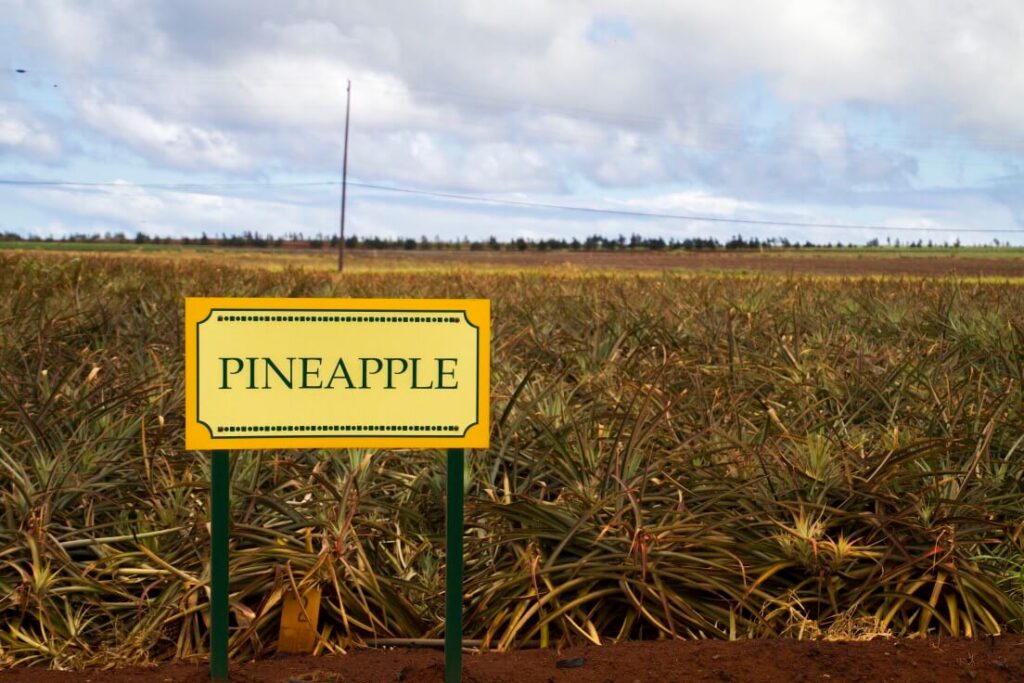 In the early days, the North Shore was mainly sugarcane and pineapples. This tour shows it is much more than that now. Now you can see banana trees, lychee, coffee, flowers, mangoes, and so much more. This truly is the center of tropical beauty to explore.
This tour is absolutely breathtaking and a great experience to enjoy seeing the beauties Hawaii has to offer. However, since it is an hour-long, many children may struggle during this tour, especially toddlers. But there are many other fun things that your toddlers will love!
Dole Plantation Store
The Dole Plantation gift shop is a great place to taste some delicious treats, including pineapples, and get some great souvenirs.
You will see so many fun pineapple treats and snacks inside the store, plus some you might be hesitant to try. From pineapple pancake mix to pineapple salsa, this is the perfect shop for pineapple lovers!
The Dole Plantation store is one of the biggest gift shops with fun souvenirs I've seen on Oahu. Everything is decorative and shows the true spirit of Hawaii. This would be a great place to get some fun Christmas gifts too!
Dole Plantation Grille
The famous Dole Plantation Dole Whip can be found at the Dole Plantation Grille. This drink is so refreshing and will satisfy all your taste buds! You can choose to have it on a cone, cup, or with toppings too.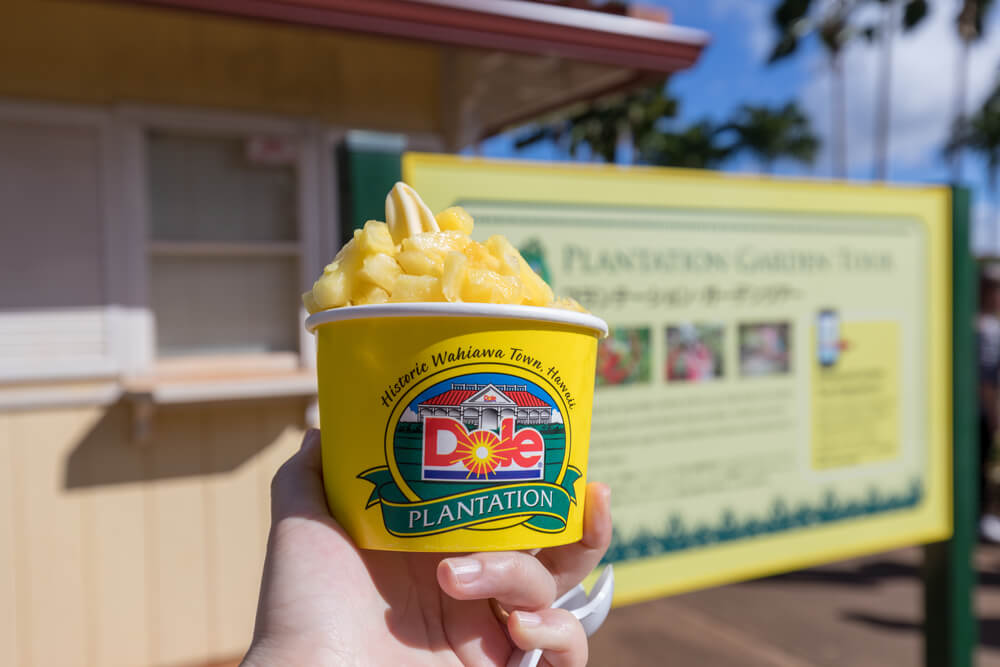 This Dole Plantation ice cream is something you definitely need to try if you go! You can also find it at a few other locations around the island.
At the Grille, you will also find delicious teriyaki chicken, hot dogs, salads, and lots more good food. If you are adventurous, you can even try a pineapple chili bowl! Another fun Dole Plantation food is a chocolate-covered pineapple or banana. They are delicious!
Feeding the Fish and Ducks
One of my toddler's favorite activities was to feed the fish and ducks at the lake on the plantation farm. This costs less than a dollar and is totally worth it! There are countless fish who love to jump out of the water just to be fed.
The food is in a quarter machine so you can feed as much as you like! We spent a lot of our time here. There are even ducks who swim around who will eat as well. There is a gate around the pond to keep everyone safe.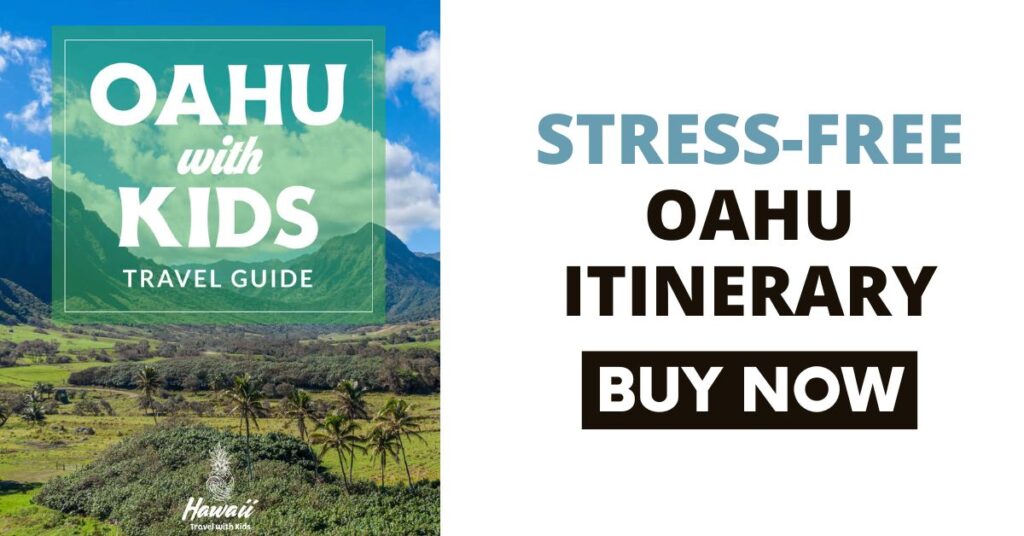 Is the Dole Plantation Worth it?
There you have it, all the information you need on how to visit the Dole Pineapple Plantation in Hawaii! It's definitely worth it if you love learning about agriculture and the history of pineapples and Hawaii. You'll learn so much during your visit, but through hands-on experiences and lots of fun, you won't even feel like you are learning!
If you have very young kids, you can still enjoy many of the features of the Dole Plantation, including feeding the fish and going on the train ride. While you may not stay as long, your kids will still have smiles on their faces and enjoy this shorter adventure.
If you are on a budget during your vacation in Oahu, this is a great tourist attraction with many free activities. Enjoy looking at the pineapple fields and the beauty of the farm. You can walk around the farm and enjoy 1 or 2 activities, as they're very cost-effective.
The Dole Plantation in Hawaii is an amazing attraction to go explore and learn all about Hawaii. If you go, be sure to eat some Dole Whip for me! Plan your next Oahu vacation and include the Dole Plantation. You won't be sorry!
About Kate
Kate Tekurio lives on Oahu with her husband and toddler. They love exploring the island and sharing their best tips with other families traveling to Hawaii.
Did you enjoy learning how to visit the Dole Pineapple Plantation and you're looking for more Oahu tourist attractions? Check out my reviews of Pearl Harbor with kids, Sea Life Park, the Honolulu Zoo, and the best things to do in Waikiki with kids!