Trying to find the best place to stay on Oahu? Check out this detailed North Shore Oahu neighborhood guide featuring where to stay, where to eat, and the best things to do on the North Shore.
This best things to do in North Shore Oahu post contains affiliate links which means if you purchase something from one of my affiliate links, I may earn a small commission that goes back into maintaining this blog.
Hawaii is on everyone's bucket list for sure, and that's no surprise! Oahu is one of the favorite islands to visit with all the tourist attractions present, especially on the North Shore.
If you want to get away from the crazy hectic town life, North Shore will not disappoint. It is the countryside of the island filled with many fun activities.
From hiking to food trucks, to the stunning beaches, there will always be things to do on the North Shore of Oahu that every family member will love!
Take a look at this North Shore Oahu neighborhood guide. This will show you the best places to eat, sleep, visit, and explore!
And be sure to check out the top 101 things to do on Oahu with kids!
Don't have time to read a bunch of Hawaii blog posts and reviews? Here are some of our top picks for visiting Oahu.
Popular Oahu Tours/Activities
Favorite Oahu Resorts/Hotels
Want to skip all the planning and just access my detailed Oahu Itinerary complete with daily schedules, kid-friendly activities, and travel hacks? Click the button below.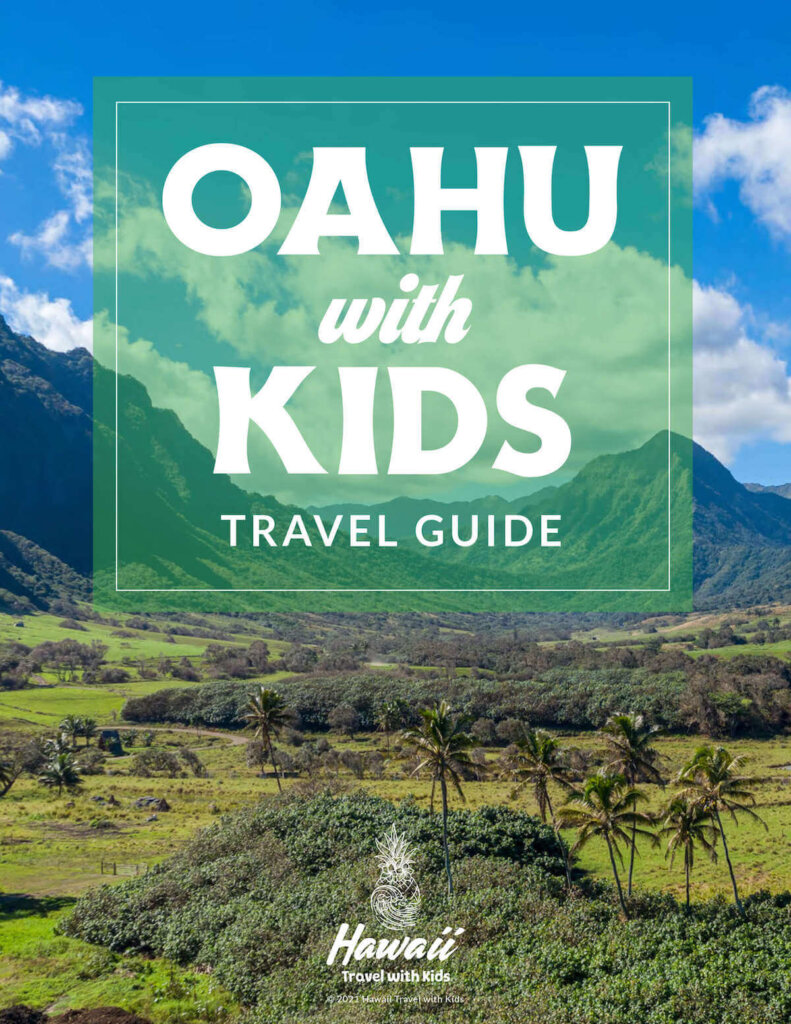 North Shore Oahu FAQs
How long is the drive from Honolulu to North Shore?
It usually takes about 45 minutes, when there isn't any traffic. It can take up to 2 hours if you go during the morning or evening rush hour. Check out all the ways to get to North Shore from Waikiki.
Is North Shore Oahu safe?
In terms of beaches, the waves can get pretty rough so it can be dangerous to swim at some of the North Shore beaches (especially in the winter.) In terms of crime, use normal precautions about not leaving valuables in your car and always locking your doors.
Should I stay in North Shore or Waikiki?
It depends on what you'd like to do on your trip to Oahu, but there are definitely more hotel and vacation rental options in Waikiki vs. North Shore. And it's easier to stay in North Shore if you rent a car.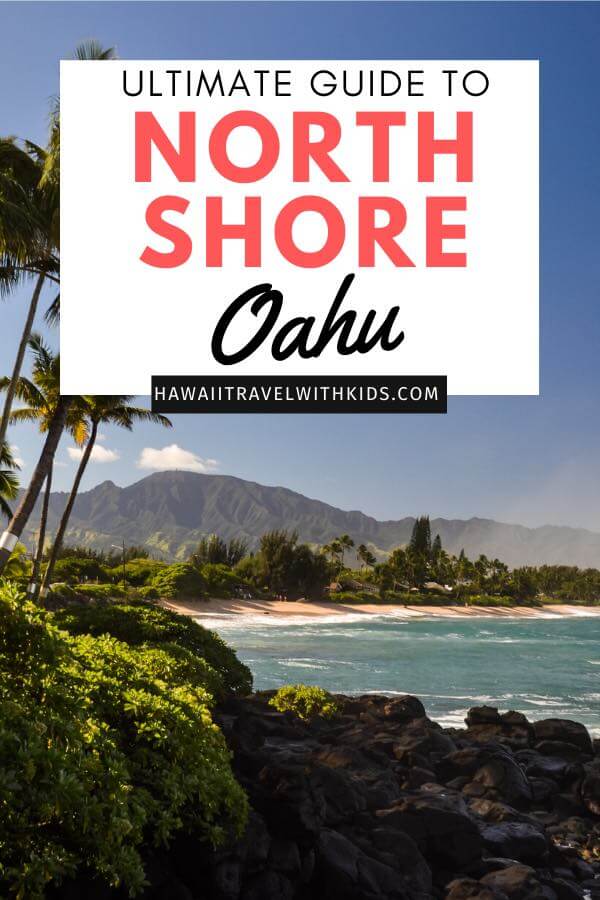 Overview of North Shore Towns
When you think of North Shore Oahu, it typically begins with Hauula and ends with Mililani.
Hauula
Hauula is a small friendly neighborhood. This is where you can find some cheaper VRBO options that are still close to some of the most prominent tourist attractions on the North Shore. It has a couple of lovely beaches to go to together as a family.
Laie
Laie is where the Brigham Young University of Hawaii is located along with the Polynesian Cultural Center. It is another small but family-oriented neighborhood.
Here is where the temple for The Church of Jesus Christ of Latter-day Saints also resides. You can find Foodland along with a small strip mall for all your temporary needs.
Note: You cannot buy alcohol in Laie and most businesses are closed on Sundays. Please plan accordingly.
Kahuku
Kahuku is known for having some of the best Oahu food trucks!
Try out some Giovanni's Shrimp and explore the North Shore Zipline. You can also find some of the best poke on the island at their little convenience store right by the high school.
Sunset
Moving along North Shore Oahu, you will find Sunset, which has the famous sunset beach. It is a great place to relax as well as surf. Along the beaches here are where lots of surf competitions are held.
You can also find Ted's Bakery, a must-see food stop along the way.
Waimea
Once you reach Waimea, there are lots of things you can do. Again, this is where some of the best surf competitions are held, especially during the winter when the waves come crashing at record-reaching heights.
You can also hike or relax on the beach. On the Waimea Beach Park, you will find rocks that lots of people enjoy jumping from. Don't worry, though. They are not too high up!
Haleiwa
This is the heart of North Shore because there are tons of things to do in Haleiwa! Some of the greatest restaurants on the island are in Haleiwa, along with many delicious food trucks, as well.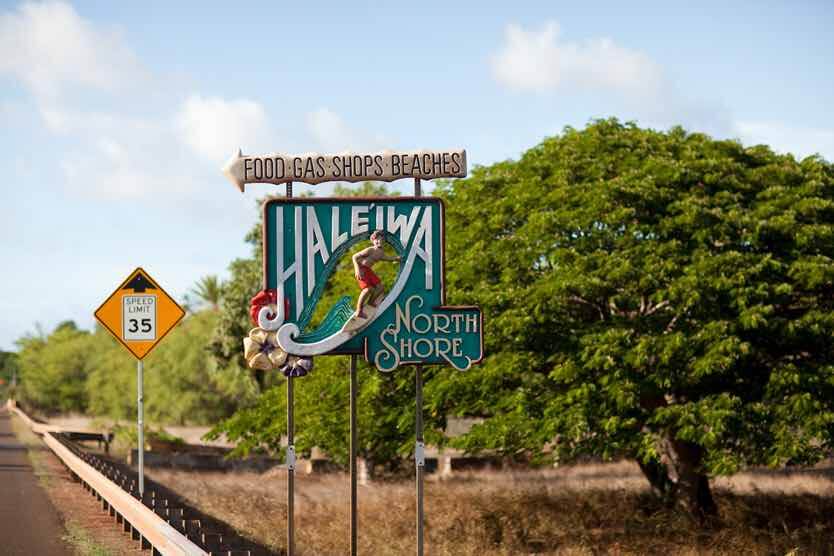 There is Haleiwa Beach Park, which is a fun family park to enjoy your day on, as well as many shops to get fun souvenirs.
Wahiawa
Another very famous tourist attraction in the North Shore is located in Wahiawa: The Dole Plantation.
Here they have some of the best pineapple ice cream (Dole Whip!) along with so many activities you will end up staying the whole day.
Mililani
Typically, the North Shore ends in Mililani. This is where the country life ends, and the towns begin again. You can find Costco, Walmart, and lots of other shops to get your temporary supplies.
Hotel vs. Airbnb/VRBO on the North Shore Oahu
While there are many great hotels along the North Shore, they are more expensive. Staying at one can have impressive benefits; however, it all depends on your budget.
There are also tons of options regarding vacation rentals on Oahu's North Shore as well that fit better in most people's budgets.
Marriott
The Marriott Hotel is right in front of the Polynesian Cultural Center in Laie. If you are mainly going to stay in Laie and enjoy the surrounding cities, this is a great option. It is more expensive, depending on the deals you can find. Check out the latest prices and more details.
However, it has a pool and hot tub. You can also get most of your beach supplies right from the hotel. You can rent a paddleboard, snorkeling gear, and so much more, that is only available to the tourists staying at the hotel.
Turtle Bay
Probably the most famous out of all the North Shore Oahu hotels is Turtle Bay. It is a very luxurious place to stay if you can afford it. They have access to some of the gorgeous beaches around. Check out the latest prices and more details.
When you stay at Turtle Bay, you have access to a myriad of fun classes and activities, including yoga, the spa, Segway tours, golf, and so much more!
Airbnb or VRBO
While vacation rentals on Oahu's North Shore are cheaper, that does not mean they aren't good quality! These are a great option to save money and enjoy the island in the comfort of a home.
Many families will leave beach equipment as part of your stay, so you don't have to buy or rent them! You can save a lot of money staying in a vacation rental on Oahu's North Shore!
I have stayed in many vacation rentals, and none of them were disappointed. Each one was super clean, up to date, and provided exceptional service. They will always be my first choice!
Do You Need to Rent a Car in North Shore Oahu?
In my opinion, yes.
The North Shore is pretty far away from the Honolulu Airport and once you get up there, it's easiest to drive yourself around the island. It's definitely easiest to explore Oahu with kids when you have a rental car.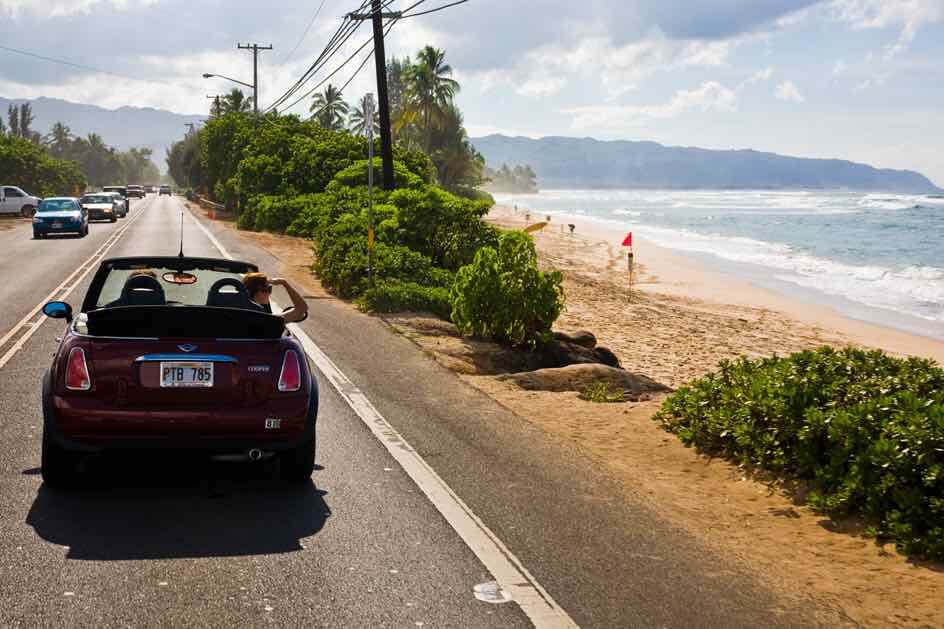 If you decide not to rent a car, you can use TheBus. See North Shore bus schedule.
Uber is another option.
Where to Go Shopping in North Shore Oahu
Depending on where you stay, you could have free access to many things you will need right at your fingertips! If not, here are some great places to get your needs during your vacation on the North Shore.
Foodland
Foodland is the go-to place along the North Shore. You can find almost anything you can think of. Most people get groceries there, but they also have souvenirs and beach accessories. You will need to put in your phone number to get the member discounts.
Although it is more expensive than Walmart, it does save a trip to town with all the heavy traffic. It also has a great selection of poke and other seafood meals you can grab and go!
Tamura's
This was one of our favorite places to get groceries. It is a little bit cheaper than Foodland, depending on what you want to purchase, and has great deals all the time!
The downside is that it only has food and personal supplies, so you will have to shop for your beach toys elsewhere.
Long's Drugs
However, Long's Drugs is right next to Tamura's and has other supplies you will need! It is similar to Foodland to get discounts, but it is free to join, so why not?
Best Restaurants in North Shore Oahu
Some of the best restaurants on the island are right along the North Shore! You can find pretty much anything you like: Mexican, Chinese, seafood, burgers, and more!
Seven Brothers
Seven Brothers is in the strip mall in Laie and is the best burger place ever invented. There is just something about their special sauce that makes everything incredibly delicious.
There are multiple burger options, as well as fries. Their fries are seasoned with their special sauce, onion rings, pineapples, cooked onions, and more! Everything on the menu is seasoned and cooked to perfection.
Pounders
Another great restaurant in Laie is Pounders. It is located in the Hukilau Marketplace of the Polynesian Cultural Center. You do not have to pay to get into Pounders because the Marketplace is free for anyone to roam.
They have anything from steak and fries to shrimp pizza, to the catch of the day fish. Enjoy delicious seafood entrees and appetizers that make you crave more!
Kahuku Food Trucks
Not far away are the famous Kahuku food trucks. There you will find anything and everything!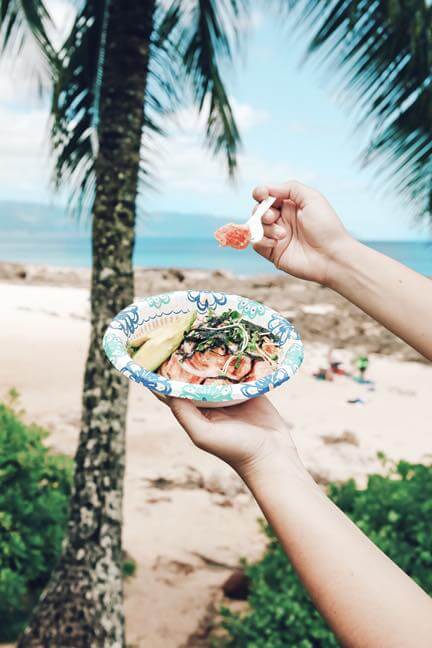 You can have shrimp, Mexican food, Chinese Food, Thai food, frozen yogurt, and so much more.
Giovanni's Shrimp is one of the most popular North Shore food trucks. Each plate includes 12 jumbo shrimp and 2 scoops of rice, and you have a few varieties to choose from.
The Lemon Butter Shrimp comes with a delicious creamy sauce, and the "No Refunds" Hot and Spicy Shrimp platter is as intense as it sounds. You can also opt for a basic shrimp scampi plate, Giovanni's signature dish.
At $14 for a full plate or $7 for a half plate, this food truck's dishes are a steal! Giovanni's Shrimp Truck only accepts cash, but there's an ATM nearby.
Ted's Bakery
Closer to the middle of North Shore Oahu is Ted's Bakery.
Ted's Bakery offers a large menu with delightful plates. Choose from small or regular-sized plates of hot food and baked goods.
The bakery makes dozens of cream pie, pastry, and round cake varieties, some of which you might not have heard of.
Lunch is Ted's busiest time of day, with beach goers ordering barbecue plates to bring back with them. If you like chicken, you'll love Ted's shoyu chicken plate with rice and macaroni salad.
Some of the most popular hot plates at Ted's Bakery include garlic shrimp, fried rice, and loco moco. After your meal, try the chocolate-haupia pie or the pineapple macadamia nut cheesecake.
Haleiwa Restaurants
Haleiwa has excellent restaurants, as well. You can find many great food trucks in Haleiwa, similar to Kahuku. The famous Matsumoto shave ice is located amidst these restaurants.
There are also tons of adorable cafes in North Shore Oahu that are perfect for getting your caffeine fix. They also usually have yummy breakfast items.
One of the best Haleiwa restaurants is the Haleiwa Beach House. Here you can have a delicious seafood dish or a great big burger. They have a vast variety making it perfect for an entire family to enjoy.
Guide to North Shore Oahu Beaches
Of course, there are some spectacular beaches along the North Shore. Some of these are great for surfing, while others are better for relaxing along the sand or floating in the water.
Beach Parks
There are several beach parks all along the North Shore. These typically have picnic benches and grass areas to enjoy meals and family time. They have their set hours and rules, so make sure to check for those.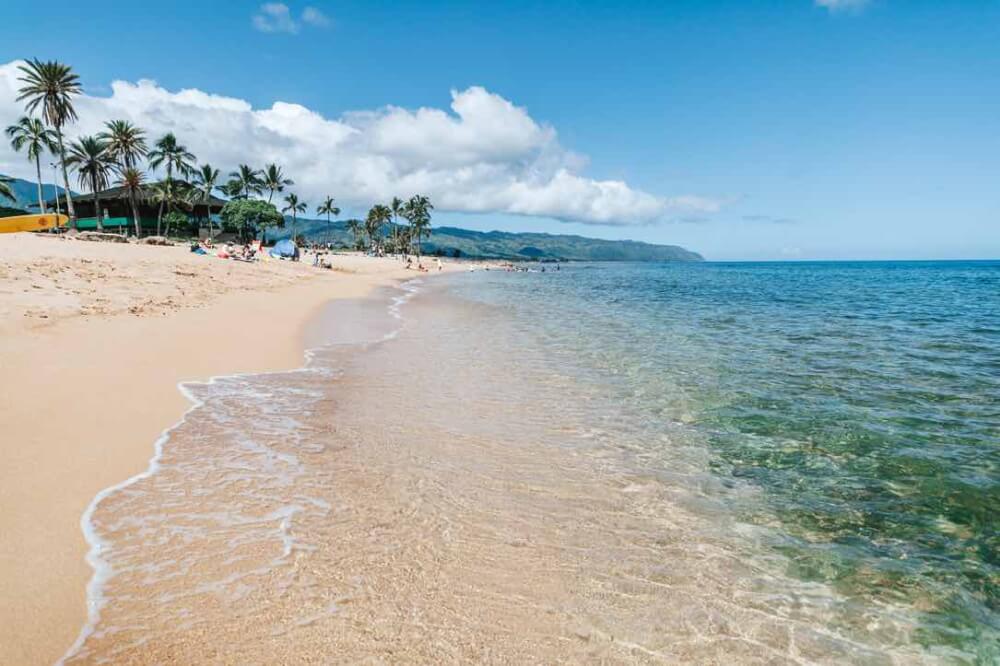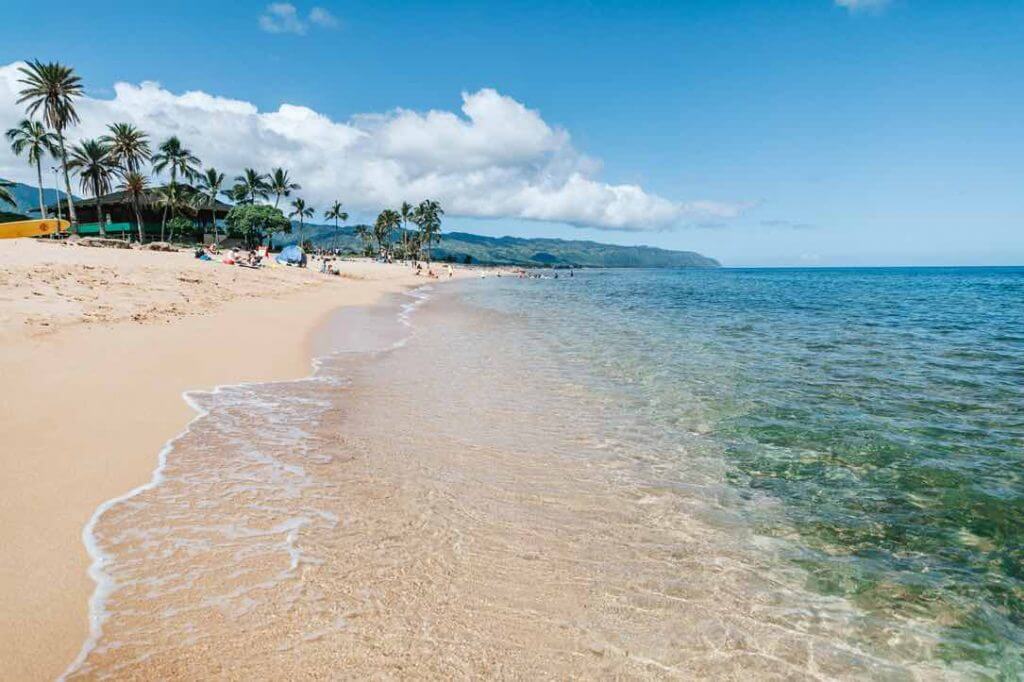 Some of the parks across the North Shore include Hauula, Kokololio, and Haleiwa.
Temple Beach
Right in front of the LDS temple is, you guessed it, temple beach. Typically you will see kite surfers across the water.
Goat Island is located right off the water of this beach. It is dangerous to go there, though with high tides and sometimes sharks.
Turtle Bay
Turtle Bay beach is the one located directly in front of the resort. It is not rough, and it is great to swim and enjoy the water. It is typically crowded, though, since it is a beautiful beach and in front of the resort.
Laniakea Beach (aka Turtle Beach)
Also known as "Turtle Beach," Laniakea Beach is part of the 7-Mile Miracle, a stretch of water perfect for winter surfing.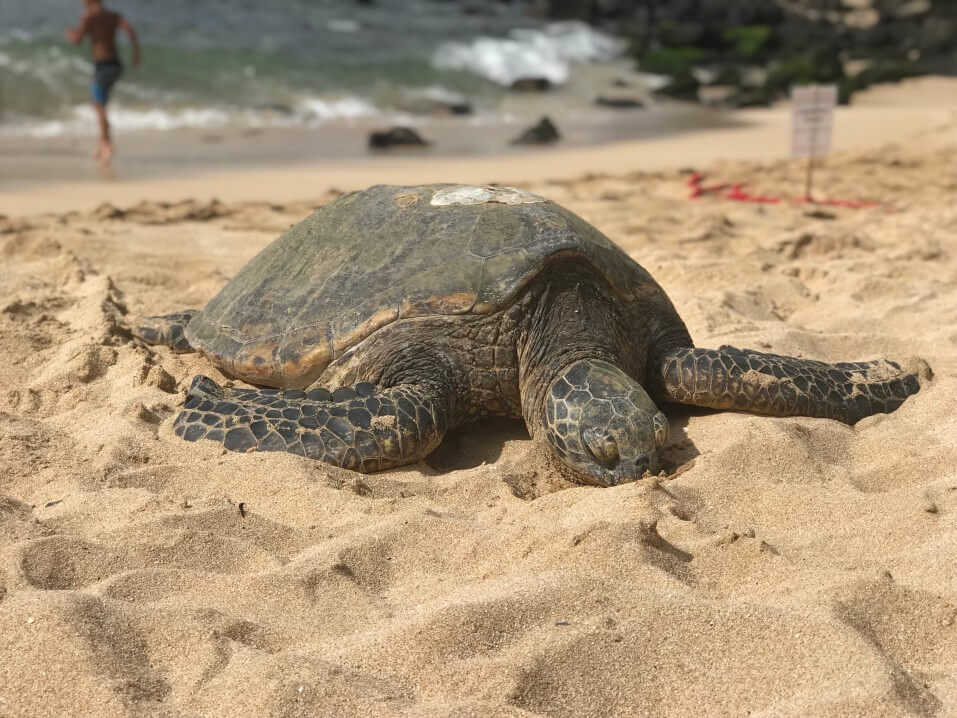 Along the shore, you'll see the giant sea turtles who live here. You won't have to go searching for turtles, either – they'll be right there in front of you!
While you can explore Laniakea Beach on your own, tourists should consider a 90-minute guided snorkeling tour to see the marine wildlife.
Federal law prohibits beach goers from touching the turtles, but you're free to take photos of them from the rocky cove.
Read my full guide about Turtle Beach on Oahu
Sunset Beach
This is where they have the surf competitions. The waves can get pretty intense, so be careful if you are not the best swimmer. The sunsets are gorgeous to look at over this beach.
This is another tourist attraction and usually has heavy traffic during the day.
Shark's Cove
If you want to enjoy some snorkeling, Shark's Cove is a great little area to find some fish. There you will find a circle coral area to look at the fish and enjoy shallow water for your little ones.
Waimea Bay
Here you can find the rocks to jump off as well as more surf competitions. It is a beautiful beach with a parking lot, so you won't have to park on the side of the road unless it is super busy.
Best Things to do in North Shore Oahu
Besides enjoying the beach, there are many great things to do on the North Shore. Some of these North Shore Oahu activities include ziplining, the Polynesian Cultural Center, and the Dole Plantation.
Zipline
One of the best ziplines in the country is right along the North Shore. It has eight different zip lines, each zooming down the mountain. Enjoy an ATV ride to the top and watch the beautiful scenery going down. Check out the latest prices and more details.
Along the path, there are certainly other activities to do as well. Some of the ziplines you can go upside down and backward, making it a thrilling adventure!
Polynesian Cultural Center
This 42-acre attraction opened in 1963 to educate the public on Polynesian culture.
Begin your day at the Hukilau Marketplace, where you'll find delicious Hawaiian eateries. Then, check out the 7 villages that make up the cultural center.
Each village offers different activities and entertainment, but the Samoa village is a fan favorite. Check latest rates and availability.
Be sure to stick around for the closing show, Ha "Breath of Life." Some people visit the cultural center just to see the show!
Plan to spend an entire day at the center, since there's so much to see and do here. Your entry ticket is valid for 3 days after your first visit because the center is that expansive!
Read my full guide on the Polynesian Cultural Center
Cage Diving with Sharks
Believe it or not, it's safe to swim with Oahu's sharks! As you pull up to shark-infested waters you'll be given snorkeling gear before entering a metal cage. Check out the latest prices and more details.
The sharks in this area are mostly harmless – you'll likely see Galapagos and sandbar sharks, though you might also encounter a tiger shark or hammerhead.
This 2-hour-long excursion lets you get close to these misunderstood predators in a safe environment. You don't want to miss this opportunity!
If you don't want to get in the water, you can still enjoy the scenic boat ride and view the sharks from your boat. For a fee, the guides can also pick you up from your Waikiki hotel.
Get your discounted Cage Diving with Sharks tickets.
Toa Luau
There's another North Shore luau that's definitely worth checking out. It's called Toa Luau and it's at the beautiful Waimea Valley.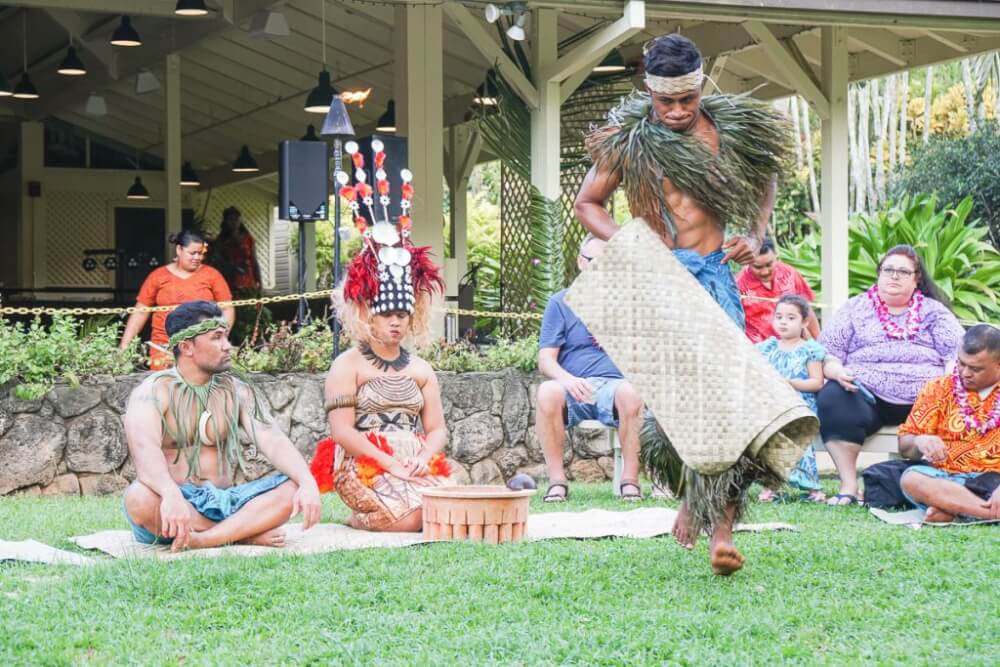 From Monday-Wednesday, partake in a traditional luau at Waimea Valley. You're invited to witness cultural demonstrations, sample some Polynesian food, and explore the natural wonders around you. Check out the latest prices and more details.
This luau is designed to be educational, so you won't feel out of place if you're unfamiliar with Polynesian culture.
Each Toa Luau package includes admission to the Waimea Falls Park. Before your luau, view the diverse plant species and gaze at the 50-foot waterfall at the park.
Read more about Toa Luau
Surfing Lessons
Even if you're not a pro surfer, you can still ride Oahu's waves! A Hawaiian lifeguard with 20 years of experience will teach beginner surfers the essentials of the sport. Check out the latest prices and more details.
As you surf, you'll get to interact with the native wildlife that surrounds you. Bring your whole family to a 2-hour lesson – the instructor and his Golden Retriever can't wait to meet you!
Each surfing lesson comes with surfboard, leash, and rash guard rentals, along with a free turtle-viewing tour. Choose between a group lesson or a private class.
Get your discounted North Shore surfing lessons.
Dole Plantation
The Dole Plantation is another one of the best things to do on the island. Many of their activities are free such as the fish feeding pond and a pineapple cutting station!
Others do cost, including the garden maze and the train tour.
Kim Taylor Reece Gallery
Art enthusiasts should stop by the Kim Taylor Reece Gallery, which sits about 5 minutes outside of the Polynesian Cultural Center.
Kim is known for his sepia and black-and-white photography capturing the essence of Hula.
His gallery is surrounded by gorgeous ocean views to compliment his stunning work. On your way out, be sure to grab some souvenirs inspired by the artwork!
Best Things to Do in North Shore Oahu: Go Hiking!
There are many beautiful hikes along the North Shore. Laie falls includes a waterfall as well as the Waimea Valley Reserve. Sunset Pillbox is another stunning hike that shows a unique view of the island.
Ka'ena Point Park
On the North Shore of Oahu, the hiking trails begin where the roads end. Once you reach the end of the road, hike the 2.5-mile-long trail to the tip of Ka'ena Point.
You'll encounter an enclosed bird sanctuary that's open to visitors, beautiful ocean views, and switchback trails. If you begin your hike on the leeward side, you may even see whales in the winter!
Ka'ena Point Park doesn't have lifeguards or safety guides. Climb down rocks at your own risk, as they're oftentimes slippery.
Read more about hiking on Oahu
The North Shore of Oahu will not disappoint you. From the beautiful beaches to the adventurous activities, there is something for every family member to enjoy!
Next time you go, be sure to plan your vacation around some of these best things to do in North Shore Oahu!