Heading to the Big Island and hope to see real lava on your Hawaiian vacation? Scroll to find out everything you you need to know in this guide to Hawaii Volcanoes National Park, the only UNESCO World Heritage Site in Hawaii.
This Guide to Hawaii Volcanoes National Park contains affiliate links which means if you purchase something from one of my affiliate links, I may earn a small commission that goes back into maintaining this blog.
Believe it or not, the island of Hawaii, also known as the Big Island is a new island and is constantly growing. The growth is all due to the hot spot that has continuously spewing lava into the ocean.
It's also one of the few places in the world were regular people can hike to the active lava spots and get amazing photographs of the lava flowing into the ocean.
But the lava isn't the only thing you can do here at Hawaii Volcanoes National Park. There are tons of things to see and do if you have the time.
So how long do you need to enjoy the park? There is no easy answer to this question. It all depends on how much time you have.
There are several activities you can do that allows you to get a brief glimpse of what the park has. Or, you can spend days and explore every inch of the park.
So, whether you are doing a day trip to Hawaii Volcanoes National Park or are planning on spending several days there, this post has you covered!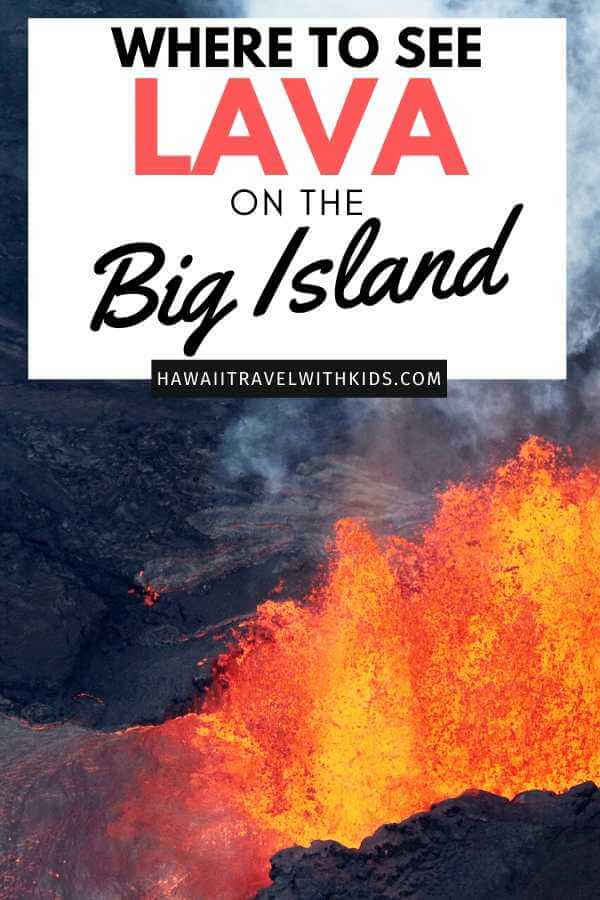 Hawaii Volcanoes National Park FAQs
What's special about Hawaii Volcanoes National Park?
It's one of the best places to see fresh lava in Hawaii. Plus, this Hawaii National Park has some of the rarest geological and biological landscapes in the world.
How many active volcanoes are at Hawaii Volcanoes National Park?
There are 2 active volcanoes: Mauna Loa and Kilauea.
Is it safe to visit Hawaii Volcanoes National Park?
You bet! Although, use common sense about not hiking on the sharp lava rock in the dark to avoid injuring yourself. And don't go anywhere that has a "keep out" sign.
Can you see lava at Hawaii Volcanoes National Park?
Yes, as long as the volcano is actively erupting. You can always check before your trip if that's the main reason you'd like to visit this Hawaii National Park. If it is actively erupting, you have a great chance of seeing the lava flow since the park is open 24 hours a day!
The Ultimate Guide to Hawaii Volcanoes National Park:
Where is this Hawaii Volcanoes National Park Located?
Before you can start planning on what to see and do at the park, you need to know where to go. The Hawaii Volcanoes National Park is located on the south side of the Big Island between Hilo and Kona.
Starting in Kona — Fastest Way
If you are starting out on the Kona side of the island, or the "dry" side, you will have to take Highway 11. Start by going southeast, you'll cut through Kealakekua, Captain Cook, South Point, Na'alehu and Pahala.
Don't just drive through these areas, there are tons of things to see. You can stop and enjoy the black sand beach that is located on the Ka'u coast. Look for signs for Punalu'u.
Have a picnic and enjoy the basking turtles for a bit before heading back on the road.
Then you can simply continue driving around Highway 11 until you reach the Hawaii Volcanoes National Park.
In total, you will drive for 2 and half hours and go 96 miles if you are going to the park from the Kona side of the island. This is of course taking the shortest route.
Starting in Kona — Alternative Route
Another option is to start from Kona and go through to Waikoloa. From Waikoloa, you'll head up to Waimea. You can take the 'shortcut' through the dormant volcanoes of Mauna Loa and Mauna Kea on "Saddle Road."
Saddle Road isn't as bad as it once was. It used to have blind turns and very windy road with limited visibility.
But over the years, the state has made improvements to the road, and it's an easy smooth drive to get to the Hilo side of the island.
If you take this route, you'll be amazed by old Lehua forests and see just how massive Mauna Loa and Mauna Kea is.
This route will take about 2 and half hours to get to the Hawaii Volcanoes National Park. It doesn't have the view of the coast, but the view is still pretty awesome cutting through the sleeping volcanoes.
Starting in Kona — Alternative Route 2
Or, you can go from Waikoloa to Waimea and continue around through Laupāhoehoe, and see the stunning coast line this route.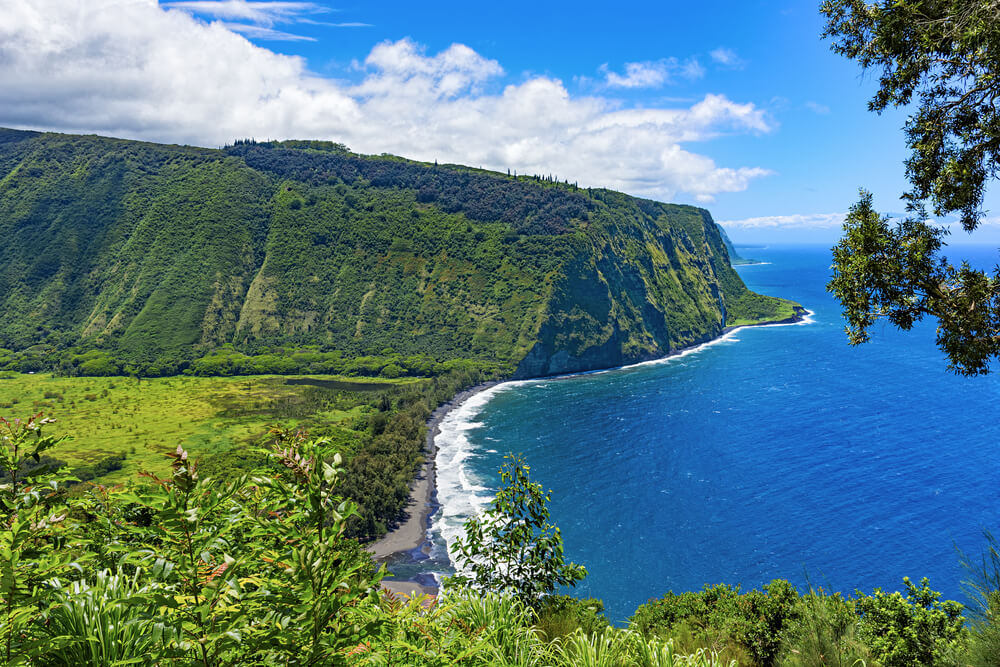 If you take this route, don't forget to take a detour to Waipio Valley lookout in Honoka'a. There you will see an amazing view of a black sand beach and glorious valleys.
It was here that Water World was filmed for the land scenes.
Word of caution though, don't try to go down to the beach. Just enjoy the lookout.
The hike down is easy and you may think you have the time to go down and back up. But the climb back up is what will take the most time.
The road is super steep and it switchbacks again and again. It takes ten minutes to climb down, but at least 35 to get back up. It is not an easy climb to the top.
But, if you want to hike, then jump back in your car and cruise to Laupāhoehoe where you'll find the Akaka Falls.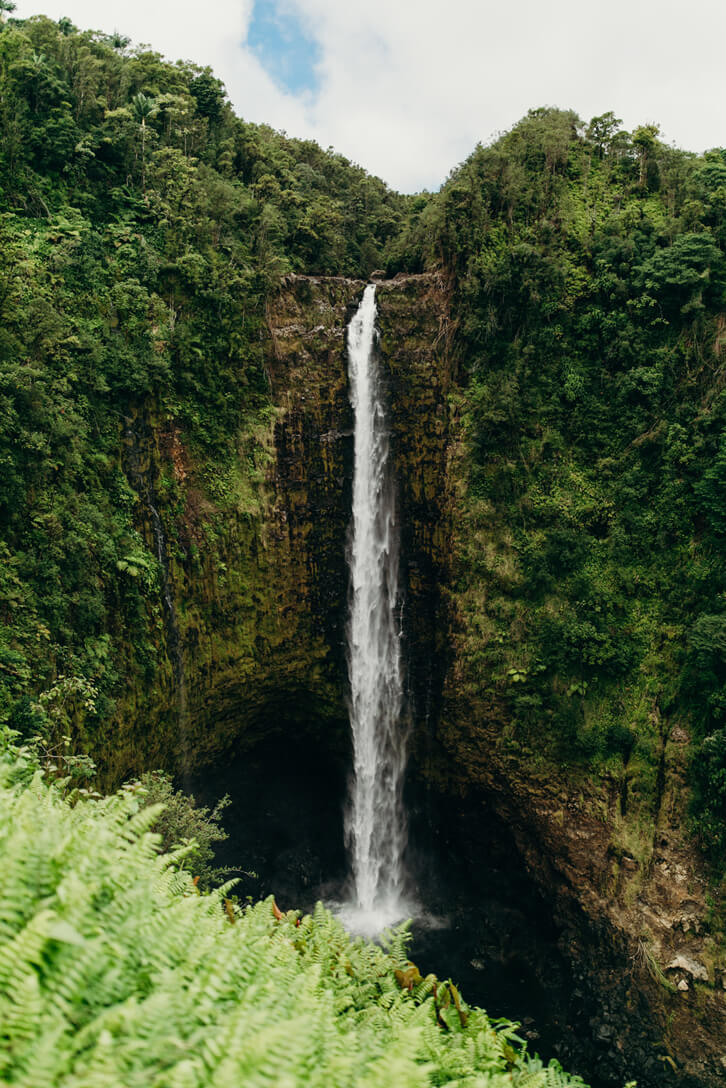 Here you'll hike through rainforest and find a spectacular waterfall. The path to the waterfall is easy and maintained. It takes about 20 minutes for a round-trip hike to see the falls.
You can even bring a stroller with you if you have young kids as the path is paved. There are only a few spots where you have to pick up the stroller, but overall super easy and well worth checking out.
Another place you can stop is at the lookout point to Hilo Bay just before you get into the city. It is here that you'll find a plaque stating how in the 1960s a tsunami came and destroyed a lot of Hilo and a school.
It's sad, but a part of Hawaii's history and is a beautiful lookout point.
Cutting through Hilo or Starting in Hilo
Once your legs are stretch continue on Highway 19 and connect with Highway 11. You'll be cutting through Hilo on this route and get to see the Banyan trees on the main strip, and also Hilo bay.
This route will take you around 2.5 to 4 hours depending on if you stop to hike, or if you stop at each point before getting to the Volcano National Park.
However, if you are staying in Hilo, you'll find the park is a mere 30 miles southwest. Simply drive for 45 minutes through Hilo and you'll come across the park.
Cost of Admission to the Hawaii Volcanoes National Park
Unfortunately there is a cost to get into the park, but at least it isn't too bad. Since 1987, the park has charged per vehicle. For cars, there is a $30 entrance fee. For motorcycles it is $25.
But, there are so many things to see and do here that the price is well worth it.
Guide to Hawaii Volcanoes National Park: the Best Things to Do
When you first drive through the entrance of the Hawaii Volcano National Park, you may find yourself on a foreign planet. At least, that will be what it seems like.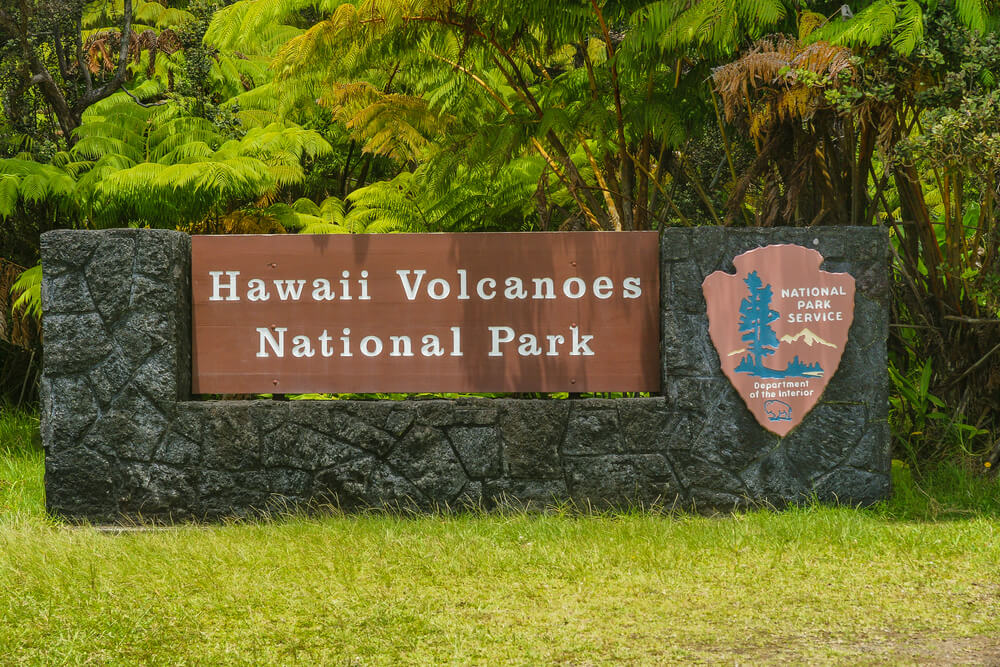 The vast dark ragged and rugged landscape makes it look like you are some place other than earth. And you may wonder what all you can do here at the park.
Well, there are tons of things for you to see and do at this UNESCO World Heritage Site.
You'll first want to get an idea of what is around you. Stopping at the visitor's center and exploring the Jaggar Museum should be your first priority.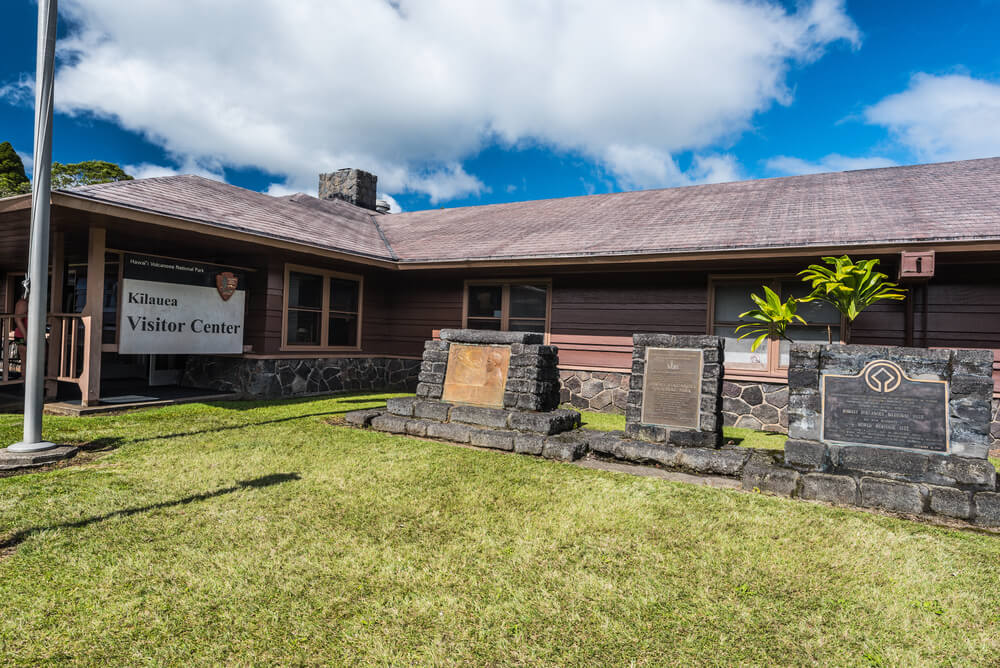 It is here that you'll learn about the different types of lava flows. You will also get to see the different advancements scientists are doing to explore and better understand lava and the earth's core.
Once you roam around the museum and snag a map of the park, you might want to jump right into actually seeing lava flow out into the ocean. The thing is though you are still a ways away from the shore.
In fact, it will take about 45 minutes to travel down the road to get to the place you can park and then another 30 minute hike to the coast line over frozen lava fields.
So, you might want to wait and do this last for 2 reasons.
First, there is a lot to see and do between the visitor center and the shoreline. Just making a bee line to the flowing lava will have you missing out on some amazing sites.
Second, viewing the lava at dusk is far more stunning than watching it during daylight hours. Normally the glowing light is visible during the day. To get that remarkable and unforgettable view, wait till dusk.
Thurston Lava Tube
The Thurston Lava Tube is one of the more popular sights to see at Hawaii Volcanoes National Park.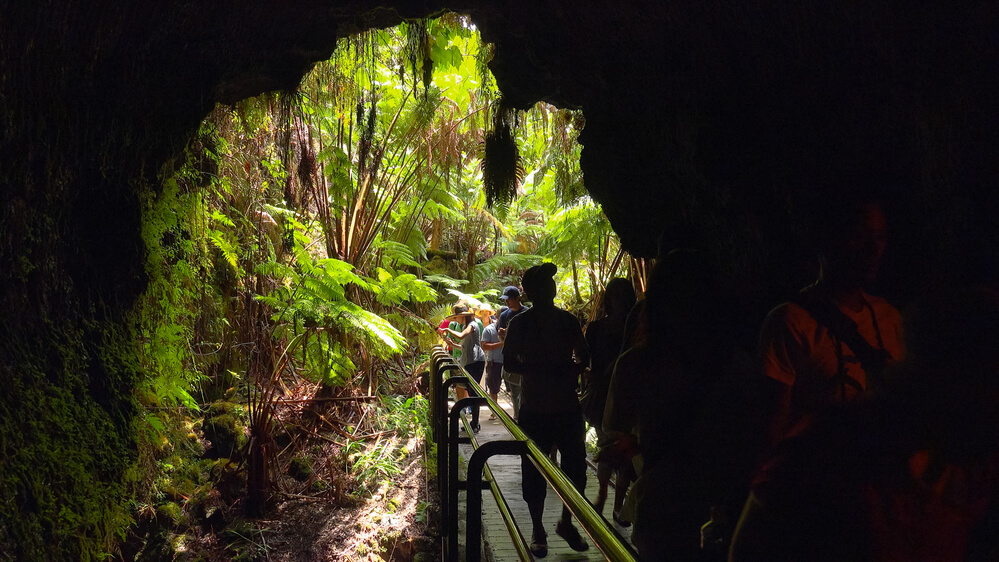 It is a spot where lava passed through clean leaving an open area for you to walk through. It's basically a cave that anyone can walk through. The ground is flat, and it goes on a short distance and is a must see.
Crater Rim
The Crater Rim is the fastest and easiest way to see a lot in a short amount of time. Of course, short is relative seeing as there are so many spots to stop and take in the view, have a picnic, or just relax and enjoy nature.
But if you are on a time limit, then doing the Crater Rim Drive will give you the most photo opportunities for your time.
First you'll start out at the visitor's center and drive around to the Steam vents. There you will also be able to take in the Steaming Bluff and Ha'akulamanu.
Just be wary of the stench around these parts.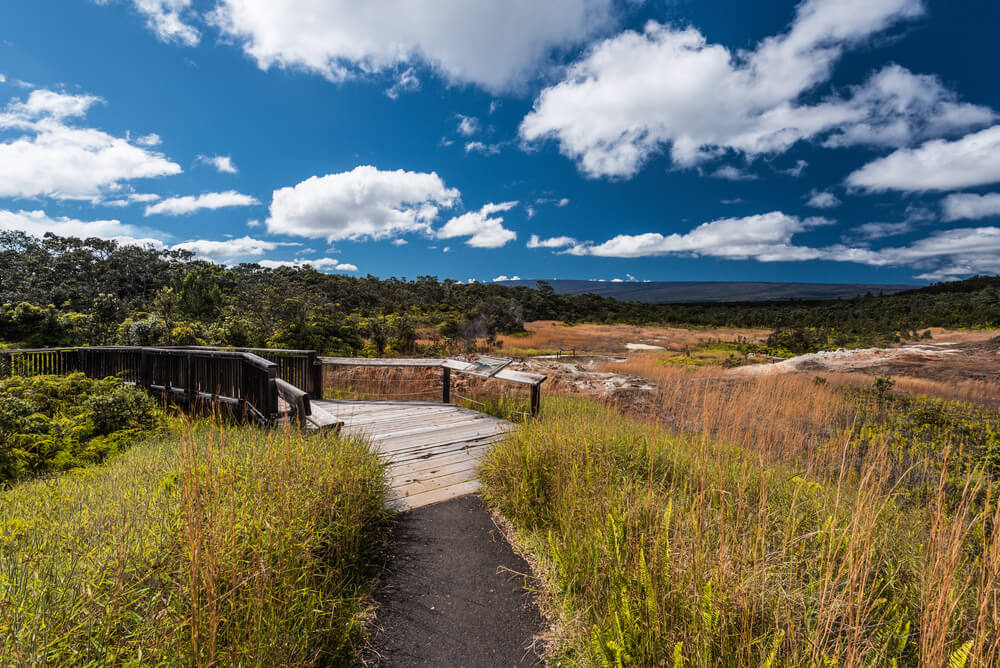 The steam vents and bluff are around the Sulphur Banks area which means that the air quality will be poor and will stink of rotten eggs because that is what sulfur smells like.
Once you got your pictures continue on the drive and stop off at the Kilauea Iki Overlook. The view here is fantastic and a wonder. There are plenty of places on the side of the road to stop for a picnic, or enjoy the scenery.
Then it's off to the Pu'u Pua'i Overlook where you can see even more awesomeness of how lava can transform and create new land.
Once you have seen the valley area, you can head towards "Devastation Trail" and stretch your legs on a small hike.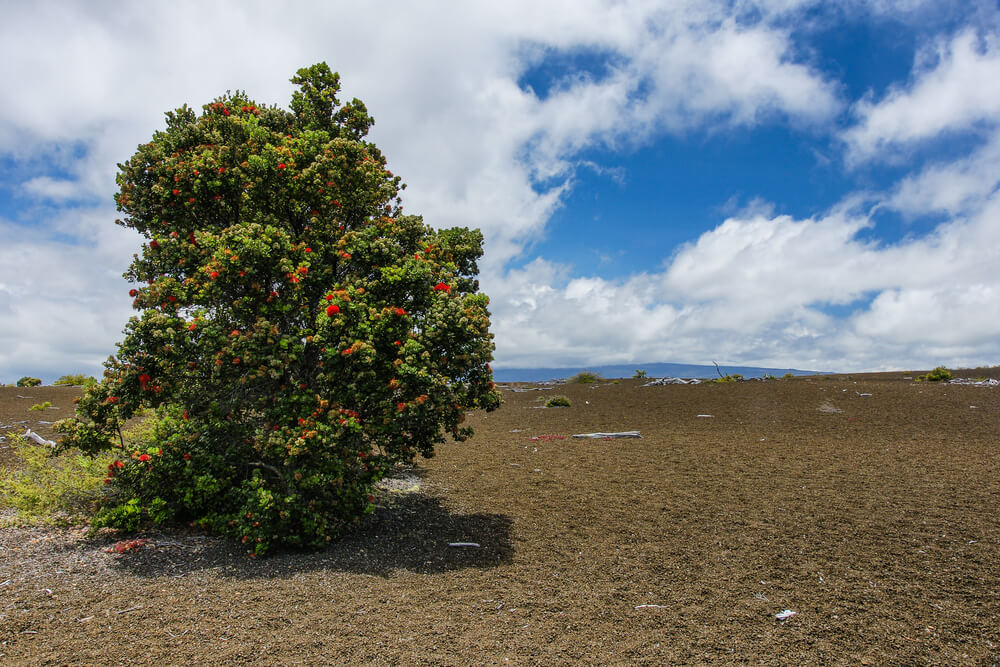 The Devastation Trail makes it seem like you are on the moon or even Mars. There are no trees or anything around and looks just as it sounds. Barren and devoid of life.
Finally the Crater Rim Drive will take you to Keanakako'i Crater. Once you have got your fill of the Crater Rim, you can start the long drive down the Chain of Craters Road.
Here you will find lots to see, from old lava rivers that are dated along the road to views of the ocean.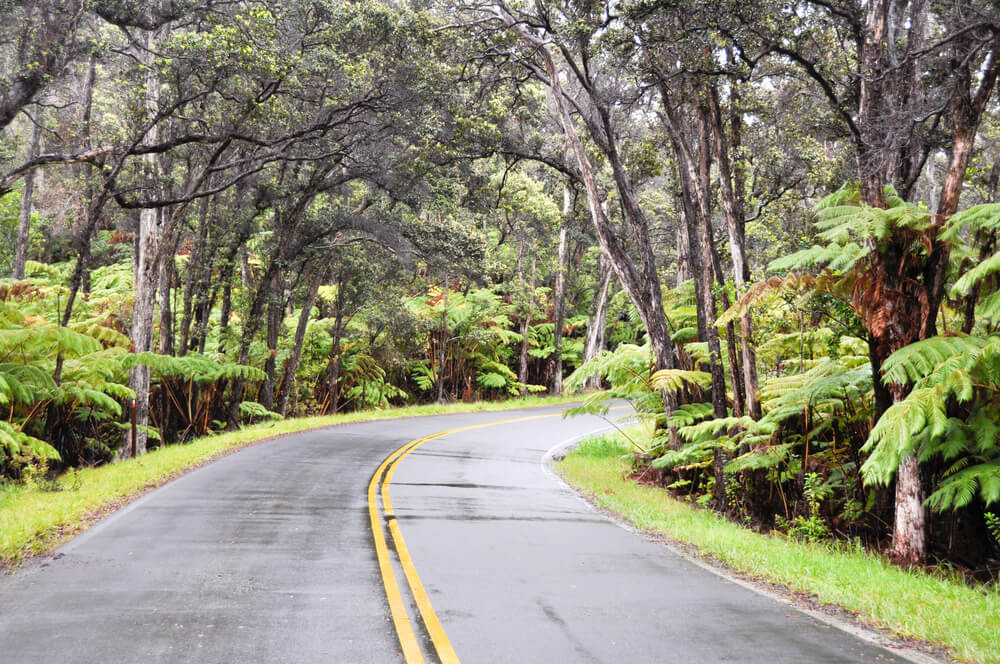 The Chain of Craters Road will bring you down the slopes of Kilauea towards the ocean. Here you can check out the Holei Sea Arch at the end of the road. It is here that you really understand and see that the Big Island is a new island and growing.
Special Ranger Programs at Hawaii Volcanoes National Park
There are some really cool programs at this Hawaii National Park that are offered throughout the year.
On select Tuesdays, head to the Kilauea Visitor Center for After Dark In The Park for special presentations by leading scientists, artists, and cultural experts on park-related topics.
Join Hawaiian practitioners as they share the arts and culture of Hawaiʻi with demonstrations and hands-on activities during ʻIke Hana Noʻeau (which translates to mean "Experience the skillful work".)
Grab tickets for a small, underground laboratory where you'll experience A Walk Into The Past – A Living History.
This is where a living history presenter dressed in period costume brings back to life Thomas A. Jaggar, founder of Hawaiian Volcano Observatory.
Find out which programs are happening during your trip
Hiking and Camping at Hawaii Volcanoes National Park
The Hawaii Volcanoes National Park is a lot bigger than what people think. You can spend days here and still not see everything. That is why the park offers people the ability to camp in the park.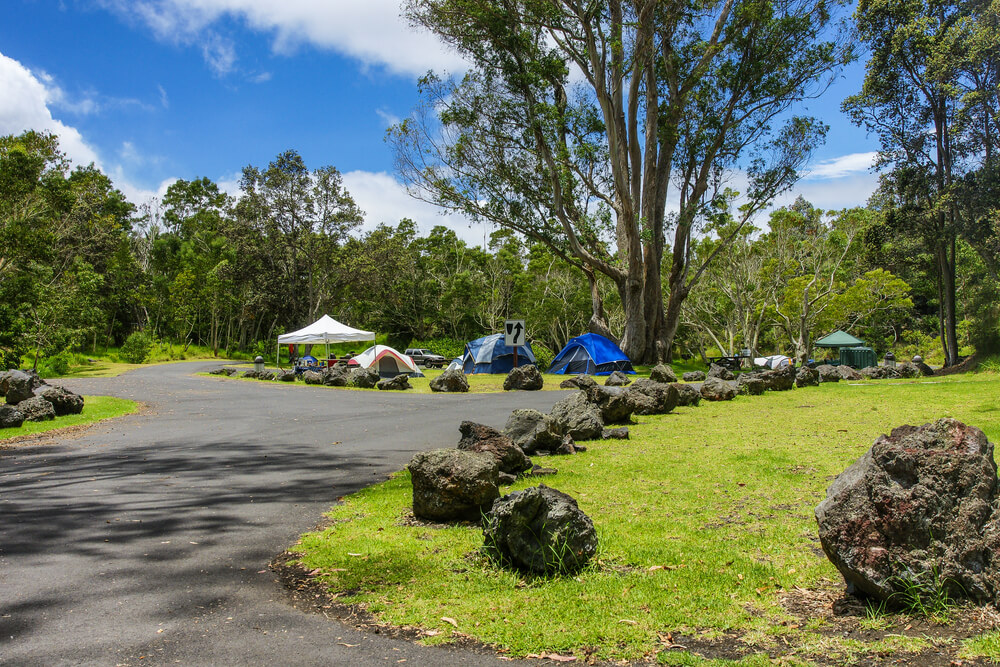 Granted, you'll have to get a pass and talk to the ranger's at the visitor center to know what part of the park is closed off to campers and hikers.
But if you have time to kill, camping here and exploring the park as the Hawaiians once did make it a memorable experience for sure.
As for hiking, there are tons of trails you can go on. Each trail is different and some are harder than others.
There is one trail that takes you over the crater and takes several hours to complete, or one that brings you through a rain forest where you can search for the Hawaii State bird, the Nene Goose. It all depends on your level of exercise.
Just be sure to bring plenty of food and water while experiencing the park.
Find out more about Camping in Hawaii
What to Bring to Hawaii Volcanoes National Park
When viewing the lava at Halemaumau Crater on the slopes of Kilauea, there are a few things you need to do it safely. Wear sturdy closed-toe shoes. Lava is unforgiving and one slip or stumble and it will cut into you very easily.
You should also have with you plenty of water. There are so many people who get lost on the trail coming back to their car and are without water that it is scary. So just make sure you have water with you at all times.
A flashlight is a must if you are going to see the lava at dusk. You'll lose track of time down there watching the lava spewing into the ocean and you'll need a light to find the trail to get back to the car.
Flashlights are inexpensive and can save your life out there.
Far too many people get turned around in the open lava field and lose track of where they are going without a light.
Last thing you'll need is a good jacket or wind breaker. The temperature drops at night in the park. It also has a tendency to rain in the evening in Hilo.
Granted, Hawaii temperature doesn't drop like you would see in the deserts of say Arizona, but it does get chilly. It can even drop down to the high 40s low 50s. In which case, it can be quiet cold and damp. So bring a jacket while visiting the park.
Where to Stay Near Hawaii Volcanoes National Park
If you think you'll want to spend more than one day exploring this Hawaii national park, you might consider staying nearby.
If you want to stay in a Hawaii Volcanoes National Park hotel, Volcano House is the only hotel located within the park. It first opened in 1846 and sits on the rim of Kilauea's Halemaumau crater.
People come from all over the world to experience its iconic location, rich cultural legacy, and warm Hawaiian hospitality.
Just one mile from the entrance to Hawaii Volcanoes National Park is Volcano Village, in the old Ohi'a rainforest. You can easily walk to popular Volcano restaurants and shops.
For a really epic experience, stay at a real treehouse at the summit of Kilauea. This Airbnb is less than 5 minutes from the main gates to Hawaii Volcanoes National Park.
If you've never used Airbnb, get $40 off with my link!
UNESCO World Heritage Site
In 1987, Hawaii Volcanoes National Park was named a UNESCO World Heritage Site. That's because it's home to Mauna Loa and Kilauea, two of the world's most active and accessible volcanoes.
It's a great place to witness geological processes.
In fact, if you measure Mauna Loa from the ocean floor, it's the greatest volcanic mass on Earth!
Best Hawaii Volcanoes National Park Tours
Volcano Unveiled
One of the best volcano tours on the Big Island is run by Hawaii Forest & Trail, which is certified by the Hawaii Ecotourism Association.
Volcano Unveiled is a 12 hour tour that includes a 2-3 mile hike to see Kilauea volcano. You'll also head to Kauhi Cave, a private lava tube and cavern that's only available through this tour.
Along the way, your guide will explain more about Hawaii's geology, culture, and history.
Get your Volcano Unveiled tour tickets
Hawaii Grand Circle Island Volcano Tour
Roberts Hawaii is one of the oldest tour company in Hawaii and they have been running this Hawaii Grand Circle Island Tour for years.
This 10 hour minibus tour covers approximately 250 miles on the Big Island. You'll get to see the beautiful Hamakua Coast, Rainbow Falls State Park, 'Imiloa Astronomy Center, Punalu'u Black Sand Beach, and the Royal Kona Coffee farm.
But, it also includes a comprehensive tour of Hawaii Volcanoes National Park. You'll see the Volcano House, the Kilauea Iki Overlook, and Puhimau.
Get your Hawaii Grand Circle Island Tour tickets
Epic Island Journey
Hawaii Forest & Trail's Epic Island Journey is an 11.5 hour tour where you'll see some of the most popular Big Island attractions.
Check out Hawaiian Green Sea Turtles at Punalu'u Beach, see a beautiful flower farm, explore a private lava tube, tour Kona Joe's coffee mill, and see Rainbow Falls from a private viewing deck.
One of the coolest parts of this tour is the guided exploration through Hawaii Volcanoes National Park, where you'll get amazing views and learn tons about Hawaii's geology and culture.
Get your Epic Island Journey tour tickets
Hilo Volcano Special Tour
Hop on board this Roberts Hawaii Hilo Volcano Special Tour for an 8 hour journey. You'll learn everything from seismic activity to the ancient myth of Pele (the Hawaiian goddess of fire and volcanoes.)
Look out the window and enjoy sweeping views of the 24-acre Liliuokalani Garden. You'll stop at Richardson's Black Sand Beach, which boasts an ancient fishing pond and stunning views of Mauna Kea. And get out and explore Hawaii Volcanoes National Park.
Get your Hilo Volcano Special Tour tickets
Discover Volcano Country
Short on time? Hawaii Forest & Trail offers a 7 hour Discover Volcano Country tour that covers ancient lava fields, historic sites, awesome craters, and lots of Kona coffee farms.
You'll stop at the Ka'u Coast, Punalu'u Beach, a macadamia nut orchard, and a working ranch.
But, the big stop is an awe-inspiring tour through Hawaii Volcanoes National Park. See Halemaumau Crater (which doubled in size in 2018) and explore Thurston Lava Tube (which is 500 years old!)
Get your Discover Volcano Country tour tickets
Hawaii Volcanoes National Park Driving Tour App
If you want your own DIY Hawaii Volcanoes National Park tour, download this driving app. You'll get turn-by-turn navigation to must-see locations like: Kilauea Iki Trail, Thurston Lava Tube, Devastation Trail, Pu'u Loa Petroglyphs, and Holei Sea Arch.
Get the driving app
Conclusion on this Guide to Hawaii Volcanoes National Park:
There are far too many things to see and do at the Hawaii Volcanoes National Park for one post. You can go simply to search for wild life like boars, goats, donkeys, and all the native birds that live in the forest.
Or you can go to bask in the hot springs near the Steam Vents and enjoy a natural sauna experience.
But no trip to the park would be complete without a stop at The Volcano House. Here you'll find a 5 star restaurant that serves amazing food and is the perfect way to end your trip to the Hawaii Volcano National Park.