Planning a trip to the Big Island and want to learn more about the Hilo side of the island? Scroll to find out the best places to stay, eat, and explore in Hilo.
This Guide to the Best Things to Do in Hilo Hawaii contains affiliate links which means if you purchase something from one of my affiliate links, I may earn a small commission that goes back into maintaining this blog.
Hilo, Hawaii is one of the more luscious places you will find on the Big Island. Here you will find the green rain forest that you would expect from a tropical island as opposed to the Kona side of the island, which is completely dry.
Hilo is a bustling little city with many attractions and plenty of things to see and do. Some call Hilo the heart of Hawaii due to its laid-back atmosphere.
Here you will find a place where the culture of Hawaii is preserved with modern accommodations.
In this Hilo travel guide, you will learn all the top things to do in Hilo, Hawaii. So, if you are wondering what to see in Hilo while visiting this Hawaii island, keep scrolling!
Don't have time to read a bunch of Hawaii blog posts and reviews? Here are some of our top picks for visiting the Big Island.
Popular Big Island Tours/Activities
Favorite Big Island Resorts/Hotels
Want to Rent a Car in Hawaii?
One of the best places to rent a car in Hawaii is Discount Hawaii Car Rental because they get the best rates from top national companies like Alamo, Dollar, Thrifty, Avis, Enterprise, Budget, and Payless.
Want to skip all the planning and just access my detailed Big Island Itinerary complete with daily schedules, kid-friendly activities, and travel hacks? Click the button below.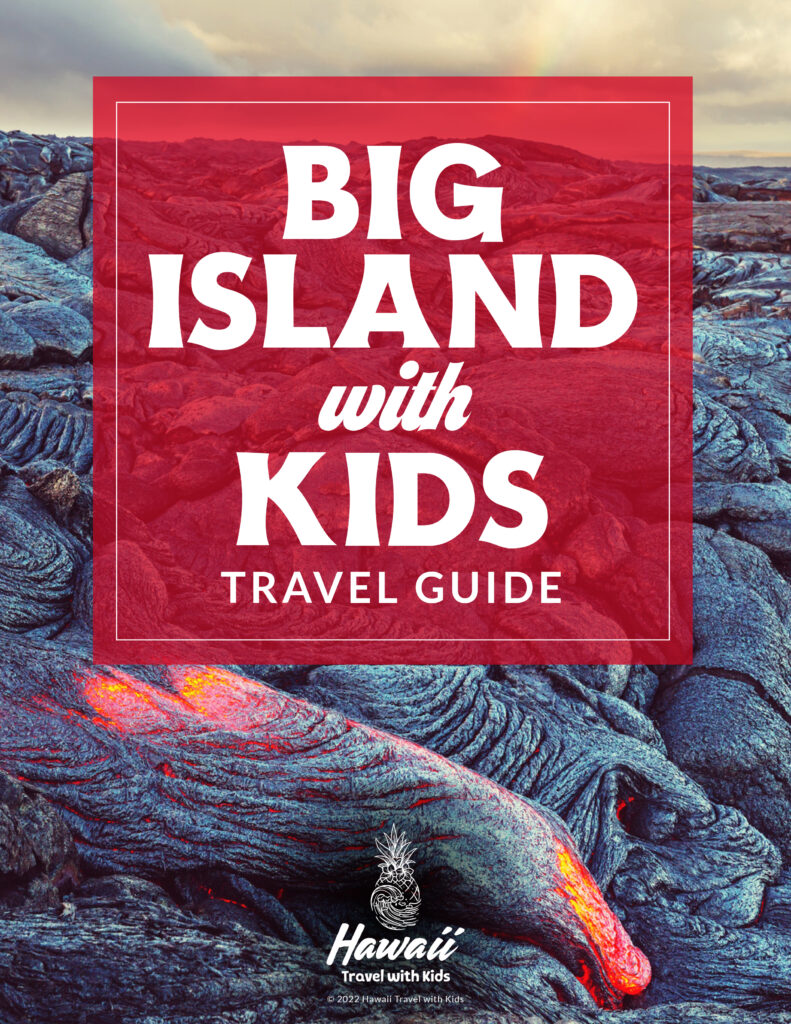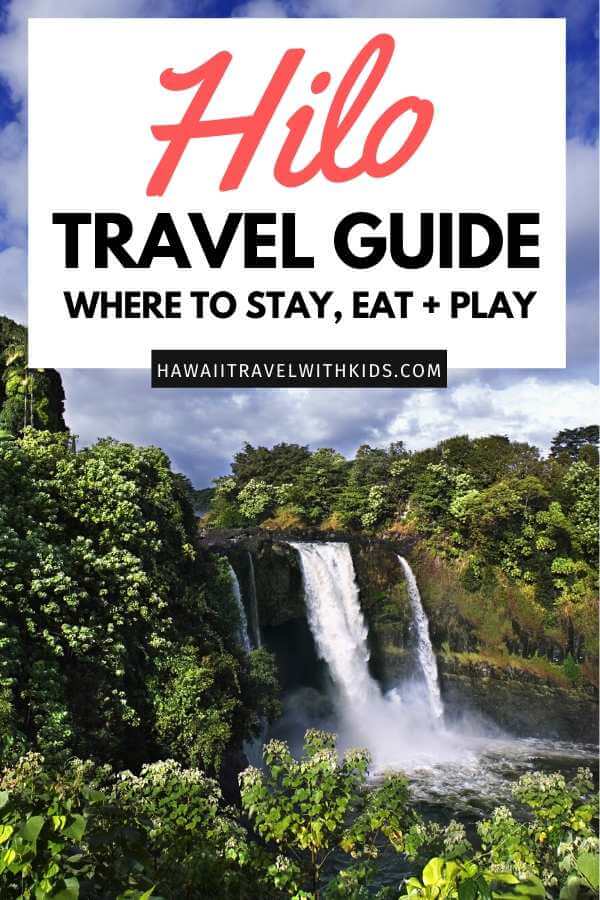 Do you Need a Car to Explore Hilo Hawaii?
There is absolutely no doubt about it: You will need a car if you are on the Hilo side of the island. Getting around Hilo town is not a problem. In fact, you could walk to many tourist spots and local places.
However, there are just so many things to see and do on the outskirts of Hilo that you will need a car to go and see them.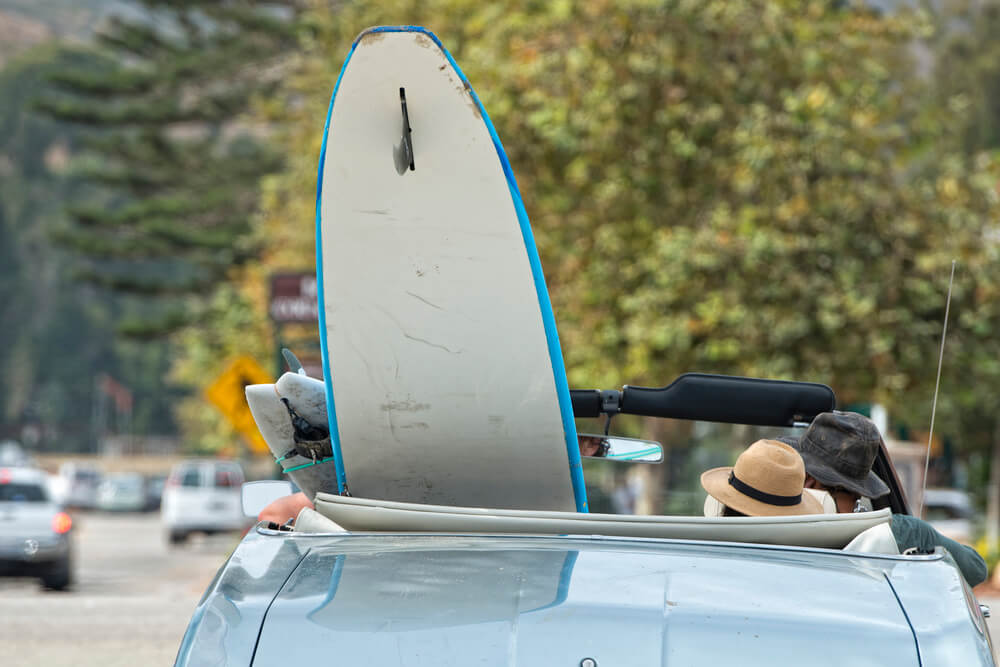 But if you're just planning on staying within the city limits, you can get around by public transportation such as buses, taxis, or walking. Just remember to budget your travel expenses with means of transportation while in Hilo.
For example, if you want to go to Hawaii Volcanoes National Park, one of the best things to do near Hilo, you will need a car to get there.
The park is about 40 minutes away from Hilo, and there are no public buses that take you there. Even a simple taxi ride to get you there will run you around $60 one way. Not to mention the fact that you may not be able to call for a taxi to come pick you up when you're done.
And if you choose to go north to see Akaka Falls, you will need a vehicle to get there, too. Akaka Falls is about a 45-minute drive north, headed towards Honoka'a. The lush waterfall is found in Lapahoehoe.
By getting yourself a car, you will be able to travel to Waipi'o Valley, which is a black sand beach that requires a four-wheel-drive vehicle to get down into.
Renting a car allows you to enjoy all the top things to do around Hilo with ease and is definitely worth it!
Find out more about renting a car in Hawaii
Best Things To Do in Hilo Hawaii
Here are the best things to do Hilo Hawaii has to offer! From the black sand beaches to seeing tropical plants at a botanical garden, these are the top Hilo attractions the entire family will love to do while visiting Hilo.
Hawaii Volcanoes National Park
Depending on how much time you have, you definitely want to stop by the Hawaii Volcanoes National Park, which is located on this side of the island. From Hilo, it is about a 40-minute drive.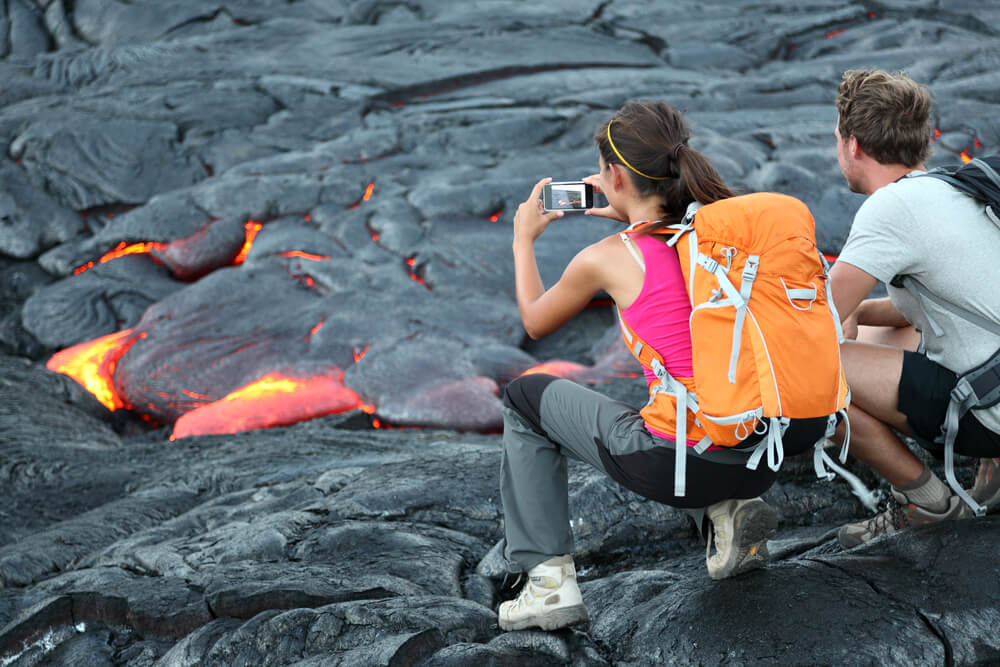 Once you're inside the Volcanoes National Park, there are tons of things to do; you can easily enjoy an entire day here. You can explore on your own or join a Big Island volcano tour.
From top Hilo hiking opportunities to see the Thurston Lava Tube or even Mauna Loa, this is one of the top things to do around Hilo!
It is one of the best national parks to explore on Hawaii too.
Read my full guide about Hawaii Volcanoes National Park
Akaka Falls State Park
If you're looking for a place to check out waterfalls, the best one to go to on this side of the island would be Akaka Falls. Akaka Falls is located in the County of Lapointe Way, which is roughly about 35 minutes outside of Hilo.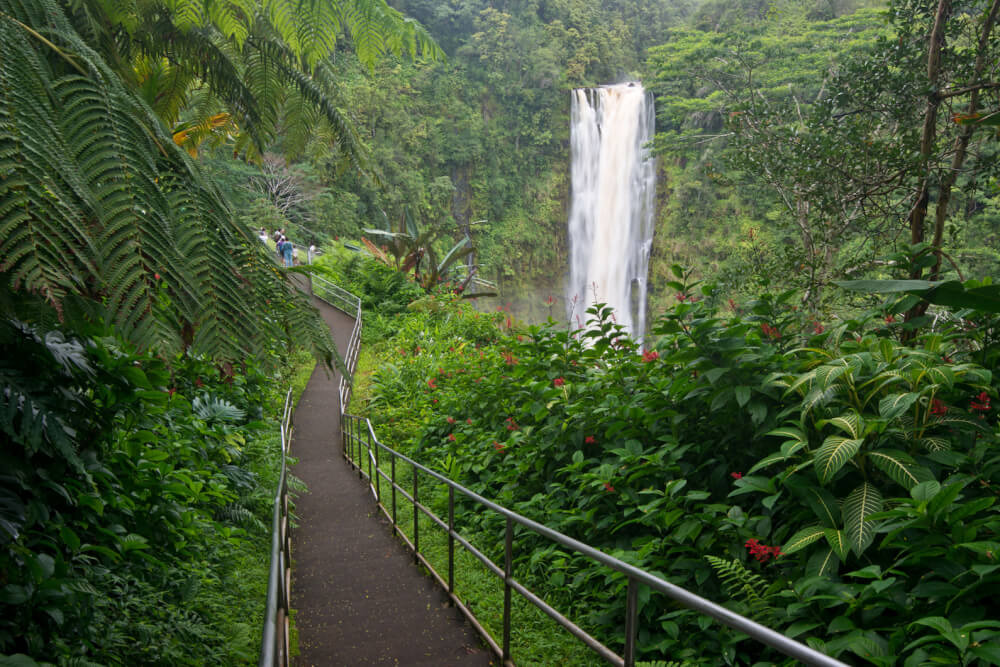 There, you will find a lush rainforest that is totally kid-friendly, and you can even take your stroller down to get a glimpse of an amazing waterfall. The path is very well-marked.
There's even fencing around the cliff area so that you don't have to worry about your little ones. It's one of the best cheap things to do on the Big Island with kids.
Rainbow Falls
For more Hilo sightseeing, check out Rainbow Falls.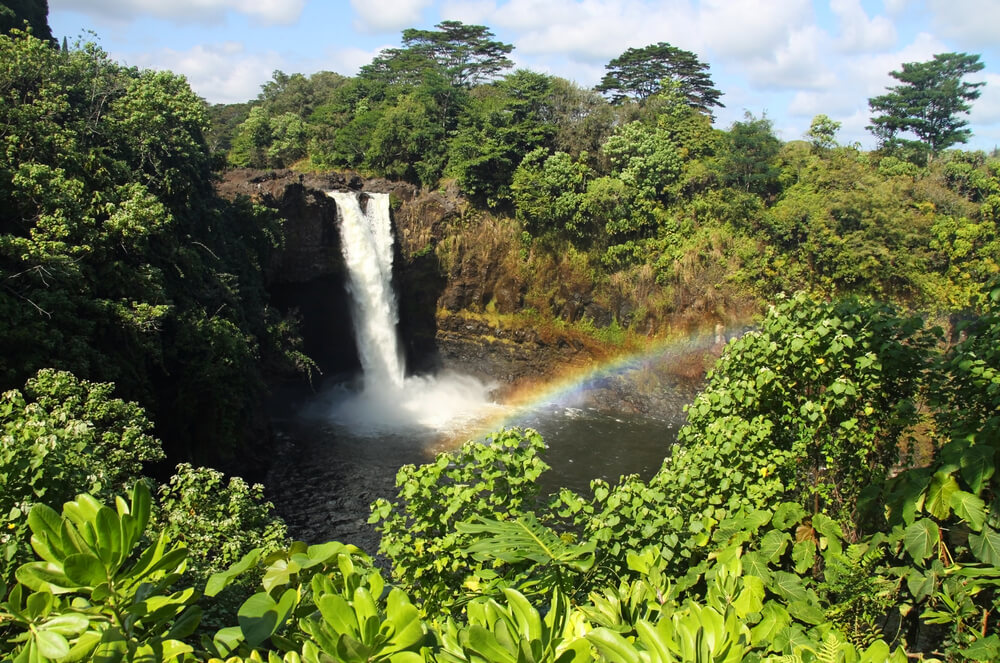 Located in the Wailuku River State Park, you can easily see this waterfall right from the parking lot! Or, you can take a short hike to see the Hilo Hawaii Rainbow Falls. Sometimes, it is roaring full of water, while other times, it is a small trickle.
This is one of the things to do in Hilo when it rains so you can see the huge waterfall!
Read more about the best Big Island waterfalls
Banyan Drive and Lili'uokalani Gardens
Another one of the Hilo things to see is Banyan Drive in the center of Hilo. There, you will find remarkable Banyan trees that are so huge and so beautiful. They grow so tall because Hilo is on the wet side of the island.
You'll be amazed at how everything there is lush and green. You can walk through the trees and through the park area. Your kids will love the cute little river that flows through the garden area.
Downtown Hilo
If you are a history buff, you may want to check out Downtown Hilo, where you will find plenty of historical sites to enjoy.
It is also a great place to explore the local culture, with shops to find some souvenirs, delicious places to grab a bite to eat, and so much more.
Go Hiking
Hilo is just such a remarkable little town that no matter where you turn, you can find a trail either leading up into a lush rainforest area or to a lookout point.
Now, if you start at the pier where the cruise ships come in, you'll find little trails that veer off to the left and to the right that will take you to different beaches.
Of course, if you decide to go up the volcano area, there are tons of places to hike as well. In fact, you'll find the best hiking Hilo has to offer right in the National Park.
Hawaii Tropical Botanical Garden
At the Hilo Hawaii Tropical Botanical Garden, you will find beautiful tropical flowers and plants. The one in Hilo is located at the University of Hawaii.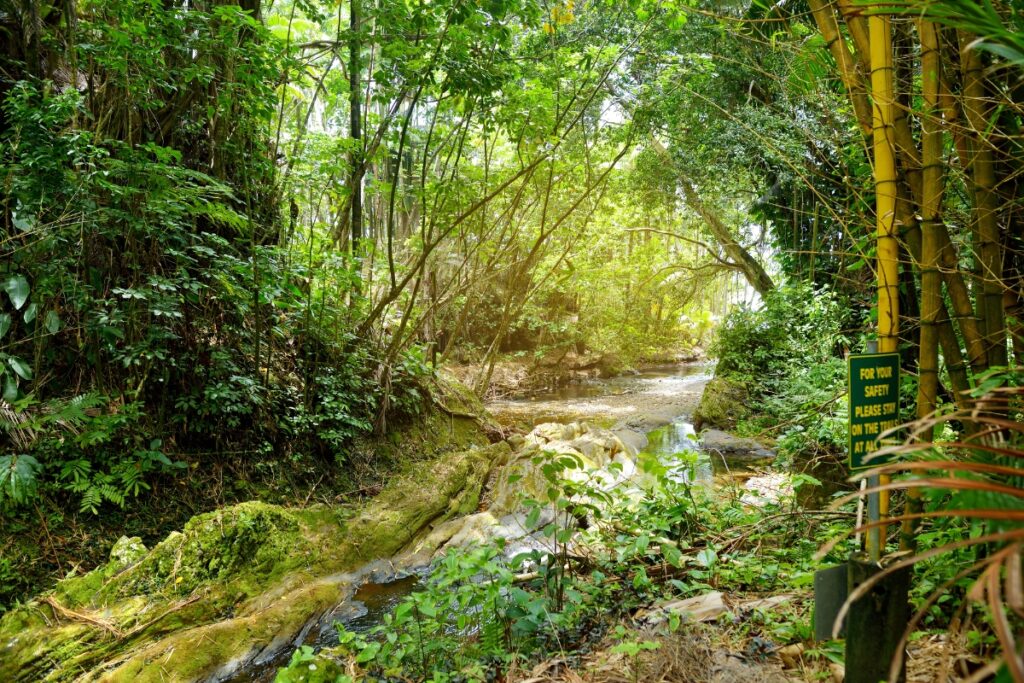 If you drive 15 minutes from Hilo, you will find the Hawaii Tropical Bioreserve and Garden. At this one, you can enjoy streams, waterfalls, and other tropical plants along the Hamakua Coast.
If you want to enjoy the beauty that is on Hawaii's Big Island, take some time to visit one of these botanical gardens.
Imiloa Astronomy Center
Also located at the University of Hawaii is the Imiloa Astronomy Center. Here you can learn more about ancient Hawaiian culture and how they explored the stars.
It is another one of the cool things to do in Hilo Hawaii.
Carlsmith Beach Park
You will want to enjoy the beach while you are in Hilo, the Carlsmith Beach Park is a stunning one to enjoy. Here you will find a coral reef and lava rocks surrounding an area of water that makes it like a swimming pool!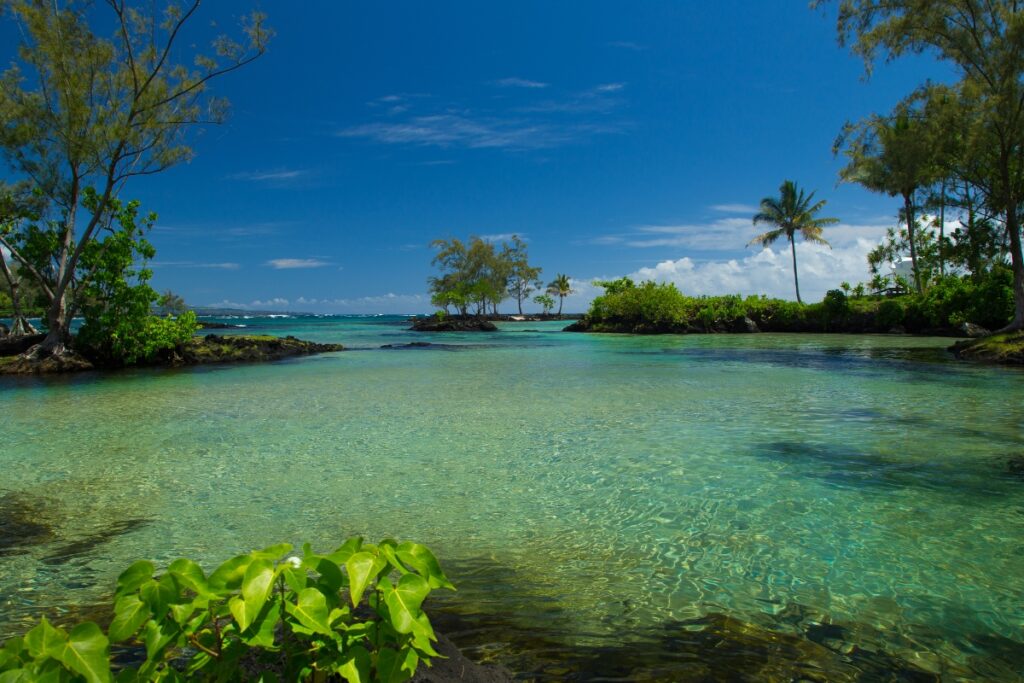 Since the area is sheltered, the waves are not big most of the time, so you can go snorkeling around the reef too.
It is a great place to bring your kids! The only downside is that there is no sand to relax on. Some parts have grass and a few picnic tables.
Richardson Ocean Park
For another great beach option, head to Richardson Ocean Park, also along Hilo Bay. It offers one of the black sand beaches on the island and is another kid-friendly beach on the Big Island.
There are some tide pools here, along with super calm waters. It is great for snorkeling too!
What makes Richardson Beach Park unique is that it is also a green sand beach. If you look closely, you will see both black and green sand!
Visiting this beach is one of the top things to do in Hilo with kids!
Pacific Tsunami Museum
The Pacific Tsunami Museum is another one of the activities in Hilo Hawaii Big Island. Here you can learn about tsunamis and how to protect yourself. It is also a museum to honor the lives lost from past tsunamis.
Hilo town was hit hard by a tsunami in 1946, so it is a great historical site to visit.
Hilo Farmers Market
There are a few farmers markets on the Big Island, and the Hilo one is definitely one you want to stop at.
At the Hilo farmers market, you can enjoy just about anything! From tropical fruits to local food, souvenirs, produce, and much more, locals and visitors alike love visiting this place!
The best about this Hilo market is that it is open seven days a week! I think it is the best farmers market in Big Island and one of the attractions in Hilo you'll want to see.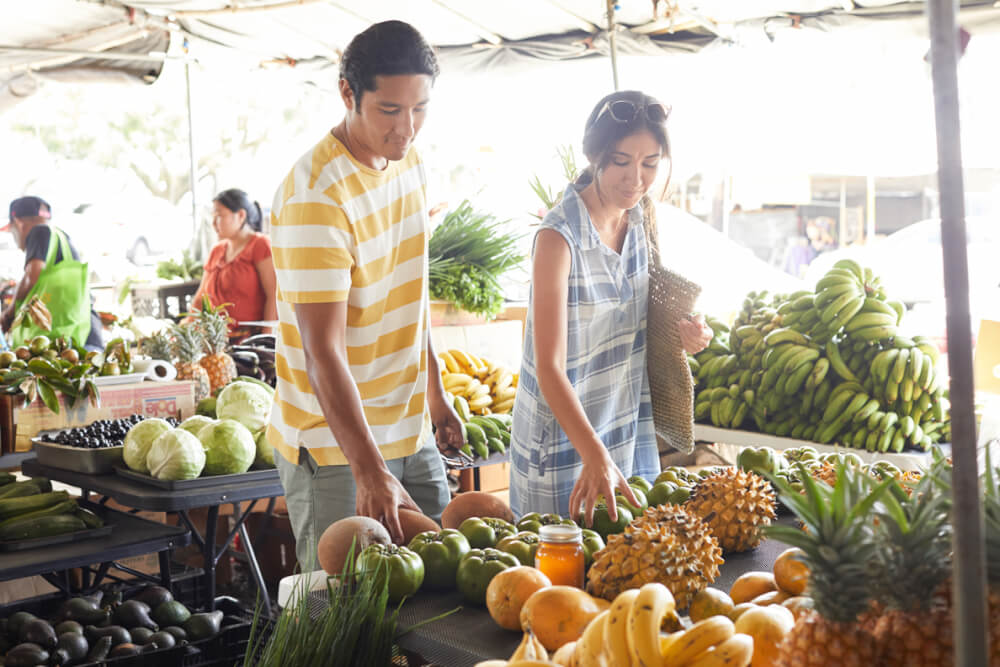 Hilo Farmers Market. Photo credit: Hawaii Tourism Authority (HTA) / Daeja Fallas
Be sure to stop and check out the different vendors if you are here on the weekend and can catch the Farmer's Market. You'll find an array of different treats, from Babinka to sushi rolls and even Spam Musubi.
And don't forget to grab shave ice with ice cream in the center for an added treat.
Lyman Museum and Mission House
Another one of the cultural things to see in Hilo is the Lyman Museum and Mission House. The Lyman Museum is a self-guided tour, while the Mission House has a guided tour option!
At this natural history museum, you will find tons of artifacts and exhibits showing the ancient Hawaiian culture; it is quite fascinating!
Admission is very cheap, with tickets $7 and under!
Go on a Boat Tour
Enjoy a scenic boat tour around Hilo and Hamakua Coast! You will see some stunning sea cliffs, lush landscapes, and both Mauna Kea and Mauna Loa volcanoes!
This boat tour is about 3 hours and is quite relaxing. Kids ages 8 and older can attend. Only 6 people are allowed during the tour, so you have a nice, small group.
Hilo Brewing Company
Want to try some Hawaii beer? Then head to Hilo Brewing Company!
They offer a tasting room where you can try some flights of these delicious beers to see which one is your favorite!
While it is not a kid-friendly activity, it is one of the Hilo Hawaii things to do for adults!
Hamakua Coast Scenic Drive
You can head from Hilo to Waipo Valley to enjoy the Hamakua Coast. This scenic drive will show you all the natural beauty of this part of Hawaii's Big Island.
You will see tons of gorgeous beaches with all types of colored sand, lush rainforests, waterfalls, and gardens.
On a rainy day in Hilo, try going on a Hamakua Coast scenic drive!
Enjoy a Zipline Tour
If you drive about 20 minutes, you can go on an incredible zipline tour! You will get to enjoy 7 different ziplines, including one that goes close to Kolekole Falls!
This place is close to Akaka Falls State Park, so you can enjoy both in one day!
Panaewa Rainforest Zoo and Gardens
Another one of the best places to visit in Hilo, Hawaii, is the Panaewa Zoo! When you visit Hilo Zoo, you will see all sorts of animals, making it the perfect place to enjoy with your kids.
It is the only tropical zoo on the island! You will see some tigers, alligators, snakes, monkeys, birds, and so much more.
This tropical zoo has free admission, so for some cheap Hilo fun, head to the Panaewa Rainforest Zoo!
Lavaloha Chocolate Farm
Have you seen how chocolate is grown and made? Head to Lavaloha Chocolate Farm in Hilo to check it out. It is definitely a must-do in Hilo, Hawaii!
Here you can go on a tour to explore all the farm does. You will also get to taste some samples along the way.
Read my full Big Island Chocolate Tour review HERE
Visit Coconut Island
Also called Mokuola Island, Coconut Island is a fun adventure to explore while in Hilo. It is located in Hilo Bay and has a few beaches, picnic tables, and more to enjoy.
Older kids like to jump off a small stone tower that is located on this island.
You simply park and walk over a bridge, and you are on the island.
It is a fun place to enjoy during your trip to Hilo.
Doors-On Helicopter Tour
If you want to see more of the Big Island's beauty in a short amount of time, you can go on a helicopter tour. These usually leave from the Hilo Airport, so you can enjoy all the beauty surrounding you during your stay.
With this helicopter tour, not only will you see the rainforest and waterfalls, but you will also see the volcanoes too!
If you want a thrilling adventure, try this tour out!
Go Shopping
As for shopping, you will find all your necessities within the city limits. Here, there are grocery stores and even a small mall that allows you to buy clothing and other things while on vacation.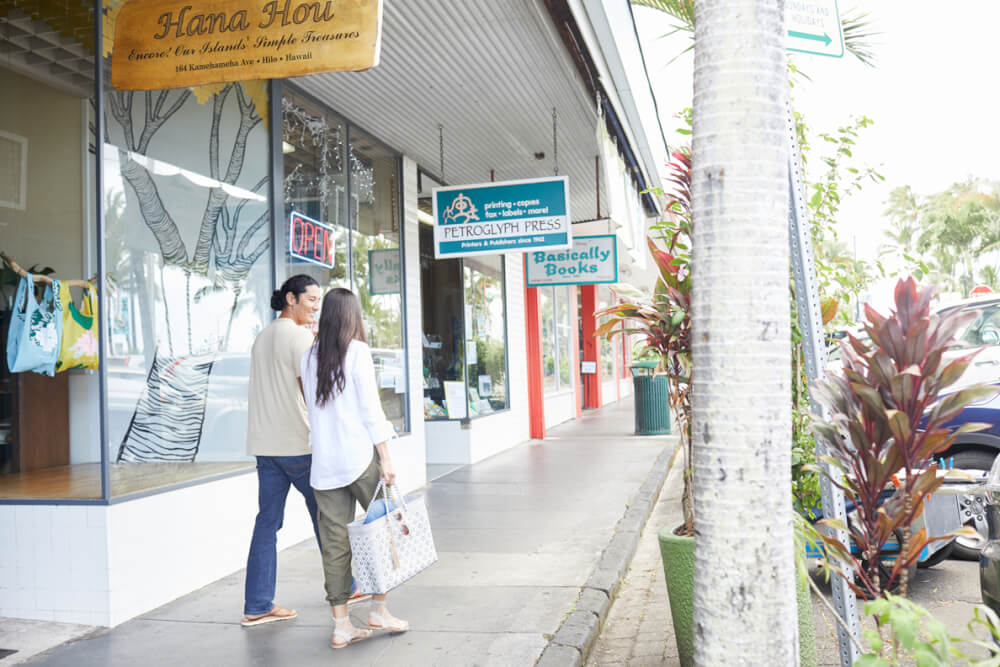 If you decide to cruise down the main strip of Hilo, you will find boutique shops just as you would on the Kona side of the island. Head to a gift shop here and enjoy getting some souvenirs for your trip!
Grab a Bite to Eat
If there is one place that you should eat in Hilo, it is, hands down, Cafe Pesto.
Found on the main strip in Hilo, this little restaurant has won several awards for awesome service and amazing food. There is something for everyone at this place. They serve lunch and dinner that has an island flair with modern dishes. It is one of the best places to eat in Hilo.
You'll want to try their amazing Thai Chili Shrimp Pizza. It is the right amount of zest and sweet. Or if you are in for lunch, go for one of their delicious sandwiches like the Halakalua. It has kalua pork or turkey in a mango chutney sauce that is to die for.
There are, of course, other fabulous places to eat. You'll find that the Hilo side does offer luaus at some of their more refined hotels and resorts.
But if you are on a budget, you can always find regular fast-food places like Subway, Arby's, Jack n the Box, or even McDonald's.
What to do in Hilo Hawaii FAQs
Is Hilo safe?
Yes, Hilo is a pretty safe area of the Big Island. Of course, you'll want to follow common sense safety precautions like not leaving valuables in your car and keeping doors locked.
Should I stay in Kona or Hilo?
It really depends on what you'd like to do. Kona has more resorts, but Hilo is closer to waterfalls and Hawaii Volcanoes National Park. It's ideal if you are able to do a split stay so you can see more of the Big Island.
How many days do you need in Hilo?
If your main goal is to sightsee, you won't need more than 2-3 days in Hilo. You'll want a full day just for Hawaii Volcanoes National Park and then time to explore waterfalls, beaches, and hiking trails.
Is Hilo worth visiting?
I definitely think Hilo is worth a visit. The Volcanoes National Park is here, along with tons of natural beauty the Hawaiian islands offer.
What is Hilo Hawaii known for?
Hilo is known for the Hawaii Volcanoes National Park and having some gorgeous waterfalls, beaches, and botanical gardens.
What is there to do in Hilo vs Kona?
The Hilo top things to do include visiting waterfalls, going hiking, and seeing the Volcano National Park. Kona, on the other hand, is mainly for snorkeling, relaxing on the beach at your resort, and whale watching.
Is Hilo friendly to tourists?
Yes, the people in Hilo are friendly to tourists. It is more laid back than Kona, and you will still feel the Aloha Spirit.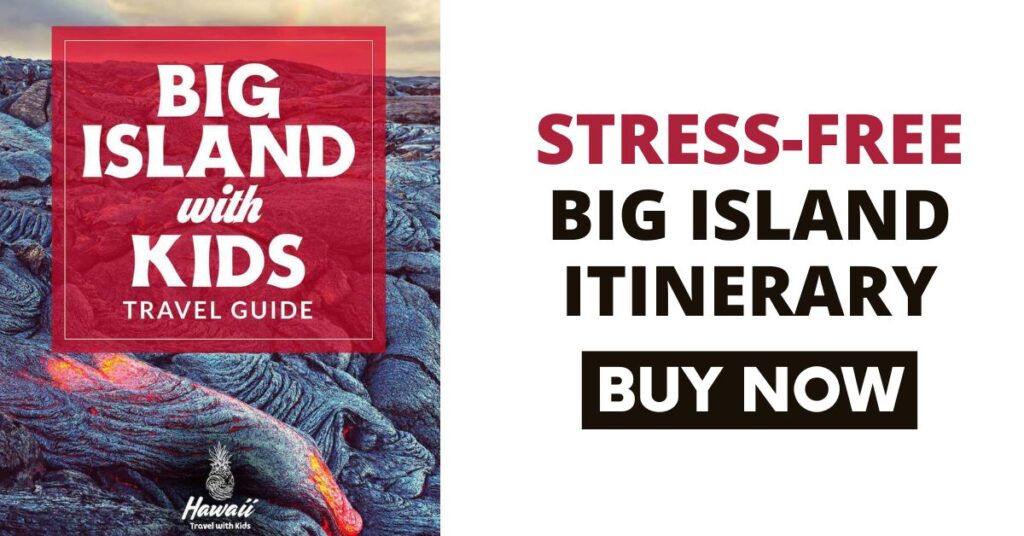 Hilo Things to do Wrap-Up
Hilo is gorgeous and a great place to visit. It is one of the most gorgeous parts of the Hawaiian islands, with lush rainforests, waterfalls, tropical flowers, and even a green sand beach to enjoy.
These are just some of the best things to do in Hilo, Hawaii, but there are tons of other options. Head down for a day or two during your trip to Hawaii and enjoy all that it offers.