Are you looking for the best things to do on the Big Island with kids (or without)? Keep scrolling to read an honest Hawaii Tropical Bioreserve & Garden review.
This Hawaii Tropical Bioreserve & Garden Review was co-written by Hawaii travel expert Marcie Cheung and contains affiliate links which means if you purchase something from one of my affiliate links, I may earn a small commission that goes back into maintaining this blog.
Guest post by Jen Barnes
Are you looking for a great family activity on the Big Island?
The Hawaii Tropical Bioreserve & Garden is an incredible place to explore with your kids. It's full of educational opportunities that will keep them engaged while they learn about nature.
You can enter a 20 acre purposed paradise for nature lovers. Hawaii botanical gardens are nothing short of stunning and this one boasts incredible plant species as well as fabulous views.
The entirety of the conservation area covers over 100 acres. And the founders are dedicated to educating visitors and school groups about horticulture and sustainability.
If you want to take your kids somewhere fun and educational, then this is the perfect spot for you. Not only are there plenty of activities for children but it's also a great place to relax and enjoy some time in nature as well!
I highly recommend checking out the Hawaii Tropical Bioreserve & Garden if you find yourself on the Big Island with your family. Trust me, it'll be one of your favorite memories from vacation!
Keep scrolling for my top tips for visiting the Hawaii Tropical Bioreserve and Garden in Hilo, Hawaii.
Don't have time to read a bunch of Hawaii blog posts and reviews? Here are some of our top picks for visiting the Big Island.
Popular Big Island Tours/Activities
Favorite Big Island Resorts/Hotels
Want to Rent a Car in Hawaii?
One of the best places to rent a car in Hawaii is Discount Hawaii Car Rental because they get the best rates from top national companies like Alamo, Dollar, Thrifty, Avis, Enterprise, Budget, and Payless.
Want to skip all the planning and just access my detailed Big Island Itinerary complete with daily schedules, kid-friendly activities, and travel hacks? Click the button below.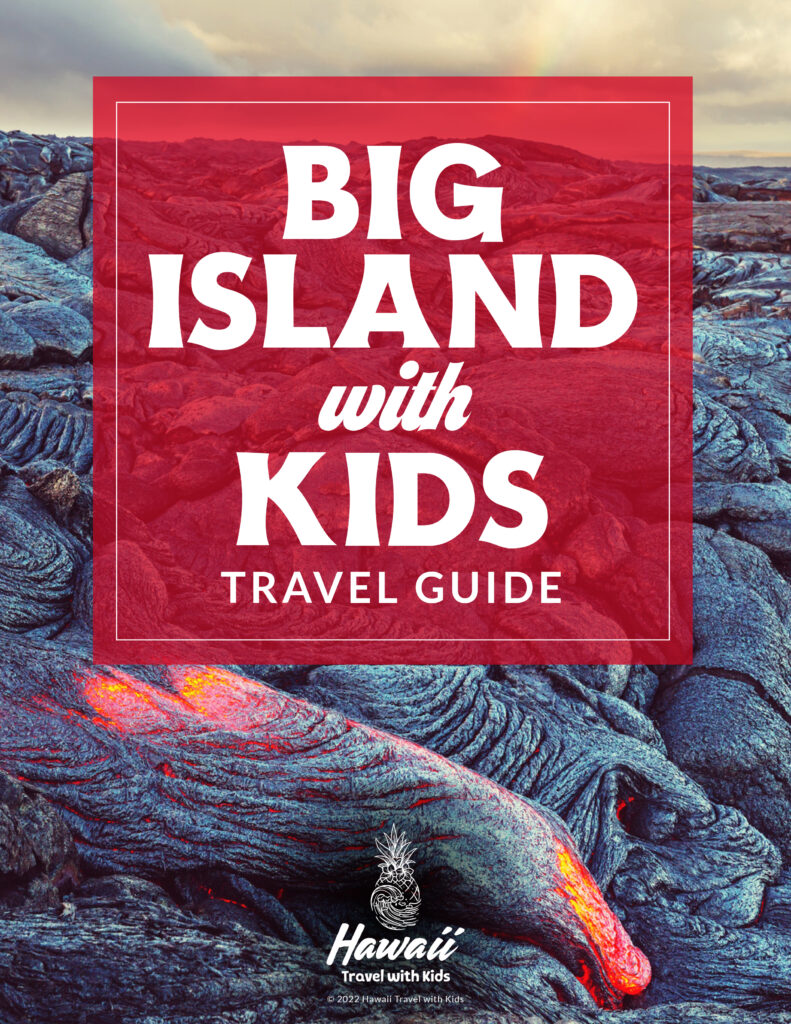 Hawaii Botanical Gardens FAQs
What are the most popular botanical gardens in Hawaii?
Hawaii has some of the prettiest botanical gardens in the United States. The most famous garden on Oahu is the Ho'omaluhia Botanical Garden and it's all over Instagram. Maui has the beautiful Garden of Eden along the Road to Hana. Kauai has the Limahuli Botanical Garden. And the Big Island has the Hawaii Tropical Bioresere & Garden.
How many Hilo botanical gardens on the Big Island?
The most popular Hilo garden is the Hawaii Tropical Bioreserve & Garden. There's also the Queen Liliuokalani Park & Gardens and the University of Hawaii Hilo Botanical Garden. The Pana'ewa Rainforest Zoo also has a botanical garden on the property. And you can also see beautiful Hawaiian flowers and foliage at Akaka Falls State Park.
What are the best Big Island botanical gardens?
The best Big Island botanical garden is the Hawaii Tropical Bioreserve & Garden near Hilo Hawaii. There's also the University of Hawaii Hilo Botanical Garden. On the South shore, visit the Amy B. H. Greenwell Ethnobotanical Garden. And on the Kona side, head to the Sadie Seymour Botanical Gardens.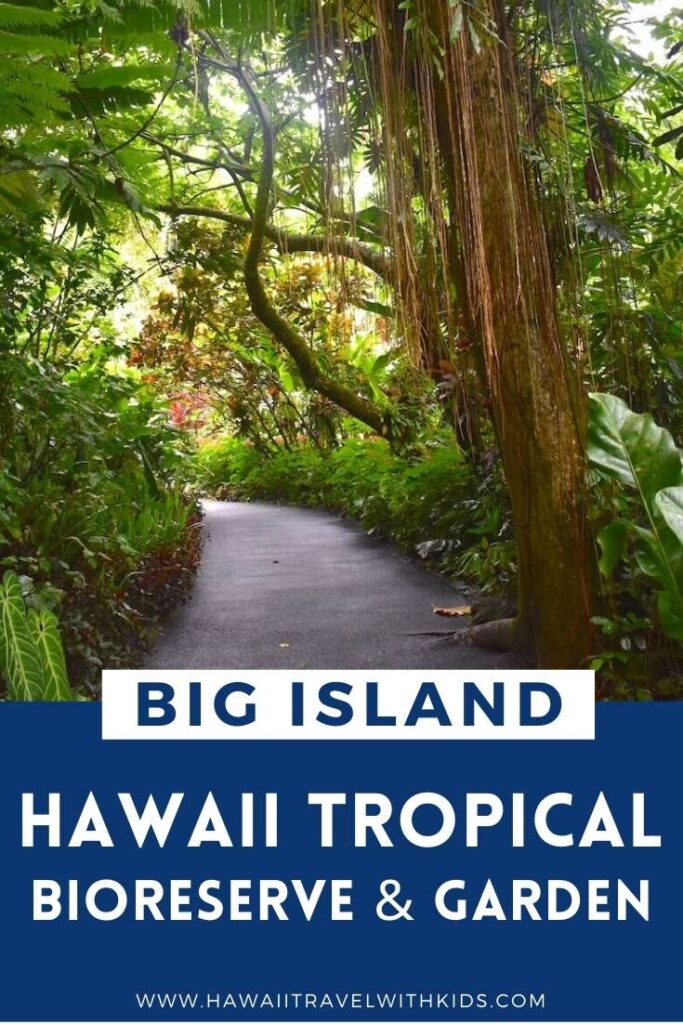 Where is the Hawaii Tropical Bioreserve & Garden?
This Hawaii Tropical Botanical Garden is located just 7 miles north of Hilo in Papaikou. The address is 27-727 Old Malamahoa Highway.
Although the bioreserve is tucked away, it's easy to find by following Old Mamalahoa Road, which is the scenic route. Note that your GPS may lead you down a dirt road that isn't as pretty, but will still get you there.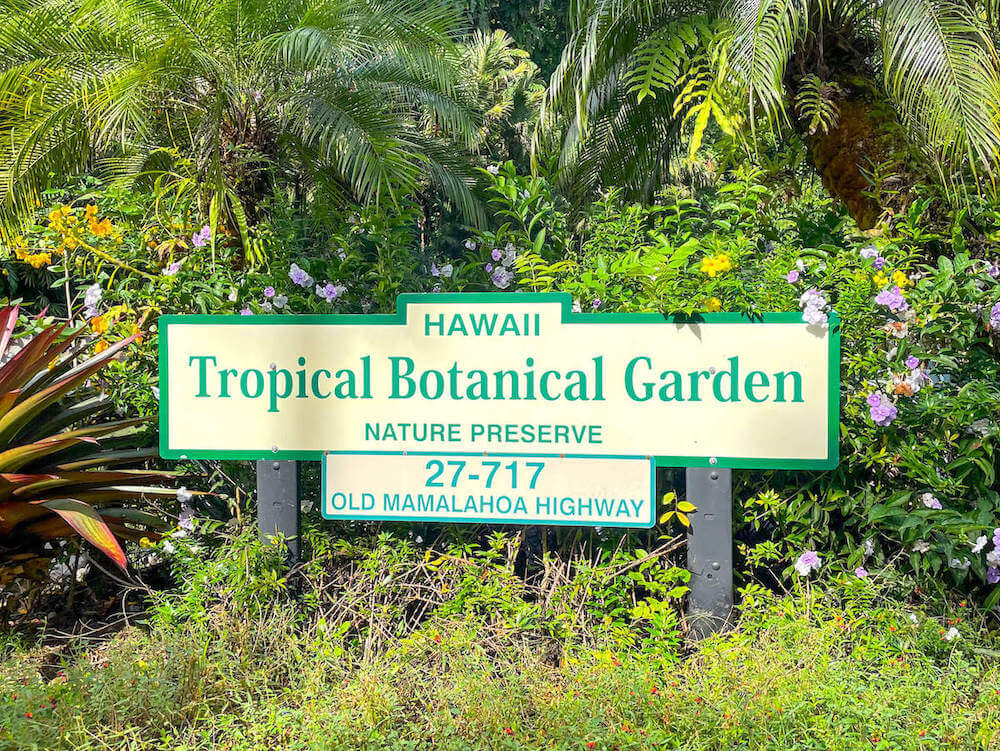 These Hilo Botanical Gardens truly are a hidden gem because you won't even be able to tell how close to Hilo you really are.
What Can You See at this Hawaii Botanical Garden?
Biodiversity is the key to this non-profit. With over 2000 species to boast, the nature trails guide you through this tropical rainforest filled with waterfalls, streams, bright flora, and rich fauna including native plants, which are labeled in red.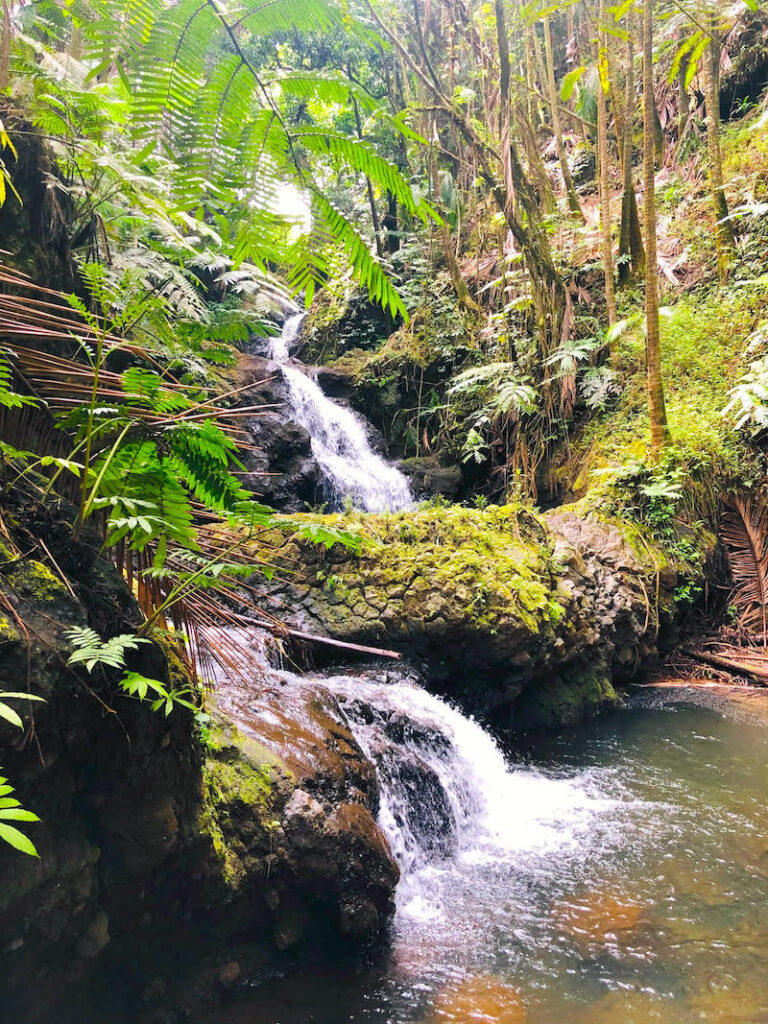 The ocean vistas of the rugged Pacific coast are photo-worthy in and of themselves. This Big Island botanical garden is committed to educating the current and next generations on how to sustainably care for the world's natural resources. Your senses will be heightened throughout your entire visit.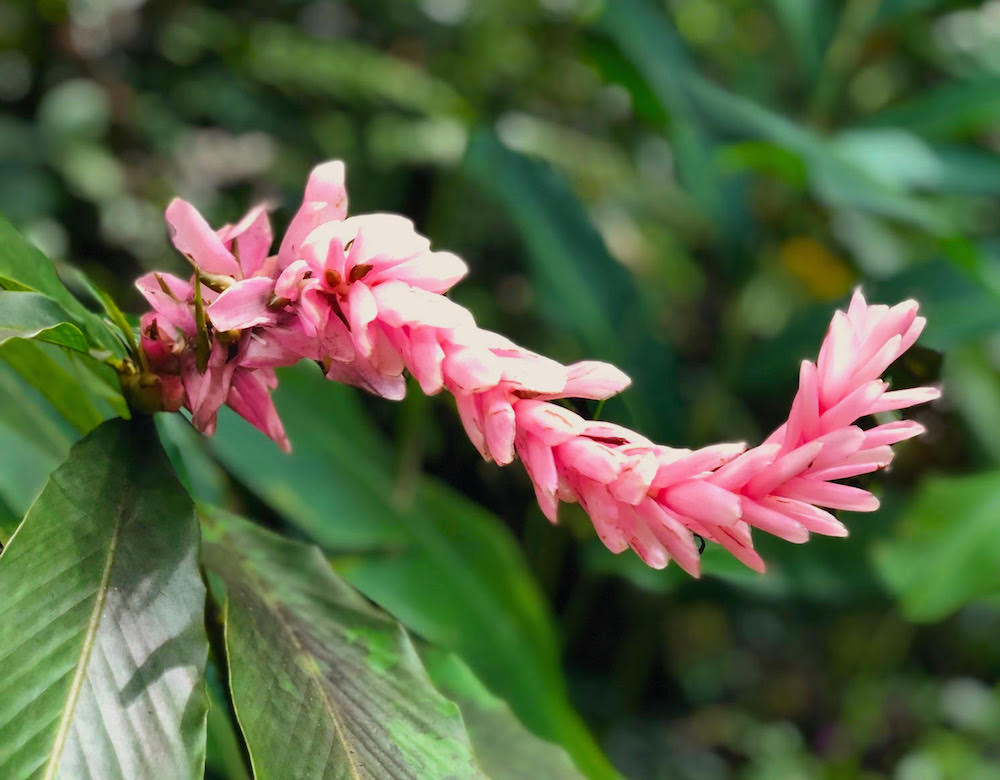 The thoughtful and purposeful way in which this bioreserve was created over 40 years ago has made this site not only beautiful but a special place for the old and young to explore.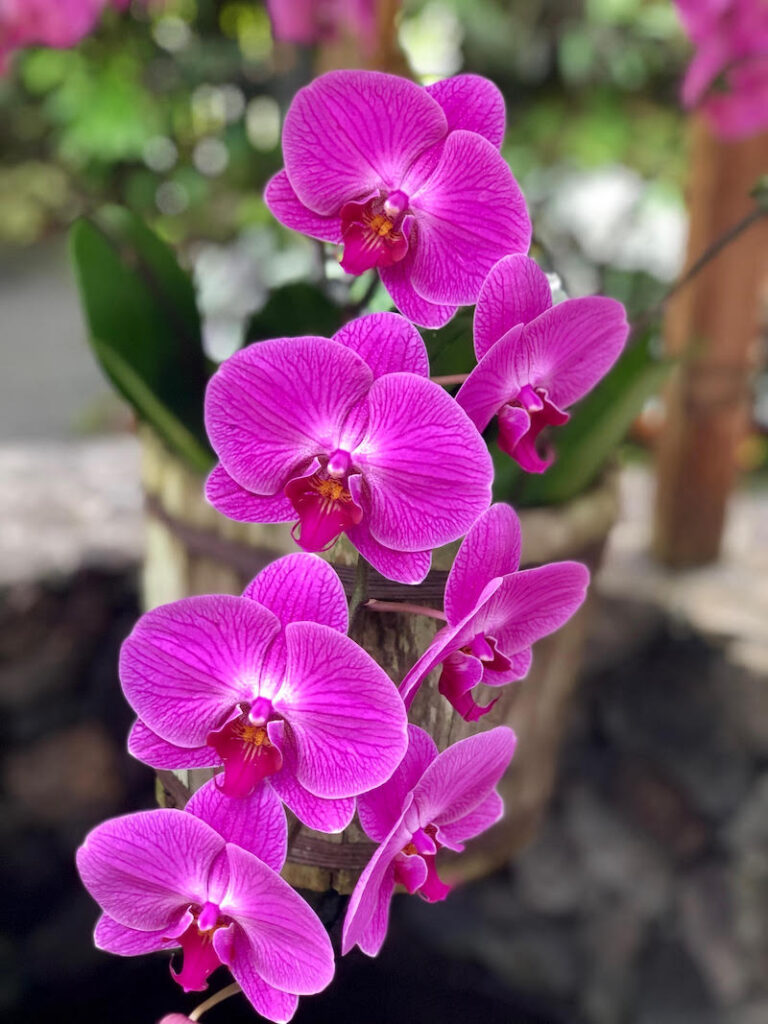 Along with the intentional preservation of the land, you can experience a true tropical rainforest. Don't forget to look up into the canopy overhead, which is an important ecosystem itself.
The entire trail through the gardens is 1.25 miles in length. But you will hardly notice as your eyes are drawn into the natural wonders around you.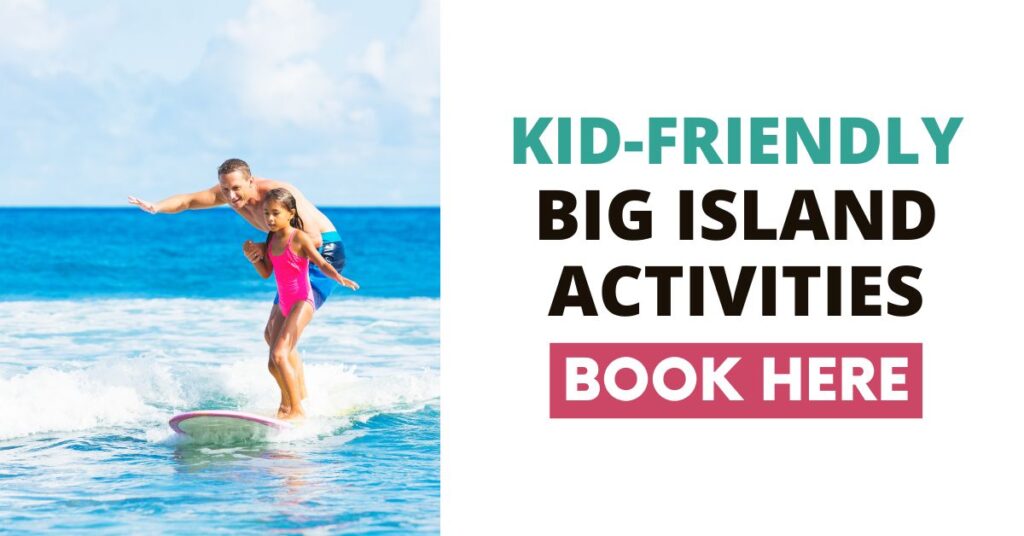 Honest Hawaii Tropical Bioreserve & Garden Review
Tickets & Check-In
The parking lot is easy to find and is laid out nicely for visitors. I would suggest visiting in the morning hours to ensure finding a parking space with ease.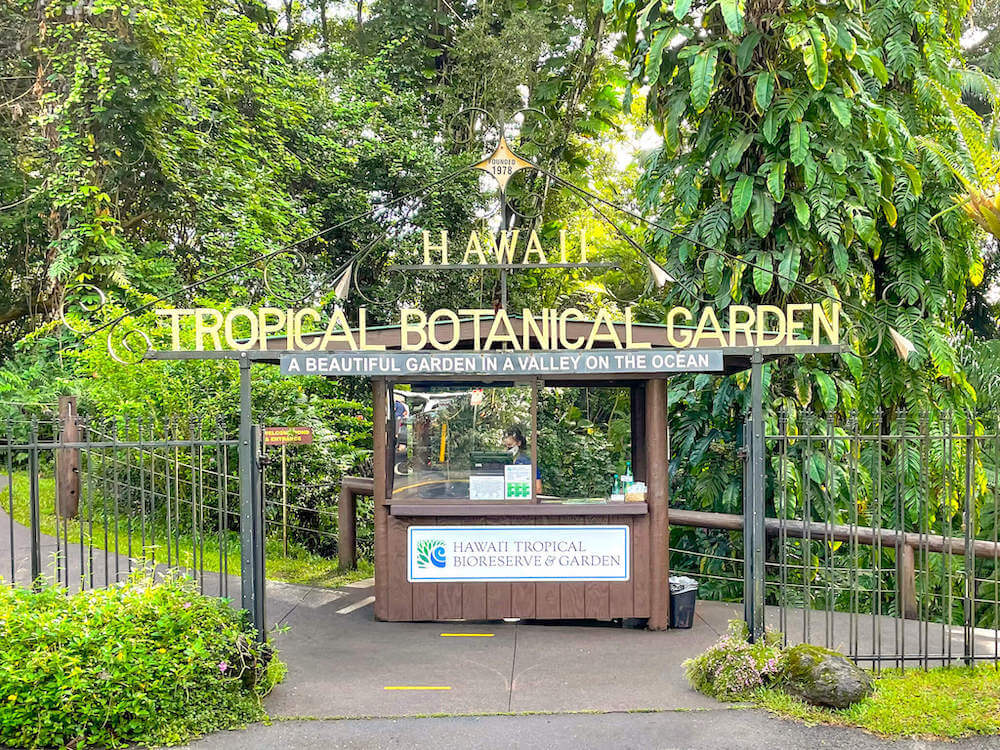 Although tickets are priced fairly high at $25 per adult and $12 for children ages 6-16, children under 6 are free. It was easy to pay these prices knowing this is a non-profit with funds going to the preservation of plant species and matters that affect our planet.
Keep in mind there is no entry after 4:00 pm and the bioreserve is closed on Thanksgiving, Christmas, New Year's Day, and Independence Day.
Highlights of the Tropical Bioreserve & Gardens
Our family enjoyed the well-guided boardwalks through the natural habitats and were in utter awe of the bright orchids and luscious plant life. The burbling creek waters and stunning waterfalls kept us intrigued throughout.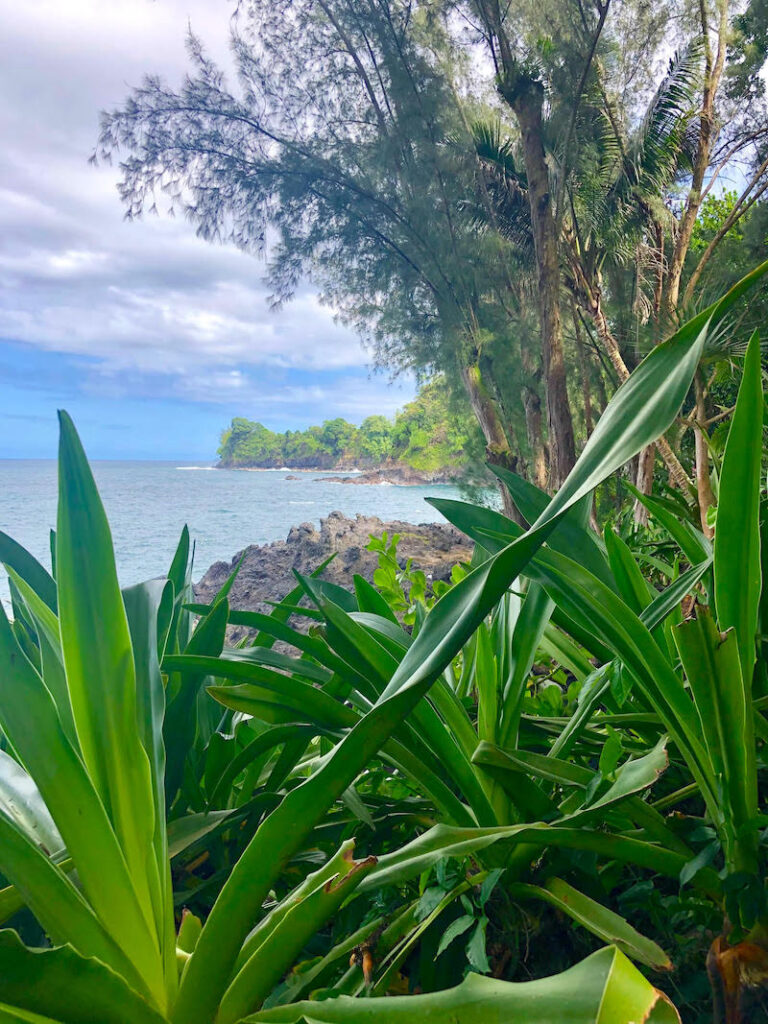 The shining star for us, though, was the unparalleled ocean views while sitting in the midst of the tropical rain forest. If you love nature as much as we do, you will find these Hawaiian gardens amazing.
So, is it worth visiting?
Our family felt that this is one absolute must of things to see on the Big Island. I wouldn't devote more than a half-day to explore, though.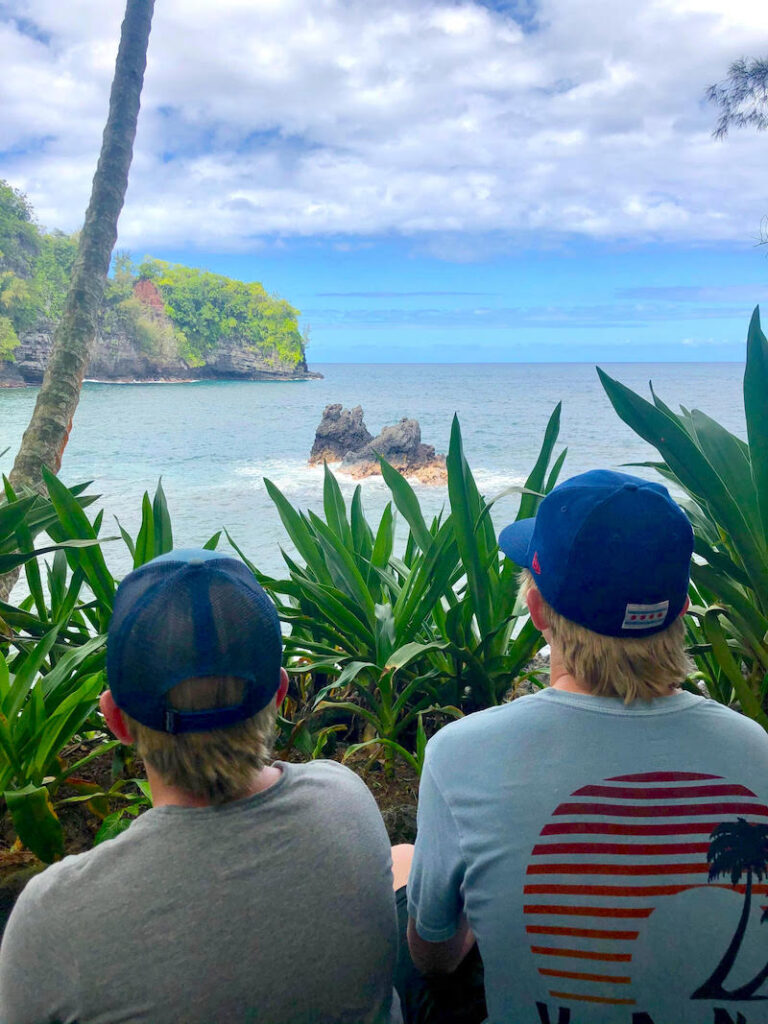 My teenagers loved everything we saw and enjoyed doing the entire boardwalk but did not need more than about 3 hours to see it all. There are no adventure activities here, but there is a lot to learn and see.
For those coming from the other side of the island, you can easily pair this with an afternoon in Hilo or by making a stop at Rainbow Falls or Akaka Falls State Park on the way back to Kona.
Most of the flowers will bloom in spring or summer. So if the colorful blooms are important to you, plan your trip accordingly.
Hawaii Tropical Bioreserve & Garden Tips for Families
What to wear while visiting a Hawaii Tropical Botanical Garden
Be sure to wear comfortable footwear for walking and lightweight clothing due to the humidity and heat. Many people choose to wear a hat for sun protection as well.
What to bring to these botanical gardens in Hawaii
This is a tropical rainforest, so it's best to have a rain jacket and/or an umbrella with you at all times. You will want to take insect repellent as well as sunscreen to protect yourself from bugs and the sun.
Much of the bioreserve is shaded, but there are some areas where the sun peeks through.
Take plenty of water to keep hydrated and snacks to keep everyone happy. You can find a few spots along the way to sit and rest or take a little picnic.
Absolutely bring your camera so you can capture the essence of the natural beauty.
Boardwalk assistance can be arranged for those who need extra help. *These services are temporary on hold during the Covid outbreaks, but hope to return soon* Only service animals are allowed, so leave your pets at home for this visit.
Is this Hawaii Botanical Garden baby/toddler friendly?
The boardwalks and paths follow the natural terrain and so are steep in some places, but are all paved. Strollers are welcomed. Little legs may get tired easily with the up and down paved paths, but they are easy to navigate.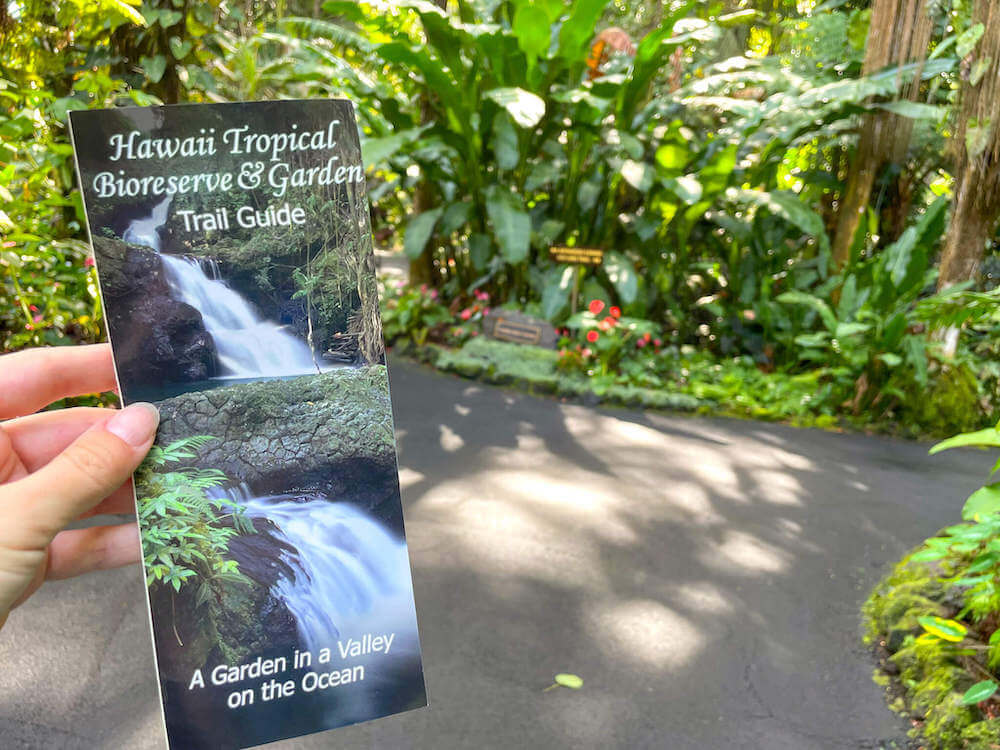 There are not any hands-on displays or interactive areas, so keeping a toddler engaged may prove to be difficult. One thing that would be intriguing for babies and toddlers is wildlife sitings, but those are not a guarantee.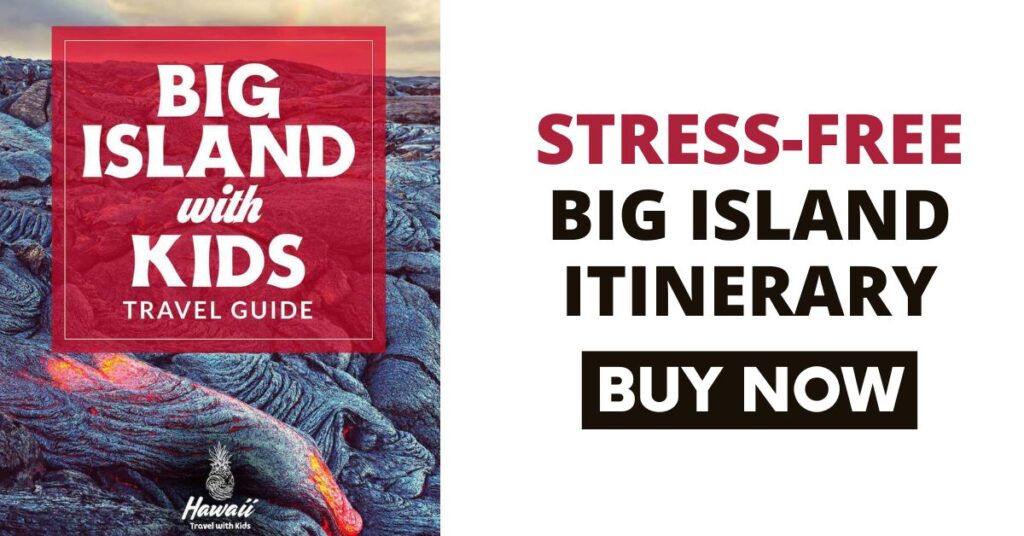 Hawaii Tropical Botanical Garden Wrap Up
If you're looking for things to see on the Big Island that leave a lasting impression, add this botanical garden to your itinerary.
Of all the things to do in Hilo, this is an incredible half-day well spent. Your eyes will feast on some of the most impressionable beauty Hawaii has to offer. And you will get a great education in preserving our planet and the many at-risk tropical plants.
As much as we love to adventure during our travels, it feels good to have a slower-paced morning every once in a while. If we go back to the Big Island, Hawaii we will definitely return to visit the Tropical Bioreserve and Gardens again.
All in all, there are things there most of us can't see or find elsewhere. So it is exciting to be in such a unique natural setting. It's definitely one of the prettiest places to visit in Big Island Hawaii.
About Jen
Jen Barnes is the founder of Go Family Adventure. She spends her days helping other families with teens and tweens plan vacations and outdoor adventures. She enjoys her home base in South Carolina where she lives with her husband and three teenagers. But she loves to experience and explore all parts of the world. She is also a part of the creative team for Run Wild My Child, an online publication aimed at getting kids and parents outside and off screens. Her favorite outdoor activity is hiking, and she is learning to love sailing despite her bent toward seasickness. You can find her blogging about her own adventures on The Go Family Adventure.