Are you looking for the best things to do on the Big Island with kids (or without)? Keep scrolling to read my honest review of the Waipio Valley Shuttle Tour near Hilo Hawaii.
This Waipio Valley Shuttle Tour Review contains affiliate links which means if you purchase something from one of my affiliate links, I may earn a small commission that goes back into maintaining this blog.
Are you looking for a fun way to explore the Waipio Valley on the Big Island?
The Waipio Valley Shuttle Tour is an excellent option if you're visiting Hawaii with kids. It's not as strenuous as hiking down into the valley and back up again, but it still gives you a chance to see some of what makes this place so special.
I recently did this tour with my 5-year-old son on our trip to Hawaii in November, and we had a blast!
Keep scrolling to read my honest review of our experience.
You can't take your rental car into the valley (unless it has 4WD), so that limits your options when it comes time to explore. There are several tours available, but I recommend checking out the Waipio Valley Shuttle because it's affordable, easy, and, most importantly – FUN!
We had such an amazing time exploring together that I think everyone should give this one a try at least once during their visit. If you're like me though, you'll want to do this on every trip!
Keep scrolling to see how you can book the Waipio Valley Shuttle Tour for your next Big Island vacation.
Don't have time to read a bunch of Hawaii blog posts and reviews? Here are some of our top picks for visiting the Big Island.
Popular Big Island Tours/Activities
Favorite Big Island Resorts/Hotels
Want to Rent a Car in Hawaii?
One of the best places to rent a car in Hawaii is Discount Hawaii Car Rental because they get the best rates from top national companies like Alamo, Dollar, Thrifty, Avis, Enterprise, Budget, and Payless.
Want to skip all the planning and just access my detailed Big Island Itinerary complete with daily schedules, kid-friendly activities, and travel hacks? Click the button below.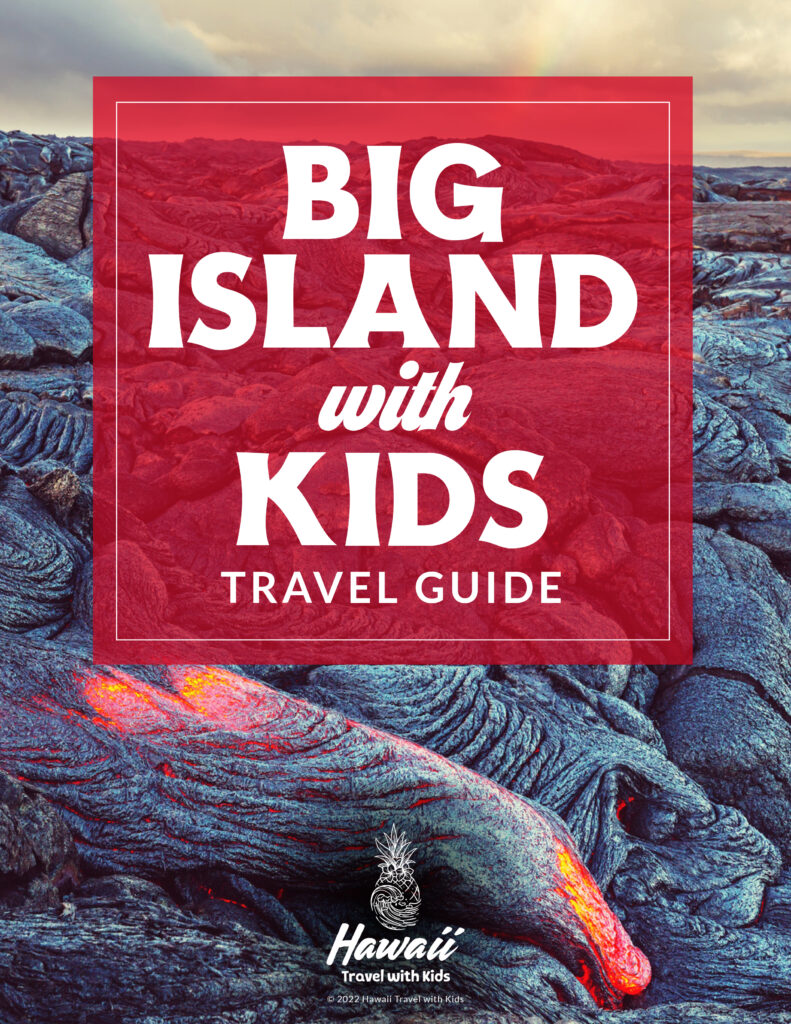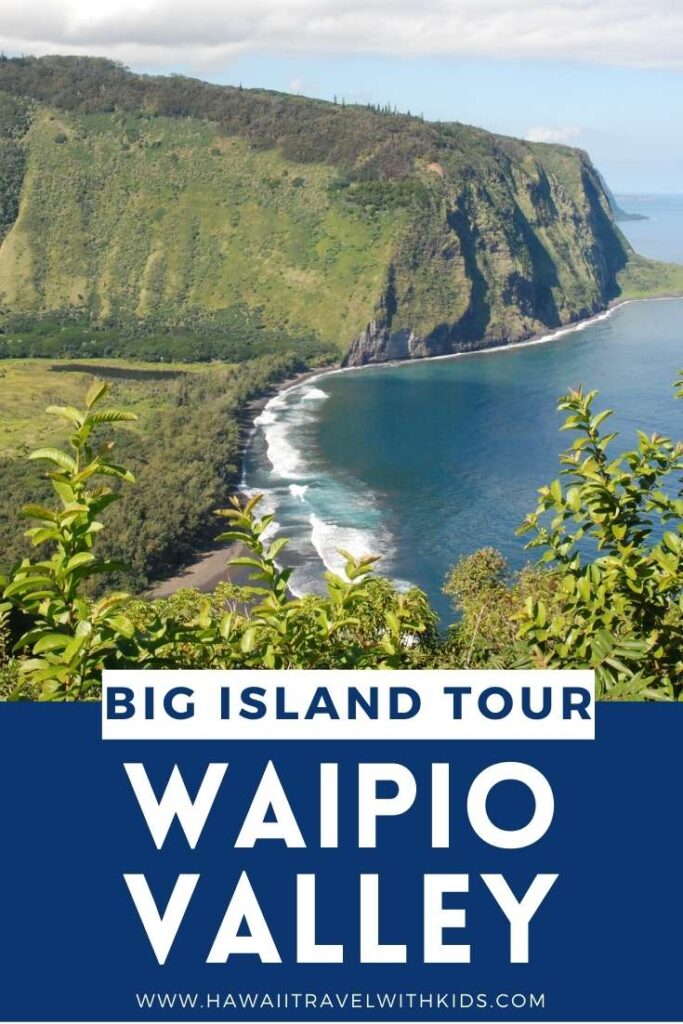 Where is the Waipio Valley on the Big Island?
Waipio Valley is located on the gorgeous Hamakua Coast on the Northeast part of Hawaii Island in the town of Honokaa. It takes about an hour to drive from Hilo to Waipio Valley and almost 90 minutes to drive from Kona.
The valley itself is about a mile of coastline, but it's almost six miles deep. The address is 48-5561A Waipio Valley Rd, Honokaa, HI 96727.
Waipio Valley History
You'll want to know a bit about the history of Waipio Valley before you visit so you can truly appreciate this historic area. This Hawaiian valley was actually the home of King Kamehameha I when he was growing up.
Nicknamed the "Valley of the Kings Hawaii," Waipio Valley became a center for religious and political life in Hawaii.
While it used to be home to thousands of Native Hawaiians, there are less than 100 Waipio Valley residents today. And the people who live there are pretty protective of this special place, so it's really important to be a respectful traveler.
Waipio Valley Lookout
If you just want to see the valley from above, you can park at the Waipio Valley Lookout and take photos of the area.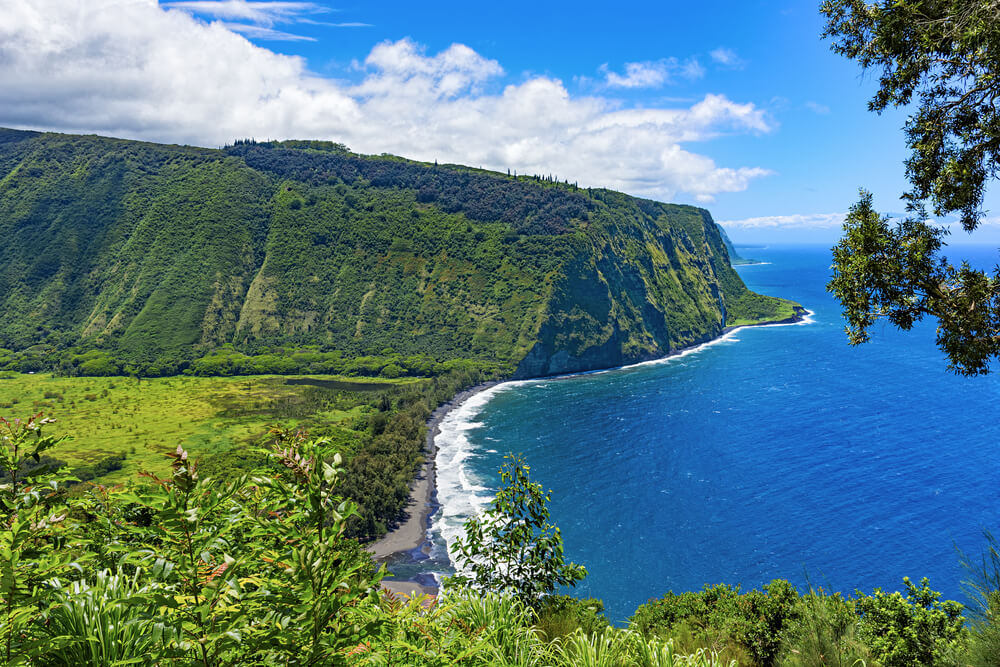 It's pretty high up, so you'll see birds-eye unobstructed views of the beach, the valley, and the cliffs. This is a great option if you are short on time or the weather isn't good.
They have a pretty large parking lot.
Waipio Valley Tours
There are actually a few different options if you want to do a Waipio Valley tour. We chose to do the Waipio Valley Shuttle Tour because I wanted a basic overview of the area.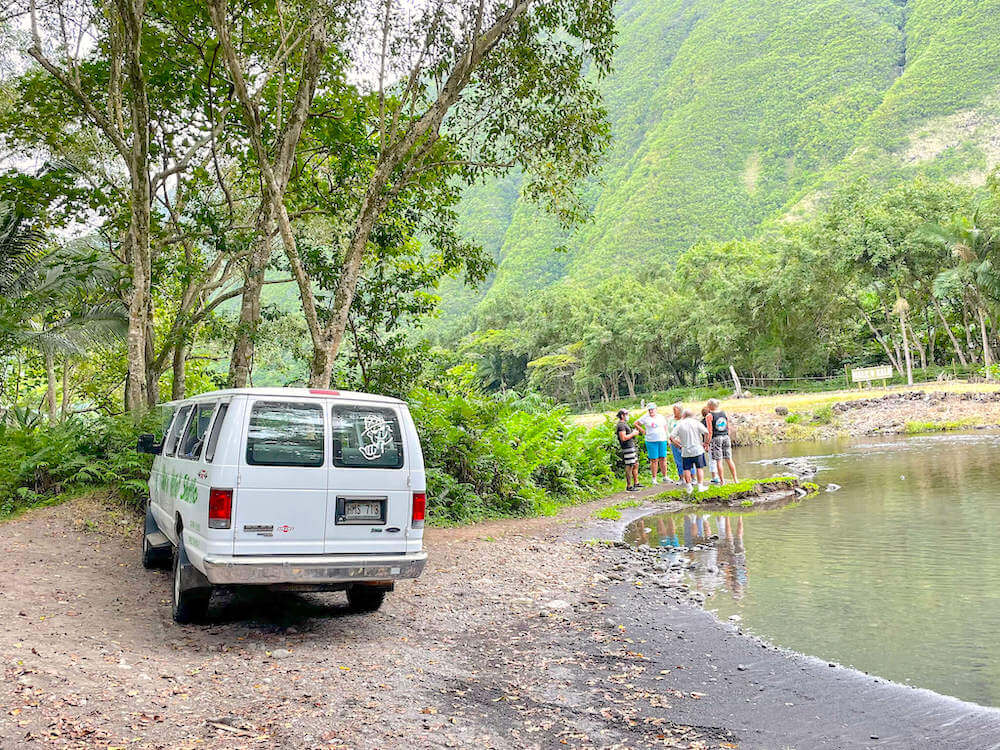 Plus, we had a few hours before our flight left Hilo, and the timing of this Waipio Valley Shuttle Tour worked perfectly for our schedule. Additionally, it's the most budget-friendly tour of Waipio Valley. And the tour was limited to 8-10 people.
With this Waipio Valley Shuttle, it took us to see waterfalls, taro patches, streams, and more as we explored the sacred Valley of the Kings.
There are also a few other Waipio Valley tour options to consider:
But, you don't need to take a tour to see Waipio Valley. You can hike down on your own as long as you are in good shape. It's about 6.5 miles on a steep incline, and I wouldn't recommend hiking Waipio Valley with young kids. I saw a lot of exhausted-looking tourists resting on the long uphill Waipio Valley hike back to the lookout.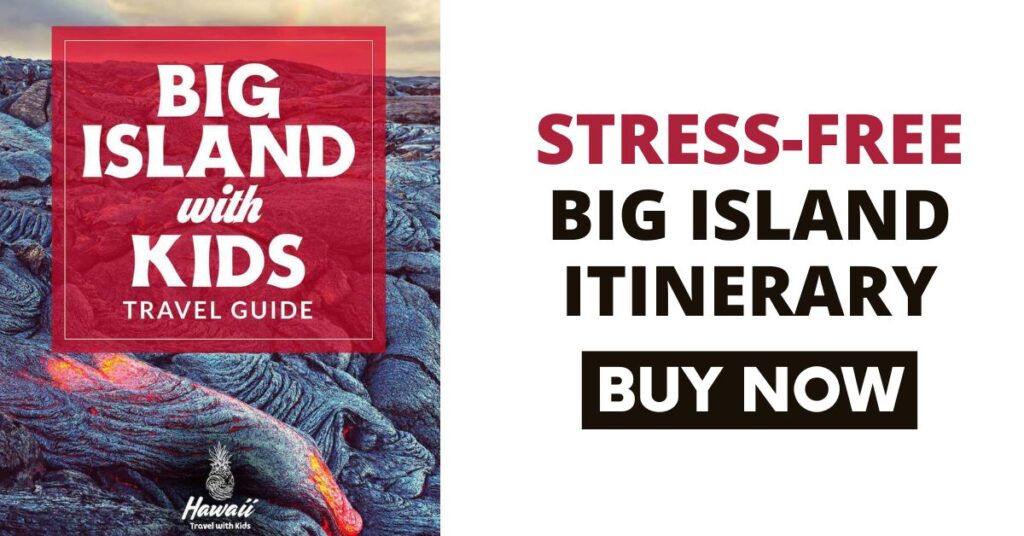 What to Know about the Waipio Valley Shuttle Tour Before You Go:
Here is my Waipio Valley Shuttle review, including what to do in Waipio Valley while you are there.
How to Book the Waipio Valley Shuttle Tour
We were able to easily get Waipio Valley Shuttle Tour tickets about a week before the tour. And I was even able to change to a later shuttle just a few days before.
However, if you are going with a larger group or during peak season, I'd definitely book this in advance.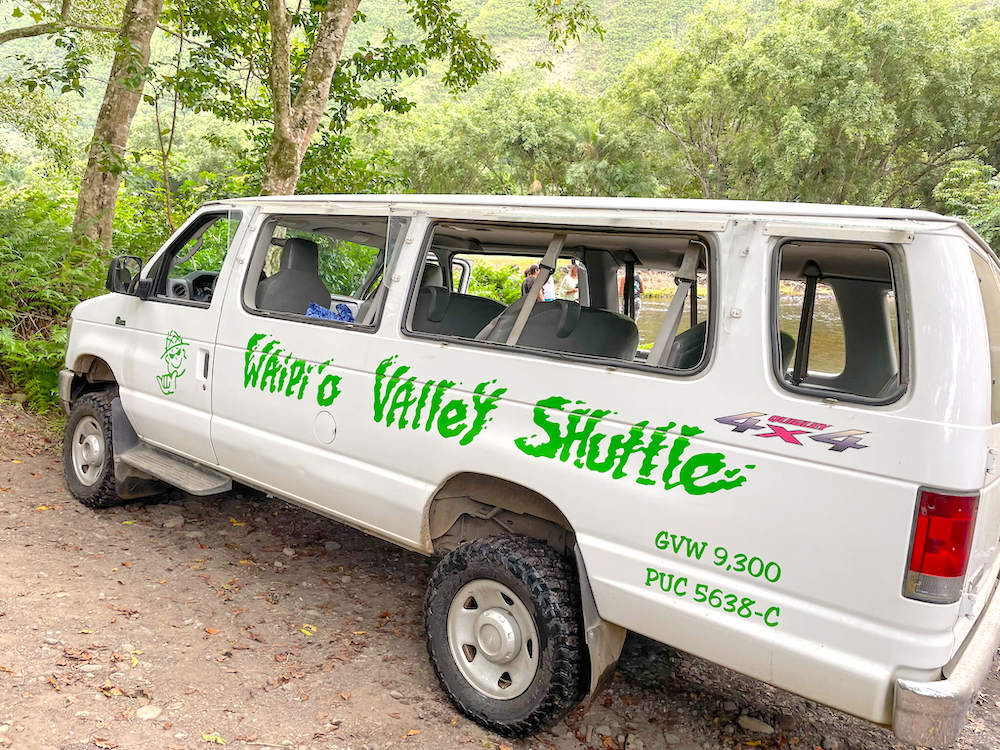 This Big Island Waipio Valley tour is limited to small groups. So, if you need to go at a specific time or on a specific date, you should definitely book it in advance. It's really easy to book online HERE.
Parking at Waipio Valley Artworks
Thankfully, there are quite a few parking spots at Waipio Valley Artworks. This is the meeting spot for the Waipio Valley Shuttle Tour. It's all free parking, too.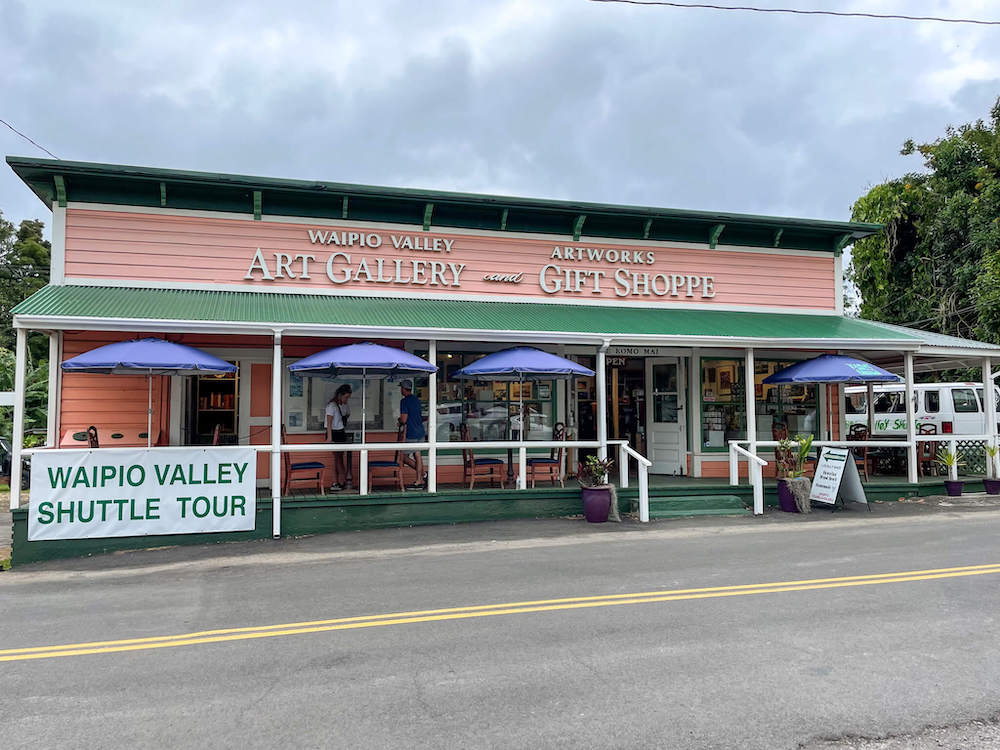 When I drove there from Hilo, my GPS took me down a little side road, so I wasn't sure I was in the right place. However, I got on a main road and easily found Waipio Valley Artworks.
Arrival
They will ask you to arrive 15 minutes before your tour time. That's so you'll have plenty of time to check in and explore their cute store.
This is a great opportunity to use the restroom before you get on the shuttle (as you won't be able to stop in the valley).
There are several shaded tables and chairs set up on the wrap-around deck, so my son and I just sat and relaxed while we waited for our tour to start.
Waipio Valley Shuttle Tour
While the name implies that it's just transportation in and out of Waipio Valley, it's actually a guided sightseeing tour. You only get out a few times to take photos. However, you can stay in the valley and come back on a later shuttle if you arrange it ahead of time.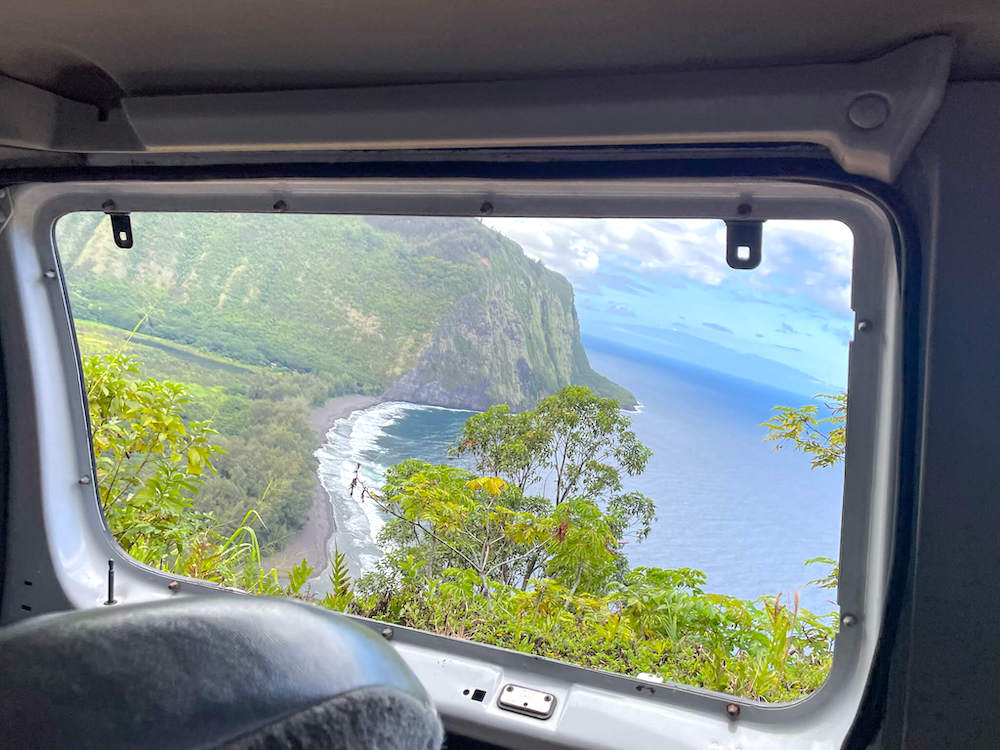 The glass has been removed from all the passenger windows, so you can take some amazing photos as you drive down into Waipio Valley.
Insider tip: Sit on the right side of the van if you want to take photos going down into the valley.
Our tour guide (Kaleo) was born and raised in Waipio Valley and still lives there. It was great to hear his perspective on how people can respectfully visit this sacred area.
He started off by doing a Hawaiian chant asking permission to enter Waipio Valley. And then, he shared some of his personal stories about growing up there, what life is like, and why he chose to stay there.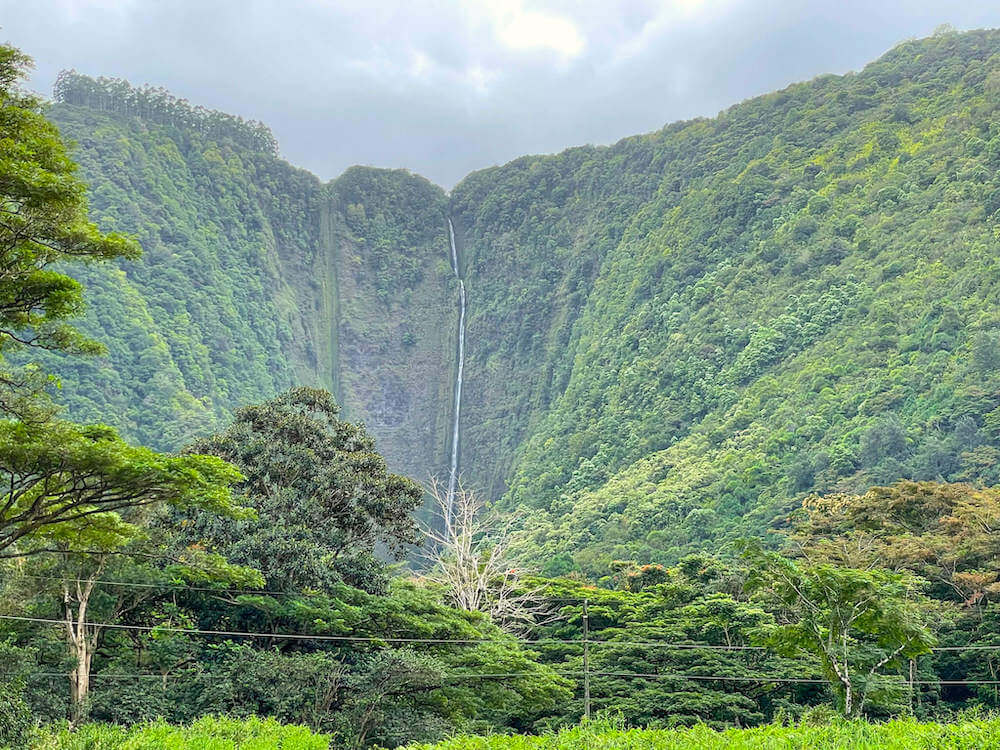 Our first stop was to see Hi'ilawe Falls, one of the tallest Big Island waterfalls. It's featured in several Hawaiian songs, including the famous Hawaiian song Hi'ilawe.
This was my first time seeing Hi'ilawe Falls, and it was absolutely breathtaking. It also felt really special to be able to see something so hidden away.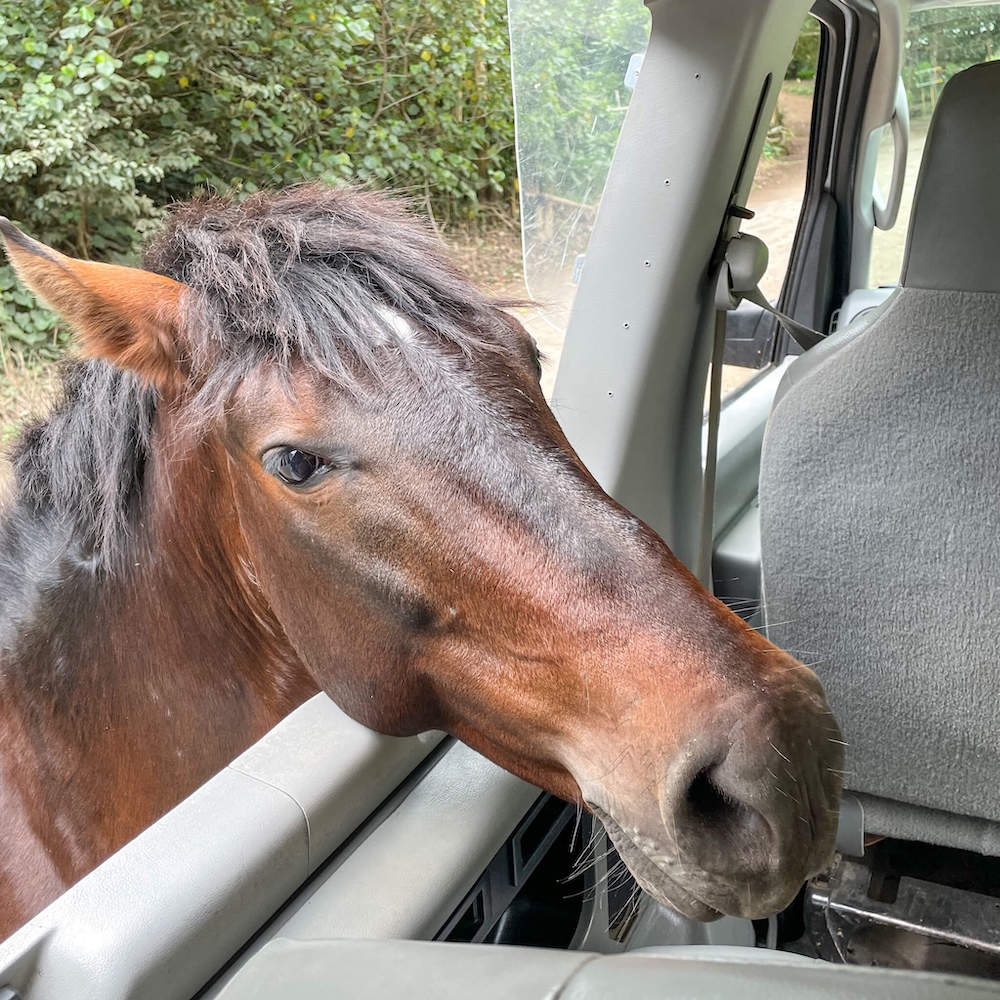 While we were there, a bunch of wild horses came by the shuttle van. The rest of the group was still out taking photos of Hi'ilawe Falls, but my son and I were already sitting in the van. So, it was extra cool when the wild horses started poking their heads in!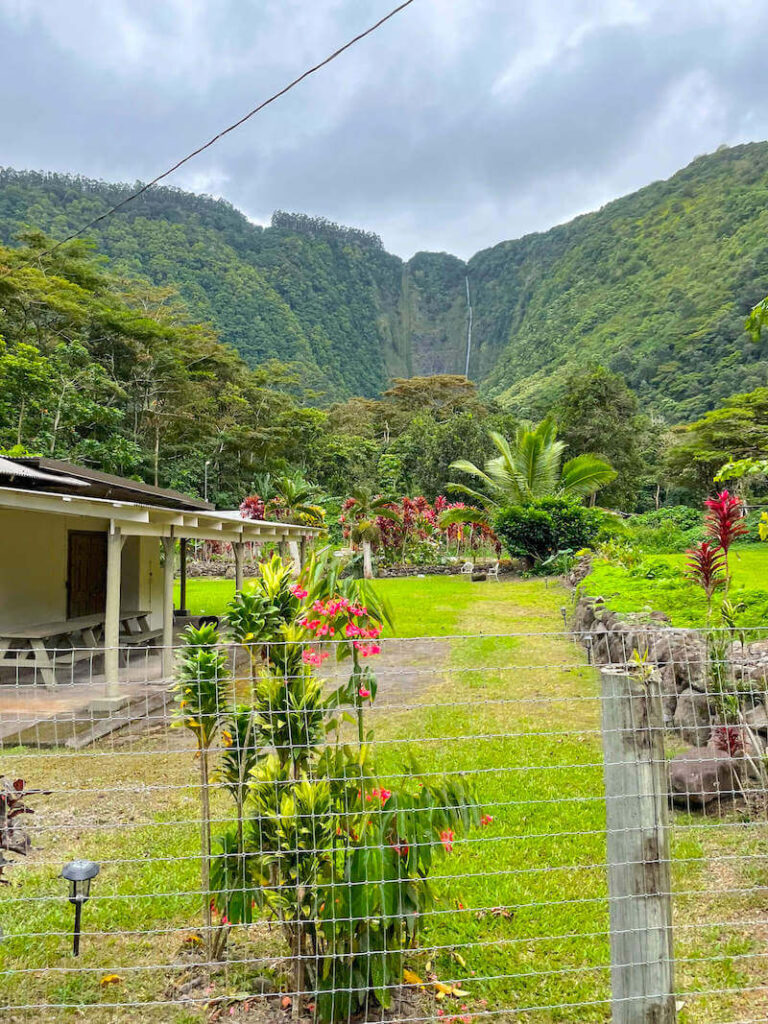 We drove a lot through the valley and saw a ton of homes and taro patches. Along the way, residents stopped to say hi to our tour guide. It was nice to feel like we were with someone that was truly part of the community.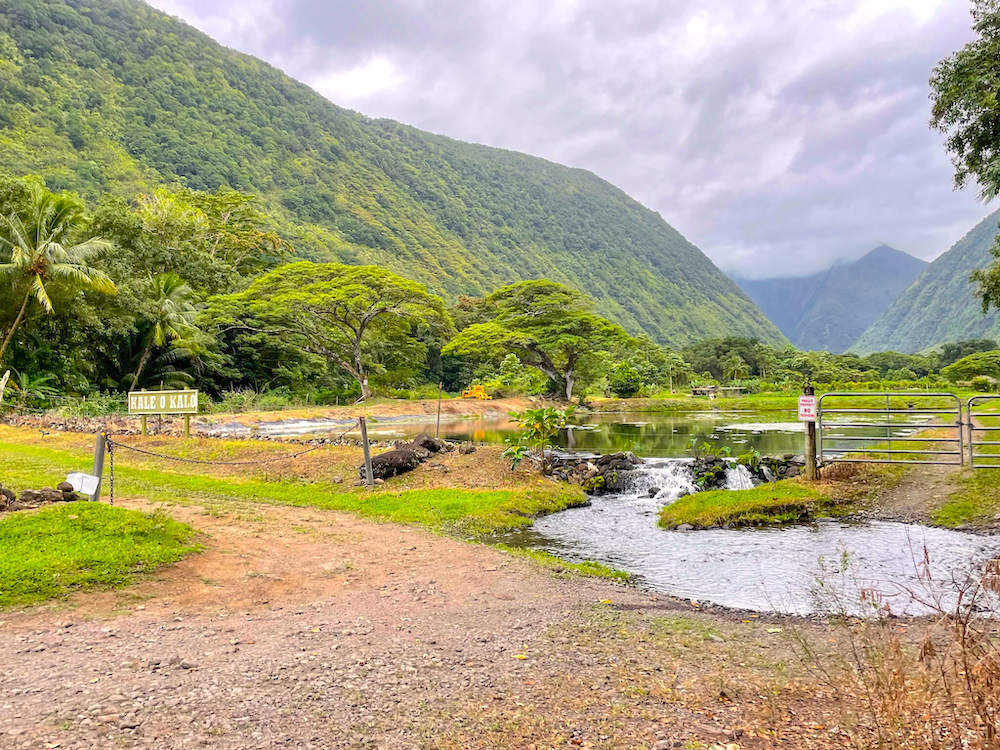 A lot of the other tour guests had questions about the Waipio Valley, so it was nice to hear the answers while looking out at the valley.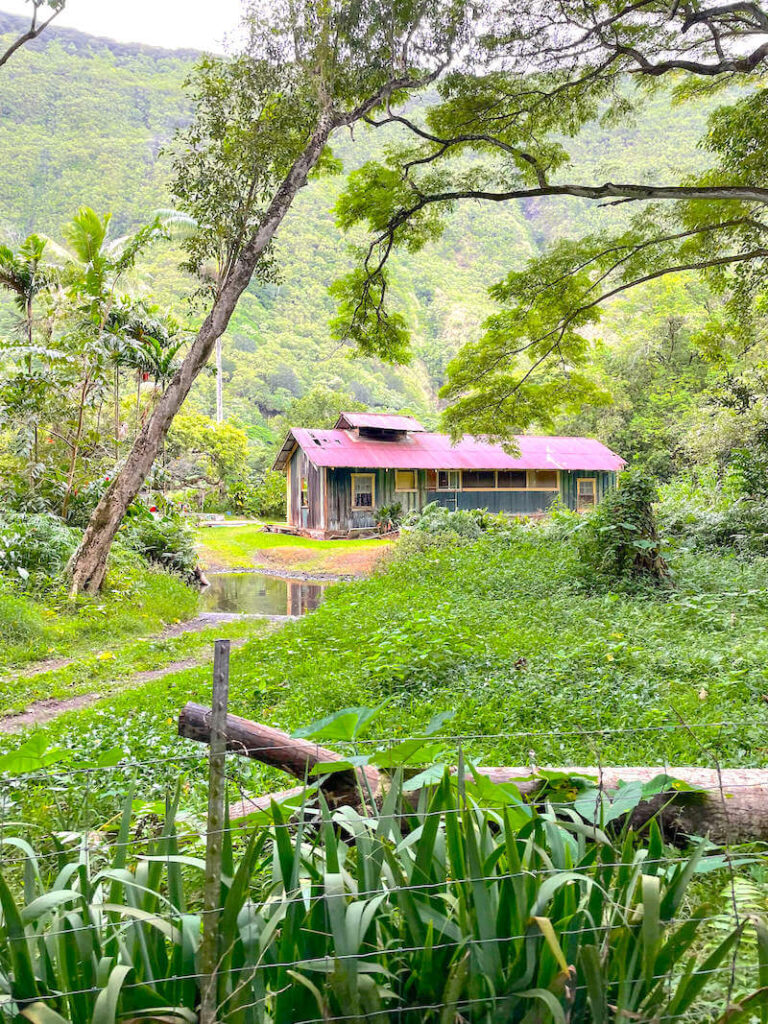 It's truly one of the most beautiful places on the Big Island, and this 90-minute tour is the perfect length to give a quick overview of the area.
Food Options
If you're like my kids, you'll be hungry as soon as you finish the tour and will want to know where to eat in the Waipio Valley.
I suggest heading to Tex Drive In. It's about 12 minutes from the Waipio Valley, and it's right on your way to Hilo. They have amazing malasadas (Portuguese donuts), a variety of loco moco, as well as hamburgers and hot dogs. And their prices are very reasonable.
The Highlight of This Big Island Tour and What You Should Look Out For
I was seriously impressed with this tour of the Waipio Valley. We were able to just sit back and take in the gorgeous views without having to trek down and up the long, twisty road. It was a great way to go "off-roading" with someone else driving.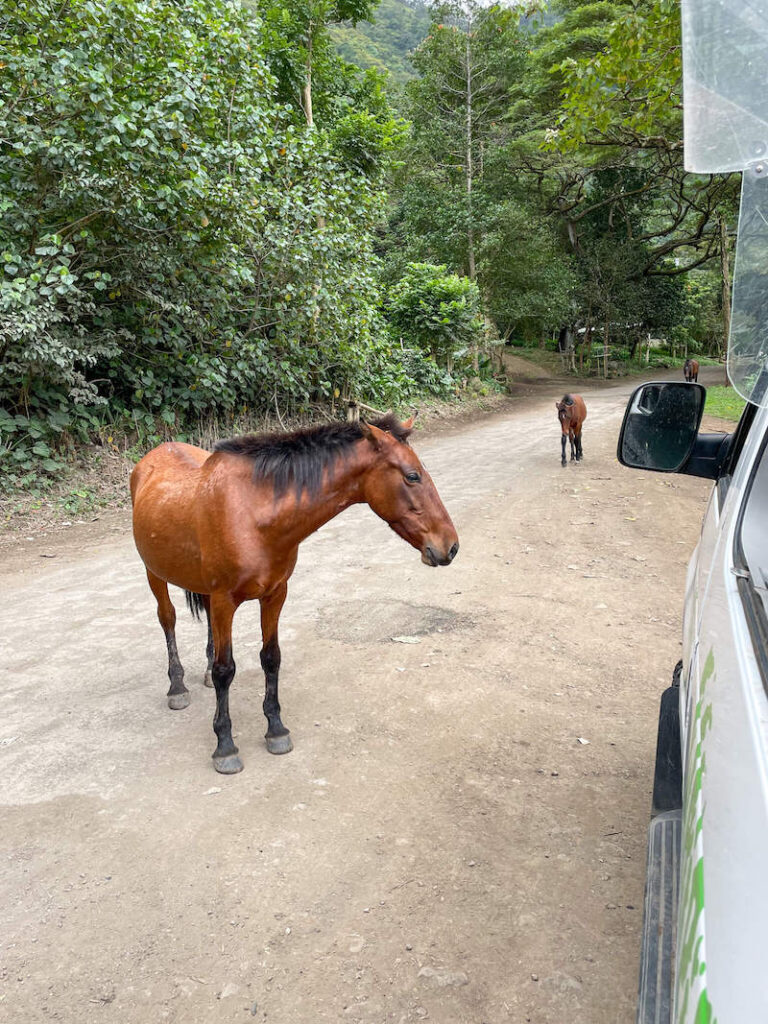 I'm not really an animal person, but I was in awe seeing wild horses so close up. Apparently, they live in the area, and they are just part of the community now.
The other big highlight was finally getting to see Hi'ilawe Falls, one of the most famous waterfalls in Hawaii.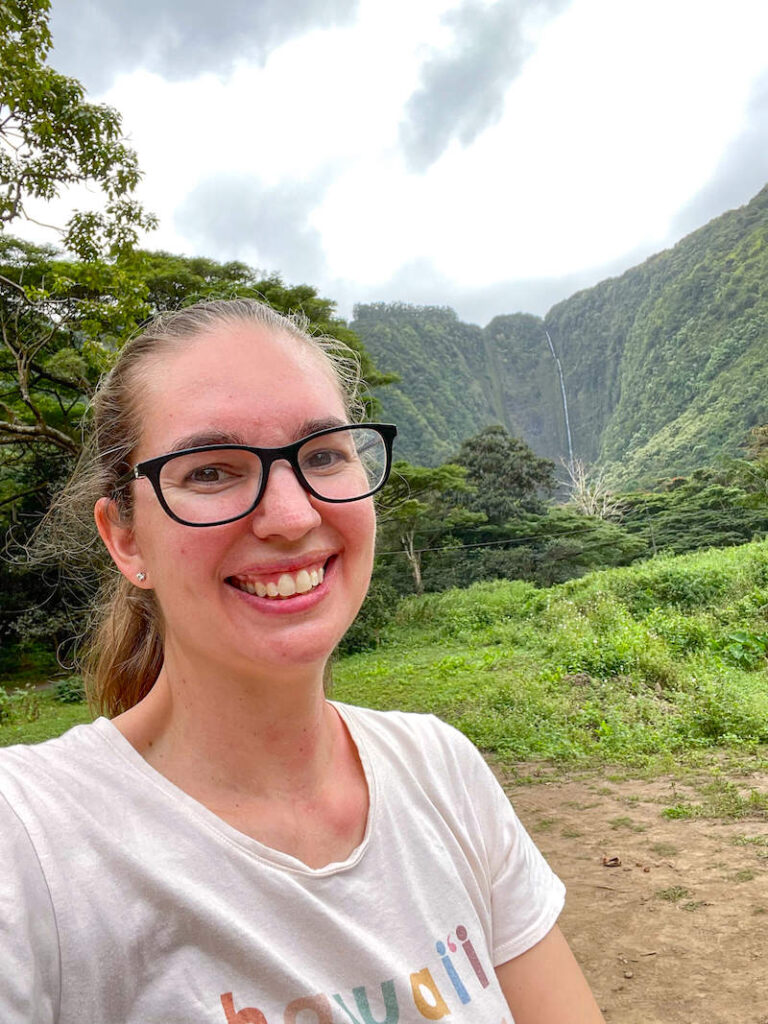 It was really magical to be able to explore such a beautiful part of the Big Island that was full of so much history and culture.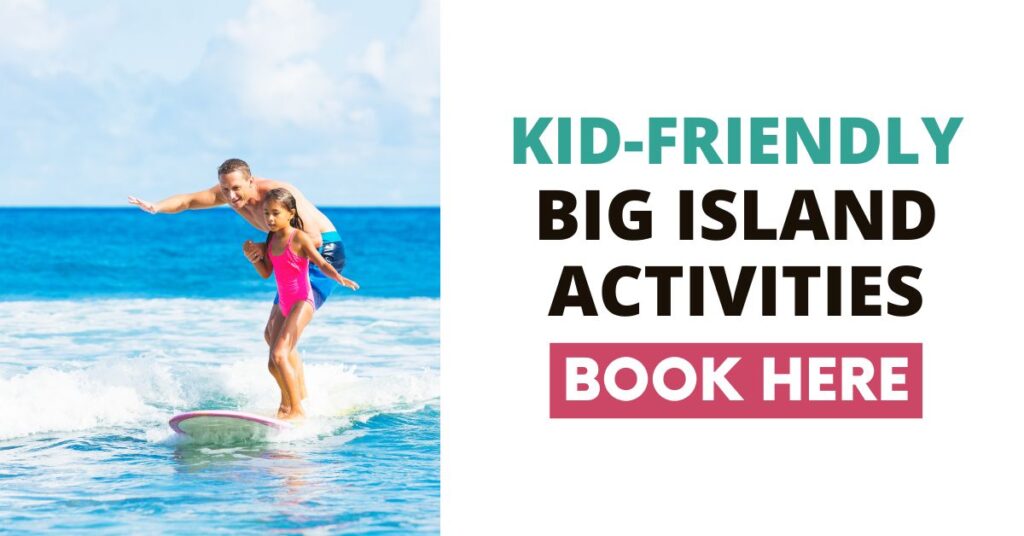 Waipio Valley Tour Tips for Families
What to Wear
Because this is a shuttle tour and you'll be in the van almost the entire time, you really can wear whatever you like. Be sure to check the Waipio Valley weather before you go so you can dress accordingly.
Since the windows stay open the entire time, you might consider wearing layers if you think you might get chilly.
Keep in mind that you will be getting out a few times on natural terrain. We wore athletic shoes, and we were able to easily walk around without worrying about dirt or rocks.
What to Bring
You'll definitely want to have a camera with you. I just used my iPhone, and that worked well. I don't think I got reception down there, but it was perfect for photos and video. You can get some pretty great pictures during your visit with all the taro fields, tropical plants, waterfalls, and Old Hawaii.
Sunscreen is also a smart idea. It's really important to make sure your arms, neck, and face are protected from UV rays.
If you're doing this tour with young children, you can also bring a car seat or booster. Another tip for parents is to make sure your kids know not to throw any toys out the window during the tour. With the windows open, it seems like something that could easily happen.
You'll also want to make sure to bring cash so you have tipping money.
How Much Does it Cost and Where is it Located?
The Waipio Valley is located in Honokaa, and it's about a 60-minute drive from Hilo, Hawaii. It can be a little longer during thick traffic or road construction, so be sure to check before you go.
Waipio Valley Shuttle tour tickets are $69 for adults (ages 12+) and $38.50 for kids (ages 11 and younger). Kids of all ages can participate.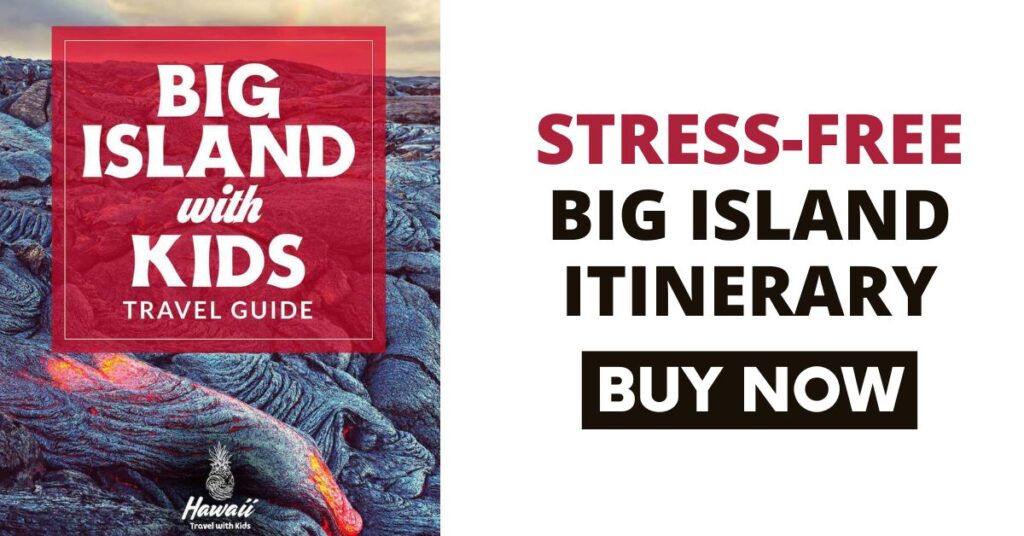 Big Island Waipio Valley FAQs
What are the age restrictions on the Waipio Valley Shuttle Tour?
There are no age restrictions to do this tour of the Waipio Valley. It's a van tour.
Can you drive into Waipio Valley?
Only vehicles with 4WD are allowed to drive down into Waipio Valley. That's because it's the only Waipio Valley road, and if a car gets stuck, no one can get in or out. Most rental car companies do not allow their vehicles to do the Waipio Valley drive.
Why is the Waipio Valley famous?
It's a sacred place for Hawaiian people, and there were a lot of heiau (ancient Hawaiian temples) here. This was also the setting for several Hawaiian myths and legends. It was also featured in the movie Waterworld with Kevin Costner.
Where is Waipio Valley?
Waipio Valley is located on the Big Island of Hawaii. It is on the East Side of the island.
Is Waipio Valley open?
Yes the Waipio Valley is only open to the general public through the Waipio tours. The Waipio shuttle will take you safely down, and the ride is full of beautiful scenery and a knowledgeable guide.
What is better: Waipio Valley or Pololu Valley?
Most will say that the Waipio Valley is one of the best Big Island valleys to go exploring. The Pololu Valley is another Big Island valley that is quite fun to go exploring as well.
So, is the Waipio Valley Shuttle Tour Worth It?
Totally! It ended up being one of my favorite things to do on the Big Island! It was a great overview of the valley and perfect for people who have never been there before.
The Waipio Valley is one of the most beautiful places on the Big Island. Just seeing Hi'ilawe Falls was a highlight for me!
From the natural beauty to magnificent waterfalls, streams, verdant valleys, meandering rivers, and so much more, you will truly love the Waipio Valley Shuttle Tour!
Your knowledgeable tour guide will take you through the valley floor, sharing about the history, showing you the beautiful waterfalls, taro fields, tropical plants, and so much more; you will love your visit.
Next time, I want to book a horseback riding tour with my kids so we can spend more time in Waipio Valley just enjoying the scenery.