Are you looking for the best things to do in Hilo Hawaii? Keep scrolling to see how to do a Big Island chocolate tour at Lavaloha Chocolate Farm.
This review of the Big Island chocolate tour at Lavaloha Chocolate Farm contains affiliate links which means if you purchase something from one of my affiliate links, I may earn a small commission that goes back into maintaining this blog.
Are you looking for a delicious Big Island tour that your kids will love?
Why not do a Big Island chocolate tour at Lavaloha Chocolate Farm in Hilo Hawaii? This 60-minute tour will show you the entire process of making chocolate from the Cacao trees all the way to the kitchen.
Plus, you'll get to taste the Cacao fruit, chocolate nibs, and their tasty finished product of chocolate bars.
You can do a walking tour or hitch a ride on their electric minibus, so this Hilo tour is great for kids of all ages. And the farm itself is gorgeous and has a massive waterfall and a sunken lava tube!
It's really easy to sign up and they have lots of tour times so you'll have no problem fitting on into your Big Island itinerary.
Keep scrolling for my honest review of the Lavaloha Chocolate Farm tour in Hilo.
Don't have time to read a bunch of Hawaii blog posts and reviews? Here are some of our top picks for visiting the Big Island.
Popular Big Island Tours/Activities
Favorite Big Island Resorts/Hotels
Want to skip all the planning and just access my detailed Big Island Itinerary complete with daily schedules, kid-friendly activities, and travel hacks? Click the button below.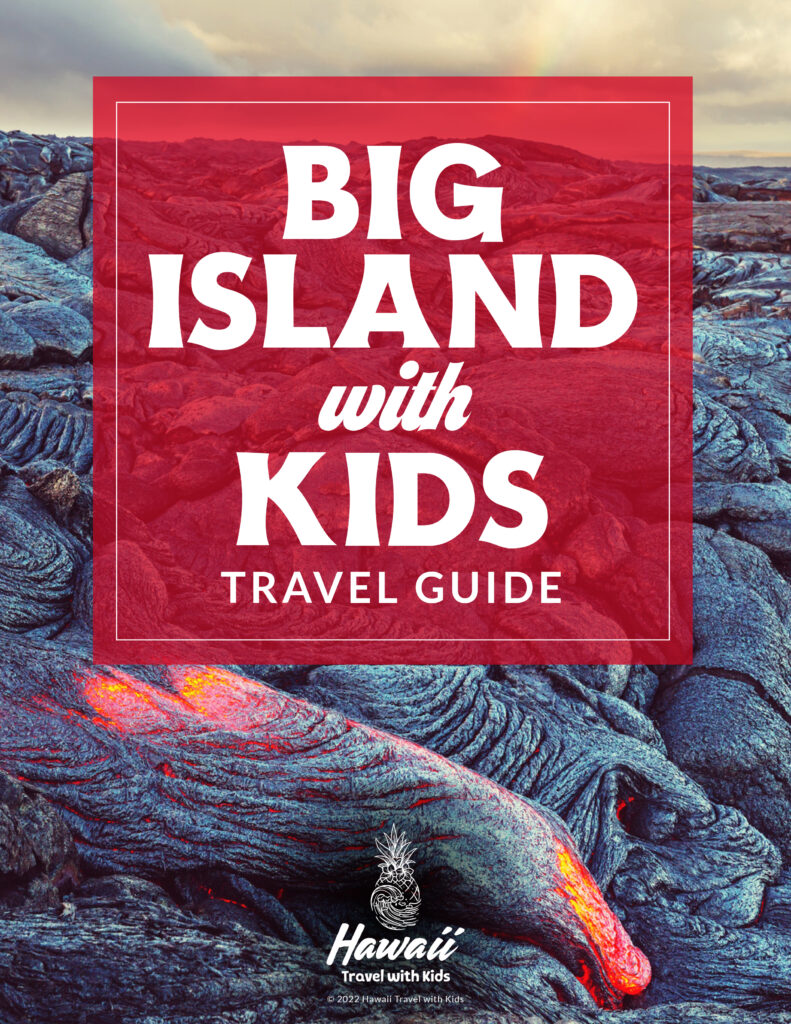 Hawaii Chocolate Farm FAQs
What are the most popular chocolates from Hawaii?
When people think about Hawaiian chocolates, they usually think of mass-produced chocolate-covered macadamia nuts. These are the most popular. However, there are also lots of local Hawaii farms producing their own small-batch chocolate that is really delicious!
Where is chocolate grown in Hawaii?
Out of all the states in the U.S., Hawaii has the best climate for growing cacao. You can find locally made chocolate on almost all of the Hawaiian islands, however, the Big Island of Hawaii definitely has the most Hawaii cacao farms in the state. Many of them offer Hawaiian chocolate tours.
When did people start growing cacao in Hawaii?
People planted cacao trees in Hawaii almost 200 years ago. It's mostly been small farms that grow cacao trees and produce chocolate.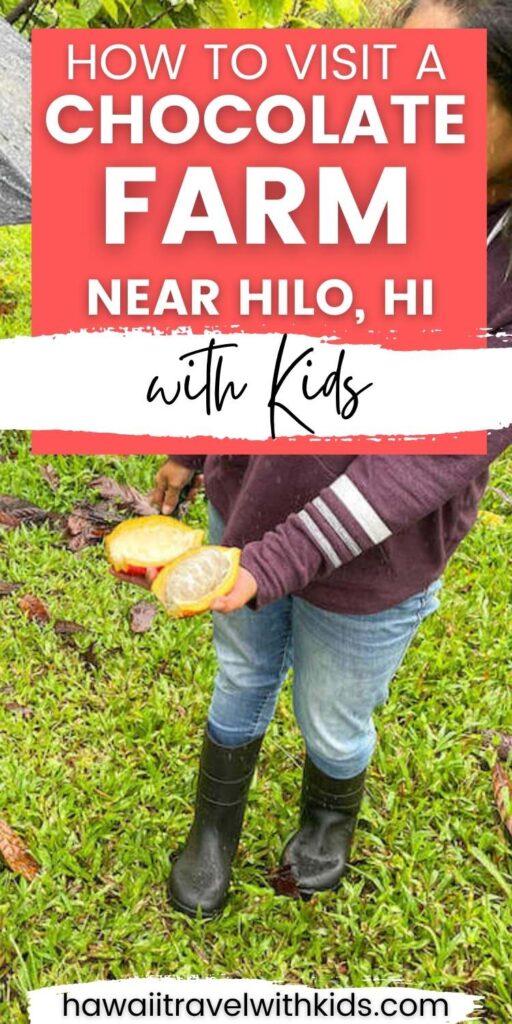 Where is the Lavaloha Chocolate Farm?
The Lavaloha Chocolate Farm is located at 1820 Amauulu Rd., Hilo, HI 96720. It's actually just 10 minutes from downtown Hilo, so it's super convenient to add to your Big Island itinerary.
Now, it is tucked away up in the hillside. You'll want to follow your GPS and keep an eye out for the Lavaloha signs. Just follow the signs and you won't get lost.
How to Visit this Big Island Chocolate Farm
If you want to visit this Hawaiian chocolate farm, you'll need to book tickets for a tour ahead of time. You can do that on their website HERE.
Honest Lavaloha Chocolate Farm Tour Review
So, I actually came across this tour from a Facebook ad while I was already on the Big Island. Obviously, I had been looking up things to do on the Big Island with kids and it popped up in my feed.
The main thing that sold me was the photo of the mini bus with beautiful scenery. I figured my 5-year-old would love the bus part and I'd like the scenic tour. Otherwise, I really knew nothing about it.
Arrival
It's a super pretty drive up a country road from Hilo. At one point, you'll turn off the paved road, but there are tons of signs to show you exactly where you're going. I'm directionally challenged and this was really easy to find thanks to all the signage!
After we parked, we were greeted by our tour guide and another staff member to help us fill out our wavers and make sure we were all set. There are restrooms here in case anyone needs. They also asked us if we wanted to walk or hop in the electric mini bus.
Electric Mini Bus vs Walking Tour
There are two options for doing this tree-to-chocolate tour in Hilo: walking or taking an electric vehicle. This was a no-brainer for us because I knew my 5-year-old would get a kick out of riding in any sort of vehicle.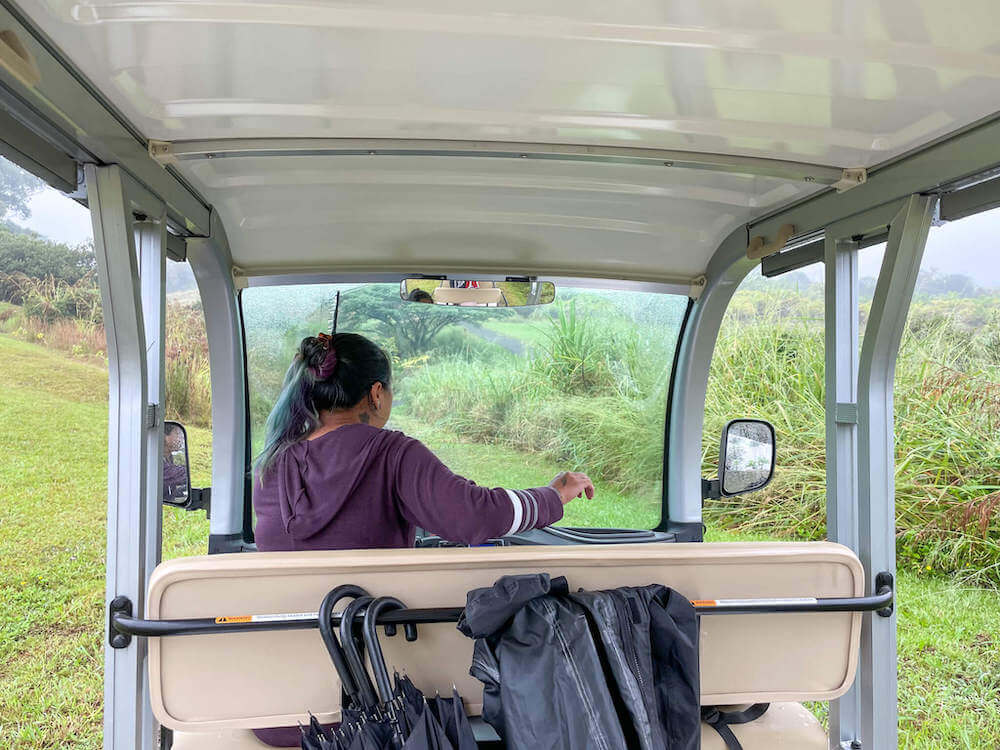 The mini bus is completely electric and there's even shades that can come down to protect guests from rain or the sun. Our tour guide Jess also brought along umbrellas and towels since we were there on a rainy November day.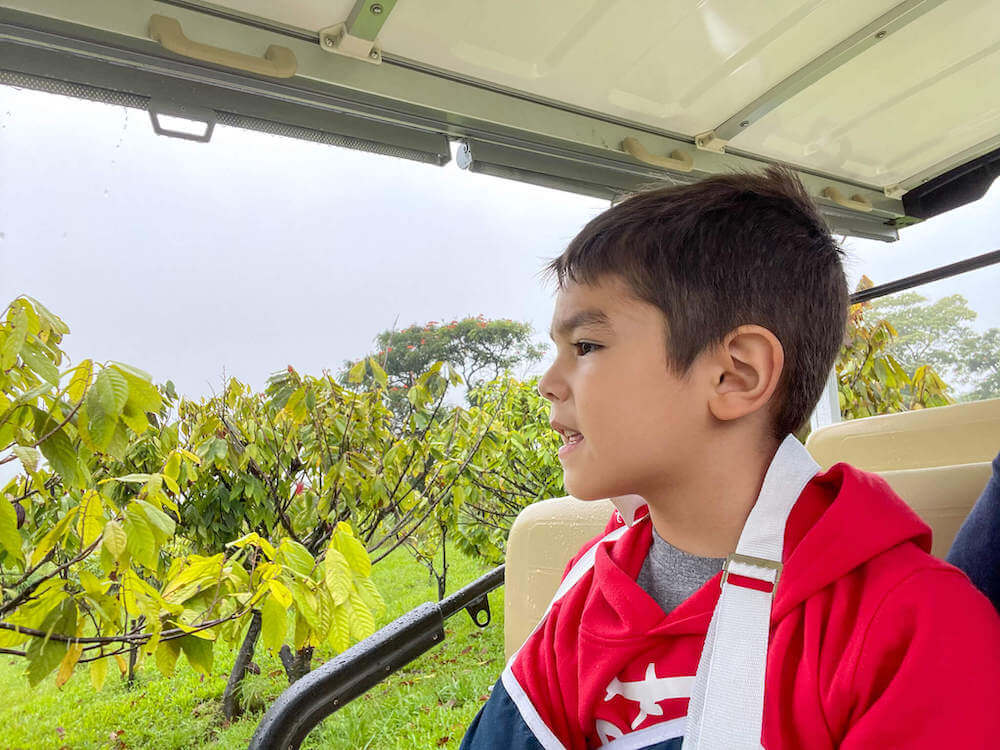 Since it's a working farm, I'd suggest closed toe shoes if you're planning on doing the walking tour. It tends to rain a lot in Hilo and that makes the ground squishy.
Tour of this Hilo Chocolate Farm
This Hilo farm is really beautiful. There's a collapsed lava tube that they turned into a neat garden with a duck pond. And you'll definitely want to check out the gorgeous Hilo waterfall that you can only access if you take this tour.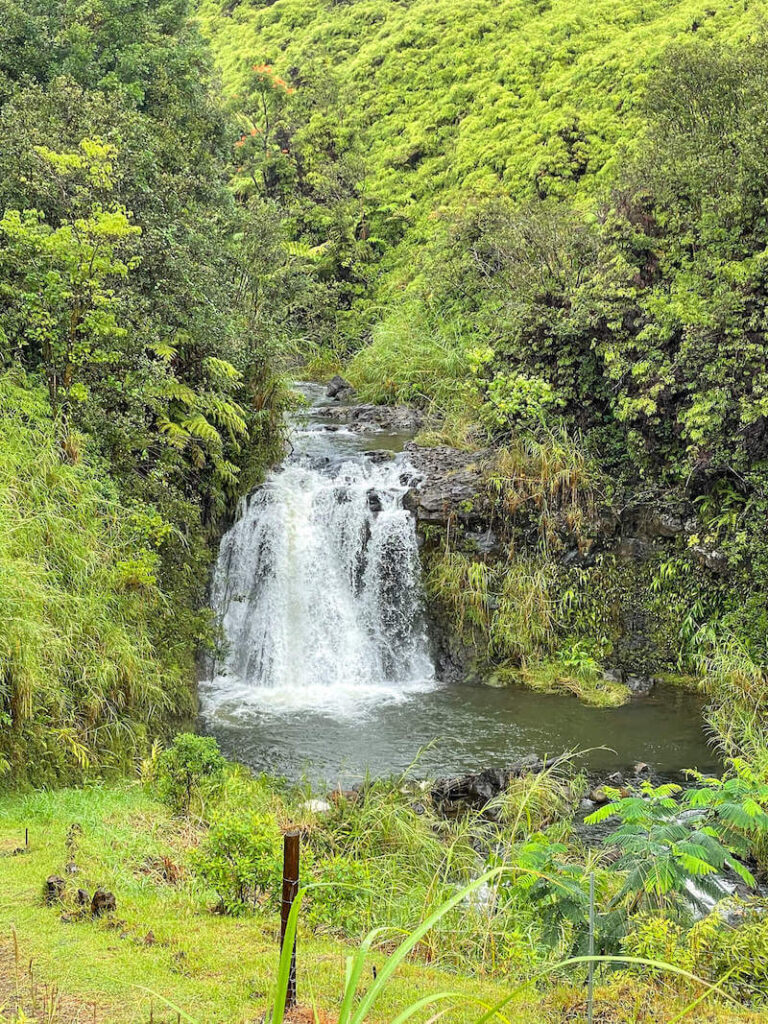 We passed by lots of fruit trees and tons of Cacao trees on this Hilo farm tour.
Cacao Fields and Tasting
Our first stop was at a Cacao tree where we learned about the three varieties of Cacao grown on the farm. Then, our tour guide Jess cut open a Cacao pod where we could taste the fruit inside.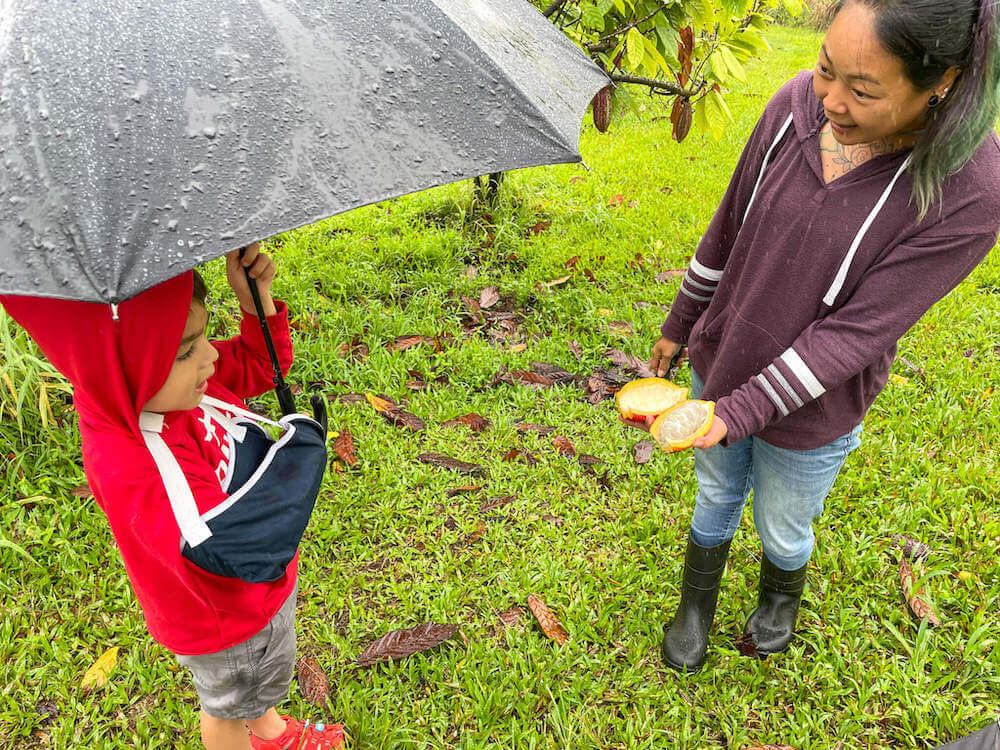 First, she told us just to suck on it to taste the fruit. It sort of tastes like lychee or mangosteen. Next, she invited me to try another one only this time I should bit into the Cacao seed. This was fairly bitter and it was an interesting combination.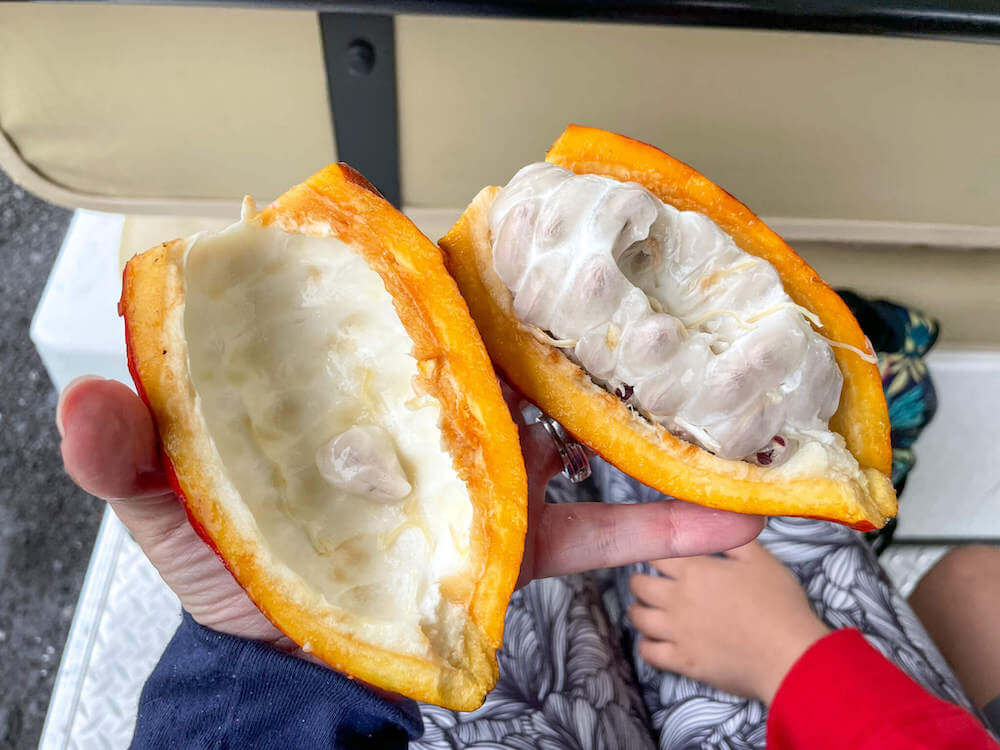 She let us keep the Cacao pod so we could either eat it during the tour or compost it later.
Cacao Machinery
Then, we got to spend some time checking out the different machines used on the farm to harvest the Cacao.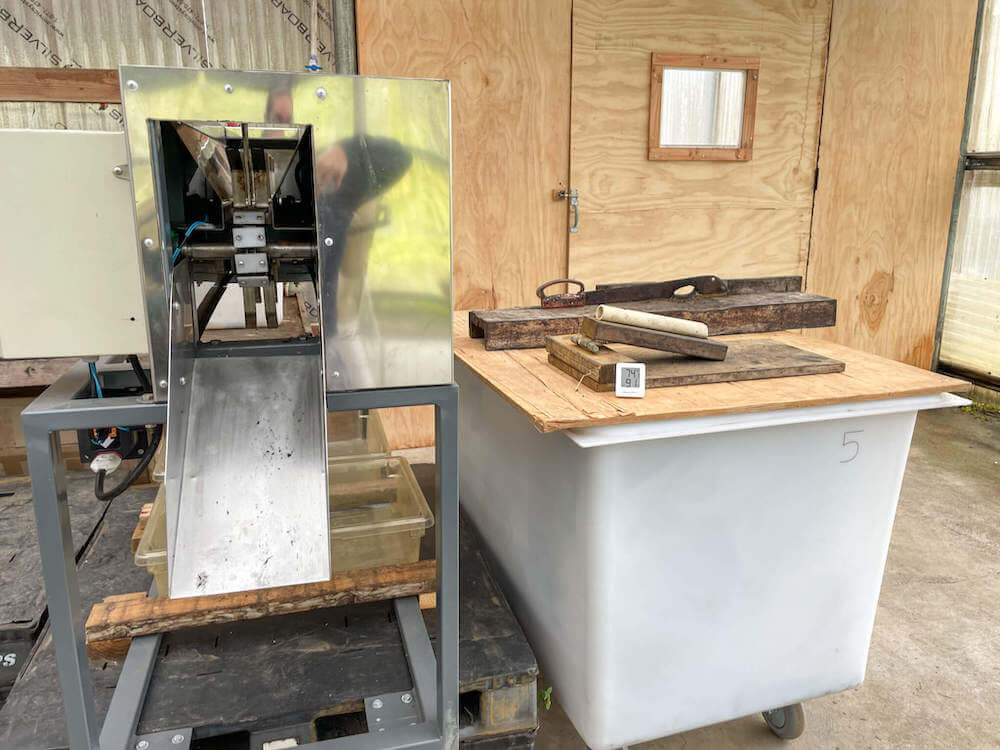 Jess showed us some antique Cacao machines that probably got the job done, but just not in the most efficient manner.
We then got to see their brand-new equipment for removing the Cacao fruit and seeds from the shell. It seems like a much better way of doing it!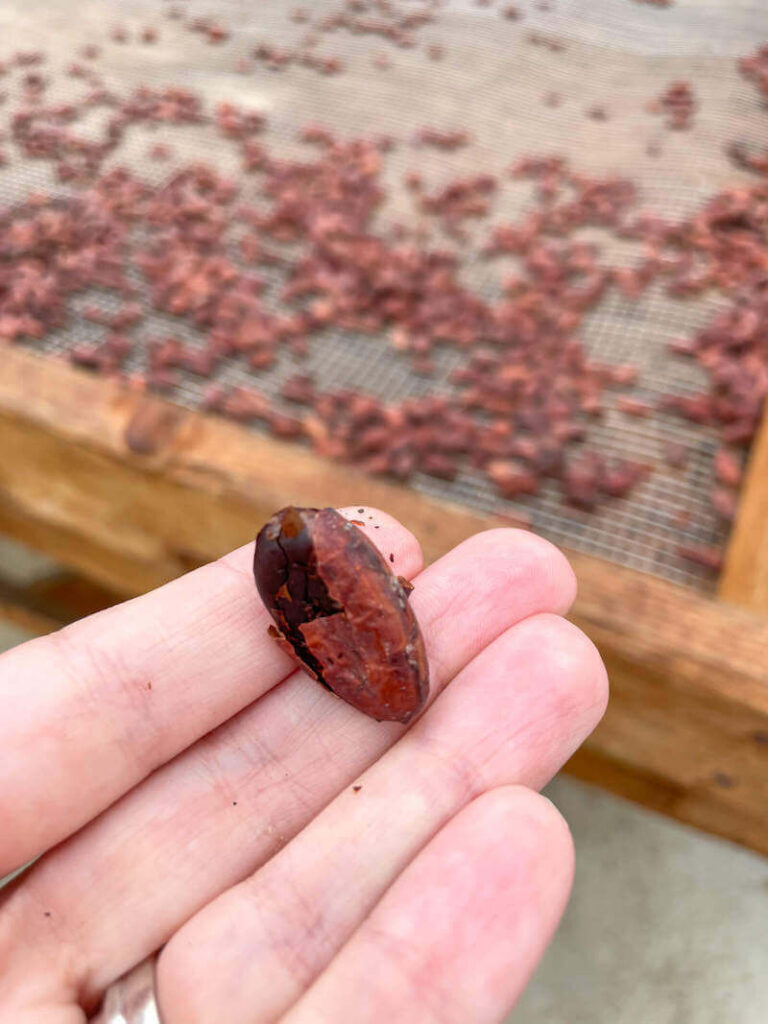 We also got to see how they ferment the Cacao seeds before putting them on the drying racks. With Hilo having high humidity, the time to dry the seeds can vary by a lot!
Hawaiian Chocolate Tasting
Finally, it was time to taste the finished product! We drove over to their chocolate tasting room. There are restrooms here and water.
Jess played a video that showed every step of the chocolate making process from tree all the way to what we got to sample.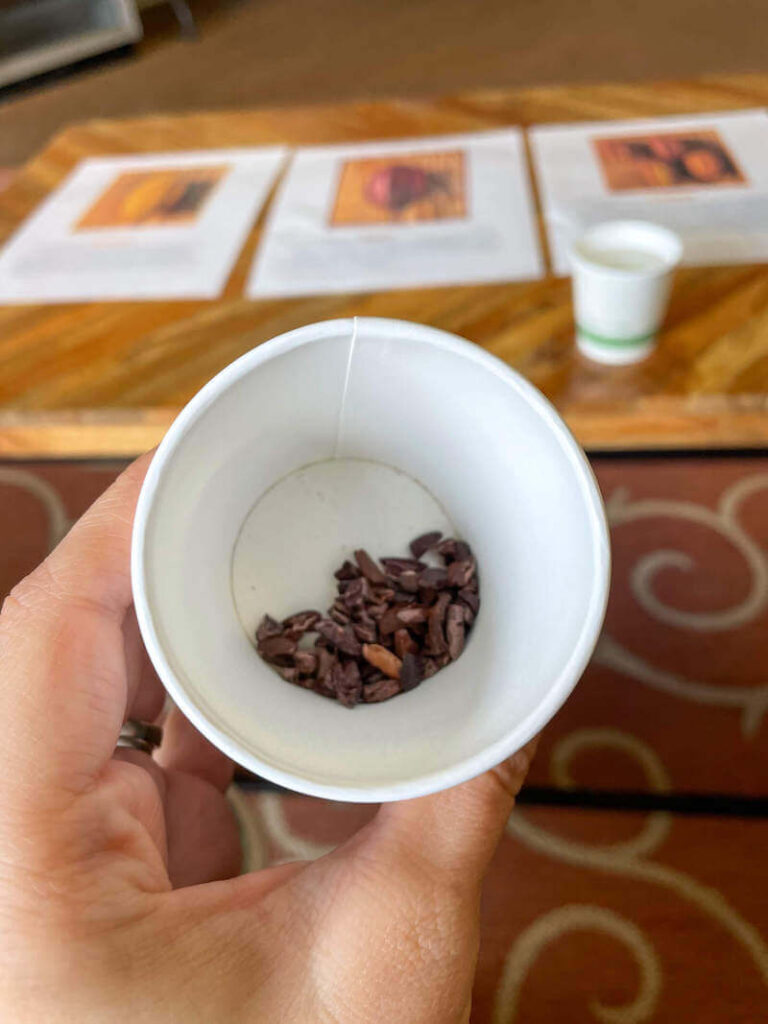 We started off with the chocolate nibs, which are very bitter but flavorful. My 5-year-old didn't even want to try them.
Next, we tried their melted chocolate. It was sweet, creamy, and my son was ready to lick the entire cup clean!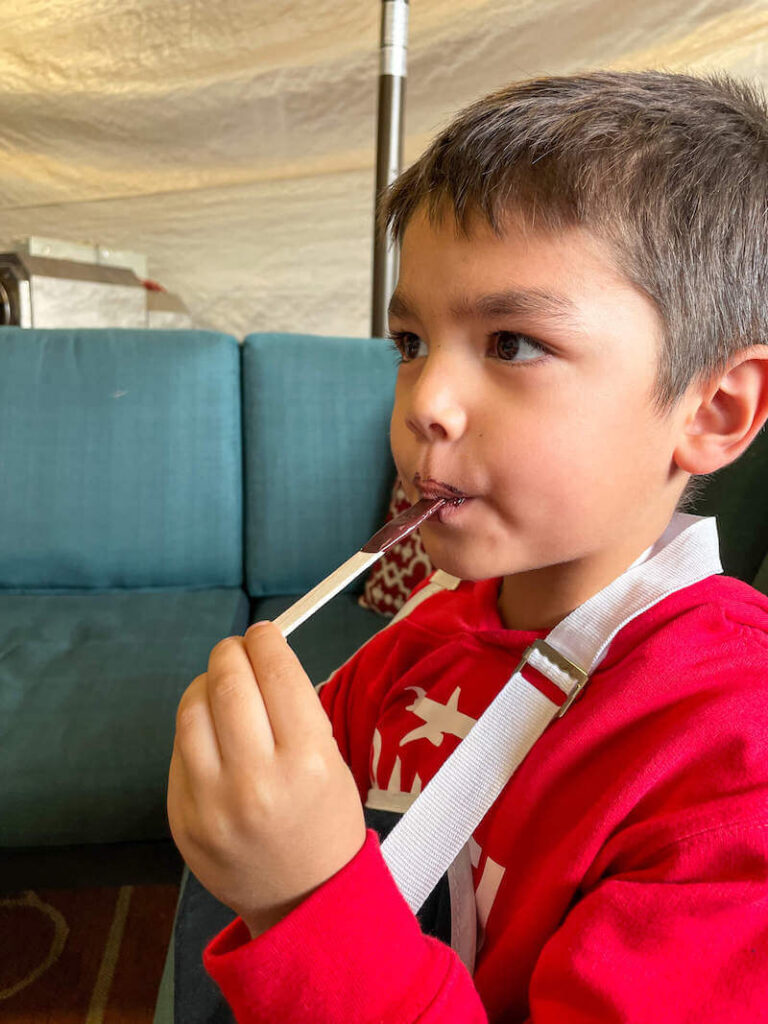 Then, we moved on to the 90% Cacao, 70% Cacao, 50% Cacao, Orange Chocolate and Sea Salt Chocolate. The sample sizes were just big enough for us to get a real taste of them and decide if we wanted to buy any of them to take home.
We loved tasting some of the best chocolate in Hawaii!
For our last tasting, we hopped back in the bus and headed to the gift shop. We sat on the patio and got to taste their white chocolate with cocoa nibs. It's sort of like their version of cookies and cream.
Gift Shop
By the end of the tour, my son and I knew we needed to buy chocolate to take home. They have a really awesome gift shop that's filled with not only their own chocolate products, but tons of other locally made items.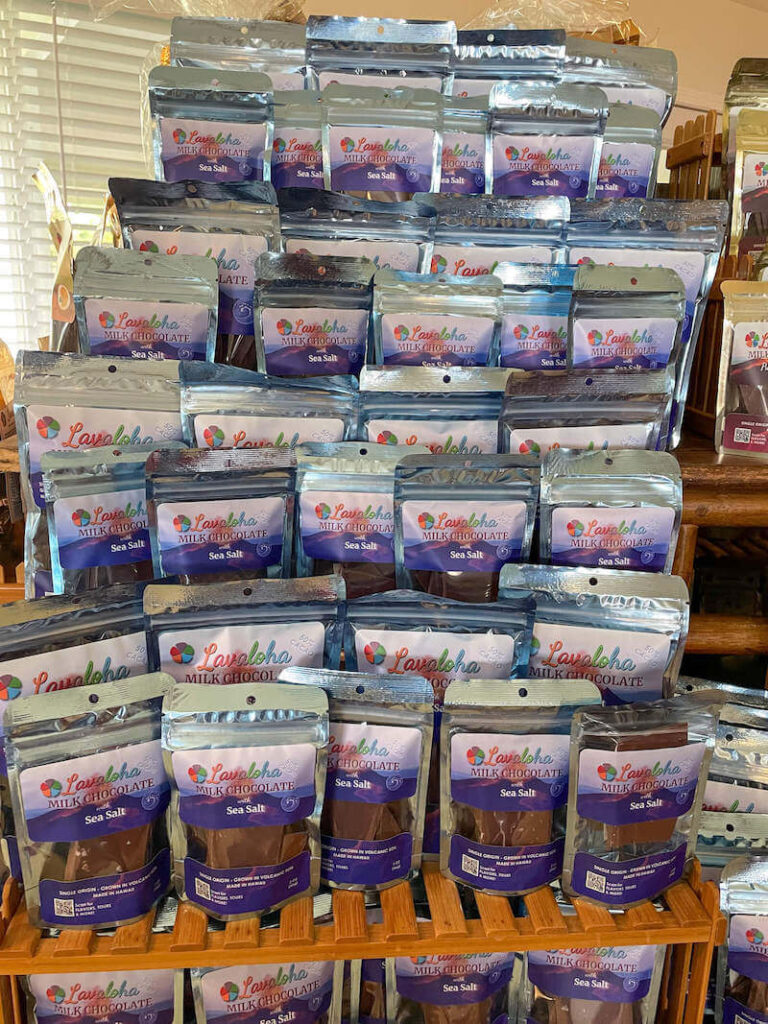 This gift shop is open to the public, even if you don't do the tour. So, if you end up eating everything you bought before heading home, you can totally come back to re-stock!
Big Island Chocolate Tour in Hilo Wrap Up
According to my 5-year-old, this Hawaii chocolate tour was the best thing he did on our trip to the Big Island. I think that melted chocolate really sealed the deal.
I love that this is a great activity for multi-generational travel in Hawaii. Little kids and elderly folks will appreciate the bus option. Plus there's really something for everyone, especially if you like chocolate!
My son and I both learned a lot about chocolate in a fun, engaging way. It's one of the best Hawaii farm tours for families. We'd definitely do this tour again, especially if we were traveling with friends or family.
Looking for more things to do in Hilo Hawaii? Check out my posts about Akaka Falls, the Panaewa Rainforest Zoo, Rainbow Falls, and the Waipio Valley Shuttle.