Are you planning a trip to Maui and working on Road to Hana stops? Keep scrolling to find out whether or not the Garden of Eden Arboretum in Maui is worth visiting.
This review of the Garden of Eden Arboretum in Maui contains affiliate links which means if you purchase something from one of my affiliate links, I may earn a small commission that goes back into maintaining this blog.
Are you looking for kid-friendly Road to Hana stops?
Check out this review of the Garden of Eden Arboretum in Maui. It's a beautiful Maui botanical garden where kids can stretch their legs and take in beautiful views.
It's also near the beginning of the Road to Hana so it's perfect even if you aren't planning on doing the full drive to Hana.
The best part about visiting here is that it doesn't require too much walking or hiking so even little ones will be able to enjoy themselves while still getting some fresh air and exercise before hopping back in the car.
Keep scrolling for my top tips for exploring the Garden of Eden Arboretum with kids.
Don't have time to read a bunch of Hawaii blog posts and reviews? Here are some of our top picks for visiting Maui.
Popular Maui Tours/Activities
Favorite Maui Resorts/Hotels
Andaz Maui (this is a luxury resort with the best luau on Maui)
Honua Kai Resort & Spa (this is one of our personal favorites because there are tons of pools and there are condo options)
Want to Rent a Car in Hawaii?
One of the best places to rent a car in Hawaii is Discount Hawaii Car Rental because they get the best rates from top national companies like Alamo, Dollar, Thrifty, Avis, Enterprise, Budget, and Payless.
Want to skip all the planning and just access my detailed Maui Itinerary complete with daily schedules, kid-friendly activities, and travel hacks? Click the button below.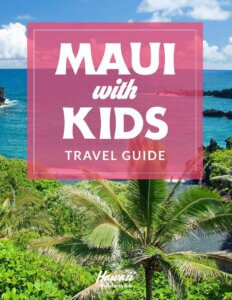 Maui Botanical Garden FAQs
Does Maui have a botanical garden?
Yes! Actually, there are several botanical gardens on Maui. A few of the most popular include the Kula Botanical Garden, Maui Nui Botanical Garden, the Garden of Eden Arboretum, and the Kahanu Garden in Hana.
How long is the Garden of Eden trail?
Located near Haiku, Maui along the Road to Hana, the Garden Eden has a 0.6 mile loop trail that's perfect for families. It's a great way to explore the Maui gardens.
How much does it cost to visit the Garden of Eden on Maui?
There's a $20 entrance fee per adult to visit this Maui arboretum.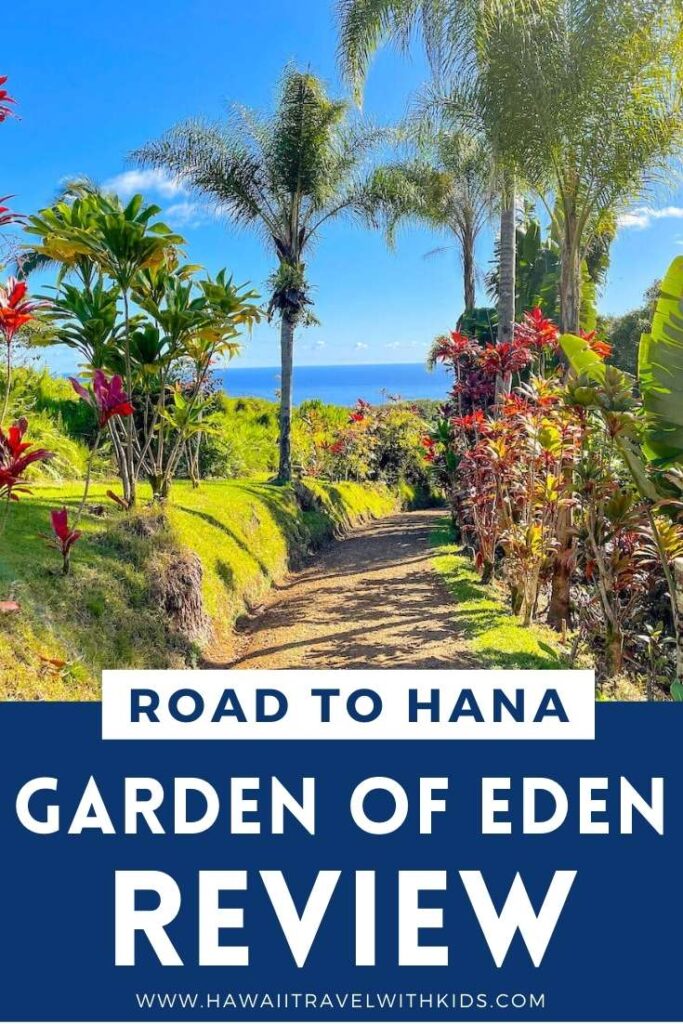 Where is the Garden of Eden Arboretum?
The Garden of Eden arboretum is located at 10600 Hana Highway (Highway 360) at mile marker 10.5. It's one of many Road to Hana stops.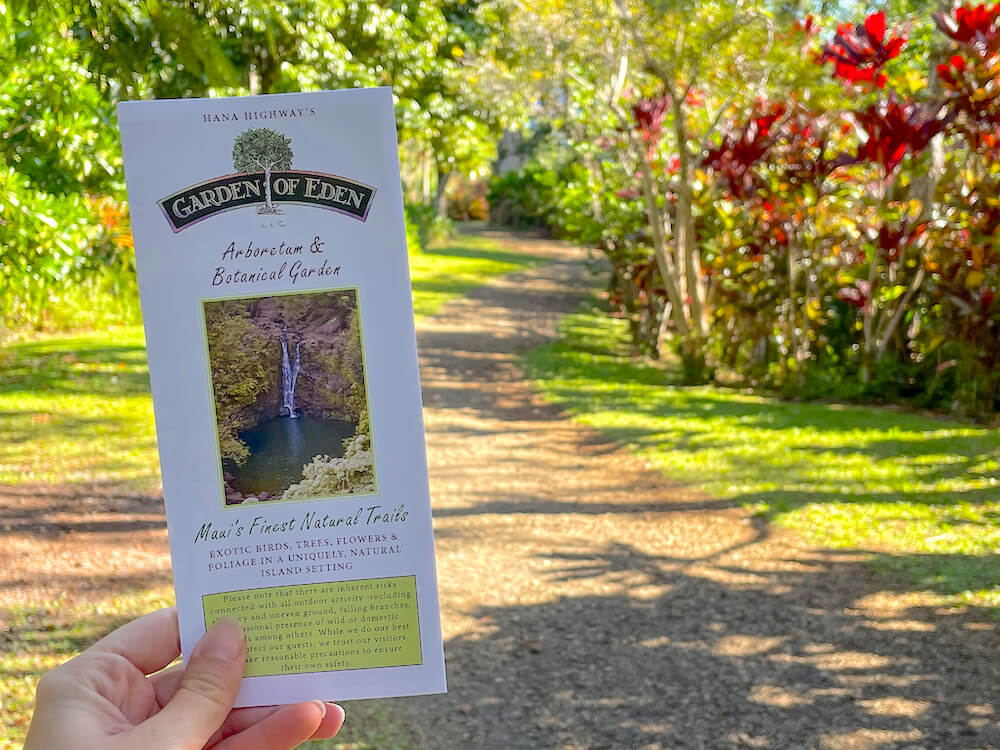 From Lahaina, it takes about an hour and a half to drive here (with no stops). From Kihei, it takes about an hour. Most people stop here when they drive the Road to Hana, but you can also just make it a half-day trip.
What Can You See at the Garden of Eden Arboretum?
The Garden of Eden on Maui has so many beautiful spots to soak in the scenery. You can see some birds (like ducks and peacocks), waterfalls, ocean lookouts, and lots of plants.
Honest Maui Garden of Eden Review
I like to joke that they must have hired someone who majored in sign making because there are signs EVERYWHERE here! They are very nicely made but you can see 5-6 signs almost anywhere you look as you walk around.
This is one of my favorite Maui botanical gardens (the other one is the Kahanu Garden in Hana). It's seriously so lush and gorgeous and it's the perfect place to take lots of photos.
Check In
As you drive into the Garden of Eden on Maui, you'll see a little building. There's an employee in there who will talk to you about the park, give you a map, and take your entrance fee. It's $20/adult.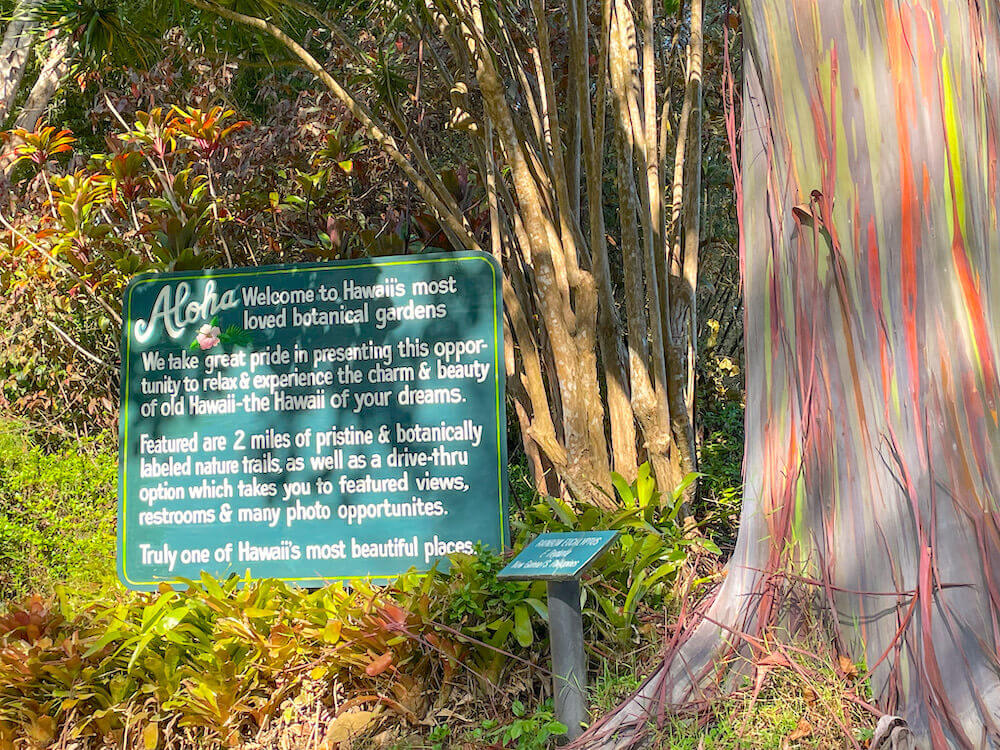 Right next to the welcome sign is a rainbow tree, which you'll see throughout the garden. You'll keep driving a bit until you get to the parking areas.
Parking
There are actually 3 parking lots here. The person at the check-in area will tell you to drive and park at each one to fully see the park. But, you can also just walk between them, especially if you have kids. It's cumbersome to get them in and out of car seats.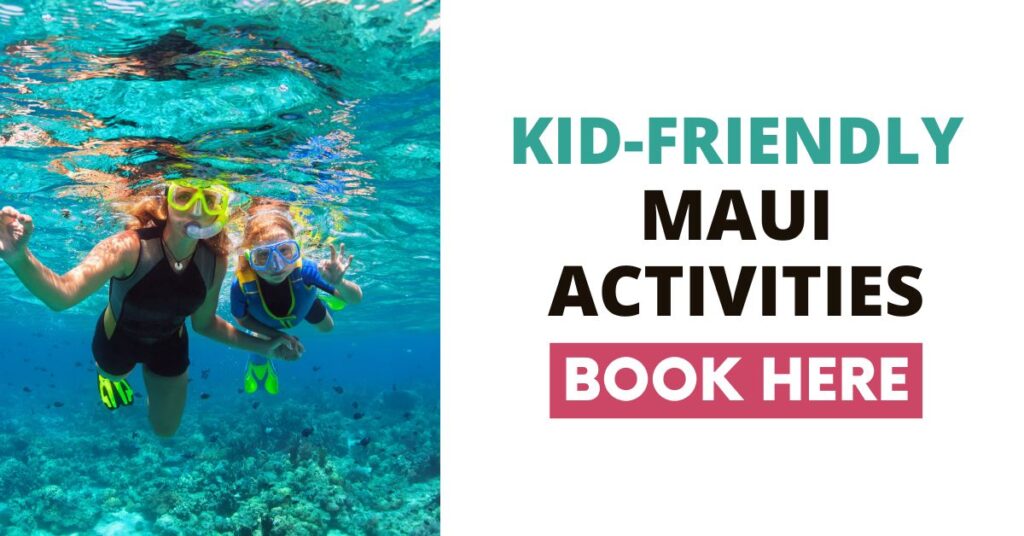 Highlights
Ducks
If you bring some cash with you, you can buy food to feed the ducks. The ducks we saw were hanging out in the first parking lot.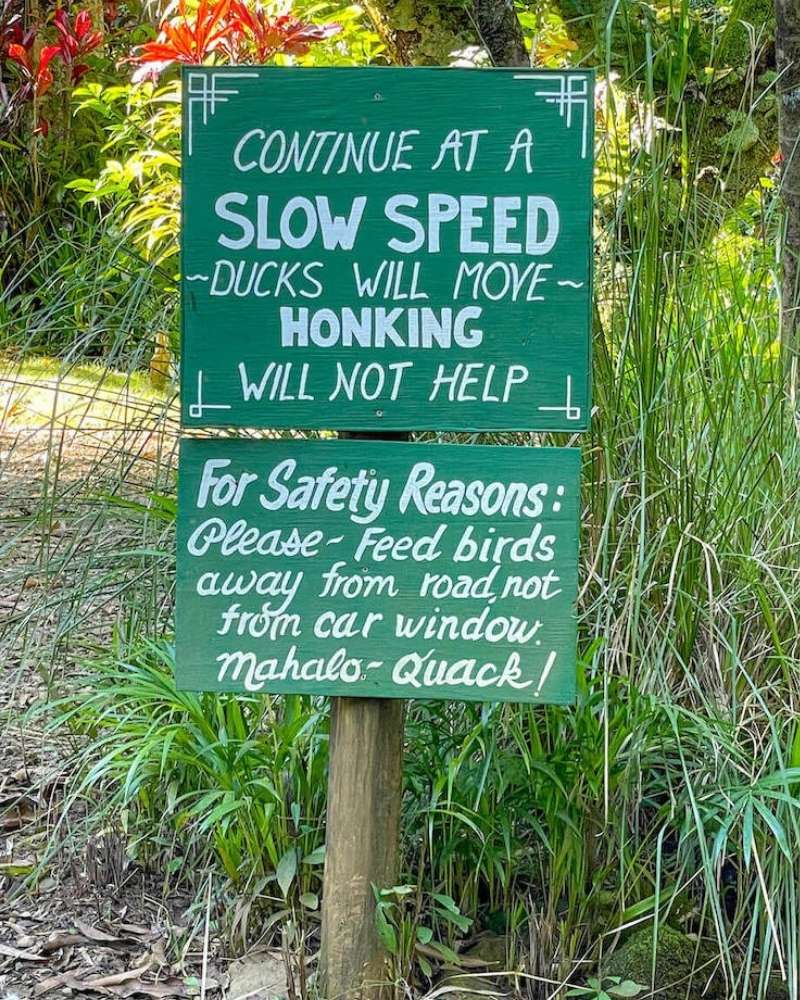 The ducks really are immune to honking, cars, and people. You can go over to the little teal box to buy the food. It's $0.25 and it's a fun activity for kids.
Peacocks
Another cool thing to see at the Garden of Eden are peacocks! We saw one just walking around the property and it was really neat to see.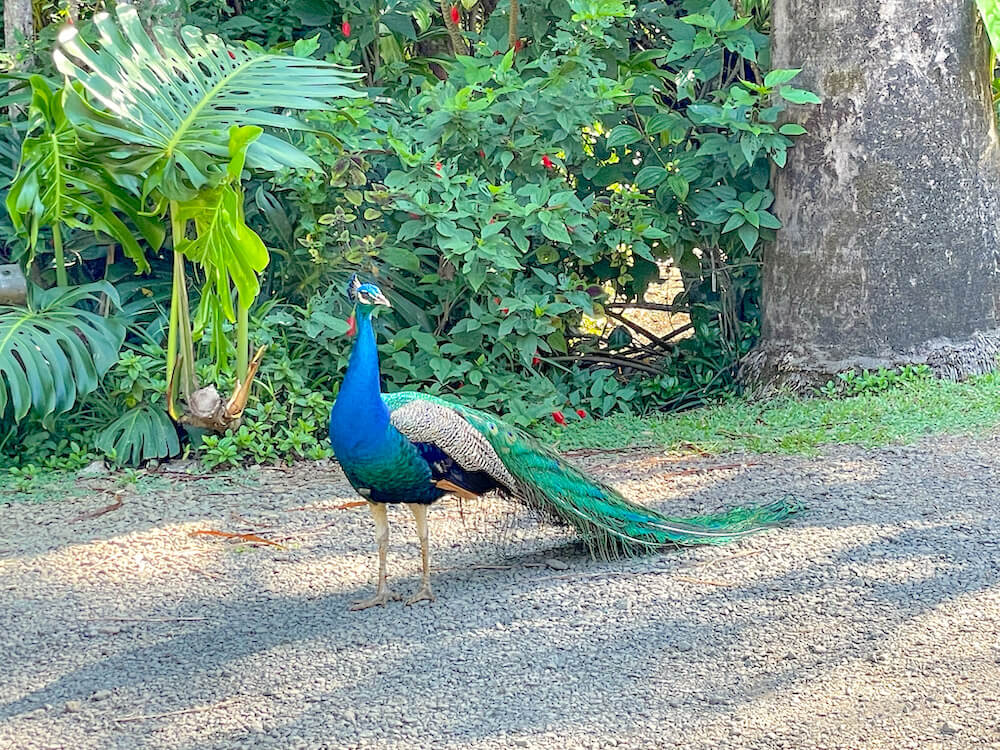 I'd suggest giving them some space and definitely don't bother them.
Pu'uhokamoa Falls
According to the signage at the lookout, Pu'uhokamoa Falls was a sacred spot to early Hawaiians.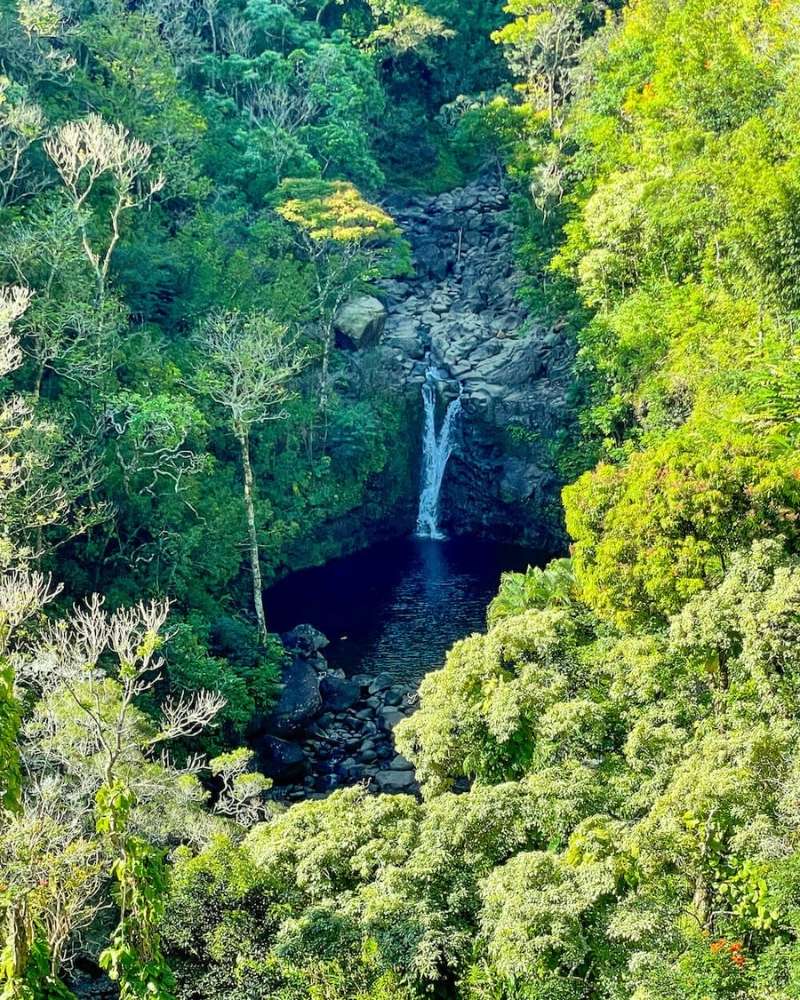 This is a fairly small waterfall that's about 30 feet high. Years ago, it was a popular Road to Hana stop. However, it's located on private property so now the only way to see it is at this lookout at the Garden of Eden.
So, it's sort of a secret waterfall on Maui!
Keopuka Rock Overlook
If you love Jurassic Park, you've got one more reason to visit the Garden of Eden Arboretum on Maui.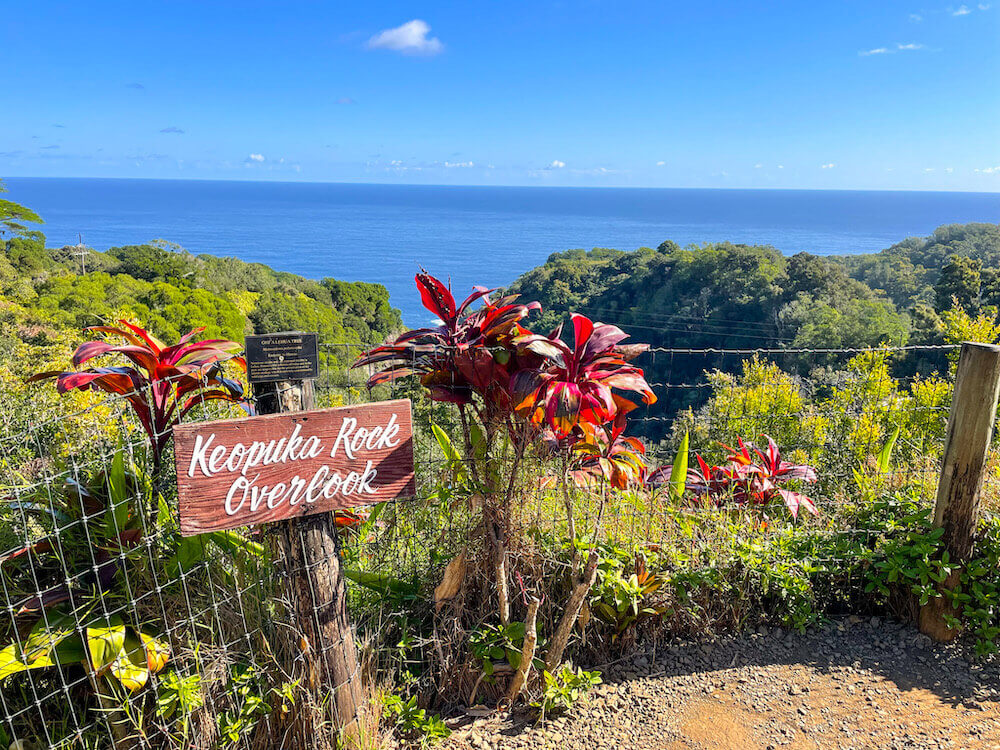 While Jurassic Park was mostly filmed on Kauai, they did shoot some scenes in Maui, including Keopuka Rock.
Keopuka Rock is a rock in the Pacific Ocean, just off the coast of Maui. The rock is only visible from a distance when you are in the botanical Garden of Eden.
100 Year Old Mango Tree, Banana Patch, Shelters
There are lots of cute shelters (like the one below) that are perfect for getting out of the rain or taking a break from the sun.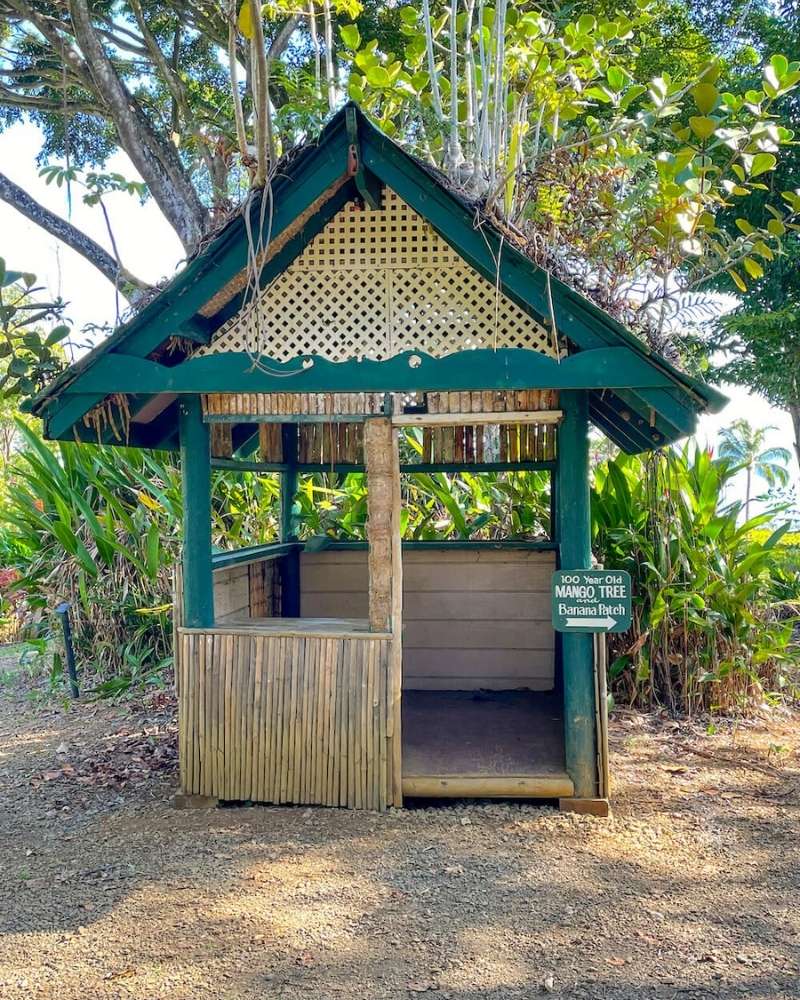 It's really easy to follow the signs to see cool sites like the 100 year old Mango tree and the banana patch. Although the banana patch was pretty sparse when we were there.
Valley Overlook
There are lots of scenic lookouts at the Garden of Eden arboretum. I thought the Valley Overlook was really pretty.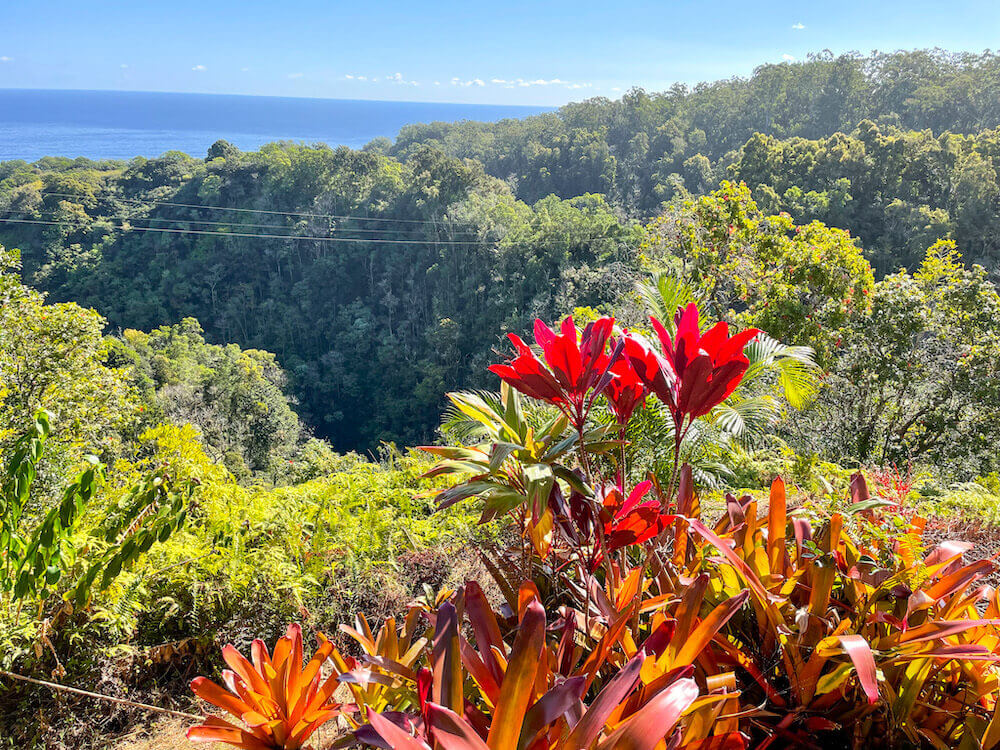 There are lots of signs to show you where to go to find this scenic Maui lookout as well as others.
Garden of Eden vs. Keanae Arboretum
I know some other blogs will tell you to skip the Garden of Eden and just do the Keanae Arboretum because that one is free. But, they are completely different experiences.
I like to equate the Keanae Arboretum to the "free trial" of the superior Garden of Eden. The Keanae Arboretum is lovely, but it feels a lot smaller and doesn't offer stunning ocean views or waterfalls. You can find those at the Garden of Eden, though.
Personally, I suggest doing both (if you have the time) because they are so different and it's nice to get out and stretch your legs.
Tips for Visiting the Garden of Eden on Maui with Kids
What to Wear
This is a Road to Hana stop where you could get away with just wearing sandals or flip flops. You won't need hiking shoes or anything.
You'll definitely want to wear sunscreen and/or a sun hat. And if you visit after it has rained, you might also want to wear some bug spray.
What to Bring
There are tons of places to sit and enjoy a snack or a picnic lunch. You'll find picnic tables everywhere throughout this Maui botanical garden.
Picnic Shelter
While there are lots of places to sit and enjoy the gorgeous scenery, I think the best place to enjoy lunch is up at the shelter.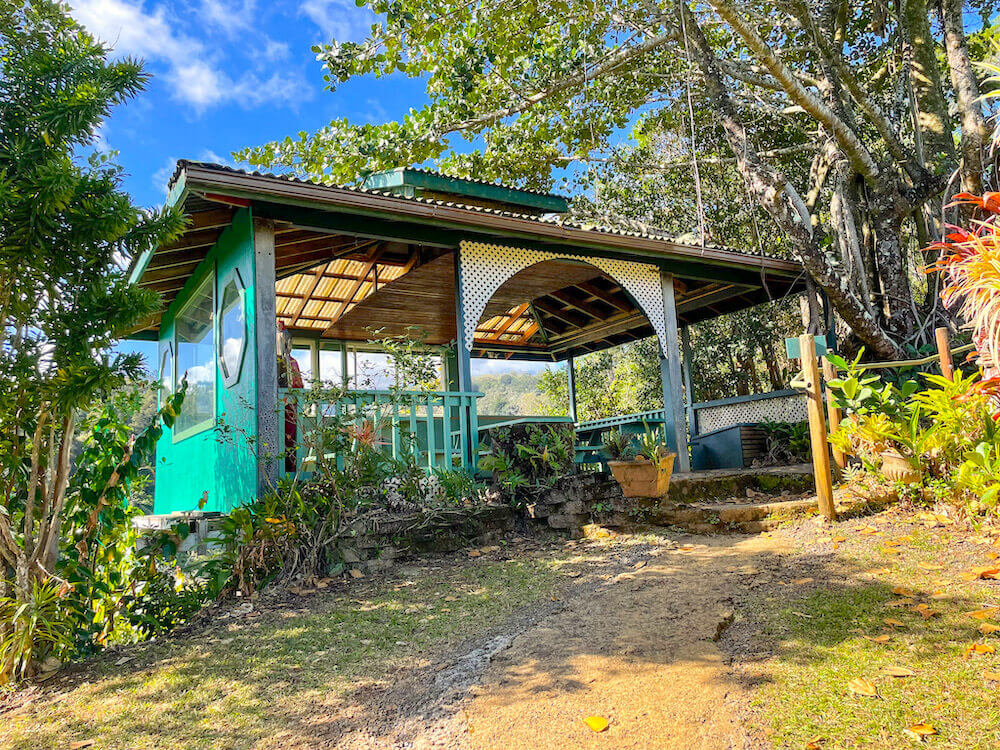 It's a large shelter with several picnic tables there. It would be great for larger families or for people traveling together who want to meet up along the Road to Hana.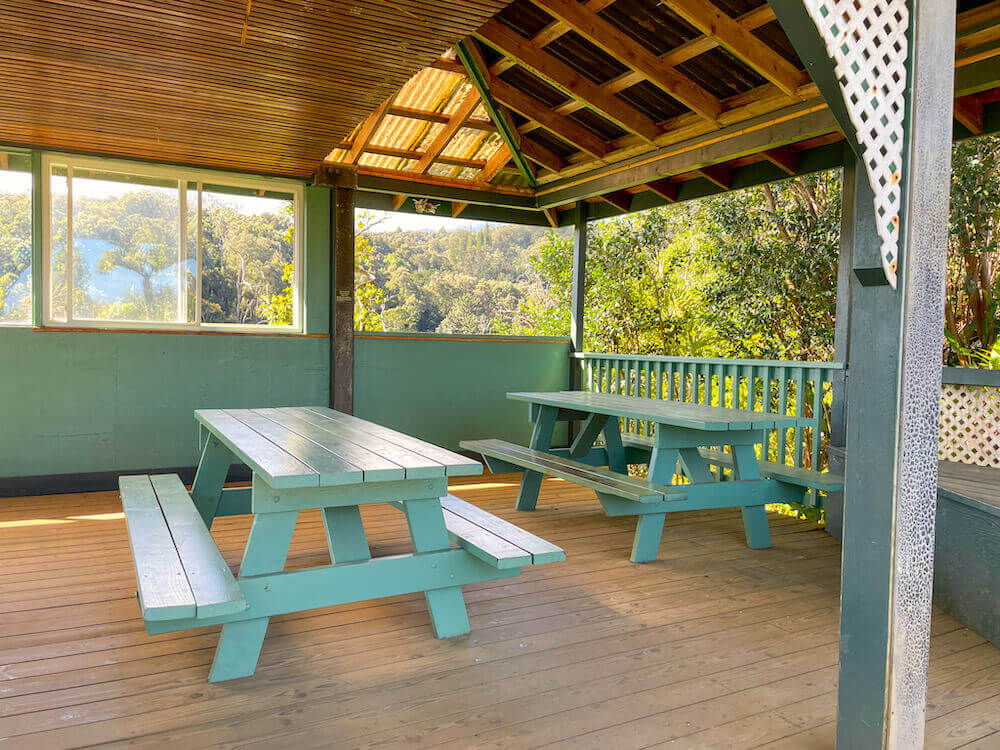 It all seemed pretty clean. There's a view of the lush rainforest from the windows. And it's nice that it's under cover in case of rain.
Visiting with Babies and Toddlers
This is one of my favorite toddler-friendly stops along the Road to Hana because the trails are easy to walk and there are places with wide-open grass for kids to run around.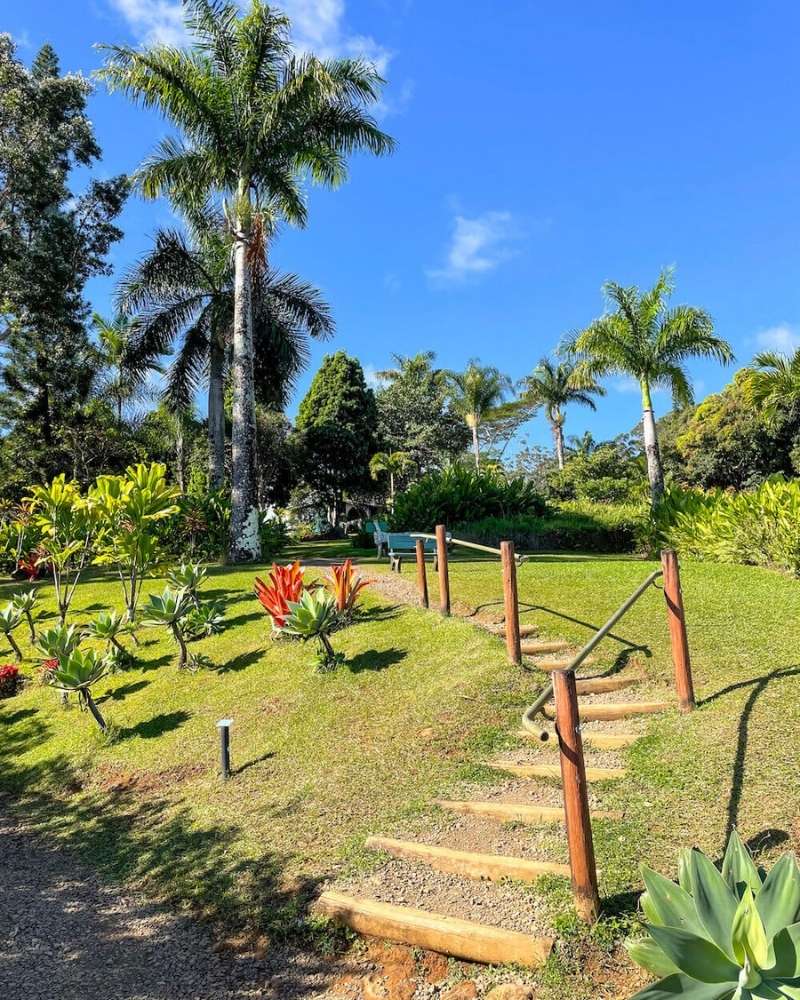 This is NOT a stroller-friendly stop, so you'll want to put your baby in a baby carrier or hold them in your arms. Some of the paths have stairs or are little trails.
Restrooms
There are several restrooms right across from the 2nd parking lot. It's a building with men and women's facilities and I think there were two stalls in each restroom. It was very clean.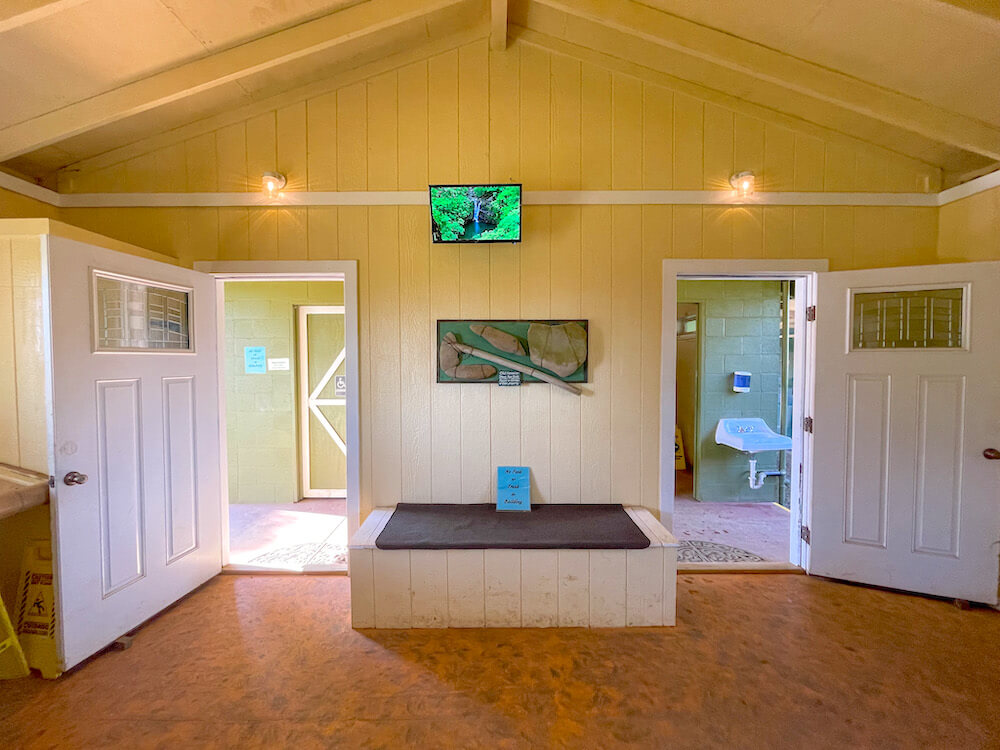 There's actually a little visitors center there, too. There were some displays about the area and Hawaiian history, but it's pretty sparse.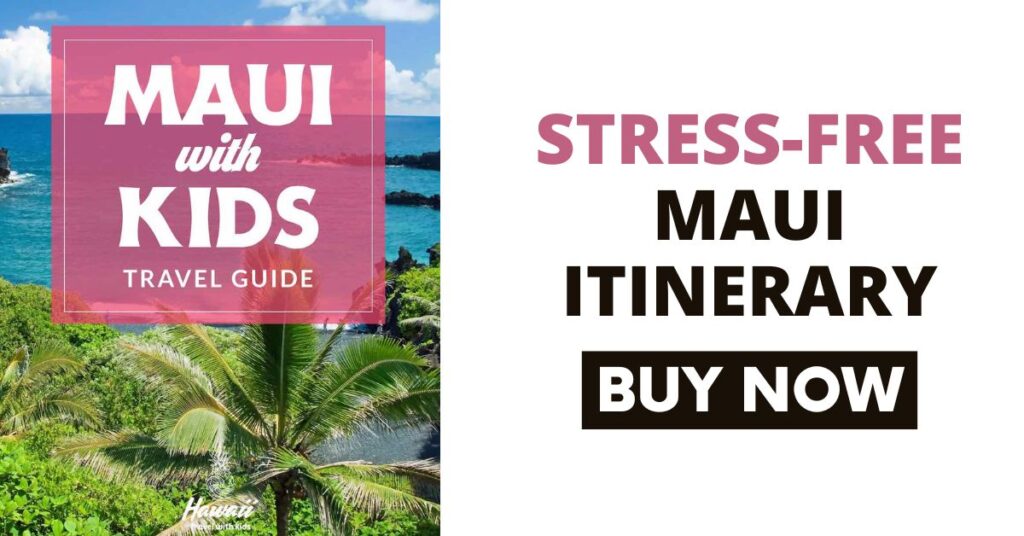 So, Is It Worth Visiting this Maui Botanical Garden?
Absolutely! This is one of my favorite kid-friendly Road to Hana stops. I think it's completely worth the entrance fee and it's easy to spend an hour here just enjoying the walking trails and the gorgeous views.
Sometimes we just do half of the Road to Hana (we turn around at the Halfway to Hana stand) and this stop always makes our list.
I think the Garden of Eden is one of the prettiest Hawaii botanical gardens.