Wondering where to find the most beautiful places on Maui? Check out these 12 best Maui waterfalls that are absolutely stunning, keep scrolling down for all the info!
This best Maui waterfalls post was written by Hawaii travel expert Marcie Cheung and contains affiliate links which means if you purchase something from one of my affiliate links, I may earn a small commission that goes back into maintaining this blog.
Don't Want to Scroll? Here Are The Best Maui Waterfalls
hide
The "Valley Isle" is notable for its waterfalls. Maui is also called the "Magic Isle" and "Romantic Island."
The names are quite fitting.
Maui has a more rural and laid-back feeling compared to the more popular island of Oahu and the waterfalls definitely made an impact in terms of this notion.
The island of Maui is in the shape of a somewhat uneven dumbbell and most of the waterfalls can be found on the northeast side of the slopes of East Maui and West Maui.
East Maui has the Haleakala Volcano and it's well known for its beautiful sunrises above the clouds and its exciting bike rides down the slopes.
West Maui has an older volcano and due to its erosion, there has been a formation of deep gorges and other formations like 'lao Needle. This is great for the kids and for the family to enjoy together.
The kids can marvel over the beauty of the waterfalls while being physically active with these Maui waterfall hikes.
Most of the picturesque waterfalls are actually found along the Hana Highway. In fact, I'd say this is where you'll find some of the best waterfalls in Hawaii!
The plus side is that you and the kids will get to experience the exotic jungle with overgrown flora which is what a typical Maui rain forest looks like.
You'll find swimming holes at some of the waterfalls where you can go in for a dip and swim.
However, before doing so you need to see if there is a sign that says CAUTION or NO SWIMMING.
It could be for many reasons, but for safety and precaution- never jump in unless you know how deep it is and what's at the bottom.
So, without further ado, let's check out some of the most beautiful waterfalls on Maui!
Don't have time to read a bunch of Hawaii blog posts and reviews? Here are some of our top picks for visiting Maui.
Popular Maui Tours/Activities
Favorite Maui Resorts/Hotels
Andaz Maui (this is a luxury resort with the best luau on Maui)
Honua Kai Resort & Spa (this is one of our personal favorites because there are tons of pools and there are condo options)
Want to Rent a Car in Hawaii?
One of the best places to rent a car in Hawaii is Discount Hawaii Car Rental because they get the best rates from top national companies like Alamo, Dollar, Thrifty, Avis, Enterprise, Budget, and Payless.
Want to skip all the planning and just access my detailed Maui Itinerary complete with daily schedules, kid-friendly activities, and travel hacks? Click the button below.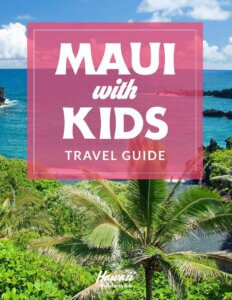 Maui Waterfalls FAQs
Can you swim in waterfalls in Maui?
Yes and no. You'll want to take safety precautions as not all Maui waterfalls are safe for swimming. If you do want to go swimming in Maui waterfalls, the best options are Seven Sacred Pools, Upper Puohokamoa Falls, and Waikamoi Stream.
How many waterfalls are on the Road to Hana?
Way too many to count and these are some of the best waterfalls Maui has to offer. That's because there are more than 50 streams along the Road to Hana and each stream flows into waterfalls (both big and tiny.)
Which is the best waterfall in Maui?
There are too many gorgeous Maui waterfalls to pick just one!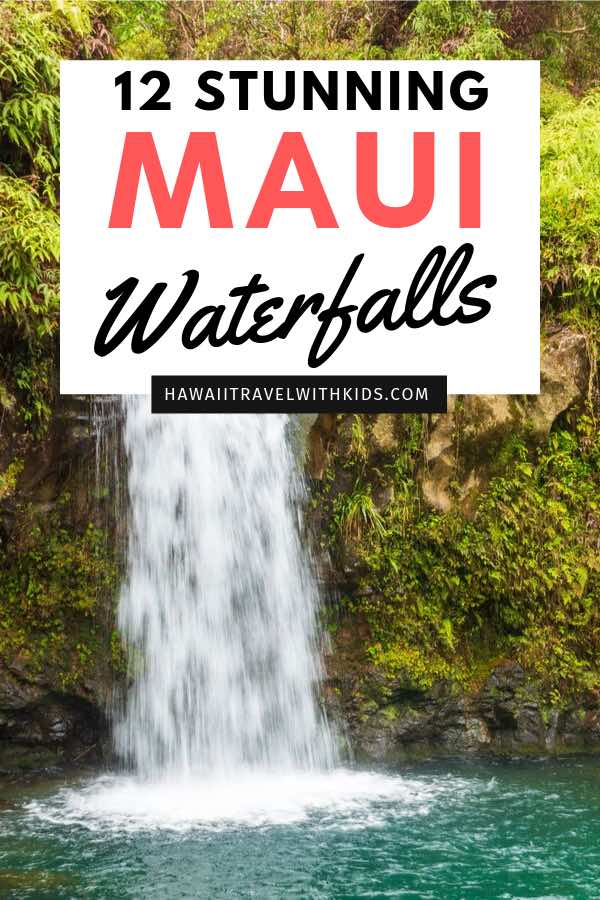 Top 12 Best Waterfalls in Maui
If you want to see some stunning waterfalls in Hawaii, Maui is one of the best places to do that! Here are a few of our favorites.
1. TWIN FALLS
Twin Falls is located by Hana Highway in Maui and is a pair of waterfalls. It may be hard to believe the Twin Falls are located on private land, but it's open to the public.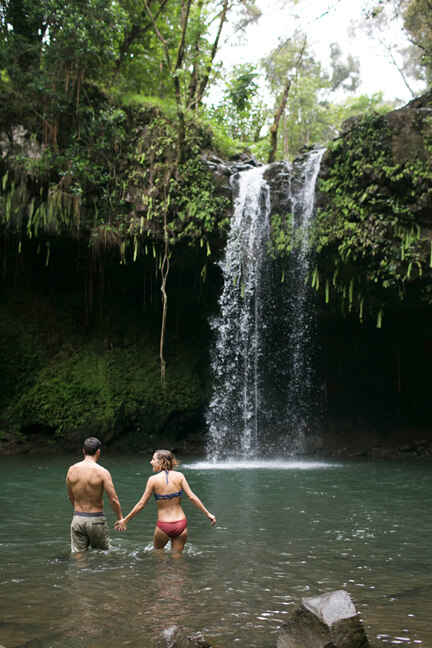 There isn't an entrance fee to visit Twin Falls Maui, however, donations are welcome. Check out this Twin Falls tour review.
There is a spacious Twin Falls parking lot and there are food stands- which is really convenient when traveling with your partner and the kids. Click here to see the latest prices of a tour to Twin Falls.
2. PUA'A KA'A FALLS
Maui's Pua'a Ka'a Falls, which means rolling pig, is found in the Pua'a Ka'a State Wayside Park on the Road to Hana.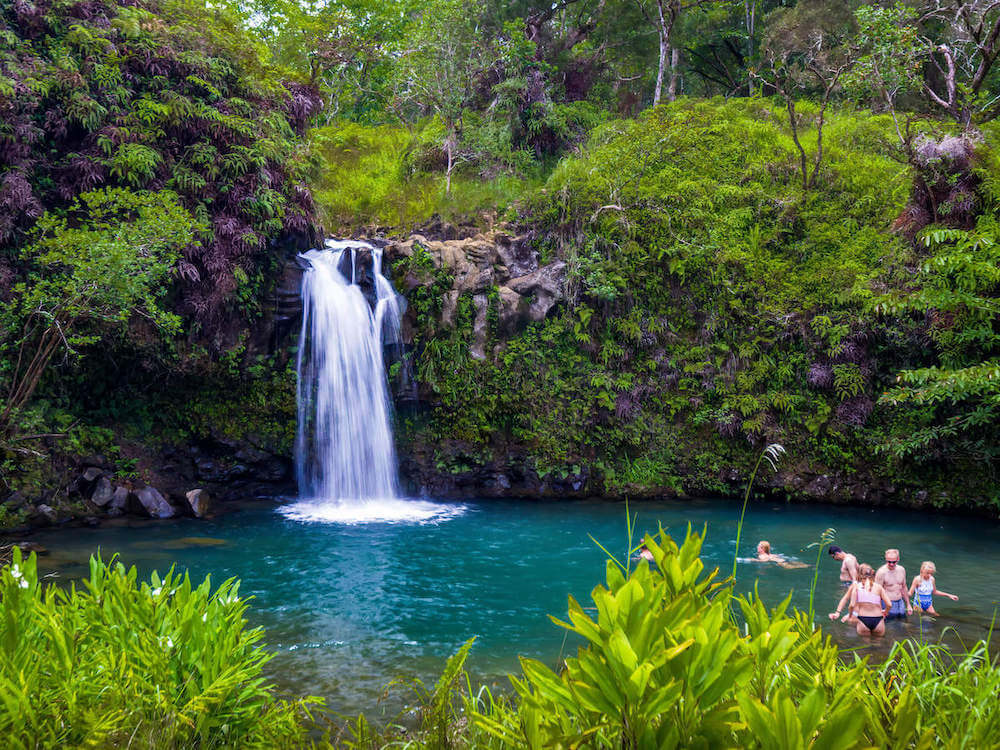 These waterfalls are also found along the Hana Highway and they're open to the public.
There are two waterfalls found at the park, the first one is about 15 to 20 feet tall and is close to the car park. The second one is further up and is similar to the first one, the first one is more popular due to being closer.
Also, picnicking with the family would be a great idea for this one! Check out our full guide to Pua'a Ka'a Falls.
Try a Road to Hana Waterfalls Tour!
3. PUNALAU FALLS
Punalau Falls is also found on the Hana Highway.
If you and the kiddos are looking for that wow factor, you'll definitely experience it here.
Despite standing tall at 100 feet, Punalau Falls is quite hidden, as in it isn't visible from the road so not that many people notice it or know about it.
But, it's one of the best waterfall hikes in Maui.
Depending on the stream levels, getting near to the waterfall can take any time between 10 and 30 minutes. It's one of the best kid-friendly waterfall hikes Maui has to offer.
Care needs to be taken when walking as there are volcanic boulders, so a hiking stick would definitely be of benefit in this case and rubber water shoes as it can be quite slippery.
Sign up for an East Maui Hawaii Waterfalls and Rainforest Hike!
4. HONOKOHAU FALLS
It's said that this is the tallest waterfall found in Maui. Honokohau Falls plunges in two tiers and is a total of 1100 feet tall.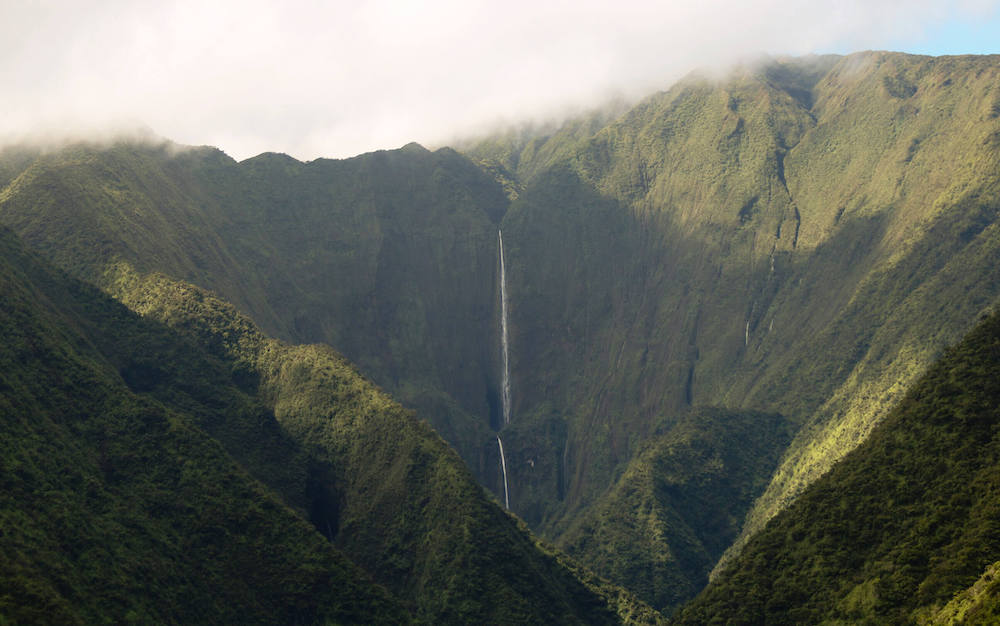 However, the waterfall is found in an inaccessible area in the valley which is on the west side of the island, meaning that you would need to take a helicopter tour.
Which would give you and the kids the chance to enjoy the stunning views of Maui from atop.
There is unfortunately a downside to this waterfall. That's that it isn't a guaranteed sighting.
It really all depends on which tour operator you opt for and also the conditions, few tour operators are willing to take you to Honokohau Falls.
See Honokohau Falls by Helicopter!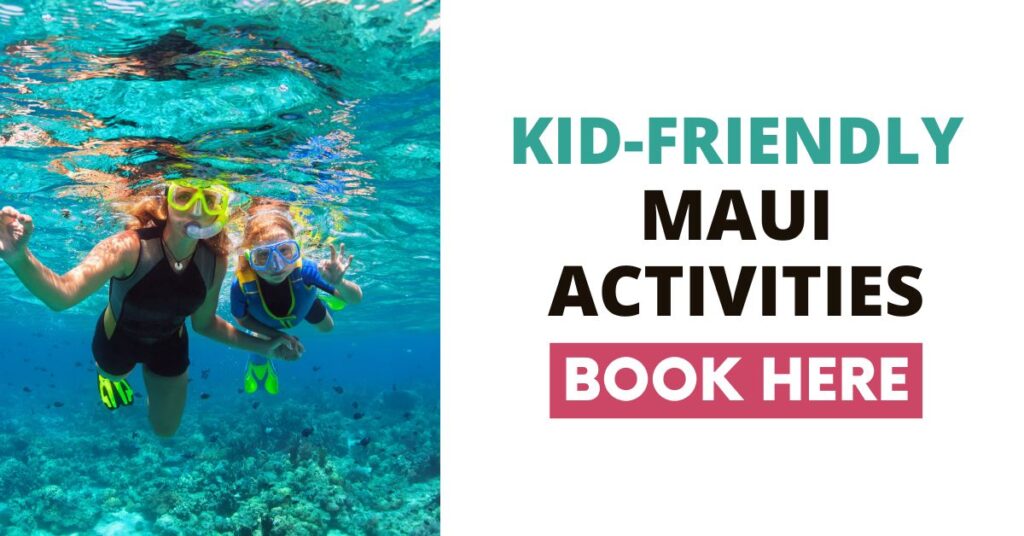 5. POOLS OF OHEO
The Pools of Oheo are found in the Haleakala National Park, in the Kipahulu District. It's also called Seven Sacred Pools and it's one of the Maui waterfalls you can swim in.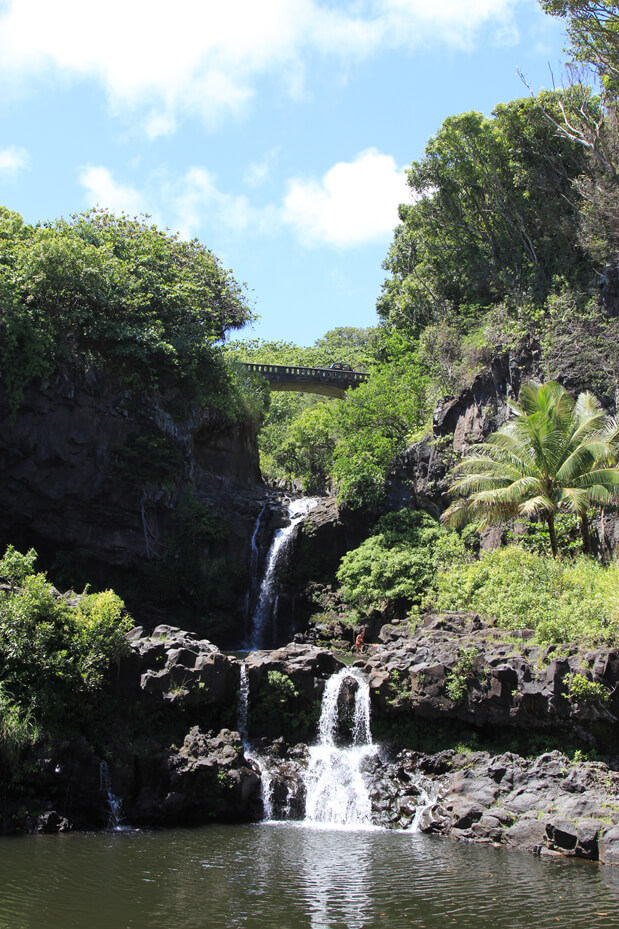 The series of picturesque waterfalls and Maui swimming holes aren't far from the Oheo Gulch parking lot.
There are several waterfalls in fact at the Seven Sacred Pools, which tumble from one pool to the next, eventually leading to the ocean.
At the parking lot you need to pay a National Park fee, thereafter you and the family would need to walk for about half a mile to reach the waterfalls.
There is a lower part to the waterfalls and the loop trail is called Kuloa Point Trail.
It takes about 15 minutes to get to the waterfalls.
Try a full-day Hana waterfalls and rainforest hike.
6. WAIMOKU FALLS
Waimoku Falls is also found in Haleakala National Park, Kipahulu District. This gorgeous waterfall stands at 400 feet tall and it's found at the head of Oheo Gulch.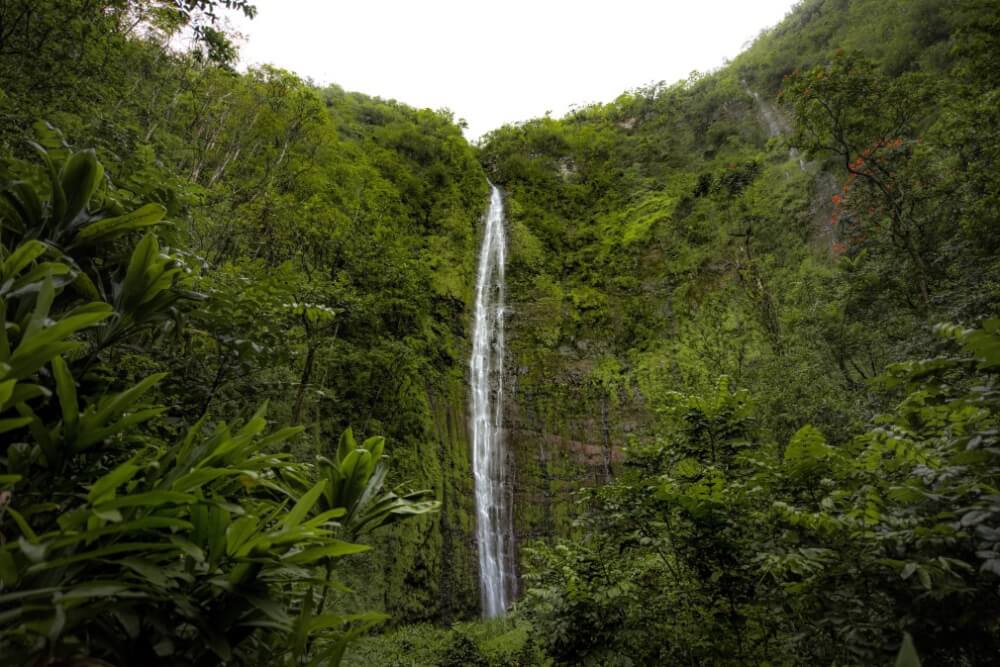 Experiencing Waimoku Falls isn't only a special experience, but a spiritual one as well.
This waterfall is the tallest one on the Hawaiian Islands, other than Akaka Falls, which you can see without needing to hire a helicopter.
Not only are the views of the waterfall magnificent, but the trail to the waterfall is even greater.
In fact, it's one of the best hikes in Maui with waterfalls.
It's a round trip of 4 miles and the trail is called the Pipiwai Trail, the hike is very rewarding and has so much to offer. I'm talking about swimming holes, a bamboo forest, and a banyan tree.
You'll even find a surprise: smaller waterfalls up the trees after the Waimoku Falls.
This would be a special experience for yourself, your spouse, and the kids. And it's certainly an experience to remember.
7. MAKAHIKU FALLS
Makahiku Falls is found at Haleakala National Park, Kipahulu District. The Makahiku Falls are 184 feet tall and are also found along the Pipiwai Trail in the Oheo Gulch.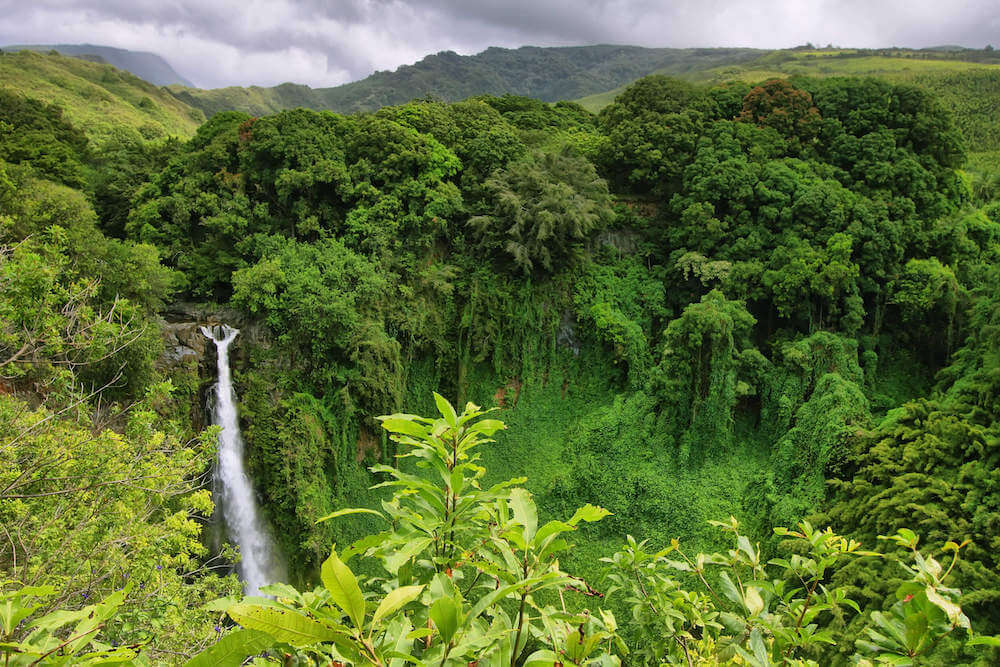 There's also a wonderful surprise, there's a trail that heads towards the top of the Makahiku Falls and at the top of the waterfall, there is a protected pool.
Care needs to be taken when swimming at the pool, if it is flooded- don't swim.
When there are calm conditions the pool is called the "infinity pool" because of the illusion that the pool goes on forever and has no end, however it does, as the 200-foot waterfall is right beneath.
This is a great place for relaxing and enjoying the views, and just an overall cool way to spend the afternoon with the family.
Do a Haleakala sunrise bicycle tour.
8. ALELELE FALLS
Alelele Falls is found along the Pi'ilani Highway on the East side of Maui. The Alelele Falls are 50 feet tall.
After you park your car at the Alelele Bridge pullout, you would need to follow the trail from the east side of the stream.
It takes about 10 to 15 minutes to get to the falls.
On the trail, you'll come across stream crossings. But the trail overall isn't very long, but the Alelele Falls are beautiful and worthwhile to go and see.
The kids will certainly enjoy them!
It's quiet and peaceful, which would make for a nice swim and just some downtime to relax.
Get the Road to Hana driving app.
9. MAKAMAKAOLE FALLS
The Makamakaole Falls is found along the Waihe'e Ridge.
The waterfall is another rare one which you won't need to book a helicopter to go and see.
However, if you're unable to persist the long trail, you will enjoy having distant views of the Makamakaole Fall which is 270 feet tall and is multi-tiered.
The trail used is the Waihe'e Ridge Trail and the full trail is a 5-mile roundtrip.
You'll find lots of tall grass and bamboo on the trail.
It would be a fun experience for the family, even if you don't do the entire trail and just go far enough to have a distant view of the Makamakaole Falls.
10. WAILUA FALLS
The Wailua Falls is found on the Hana Highway and it is so close to the road, you would think it would splash onto the highway.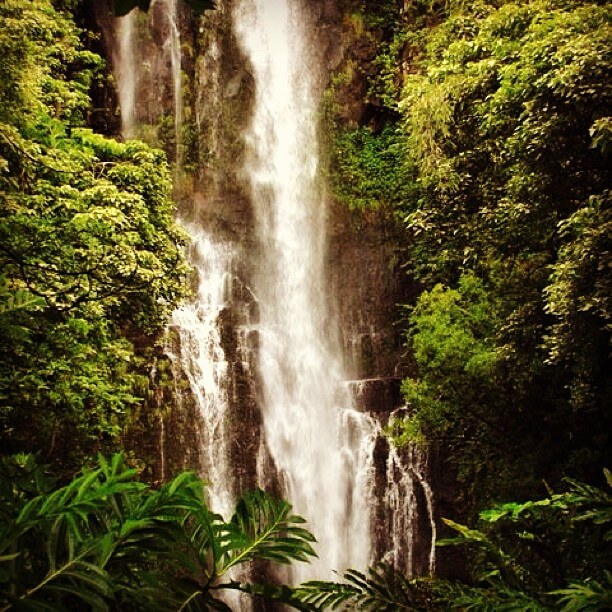 The waterfall is a cascade that is 85 feet tall. The waterfall pours into a stream and into the ocean.
There is a trail that is short and can be followed to get to the base of the Wailua Falls.
The trail has a good incline, however, the hike there and back is not bad at all.
You'll feel the waterfall's mist on your face, which will cool you down after the hike, and going in the pool for a swim would be an even greater way to cool down.
It's a scenic waterfall as there is tropical foliage and bamboo forest around it, which makes for a picture-perfect destination and a must-see for the whole family- it will bring out the nature lover in yourself and the kids.
11. KOPILIULA FALLS
Kopiliula Falls, otherwise known as Kopihula Falls, is a beautiful waterfall that is visible from the road.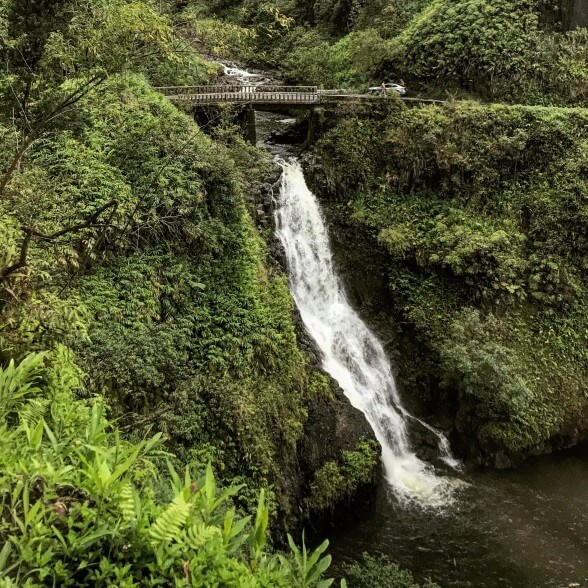 There is East Maui Irrigation which is an infrastructure built around the bridge by the waterfall.
The pullouts are found on both sides of the road by the bridge, which are found about 0.9 miles after the 21-mile mark.
It's a lesser-known waterfall which is found along the Hana Highway.
The water is clear and cool, incredibly so.
The trail, however, is rather slick and steep and has practically no handholds.
The other great thing about this trail is its history and its ecology- it became known due to an established cattle ranch that happened several years ago.
Previously it was home to taro groves, which is a native Hawaiian chief staple, along with other culturally significant fish and plant life.
Do a Road to Hana adventure tour!
12. NAHIKU POND AND NAHIKU LANDING
This is a not-so-popular destination as it isn't on the main road of the Hana Highway. It's found at the end of Nahiku Road.
The road is lush and filled with greenery.
The beautiful thing about Nahiku Pond and Nahiku Landing is that there is a calm pool that provides the perfect view of the coastline of the Keanae Peninsula.
There's a beautiful waterfall, which is quite small and there's a rope swing by the pool.
This is a more tranquil and relaxing destination to see with the family and makes for a great hike as well.
These are 12 of some of the Best Waterfalls in Maui Hawaii you will find.
Best Maui Waterfall Tours
If you're looking for a Maui waterfall tour, you're in luck! There are tons to choose from.
Here are some awesome Maui waterfalls tours worth looking into.
If you want to visit a secret Maui waterfall while riding a horse, this is the Maui waterfall tour for you! There's even a petting zoo with adorable animals to visit after your ride. Check out the latest prices and more details.
This is a cool East Maui waterfall adventure with a guide. They offer hotel pick-up, which makes this an easy Maui day trip. Check out the latest prices and more details.
Thrill-seekers will love this awesome Maui waterfalls adventure. It's a small group tour and you'll get to swim in the base of a waterfall after rappelling down. Check out the latest prices and more details.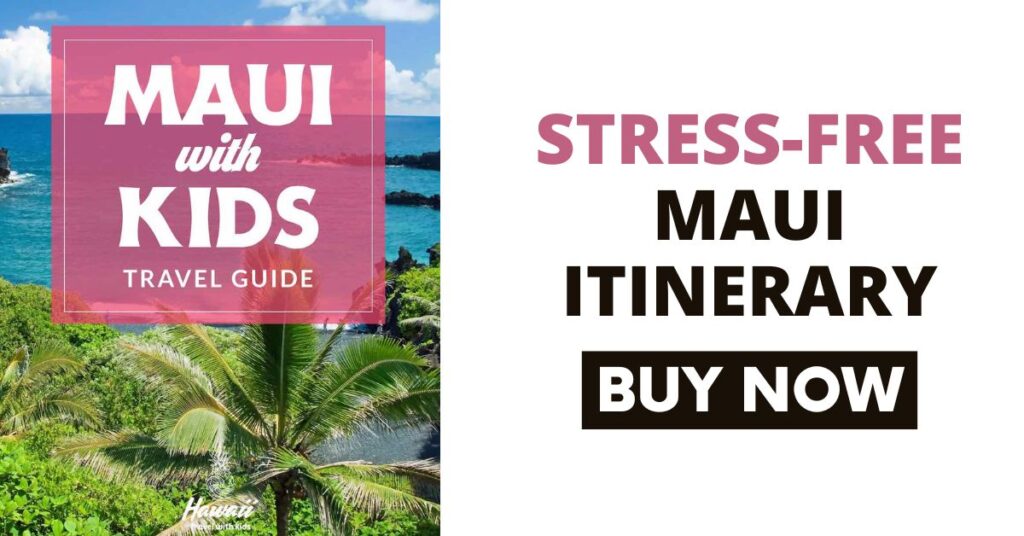 Top Waterfalls in Maui Wrap Up
By now, you should know the top waterfalls in Maui worth visiting yourself. We've even told you about the best waterfall hikes in Maui, Hawaii. And don't forget about the waterfalls in Maui you can swim in.
Be sure to check out some of our other Hawaii waterfall content for more information before you head off to explore them yourself. Have a great time exploring all that nature has to offer!