Hoping to see some of the most beautiful waterfalls in Oahu? Find out the best Oahu waterfall hikes for every hiking level. Scroll down to read about the coolest Oahu hikes with waterfalls!!
This Oahu waterfall hikes post contains affiliate links which means if you purchase something from one of my affiliate links, I may earn a small commission that goes back into maintaining this blog.
You're looking for the best Oahu waterfall hikes for your family vacation! If you're family likes to spend time outdoors, Hawaii is the perfect destination.
Take the family for a hike through Oahu's forest preserves and enjoy the beautiful tropical landscape. If you plan right, you'll end up at one of Oahu's many beautiful waterfalls.
There are so many great options for hiking in Oahu. You'll find trailheads in Honolulu and Waikiki, on North Shore, and many more places across the island!
You can experience a wide variety of waterfall hikes. Hike along paths lined with tall grasses, pineapple groves, or bamboo forests. And there are falls with plunging pools, peaceful lagoons, and stunning cascades.
When it comes to waterfall hikes, I think Oahu is the place to go. There are TONS of unique hikes and waterfalls to discover.
A waterfall hike can be a highlight of your vacation that your kids will remember for years to come. So, keep scrolling for the best waterfall hikes in Oahu!
And check out 101 kid-friendly things to do on Oahu!
Don't have time to read a bunch of Hawaii blog posts and reviews? Here are some of our top picks for visiting Oahu.
Popular Oahu Tours/Activities
Favorite Oahu Resorts/Hotels
Want to Rent a Car in Hawaii?
One of the best places to rent a car in Hawaii is Discount Hawaii Car Rental because they get the best rates from top national companies like Alamo, Dollar, Thrifty, Avis, Enterprise, Budget, and Payless.
Want to skip all the planning and just access my detailed Oahu Itinerary complete with daily schedules, kid-friendly activities, and travel hacks? Click the button below.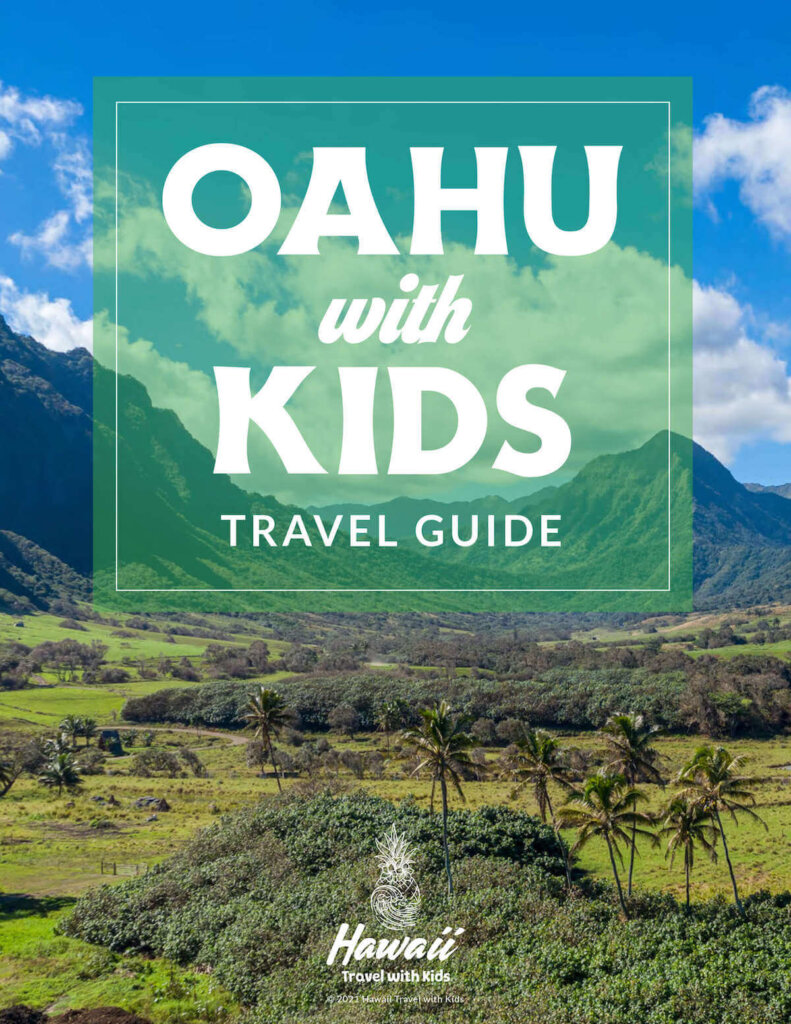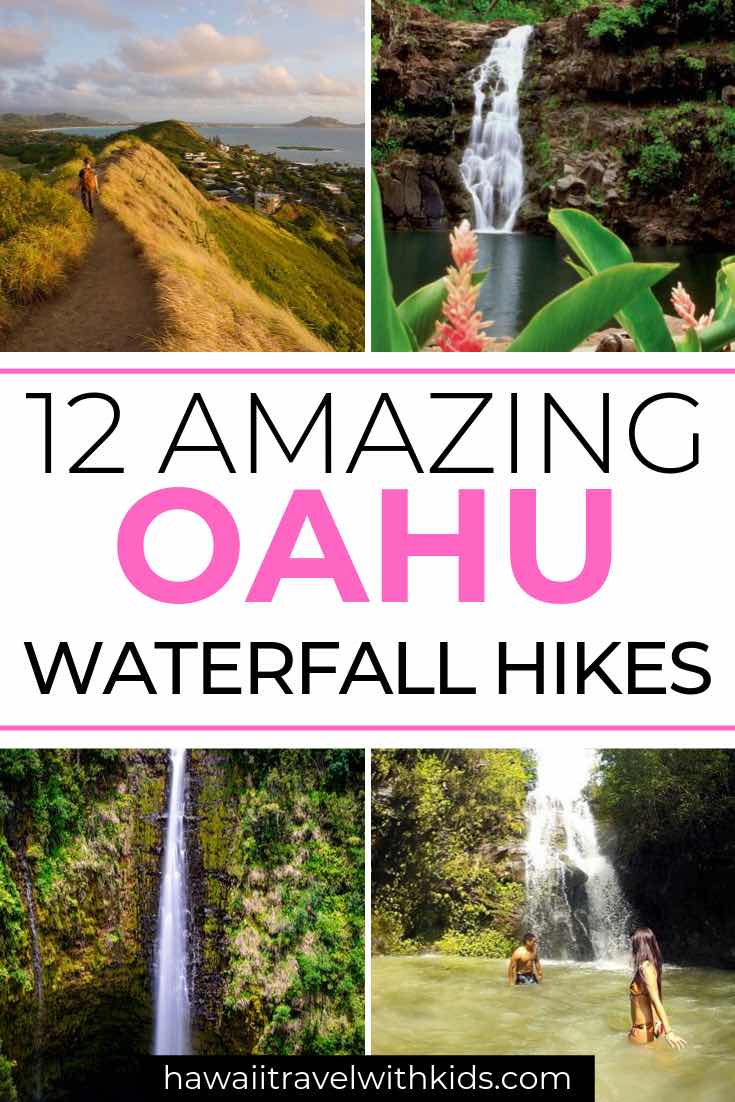 12 Best Oahu Waterfall Hikes
There are so many amazing waterfall hikes on Oahu worth checking out during your trip. Here are a few that made our list.
1. Manoa Falls
Visitors agree that Manoa Falls is one of the best Oahu waterfall hikes out there. It's located at the back of Manoa Valley, which is quite close to Waikiki.
Manoa Valley is part of a lush rainforest in the heart of Oahu. The waterfall is reliant on heavy rainfall that the valley thrives on all year. In fact, you'll find that most of the waterfalls on the island are in rainforests.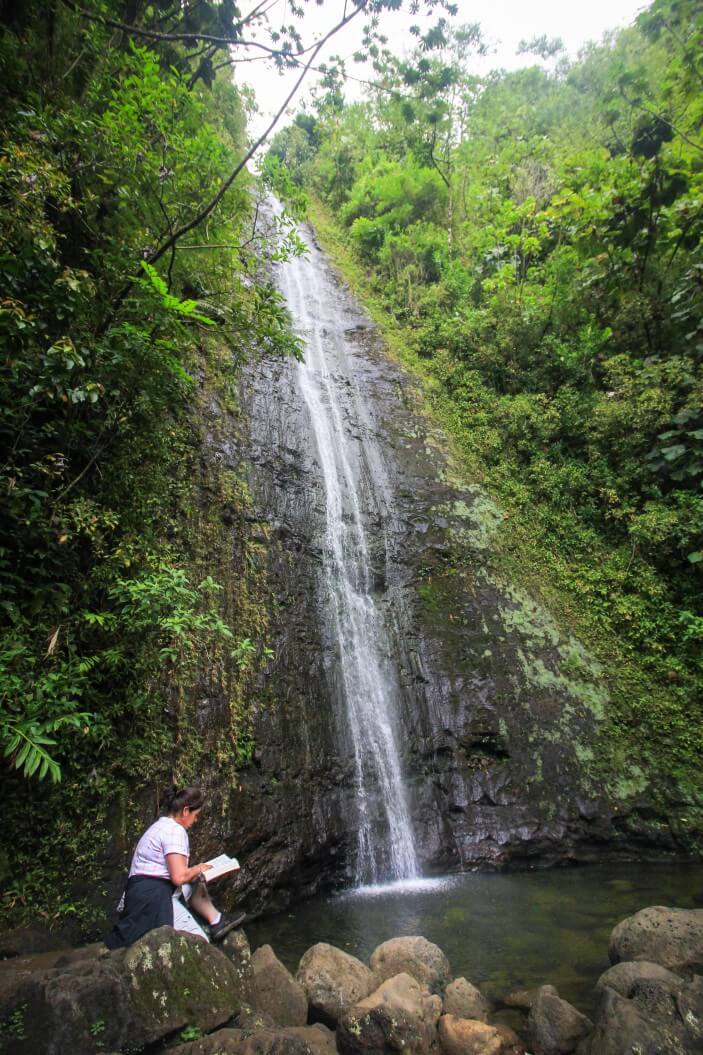 There are tons of parking spots at the trailhead. Just make sure to pay the parking fee before you leave the lot. From there, the hike takes about an hour to get to the waterfalls!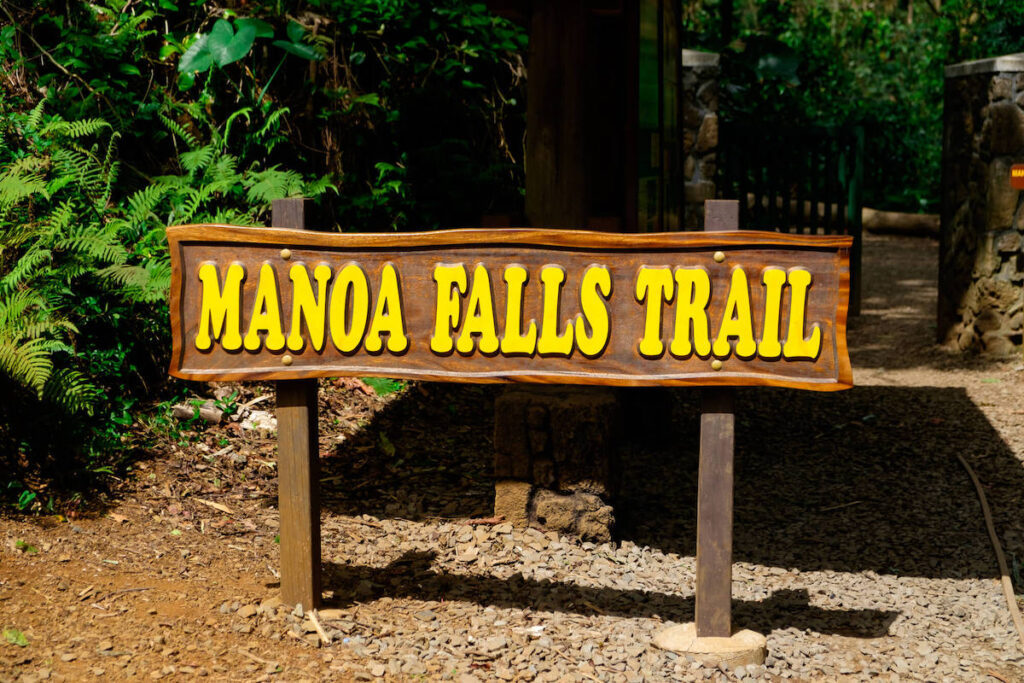 Along the trail, you'll see a bamboo forest, massive root trees, and all kinds of tropical flowers you won't see anywhere else! It's a pretty humid path with some rocky spots, but it's easy enough for kids.
It's quite the experience to see the150-foot tall waterfall in person. And you can impress the kids with your knowledge that this waterfall was in Jurassic Park! This is partly why it's one of most popular hikes in Oahu with waterfalls.
It's one of the top easy hikes Oahu has to offer. Check out my Manoa Falls tips for families HERE.
2. Waimano Falls
Another one of the best hikes on Oahu, is the hike to Waimano Falls. I think it's one of the best hikes in Hawaii for beginners and families with young kids
It's become very popular over the years. You won't be alone on the trail, with crowds of people coming to hike.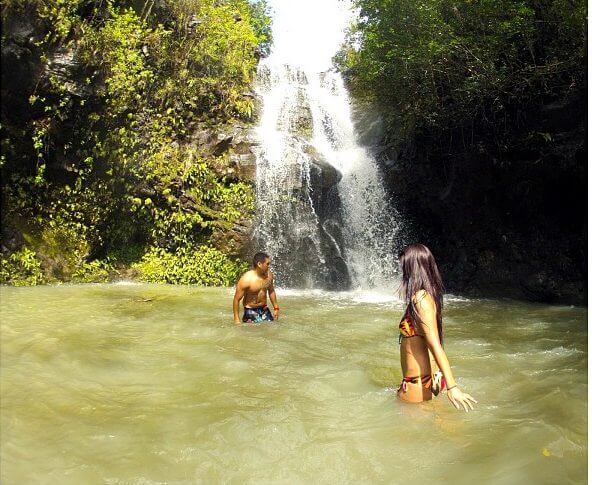 From the Manana Trail, you'll get access to Waimano Falls. This medium-to-difficult trail is better for older children or experienced hikers. But it's worth the trek!
The Manana trailhead starts at Koma Mai Drive in Aiea. It's at the end of the residential area. Just be respectful in the way you park, as to not block the residents' driveways.
The trail hike is 2.9-miles out and back, or between 1- and 2-hours to reach the waterfall. The beginning of the trail is pretty easy, but it gets a little steep!
Just make sure to wear the right shoes and I suggest bringing walking sticks for this hike.
Near the end of the hike, look for a sign reading "Waimano Falls Spur." Turn right here. Then, you'll hear the waterfall before you see it!
There's a scenic overlook where you can see the falls and the pool from above, or you can follow the trail to the pool below. And there are actually multiple pools here.
From below, the Waimano Falls look beautiful, with moss-covered rocks going all the way up. The pool at the bottom is quite deep, and there's a rope swing if you want to jump in!
I think Waimano Falls is the best waterfall in Oahu for swimming.
Find out what to wear hiking in Hawaii.
3. Waimea Falls
Waimea Falls, otherwise known as Waihi Waterfall, is found in Waimea Valley. The valley has been an important area for spiritual practice on the island for over 700 years.
There's also cultural significance with over 70 archeological sites found there. Check out our full guide to visiting Waimea Valley on Oahu.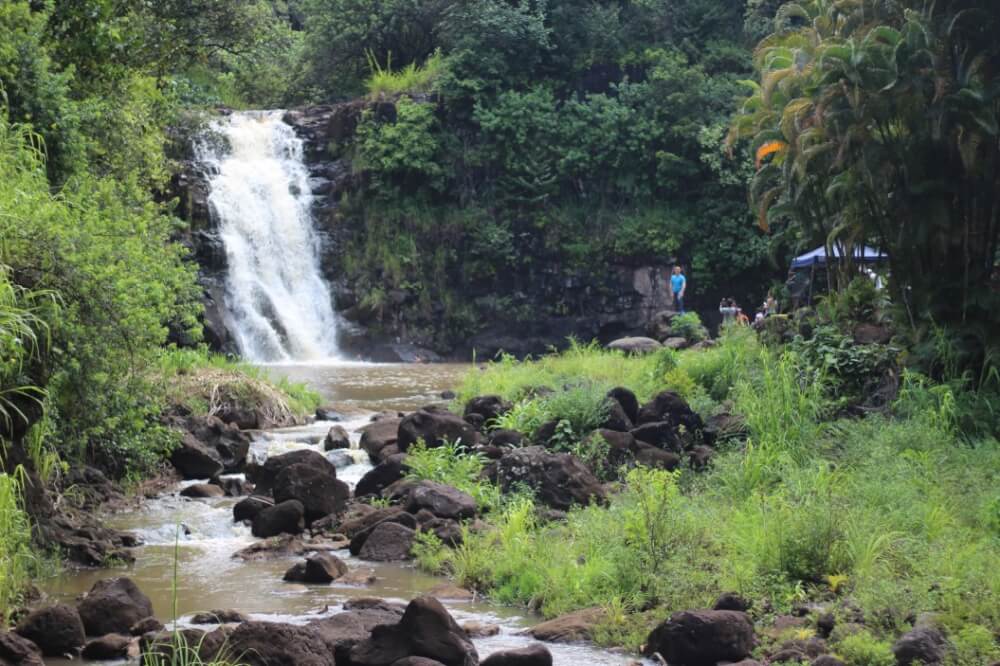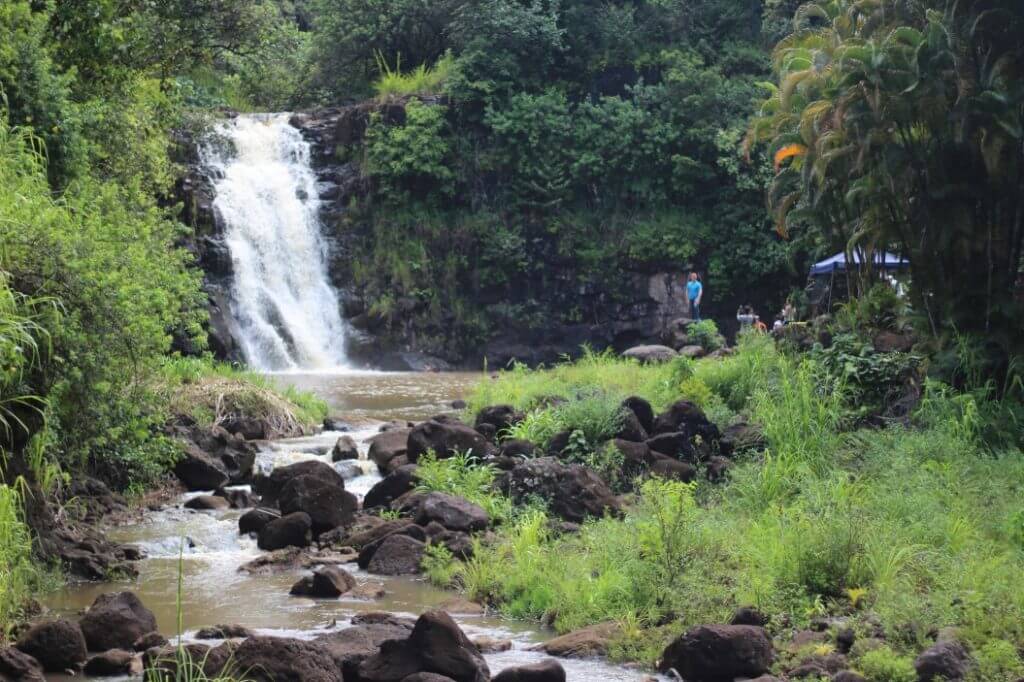 You have to enter the Waimea Valley Park before you access the trail. Each person pays an admission fee. And the prices of the tickets vary depending on your age, or if you're a student.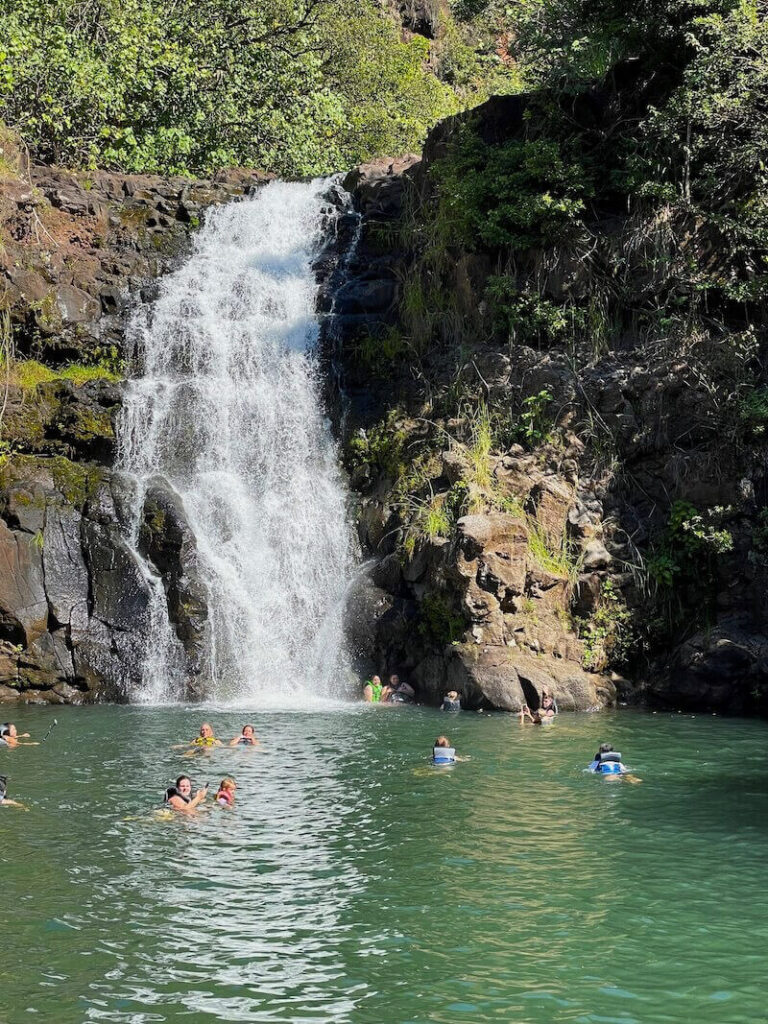 To get to the falls, it's less than 2-miles one-way. Try to set aside at least 2-hours in total, or more if you want to stop along the way. The walk is scenic, with beautiful trees, tropical plants, and even some peacocks that live in the botanical garden!
The hike to the falls is easy, with wide, paved pathways. Parts of the path can be a little steep and may not be best for those with mobility issues or people who use wheelchairs.
The waterfall itself is 45-feet-tall. It cascades over a rock wall into a pool below. It's definitely one of the best waterfall hikes on Oahu's North Shore.
You can swim at Waimea Falls, too! There are lifeguards on duty during the day. Just be careful with the rock stairs, because they can get slippery with moss.
The water is cold but it's great to swim in and cool off before you head back. After your hike, stay and enjoy Toa Luau. It's one of the best North Shore Oahu luau options. Check out the latest prices and more details.
4. Maunawili Falls
Maunawili Falls is found near Kailua and is a top Oahu destination. It's the perfect spot for adventurous hikers to experience an adrenaline rush!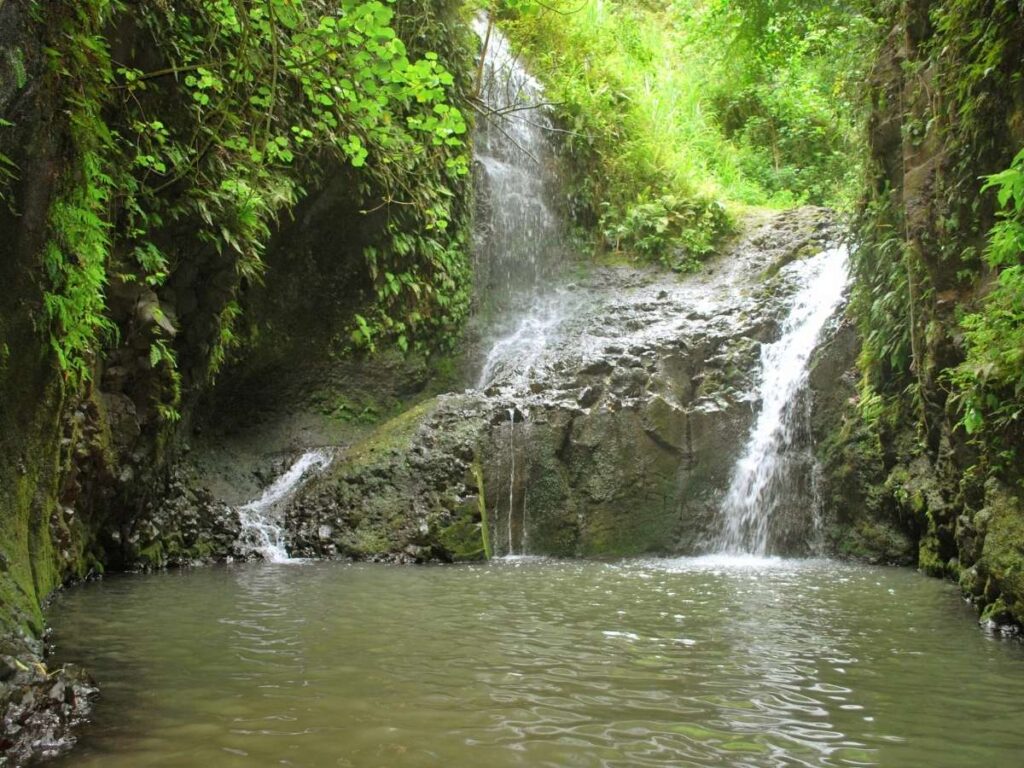 Access to the falls is off Kelewina Street in a residential area. You can mindfully park in the neighborhood and walk through a gate.
This waterfall hike is almost 3-miles long and falls a stream most of the way. The dirt path is well-worn, and it should only take a few hours out and back! It can get muddy and there are root trees and stairs along the path.
If you watch where you're going, it's an easy-to-moderate hike! Enjoy a shaded walk through a grove of apple trees along the way. And there are a few places where the stream crosses the pathway.
Maunawili Falls is smaller than the others at only 20-feet-tall, but it's beautiful! Plus, there are 3 different spots along the path above the falls where you can jump in.
The Maunawii Falls is one of the best Oahu waterfall hikes. Put this one on the books for your family and yourself!
5. Likeke Falls
You might here Likeke Falls also called Old Pali Highway Falls. This mesmerizing 2-tiered waterfall can be seen below Pali Lookout along the Pali Highway.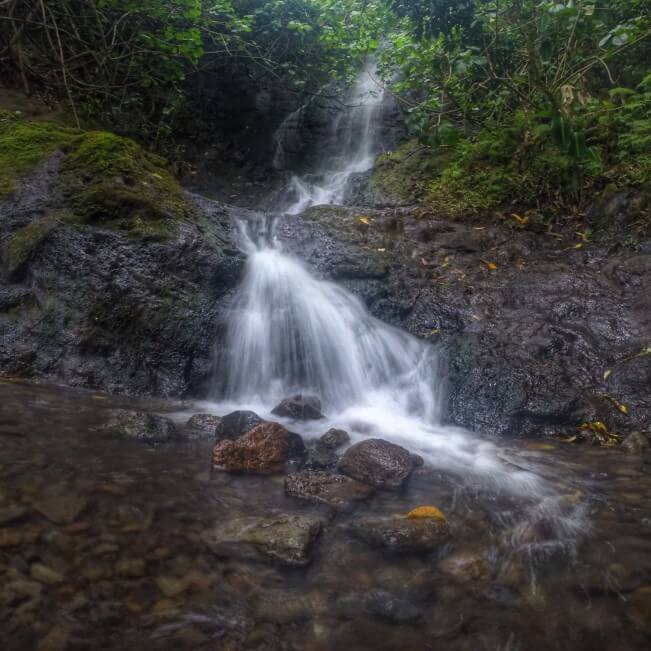 It's probably one of the easiest waterfalls to access, but you have to know where you're going. There are actually 2 routes people take to hike to the waterfall.
The first route is not safe and I don't recommend it. Some hikers and locals might tell you to hike down from the Pali Lookout off Old Pali Highway.
It's very difficult with falling rocks and thick brush, and it takes almost 2-hours. In fact, in recent years, this path has been blocked off because it's so dangerous.
Stick to the actual Likeke Falls Trail, which is a lot easier and takes half the time! It's less than a mile long and take about 25- to 30-minutes to get to the waterfall.
The route starts at the bottom of the Ko'olau Golf Club. You can park there for a fee or drive a round and find free parking nearby.
This is a nice hike through a tropical jungle with scenic overlooks of the Pali and Ko'olau Mountains! And there are arrows on the trees pointing the way.
When you get to the falls, you're in for a treat. The view is breathtaking with mossy rock walls on both sides. Just don't try to climb them, because they're slippery!
This is one of the best hikes in Oahu for people who want to do a short hike to see an awesome Hawaii waterfall.
6. Laie Falls
This is one of the best Oahu hikes for the adventurist and nature enthusiast.
The trail to Laie Falls is difficult and almost 8-miles. Near the trailhead you can find food trucks and restaurants. I suggest fueling up and taking at least 5-hours for this hike!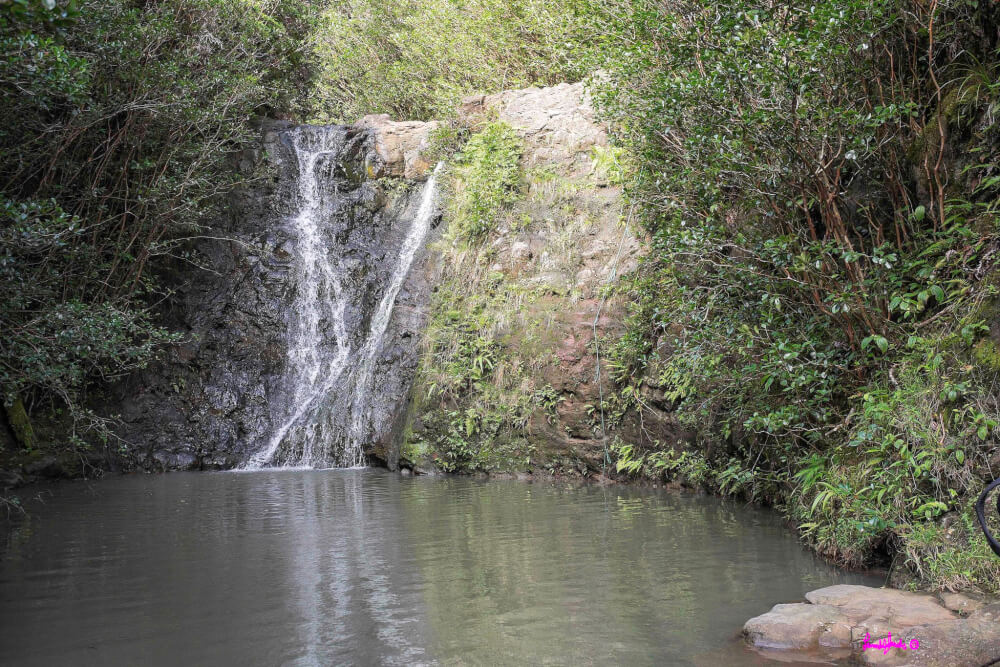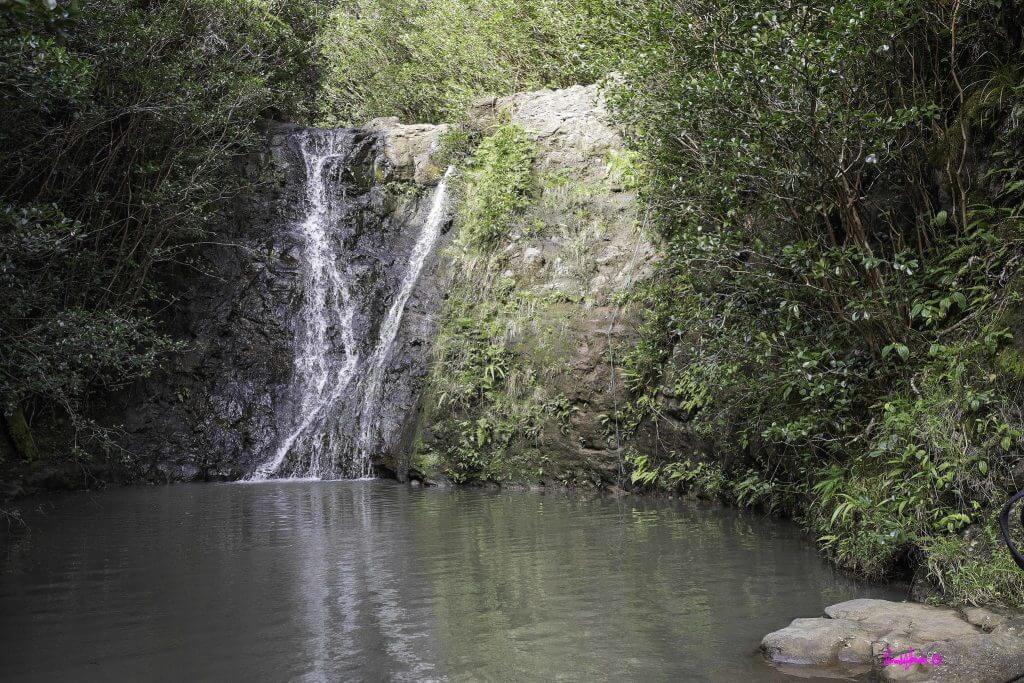 To go on the trail, you need to get a free permit from the Hawaii Reserves. You can get one online or at their offices inside the Laie Shopping Center.
The hike is an adventure on its own. You'll see tall pines, bamboo groves, strawberry guava trees, and exposed ridges.
The trail is on private property and is pretty isolated and quiet. This is a great hike if you don't like crowds!
Eventually you get to the 15-foot waterfall which splits into 2. Cool off with a swim or walk up the trail to find places where you can jump in.
7. Koloa Gulch
The Koloa Gulch trail is a long one that requires hikers to reserve their energy. It's an 8-mile trail and it begins at the open ridge at the Koolau Range on North Shore.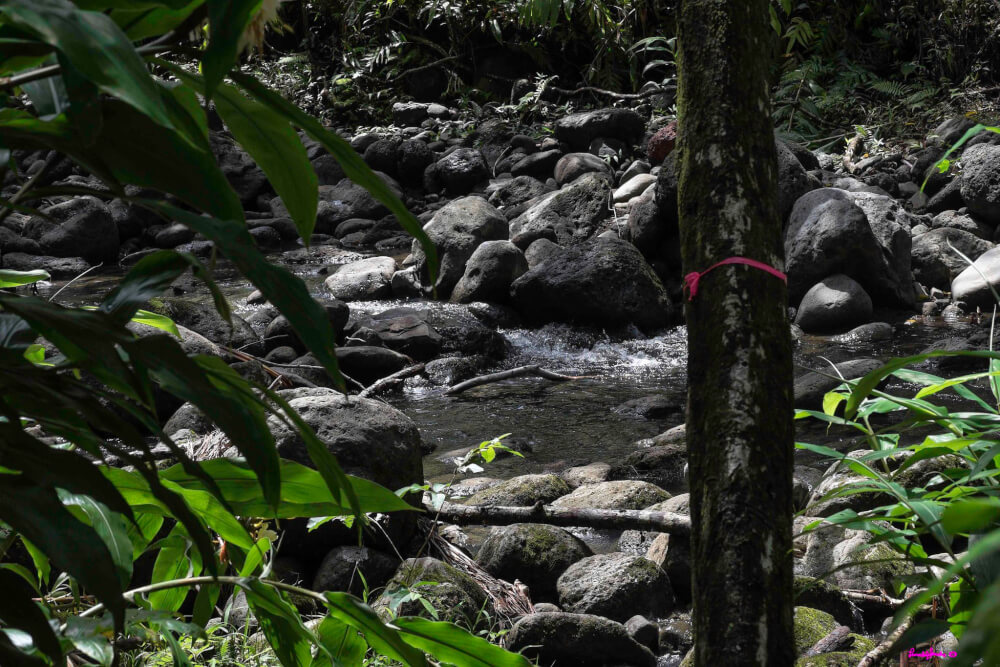 This is another Oahu waterfall hike on private property. So, you'll just need to get a free permit like I mentioned previously.
It's a really hard trail, but it's so worth the challenge with a peaceful waterfall at the end! Only do this hike if you're well experienced.
It will take the whole day. Make sure to bring trail snacks and lots of water. This one is more about the challenge of the trail than the waterfall itself. And it's better for older kids.
The trail includes rock scrambling through the Koloa Stream, so beware if you don't like that. You'll see fruit trees, small waterfalls, lagoons, and native plants along the way.
Near the end, you'll reach a fork. To the left there's a pool and small waterfall. Go right and hike another mile to the impressive 100-foot waterfall!
8. Kaipapau Falls
The Kaipapau Falls is also an 8-mile trail. It's considered moderate, but it can be trickier than the Koloa Gulch trail!
That's because you have to rock scramble across the same stream about 40 times. And it can be pretty muddy if there's any rain.
But this trail takes you through a beautiful and lush forest and past old, abandoned bunkers.
Once you've managed to cross the stream, you will come to a magnificent 90-foot waterfall that you and the kids will be in awe with.
It's a great hike to do with the family, as long as you have experienced hikers in the mix. And make sure your kids are at an age where they're independent and can handle rock hopping.
9. Kapena Falls
For a change of pace, head back to Honolulu for Kapena Falls. This out-and-back trail is only 1/3-mile in length and is considered an easy trail.
The hike only takes about 10-minutes and ends at a lagoon and small waterfall. It's perfect you have really young children that can't hiking for so long.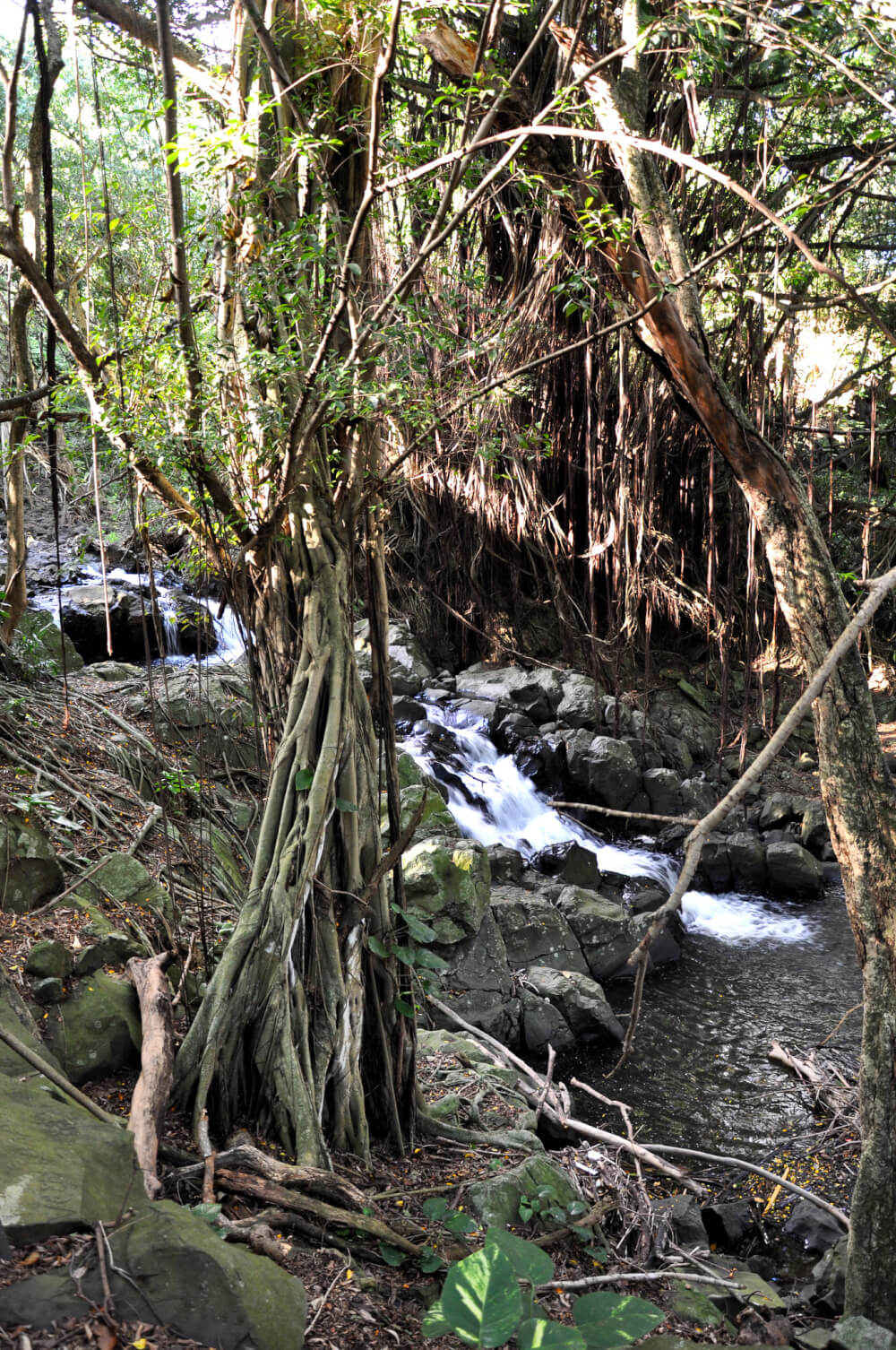 You can park in a lot between a church and cemetery. Just be aware that the cemetery closes at 4 PM, so go early in the day.
From there the trail is heavily wooded and the banyan tree forest is enchanting. And be sure to check out the petroglyphs along the way!
Look for them inside a small cage. They're images of men and dogs and they tell the legend of Kaupe. According to legend, Kaupe is a creature who lives in the area.
In fact, the Kapena Falls is a sacred area, so it's important to be respectful and considerate while you're there.
The pool beneath the waterfall is perfect to jump into and have a swim to cool off. For a quick hike, it's one of the best waterfalls in Honolulu.
10. Waipuhia Falls
Waipuhia Falls is one of the shortest waterfall hikes on Oahu at only 0.6 miles. It's a quick trail that only takes a few minutes.
Start at the parking lot at the Pali Lookout. The trail and falls are on private property, so this is another hike that you'll need to get a free permit for from the Hawaii Reserves.
The trail is easier than most because it requires you to walk up a paved road, but it can get muddy. Also keep in mind that the best time to take this trail is after good rainfall, when the trail is muddy!
This is because the waterfall will be dry unless there's been a good downpour. However, if you have that, you're in for a treat.
You'll find Waipuhia Falls off the Pali Highway. Go on a windy day after a heavy downpour and you'll get to see why it's often called Upside-Down Falls!
With the wind, it appears that the water is flowing upwards instead of downwards, defying gravity. It really can look like an upside-down waterfall!
11. Jackass Ginger Pool
The trail that leads you to Jackass Ginger Pool is called the Judd Trail. It's a slightly more tedious trail than the Manoa Falls, but it's no less exhilarating.
Judd Trail is 1-mile long with offshoots that you can take if you want. Just park on the side of Nuuanu Pali Drive, where you'll find the trailhead in a bamboo forest.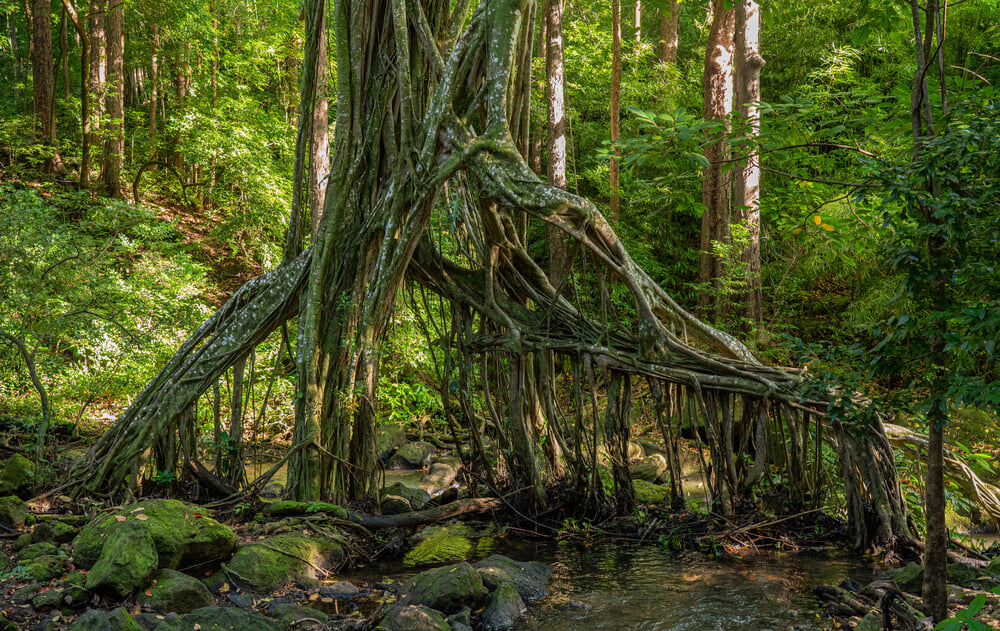 The path is tedious in the sense that there are many rocks, roots, and branches in the area- the trail is also quite worn. But it's a gorgeous walk, especially if you love plants! You'll find pine trees, monstera plants, a bamboo forest, and banyan trees.
At the pool, there's are "natural water slides" made of rocks that you can use to slip into the pool! There's also a small waterfall and a swinging rope you can use to jump in.
The trail hike takes about a 90-minutes. And this includes some time spent at the Jackass Ginger Pool!
12. Lulumahu Falls
Another amazing Oahu waterfall hike is Lulumahu Falls. It's right next to the Pali Highway and you can hike it in about 60 minutes.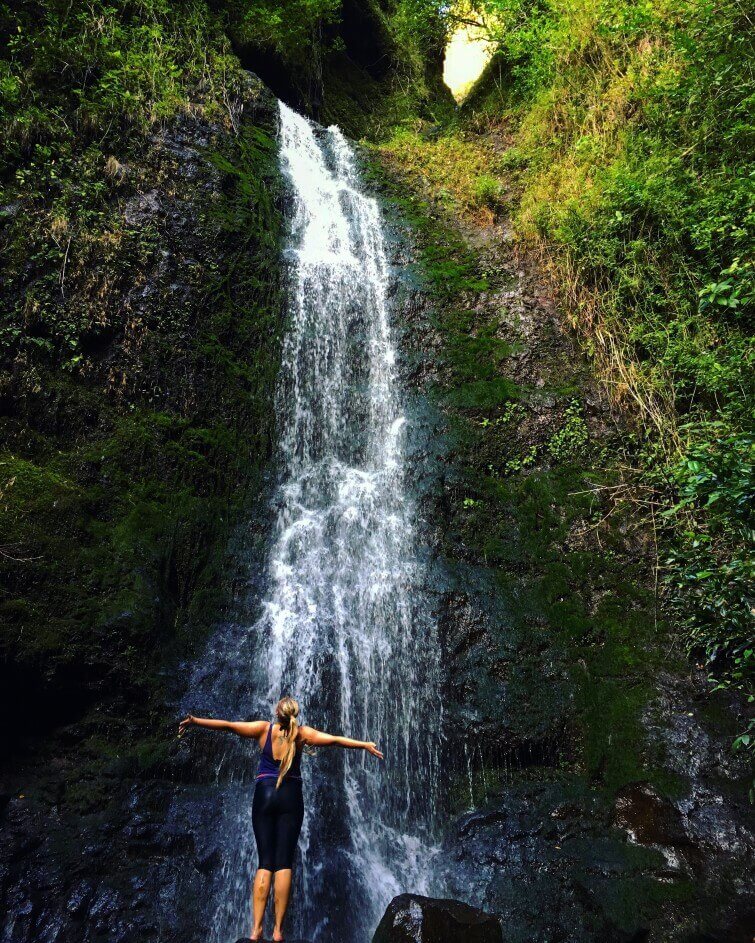 The tricky thing about hiking Lulumahu Falls is that it's technically on private, government land. Thankfully, all you have to do is purchase a permit online for a small fee. This one is with the Department of Forestry and Wildlife.
The start of the trail can be difficult to find, but once you do, you're in for an adventure! It's one of the coolest hiking trails Oahu has for fearless hikers.
You'll find the trailhead at the intersection Pali Highway and Nuuanu Pali Drive. There's a parking lot there. If you park, make sure you're carrying your permit, but that you've placed a second copy on the dashboard of your car.
One way, the trail is 1.6-miles long. It's considered moderate, but it's easy enough for parents wearing younger children. At the entrance, just stay to the right unless you're in for a steep climb.
Walk up stone steps, see an old reservoir, and check out historic ruins! You'll hike through the middle of a lush forest until you reach a gorgeous, 50-foot cascading waterfall.
Here, you can dip your toes in the pool or just hang out and soak in all the peacefulness.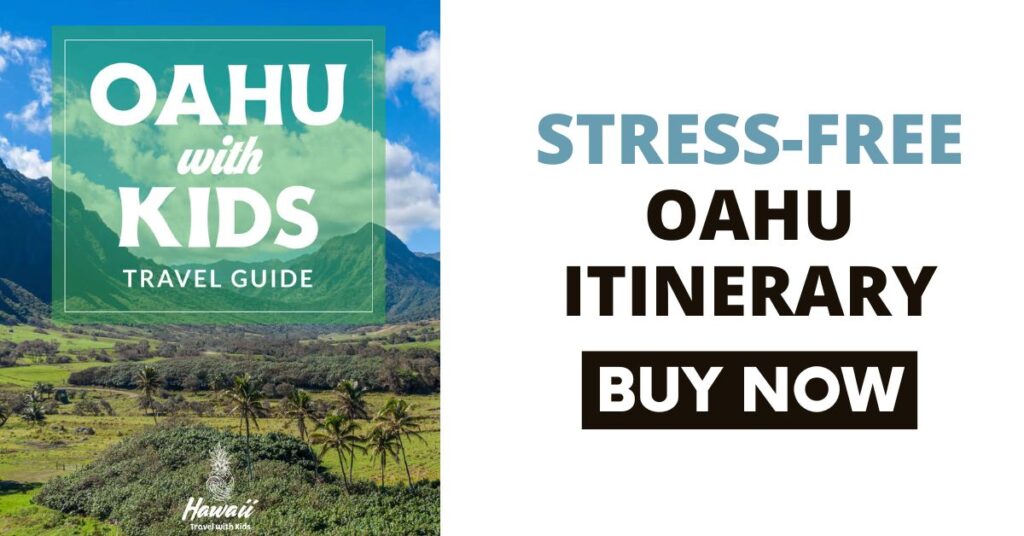 Oahu Waterfall Hikes FAQs
How long does it take to hike to Manoa Falls?
It can take anywhere from 1-2 hours. It depends on how fast you hike and how crowded it is. And it depends whether or not you're hiking on Oahu with kids. Sometimes after it rains there's mud on the trail, which can slow you down.
Is the Manoa Falls hike difficult?
Overall, hikers don't consider it a difficult hike. But there are areas where you may have to step over tree roots, large rocks, etc. Because of this, it's extra important to hike in with correct gear. Make sure you have sturdy shoes or hiking sandals (not flip flops!).
Do you have to pay to hike Manoa Falls?
Currently, it's free to enter the park. But the trailhead is at the Lyon Arboretum, and there's parking there as well. If you plan on parking there, it'll cost a small parking fee.
How long is the Waimea Waterfall hike?
The Waimea Falls hike is a 3.8-mile round trip and takes 1-2 hours if you hike straight there, but most people take longer. Most of it is paved and pretty flat (although there are some stairs). Plus, there are some historic landmarks and gardens you may want to stop and check out along the way.
Is it safe to swim at Waimea Falls?
Absolutely! They even have a lifeguard, changing rooms, and life vests available.
Do you have to pay to hike Waimea Falls?
Yes. There is an entry fee to access the hike and the cultural park. It's $20 for adults and $12 for children. But, if you book luau tickets for Toa Luau (located on-site), you'll get complimentary admission to Waimea Falls!
Best Oahu Waterfall Hikes Wrap Up
And there you have some of the best waterfalls in Oahu worth seeing for yourself! You can take a short, easy hike or enjoy a day hike on a challenging trail. It's worth it with a waterfall at the end!
No matter what Oahu waterfall hike you go on, make sure to respect the rules and be considerate. Get permits, listen to no trespassing signs, and honor sacred spaces.
Also, be on the lookout for signs that say the water is not safe for swimming.
Protect yourself and your family, as well. Wear proper gear, bring bug spray, and don't forget food and water! A little preparation and you'll have a great time.
If you're looking for more Oahu trails to explore, check out my posts about easy Oahu hikes and more challenging North Shore Oahu hikes. And check out my Hawaii hiking gift guide!