Are you planning your first trip to Kauai and considering renting a car? Keep scrolling to find out how to get around Kauai without a car so you can decide if it's right for your Maui vacation!
This post about how to get around Kauai without a car contains affiliate links which means if you purchase something from one of my affiliate links, I may earn a small commission that goes back into maintaining this blog.
So, you want to know how to get around Kauai. You might spend your entire Hawaiian vacation on the small island of Kauai or split your time between islands.
Either way, Kauai presents unique opportunities and options for travel.
The best way to get around Kauai ultimately depends on how you want to spend your time on the island.
Because we have family that lives on Kauai, I've spent a lot of time there. I've learned that not all transportation is equal, especially when you're a visitor!
But don't worry! Below you'll find my rundown on all details for local travel, as well as how to travel long distances on the island.
Keep reading so you know all the best options for how to get around Kauai!
Don't have time to read a bunch of Hawaii blog posts and reviews? Here are some of our top picks for visiting Kauai.
Popular Kauai Tours/Activities
Favorite Kauai Resorts/Hotels
Grand Hyatt Kauai (this Poipu resort has a luxurious pool area, romantic restaurants, and a stunning ocean view)
Koloa Landing Resort (this is a luxury resort with an amazing pool area and truly spacious rooms)
Royal Sonesta Kauai (we LOVE the pool here because it's the largest one in Hawaii)
Want to Rent a Car in Hawaii?
One of the best places to rent a car in Hawaii is Discount Hawaii Car Rental because they get the best rates from top national companies like Alamo, Dollar, Thrifty, Avis, Enterprise, Budget, and Payless.
Want to skip all the planning and just access my detailed Kauai Itinerary complete with daily schedules, kid-friendly activities, and travel hacks? Click the button below.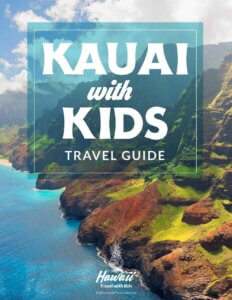 FAQ about Transportation in Kauai
How many miles is it around Kauai?
While the island is almost a giant circle, there aren't any roads that go all the way around the island of Kauai. Kaumaulii Highway and Kuhio Highway make up the almost 80-mile roadway that encircles ¾ of the island. You could drive it in about 3 hours one-way, and then you'll have to turn around and go back the way you came!
Can you walk around Kauai?
Let's say you plan on staying in Poipu or another of the major towns in Kauai. Then you can definitely walk around Kauai! Hiking is also a popular pastime on the island. But if you plan on traveling from one end of the island to the other, it's impossible to just walk.
Where can you stay in Kauai?
You'll find a variety of accommodations on North Shore, South Shore, and the Eastern Coast of Kauai. This is where the tourist attractions and the resort areas are. Or choose from hotels, villas, vacation rentals, and bed & breakfasts. You can find a few places to stay on the Western Coast, but it's not as popular.
What's the best month to go to Kauai?
I suggest visiting Kauai during the shoulder seasons of September-October or April–May. This is when the island is less crowded and rates are cheaper. The rainy season in Kauai is during the winter, so skip November-March, especially on North Shore.
Is the North or South Shore of Kauai better?
If you want to be in nature, enjoy stunning views. and do some hiking, head to North Shore. You'll love the breathtaking geological features to be found here. If you prefer golden beaches, tours, and convenient amenities, go to the South Shore or the East Coast.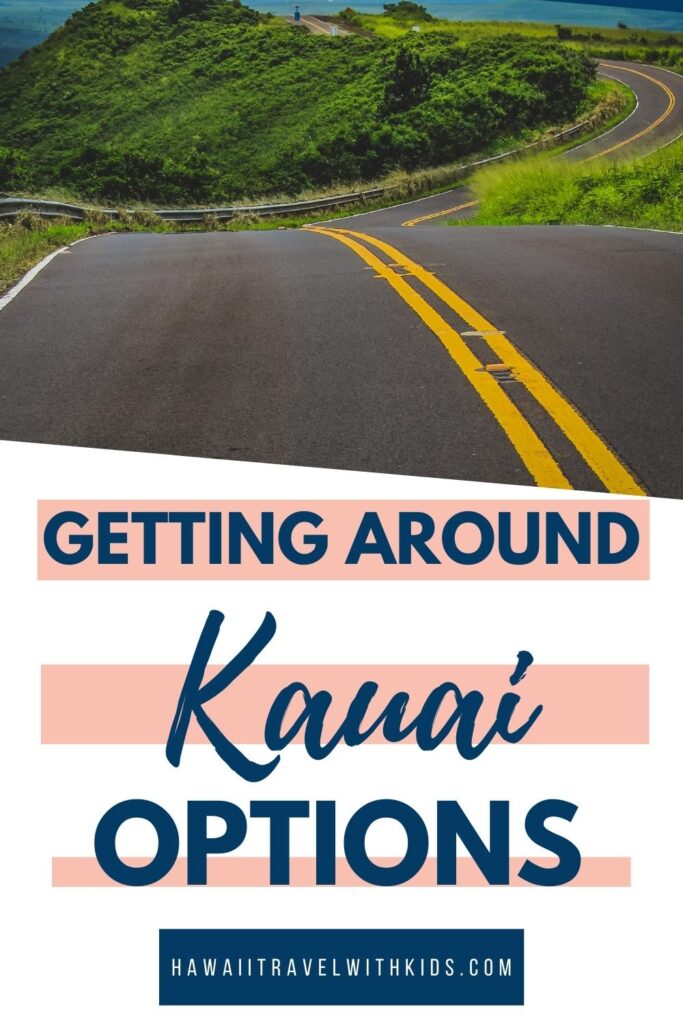 The Best Ways to Get Around in Kauai
First, let's look at your options for getting around locally in Kauai. Then you can read how to get from one end of the island to the other!
Walk Around Town
The island of Kauai is small enough that you can stick to walking around the city where you're staying!
Depending on where you stay in Poipu, you can walk around to a lot of places. The entire area is built for visitors, with shops, restaurants, and food trucks you can check out. And along the beaches, there are all kinds of walking paths!
On North Shore, there's Hanalei and Princeville. Princeville functions as a resort community where people walk paths and ride bikes to get around.
Hanalei is a walkable beach town, but if you venture out a little, consider taking the bus or a shuttle.
Kauai's East Coast is another super popular vacation destination perfect for visitors. Getting around should be easy if you want to skip the car.
Whether you stay in Lihue, Wailua, or Kapaa, finding transportation won't be hard. People walk along streets lined with all kinds of shops and attractions. Or you can ride bikes or take the bus.
Rent a Bike or Scooter
If you're looking for ways to get around locally, bikes and other limited-use vehicles are a great option! You can find rental shops in all the major towns.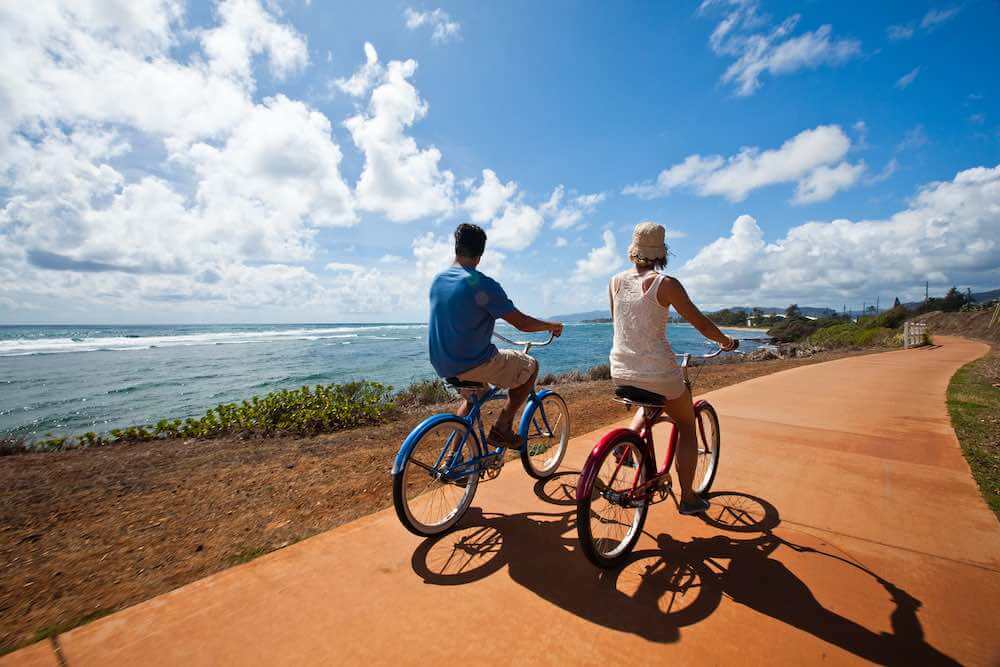 Especially if you're staying in Kapaa, consider taking a day for a bike ride along the coast renting bikes. You'll love all the bike trails along the beaches!
Check out Hele on Kauai in Kapaa. They're one of the island's best shops and are right off the bike paths. Book online, where you can rent a bike in 2-hour incriminates or for several days.
For the kids, they have trailers, tike toters, tag-alongs, and baskets for all your belongings.
In Lihue, Kauai Mopeds offers a whole fleet of mopeds and scooters for rent. If you plan on sticking to the West Coast, you won't need anything else. It's a bit of a splurge, though most places will give you a discount if you rent for more than a day at a time.
And be aware that you must have a motorcycle license to drive a moped in Hawaii. But scooters just require a driver's license.
Take the Kauai Bus
If you want to get around Kauai on a budget, there's always the Kauai bus! The fare is only a few dollars, and it's best for local travel within a city.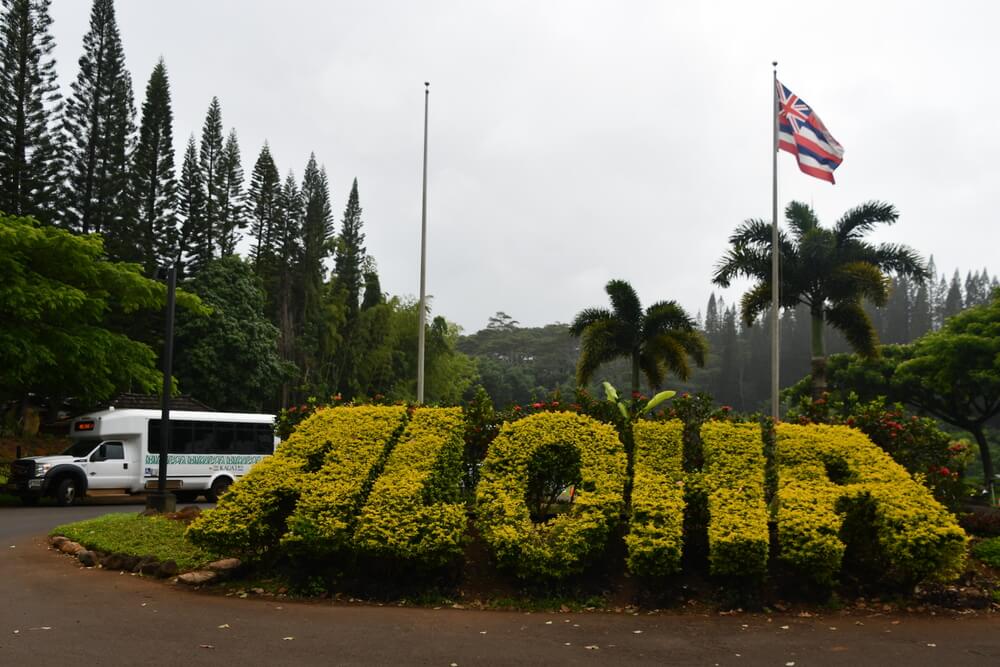 But there are a few things to be aware of when taking public transportation on the island.
First, even though the bus is the cheapest way to get around Kauai after walking, it's not made with tourists in mind. Islanders use the bus to get to and from work and school.
I don't suggest using it to transport your family and all your luggage. There's a limit of one bag per person, and it must fit on your lap.
Also, the bus only goes from Kekaha on the West Coast east all the way to Hanalei on North Shore. If you want to go to Haena State Park, you'll find a better option below.
There's an easy-to-use Kauai bus schedule online. But remember that the bus only runs from 5:30 AM to 10:45 PM during the week and from 6:15 AM to 5:45 PM on the weekends.
The bus is a convenient, affordable way to get around when you visit Kauai. Just keep it local and respect residents as they go about their day. If you plan well, it's a great way to travel.
Car Services and Ride Shares
You can find different car services on Kauai, including taxis, private cars, and ride shares like Uber and Lyft. But on a semi-rural island like Kauai, it all depends on where you are. These options can be good for local or cross-island travel.
You can find a few taxi companies around Kauai. They're the most abundant at the airport. The local government regulates fees by the mile so there's not any price hiking.
After a long flight, a taxi is a convenient way to get to your lodgings. And because the island is so small, it's a pretty affordable way for how to get around Kauai. Just don't expect to flag one down outside of the airport. You'll have to plan on booking one in advance.
There are luxury black car service companies on the island, as well, like Kauai Luxury Transportation. If you have car seats or smaller children, it's a stress-free way to get to where you're going.
A lot of companies have their own apps, like Execucar, so you can track where your ride is and communicate with your driver. Just keep in mind that, like taxis, they can be hard to track down if you're in a less populated area.
Similarly, Uber and Lyft can be found in the cities of Kauai. Many island visitors like to use rideshare apps because they already know how to use them from home.
Plus, rideshare app rates are cheaper than taxis and car services. It's nice to open the app and see an estimated rate before you head out.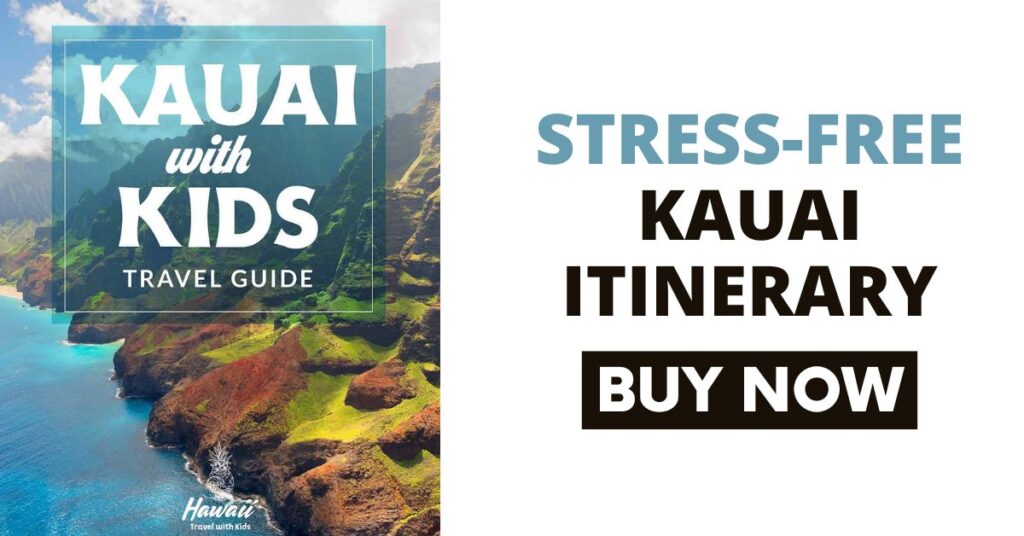 Car Rentals in Kauai
For the most part, if you don't want to depend on car services or shuttles, a car rental on Kauai is the best option for cross-island travel. Especially if you want the freedom to go where you want, when you want, this is the best choice.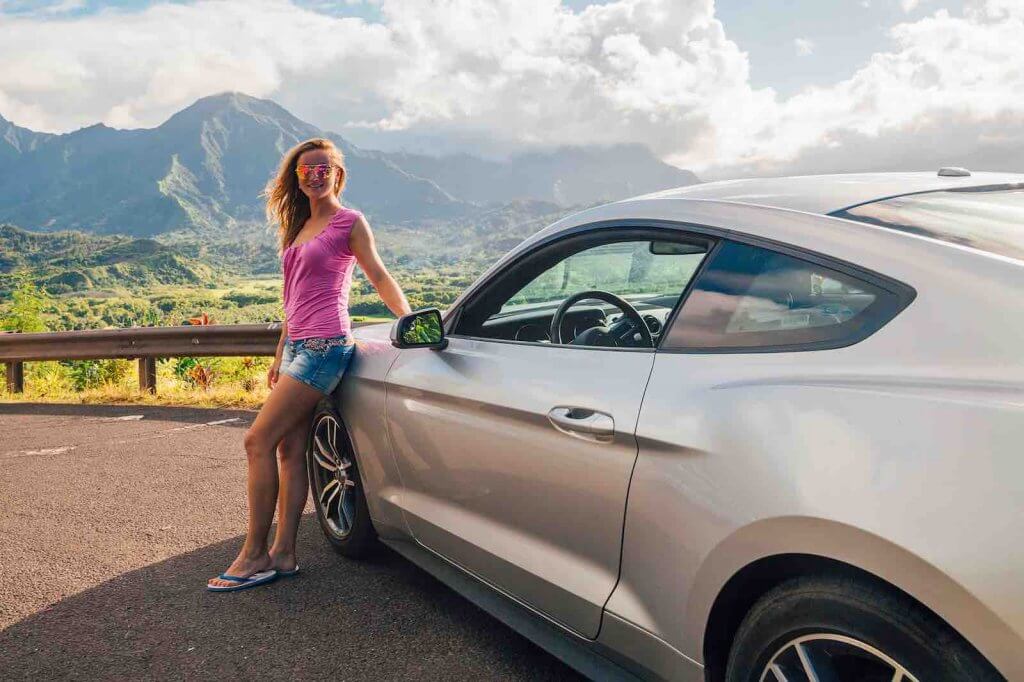 However, highway congestion and parking have become such a big deal on the island in recent years that the local DOT is considering controversial visitor parking fees for public beaches. These are pretty hefty fees, too.
And you already have to pay a decent fee to park a car at Haena State Park on the North Shore. But there's a better option for that trip still to come!
Not everyone on the island agrees with these measures, but it's meant to help relieve pressure on the local infrastructure.
But don't think a rental car in Kauai is completely out of the picture! You can support these efforts by limiting your vehicle use.
Instead of using a vehicle for your entire trip, plan a Kauai itinerary that includes a day where you walk around or do a tour that picks you up from your hotel.
Book your rental ahead of time and ensure all your parking is planned. Take that day to enjoy traveling around the island. That's the day to explore places outside of the town you're staying in!
Discount Hawaii Car Rental
The best place to rent a car in Hawaii is through Discount Hawaii Car Rental. They get the best rates through national companies like Alamo, Enterprise, Budget, Dollar, Thrifty, Avis, and Payless. Check out the latest prices and more details.
Kauai Shuttle Service
If you are sticking to your resorts, one of the best ways for how to get around Kauai is a shuttle service. You can find a variety of shuttle services for different occasions during your vacation. There are hop-on-hop-off shuttles in the city and ones for cross-island travel.
In fact, you can find companies like Speedi Shuttle offering just outside luggage claim at the Lihue Airport. They're an affordable way to travel to your hotel or resort after your flight.
Airport shuttles are super affordable if you're staying on the East Coast. Plus, a lot of hotels offer free shuttles to and from the airport, so make sure to check ahead of time.
But even if you plan to spend your trip on North Shore, it'll probably cost you less than $100 for your entire family and your luggage to get there!
Shuttles are a wonderful way to get across the island if you want to skip the rental car. Companies like Polynesian Adventures offer different kinds of shuttles on Kauai, like site-seeing tours, North Shore shuttles, and more.
Or if you stay in Poipu, Aloha Spirit Kauai Shuttle has a few different options, including a free evening shuttle to the shops.
To visit Haena State Park, the best way is by the park's own shuttle that you reserve on their website. You board at the Park & Ride in Hanalei for a 30-minute ride to the park. Online you can also find info on overnight parking for campers, but it's pretty limited.
So, What's the Best Way to Get Around Kauai?
Kauai is a unique, beautiful island you'll want to experience. Because it's one of the smallest Hawaiian Islands, you can easily get around many places without a car!
Shuttles, car services, and rentals are available for longer distances. If you're willing, there's also budget-friendly public transit.
When you're planning how to get around Kauai, it's important to remember that a large part of the island is undeveloped and not easy to get to on foot or by car. In some places, it's better to find other things to do.
Why not book a helicopter tour over Waimea Canyon or a boat tour on the Wailua River?
My suggestion for the best way to get around Kauai if you don't want to drive is to book shuttles. Kauai welcomes visitors and offers a wide range of convenient and fun shuttle options.
Sometimes they're even complimentary with your hotel! It's a great way to travel long distances while keeping the highway free and clear.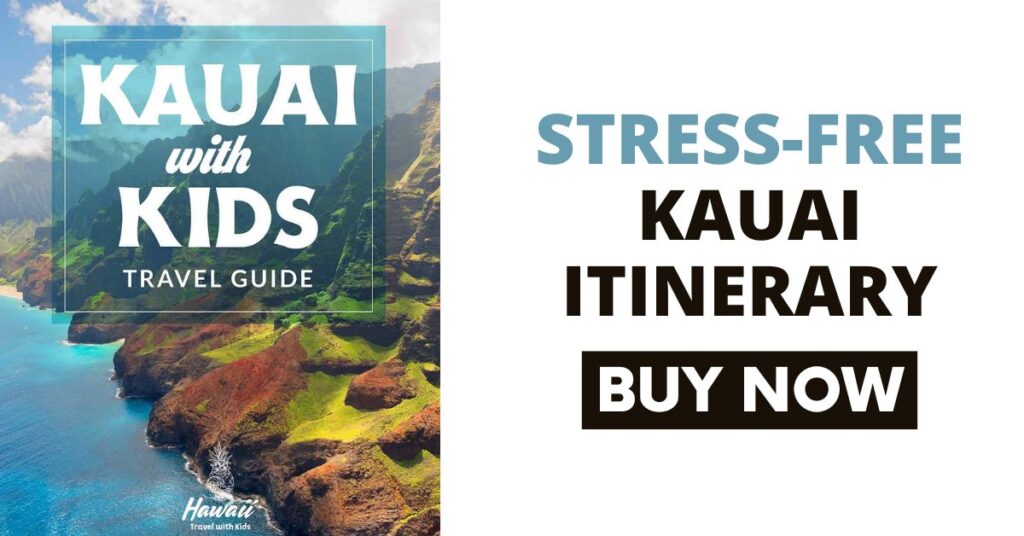 Wrap Up
There are all kinds of ways for you to get around locally in Kauai or to the other side of the island.
Whether you stay on the sunny South Shore or book a vacation rental on North Shore, you can find easy, stress-free ways to enjoy your family vacation to Kauai!