Are you planning a trip to Kauai and want to know some fun Kauai activities to add to your itinerary? Find out the best things to do in Hanalei Bay, in North Shore Kauai.
This list of the best fun things to do in Hanalei Hawaii contains affiliate links which means if you purchase something from one of my affiliate links, I may earn a small commission that goes back into maintaining this blog.
Who doesn't want to spend a few days on Kauai? The island is beautiful, has great food and activities for all ages. But with so many choices where do you start?
I've been lucky enough to visit Kauai more than 20 times and I've got to say that Hanalei is one of the cutest small towns in Hawaii.
There's a total surfer/Boho vibe that makes you want to slow down and soak in all the stunning North Shore Kauai sights.
I've compiled this list of the best things that will make your trip even better! From food tours to kayaking, Hanalei Kauai is a beautiful place to visit.
This post will cover 27 things you can do while there, from tours to activities and food! There are so many fun things for families with kids too – the list covers it all.
If you're planning your next family vacation on Kauai, consider this post as your guide to the top North Shore Kauai activities!
Don't have time to read a bunch of Hawaii blog posts and reviews? Here are some of our top picks for visiting Kauai.
Popular Kauai Tours/Activities
Favorite Kauai Resorts/Hotels
Grand Hyatt Kauai (this Poipu resort has a luxurious pool area, romantic restaurants, and a stunning ocean view)
Koloa Landing Resort (this is a luxury resort with an amazing pool area and truly spacious rooms)
Royal Sonesta Kauai (we LOVE the pool here because it's the largest one in Hawaii)
Want to Rent a Car in Hawaii?
One of the best places to rent a car in Hawaii is Discount Hawaii Car Rental because they get the best rates from top national companies like Alamo, Dollar, Thrifty, Avis, Enterprise, Budget, and Payless.
Want to skip all the planning and just access my detailed Kauai Itinerary complete with daily schedules, kid-friendly activities, and travel hacks? Click the button below.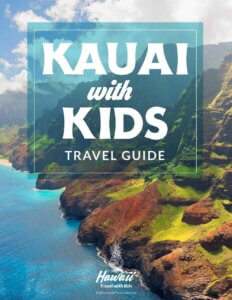 Hanalei Kauai FAQs
What is Hanalei Hawaii known for?
If you're looking for an adorable small town in Hawaii, Hanalei is a dream come true. From sweeping mountain and valley views, this North Shore Kauai spot attracts people looking to get away from big resorts. Both South Pacific and The Descendants were filmed here and you'll recognize some of the most scenic spots in these movies. It's also one of the top places to grow taro (to make poi) in Hawaii.
How long does it take to get to Hanalei from Poipu?
The answer really does depend on traffic (Kauai traffic can be brutal) but most days it should take about an hour and 20 minutes. Poipu is one of the most popular places to stay on Kauai because it's a full resort community. However, if you'd like to explore Kauai's North Shore (where Hanalei is located), you'll want to set aside a full day.
Can you drive all the way around Kauai?
While the island is shaped like a circle, the Na Pali Coast mountains prevent the highway from going all the way around the island. Instead, you can drive all the way to Ha'ena on the North Shore or all the way to Polihale on the West Shore.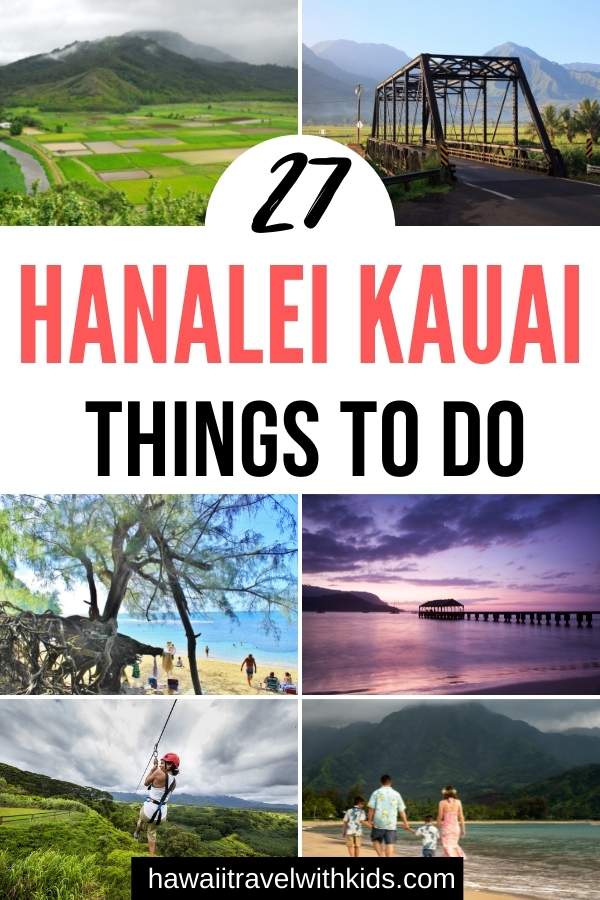 27 Amazing Hanalei Activities for Families
Planning a trip to Kauai and want to explore the beautiful North Shore? Here are just a few awesome things to do in Hanalei for families!
1. Relax at Hanalei Beach
Located in one of the most picturesque corners of Hawaii, this soft beach features a spectacular backdrop. The lush majestic mountains are surrounded by low-hanging white clouds.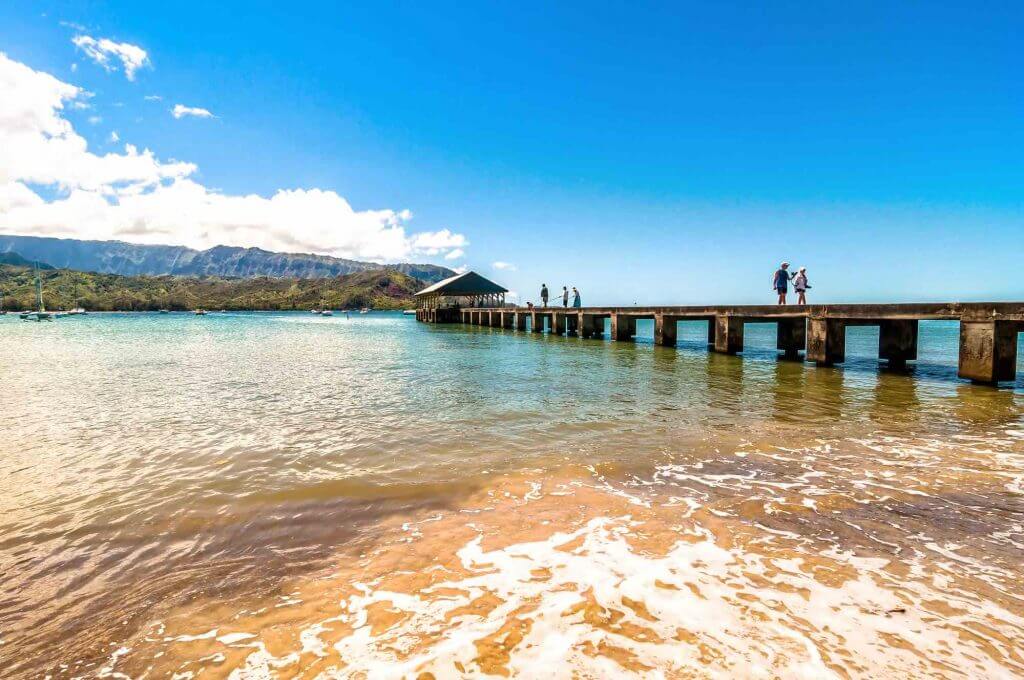 You will probably recognize this beautiful place from classic films such as South Pacific or more recently in movies like The Descendants. Hanalei Bay was also the inspiration for the song "Puff the Magic Dragon."
Take your time strolling along Hanalei Pier, relax and admire these stunning vistas around you! Or hop in the water for some snorkeling in Hanalei Bay.
2. Get Shave Ice at Wishing Well
If you are looking for refreshing shave ice that won't leave a syrupy aftertaste, head to Wishing Well Shave Ice in Hanalei.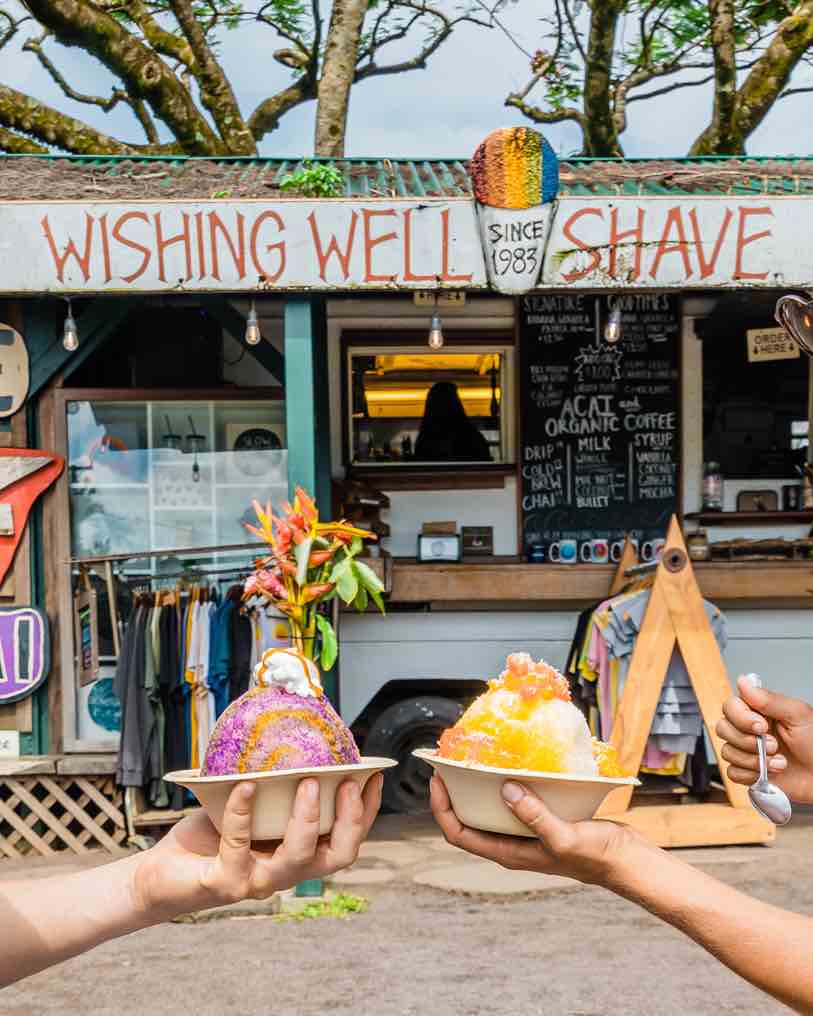 They use cane sugar and organic fruit to create their own shave ice syrup. And you can also get your shave ice topped with sliced fresh fruit! It's always worth at least one stop!
Not only is their shave ice awesome, but they also have a cute shop that sells locally made clothing and accessories. Plus, their space is totally Instagrammable!
Read more about the best shave ice on Kauai
3. Go Golfing
If you want to go golfing on Kauai, it doesn't get much prettier than the Princeville Makai Golf Course. It's the first-ever Mr. Robert Trent Jones Jr. solo design and has been named one of America's "Top 5 Great Golf Settings" in the world by National Geographic Traveler. They have six oceanfront holes with spectacular views.
Don't want to golf? Sign up for one of their sunset golf cart tours instead! This is one of the best things to do in Princeville.
4. Explore Limahuli Garden
One of the most beautiful botanical gardens on Kauai is the Limahuli Garden, just past Hanalei in the town of Ha'ena. This stunning 17-acre botanical garden is nestled in a lush valley and framed by the Pacific Ocean.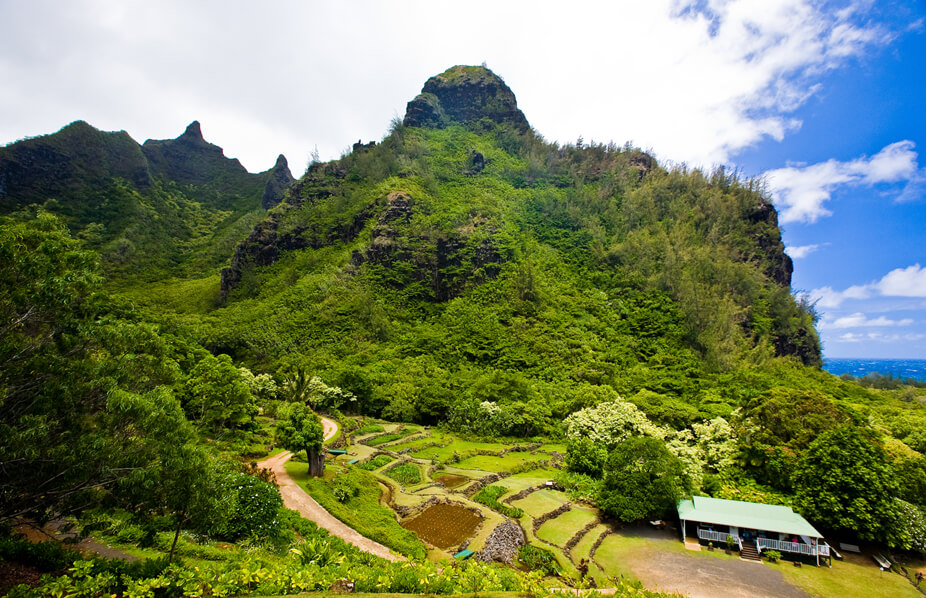 It was named one of the best natural botanical gardens in America for its striking taro plants, ancient lava rock terraces, replica Hawaiian house, and unsurpassed views.
This garden provides a great opportunity to learn about soil, water conservation through tours as well as an unforgettable experience throughout your visit. The loop trail is short and easy enough for kids to complete.
Join an adventure through Kauai's vibrant North Shore and taste food from around the island. Get to know the culture and food of this tropical island by sampling local fruits, teas, grass-fed beef (and other meats), fresh fish catches in an interactive culinary tour with 6 very generous tastings.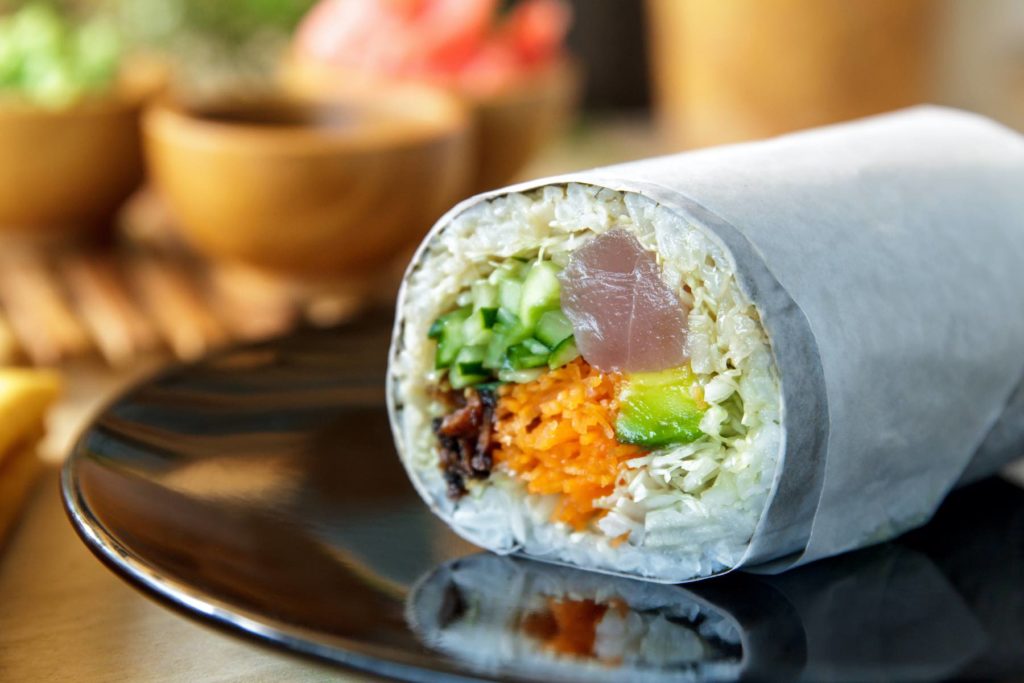 This is a great way to find out some of the best Hanalei restaurants that you can return to later in your stay. Check latest rates and more information.
Click to see our review of the Kauai Food Tour
6. Go See the Wet and Dry Caves
For a little adventure, check out the Kauai caves on the North Shore. The Maniniholo Dry Cave is a rather large opening dry cave that can be explored easily.
It's great to explore with children and you can even tell them the legend of how the Menehune created this dry cave when they were running away from the Polynesians!
Bring your flashlight for exploring as it may get dark inside during certain times of day.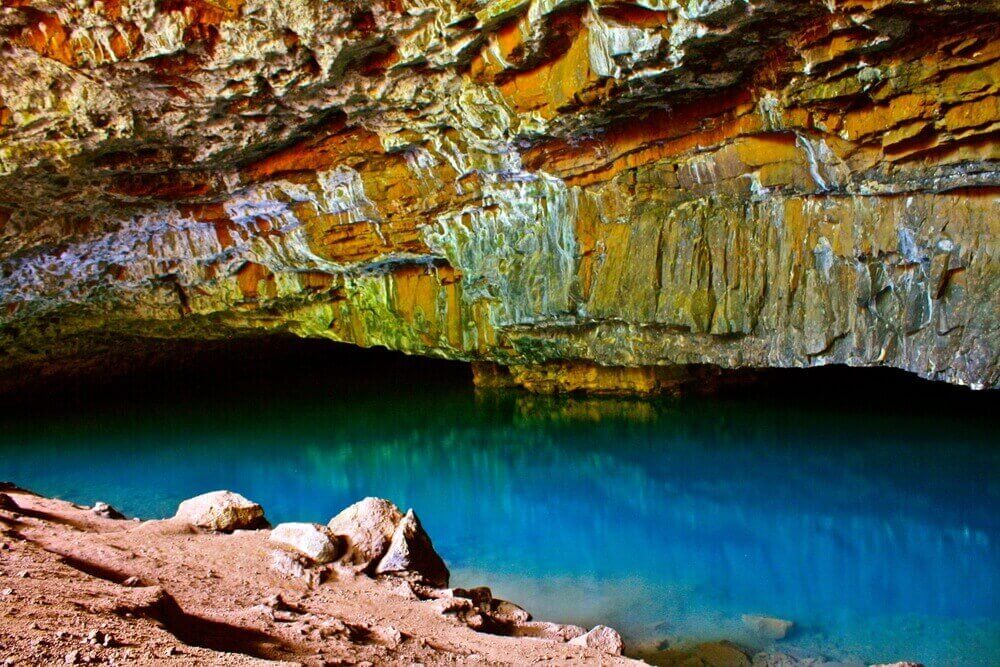 The Waikanaloa Cave (also called "The Blue Hole") or Waikapalae Caves require a short hike but they're worth it if you want to see beautiful caves where water fills up from underground springs which eventually feed into the ocean at low tide levels.
You might recognize it from Pirates of the Caribbean!
7. See the Hanalei Valley Lookout
This scenic spot in Hanalei is definitely one of the most photographed places on Kauai. You can see waterfalls cascading behind taro fields and it's one of the best places to see rainbows on Kauai!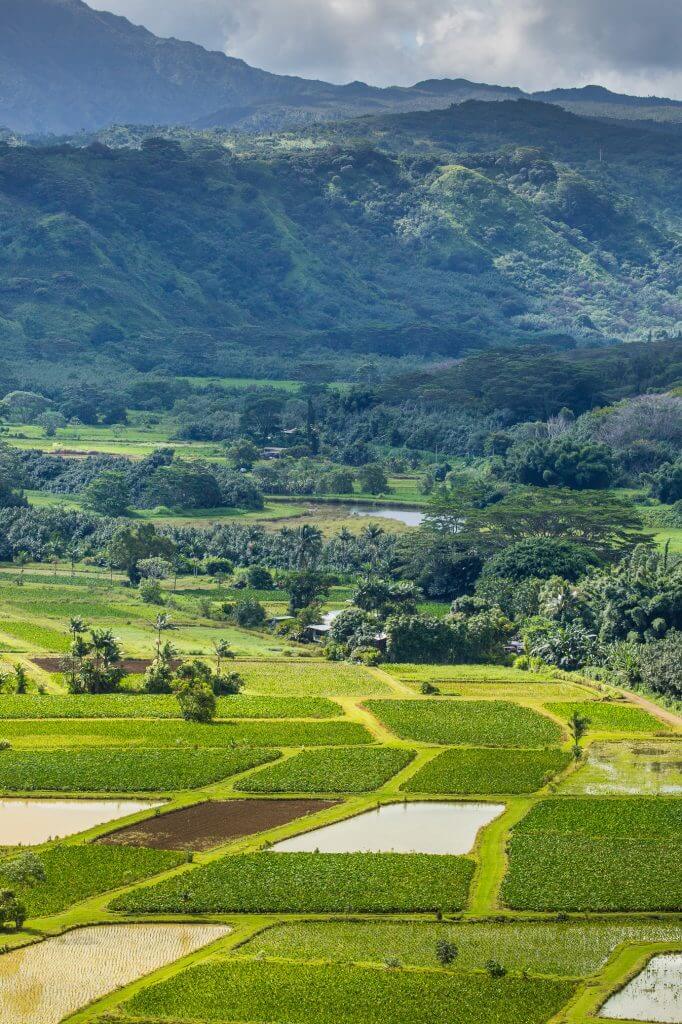 The stunning view seems to change colors with variations in weather conditions making it seem more magical than ever before. Make sure you make at least one stop here so you don't miss out on these spectacular views that also have an enchanting quality about them.
8. Eat at Tahiti Nui
One of the most iconic tiki bars in Hawaii is Tahiti Nui. Signifying a time when memories are made and lives intersect, this location has been serving up legendary mai tais for decades. And they often have live music in the evenings (plus a weekly luau).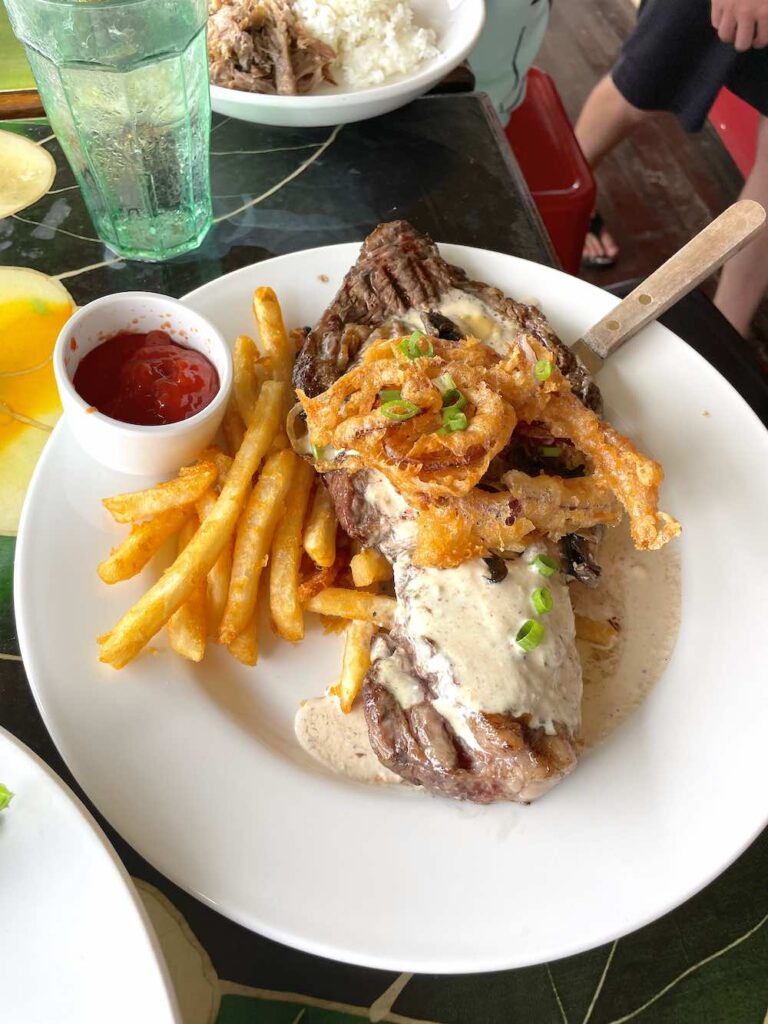 But, we come here for the food. It's seriously so tasty and much more elevated than you'd expect. And it's casual enough that you can bring the kids. It's definitely one of the best restaurants in Hanalei Bay.
9. Drive up to Ke'e Beach
Ke'e beach is a popular spot for swimming and snorkeling on the North Shore. It's nearly like being in your own private pool, so you can enjoy hours of fun without ever getting out!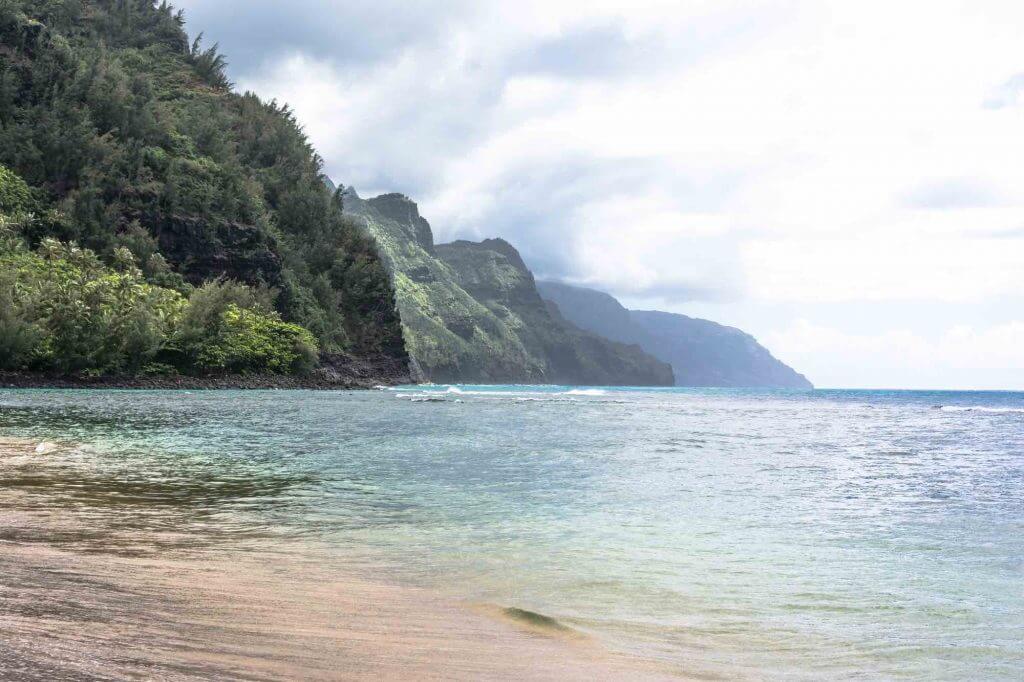 If you're looking to make it more exciting, bring along some snorkeling gear from home because there are plenty of fish waiting to be explored. You will need parking or shuttle reservations, which you can book HERE.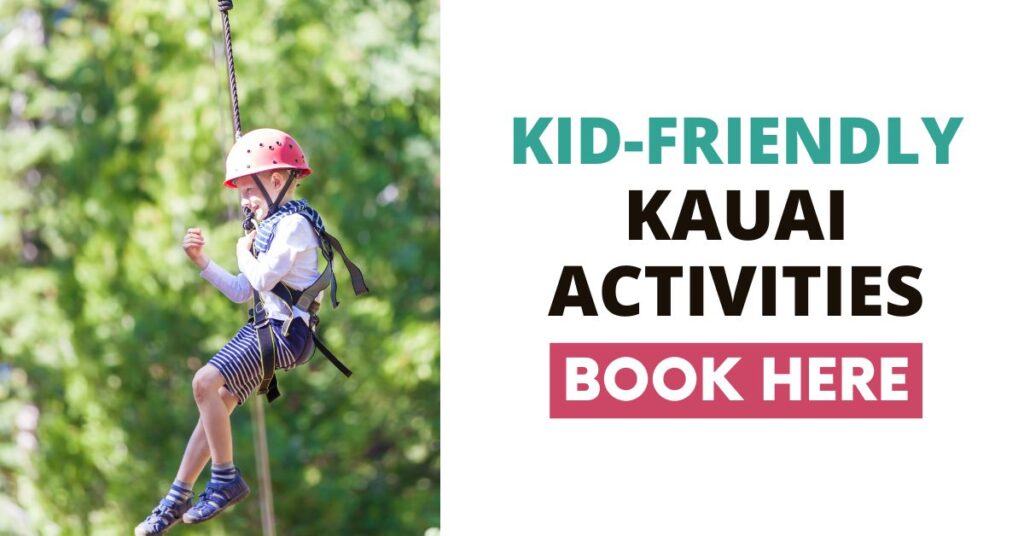 10. See Art Galleries
One of the cool things about Hanalei is that it's a total artsy town. They have several art galleries worth checking out. A few of our favorites include Havaika Oceanic and Tribal Art, Halelea Gallery, Infinite Arts, and Michal Arts.
Most of them also sell prints, notecards, and stickers, so you can support local artists without investing in a large piece.
11. Enjoy Kombucha at Kauai Juice Co.
If you want to taste the best kombucha in Hawaii, head over to Kauai Juice Co in Kilauea. Here, they brew their own kombucha and mix it with tropical flavors like mango, lilikoi, lychee, and guava. You can buy it bottled or opt to try one that's on tap (those tend to be less bubbly).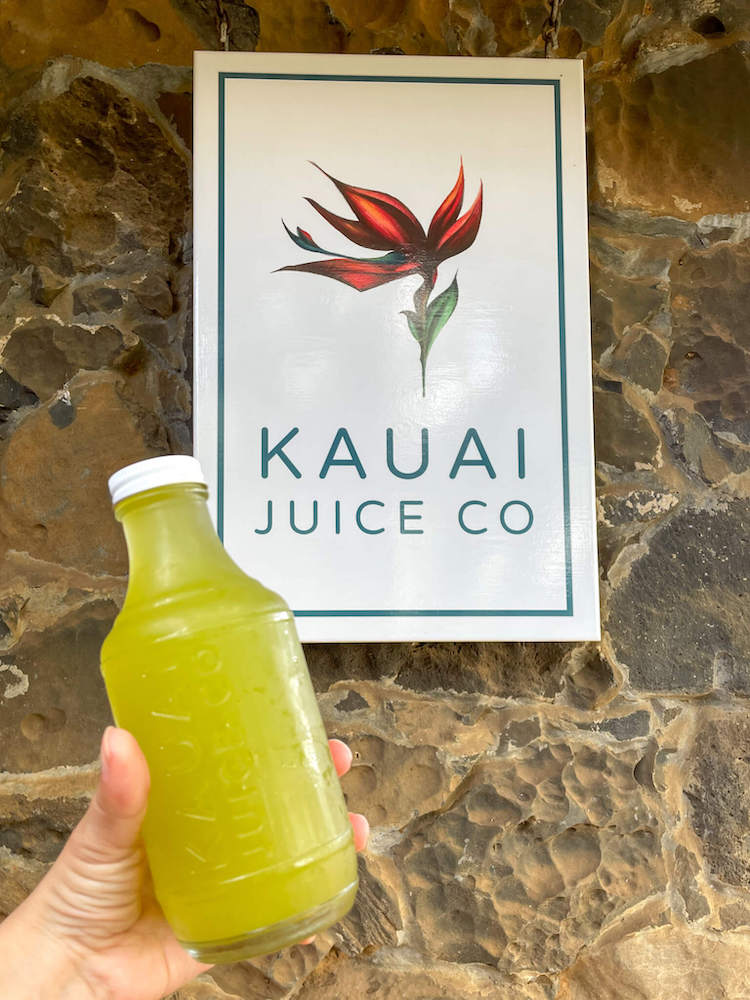 And don't worry if kombucha isn't your thing, they also have cold press juice, caffeinated drinks, and little elixirs.
12. Go Snorkeling at Tunnels Beach
Tunnels Beach is the best snorkeling spot on Kauai (and possibly in Hawaii), but it's a little tricky to find. The entrance may not seem obvious, but look for a bunch of cars parked and you'll know you're in the right place!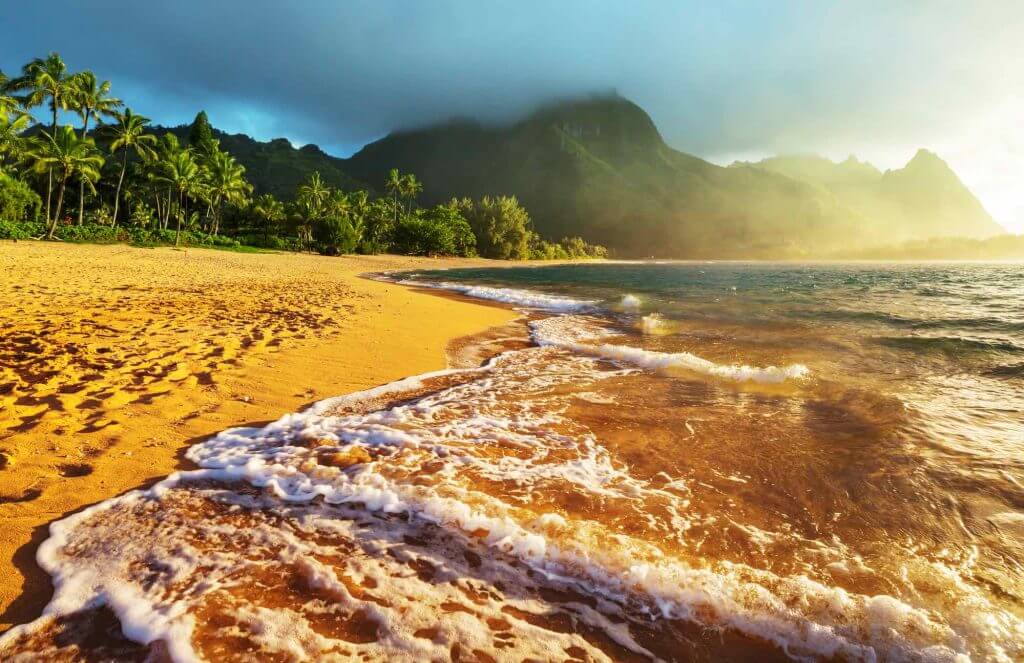 You'll definitely want to go early or late in the day, as parking is limited. If you don't have your own gear, rent some in Hanalei before heading over here–there are no places nearby that will do rentals!
This is definitely one of the top things to do in North Shore Kauai.
13. Get Taro Donuts at Holey Grail
One of the best places for donuts on Kauai is the Holey Grail food truck. These are made with taro and they are some of the lightest and most flavorful donuts I've ever had.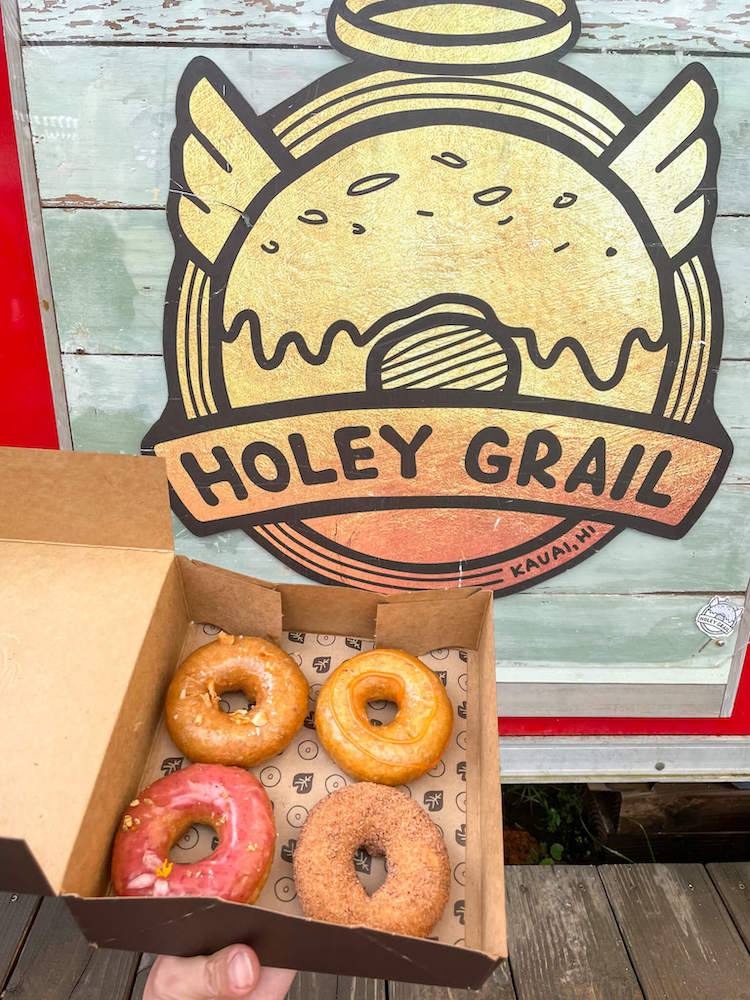 They rotate their flavors but they usually have ones drizzled with tropical fruit flavors and some with locally made chocolate. And their donuts are just the right size to enjoy more than one. Plus, they make really great coffee!
Being around Hanalei Bay on Kauai is a dream come true. Not only does it have one of the most beautiful spots in Hawaii, but you can also learn to surf here for an incredible experience!
You'll be guided by your expert instructor who will teach you how to paddle and pop up on waves. Before long, surfing won't feel like such work at all. With sun shining down and green mountains as far as they eye can see-you are sure not want this moment to ever stop!
A 2 hour private or semi-private lesson awaits with certified professional instructors that ensure personalized attention during every step of the process. You'll love surfing Hanalei Bay! Check latest rates and more information.
15. Take Photos at Lumahai Beach
Located just around the western edge of Hanalei Bay, Lumahai Beach is a perfect place to enjoy beautiful sandy beaches and tropical foliage.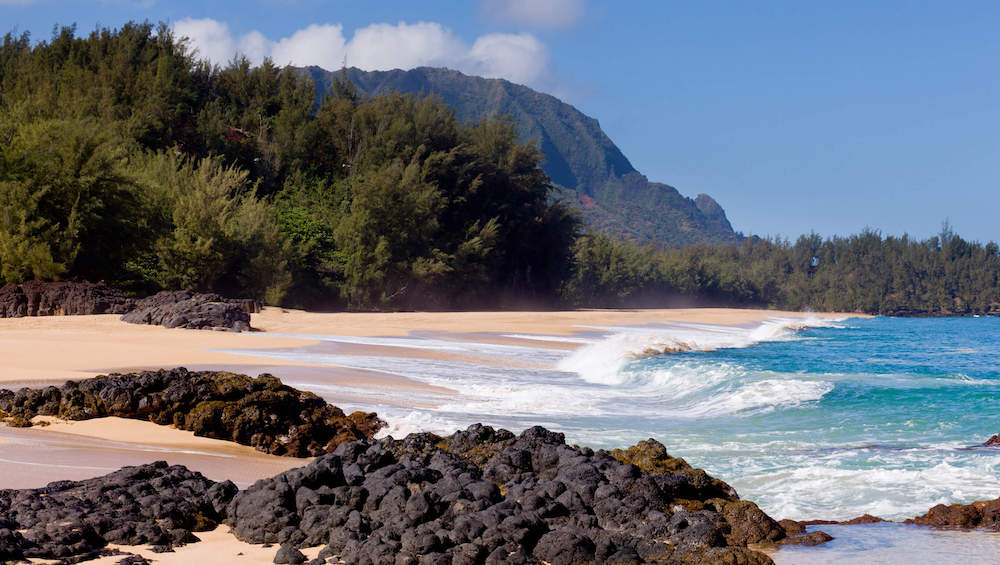 This long stretch of white sand beach was made famous by Hollywood when Mitzi Gaynor spent her time on this beach washing that man right out of her hair in the classic movie South Pacific.
It's also home to many postcard scenes shown across Kauai as well as paintings depicting its beauty. Just be careful going into the water, as it's not usually safe for swimming.
16. Explore Kaulu Paoa Heiau
Keʻe beach is the place where many Hawaiians have learned to practice their spiritual hula art. Just climb up a short trail to enter the Kaula Paoa Heiau, which legend says is the birthplace of hula.
The ocean, with its powerful waves and decibel levels, was a teacher for those first practicing this ancient tradition of chanting while testing themselves against nature's might.
This heiau (stone temple) is dedicated to Laka – the goddess of dance and music in Hawaiian culture. It's also said that Hawaiian goddess Pele fell in love with Lohiau on this site. Legend says she still visits during full moons when people can feel her presence near the old lava rock formations found here.
If you do visit, be respectful and only enter through the opening (don't climb over the rocks).
17. Shop the Boutiques
Shopping in Hanalei is a trip that many consider to be worth the effort. Visitors are greeted by an eclectic mix of shops and eateries with every business being as different from one another as possible; some sell musical instruments while others have clothing or gifts, but they all reflect the owner's personality.
There are several good spots for food including a market and restaurants, making this town feel like it has something for everyone who visits here.
A few of our favorite Hanalei boutiques include The Barn 808, I Heart Hanalei, Pualani Hanalei, Sand People, and The Root.
18. Hit up the Hanalei Farmers Market
Visiting the Hanalei farmers market is a lovely way to immerse yourself in Kauai's beauty, aloha, and abundance. Every Saturday from 9:30 a.m.-noon, you'll find more than 50 stalls of local growers and crafters.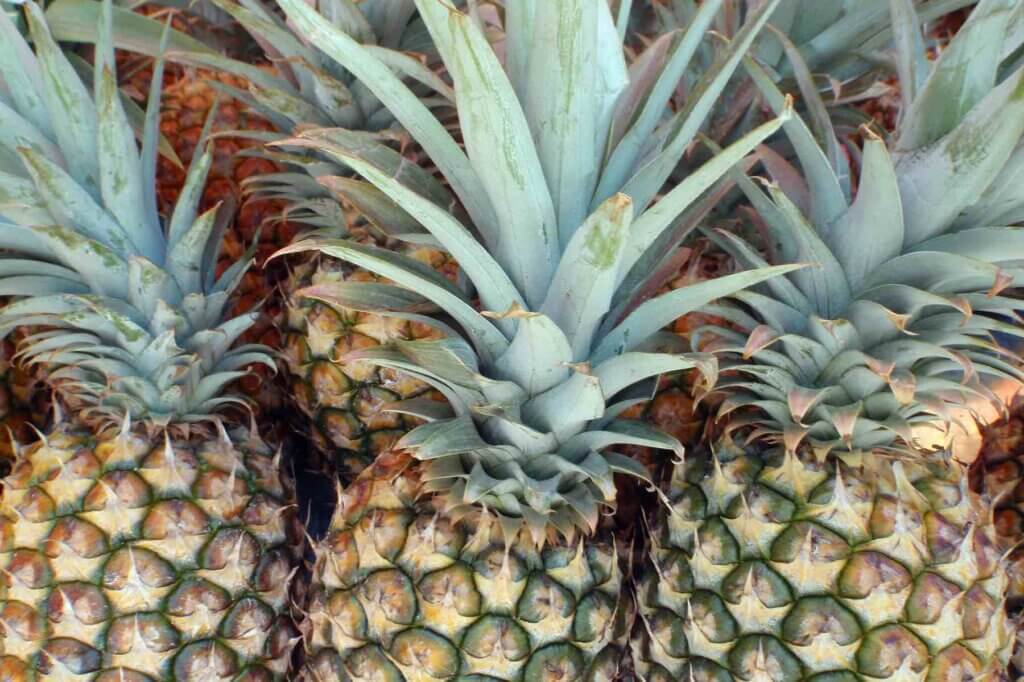 If it sounds like paradise now wait until summer when there will be an amazing array of tropical fruit available such as apple bananas, mangoes, and papayas (just ask!). This is definitely one of the best farmers markets on Kauai.
19. See Wai'oli Hui'ia Church in Hanalei
The gorgeous church with American Gothic architecture is the most photographed building in Hanalei. It just takes one look at their bright green church to understand the appeal and why it's one of the top Hanalei attractions.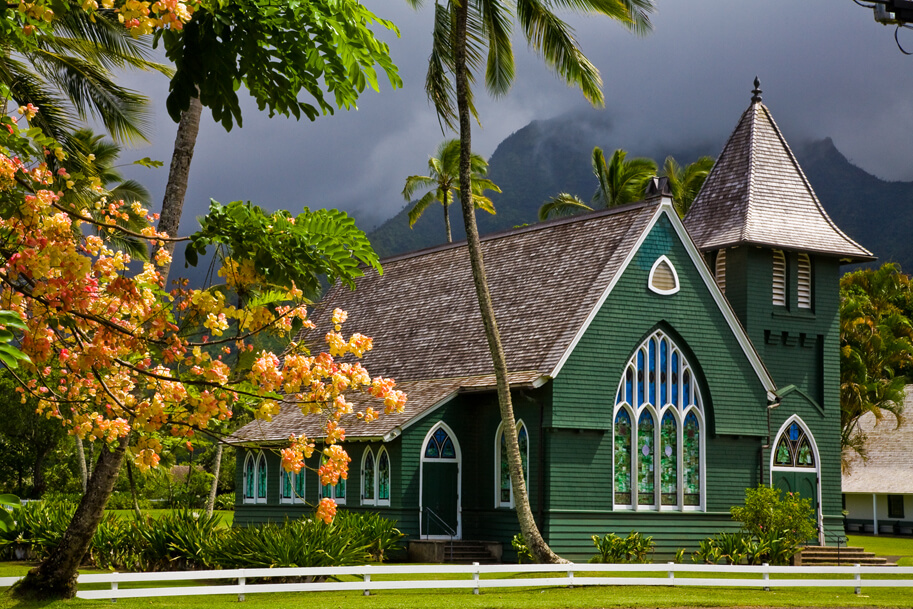 Founded and built by Christian missionaries in 1834, it was originally just a thatched meeting house. But it has since been rebuilt into more of what we would consider today to be modernized for its time – timber and plaster construction.
Plus, they added the Mission Bell in 1843 which made it sound even better when you walked up near this quaint church. The stained glass windows are also exquisite. They're not like any other churches I've seen before.
I suggest visiting when they have a service going on and respectfully staying outside where you can hear the choir sing hymns in the Hawaiian language. Otherwise, just admire this gorgeous church in Hanalei.
This is a great thing to do on Kauai when it's raining!
Get up close and personal with the spectacular scenery of Hanalei Bay—and enjoy an active way to explore—on this two-in-one, half-day tour. It's one of the most popular Kauai snorkel tours.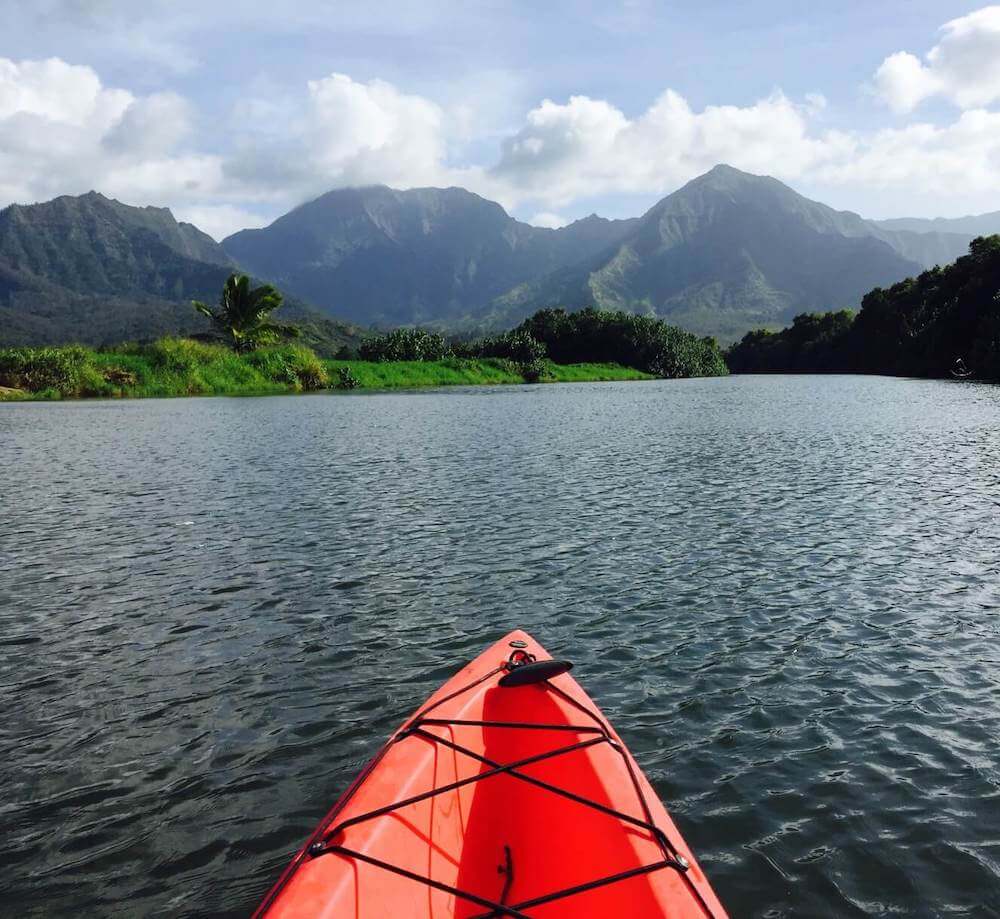 Begin your day kayaking along the Hanalei River before heading onto the bay to soak in outstanding views from a new perspective while spying turtles or dolphins near shore (depending on water conditions).
Swap out your kayak for snorkeling gear when you spot sea life beneath you as well! All necessary equipment is provided; all participants receive training beforehand so that they are comfortable in both environments.
This family friendly event is perfect for kids and adults alike looking for some adventure during their Kauai vacation. Be sure to read our top tips for kayaking with kids in Hawaii before you go. Check latest rates and more information.
21. Grab Pizza at the 76 Station
I know this might sound a bit crazy, but trust me on this! You're going to want to order a pizza at the North Shore General Store at the 76 Station on Kauai. They had their pizza oven shipped from NYC and their pizza is phenomenal!
We first tried it on the Tasting Kauai food tour and we went back the next day!
They have some bar seating outside or you can get your pizza to go and take it back to your hotel room or the beach.
22. Explore Na Aina Kai Botanical Gardens
One of the prettiest botanical gardens on Kauai is the Na Aina Kai Botanical Gardens & Sculpture Park. They have lots of tours available and you can either walk or enjoy a little ride in a cart. This 260 acre park has tons of cool statues to see, a maze to walk through, and even a children's garden.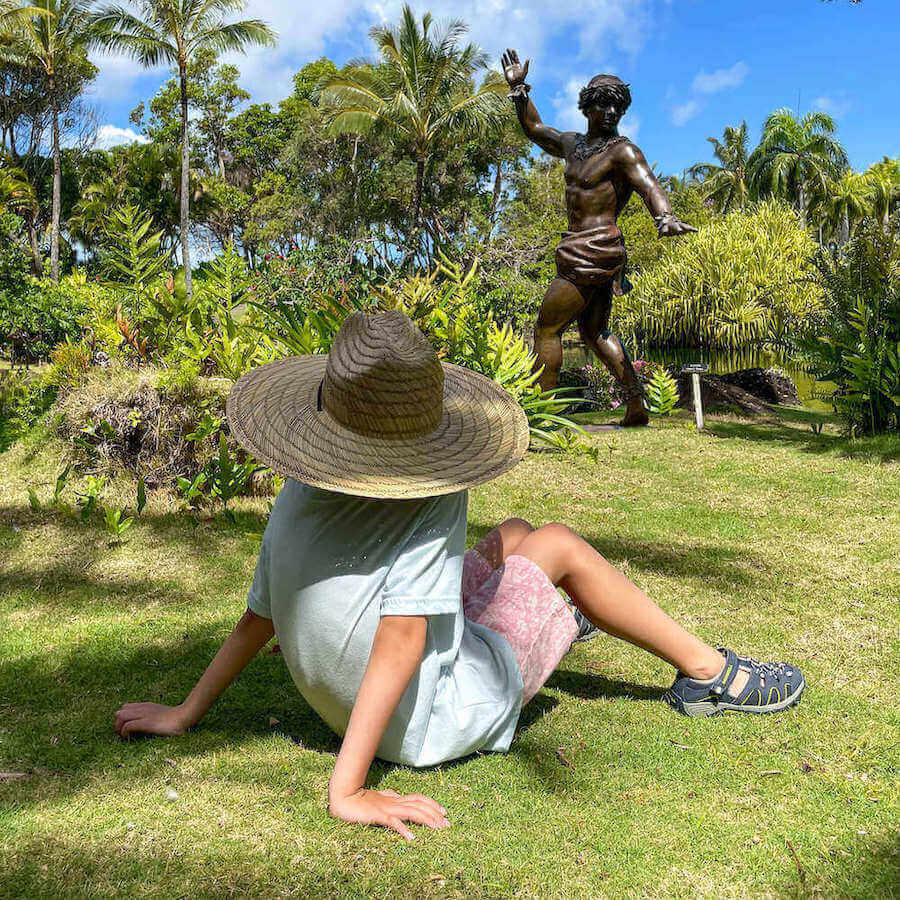 They usually also offer a monthly Keiki Day where families can play in their Children's Garden for a special event.
23. Try Poi at Hanalei Taro & Juice Co.
Hanalei is famous all throughout Hawaii for being one of the best producers of poi, a fermented taro dish. This Hanalei food truck has a variety of taro dishes. Stop by to try traditional poi or one of their delicious burgers, hummus plates and smoothies!
Their menu changes, but one of our favorite things to order is their bowl of kalua pork, poi, and lomi lomi salmon. That flavor combination is hard to beat!
Hanalei is one of the most beautiful places on Kauai and that's what makes it such a great place for Kauai photography! This is a fun activity to do as a couple, a family, or even as a solo traveler to Kauai.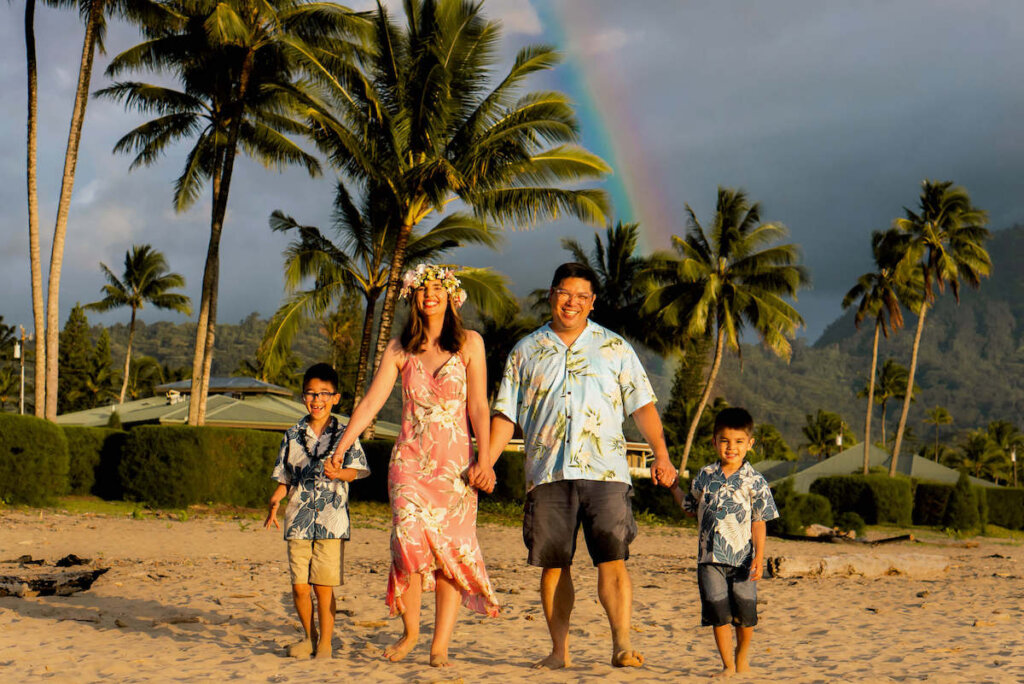 Hanalei Bay provides a stunning beach, majestic mountains, and even the iconic Hanalei Pier. I suggest booking a sunset timeslot to soak in all the lovely lighting. Check latest rates and more information.
Read about our recent Hanalei photo shoot HERE.
Book a Family Photo Shoot
Whenever we travel to Hawaii, we almost always book a family photo shoot with Flytographer. They are super easy, affordable, AND it guarantees that I'll be in some photos. You can get $25 off if you book through this link or use the code HAWAIITRAVEL.
If you love movies, this is the tour for you. Learn all about Kauai's cinematic history on a full-day movie-focused trip.
A roundtrip shuttle will take care of the transportation so that you can enjoy making out those famous backdrops in person while your guide gives commentary and shares little-known facts about some of Hollywood's most iconic films made here including scenes from Jurassic Park to Raiders Of The Lost Ark!
This 6-7 hour journey includes lunch at either Tahiti Nui or Calypso Restaurant where they serve up deliciously fresh food with an island twist–definitely something different than what we're used to seeing around these parts! Check latest rates and more information.
The Na Pali Coast is a spectacular place for ocean rafting. You don't want to go on the typical catamaran tour, because they are unable to zip in and out of sea caves like smaller rafts can. Plus leaving from Hanalei gets you there much more quickly than starting at Port Allen (on the South side of the island).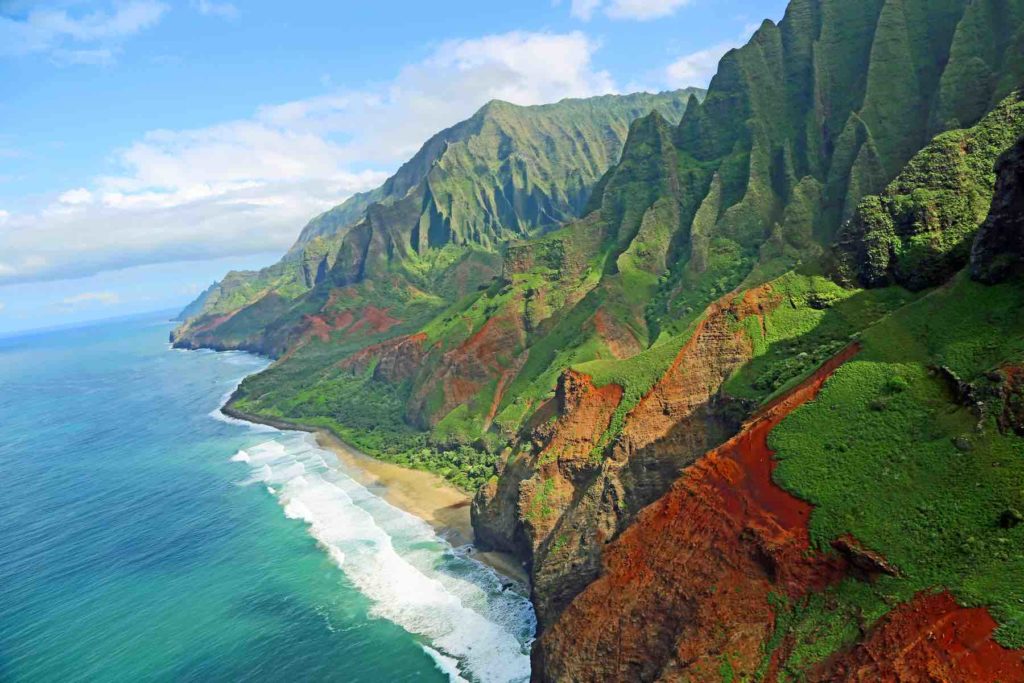 Just be sure that you book your tour through one of the companies operating out of Hanalei (April-October only).
I think Holo Holo Charters has some of the best Na Pali boat tours from Hanalei because you'll get to snorkel in 2 different locations, plus check out caves and hidden beaches. Check latest rates and more information.
This 2-hour event is an active, immersive, and challenging adventure. It's an adventurous hunt for your taste buds with creative challenges to get you off-the beaten path in search of local stories any good tour guide would tell you! The magic part? YOU!
You're not just passively watching or listening because it all comes together through participation – from exploring new ways to share those tales to cooking up tasty dishes that'll have everyone talking about your journey back home.
For optimal results do as they say: "jump in and play 'full on.'" Check latest rates and more information.
Taking the Shuttle from Hanalei to Haena
One of the most popular destinations on Kauai's North Shore is Haena State Park. The stretch of road from Hanalei to Ke'e Beach (located at the end of the road) used to be a total traffic jam and parking was crazy hard to find.
Thankfully, there's a much easier way to visit Haena from Hanalei. You'll just make a parking reservation (up to 14 days before your visit). You can make your Haena State Park reservation HERE.
And don't worry if you can't make one. There's also a shuttle bus you can take from Princeville. Learn more about the shuttle HERE.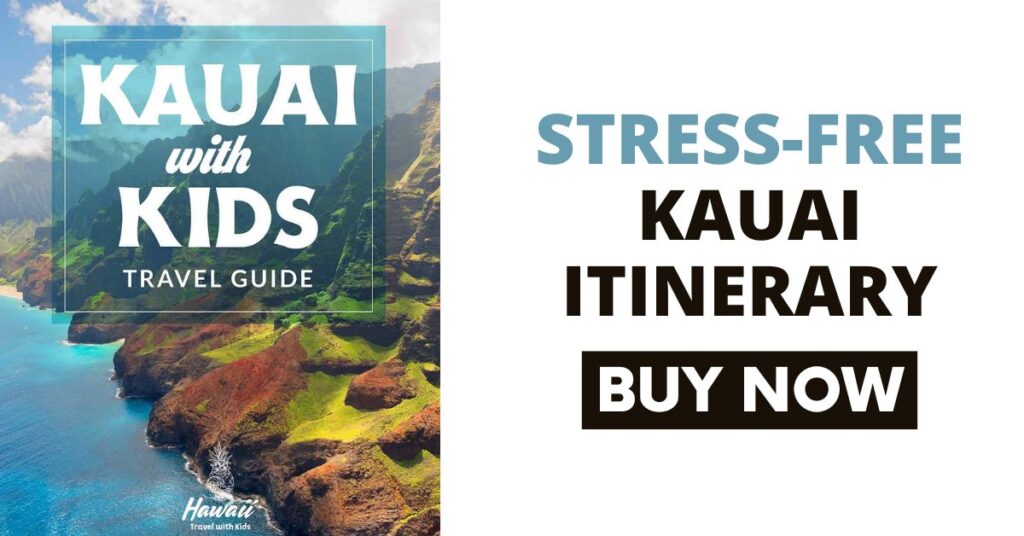 Where to Stay in Hanalei
Now that you know what to do in Hanalei, let's talk about the best North Shore Kauai places to stay.
There are several hotels in Hanalei Bay that are pretty awesome. The Hanalei Colony Resort offers condo-style rooms tucked away in one of the most beautiful places. This is perfect for those wanting to get away from it all and it's one of the top Hanalei hotels.
If you're looking for Hanalei vacation rental home, try Hale Hoku, Hale Naninoa, or Papio Place.