Staying in Poipu Kauai for your next Hawaiian vacation? Scroll to find out the best things to do in Poipu Hawaii for families, couples, adventurers and more!
This post on the best things to do in Poipu Kauai was written by Hawaii travel expert Marcie Cheung and contains affiliate links which means if you purchase something from one of my affiliate links, I may earn a small commission that goes back into maintaining this blog.
Out of all the places to stay on Kauai, one of the most popular resort towns is Poipu on the South Shore of Kauai. And there are tons of Poipu Kauai vacation rental homes, too!
Poipu is known as the "sunny side" of the island and it's one of the best places for Kauai snorkeling, shopping, dining, or just relaxing on the beach.
It's located just 20 minutes from the Lihue Airport and it's very easy to get to by rental car or resort shuttle.
Whether you are traveling to Kauai with kids, going on your honeymoon, or doing a solo vacation, Poipu HI is definitely something you should have on your Kauai itinerary!
Keep scrolling for our favorite Poipu attractions and activities!
Don't have time to read a bunch of Hawaii blog posts and reviews? Here are some of our top picks for visiting Kauai.
Popular Kauai Tours/Activities
Favorite Kauai Resorts/Hotels
Grand Hyatt Kauai (this Poipu resort has a luxurious pool area, romantic restaurants, and a stunning ocean view)
Koloa Landing Resort (this is a luxury resort with an amazing pool area and truly spacious rooms)
Royal Sonesta Kauai (we LOVE the pool here because it's the largest one in Hawaii)
Want to Rent a Car in Hawaii?
One of the best places to rent a car in Hawaii is Discount Hawaii Car Rental because they get the best rates from top national companies like Alamo, Dollar, Thrifty, Avis, Enterprise, Budget, and Payless.
Want to skip all the planning and just access my detailed Kauai Itinerary complete with daily schedules, kid-friendly activities, and travel hacks? Click the button below.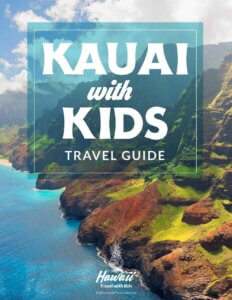 Poipu Kauai FAQs
Where is Poipu in Kauai?
Poipu is located on the South Shore of Kauai, about 20 minutes from Lihue Airport.
How do you pronounce Poipu?
It's pronounced poy-POO.
Is Poipu Beach safe?
Yes, in fact, it's one of the safest beaches in Hawaii for families. There's a lifeguard on duty 7 days a week. But, remember to check ocean conditions and never turn your back on a wave.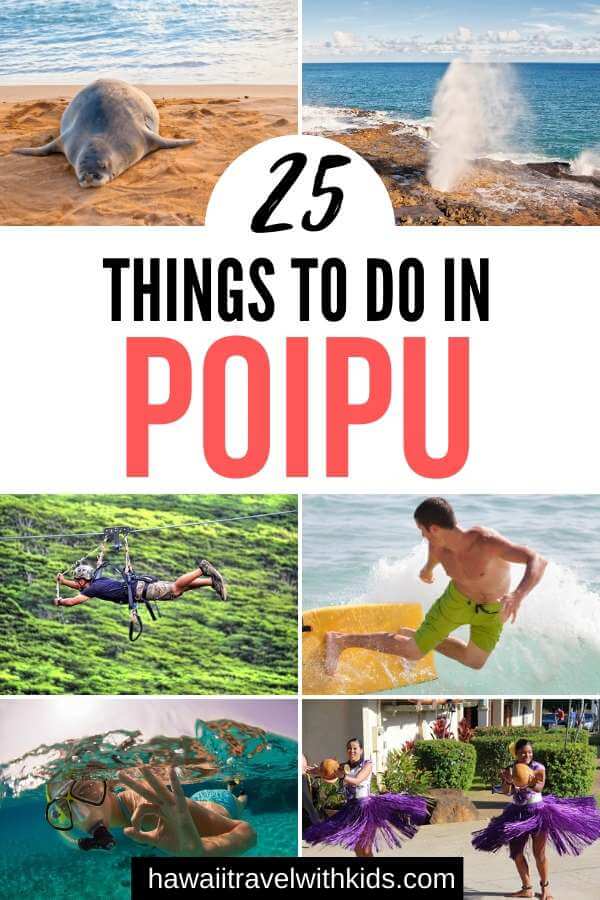 25 Awesome Things to do in Poipu, Hawaii
If you're heading to the South Shore of Kauai, you're in luck! There are tons of super cool things to do in Poipu for all ages and abilities!
1. See Spouting Horn
I have to list Spouting Horn first because it's one of the biggest Kauai tourist attractions in Poipu HI, just minutes from most Poipu resorts.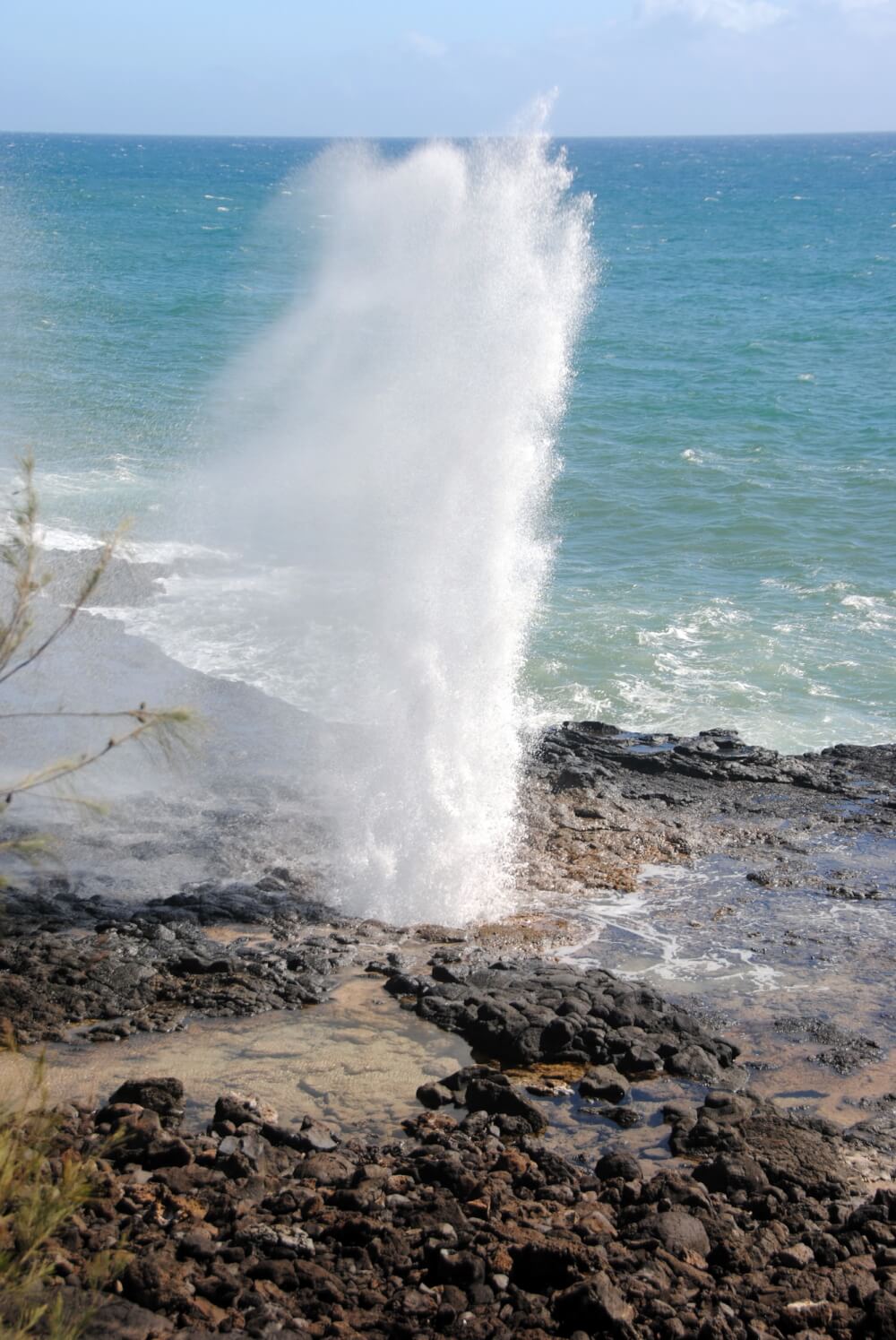 Basically, the ocean water bursts through a small opening in a lava shelf and it creates a 50-foot tall gush of water out of a blowhole.
While there are other blowholes in Hawaii, Spouting Horn is the most famous. It's definitely one of the best things to do on Kauai for under $10!
You'll want to check the weather and the tide, as that can greatly impact whether the water will shoot up really high or if you'll just get a little burst of water.
There are also tons of vendors at Spouting Horn selling all kinds of Kauai souvenirs.
Insider tip: Go at sunset and the golden light will make the spray shine with all the colors of the rainbow!
2. Snorkel at Poipu Beach Park
Out of all the places to snorkel on Kauai, Poipu Beach is a popular snorkeling spot for beginners. That's because the water is super calm and easy for families with kids of all ages.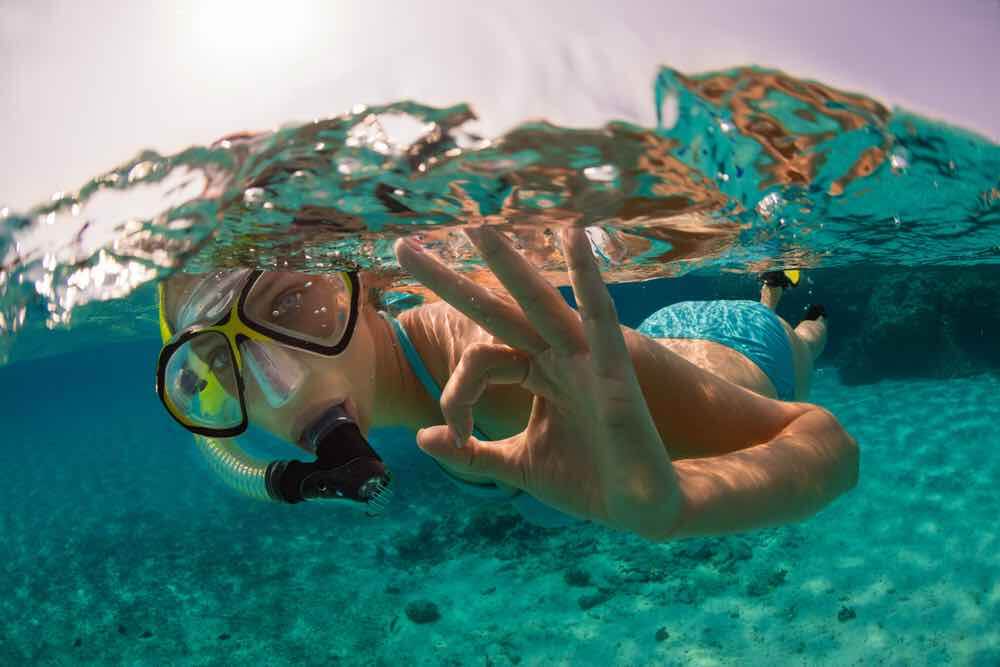 It's also an awesome spot to see Hawaiian Sea Turtles (also known as Honu) swimming in the water or sunbathing on the beach.
You can snorkel on your own, or you can book a Poipu snorkeling tour to go with an expert. Check out the latest prices and more details.
Find out more about snorkeling on Kauai and get my Hawaii snorkeling tips!
One of our favorite casual places to eat in Poipu is Puka Dog at Brennecke's. We've been coming here for years (when they were at their Poipu Shopping Village location) and it's always excellent, especially with kids.
Basically, they poke a hole (also called a "puka" in Hawaiian) in a bun, shove a hot dog or Polish dog in there, and then squirt specialty Hawaiian mustard and relish inside. It's the tastiest hot dog I've ever had.
Not only was it featured on Anthony Bourdain's No Reservations Hawaii, but it was also chosen as one of the Top 10 Hot Dog Stands in America by The Travel Channel.
There are tons of places to sit and eat at their stand or you can take it to go and enjoy it at a beach.
One of the newest (and most impressive) places to shop on Kauai is The Shops at Kukui'ula. This outdoor shopping center has lots of boutiques, restaurants, and even a natural foods store.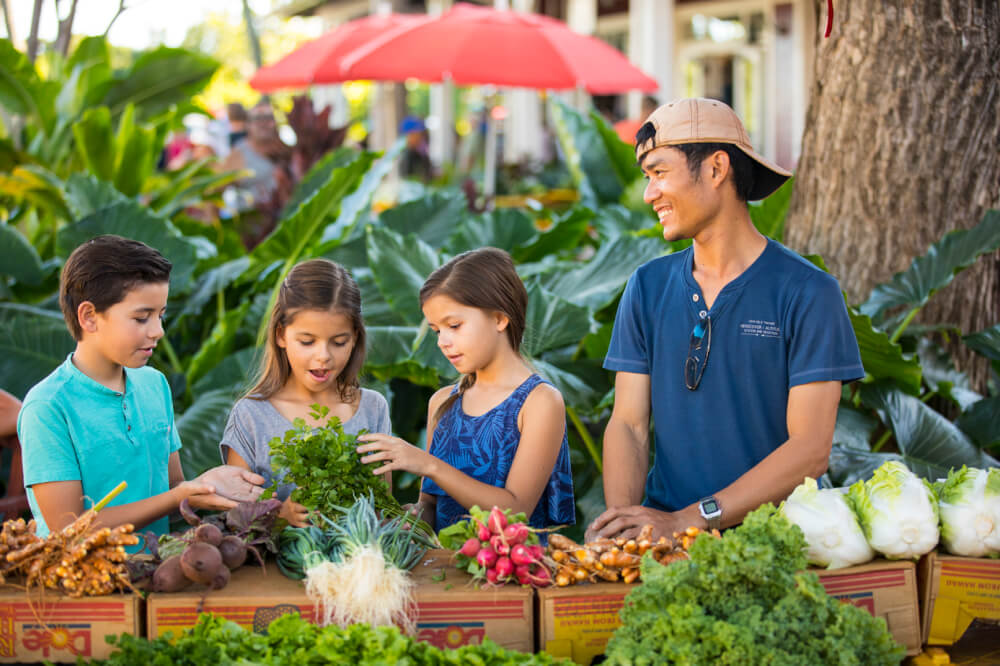 Some of my favorite shops include SoHa Living (which has the cutest Hawaiian home decor), Malie Organics (which makes the most amazing organic bath and body products), and Lululemon Pop Up (which sometimes has Hawaii-specific merchandise).
And you'll definitely need to grab a Mai Tai at Merriman's as well as dinner at Eating House 1849.
Plus, every Wednesday they have a Kauai Culinary Market that includes a farmers market, live Hawaiian music, and food demonstrations.
5. Go Golfing
If you're looking to play golf on Kauai, Poipu has 3 amazing golf courses to choose from.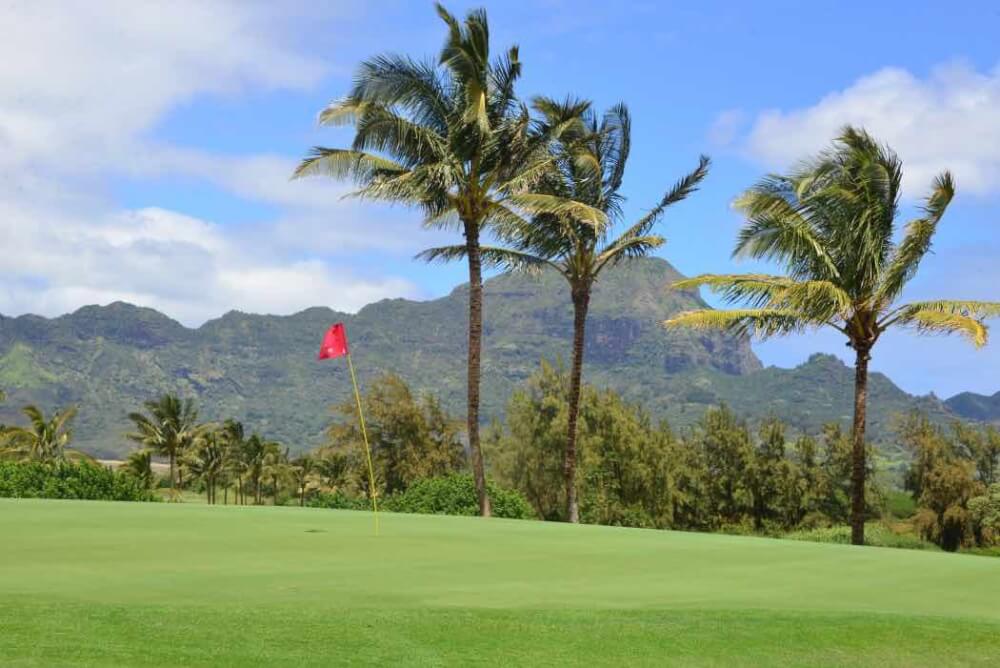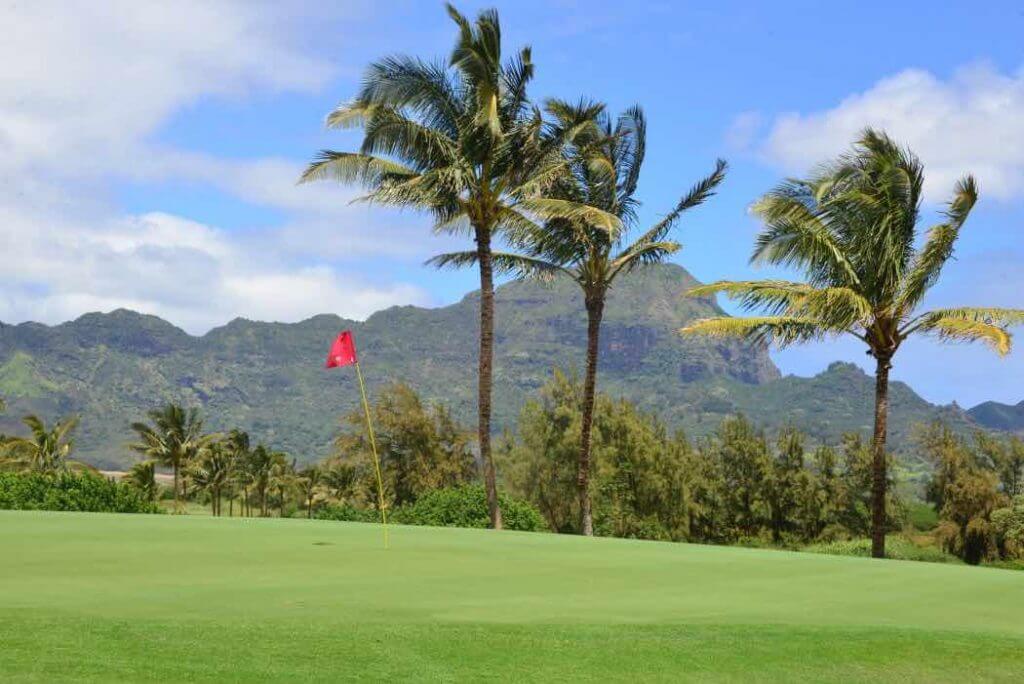 Kiahuna Golf Club is a challenging golf course that includes the remnants of an ancient Hawaiian village in its design. Plus, you can enjoy lunch at Paco's Tacos, a popular place to eat in Poipu.
If you are traveling to Kauai with kids who want to golf or are short on time, consider playing at Kukuiolono Golf Course. This semi-private 9-hole course in Kalaheo has 2 sets of tees for different skill levels.
And if you are looking for an oceanfront championship golf course, look no further than Poipu Bay Golf Course. You'll get breathtaking views and the chance to see Hawaii's state bird: the Nene Goose!
6. Shave Ice at Waikomo
While there are tons of places to get shave ice on Kauai, one of our favorite Poipu spots is Waikomo Shave Ice.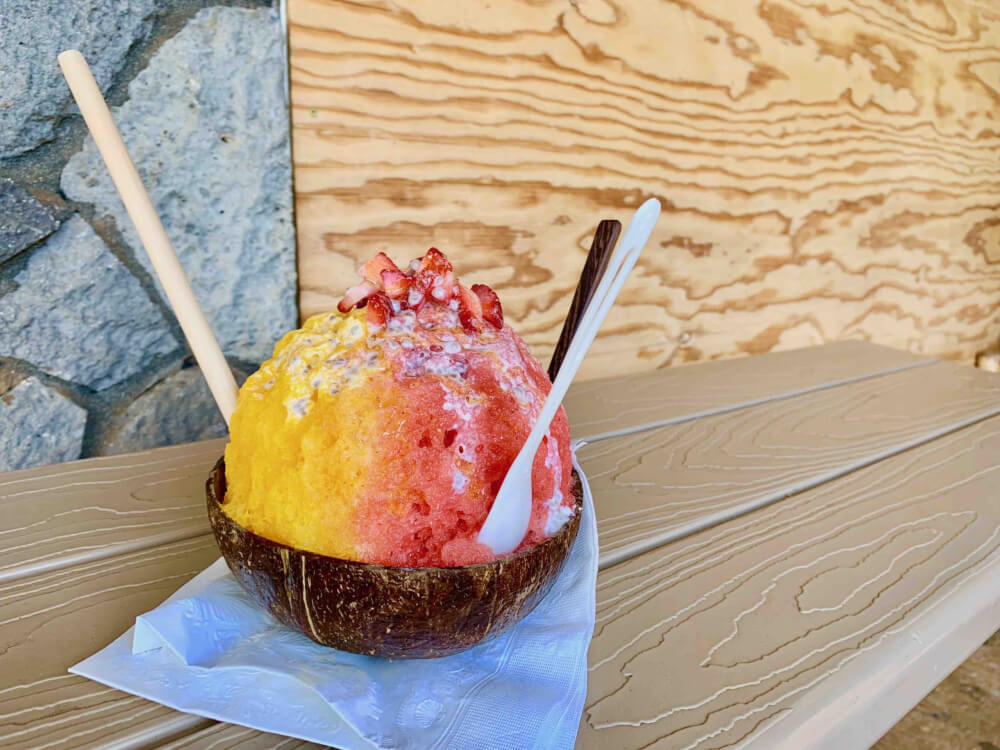 It's located in a little strip mall and it's easy to drive right past it. But, it's totally worth a stop! They have all-natural organic syrups and can top your shave ice with fresh fruit.
Plus, you can order your shave ice in a souvenir coconut bowl, which is a huge hit with kids!
If you love Hawaiian coffee, you'll definitely want to stop at Kauai Coffee. With more than 4 million coffee trees, they are the largest coffee grower in the United States!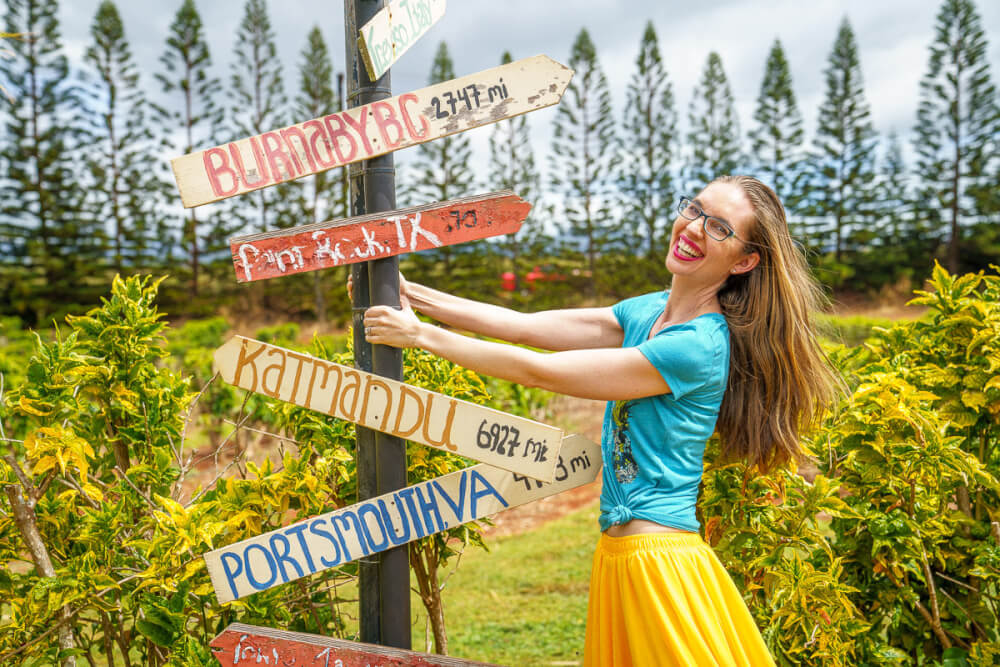 Stop by their estate to do a self-guided walking tour to learn more about how coffee is grown and harvested. And take a peek at their museum to see old photos and antique coffee machinery.
They also do an amazing Kauai coffee farm tour that is a fun way to explore the plantation.
But, the biggest reason to visit Kauai Coffee is to take advantage of their free coffee samples and to stock up on the ones you like! It's one of the best coffee shops on Kauai!
Plus, they have an amazing gift shop with a great selection of Kauai gifts and clothing.
Book a Family Photo Shoot
Whenever we travel to Hawaii, we almost always book a family photo shoot with Flytographer. They are super easy, affordable, AND it guarantees that I'll be in some photos. You can get $25 off if you book through this link or use the code HAWAIITRAVEL.
8. See a Free Hula Show
One of the best free things to do in Poipu is to see an authentic Hula dance show at Poipu Shopping Village.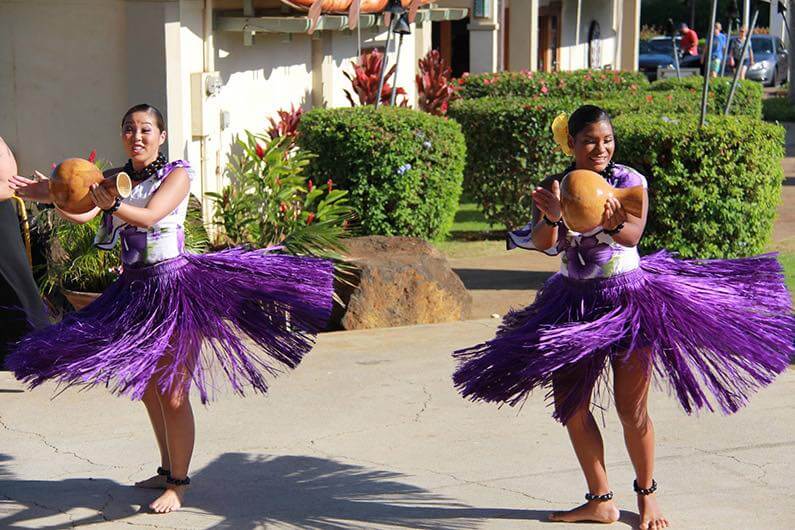 There's a little outdoor performance space in the middle of the shopping center where you can sit and listen to the exciting drum beats and watch professional hula dancers perform with live Hawaiian music.
It's fun for the whole family and it's perfect for kids who can't sit through an entire luau performance.
9. Spa Day
Head over to the Grand Hyatt Kauai and enjoy a luxurious spa day at Anara Spa, the largest spa on Kauai.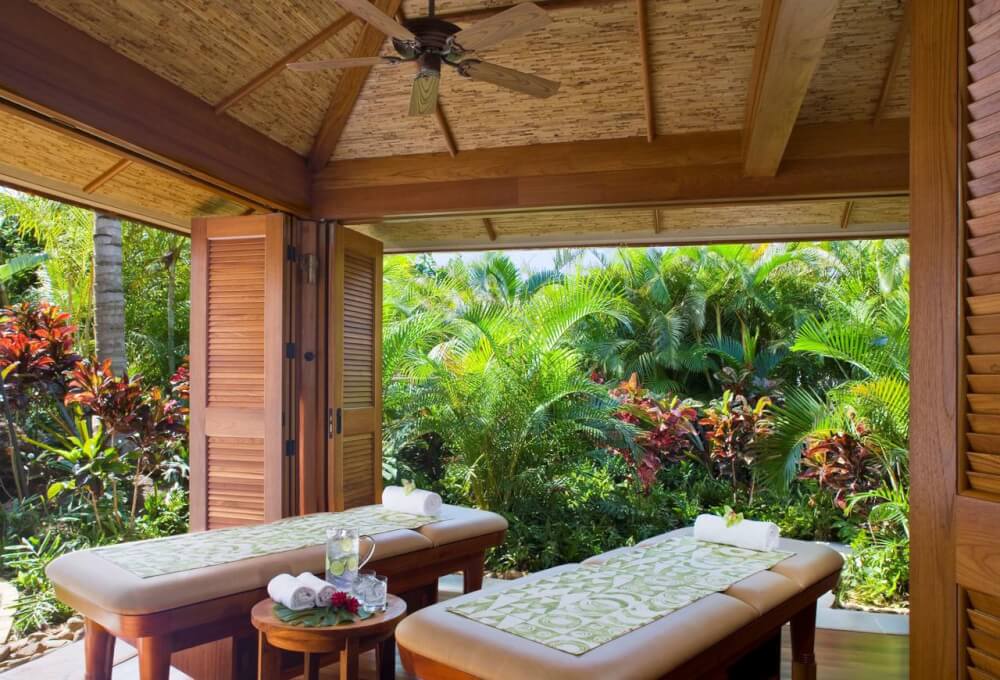 They incorporate traditional Hawaiian elements into their massages, facials, and body treatments. Plus, they have a full hair and nail salon.
You can even get a romantic couples massage in a private bungalow near the beach!
Hop in the car and drive about 1 hour to get to Waimea Canyon, one of Kauai's biggest attractions. It's nicknamed the "Grand Canyon of the Pacific" and it's simply stunning.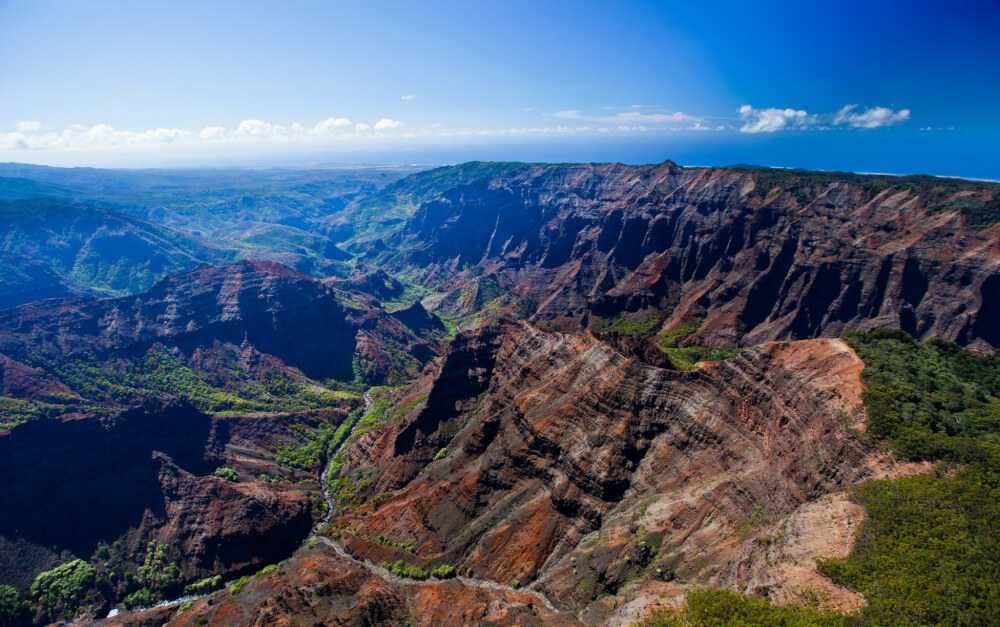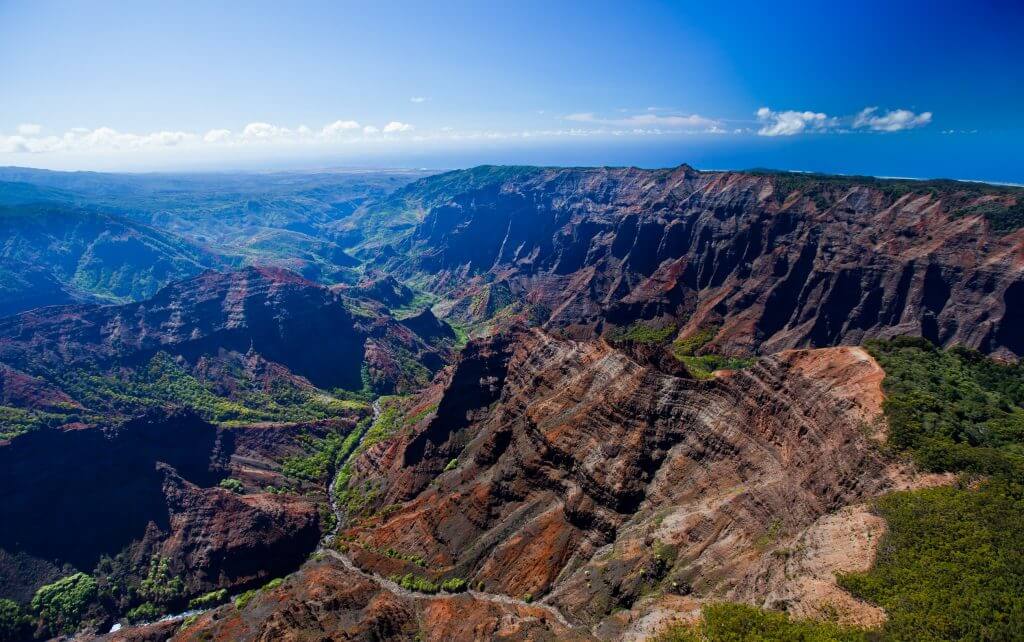 Park your car and head over to the viewing platform to get an epic view of the canyon and take your photos. You'll even be able to see a waterfall!
If you are looking for an adventure, there are tons of cool hiking trails to do there with lots of great photo ops. In fact, it's one of the top places for hikes near Poipu.
And if you don't want to drive, you can take a guided tour of Waimea Canyon. Check out the latest prices and more details.
11. Shop at Warehouse 3540
One of the trendiest places to shop on Kauai is Warehouse 3540. It's a space for local Kauai artisans to sell their handmade items, including clothing, beauty products, baby items, and artwork.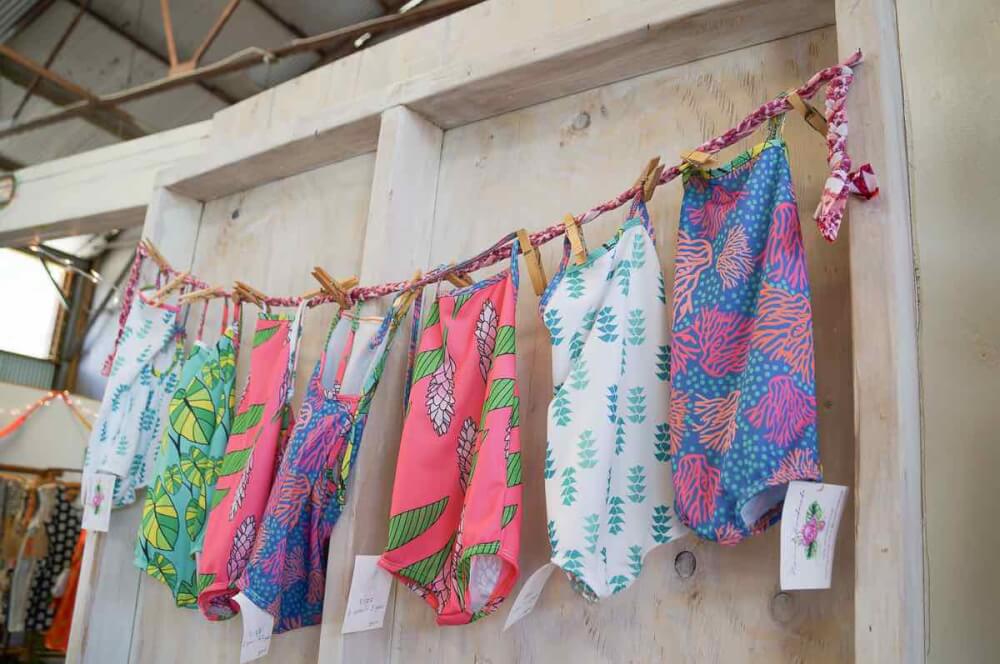 My favorite places include Navy Dylan, Take Two, and Hanako.
It's also an awesome place to grab lunch. They have several food trucks, including Kauai Poke Co. (which makes some of the best poke on Kauai!)
And they even have a shave ice stand called The Fresh Shave where they give you a little straw with a mustache!
12. Take Silly Photos at the Hawaiian Trading Post
One of my favorite places to go on Kauai is the Hawaiian Trading Post in Lawai. It's just down the street from Warehouse 3540 and it's a store that sells Hawaiian gifts and the highly coveted Niihau shell necklaces.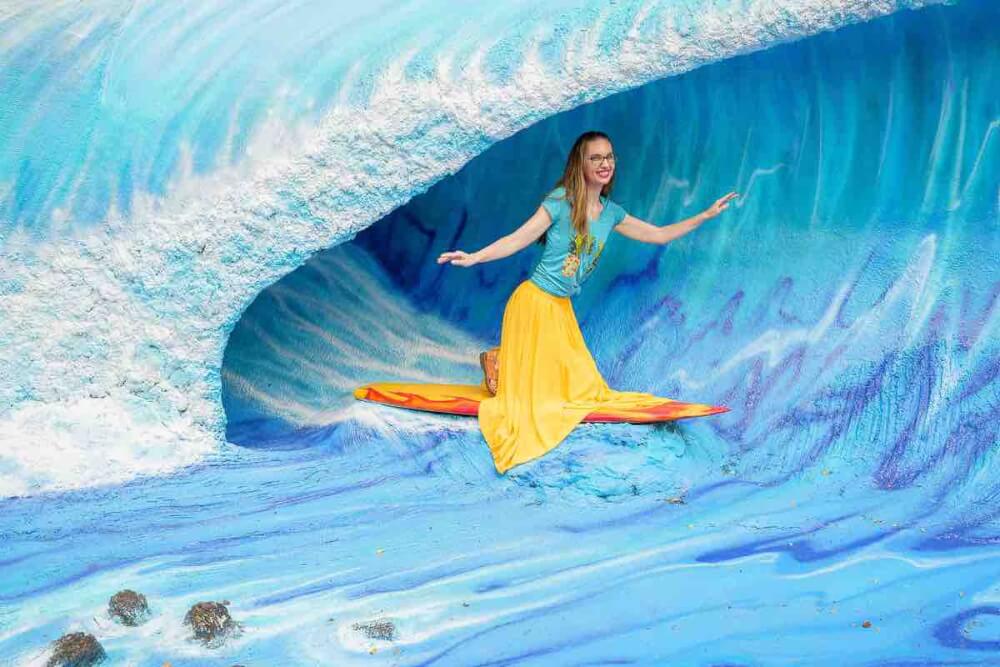 However, we mainly go there to take advantage of the awesome photo ops!
There's a surfboard and fake wave setup that's always a hit with my kids. Plus, there's a giant pineapple, tiki statues, and a beach scene with Adirondack chairs.
It's definitely one of the most Instagrammable spots on Kauai!
13. Go to a Luau
If you are staying in Poipu, there are several Kauai luaus that don't require a very long drive.
The Grand Hyatt Kauai has its own on-site luau with an assortment of Asian and Hawaiian food, plenty of drinks, and an incredible show featuring dances from Tahiti, Samoa, New Zealand, and Hawaii.
One of the newest luaus on Kauai is Auli'i Luau at the Sheraton Kauai Resort. This is Kauai's only oceanfront luau and people love the tropical cocktails, buffet dinner, and amazing Polynesian show.
For a cutesy and historic place to shop, head to Old Koloa Town. These sugar plantation-era storefronts are perfect for window shopping or picking up a few gifts to bring back home.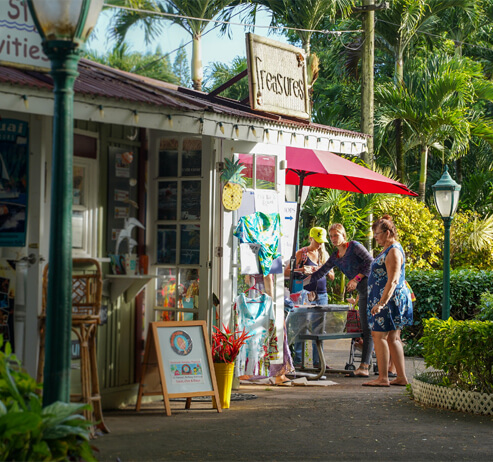 Some of my favorite Old Koloa Town shops are Koloa Trading Post and Emperor's Emporium for souvenirs and Crazy Shirts for adult and kids clothing.
They also have a nice coffee shop called Aloha Roastery where you can get a specialty coffee to sip as you walk around the shops.
One of the most jaw-dropping sights on Kauai is the Na Pali Coast. It's not accessible by car, so you either need to hike in or take a helicopter ride to see it.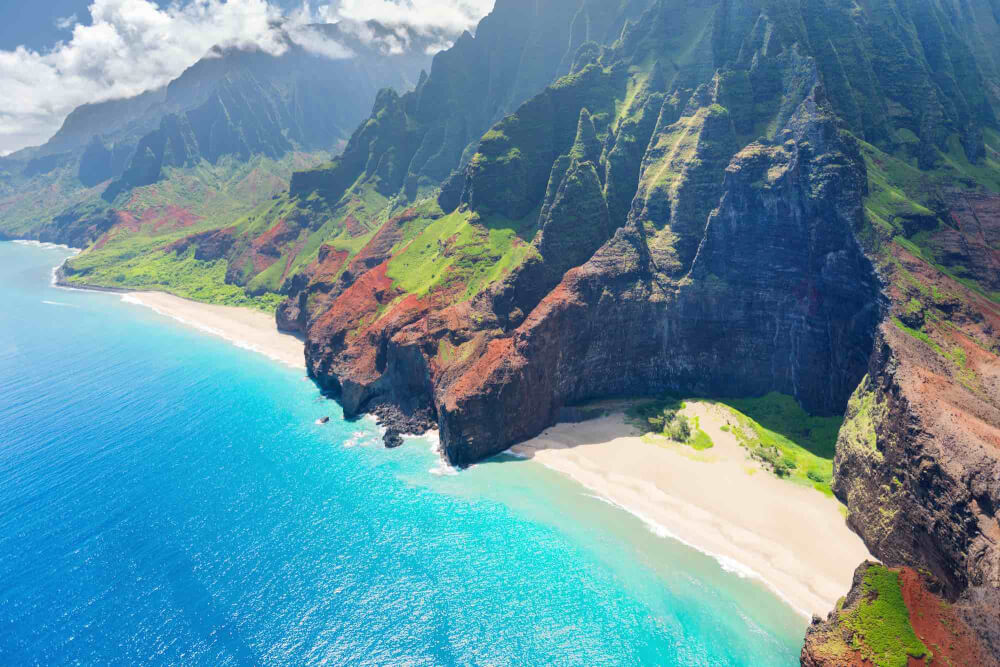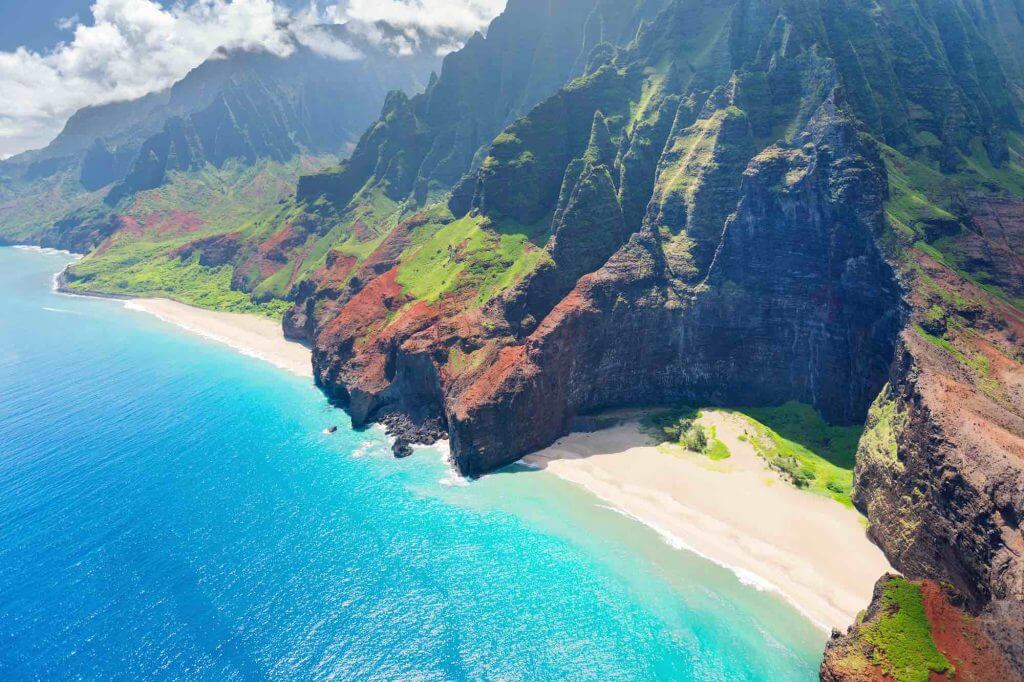 However, my favorite view of the Na Pali Coast is actually from the water.
There are a bunch of different Na Pali Coast boat tours, but I suggest doing a snorkeling cruise. That way, you can still gaze at the jagged sea cliffs, lush green valleys, and waterfalls, but you can also get in the water to see dolphins and Hawaiian sea turtles! Check out the latest prices and more details.
Book your Na Pali Coast Snorkel Boat Tour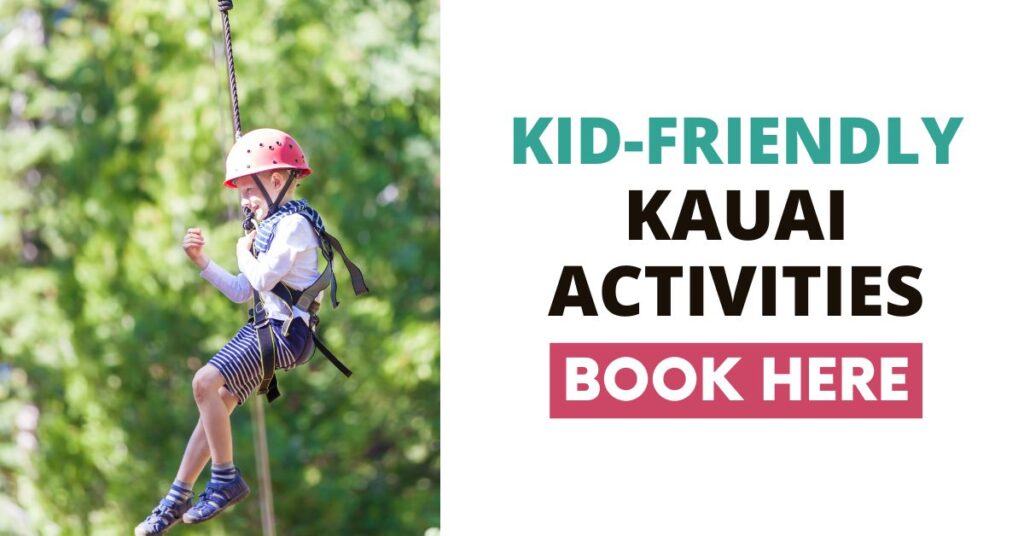 Another fun thing to do on Kauai is going ziplining. You'll get an adrenaline rush as you fly over the jungle to get amazing views of Kauai. Check out the latest prices and more details.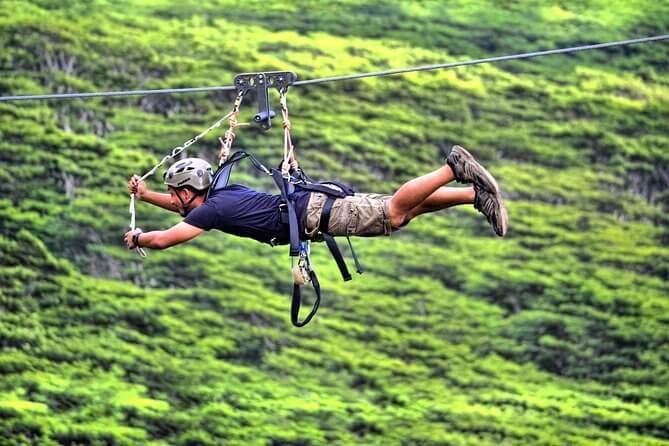 The longest zipline on Kauai is in Koloa. They have 8 different zipline tracks where you can either use handlebars or their hands-free harness (which allows you to do acrobatic stunts!) This is by far one of the best things to do in Koloa.
Book your Koloa Zipline Adventure
If you are looking to swim in one of the most private waterfalls on Kauai, while going on a thrilling adventure, hop in an ATV for the ride of your life! Check out the latest prices and more details.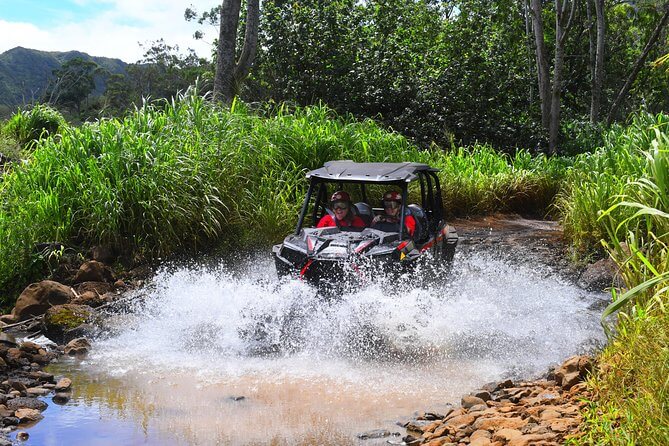 You'll pop on some goggles and a helmet and drive through historic sights like WWII bunkers, movie sites in Kipu Valley, before heading to a small waterfall at the base of Kahili.
You'll have plenty of time to swim in the waterfall pool while chatting with your tour guides and enjoying a small snack.
Be prepared to get super dirty with Kauai's infamous red dirt!
Book your Kauai ATV Waterfall tour
Two of the prettiest places on Kauai also happen to be part of the National Tropical Botanical Garden network.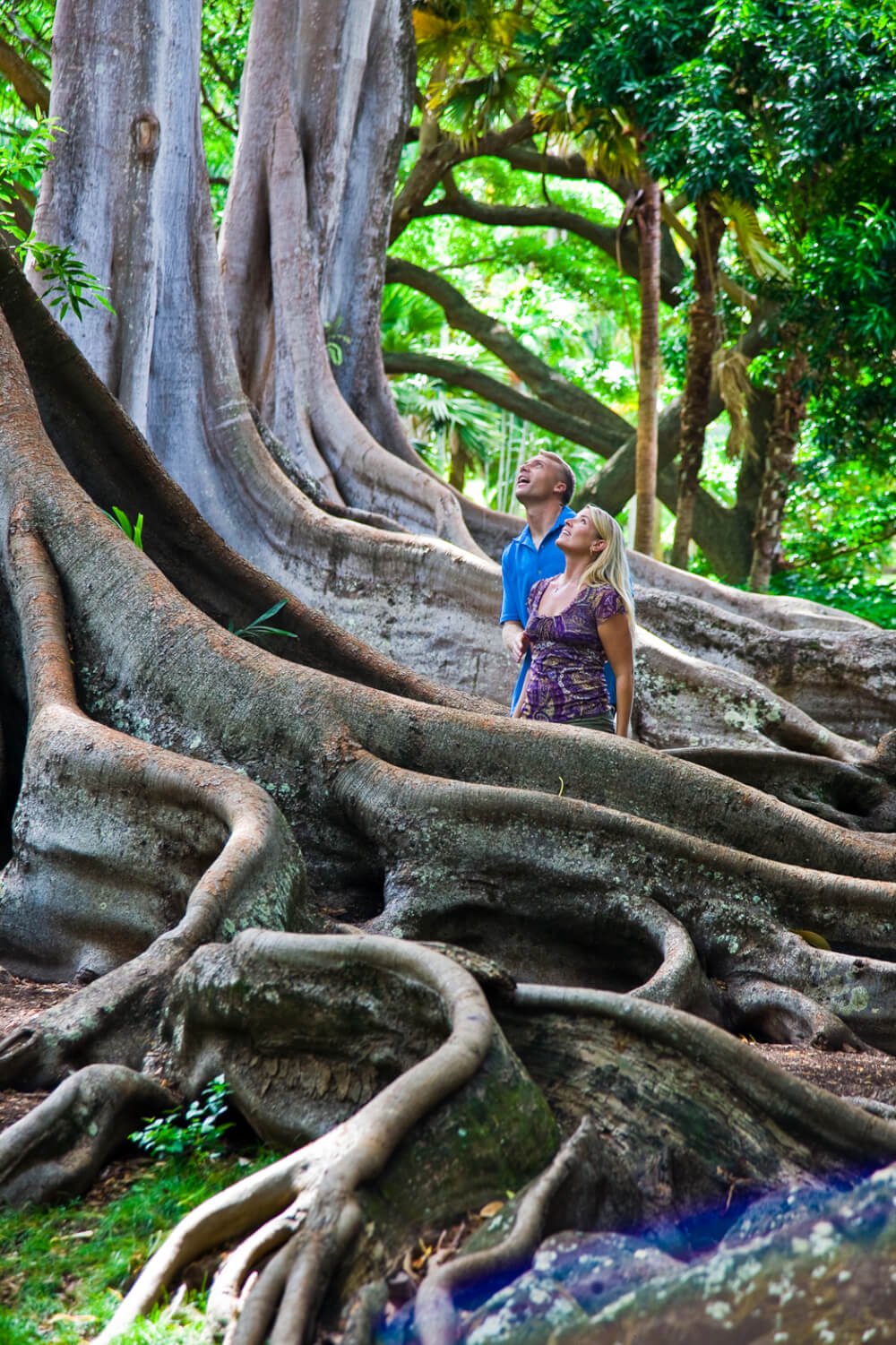 Allerton Garden and McBryde Garden are located right next to each other in Poipu. You can walk around the gardens on one of their easy trails or hop on their little tram for a tour. Check out the latest prices and more details.
And movie fans will love seeing the huge Moreton Bay Fig Trees from Jurassic Park!
They even offer hula shows and outdoor movies from time to time, so check their events schedule.
If you are heading to Kauai during the winter months of December-May, you are in for a real treat! This is when the humpback whales come to Hawaii!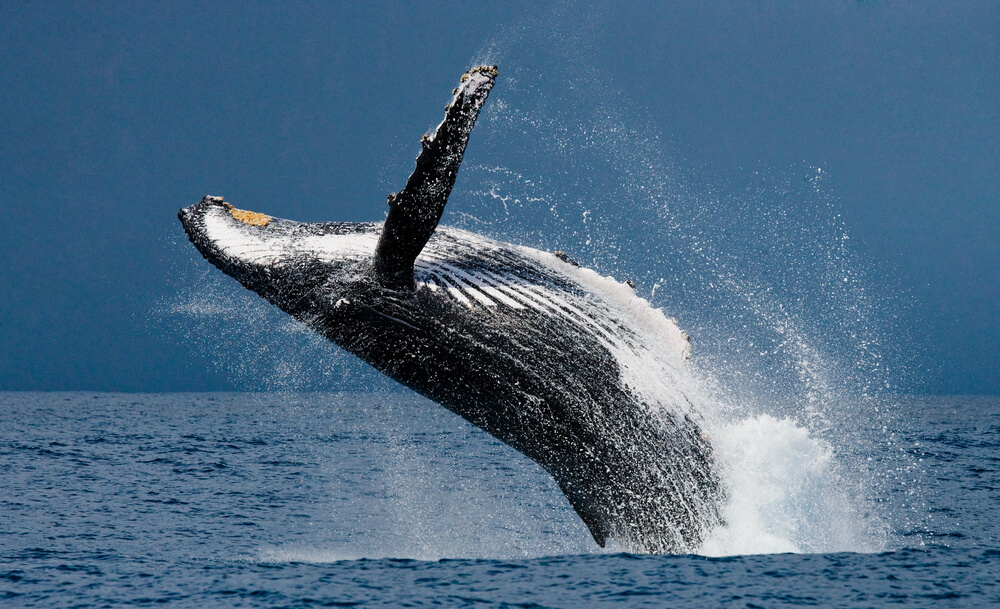 There are tons of Kauai whale watching tours and excursions to choose from and this is sure to be a highlight of your trip to Kauai in the winter. Check out the latest prices and more details.
Listen to their sweet whale songs or simply watch these majestic creatures pop up from the ocean.
Book your Kauai Whale Watching tour
21. Learn to Surf
What's more iconic than learning to surf in Hawaii? You can rent a board and do it on your own or learn to surf from a professional.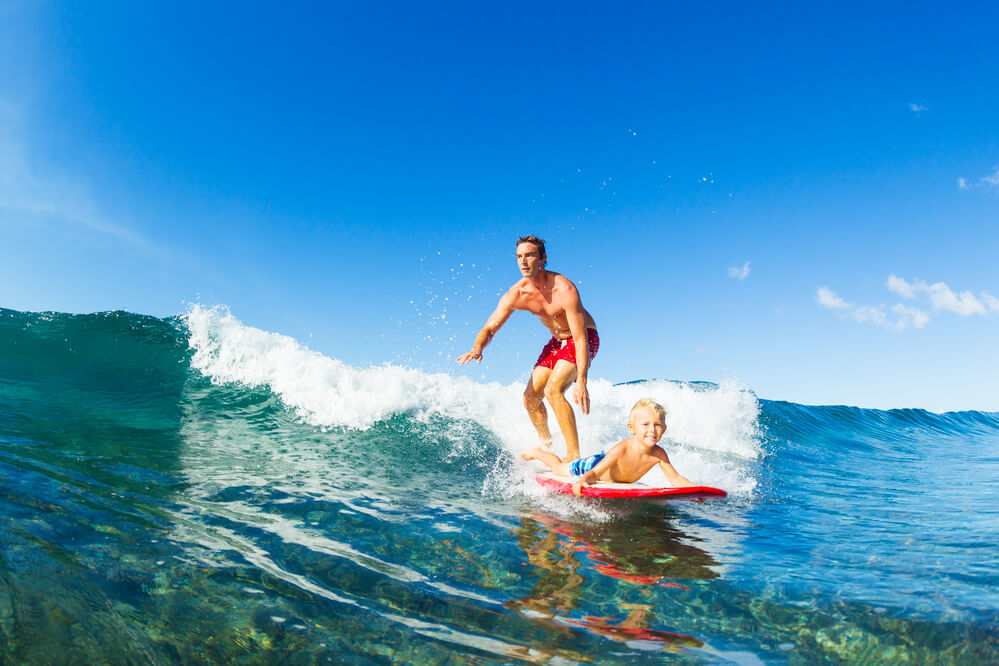 While there are lots of Kauai surfing lessons, most are offered at the exact same time. That's why I suggested booking one at "odd" hours to avoid other surfing groups. And booking a small group tour for lots of attention. Check out the latest prices and more details.
Poipu is a great place to learn to surf in Hawaii for adults, teens, and kids because the waves are very gentle.
Book your Kauai Group Surfing Lessons
Did you know Kauai has an active dig site? Book a Makauwahi Cave Tour and head on a private hiking tour with a local guide. Check out the latest prices and more details.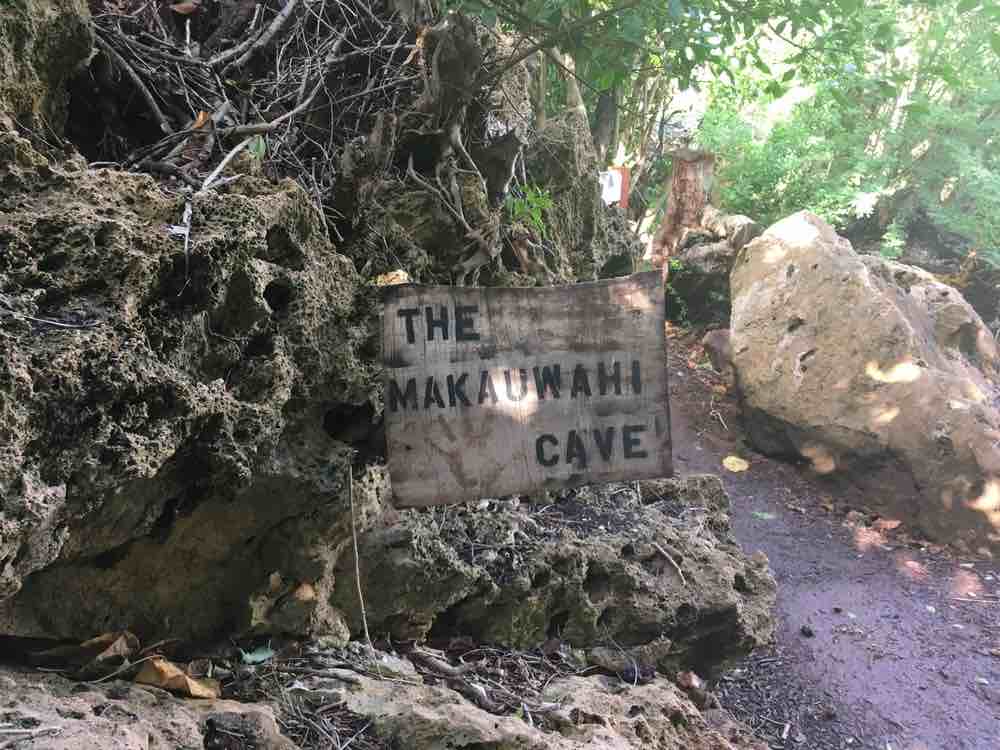 Your guide will tell you all about the cave and Hawaiian history, plus you'll have the option to add on snorkeling to your tour.
Book your Makauwahi Cave Tour
We all know Hawaii is known for its amazing sunsets, so why not get out there on the water and see for yourself?
Book a Na Pali Coast sunset cruise and they will provide dinner and drinks while you take in the beautiful rugged Kauai coastline. Check out the latest prices and more details.
And if you book this during winter, you might even get to see humpback whales!
Book your Kauai Sunset Cruise
24. Hike in Kokee
Another fun Kauai day trip from Poipu is Kokee State Park. It's one of the best Kauai parks and it's located next to Waimea Canyon.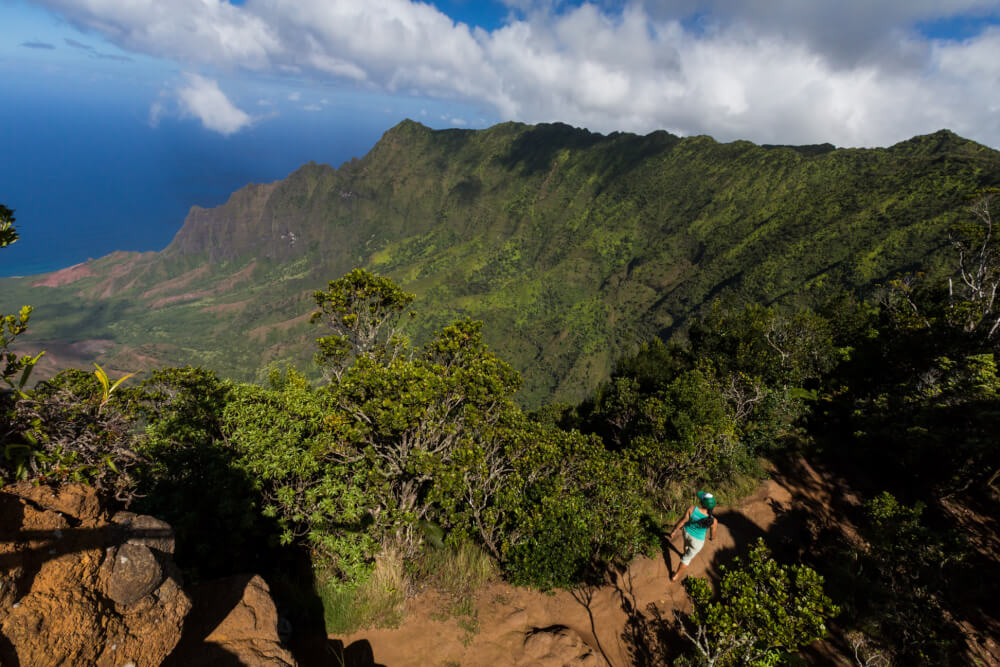 You'll just head up the road a bit more and you'll find yourself in the peaceful (and sometimes misty) forest.
There are hikes for all ages and abilities. You can take a simple nature walk (perfect for kids) or do a much more extensive hike like the super muddy Alawai Swamp hike (for serious hikers wanting epic views of Hanalei Valley.)
Want to go scuba diving in Hawaii but don't have your scuba diving certificate? First-time divers can book a PADI Discover Scuba Diving course where you can get introductory scuba diving skills. Check out the latest prices and more details.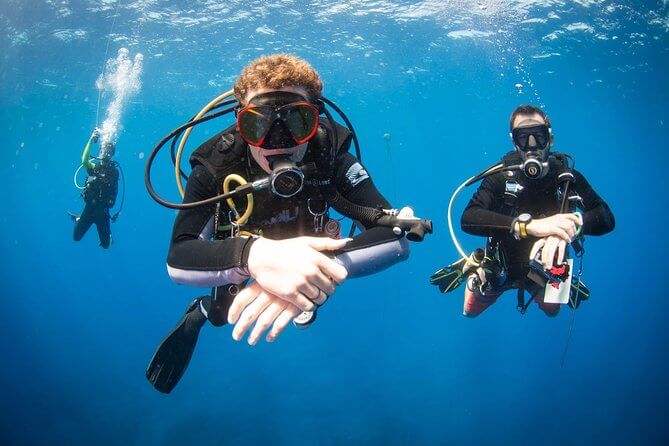 It's a 4-hour experience with certified instructors that will count toward a PADI Open Water Certification (if you choose to pursue that.)
Plus, you'll get to go face to face with Hawaiian Green Sea Turtles!
Book your Kauai Scuba Diving adventure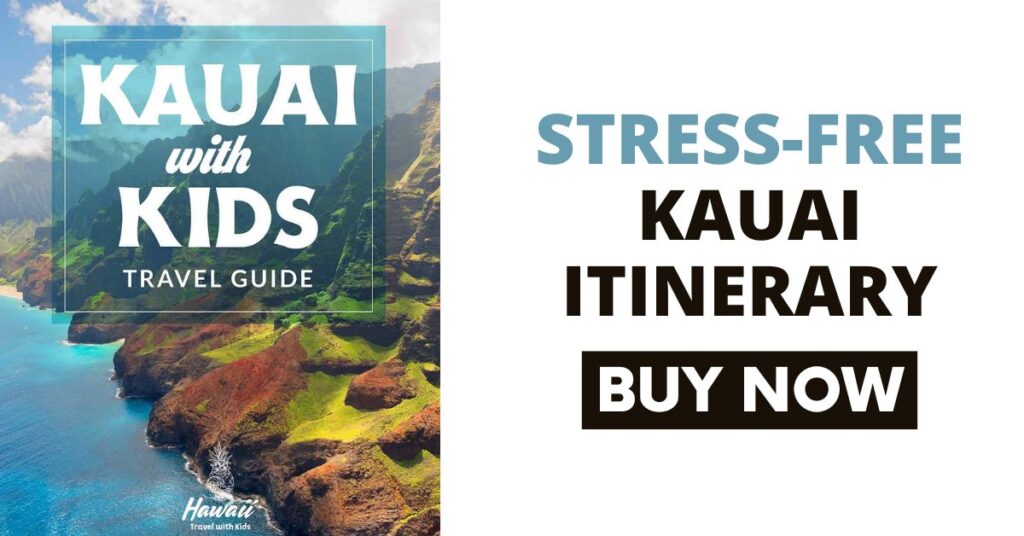 Best Places to Stay in Poipu
One of the best Poipu resorts is the Grand Hyatt Kauai. It's perfect for honeymooners, families with young kids, or couples looking for a relaxing vacation. Check out the latest prices and more details.
They have tons of swimming pools, the largest spa on Kauai, an on-site luau, and several restaurants.
This Kauai resort is part of the Autograph Collection of boutique hotels. Here, you can rent anything from a studio unit to a 4-bedroom unit. Check out the latest prices and more details.
They also have a 350,000-gallon swimming pool and they are just a few steps away from The Shops at Kukui'ula. Read my full Koloa Landing Resort review.
If you are looking for a more budget-friendly place to stay on Kauai, check out The Point at Poipu. Check out the latest prices and more details.
This family-friendly oceanfront resort overlooks Shipwreck Beach. They have a large outdoor pool, BBQ grills, and picnic areas.