Are you in the early stages of planning a Maui family vacation this year? Keep scrolling for my kid-friendly 5 days in Maui itinerary!
This 5 days in Maui itinerary contains affiliate links which means if you purchase something from one of my affiliate links, I may earn a small commission that goes back into maintaining this blog.
My family has been vacationing on Maui for years. We've done it with babies, toddlers, preschoolers, and elementary aged kids.
Because people know that we love going to Maui with kids, they often send me their proposed Maui itinerary to see if they are missing anything.
Most of the time, I find that people are trying to cram WAY too many things into each day.
We all know how unpredictable kids can be. Add in jet lag and a tight schedule and you have a recipe for a very stressful family vacation.
You don't want to spend thousands of dollars and not have an epic Hawaiian vacation.
In this post, I break down exactly how to spend 5 days in Maui with kids without overdoing it.
You'll find out some tasty (and kid-friendly) Maui restaurants, fun beaches, awesome attractions, and lots of Maui family activities.
I even include some optional activities for families who want to have a solid backup plan if kids are in a good mood.
Plus, I'll even give you a few top Maui resorts for families worth checking out!
Don't have time to read a bunch of Hawaii blog posts and reviews? Here are some of our top picks for visiting Maui with kids.
Best Kid-Friendly Maui Tours/Activities
Best Kid-Friendly Maui Resorts
Hyatt Regency Maui (this has the BEST pool area and on-site shave ice stand)
Honua Kai Resort & Spa (this is one of our personal favorites because there are tons of pools and there are condo options)
Fairmont Kea Lani (this is a swanky resort with incredible kids' programming and an awesome pool area)
Want to Rent a Car in Hawaii?
One of the best places to rent a car in Hawaii is Discount Hawaii Car Rental because they get the best rates from top national companies like Alamo, Dollar, Thrifty, Avis, Enterprise, Budget, and Payless.
Want to skip all the planning and just access my detailed Maui Itinerary complete with daily schedules, kid-friendly activities, and travel hacks? Click the button below.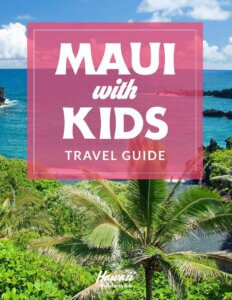 5 Day Maui Itinerary FAQs
Is 5 days in Maui enough?
If you are heading to another island, 5 days is a good amount of time to spend on Maui. The best Hawaii vacation is usually 7-10 days (or longer, if you can swing it!)
What's the best month to go to Maui?
Usually, it's best to visit Maui during shoulder season (mid-April to June in the Spring or September to mid-December in the Fall.) This is when the weather is pretty mild and you can get great Maui vacation deals.
Is the Road to Hana worth it?
Honestly, it's one of my favorite things to do in Maui! There are lots of kid-friendly stops along the way and plenty of places to get fresh fruit, banana, bread, shave ice, and more. The views are stunning!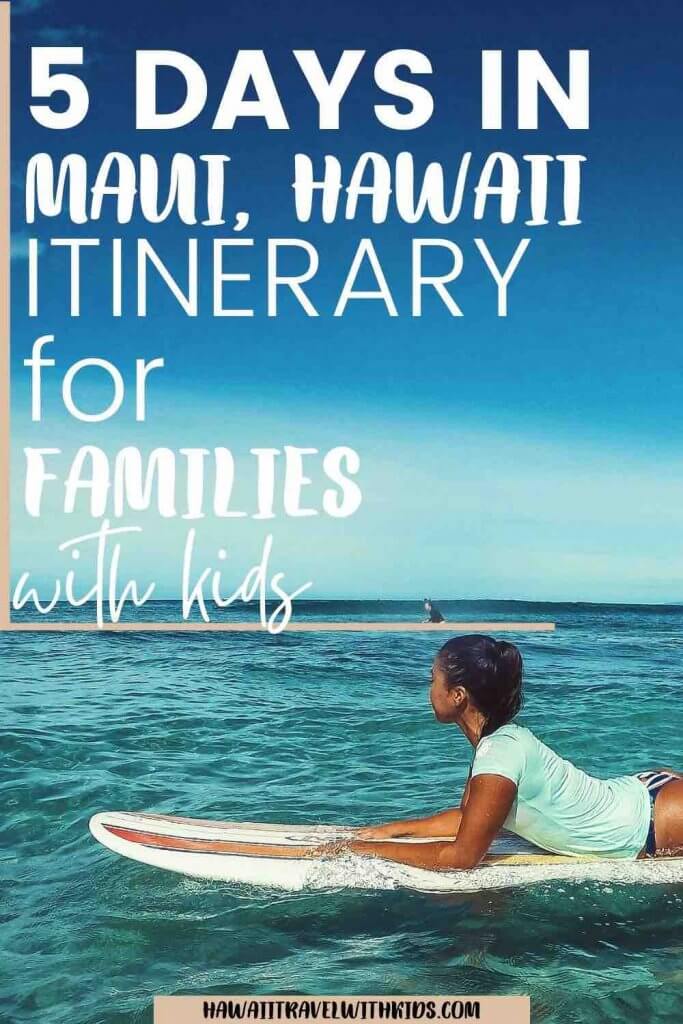 5 Days in Maui Itinerary
Arrival Day:
Flights from the Mainland typically arrive on Maui in the early afternoon. So, you'll probably have a few hours to get settled in your hotel.
Pick up Your Rental Car
Wondering if you need to rent a car in Maui? The answer is YES.
For this 5 day Maui itinerary, you'll be exploring parts of Maui that aren't easy to get to with public transportation. And Uber on Maui isn't super reliable.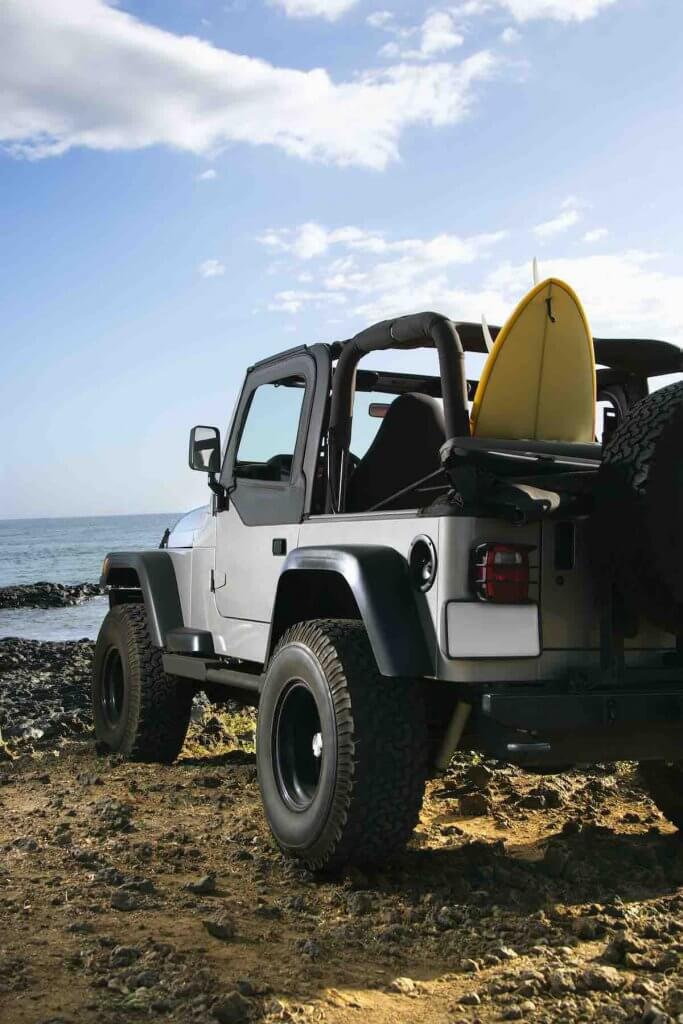 So, you'll want to reserve your rental car before your trip so you can pick it up as soon as you land.
We all like to save money while we travel, right? Well, we've found that we can usually save a lot of money by booking through Discount Hawaii Car Rentals.
Basically, they get screaming deals on rental cars from top companies like Alamo, Dollar Car Rental, Avis, Thrifty, Enterprise, Budget, and Payless. Check out the latest prices and more details.
And, you'll want to bring your own car seats or booster seats to ensure they are the right fit for your child.
Grab Essential Groceries
After you have your rental car, take a few moments to pick up food, snacks, and drinks while you are in Kahului.
Just a few minutes from the airport, you'll find Costco, Walmart, Target, and several grocery stores.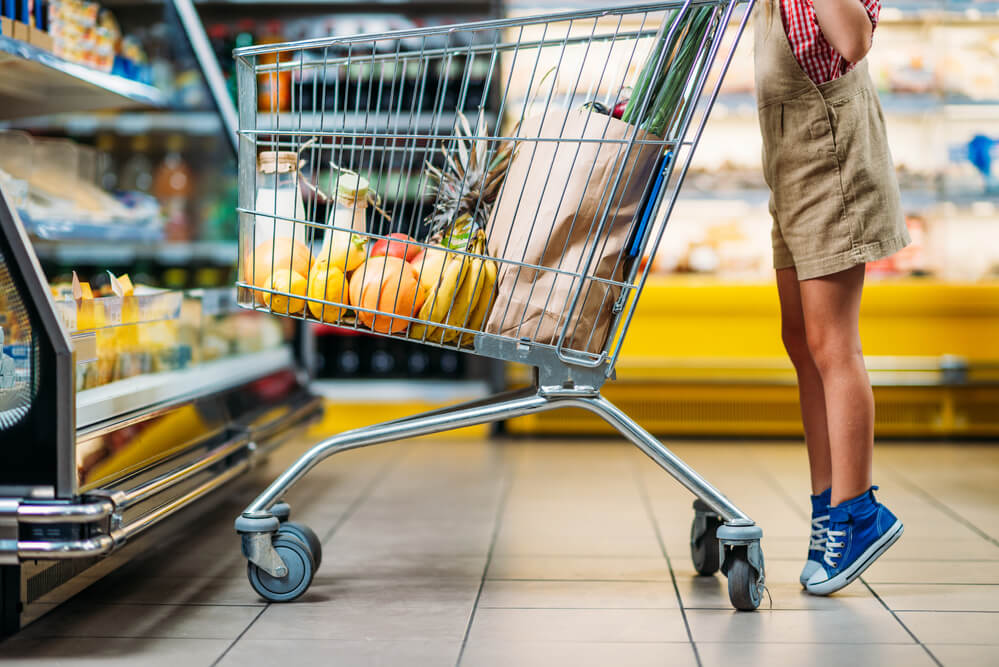 We usually get breakfast items, milk, Hawaiian juice, snack items that don't melt, and a few treats.
If you are planning on cooking meals during your trip or making sandwiches, this is a great time to get all that stuff. You won't want to waste vacation time going grocery shopping later in your trip.
Insider tip: If you're getting lots of cold items, invest in a small soft-sided cooler to keep your groceries fresh in the air. It will also come in handy to keep food cold in the car throughout your trip.
And this is also a good time to buy any inflatable pool toys or sand toys you might want.
Check into Your Hotel
Now it's time to head to your hotel or vacation rental. It might take some time to unload kids and suitcases, find your room, park the car, etc.
While it might be tempting to try to book a tour or plan an excursion during this time, I don't recommend it.
Your flight might be delayed, there might be a long line at the car rental, you might hit traffic, etc. The last thing you want is the extra stress of falling behind on your itinerary.
Instead, think of any free time you have as "bonus time." We usually like to use our bonus time to play in the pool, sit out on the lanai, or walk to a nearby beach.
Early Dinner
Because of the time change (Hawaii is 2-3 hours behind the West Coast), your family will probably feel a bit sleepy as it gets close to dinner time.
So, I suggest having an early dinner somewhere close to your hotel.
And, don't stay out too late because you have an early day tomorrow!
Find out where to get good sushi on Maui!
Maui Itinerary Day 1: Haleakala National Park + Upcountry Maui
If you are flying from the Mainland, you will be waking up early due to the time difference. Might as well take advantage of it.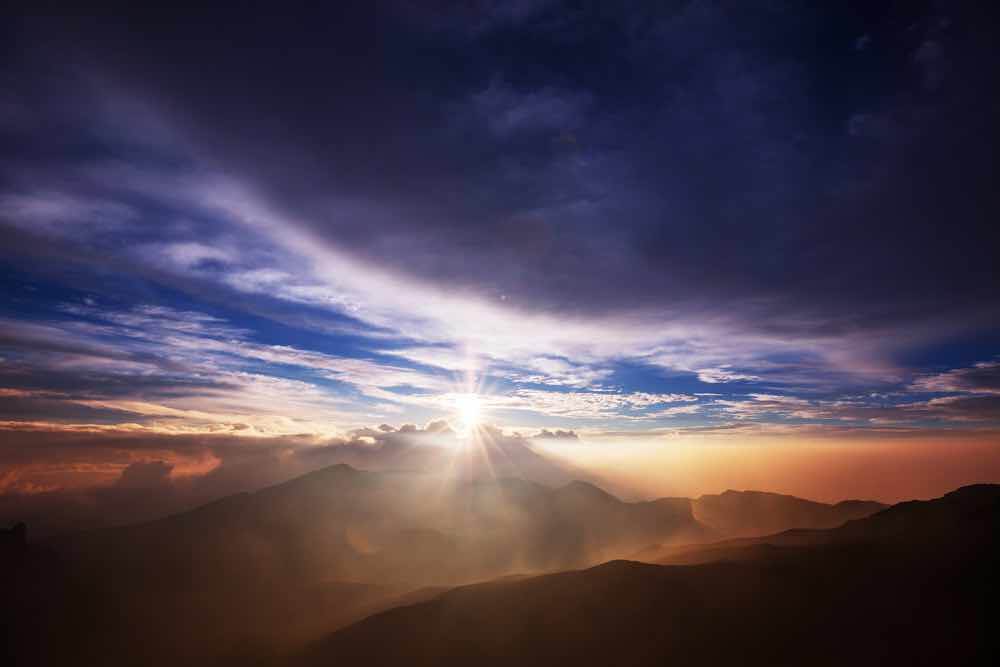 One of the best things to do on Maui is experience the sunrise at Haleakala National Park. People equate it to a religious experience.
If you're staying in West Maui, you'll need to leave your hotel by about 3:30 a.m. in order to get to Haleakala before sunrise. Eat breakfast in your room or bring food with you.
It's going to be super chilly up at Haleakala Crater, so be sure to wear warm clothes (or grab a few blankets from your hotel.)
You can definitely drive up on your own. There's even a cool audio tour you can download to hear stories and legends about Haleakala. Find the best prices here.
The nice thing about driving up on your own is that you can take your time exploring the visitor's center and go hiking in the park.
But some families prefer taking a guided tour. Here are some top options:
RECOMMENDED HALEAKALA TOURS
Haleakala Sunrise Guided Bike Tour: Geared for ages 12 and older, this tour will pick your family up from your hotel and take you to the top of Haleakala. Then, you'll bike down the mountain after sunrise. Check out the latest prices and more details.
Self-guided Haleakala Bike Tour: This one is also geared for ages 12 and older. You'll park at Haiku and they will drop you off at the top of Haleakala, where you can take your time riding down the mountain. Check out the latest prices and more details.
If you can't get there in time for sunrise:
If waking up this early just isn't in the cards for your family, don't worry. I'd still suggest you visit at some point in the morning because it truly is remarkable, even after sunrise.
Get all my Haleakala National Park tips!
Surfing Goat Dairy (optional)
If you have young kids who like farm animals, there's the Surfing Goat Dairy that is at the base of Haleakala.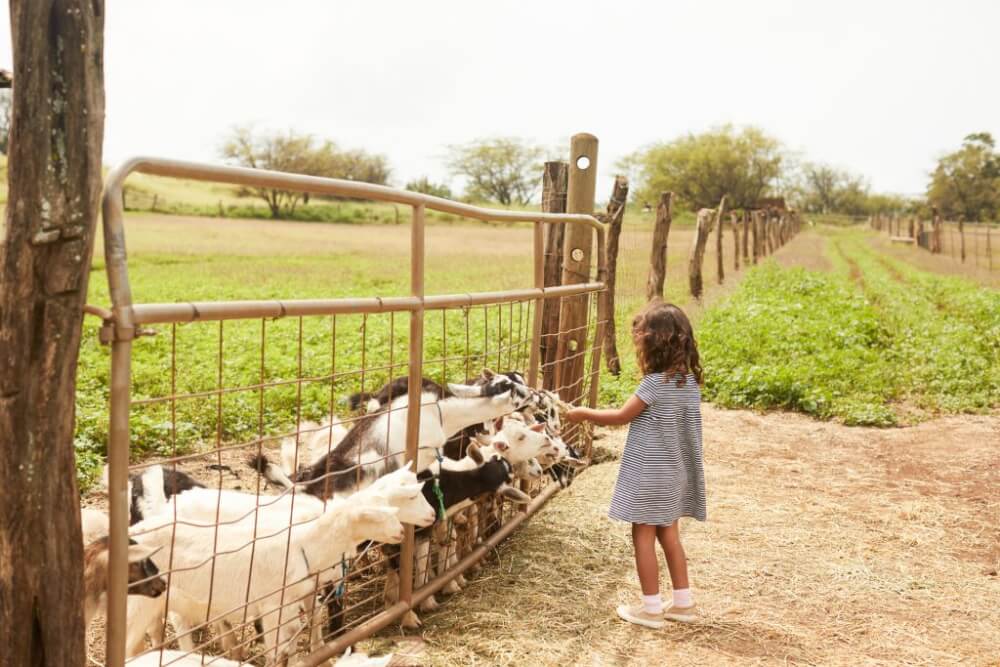 They have some farm tours where you can play with the goats and sample goat cheese.
They are usually open Tuesday-Saturday from 10am-4pm, so the timing might work out depending on how long you spend at Haleakala National Park.
Kula Botanical Garden (optional)
Another Maui activity that is located near Haleakala is the Kula Botanical Garden. It's a really pretty spot and they have easy walking trails that kids can handle.
They even have some animals on site (like chameleons and birds) that kids might get a kick out of seeing.
They are usually open 9am-4pm, so the timing should work to visit right after Haleakala.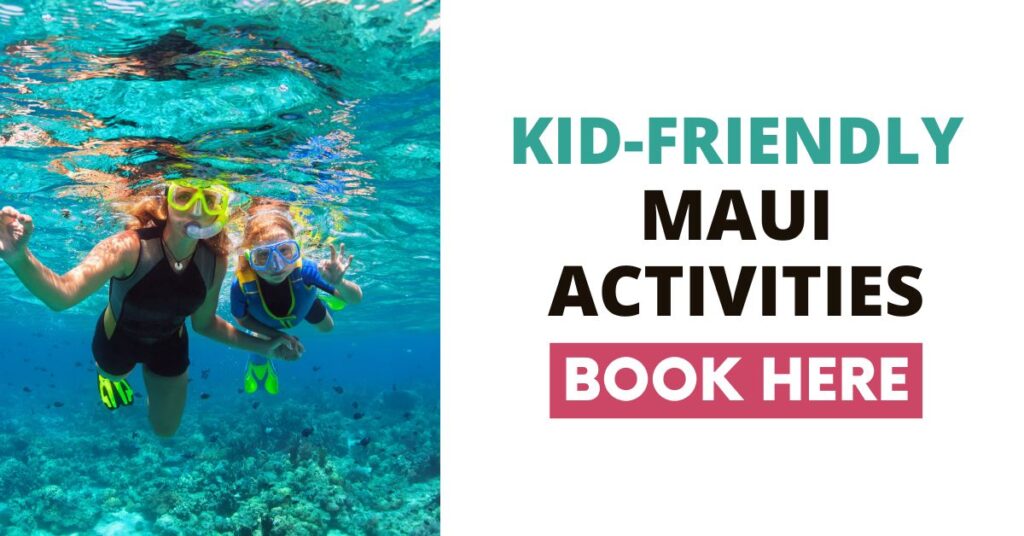 Lunch at Ulupalakua Ranch
While you are driving around Upcountry Maui, a great lunch spot is Ulupalakua Ranch.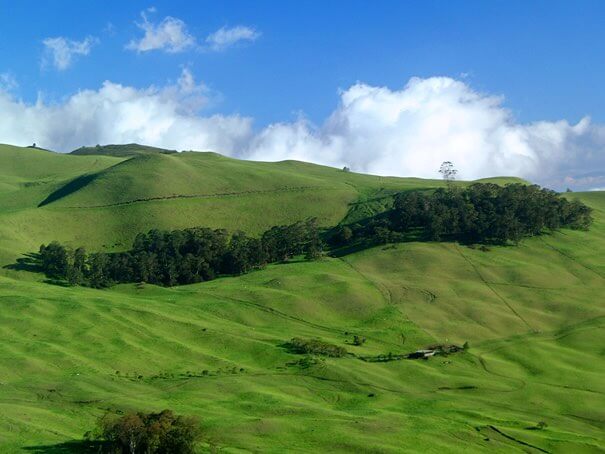 They have a general store filled with all kinds of cool merchandise, but they also have a grill where they can make burgers to order.
There's a nice outdoor area to eat and get a first-hand feel for Hawaiian cowboy (paniolo) life.
Plus, there's a winery across the street with wine tasting available. The grounds are perfect for kids to run around and explore.
Swimming at Your Resort
At this point in the day, your family is probably a bit tired of driving around and exploring, so it's a good idea to head back to your hotel.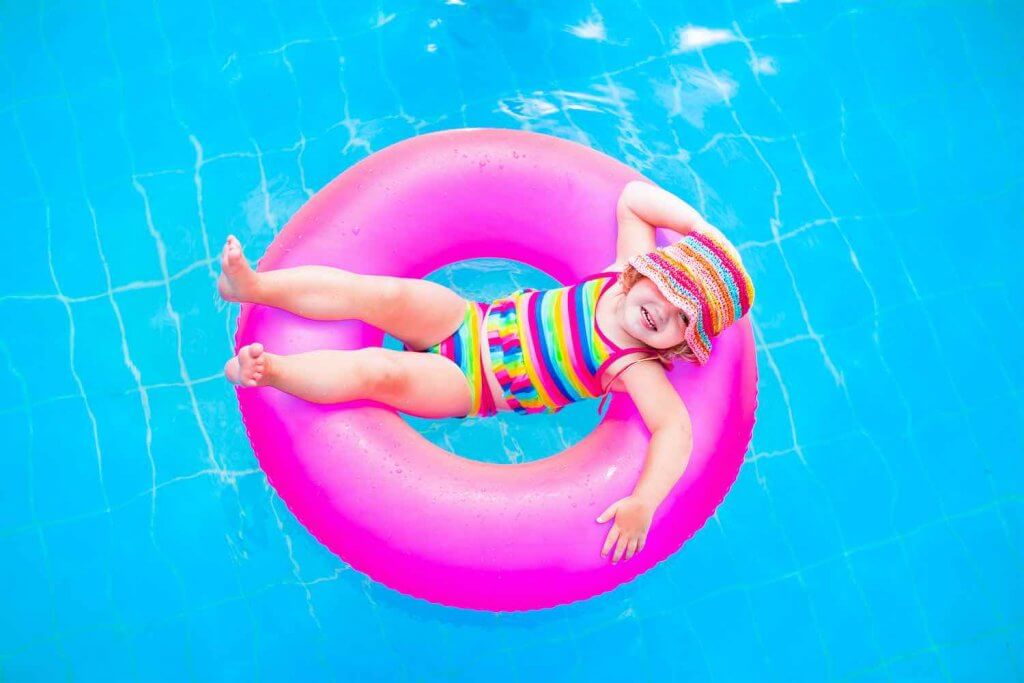 Grab your swimsuits and hit up the hotel pool for a while.
It's also a great time for younger kids to nap (if they didn't fall asleep in the car) and for parents to get some rest.
Dinner Options
After you've gotten cleaned up from playing at the pool, it's time to start thinking about dinner.
These are a few kid-friendly places to eat on Maui that are always a hit.
Hula Grill: This Kaanapali restaurant offers a mix of American food with an island twist. There's a full kids menu and you'll want to save room for their famous Hula Pie.
Cheeseburger in Paradise: Their flagship location is in Lahaina on Front Street. They have a kids menu and it's an awesome spot to watch the sunset on Maui.
Monkeypod Kitchen: With locations in both Wailea and Kaanapali, this is a top kid-friendly Maui restaurant. They use local ingredients and have a good kids menu. Plus, they make the BEST Mai Tai!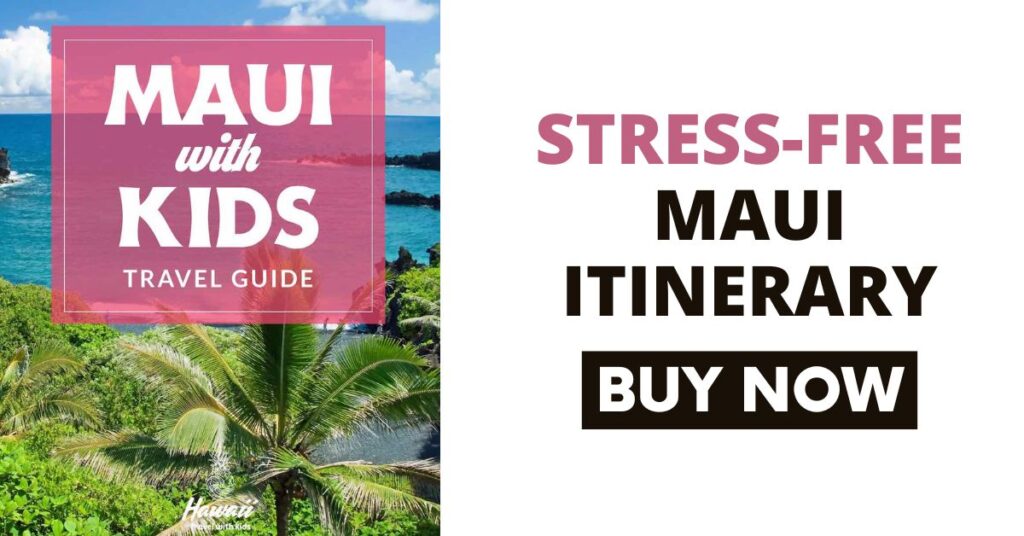 Maui Itinerary Day 2: Lahaina
Breakfast at Leisure
After such an early morning yesterday, treat yourself to a lazy morning today. You can either eat an easy breakfast in your hotel, or go out for a Hawaiian breakfast.
MAUI BREAKFAST RECOMMENDATIONS
Kihei Caffe: This is a great option if you're staying in Kihei or Wailea. They have an awesome breakfast menu including whale-shaped pancakes for kids!
Slappy Cakes: You can make your own Hawaiian pancakes at your table, which is pretty fun! They also have items like Loco Moco and Eggs Benedict.
Island Vintage Coffee: This is where you can grab a fresh acai bowl, breakfast sandwich, or bagel. Plus, they make outstanding coffee!
Walk Around Front Street
Front Street is the main drag in Lahaina. This is where you'll find lots of shops, restaurants, and attractions.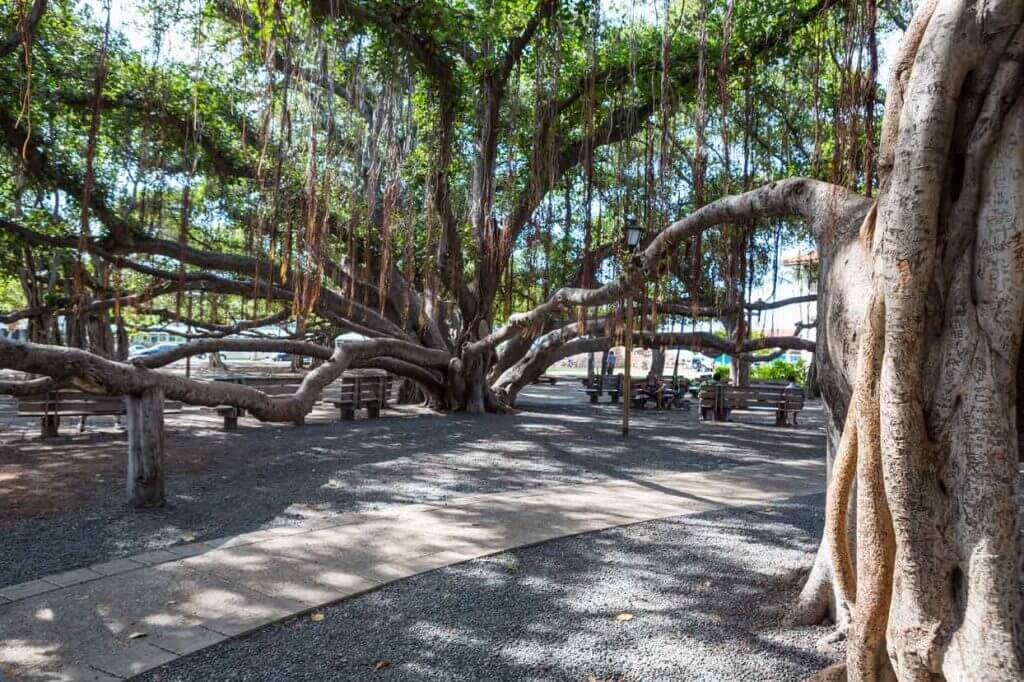 Banyan Park is a great spot to stop as you walk around. It features one of the world's most massive banyan trees and kids will love checking it out.
There's the Lahaina Historic Trail with stops like an old prison you can tour.
There are plenty of other things to do in Lahaina, and most of them are right off of Front Street.
One of the best things to do in Maui with kids is go underwater with the Atlantis Submarine Tour.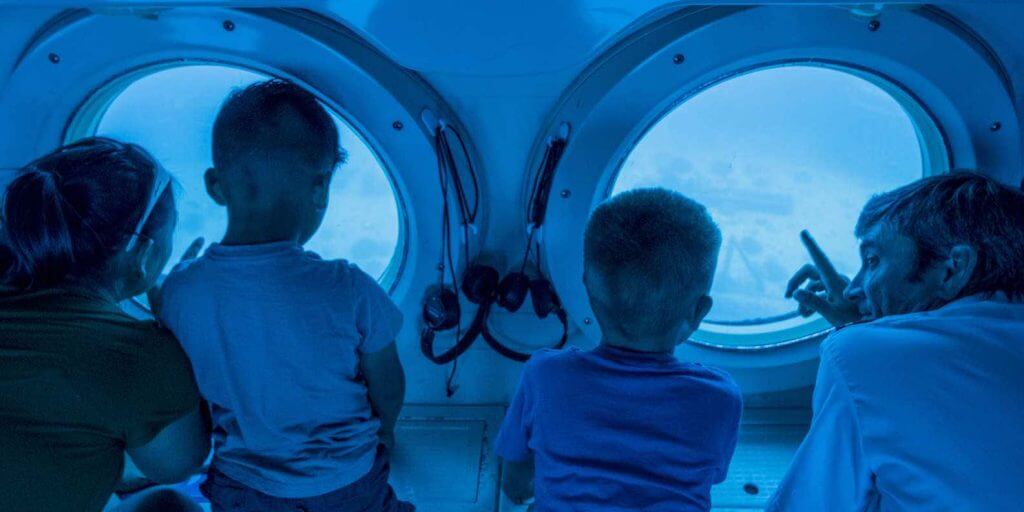 Here, you'll get to climb into a submarine that will take you underwater to see all kinds of Hawaiian marine life.
There are tons of windows to sit in front of and divers will bring items right up to the windows so kids can get a great look at all kinds of things they normally wouldn't see.
It's especially great for families with toddlers and preschoolers who probably aren't doing a snorkeling tour. Check out the latest prices and more details.
You can read a detailed review here.
Lunch Options
Leoda's Kitchen and Pie Shop: This is a tasty Lahaina lunch spot with items like sandwiches, burgers, and salads. Save room for their famous pie!
Paia Fish Market: This is a great spot to get fresh Hawaiian fish or a burger. They have a kids menu.
Down the Hatch: Another great place for fresh fish. Kids get a free mini shave ice with their kids meal. They also have boozy shave ice for adults.
Sweet Treat
Lahaina has lots of options for an afternoon treat, but my top two picks are: shave ice or Dole Whip.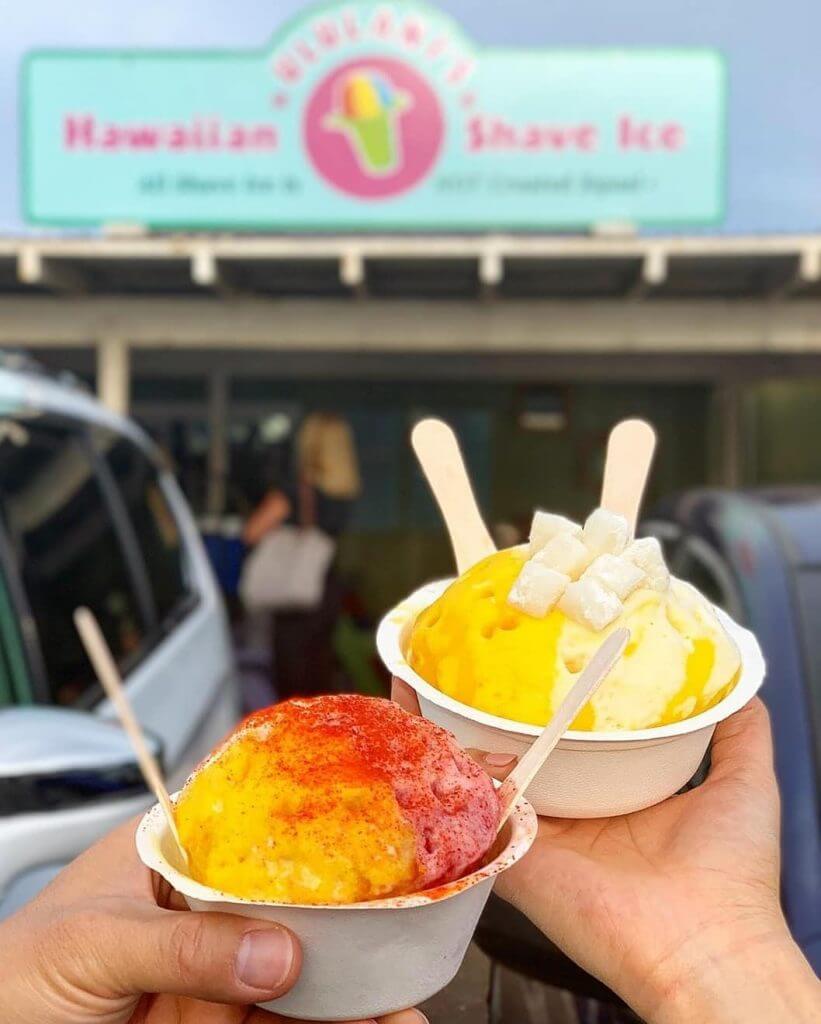 The best shave ice in Lahaina is Ululani's Shave Ice. They use fresh fruit syrups and it's pretty incredible. We actually stop here (or their Kihei location) every day when we visit Maui.
Another option is to get Dole Whip at Lahaina Dole Whip on Front Street. It tastes just like what you get at Disneyland, but they also offer ones with fun toppings like Fruity Pebbles!
Beach Time
After your bellies are full, it's time to hit the beach! You can either bring your swimsuits with you or head back to your hotel to get all changed.
KID-FRIENDLY LAHAINA BEACHES
Baby Beach: This is an awesome West Maui beach for little kids. The sand is super soft and the water is super shallow.
Launiupoko Beach: This beach also has shallow water and some cool tide pools for kids to check out.
Kahekili Beach Park: This is a great option for families wanting bathroom facilities and good snorkeling for kids.
Here's my Hawaii beach packing list for babies!
Dinner Options
After you have a chance to get cleaned up, it's time to head out for dinner.
Duke's Beach House: This is the same restaurant group as Hula Grill, so you'll find some similar items as well as their great kids menu and Hula Pie.
Sale Pepe: If your family is craving pizza, this is one of the best Lahaina pizza spots. They also have tasty pasta dishes.
Lahaina Fish Co: This place has awesome views and a mix of fish items and Hawaiian local food. Plus an awesome kids menu.
After Dinner
Depending on moods, you can go for a family walk along the beach or through town. Or head back to your hotel and put the kids to bed and enjoy a cocktail on your lanai.
Maui Itinerary Day 3: Road to Hana
Another top thing to do on Maui is to drive the famous Road to Hana. This Maui activity is all about the journey and less about the destination.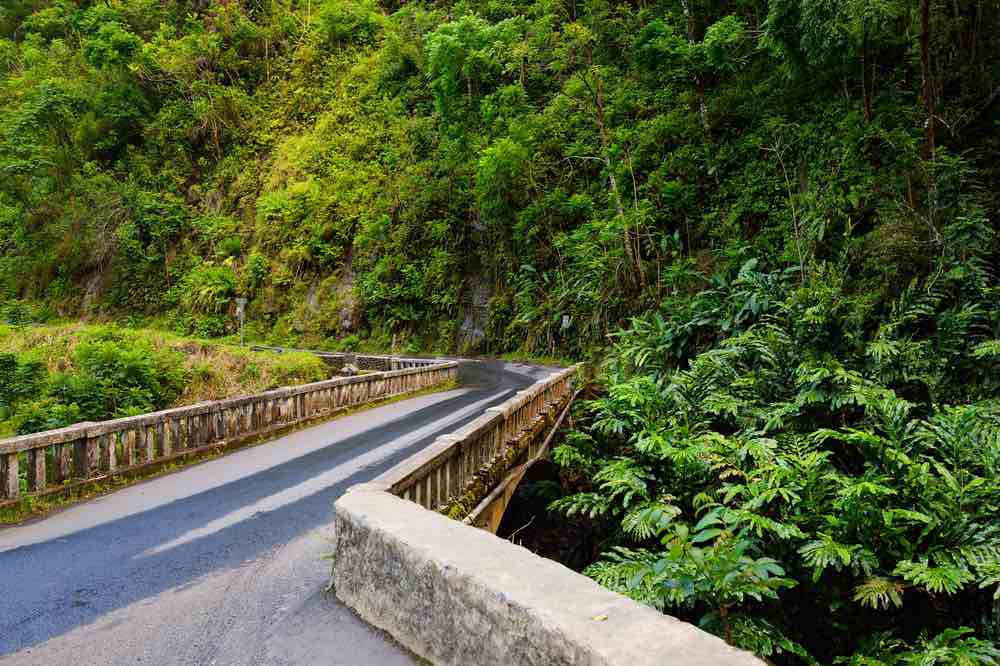 Some families wonder if the Road to Hana is kid-friendly. I've done it with kids and it's been a good experience. But, if your kids tend to get car sick, you'll probably want to skip this.
The Road to Hana is usually a full-day adventure. You can make it a shorter adventure by turning around at the Halfway to Hana stand. You'll still get to do a lot of fun stops, but you obviously won't make it to Hana.
Depending on whether or not you bring your own food, this is one of the best cheap things to do on Maui.
Breakfast
You can eat in your hotel, have a sit-down breakfast, or grab something along the way.
The Road to Hana starts in Paia, so you can always stop to eat there. Or pick up something from a Maui bakery to eat in the car.
Road to Hana Stops
Like I said, the whole point of driving the Road to Hana is to experience the things along the way.
You'll definitely want to research which Road to Hana stops are worth it for your family because you won't have time to do them all.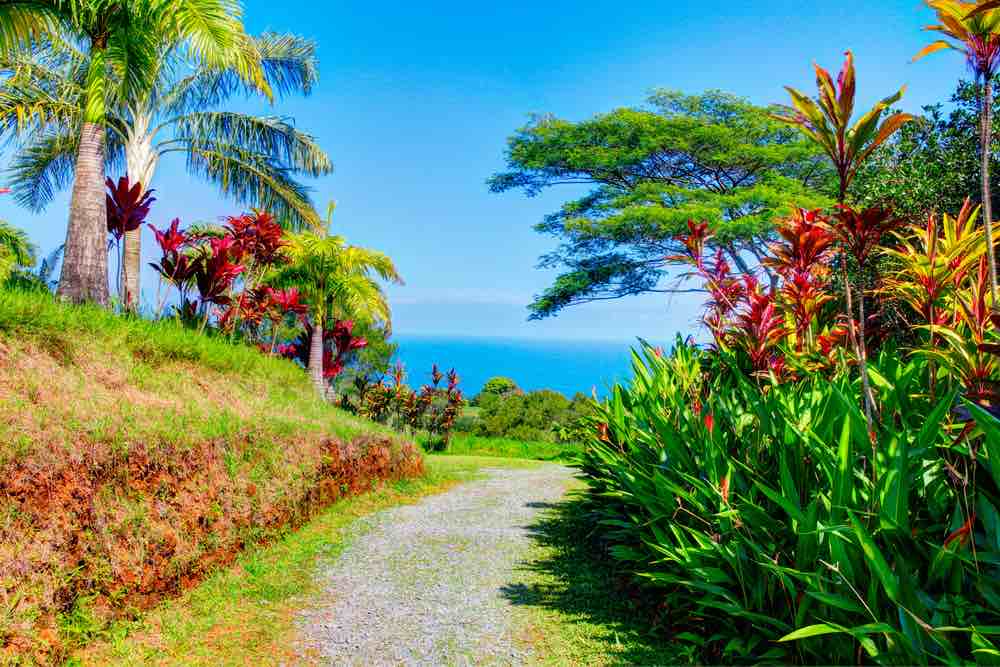 I'll list some of my favorite kid-friendly Road to Hana stops, but you might consider downloading the Road to Hana audio tour so you can decide as you drive. Check out the latest prices and more details.
Huelo Lookout: This is a great place to get fresh fruit smoothies to enjoy during the car ride. They also have local Hawaiian fruit you can get.
Waikamoi Nature Trail: There's a short hike (under a mile) that's kid-friendly and has some pretty scenic view points.
Garden of Eden: This is a beautiful botanical garden on Maui that a great spot for kids to get out and explore. It's cute for taking photos and seeing little waterfalls and stunning ocean views.
Halfway to Hana Stand: You'll want to stop here to at least take a photo with the iconic sign. Plus, you can pick up lunch items and a loaf of their banana bread.
Lava Tube: If your kids keep asking about seeing lava or volcanoes, you might appease them a little by stopping at this hidden lava tube. It will only take a few minutes to explore and then it's just bragging rights.
Waianapanapa Black Sand Beach: The main draw of Waianapanapa State Park is the black sand. It's unique and definitely worth a stop to check out.
RECOMMENDED ROAD TO HANA TOURS
Read my top Road to Hana tips
Maui Itinerary Day 4: Molokini Crater (or Kihei)
If your kids are old enough to go snorkeling (or you're willing to swap parenting duties mid-tour) it's definitely worth heading to Molokini Crater.
Otherwise, I've got a good backup plan in the same general area.
Snorkeling at Molokini Crater
In order to get to Molokini Crater, you will need to join a boat tour (I've listed some below.)
These tours usually leave from Maalaea Harbor, which is really close to Kihei. So, it's really convenient to get to from most resorts.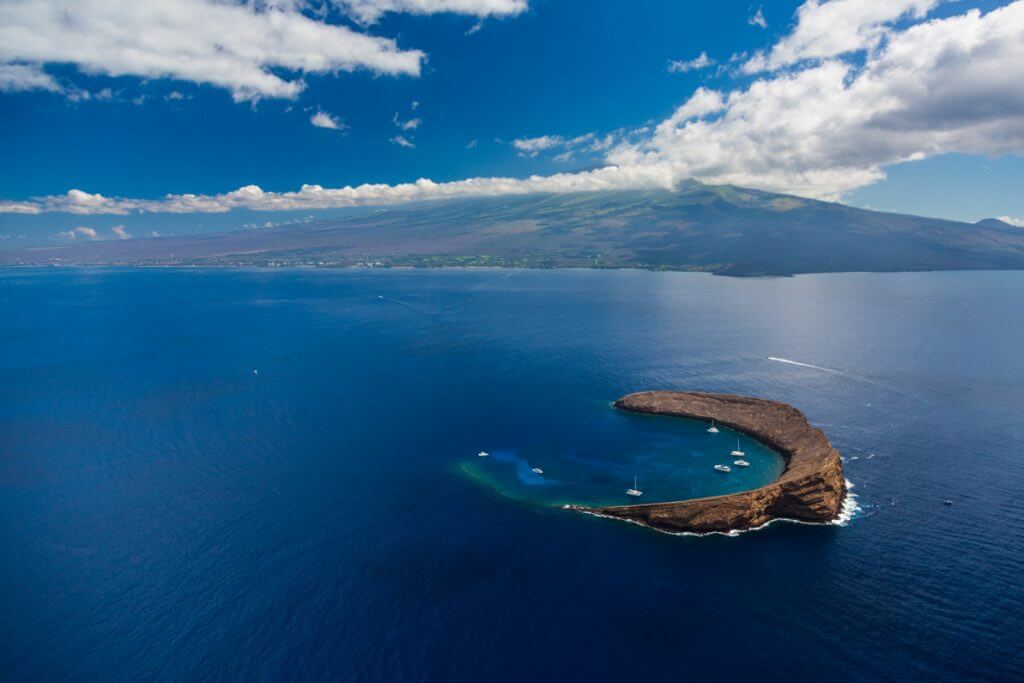 There are half-day and full-day snorkeling tours to choose from. Some hit up Turtle Town and others have the option to do whale watching (in winter.)
If not everyone in your family is interested or able to snorkel, it can still be a lot of fun. I usually just hang out on deck and enjoy a quiet boat while everyone else is in the water. It's lovely!
BEST MOLOKINI CRATER SNORKELING TOURS
Read my guide to snorkeling at Molokini Crater
Alternative Idea: Explore Kihei
If you aren't interested in going to Molokini Crater (or you just want to send one parent there) there are lots of things to do in Kihei.
If you're heading to Maui with toddlers or preschoolers, your kids will probably love the Maui Ocean Center.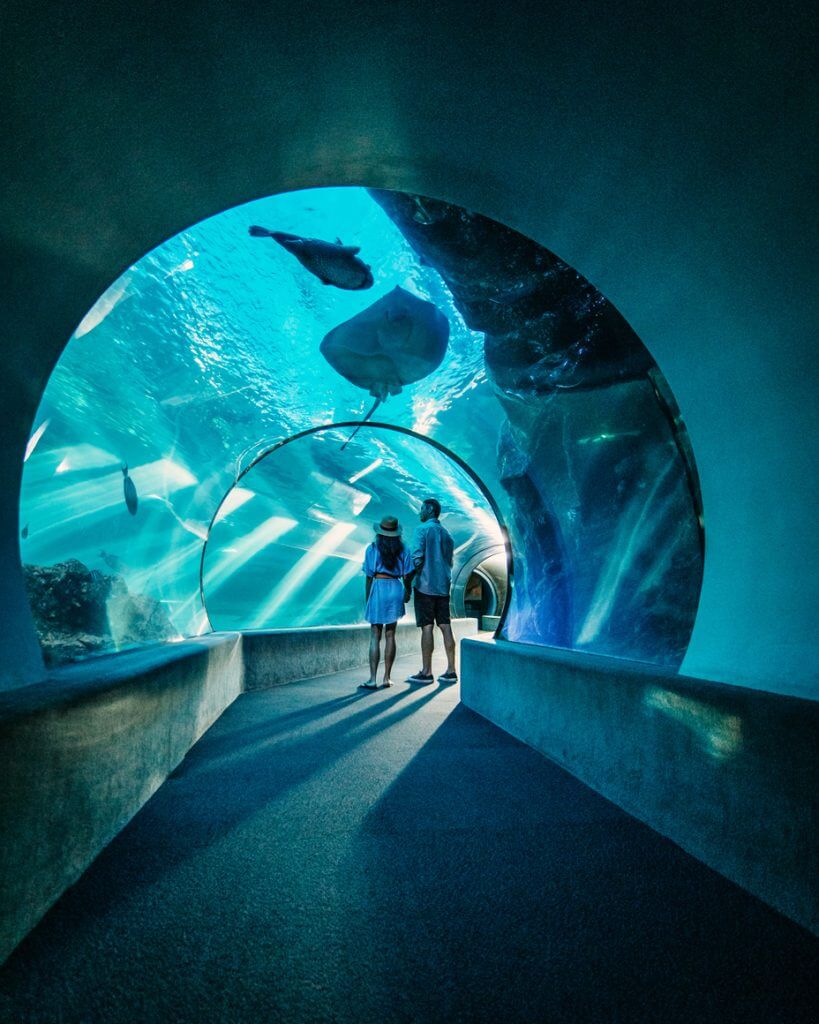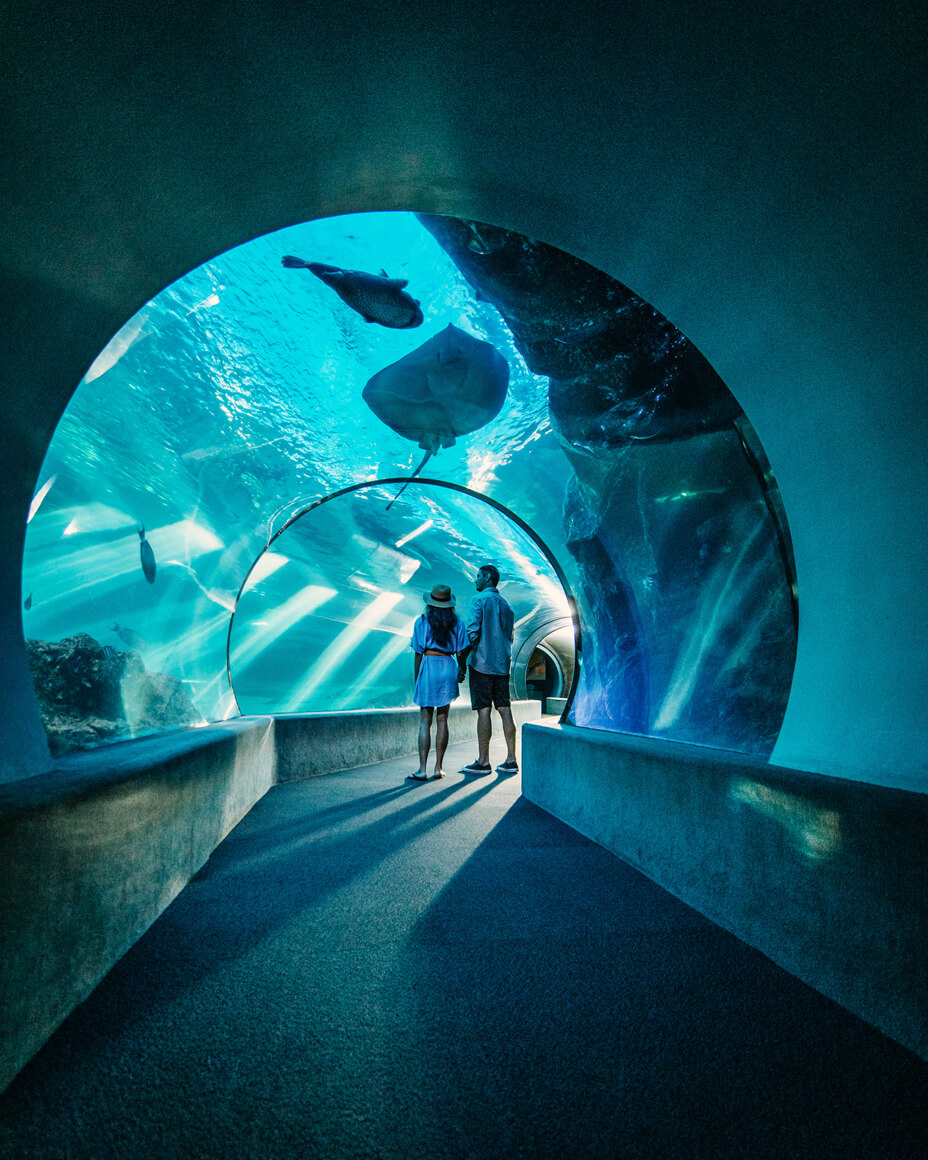 There are aquariums, hands-on exhibits, cultural programs, and a tunnel through a fish tank.
You can easily see the entire place in about 2 hours, so it makes a great morning adventure. And there's a restaurant on-site or you can grab lunch elsewhere. Find the best prices here.
ULULANI'S SHAVE ICE
There's a Kihei location for this popular Maui shave ice spot. It's great for hitting up on the way to the beach.
KAMAOLE BEACHES
Kihei has a set of 3 Kamaole Beaches that are super popular with families. Spend the rest of your day hanging out at the beach with your kids.
Dinner at Coconut's Fish Cafe
No matter what you do during the day, you're going to be hungry come dinner time.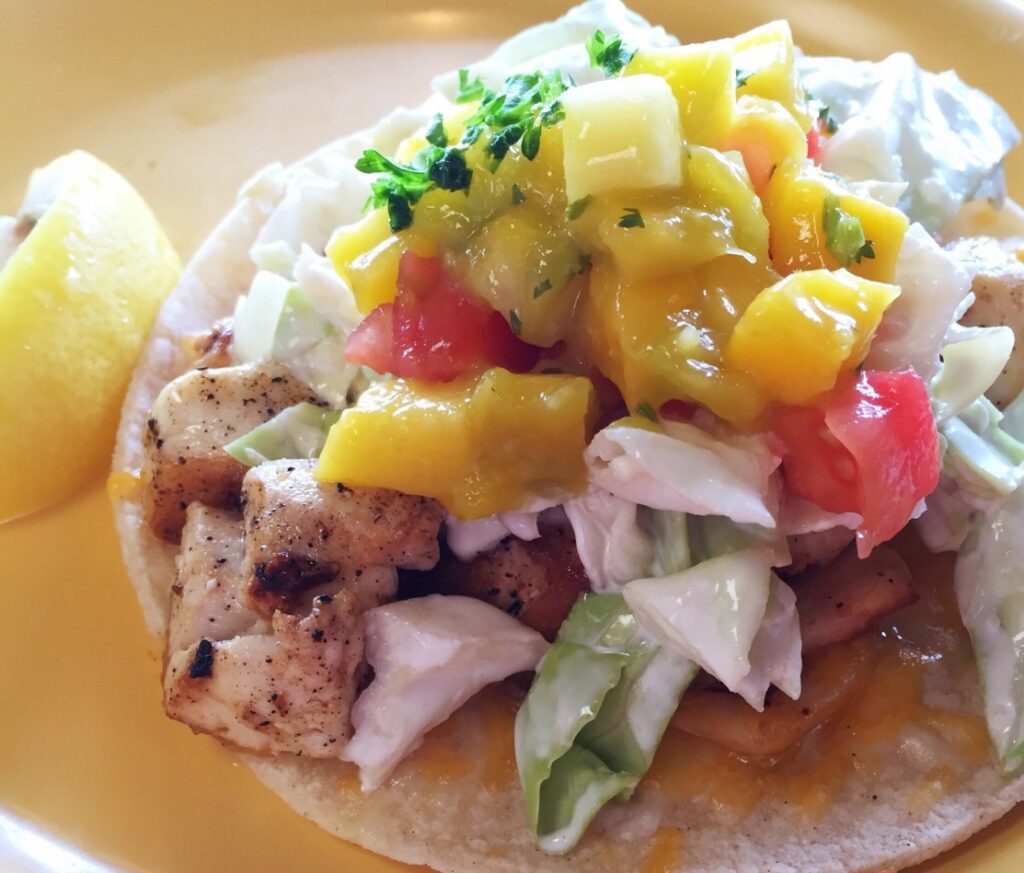 One of the best places to eat in Kihei is hands down Coconut's Fish Cafe. While they have a pretty extensive menu, they are most famous for their fish tacos.
You won't be able to stop eating these 17-ingredient tacos topped with house-made mango salsa. They are seriously mouthwatering and I often dream about them.
Maui Itinerary Day 5: Photos, Shopping + Luau
For your last full day in Maui, your schedule is all about making memories.
There's a professional photo shoot so you can get nice family photos to use for Christmas cards, hanging on your wall, or to add to a photo book. Check out the latest prices and more details.
You'll go shopping for souvenirs and items that will bring you joy after you get home.
And you'll get to experience the best Maui luau with your family.
Breakfast
No matter what you end up doing for breakfast, make sure everyone is well-fed and properly caffeinated. You want to ensure good moods for your photo shoot.
The best time for a Maui photo shoot is right after sunrise or during golden hour (before sunset.)
Personally, I always prefer morning time with little kids because they are usually in a better mood and they haven't had a chance to get too dirty.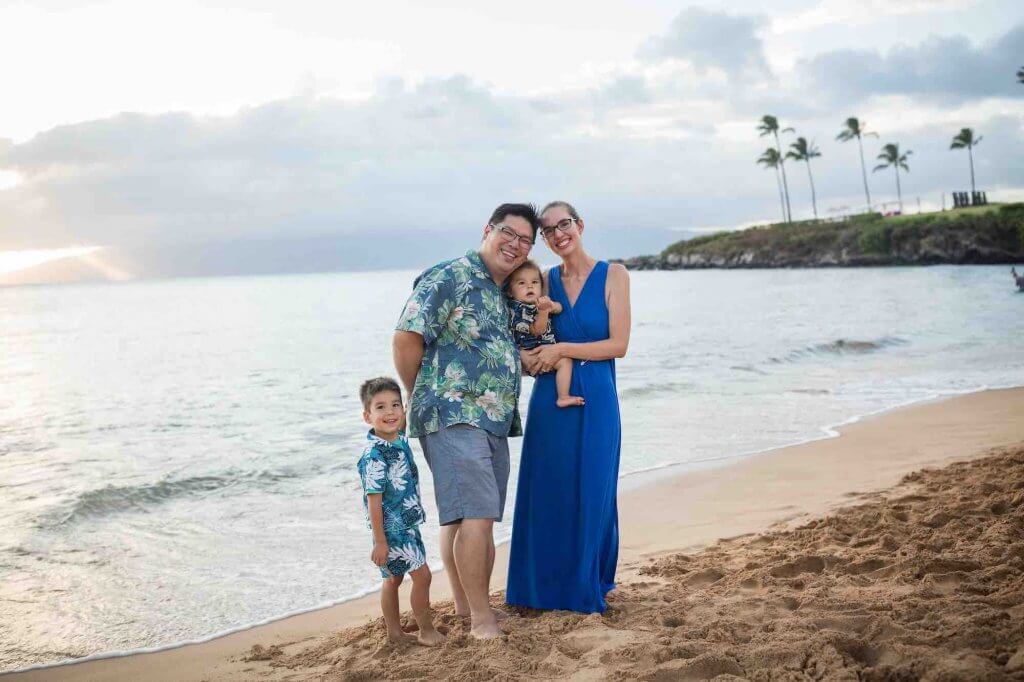 I like to keep our photo clothes in a separate packing cube so they are all together and stay nice and clean. Coordinating colors look really nice.
Some families might want to order fresh flower leis or those gorgeous Hawaiian flower crowns (called Haku Lei) to make their photos pop.
Sometimes we also bring props like a ukulele or Hawaiian doll for baby and toddler photos.
There are tons of Maui photographers to choose from. We like to use Flytographer because it's easy to find an affordable Maui vacation photographer who is available during our trip. Find the best prices here.
Book a Family Photo Shoot
Whenever we travel to Hawaii, we almost always book a family photo shoot with Flytographer. They are super easy, affordable, AND it guarantees that I'll be in some photos. You can get $25 off if you book through this link or use the code HAWAIITRAVEL.
Go Shopping + Enjoy Lunch
There are tons of places to go shopping on Maui, depending on what you're looking for.
My family loves heading to the Maui Swap Meet (which happens on Saturday mornings.) It's a great place to find locally made items and great prices.
Whaler's Village is another popular place to shop in Maui. They have more than 80 shops and restaurants including Cariloha, Billabong, Lilly Pulitzer, Olukai, and more.
There's also the fancy Shops at Wailea, which offer 70 shops and restaurants including Honolua Surf Company, Lululemon, Prada, Tommy Bahama, and more.
Attend a Maui Luau
I've put the Maui photo shoot and luau on the same day because you'll probably want to wear the same clothes to both events.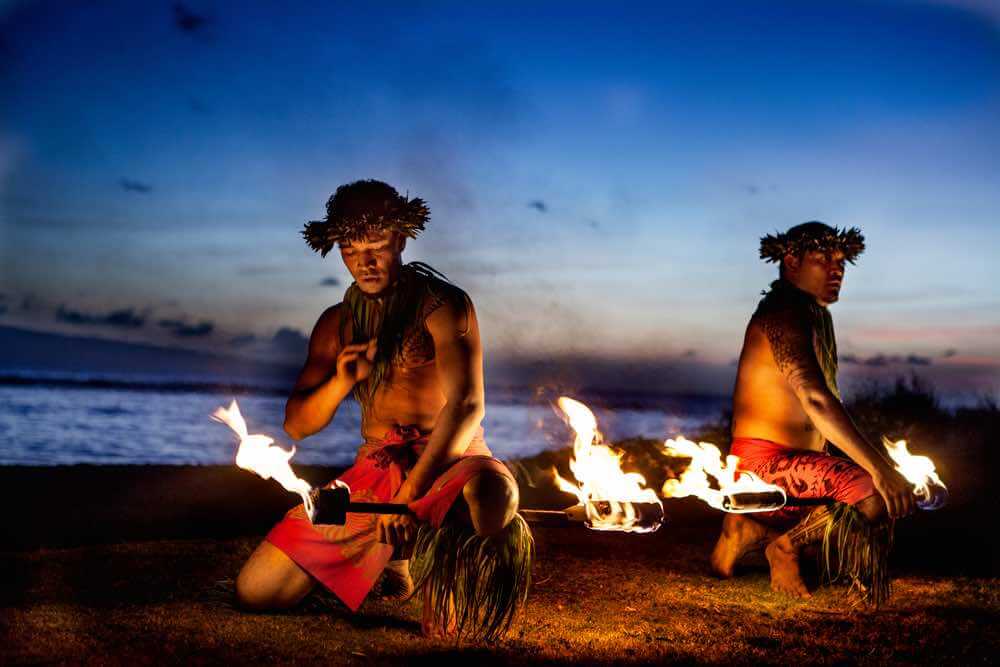 While you can book your luau in Maui on any day, I like to save it for last specifically because we're less sleepy and the kids are usually able to stay awake for the full show.
But, you'll want to figure out which Maui luau is best for your family and then check availability. You WILL want to book this before your trip.
I've come up with a detailed list of the best kid-friendly Maui luaus that should help.
RECOMMENDED MAUI LUAUS FOR KIDS
Departure Day
Depending on the time of your departure flight (and whether you are going home or island hopping), you have a few options for what to do today.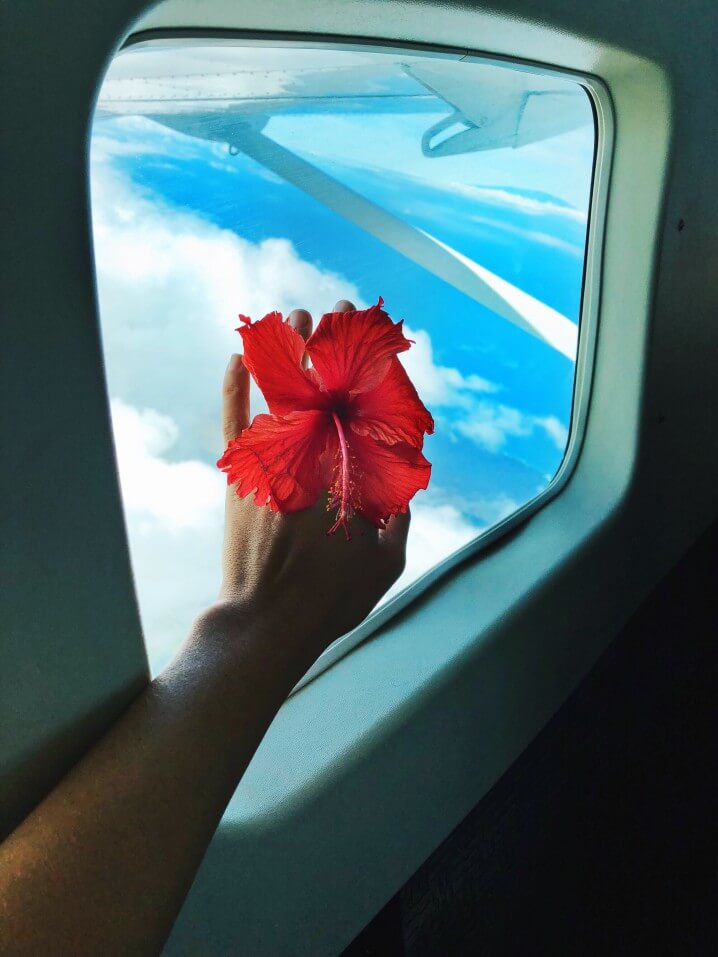 If you are going home
If this is the last day of your Hawaiian vacation, you might want to spend today picking up any last-minute souvenirs. This includes any food items you might want to bring home or enjoy on the airplane.
For families with morning flights to the Mainland, you probably are only going to have time to finish packing and head to the airport. Make sure there's enough time to return your car, go through security, and pass the agricultural inspection.
Don't worry! You can buy airport-packed Maui Gold pineapples to take home from several gift shops in the airport.
For families with afternoon flights to the Mainland, you'll probably want to stay relatively clean for your flight home. That means only go to the beach or pool if you can shower at your hotel before checkout.
Otherwise, it's nice to enjoy a leisurely lunch (preferably with a view) and hit up any shops along the way to the airport.
If you are island hopping
For families with morning flights, you'll probably want to just focus on getting to the airport in time to return your car and get through security.
We usually pull out swimsuits and put in a carry on bag so we can hit the beach or pool as soon as we land (especially if our room isn't ready yet.)
For families with afternoon or evening flights, you can probably squeak out a bit more fun on Maui. I'd only suggest doing pool or beach time IF you will have time to take showers before checking out.
Otherwise, you might have time to do a tour, book an activity, or go shopping before heading to the airport.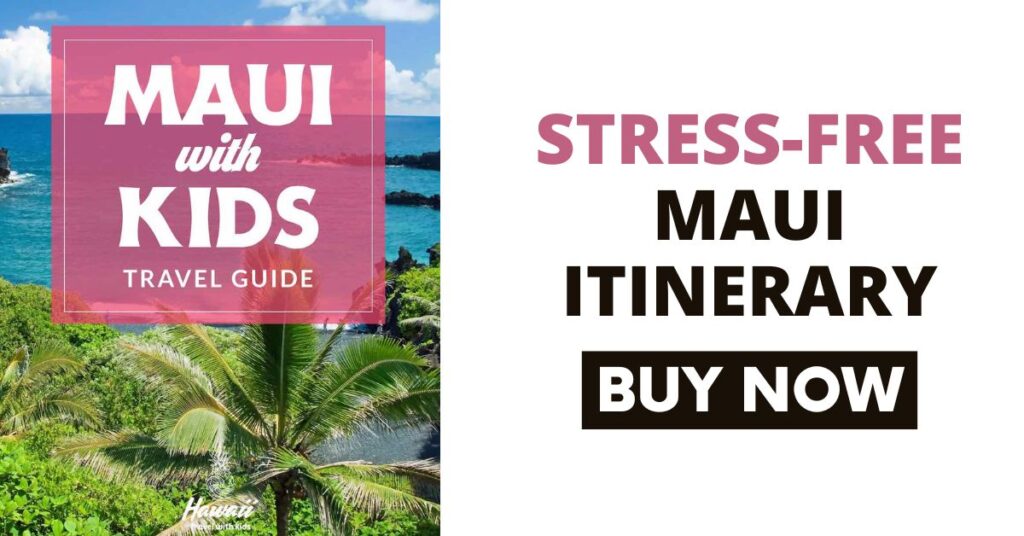 Where to Stay in Maui with Kids
If you're planning on staying at a kid-friendly Maui resort, you'll be primarily looking at Kaanapali or Wailea.
These are my top pick for best hotels in Maui for families:
More Things to do in Maui with Kids
If you'd like to swap some of the Maui activities or are spending more time in Maui, here are some additional ideas.
Beach Days: Maui has tons of kid-friendly beaches that you can easily spend a few hours or a full day hanging out at.
Go Ziplining: Kids as young as 5 years old can go ziplining on Maui. Perfect for a bit of adventure!
See a Hula Show: There are lots of free hula shows on Maui. Many take place at shopping centers or hotels.
Read my top 101 things to do in Maui with kids for more ideas and don't miss my Maui packing list for families!