Wondering how much is a trip to Hawaii and whether or not you can afford to go there for your next family vacation? Keep scrolling to find out the trip cost to Hawaii from a financial expert!
This post about the trip cost to Hawaii with kids contains affiliate links which means if you purchase something from one of my affiliate links, I may earn a small commission that goes back into maintaining this blog.
As a Hawaii travel blogger, one of the top questions I get asked is "how much does a trip to Hawaii cost?"
There are SO many factors that affect the Hawaii trip cost that I never really know where to start. And some of it depends on whether or not it's your first trip to Hawaii.
Also, our family tends to travel with extended family or visit my mom on Kauai. That means that our trip costs are different than the average Hawaii tourist.
So, I figured I'd ask a financial expert and travel lover! Below you'll find her break down the costs the average American should plan for a vacation to Hawaii.
I asked her to write about how much does a trip to Hawaii cost for a family of 4. Keep scrolling to get her Hawaii vacation cost estimate!
Make sure to read my step-by-step Hawaii planning guide first!
Guest post by SJ Morgensen
Many people dream of exploring the exotic Hawaiian Islands. And, why not? It's paradise!
But because of its physical distance from the American mainland, many people don't know a lot about Hawaii. This includes how much to budget for a vacation there.
In this article, we'll talk specifics about how much you should plan to budget for your family vacation to Hawaii.
Get 105 Genius Hawaii on a Budget Tips!
Want to skip all the planning and just access my detailed Hawaii Itineraries complete with daily schedules, kid-friendly activities, and travel hacks? Click the button below.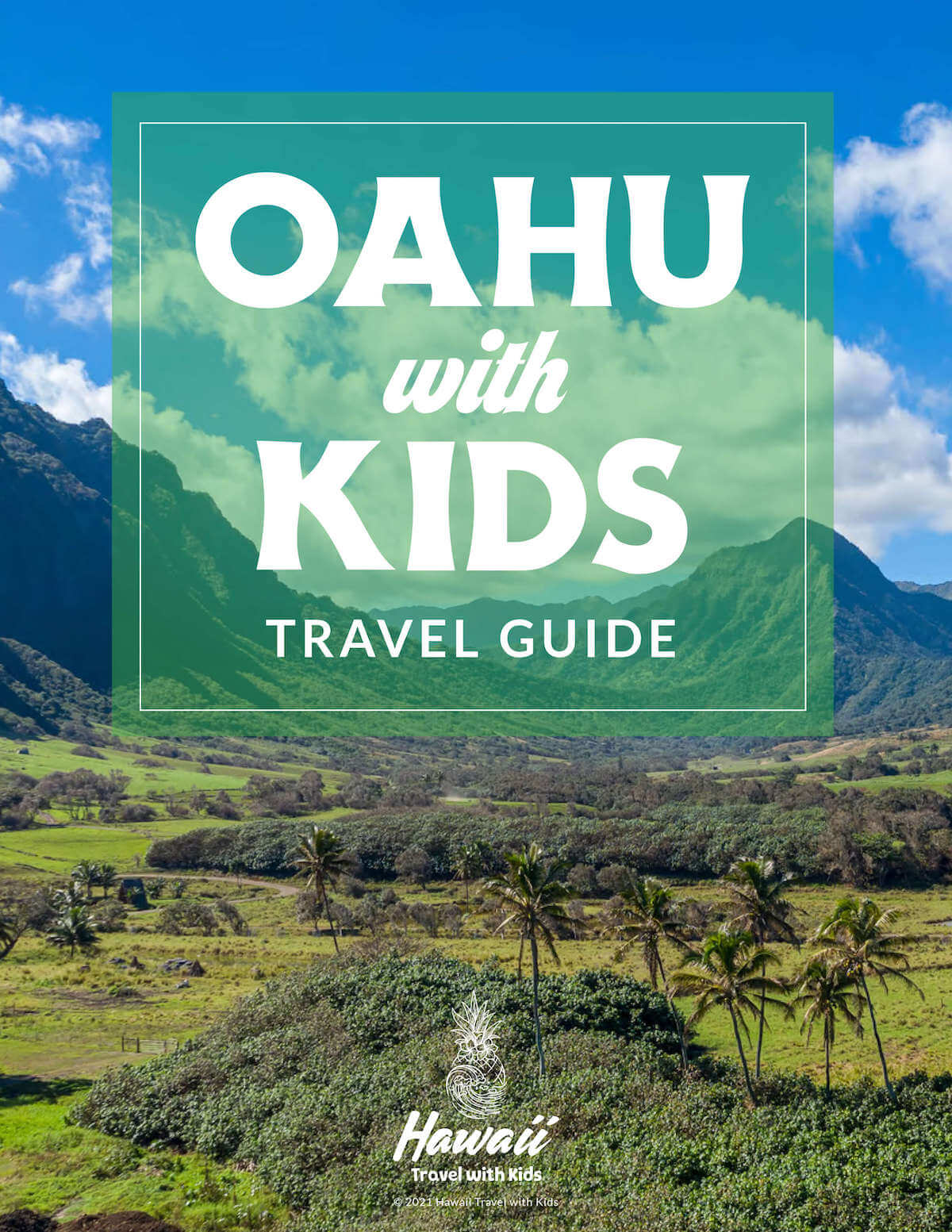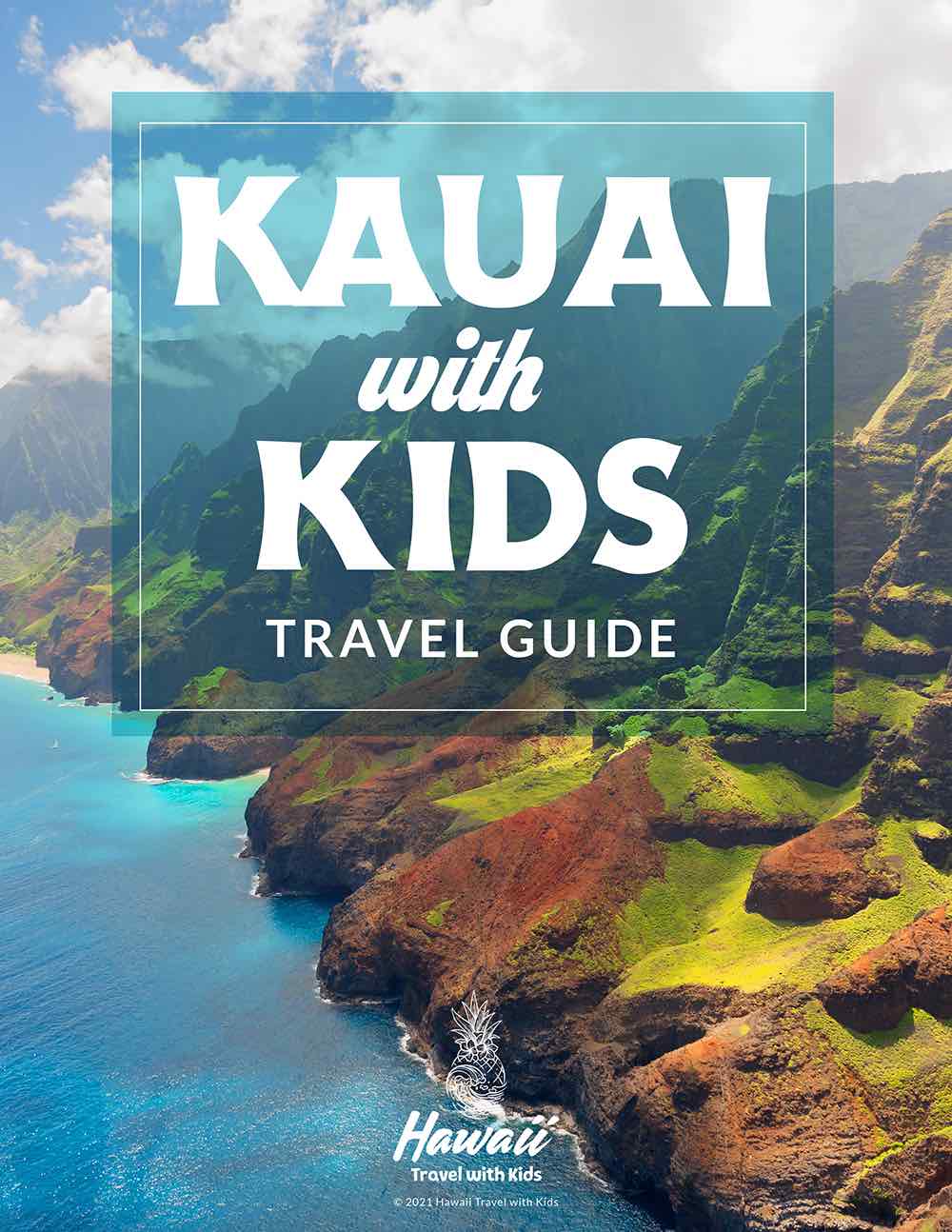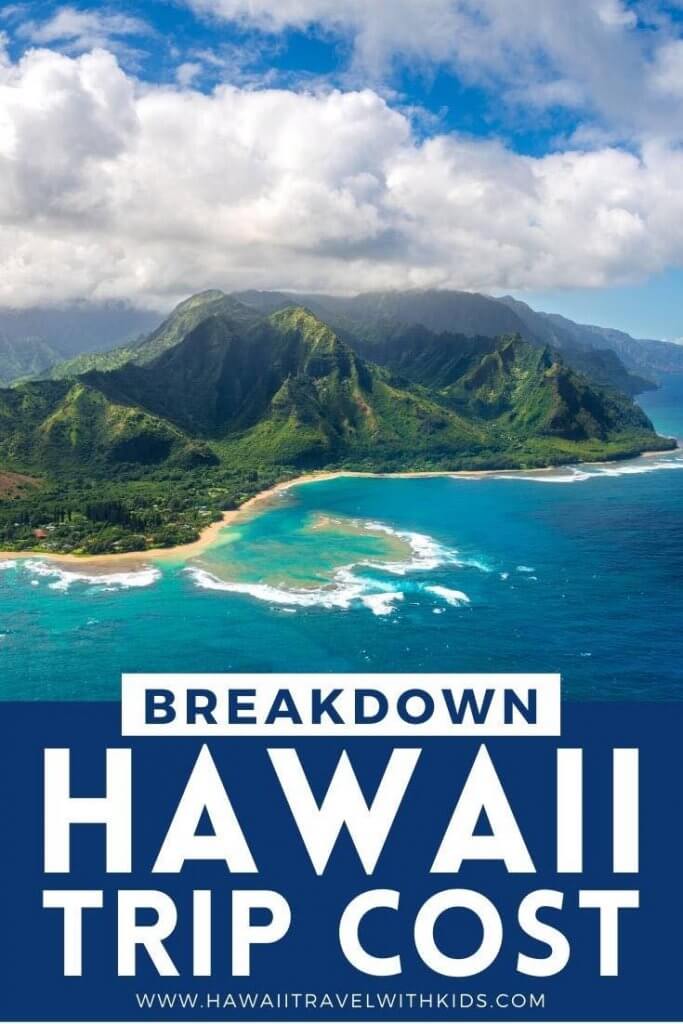 How Much Does It Cost To Go To Hawaii?
The biggest variables in the cost of a Hawaiian vacation are airfare, lodging, and food. These three items are essential for your visit.
I always recommend having these decisions nailed down in your budget first. Then you can pick and choose what activities and extras you want to include in your budget for your family vacation to Hawaii.
Also, a lot of prices can double during Christmas and New Year's! For the purposes of this article, we'll look at going to Hawaii during the month of June since it's neither high season nor low season.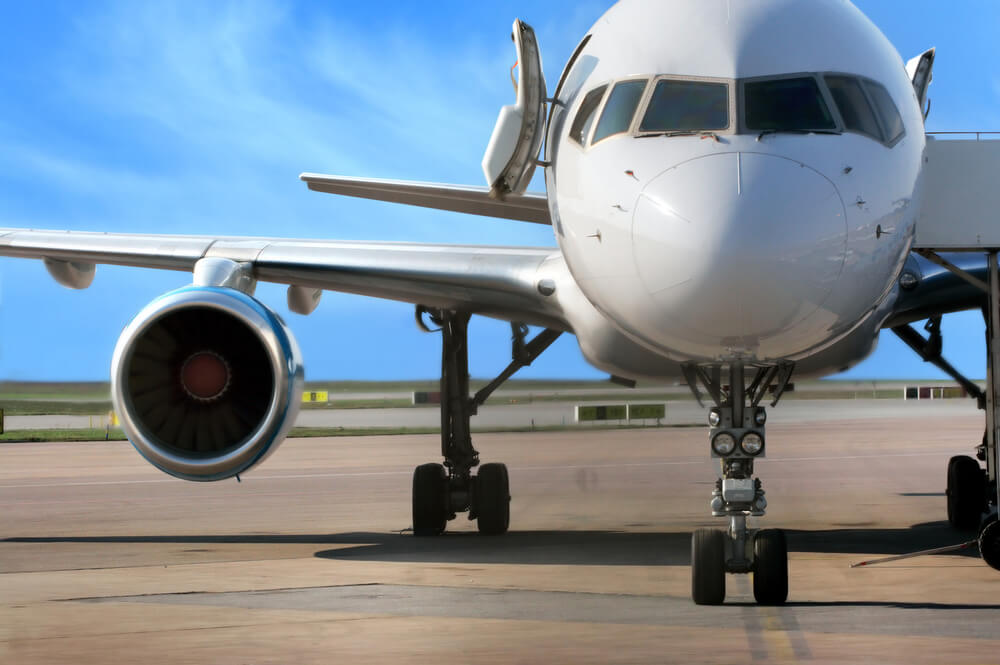 Airfare to Hawaii Costs
When looking at airfare for your Hawaiian vacation, there's good news and bad news.
The good news is that you have a wide variety of airlines to choose from. The bad news is that the flights to Hawaii aren't cheap!
People going to both Maui and Oahu usually fly to Maui first. Then they fly to Honolulu International Airport to explore Oahu on the way back to the mainland.
The cost to travel to Hawaii really depends on your home state and whether or not there are direct flights.
Let's look at the cost of flying to Maui from Chicago since it's in the center of the country.
If you're flying from or making your connection in Chicago, you'll have your choice of flying non-stop to Maui or making a stop on the West Coast.
A non-stop ticket from Chicago to Maui will set you back at approximately $960. A flight from Chicago with one stop in LA will cost a couple hundred less, at approximately $770.
A non-stop flight will save you a couple of hours in flight time. The non-stop flight is about 9 hours of flight time vs. 11.5 hours for the flight with a stop in L.A.
Once you're in Maui, let's say you want to want to island hop to Oahu (or hop to any other Hawaiian island). The quick plane trip will cost you around $140.
Total airfare costs: Approximately $1100 per person for the non-stop flight + the Island Hopper.
Total cost for 4 people: $4400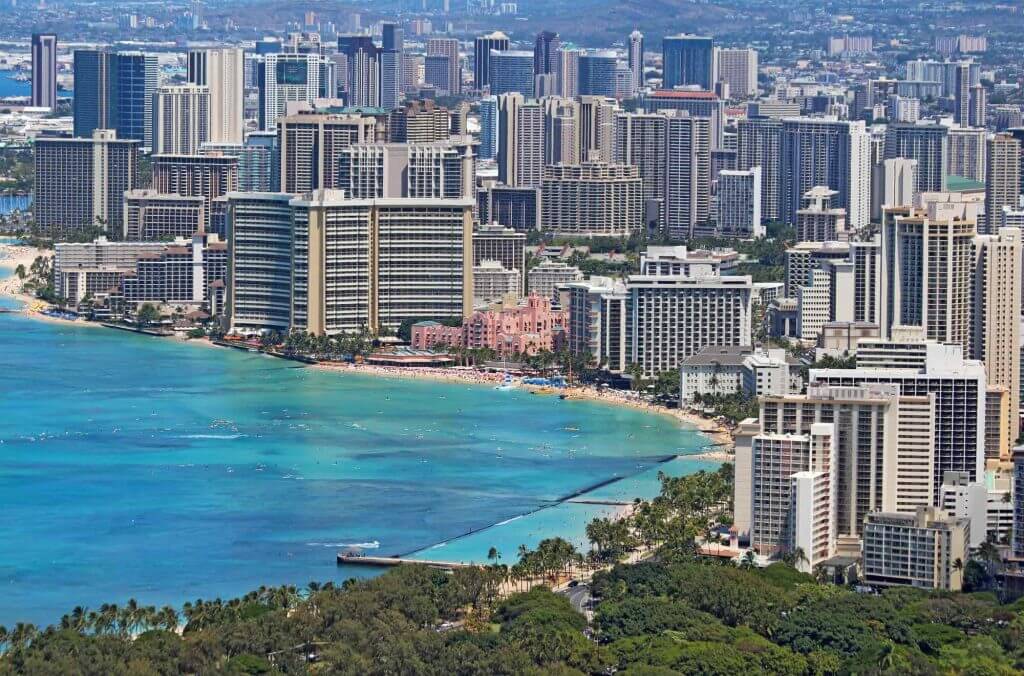 Lodging Costs in Hawaii
Another big dent in the budget for your trip to Hawaii is lodging costs.
There are so many types of accommodations to choose from as well as many different areas to stay in Hawaii. You'll have a wide variety of lodging choices in Hawaii!
Find out the pros and cons of hotels vs. condos in Hawaii.
For this article, we're looking at budget and mid-range choices in both Maui and Honolulu. All of them will have room for 4 people.
Check out the best hotels in Hawaii for families
Budget Choice in Maui
For the best bang for your buck, you may want to opt for a condo in Maui.
We found many great deals on beautiful Maui condos around Kaanapali Beach in the West Maui area of Lahaina.
The Kaanapali area offers beachfront 2-bedroom condos that sleep 4. Each of had a full kitchen and a pool and were priced at only $1300 for 6 nights.
Total for 6 Nights: $1300
Find out my top cheap places to stay in Maui
Mid-Range Choice in Maui
If you want to increase your vacation budget and stay at a hotel in the South area of Maui, The Residence Inn by Marriott is a good bet.
Located in popular Wailea, it will run a bit more at $415 per night for 2 bed double. But you'll have all the amenities that Marriott is known for, plus a great South Maui location. Check out the latest prices and more details.
Total for 6 Nights: $2800
Budget Choice in Oahu
In Honolulu, the Aston Waikiki Beach Hotel offers nice amenities and very close proximity to the beach. It's only $240 per night for a room with 2 double beds. Check out the latest prices and more details.
Total for 6 Nights: $1440
Find out my top cheap places to stay in Oahu
Mid-Range Choice in Oahu
The Moana Surfrider, A Westin Resort & Spa is absolutely stunning for an oceanfront luxury stay on Waikiki Beach. At only $350 per night for 2 doubles, this looks like a steal! Check out the latest prices and more details.
Total for 6 Nights: $2100
Average Cost for 6 Nights Lodging: $1837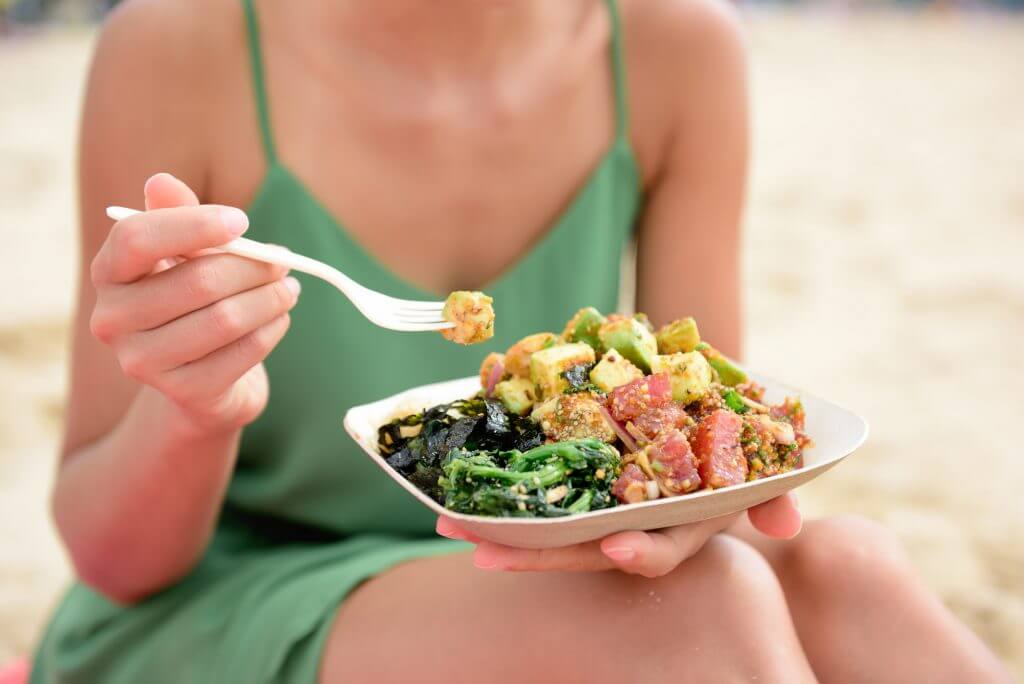 Cost of Food in Hawaii
There's no doubt that food prices in Hawaii are much higher than on the mainland. That's true for restaurants as well as grocery stores.
If you want to save money on food, the simplest choice is to stay somewhere that has a kitchen. For our family of 4 on a budget, this might mean a condo over a hotel or resort.
Even if your accommodations only offer a small cooktop and mini fridge, that's enough to make breakfast or brunch every day. That lone can slash the cost of a trip to Hawaii!
Get my top tips for cooking in Hawaii
For a middle-of-the-road figure, I estimate you can expect to pay around $75/per day per adult for food and less for kids.
If you stay at a hotel with no cooking facilities, you'll pay more.
Total for 6 nights with 2 kids = $200 per day total x 6 days = $1200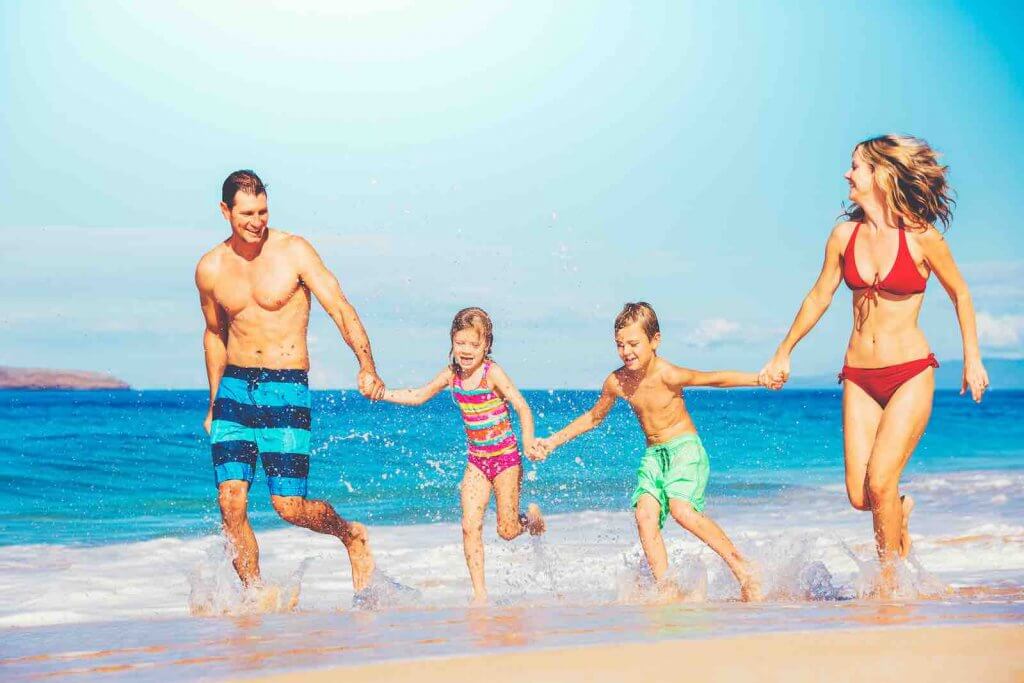 Total Budget For Family Vacation To Hawaii For 2 adults and 2 kids:
Airfare: $4400
Lodging: $1837
Food: $1200
TOTAL: $7437+ 10% for good measure: $8180
Hawaii Travel Extras:
Car Rental
While I didn't list this as an absolute essential, you'll really want to rent a car for your trip to Maui and Oahu.
Plan on spending around $400 for a standard size vehicle and factor it into the cost for a trip to Hawaii.
One of the best places to rent a car in Hawaii is through Discount Hawaii Car Rental. They get the best rates on national brands like Enterprise, Dollar, Budget, Thrifty, Avis, Alamo, and Payless. Check out the latest prices and more details.
Total for 6 Days: $400
Hawaii Excursions and Experiences:
There's no shortage of fun things to do in Hawaii, especially on Maui and Oahu!
You can spend a lot or you can save money by doing a lot of free things on your trip. Again, the choice is yours!
You could opt for some iconic Hawaiian experiences like surfing lessons, plantation tours, ziplining and luaus. Just be prepared for each experience to set you back around $100 per adult.
With car: $400
With 1 excursion per person: $400
TOTAL with extras: $8180 + $800 = $8980
Note: If you're wondering how much money to bring to Hawaii, you'll also want to add in cash for tips. It's customary to tip hotel staff, tour guides, photographers, and servers.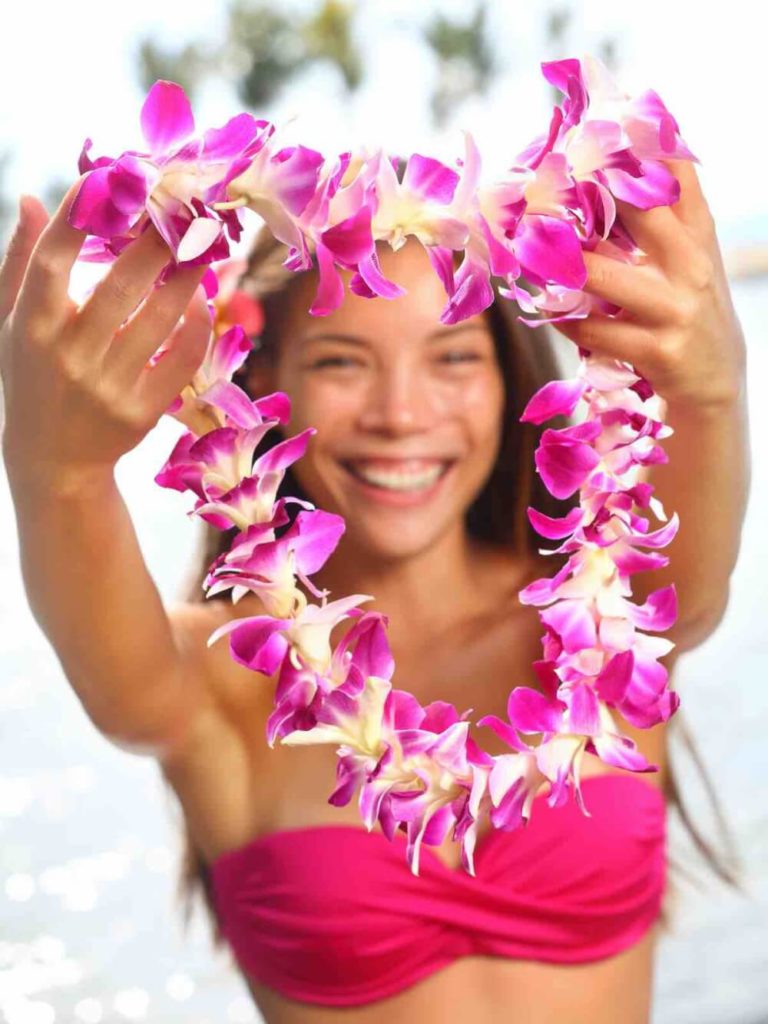 Hawaii Family Vacation FAQs
What are the main Hawaiian Islands?
The Hawaiian Islands are actually made up of 8 islands, but 2 islands, Niihau and Kahoolawe, are closed to visitors. The other 6 islands that most people are familiar with are Hawaii (The Big Island), Maui, Oahu, Kauai, Molokai, and Lanai.
What is the best island for a family vacation in Hawaii?
All the islands are worth visiting and all have their own unique appeal! When planning a vacation in Hawaii, most first-time visitors like to focus on the most familiar of the Hawaiian Islands, Maui and Oahu. Maui is known for its beautiful black sand beaches. Oahu is known for iconic Waikiki, as well as Pearl Harbor.
What is the cheapest time of Year to Visit Hawaii?
There definitely can be a cost difference in Hawaii based on the time of year you go. The off-season in Hawaii is between September and the first two weeks of December. If you go during this time frame, you'll save money on everything compared to going in high season, which is basically mid-December through April.
How Much Does a Family Trip to Hawaii Cost Wrap Up:
Now you know the average cost to vacation in Hawaii with kids.
Whether you're on a tight budget or you want to have the ultimate luxurious trip, Hawaii is a place you'll fall in love with!
I hope this helps when you plan a vacation to Hawaii. There's so much to see and do, you'll want to return for another family vacation!
About SJ Morgensen
SJ Morgensen is a financial expert who thrives on showing people how to get the most out of their money. With over 20 years in the financial services industry, SJ writes about budgeting, credit cards, and saving money on all things. Passionate about travel, she specializes in trip planning and helping people save money on travel.