Looking to save money on Oahu? Find out about the top cheap hotels on Oahu and how to book them, keep on reading for all the info!
This cheap hotels on Oahu post contains affiliate links which means if you purchase something from one of my affiliate links, I may earn a small commission that goes back into maintaining this blog.
Which is your favorite Hawaiian Island? I'm not sure I can choose!
Each Island has its own little quirks and wonders. I would never turn down a chance to go to any of them!
That being said, I think my boys DO have a favorite island.
Oahu has so much for them to do from Aulani Kids Club to playing at the Polynesian Cultural Center, they haven't found anything they don't love to do on Oahu.
Beyond the flights, the only bummer of a trip to Oahu is the cost of finding somewhere to stay. I'm always on the hunt to save money in Hawaii.
My boys love being outside so much right now that the room doesn't have to be fancy. All we will be doing is sleeping there anyway! This really lets me bargain-shop for a less-expensive room.
Now, when thinking about finding a budget hotel on Oahu, there are quite a few variables to consider.
Things that can affect the price are; timing, dates, amenities, number of guests, proximity to attractions, etc.
When I book a hotel, I usually try to book at least three months out. I also try to stay flexible on dates/days of the week.
I look for cleanliness and look at reviews first. Then I try to balance what I found in reviews versus the price.
For the most part, I can find rooms for under $150 per night. Anything over that tends to be out of our price range.
I honestly also stay away from anything under $60 per night – not worth it!
Feel free to take advantage of my research and enjoy these 5 cheap Hotels on Oahu!
Don't have time to read a bunch of Hawaii blog posts and reviews? Here are some of our top picks for visiting Oahu on a budget.
Best Budget-Friendly Oahu Tours/Activities
Best Budget-Friendly Oahu Hotels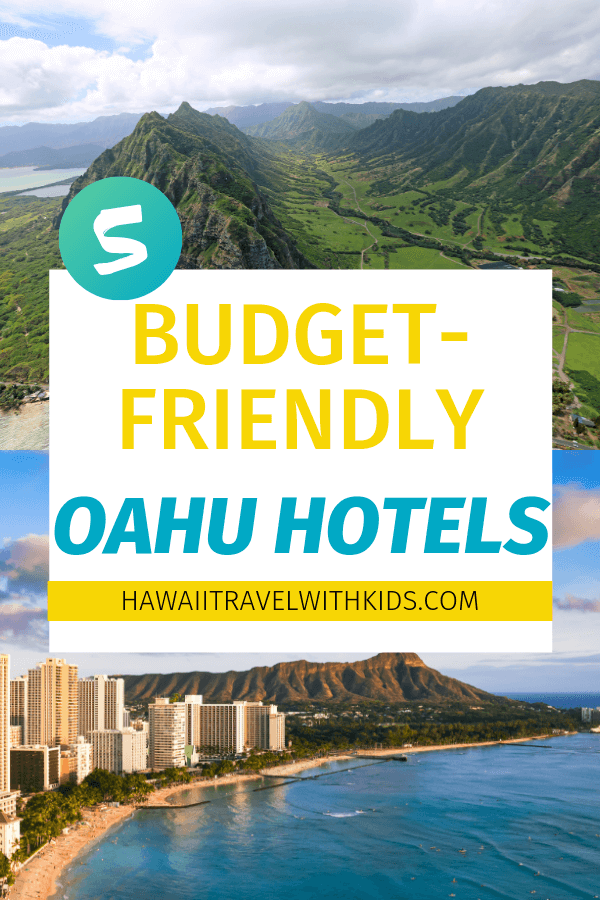 Cheap Hotels on Oahu FAQs
How can I stay in Oahu for cheap?
To save the most money on Oahu, you'll want to choose an inexpensive Oahu hotel or vacation rental. And you can save money on food by making your own food.
Which Hawaiian island has the cheapest hotels?
Oahu is the most populated island and has the largest variety of hotel options for all price points, including the best budget hotels in Hawaii.
Top 5 Cheap Hotels on Oahu
151 Uluniu Avenue Honolulu, HI 96815
1-808-923-7691
Royal Grove Waikiki is probably the best deal I have found for cheap hotels in Hawaii. I would call the interior "vintage" and I love it!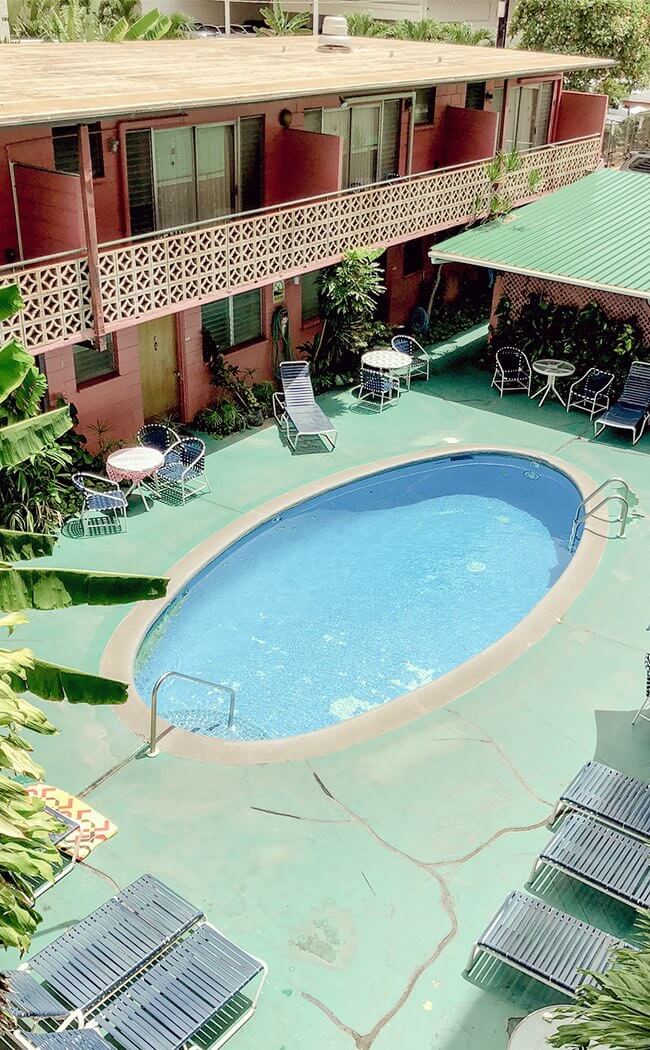 Stepping into one of the rooms feels like walking back in time to 1970's Hawaii – in the best way possible! Think of the original Hawaii Five-0 or Magnum P.I.!
Be prepared to spend anywhere from $78 to $150+ for a room that sleeps two adults and two kids. Check out the latest prices and more details.
There are a lot of different types of rooms, so make sure you book early to get the one that has the amenities you're looking for!
2303 Ala Wai Boulevard, Waikiki, Honolulu, Hawai'i 96815
1-808-923-8488
Holiday Surf Hotel is wonderful for local charm and hospitality and it's another one of the top cheap hotels in Oahu.
Their goal is to "make you feel like you're at your favorite Aunty's house."
There are apartments or studios you can choose from, with each room featuring a kitchenette and a lanai (balcony). Check out the latest prices and more details.
Enjoy the view from your lanai, and the 2-block walk to the beach!
444 Kanekapolei Street Honolulu, HI 96815
1-808-923-0222
Aqua Aloha Surf Waikiki is one of the rare cheap hotels in Honolulu that offers free breakfast. With the cost of food in Hawaii, that is a big deal!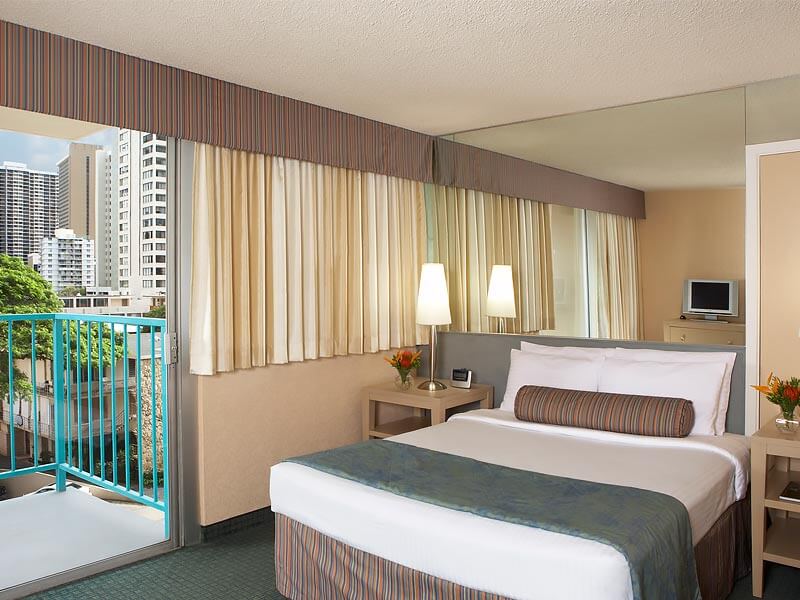 Rooms start at $132 for a room big enough for two adults and two kiddos. Check out the latest prices and more details.
That rate includes one room with a queen-sized bed and a second sitting room with a sofa-bed.
As much as I love my kiddos, sometimes a door between my sleeping area and theirs is a nice-to-have!
1830 Ala Moana Boulevard Honolulu, Hawaii 96815
1-844-377-6516
If you're wondering where to stay in Honolulu on a budget, the Ramada Plaza Waikiki is one of the best cheap Hawaii hotels if you plan on staying 3 nights or more.
Ramada Plaza has some amenities others hotels don't have. You can get free Wifi, use the outdoor pool, or walk to the beach minutes away.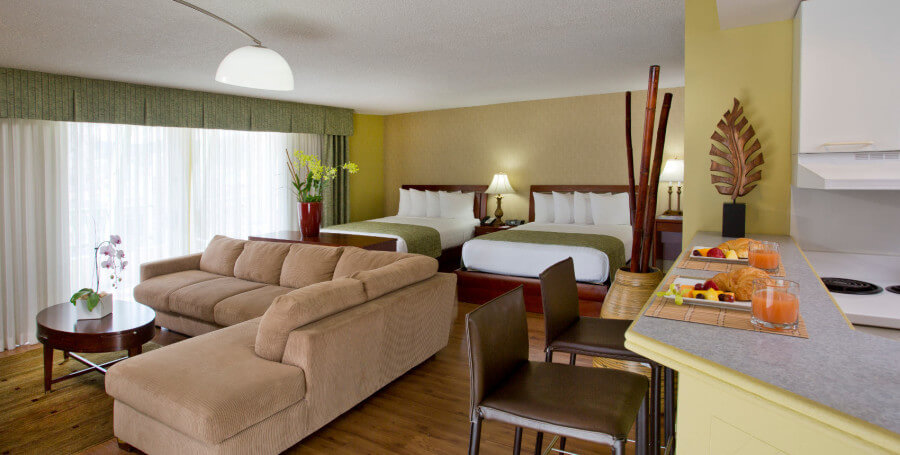 With a 3-day or longer stay, a double room will set you back about $117 per night on special. Check out the latest prices and more details.
Being right on the north end of Waikiki gives us a great starting place to get anywhere we want – a wonderful amenity when looking at different activities!
205 Lewers St., Honolulu, HI 96815
1-800-347-2582
It can be hard finding cheap hotels in Waikiki that are big enough for families. The Imperial Hawaii Resort has suites of all sizes and it's a great cheap hotel in Hawaii!
The Ohia suite starts at $129 per night and is just the right size for a family of four.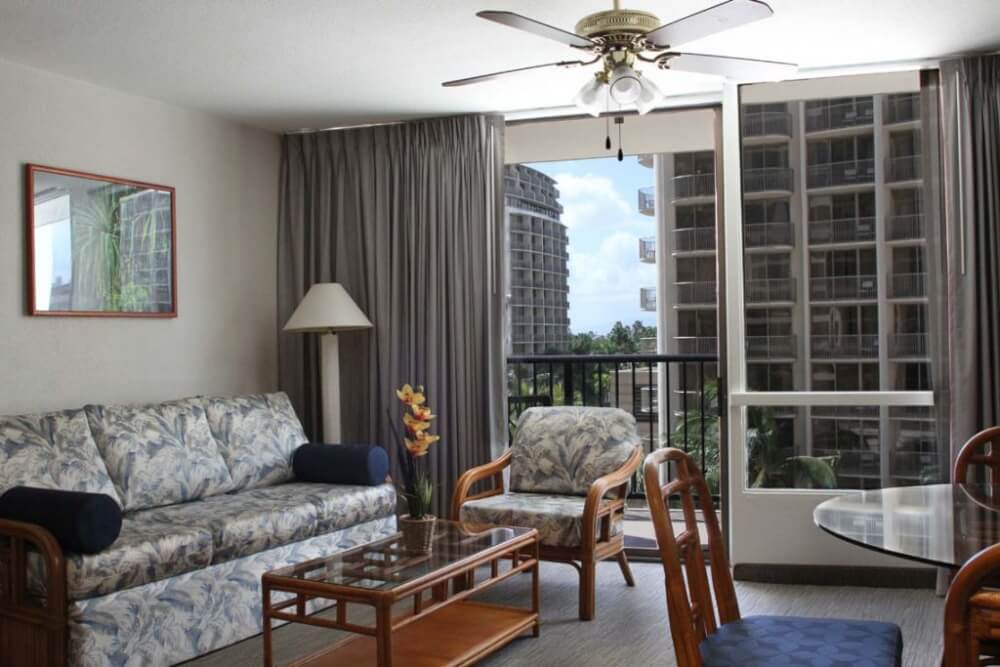 There is a double bed pull-down and a double sleeper sofa for the littles. Check out the latest prices and more details.
I like the idea of the beds being stowed during the day and getting to use the extra room to spread out a bit.
Hawaiian hotel rooms are usually a bit smaller than on the mainland, so a little extra room goes a long way!
What are some Other Options for Cheap Accommodation on Oahu?
AIRBNB
Don't discount Airbnb due to its popularity! You can often find great deals on rentals via this newer platform.
There are rentals all over Oahu, and they can be anything from 1 room of a house to an entire home.
Obviously, the closer you are to the beach, the more expensive it will be.
We don't particularly care for the shared home idea, and usually look for an apartment or condo we can have all to ourselves.
A quick search can yield anything from $81 per night to $500+ per night for a condo or home to ourselves.
I tend to stick to hosts with higher ratings and prefer those labeled "Superhost" – which makes me feel more secure about renting from them.
Airbnb has some pretty strict rules for their rentals, so you can be assured that everything will go smoothly.
Find out how to save money on food in Hawaii.
VACATION RENTALS BY OWNER
VRBO is another, older vacation rental company. Their listings might pop up on booking sites similar to a hotel room.
Much like Airbnb, I look at the ratings, and look for "Premiere Partners". This gives me peace of mind when I book since I know that I am booking with someone who has given guests great experiences before.
There are various VRBO locations around Oahu, and they seem to cover the range of $91 to $1000+ per night.
STAY22.COM
I often use stay22.com to help me find the best rates on both flights and hotels.
Combining this with booking as far in advance has really helped me keep the costs down as much as possible.
I don't know about you, but I would much rather save my money for fun activities on Oahu!
Stay22.com lets me search for specific dates or lets me search for flexible dates to find the best hotel deals in Hawaii.
The last thing I do is call the hotel before I book, and ask them if they can beat the internet price. You never know how much one phone call might save you!
Are There Any Cheap North Shore Hotels?
You might notice a lack of hotel deals on the North shore, and you're right!
The Courtyard Oahu North Shore was the most reasonable I have found, and even that is usually over $180+ per night for a room that fits all four of us. Check out the latest prices and more details.
My suggestion if you are looking to stay up north would be to explore Airbnb, VRBO or Homeaway.
It seems that all three sites have homes, condos or apartments for rent, and they are usually cheaper than finding a hotel room.
If you are looking for an awesome North Shore luau, check out Toa Luau!
My boys and I are constantly on the go when we are in Hawaii. I see our hotel as a place to crash and sleep at the end of every fabulous day, but I still want it to be clean and safe!
Amenities like an outdoor pool, continental breakfast, or a spa are nice, but as long as I don't have to sleep with toddler knees in my back, I consider it a successful vacation!
Hopefully, you find this list of 5 Cheap Hotels on Oahu (And How to Find Them!) helpful as you plan your Dream Hawaiian Vacation!
What are you hoping for as you travel to my favorite place on Earth?