Are you looking for where to stay in Waikiki with kids? Keep scrolling for my honest Hyatt Place Waikiki Beach review so you can decide if it's one of the best hotels on Oahu for families.
This Hyatt Place Waikiki Beach review was written by Hawaii travel expert Marcie Cheung and contains affiliate links which means if you purchase something from one of my affiliate links, I may earn a small commission that goes back into maintaining this blog.
I recently became a World of Hyatt card member and it's been fun to check out locations all over the world.
I've had the Hyatt Place Waikiki Beach hotel on my radar for years. It has a great reputation for being a great place to stay on Oahu with kids. So, I had to see for myself!
Keep scrolling for my honest review of the Hyatt Place Waikiki Beach hotel review!
Don't have time to read a bunch of Hawaii blog posts and reviews? Here are some of our top picks for visiting Oahu.
Popular Oahu Tours/Activities
Favorite Oahu Resorts/Hotels
Want to Rent a Car in Hawaii?
One of the best places to rent a car in Hawaii is Discount Hawaii Car Rental because they get the best rates from top national companies like Alamo, Dollar, Thrifty, Avis, Enterprise, Budget, and Payless.
Where is the Hyatt Place Waikiki Beach Hotel on Oahu?
The Hyatt Place Waikiki Beach is located in Waikiki just steps away from the action and the beach.
It's about 20 minutes away from the Honolulu airport. The address is 175 Paoakalani Ave, Honolulu, HI 96815.
You'll need to either book your own taxi/Uber or rent a car.
Because of its location and amenities, we think Hyatt Place Waikiki Beach is one of the best areas to stay on Oahu for families looking for activities and walkability to restaurants.
Does the Hyatt Place Waikiki Beach have an airport shuttle?
No. You'll need to book your own taxi/Uber or shuttle service.
Honest Hyatt Place Waikiki Beach Hotel Review
What was our room like?
Our room was a nice, spacious hotel room. We upgraded to a 2 Queen bedroom that also had a sofa. Check rates and availability.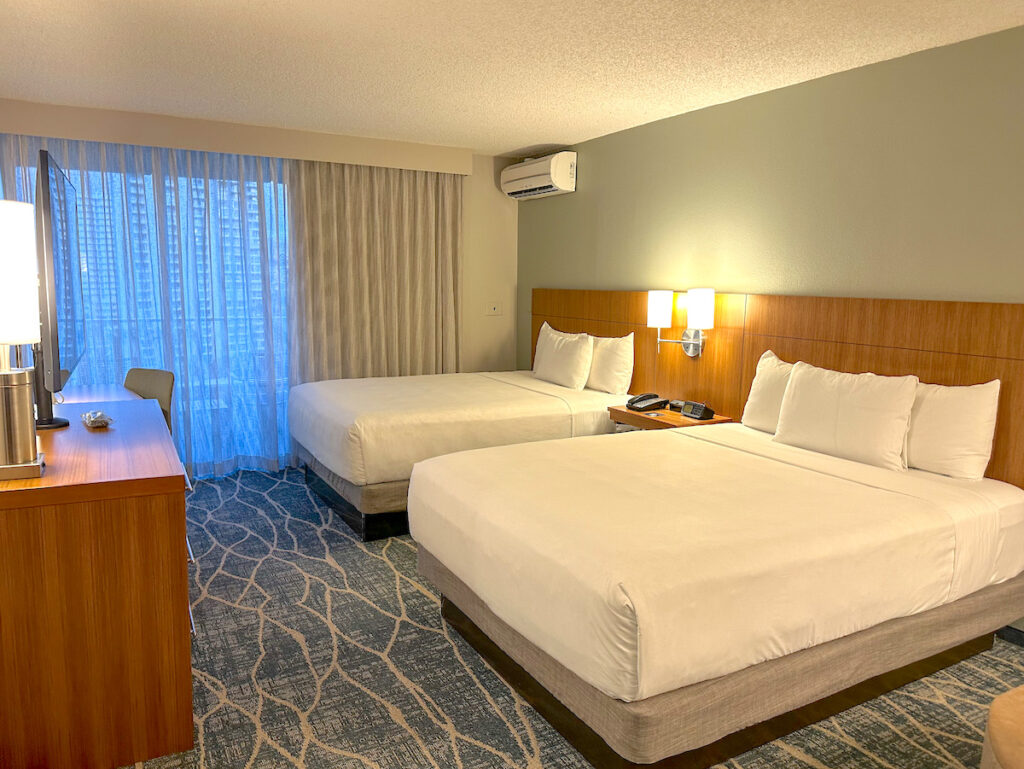 There was a nice desk area as well as a long dresser that had a mini-fridge inside. There was also a coffee maker.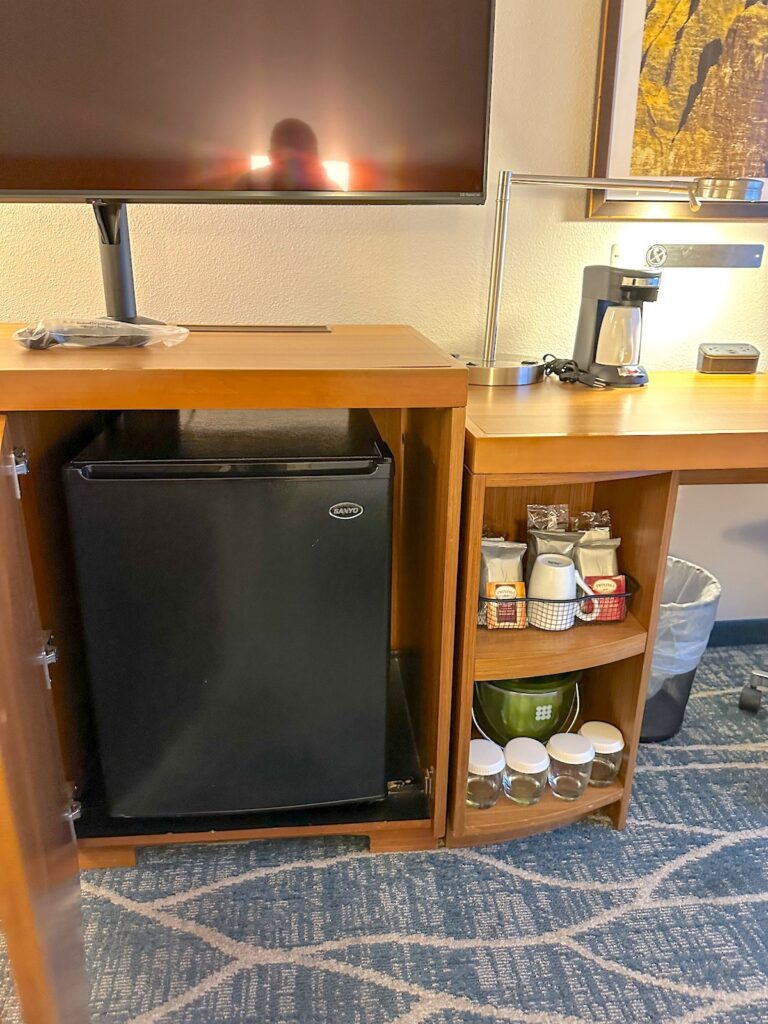 I really liked the sofa area. It's a pull-out so it's great for kids. We ended up putting a bunch of shopping bags and our carry on bags over there.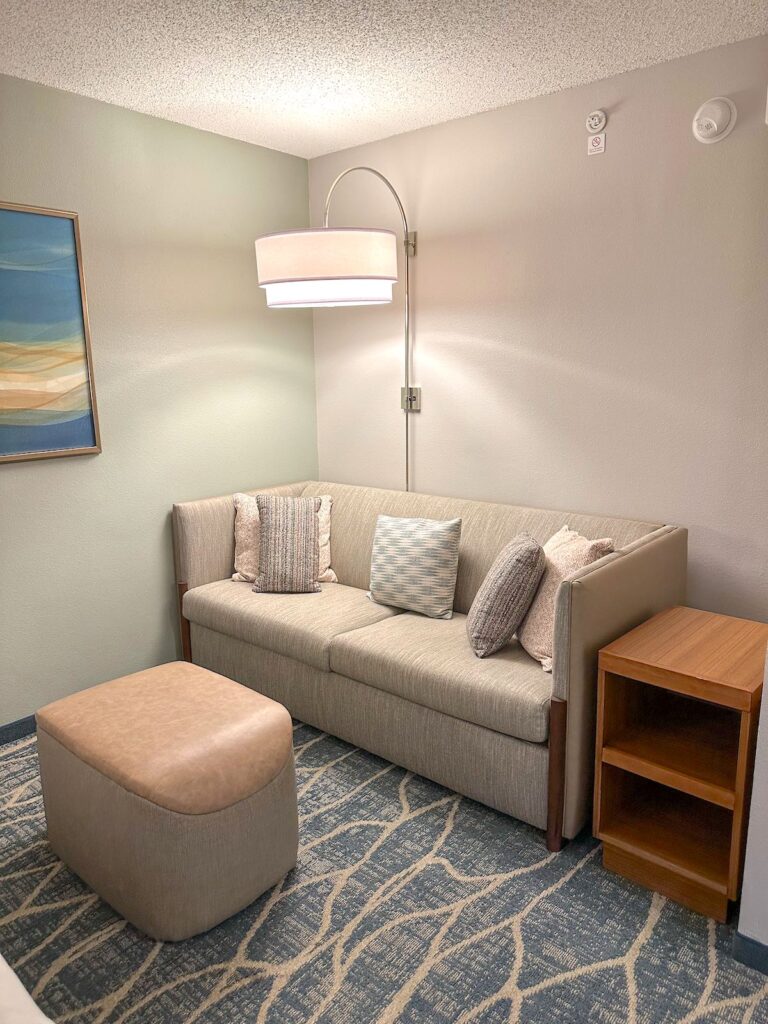 The bathroom was pretty small. The sink area was separate from the shower stall and toilet. The shower had shampoo, conditioner, and body wash.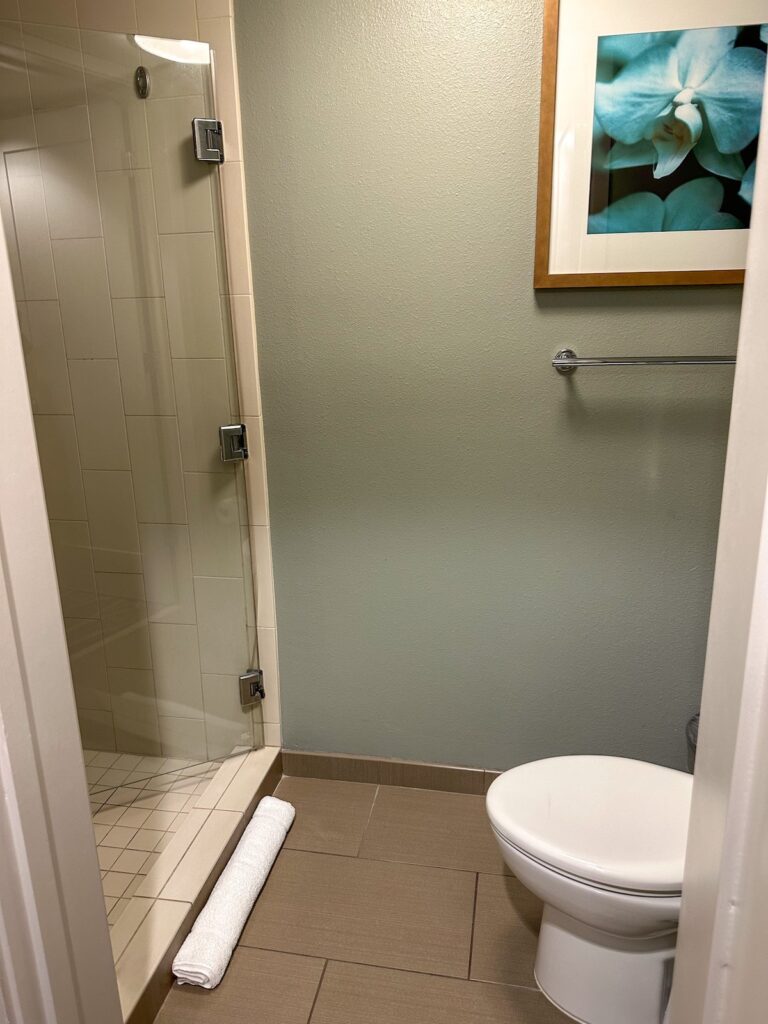 There were lots of electrical outlets and USB ports to charge electronics. And they were located in convenient areas (which isn't always the case in hotels).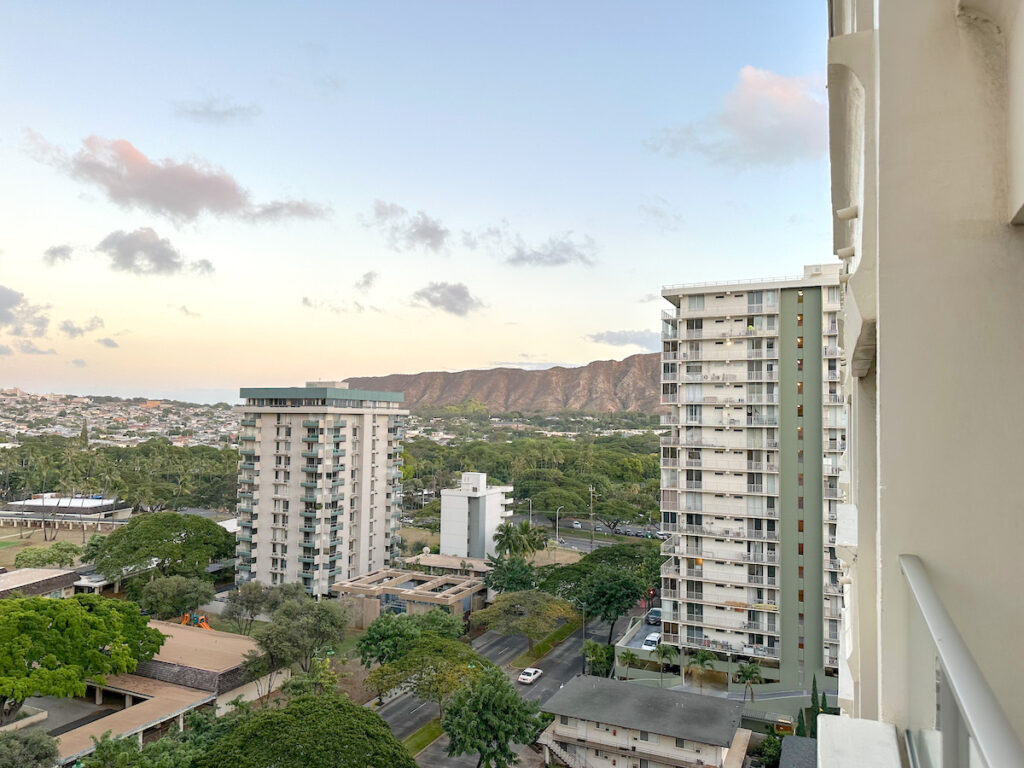 Our room was supposed to have a Diamond Head view, but it was actually more like a partial view.
What did we think of the dining options?
Breakfast Bar
We went to the complimentary breakfast bar once during our trip. They offered hot items like scrambled eggs, bacon, and French toast sticks.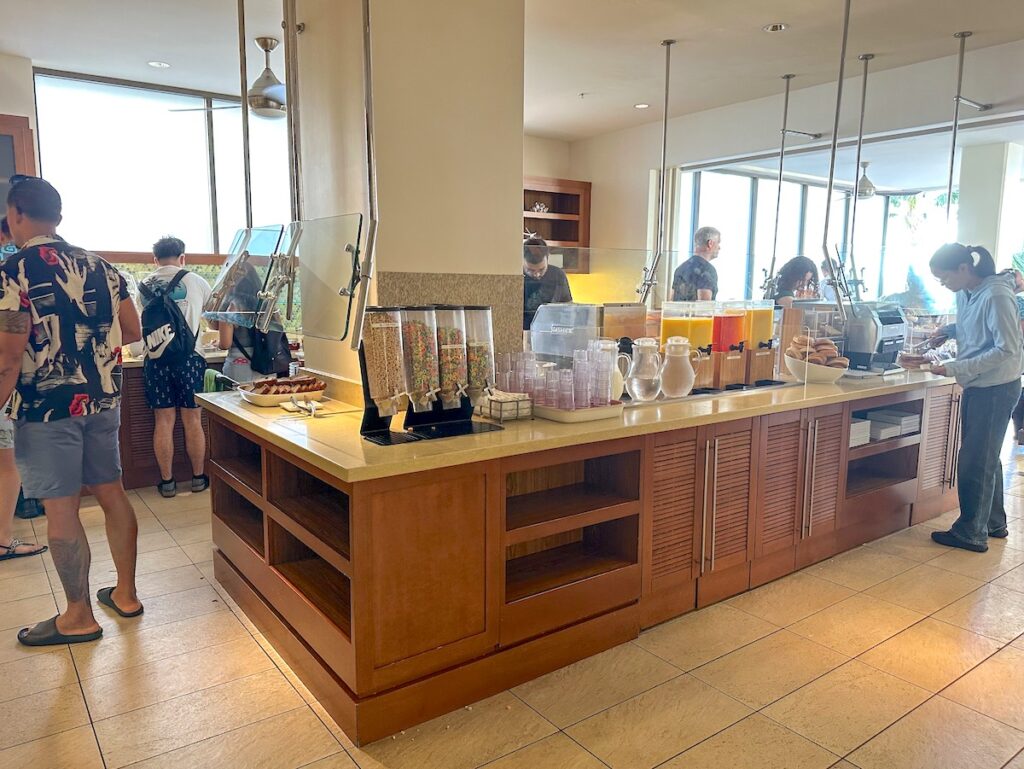 There were also some cereal, fruit, juice, and Asian breakfast options.
The breakfast area is all outdoors and near the pool. When we went for breakfast, it was so windy that food and napkins were blowing into the pool. I'm not sure if that's always the case or if it was just while we were there.
The Placery
We didn't have a chance to eat here. They supposedly have burgers, sandwiches, and salads.
The Market
We grabbed sandwiches here for lunch one day and they were pretty good. But, it was $15 per pre-packaged deli sandwich.
There's also a Starbucks in the hotel directly across the street as well as tons of food trucks and restaurants nearby.
Hyatt Place Waikiki Beach Hotel Pool Area
To be honest, the pool area was a bit of a letdown.
It's located on the 3rd floor of the hotel in a rooftop area. The pool is VERY small and the water was really cold in November. Even my PNW kid wouldn't go in.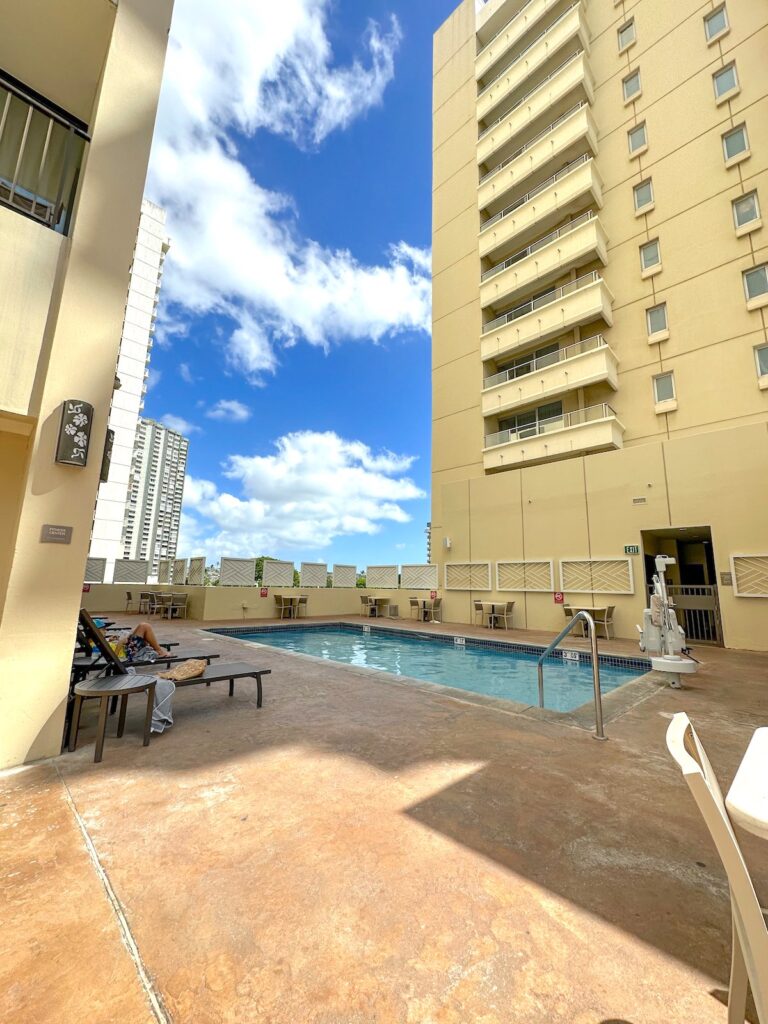 The area was super windy and our stuff kept flying away. We couldn't even read at the pool very easily.
But, there were some lounge areas near the pool that were pretty comfortable. We ended up reading our books here for a while one afternoon.
If you're looking for a Waikiki hotel with a fun pool, this is NOT it.
Other features/amenities
Hyatt Place Waikiki Beach Hotel Parking
They don't really have on-site parking. It's kitty-corner from the hotel. When we stayed, it was about $35/night for self-parking.
We ended up doing valet parking because it was about $50/night and I didn't want to have to park the minivan we rented in a garage.
Free Wi-Fi
I think my son's favorite thing about this hotel was the free in-room Wi-Fi. That meant he could play games on his iPad while I checked email and worked on my laptop.
Are there any things we didn't like?
I really didn't like how there wasn't a separate light for the bathroom. I had to turn on the light that was near the door that lit up the closet, sink area AND the shower/toilet area.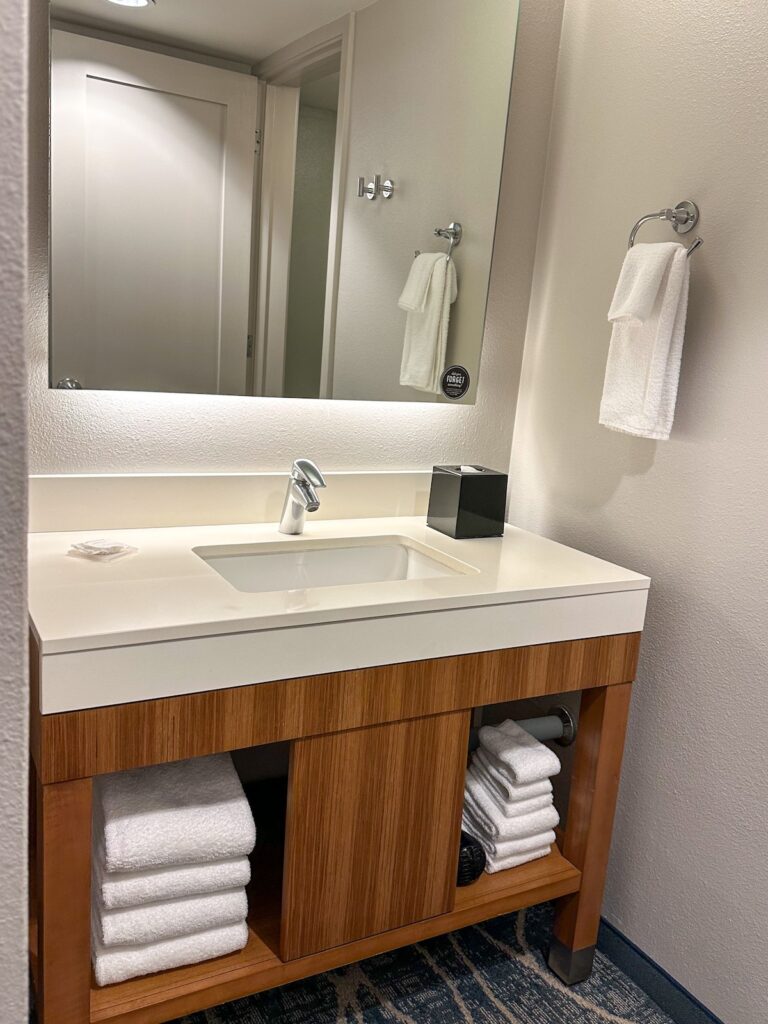 This made it really hard to pee in the middle of the night without waking up my son. It was also tricky in the morning/evening while he was sleeping.
I know this is a minor complaint, but there also wasn't any lotion in the room, which made it feel sort of budget.
Things Families Should Know About Hyatt Place Waikiki Beach Hotel
There is a microwave in the lobby
One of the coolest features I found was a microwave in the lobby. This is perfect for heating up leftovers or making kids Cup Noodles or Easy Mac.
The Pool is SMALL
It's a pretty basic, no-frills pool area with just a handful of lounge chairs. The water was too cold for my son to swim.
There aren't many cultural amenities
We saw someone playing the ukulele in the lobby a couple of times. But we didn't see any hula lessons or lei-making opportunities like we've seen at other Waikiki hotels.
Their website says they have a lei making class on Wednesdays and Fridays (registration required) but we never heard anything about this.
The resort fee is pretty high for what you get
It's $35 per day. You're supposed to get water bottles, a tote bag, food/beverage credits, and discounts for activities. We got NONE of these.
All we got was the use of beach towels during our stay.
Hyatt Place Waikiki Beach Hotel FAQs
Is the Hyatt Place Waikiki Beach pet-friendly?
Yes. They charge $75 for a pet if you're staying 1-6 nights. We saw lots of dogs all over the hotel.
Is there a resort fee?
Yes. There is a daily destination fee of $35.00.
Would We Recommend Hyatt Place Waikiki Beach Hotel for Families?
In all honesty, this hotel is…fine.
If you have Hyatt points (but not enough for the Hyatt Regency in Waikiki) then this is a good option if you just need somewhere to sleep.
The location is just a few blocks from the beach and lots of shops/restaurants. And it's close to the Twin Fin Hotel, which has a trolley stop.
But, it's just a standard Hyatt Place hotel and there's nothing really special about it.
If you're looking for a fun Waikiki hotel, there are a lot of other options. You can read about my top picks HERE.