Are you looking for where to stay in Waikiki with kids? Keep scrolling for my honest Queen Kapiolani Hotel review so you can decide if it's one of the best hotels in Waikiki for families for your upcoming Oahu vacation.
This Aqua Queen Kapiolani Hotel review was written by Hawaii travel expert Marcie Cheung and contains affiliate links which means if you purchase something from one of my affiliate links, I may earn a small commission that goes back into maintaining this blog.
Planning a trip to Hawaii with the kids?
Waikiki is one of the most popular destinations in Hawaii for good reason – it has everything you could want in a vacation spot.
From world-famous beaches to amazing restaurants, there's something for everyone in Waikiki. And if you're looking for a place to stay, we've got you covered.
Our family recently stayed at the Queen Kapiolani Hotel on the east end of Waikiki Beach and it was a mixed bag for us.
It's a few blocks from the beach on the quieter side of Waikiki. And it had an on-site coffee shop as well as a cute shop that sold Dole Whip right in the lobby!
Keep scrolling to read our honest review of whether or not it's one of the best hotels in Waikiki for families.
Don't have time to read a bunch of Hawaii blog posts and reviews? Here are some of our top picks for visiting Oahu.
Popular Oahu Tours/Activities
Favorite Oahu Resorts/Hotels
Want to Rent a Car in Hawaii?
One of the best places to rent a car in Hawaii is Discount Hawaii Car Rental because they get the best rates from top national companies like Alamo, Dollar, Thrifty, Avis, Enterprise, Budget, and Payless.
Want to skip all the planning and just access my detailed Oahu Itinerary complete with daily schedules, kid-friendly activities, and travel hacks? Click the button below.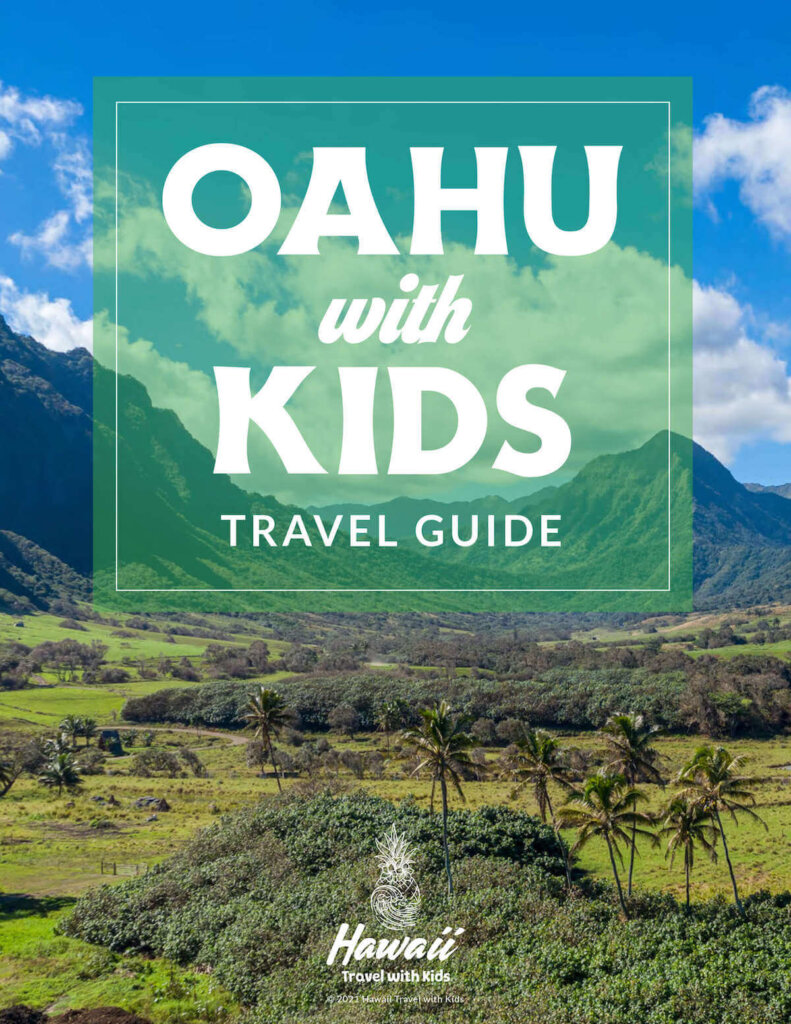 Best Waikiki Hotels FAQs
What are the best hotels in Waikiki?
If you want to know where to stay in Waikiki, the right answer totally depends on your travel style. The Moana Surfrider and the Royal Hawaiian Hotel are gorgeous historic hotels. There's also the Hilton Hawaiian Village that is a massive Waikiki resort. Or the Hyatt Regency is a great Waikiki hotel for families.
Is Waikiki one of the best places to stay in Oahu?
Waikiki is definitely the most popular place to stay on Oahu. That's because you'll find tons of Waikiki resorts and hotels that have easy access to restaurants, shops, and the beach. However, it's nice to do a split stay between Waikiki and either the North Shore or Ko Olina.
Is the Queen Kapiolani hotel restaurant worth it?
Absolutely! First of all, the food at DECK is really flavorful and beautiful. They also craft some amazing cocktails. Families will appreciate their kids menu. Plus, there's an awesome view of Diamond Head from most of the tables.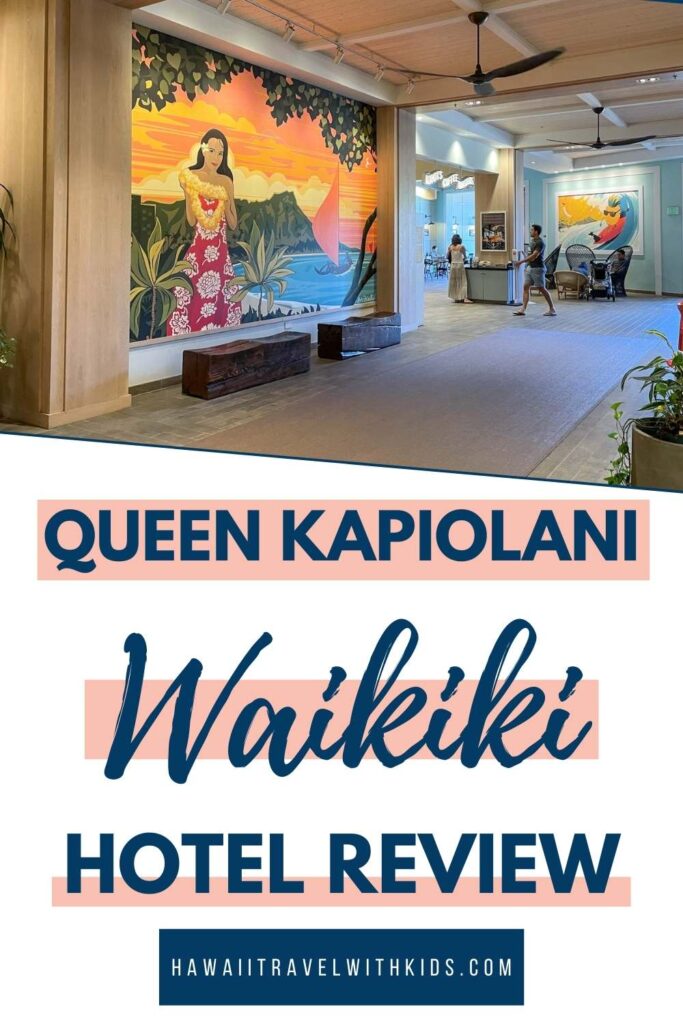 Where is the Queen Kapiolani Hotel?
The Aqua Queen Kapiolani Hotel is located on the East side of Waikiki, near the Honolulu Zoo. It's about 30 minutes from the Honolulu Airport (without traffic). The address is 150 Kapahulu Ave, Honolulu, HI 96815.
You'll need to either book your own taxi or shuttle from the airport or rent a car.
Because of its location, we think the Queen Kapiolani Hotel is one of the best areas to stay on Oahu for families looking to escape the more crowded areas of Waikiki.
Does the Queen Kapiolani Hotel have an airport shuttle?
The Queen Kapiolani Hotel does not have an airport shuttle. However, they do recommend Fly Shuttle Hawaii as their preferred transportation company. Please reach out to them directly to reserve your pickup/drop off: 808.260.9766.
Honest Queen Kapiolani Hotel Review
I've had the Queen Kapiolani Hotel in Waikiki on my radar for years and years. I follow them on Instagram and they always share the cutest photos of their lobby and hotel areas.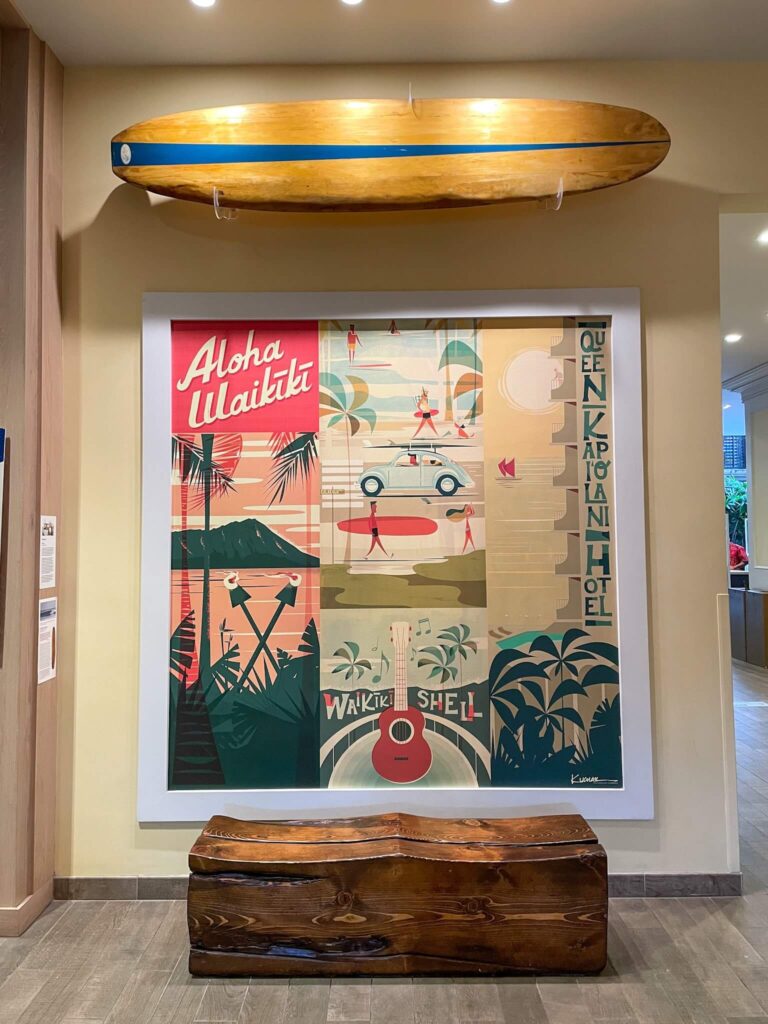 So, when I decided to take a last-minute trip to Oahu with my 5-year-old, I figured we'd spend a few nights at the Queen Kapiolani Hotel specifically so I could review it for this site.
It was really adorable, but there were a few things that were annoying. Keep reading to find out what those were. Check the latest rates and availability.
Save Money with Points
Here are the best credit card offers for families who travel and want to use points to pay for airfare and hotels in Hawaii.
What was our room like?
Our room felt like an upscale vintage motel room, but I mean that as a compliment! It had a sort of 60s vibe without being overboard.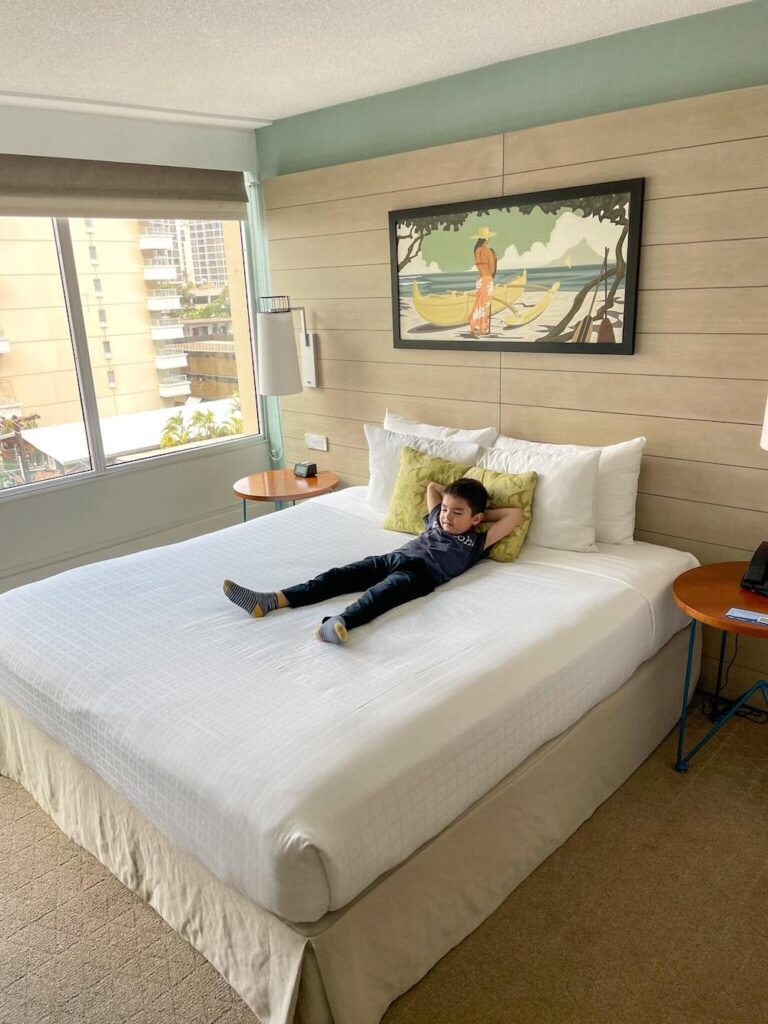 I loved the color scheme, the modern furniture style, and the artwork. And I really appreciated the USB outlets on the walls so we could keep all our devices charged.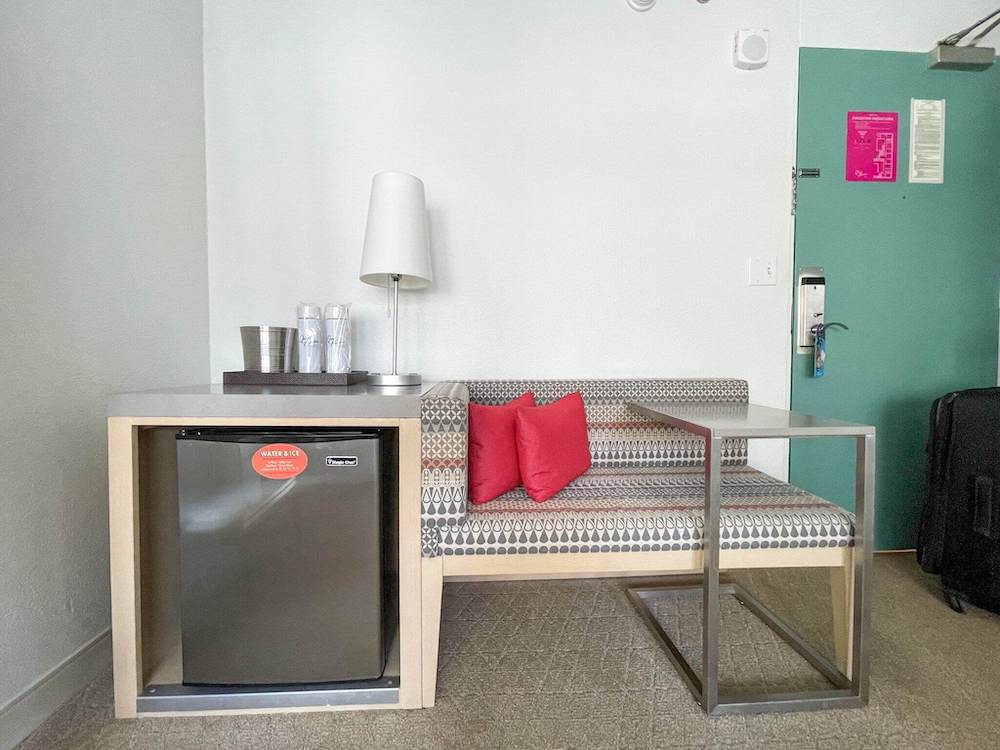 And they had a cool little bench seat with a TV tray table that was perfect for doing a quick breakfast with my son in the room.
They also had an empty mini-fridge which held a lot of bottled drinks and leftover food. I always appreciate it when hotels don't stock it with mini-bar items making it completely useless.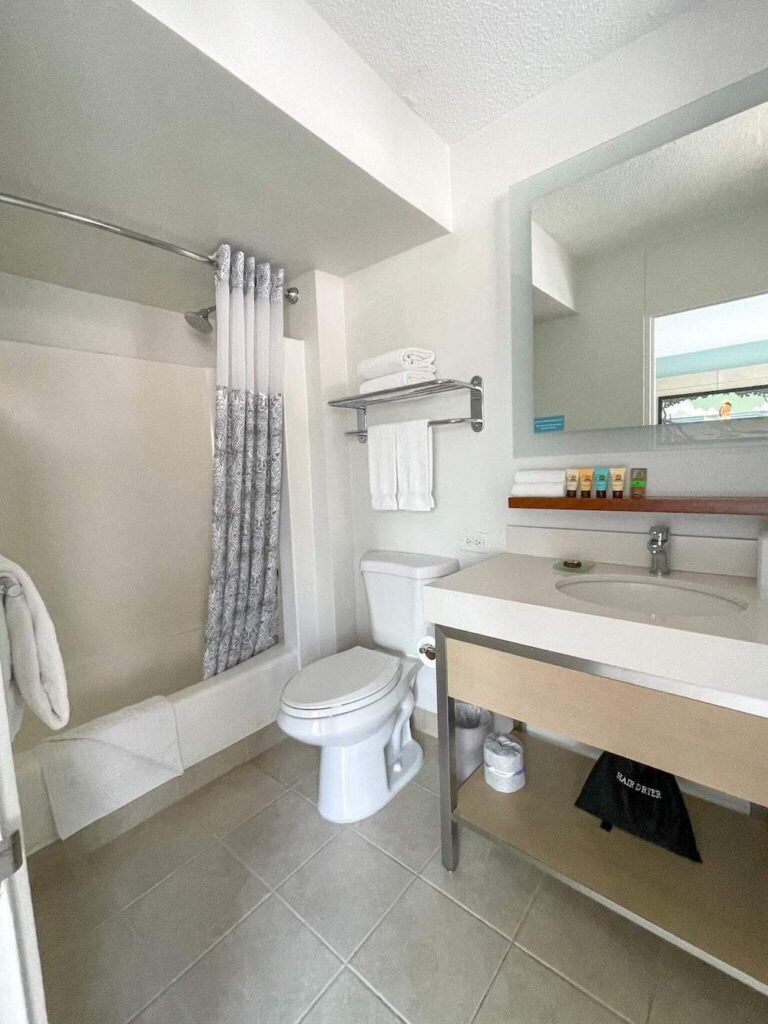 The shower was a bit quirky. As soon as I turned it on, it created a wind effect that blew the shower curtain around like crazy. And it was tricky to get the water temperature right.
But, I appreciated that they came with their own branded Queen Kapiolani hotel shampoo, body wash, conditioner, and body lotion. They smelled amazing!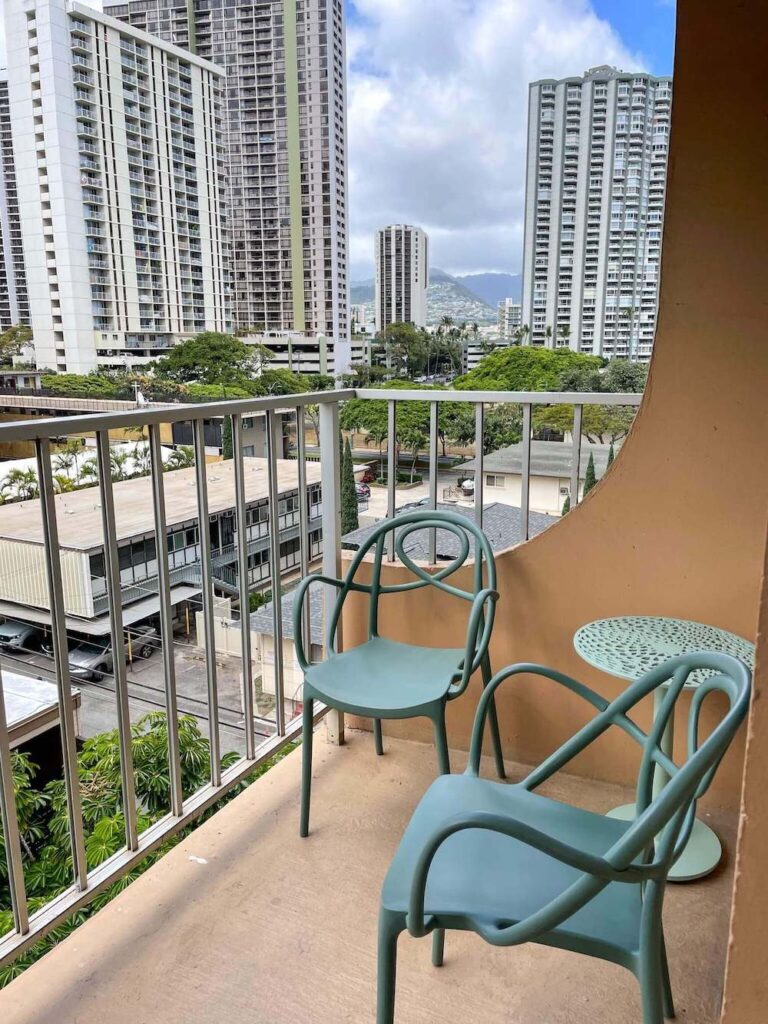 The balcony area was…okay. Our balcony overlooked a hostel and their pool area. And we could see some of the streets.
But, it was actually pretty quiet and easy to sit out there to drink coffee or take a few moments to myself.
What did we think of the dining options?
The Queen Kapiolani Hotel has a few on-site dining options. I'll briefly talk about where to eat at the Queen Kapiolani Hotel below.
Knotts Coffee Roasters
This is the coffee shop in the lobby and they have a really extensive menu of classic drinks as well as unique ones I'd never heard of.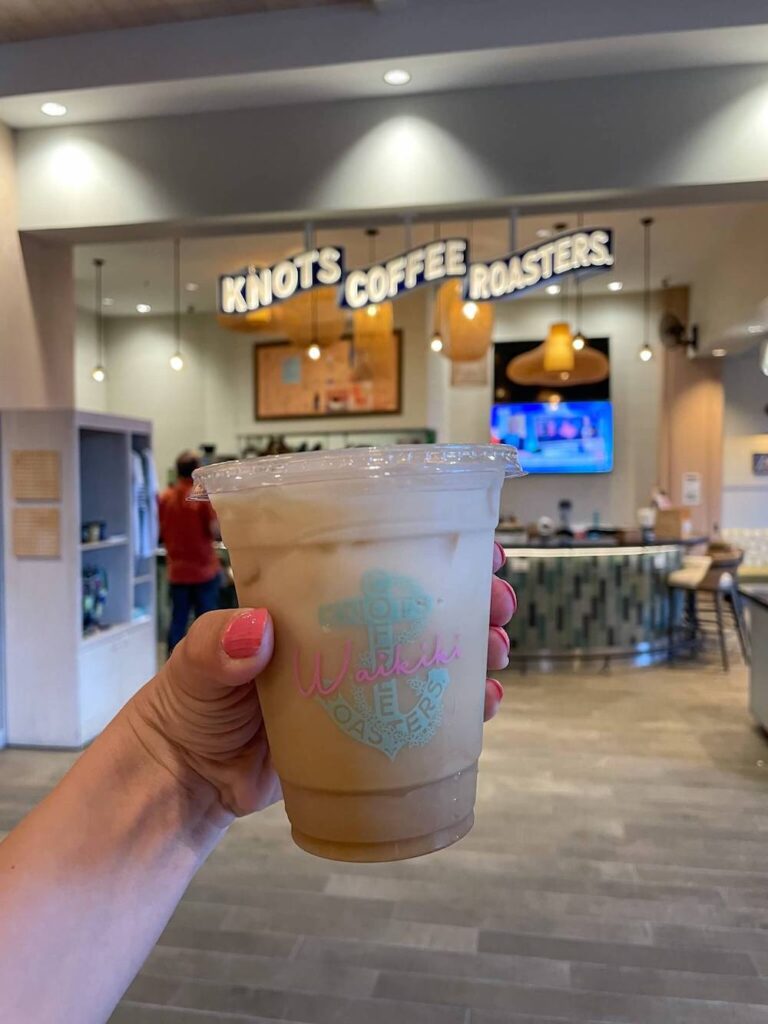 They were even able to make chocolate milk for my son, even though it wasn't on the menu.
This is where you can find grab and go breakfast items, bottled drinks, and even order food from DECK.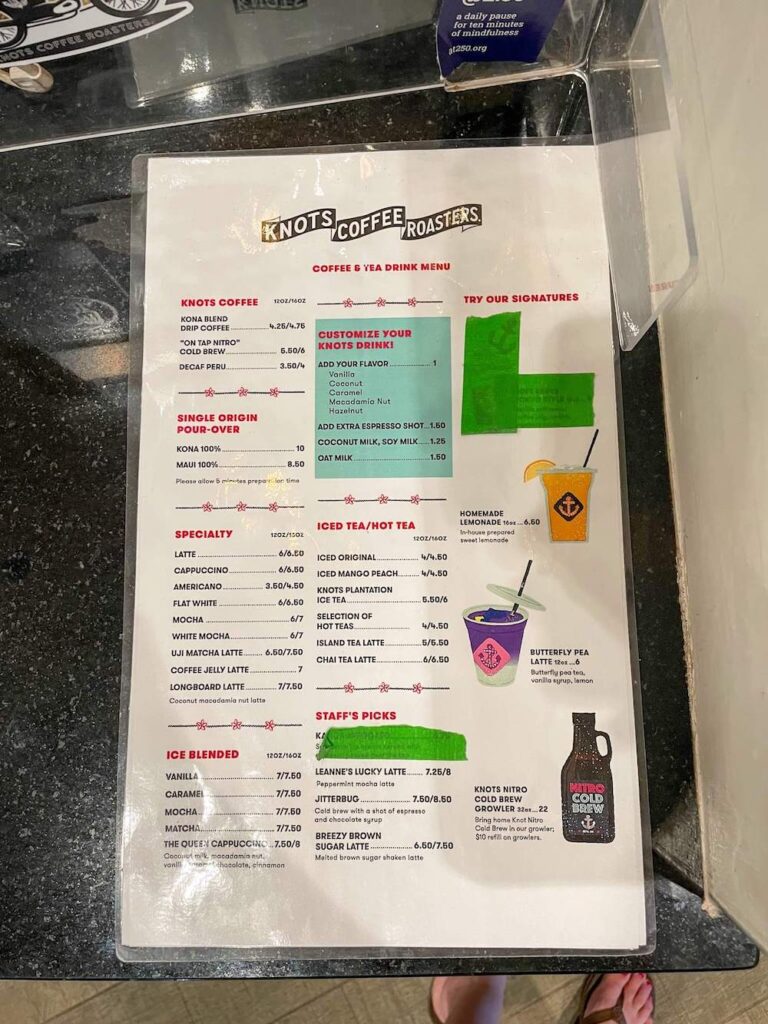 We ordered drinks at 7am and got them about 30 seconds later. It was possibly my fastest coffee shop experience ever!
We went back the next day and I tried their coffee jelly latte which was really tasty and unique! I didn't get a chance to try their signature butterfly pea latte, but it's on my list for the next trip!
DECK
We did take-out from DECK one night because the in-room dining QR code wasn't working. Our room was on the same floor as DECK so it was really easy to do take-out.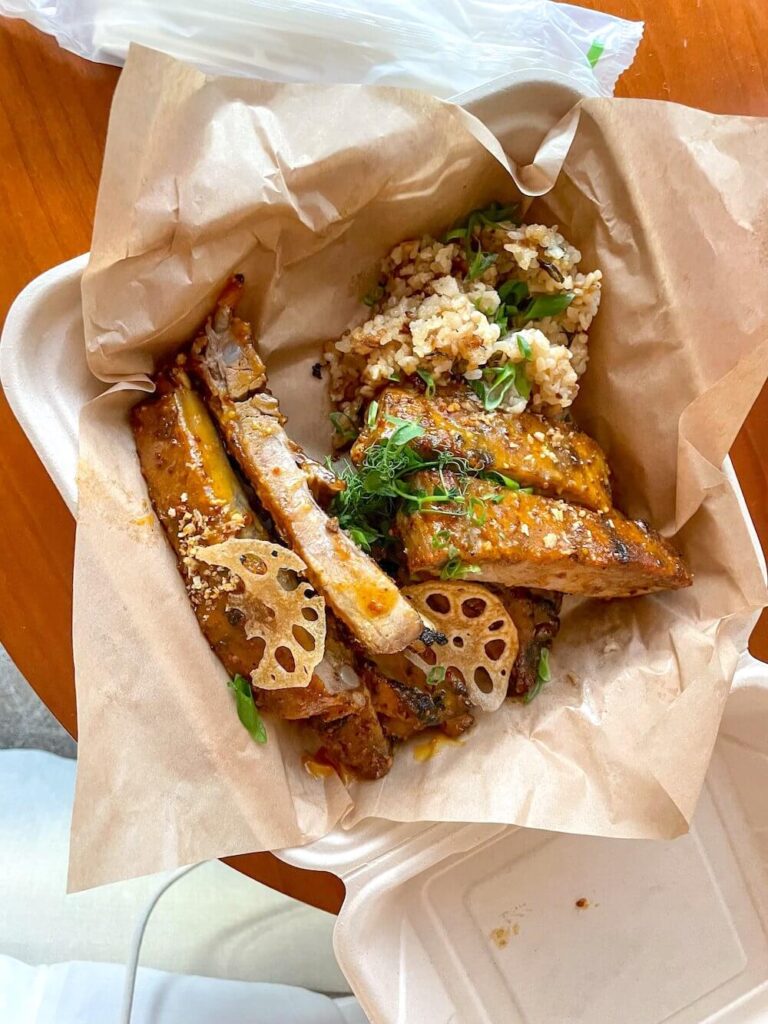 I ordered the lilikoi ribs and they were amazingly delicious! The presentation gave me really low expectations before I tried them. They taste SO much better than they look!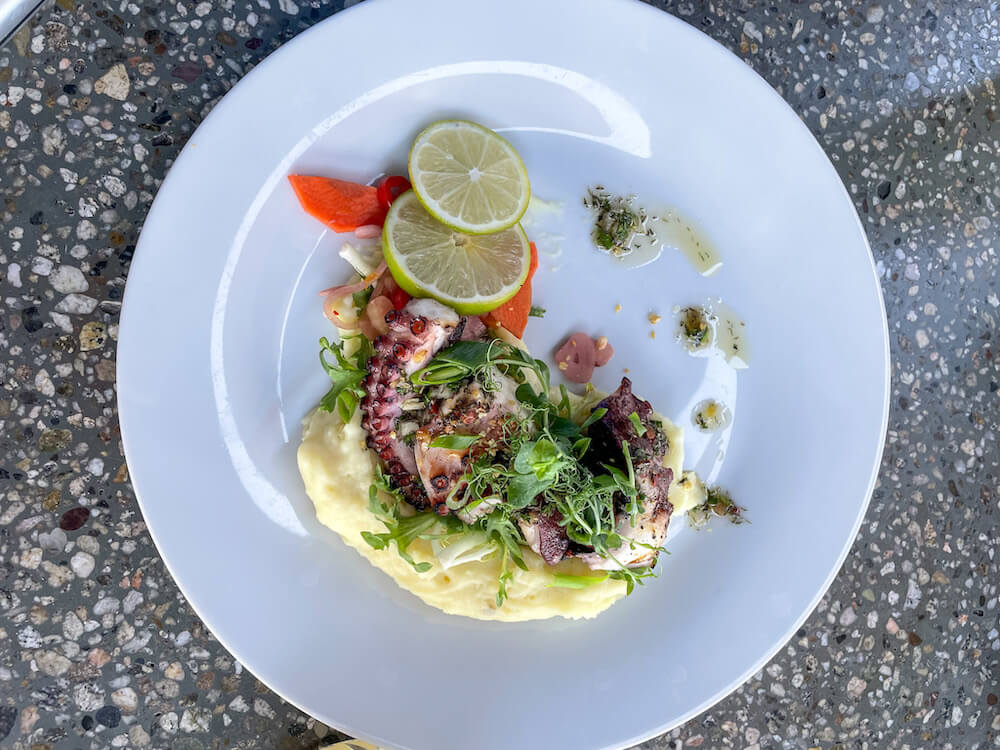 We ate at the restaurant the next night and the food and cocktails were amazing! Plus, there's a great view of Diamond Head.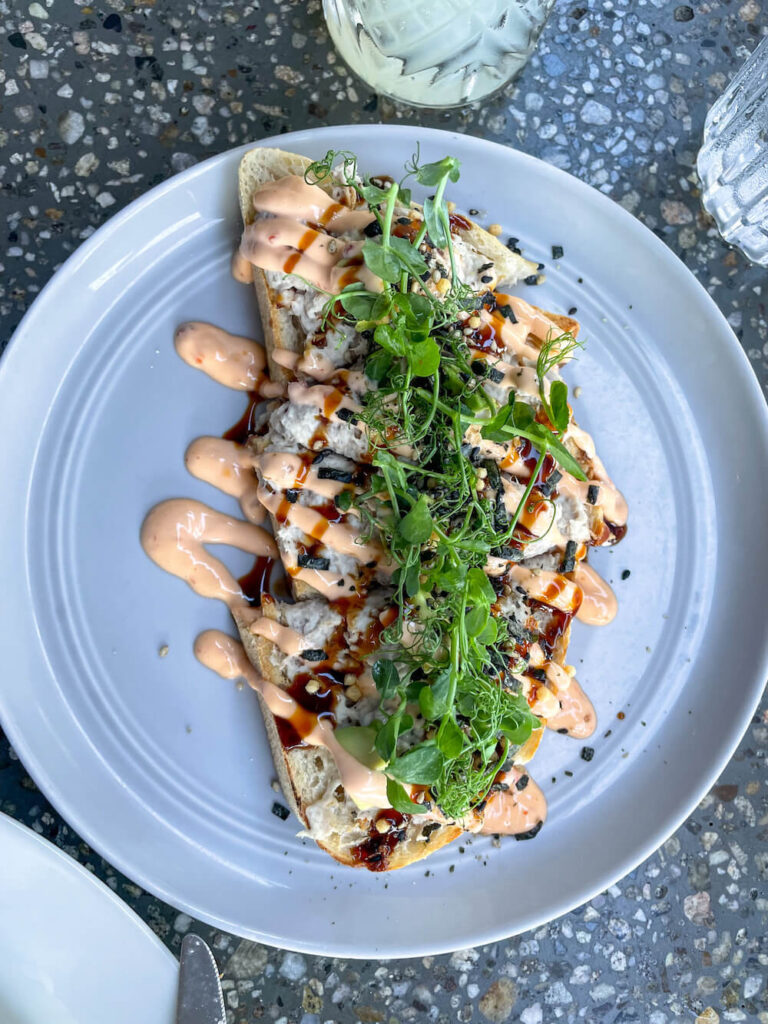 I appreciated that they also had a decent kids menu and an assortment of non-alcoholic drinks.
Aloha Whip
I'll be frank, the main reason we booked the Queen Kapiolani Hotel was for the sole reason that we could get Dole Whip right in the lobby.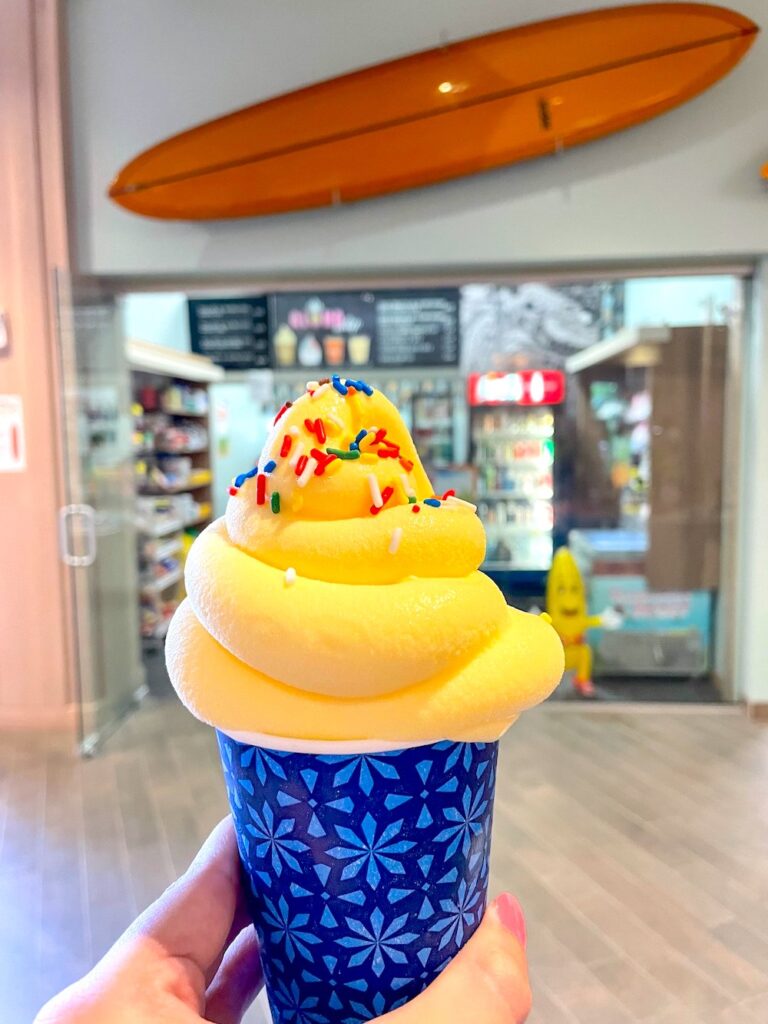 Our family LOVES Dole Whip and Aloha Whip has been on my radar for years.
I thought that the presentation would have been cuter (I've been following them on Instagram for a long time) but it tasted amazing. I love that you can add sprinkles or gummy bears on top!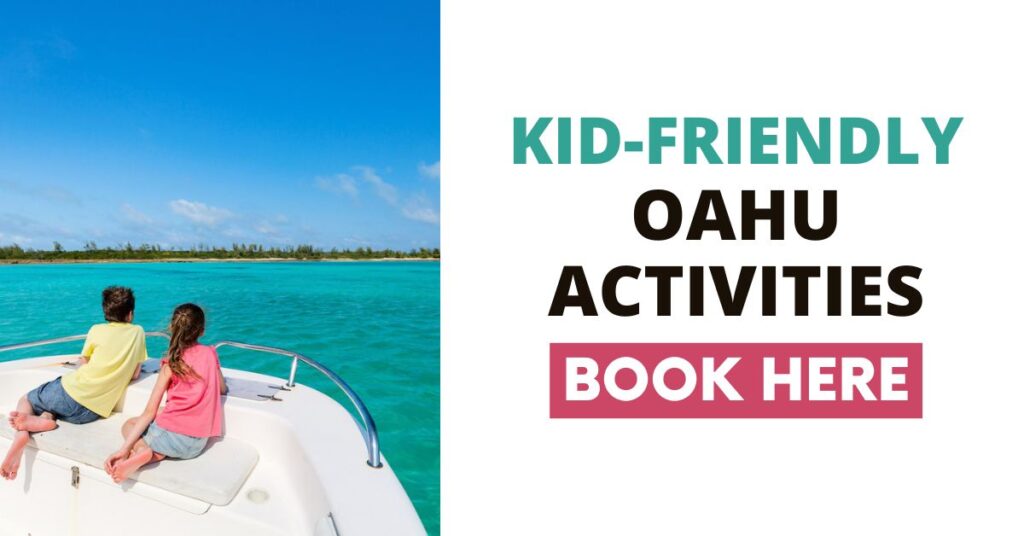 Queen Kapiolani Hotel Pool Area
There is a pool at the Queen Kapiolani hotel. It's located on the 3rd floor but it's basically a rooftop pool.
The pool area felt like an updated motel pool complete with astroturf. I sort of loved the kitschy vibe it gave off.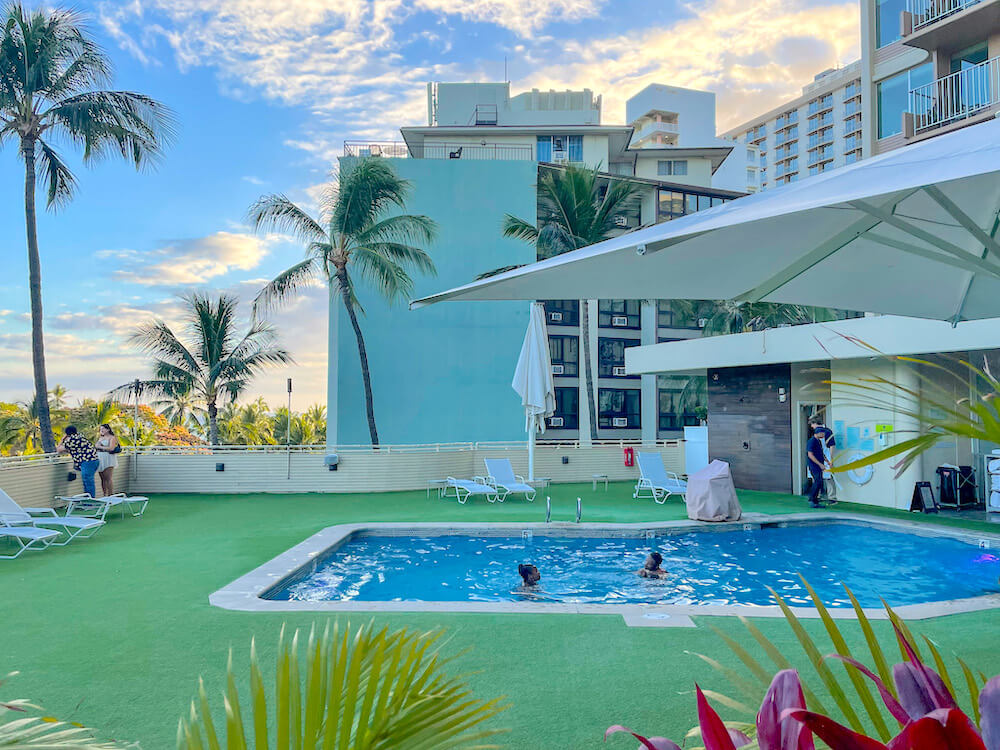 But, it was pretty small and not sure appealing for kids. And it's literally right next to the restaurant so you're sort of on display for the restaurant guests.
Other features/amenities
Waikiki Art Gallery
If you like vintage-inspired Hawaiian artwork, you'll love this Waikiki Art Gallery. It's adorable and has all kinds of prints and gift items.
Hans Hedemann Surf Shop
This was a cute surf shop where you can get swimsuits and surf clothing.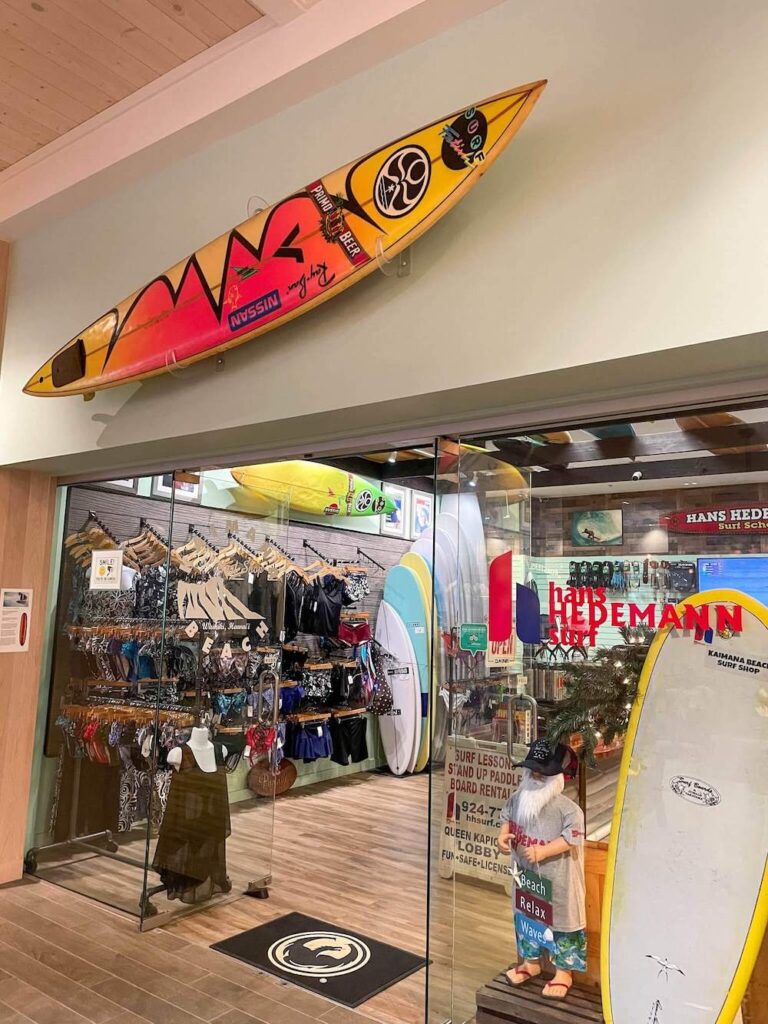 It's also a good place to sign up for surf lessons or rent a stand up paddle board.
Concierge Desk
If you need help figuring out what to do in Waikiki, stop by the concierge desk. There was someone there almost all of the time assisting guests.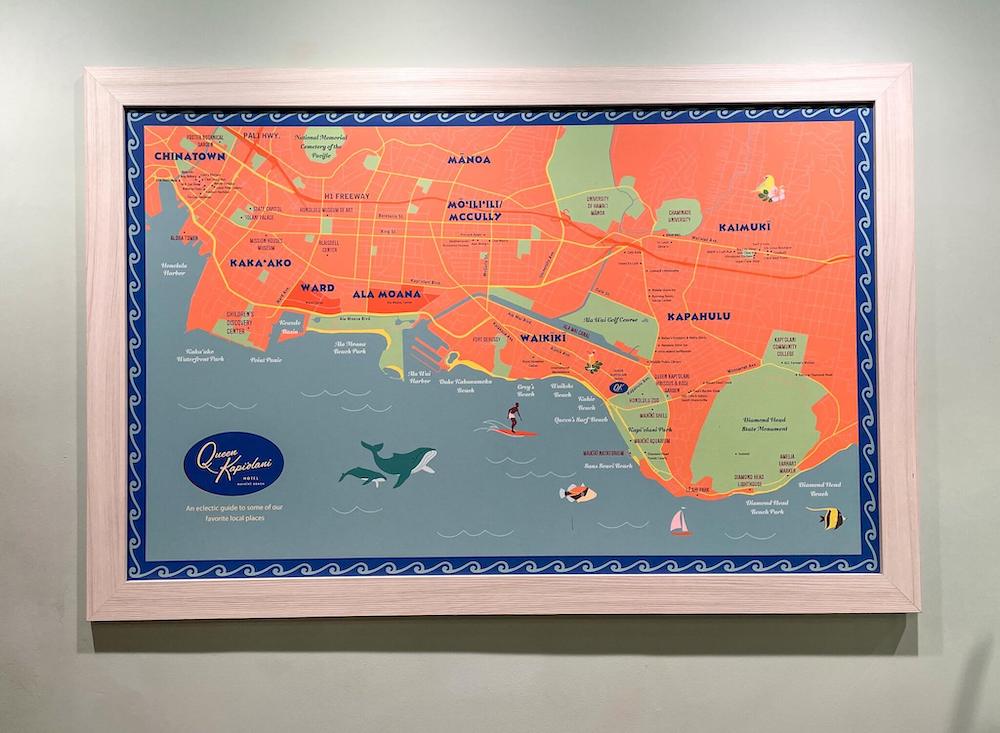 There was also a cute map of Honolulu located right next to the desk. This is worth a stop to familiarize yourself with the area and check distances between the hotel and the activities you want to do.
Queen Kapiolani Hotel Parking
If you're renting a car, Queen Kapiolani offers onsite valet parking for $50 (plus tax) per day, based on availability.
This is the option I ended up doing because I thought it might be easiest for traveling with a tired 5-year-old.
But, I'll let you in on a secret. You can park at the Honolulu Zoo just across the street for a much cheaper rate.
Are there any things we didn't like?
This is probably the noisiest hotel I've ever stayed at in Hawaii.
Our room was on the 3rd floor just a few feet away from the elevators and DECK restaurant. That means we could hear loud but muffled live music for hours each night.
While we didn't hear the elevators themselves, we heard everyone going in and out of them until about 11pm. This included a lot of shouting and shrieking from tipsy patrons.
Then, we heard the staff cleaning and vacuuming until 2am like it was right outside our door.
So, definitely DON'T stay on the 3rd floor. I'm not sure if the other floors are quieter, but I'd imagine they'd have to be.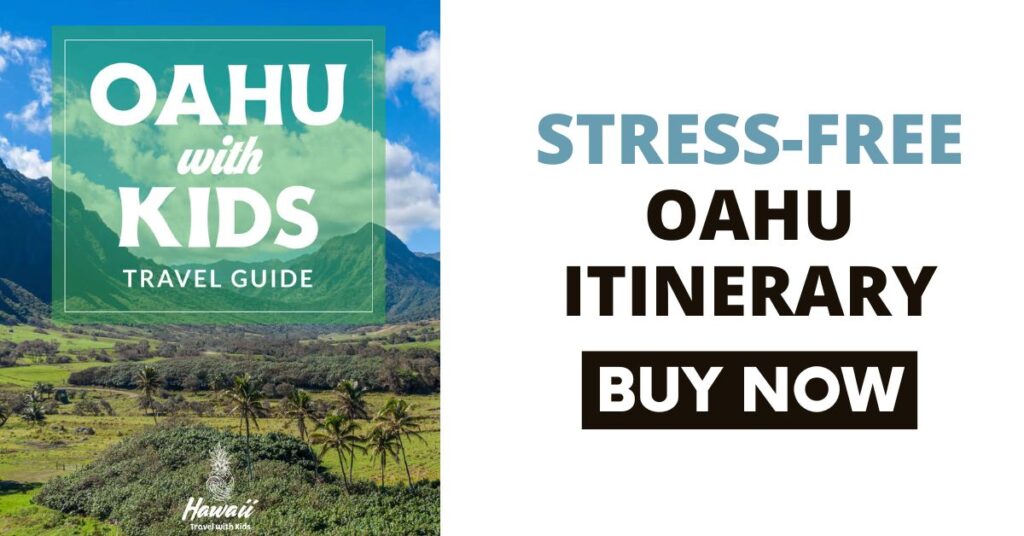 Would we recommend the Aqua Queen Kapiolani Hotel for families?
I think this hotel would be cool for young couples, graduation trips, or a budget-friendly honeymoon hotel.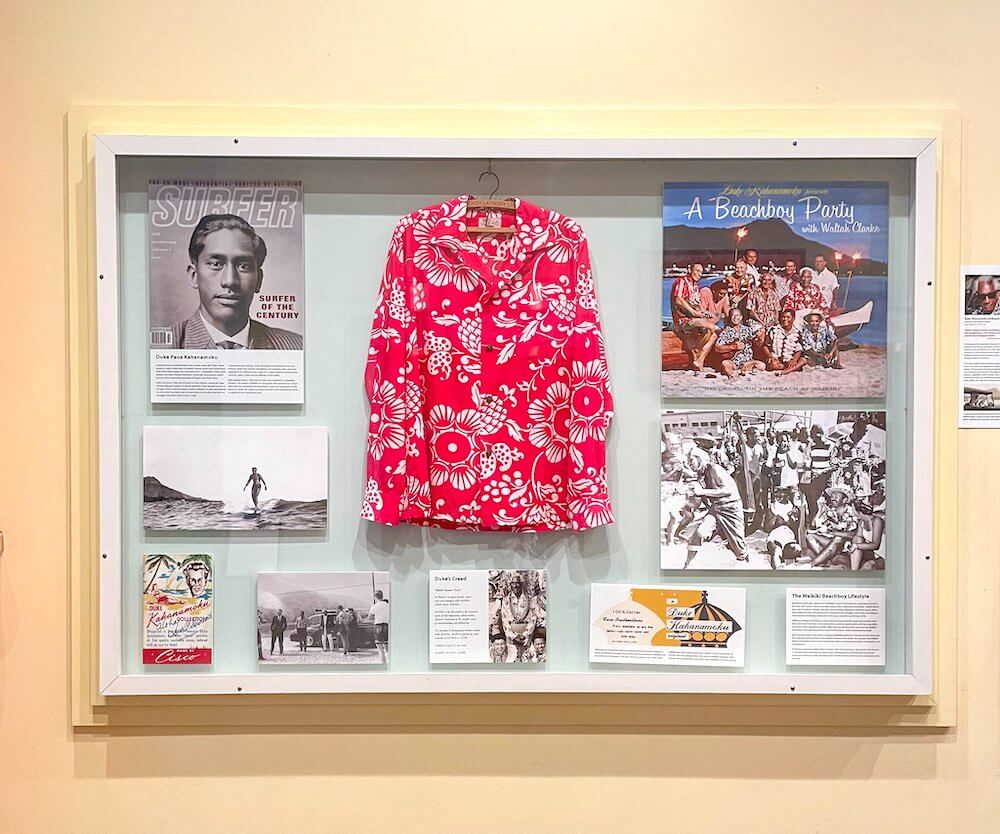 It has such a cute retro-chic Hawaiian vibe and it's seriously cool. The area itself is pretty quiet and it's pretty easy to get on the freeways.
It was great to have an onsite restaurant as well as a great coffee shop and Dole Whip spot.
However it was really, really noisy for families with young kids who go to sleep a little early. For that reason, I would not recommend it for families. But it's a great option for other travelers.