Are you planning a trip to Oahu and trying to figure out how to get from Honolulu Airport to Waikiki? Find out the easiest ways to get to Waikiki from Honolulu Airport using shuttle services, car rentals, taxis, buses, and more. Scroll for all the Waikiki transportation options!
This post about how to get from Honolulu airport to Waikiki contains affiliate links which means if you purchase something from one of my affiliate links, I may earn a small commission that goes back into maintaining this blog.
Planning a trip to Oahu is a lot of fun! There are tons of cool places to stay, restaurants to try out, and fun things to do on Oahu.
One of the less glamorous parts is figuring out logistics like airport transportation.
Travelers heading to Waikiki from Daniel K. Inouye International Airport (Honolulu Airport) HNL have several options to get to their hotel or Airbnb.
Whether you're searching for the cheapest way from Honolulu airport to Waikiki or you want to be whisked away in style, here are some ways to get to Waikiki easily from HNL.
Waikiki is located on the south shore of Honolulu on the island of Oahu. It is a short 20-minute drive from Honolulu Airport. Home to popular Waikiki Beach, it is a popular destination for swimming, surfing, exploring and just relaxing.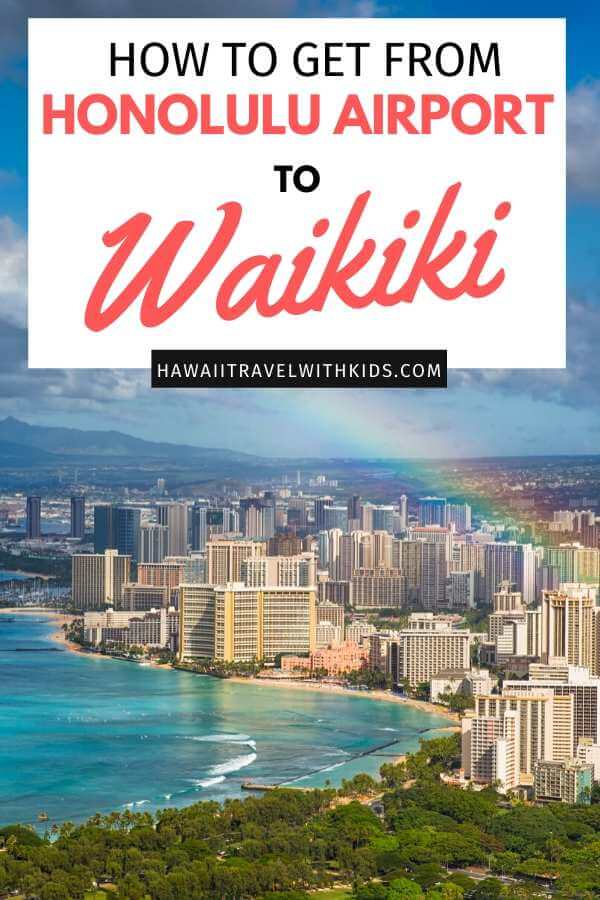 Honolulu to Waikiki FAQs
Are Honolulu and Waikiki the same?
Sort of. Honolulu is the main city on the island of Oahu and it's quite large. Waikiki is an area within Honolulu.
Is it better to stay in Honolulu or Waikiki?
It really depends on how much you want to spend. Most tourists prefer staying in Waikiki because it's so close to the beach, restaurants, shopping, and attractions. But, it can be a lot cheaper staying further away from Waikiki and you can still be close to attractions.
Is Waikiki worth visiting?
Absolutely! We've visited Oahu more than 10 times and we always spend time in Waikiki. It's got a certain energy that is fun to be around. Plus, it's a great spot to hear live Hawaiian music, see free hula shows, and enjoy cocktails with a view!
Getting From Honolulu Airport to Waikiki by Shuttle
If you're looking to take advantage of a shuttle from HNL to Waikiki, there are several options. 
Go Waikiki Shuttle offers round-trip rides and can be upgraded to include a traditional airport greeting with a Hawaiian flower lei. These rides begin at $18 per person.
SpeediShuttle offers one-way rides from the airport for $16 per person if traveling with two people. If you book a round trip ride, SheediShuttle offers a discount for your return shuttle ride.
If you're traveling with a larger group, consider Jet-A Limo. These private shuttles vary in price from $50 to $150 per group.
The company will track your flight and make changes to your pick-up time accordingly which alleviates the worry if you miss a connection or a flight is delayed.
Personalized Airport Shuttle Service
VIP Shuttle offers personalized service from the airport to Waikiki with a special meet and greet upon arrival and discounted deals for groups. Check out the latest prices and more details.
A VIP greeter will find you at the baggage claim with your name on a sign, help you with your luggage and take you where you need to go in  Waikiki.
Book with V.I.P. Shuttle to experience this one-of-a-kind service.
For a top-notch luxury shuttle, consider Fly Shuttle Tours. These private luxury car rides begin at $100 for a party of two. 
Budget-minded travelers will appreciate Aloha Waikiki Shuttle. This shuttle from the airport costs $10 per person. Aloha Waikiki Shuttle also offers several tour transportation options to points of interest.
Getting from Honolulu Airport to Waikiki by Ride Share
Visitors looking to take advantage of rideshare from Honolulu Airport to Waikiki can pick up either Uber or Lyft from one of three locations at HNL.
There are now three rideshare pick up zones at the airport. When booking your rideshare time slot, your driver will alert you to the appropriate pickup location.
Pickup location 1 is located on the second level outside of Lobby near the Terminal 1 parking garage. Pickup location 2 is on the second level outside of Lobby 5 near Terminal 2 while pickup location 3 is on the 2nd level outside of Lobby 8.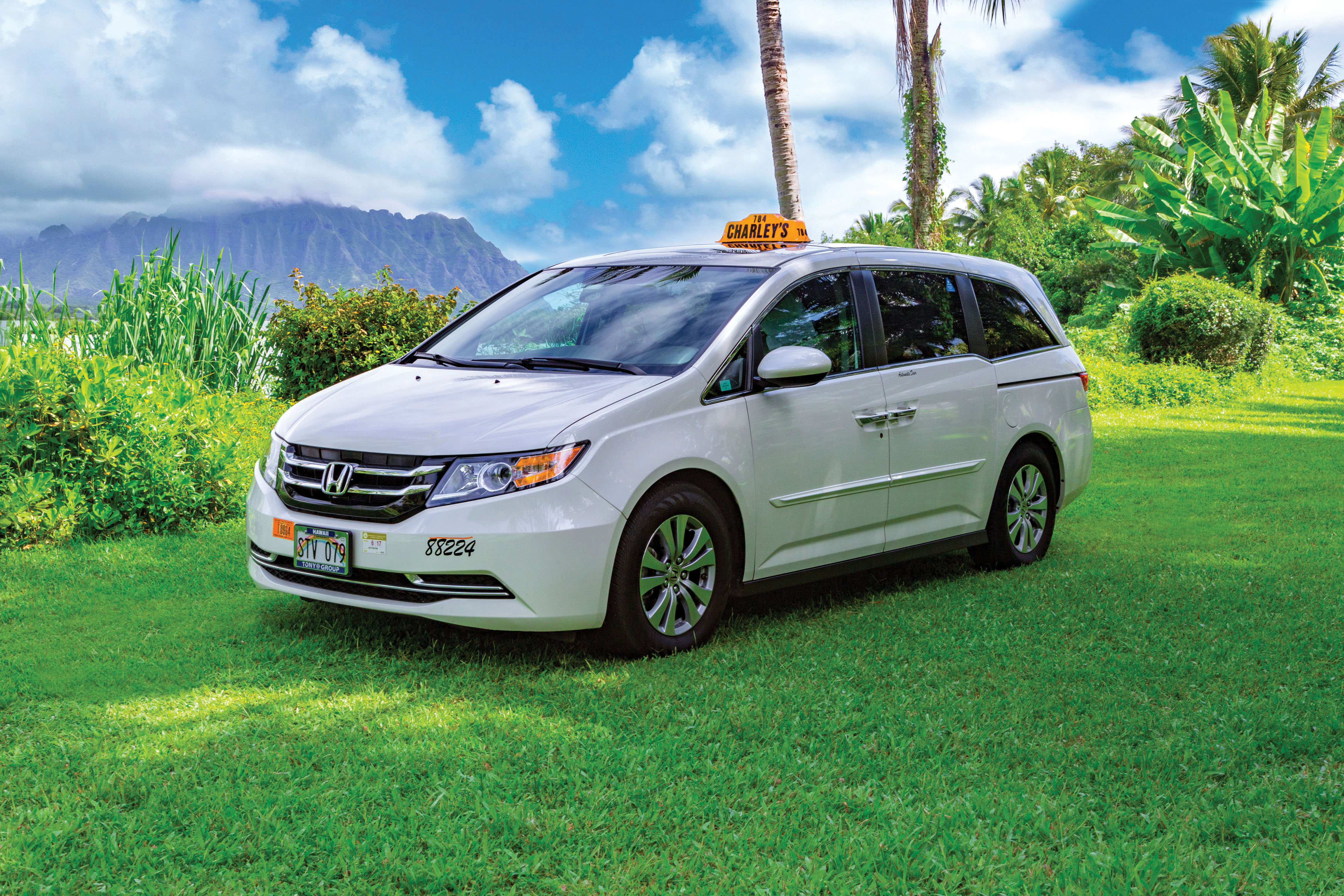 Getting From Honolulu Airport to Waikiki by Taxi
Taking a taxi from Honolulu airport to Waikiki is often going to be the fasted mode of transportation. Generally, a taxi ride will cost between $30 and $50 not including tips. Depending on traffic, it takes about 15 minutes from the airport to Waikiki.
Some popular taxi companies offer a flat rate for transportation to and from the airport. Charley's Taxi and JohnnyCab are inexpensive discount airport transportation options.
Getting From Honolulu Airport to Waikiki by Bus
For inexpensive bus transportation from Honolulu Airport to Waikiki bus routes are readily available.
TheBus provides several routes from the airport that also stop at a variety of locations. This may be something to keep in mind if you're in a hurry and want to get to your hotel faster.
Buses are free for children under the age of five and daily fares are around three dollars per person.
Getting From Honolulu Airport to Waikiki by Rental Car
If you're flying into Honolulu Airport, consider renting a car for the easiest and most direct transportation to Waikiki.
When renting a car in Hawaii you have the option of using rental companies like Advantage, Avis, Budget, Hertz, Enterprise and National all located within the airport. Visitors will need to take a shuttle from the ground level near the baggage claim to the car rental registration areas.
While the rental desks are easily accessible by foot, if you're traveling to Waikiki with kids, a shuttle may be an easier, hassle-free option.
The best place to rent a car on Oahu is through Discount Hawaii Car Rental. They have amazing deals on top national car rental brands like Alamo, Thrifty, Avis, Budget, Dollar, Enterprise, and Payless. Check out the latest prices and more details.
RESERVE NOW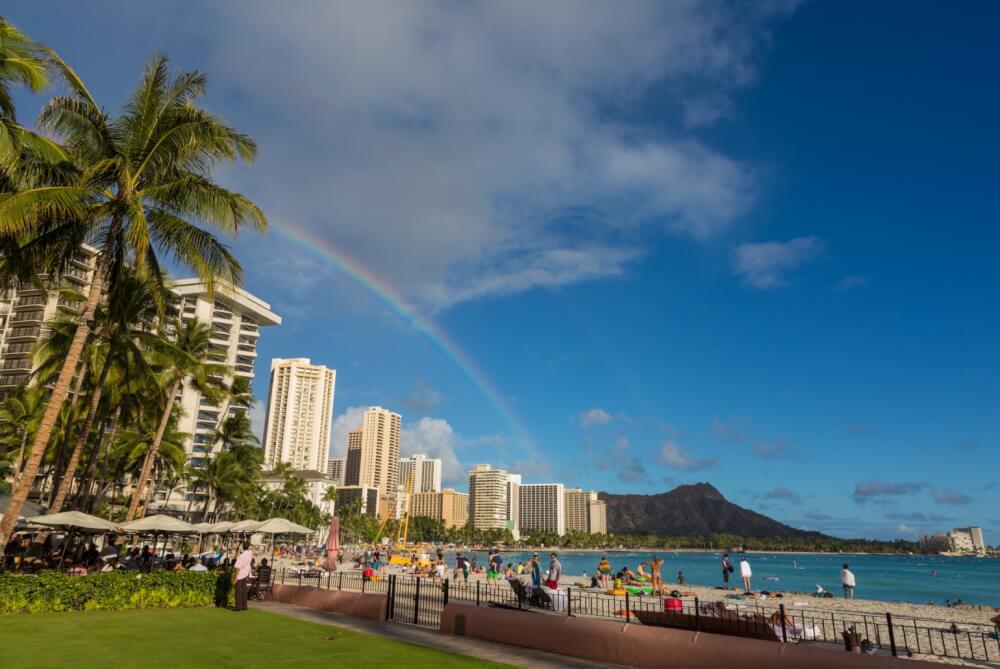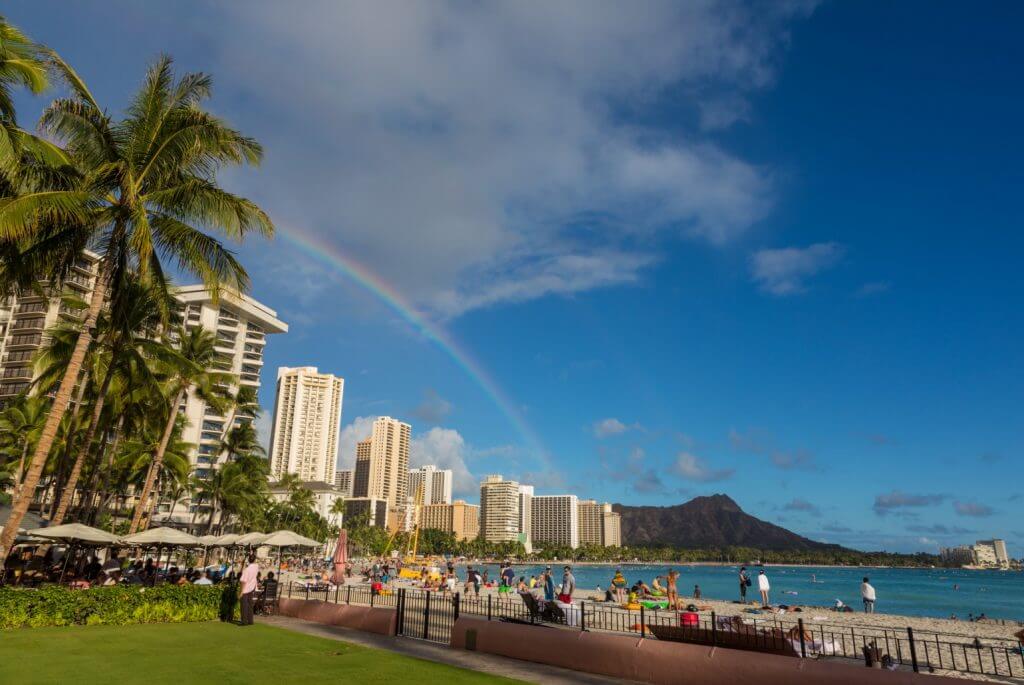 Where to Stay in Waikiki
Hilton Waikiki located on Waikiki beach is the ultimate in luxury accommodations in Waikiki. Each room boasts unobstructed ocean views and offers quality dining, activities and amenities for the entire family. Check out the latest prices and more details.
With an on-site comedy club, 24-hour dining and daily activities like yoga, it is the perfect place to unwind and enjoy all Waikiki has to offer.
Sheraton Waikiki is a spa resort ideal for budget-minded families. Rooms feature outdoor balconies that offer sweeping views of Diamond Beach and the glittering Pacific Ocean. The hotels two outdoor pools and beach access provide hours of fun for the entire family. Check out the latest prices and more details.
Ramada Plaza by Wyndham Waikiki is just 10-minutes from Kahanamoku Beach and eight miles from the Honolulu Airport making it the perfect budget-friendly hotel for those seeking quality accommodations without the hefty price tag. Check out the latest prices and more details.
Kids under the age of 17 stay free and families can enjoy the restaurant, pool, and daily breakfasts. Suites include separate living areas and pull-out sofas so everyone can spread out and relax. Rooms include microwaves and mini-fridge perfect for stocking up on snacks from the Hawaii farmer's markets.
More Waikiki Travel Resources
There are countless family-friendly things to do in the area including the Waikiki Aquarium or the nearby Honolulu Zoo. Families can enjoy endless hiking, beach and water activities as well.
A fun way to explore the islands is via kayak. Kailua Beach Adventures offers both self-guided and guided kayak tours from Waikiki.
If you're traveling to Waikiki with kids, consider Waikiki Beach. It's a great beach for exploring tide pools and wading in shallow waters with young children.
Whether you choose to stay in Waikiki or go island hopping throughout the Hawaiian islands, there are plenty of things to do to keep everyone busy on your Hawaii family vacation.